Enter Estes Park, Colorado, where "Estes Park" is etched into a large stone as the road curves into a small mountain town. It gives a first impression that you won't forget! Estes Lake, a scene of serenity, is followed by the quaint downtown area, and, in the backdrop, the tree-covered rocky mountains and a level of snow-covered peaks beyond.
In other words, Estes Park, Colorado is straight out of a postcard.
Adventures line East Elkhorn Ave. where tourists flock for a taste of the small town, rugged, mountain lifestyle. A trip to Estes Park, one of the top United States destinations, should be in your future.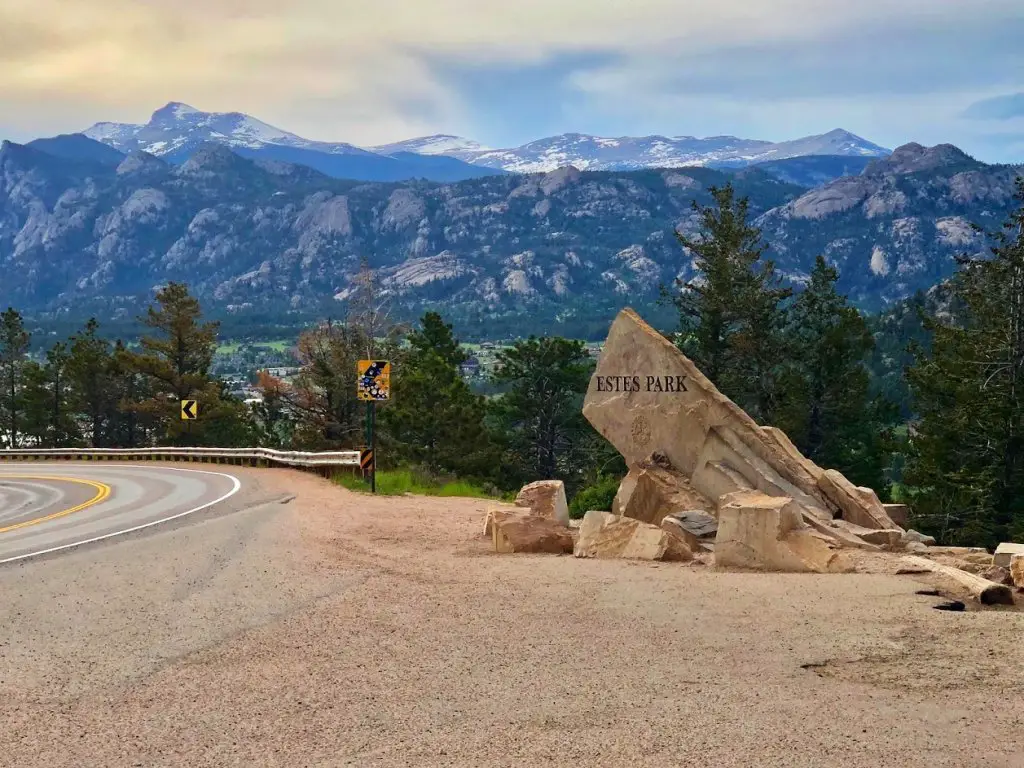 Boasting a population of under 6,000, all of whom take care of the place they call home, Estes Park takes hold of you with its views. And it keeps you wanting more with its fairytale-like wildlife, friendly neighbors, and beloved charm. Let's get into the details!
How Far is Estes Park, Colorado from Denver?
The town of Estes Park, Colorado is only an hour and twenty minutes (66 miles northwest) from Denver. It's a scenic drive and also goes right through Boulder, another popular Colorado destination that's worth a quick stop on your journey north.
When is the Best Time to Visit Estes Park, Colorado?
Summer months: early June-late September is the prime time with the best outdoor adventures. And though it will be busy, it's worth it and you'll be here for the warmer months. All that said, don't let the time of year stop you from visiting! Colorado is FULL of fun, no matter which month you can visit.
Who Should Travel to Estes Park, Colorado?
Literally everyone. A trip to Estes Park is perfect for couples, the entire family, or perhaps even solo exploration. There are countless Estes Park activities that range from hiking to shopping to horseback riding and fly fishing. The views and activities you choose will be great memories for ANYONE on your trip.
Estes Park, Colorado: The Best Things to Do
1. Rocky Mountain National Park
Drive Trail Ridge Rd.
Anyone who enjoys the outdoors needs to visit Rocky Mountain National Park and drive this 48-mile stretch—the highest continually paved road in America.
Hold your breath along one of the best scenic drives with roads that curve one way and then the next while the elevation increases. Witness wildlife in their natural habitat. Pull over to get out and admire views you have never seen before.
The hours fly by in the mountains and your mouth is, more often than not, hanging wide open.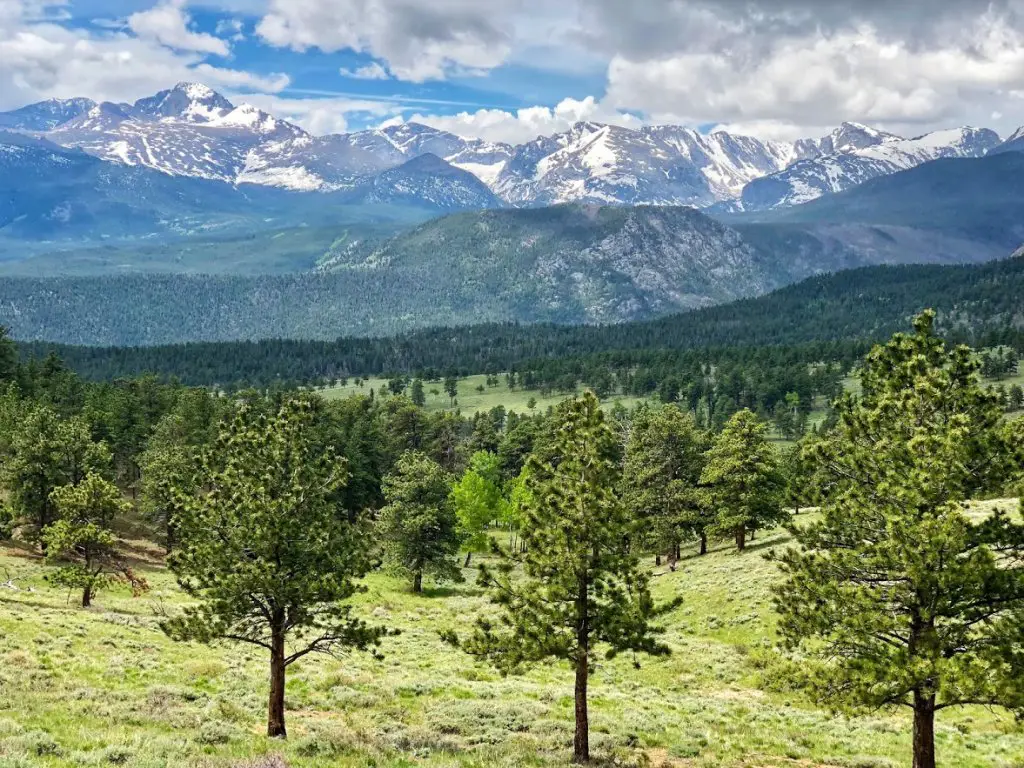 Seasons change at the drop of a dime as you make your way up. For instance, it can drop anywhere from 20-30° as you reach the top. The start of your journey, Beaver Meadows, is calm and peaceful at the base of the mountain. The top? The wild, wild tundra. Make sure to stop in the Estes Park Visitor Center for a map!
For all my Trail Ridge Road recommendations and tips, visit my guest blog: Driving Trail Ridge Rd in RMNP
Popular Hikes in Rocky Mountain National Park
If driving along the cliffs isn't your cup of tea, don't worry! You can hike! There are miles and miles of trails to tackle! Here are some of the top recommended hikes:
Bear Lake: firstly, the shortest, most popular hike. It's .6 miles roundtrip and only takes about 30 minutes! Get here very early.
Gem Lake: secondly, another short one that is a bit more strenuous, but not much. There are some stair climbs but the views of Estes Park with Longs Peak in the distance are totally worth it. It's 3.4 miles and takes 2-3 hours.
Nymph, Dream & Emerald Lakes: thirdly, take in the views of 4 gorgeous lakes over a pretty short distance. This is another great one for everyone. It's an easy 3.6 miles that will take 2-3 hours.
How Much Does it Cost to Visit Rocky Mountain National Park?
$25 per car for a 1-day pass, $35 for a 7-day. Honestly, they could charge $100 a car and it would still be completely worth it. It's far beyond Disney World. Pro Tip: If you aren't sure if you will do 1 day or multiple, you can buy the 1-day pass and if you decide to come back, they will take your day pass purchase off your 7-day.
2. White Water Rafting
One of the top things to do in Colorado in white water rafting! Admire the beautiful mountain views with a smile on your face as the raft floats down the river for one minute. Shreik as freezing river water splashes you from head to toe the next. By the end, you are an expert paddler, following commands of how many times to row with your team to hit the current just right.
Both serene and daring, this is a classic Colorado experience with Rapid Transit Rafting.
The half-day trip lasts about 6 hours—we did the 6:45 AM departure trip and returned around 1:00 PM—which includes transportation to the river (over an hour each way), gear fitting, and a safety talk.
Time on the river is about 1-1.5 hours. The Cache la Poudre River moves quickly with class 3 rapids (the highest is 6), which is very manageable, even for beginners, and your experienced guide will make sure you have a great time.
I'd recommend the early start time, so you have plenty of day left for other Colorado activities. Do bring dry clothes (you will thank yourself!), water, and snacks for the ride home.
Half-Day Trip Cost
Price: $75 + tip; worth it once—for the experience. It would have been nice to have less drive time and more raft time. But it's still something I won't forget!
Note: Read The Best Things to Do in Grand Lake, Colorado for another rafting option on the Colorado River!
3. Explore Downtown Estes Park
This quaint downtown Estes Park is straight out of a movie and a trip to Estes Park should include exploring the area. Cute shops and bars line the streets with mountains in the background as people stroll through for souvenirs, candy, ice cream, mountain gear, and other one-of-a-kind finds.
Everywhere you look is another unique store to walk through—Spruce House Christmas Shop, MacDonald Bookstore, Art Center of Estes Park, Trenz Boutique, with a variety of others.
Elkins Distillery Tasting Room
My favorite stop is where you can sample 7 different Colorado whiskeys (more than a full shot worth). I mean, they are giving out free booze, so the other stores don't stand a chance in terms of being named the favorite, right? Plus, the whiskey was tasty! (Update 2021: Don't quote me on this! I'm not sure if sampling is still available. Regardless, it's a fun shop.)
4. Bar Hop in Estes Park, Colorado
The Wheel Bar
The Wheel Bar is one of the best places to party! Fun music, cheap beer, rustic dive bar feels. Note: if you come here, you're drinking dinner—no menu. I won't visit Estes Park without a visit to The Wheel Bar.
The Wapiti Colorado Pub
After that, head here for Colorado beers at The Wapiti Colorado Pub. The friendly bartender convinced me to try an IPA (Long Stride) after saying I hated them, and it was the first one I have ever enjoyed. Bless the Colorado beer scene!
The Whiskey Bar at Cascade's Restaurant
Enter the Stanley Hotel that inspired Stephen King to write The Shining and a restaurant/bar where a Dumb and Dumber scene was filmed. The Whiskey Bar at Cascade's Restaurant, located in a historic hotel, is typically crowded but if you can grab a seat at the bar, there are hundreds of whiskeys to choose from and an extensive wine list. Perfect place for a nightcap in a beautiful atmosphere. And, of course, to say you've been.
Lonigans Saloon Nightclub and Grill
The word "nightclub" is a little strong. However, Lonigans Saloon Nightclub and Grill does have karaoke, live music, a solid pub menu, a pool table, and bar games. Also, we loved their elk burger!
Claire's Restaurant and Bar
Claire's Restaurant and Bar is a great place that's a cute and cozy spot with a patio in a great location.
5. Eat in Estes Park, Colorado
When I compare the Estes Park food scene to others across the country, it is below average. It was all good, but nothing was over-the-top delicious that foodies are going to rave about. That said, there are meals unique to the area that I would order again plus recommend for the experience!
Hunter's Chop House
A trip to Estes Park should include the sampler platter from Hunter's Chop House which includes boar, bison, pheasant, and elk. It was a fun experience and a great way to try them all—elk was the best. This is one of the best restaurants with a casual steakhouse with a lodge-like atmosphere. We had a fun time with the bartender as well!
Bird & Jim
Its online presence suggests 5-stars and gives high expectations. To me, Bird & Jim is good, not great. However, I did love the atmosphere which makes it worth a stop. Happy hour is 2:30-5:00 including $5 cocktails, $6 wines, and $2 off draft beers, plus a food menu. Therefore, I'd recommend happy hour over any other time of day!
Antonio's Real New York Pizza
Antonio's Real New York Pizza has a very solid menu with NY-style pizza. It's another casual space with a lodge-style environment. I recommend the Grandma Pie. (Pass on the cannoli and go grab ice cream downtown.)
Notchtop
This is my favorite place to eat breakfast in Estes Park, Colorado. It's perfect before a day of Colorado adventure. Notchtop has great views on the front patio and an even better croissant egg sandwich.
Estes Park, Colorado Tips
Prepare for cold weather: exploring the mountains brings you back to winter—even in the summer. Make sure to have a couple of long sleeve shirts, pants, and a baseball hat if you plan to head to the top.
Afternoon rain: You will likely experience rain on your visit since it comes down almost every afternoon. Don't worry, it never lasts too long.
Altitude: it's a real thing. Take it easy on day one and drink plenty of water. The internet will tell you to avoid alcohol, but you know, just listen to your body. 😉
Talk to employees: most of the seasonal staff at restaurants and souvenir shops are foreign exchange students. Get to know them, they are a blast to talk to. And the local park rangers? Some of the nicest people on earth.
Airplane mode: take some time on this trip to put your phone in airplane mode (you can still take pictures!) and enjoy the outdoors without the technology distraction. All of your notifications will pour in once you turn it back on.
Ready to Visit Estes Park, Colorado?
I am ready to live in Estes Park Colorado considering the beauty and fun things to do! A trip to Estes Park is one you will not forget. The small size makes it an easy trip to plan, you can explore the wilderness yet still fly into a major airport (Denver) which helps make it very affordable, the people are welcoming and kind, and have you seen how many beers Colorado brews? This place is beautiful beyond words!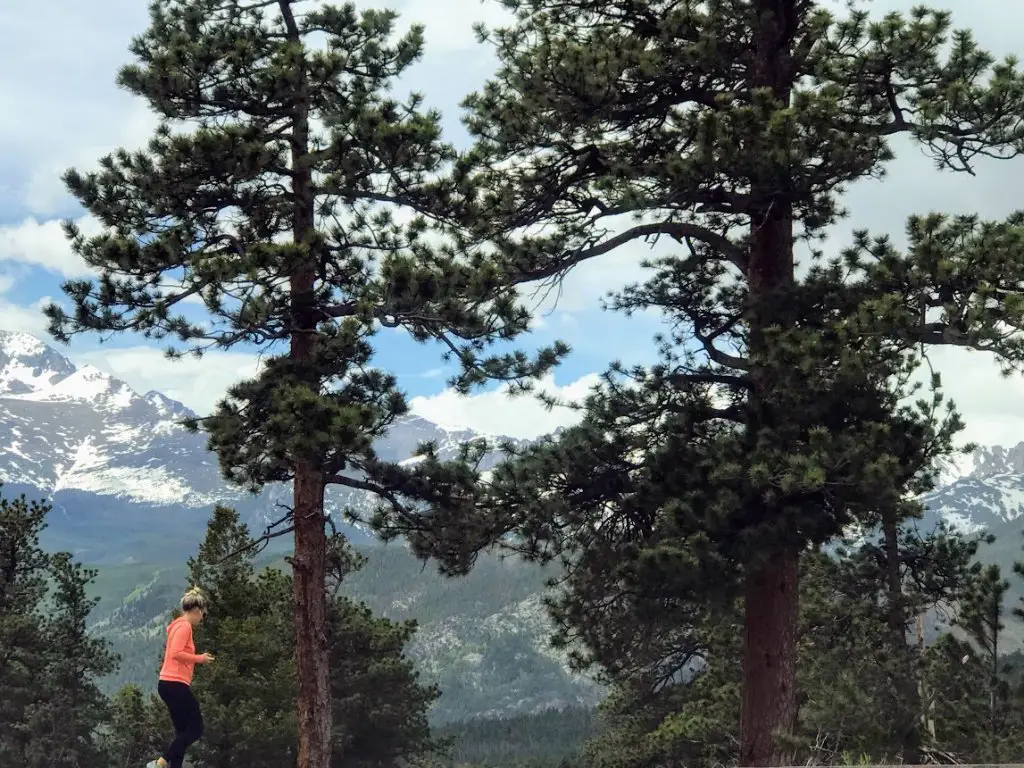 If mountains and outdoor activities are your things, check out Backpack Goes to the Desert: Sedona, AZ. They may not be blue and snow-covered but they are red and still equally beautiful.
Make it a Colorado Road Trip! More Colorado Places to Visit:
In addition to Estes Park, there are many great places to visit in Colorado! Add these to your list.
Fort Collins, Colorado
Boulder, Colorado