The town of Grand Lake, Colorado is a small mountain town in Grand County with less than 500 people. Mountains and lakes surround the tiny town making every turn a sight to see. It is full of charm, memories, and incredible views.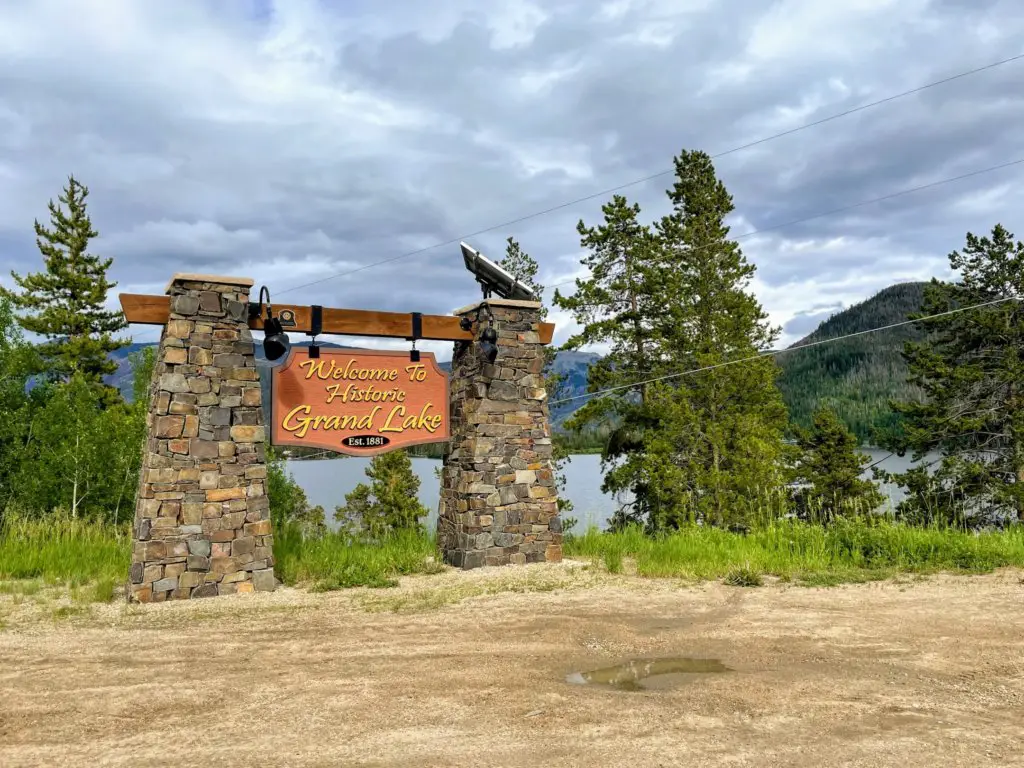 In addition to charm, Grand Lake has an entrance to Rocky Mountain National Park, one of the best national parks in the United States. There you'll find a scenic byway (Trail Ridge Rd.), hikes, bike trails, lakes, and adventure the entire family will love.
Consider a western getaway to Grand Lake to experience the mountains and get a feel for true Colorado adventure.
How Far is Grand Lake, Colorado from Denver?
Grand Lake, Colorado is 102 miles and just over 2 hours from Denver. It is an insanely scenic drive through the mountains once you leave the city limits and let me tell you: eyes will be wide and jaws will be dropped. The green trees, snowy mountain peaks, and deep valleys across the blue skies are amazing.
Note: it is more like 2.5 hours from the Denver Airport which is northeast of downtown. And do your best to book a daytime flight. This drive in the dark is NOT preferable! (Oops…)
When is the Best Time to Visit Grand Lake, Colorado
Grand Lake, and Colorado in general, is known for its year-round activities. You will find fun and adventure whether you are kayaking in the lake, walking through the small town, or snowmobiling across the mountains.
That said, your best bet is the summertime: early June-late September. The lake, Trail Ridge Road (not open in the winter and into spring), and warmer weather make for an unforgettable trip.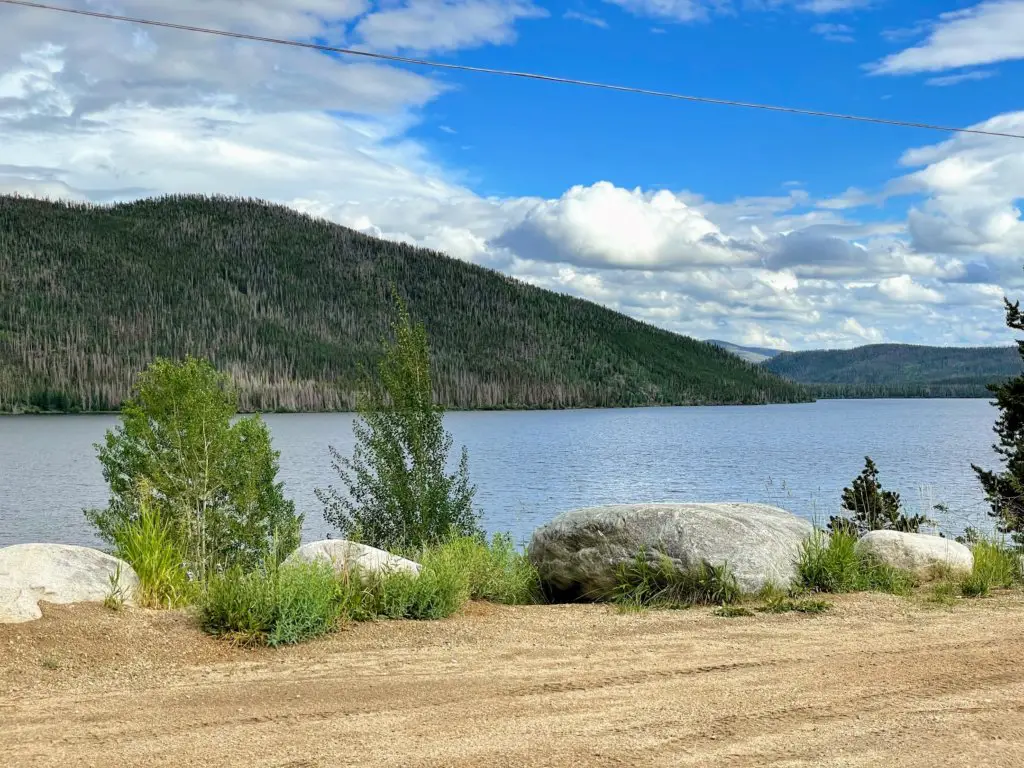 The Best Things to Do in Grand Lake, Colorado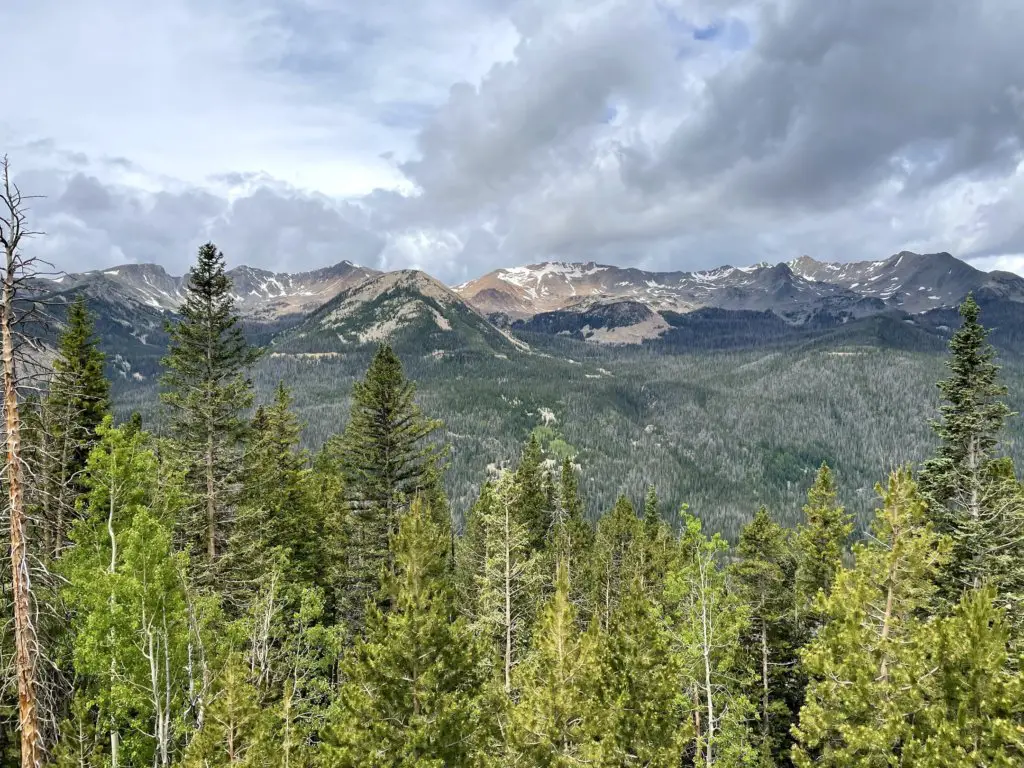 Visit Rocky Mountain National Park
The main event! Rocky Mountain National Park. One place I could never get sick of visiting. 415 square miles. 265,000-acres. And over 3 million visitors per year. This national park is complete with scenic views and plenty of wildlife.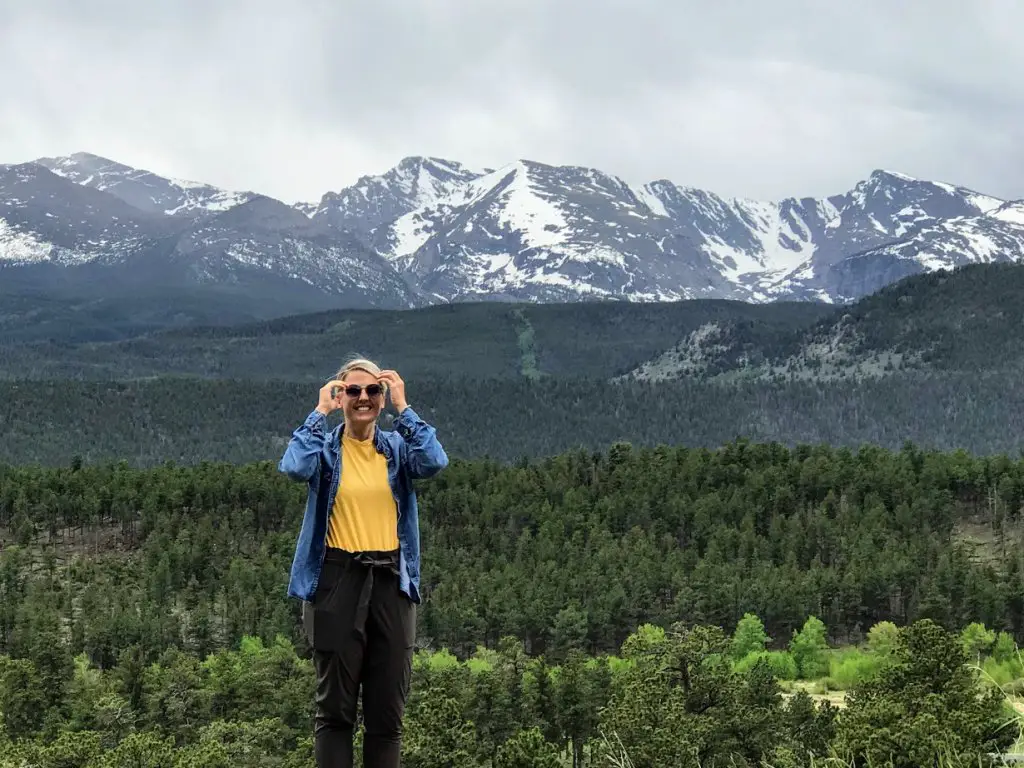 The most popular way to enter the park is actually from Estes Park, Colorado, which is northeast of Grand Lake. While you have much easier access to viewpoints and hiking trails on that side, it is flooded with tourists.
Grand Lake, on the other hand, is much less chaotic than Estes Park.
Note: if it's your first time visiting Rocky Mountain National Park, I do recommend staying and experiencing Estes Park. But make sure to either drive Trail Ridge Rd. (more below) and spend some time in Grand Lake. Or, plan to stay in Grand Lake next time you visit for a relaxed vibe!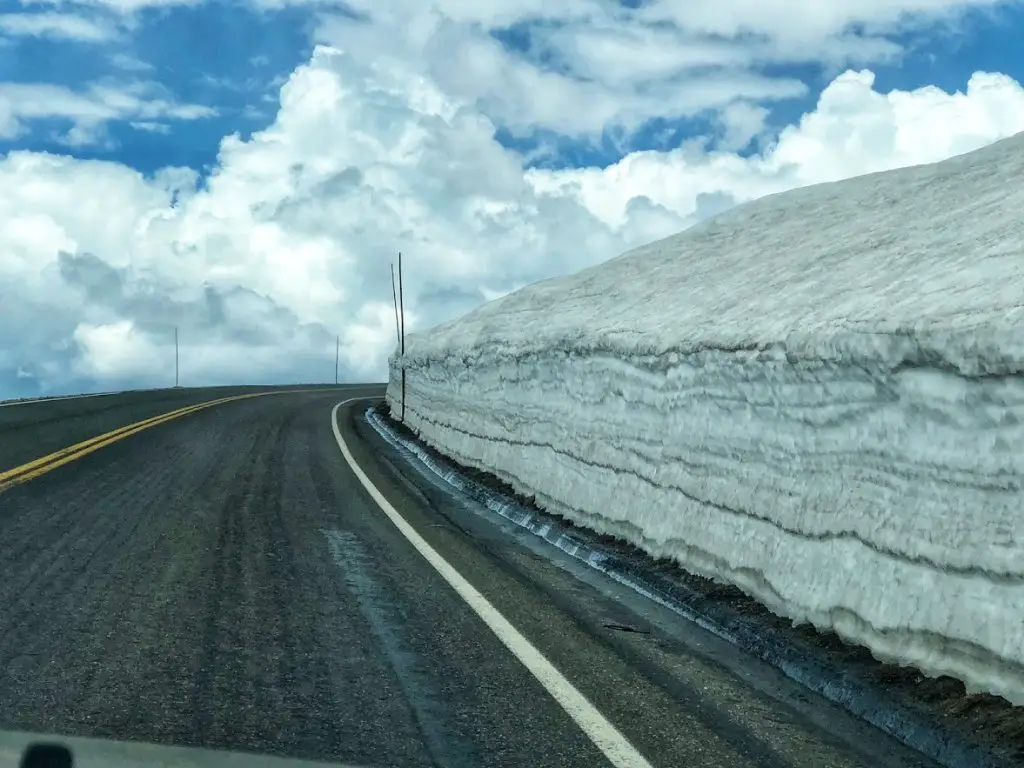 Kawuneeche Visitor Center
Located near the Grand Lake Entrance, stop at the Visitor Center for maps, restrooms, gifts, and a chance to connect with park rangers on the current openings/closings inside the park.
Drive Trail Ridge Rd.
Don't miss a chance to drive Trail Ridge Road, the scenic byway through the Rocky Mountains and forests that surround it. You'll hop right onto it once you enter the park from the Grand Lake entrance and will not regret it.
Heads up: it's a bit of a scary drive! In some spots, there are steep ledges without barriers and the weather can change in an instant. You are likely to experience sun, rain, and even snow all within a few hours. Don't let that stop you! There are SO MANY incredible places to stop.
Farview Curve Viewpoint: Your first pulloff with fantastic scenery!
Alpine Visitor Center: Information and exhibits, souvenirs, food at the restaurant/cafe (the only one in the park), and breathtaking views. The parking lot is big but does fill up during peak hours.
Rock Cut: The real-life TUNDRA. Even in the summer. Make sure to take the short hike up and be amazed.
Forest Canyon Overlook: My favorite stop. The best mountain views and cute little marmots (part of the squirrel family.)
For all of the best places in the park, read Driving Trail Ridge Road, a guest post I wrote for The Parks Expert!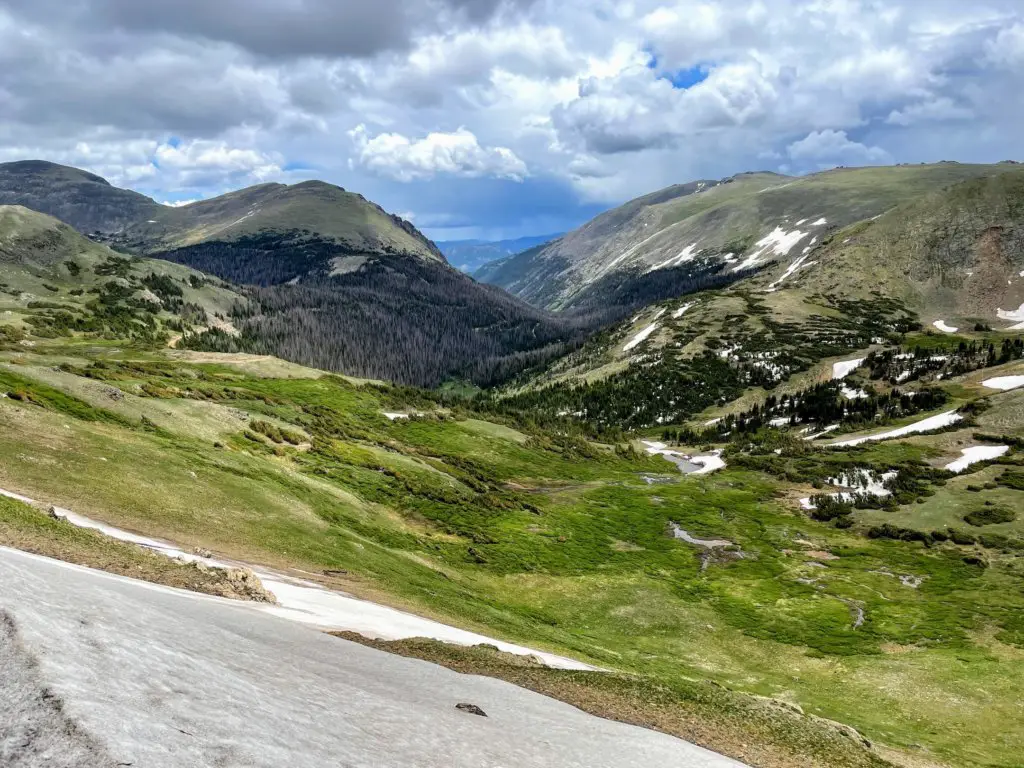 Wildlife Inside the Park
Have your camera ready! One of the coolest parts of being inside Rocky Mountain National Park is all of the wildlife. The elk, deer, marmots, and sheep come in all shapes and sizes. And if you are really lucky, you will get up close to ram or moose!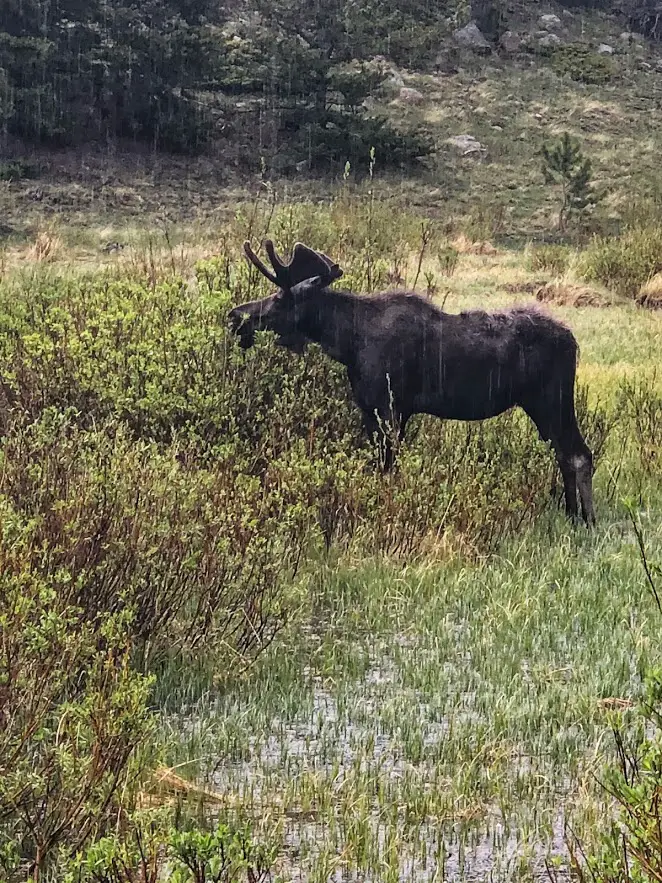 Enjoy the Lake and Views
Grand Lake is the deepest natural lake in Colorado at 400 feet. Make sure to relax on the sandy shores. Rent a kayak, SUP, or pontoon boat. Fish. And, of course, take in the views of the blue and green mountains. Head to the marina and you're sure to find adventure on the picturesque Grand Lake!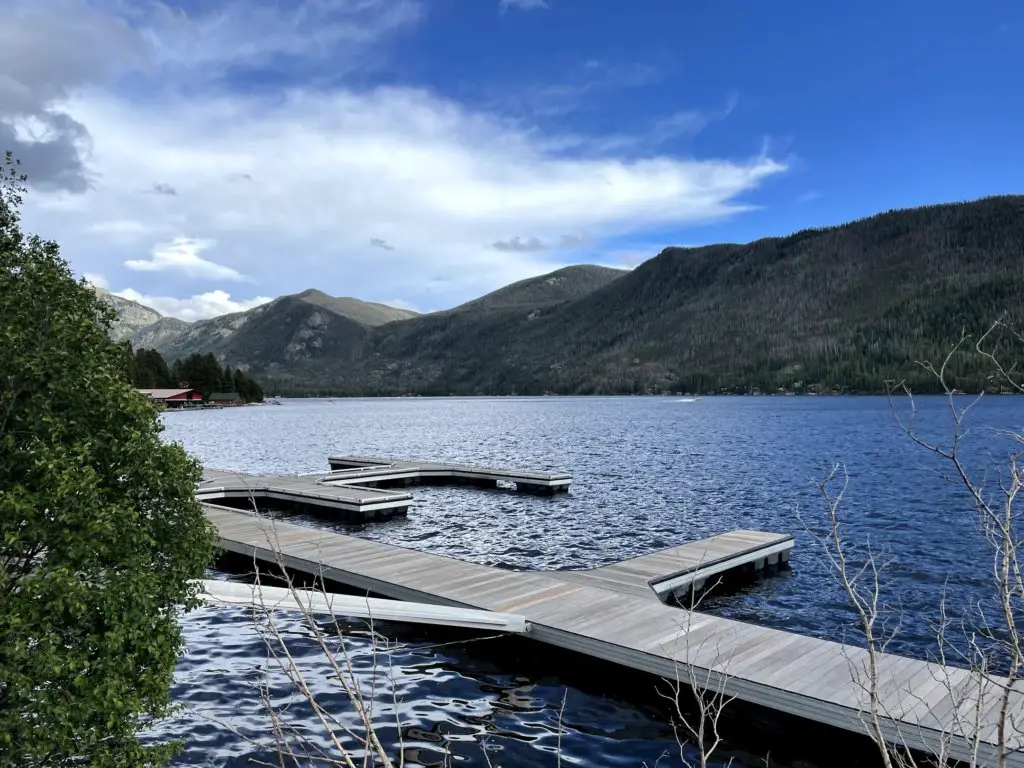 Eat in Grand Lake, Colorado
In downtown Grand Lake you will find the historic boardwalk with everything you need to eat and drink. This main street is full of coffee shops, pubs, bars, and plenty of restaurants.
Jump Start Coffee Shop
Make your first stop at Jump Start Coffee Shop so you are fully caffeinated before your day in Grand Lake. It's a cute coffee and tea place with a great drinks list full of classics and specialties. And right next to it…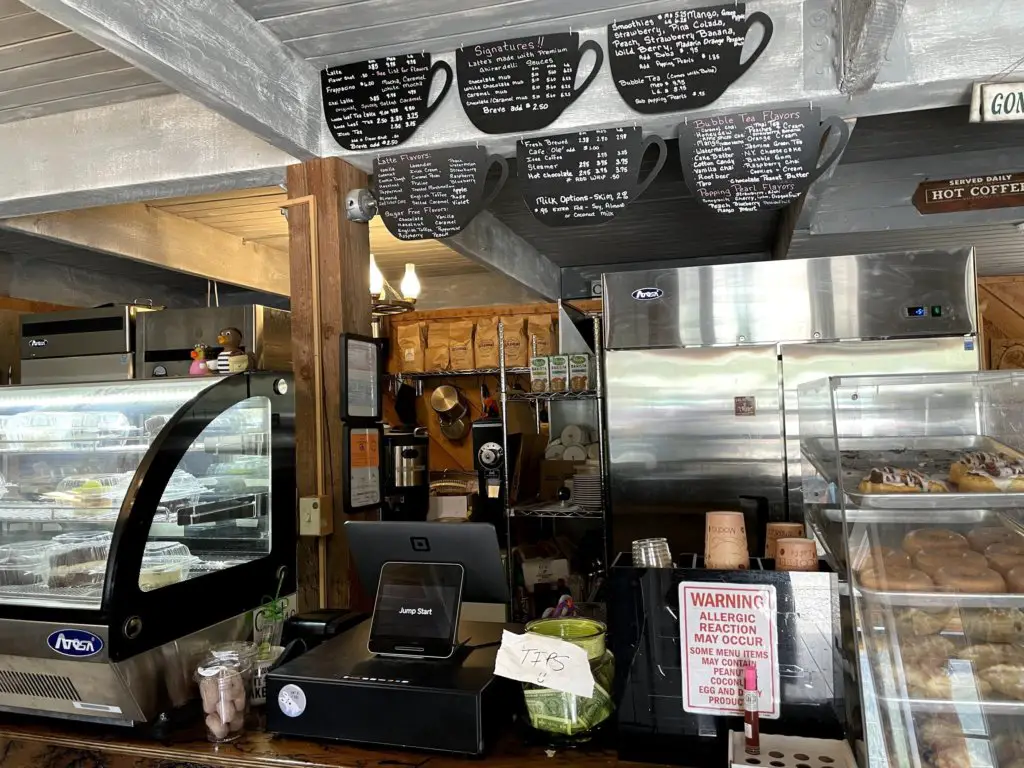 Bighorn Bagels
If you're not feeling pastries from the coffee shop, grab breakfast at the place next door. Bighorn Bagels, a charming shop with New York-style bagels, is the perfect breakfast spot. East Coast bagels, homemade cream cheese, a family vibe, and plenty of options!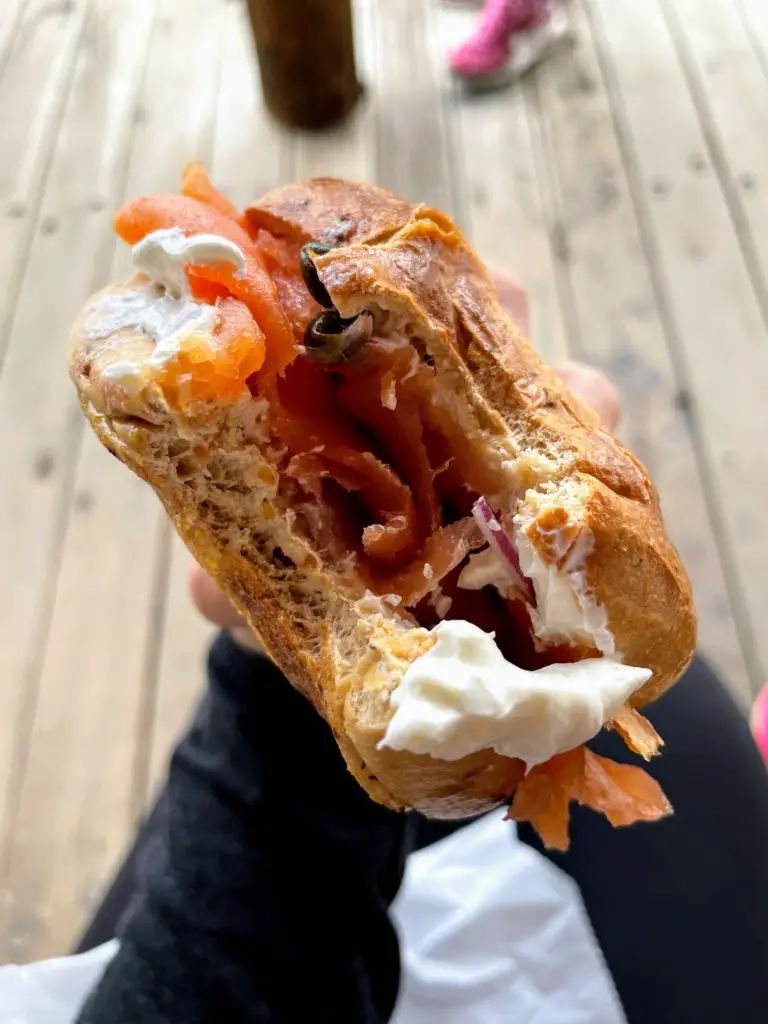 Sagebrush BBQ & Grill
One of the best restaurants in Grand Lake, Colorado, and the perfect dinner spot. Enter this western-style restaurant where there are peanut shells on the floor, cow-hide design table cloths, and cowboy decor. They have a large menu including daily specials, BBQ, pasta, steaks, and other game.
Handmade Chocolates
Is it really a vacation day without ice cream? My 11-year old travel partner would scream "no." And WOW, the Grand Lake homemade ice cream shop did not disappoint. The sea salt espresso (YUM!!) scoop inside the waffle cone was to die for—and now a flavor I will seek out!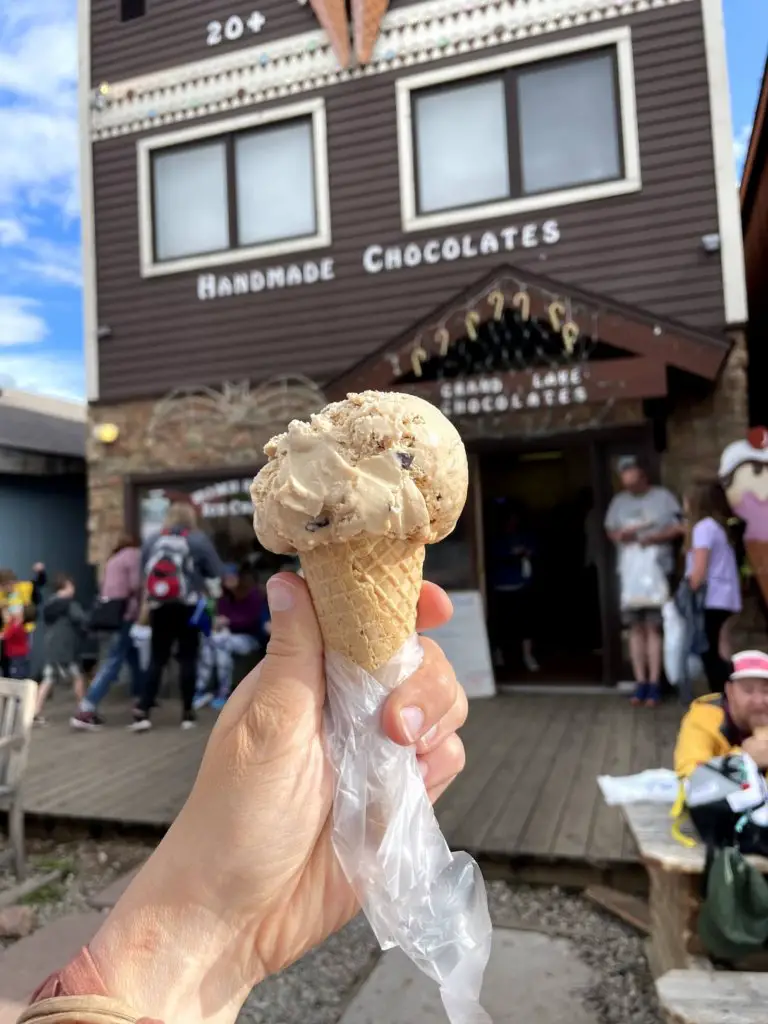 Where to Drink in Grand Lake, Colorado
All right, you spent all day with your family. Time for a drink. Ha, I am half kidding. But really, a day of adventure can make you thirsty. Here are the places to grab a cold one:
One Love Rum Kitchen
Looking for happy hour? How about a full-blown party? Here is your spot—and my favorite place in Grand Lake, Colorado! LOL. Seriously, One Love Rum Kitchen is located right on Grand Ave. and the place to find well-poured cocktails, a colorful and welcoming environment, plus bartenders ready to have a good time—the best part! Not only are there great cocktail options but their food is delicious and you can't go wrong with a margarita plus chips and guac.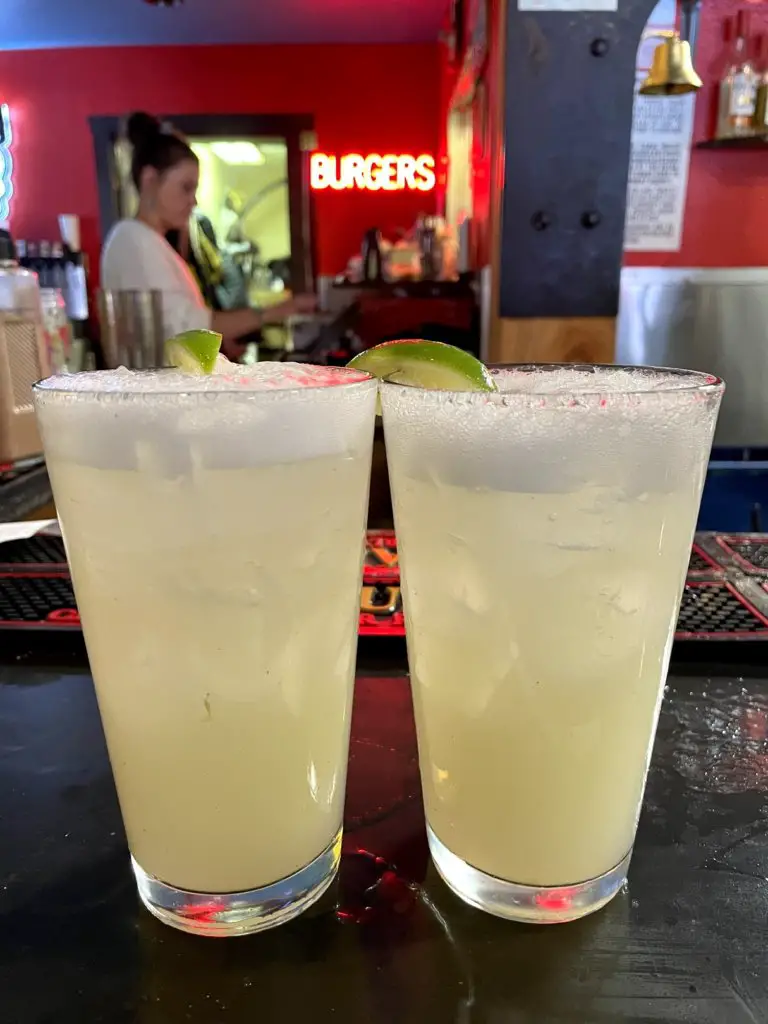 The Worlds End Brewpub
Another great option on Grand Avenue for drinks—they have quite a few beers on tap, is The Worlds End Brewpub. This small pub is back to the basics with more of a dive bar feel including hundreds of dollar bills on the wall marked up by visitors. It's a great place post-adventure to chill out and enjoy a beer.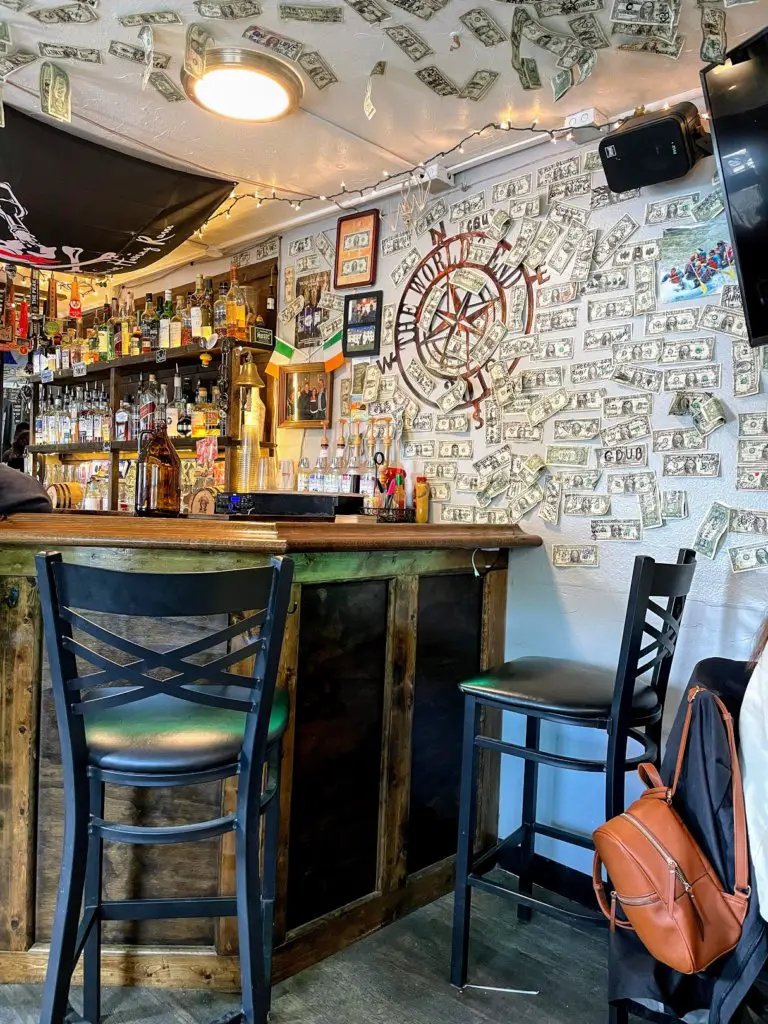 Horseback Riding and Whitewater Rafting near Grand Lake
There were two main reasons I chose to visit Grand Lake, Colorado.
I had previously visited Estes Park, CO twice and wanted to experience Rocky Mountain National Park from the other side.
It is located near an incredible, full-day adventure: Saddle and Paddle. What does that entail…?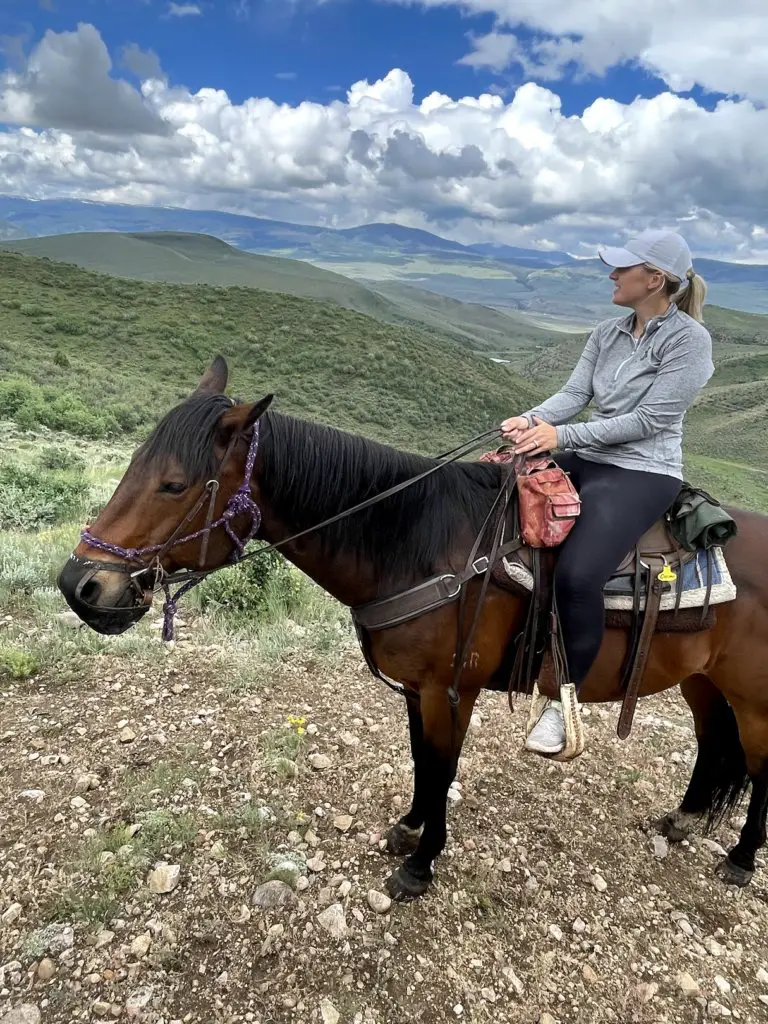 Saddle & Paddle
Rusty Spur Ranch and AVA Rafting combine to make one legendary day in Colorado! Start with a morning 2-hour horseback ride through miles of trails in the mountains. Follow that up with lunch and an afternoon of rafting on the Colorado River. So many heart eyes! Here is how it works:
You will start by driving out to Rusty Spur Ranch. It's about a half hour to Kremmling, CO and then an additional 15-minutes down the dirt roads to reach the stables.
Meet the staff, fill out forms (you can do this beforehand), put in your lunch order for pickup at Subway, and get ready to start your ride.
Staff will match you up with a horse, go over quick safety tips, and you'll be on your way. It's incredibly beautiful! And in our experience, the horses were calm and lesisurely.
After your ride, drive back to Kremmling, CO where you'll be able to stop at Subway for your lunch order. Then head to the red building to check into rafting.
They have all of the gear you need including life vests and wet suits. Once everyone is ready, they bus you to the Colorado River.
Stage II rapids are very (very) calm. It's easy, even for kids. If it's all adults on your trip, I'd recommend Stage III for a bit more adventure.
This full-day adventure costs about $200 per adult, $180 per kid. It's a splurge—but it's worth it! (Must be 8+ years old.)
This was my favorite part from this Colorado trip!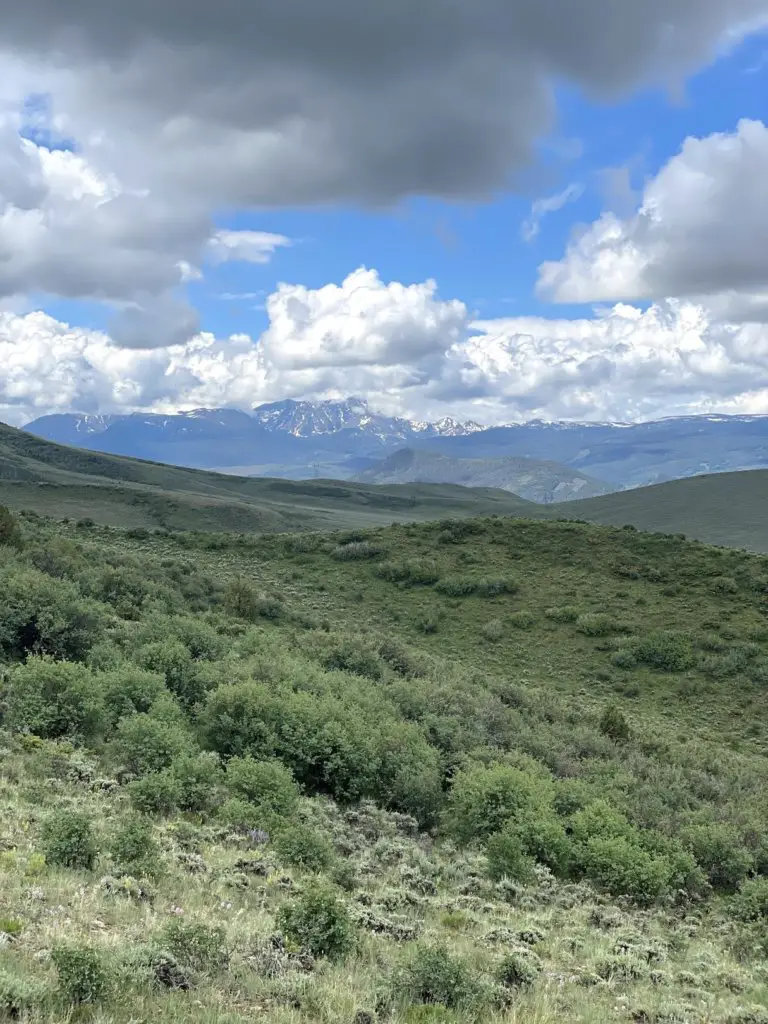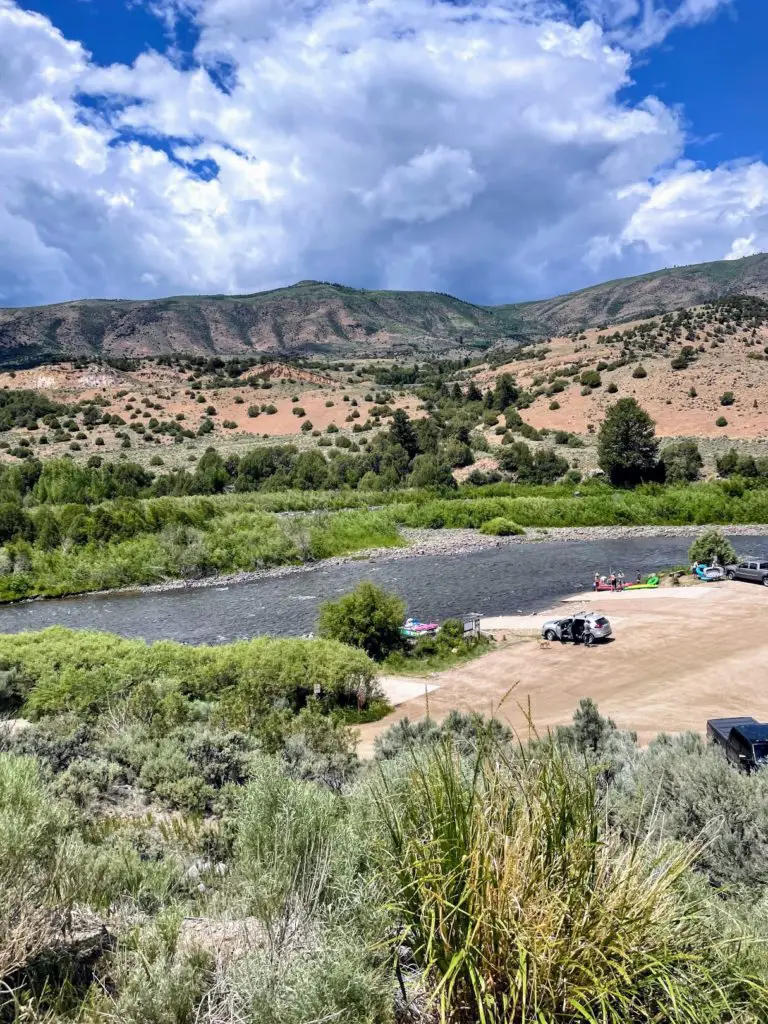 Where to Stay in Grand Lake, Colorado
There are a ton of options for lodging in Grand Lake and the greater Grand County area.
Grand Lake Lodge
A popular and beautiful place to stay is the Grand Lake Lodge, a rustic spot that's conveniently located adjacent to Rocky Mountain National Park. The main lodge and cabins have incredible views with mountain decor. The place also has an outdoor pool, tavern, viewing deck, and playground, which all make it the perfect place for any family or couple!
Visit the Grand Lake, Colorado website for more accommodation options in the area.
The Inn at SilverCreek
About 20 minutes southeast of Grand Lake is the small town of Granby, Colorado conveniently located in the center of a few popular towns. The Inn at SilverCreek offers comfortable hotel and condo-style lodging, an indoor/outdoor pool, a restaurant, and steps from a ton of outdoor adventure. You can book through the website or through Airbnb (which I did and is listed as a great price.)
For additional places to stay, visit this lodging site that lists places in Grand Lake, Granby, and Winter Park.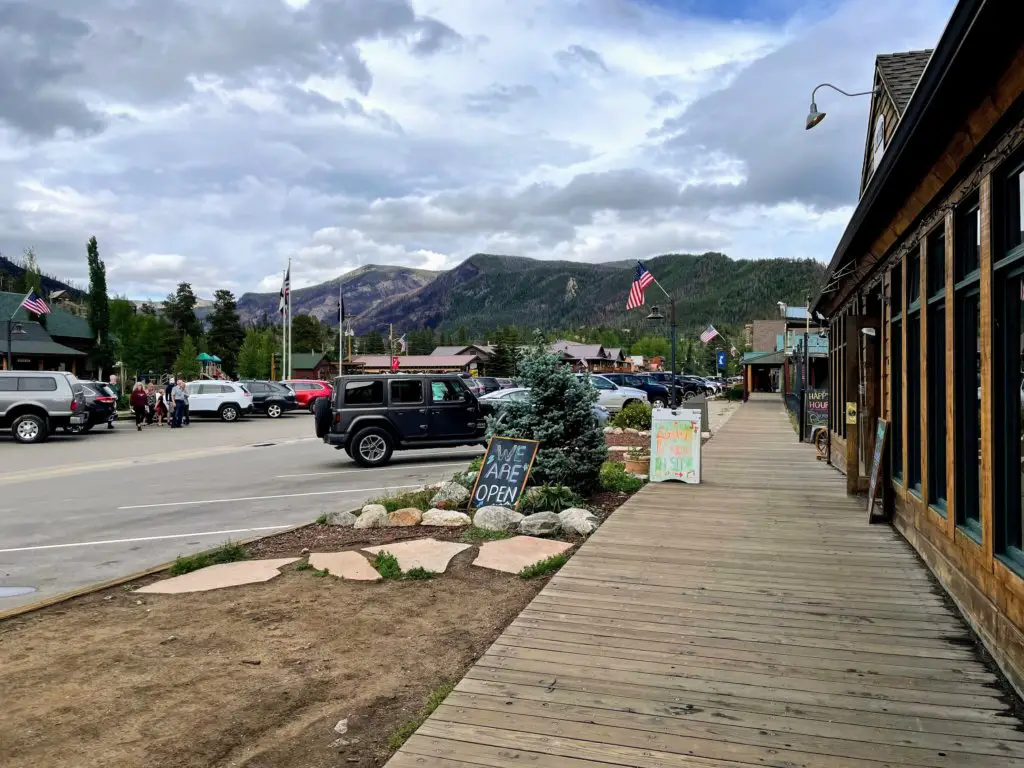 Visit Grand Lake, Colorado
Grand Lake is a great location! Visit in the summer months and you can visit Colorado's largest natural lake, Grand Lake, as well as Lake Granby. Come in the winter and be a short distance from downtown Winter Park and the ski hill. And, of course, spend some time in Rocky Mountain National Park.
Colorado is ALWAYS a good choice!