Southern Utah is full of stunning scenery. It makes for memorable hikes, lookouts that make your jaw drop, and long, beautiful drives that seem much quicker than they really are. One of the top destinations in the United States, a southern Utah road trip will not disappoint.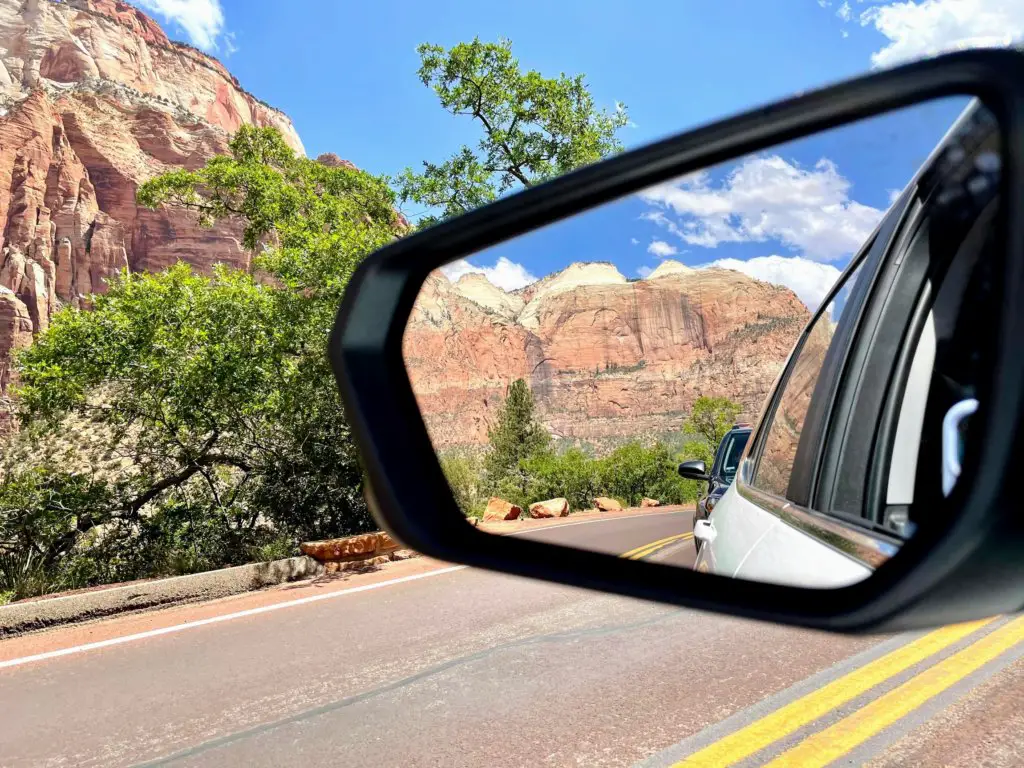 Disclosure: This post contains affiliate links that earn a small commission at no extra cost to you.
Who Should Go on a Southern Utah Road Trip?
Everyone! Take a solo trip. Make it a girl's trip. Head out for a getaway with your significant other. Take the whole family! There is something for everyone that will make it impossible to regret.
If you're a hiker, you definitely don't want to miss out. If exploration for you means scenic drives, you will love it just as much!
As long as you love beautiful places and getting outside, you're all set.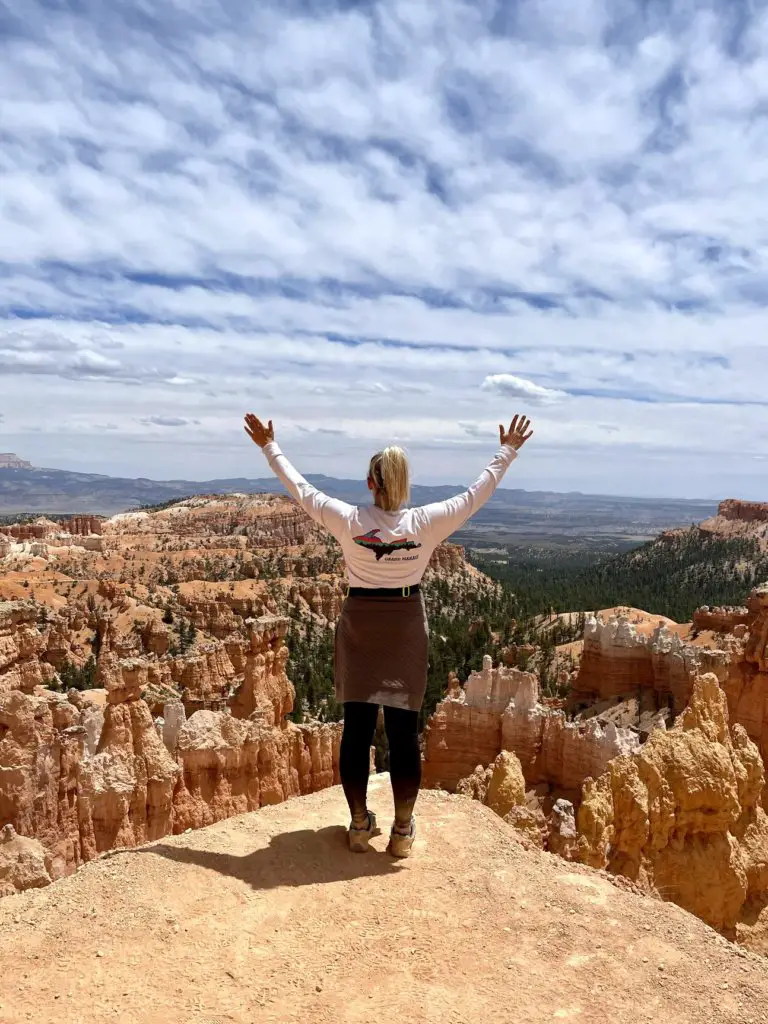 Note: the itinerary provided below will resonate most with those who want to do a lot of hiking mixed with grabbing drinks and eating good food. While hikes range from moderate to difficult, there are no 16-mile days or backpacking excursions! But you will get out and move every day!
When is the Best Time to Take a Southern Utah Road Trip?
The sweet spot for visiting Utah is in the spring and the fall when crowds dwindle (somewhat) and the weather is a comfortable temperature. Summer months definitely get crazy with both people and hot weather. And the winter months, though unique and beautiful in their own right, obviously come with snow and cold temperatures!
Keep in mind, besides the dead of winter, these places are busy all of the time. Go when it works for you, and be prepared for crowds.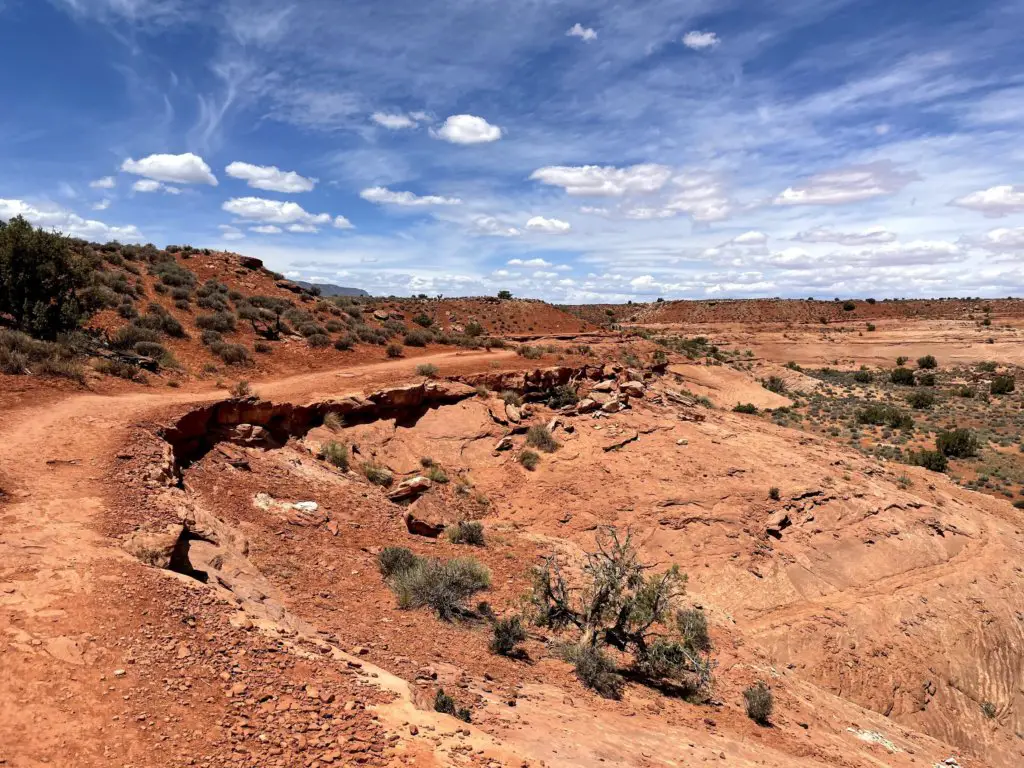 Where Does This Southern Utah Road Trip Itinerary Take Me?
Many Utah itineraries you find are going to be based around the "Mighty 5," which includes Zion National Park, Bryce Canyon National Park, Arches National Park, Canyonlands National Park, and Capitol Reef National Park.
In my opinion, to do "The Mighty 5" right, your trip should be two weeks total—10 days at the very least. Anything under that and you will be doing a lot more driving than exploring.
Since this trip is only one week (including travel days), it's two national parks and a national monument.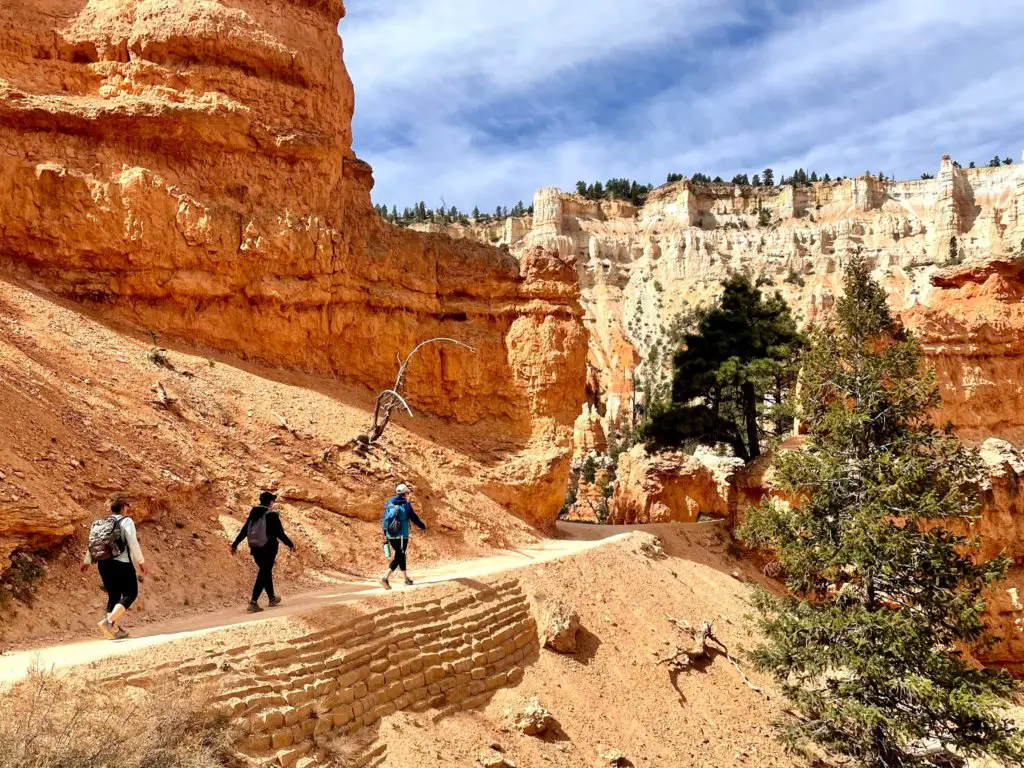 There are notes and tips about substituting different places on certain days so, obviously, you are not locked in. That said, it is a place to start and I highly recommend this itinerary for a week that includes a range of experiences!
How Can I Spend 7 Days in Utah?
Travel Day: Arrive in Southern Utah with options to stop along the way
Start with 1 Day in Zion National Park (East Side—aka the "secret side")
1 Day in Bryce Canyon National Park
1 Day at Grand Staircase-Escalante National Monument
2 Days back at Zion National Park (South End)
Travel Day: Back home on Day 7
The trip includes three different places to stay, so while you do hotel-hop (Airbnb), it's not a daily switch. All of the details on that are below.
Trip map courtesy of
Wanderlog
, the best travel planner app
The Best Southern Utah Road Trip Itinerary: One Week
A southern Utah road trip takes a little more pre-planning than a lot of vacations, but the adventures are totally worth it. Let's get started!
Before Your Southern Utah Road Trip
Do Your Research
Google. Read blogs. Browse Instagram. Ask your friends. Whatever you need to do, soak up as much information as possible! Everyone's experience is different but I guarantee a better time if you have a plan together and a good idea about what you're getting into!
Additional, HIGHLY-DETAILED blog posts of mine are linked throughout the post so make sure to visit those for even more tips.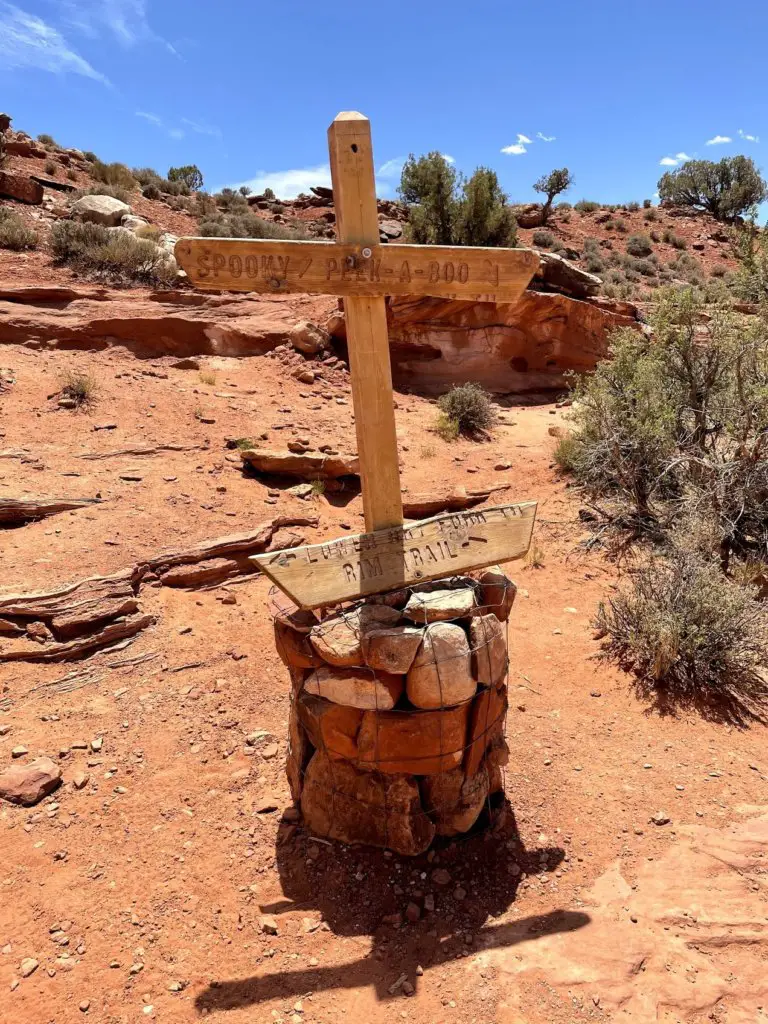 Rental Car
I highly recommend a quality SUV for this trip. You spend a lot of time in the car, one day involves dirt roads, there are switchbacks through Zion, and you will need enough space for all of your passengers and luggage. My group went with a Chevy Equinox and it was perfect.
Annual Park Pass
If you are planning to visit more than three national parks in the next 12 months, grab an America the Beautiful Pass for $79.99. It's $35 at each park (for 7 consecutive days) so you make up your money in just three NP visits.
This pass twice is used twice on this trip so if you have another national park planned (or find it likely—you'll only be out $10 if you don't) then definitely grab one of these! If you don't want to go that route, you can grab week-long passes at the entrances.
What to Pack for a Southern Utah Road Trip
Water Bottle: You need a big one that keeps liquids cold. This 32 oz. water bottle is my absolute favorite (still had ice in it after a day at Zion in 80+ degrees!) It has an easy-to-carry handle and I love the mouthpiece.
Hiking Shoes: Don't forget your hiking shoes! If you don't have a pair, invest in some. A few of these hikes will be difficult without them. The REI Outlet is a great place if you want to keep things affordable.
Layers: A few mornings you will get started early and temperatures are much, much cooler than they will be in the day. Make sure to have a jacket, long sleeves, leggings, and shorts, as well as a warm hat if you are going between late September-May.
Snacks: Between long hikes and busy areas with restaurant wait times, you will want snacks! My favorite are these Chomps Beef Sticks (all clean ingredients and lots of protein), and Trader Joe's Simply the Best Nuts (individually packaged which makes everything easy). They easily fit in a suitcase and can be in your carry-on.
Sunscreen: No matter what time of year! If you are on the hunt for a clean product, the best out there is Cocokind. It's not a weird texture or sticky on your face. I love it, plus it's a great size for travel.
And with that, let's get into the official southern Utah road trip itinerary!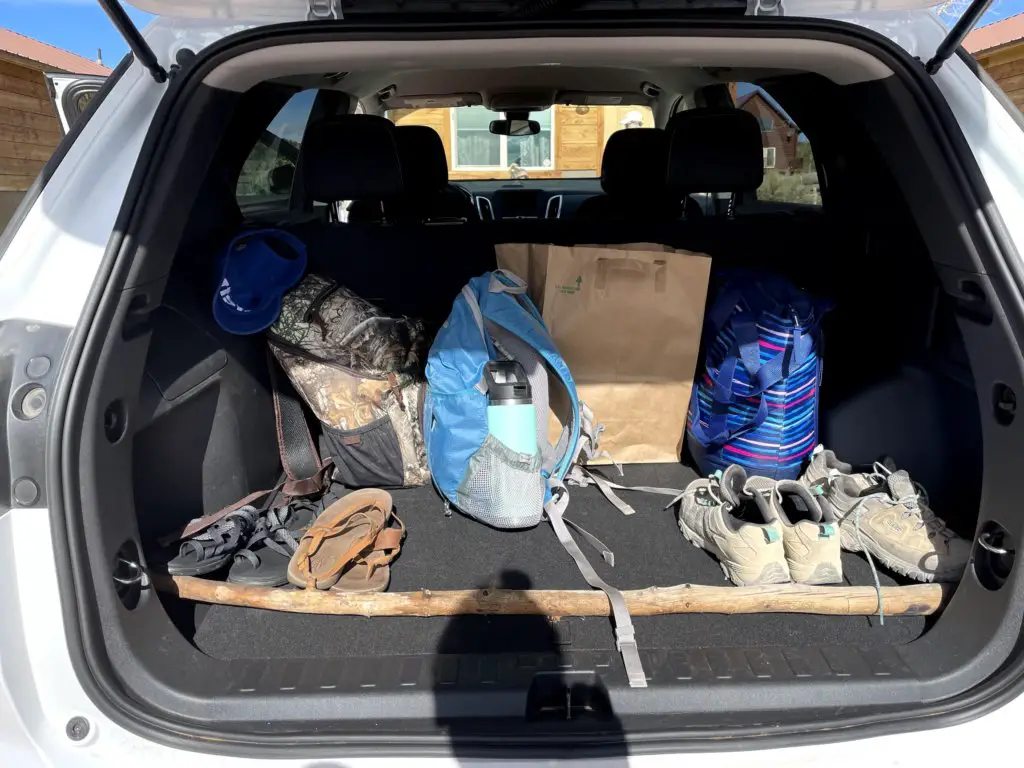 Day 1: Travel Day
MORNING
Where Do I Fly Into for a Southern Utah Road Trip?
McCarran International Airport in Las Vegas, Nevada, is the closest airport to southern Utah. It's 170 miles away from Springdale, Utah (Zion National Park), and is a major hub where you can typically find cheap flights. This itinerary will start in Sin City!
Note: Salt Lake City International Airport is the next closest and is 311 miles from the park. This is a good option if you prefer to road trip through Utah from north to south.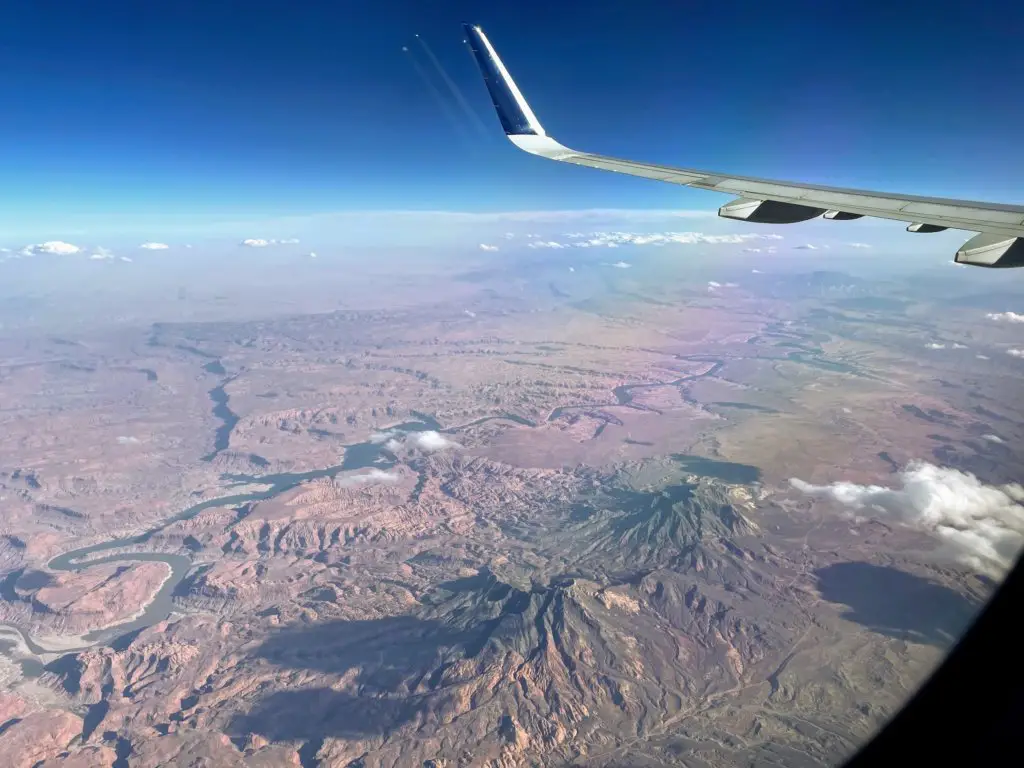 Pick Up Your Rental Car
Grab your rental and be on your way! Your first day of travel will have you on a scenic drive as you make your way from Vegas, through Arizona, and finally, into Utah. It's a fairly easy drive that will find you on curvy stretches every now and then and takes a total of 160 miles (2 hours, 35 minutes.)
KEEP IN MIND: there is a time change between Las Vegas (PDT) and Utah (MT)! Your clocks will move ahead one hour.
Afternoon
Places to Stop between Las Vegas and Springdale
Valley of the Fire State Park: this can be your first stop if you'd like to do a short hike and check it off your list! Located under an hour from Vegas and still in Nevada, is beautiful desert land and red sandstone formations.
St. George: is a city a couple of miles north of the Arizona and Nevada border in the very southwestern corner of Utah. It's one of the bigger towns on your drive and perfect for a gas and food stop.
Other than that, it's mountains, small towns, and jackalopes! Lol
NIGHT
Depending on what time you arrive, check in to your place, explore Springdale, Utah, or better yet, just relax! You have a big week ahead. (Note: there are a few Springdale restaurant recommendations later in the post.)
Where to Stay in Springdale, Utah
Springdale, Utah accommodations are not cheap given the high demand! One of the more affordable places is the Best Western PLUS, located right downtown and near a shuttle stop—more on that below.
The rooms are very spacious, clean, and complete with a view. Plus, they offer an (actually delicious) continental breakfast that is the perfect pre-hike meal. And lessens the blow of the bill.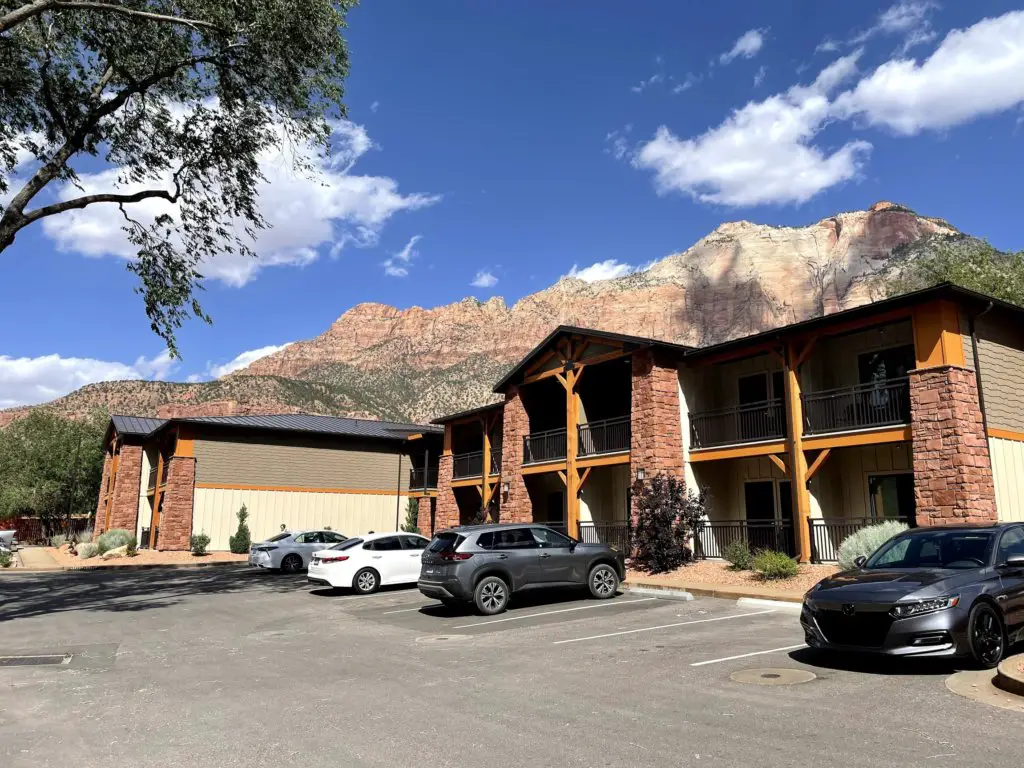 Options: There are plenty more places to choose from in Springdale, Utah including the Zion Lodge inside the park (need to book early), camping, and additional hotels and Airbnb's. Check out How to Spend Two Days at Zion National Park: What You Need to Know for more options.
Day 2: Zion National Park (East)
Hike: Observation Point via East Mesa Trail
Observation Point is one of the most beautiful spots in Zion and you will want this hike on your list. More specifically, the version of this hike that is done via the East Mesa Trail. The more popular version of the hike to Observation Point is from the south end of the park—bottom-up. This requires a shuttle bus and there are an endless amount of people.
Luckily, there is an alternative route if you drive to the east side of Zion—top-out. Bonus: the scenic drive there (via UT-9) is one to remember!
Note: the popular, south-end version of the hike to Observation Point is currently closed due to rockfall. (That said, I'd still choose East Mesa Trail, even when it's reopened.)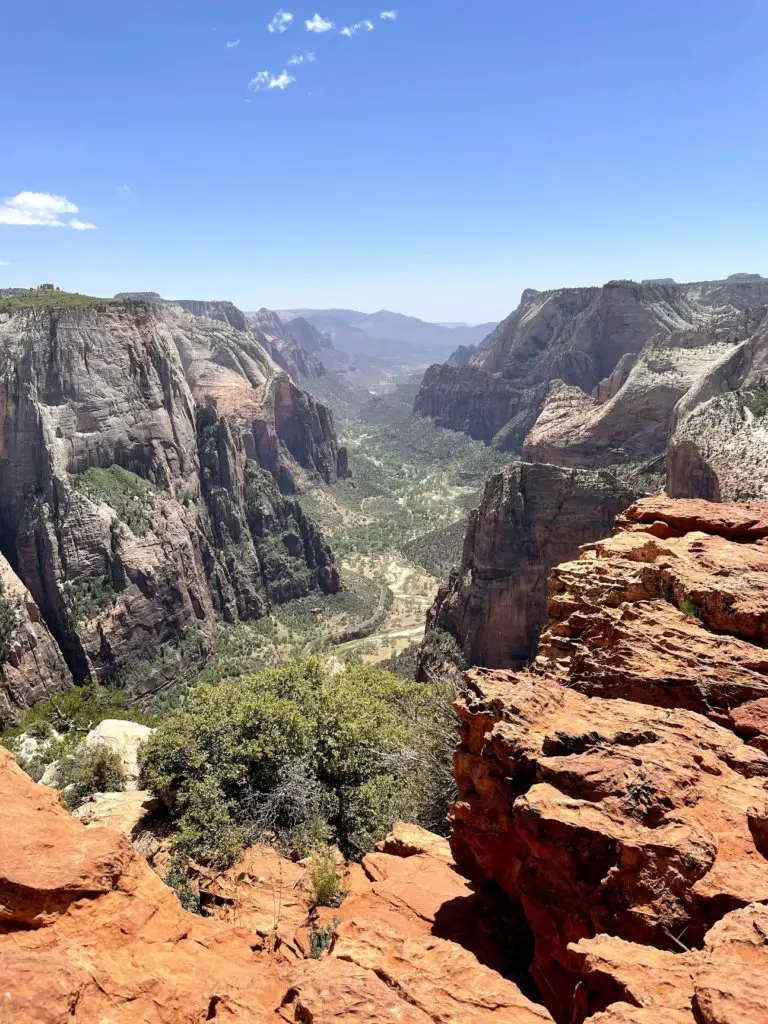 MORNING
The East Mesa Trail hike is not one you need an early start for which makes it a good option after a travel day. Wake up, grab breakfast, and be on your way at a leisurely pace. Plan to leave Springdale between 11:00-12:00 PM.
AFTERNOON
Plug "East Mesa Trailhead/Observation Point Trailhead" into your Google Maps and you will be all set for a 52-minute journey. It's only 23 miles, but given the switchbacks and drive through the mountains and tunnels (awesome!), it takes longer. There is a bathroom as you approach the east-side entrance. And a few miles from the trailhead, you hit a dirt road which is where your SUV comes in handy.
Note: you will not return to Springdale tonight and this is bringing you in the right direction once your hike is over.
Park at the trailhead (we arrived at 1:00 PM and found parking, no problem) and you will find where the 6.8 miles, out-and-back trail begins.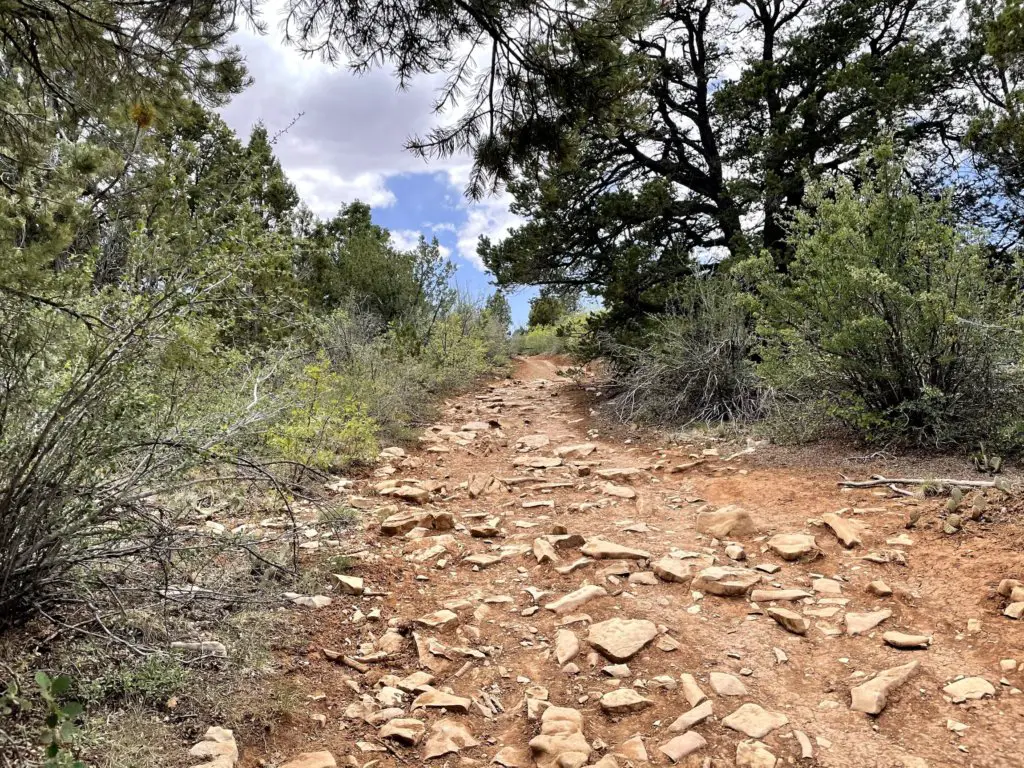 *This Hike Takes 3-4 Hours*
You are led through a woodsy setting with mountains in the distance and amazing views once you make it to your destination. The best in the park, in fact! Though the hike is a bit longer, it's not strenuous in terms of incline. A less than a mile or so stretch on your way back will be the toughest part on your booty!
Your destination (Observation Point) gives you not only a great hike but one of Utah's best views. It includes a birds-eye view of both Angels Landing and The Narrows. Tip: it's very windy at the top!
NIGHT
After your hike, you will make your way to Hatch, Utah (54 miles—1 hour, 10 minutes) which is very well-positioned between both Zion National Park and Bryce Canyon National Park. Tomorrow, you'll tackle Bryce. But don't worry, you will return to Zion in a couple of days!
Survive on snacks until you arrive. There is an awesome (and a bit unassuming) place to eat called Outlaw Saloon – Western Bar and Steakhouse. PRO TIP: Get the ribs. The meat falls off at the touch of a knife.
Where to Stay in Hatch, Utah
Mountains Ridge Cabins and Lodging is the perfect place to stay in Hatch, Utah. They are adorable and affordable with a restaurant/bar, convenience store, and coffee shop right nearby. The cabins are very clean (with daily housekeeping available) and include a shower, TV, and free drip coffees at the coffee shop.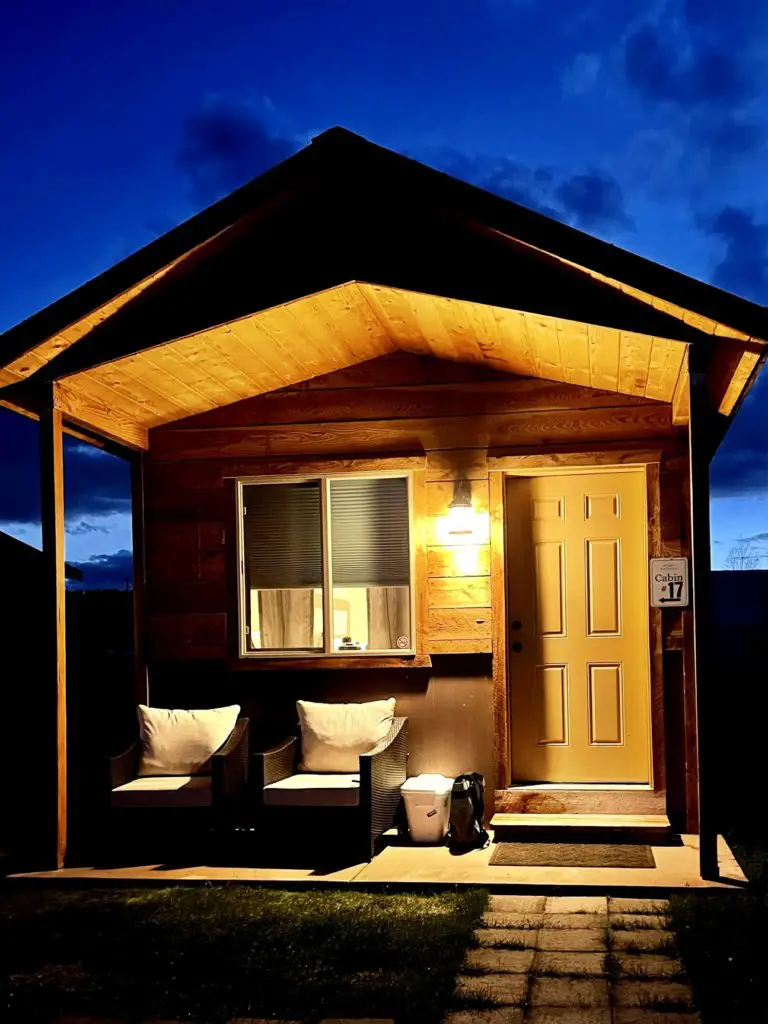 Day 3: Bryce Canyon National Park
HIKE: The Figure 8
All right, people. Get ready. Because this is going to be a day to remember. Everybody raves about Zion National Park (which, of course, is beautiful) but the real winner in my book is Bryce Canyon National Park. The rock formations, known as hoodoos, will take your breath away!
MORNING
Day 3 is going to require an earlier start. Leave Hatch, Utah absolutely no later than 8:30 AM; I would recommend between 7:30-8:15 AM and potentially earlier in peak season.
Sip your coffee on the 30-minute drive over and park in the Sunset Point parking lot after showing (or purchasing) your pass at the park entrance. Note: we got one of the very last spots in the lot at 9:02 AM. And if it's summer, it will fill up earlier than that.
Sunset Point parking lot will connect you to Rim Trail and one of the most beautiful overlooks at the top of the canyon. You will be hiking down into it—and back up! And trust me, the views will be worth it.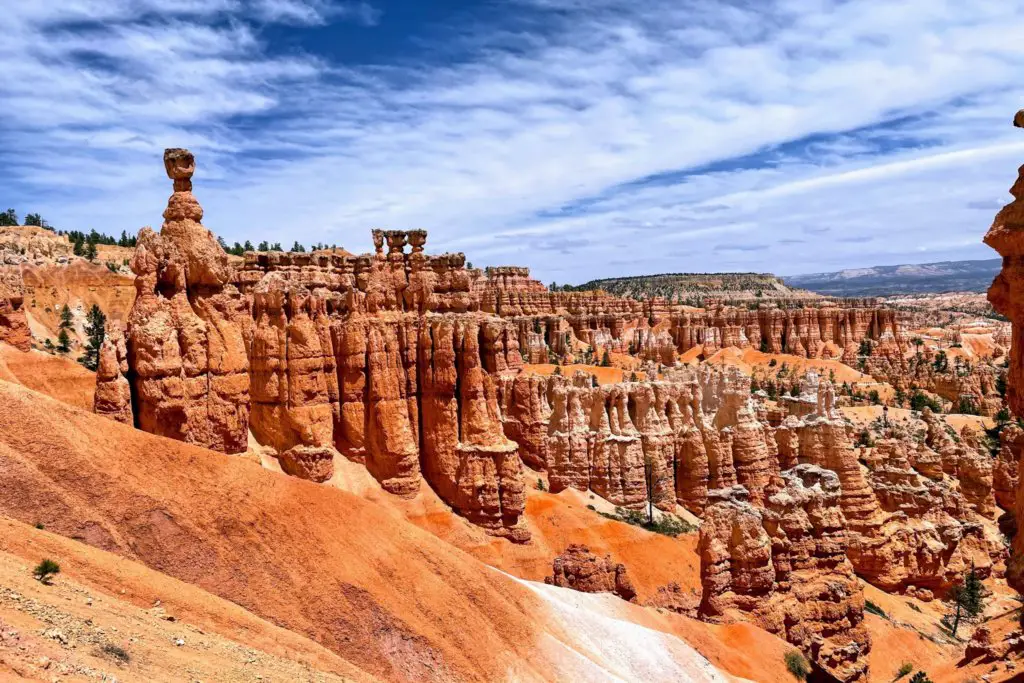 Hike the Figure 8 Hike
The best and most rewarding 6-7 mile hike (depending which route you choose) in Bryce Canyon National Park consists of three hikes looped together into a Figure 8. Always remember, STAY RIGHT.
*This Hike Takes 3-4 Hours*
Wall Street: a series of switchbacks that lead you down onto the canyon floor. (Left side image once I reached the bottom.)
Peekaboo Loop Trail: an up and down 3-mile loop inside the canyon that offers the most INCREDIBLE non-stop views of the rock formations.
Navajo Loop Trail OR Queens Garden: The way back up to the parking lot which is a tough, but worth it, journey! Navajo is shorter yet steeper and brings you to Sunset Point. (Right side image. Phew!) And Queens Garden takes some extra time but is less of an incline and brings you to Sunrise Point parking lot.
You can find EVERY SINGLE DETAIL on this hike here: The Best Day in Bryce Canyon National Park. You will have the BEST time!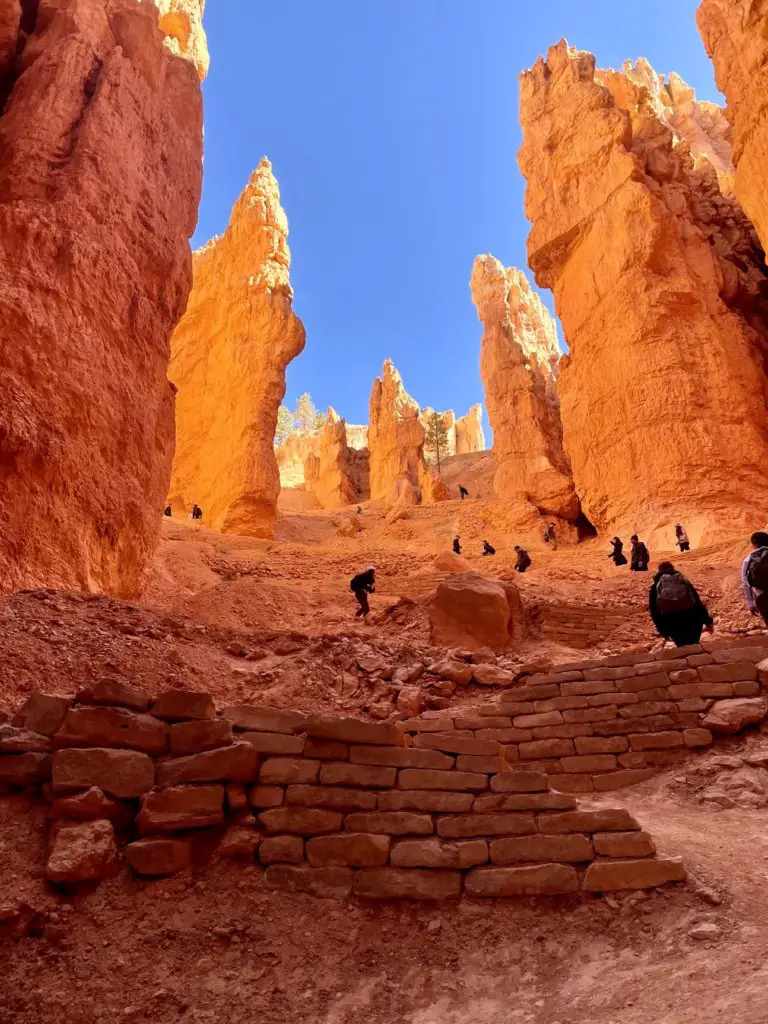 Afternoon
After the Figure 8 hike, which I cannot recommend enough, you still have an entire afternoon ahead of you. Choose one of these great options:
Walk Rim Trail and check out all of the viewpoints. This brings you along the edge and does not get down into the canyon. You can park at Sunset Point OR Sunrise Point. There are no inclines so it can be a very casual walk while getting some great pictures.
Drive the Scenic Byway known as Route 63. If you'd rather drive, this will bring you to a TON of great views. (You can easily make this a full day as well.)
NIGHT
It has been a DAY! Find a restaurant in Bryce or make your way back to Hatch and hit Outlaw Saloon – Western Bar and Steakhouse again. This time, get the steak. It melts in your mouth!
Where to Stay: Hatch, Utah (Night 2/3)
Return to your little cabin for another night's stay! Option: if you'd like to stay inside the park, Bryce Canyon Lodge is the only option and must be booked far in advance!
Day 4: Grand Staircase-Escalante National Monument
Hike: Peekaboo Gulch & Spooky Gulch Slot Canyons
Ready for a mini road trip from Hatch to Escalante, Utah? If slot canyons are on your list, then your going to love this day! It's such a fun experience.
MORNING
67 miles (1 hour, 15 minutes) east of Hatch, and through Bryce, is Escalante, Utah. It is in the heart of Grand Staircase-Escalante National Monument on Scenic Byway 12 and home to a few different slot canyon hikes that will blow your mind!
Use this as a day to sleep in a bit (this is by far the least populated area of your trip so you won't need to worry so much about crowds) and leave Hatch, Utah by about 10:30 AM. This will put you in the town of Escalante by around NOON assuming you stop once. Once you get there, check out the little town, grab some coffee if need be, and be on your way.
Afternoon
Hike Peekaboo Gulch + Spooky Gulch
The plan is to hike Peekaboo Gulch and Spooky Gulch which are located about 40 minutes down a dirt road from Escalante. I know, more driving. But it's all an adventure and the beautiful drives make them seem quick! Make sure you have an SUV for this trip.
*This Hike Takes 2-3 Hours*
This 3.5-mile lollipop loop hike will have you start at the trailhead, walk around the rim and down into the lower desert, and arrive at Peekaboo Gulch, the first of two slot canyons. From here you have a couple of options:
Climb into Peekaboo Gulch (that's the toughest part), and hike through the narrow canyon walls about .25 miles. This one is really fun and a pretty easy hike to maneuver. And the afternoon sun hits the walls perfectly for pictures.
When you come out the other side, you can hike over to Spooky Gulch, which is only about half a mile or so. Or go back through Peekaboo the way you came. Spooky Gulch is much more narrow (like 10 inches in some spots.) If you had a tough time with Peekaboo or are just nervous to give it a go, turn around. If you're ready and excited (and just a little nervous), do Spooky! It's really a unique experience.
If you end up doing Spooky Gulch, you'll loop right back around to Peekaboo once you come out of the slot canyon (this one is also about .25 miles) and stay right.
Of course, you can always reverse it and start with Spooky Gulch and make your way over to Peekaboo second. This is said to be tougher.
This hike is outlined in FULL details (including the drive) over on The Best Grand Staircase-Escalante, Utah Slot Canyons to Hike. Definitely read the details if you are headed that way!
NIGHT
Once you finish your hike and make your way back to the small town of Escalante via the dirt roads, it will be about 5:00-6:00 PM which makes it the perfect time for a beer! Stop for just that and a bite to eat at one of the restaurants/bars. I recommend:
Circle D Eatery
Right off the main road is a great hiking reward! Circle D Eatery is a part of an independently-run motel and serves some delicious food and drinks in a casual environment. There is plenty of space inside, as well as an outdoor seating area. I recommend the Jalapeno Cream Ale beer that I am still thinking about. And the BBQ Brisket Nachos.
After you eat, it's time get some rest! Or just keep drinking 🙂 You've earned it!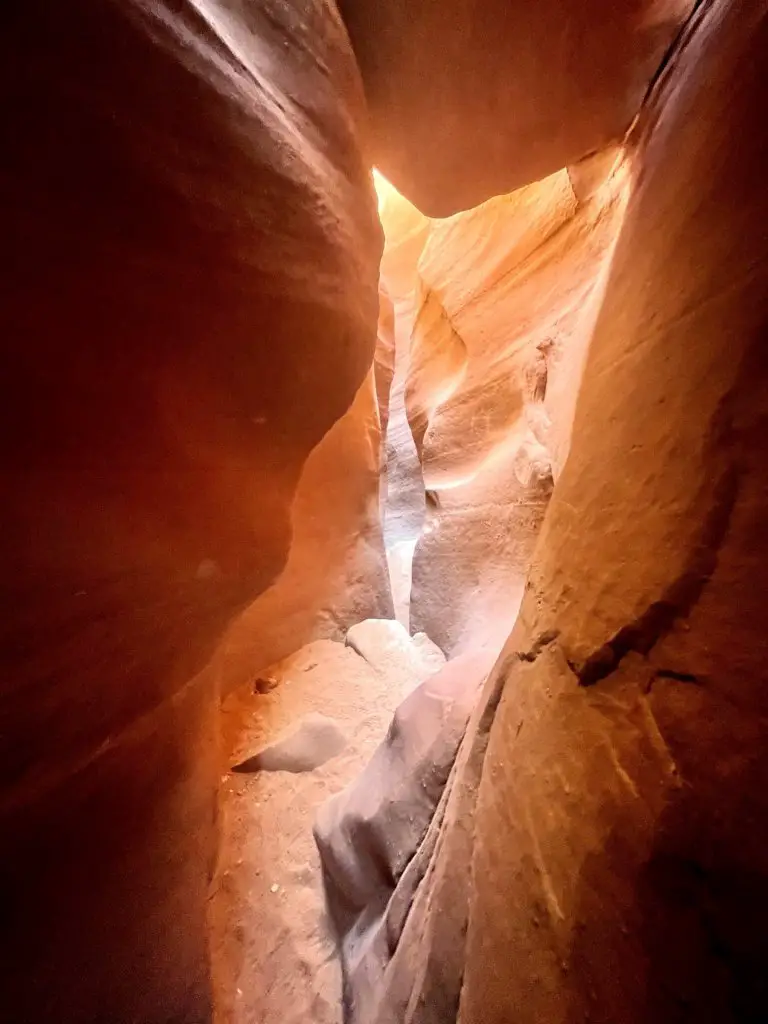 Where to Stay: Hatch, Utah (Night 3/3)
It's your last night in the tiny cabin! I recommend making your way back just because it gets you much closer to Zion National Park, where you will make your way back to tomorrow. But…
Options: There are actually quite a few places to stay in Escalante, Utah. Click for all of the lodging choices, including motels and camping if you'd rather not drive more. There are also plenty of places to stay in Bryce, Utah which you drive through and puts you closer to Zion for the morning.
Day 5: Zion National Park (South)
Hike: Rest Day or Your Choice
Sidenote: Zion National Park requires a LOT of details. Please don't miss How to Spend Two Days at Zion National Park: What You Need to Know where nearly every single detail is outlined. This post will give you a lot of great high-level information, but we really go in-depth over there.
Back to Zion, it is! I like the idea of starting with Zion and looping back around to end with it to give you a shorter distance to and from the airport.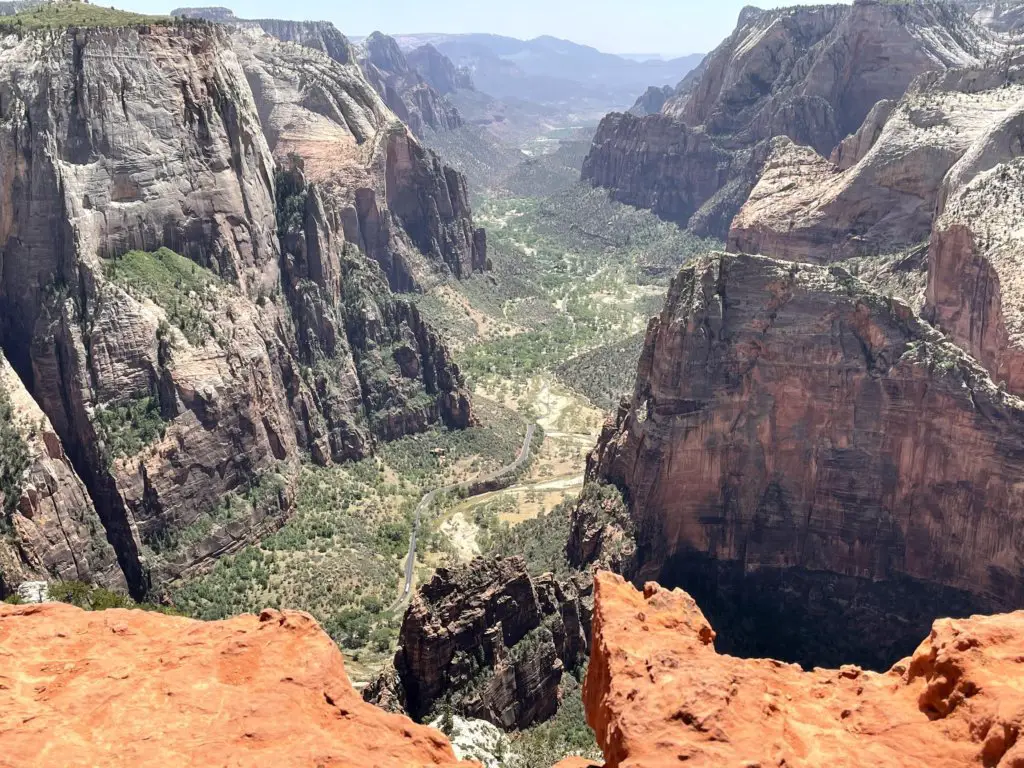 At this point, you will want to check off one (or two!) more hikes in the next two days. Depending on how you feel, you might need a rest day, which Day 5 is perfect for. Zion National Park is crazy busy and in order to have the best experience, you need to wake up EARLY. Being that you'll wake up in Hatch, Utah, that will be difficult. A few options:
Rest Day: Go at a leisurely pace today, explore Springdale, Utah and get ready for a big day tomorrow. This is the choice this itinerary covers!
Hike Watchman Trail or Canyon Overlook Trail: these hikes don't require the shuttle which makes it way easier to work into the day. Watchman is 3 miles from inside the south entrance and Canyon Overlook is 1 mile and off of UT-9.
Hike Angel's Landing: this is the most popular hike at Zion National Park and a later-in-the-day start might not be the best experience. That said, it's your vacation!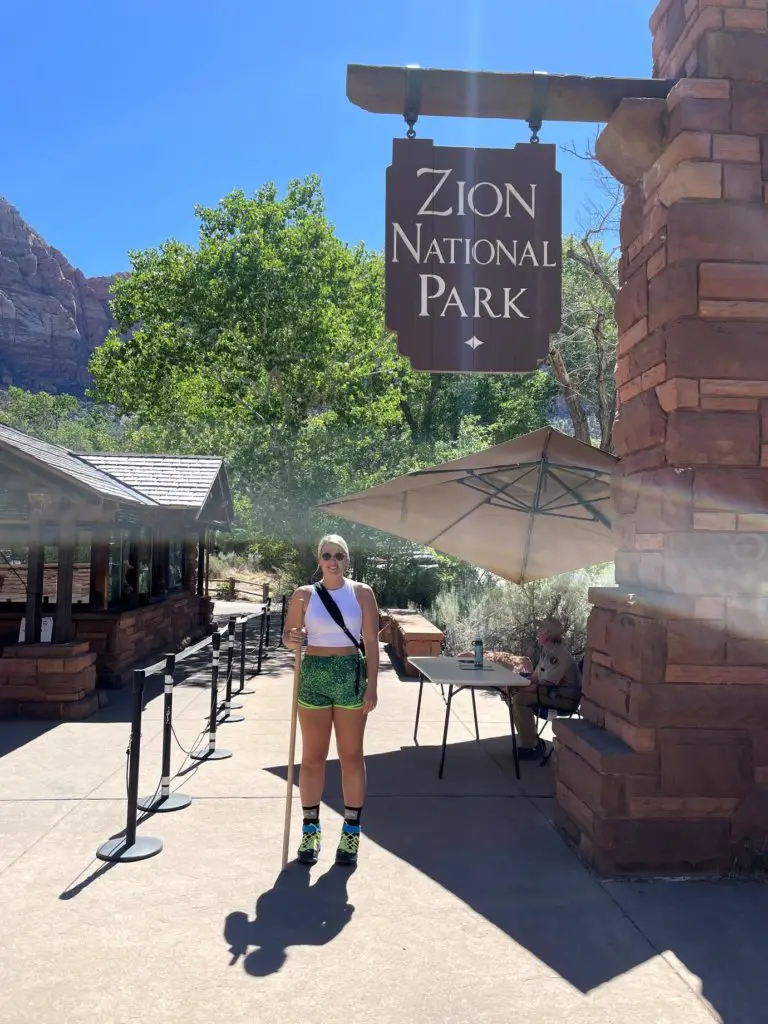 Morning
Grab a delicious breakfast at Hatch Station. They have omelets that will hit the spot! Plan to take off and make your way back to Springdale (60 miles—1 hour, 20 minutes, and a beautiful drive) by about 11:00 AM.
Make a road trip stop at Belly of the Dragon. It's right off UT-89 and is a quick, fun, and unique stop through a cave. There aren't a lot of people and it's perfect for kids—or just a couple of cool pictures! Plus, a chance to get out and walk around.
Afternoon
This is your chance to explore the town of Springdale, Utah! You might not be able to check into your hotel or Airbnb (my recommendation below!) until late afternoon so just find a parking spot and meander around the town. Recommendations:
Go Shopping: This tourist town is, of course, full of shops that line the block towards Zion National Park. Souvenirs, crystals, sweet treats, boutique-style clothes, and gifts.
Coffee/Drinks: FeelLove Coffee Zion is the cutest place and it is not just coffee, there are dinner and cocktail menus as well.
Beer: Definitely plan to have a beer or five at Zion Brew Pub where there is both indoor seating as well as an awesome outdoor beer garden. It's right near the entrance to Zion National Park.
Eat: Whiptail Grill, a converted gas station, is a great place for lunch! Grab anything from steak tacos to chicken sandwiches on their Mexican fusion cuisine menu. They do have beer and wine.
Visitor Center: go talk to park rangers and grab maps for tomorrow.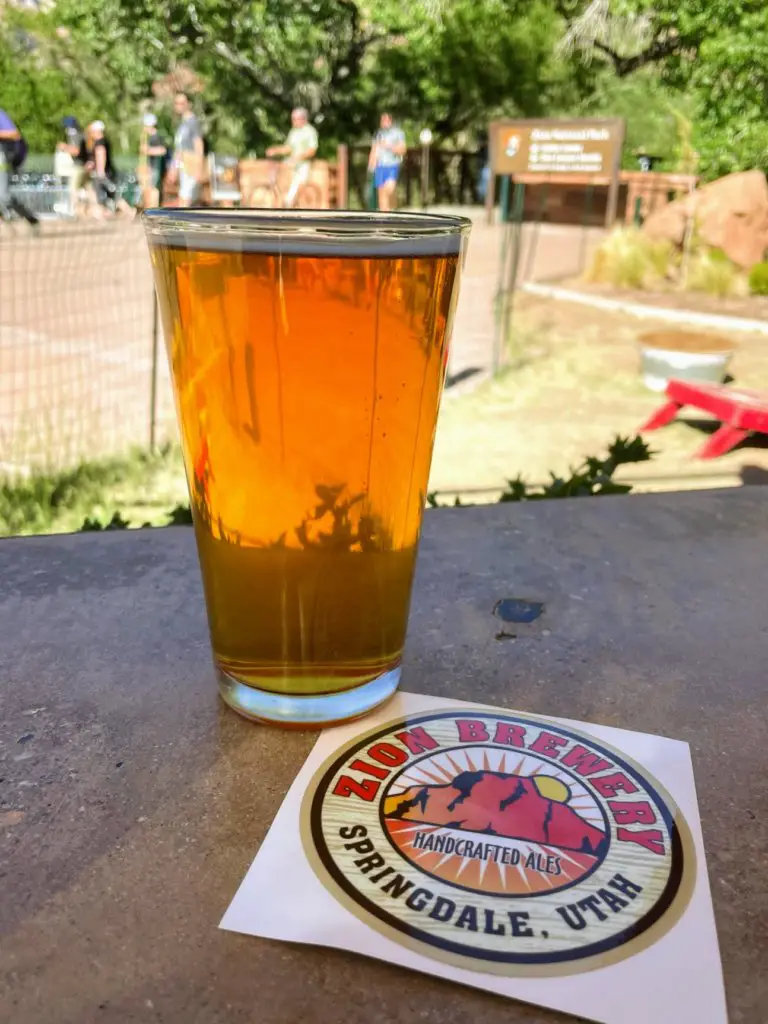 Night
After your day of exploring, it's time to grab dinner and then call it a night. (Note: if you are doing The Narrows hike tomorrow, grab your gear from Zion Outfitters. More information below.)
Zion Pizza & Noodle Co
Dine-in (there's a beer garden) at Zion Pizza & Noodle Co. or order your food from the counter and bring it to your hotel or Airbnb. The European Trail was a delicious pizza option.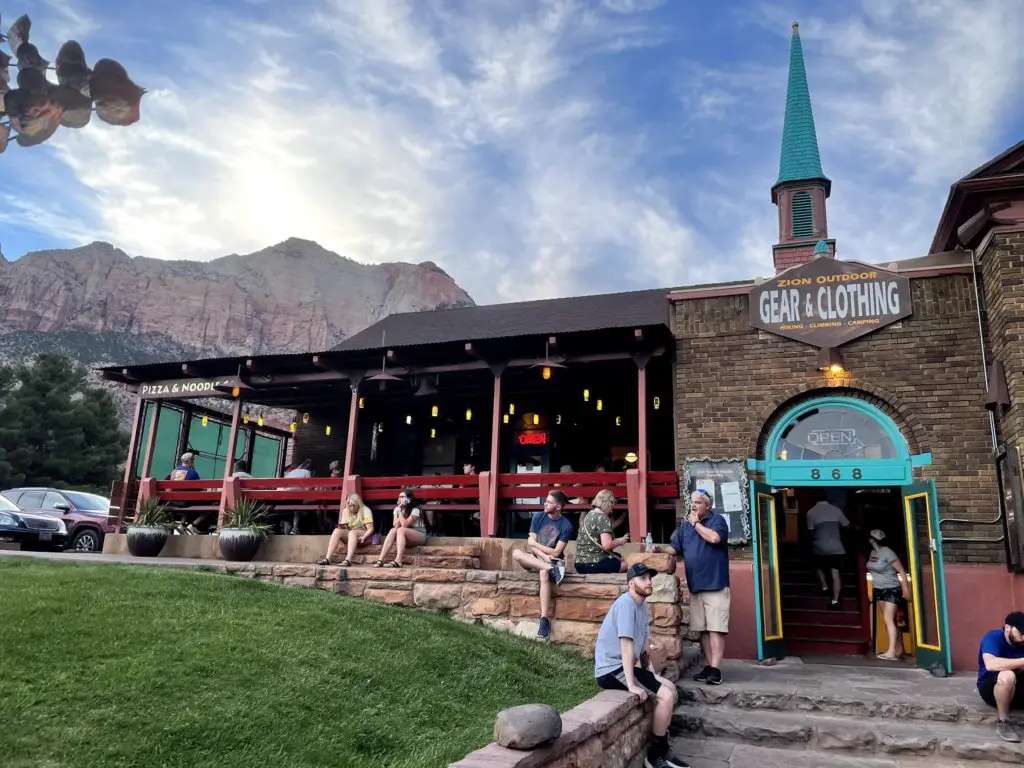 Where to Stay in Springdale, Utah
Townhouse Airbnb (Night 1/2)
I stayed in the most perfect townhouse in the heart of Springdale and it was perfect! Very clean, modern, and has two bedrooms plus comfy living space, laundry machines, and a TV. And the outdoor patio space (pictured below) makes it worth every penny.
You are only a short walk from the Springdale Shuttle that will bring you to the park (more on that below.) And there is a marketplace across the street that's perfect for grabbing meals to prep at the place and snacks for your hikes. We stayed two nights and weren't quite ready to leave! Highly recommend.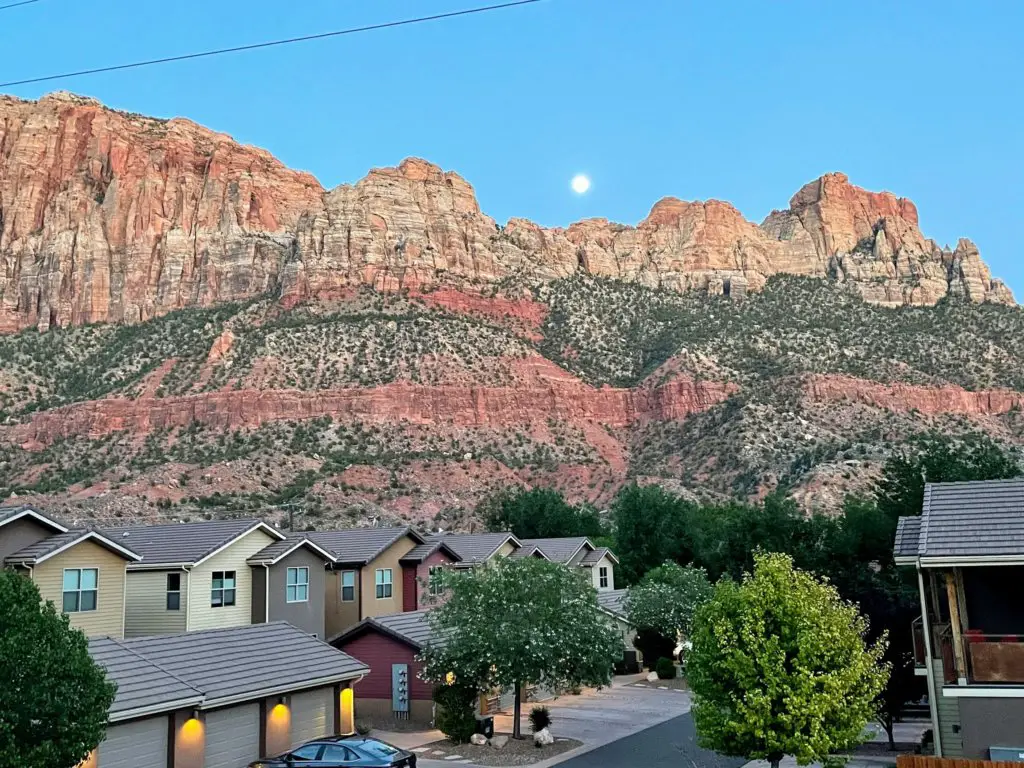 Options: Visit How to Spend 2 Days at Zion National Park for more places to stay.
Day 6: Zion National Park (South)
Hike: The Narrows
Today is a big day and a check-off of the Bucket List! If you didn't get a major hike done yesterday, you'll need to pick between The Narrows and Angels Landing—two of the most popular hikes.
This itinerary will walk you through The Narrows, a fun and unique experience that isn't quite as close to death as Angels Landing. (LOL I'm kidding. Sort of…)
Note: if neither of these sounds appealing, check out the list of other popular Zion National Park hikes.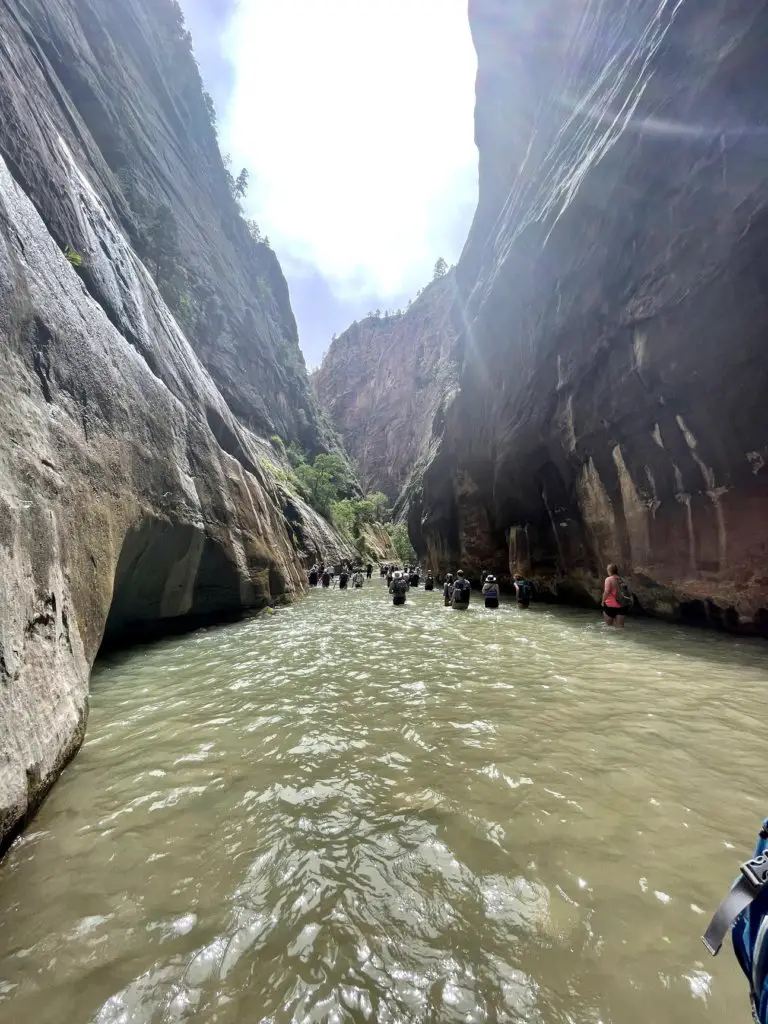 MORNING
Early. Start early. It cannot be stressed enough. As I mentioned, Zion is a very popular place. And between the number of people and the shuttle bus(es) requirement, it's best to get going. We're talking like, be in line for the Zion Canyon Shuttle at 6:00 AM. EEK! Don't worry, it's worth it. First things first:
Zion Shuttle Buses
The most popular hikes in Zion National Park REQUIRE taking the Zion Canyon Shuttle Bus. There are TWO separate shuttles in the area.
The Springdale Shuttle: connects the town of Springdale (stops near your hotel or Airbnb) to the South Entrance of the park where you catch the Zion Canyon Shuttle. Note: this runs April-October. This is not required, you can also walk.
Zion Canyon Shuttle: This gives you access from inside the park to the upper canyon (most popular hikes) since private vehicles are prohibited along Zion Canyon Scenic Drive between March and November. It is first-come, first-serve. Don't forget your park pass or purchase at the entrance.
Hike The Narrows
SHUTTLE BUS STOP 9: TEMPLE OF SINAWAVA
One of the most unique hiking experiences in the United States is through the Virgin River inside one of Zion's canyons. After taking the Zion Canyon Shuttle to the last stop (#9) and making a mile or so hike on the Riverside Walk paved trail, you'll enter the river with high canyon walls on either side.
*This Hike Takes as Long as You'd Like! Likely at least 4 hours*
Once you enter the water, you can go as far as 8 miles, but you can turn around and come back whenever you choose. The scenery doesn't change a ton, so we went about 1.5 hours or so before we made the trek back.
As far as gear, I recommend the boots, neoprene socks, and a walking stick from Zion Outfitters. You can find WAY more details in this post. Note: this is not required!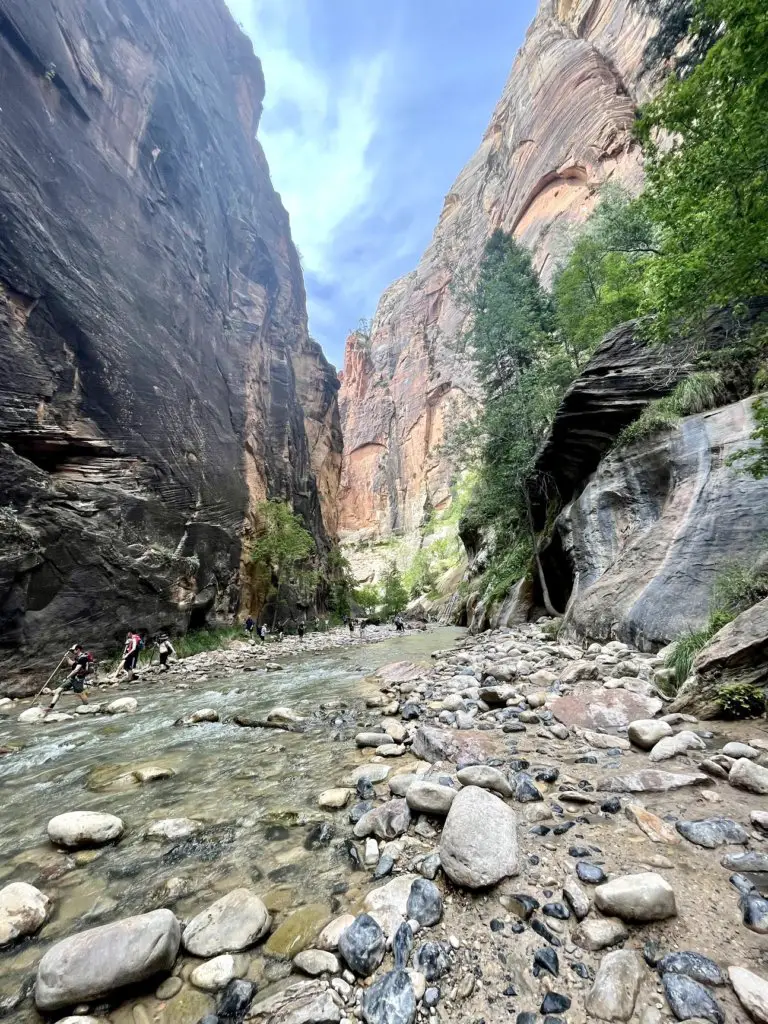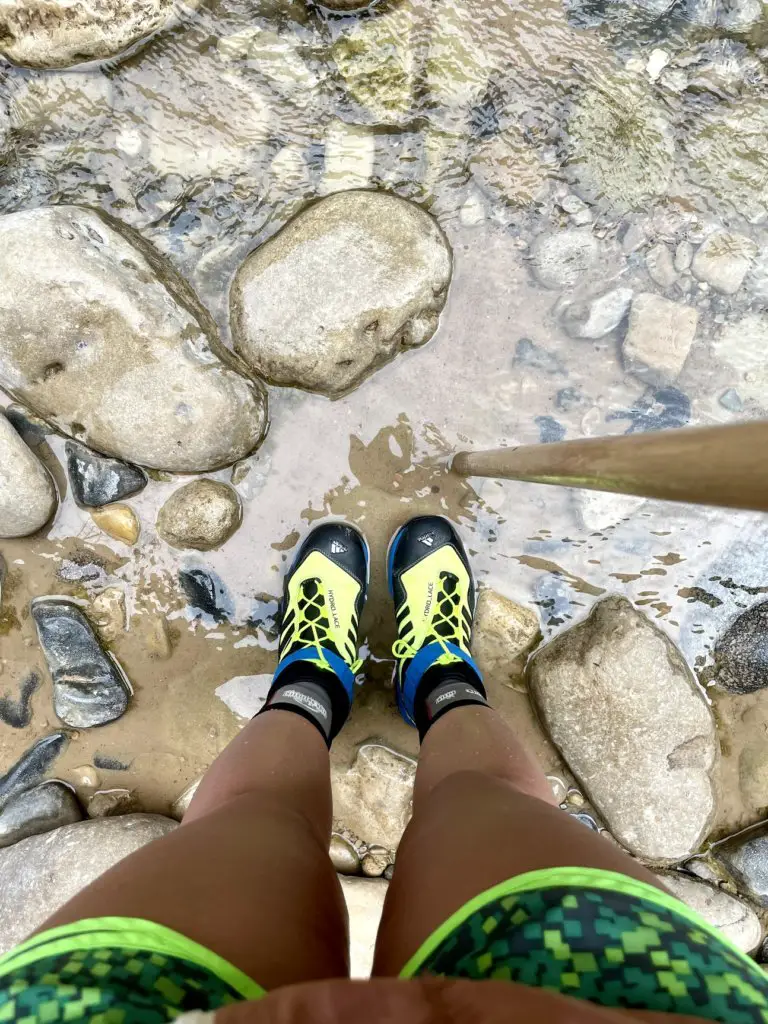 Afternoon
Pick another shorter hike inside Zion National Park such as Emerald Pools or Weeping Rock.
Head back out to Springdale to drink beer and eat; you've done enough hiking for one day!
Where to Stay in Springdale, Utah
Townhouse Airbnb (Night 2/2)
Back to the perfect townhouse in Springdale where you can enjoy your outdoor patio, maybe do some laundry before you head out, and relax!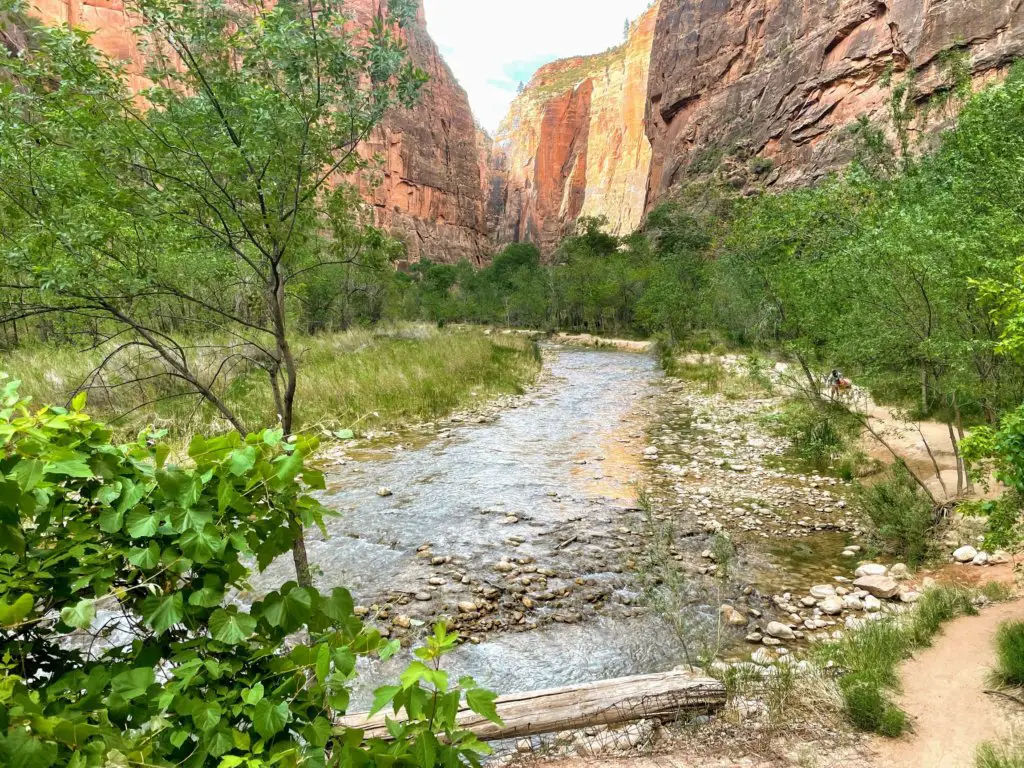 Day 7: Travel Day
That's it! You have reached Day 7 of your southern Utah road trip experience and it's time to make you way back to the airport. You are 2 hours and 40 minutes from Las Vegas so depending on when you flight is, make sure you are packed and ready to roll!
Mix-and-Match + Additions
When you only have one week, including travel days, there is simply too many places to squeeze in on a southern Utah road trip. Here are other destinations in the area that you can replace in your itinerary, or add extra days for:
Capitol Reef National Park: if you're focused solely on national parks, you could potentially swap "Day 4: Escalante Slot Canyons" with this park which is also east of Bryce. It is more driving and you'll likely need to stay the night.
Canyonlands National Park: even farther east than Capitol Reef, you will probably need more days to work this in.
Arches National Park: a tad more east from Canyonlands, these three national parks are pretty close in proximity. As I said, 10-14 days for "The Mighty Five" is what you'll need. I plan to do these 3 as a separate trip.
Dead Horse Point State Park: one of Utah's state parks with views of the Colorado River. It's near the three national parks above and the city of Moab, Utah.
Cedar City + Cedar Breaks National Monument: a town north of Zion. You could choose to loop from Zion to Cedar City to Bryce and back around.
Northern Arizona: PACKED with places to check out, this can easily be a vacation on its own! The Grand Canyon, Antelope Canyon (popular slot canyons that are currently closed), and Horseshoe Bend are all highlights.
One Last Thought…
Alcohol
It's tough to come by in Utah! Lol. Here's the skinny: You can get 5% or less at gas stations, marketplaces, etc. Anything percentage above that, and you have to go to a liquor store. The kicker? There aren't many liquor stores! Ha. Definitely scope it out during your travels and figure out your option to stop and grab some booze.
As far as restaurants, many (not all) only have beer and wine. And many (not all) places don't have an actual bar to sit at.
This was my least favorite part of Utah and thought you should know! Lol.
The Ultimate 7-Day Southern Utah Road Trip Itinerary: Zion, Bryce, Escalante
You will LOVE this trip! And you will come out of it with so many amazing pictures and incredible memories. Comment your favorite spot on this trip! Or one I may have missed.
Happy travel! 🙂
Did this post help you out? Support the work and pass along $5 for a Coors Light 😉 VENMO: @Amber-LBB or PAYPAL: amber@littlebluebackpack.com. THANK YOU.