Zion National Park is one of the top national parks in the United States. It's extremely popular given its unique hikes, beautiful views, and close proximity to many other western road trip stops.
Because of Zion National Park's popularity, it takes a lot of planning.
Disclosure: This post contains affiliate links that earn a small commission at no extra cost to you.
This isn't the place to just show up and expect to hike. There are park passes, mandatory shuttles, crowds, and further details you should know about before you make your way to the first national park in Utah, especially in the spring and summer months.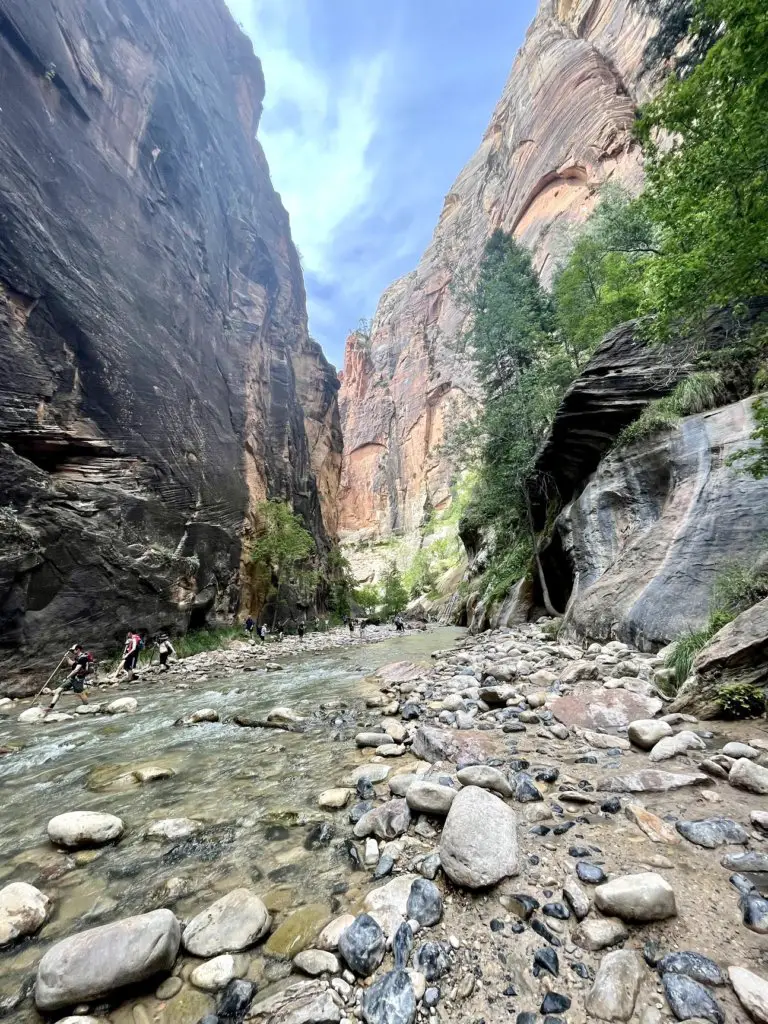 If you are planning a Southern Utah Road Trip for the first time, read this post from start to finish. It includes what to accomplish beforehand, what to pack, the best time to visit, hiking details PLUS an Itinerary Builder! Learn from the mistakes I made and you'll be all set.
When is the Best Time to Visit Zion National Park?
Spring: Crowds start to pick up as the weather turns nice, though does remain unpredictable. Water in The Narrows (a popular hike through the Virgin River) is at its highest.
Summer: Being the most convenient for traveling, especially for families, Zion is very, very busy. And it's HOT—typically above 100.
Fall: This is a good time to visit the park as crowds lessen and temps drop.
Winter: Least amount of people but obviously you are going to deal with cold and snow. As a bonus though, you can drive in the upper canyon which is closed most of the year.
Recommendation: Fall
Crowds start to dwindle. Temperatures drop. Water levels are low in the Narrows. And it's such a pretty time of year. (Fall > Spring > Winter > Summer in that order!)
I was here in the Spring of 2021 (end of May—not Memorial Day) just to keep in mind as you go through these tips and tricks!
Where Do I Fly into for Zion National Park?
McCarran International Airport in Las Vegas, Nevada, is the closest airport to Zion National Park. It's 170 miles away from Springdale, Utah, and is a major hub where you can typically find cheaper flights. Salt Lake City International Airport is the next closest and is 311 miles from the park. This is a good option if you prefer to road trip through Utah from north to south.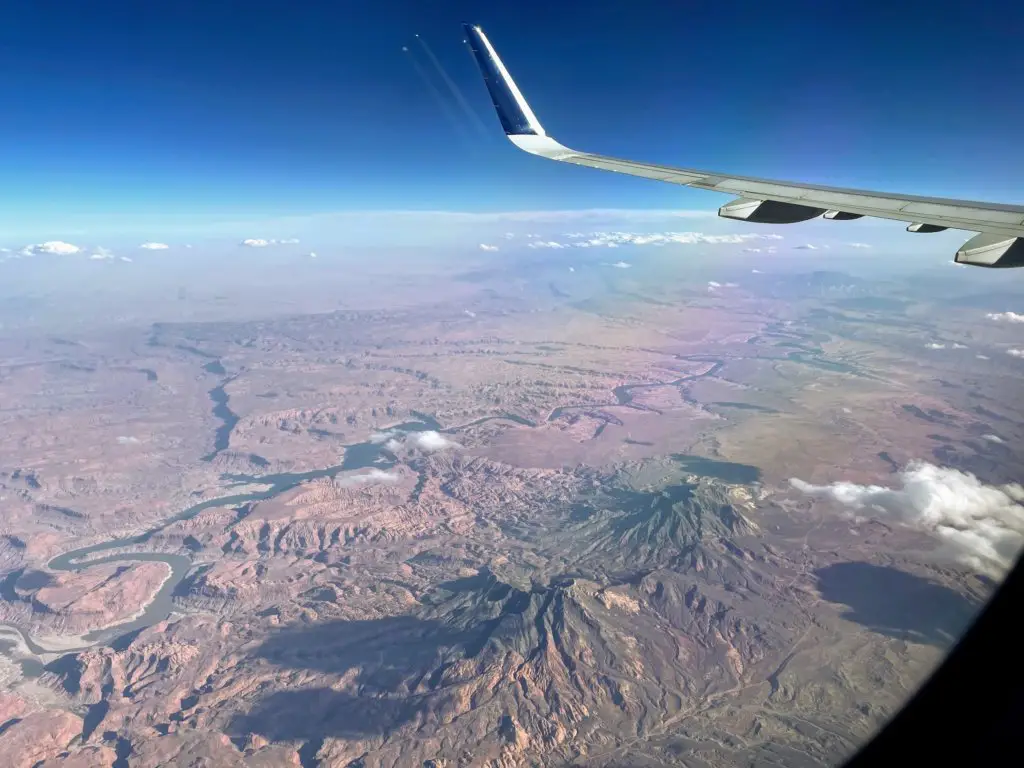 Once You Land
Rent a Car: Highly recommend a quality SUV that gives comfort for your road trip experience, plenty of space for your belongings, and drives well on switchbacks. OR…
Public Transit using The Salt Lake Express: a shuttle service company with routes and services to the southern Utah region.
Where to Stay in Springdale, Utah
Right outside the South Entrance of Zion National Park is Springdale, Utah. The biggest town in the area is full of restaurants, shops, coffee, markets, and of course, access to the park. It is the most popular place to stay when visiting Zion—which you will quickly notice!
Townhouse Airbnb
I stayed in the most perfect townhouse while visiting the area with my family. The inside is very clean, modern, and has two bedrooms plus comfy living space, laundry machines, and a TV. And the outdoor patio space (pictured below) makes it worth every penny.
You are only a short walk from the Springdale Shuttle that will bring you to the park (more on that below.) And there is a marketplace across the street that's perfect for grabbing meals to prep at the place and snacks for your hikes. We stayed two nights and weren't quite ready to leave! Highly recommend.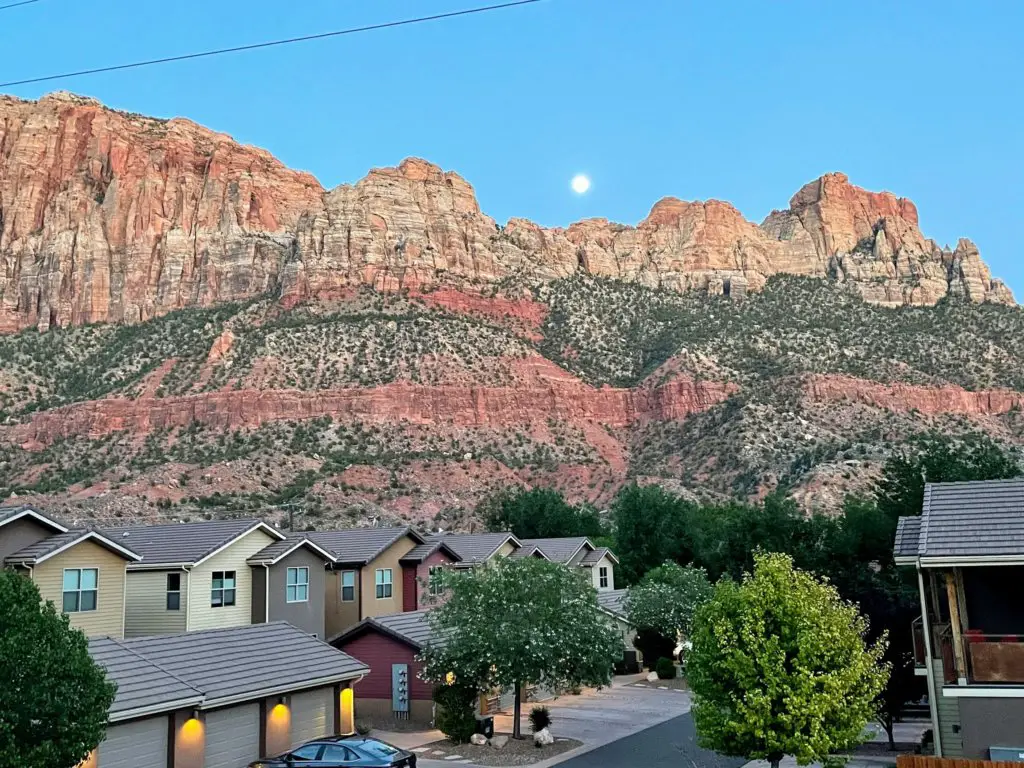 Best Western Plus
Most hotels in the area are VERY pricey given the demand of this area. The Best Western PLUS, though not cheap, is going to be one of the most affordable options. The Springdale Shuttle stops just outside so it's an easy trip to the park—plus, you can always walk the .8 miles instead.
The rooms are very spacious, clean, and complete with a view. Plus, they offer an (actually delicious) continental breakfast that is the perfect pre-hike meal! And lessens the blow of the bill…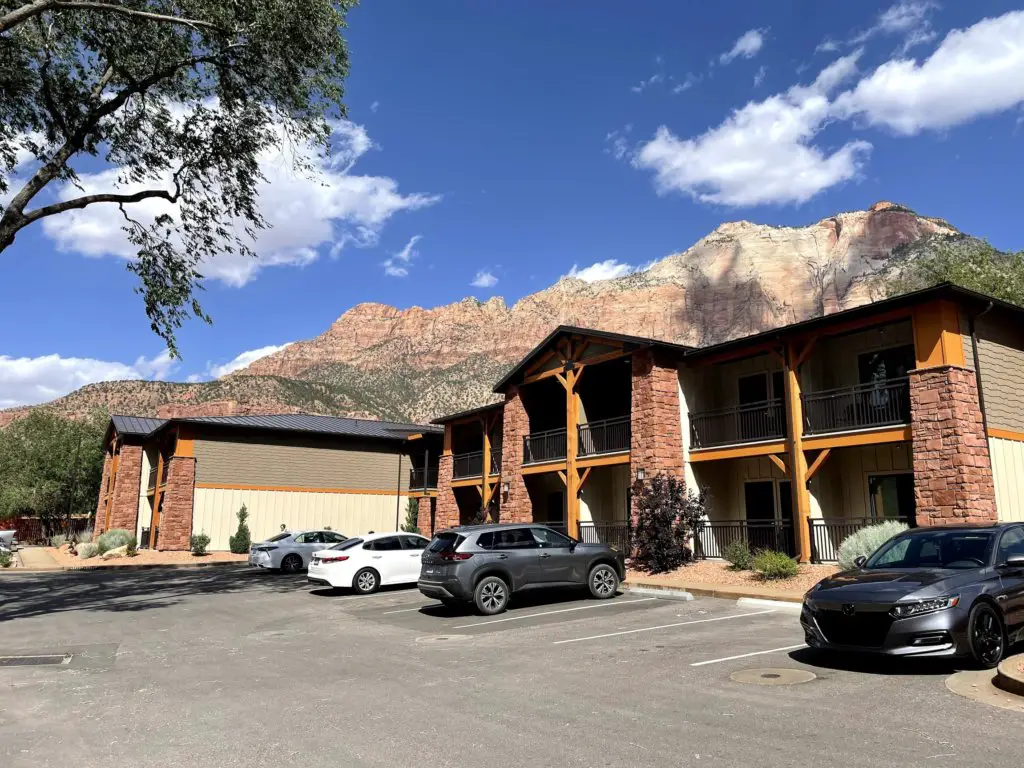 Where to Stay Inside Zion National Park
Zion Lodge
One of the most popular places to stay is in the Zion Lodge which is actually inside the park and has its own Zion Shuttle stop. This is a major bonus because you avoid parking and the main entrance shuttle lines. Not to mention are within walking distance to many top-rated trailheads including Angel's Landing.
The digs are pretty nice and though you'll pay a lot (and need to book early—6+ months in advance), the benefits are worth it.
Camping
Watchman Campground, only a quarter-mile from the South Entrance, is the nicest option that books up way in advance. You can only book 6 months prior to your stay.
South Campground, a half-mile from the South Entrance is the other option which isn't quite as nice but does the job. Reservations can be made two weeks in advance.
Where to Stay Outside of Springdale
Stay somewhere outside of Springdale and you will find definitely find cheaper options.
I highly recommend Hatch, Utah which is between Zion and Bryce and perfect if you are visiting both in one trip. They have cute, affordable cabins and there are awesome places to eat and grab coffee in the area.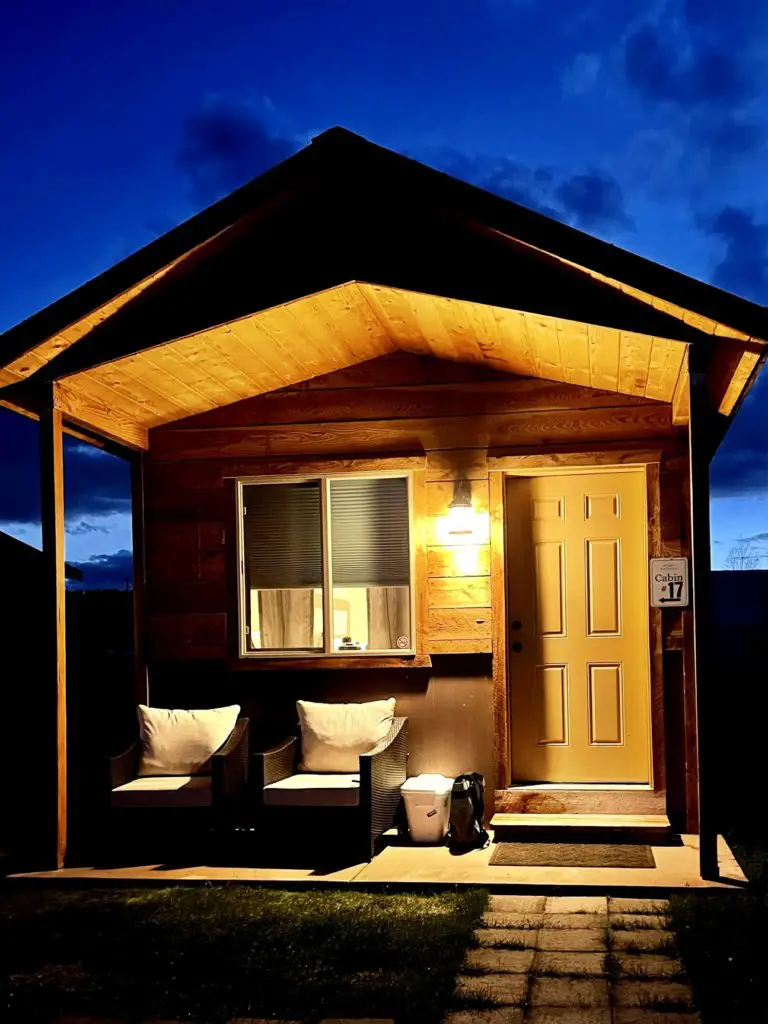 Zion National Park Visitor Center
Make your first stop at the Visitor Center in Springdale. There is a shuttle stop there (more below). And you can check the conditions, grab helpful maps, and have park rangers answer your questions.
Shuttle Bus Information
Important: Do Not Skip This
There are TWO separate shuttles in the area. Quick glance:
Zion Canyon Shuttle: Access to the upper canyon (most popular hikes) since private vehicles are prohibited along Zion Canyon Scenic Drive between March and November.
The Springdale Shuttle: connects the town of Springdale with one stop being the South Entrance of the park where you catch the Zion Canyon Shuttle, mentioned above. Note: this runs April-October.
More information:
Zion Canyon Shuttle Bus
GET AN EARLY START. It is a first-come, first-serve shuttle inside the park (starting May 28, 2021, which means it's operating as it was pre-COVID) that leads to all of the great hikes including Angel's Landing and The Narrows.
In the summer, the first shuttle of the day is at 6AM. In all other seasons, the park shuttle starts at 7AM. Arrive 15-30 minutes early.
By 9AM-10AM, you are going to have a long wait. We're talking over an hour!
There are 9 total stops, but check the website, because often, a few are closed. Know your stop before arriving.
Face masks must be worn on the shuttle buses and in queue lines as of June 2021.
There is a parking lot once you arrive, and it does get full (you guessed it…early.) I recommend the:
Springdale Shuttle
This free shuttle service brings you through Springdale, including stops at restaurants, hotels, and the park entrance. If you are getting off at the park, you are dropped off right outside where you cross the bridge to enter (bring your National Park Pass or pay the $35 fee).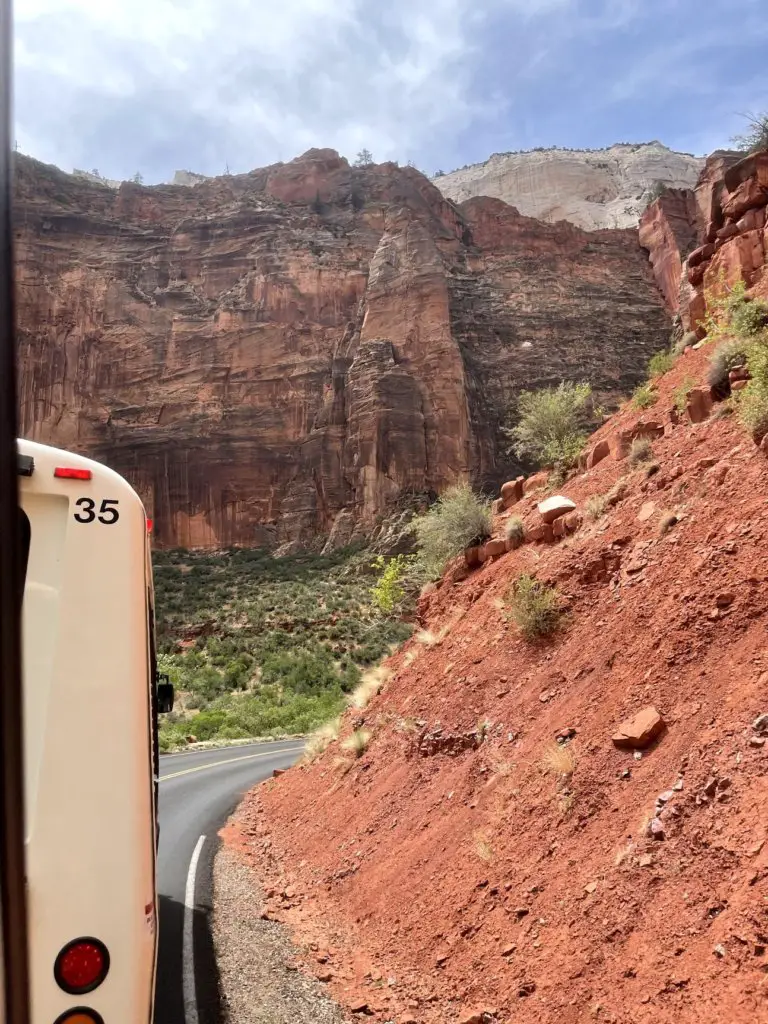 Biking
Bicycles are permitted on all roads that are open to motor vehicles, except in the Zion-Mt. Carmel tunnel. WARNING: There are no designated bicycle lanes.
Park Passes
Zion National Park is open 24 hours per day, 365 days a year. (Though be mindful of tunnel closures at night!)
It is $35 to enter Zion National Park which is good for seven consecutive days and can be purchased right after crossing the bridge at the south entrance. You can also purchase…
If you plan to visit more than three national parks in the next 12 months, grab an America the Beautiful Pass for $79.99 which will save you money after just three parks.
Motorcycles are $30 per day.
Bicyclists, hikers, and pedestrians cost $20 per day.
Entrances to Zion National Park
South Entrance: Enter from the town of Springdale. This is the most popular. And gets very, very busy! (This is where the shuttles operate.)
East Entrance: along Highway 9. To get to this side, you'll drive down a VERY scenic stretch of road through the tunnels. Less busy than the south, but can still form long lines.
Kolob Canyons Visitor Center: a lesser-known and visited area of the park.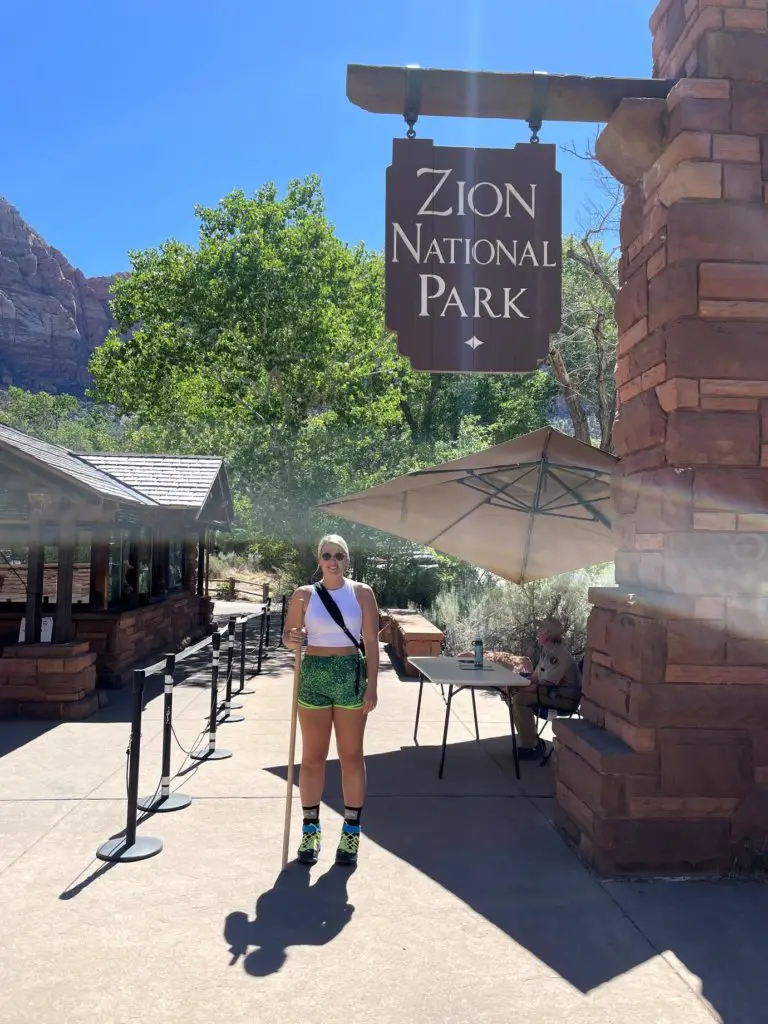 Top 3 Hikes at Zion National Park
The Narrows
SHUTTLE BUS STOP 9: Temple of Sinawava
One of the most unique hiking experiences in the United States is through the Virgin River inside one of Zion's canyons. After taking the shuttle to the last stop and making a mile or so hike on the Riverside Walk paved trail, you'll enter the river with high canyon walls on either side.
Some of the best views in Zion are both on your way here (pretty blue waters amongst the red rocks) as well as when you enter the river canyon.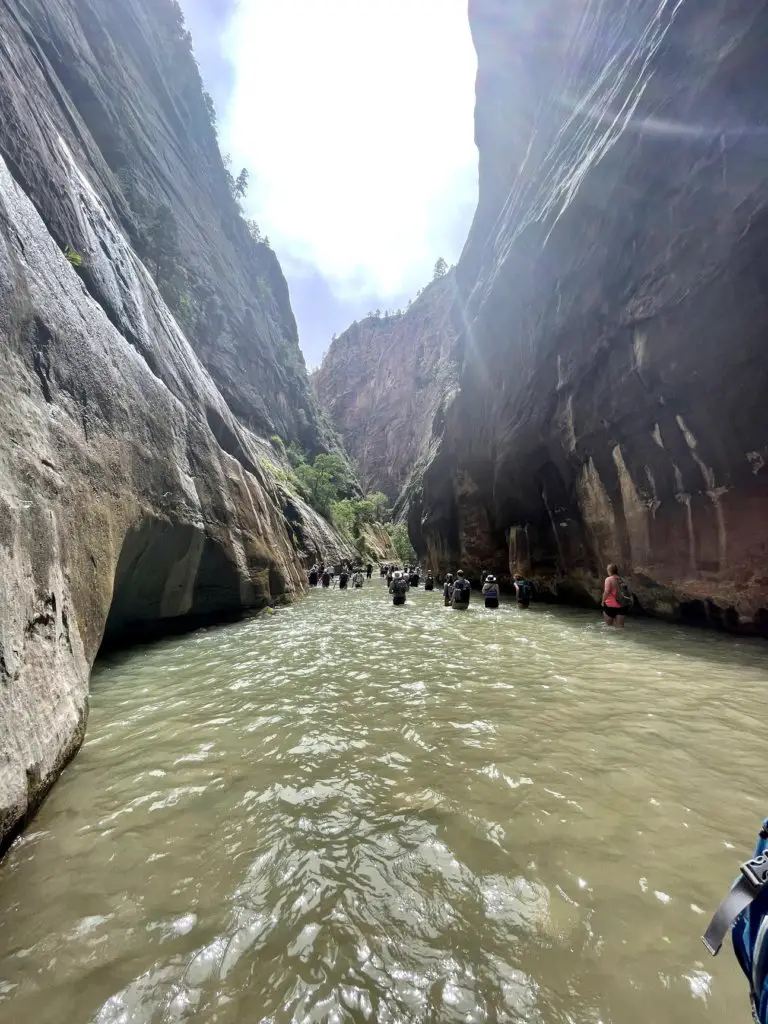 There are two ways to hike The Narrows:
Bottom-Up: start on the Riverside Walk and meander upriver and turn around when you'd like. This is the most popular (and easiest) choice.
Top-Down: 16-mile experience done in one or two days and requires a permit.
Gear for The Narrows
Though no one is stopping you from walking through the river in sandals or water shoes, I highly recommend getting equipped with gear at one of the shops in Springdale. You are in the water for the majority of the hike—usually, it's about calf-high (in the spring) but can get as high as your waist/stomach, depending on the water levels and what time of year you are there.
Rent boots, neoprene socks, and a stick ($31 total) to make your hike as enjoyable as possible. The boots and socks were clutch, and you will have a hard time without a walking stick as you walk across rocks of all sizes.
You can also get waders. I made this hike when it was about 80 degrees and sunny, so I skipped the waders (and didn't complain about the water temp at all.)
We picked up our gear the evening before. There are a few shops in Springdale but the most convenient is Zion Outfitters, located right outside the park's south entrance. It's super easy!
Head to the main counter and tell them your shoe size.
Try on the socks and boots they give you.
Head to one of the iPads to complete your transaction.
Don't forget to grab your walking stick.
(When you return, you literally just put them in the Return section and you are done!)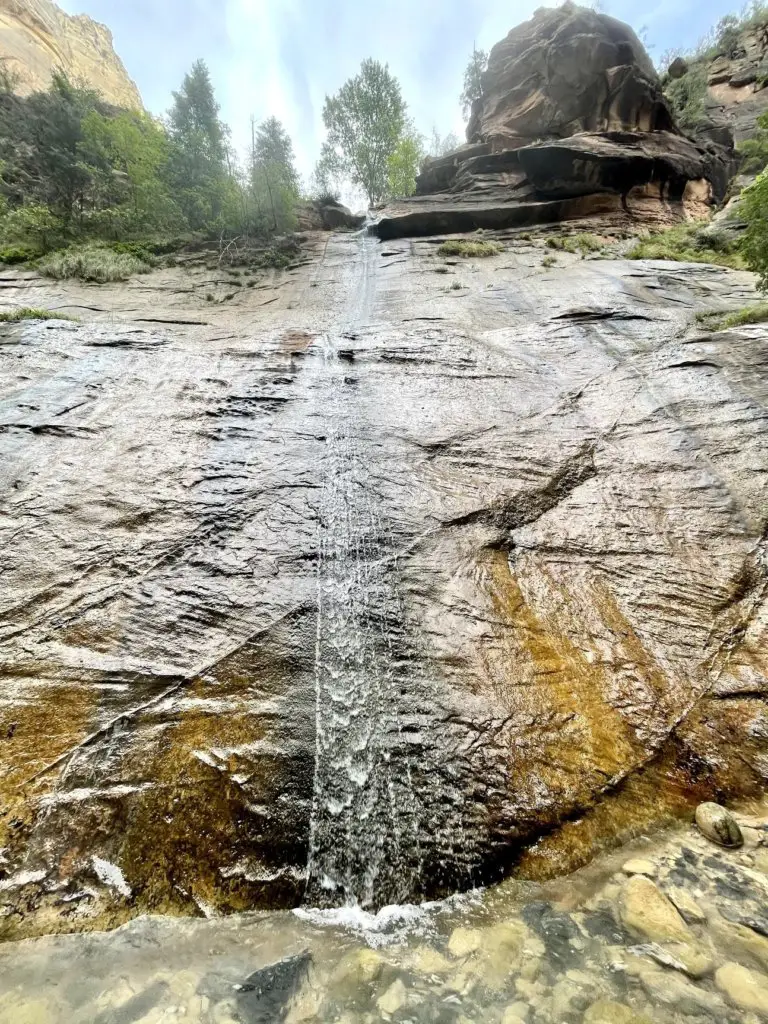 As for the hike itself, it is very gorgeous with plenty of opportunities to take beautiful pictures! The canyon walls seem to go up forever and it's fun to change things up from a typical hike. Note: it does get very busy, especialy in the afternoon.
Once you enter the water, you can go as far as 8 miles, but you can turn around and come back whenever you'd like. The scenery doesn't change a ton, so we went about 1.5 hours or so before we made the trek back.
PRO TIP: If you rent the boots/socks and don't want to carry another set of shoes in your backpack, sandals are only $6.99 in the marketplace right outside the park. (Skip buying them at the outfitters where they are $30!)
Observation Point
SHUTTLE BUS STOP #7: Weeping Rock
*Note: As of June 2021, this hike is closed due to rockfall.*
Don't worry! You can still make it here via the East Mesa Trail. And it does NOT require a shuttle bus. (But you will need to drive there.)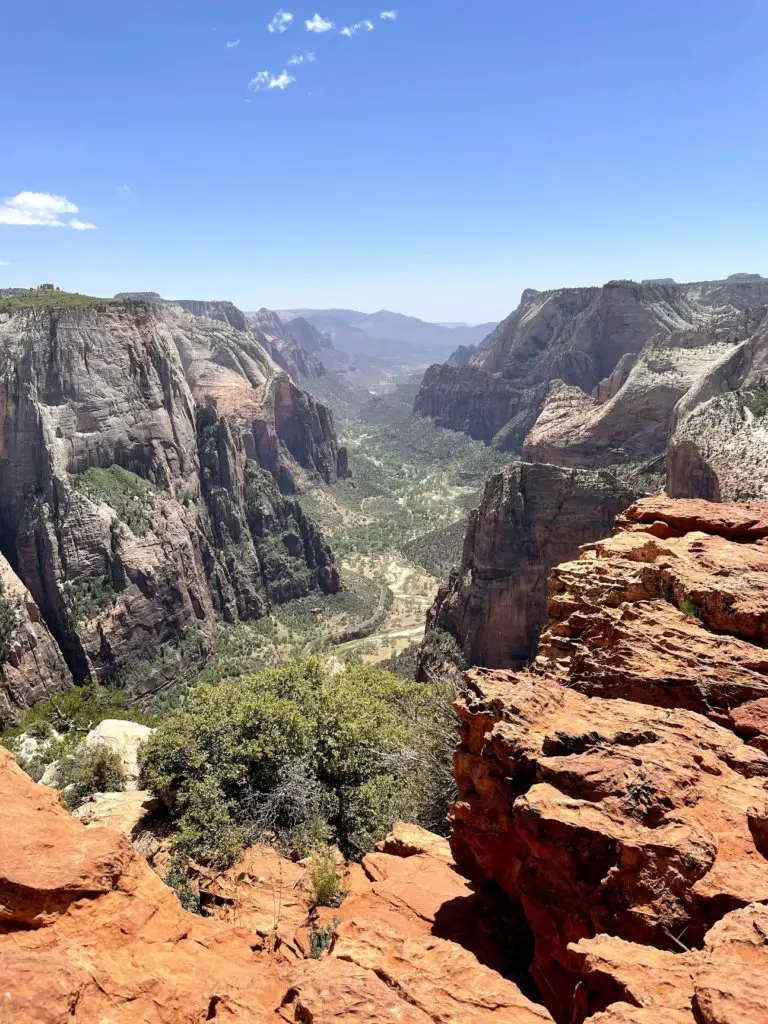 As mentioned, Zion National Park is BUSY. Like Disney World busy. And if you are looking for a rewarding day hike that also avoids the crowds and shuttle buses, hike to Observation Point from the eastside of the park, also known as East Mesa Trail. (PRO TIP: I'd choose this way even if the south trail was open.)
This 6.8 miles out and back trail leads through a woodsy setting with mountains in the distance and amazing views once you make it to your destination. The best in the park, in fact! Though the hike is a bit longer, it's not strenuous in terms of incline. A less than a mile or so stretch on your way back will be the toughest part on your booty!
You'll catch the main canyon views and a birds-eye and cliff face view of the famous Angel's Landing. PRO TIP: it was very windy at the top when I was there in late May! Bring a layer.
To get here from Springdale, you'll take the Zion-Mount Carmel Hwy that offers unique mountain views and tunnels. Keep in mind that you will come up on a few miles of dirt road driving.
The trailhead is right by the parking lot. We arrived around 1:00PM and had no issue finding a spot full of private vehicles. (Note: put East Mesa Trail before you lose service into Google Maps and you'll be good)
Angels Landing
STOP 8: The Grotto
The (arguably) best hike, and certainly one of the most popular hikes, is Angel's Landing. The 5.4 miles round trip is very difficult given its switchbacks and extremely steep skinny stretch at the ends that requires chains to hold onto.
Though I hope to tackle it in my lifetime, I did skip it. Not only is it scary, but it's insanely busy. The crowds of people that form is reported to be very overwhelming.
PRO TIP: if you are staying at the Zion Lodge you have access to Angels Landing in the very early morning hours and it's recommended you get started around 5AM to avoid major crowds. (Bring a headlamp!)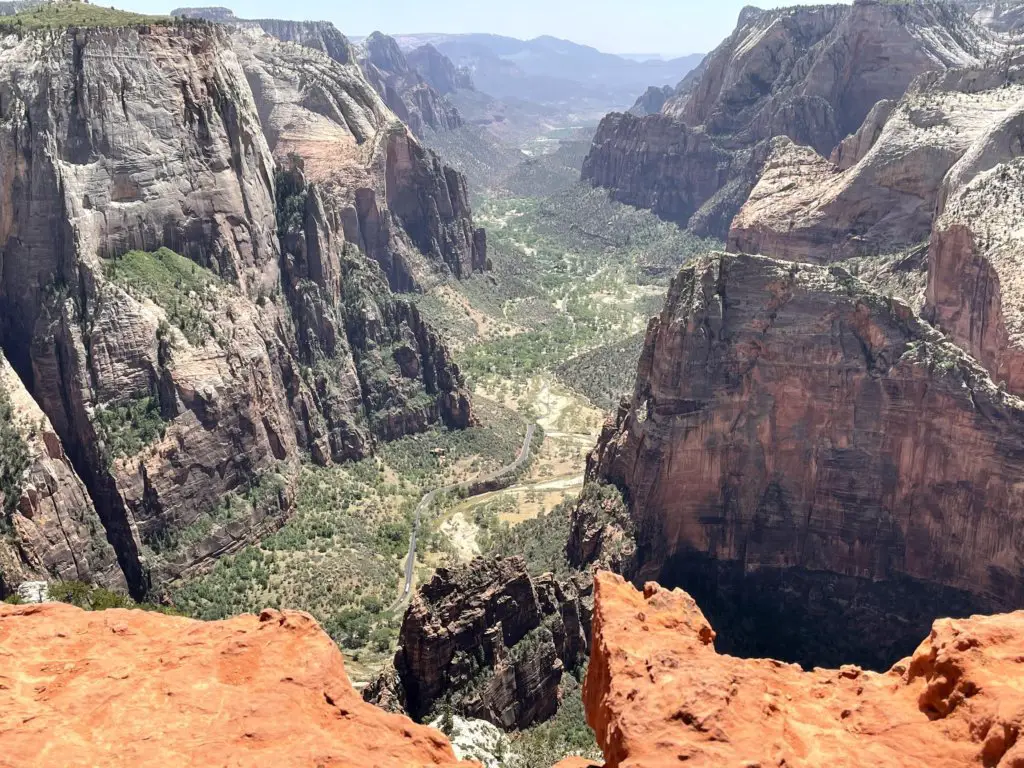 More Zion National Park Hikes
Emerald Pools Trail: this connects the lower emerald pool and upper emerald pool, and is 1.5-3 miles depending on what you choose.
Watchman Trail: a 3-mile hike that does not require the shuttle bus. You can hop right onto the trail as soon as you enter!
Riverside Walk: blue waters and red rock backgrounds this 2.2 miles roundtrip hike is perfect for young children and/or finding a spot to eat a picnic lunch.
West Rim Trail: Long distance with amazing views and few hikers. This can be done as a full day or even a two-day trip.
Grotto Trail: a 1-mile, easy trail.
Weeping Rock: it's one of the super short hikes, though strenuous, and ends at a long overhang of water.
Canyon Overlook Trail: it's only 1-mile but packs a lot of punch! Come here at sunrise and you won't be disappointed.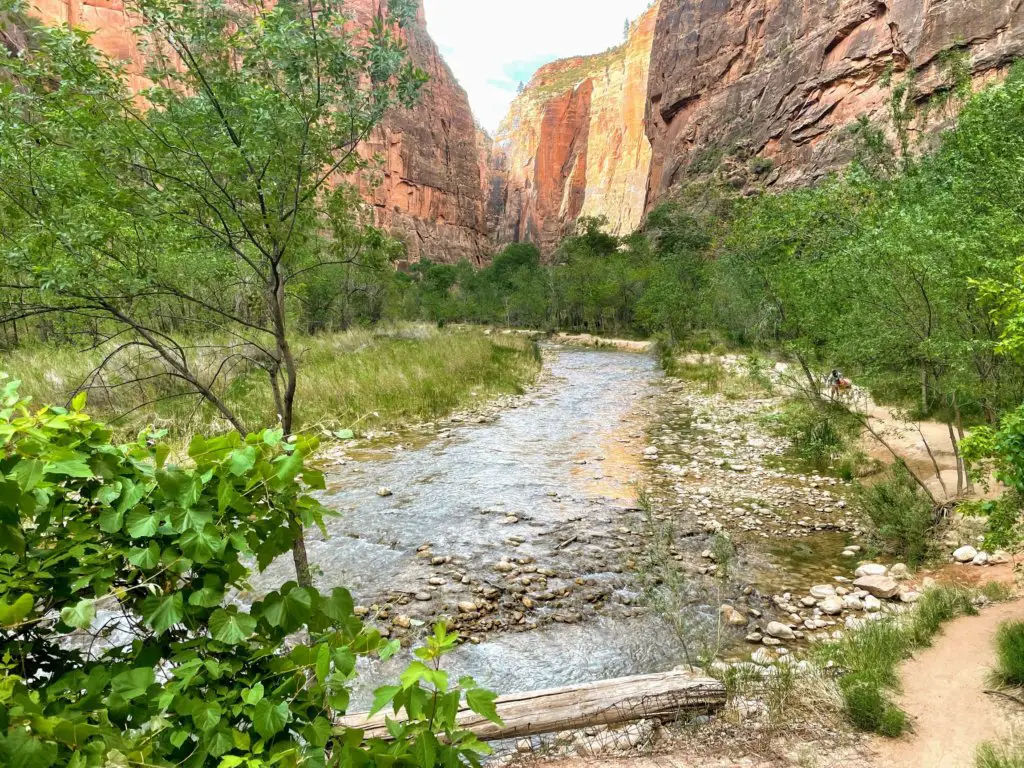 Scenic Drives at Zion National Park
There are a couple of scenic drives to know about when visiting Zion.
Zion-Mount Carmel Highway
A beautiful, winding drive complete with canyon views, switchbacks, and tunnels. This drive can be made throughout the whole year and leads to the east side entrance and beyond. Stop at Checkerboard Mesa for unique formations (there's a pull-off area and bathroom, as well.) And enjoy the canyons!
Note: This is the stretch mentioned above when getting to East Mesa Trail (Observation Point) and makes for a major bonus if you choose that hike!
Zion Canyon Scenic Drive
This drive can ONLY be made when the shuttle is NOT in operation which is December-February. But pay attention when you're on the shuttle and you will see some incredible landscapes!
Kolob Canyons Scenic Drive
Less visited part of the park on the northwest side. It's perfect if your legs are tired and you'd rather spend the day driving. It's about 45 minutes each way with plenty of pull-offs to admire the views. The end of the road will bring you to Timber Creek viewpoint.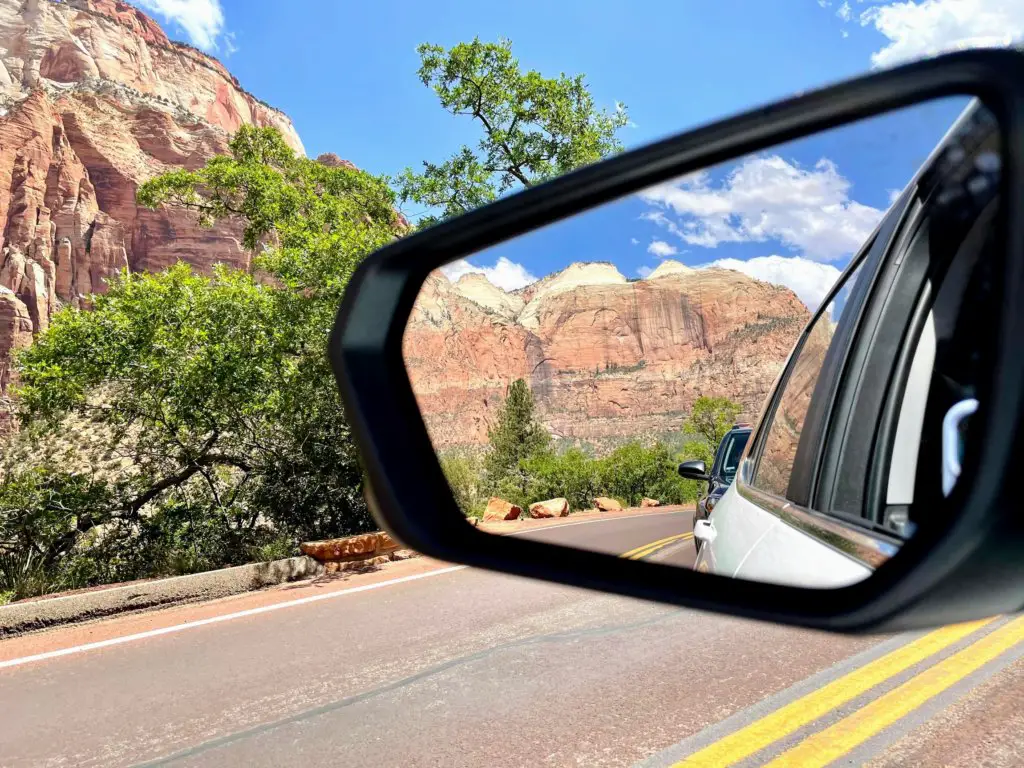 Zion Village
The Zion Village is located right outside the park entrance in Springdale. This is where the Springdale Shuttle drops everybody off and where your Zion journey officially begins! In this area, you'll find Happy Camper Market, Toaquim's Gifts & Gear, Cable Mountain Lodge, and two other great spots to check out:
Zion Brew Pub
A perfect location right outside the park that includes indoor seating in addition to an outdoor beer garden where you can order a craft beer from the bar and take it back to your spot. (I recommend the latter!) The beers were pretty good and all of the staff were really cool. Definitely plan to have a beer or five at Zion Brew Pub, and you can also plan to eat here.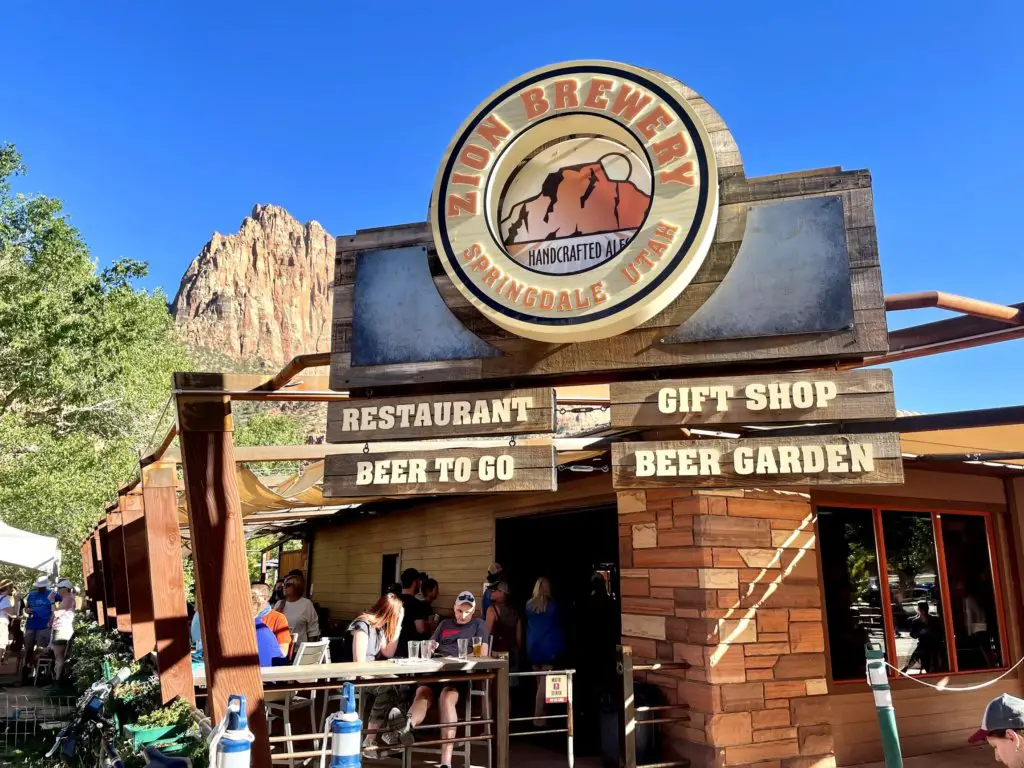 Zion Outfitters
Zion Outfitters is where you can easily grab your gear for the Narrows or just peruse it around the shop full of cool souvenirs and additional hiking gear. This is also the place to rent bikes!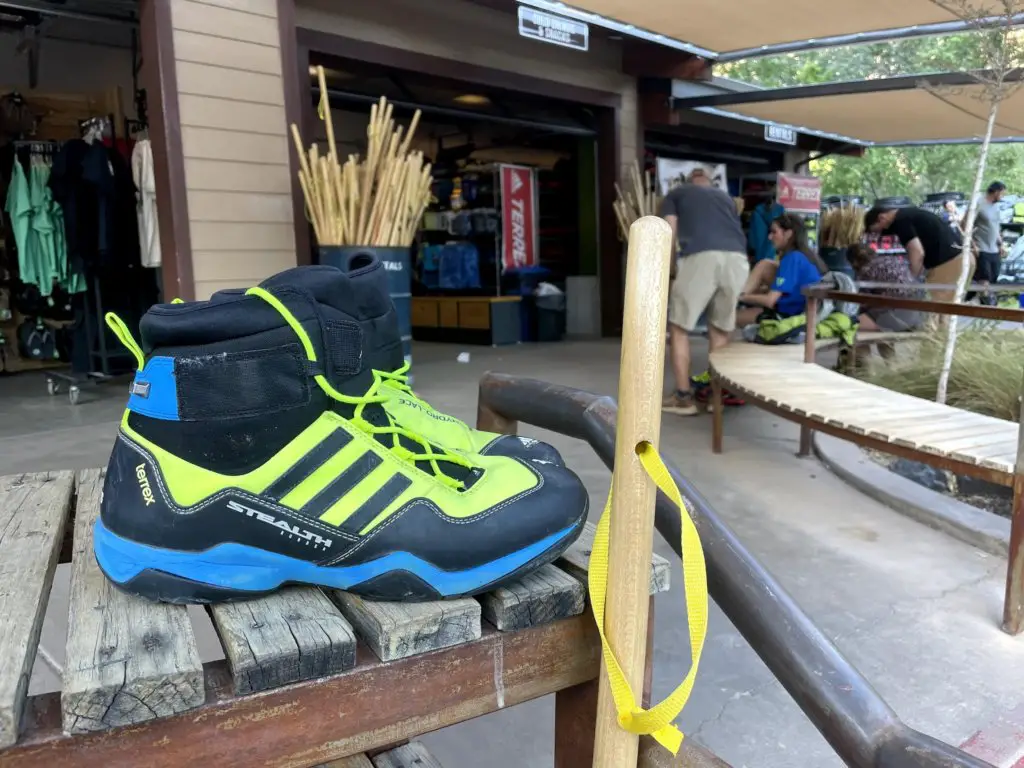 Town of Springdale
Springdale, Utah goes beyond Zion National Park and the Zion Village. In addition, you'll find cute shops, more coffee, restaurants, and more. Keep in mind that these places can get very, very busy during peak season. A couple of places for your list:
Restaurants
Zion Pizza & Noodle Co
If you're not already craving pizza or pasta (you should be after a hike!), then you will be as soon as you step onto the premise because Italian smells fill the outdoor green space. Dine-in (there's a beer garden) at Zion Pizza & Noodle Co. or order your food from the counter and bring it home. The European Trail was a delicious pizza option.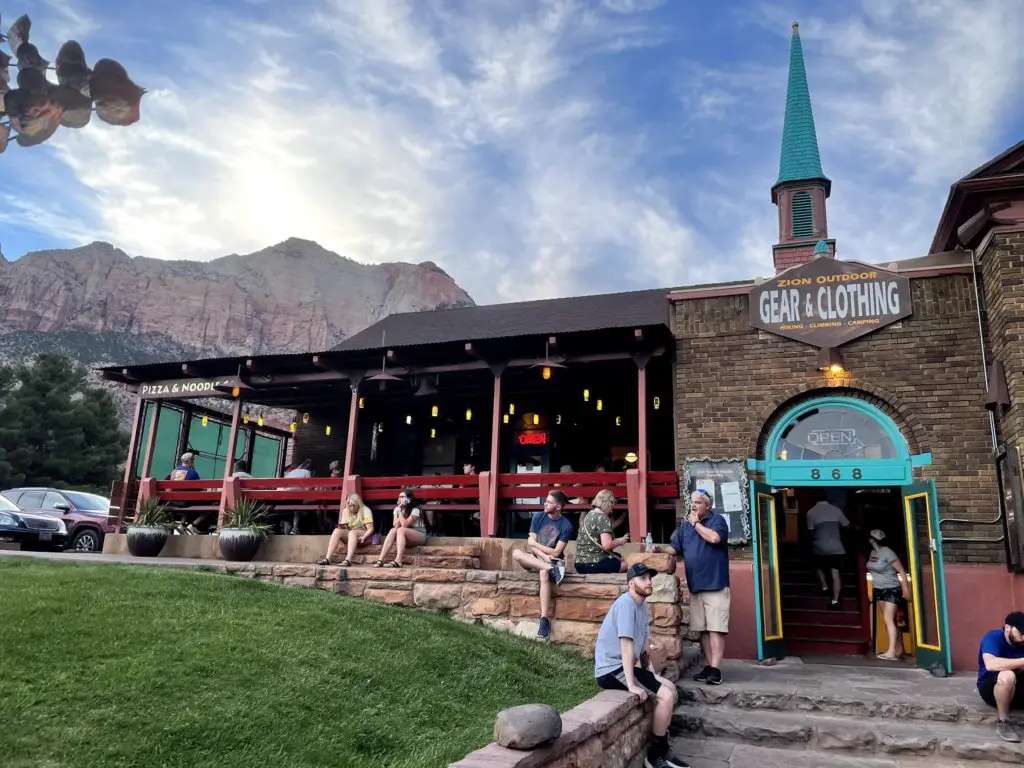 Whiptail Grill
This unassuming spot is a great place to sit outside and enjoy the weather. A converted gas station, Whiptail Grill is unique all around! Grab anything from steak tacos to chicken sandwiches on their Mexican fusion cuisine menu. Their waitstaff is top-notch and they do serve beer and wine.
Coffee
If you need a pick-me-up in the morning pre-hike, you're in luck because there are quite a few coffee shops to choose from. We were able to get coffee through our Airbnb (a great way to save time in the morning!) so I didn't visit any. A couple options:
Sol Foods Supermarket
Located right off Zion Park Blvd., stop in the supermarket once you arrive. Grab snacks for your hikes like beef jerky, nuts, and apples. And don't forget to stock up on breakfast food for some easy morning meals before you head out to the park for the day.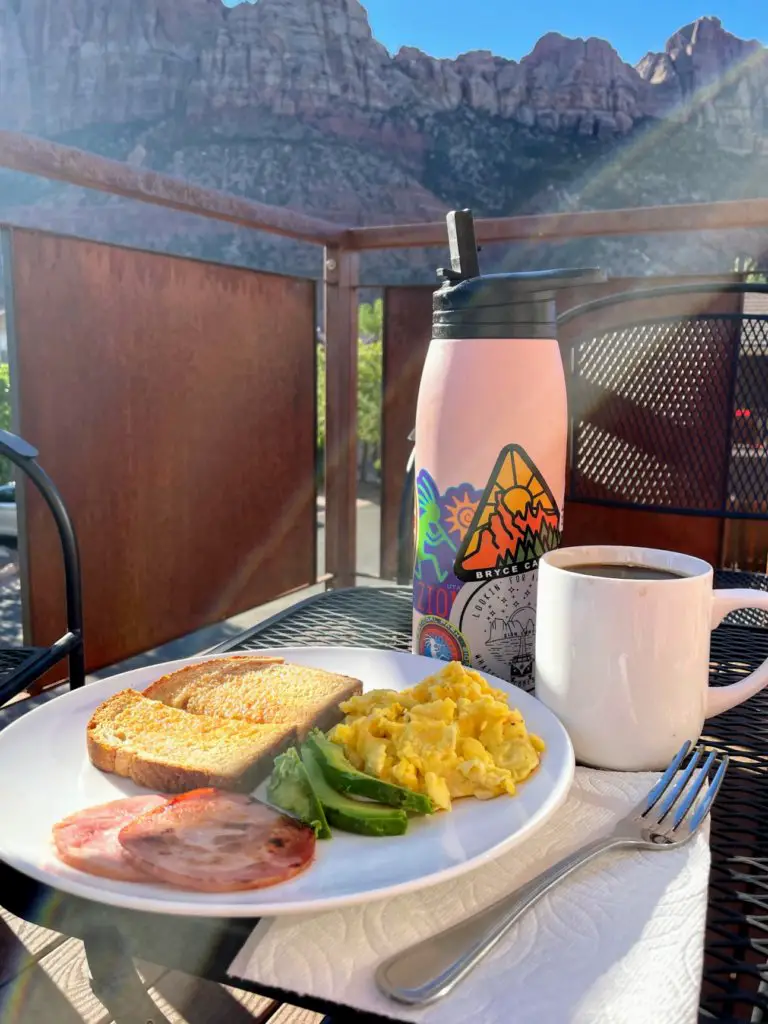 Shops
This tourist town is, of course, full of shops that line the block towards Zion National Park. There are too many to name but let your heart lead you to shops with souvenirs, those with crystals, others with sweet treats, and even more with boutique-style clothes and gifts.
***Zion National Park Itinerary Builder***
All right. That was a lot. Zion can be very, very overwhelming, and planning ahead is a necessity. Here is how I recommend building your day(s) to make this as smooth and efficient as possible:
How Many Days Do I Need?
You can spend one day in Zion National Park and it will be well spent. That said, if you are looking to do more than one of the most well-known hikes, you will need two or three days. Here is how I would structure the days:
Step 1: PICK ONE HIKE FROM "THE BIG THREE"
The Narrows
Angels Landing
Observation Point
Unless you are an ultimate warrior, you will only complete one of these per day. Start as early as possible. Like…earlier than you want. You won't regret it.
Breakfast: Since you are waking up early, plan to have coffee and breakfast wherever you are staying, whether it is continental or food from the grocery store. And bring snacks with you. The fewer morning stops you have, the better!
Step 2: AND/OR PICK MULTIPLE SHORT HIKES
If you're a warrior, you can add a short hike to one of your days—be ready for sore legs. Or combine 2-3 of these for one full day and skip "The Big Three." Choose from the "More Hikes" section above. Most recommended:
Canyon Overlook Trail
Emerald Pools
Riverside Walk
Lunch: After one of "The Big Three" is complete, you can leave the park to grab lunch. Though keep in mind that you will need to reenter the shuttle line. It's easiest to pack a lunch or even stop at the Zion Lodge where shuttle lines aren't quite as crazy as the main entrance.
Step 3: DRINK BEER
Hiking is great, but you have to add some beer! Stop at the Zion Brew Pub once you make your way out of the park. It's so dang close. And you deserve it!
For those who love beer as much as I do: Be prepared for a bit of frustration. A few of the restaurants don't have bars to sit at and many places are packed and require a wait. It's not always easy to just grab a beer and chill. Plus, you can only get alcohol that's 5% or less at gas stations or convenience stores. Anything higher and you need to go to a liquor store. And they close early! Utah, Utah…shaking my head. 😉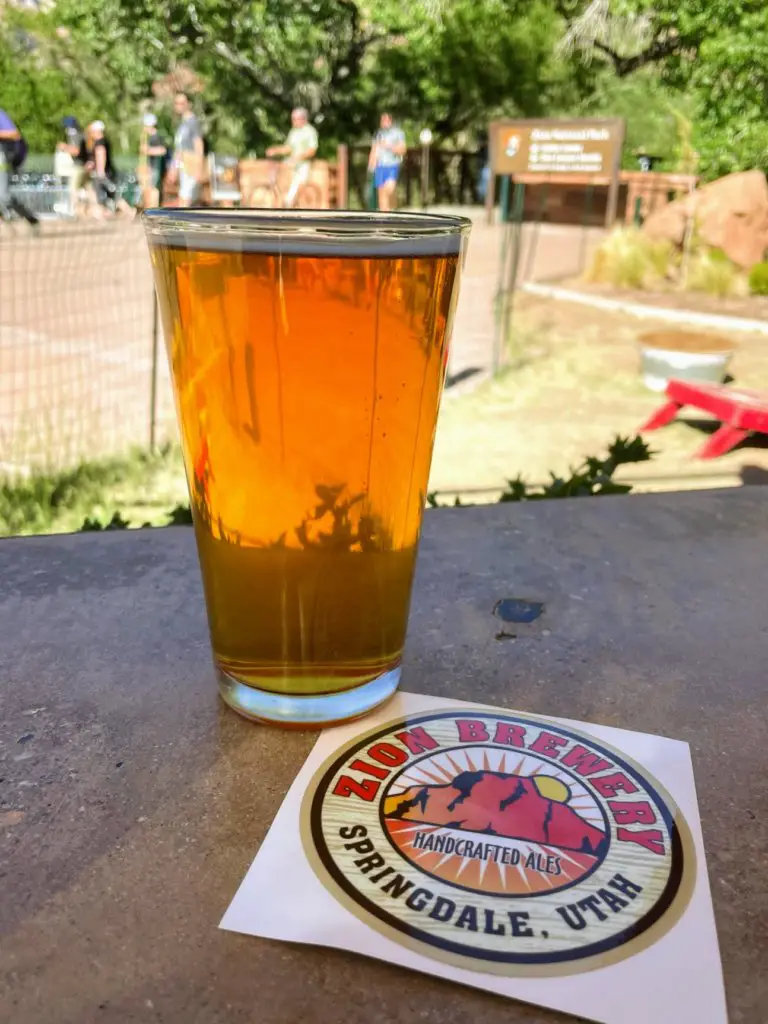 Step 4: GRAB DINNER
Where there's a shortage of beer (at least for me!), there's no shortage of delicious food in the Springdale area. There's pizza, Mexican spots, cafe's, and more to choose from. If you're absolutely exhausted, order to-go and enjoy at your place!
Zion Pizza & Noodle Co: Fill up your belly with Italian carbs! YUM. Info above.
Whiptail: Chill place to grab some tacos (and they do have beer!) More info above.
Bit and Spur: Didn't make it here but heard through someone we met that it's delicious!
Cafe Soleil: This place is known for some of the best food in Springdale! Healthy, organic & local ingredients.
Dinner: Have snacks and don't let yourself get to the point of starving. Many, if not all restaurants in Springdale, will have an hour or so wait.
Step 5: REST UP!
And repeat. For two days. Or three or four!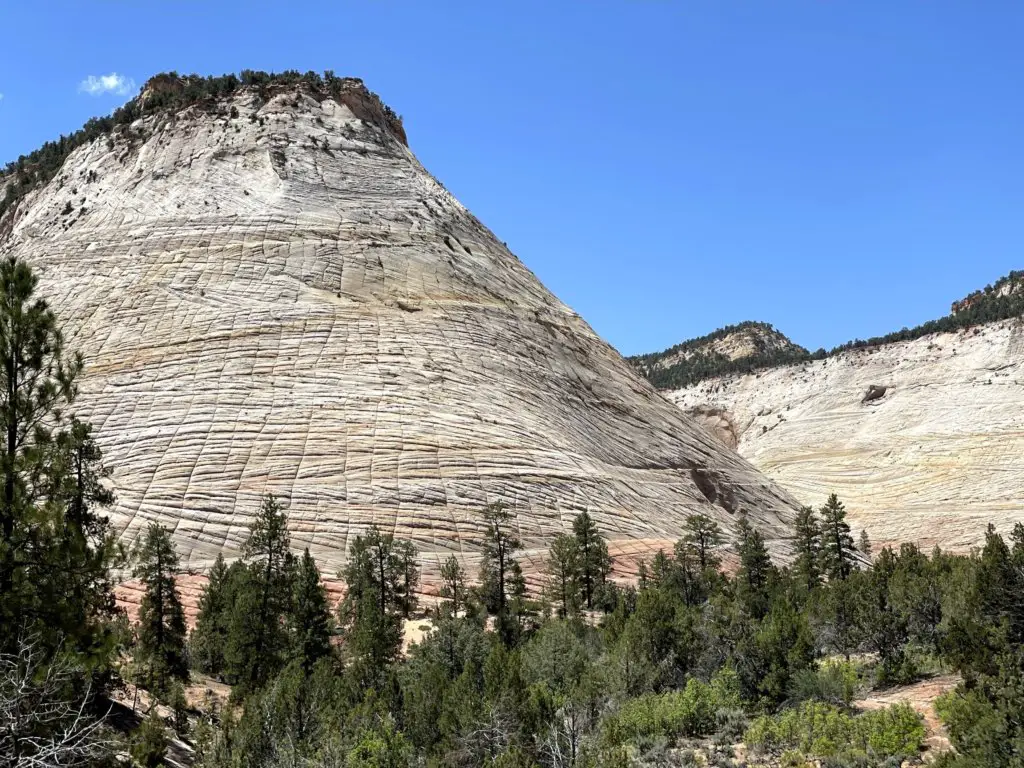 What to Pack for Zion National Park?
There are a few things you're going to want with you when inside Zion, as well as exploring in Springdale.
Big Water Bottle: I had this 32 oz. bottle that worked perfectly. It seriously kept ice in there for an entire (hot!) day. Plus, it's perfect for adding fun stickers during your travels.
Sunscreen: it gets so dang hot!
Hiking Shoes: invest in these before your trip. Much more enjoyable.
Snacks: obviously you need some while hiking but it's also good to have them in a very busy town where your next meal is not always guaranteed to be quick! Two of my absolute favorite are these Trader Joe's Simply the Best Nuts because they come in pre-individualized packets. And these Chomps Beef Sticks are not only clean eating, but filling and delicious. (Note: these can both go in your carry-on bags!)
Layers: No matter what time of year you visit, weather can fluctuate, especially when you are starting earlier morning and going all of the way into the evening!
What Else is Nearby
Many people choose to add more to their southern Utah and surrounding state itineraries since there is a lot to choose from in the area. Look to add one or multiple of these gret options:
Bryce Canyon National Park: Only about an hour and a half away from Zion, Bryce is a popular option, and I cannot recommend it enough! The hiking is absolutely breathtaking and the whole experience is more toned down than Zion. (Blog post to come!)
Grand Staircase-Escalante National Monument: if slot canyons are on your list, make sure to take a day trip here! It's such a cute town and there are some very memorable hikes to accomplish. (Blog post to come!)
Grand Canyon National Park: the ever-popular Arizona destination that is definitely a check off the bucket list.
Antelope Canyon: another slot canyon location—this one in Arizona. Reservations are required and it's currently closed but keep an eye on its reopening.
Las Vegas: if you are flying into Vegas, plan a day or two in Sin City. It's perfect to get the party started or end your vacation with a relaxing day at the pool. (My blog post linked above has a ton of great recommendations.)
Salt Lake City: maybe you chose to come from here and you can hop around different breweries and fun downtown.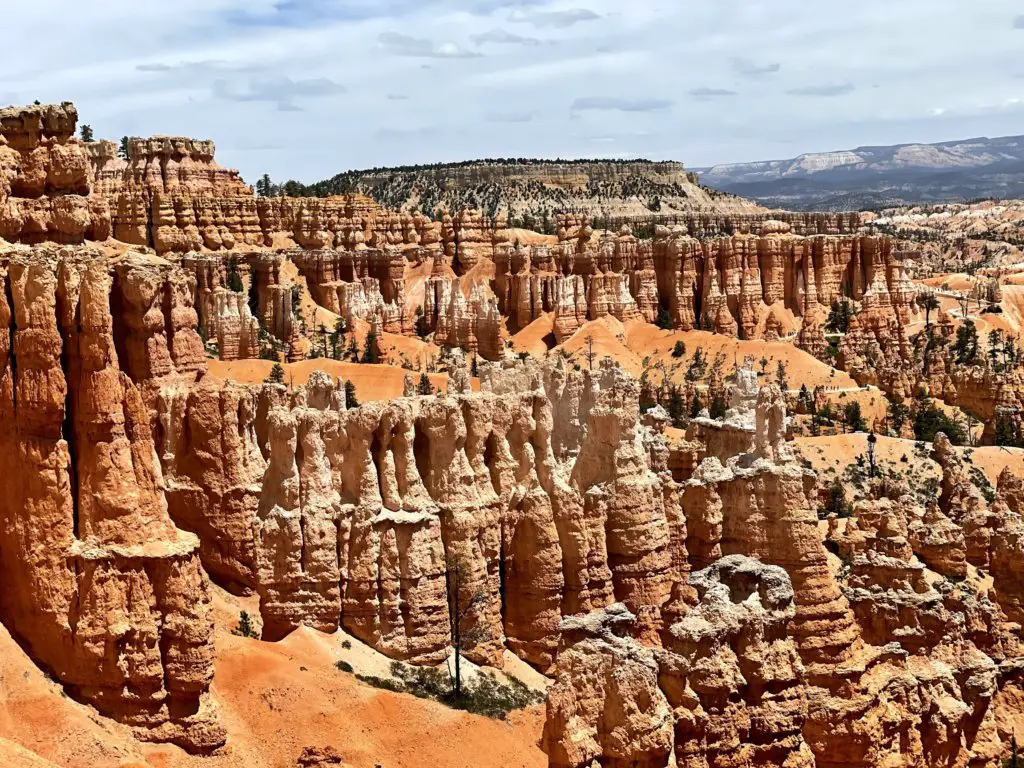 Plan Ahead for Zion National Park
From the shuttle system to the crowds and everything that comes with planning a trip, give yourself enough time to get a well-crafted plan together. It's a one-of-a-kind experience that is best enjoyed with a plan of attack!
And I promise your Zion National Park visit will be worth it! You'll come back with plenty of memories and even more incredible photos!