"WOW!" is the first word that comes to mind when I think about the day spent at Bryce Canyon National Park. Bryce Canyon is a jaw-dropping experience and an absolute must-stop when you are planning a southern Utah or northern Arizona road trip.
Disclosure: This post contains affiliate links that earn a small commission at no extra cost to you. 
It's easily one of the best national parks in the United States with its tall, thin, spire-shaped rock formations—known as hoodoos, gorgeous canyon views, and one-of-kind hiking experiences.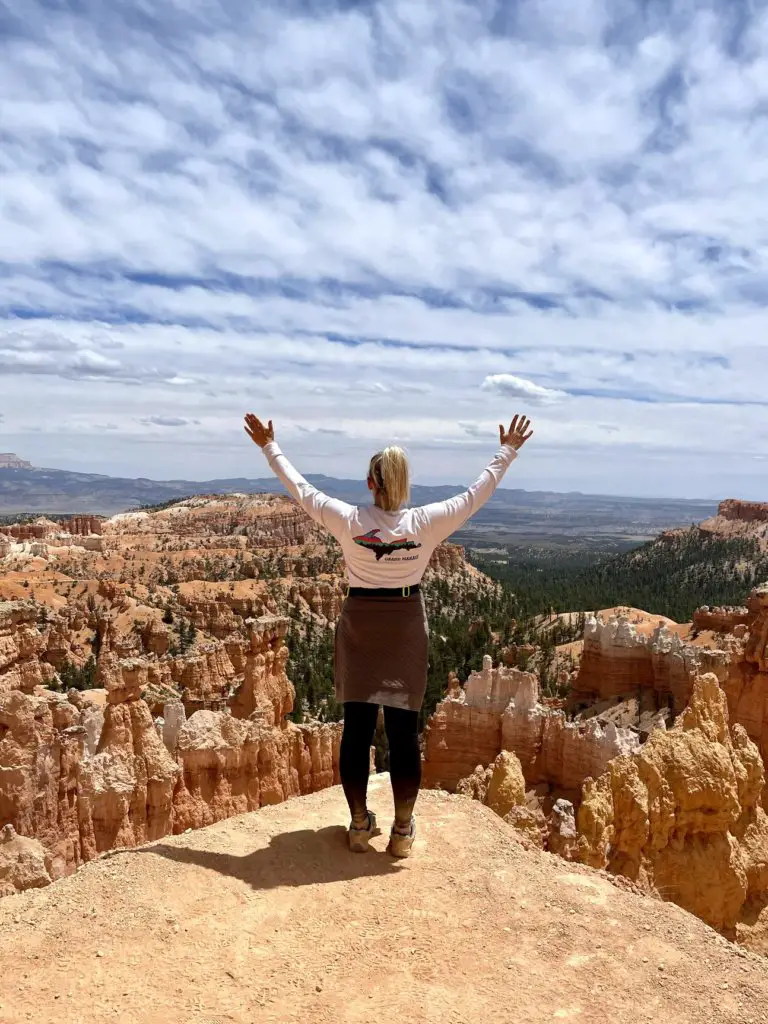 What makes full days here special is that you will be saying oh my gosh on every hike and adventure from start to finish. There's no meandering through the woods or boring desert scenery just to get to one destination.
It's ALL "the destination."
You start from the top of the canyon and make your way down (and of course back up) all while surrounded by canyons, hoodoos, mountains, and trees.
Tired? Look up. Need inspiration? Look over. You are surrounded by all the motivation you need!
The Basics
Where is Bryce Canyon National Park?
Bryce Canyon is in southern Utah, nestled just a bit northeast (62 miles) of Zion National Park. Most people will hit both parks, among others, when visiting the area.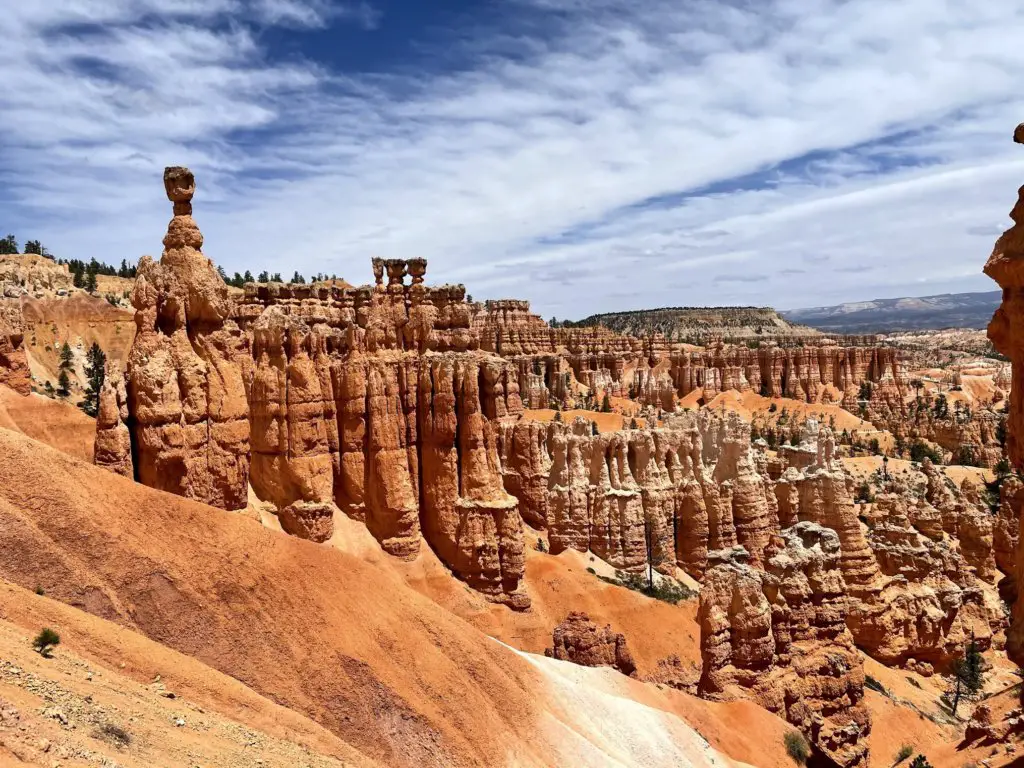 When is the Best Time to Visit Bryce Canyon National Park?
Spring: After the snow melts, more people visit, though it's not quite the "busy season." You will definitely want layers as the weather is unpredictable.
Summer: The crowds start to flock during the summer months and it gets very hot. That said, most, if not all, trails, campgrounds, and shuttle services, are open.
Fall: Everything starts to calm down and crowds dwindle while the weather remains relatively warm—with a touch of unpredictability.
Winter: This area gets a lot of snow in the winter months! While it makes for beautiful scenery, many of the hikes will be closed. That said, winter brings its own unique adventure (and beauty!) to Bryce Canyon.
Recommendation: Late May, June, or September
When it comes to Bryce Canyon on its own, I would recommend late May (while avoiding Memorial Day) or June for the best time of year to visit.
That said, if you are pairing it with Zion National Park, I would recommend early fall. (More so because crowds start to slightly dwindle at Zion.) And of course, because you still have great weather and most of the hikes are open.
What Airport Do You Fly Into for Bryce Canyon National Park?
Most people choose to fly into McCarran International Airport in Las Vegas. While it's 266 miles (4 hours) from A to B, it's usually paired with a stop at Zion National Park first, which is 170 miles (2 hours and 45 minutes) from Las Vegas.
Your other option, though smaller and likely more expensive, St. George Regional Airport, is 158 miles (2.5 hours) from the park.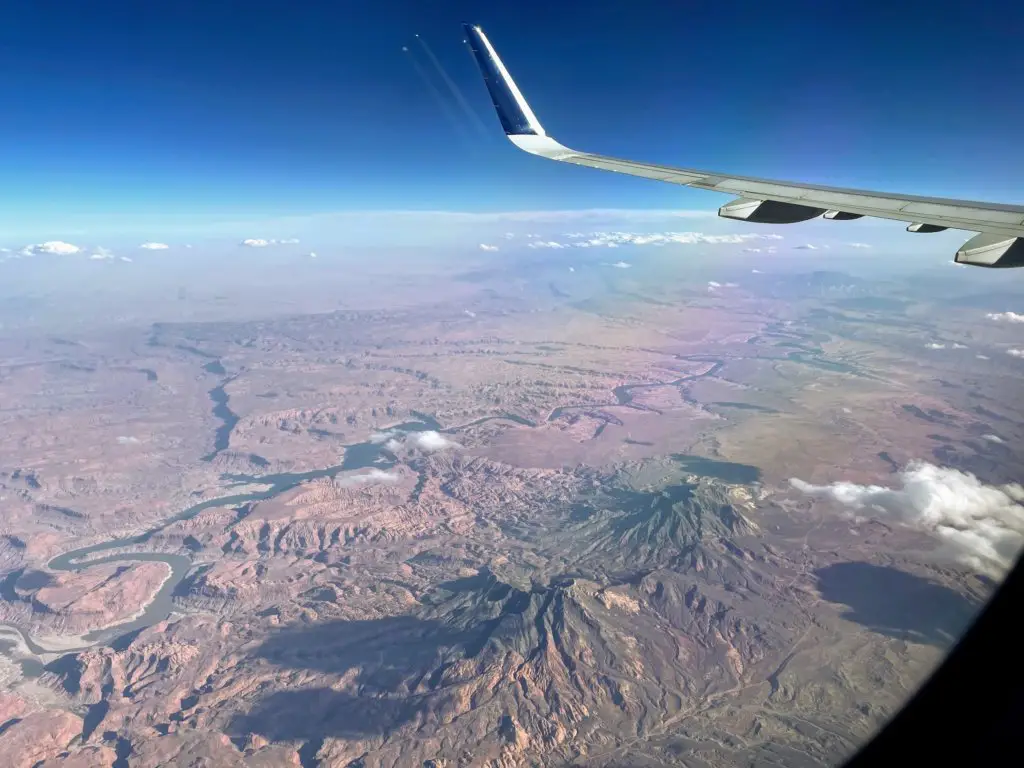 I'll cover places to stay and what to pack down below!
Park Passes for Bryce Canyon National Park
Bryce Canyon National Park is open 365 days per year, 24 hours per day.
It costs $35 for 7 consecutive days per vehicle. I promise you every penny is well-spent! You can pay for this online or right at the park entrance. Save your receipt if you will be coming and going. Other fees:
Motorcycles pay $30 per bike.
Hikers/Bikers pay $20 per person.
Purchase an America the Beautiful Pass for $79.99 which is the best investment if you plan to visit more than three national parks in the next 12 months.
An Annual Pass to Bryce Canyon National Park costs $40 and is good for 12 months from purchase.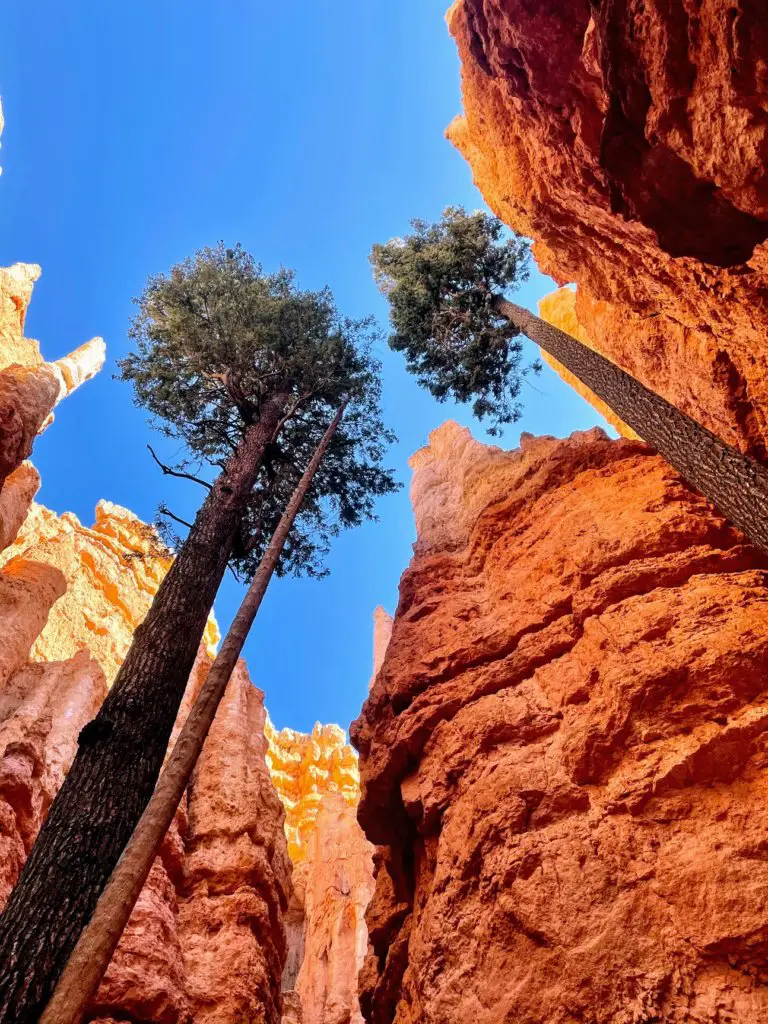 Free Shuttle Bus
Bryce Canyon National Park does offer a free shuttle that will pick you up from your hotel (in Bryce) and drop you off at the viewpoint of your choosing. It is not required, though if you are staying in Bryce, this is a great option that eliminates driving and parking. Check out the hours and more information.

Visitors Center
You will turn onto 63 (off of 12) in order to get into the park. Right off of that, you will come upon the Bryce Canyon Visitors Center.
Here you can grab maps, ask park rangers any questions, check the current conditions/any closures, as well as peruse the bookstore and exhibits.
Rim Trail
To help grasp how to navigate the park, know that Rim Trail connects most of the major viewpoints from the top (Bryce Point, Inspiration Point, Sunset Point, Sunrise Point, etc.—aka the Shuttle Stops.)
Your One Day at Bryce Canyon National Park could be hiking Rim Trail 5.5 miles (one way), though very flat and easy. You could also take advantage of the shuttle service by walking the Rim Trail and shuttling back to your car or hotel. That said, I HIGHLY recommend hiking down and back up!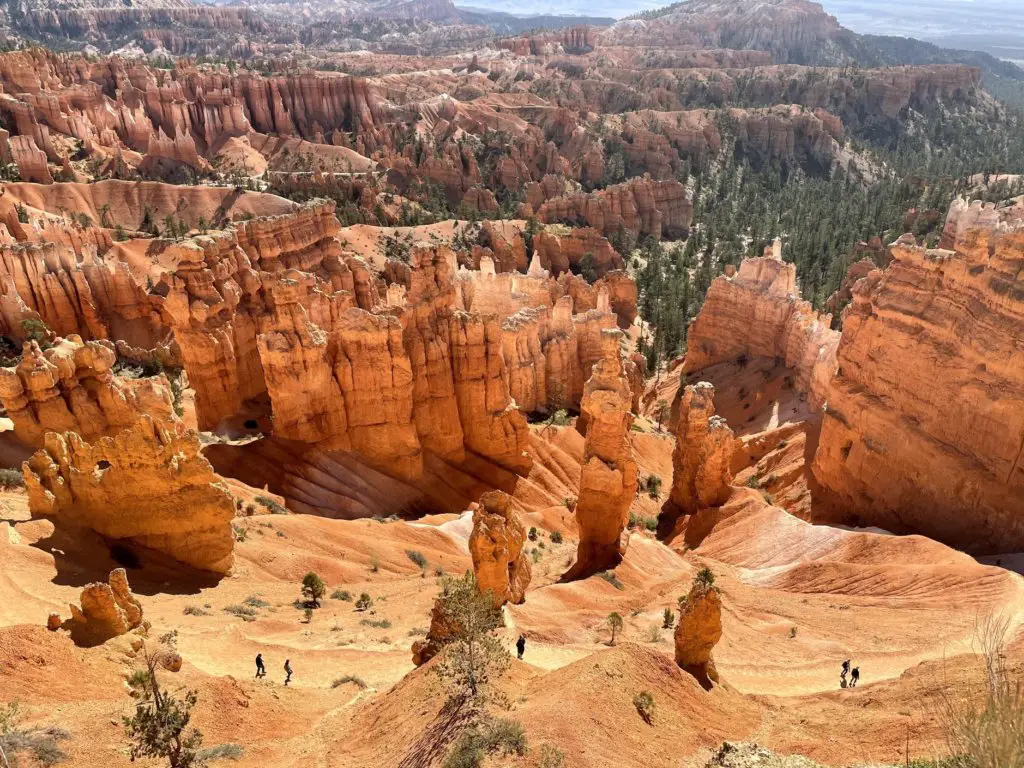 *Recommended One Day Itinerary*
Though you might not get to do absolutely everything, you can certainly have one of the most memorable days of your life when you spend a day at Bryce Canyon. Here is my recommendation, which combines hiking in the morning and driving the scenic route in the afternoon.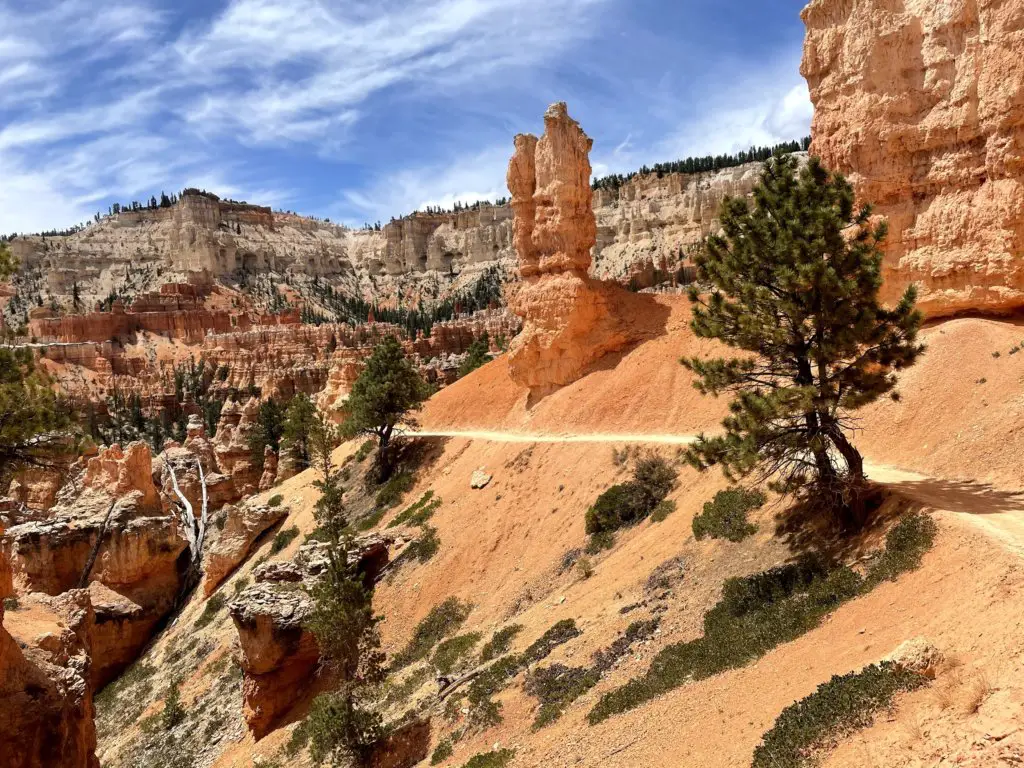 Where to Park: Sunrise Point
If you are up and at 'em and ready for an early morning, Sunrise Point is said to be an unforgettable experience. I mean, there is an entire parking lot named after it.
From here, you can hike along Rim Trail (.5 miles or so) to get to your next point of interest. Your other option is to skip sunrise and get to the official starting point for your hike:
Sunset Point
Plan to be here absolutely no later than 9:00 AM. My crew arrived a couple of minutes after and we snagged one of the very last spots.
If they're full, you end up circling around waiting for someone to leave which is obviously few and far between. Not only will you get to park but the early start will allow you to hike without the overwhelming crowds.
Once you park, use the restroom, make sure your waters are full and grab snacks, check your map, and have your layers on. You're at the top, so it will be the coolest (and windiest) part of your day. Then you'll take a short walk and come up on one of the best viewpoints I've ever seen—Bryce Amphitheater! This is where your hiking journey begins.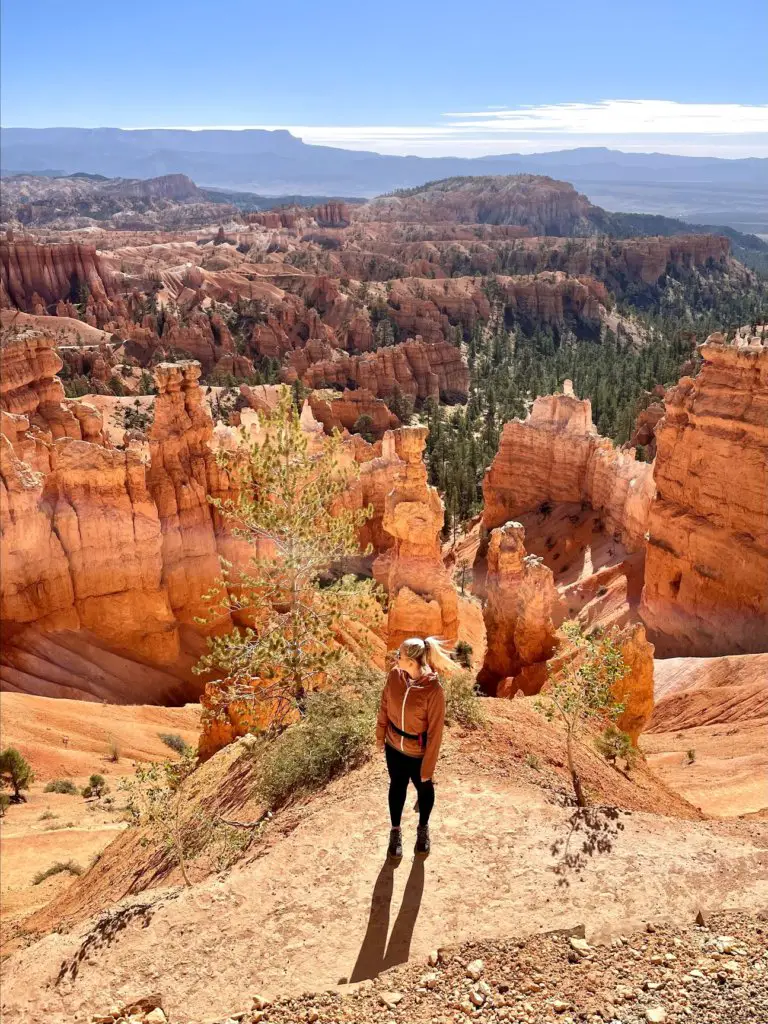 Hike the "Figure 8" at Bryce Canyon National Park
Combines Wall Street, Peekaboo Loop, and Najavo Trail OR Queens Garden.
A 6.4-mile trek that creates a figure eight on the map and brings you down into the canyon.
Level of Difficulty: MODERATE TO DIFFICULT; more information below. If you're active, you can accomplish it. There just might be a couple of swear words. Take your time and enjoy the views—which seriously give incredible motivation.
It will take about 3-4 hours to complete. Of course, depending on your pace, breaks, and picture-taking.
I cannot recommend it enough. It's easily one of the best hikes I have ever done with a beautiful view everywhere you turn.
Remember: STAY RIGHT.
Stay right, and you won't get lost. (Honestly, it's an easy place to navigate.) After parking and making your way to the scenic overlook, take the trail marked Navajo Loop, a switchback path with railings until, on the right, you see a sign for…
"Wall Street"
Level of Difficulty: Easy (Assuming you are going down!)
Note: this is a section of the Navajo Loop Trail. And has its own well-deserved name.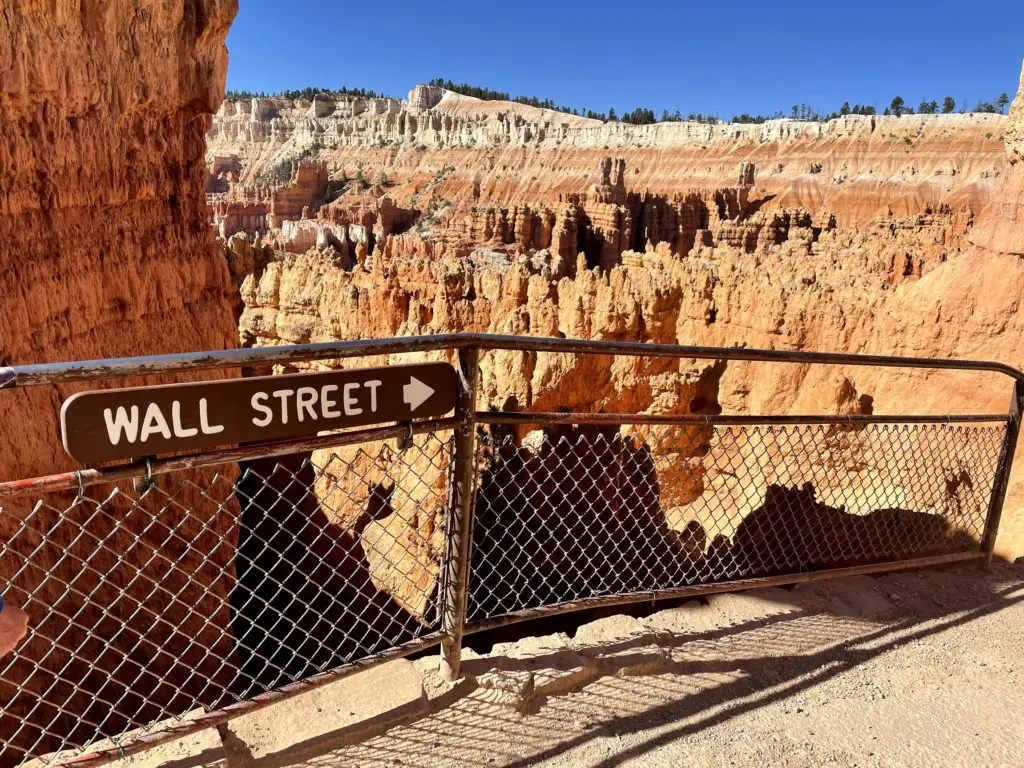 A strikingly beautiful series of switchbacks brings you down into the canyon and is one of the best places in the park.
You will glance up to see tall spires surrounding you against the blue sky, leaving your eyes wide as can be. This trail gets busy with people both going down and up, but the path is wide enough to pass.
Once you're at the bottom, walk through the narrow canyon (amazing!), eventually coming out at the bottom where it widens out and new scenery emerges.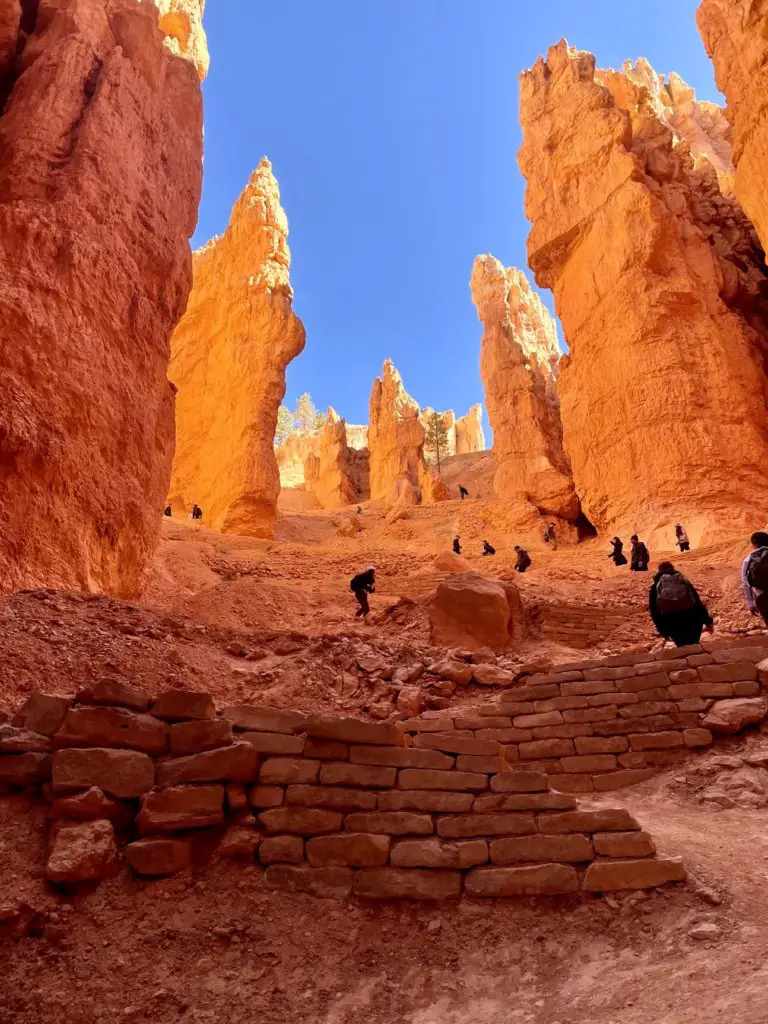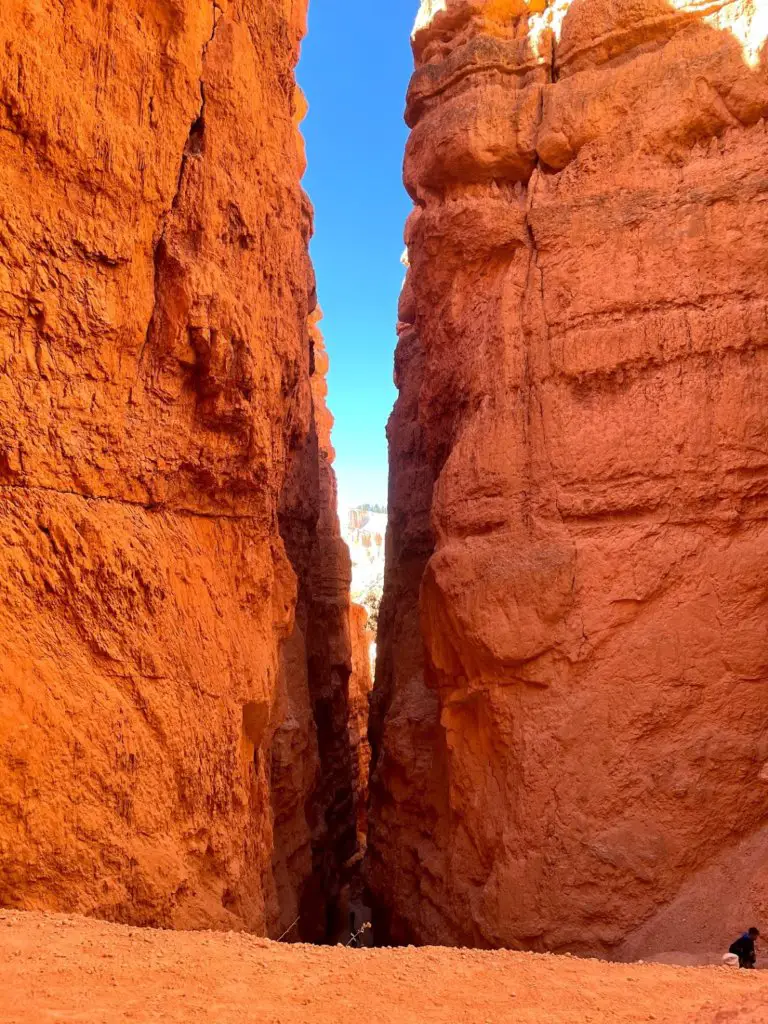 From here, where you are at the bottom of the canyon looking up, follow the trail (you can't get lost) and follow signs for Peekaboo Loop Trail.
Peekaboo Loop Trail
Level of Difficulty: Moderate to Difficult
Note: this is not listed as easy. (Now that you're at the bottom, not much will be because you eventually need to make your way back up ha.) That said, if you are short on time or aren't interested in Peekaboo Loop, just keep following the trail to Queens Garden. The Navajo Loop/Queens Garden combo hike is very popular as well.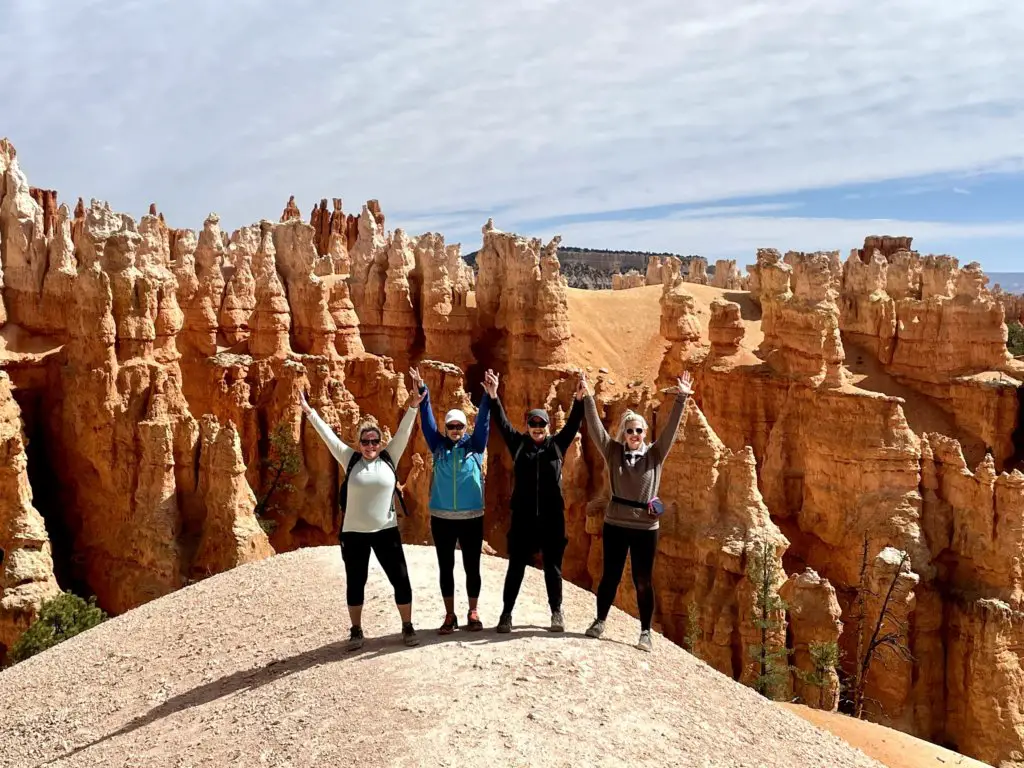 An AWESOME (rewarding) trail in the canyon that loops 3 miles total and completes half your figure 8. This hike serves up some of the best views you can get from anywhere in the park.
Attack the loop counterclockwise (stay right) which is said to be a bit less strenuous. The trail is very up and down and just when you are thinking you can't hike up anymore, you're rewarded with a straight or down stretch to admire the views and take pressure off the ol' legs.
Tip: Peekaboo Loop is the only trail that allows horses so you may see a group out riding and you always know you're on the right path because of the occasional horse poop!
Also, if you go counterclockwise, you will get to an outhouse just after mile 2 of 3. Take advantage!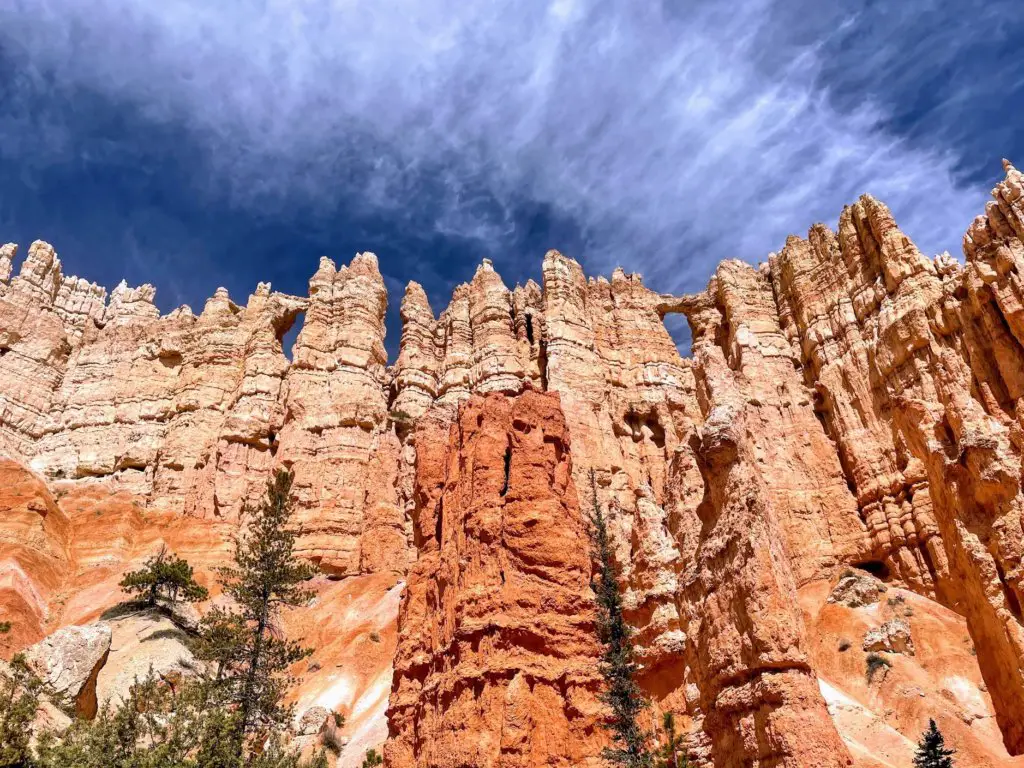 You will end up right where you started at Peekaboo Loop Trail. And it's time to start making your trek back to the car. Don't worry, there's no shortage of views along the way.
Now, here is where I lied: TAKE THIS ONE LEFT. Ha, it's the connector trail and you will know where you are from being here before Peekaboo. Follow the signs for Navajo Loop and Queens Garden.
From here, you have a choice:
Navajo Loop Trail vs. Queens Garden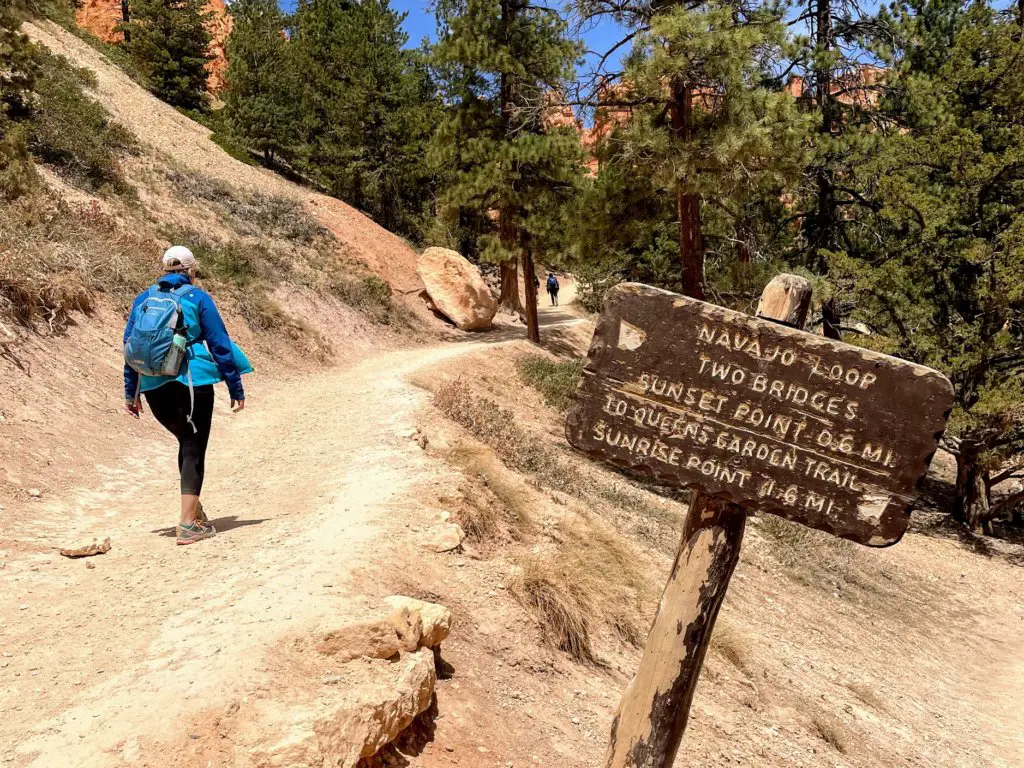 It depends on a couple of things:
Parking: If you are at Sunset Point, Navajo will bring you right back. If your car is at Sunrise Point, Queens Garden will take you there. Keep in mind that Sunrise and Sunset are only a .5 mile (flat) hike apart so don't base it off parking alone…
What's Left in Your Legs: Back up Navajo Loop Trail will be .6 (difficult) miles—with the .5 additional if you need to get to Sunrise Point. Queens Garden will be 1.7 miles—with the .5 additional if you need to get to Sunset Point.
A little more information to help you decide:
Navajo Loop Trail ("Two Bridges")
Level of Difficulty: Hard (going up)
Get ready to work your booty for the rest of the figure 8. You have to get back up to the top of the canyon and this slow .6 mile stretch of switchbacks will get you there.
It's a great place that gives you a sense of accomplishment once you reach the top and really offers impeccable views and tons of admiration.
Note: This is the shorter version and makes a funky-looking Figure 8. For the full one…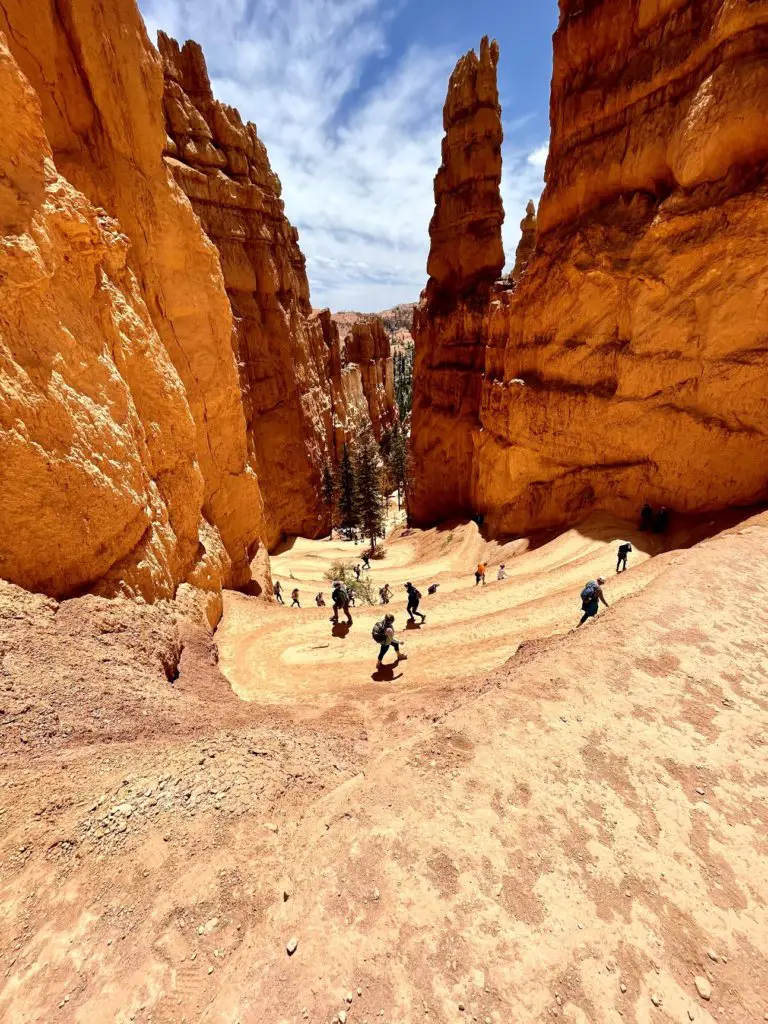 Queens Garden Trail
As I said, Queen's Garden Trail is 1.7 miles from where you are and will lead you back to Sunrise Point. Along this path, you can't miss the short side trail .8 miles in (there's a sign) that leads to Queen Victoria—the hoodoo version lol.
After you get back on the main trail, there's a .9 mile trek back up (so a bit less strenuous than Navajo.) If you parked at Sunrise Point, your car is here! If you're at Sunset Point, take a leisurely stroll along Rim Trail. You're so close!
Morning Complete!
Once you finish, take a rest in your car, eat a picnic lunch if you brought one, and drink plenty of water. Your other option is to head over to the restaurant at Bryce Lodge.
The toughest part of your day is over but the views don't have to be!
Driving through Bryce Canyon National Park
Utah State Route 63
You will come into Bryce on Utah State Route 12 which crosses east-west. You'll then turn onto Utah State Route 63 which is the Bryce scenic drive. 
The Bryce Canyon Scenic Drive spans 18 miles (one way, 32 round trip.) Depending on how many viewpoints you choose to stop at, and how long you spend there, it will be about 2 hours to do them all.
A few highlights from the south end to the north:
Rainbow Point + Yovimpa Point: all the way at the end and the highest point in the park at 9,115 ft.
Natural Bridge: the most famous arch in Bryce Canyon.
Fairview Point: spectacular views of famous landmarks that make up the Grand Staircase.
Swamp Canyon: green views and where you can connect with the "Under the Rim" trail.
Bryce Point: one of the most beautiful places to be in the park.
Inspiration Point: a series of three levels with spectacular view of the main amphitheater.
Fairyland Point: up close and personal to hoodoos. You can also accomplish Fairyland Loop Trail.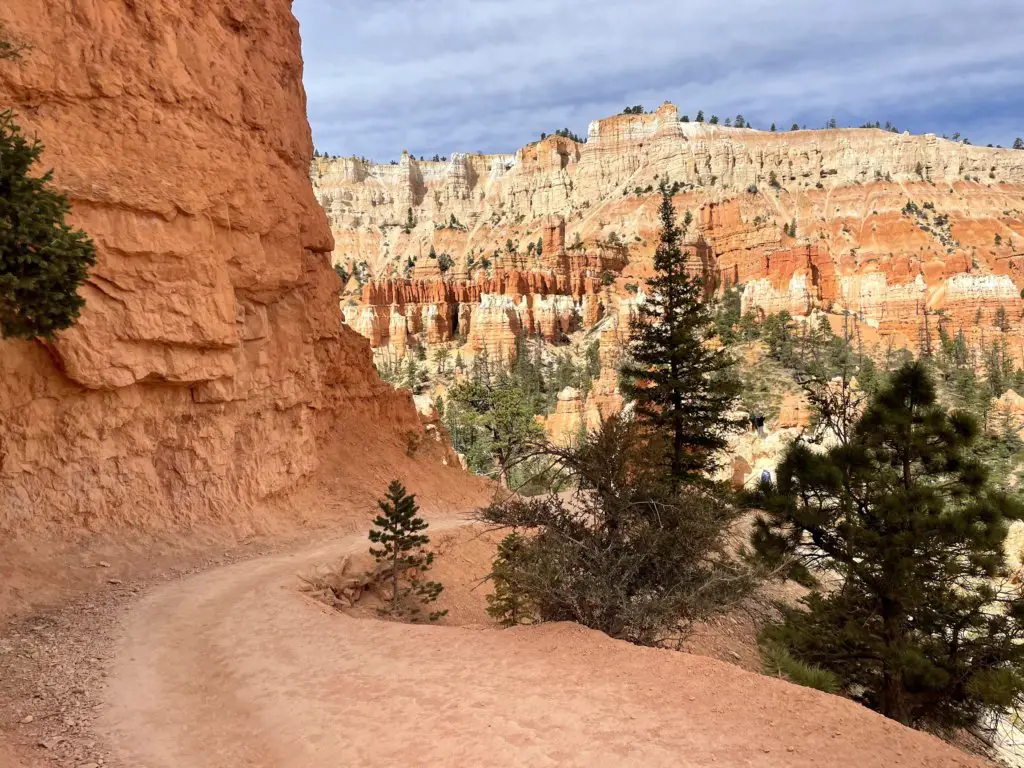 Where to Stay
Bryce Canyon Lodge
If you want to stay right inside the park, Bryce Canyon Lodge is your only option. You'll have easy access to all that Bryce Canyon offers (literally a step from Bryce Amphitheater), as well as a dining room and general store. This place books up fast and needs to be done about a year in advance.
Camping
Your other in-park option is camping. There are two main campgrounds within Bryce Canyon National Park. The Sunset Campground has 100 individual campsites and 30 group sites. It's open April 15-October 31. The North Campground has 99 campsites that are available on a first-come, first-come basis.
Bryce, Utah
There are a few hotel options right outside the park in Bryce, Utah which puts you less than 2 miles away from the action and gives you easy access to the free shuttle services:
Bryce Canyon Grand: If you are living large, here are the luxurious accommodations.
Ruby's Inn: The oldest accommodations with a Western vibe, complete with a restaurant and pool.
Bryce Canyon Resort: if you are looking for a budget-friendly place.
Hatch, Utah
Only about 30 minutes from Bryce is a great central location between both there and Zion National Park called Hatch, Utah. It's a tiny town of 700 across a few blocks stretch that's home to a restaurant, café and convenience store, coffee shop, and a gas station. There are also 25+ small cabins available that are very affordable and the perfect place to stay.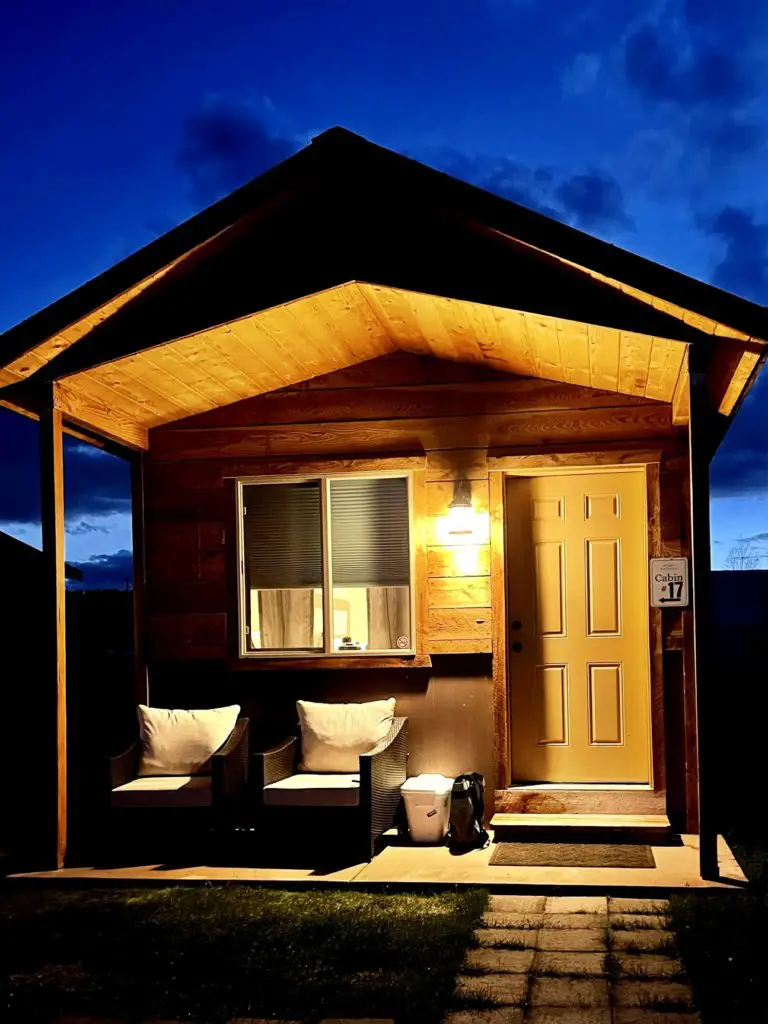 Don't miss the Outlaw Saloon. It's an unassuming restaurant that I expected to be fun with mediocre food. But not only was it fun; the food is also exceptional. The rib meat literally falls off the bone at the touch of the knife, the steaks are well-cooked with a pink center and crispy charred outside, and you'll want to take their asparagus recipe home! You'll find both tourists and locals in here and the bartenders are a great time.
And the coffee shop, Sevier Coffee Co., has a great cup of joe as well as a breakfast burrito you will want before a day of hiking! (It's big enough to split.) You do get free drip coffees if you stay in the cabins!
What to Pack for Bryce Canyon National Park?
There are a few things you're going to want with you when you vist Bryce, Utah as you hike and explore the area:
Alcohol: Lol, I'm very much serious. There are no bars in Bryce (*gasp* yes, stay in Hatch), and anything over 5% cannot be purchased unless it's from a liquor store. Which…is also nonexistent lol (you can go to Panguitch 22 miles away.) In Bryce, they have a very small selection of alcohol at the convenience store.
Big Water Bottle: I had this 32 oz. bottle that worked perfectly. It seriously kept ice in there for an entire (hot!) day. Plus, it's perfect for adding fun stickers during your travels.
Sunscreen: it gets so dang hot!
Hiking Shoes: invest in these before your trip. Much more enjoyable.
Hiking Backpack: make it easy to carry all of your stuff.
Snacks: for when you get hungry on the trails! Two of my absolute favorite are these Trader Joe's Simply the Best Nuts because they come in pre-individualized packets you can just throw in your backpack. And these Chomps Beef Sticks are not only clean eating, but filling and delicious. (Note: these can both go in your carry-on bags!)
Layers: No matter what time of year you visit, weather can fluctuate, especially when you are starting earlier morning and going all of the way into the evening!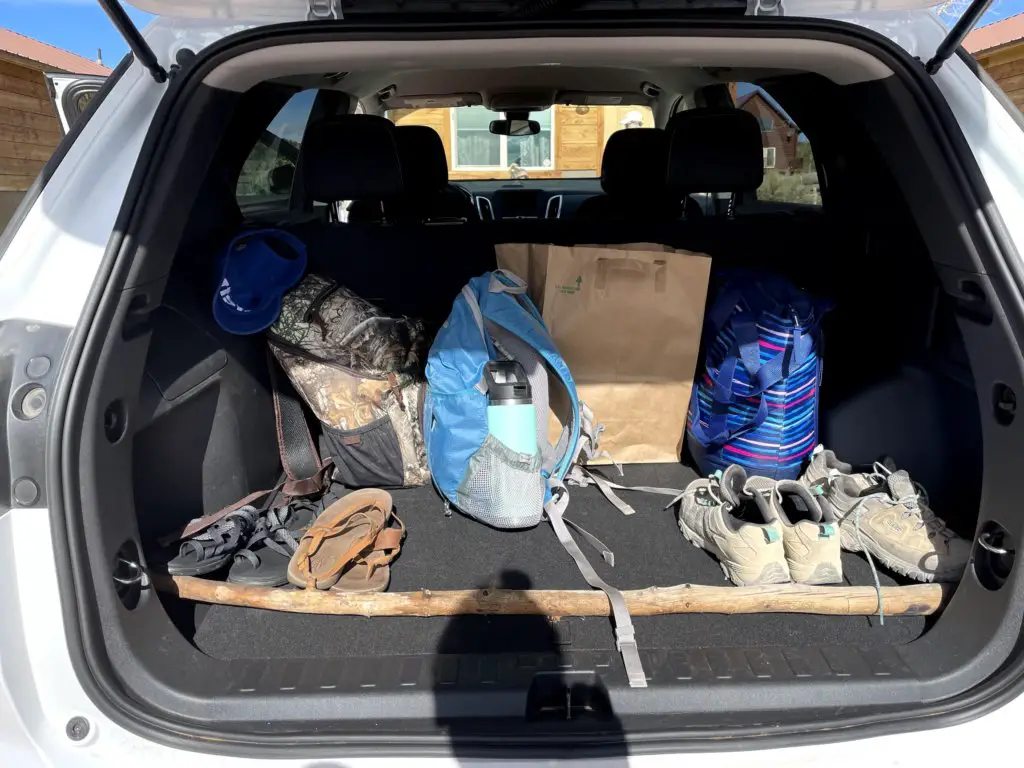 What Else is Nearby
Zion National Park: one of the United States' most popular national parks is just a short 30-minute drive from Bryce. Most people combine these two parks into one trip. Make sure to read How to Spend Two Days at Zion National Park: What You Need to Know—there is SO much info!
Grand Staircase-Escalante National Monument: if slot canyons are on your list, make sure to take a day trip here! It's such a cute area and there are some very memorable hikes. Read the full details on my Escalante post.
Grand Canyon: the ever-popular Arizona destination that is definitely a check off the bucket list.
Antelope Canyon: another slot canyon location—this one in Arizona. Reservations are required and it's currently closed but keep an eye on its reopening.
Las Vegas: if you are flying into Vegas, plan a day or two in Sin City. It's perfect to get the party started or end your vacation with a relaxing day at the pool. Read The Best Things to Do in Las Vegas.
Salt Lake City: maybe you chose to come from here and you can hop around different breweries and a fun downtown.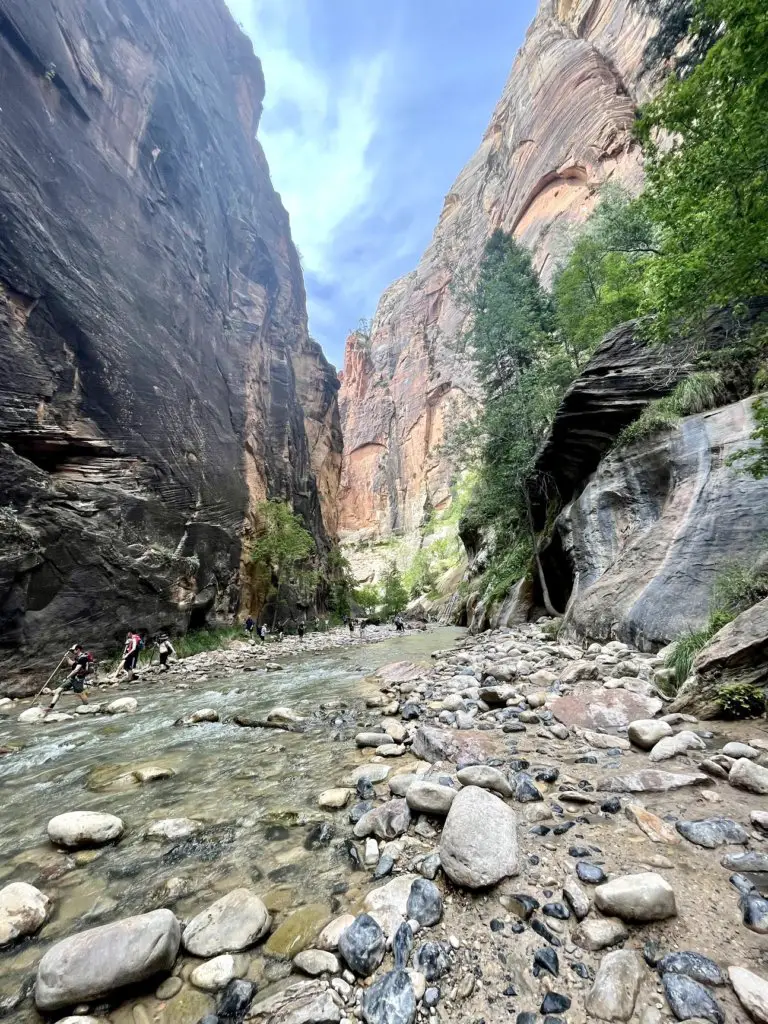 One Day in Bryce Canyon National Park
Visit the enchanted world where the rock formations are unforgettable. I can't begin to describe how underrated this National Park is. Don't miss it!