Are you looking for a little change of pace from the typical Colorado hike full of snowy peak mountain views? While I LOVE those hikes, Cheeseman Canyon feels like a whole different world—and you'll love it!
Located in Sedalia, Colorado (which is 40 minutes north of Woodland Park and a little over an hour from Colorado Springs), this hike will bring you inside the canyon along the South Platte River and the views are incredible. Fly fishermen far outnumber hikers here since it's known as some of the best fly fishing in the WORLD. But no matter if you are hiking or fishing, you will take in incredible views.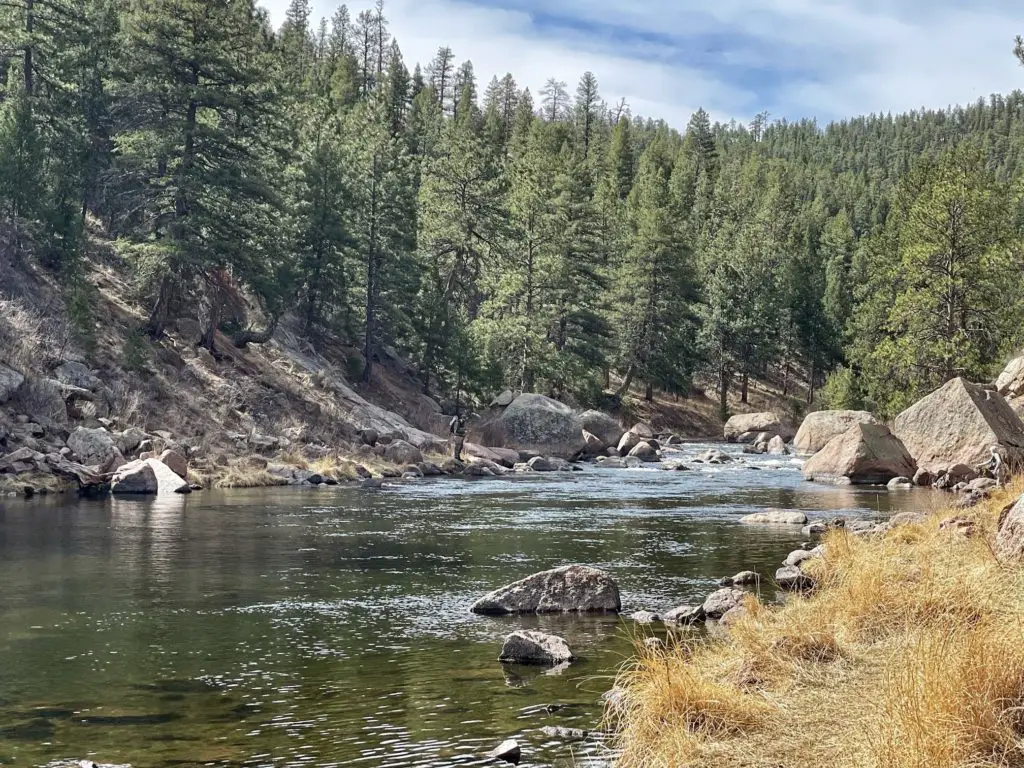 Quick Facts: Cheeseman Canyon Trail (Upper Canyon)
Location: Sedalia, Colorado (Douglas County)
Miles: 5.3 miles.
Type: Out & Back—you can make it as many miles as you'd like.
Elevation Start: 7,946 ft.
Elevation Gain: 475 ft.
Time: Roughly 2 hours
Challenge: Easy-Moderate
Popularity: Moderate
RATING: 4 Stars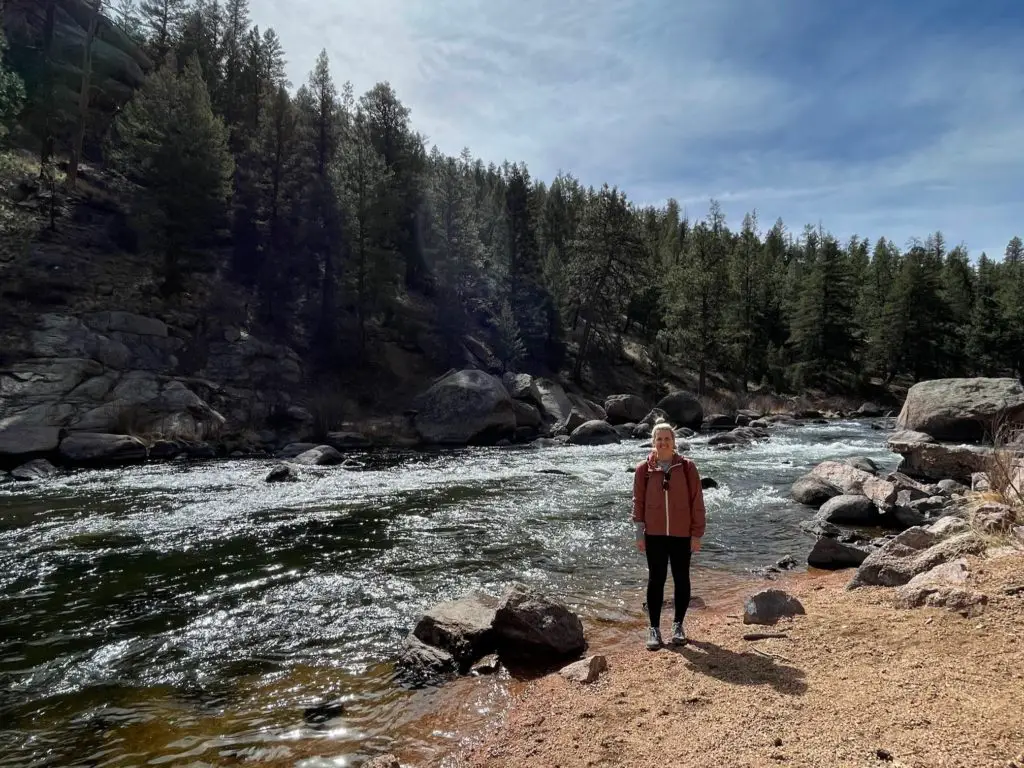 What are you going to see on Cheeseman Canyon Trail?
Once you make it into the canyon, you will look up and be surrounded by mountains, trees, and blue skies. Look down and you'll find the South Platte River flowing at a good speed. Inside the river, you will come up on truly massive boulders that are fun to admire and even more fun to climb.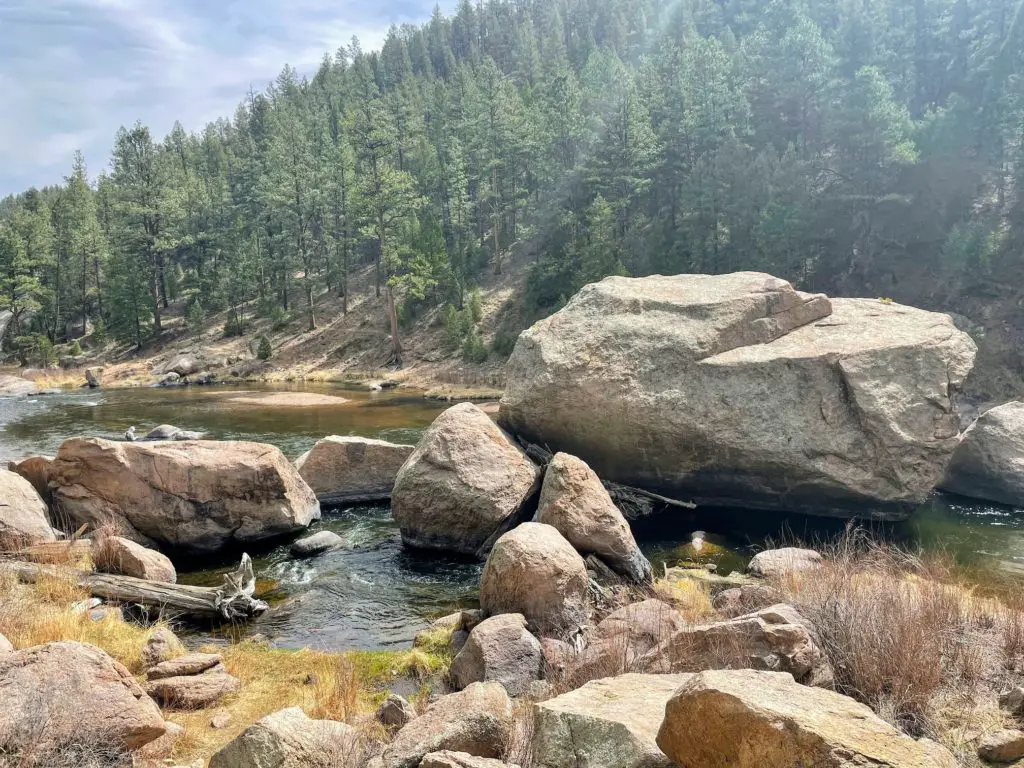 Who Should Hike Cheeseman Canyon?
Cheeseman Canyon Trail is suitable for hikers of all skill levels. If you're a beginner, stay on the trail and it will eventually lead you to the river. If you are more advanced (strong word…"in shape,") then use one of the many paths leading down to the river towards the beginning of your hike and it will be more challenging.
What goes down, must come back up so that's where it gets tough. In addition, if you head down to the river early, you'll end up bouldering some rocks and finding yourself with the lesser-groomed trail. More on the hike itself below, but first…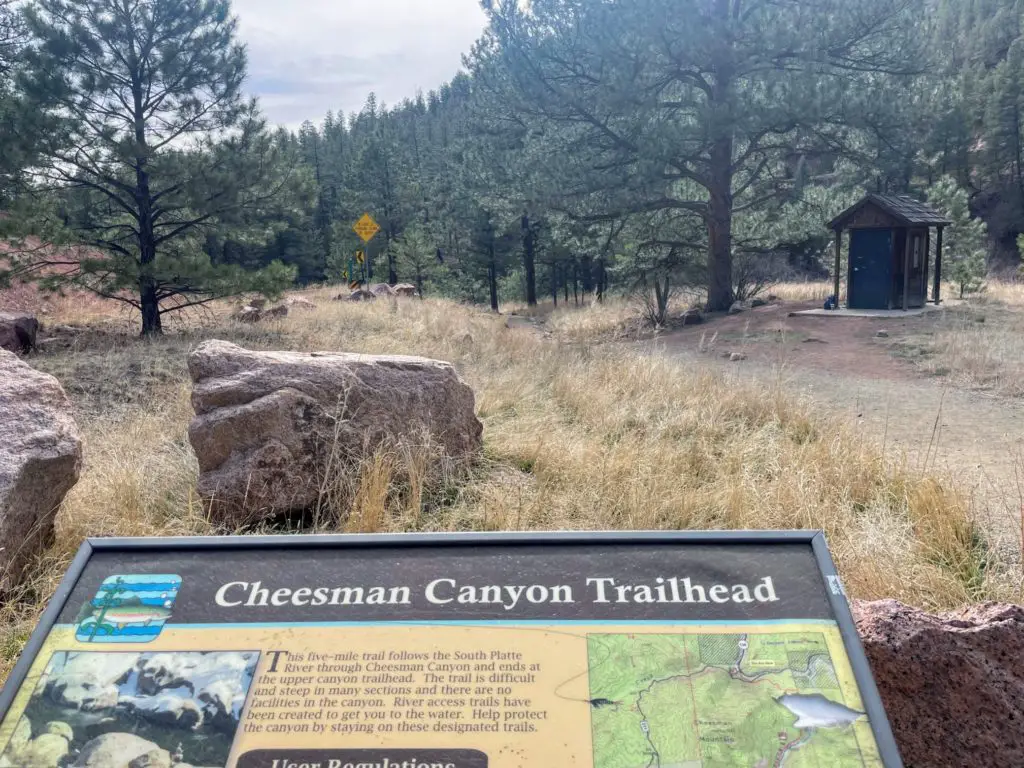 How to Get There
From Colorado Springs (it's only a Little Over an hour!)
Getting to Cheeseman Canyon is a beautiful, winding drive through the mountains that will feel far less shorter than it really is! Don't let the length of time to get there stop you from adding this hike to your list.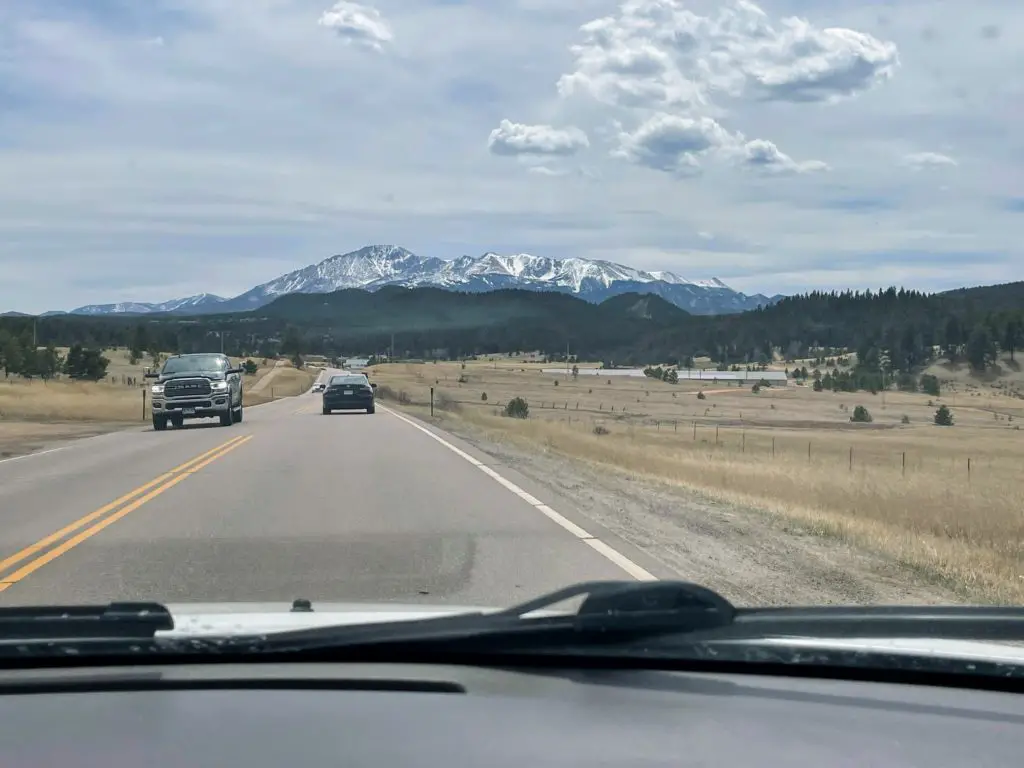 From Colorado Springs, hope on Hwy 24 until you hit Woodland Park. You'll drive through downtown WP and eventually turn right on CO-67 N. From here, you're good to go for 23 miles to Deckers, CO.
When you see the restaurant and convenience store, stop in for water and/or snacks if you need them, and then stay left on Deckers Rd. This will continue to wind to your destination—after becoming State Hwy 211 for just over 5 miles.
You will see a good size parking lot to your left. Given that there are hikers and fishermen looking for spots, it can fill up quickly—especially on weekends. This is a very remote area, so if the lot is full, create your own space somewhere. We parked in the lot but not in an "official spot," and everything was just fine.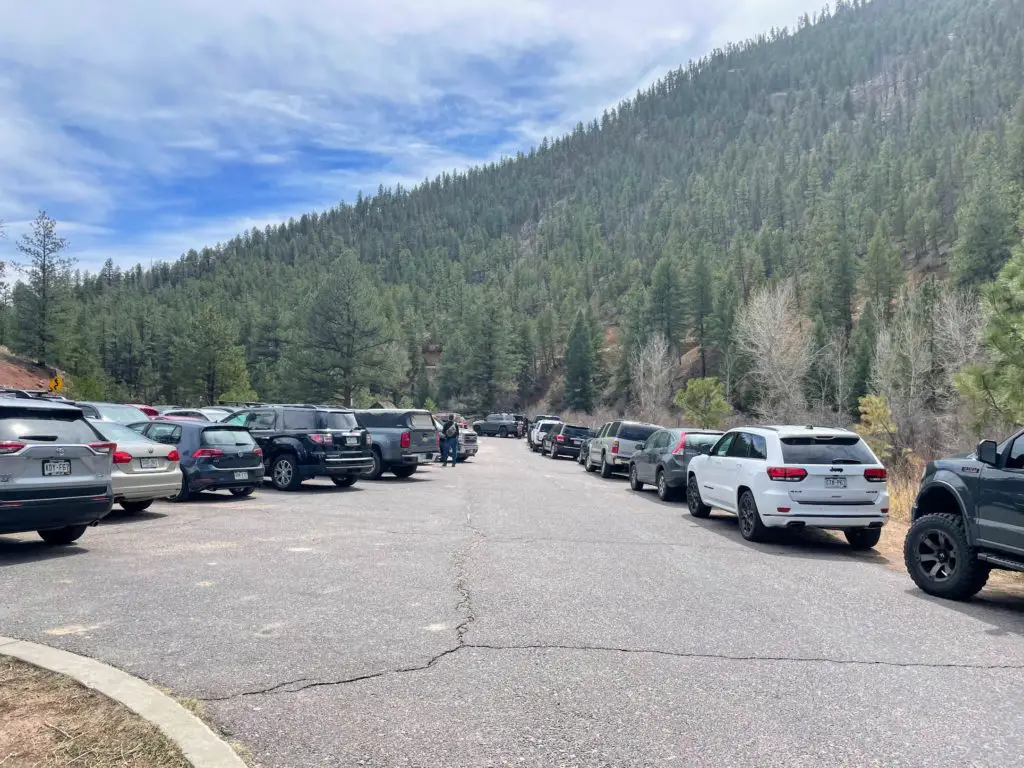 Cheeseman Canyon Hike
After you park, head towards the trailhead where there is also a bathroom and trail sign with a full map. To start, you'll cross a small wooden bridge and go left. There is a bit of an incline through this portion. Eventually, you'll come up on the road where you simply cross and hit the trail on the other side.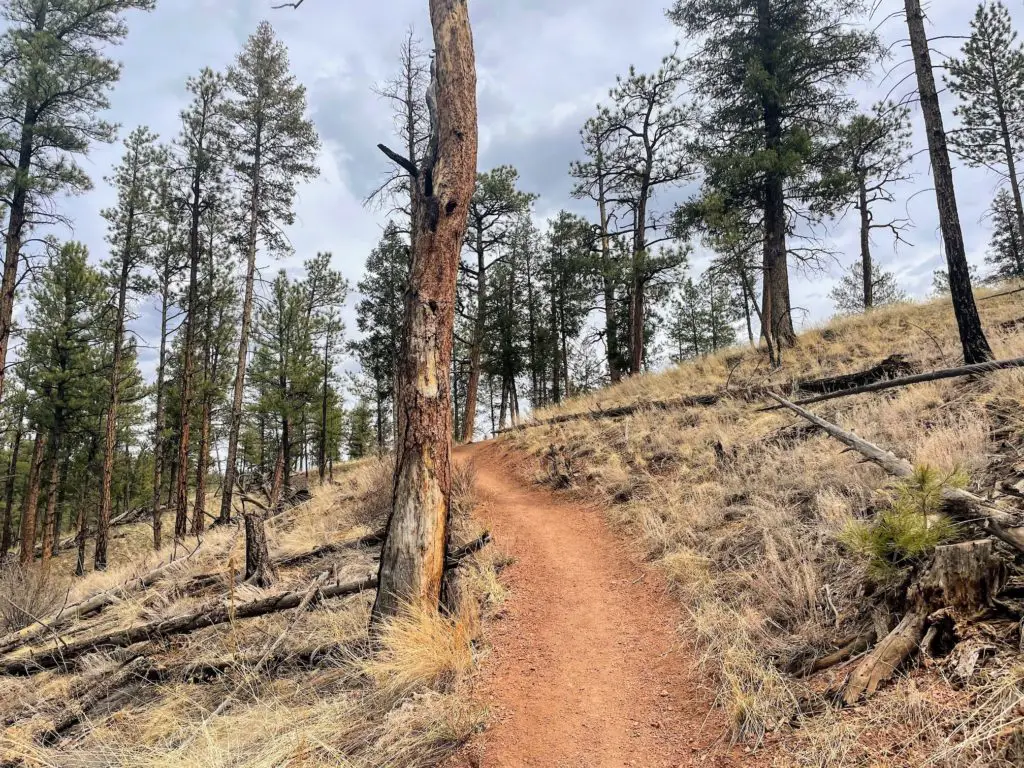 Once you get the Cheeseman Canyon sign, you are close to the river and have a couple of options. The most popular is to stay to the right and continue on the trail above the river. You can also go straight here (you'll see steps) which will bring you to the river right away. I recommend the latter! Note: if you're a beginner, stay to the right.
The bonus of going straight down here is that the walk along the river is beautiful, you can go back up at any time, and you can make it more of a "loop trail," and do the main trail up top on the way back.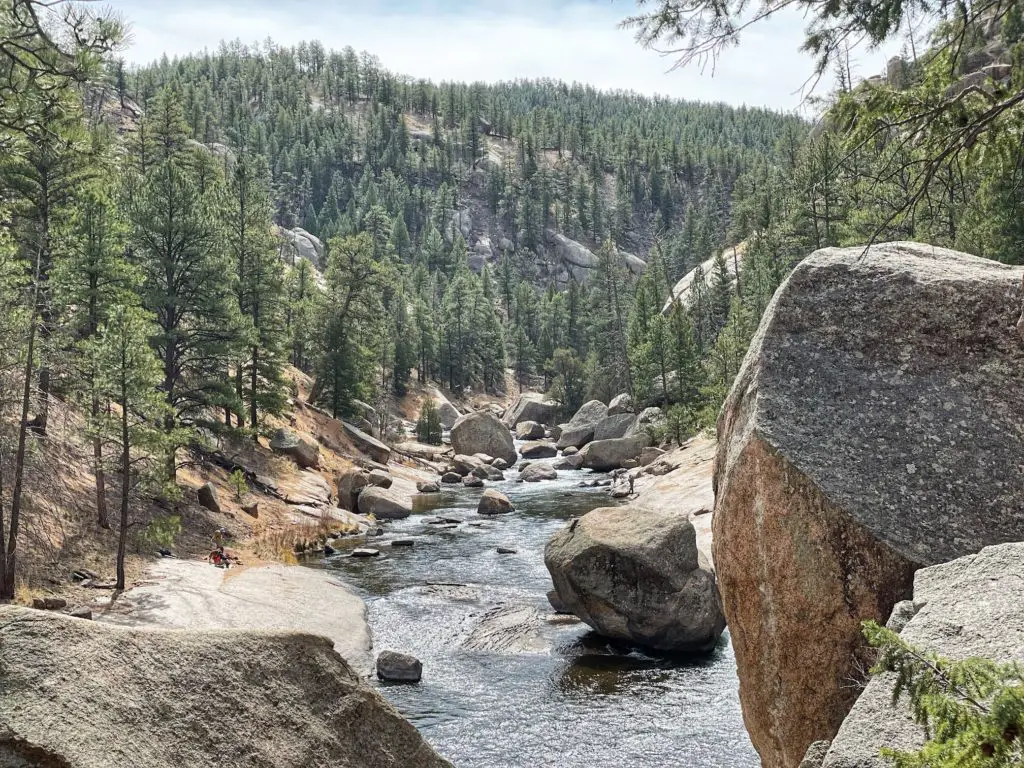 After you choose your route, it's easy as can be! Keep following the river and admire the views. At about 2 miles in you'll make a turn and come across my favorite view of the hike. Keep going as long as you'd like, watch the fisherman, eat lunch, admire the views, and turn back whenever you would like!
Preparation + What to Bring
Wear Sunscreen. (Don't Forget Your Lips!)
Hiking Shoes. You'll want quality shoes (spiked in the winter when you're dealing with snow.)
Backpack. Something small and light to stash a few things.
WATER! Plenty of it. We had two bottles per person—one in our hand and one in a backpack. BONUS: I filled my first bottle with electrolytes for extra energy.
Snacks. This is an awesome spot to pack some sandwiches and enjoy a nice lunch.
Money. Which you won't need unless you need a beer afterward! 🙂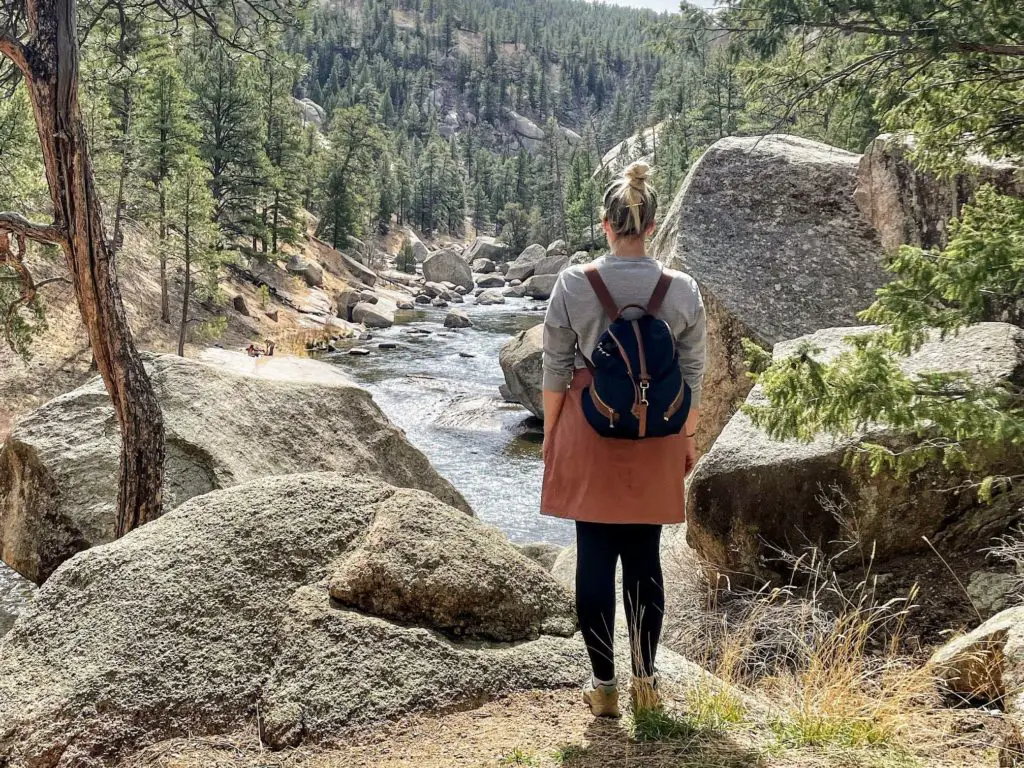 What to Wear
There is heavy sun in this area. As always, dress in layers but expect the temps to be on the warmer end of the high of the day.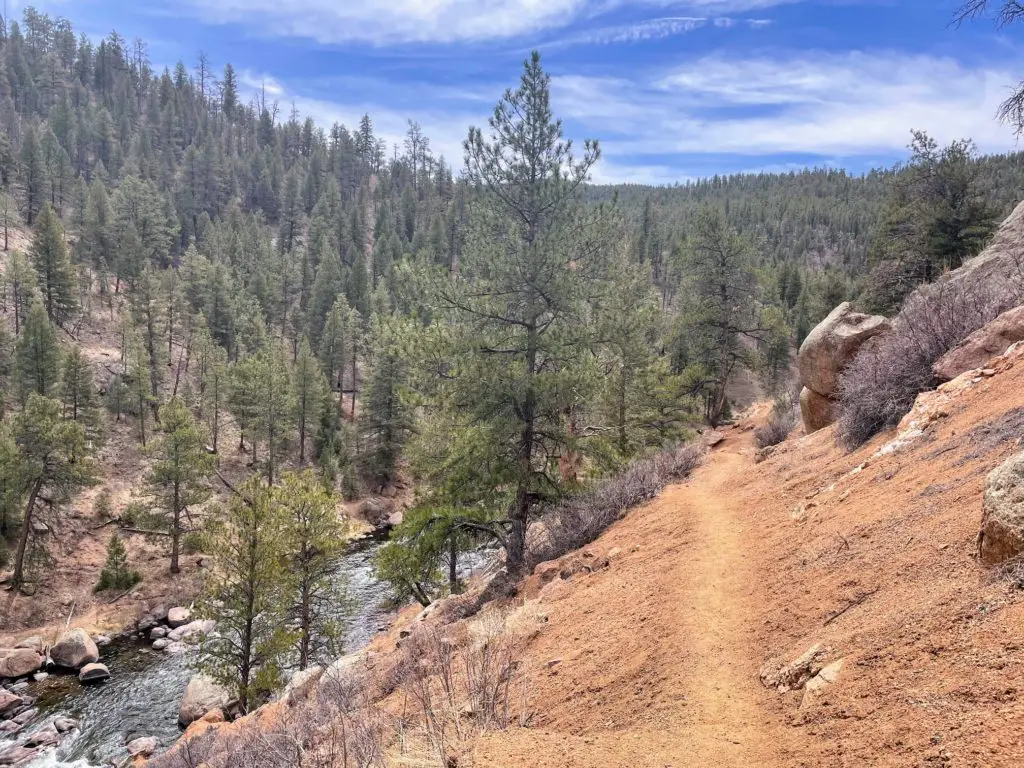 Cheeseman Canyon: The Best Hiking Guide
You will definitely enjoy a day inside Cheeseman Canyon. It feels like another world and a place to just breathe and admire the beauty of the world!
Stopping in Woodland Park after? Read The Best Restaurants in Woodland Park, Colorado!
Did this post help you out? Support the work and pass along $5 for a Coors Light 😉 VENMO: @Amber-LBB or PAYPAL: amber@littlebluebackpack.com. THANK YOU.