Are you looking to remove yourself from the city and get into the mountains? A chance to walk through the woods across rocky hiking trails and take in all of the fresh Colorado air? Well, I can't recommend Divide, Colorado enough as a place to hike. The best hikes in Divide, Colorado will be experiences you won't forget.
And I 100% Recommend a drive up the mountain if you're visiting Colorado Springs.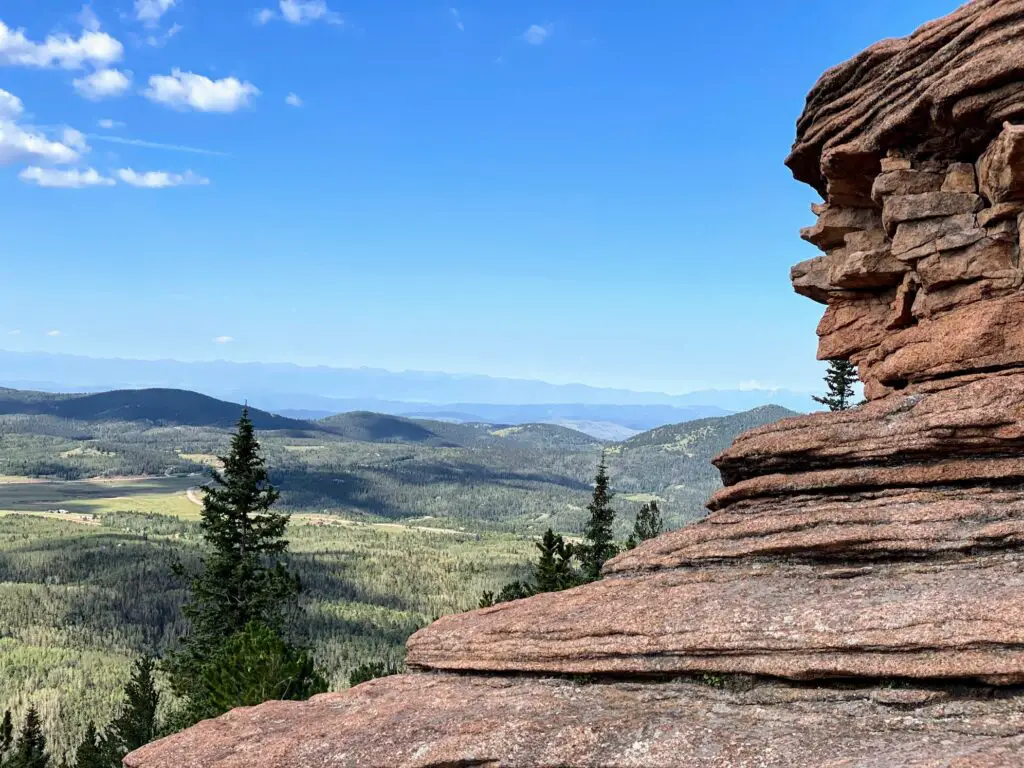 While there are great hiking options in Colorado Springs like Garden of the Gods or The Incline, these hikes below will give you a true taste of wilderness hiking in Colorado. No views of cities and buildings. Instead…vast mountain ranges and trees for miles that you can enjoy whether it's the summer months or winter. You won't be disappointed. Here are…
The Best Hikes in Divide, Colorado
Raspberry Mountain
The Crags
Pancake Rocks
Elder-Fehn Trail
Putney Gulch to Anne Marie Falls
Limber Pines Trail
Crazy Gulch to West Creek Loop
There are options for ALL skill levels, so don't be intimidated. There is plenty of information below so you can find one that sounds right for your abilities.
NOTE: hikes rated moderate or difficult should not be done on your first day visiting Colorado if you are not acclimated to the elevation. They can get intense and you want to give yourself time to get used to it first.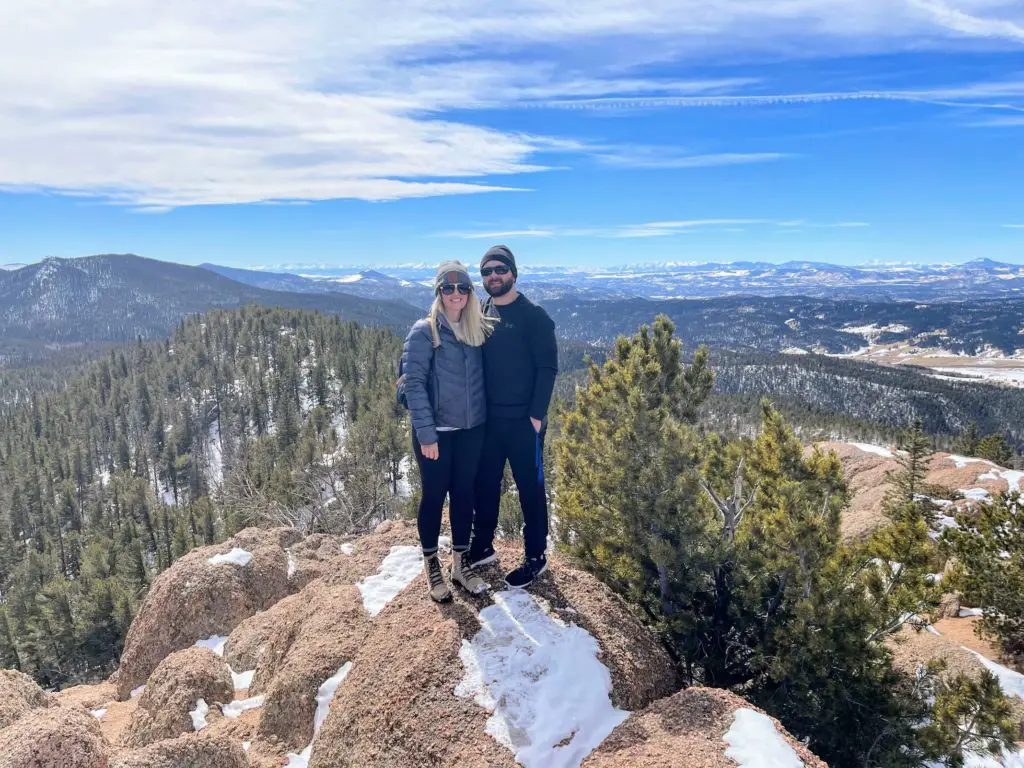 Raspberry Mountain
MODERATE | 5.2 MILES | 1,013 FT. ELEV. GAIN
This one is definitely my favorite 🙂 and easily one of the best hikes in Divide, Colorado. The top of Raspberry Mountains offers views of the Cheyenne Mountain, Front Range, North Catamount Reservoir, and the top of Pikes Peak. It's 360 degrees of GORGEOUS.
In parts of this trail, you'll hit switchbacks, do some bouldering to the summit, and enjoy a beautiful patch of open space all in one hike. If you're in shape, you can do it and I totally recommend it. It is a popular trail so the best time to start is early.
NOTE: Add an additional mile in the winter months when the gates are closed! Get the full rundown of Raspberry Mountain.
PLAN: 2 HOURS, 30 MINS | MAP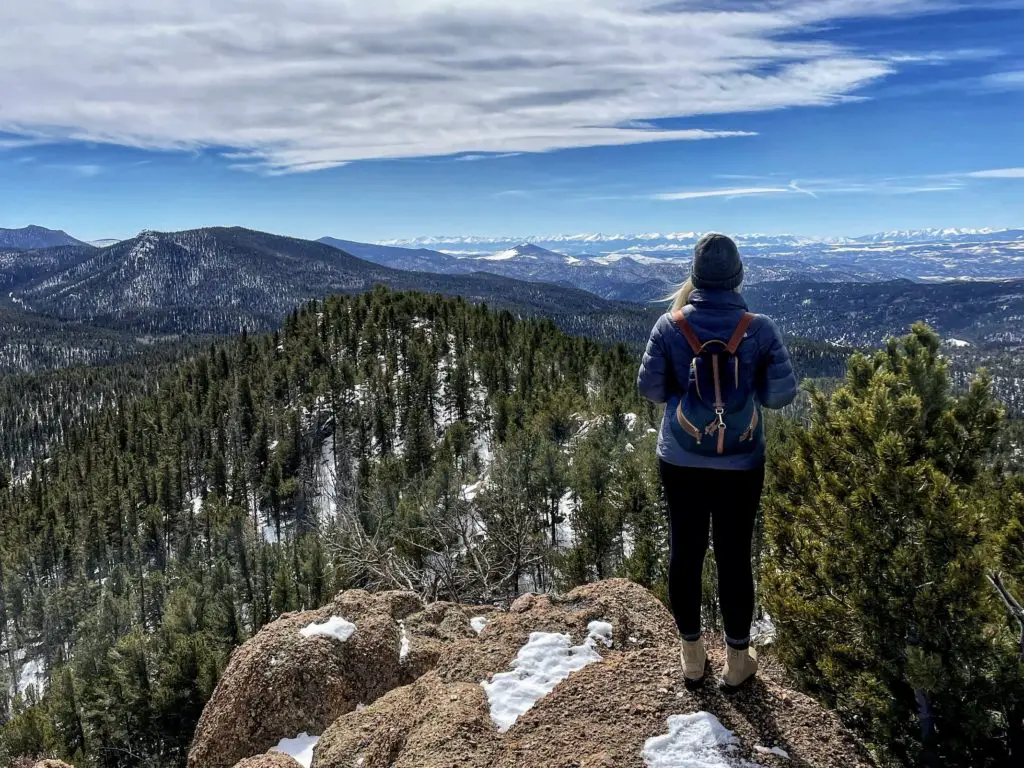 The Crags
MODERATE | 4.8 MILES | 820 FT. ELEV. GAIN
I think this is the second-best hike in the area. A scenic trail within Pike National Forest, The Crags is a beautiful hike to check out wild rock formations. And, of course, Pikes Peak, Rampart Range, and Ute Pass. It's a sweet hike from start to finish and one of the most popular hikes in the area.
Right at The Crags trailhead is the toughest part—a set of switchbacks. From there, it evens out and doesn't require a steep climb again until just before the summit. You'll take in the weird rocks and small streams along the way. And keep your eyes open for moose, black bears, and even mountain lions!
There is a bathroom and picnic sites. Read more about The Crags. NOTE: Add an additional mile and a half in the winter when the gates are closed!
PLAN: 2 HOURS | MAP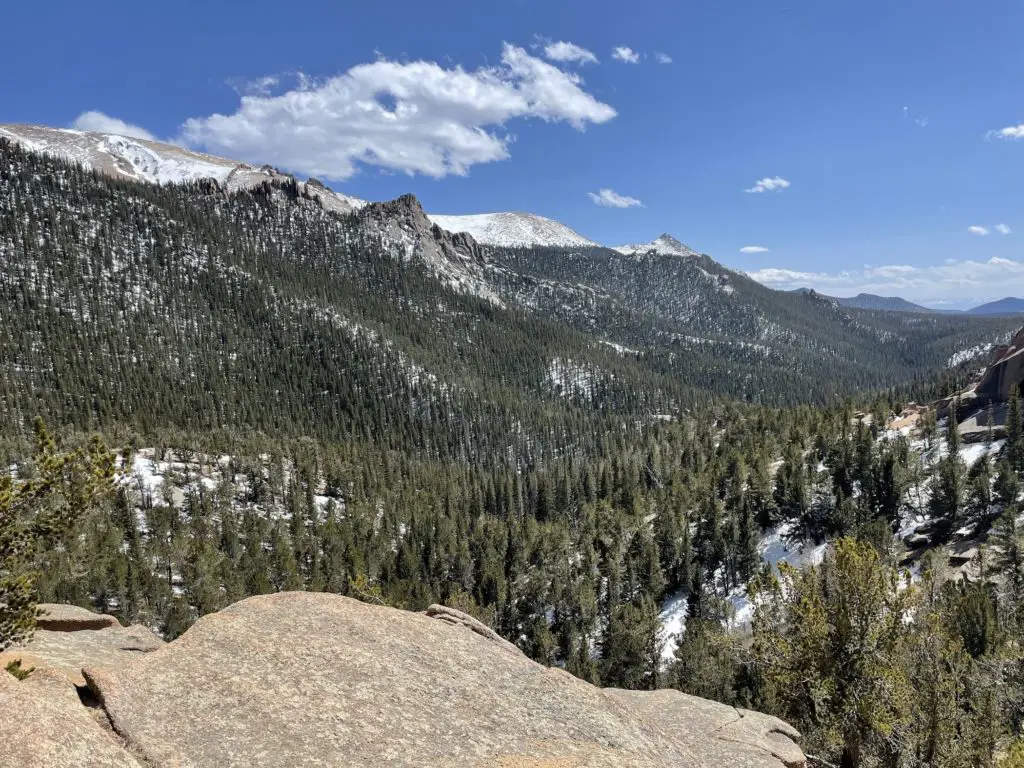 Pancake Rocks
MODERATE | 6.0 MILES | 1,669 FT. ELEV. GAIN
This is a hiking trail with GREAT views including interesting flat rocks stacked on top of one another—hence the cool train name! One of the more long-distance trails, this is a good challenge and the final destination makes for an amazing place to sit back, relax, and enjoy some snacks with a view.
The beginning is tough. The first 2.25 miles are at an incline and you will gain roughly 1,300 ft in elevation. After that, you are rewarded with a few declines (and a couple more inclines) before you reach your destination. It's a great workout with views throughout. Get the full scoop on hiking Pancake Rocks.
PLAN: 2 HOURS, 15 MIN | MAP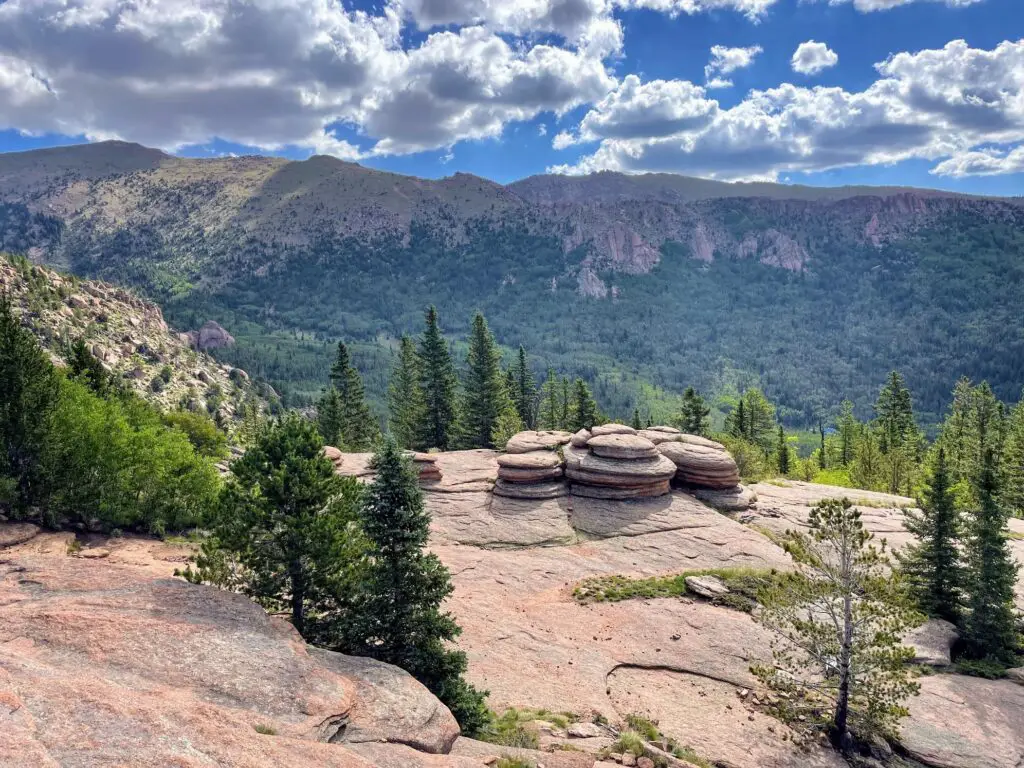 Elder-Fehn Trail
MODERATE | 4.8 MILES | 928 FT. ELEV. GAIN
Elder Fehn Trail is a great trail to immerse yourself in nature. And a hike where Pikes Peak seems to follow you the whole way through! It's a quiet trail where you will battle up and down frequent inclines and declines as the trail moves up and down from start to finish. But the panoramic views are worth it!
There are a few different routes and distances you can take in this area. This Elder Fehn Trail hiking guide outlines Elder Fehn > Vayhinger Trail > Ring the Peak > Limber Pines, and is one big loop. This is the best map to look at while deciding which route is best for you.
PLAN: 3 HOURS | MAP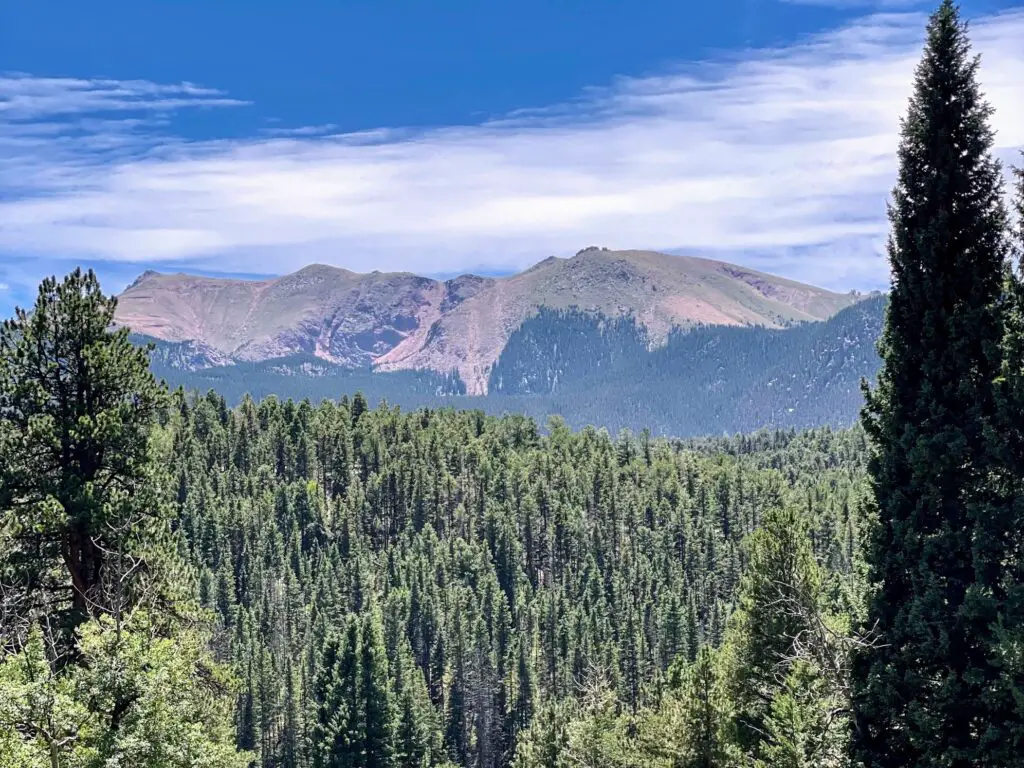 Putney Gulch to Anne Marie Falls
MODERATE-Hard | 4.7 MILES | 1,043 FT. ELEV. GAIN
I'm not going to lie—this hike is a doozy. And I don't recommend it until you have accomplished all of the hikes above, which I find superior. BUT…if you have tackled them all and want your next challenging hike, take on Putney Gulch to Anne Marie Falls.
This hike is in the deep, DEEP woods. Like, I couldn't get wild animals off my brain (though we never did see one.) It does feel very cool to be immersed in the dense forest and mountain ranges, though it is a challenge and you'll find an up-and-down trail from start to finish with some serious inclines. But when you reach the highest point, it's a fantastic place to relax and recharge—with, of course, spectacular views!
PLAN: 2.5 HOURS | MAP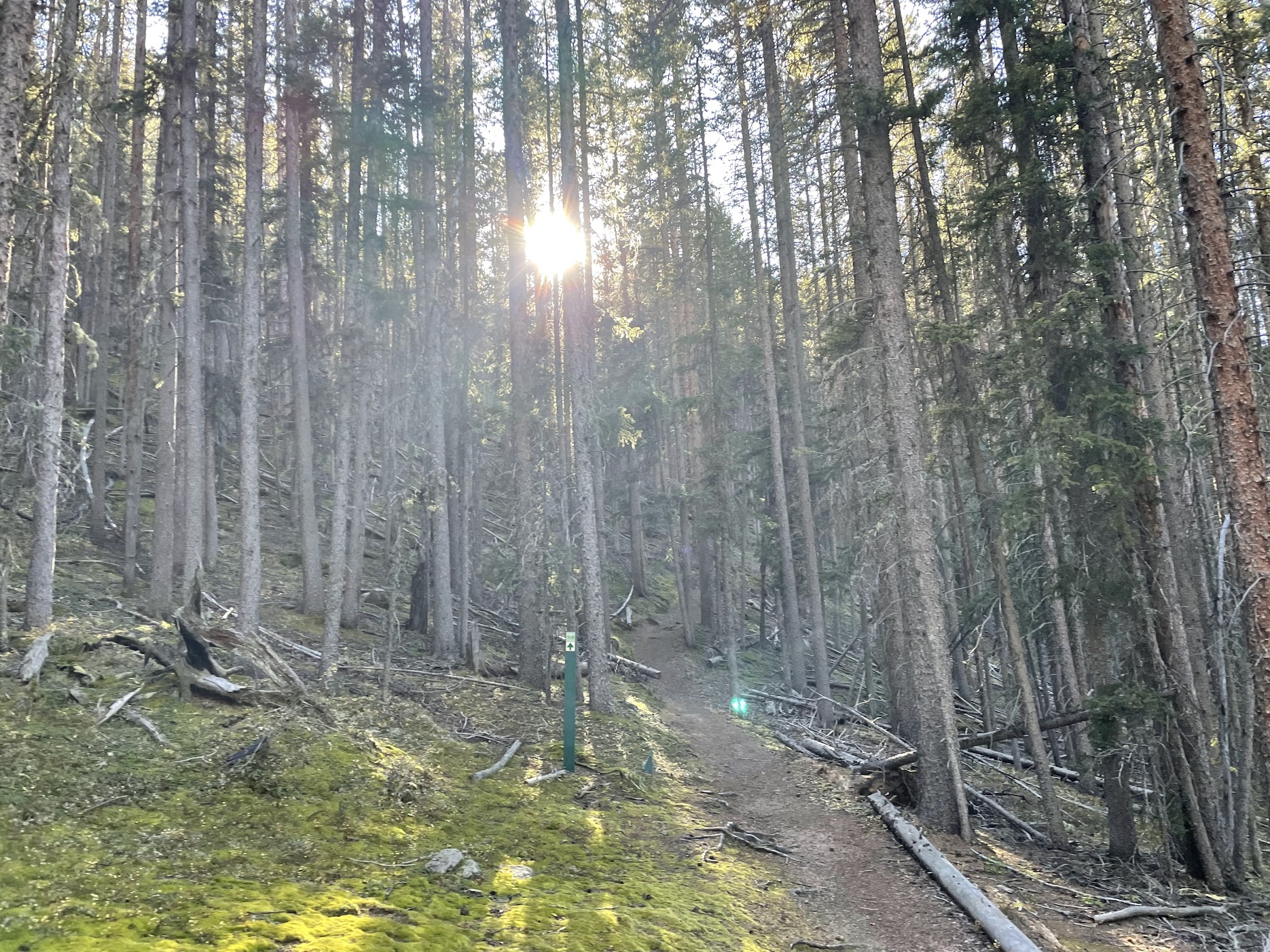 Limber Pines Trail
EASY | 2.8 MILES | 390 FT. ELEV. GAIN
This is a top loop trail for visitors of most skill levels. It's a short distance, and the elevation gain is low but you're still rewarded with fantastic views of Pikes Peak. Like, views that are far superior to the effort you need to put in! It has a few steep, though VERY manageable, inclines, otherwise it is flat or downhill. In addition to the mountains, you get views of the North Catamount Reservoir as well. Read all of the Limber Pines details.
There's a small parking area off the dirt road that I've always been able to park in. But, if it's full, go on the street. This is the same exact area (Catamount Recreation Area) as Elder Fehn Trail, mentioned above.
PLAN: 1 HOUR | MAP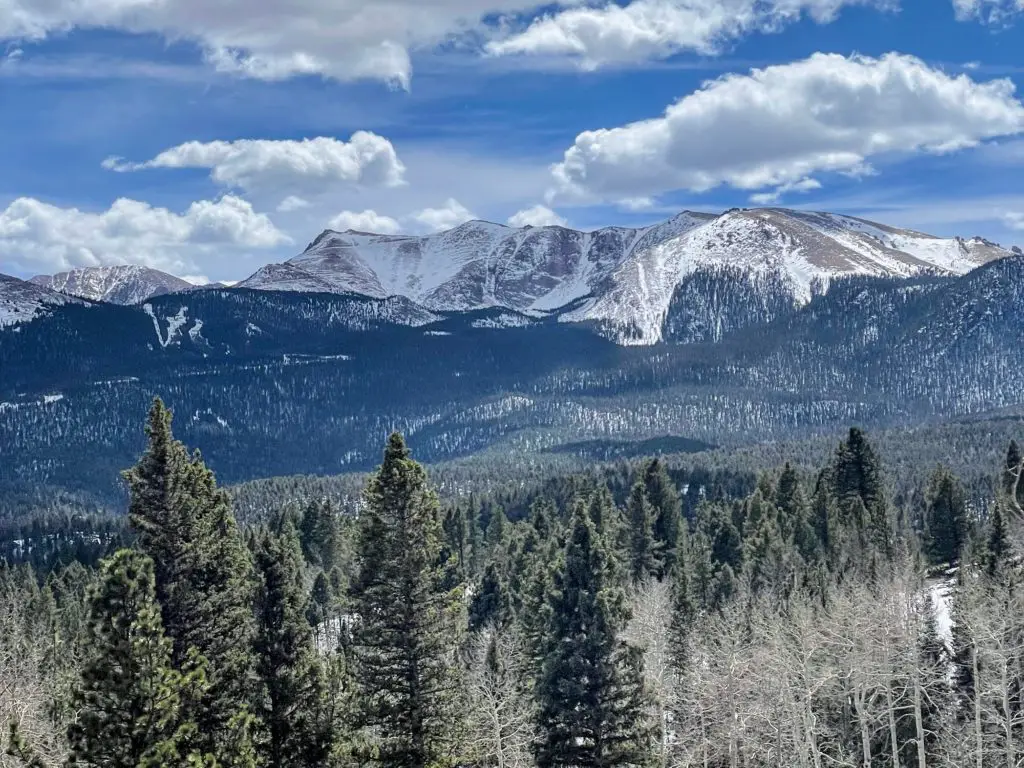 Crazy Gulch to West Creek Loop
Easy-MODERATE | 5.6 MILES | 360 FT. ELEV. GAIN
This is another easy hike that would work well for visitors—though I do recommend Limber Pines first. This one also offers views of Pikes Peak with minimal effort, but the mountain is at a farther distance.
If you're looking for more of a walk (only the 360 ft. elevation gain which comes throughout, not in one big push), then this is a fun option that leads you through the woods and fields. It does get a little bit confusing, and the trail forces you to cross over a creek (you won't get wet.) This is also a nice hike in the fall when the leaves have changed colors!
PLAN: 2 HOURS | MAP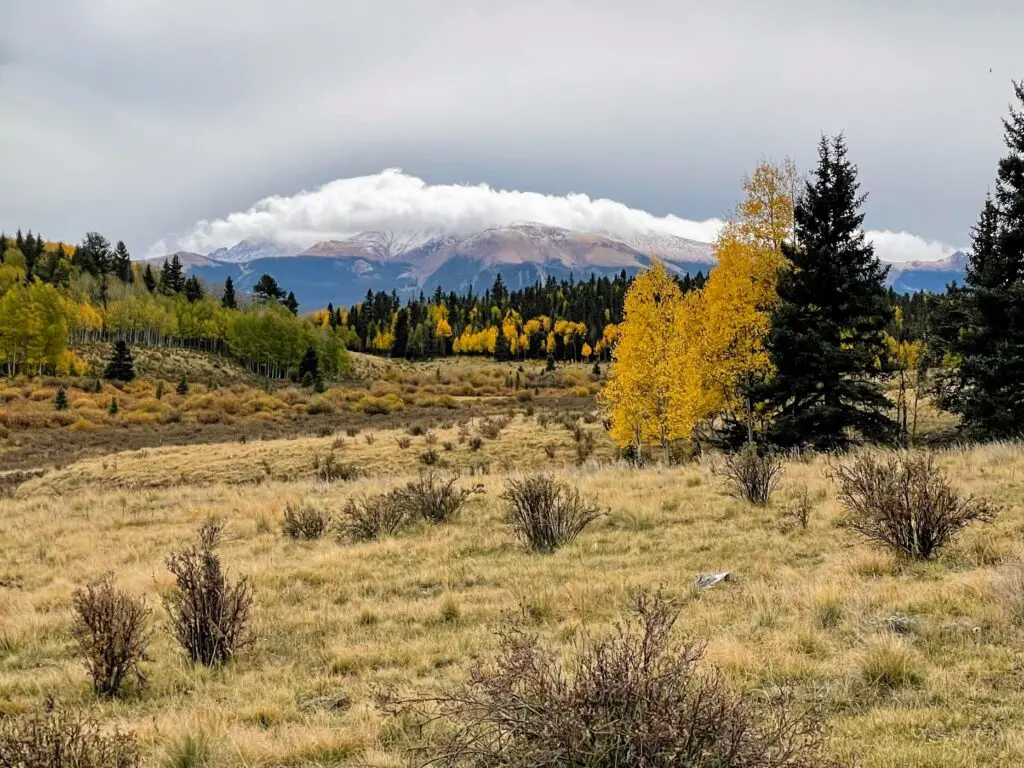 The Best Hikes in Divide, Colorado
The Rocky Mountains and true wilderness areas are the most magical places to be. And the best hikes in Divide, Colorado will show you just how vast and beautiful this area of North America really is. The mountain peaks, alpine meadows, interesting rock formations, and small waterfalls make for some of the best trails in Colorado. Explore these miles of trails and you won't be disappointed!
What's next? Check out some of the trails at Mueller State Park! Or, find some fun in Colorado Springs, Woodland Park, or Manitou Springs after your great hike! You can also find plenty of other outdoor activites in Divide including cross-country skiing, horseback riding, and mountain biking.