Pikes Peak on one side. Garden of the Gods on the other. The town of Manitou Springs is lively and fun with so many fun things to do downtown and in the surrounding area. At 6,412 feet above sea level, you will find plenty of outdoor activities and, of course, the best things to do in Manitou Springs don't stop there. Restaurants, shops, parks, a spa…
Plus, fresh mountain air and The Taste Of nautral, Healing mineral springs. Talk about rejuvenation!
We'll get to more into that below! But if your adventures out west take you to the state of Colorado and you're in the Pikes Peak region, do not miss this small town…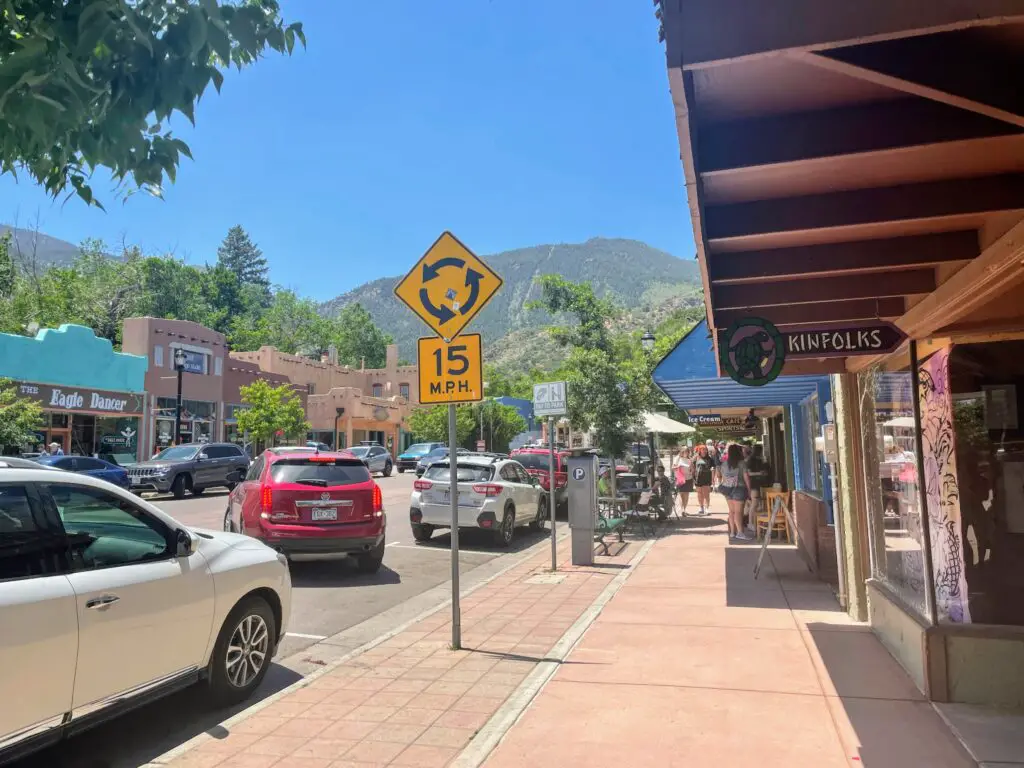 The Best Things to Do in Manitou Springs, Colorado
As mentioned, your options feel endless even though this is only a town of 5,300. Let's get started with memorable outdoor activites…
Visit Garden of the Gods Park
The main attraction of Manitou Springs is Garden of the Gods Park and its spectacular red rock formations. It's a fun, FREE place to explore and can easily be done without a set-in-stone plan. There are so many intertwined trails that you can grab a map from the visitor center and see where the day leads you. Here are a couple of my favorite trails to hit: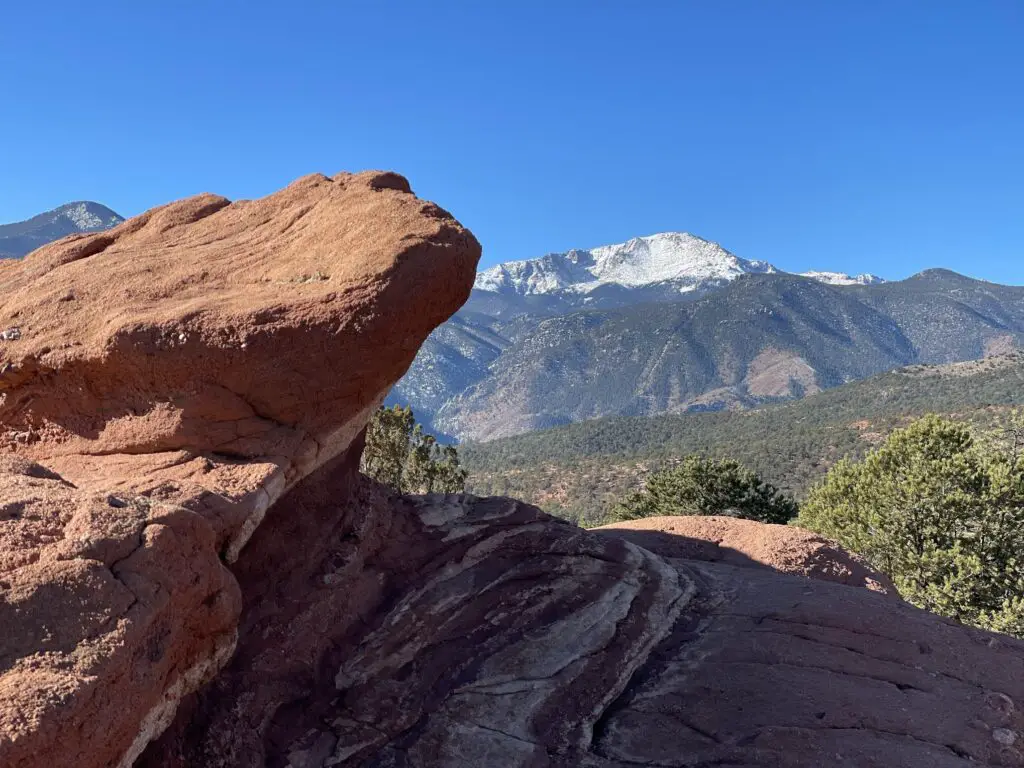 Hike the Manitou Incline
Oh, the infamous Manitou Springs Incline. Is it one of the best things to do in Manitou Springs…or one of the worst? Lol.
2,000 vertical feet up (2,768 steps) in just ONE mile. And a challenge that will certainly test your mental toughness. This is one of the most popular hikes in the area (make an online reservation) and an accomplishment you won't forget.
Note: The easiest way to get to the trailhead is to pay-to-park at Hiawatha Gardens Parking Lot located at 10 Old Man's Trail and take the free shuttle over. It comes about every 10 minutes.
For ALL the details, read The Manitou Incline: What You Need to Know.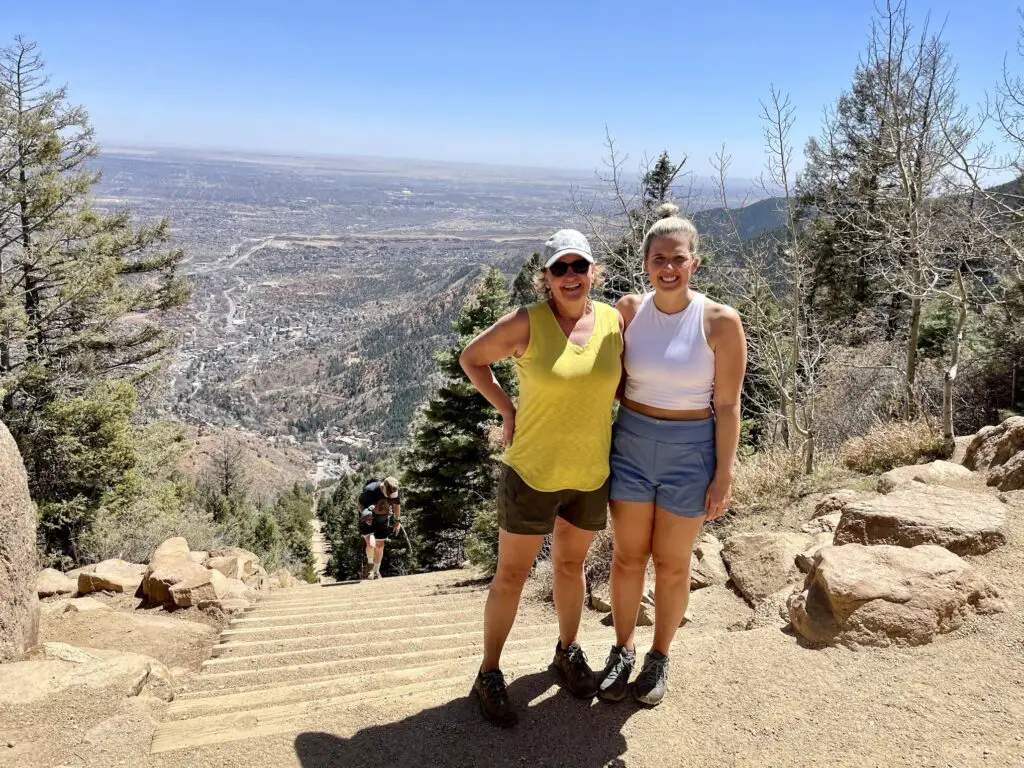 Hike in Red Rock Canyon Open Space
Red Rock Canyon is another free park that offers miles of trails for hiking and biking, as well as places to go rock climbing. Choose trails that range from easy-difficult and explore the natural beauty of huge sandstone rock formations and glimpses of the Pikes Peak and Garden of the Gods as the backdrop.
Like Garden of the Gods, there are many intertwined trails to combine. Some of the top hikes: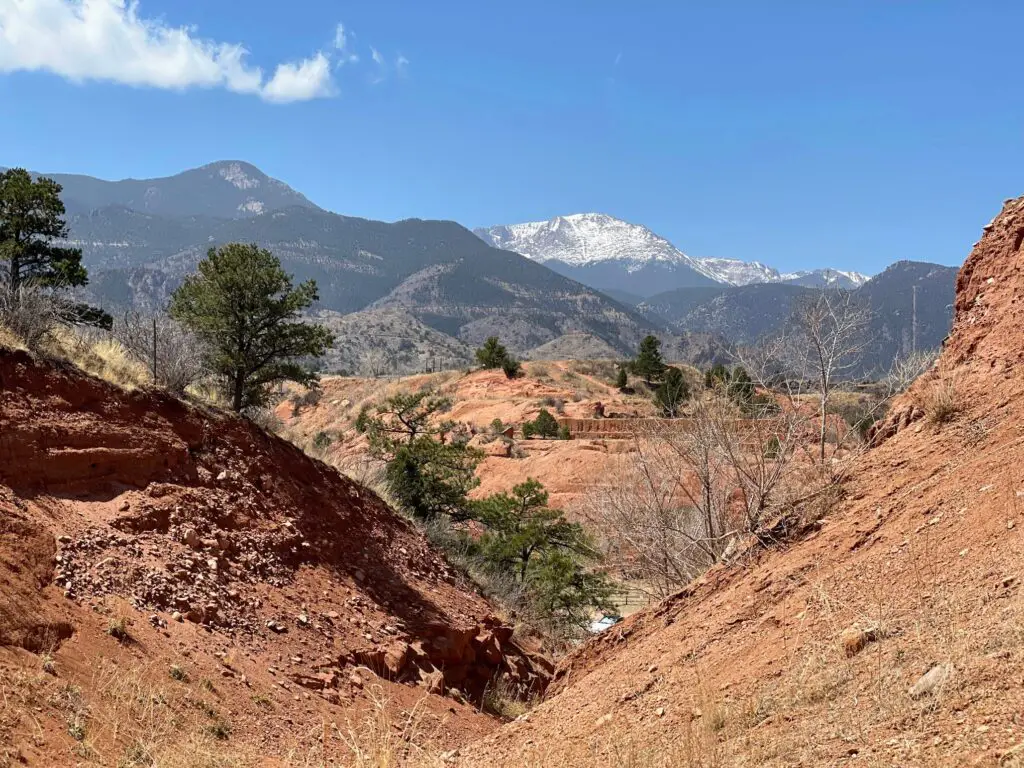 Manitou Cliff Dwellings
Time for your history lesson. Explore the Manitou Cliff Dwellings which is architecture of the ancient Anasazi. You can learn about these 700 year-old ruins and the people who built them. What makes this place unique is that you not only look at everything, you are encouraged to touch it and explore. Visit the 40-room museum, a nature walk, and gift shop.
Sunwater Spa
Let's get to RELAXATION. Sunwater Spa, a scenic health resort, is where you can enjoy soaking tubs (with next-level mountain views), massage, saunas, cold tubs, and yoga. It's a unique experience that I highly recommend and perfect for couples' or girls' day.
Book a tub online online—it's $40 per person for an hour and a half and includes access to the tub, cold pools, and the sauna. Plus, a memorable day!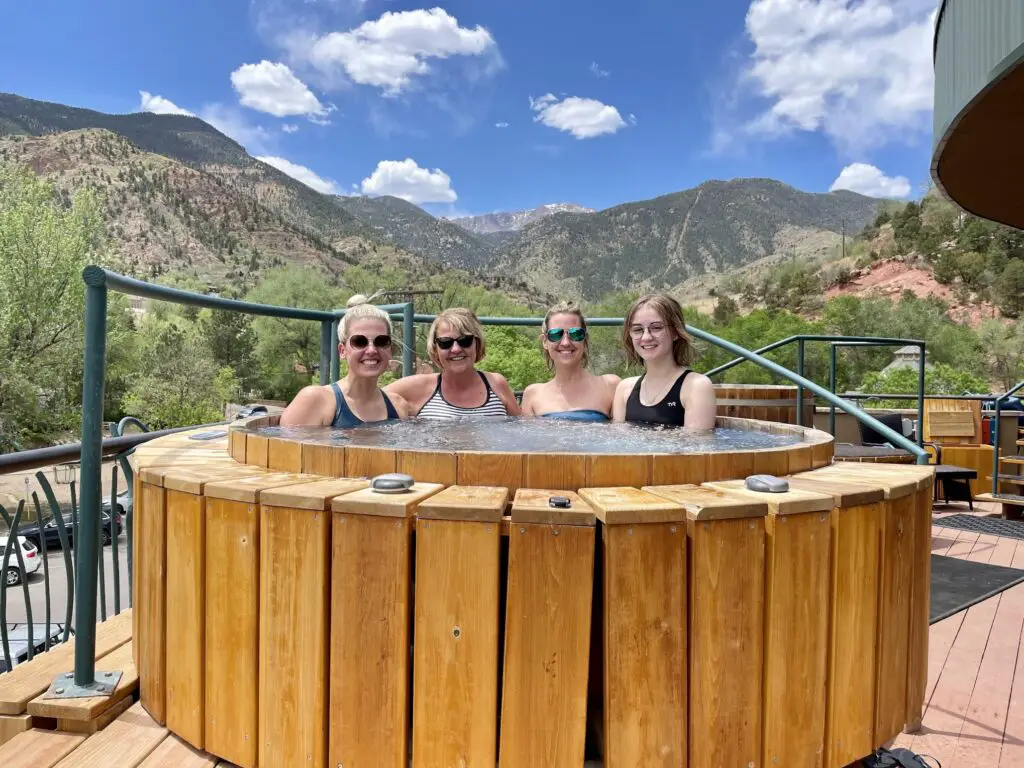 Memorial Park
Located right across the street from SunWater Spa is Memorial Park, a beautiful green space where you'll often find people reading or doing yoga—with mountain views. There is also a small playground and you may run into the occasional live music from local artists. If you're looking to relax for a bit, this is one of the best places to do it in Manitou Springs.
Soda Springs Park
If you have kids with you, stop at Soda Springs Park on Park Ave. (just one block over from Manitou Ave.) There's playground equipment, a pretty creek, and picnic areas.
TIP: There are public restrooms! If you're shopping downtown and need to go, head here.
Shop in Downtown Manitou Springs
You will definitely want to spend some time at the cute shops along Manitou Avenue and the downtown area. Here are some of my favorites: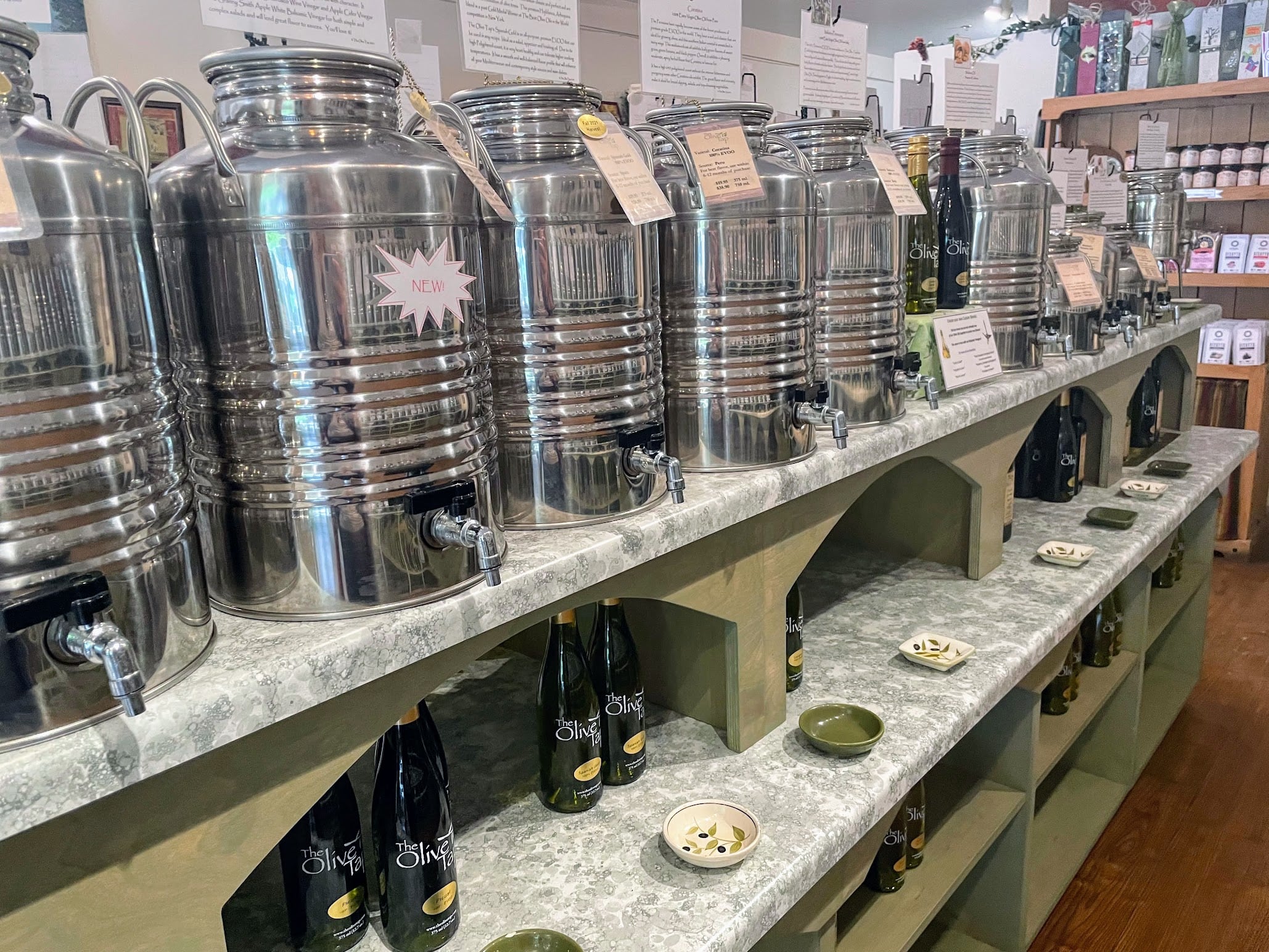 Penny Arcade
This. Place. Is. AWESOME. And easily one of the best things to do in Manitou Springs. There are hundreds of arcade games across multiple rooms that are all connected through outdoor pathways. You'll find pinball machines, Pacman, skeeball, air hockey, and likely your favorite games at this unique arcade that is one of the last of its kind in the United States. It's a great place for everyone in the family.
And while no, very few games actually cost a penny, it's still a somewhat inexpensive way to enjoy an hour or two. There are ATMs and quarter machines on site. Plus, of course, prizes for tickets! 🙂
PRO TIP: Don't miss the horse racing room where there is a ball game that will have you competing with your friends until you are out of coins!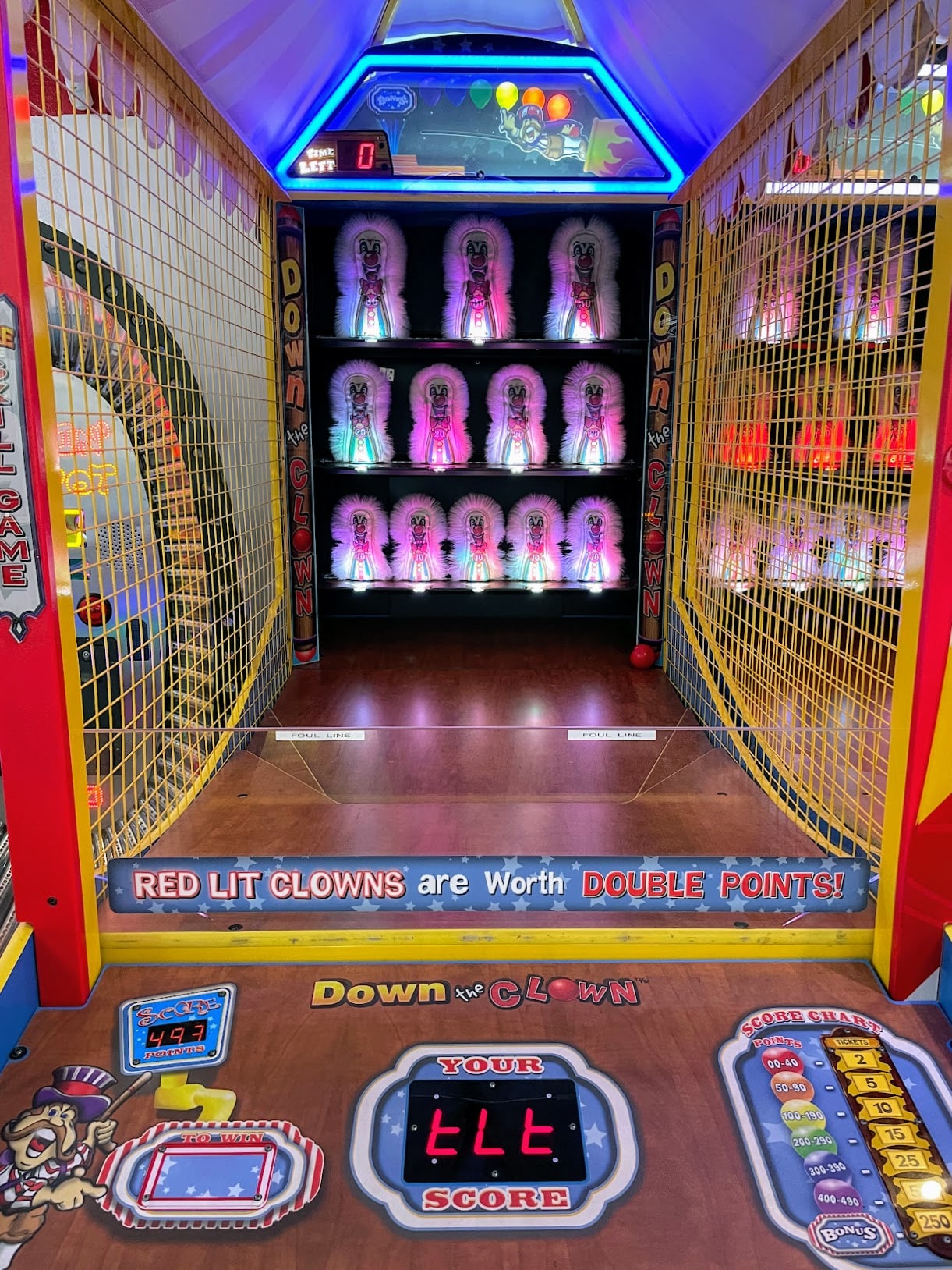 Drink Mineral Water
Do something unique to the area and drink from the 8 Mineral Springs! They are naturally-carbonated mineral springs that can be found throughout the town and are both free and healing! Not only can you drink it, but you can learn a ton about the town's history while you do so. Learn more about it!
Border Burger Bar Outdoor Patio
All these outdoor adventures, shopping, and water—where is the beer!? You will find it on Border Burger Bar's outdoor patio along with an extensive burger menu. A friendly neighborhood vibe a few steps down from Manitou Ave., stop here for 20+ Colorado craft beers and 30+ burgers. The Border Burger and The Swiss are both great options!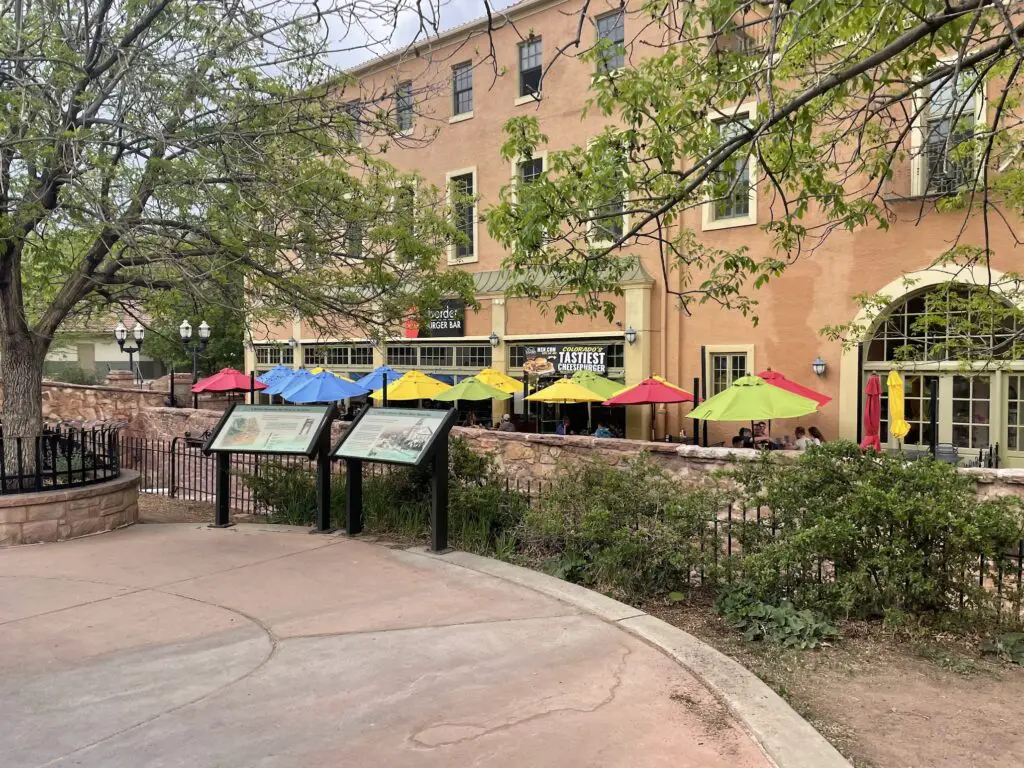 Grab Ice Cream
It's not a day in a fun, small downtown without ice cream! And there is no shortage of it in Manitou Springs. You will find plenty of places to grab a cone, but my go-to is Colorado Custard Company, a small window-service shop with classic ice cream!
And a single cone (chocolate, vanilla, or twist) is only $1.83! You can definitely get more fancy with it though and grab a shake, sundae, split, or avalanche—their version of a blizzard.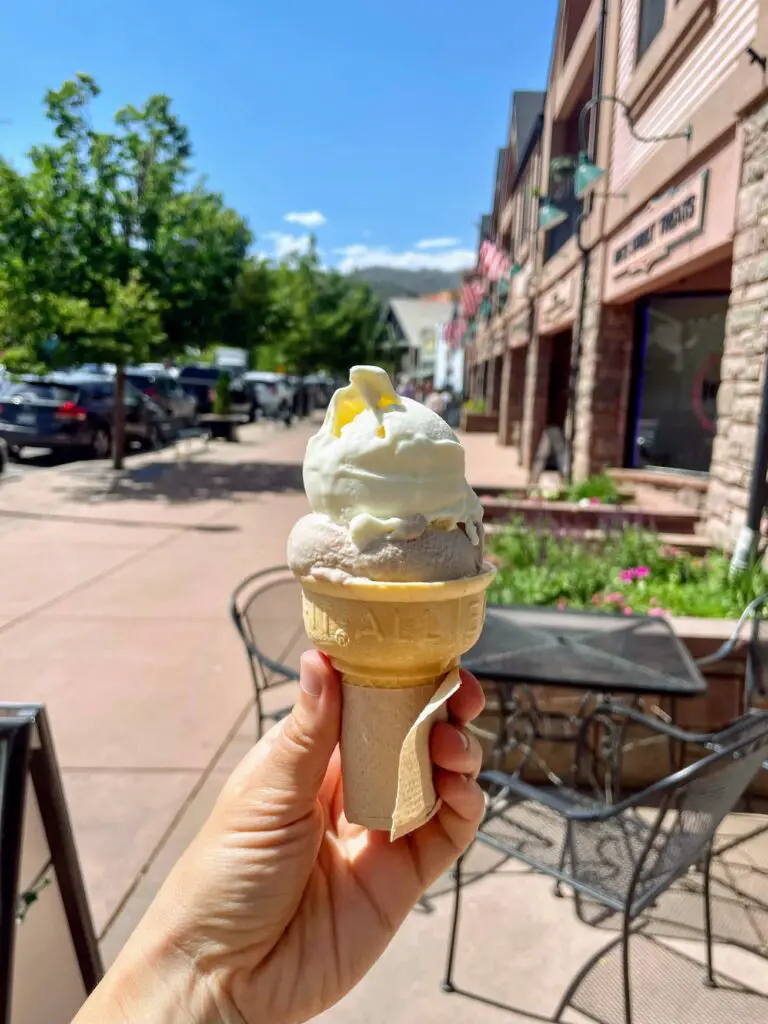 Drive Pikes Peak Highway
You can reach 14,115 ft—without hiking! Get to the top of Pikes Peak (America's Mountain) by driving your car to the top (you can also opt for a train ride if you are a little nervous about navigating the roads yourself.)
Start at the base of Pikes Peak and take all of the twists and turns that offer mountain views and fun for everyone in the family. And once you're at the top you won't just find incredible views. There's a gift shop, exhbits, and famous donuts! You get every detail: The Ultimate Guide to Driving Pikes Peak Highway.
NOTE: This is a very high altitude and I don't recommend doing this on your first day if you're not used to the elevation.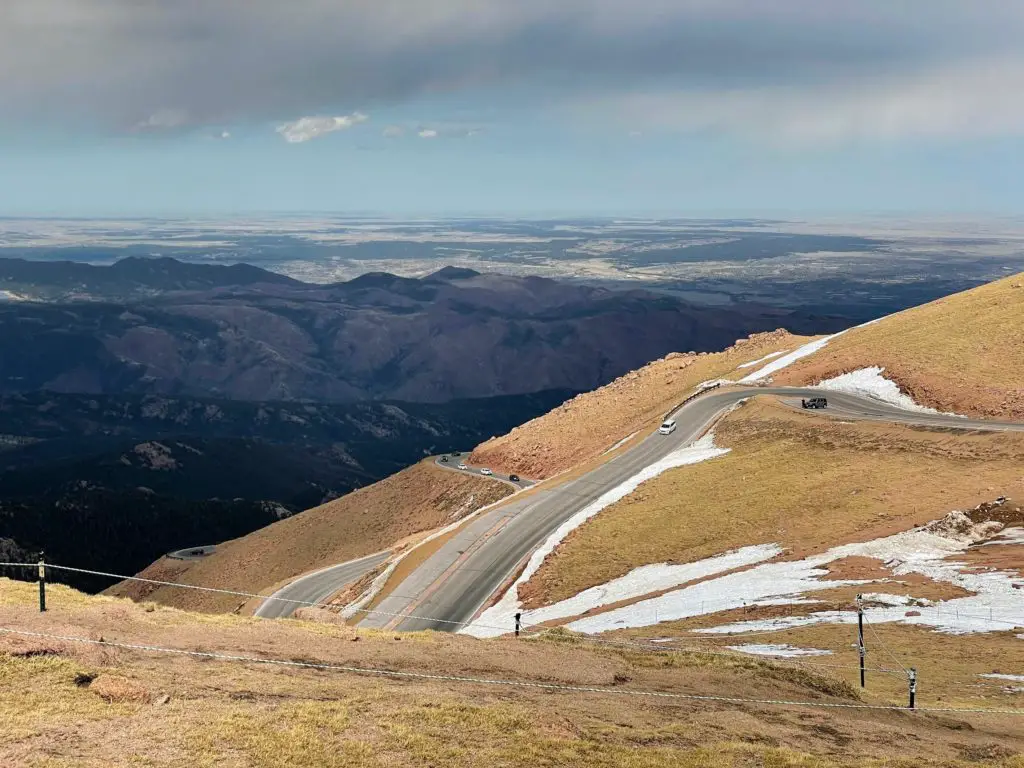 Manitou Springs Tips:
It gets BUSY! Especially on the weekends. And espeically in the summer. If a weekday works for your plans, opt for that.
Parking is less than ideal. With so many people in a small space, this is inevitable. There are both free parking areas as well as paid and many days, they will be full. Put your patience hat on and you will find one. Just giving you the heads up! 🙂
You can do it one day! While you can certainly stay for a weekend, if your schedule only allows for one day—perfect! I always take those visiting here for a few hours and it's perfect.
More in the Manitou Springs Area
Cave of the Winds Mountain Park: a fun, family-friendly adventure park.
Downtown Colorado Springs: You're only 7 miles away from more great restaurants, shops, and hikes.
Woodland Park: If hiking is your primary focus, DEFINITELY head 30 minutes up the mountain and into Pike National Forest for some incredible trails. Read The Best Hiking Trails near Woodland Park.
Cripple Creek: Maybe gambling is your focus? Lol. If so, head to the small town of CC where there are 9 casinos!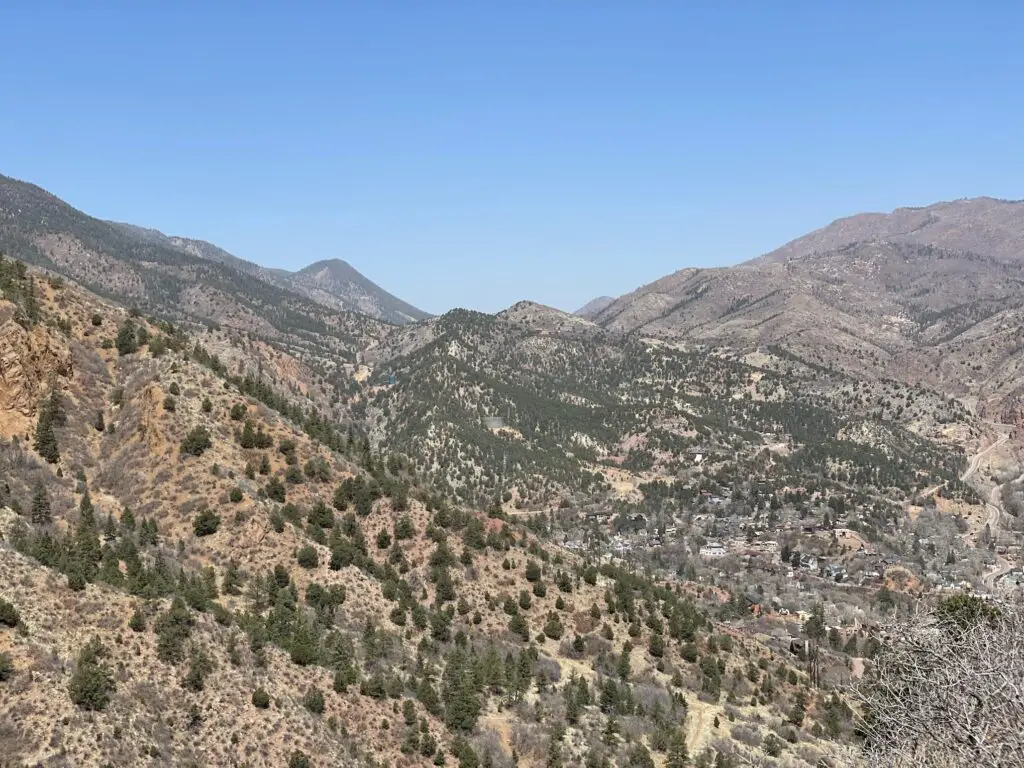 The Best Things to Do in Manitou Springs, Colorado
I absulutely love this town! It's only 15 minutes west of the Colorado Springs area but a completely different Rocky Mountains vibe. It's the perfect place for outdoor enthusiasts, hippies, shoppers, and relaxers alike. Get it into your plans and you will not be disappointed!
Did this post help you out? Support the work and pass along $5 for a Coors Light 😉 VENMO: @Amber-LBB or PAYPAL: amber@littlebluebackpack.com. THANK YOU.