A majestic Colorado 14er (mountain reaching higher than 14k ft.), Pikes Peak loves to show off—especially from the top! Driving Pikes Peak Highway takes you to the summit where you see miles of Pike National Forest from one of the highest points in the United States.
Drive Pikes Peak (America's Mountain) to reach 14,115 feet above sea level and take in miles of mountain terrain.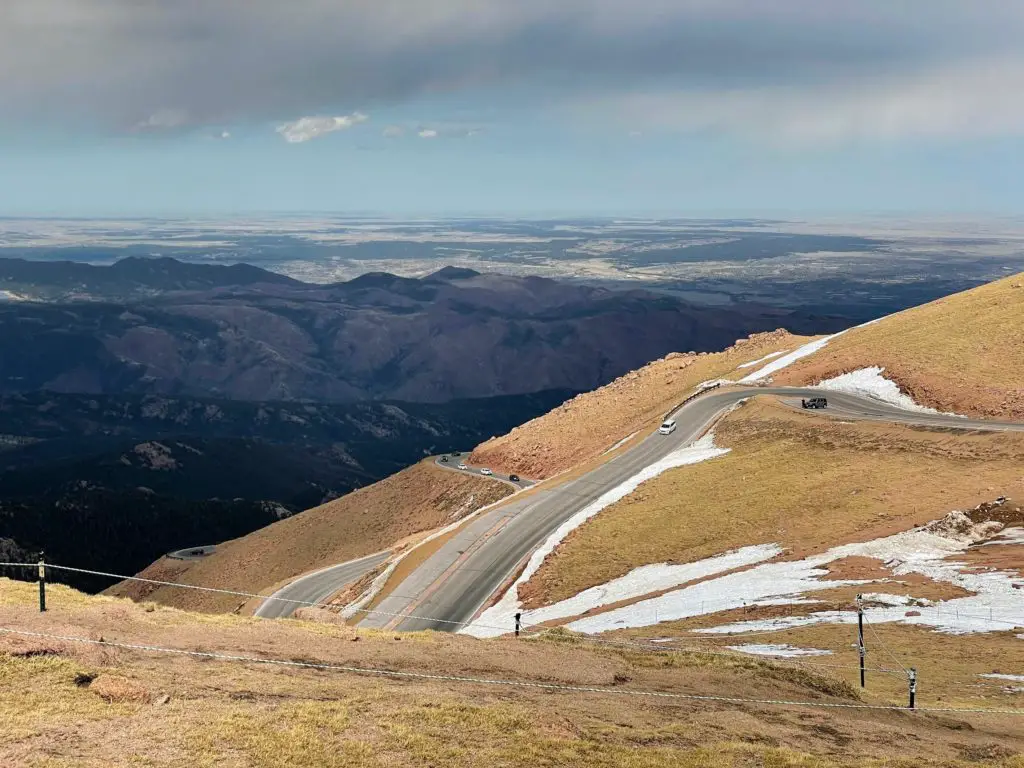 If it's your first time driving to the top of Pikes Peak, there are a handful of things to know beforehand in order to plan and have the best experience visiting these famous mountains. Is it scary? How long does it take? Can you do it in the winter? We'll answer all that and more. Let's get started.
Where is Pikes Peak?
The Pikes Peak toll road is located in Cascade, Colorado.
Which is located just west of Manitou Springs and Colorado Springs. And just over an hour from Denver. It's a main attraction in the area and definitely something to add to your Colorado adventure list.
The breathtaking views will sweep you away. Plug 5089 Pikes Peak Highway, Cascade, CO 80809 into your phone and it will take you right where you need to be.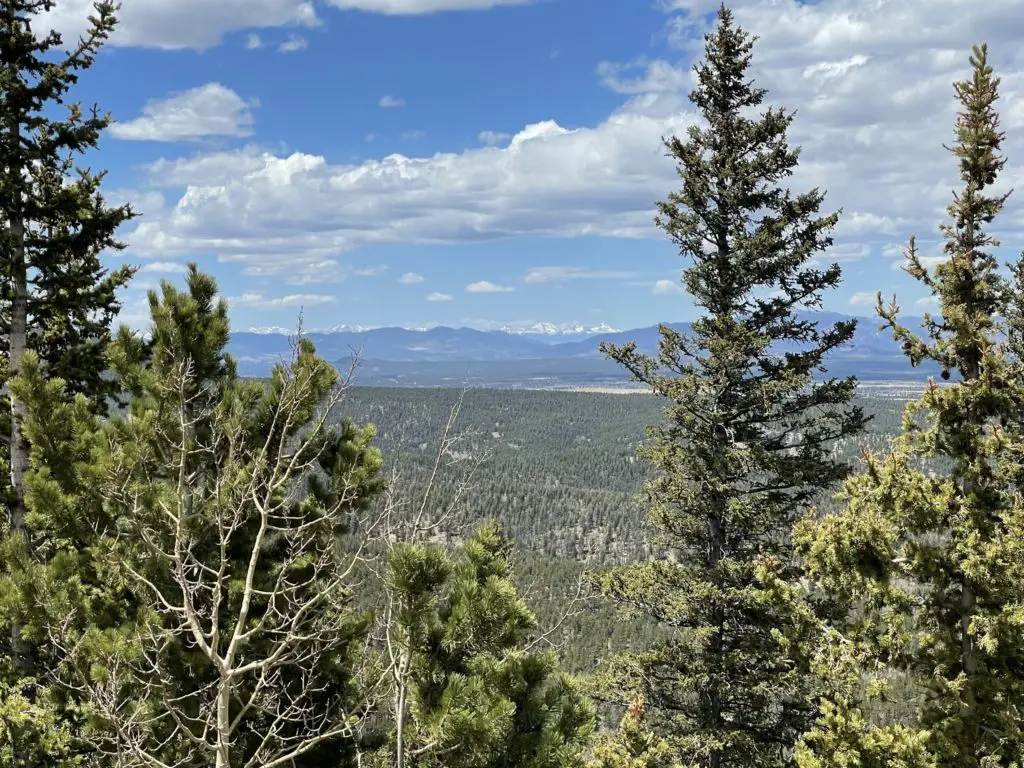 When Can You Drive Pikes Peak?
The Pikes Peak Drive is open year round, though it is weather dependent.
The summer months are the best time of year to visit to avoid the bad weather. But of course, the weather in the mountains can change quickly at any time! Utilize their pre-recorded information line for accurate road conditions; call 719-385-7325 and select option 1.
TIP: If you can, pay attention to the weather forecast when you make reservations to check this off your list on a clear day. Not only is it safer, but you will get better views. (This is easier said than done!)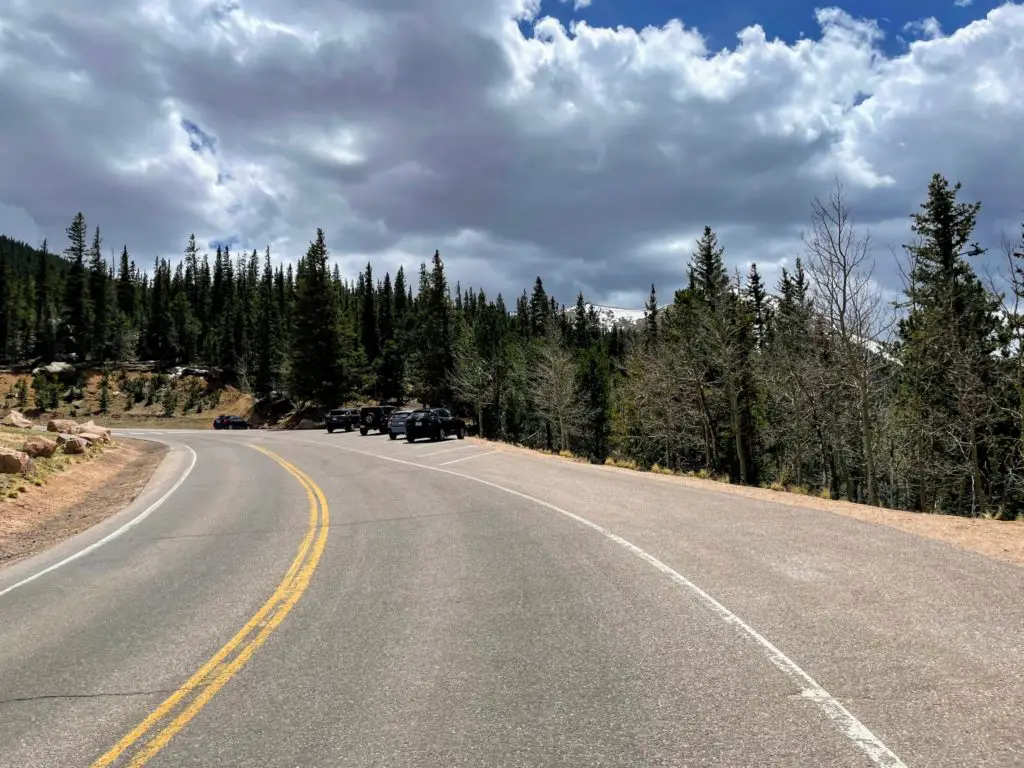 Pikes Peak Hours vary throughout the year.
Friday before Memorial Day to Labor Day: The Uphill Gates open at 7:30 AM and close at 6:00 PM. The Summit closes at 7:00 PM and Downhill Gates closes at 8:00 PM.
Tuesday after Labor Day to September 30: The Uphill Gates open at 7:30 AM and close at 5:00 PM. The Summit closes at 6:00 PM and Downhill Gates closes at 7:00 PM.
October 1 to Thursday before Memorial Day: The Uphill Gates open at 9:00 AM and close at 3:00 PM. The Summit closes at 4:00 PM and Downhill Gates closes at 5:00 PM.
PRO TIP: A great time to head up is about 2 hours before the uphill gates close. This allows you to get up to the top with plenty of time, while also going back down after people have stopped coming in. Then you can drive more in the middle of the roads 😉
You need a reservation during Peak Season.
Starting the Friday before Memorial Day, an entry reservation system is in place. You can register for your time slots online. Reservations are to make sure there is enough parking for everyone and that it's a safe and fun experience from start to finish.
Take a screenshot of your reservation to scan at the entrance. You can request to cancel your reservation 48-hours in advance. There are no refunds. If you do NOT have a reservation, you are able to drive to mile 16. From there, the free shuttle is available to the summit during June and July.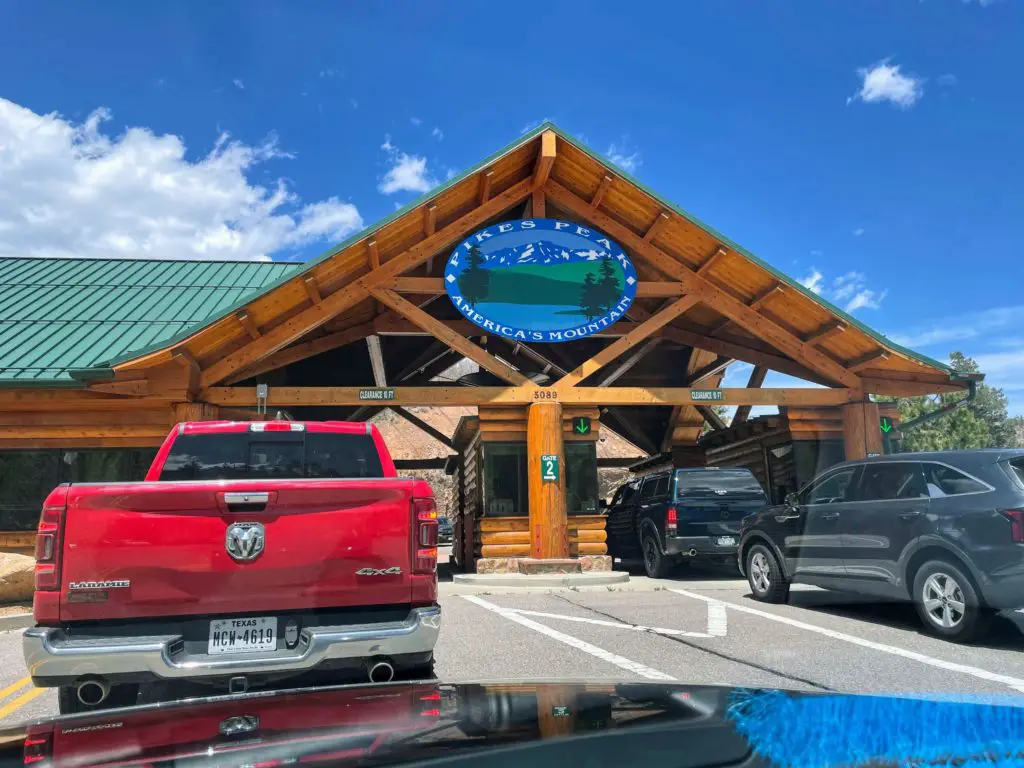 How Much Does it Cost to Drive Pikes Peak?
Depending on what time of year you drive Pikes Peak, there are different rates. Honestly, it's a little pricey. But it is a cool experience, so they get away with it. Plus, it's fun for the whole family which is usually a more expensive thing to accomplish! Here are the rates:
May 1-November 30: Adults (16+) are $15. Kids are $5. You can also choose to do $50 for a carload (5 people.). To add additional people to a carload is $10 per adult, $2 per kid.
December 1-April 30: Adults (16+) are $10. Kids are $5. You can also choose to do $35 for a carload (5 people.). To add additional people to a carload is $7 per adult, $2 per kid.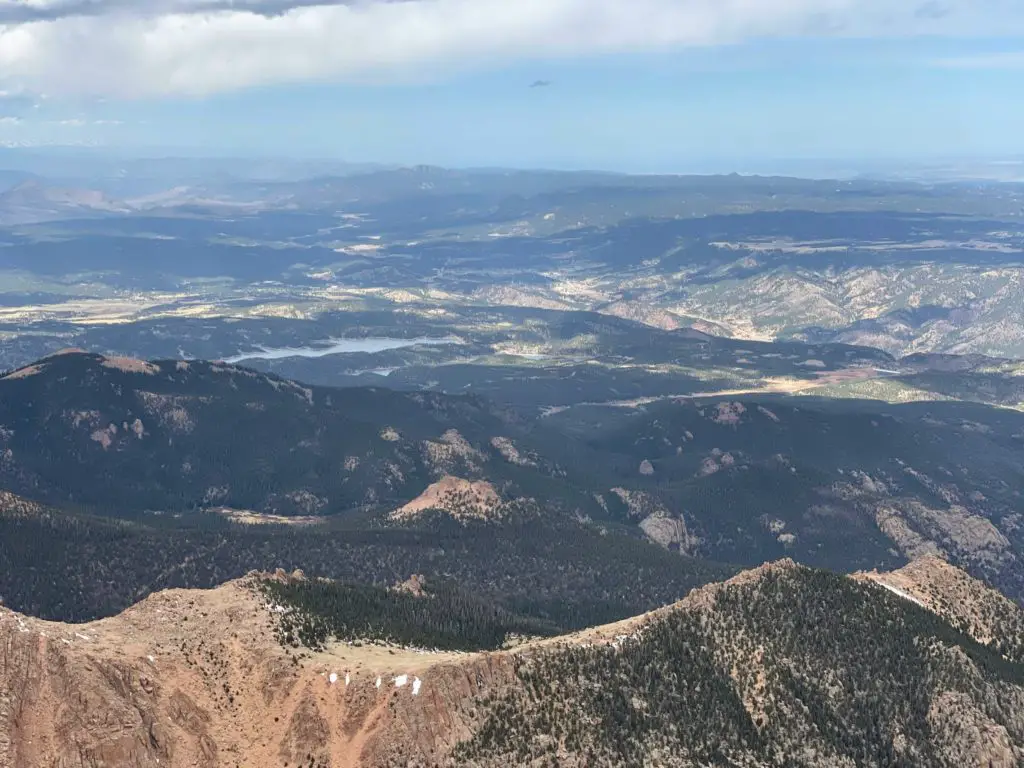 How Long Does it Take to Drive Pikes Peak?
Pikes Peak Highway is a 19-mile highway and driving to the summit takes about an hour from the top to the bottom without stops. Obviously, you will get out of the car at a few frequent pull-offs, take short walks, and admire the views from the top. Plus, you have to visit the Visitors Center—more on that below.
Plan for about 3 hours for the entire Pikes Peak experience.
You will start at 7,400 feet and reach 14,115 feet—an 6,715 elevation gain to the top of the mountain. But the great views will start right away as you make your way through the forest and above the tree line.
You will need at least a half tank of gas.
Go ahead and fill up the tank, just to be safe. There are NO gas stations along Pikes Peak Highway and really, not that many in close proximity.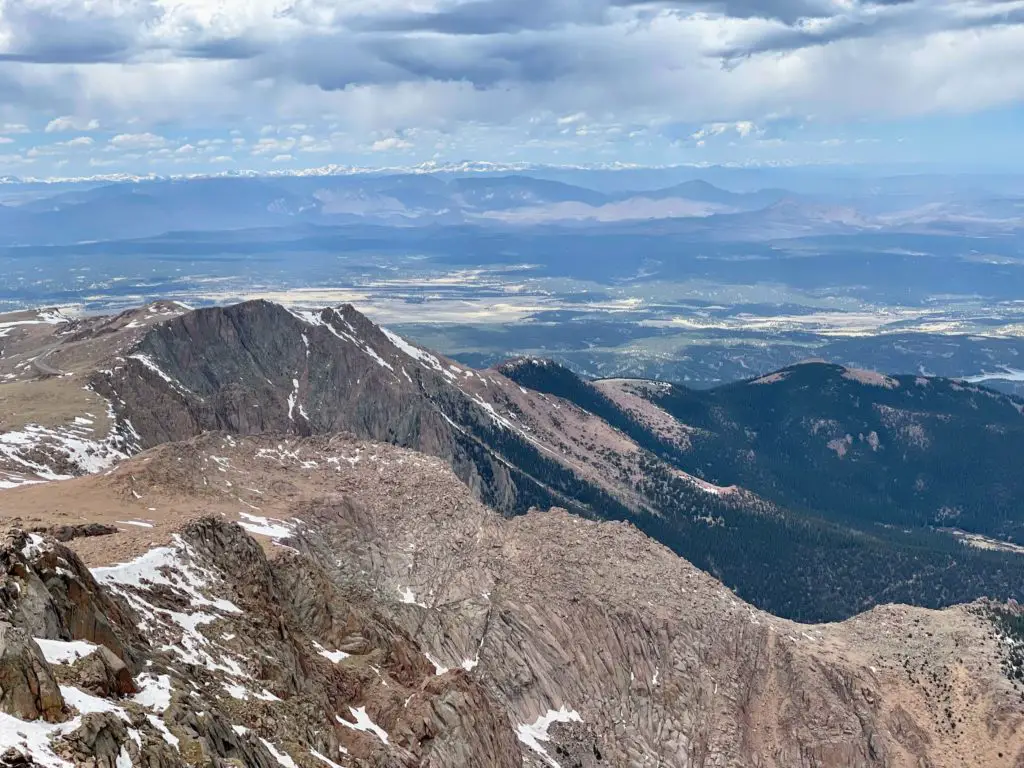 Who Should Be Driving Pikes Peak?
You're most reliable driver LOL. While the entire way is a paved road that's in good condition, there are still steep grades and you will go along switchbacks and spots without guardrails. Do NOT let me freak you out—it's a wide road and everyone takes it easy. (If you have ever driven Trail Ridge Rd from Estes Park, that stretch is MUCH scarier.)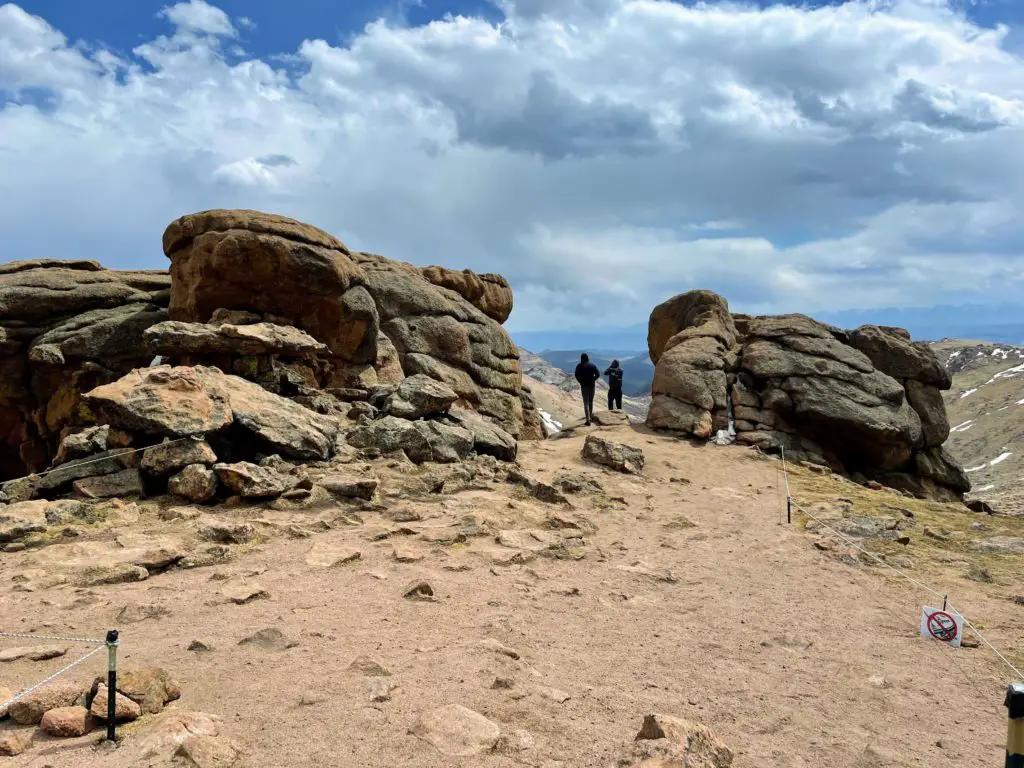 We have to mention brakes.
Put your car in the lowest gear and don't slam your brakes the whole way down. This will cause them to overheat. On your way down, one of the park rangers will make you stop to check your brakes. If you have overheating going on, they will make you stop to let them cool. If not, you will be waved through!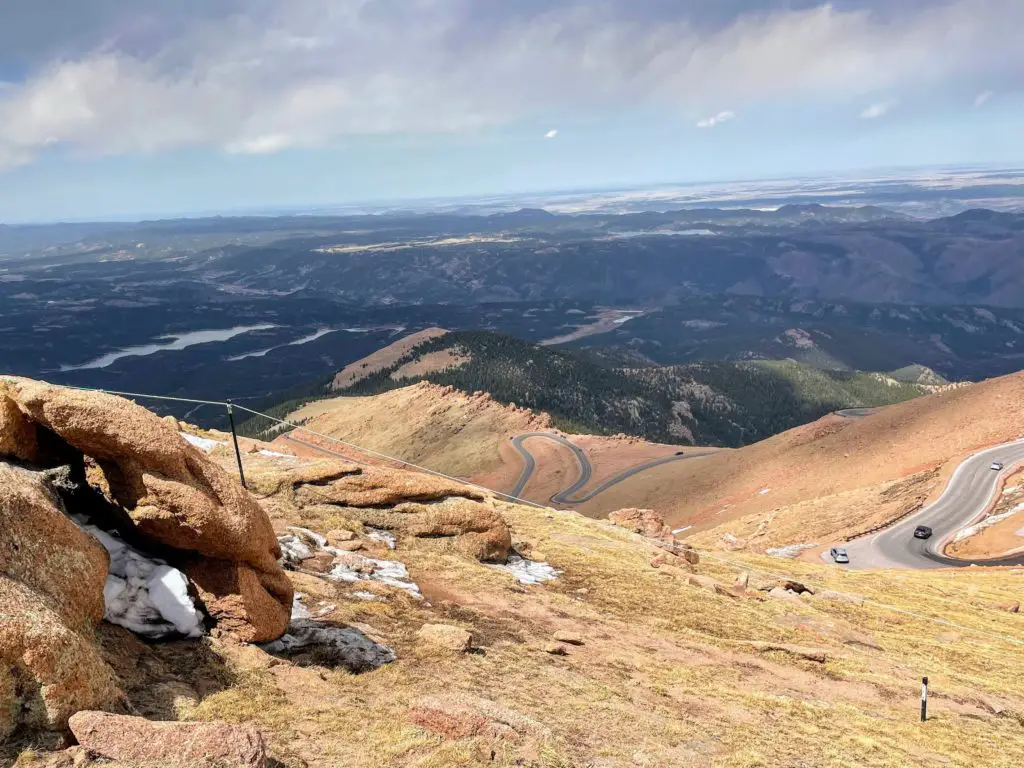 There will be a mile marker at each mile to keep you on track. And make sure you have someone else taking the photos from inside the vehicle! Keep your eyes peeled for wildlife like mule deer, rocky mountain bighorn sheep, and marmots!
What is at the Top of Pikes Peak?
Besides incredible scenery, you mean? In addition, there is a whole new summit Visitor Center at the top of Pikes Peak. The building includes a few different places to explore—as well as world-famous donuts to get your hands on which are baked from 14,115 feet!
Large Parking Lot
There is a very good size, new parking lot right as you reach the top. My last visit was on a Sunday in mid-May and the parking spots were not completely full. That said, in the summertime, it can be difficult to find a spot and you might need to wait a few minutes. (Hence, the reservation system!)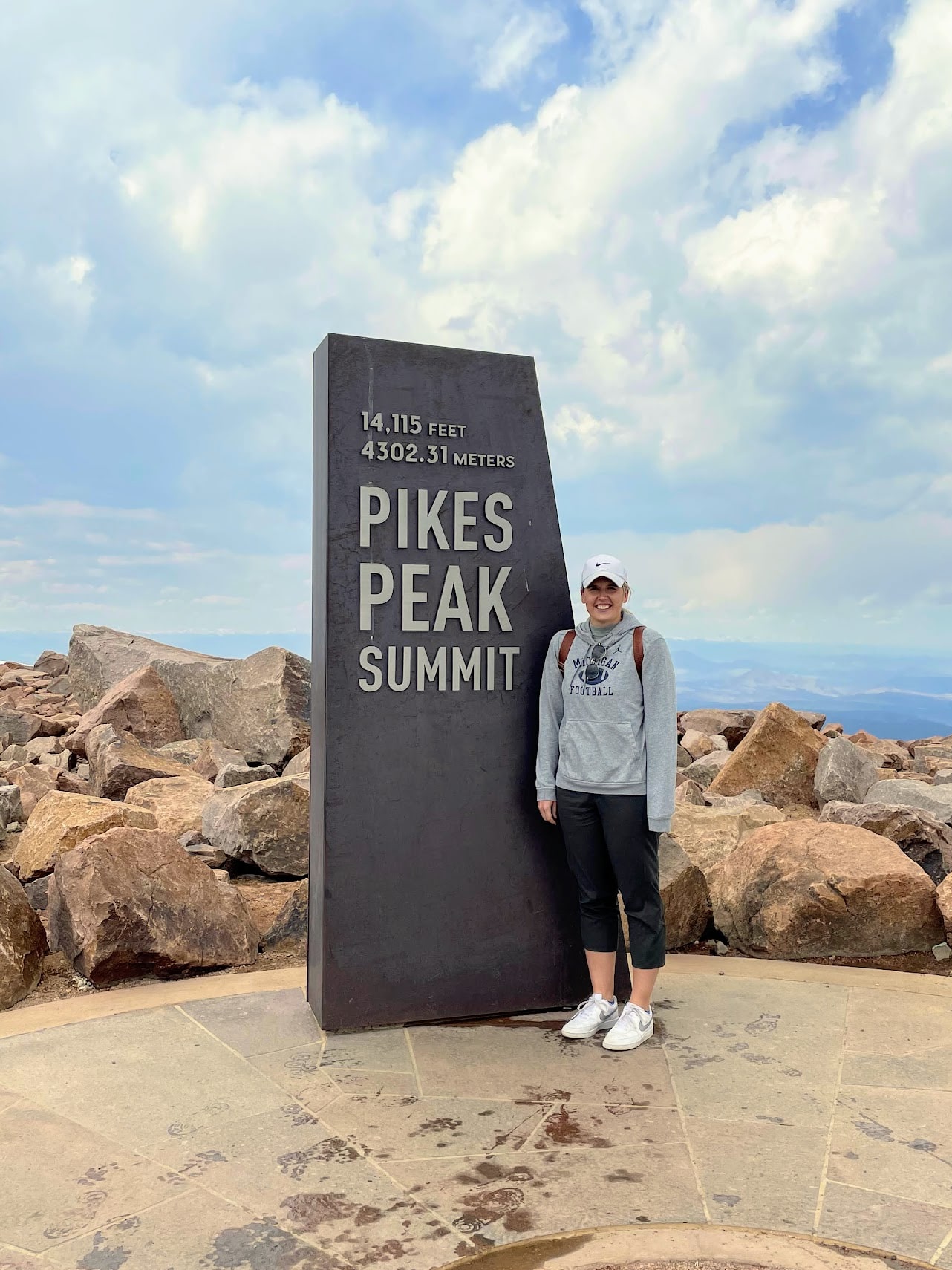 Pikes Peak Gift Shop
You have to get something from 14,115 feet, don't you?! Make sure to peek in here. They have a variety of clothing, water bottles, hats, trinkets, and cool stickers. It's (of course) a bit overpriced but hey, when in Rome! Grab a $3 sticker just to get a little something!
Cafe (with Donuts!)
Make sure to grab a little treat from the cafe—which you can enjoy next to plenty of windows showcasing the views. The fresh-baked from 14,000 feet donuts are where you will find the longest line. And you better get them just to say you did! They are two small donuts for $6. There is also coffee and hot chocolate which is great to have when you're outside admiring the views—it's chilly!
NOTE: There are two other places to grab food. The Crystal Reservoir Visitor Center (after mile marker 6) has snacks, and The Glen Cove Inn (at mile marker 13) has a sit-down restaurant.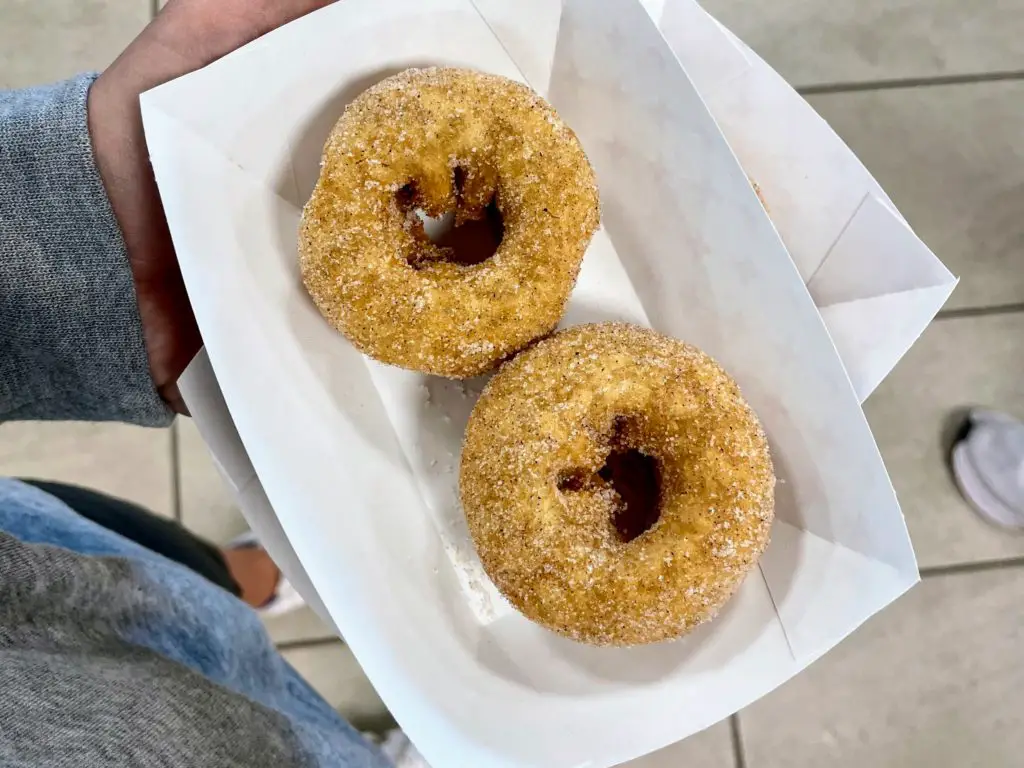 Exhibit
Learn a little bit of deep-rooted history when it comes to Pikes Peak and the land that surrounds it. There is a mini-interactive museum to take in a few fun facts. That includes those of the song "America the Beautiful," in which the view of the valleys below inspired the song in 1910—and "America's Mountain."
What Should I Bring When Driving Pikes Peak?
Plenty of WATER: You are heading to a very high altitude and want to avoid altitude sickness which can lead to headaches and nausea. Drink a ton of water and don't forget to bring a couple of bottles with you.
Layers of Clothes: There is a 30-40 degree difference between the bottom and the summit! It will likely be much windier as well. Don't forget a long sleeve, jacket, and hat!
Snacks: There are a few picnic areas throughout the journey. And of course, who doesn't like a few "road trip" snacks?
Fishing Poles and/or Blanket and a Book: You can also at three lakes (Crystal Reservoir, North Catamount Reservoir, and/or South Catamount Reservoir) and enjoy some chill time.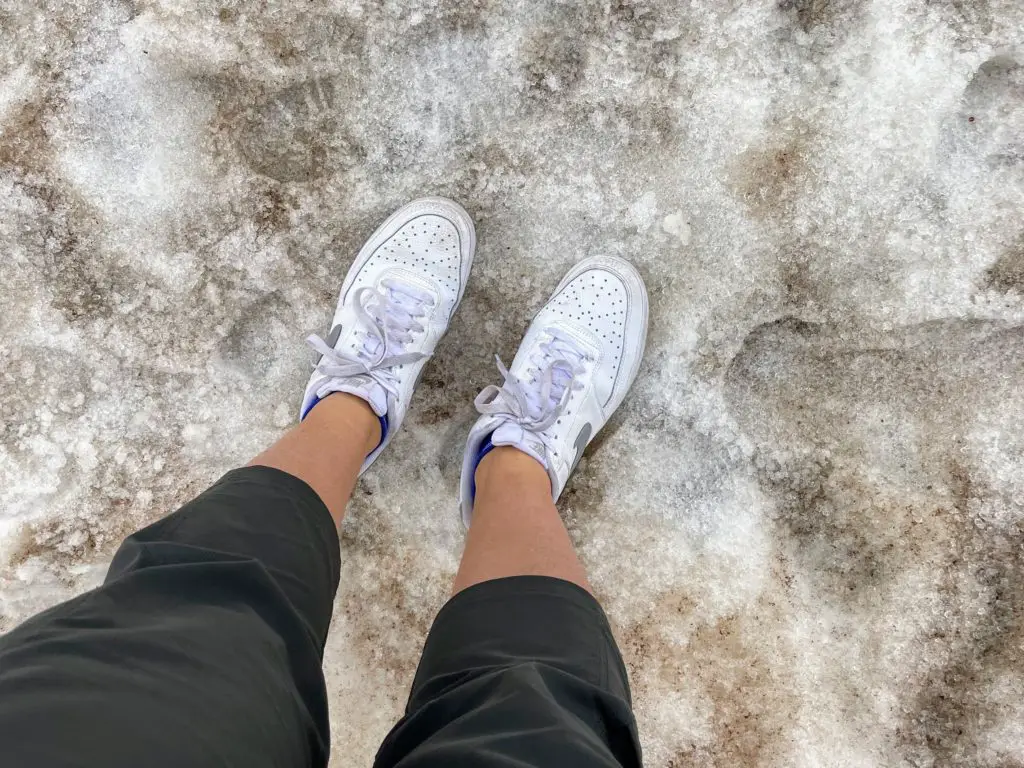 How Else Can I Get to the Top of Pikes Peak?
It's not just a scenic drive! If you are nervous about driving or are just looking for other ways to explore the mountain, you have a couple of options.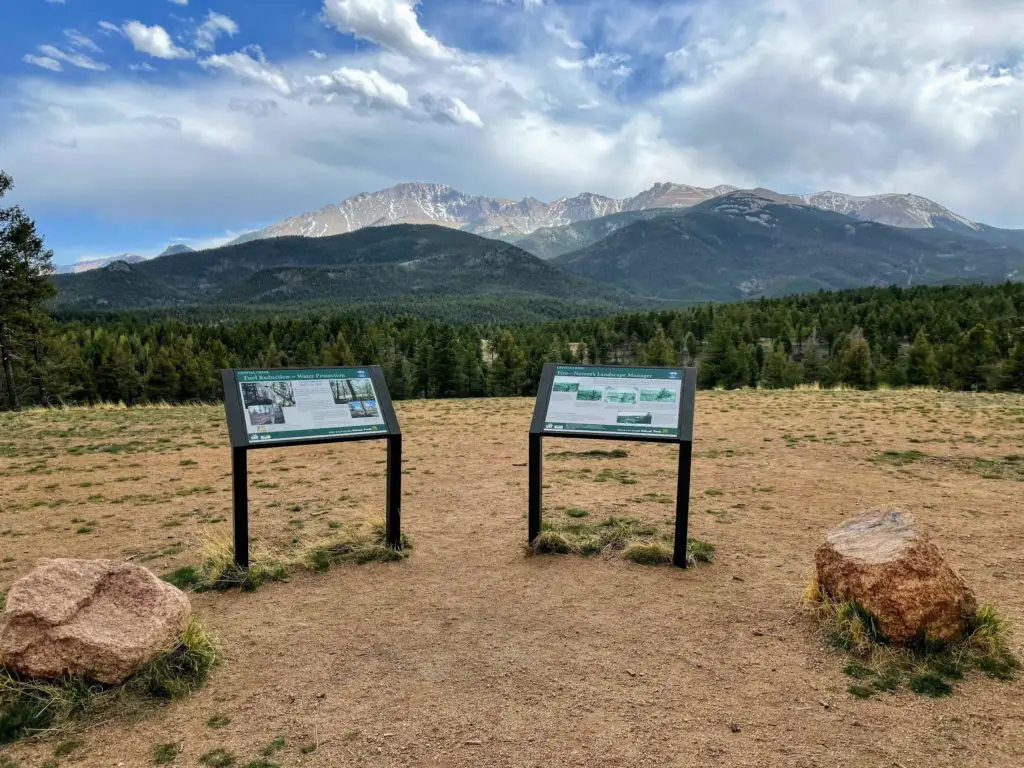 Hike Pikes Peak
Are you ready to accomplish a 14er? It might just be the best way to do it! Hike from Barr Trail (near Manitou Springs, CO) where it's 13 miles each way with an elevation gain of 7,400 ft to the summit.
There is another route for the Pikes Peak hike which is on Devil's Playground via The Crags (near Divide, CO.) This one is only 13.6 roundtrip and is said to have better views.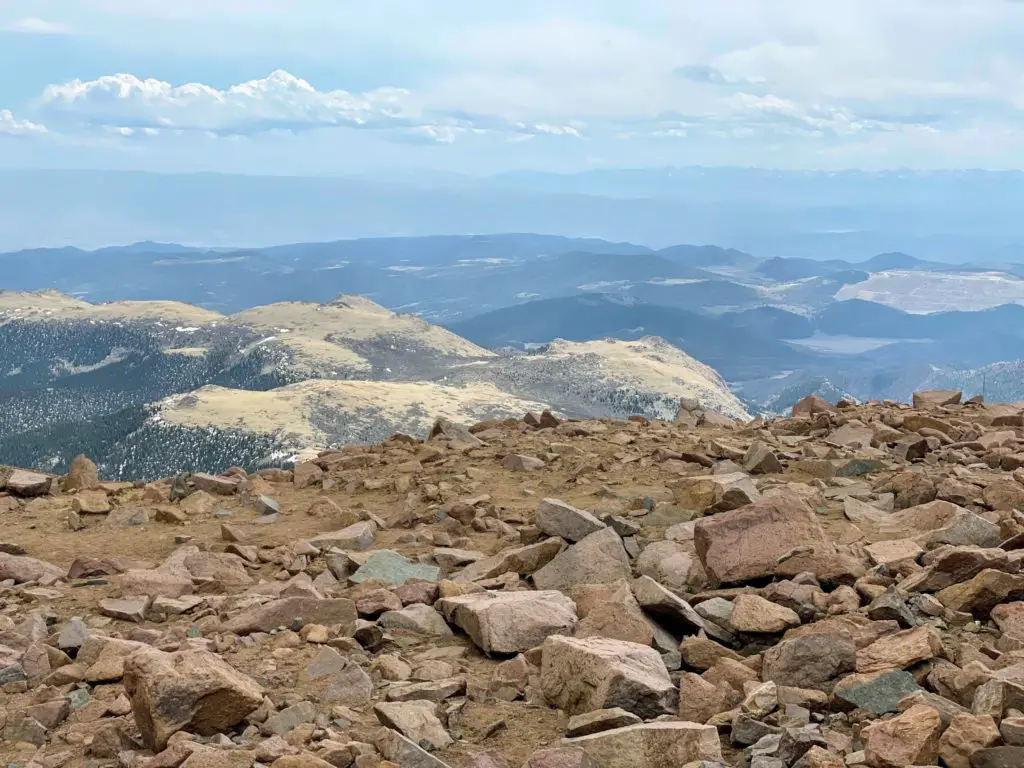 Ride the Pikes Peak Cog Railway
A fun, popular trip for all age levels is via the Cog Train. The price for the Pikes Peak Cog Railway ride is about $40/adult and $22/child. The Pikes Peak train operates from 8:00 AM to 4:30 PM daily. Enjoy the views without any added stress to your brakes or legs!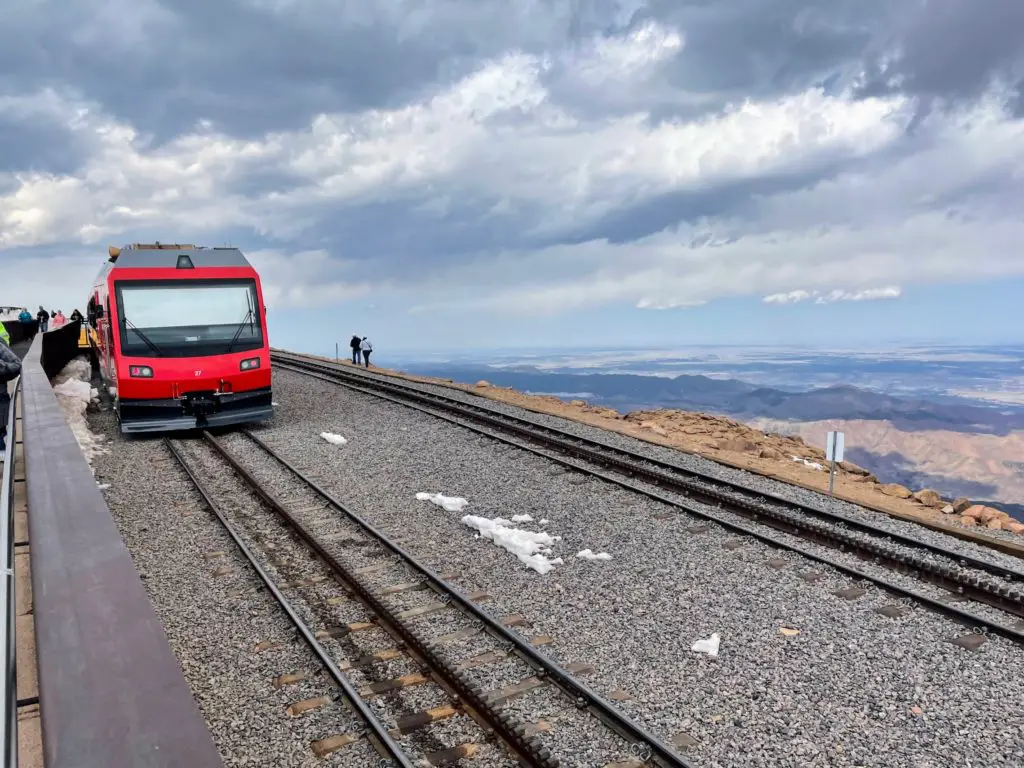 Bike Pikes Peak
Okay, I can be convinced of the first two additional options. But this one? No. You will NEVER find me biking to the Pikes Peak summit. Lol, but you are free to do so and will likely see others accomplishing this major feat.
What Can I Do After Driving Pikes Peak?
The Pikes Peak Scenic Drive experience will take you around 3 hours. So what can you do the rest of your day(s) near Colorado Springs, Colorado? You're in luck because there is plenty in the surrounding area! And you can take it on at a lower altitude!
Garden of the Gods: Check out the beautiful red rocks with glimpses of Pikes Peak as you meander the trails. This is the best option in the area for hiking with kids.
The Downtown City of Colorado Springs: Head down to Tejon St. where you will find plenty of restaurants and shops to explore.
Cave of the Winds: An adventure-filled mountain park for the whole family!
Manitou Springs: This is a FUN downtown to explore with shops, restaurants, and a penny arcade! And if you want to do something crazy, head to THE INCLINE!
Woodland Park: Drive "up the hill" and find plenty of cool things to do in this mountain town. Read The Best Restaurants in Woodland Park and Woodland Park Hikes.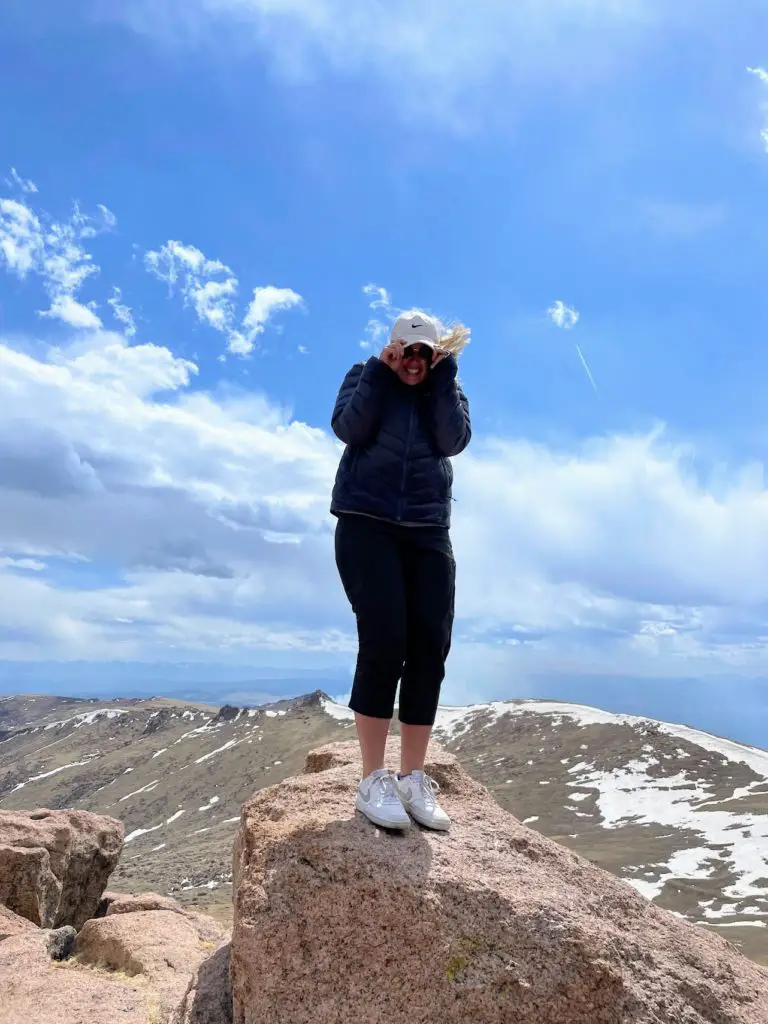 Driving Pikes Peak Highway in Colorado
Driving to the Summit of Pikes Peak is an experience you won't forget! As one of the tallest mountains in North America, add it to your list. EVERYONE in your group will enjoy the day 🙂
Did this post help you out? Support the work and pass along $5 for a Coors Light 😉 VENMO: @Amber-LBB or PAYPAL: amber@littlebluebackpack.com. THANK YOU.