Quiet. Peaceful. Tough. Rewarding. Raspberry Mountain Trail within Pike National Forest is all that and more! Located in Divide, Colorado, you will get switchbacks, fields of aspen and pine, the west side of Pikes Peak, boulders to climb, and 360-degrees views at the top which leave you in awe.
If you are looking for a hike that will put you on a high—this is The One.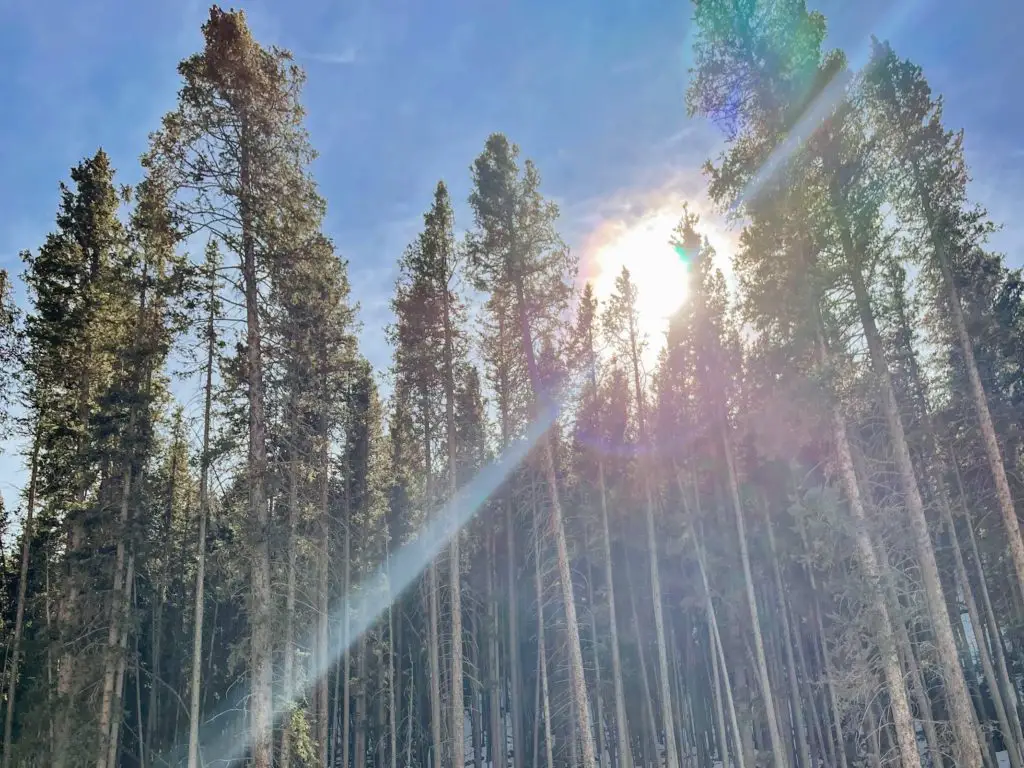 Quick Facts: Raspberry Mountain Trail
Location: Divide, Colorado (Teller County)
Miles: 5.2 miles (add 1.3 miles during the winter season when the gate is closed.)
Elevation Gain: 1,013 feet
Elevation at the Summit: 10,605 feet
Time: 3 hours or so
Type: Out and Back
Challenge: Moderate
Popularity: Low-Moderate
What are you going to see at the top of Raspberry Mountain Trail?
What feels like endless mountains in all directions! The Front Range to the north. North Catamount Reservoirs, the Crags, and Pikes Peak to the east. And the Sangre de Cristo mountains and Sawatch Range to the west. No matter where you turn, you'll find views that go past the eyes.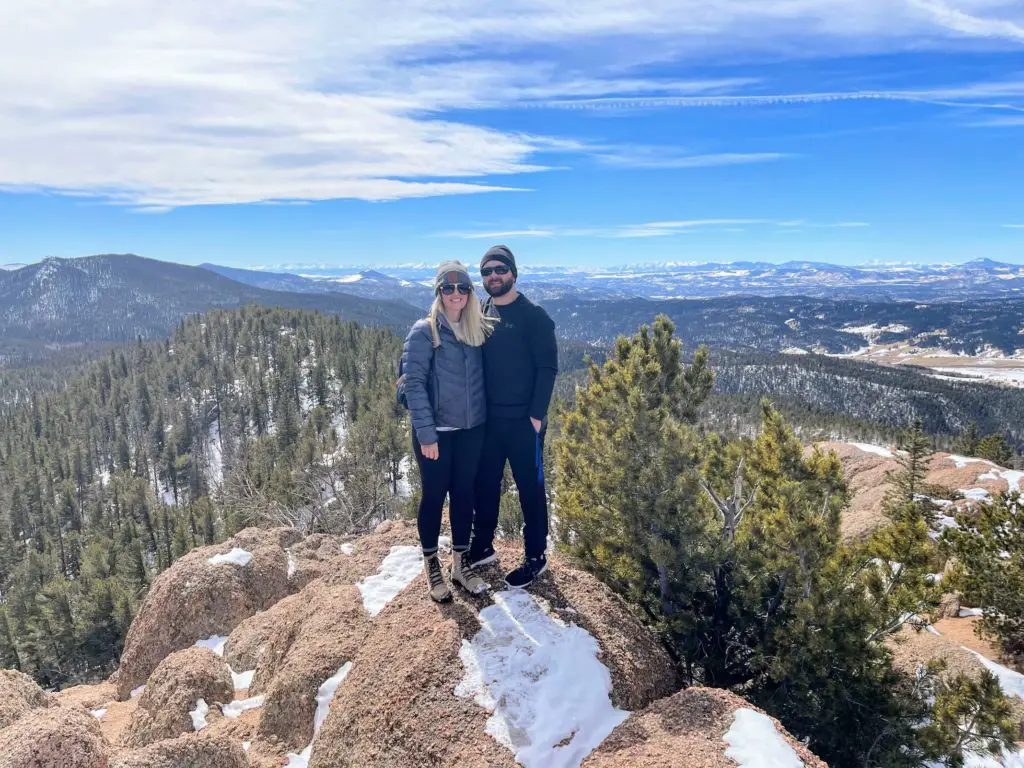 Who Should Hike Raspberry Mountain Trail?
This hike is definitely moderate, and at times difficult if you are not used to the elevation. Everything is manageable but you will have switchbacks to start and the final mile to the summit is a climb. That said, anyone in decent shape is going to be just fine.
It was a "good tough," where you felt a sense of accomplishment when you reached the top. For us (new to Colorado), there was never a moment of thinking we wouldn't make it. And the summit of Raspberry Mountain is WELL worth it.
TIP: If you are not from Colorado, make sure you are prepared by drinking a TON of water before your hike. And have a couple of bottles with you.
How to Get There
From Colorado Springs (it's only about 45 minutes!)
Head west into the mountains on U.S. 24 for about 25 miles through Woodland Park and you'll reach Divide. Turn left and go south on Colorado Highway 67 for just over 4 miles. You'll pass Mueller State Park.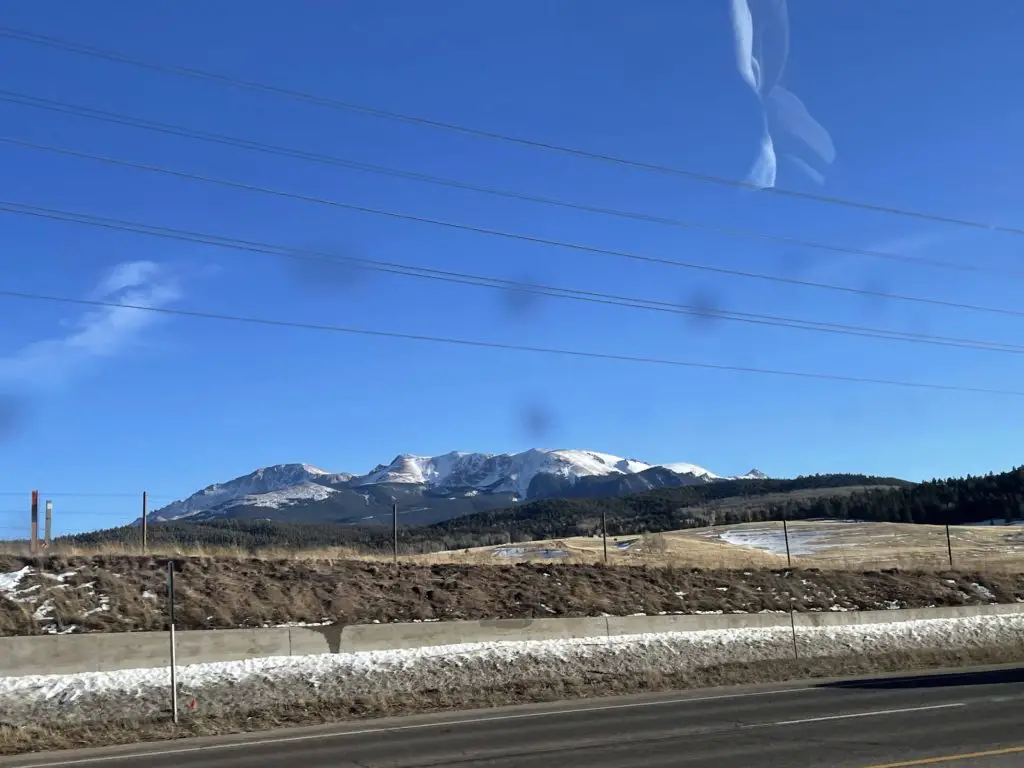 Turn left on Teller County Rd 62. From here, follow the winding dirt road. Here is where it depends on the season. If it's April-October (ish), you will take this for about 2.5 miles to a large trailhead parking area on the left.
If it's winter, November-March, the gate will be closed but you can park right in an area in front of the gate in an additional small parking lot. You will pass through Rocky Mountain Mennonite Camp. And if you hit The Crags Campground, you've gone too far.
Note: walking from the gate to the actual trail head is .65 miles.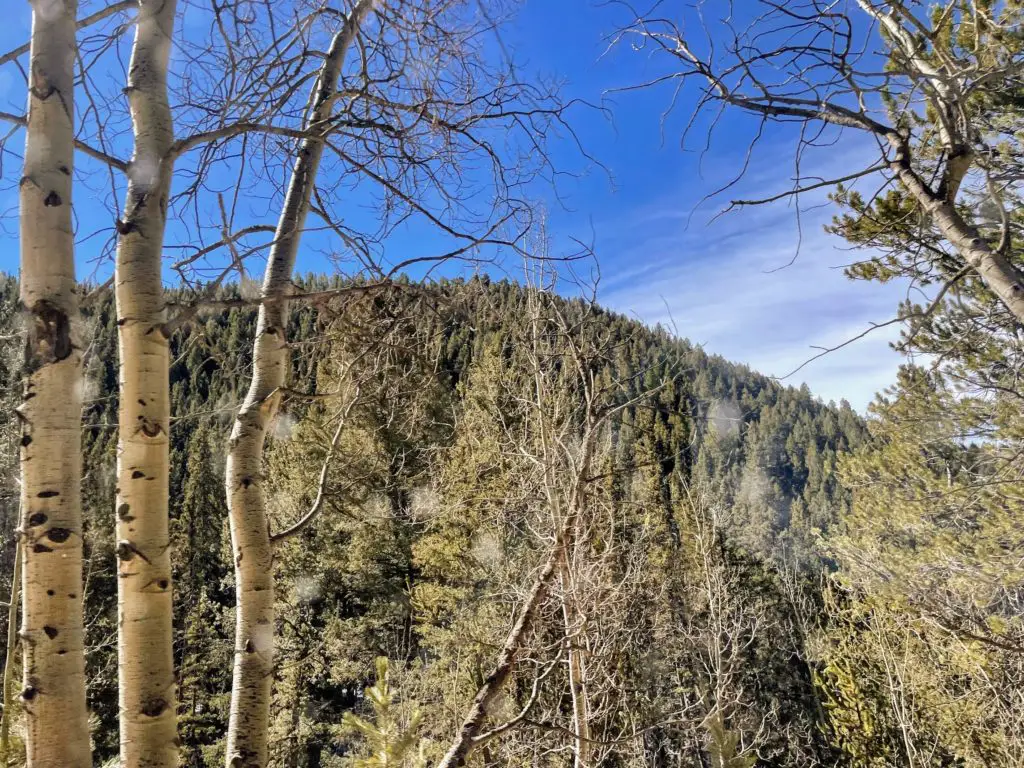 Raspberry Mountain Hike (via Ring Peak Trail)
If you're at the gate, start hiking beyond the gate for .65 miles. You'll be at a slight incline but surrounded by the beauty of trees and mountains. You will come up to the parking lot mentioned above and see the trail sign, map, and a bridge off to the left.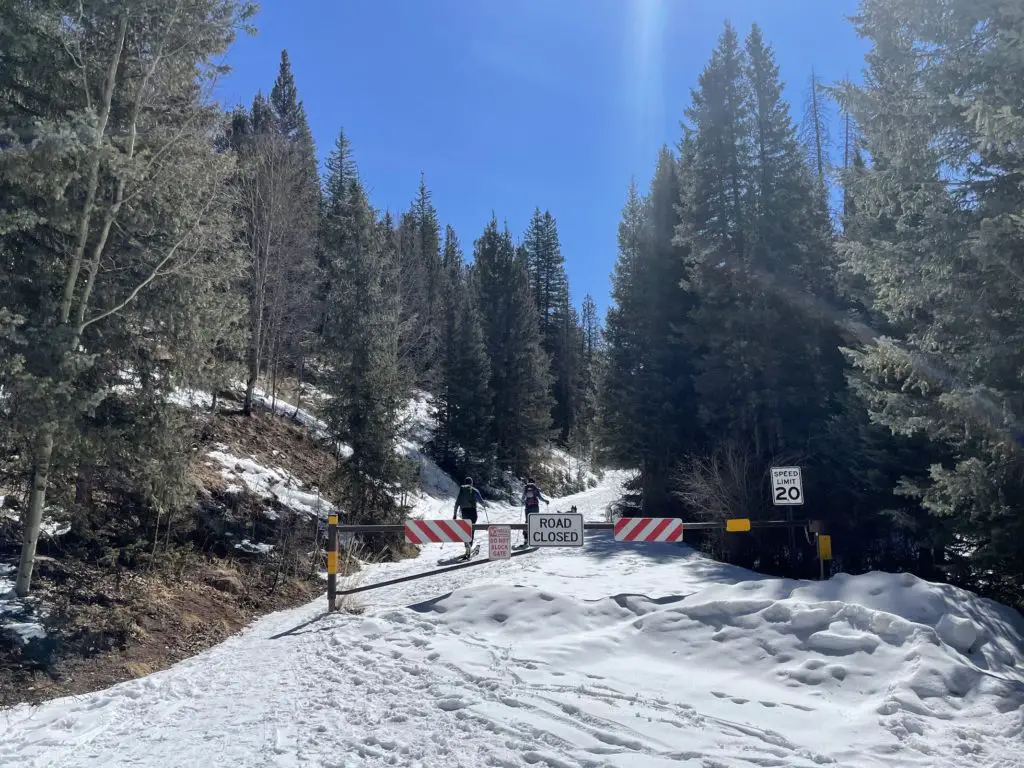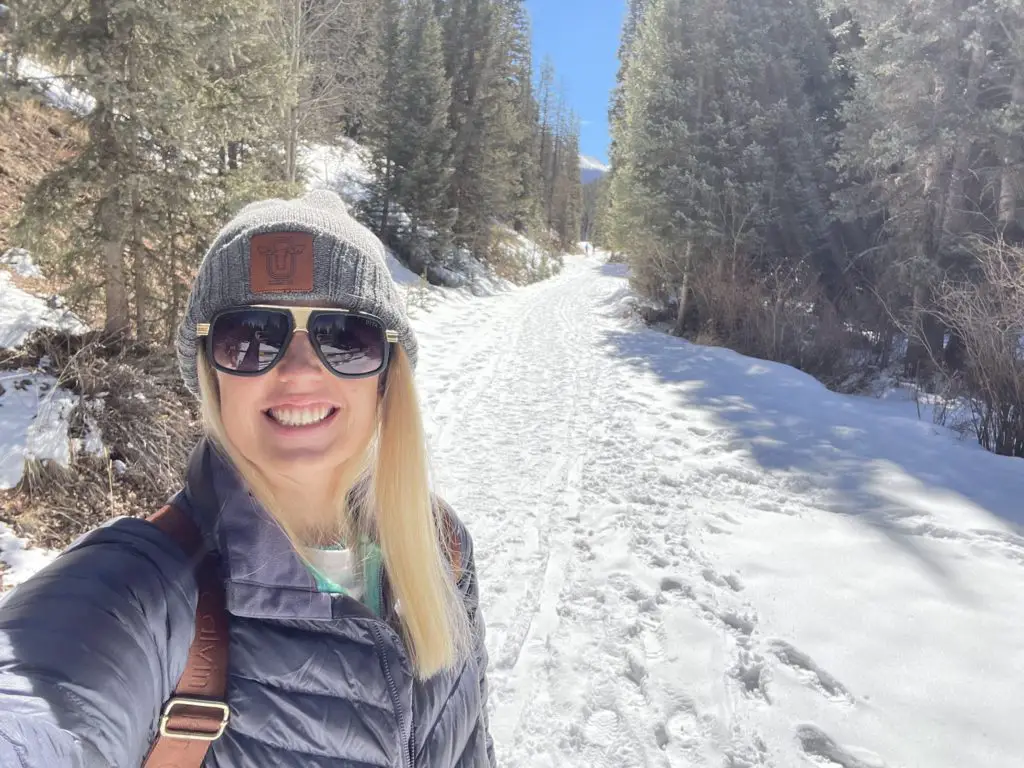 If it's not the snowy season, you hopped out of the car and you're right at the small bridge. From this point, you are looking at 2.5 miles to the top. You will follow Ring Peak Trail.
Cross the bridge and begin the switchbacks. After those, you will (happily) reach flatter terrain across a small open meadow. Enjoy the scenery and quietness of the trail.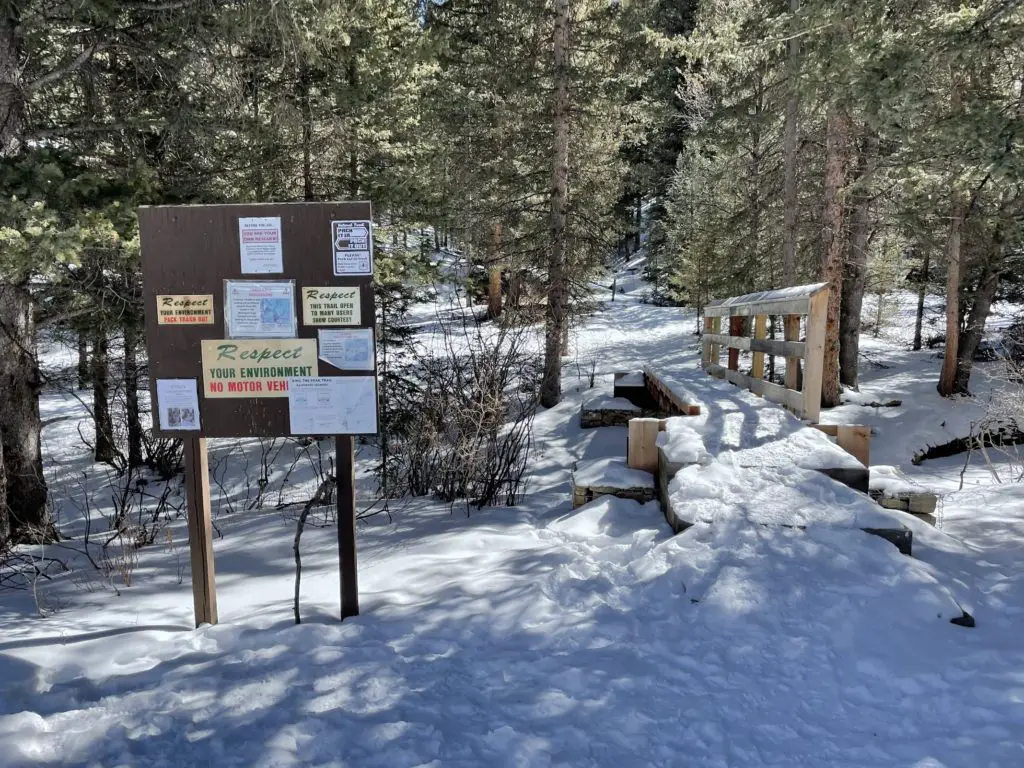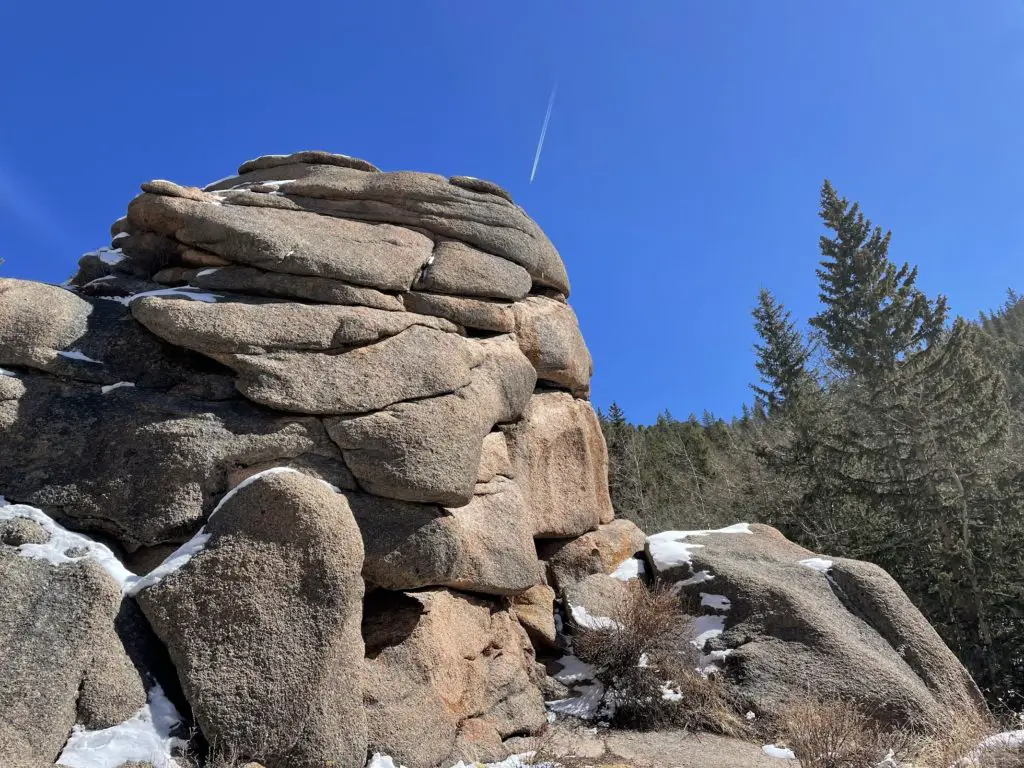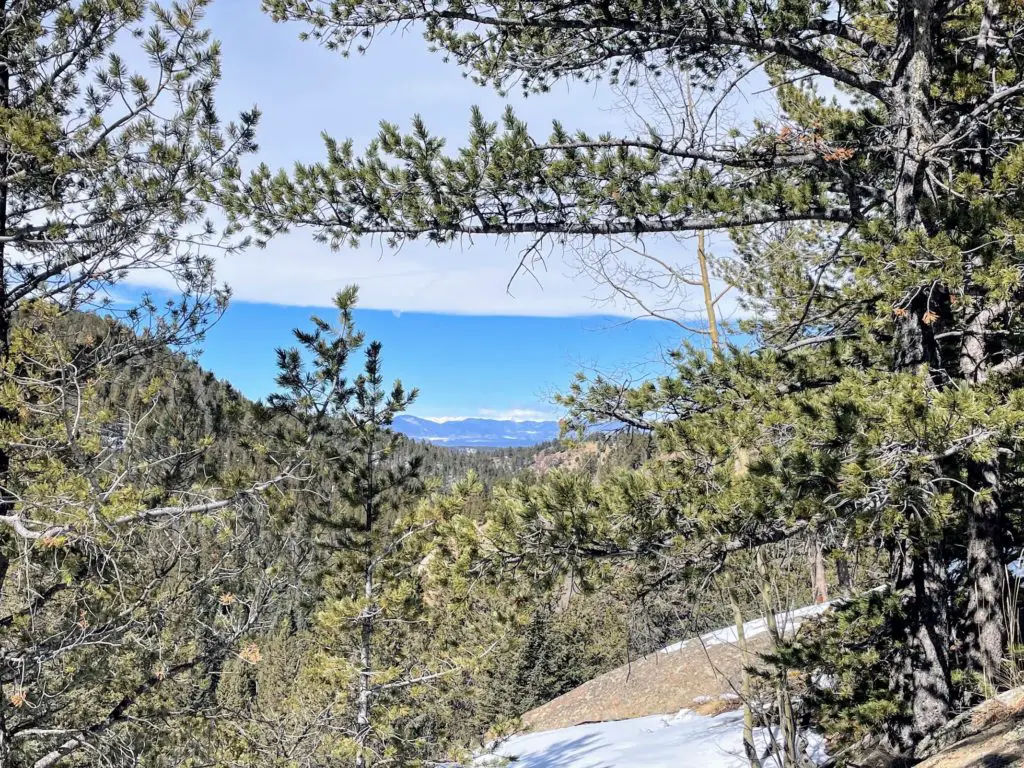 After about a mile since the official trailhead, cross the small creek and turn right. Eventually, another half-mile or so, you will stay left on Raspberry Mountain Trail—leaving Ring the Peak Trail. From here, it's a short stretch before turning right to climb to the summit! Note: keep your eyes open for the wooden posts that will help you stay on track! Now…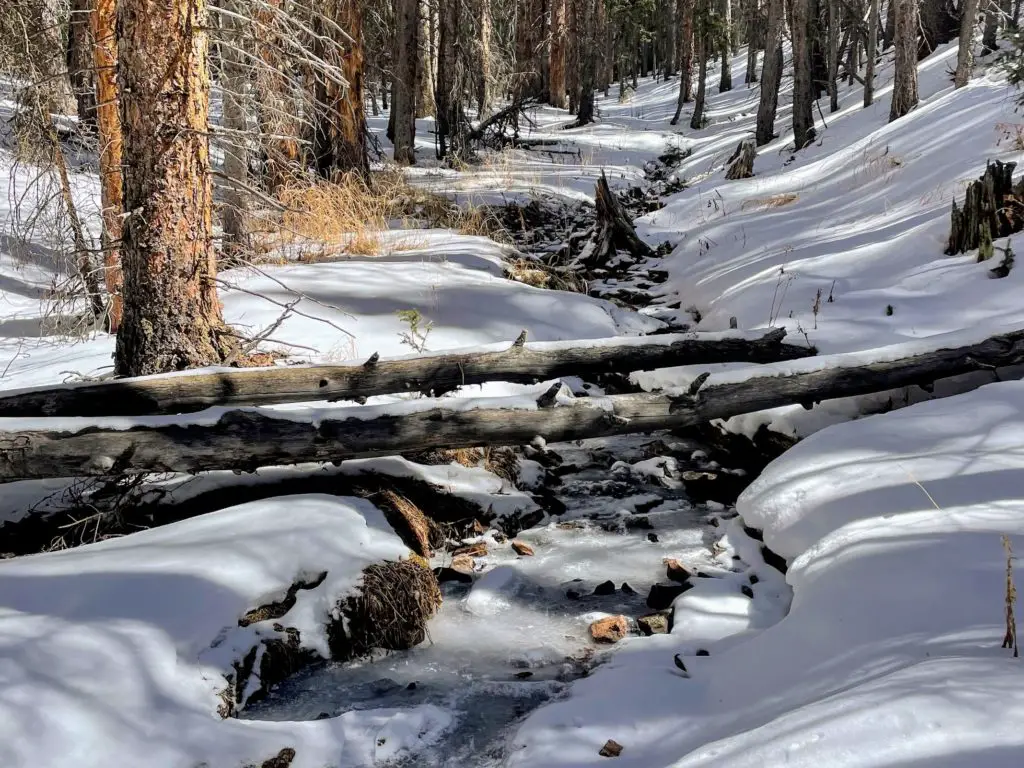 Get those legs and booty working for the final push (don't let me scare you, it's totally doable!) It's less than a mile and you're so close to the top! But it is a steady uphill climb, with one exception that has you on a short descent before traveling back up.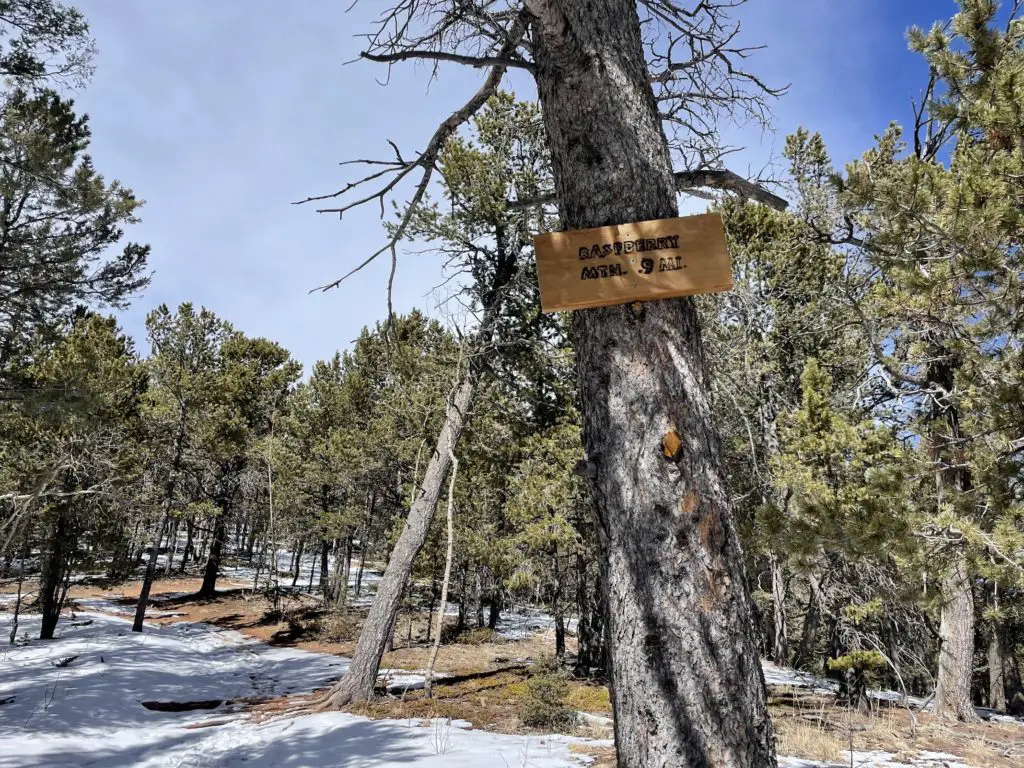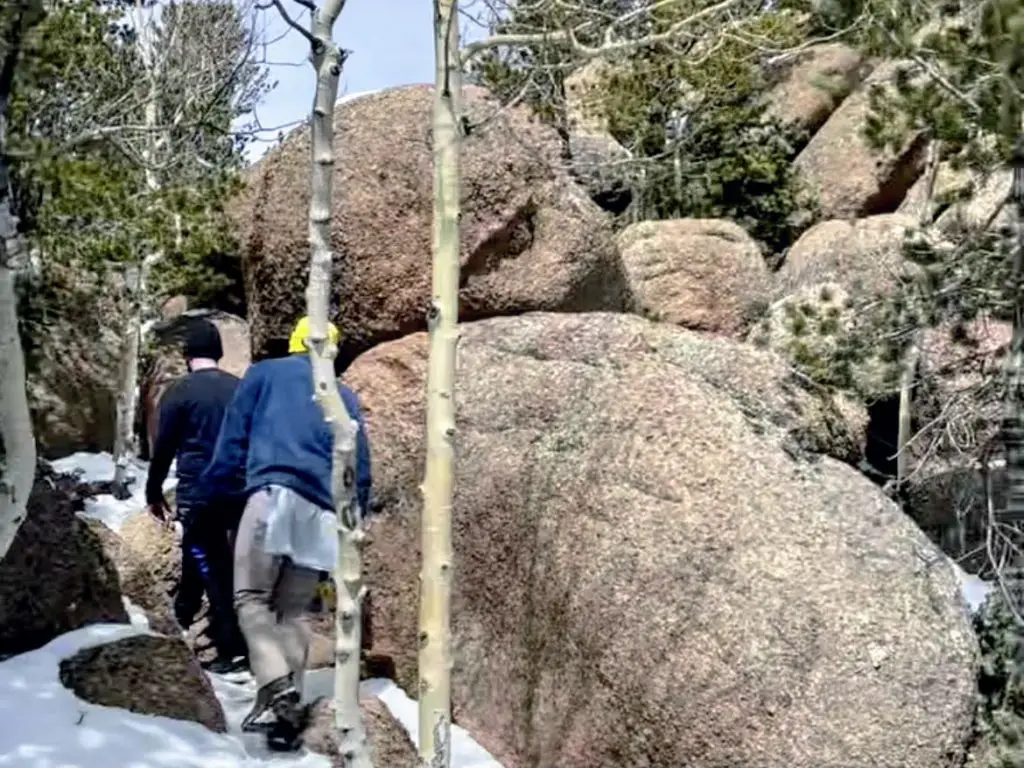 You'll arrive at a set of large boulders you need to climb up. Honestly, this was no issue and more fun than anything! There are tracks and plenty of spots to stick your feet and places to grab. Don't let this freak you out at all.
Plus, once you've conquered the huge boulders, it's time to take in the views.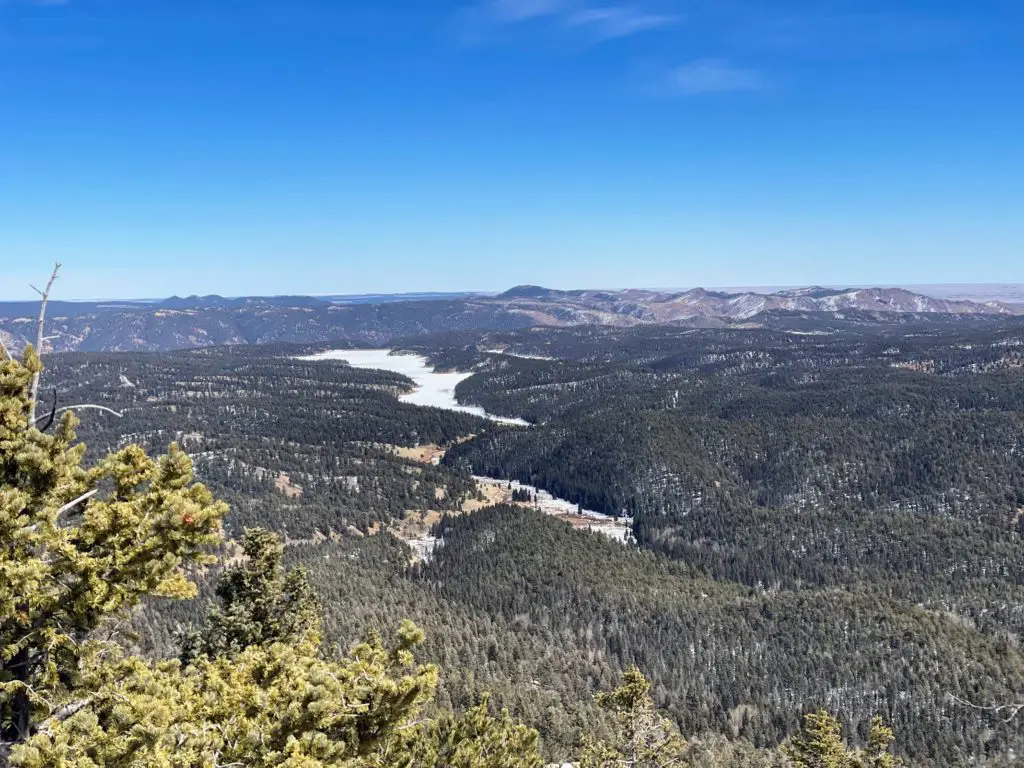 You'll love it up here and will not want to leave.
Once you finally decide it's time, head back the same way you came. You'll be FULL of energy after reaching the top! Take a ton of pictures.
Note: if it's winter, be careful on your way down! It can be slippery.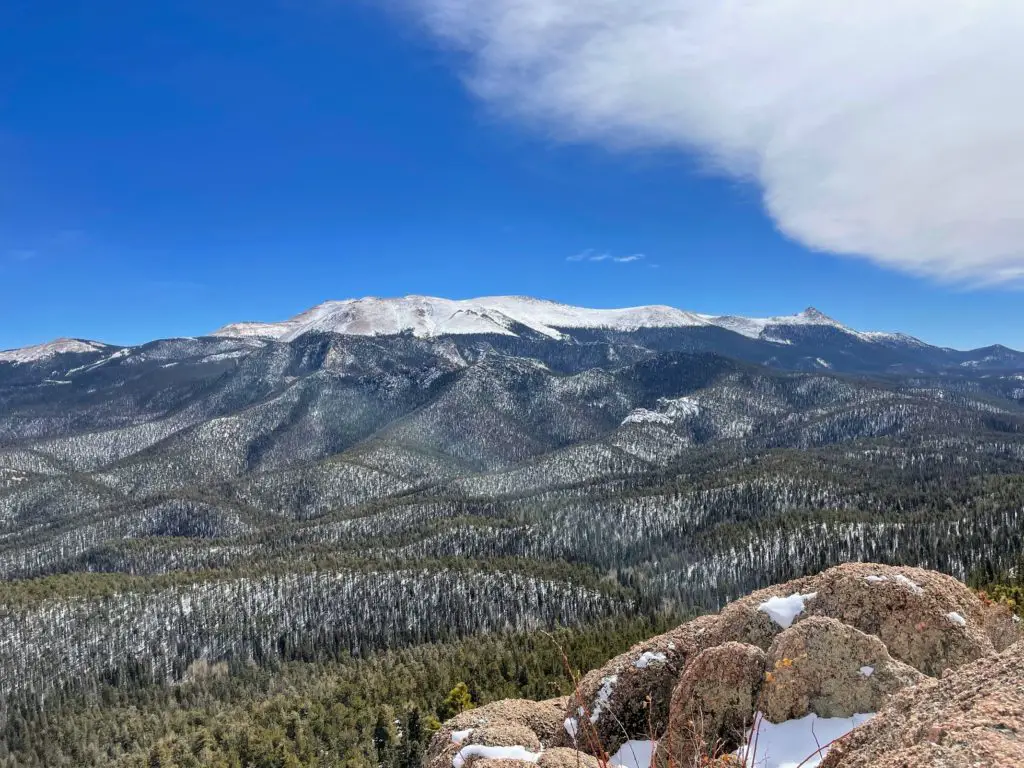 Wait, Are There Raspberries?
Yes! Assuming it's during the raspberry season. Keep in mind that most of these are "boulder raspberries," which are apparently extremely seedy and not worth eating!
Preparation + What to Bring
Wear Sunscreen. (Don't Forget Your Lips!)
Hiking Shoes. You'll want quality, spiked shoes, especially in the winter when you're dealing with snow.
Backpack. Something small and light to stash a few things.
WATER! Plenty of it. We had two bottles per person—one in our hand and one in a backpack. BONUS: I filled my first bottle with eletrolytes for extra energy.
Snacks. We had some jerkey, nuts, and granola bars handy and found a sunny spot on the way back down to refuel.
Money. Which you won't need unless you need a beer afterwards! 🙂
Screenshot the Map: You won't have service but a photo will be helpful.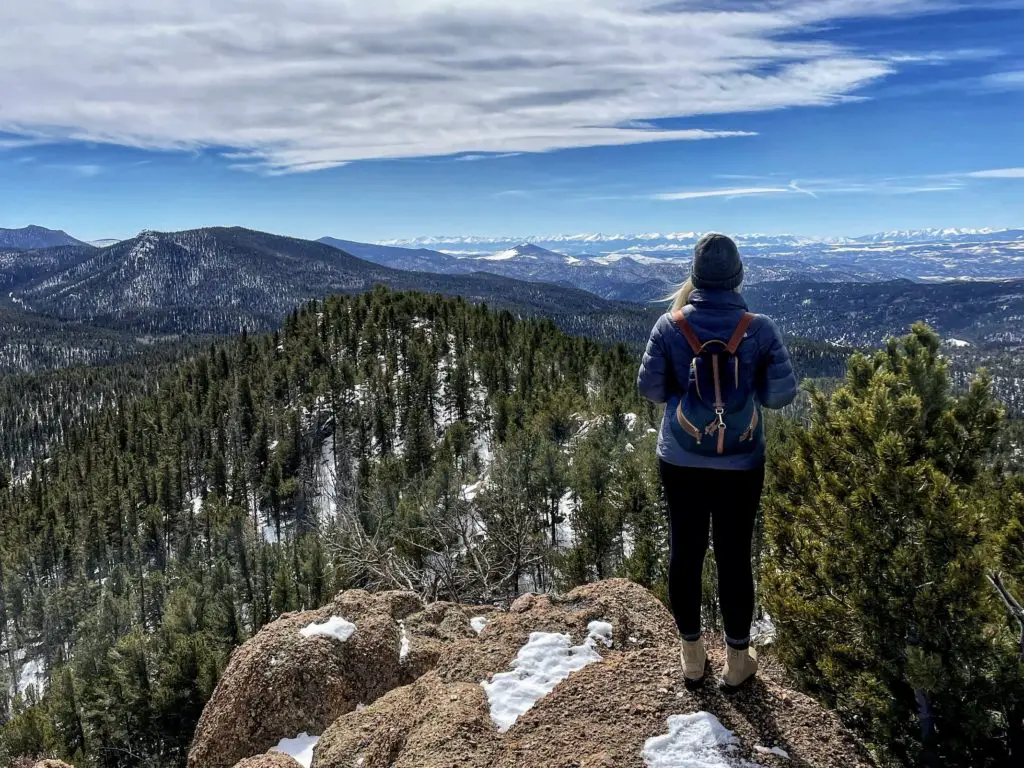 What to Wear Hiking Raspberry Mountain
Keep in mind that the weather is different at the top so the best way to prepare is with layers. The day we hiked Raspberry Mountain, it was a clear day in March—40 degrees and sunny. I had on a long sleeve compression shirt as a base, a long sleeve cotton shirt, and a NorthFace jacket. I took my jacket off at the trailhead and had it around my waist until we got to the top where it was much breezier!
For bottoms, I had a pair of leggings on with a thin layer of fleece and then a pair of Lululemon leggings over top. One pair of warm socks with my boots. And, of course, a hat. I had gloves but didn't wear them.
Raspberry Mountain Trail—Divide, Colorado Hike
I love this hike! And you will too. For more cool photos and inspiration, read the AllTrails Guide to Raspberry Mountain to become more familiar with your route. You are in for a treat!