Talk about a fun trail with unique views! Pancake Rocks is a hike in Cripple Creek, Colorado that will impress you with its rock formations and vast views of the mountain ranges. Once you reach your destination, you are met with pancakes (not the real ones, unfortunately) but stacked circular stones that will have you thinking of nothing else outside of fluffy breakfast items.
Pancake Rocks is a Hike You can't really compare to others.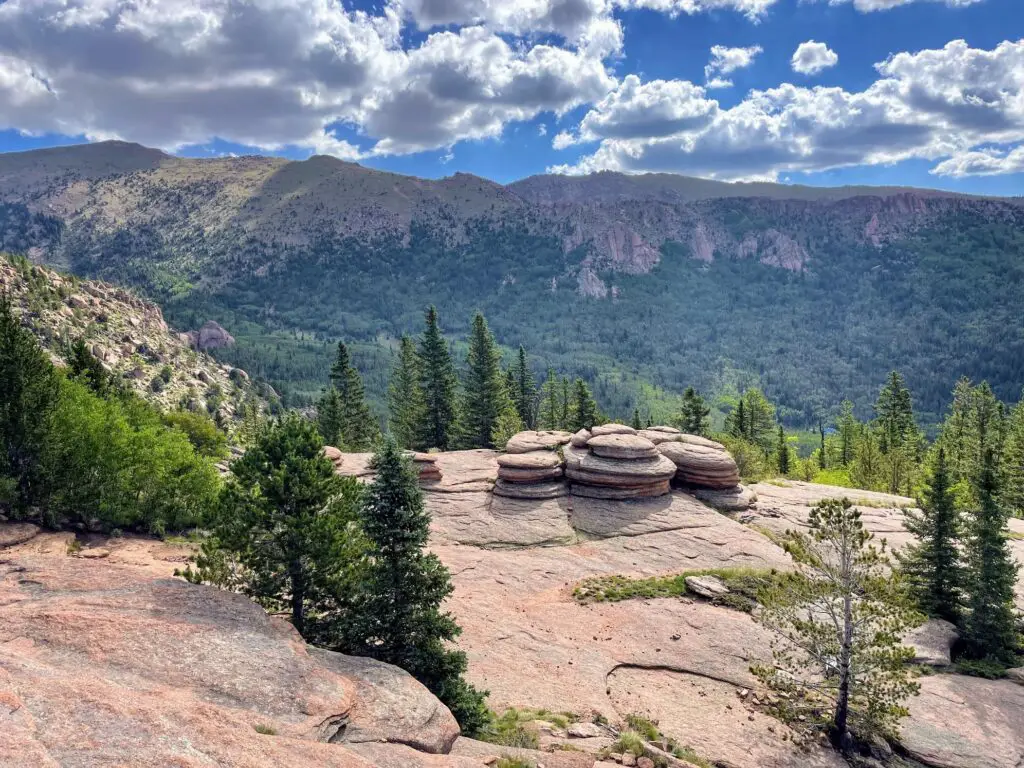 Quick Facts: Pancake Rocks
Location: Cripple Creek, Colorado
Miles: 6.0-mile hike
Type: Out and Back
Elevation Start: 9,700 ft.
Total Elevation Gain: 1,669 ft. to reach 11,054 ft.
Time: 3-3.5 hours with time at the top.
Challenge: Moderate (on the Challenging end)
Popularity: Popular
RATING: 4 Stars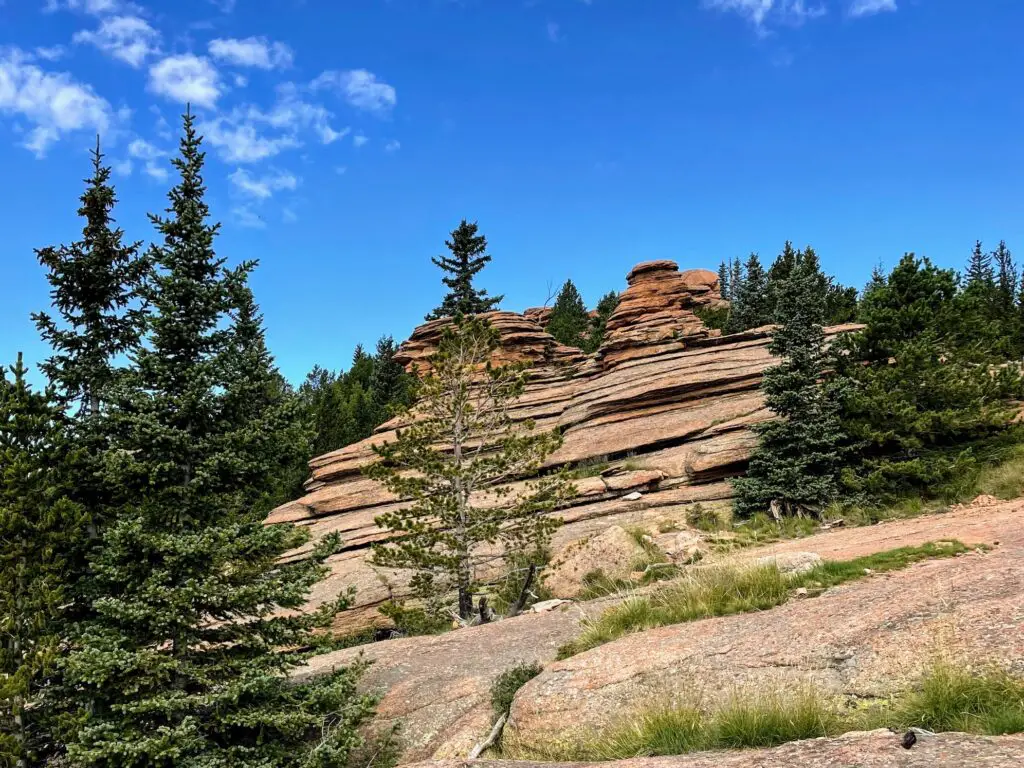 What are you going to see on Pancake Rocks?
Besides pancakes? Well, as mentioned, the unique rock formations steal the show. But there's also something about the mountains surrounding you and white-capped ranges in the distance. I loved this hike in the summer months when everything is so green and healthy.
Find a seat at the top and take it all in.
It is worth noting that you see the open road and cars zooming by from the top of the hike. I know that can be a turnoff to people as it feels less remote, but I promise it still looks gorgeous.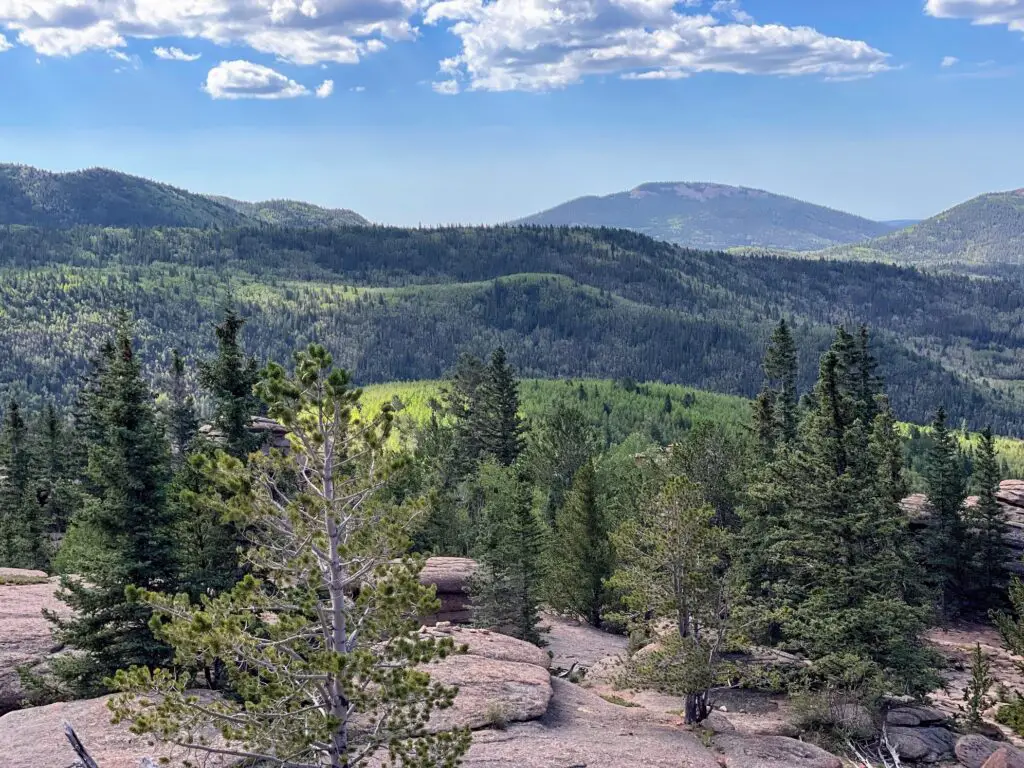 Who Should Hike Pancake Rocks?
Pancake Rocks has its MOMENTS—especially to start. It is rated Moderate and I think that holds true, but if you are new to Colorado hikes or hiking in general, it's Difficult. You gain 1,669 feet of elevation with much of that coming in your first 2.5 miles.
Things Get tough out here, but it's well worth it!
If you're used to the elevation and hiking in the mountains, you will be just fine. It's a great workout that will have you sweating and earning the views. It is an accomplishment that can be done in 6 miles. And we did see kids on the trail, but I would advise to only make the choice if your kids are avid hikers.
NOTE: If you are visiting, make sure you get acclimated first and don't do this on Day 1 of your trip.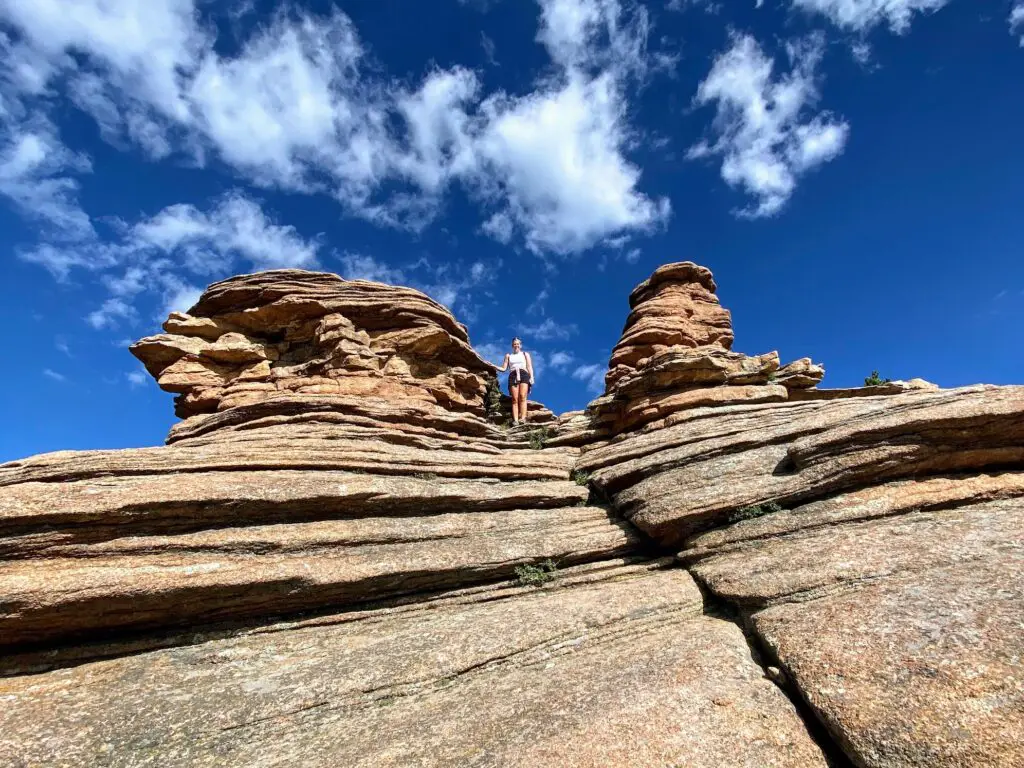 How to Get There
From Colorado Springs (it's Only 45 minutes)
Hop onto Hwy 24 which you will take for about 25 miles, passing through Woodland Park and coming into Divide, Colorado. Turn left on CO-67 and take that for roughly 9 miles.
It's a beautiful drive, especially when you hit 67. You will drive past Mueller State Park and start winding through roads with majestic mountain views!
Eventually, you come up on Horsethielf Park Trailhead with a long parking lot to pull off into. Horsethief is also where Pancake Rocks begins so find a parking spot and you'll notice the trailhead right away.
NOTE: There are no bathrooms here.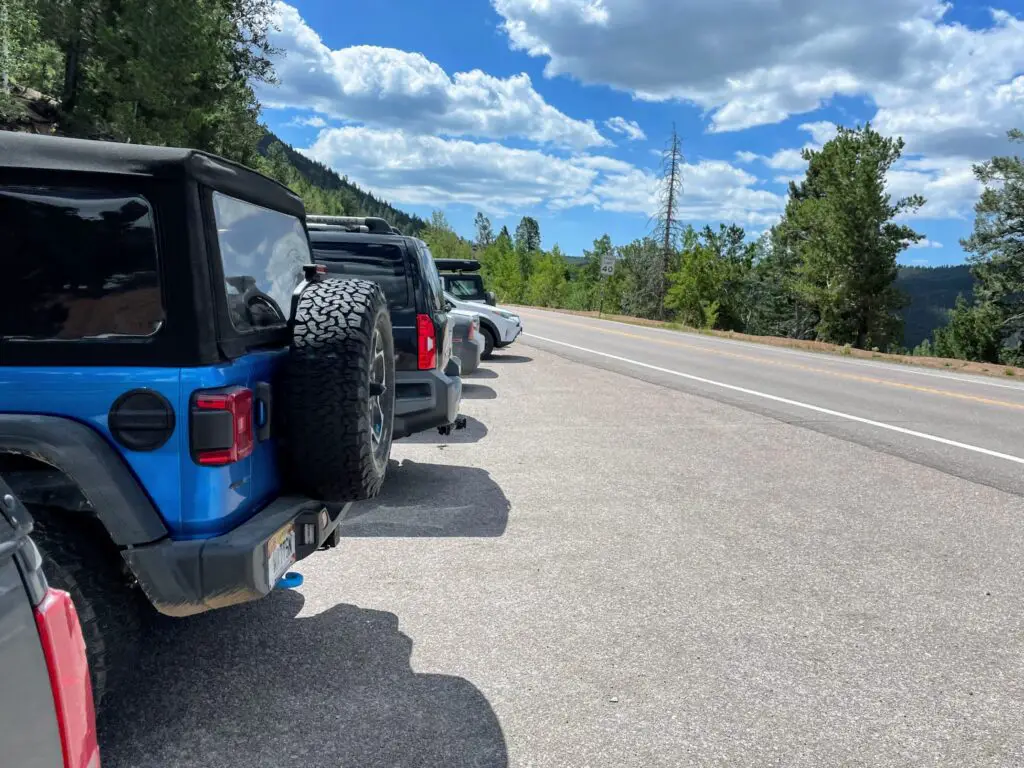 Pancake Rocks Hike
You get started fast on this one! Once you park and hop on the trail, you will start climbing immediately. Soon, there is a sign pointing you in the right direction to stay on Pancake Rocks—straight. (Horsethief Falls Park and Trail and right here, too.)
The first 2.25 miles of this hike are at an incline and you will gain roughly 1,300 feet in elevation! Phew.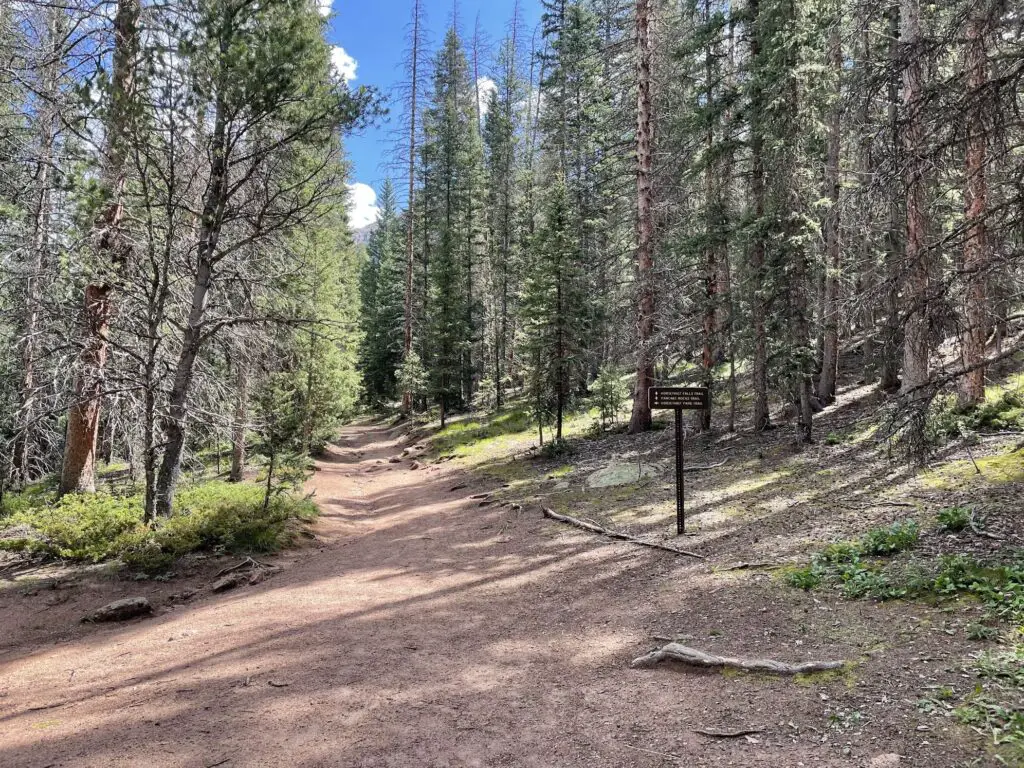 Take breaks as you need to and enjoy your surroundings—and remember you are getting a GREAT workout in! There are Dome Rock sightings, the trail itself is well-cleared with rocky terrain, and you'll admire the mixed-pine forest and nature along the way.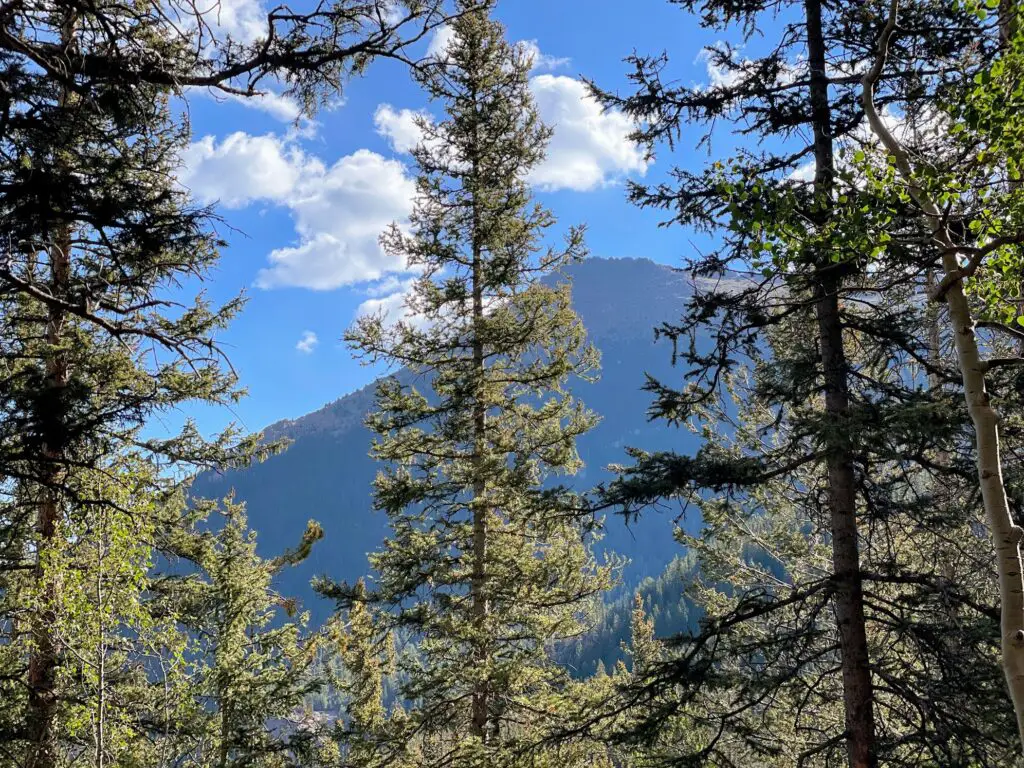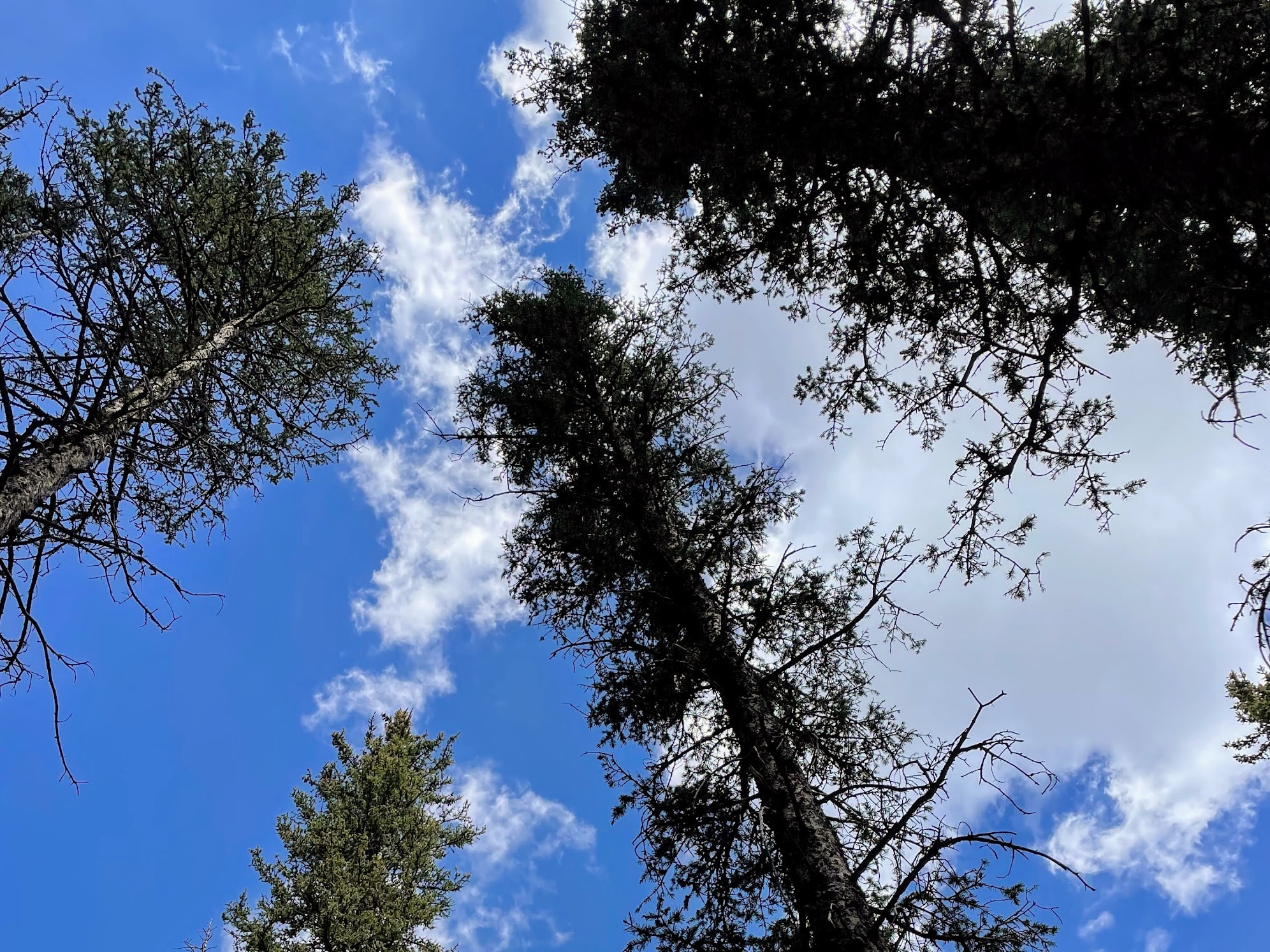 After the 2.25 miles, you are rewarded with a few declines (and a couple more inclines) before you reach your destination. You'll notice huge boulders as well as a few different lookout points to give you a preview of what you are working towards.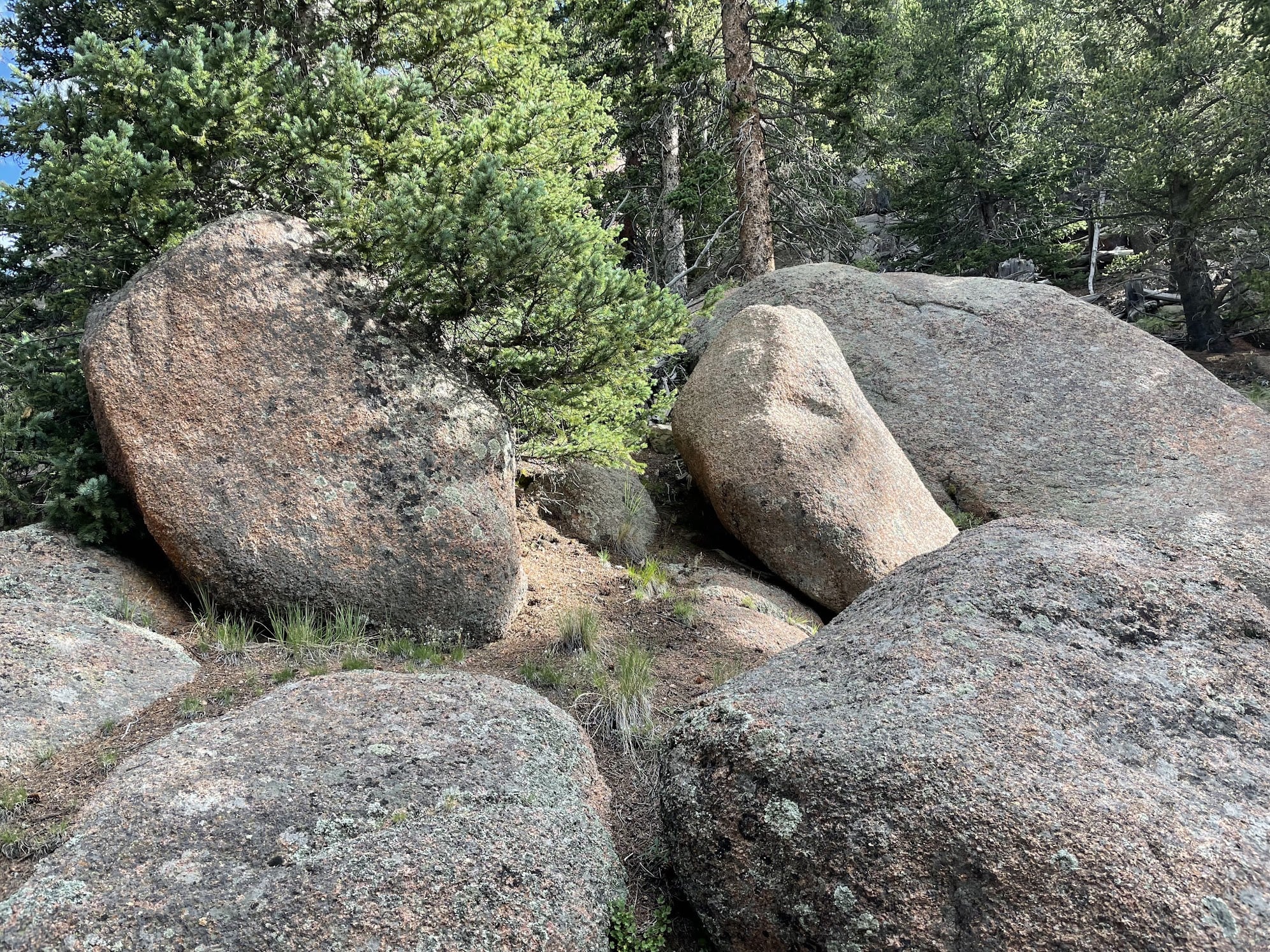 Eventually, you will walk up on a huge brown pancake boulder that welcomes you to the flatter terrain and amazing views! Spend some time climbing up on the rocks to see from higher up and then find a place to sit down, rest your legs, and have a snack. It's a great place to be.
We were here in early August and saw a few other groups at the top, but it wasn't annoyingly busy by any means.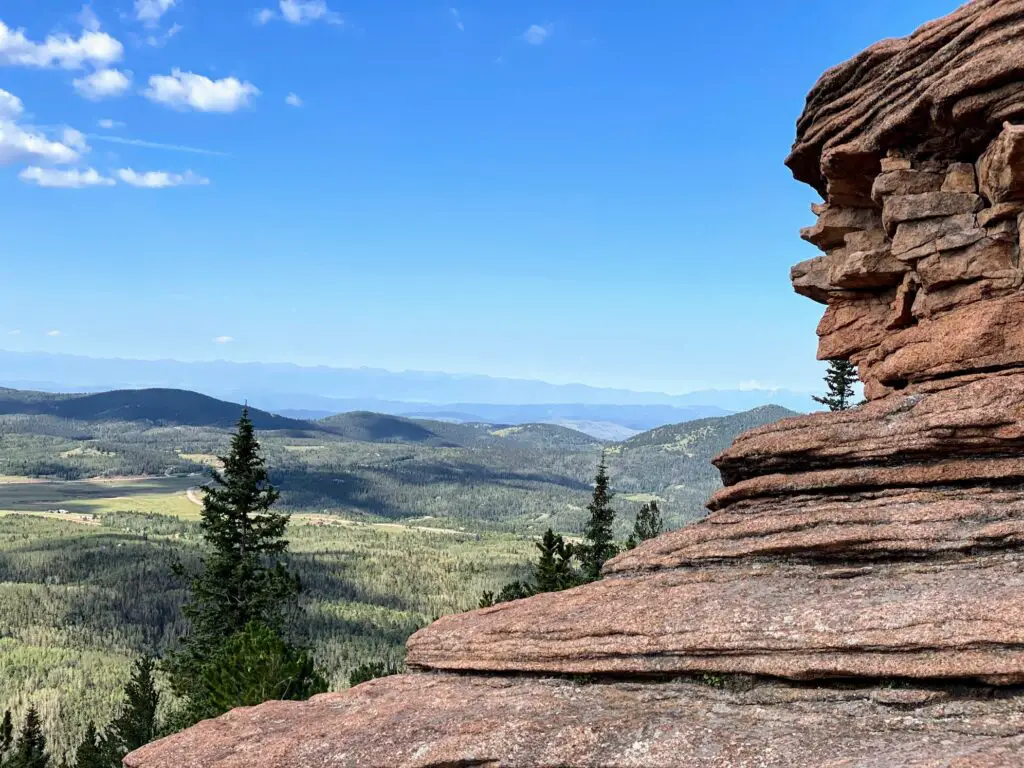 You will go down the trail the same way you came. Thankfully, this direction gives your booty a break and you can enjoy the scenery on a decline!
Preparation + What to Bring
Wear Sunscreen. You spend quite a bit of time in the shade but once you're at the top, you will likely be in direct sunlight.
Hiking Shoes. You'll want quality hiking shoes or boots any time of year.
Water: Each person in our group had about 20 oz. which was sufficient. BONUS: Fill it with electrolytes for extra energy.
Bear Spray, Knife, Protection: You're very much in the mountains on this one! Be prepared for wildlife.
Snacks: The incline on this one might leave you feeling hungry! I had blueberries and almonds to refuel.
Toilet Paper: Just in case! 🙂
Backpack: I carried my backpack to shed layers (more on clothes below), hold water, and bring a few snacks.
Money. Which you won't need unless you need a beer afterward! 🙂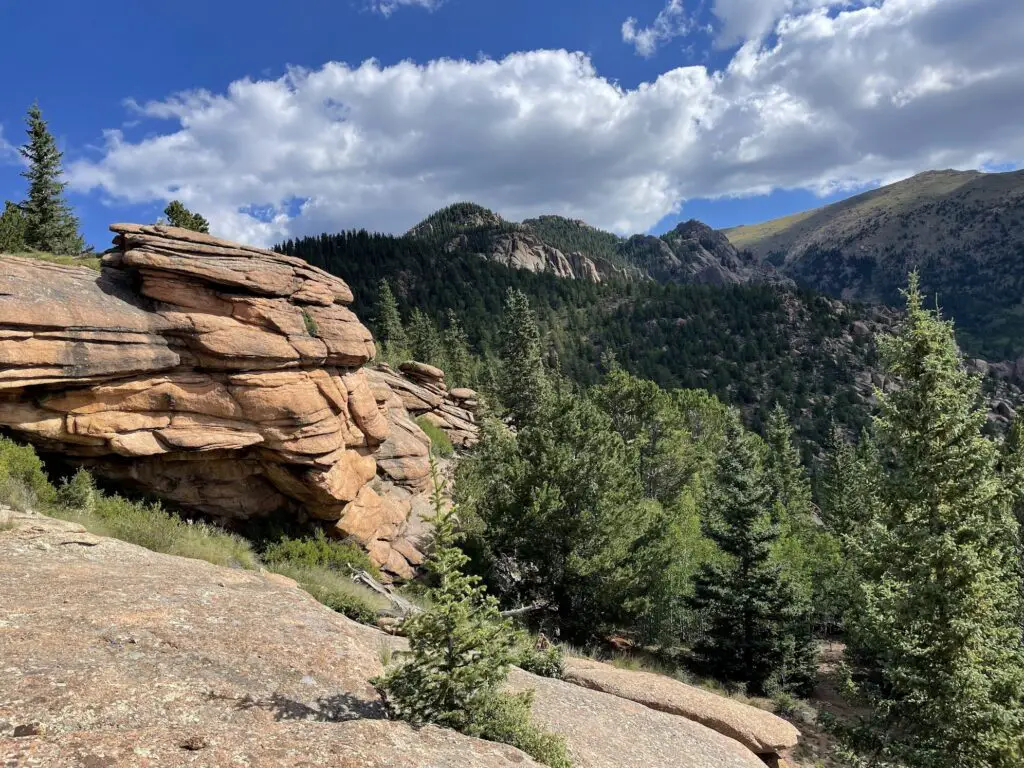 What to Wear
As with most hikes, you're going to want layers. Much of this trail is shaded and the top gets a little breezy. I had a very light long-sleeve on for a bit of the hike. That said, that incline for the first 2.25 miles to reach the top will have you taking off that top layer rather quickly!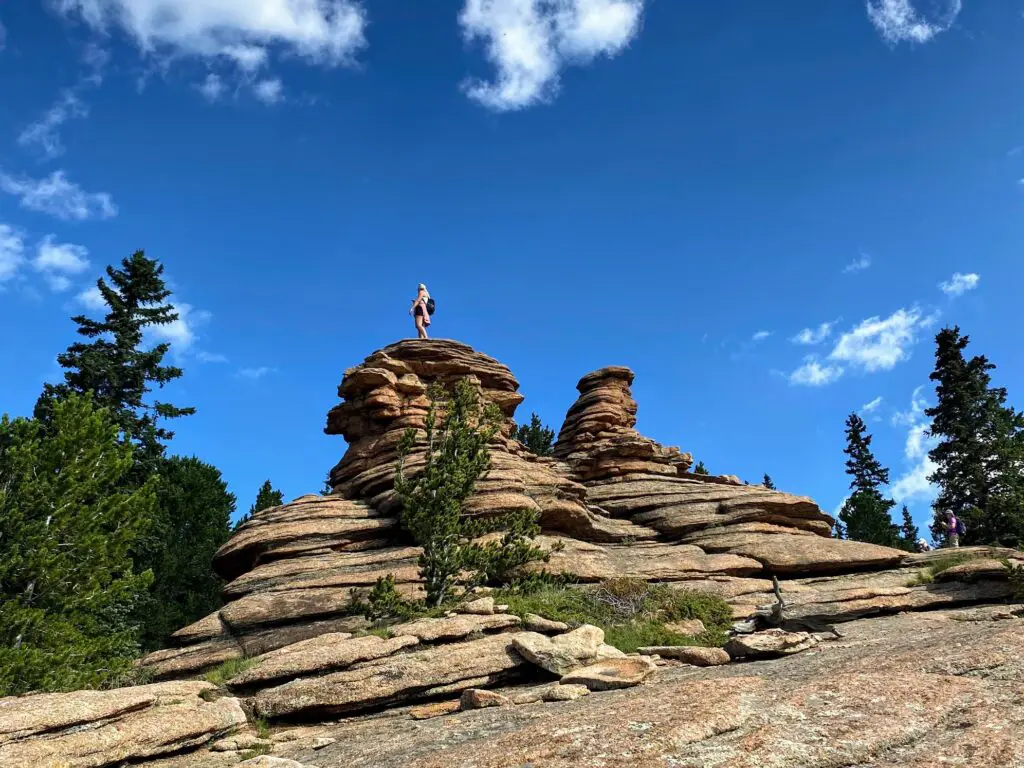 After You Hike Pancake Rocks
You'll be ready for a cold one! And you have a couple of options for a post-hike stop in the area. You can either continue going along 67 and get to Cripple Creek. There are 9 casinos in this small town so you will have no problem finding a beer and some food.
Otherwise, if you want to head back the way you came to the town of Divide, you have a couple of options just across from the stoplight at 67 and 24. Russ's is a total dive bar but a ton of fun and has the best burgers! This is my top recommendation. You can also hit McGinty's which is an Irish pub serving fish & chips, a great Rueben, and delicious buffalo wings.
If you are planning to get all the way to Woodland Park, CO, read The Best Restaurants in Woodland Park to find what you're looking for.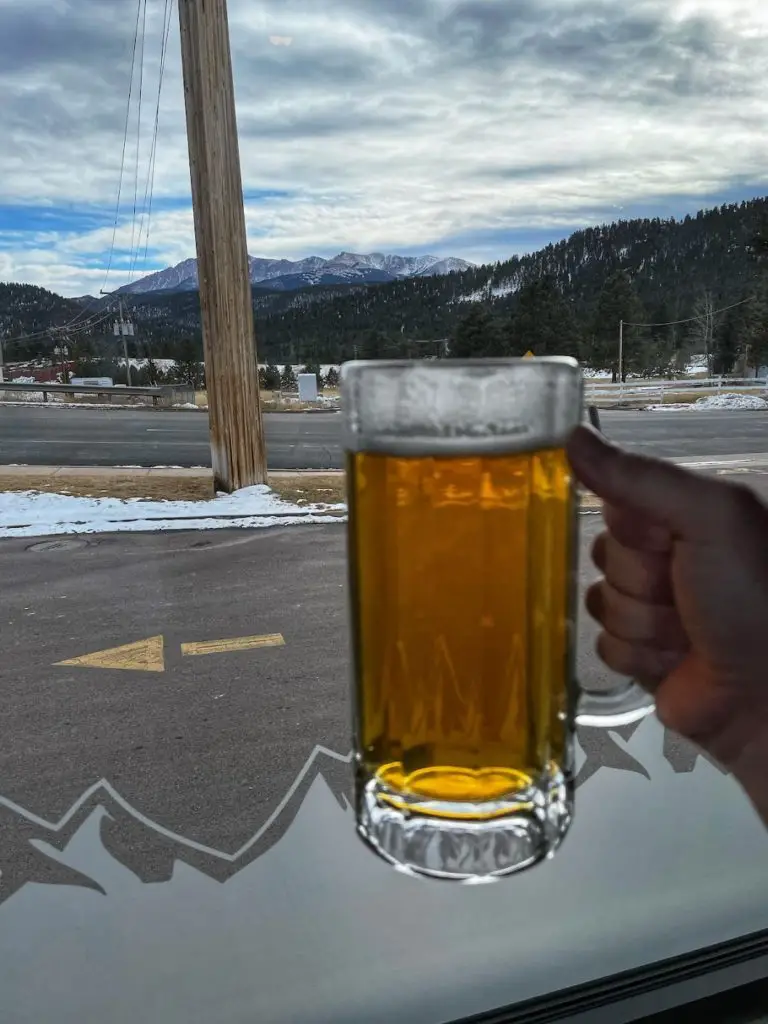 Pancake Rocks Hiking Guide
Pancake Rocks is a fun and unique hike that you will enjoy!
Looking for more of the best hikes in the Pikes Peak Region? Check out Mueller State Park for a variety of options or else give Raspberry Mountain a go—another top option.
Did this post help you out? Support the work and pass along $5 for a Coors Light 😉 VENMO: @Amber-LBB or PAYPAL: amber@littlebluebackpack.com. THANK YOU.