Elder Fehn Trail is the perfect place to immerse yourself in nature. On this quiet trail, find yourself weaving through the trees with consistent mountain views throughout. You will battle up and down frequent inclines and declines as the trail moves up and down from start to finish…
It's Tough to Beat Elder-Fehn on a beautiful Day.
Located in Teller County within the Catamount Ranch Open Space (beautiful in its own right with a few great hikes to choose from including Limber Pines Trail and Ring the Peak Trail), Elder-Fehn Trail is the perfect combination of tough yet engaging—there are always things to look at in Pike National Forest!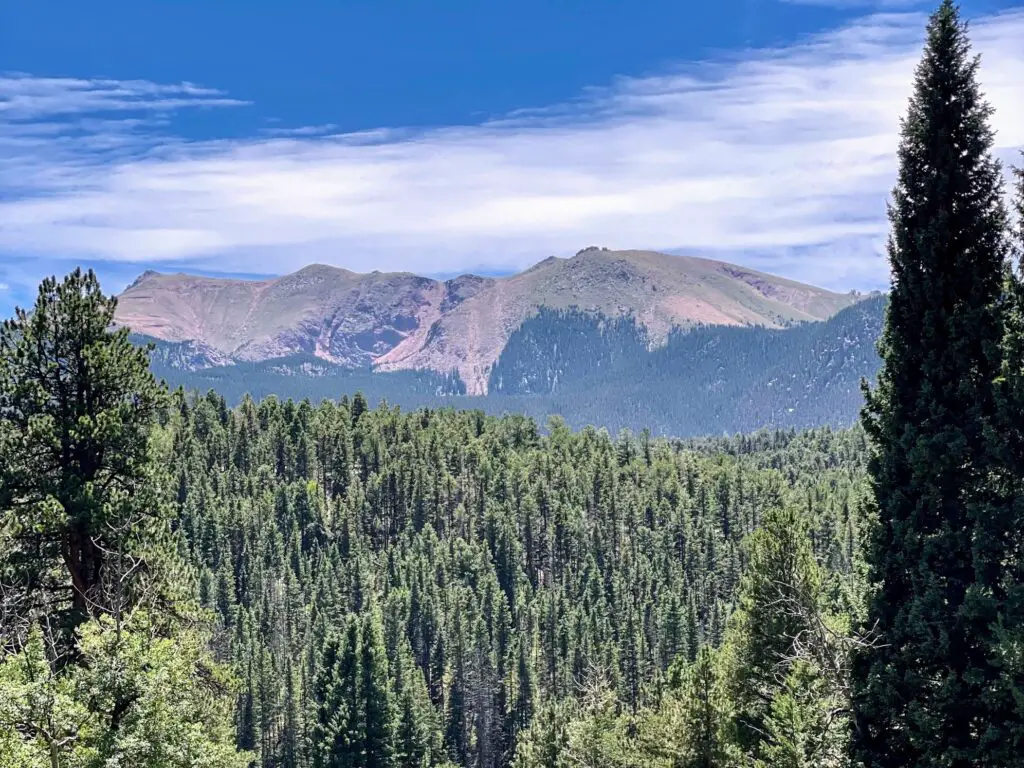 Quick Facts: Elder Fehn Trail
Location: Divide, Colorado
Miles: 4.8-mile hike
Type: Lollipop Loop
Elevation Start: 9,583 ft.
Total Elevation Gain: 928 ft.
Time: Roughly 2 hours, 15 minutes
Challenge: Moderate
Popularity: Fairly Quiet
RATING: 4 Stars
NOTE: There are a few different routes and distances you can take in this area. Below will outline Elder Fehn > Vayhinger Trail > Ring the Peak > Limber Pines. This is one big loop. You should get a lay of the land by the end of the post and can choose your own route! This is the best map to look at while deciding.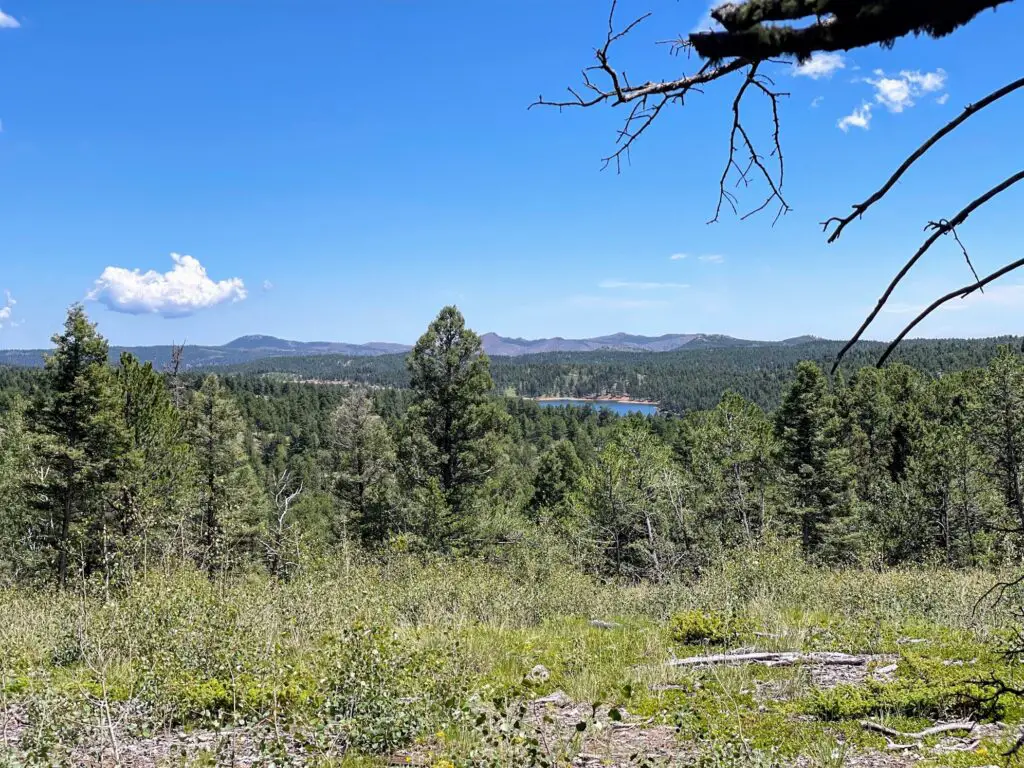 What are you going to see Elder Fehn Trail?
You will get a little bit of everything while hiking Elder Fehn Trail! The best part is definitely the vast Pikes Peak views which seem to follow you throughout your journey.
In addition, there are endless trees, a small stream surrounded by wildflowers in the open meadows, Catamount Reservoir (you will need to go slightly off route for this—more below), wild mushrooms, and if you're lucky, wildlife.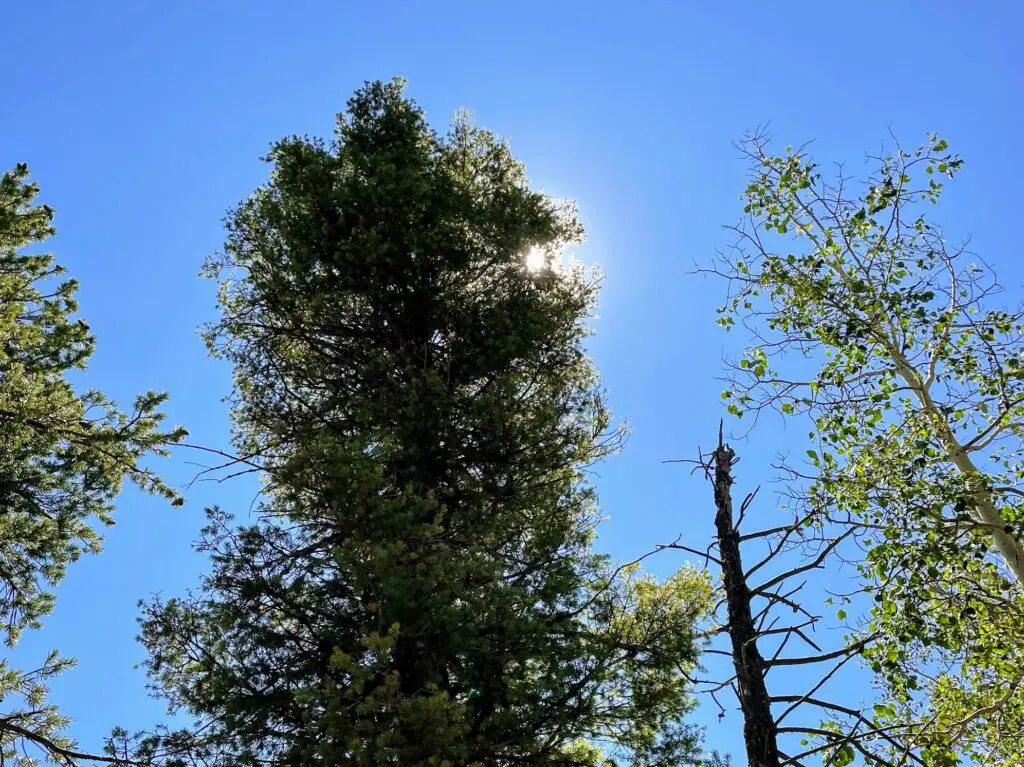 Who Should Hike Elder Fehn Trail?
Elder Fehn Trail is rated moderate. It does gain nearly 1,000 feet of elevation, but it's not all in one shot and this hike can be for a variety of experience levels. Keep in mind, it will be tough if you're not a hiker. But with breaks as needed, you'll make it.
The Trail combines short stints of inclines and declines throughout.
As soon as your legs are tired from an incline, you are rewarded with a decline. But, don't get too used to the latter—there will be another incline before you know it.
In addition, this is a multi-use trail. A lot of mountain bikers use this scenic trail for their rides!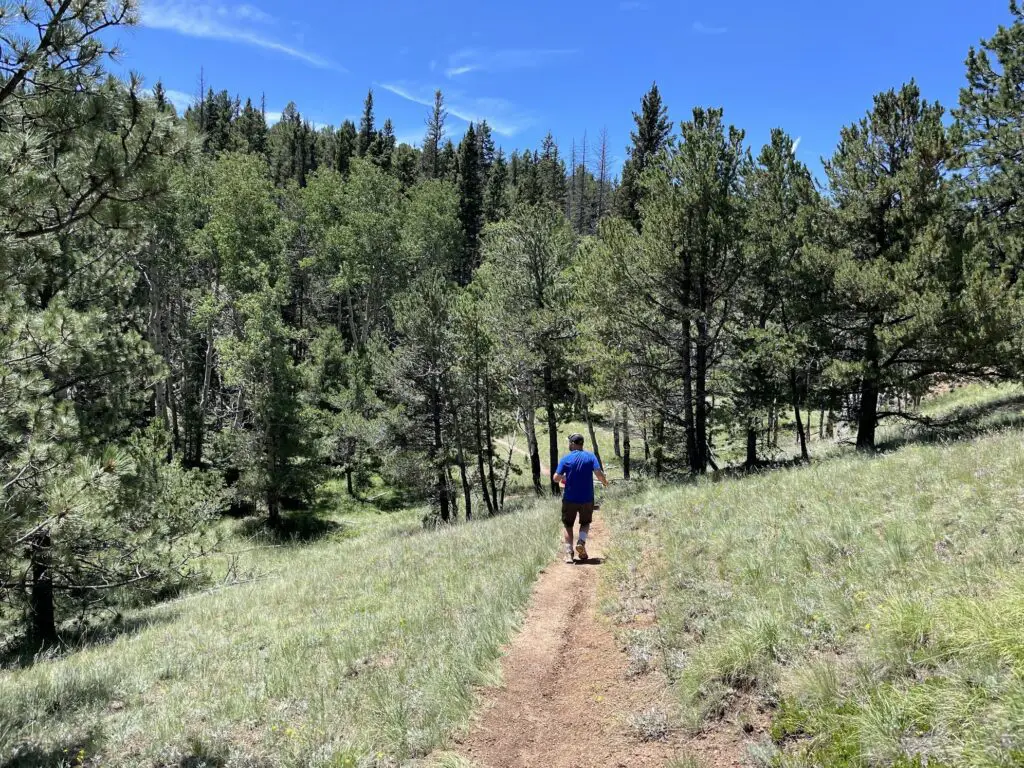 How to Get There
From Colorado Springs (it's Only About 40 minutes)
Hop onto US-24 W from Colorado Springs. You'll meander through the mountains, drive through downtown Woodland Park, and start making your way to Divide, Colorado. Turn left onto Edlowe Road (Teller County Road 28) and continue for 2.5 miles—if you hit Hwy 67, you went too far.
You will hit dirt road and come up right on the Catamount Recreation Area parking lot to your left. If the parking area is full, you are free to park on the road. There is a bathroom here as well.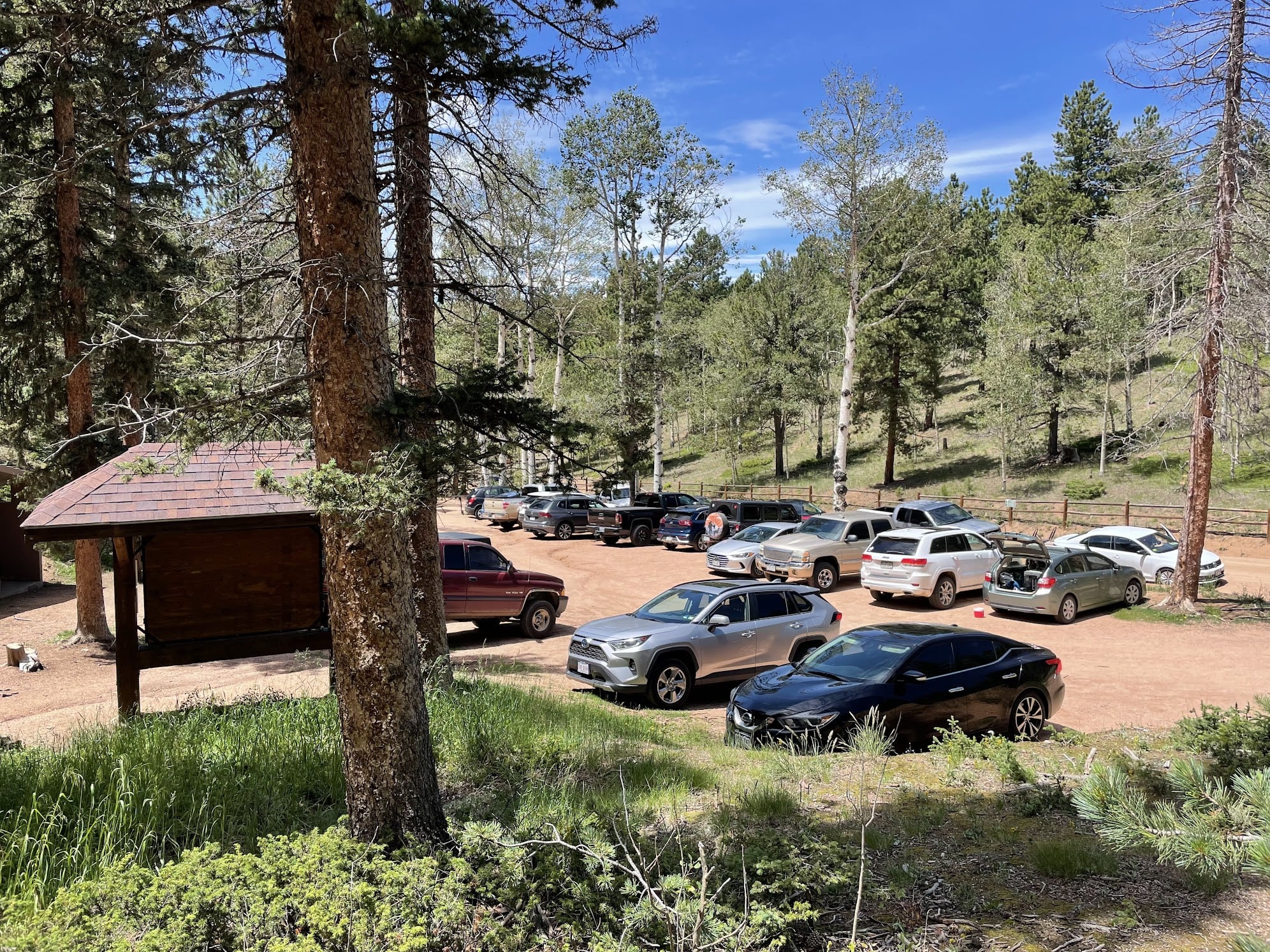 Hike Elder Fehn Trail
Start your journey from the trailhead with a few switchbacks (they're not too bad and only last for about a quarter-mile.) Once you are at the top, there's a trail map outlining your options. The Elder Fehn Trail (if you're looking at the map) is behind you to the right.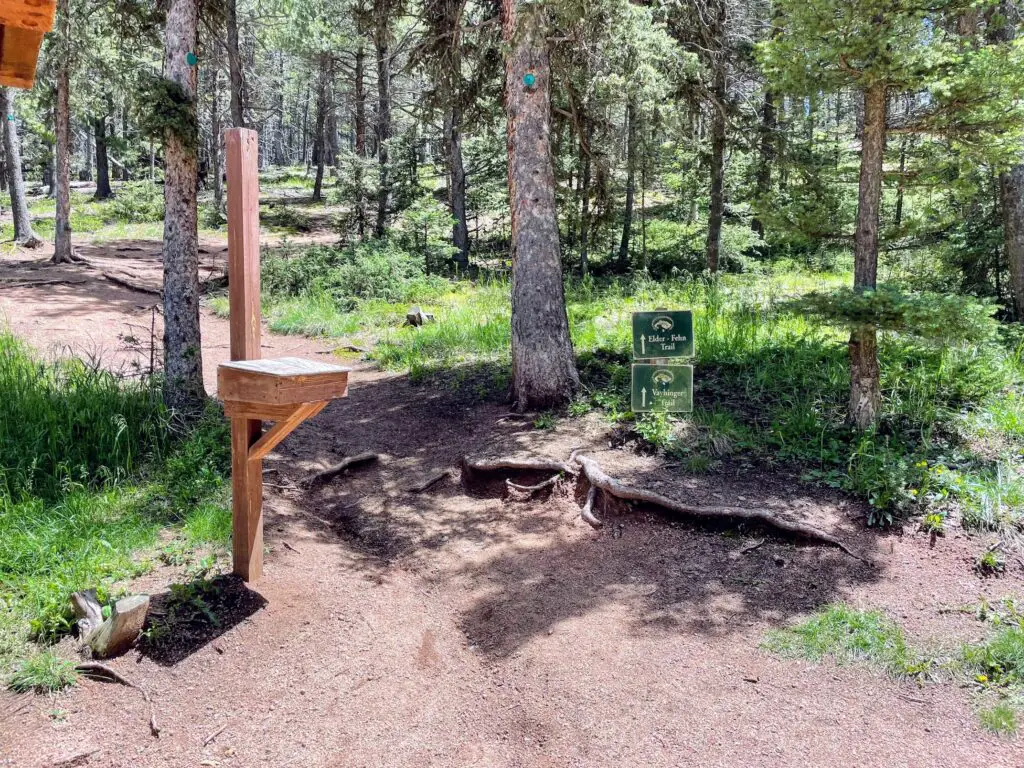 It won't take long for your first views of Pikes Peak. Enjoy the scenery, take some pictures, and continue on Elder-Fehn. After about 1.5 miles you have the choice to continue on Elder-Fehn or else turn to do down Vayhinger Trail. If you choose to stay on Elder Fehn, you will make a little less than 2-mile loop and end up right back at this spot to go down.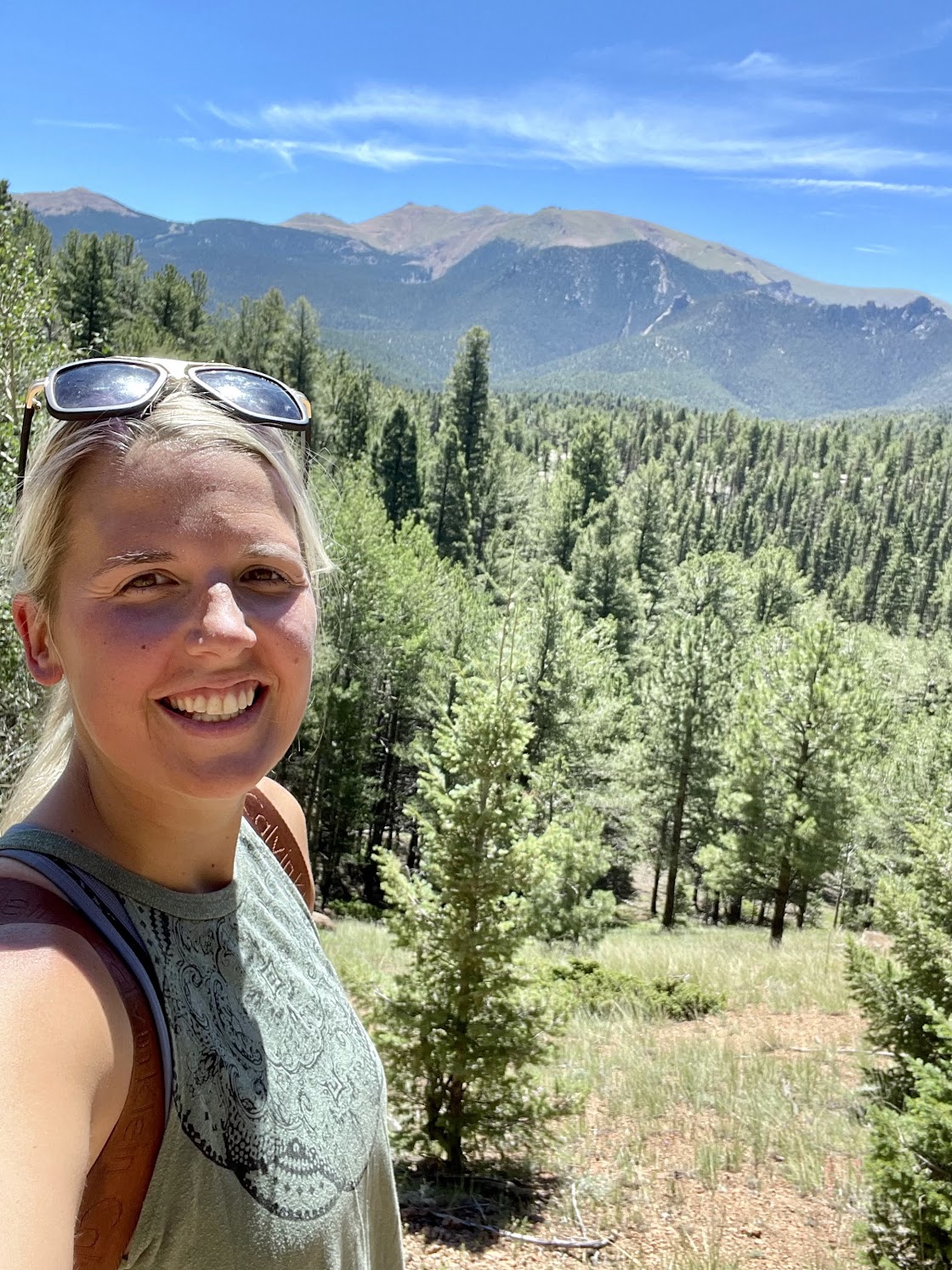 At the bottom of Vayhinger Trail take a left which will put you on Ring the Peak Trail (this is actually a dirt road, so you'll get some flat land and pretty views!) which you can follow until you reach Limber Pines Trail to take a left and head back up.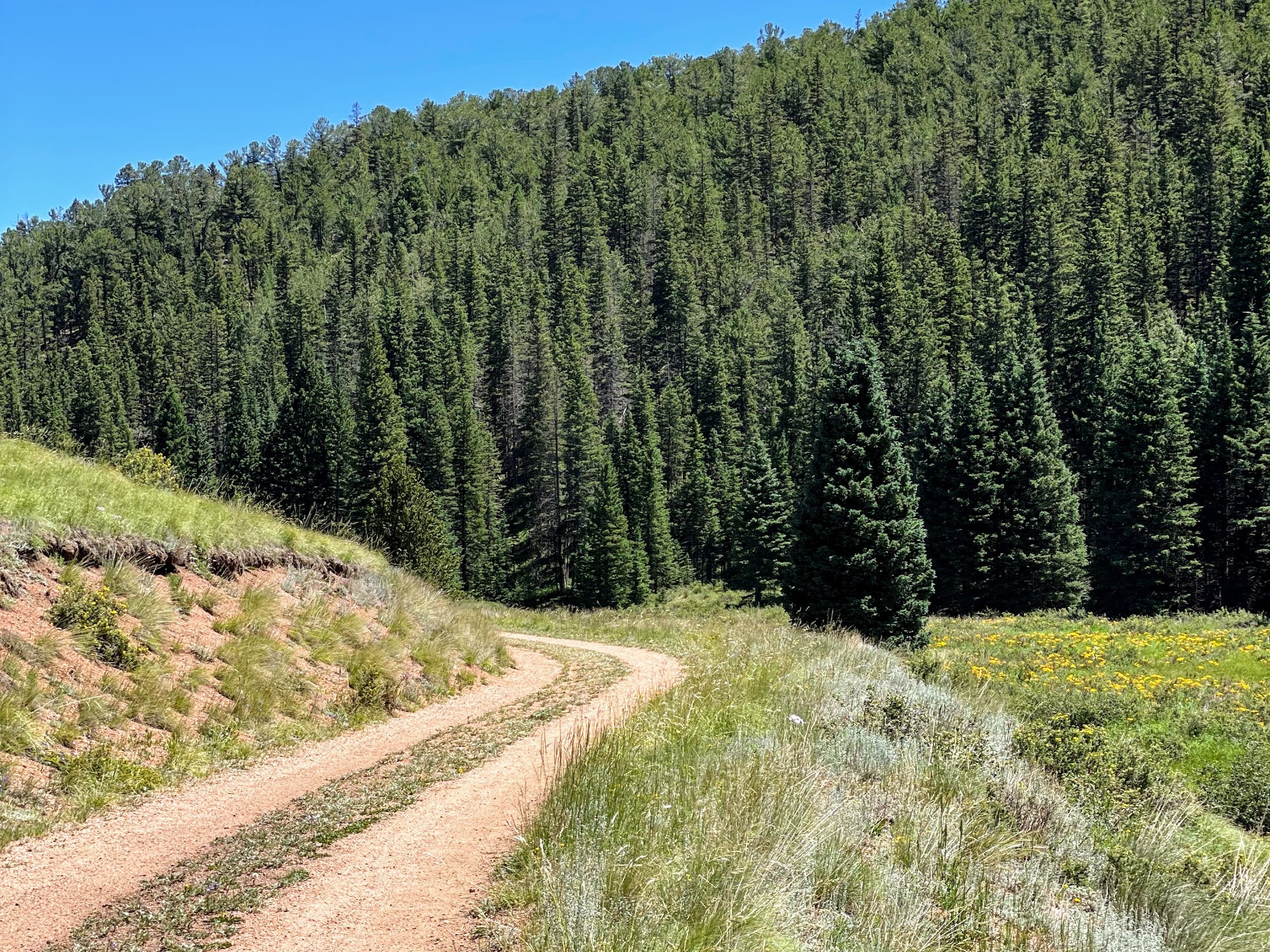 TIP: If you want to incorporate some water views, head a short distance past Limber Pines Trail and you will run into Catamount Reservoir. You can continue to follow Ring the Peak Trail to connect back to the top, but it will be slightly longer than heading back to Limber Pines.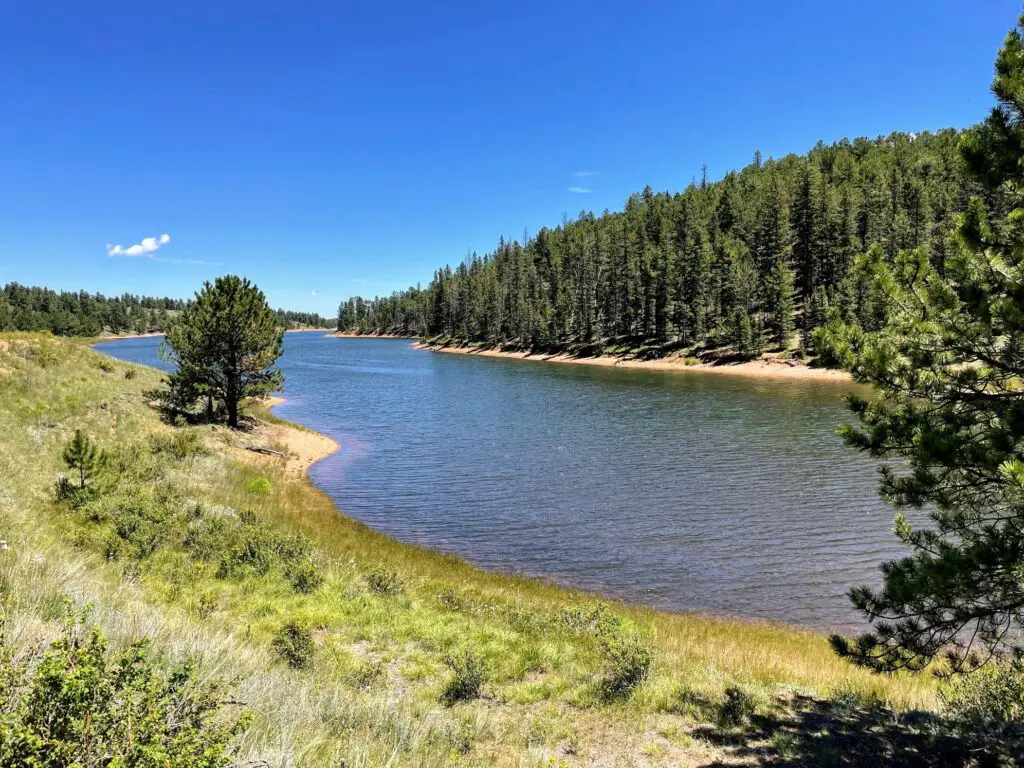 Once you are on Limber Pines Trail (don't forget to turn around for awesome views!) you are right back to that first map after the switchbacks in the beginning. Head back down until you reach the end of the trail and your hike is complete.
Preparation + What to Bring
Wear Sunscreen. Even in the winter! You'll get a lot of sun in the meadows. (Don't Forget Your Lips!)
Hiking Shoes. You'll want quality hiking shoes or boots any time of year. If it's December-February, you may need snowshoes and definitely spikes. Bring your poles in the winter as well.
Water: Every person in our group had about 20 oz. which was sufficient. BONUS: Fill it with electrolytes for extra energy.
Backpack: I carried my backpack to shed layers, hold water, and bring a few snacks and a light pair of gloves.
Money. Which you won't need unless you need a beer afterward! 🙂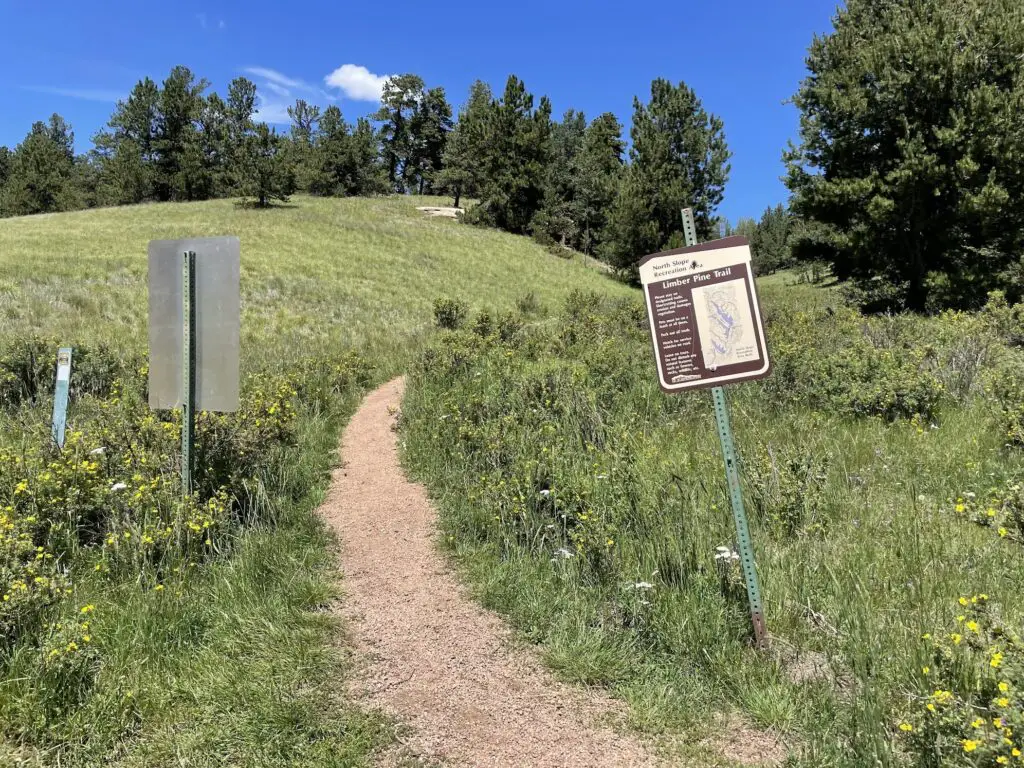 After You Hike Elder Fehn Trail
You'll be ready for a cold one! And you have a couple of options for a post-hike stop in the area. Head back out to the town of Divide and just across from the traffic light you will find:
Russ's: total dive bar but a ton of fun and the best burgers! This is my top recommendation and a great place to have some fun.
McGinty's: an Irish pub serving fish & chips, a great Rueben, and delicious buffalo wings.
You can also drive past Divide and find a ton of options in Woodland Park. READ The Best Restaurants in Woodland Park to find what you're looking for.
There is also Cripple Creek which has a variety of options—and 9 casinos!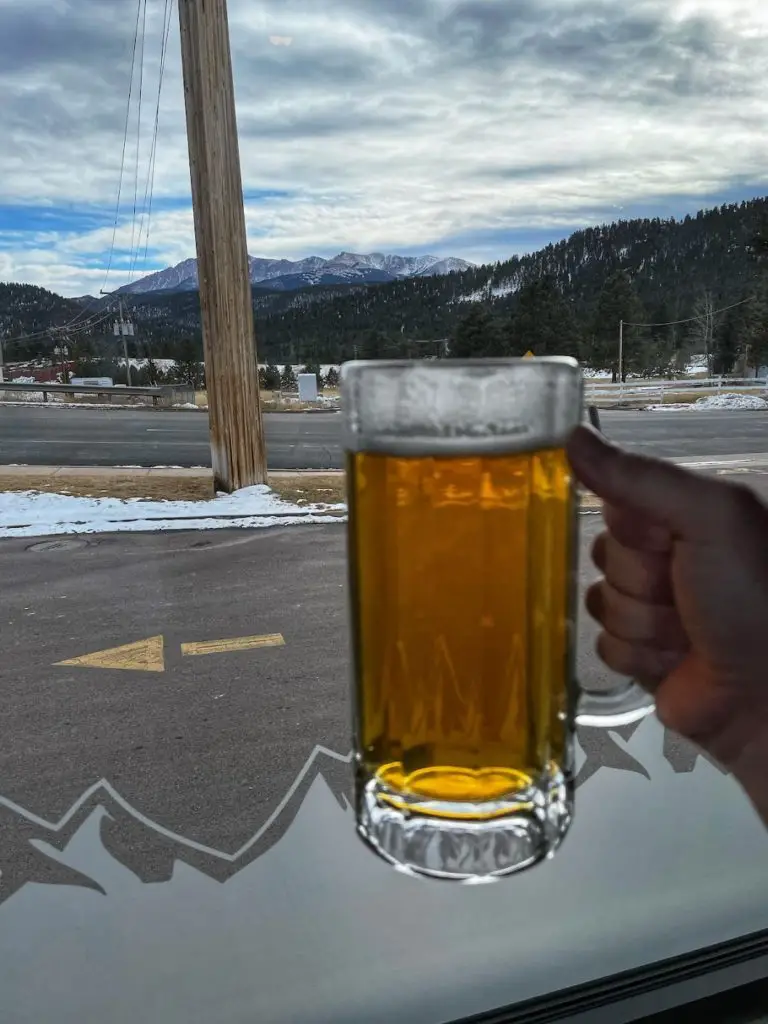 Elder Fehn Hiking Guide
This is one of my favorite trails in the area surrounding Colorado Springs. It's a great trail with endless views and full of fresh air!
Looking for more of the best hikes in the Pikes Peak Region? Check out The Crags or Pancake Rocks. My Best Hikes near Woodland Park, Colorado blog post will give you even more ideas!
Did this post help you out? Support the work and pass along $5 for a Coors Light 😉 VENMO: @Amber-LBB or PAYPAL: amber@littlebluebackpack.com. THANK YOU.