This is a trail you will never regret hiking! Beautiful from beginning to end, Timberline Lake Trail will have you in the forests, crossing creaks, listening to sounds of the rushing river, climbing up rocky trails, and, eventually, admiring the lake with a beyond gorgeous mountain backdrop.
Check "Hike in the Highest City in America" Off Your Bucket List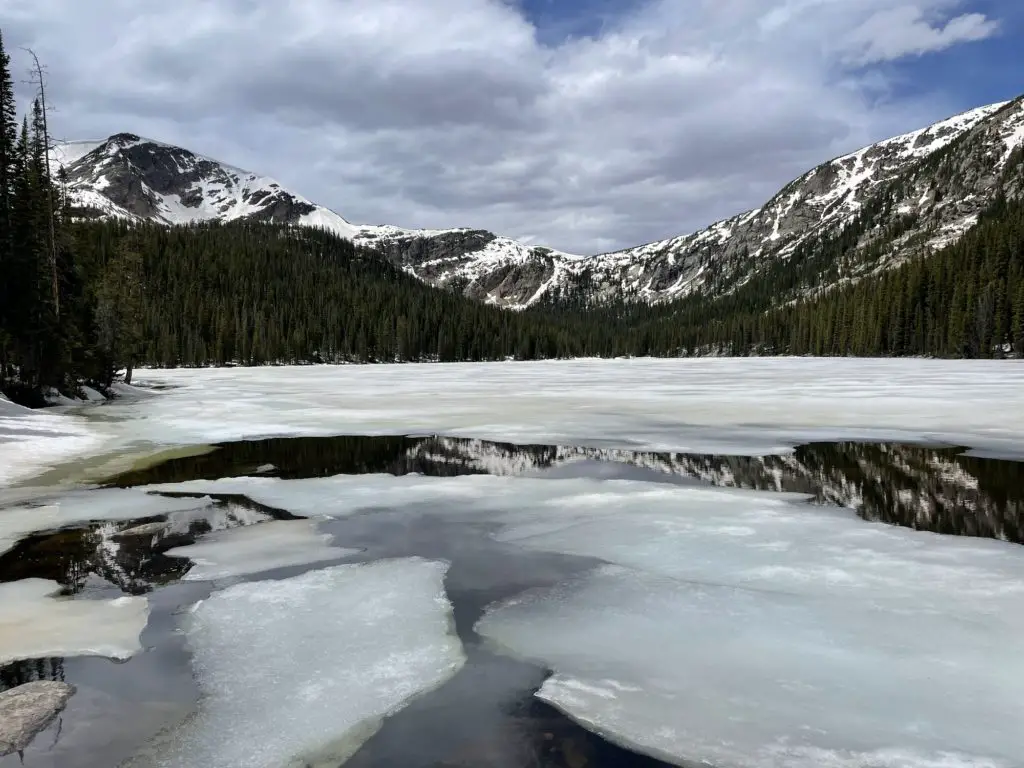 And The views at the lake are out of a postcard.
It is such a well-maintained trail (please keep it that way!) with a clear path and you will have no problem staying on track. This is easily in my Top 3 favorite Colorado hikes. And if you are in the area, make sure you have time to accomplish it!
Quick Facts: Timberline Lake Trail
Location: Leadville, Colorado
Miles: 5.5 miles. (4.0 is you don't hike around the lake.)
Type: Out & Back.
Elevation Start: 10,033 ft.
Total Elevation Gain: 905 ft.
Time: Roughly 3 hours. Plus, some time at the lake.
Challenge: Moderate.
Popularity: Very.
RATING: 5 Stars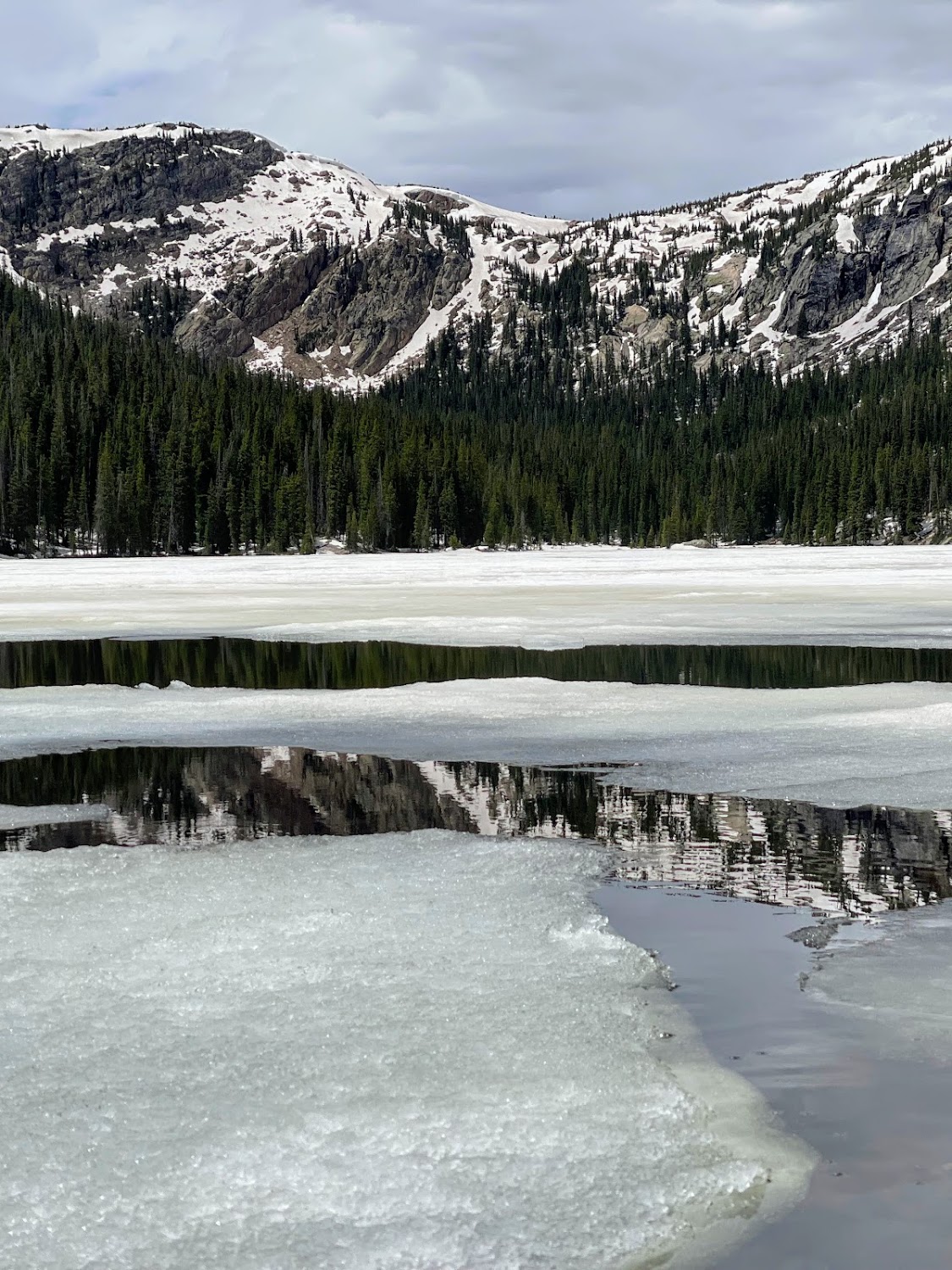 What are you going to see on the Timberline Lake Trail Hike?
Timberline Hike Trail is a gorgeous hike from the first step to the last. The river and creeks are running along all sides of you giving you both beautiful views and even better sounds. The wetlands and creek crossings are full of rocks and overhanging trees—which to cross is an adventure in itself. There are a few open spaces. And, of course…
Huge MOUNTAINS hug the lake for incredible views.
To the point where it doesn't seem real. It also feels as if you visit multiple seasons in a 5-mile span!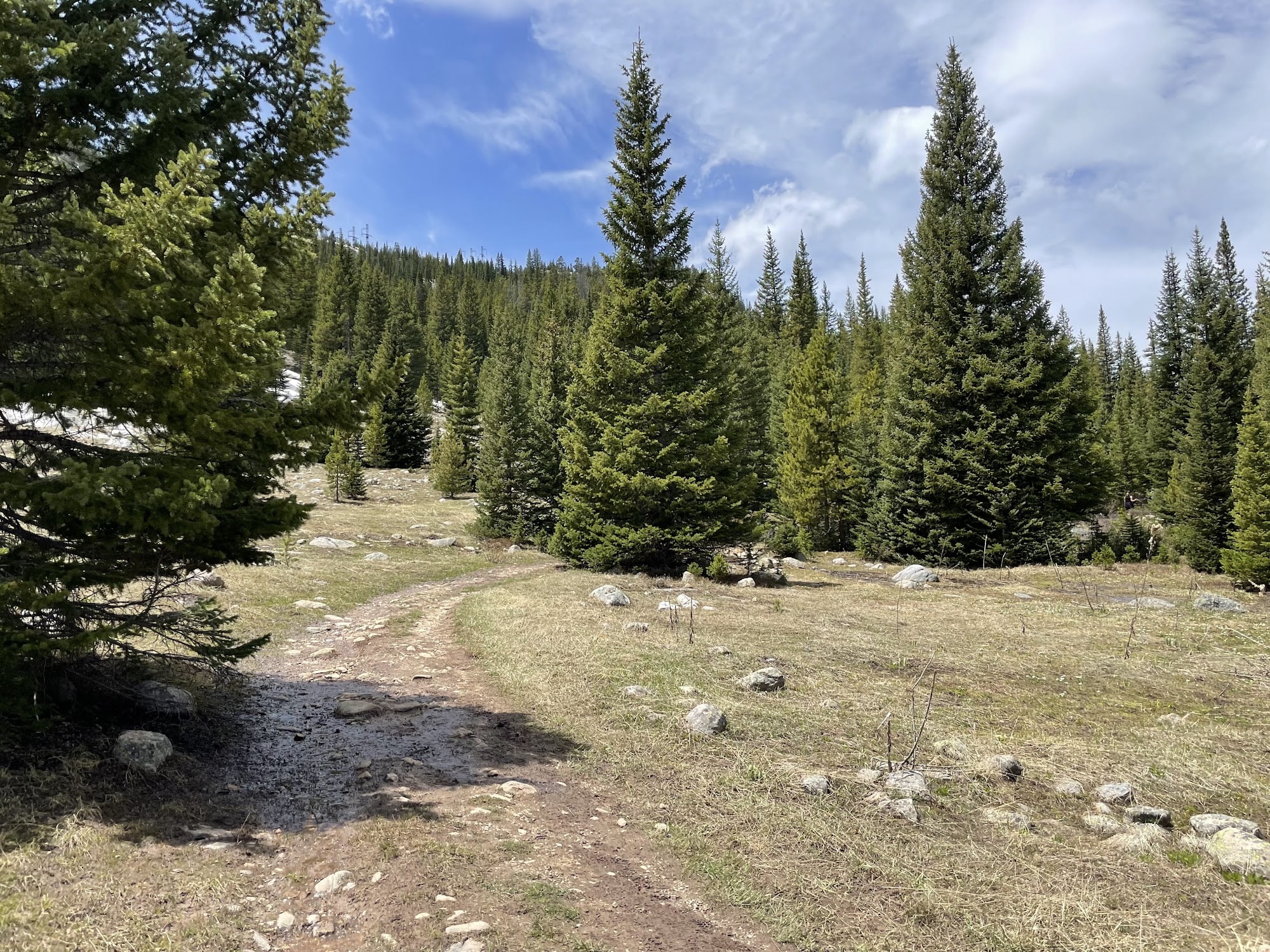 Who Should Hike Timberline Lake Trail?
It is a moderate-challenging hike with some steep inclines. The beginning, as you weave through the forest, is fairly easy incline-wise, but the last .5-mile to the lake is a bit of a challenge where you'll be sucking air!
You also need to be willing to get wet! There are two spots, back-to-back, where you wade through the creek in order to cross over to the trail. Of course, how deep it depends on the season. In the spring (highest), we went up to mid-shin at times with most of it just above the ankle. Obviously, you're stepping on rocks, and it's COLD. But, fun 🙂 Note, the hike up to this point is beautiful in itself if you'd like to turn around here.
This Hike is a little bit of everything!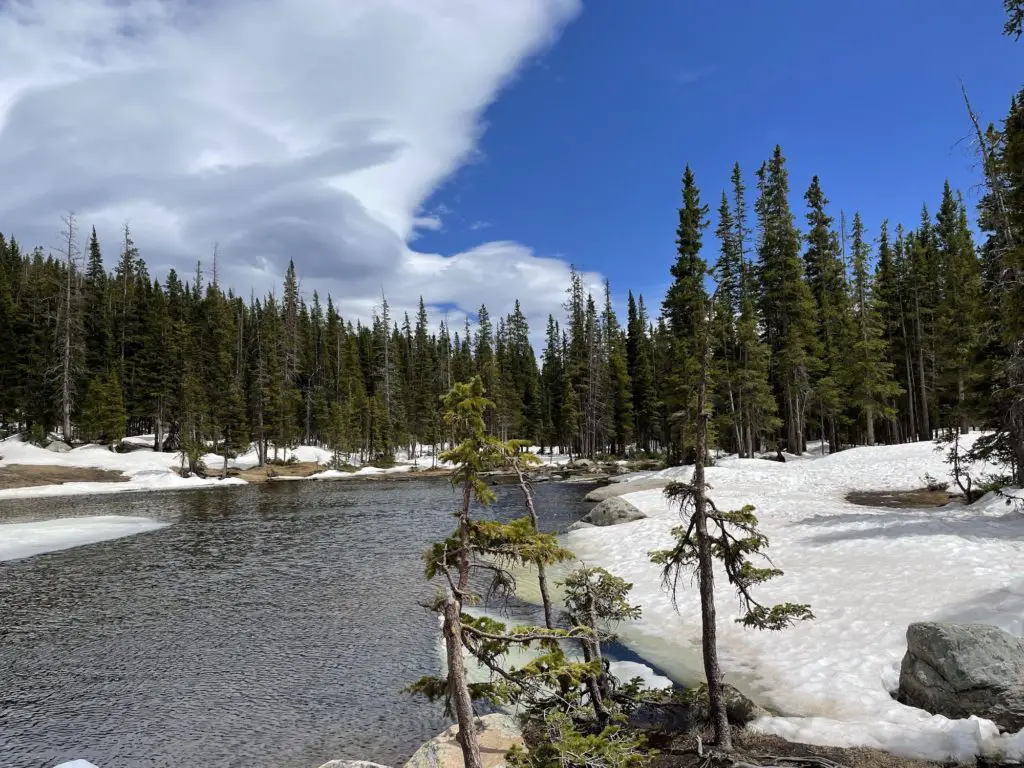 It is also worth noting that you need to be adjusted to the altitude. The trail STARTS at over 10,000 feet. And it only goes up from there. Do not attempt this hike on your first or second day visiting if you're not used to the elevation.
How to Get There
As far as location, Leadville, Colorado is a small mountain town nestled in amongst Vail (45 minutes), and Buena Vista (35 minutes). This makes it easy to pair Leadville with a bigger, tourist-heavy town. And I highly recommend it being a part of your trip. Read about The 25+ Best Things to Do in Leadville.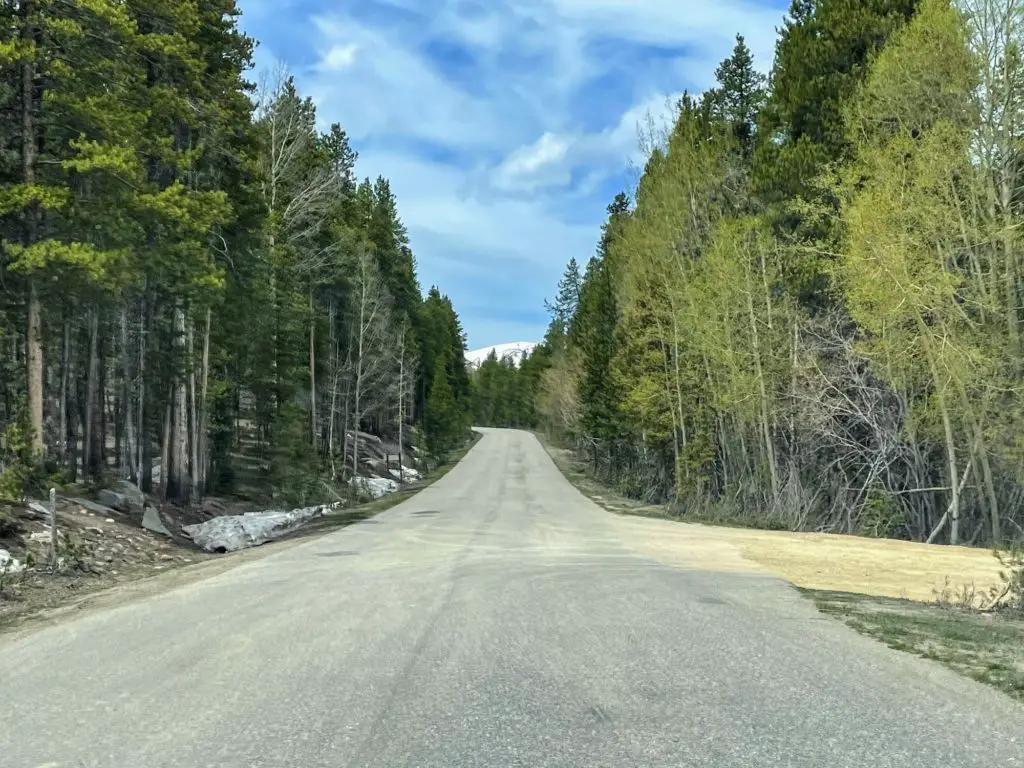 From Colorado Springs (it's About 2.5 hours)
The journey from Colorado Springs to Leadville, Colorado is a beautiful one through the mountains. Most of your drive is along US-24 W through Woodland Park and Buena Vista. Near the Leadville-Lake County airport, take a left on Rd 5, another on County Rd 4 and follow Turquoise Lake Rd to Forest Rd 104E.
From Denver (It's About 2 Hours)
The drive from Denver follows I-70 W through Idaho Springs and Silverthorne. When you hit Copper Mountain, hop on CO-91 S at Exit 175. From there, it's County Rd 4 to Forest Rd 104E.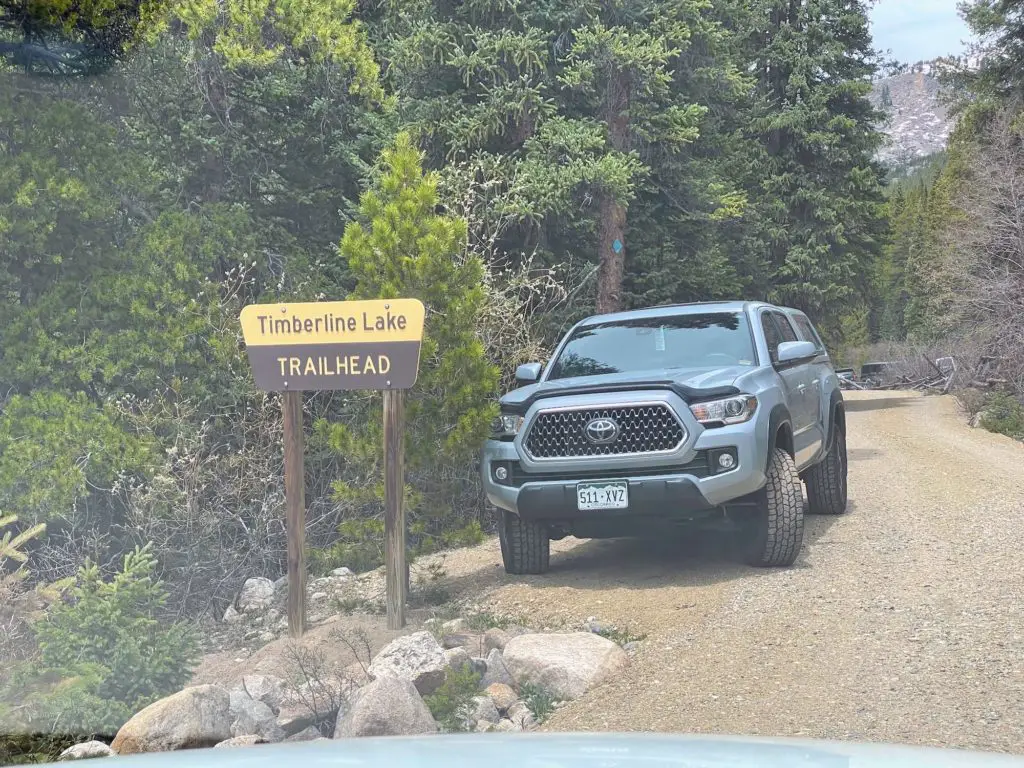 Timberline Lake Trail Parking Lot
The Timberline Lake Trailhead and parking lot are on the western end of Turquoise Lake. You'll run right into the sign and take a left. It is a good-size parking lot but keep in mind that this is the most popular hike in the area. Get here early (by 8 AM) or else around 12 PM-1 PM when others are leaving.
We noticed groups of people hanging out after their hike drinking beers, enjoying food, and having fun so feel free to extend your day and do the same. (Don't forget to clean up!)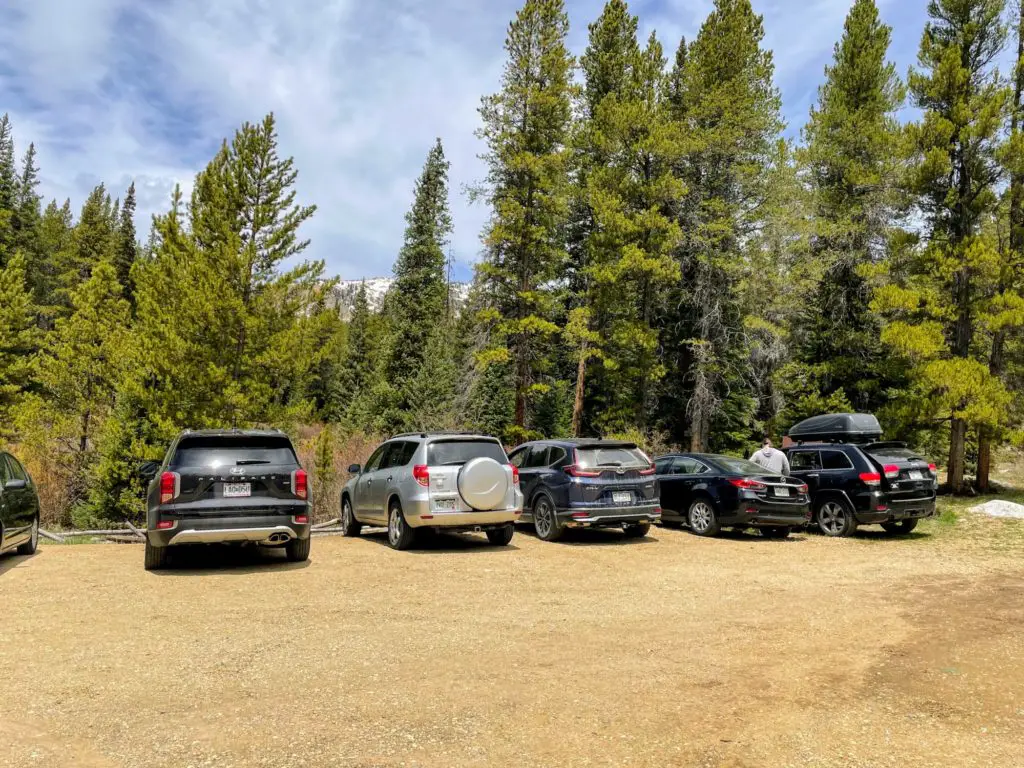 Timberline Lake Trail Hike
All right, time to hit the trails. You will see the trailhead right when you enter the parking lot and after only a short distance, the views begin! A bridge across the river with rushing sounds of water. From here, the rocky trail is very wooded, secluded, and immersed in nature.
The trail runs parallel to Lake Fork Creek and enters the Holy Cross Wilderness Area at .5 miles. Here, the Colorado Trail turns into Timberline Lake Trail.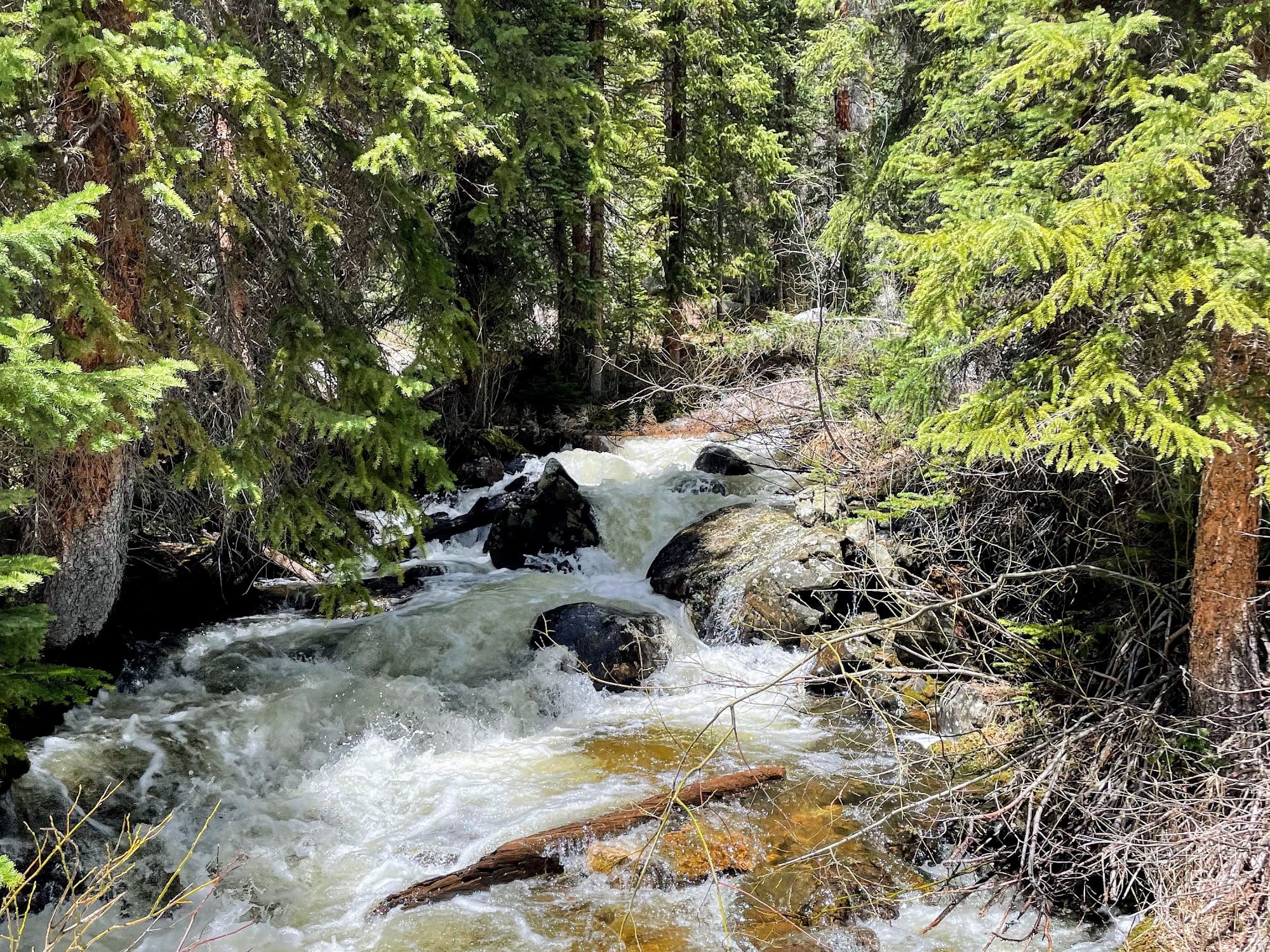 As you make your way along the river, at just under 1.5 miles or so, you will see where it's required to take your shoes and socks off and go through the water! You'll complete a short stretch, hit the trail again, and then have one more crossing that's a bit longer with stronger currents. After that, dry your feet and keep on trucking.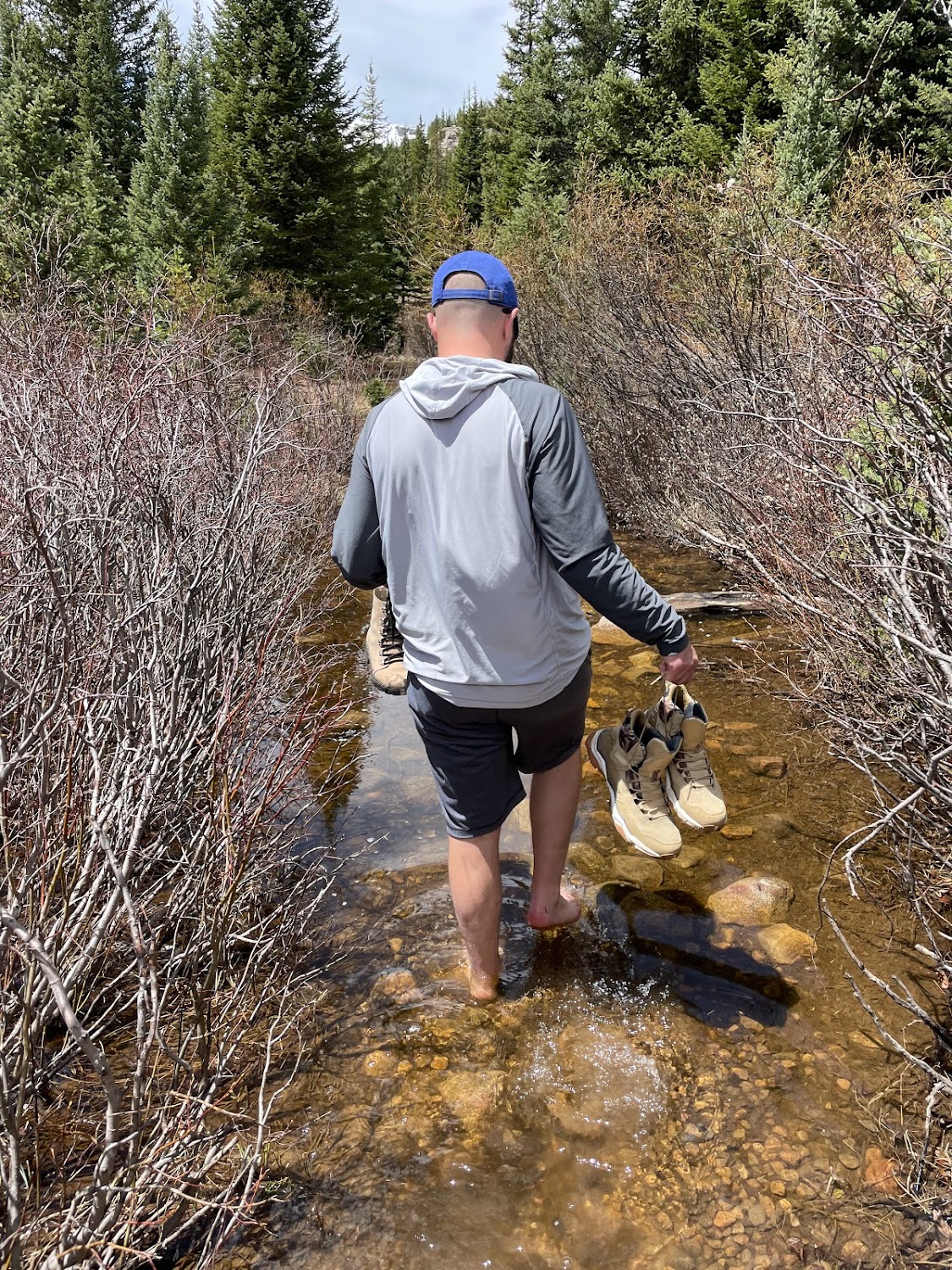 There will be another river crossing, but luckily this time there is a huge laid-down tree you can walk across. And right after this was one of my favorite views. (Next photo down.)
Now things get a little more difficult, incline-wise. But don't worry, you're getting SO CLOSE! Take your time and keep climbing for another half mile—it's worth it. When we were here during the springtime (after a massive snowstorm) we walked through quite a bit of deep snow, as well.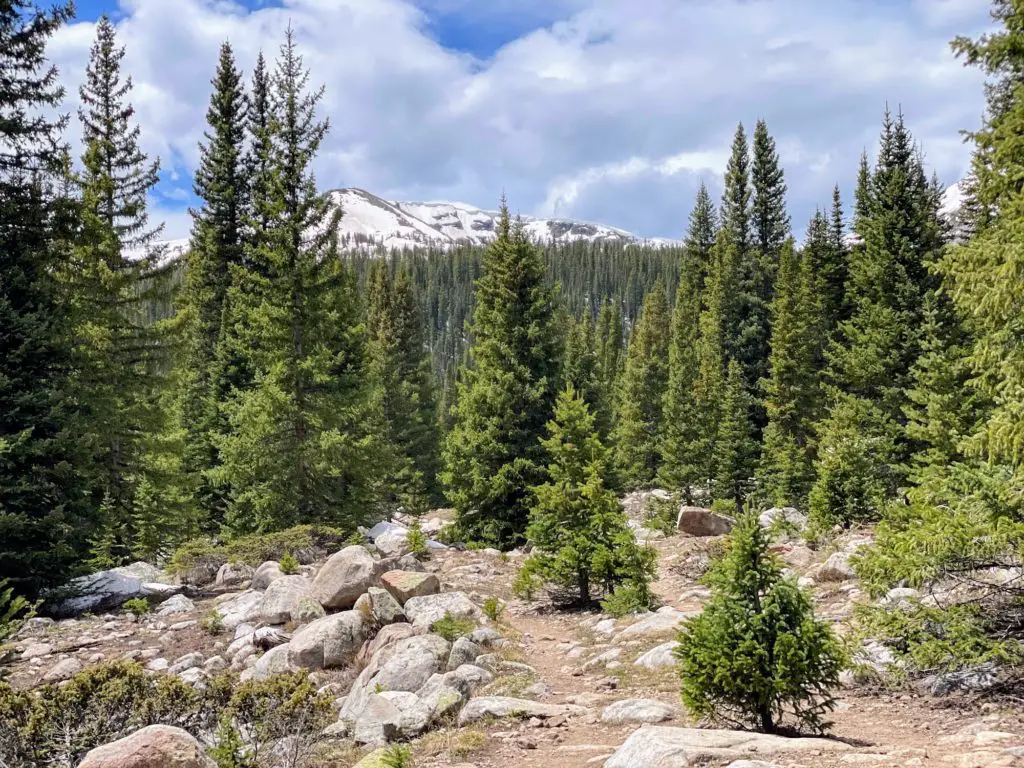 Once you make it to the lake, admire the views! You can walk around the whole lake, if you'd like, or just find a rock to sit on and have a snack, swim, and take it all in.
It's an out and back so once you are ready to leave the lake (you won't want to), just travel the same way you came. Luckily, you get to go down 🙂 (And unluckily, there are those pesky creek crossings to tackle again.)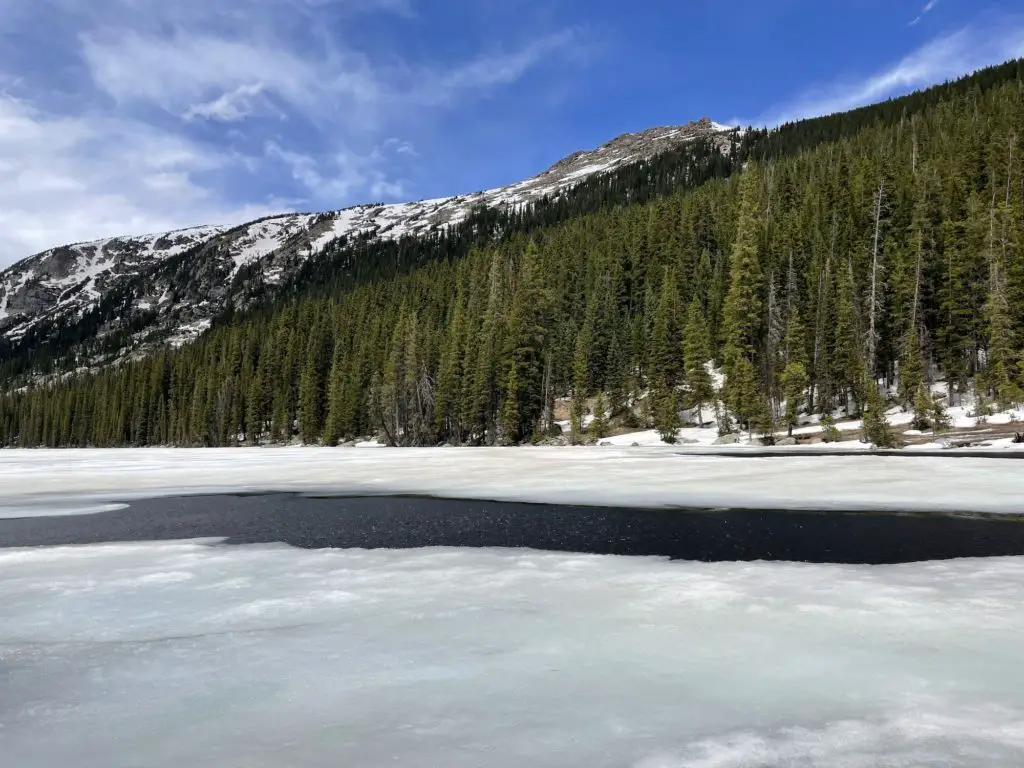 This hike really is one that puts you on a high! It's an adventure to reach the lake, but a great accomplishment that is certainly a reward.
Preparation + What to Bring
Wear Sunscreen. Even in the winter! You'll get a lot of sun throughout. (Don't Forget Your Lips!)
Hiking Shoes. You'll want quality hiking shoes or boots any time of year. The trail is rocky.
Water: We each had 28 oz. which was sufficient. BONUS: Fill it with electrolytes for extra energy.
Snacks: Anything you want to refuel with once you reach the lake.
Light Towel: If you want to swim. And nice to have when you need to dry your feet.
Backpack: I carried my backpack to shed layers (more on clothes below), plus hold water, and snacks.
Phone: You won't have service so keep it in airplane mode to preserve battery while taking plenty of photos!
Money. Which you won't need unless you need a beer afterward! 🙂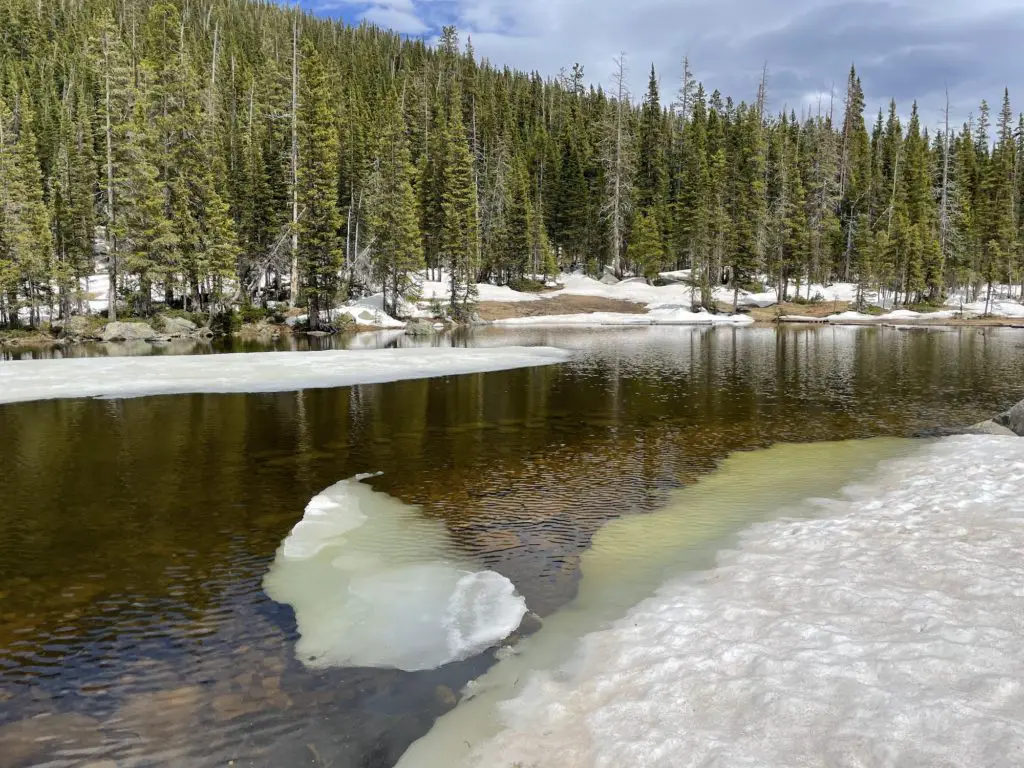 What to Wear
As always, layers will benefit you. At nearly 1,000 ft. elevation gain, you will get a variety of temperatures. Most of the hike is directly in the sun so that take into consideration as well.
During a Memorial Day weekend hike, I had on a sweatshirt (which was quickly removed), t-shirt, and leggings. Once you reach the lake and aren't moving, a little chill may set in just because you are at 10,938 feet, so be prepared for that.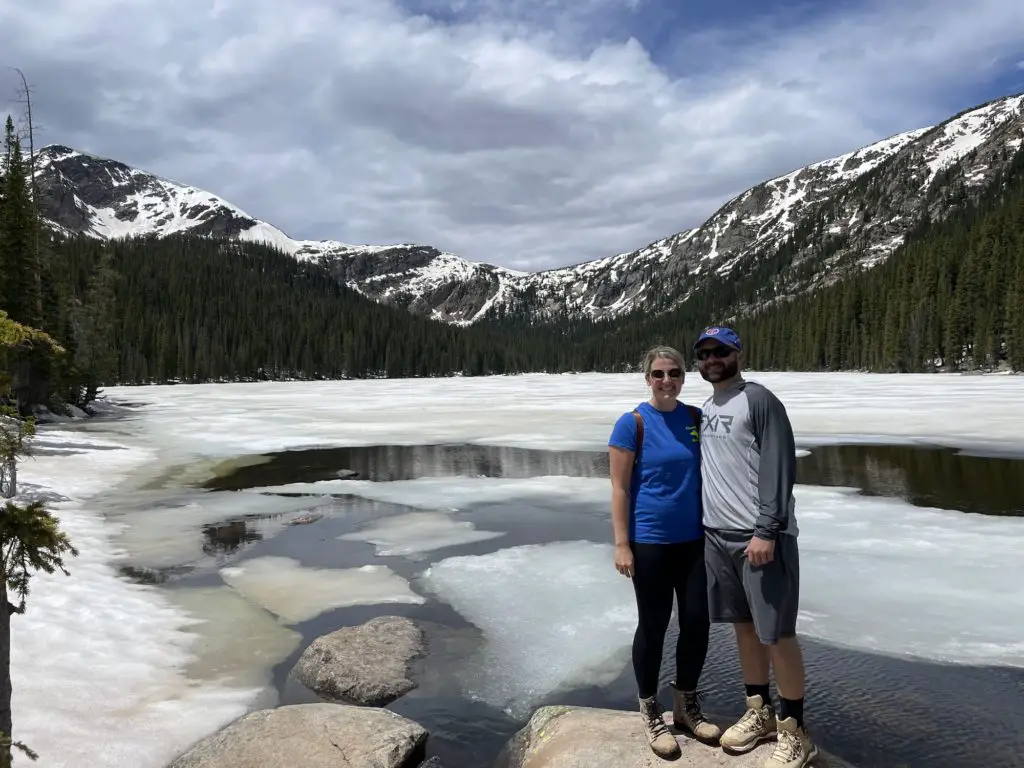 After You Hike Timberline Lake Trail
You'll be ready for a cold one! And probably a good meal. You're in luck because downtown Leadville, Colorado is one of the most fun places to be and they have a variety of options. (And you will be in the highest city in America!) Here are your best options:
High Mountain Pies: Great pizza but you will want to call ahead—as soon as you reach service. This place is small and gets busy! But once you place an order, enjoy a spot on their outdoor patio or walk around the town.
Silver Dollar Saloon: Established in 1879! Stop in here for a fun, dive bar vibe with pool, shuffleboard, plenty of drinks, and a food menu.
Treeline Kitchen: If you want a sure-fire delicious meal with local ingredients and a trendy vibe, head here.
Make sure you read The 25+ Things to Do in Leadville, Colorado for more fun ideas!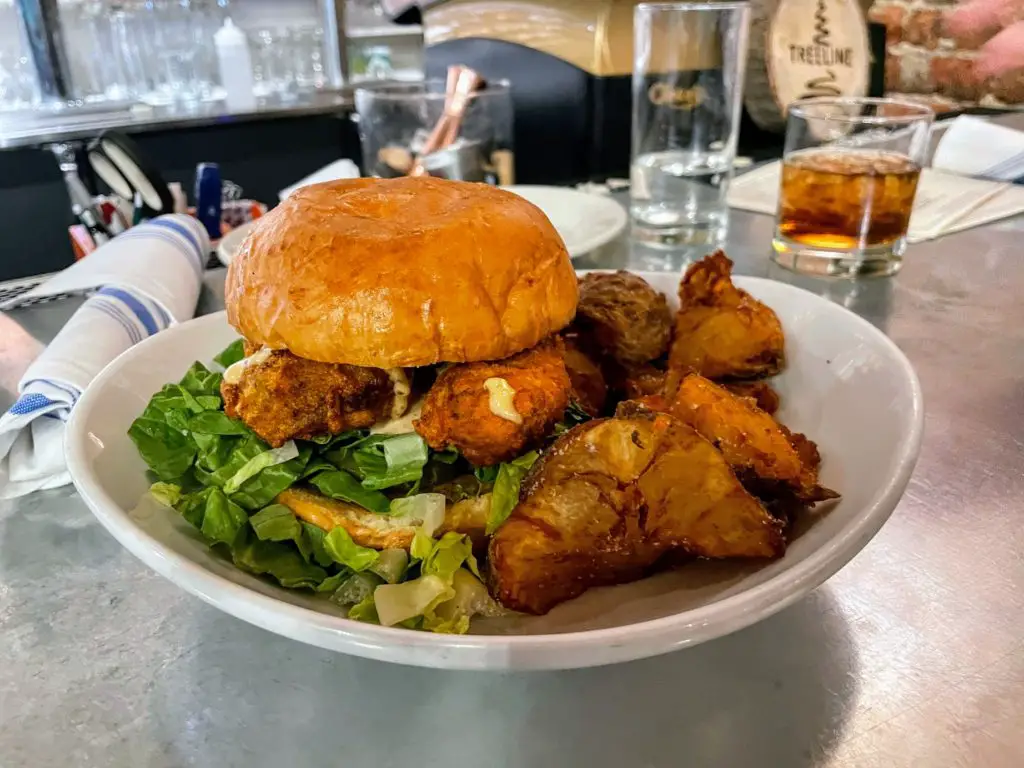 Timberline Lake Trail Hiking Guide
I can't say enough about Timberline Lake Trail. It's a total experience and hike you won't forget! File it under "Classic Colorado hiking," and enjoy it.
Did this post help you out? Support the work and pass along $5 for a Coors Light 😉 VENMO: @Amber-LBB or PAYPAL: amber@littlebluebackpack.com. THANK YOU.