There are some days you need an easy trail with a minimal challenge that still comes with incredible mountain views. The combination of Ring the Peak & Limber Pines Trail, located within the Catamount Recreation Area near Woodland Park, Colorado, is just that! Get out into the sun and enjoy the quiet deep forests. Plus…
Pikes Peak SHOWS off as she always does!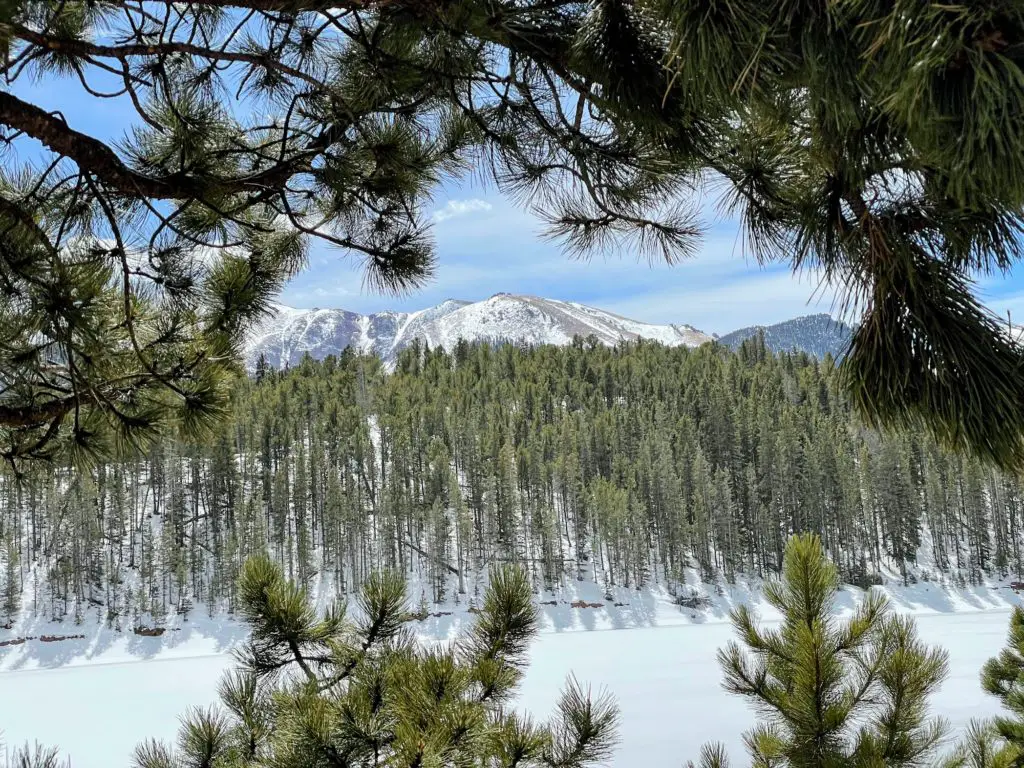 Quick Facts: Ring the Peak + Limber Pines Trail
Location: Woodland Park, Colorado (Teller County)
Miles: 2.8 miles.
Elevation Gain: 393 ft.
Time: 1-1.5 hours
Type: Loop
Challenge: Easy
Popularity: Moderate
What are you going to see on Ring the Peak + Limber Pines Trail?
Ring the Peak and Limber Pines Trail offer incredible views of Pikes Peak during the majority of your hike. In addition, you'll also follow the path down to the North Catamount Reservoir where you will take in views of the water (and/or ice!) along the dirt road.
(The first and last third of your hike will be through the forest surrounded by aspen and pine. And while you're along the bottom is when you will walk the dirt road in more open surroundings.)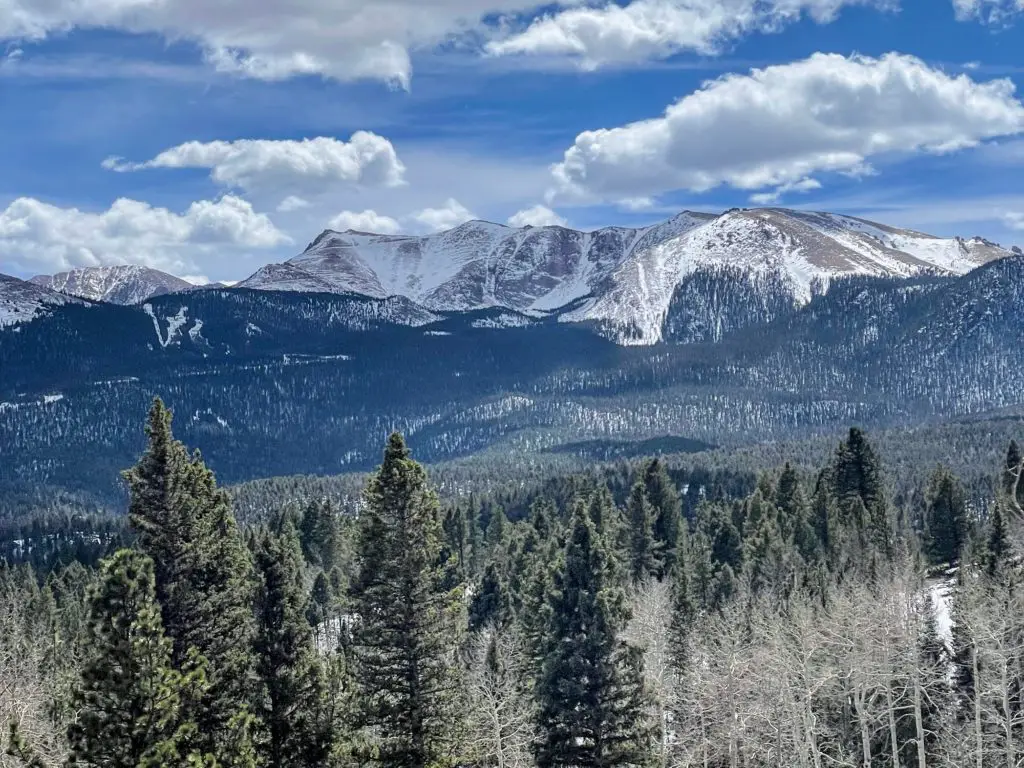 Who Should Hike Ring the Peak + Limber Pines Trail?
Nearly everyone is capable of this 2.8-mile loop. You have a short .2-mile ascent to start, followed by a leveled-off portion that eventually goes down. That said, what goes down must come up! The toughest part of the trail is making your way back but take it easy and you will be just fine!
Ring the Peak + Limber Pines Trail is perfect for beginners and those still getting acclimated to the elevation levels. I also recommend it on a day you want to get out there and hike but feel like you don't have the energy. I did this on a day after a few toooo many beers and it was perfect to still get outside but keep it relatively easy lol.
How to Get There
From Colorado Springs (it's only about 35 minutes!)
The Ring the Peak and Limber Pines Trail hike is only a short distance away from Colorado Springs. To get there, hop on US-24 which you will take through downtown Woodland Park. Shortly after passing the hospital, take a left on Edlowe Rd. which you will take for 3.4 miles until the end.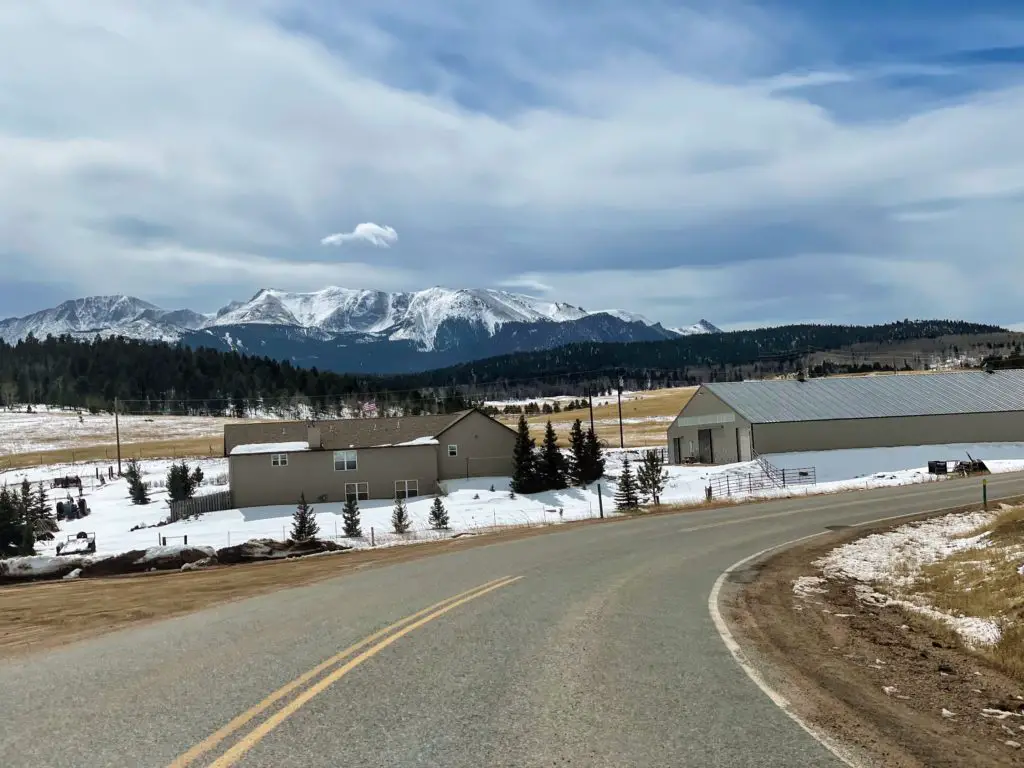 Less than half a mile from the parking lot you will see the "Catamount Use Parking Area" sign and eventually come upon the small parking lot to the left. The lot fits 10-12 vehicles so (as with any hike) the earlier the better when it comes to your arrival, though this is not a requirement.
You are safe to park on the road outside the parking area as well where you'll see the white car in the right image below.
NOTE: In the wintertime, the parking lot is full of snow and if you're driving a car, just park right on the street to start. (May or may not have learned that the hard way after getting stuck! Lol.)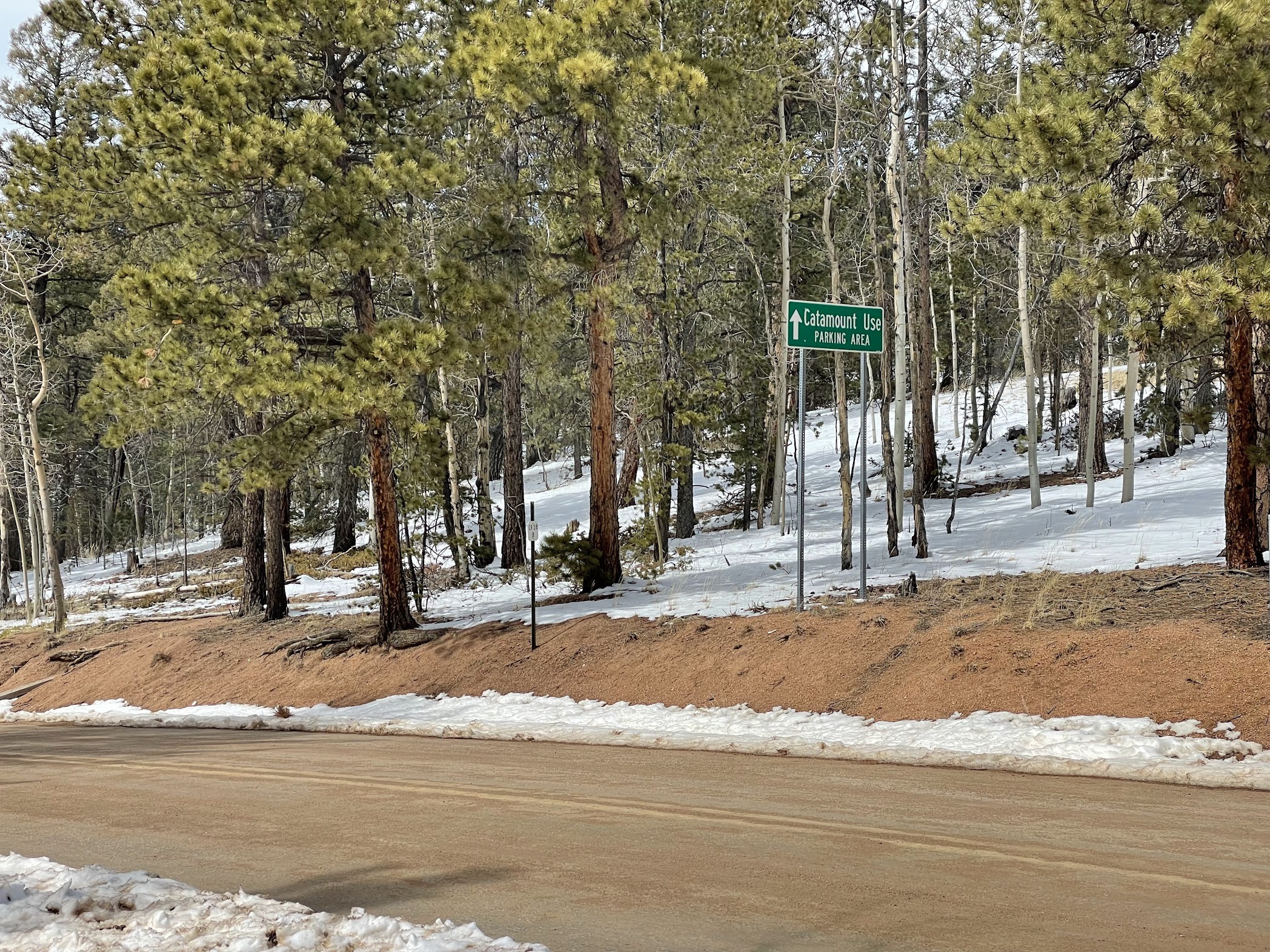 Ring the Peak + Limber Pines Trail Hike
Time to hike! You'll see the trail map and a bathroom at the trailhead. The first time on this trail I was a bit confused because the two trails listed at the trailhead are Elder Fehn and Vayhinger Trail without a mention of Ring the Peak and Limber Pines Trail (left pic).
Not to worry though, start trekking up in the only direction you can. Once you get to the top in less than a quarter-mile, you'll notice a gate and the post with two arrows pointing you in the right direction. You can go left or right here since it's a loop.
This guide keeps right and counterclockwise.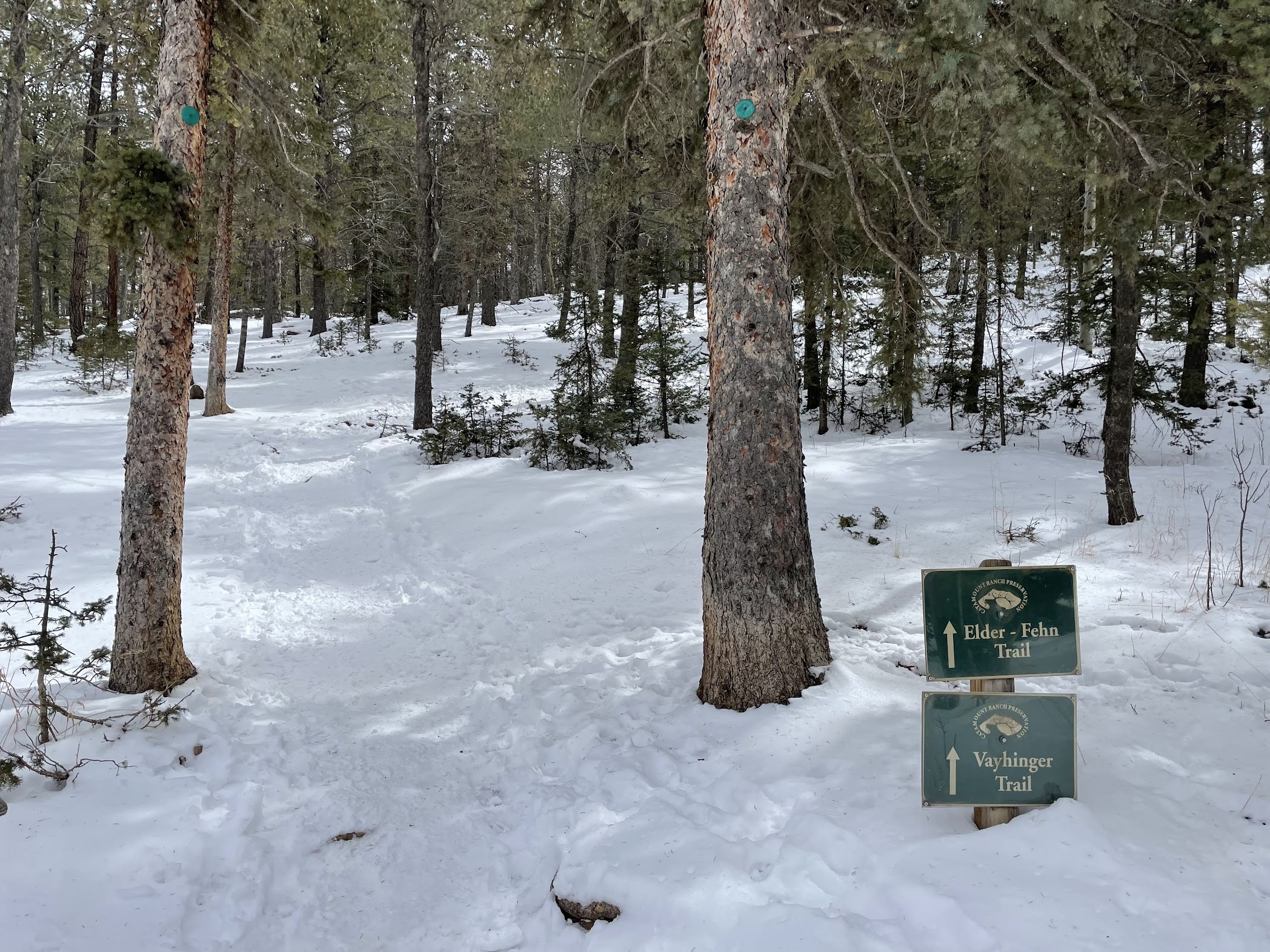 Follow the trail and it won't be long until you're taking in your first incredible view of Pikes Peak. Take a breath and grab some cool photos.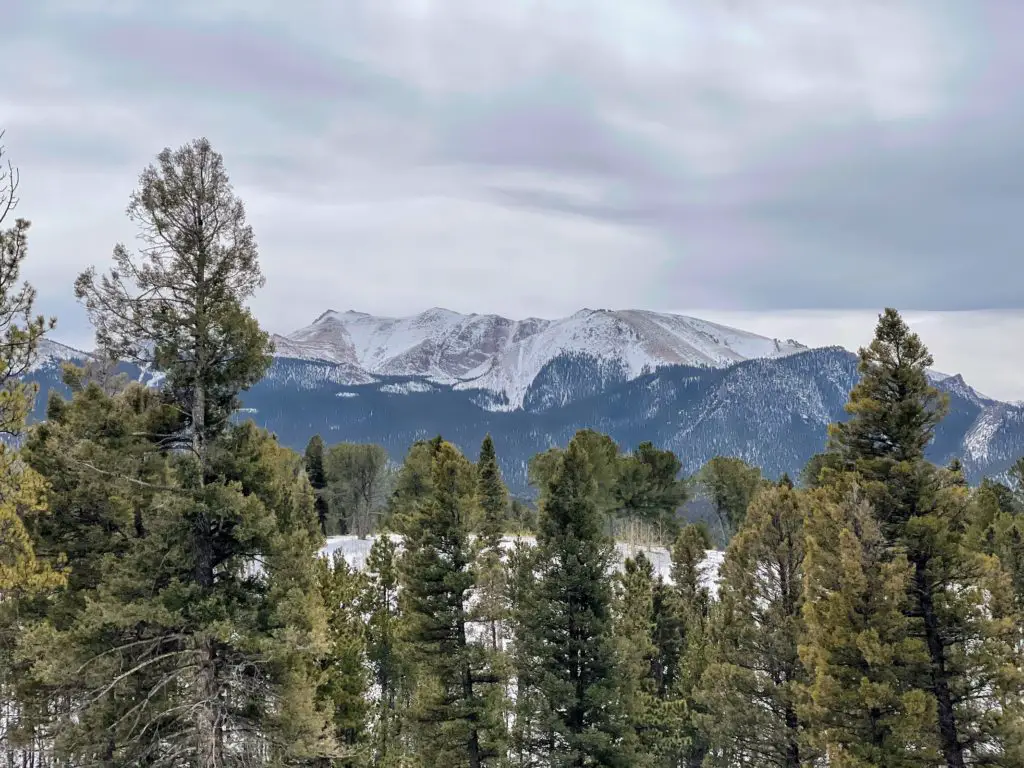 Afterward, follow the trail (which you will have no trouble staying on) and weave around the forest. Eventually, you will reach a decline and another spot where Pikes Peak is going to be showing off her beauty.
Once you get to the bottom of the slope, you will hit both Mile 1 and the dirt road that leads to the reservoir. Here, take a left.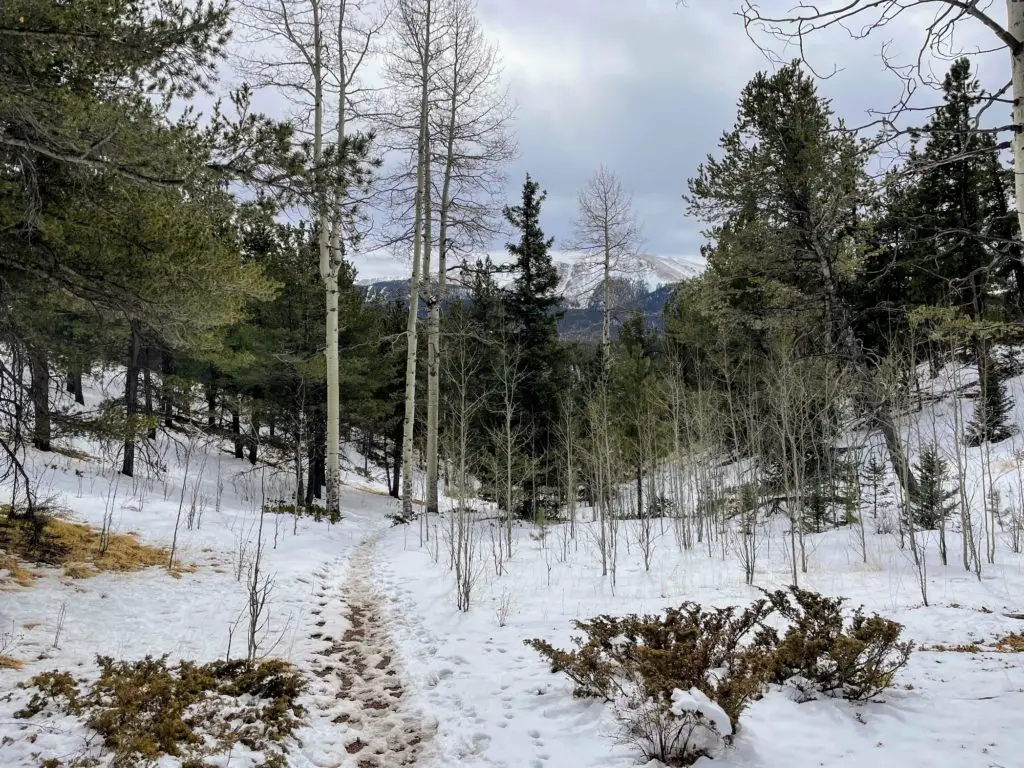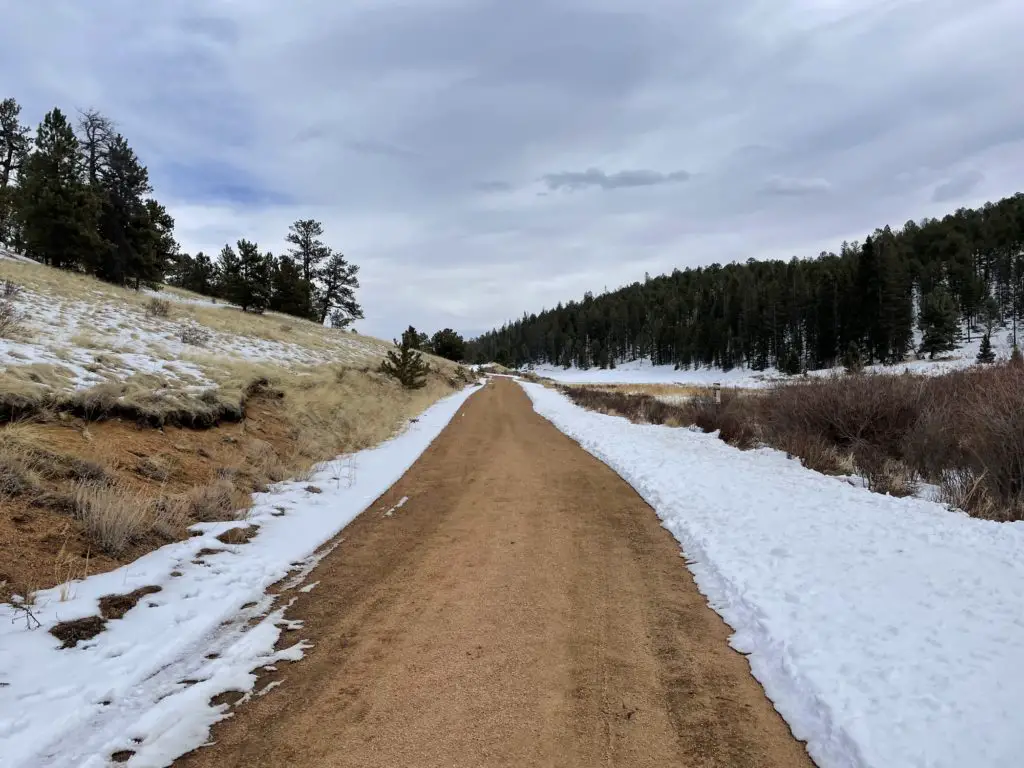 After that, your next half-mile is completely flat. Walk along the dirt road and take in views of the reservoir, pine trees, and mountain backdrop. It doesn't get any easier than this part of the hike! And if you're here in the summertime, somewhere along this stretch is a perfect place to enjoy a picnic lunch or just spend some time hanging out.
TIP: If you are getting warm, shed a layer because you are about to start going up.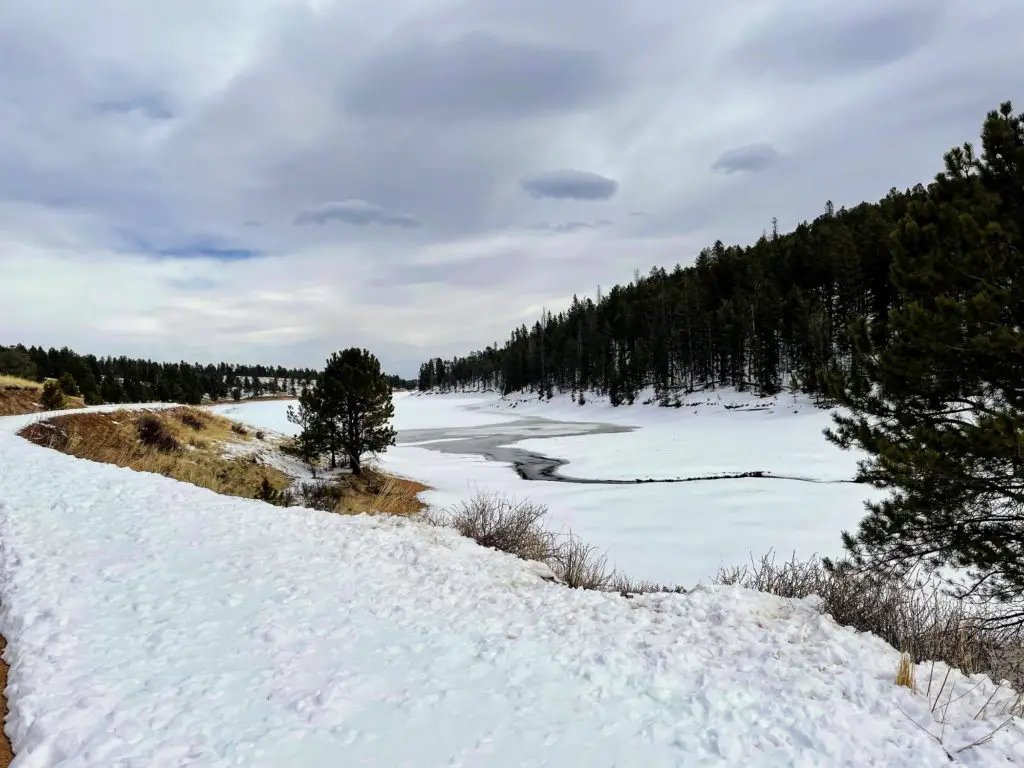 The dirt road will naturally lead you in the right direction (no turns) and start to incline. You will hit a couple of switchbacks in this section and it's the toughest part of the hike. If you're an avid hiker, you will have no trouble at all—it gains less than 400 feet.
If you're a beginner, do not worry. Take your time! And don't forget to turn around and catch mountain views 🙂 In other words, this is the perfect beginner challenge. Next…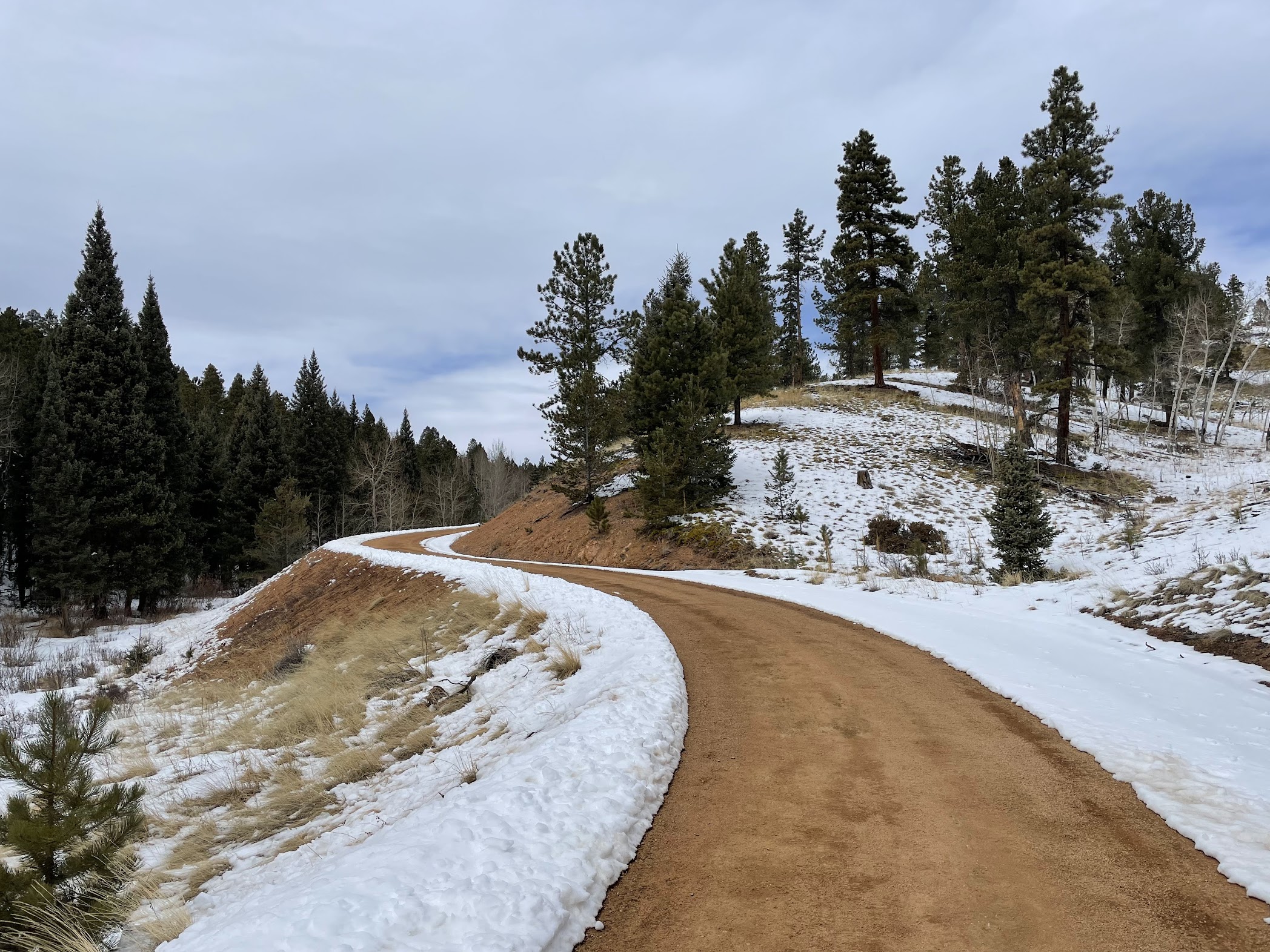 After a half-mile, gradual incline you'll complete your final switchback and come up on the Limber Pines Trail sign. You will take a left and hop on for the final .8 mile stretch. This will bring you back into the aspens, pines, and official hiking trail vs. the dirt road.
While you will see a minimal elevation gain after turning on this trail, it flattens out pretty quickly and the rest of your hike is a breeze! Look left for mountains!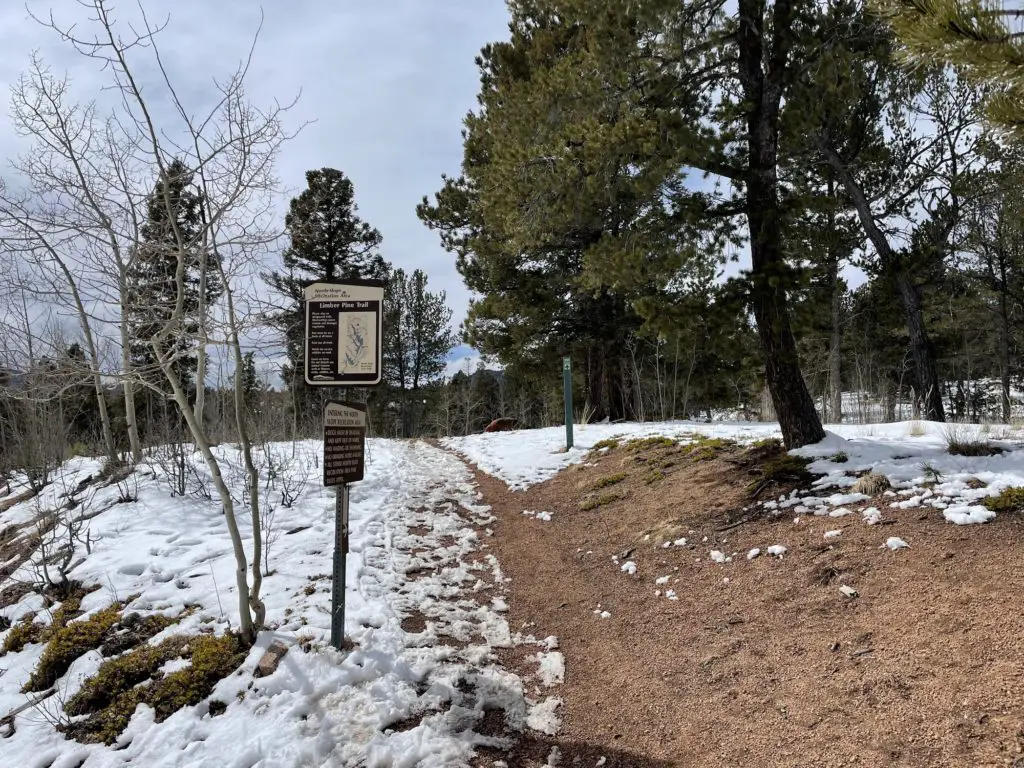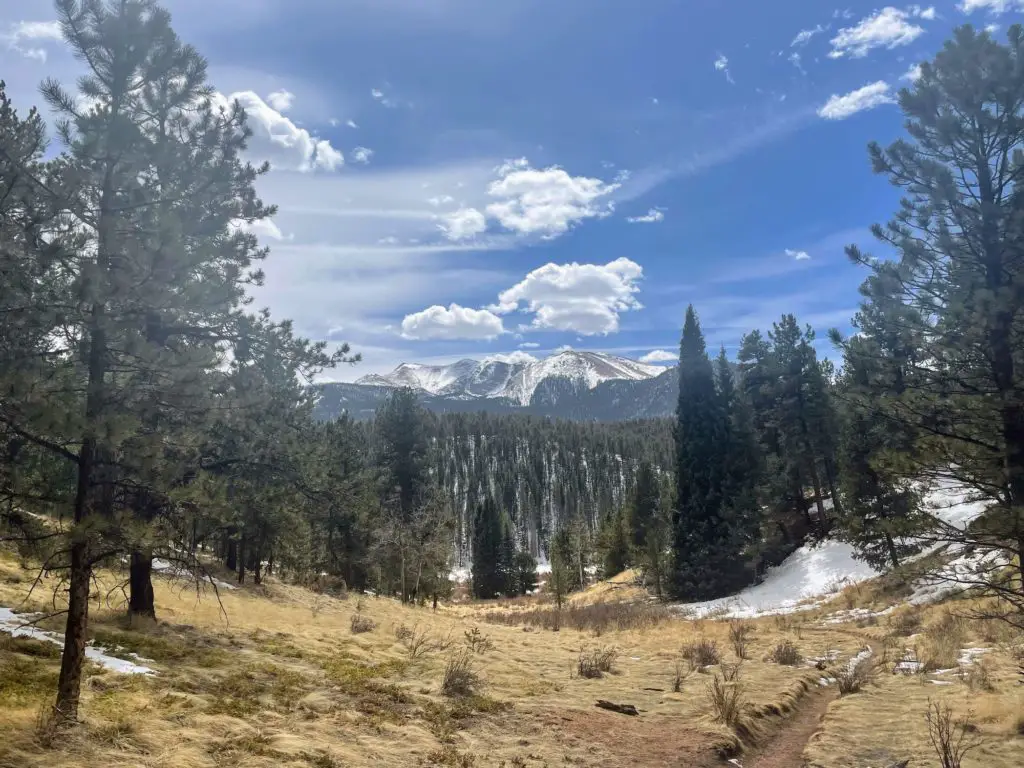 You will end up back at the gate mentioned above and will just need to make your way down the hill and back to the car! Enjoy the bathrooms and a cold beverage.
Preparation + What to Bring
Wear Sunscreen. (Don't Forget Your Lips!)
Hiking Shoes. You'll want quality, spiked shoes, especially in the winter when you're dealing with snow.
Backpack. Something small and light to stash a few things.
WATER! Most importantly, stay hydrated. We had one bottle each and that was plenty. Plus, a beer 😉
Snacks. If you think you'll need it.
Money. Which you won't need unless you want to stop somewhere afterward!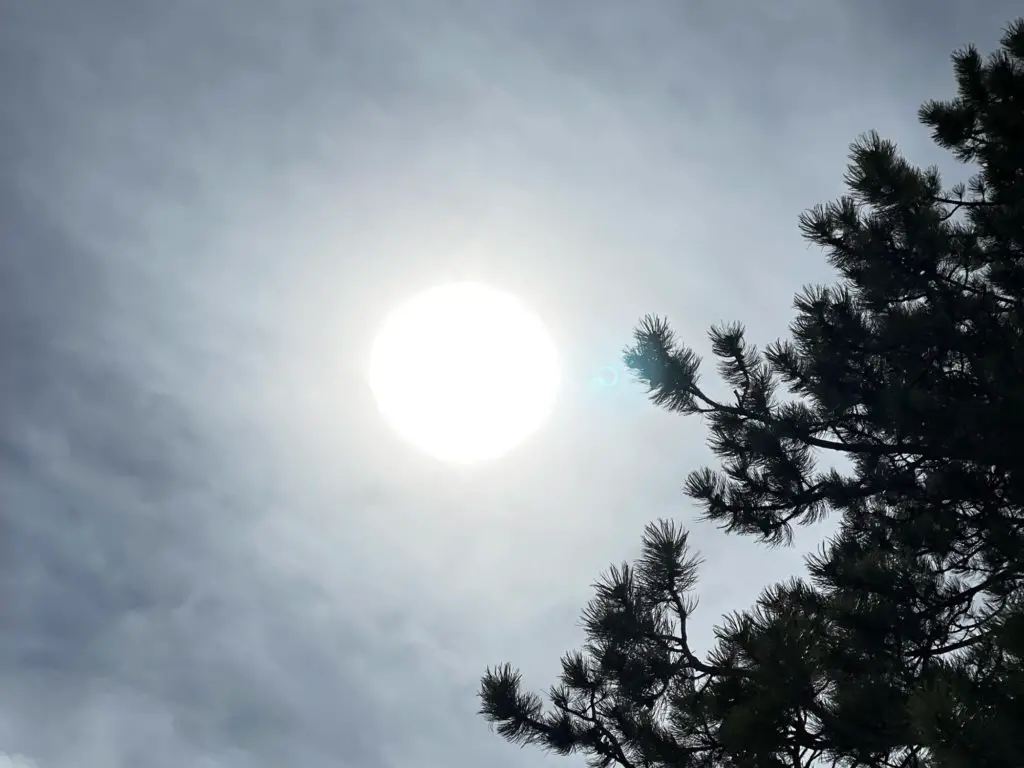 What to Wear
You will want to wear layers on this hike. The beginning is mostly shaded and can be windy. Once you reach the downslope and turn left onto the dirt road, you will likely be directly in the sun and will want to shed some clothes for your incline!
Where to Go After Your Hike
After taking Edlowe Rd. out of Catamount Recreation Area, you will take a right onto Hwy 24 and enter downtown Woodland Park. Depending on what you're looking for, here are some great options post-hike:
Ring the Peak and Limber Pines Trail Hiking Guide
That will do it! Enjoy the hike and being out in nature with plenty of mountain views to go around!
Looking for a Hike That's a Bit Tougher?
Raspberry Mountain is a nearby MUST! Get the full Raspberry Mountain Hiking Guide.