Sedona, Arizona immediately captures your attention. As you drive through on curvy roads and gaze out the window, majestic red rock formations give you a constant, awe-inspiring smile. The massive rocks are so close, like someone hand-scooped out roads through the mountains as you would collecting sand for a castle. Below them, green trees create a beautiful contrast. Your chin always tilts up and to the side, and your foot lessens up on the gas pedal—not just the first time, but every time you pass through. Sedona, Arizona is unlike any other place I have been and I knew it right as I drove in.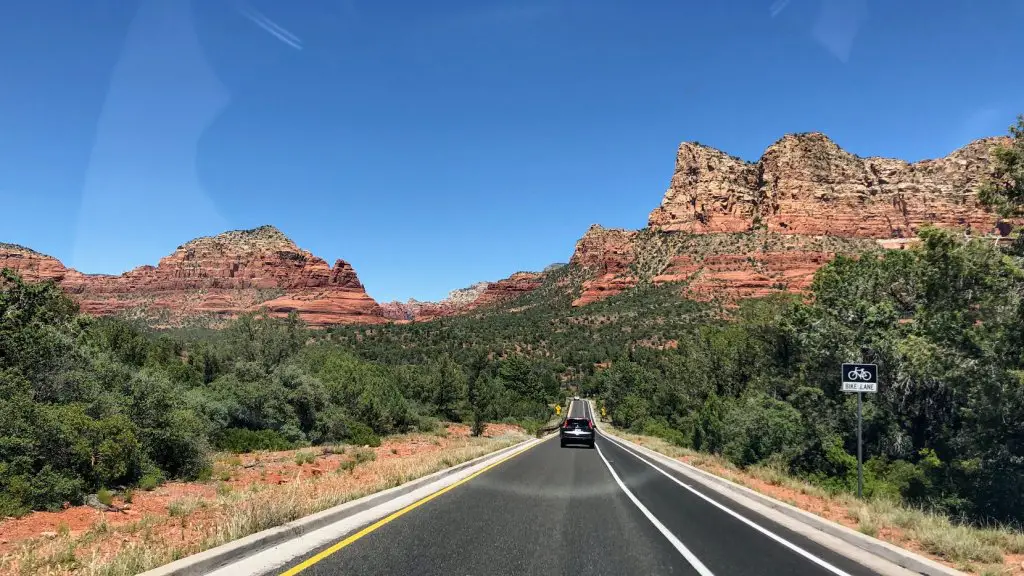 What is Special About Sedona, Arizona?
There is a unique energy in Sedona that is said to be conducive to healing, meditation, and self-exploration. Vortices (plural for vortex) are intersections of electromagnetic fields that radiate energy from the earth's surface and can help one feel recharged and uplifted. It is scientifically proven that feelings are magnified within a vortex. Sounds crazy, right? Well, save your skepticism until you visit. It is close to guaranteed that you will feel happier and lighter upon leaving both an intense vortex site and Sedona in general.
There is more to the enlightening city of Sedona than spiraling energy pockets and spiritual healing. It offers incredible hiking with serene views, a range of delicious food, and shops full of sparkling crystals and hand-made, local art. Sedona is relaxation in its purest form.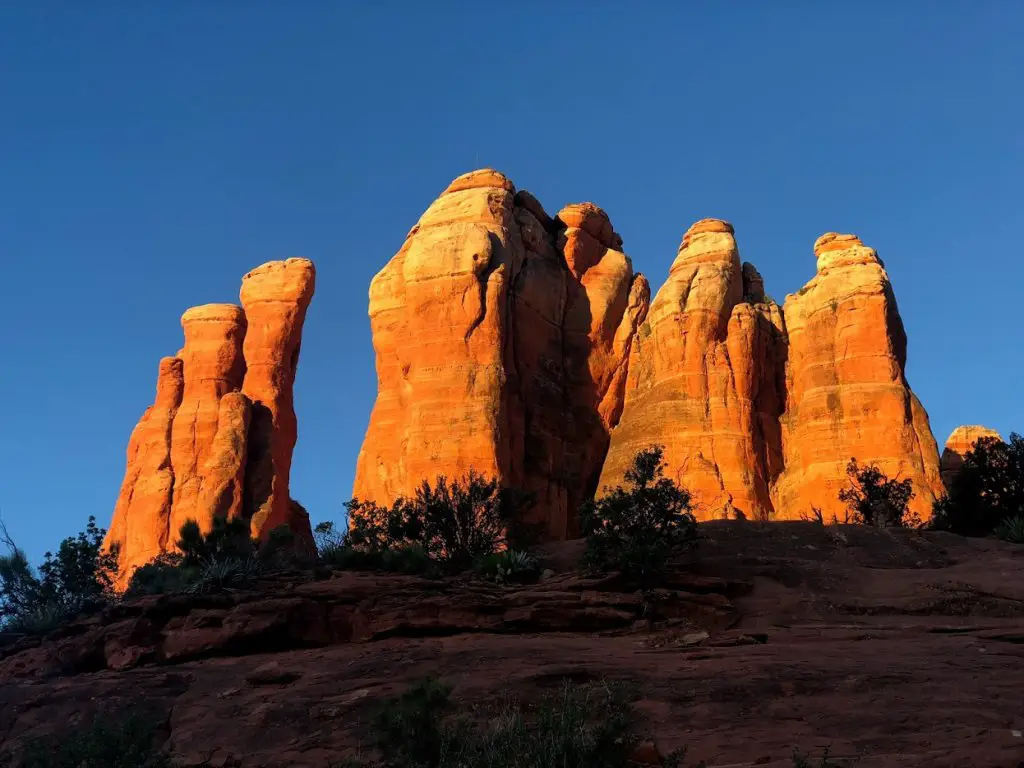 What to Do in Sedona, Arizona
Yoga in the Red Rocks
The best way to start your morning is with Vortex Yoga Hiking in Sedona. Set the tone and your intention of the guided experience at Bell Rock, one of the vortex sites. You'll continue towards the nearby Baby Bell rock for an easy hike up to the top to begin your yoga practice. I cannot imagine a better studio! A rejuvenating experience that kind of feels like a dream.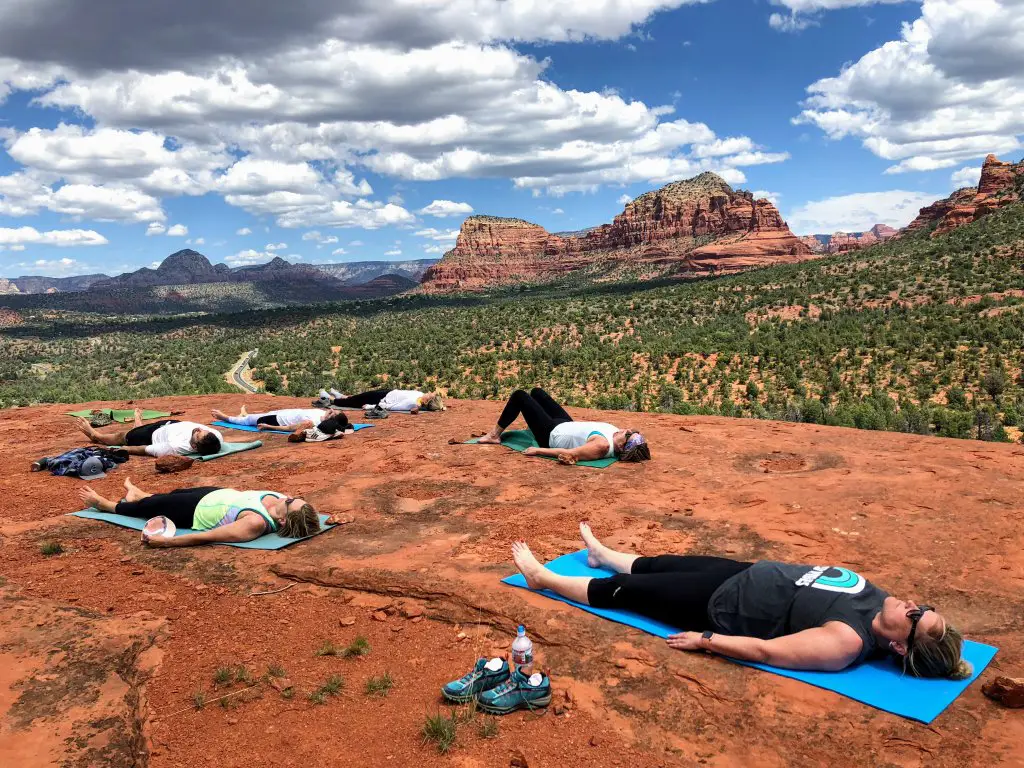 Price: $88 per person + tip for 3.5 hours (half hike/half yoga—includes mat and guide). Worth every single penny. Tip: wear a tank with a layered long sleeve along with yoga pants for the most comfortable experience.
Sedona Hiking Trails
So many red rocks. So many hiking trails. A trip to Sedona is not complete without accomplishing one, or many, of the surreal hikes. There are tons to choose from, ranging from easy to moderate to difficult, and all are worth the time and energy. The views are impeccable, you're immersed in Sedona energy, and it's near impossible to accomplish one and not be ready for the next.
The hikes I have yet to accomplish are what will bring me back.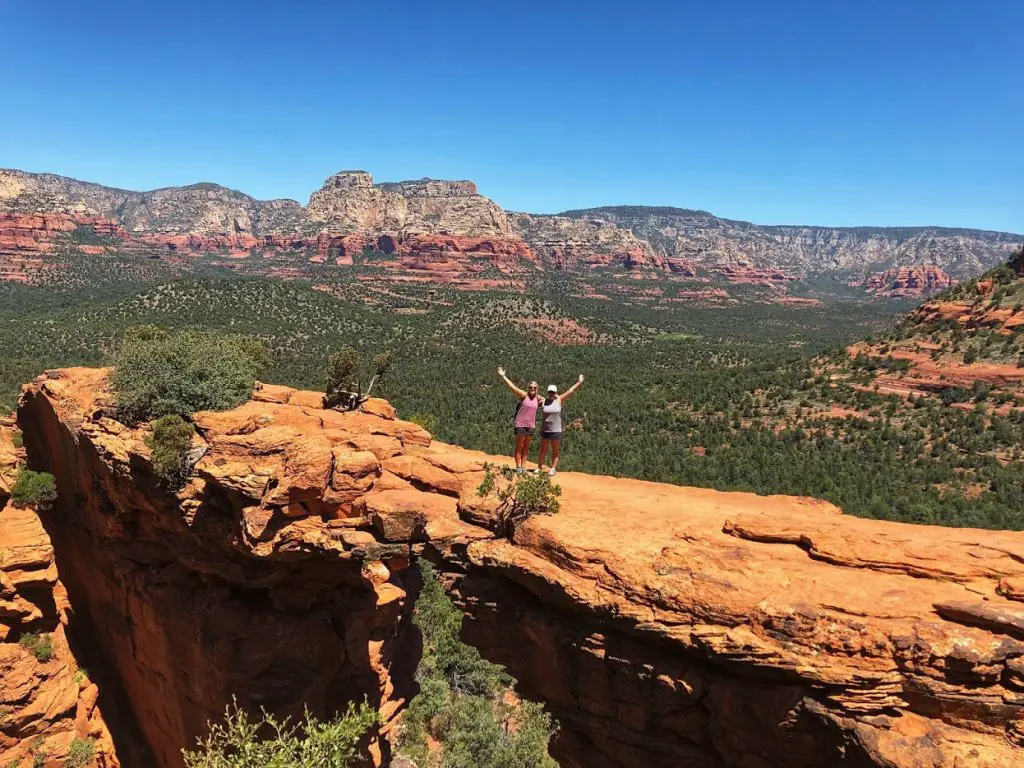 I recommend Devil's Bridge—an easy/moderate hike with a rare photo opportunity (but plan to wait in line), Cathedral Rock—a short though difficult hike up to a famous sandstone landmark, and Bear Mountain—one of the difficult beasts whose trail is tough but well worth a few swear words and sore muscles. I might categorize this as more "mountain climbing" than "hike" though don't let that deter you!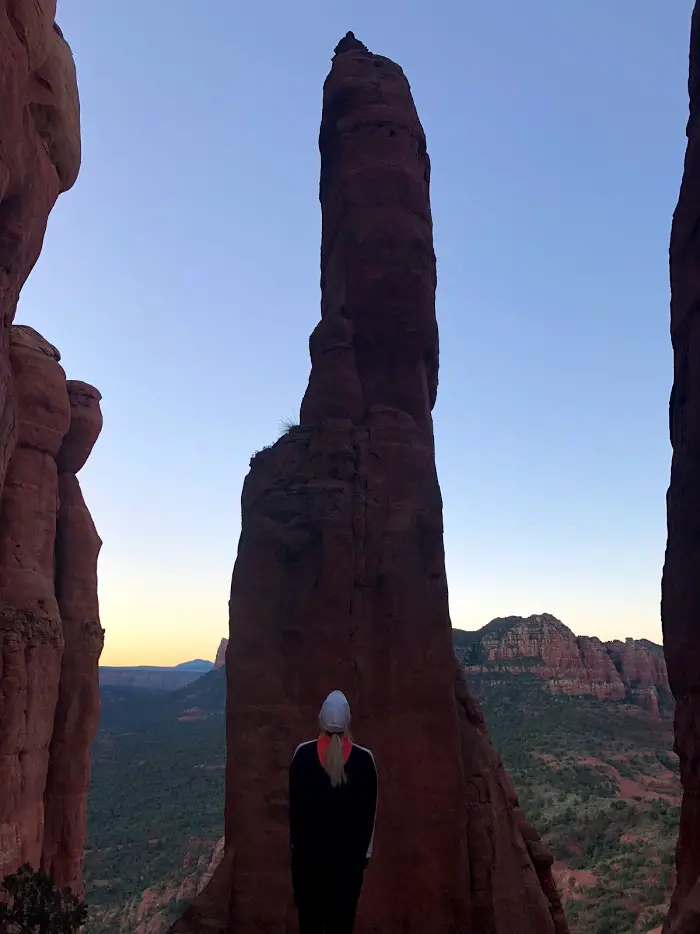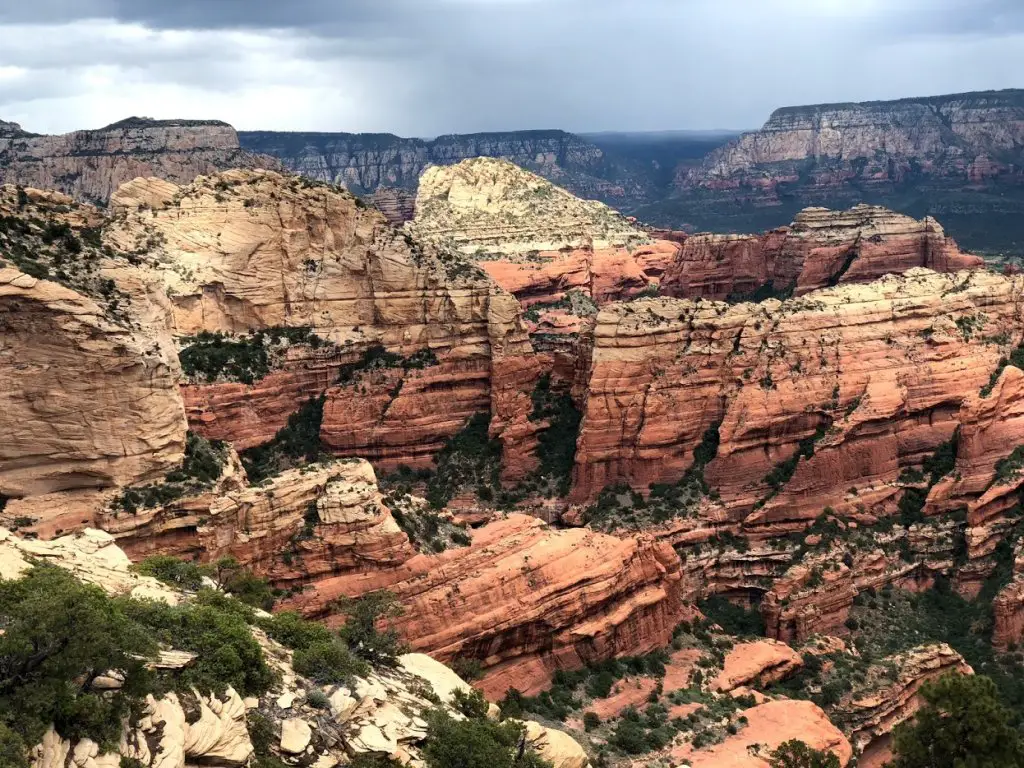 Page Springs Cellars
Head 20 minutes southwest out of Sedona and enjoy an evening at a beautiful vineyard, Page Springs Cellars. You'll sip wine, learn about each pour, and continue your calm and peaceful day at the scenic winery. Choose a wine flight ($11 or $20 options) and a cheese plate to create a picture-perfect happy hour. Though it was expensive, it was worth it for the ambiance and experience—perfect for girls night.
Tip: there is a parking lot and the drive there is complete with, no surprise, beautiful mountain views.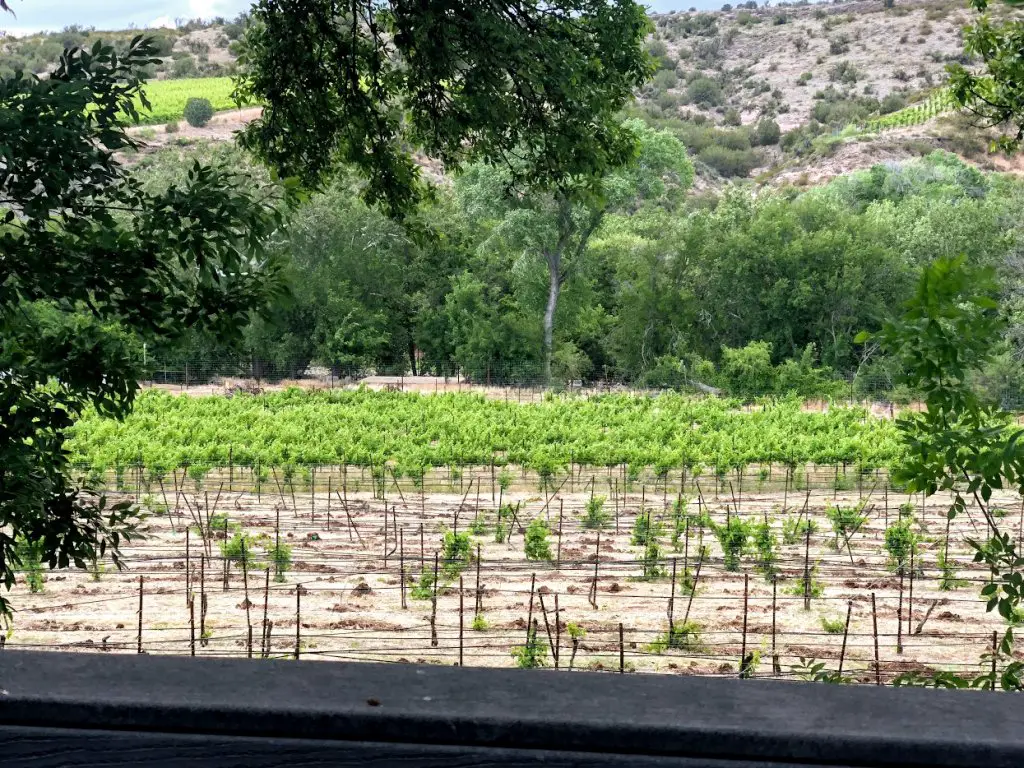 Uptown (Downtown Sedona)
Shop 'til you drop at boutique-style stores and follow it up by rehydrating at a patio bar—all with the red rocks as a backdrop. You can find souvenirs to take home a piece of Sedona, eat rattlesnake sausage (no joke!), and get a feel for Sedona's artistic vibe. Full of character, the walkable downtown area is a tourist hot-spot and worth a few hours of your time.
Tip: I would recommend an Uber or Lyft to/from Uptown. Parking can be tough. Plus, you might find yourself a few prickly pear margaritas in by the time you leave.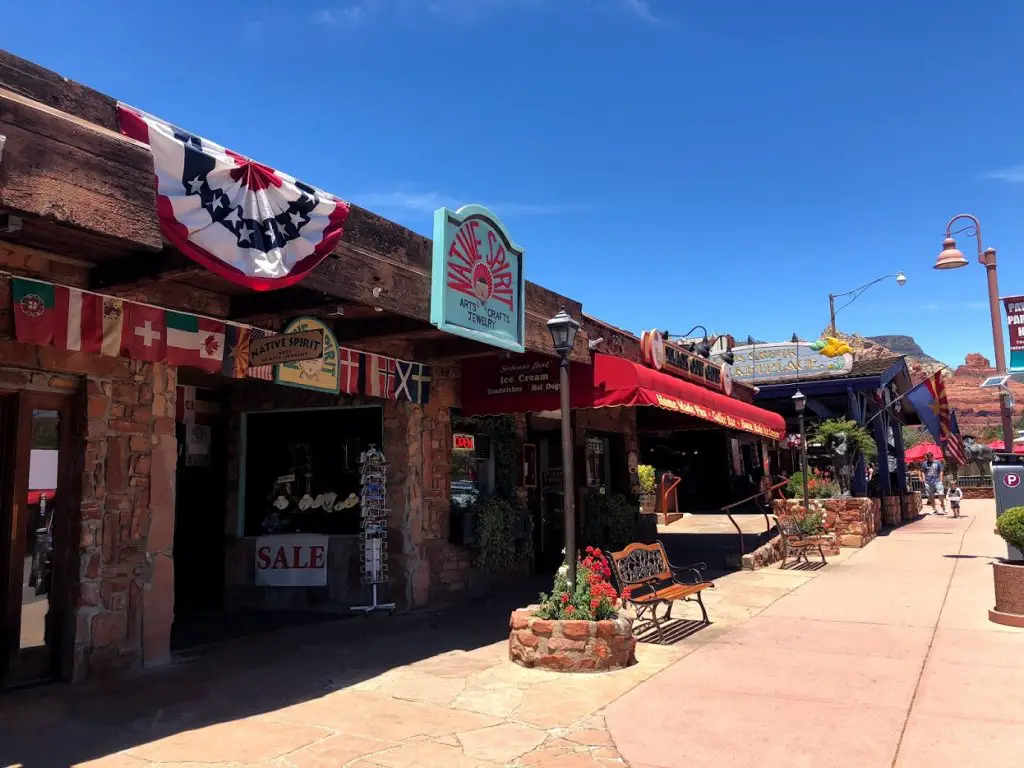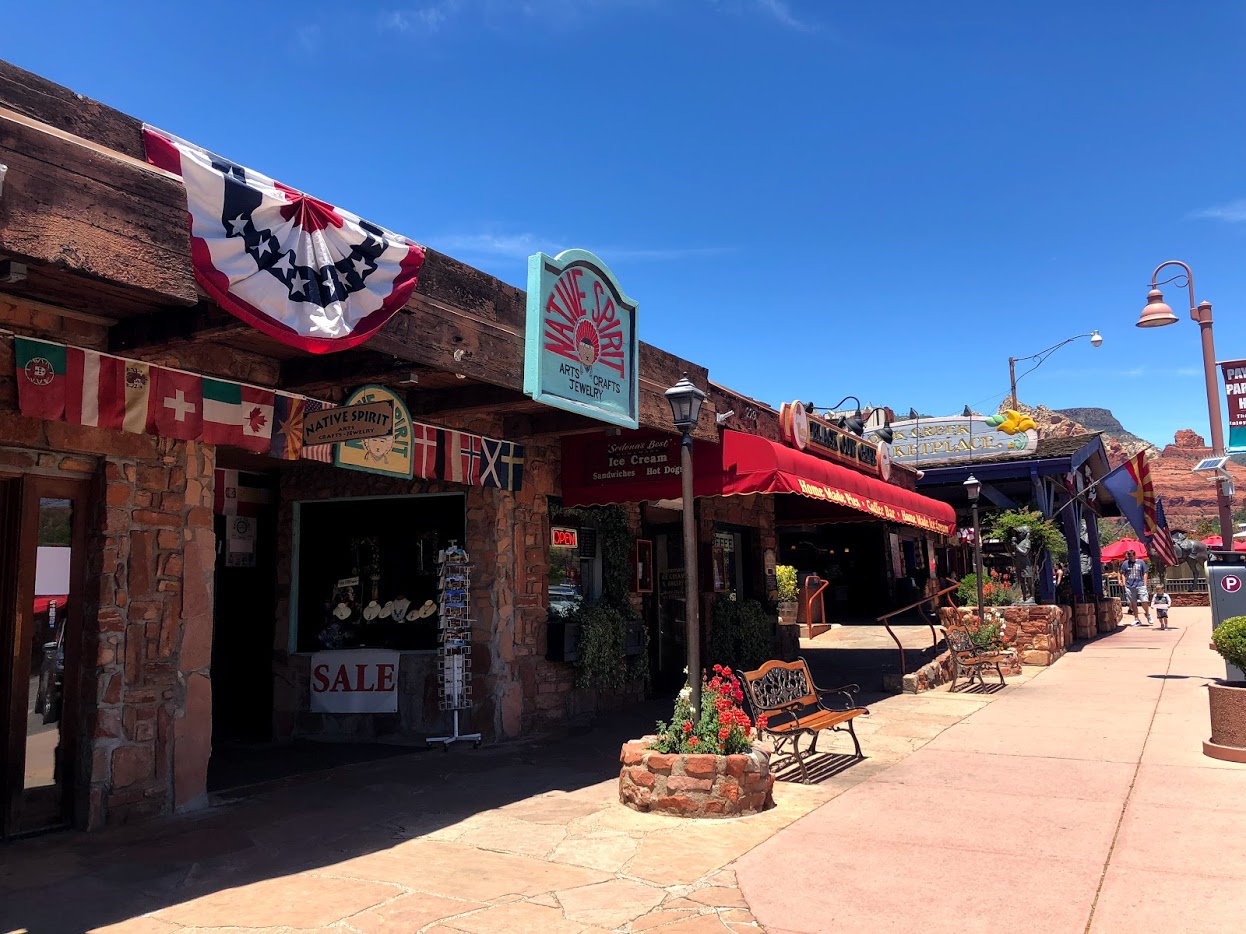 Where to Eat in Sedona, Arizona
Elote Café
Mexico, meet American Southwest. The bold, local, and authentic Elote Café menu is worth raving about. How good is this place? I purchased the cookbook written by Owner and Chef, Jeff Smedstad. Enjoy hand-crafted cocktails and items made with locally-grown, organic ingredients. Order a cucumber-lime margarita, guacamole, and smoked brisket enchiladas and experience the taste of heaven. Seriously, I can't recommend the enchiladas enough.
Mariposa Latin Inspired Grill
Mariposa is a Latin-inspired grill with stunning décor and an ambiance that almost outweighs its remarkable food. Admire floor-to-ceiling windows showcasing the red rocks (it's as if you're in them!), large wine vaults, dark lighting, and modern interior. Order tapas to try a variety of dishes created by an award-winning Chef (Lisa Dahl) who successfully combines her Latin cuisine and interior design skills to offer an incredible Sedona experience.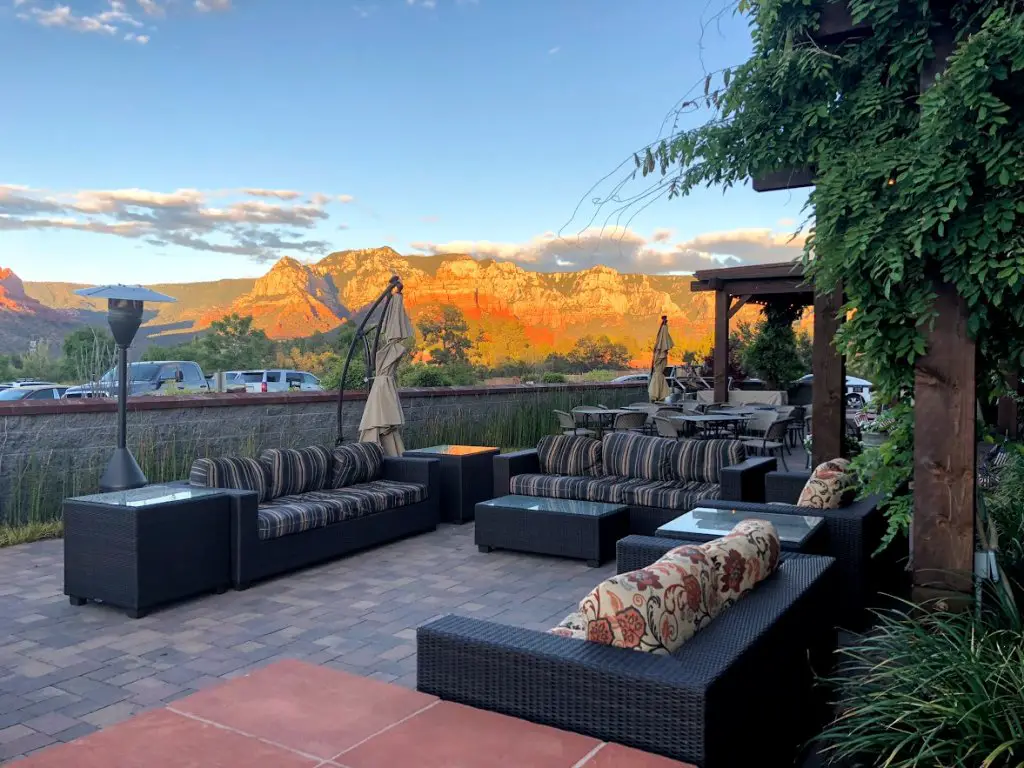 More Sedona Restaurants
Sedona is FULL of food worth chasing. Read Where to Eat in Sedona, AZ for tons more options. Though consider Elote Cafe and Mariposa both as MUST GO.
Prices in Sedona AZ
Sedona is very affordable. What's nice is that much of it is centered around hiking and sightseeing outdoors. It is $5 per car for a parking pass at certain trailheads and those aren't always required.
As far as vacation splurging, be prepared for 1-2 pricey restaurants ($50+ per person) that are well worth it. Outside of that, there are plenty of affordable options. You may also want to save for some self-care; massages, pedicures, facials, etc. And you won't want to come home empty-handed; plan on purchasing local art, crystals, and other unique souvenirs from Sedona, Arizona.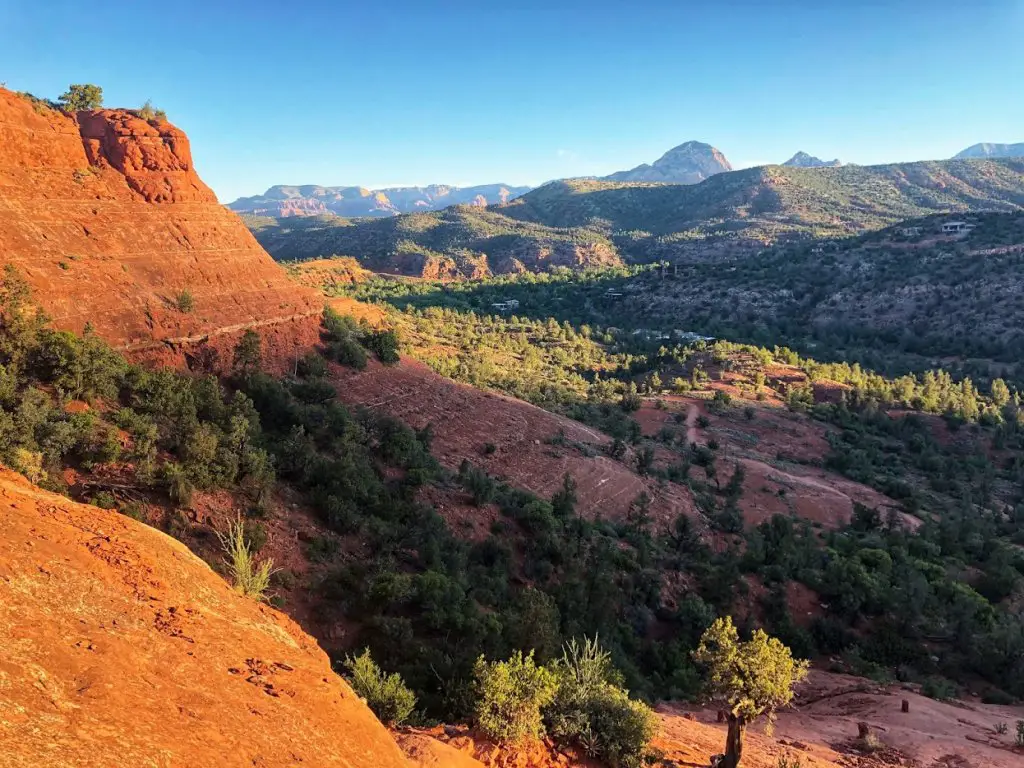 Tips for Sedona, Arizona
Rent a car; the most affordable way to do Sedona is to fly into Phoenix (Sedona does have a small airport), rent a car, and drive 2 hours north. It's a scenic drive and worth saving money to fly into a major hub. It's also convenient to have a car—Uber/Lyft (though very inexpensive given the proximity of most attractions and restaurants) can be unreliable, especially at odd hours of the day. In order to keep your trip flexible, rent an SUV or jeep and use ride sharing sparingly.
Prepare for traffic; Sedona is two lane roads without many stop lights and a number of roundabouts. Late afternoon can become very congested, taking an hour to go only a couple of miles.
Hiking shoes and water bottle; I strongly recommend a moderate or difficult hike for the experience, so come prepared with hiking shoes (game changer—I got mine on the REI Outlet website) and a water bottle.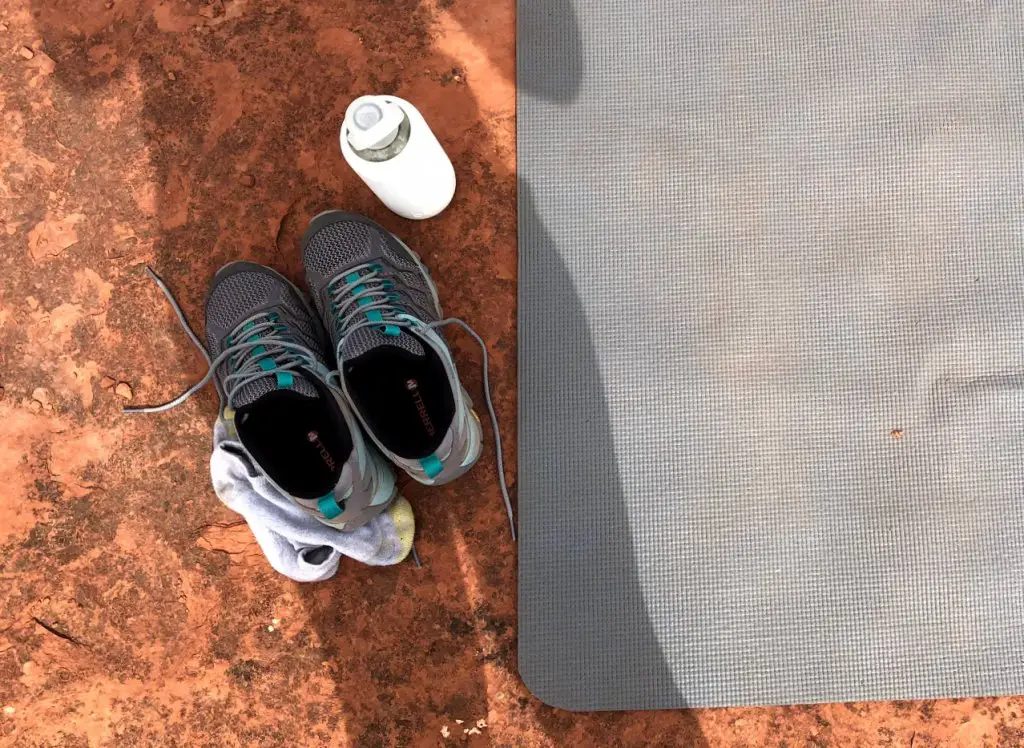 Grab a few snacks at the grocery store; it's convenient to have snacks for hiking—bananas, a few apples, power bars, etc.
It's the perfect girls trip! Read my Tips for Traveling with Friends and get to planning.
Is Sedona a Good Vacation Spot?
Absolutely. Sedona is downright magical. It falls in love with you just as fast as you fall in love with it. Watching the red rocks get smaller in your rearview mirror is all you need to see in order to know that you will return soon.