Sedona comes with a great deal of hiking and exploration through the gorgeous red rocks. And where there's hiking, hunger soon follows. Luckily, Sedona is home to countless restaurants ready to fill your belly. The local food scene is diverse including hot spots for smoked brisket enchiladas, woodfire pizzas, empanadas, and even rattlesnake sausage. Here is where to eat (and not to) in Sedona, Arizona. Of course, I didn't forget the margaritas, wines, and beers to wash it down.
Note that prices below do include tax and tip.
Elote Café—Dinner
Elote Cafe boasts rave reviews and is one of the most well-known restaurants in the area. I was a bit skeptical thinking it might be a tourist trap where they are better at marketing to travelers than cooking. I'm happy to say I was so, so wrong. The Mexican/American Southwest dishes explode with flavor. The meat falls apart without effort. The salsa is fresh with a kick. And you can fully taste tequila in the hand-crafted margaritas. This is where to eat your best meal in Sedona, Arizona. How can I be sure? Proof is in actual quotes from our experience:
"I don't even want to take bites because then it's all going to be gone…" [Brisket Enchiladas]
"This is the best thing I have ever had in the world." [Shrimp]
TIP: They don't open until 5:00PM and there will be a line. Plan to get here around 4:30 in order to make the first round of seating. (We arrived about 4:40 and snagged the very last 4-person table.) If you do end up waiting, it is well worth it and you can enjoy their famous free popcorn and a cocktail outside.
Price: $60; smoked brisket enchiladas (there is no such thing as leftovers at this place), guacamole with chips and salsa to share, cucumber-lime margarita and a Pacifico
Mariposa—Dinner
Mariposa is a Latin-inspired grill with stunning décor and an ambiance that almost outweighs its remarkable food. Admire floor-to-ceiling windows showcasing the red rocks (it's as if you're in them!), large wine vaults, dark lighting, and modern interior. Our waiter was personable, helpful, and made our dinner fun and memorable. Order tapas to try a variety of dishes created by an award-winning Chef (Lisa Dahl) who successfully combines her Latin cuisine and interior design skills to offer an incredible Sedona experience.
TIPS: Make a reservation. Though it is spacious inside and includes outdoor patios, it is consistently full. Save your cutest outfit for Mariposa—it's the classiest place we visited, though don't feel pressure to dress up. Sedona overall is extremely relaxed.
Price: $60; chopped salad to share, plus 3 tapas—mushroom flatbread, Portobello empanadas, croquettes, and two prickly pear margaritas
Pisa Lisa—Lunch/Dinner
Chef Lisa Dahl doesn't stop at Mariposa. She's behind the magic of the award-winning Pisa Lisa as well. All pizza is good pizza. But this pizza? Outstanding. Authentic, thin-crust, and wood-fired pizzas are cooked to perfection with a variety of options from Margherita to siciliana to bufalina. Each piece gives flavors from all directions and you can guarantee "one more piece" really amounts to two (or three). Finally, this is not the place to skip dessert. Take one look in the glass case and you will be sold.
This casual spot offers a bar with TVs and an outdoor patio with red rock views in the distance. It's the perfect place post-hike. And it might be a place you visit more than once on your trip!
Price: $25; two pizzas (14") split fours ways, flourless chocolate cake, two local lagers
Bella Vita Ristorante—Dinner
We came here for a nice Italian dinner expecting drool-worthy pasta and a fabulous experience. Reviews were tagged with "hidden gem" and "fabulous dinner" and 4.4 stars. Unfortunately, we were disappointed with the results at Bella Vita. The location is less than stellar, buried in a resort (mostly RVs), and seemed to be a place to conveniently serve tourists. Our dishes combined odd flavors together and it was too expensive when it stacks up to that of an Olive Garden. The space itself is cute with Italian-inspired décor, and the service was great, but there are too many other places in Sedona—skip this one.
Price: $45; Vongole de Limone (fresh clams with linguine in white wine sauce), a bottle of red wine split three ways, bread and olive oil included

Red Rock Café—Brunch
Red Rock Café is not only where to eat in Sedona, but where to find $0.99 mimosas. Yep, not a typo, if it's Saturday or Sunday. And not only might your mimosa come in a full pint glass, but the menu is simple food made delicious. The unassuming café is perfect after a morning hike—no need to change clothes; it's a very casual diner. You can order breakfast all day and they specialize in Mexican-inspired dishes. The huevos rancheros along with spicy black beans were incredible and they also serve classic diner food including BLT's and skillets.
Price: $25; huevos rancheros, two (very big!) mimosas

Cowboy Club—Drinks/Apps
Wondering where to eat in Sedona that offers food that's authentic to the area? You gotta visit Cowboy Club. It may be a tourist trap, but it's an acceptable one. Sit at a wood-top bar with large bullhorns overlooking, listen to old country music and order an unusual appetizer with your drinks. It includes rattlesnake sausage (made with 70% snake and 30% rabbit—*eyes widen*) that was juicy and tasted like, you guessed it, chicken sausage. Cactus fries, made from the prickly pear cactus, are battered and fried with a salty taste, reminding me of fried onions that come on a burger. Lastly, it includes buffalo brochettes, cilantro flatbread and a variety of sauces. Feed your wild side and have a great time at Cowboy Club, located in Uptown.
Price: $30; sampler platter split 4 ways, prickly pear margarita, and an Arizona lager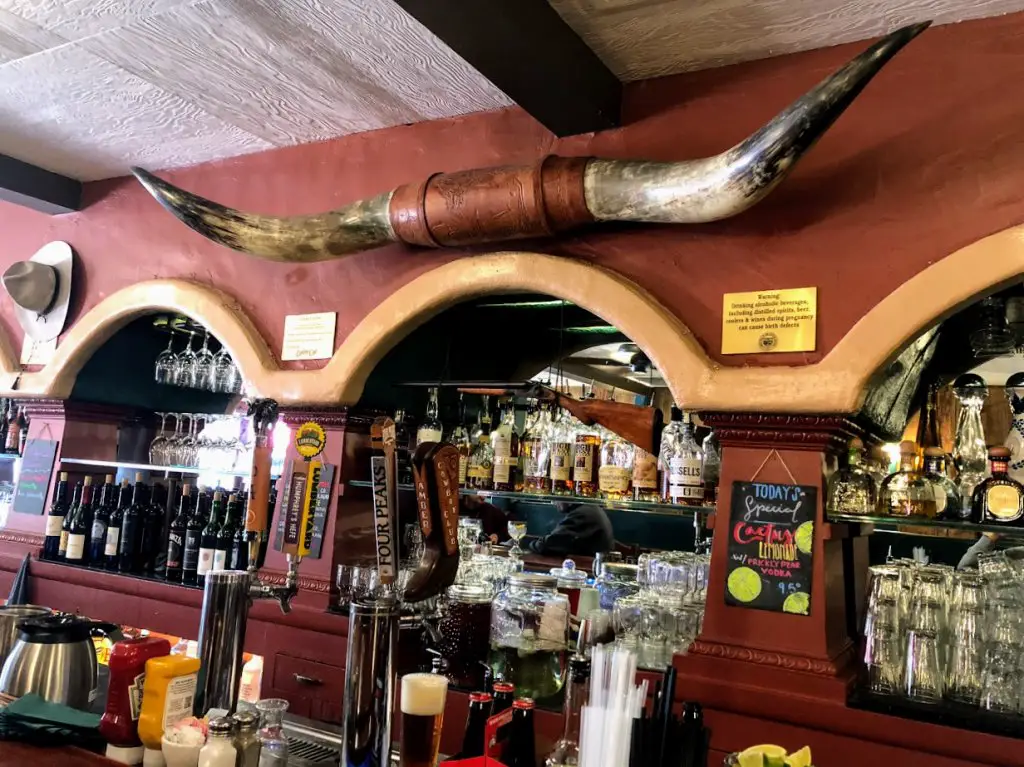 Page Springs Cellars—Wine and Cheese
Travel a short distance from Sedona (20-minute drive with amazing views) and taste a variety of wines made right in the backyard of Page Springs. Sit inside at large couches surrounded by Arizona wall art or out on the outdoor patio overlooking the vineyards. Order a red or white wine flight, complete with 4-5 samples (aka sips) and don't forget a cheeseboard complete with brie and other to die for cheeses, breads, fruits, and nuts. Page Springs Cellars is expensive, though if thinking about it in terms of an experience, worth it. It's the perfect place to dress cute for a girls night and live a little beyond your means.
Price: $50; reserve red wine flight, full glass of the 2015 House Mountain Vineyard Teroldego (red wine), House Selection cheeseboard split 4 ways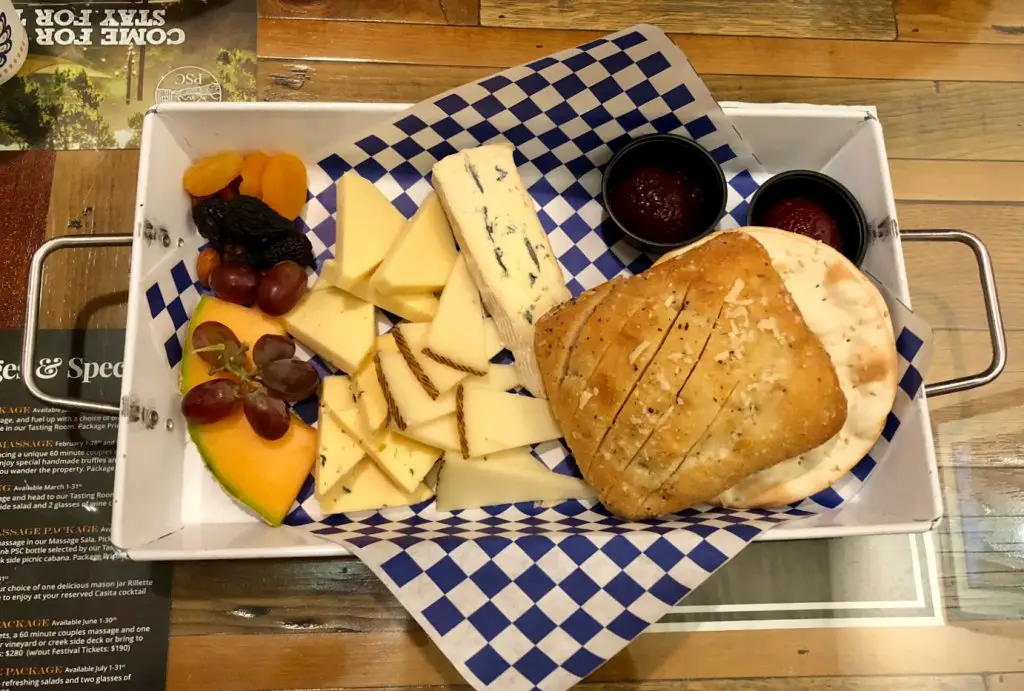 Tii Gavo—Drinks/Apps
Located within the Enchantment Resort, Tii Gavo offers dramatic red rock views and a signature prickly pear margarita. Enchantment is an upscale resort that will have you feeling distinguished and respected—and also paying $16 for guacamole. It's luxurious, with a dash of pretentious, and one look around the beautiful property will cause you to start looking into how much it is to stay there (you can get a basic room for $400 per night). The pool is gorgeous and I think a stop at the bar is worth it for the opportunity to look around the lifestyle of the rich and famous.
Price: $40; guacamole with chips and salsa to share, cucumber gin (YUM), and draft Arizona lager

Oak Creek Brewery & Grill—Drinks/Apps
Sedona sun got you thirsty for a cold one? There is not a ton to rave about, but this is a perfect spot to sit outside and grab some wings and a house-brewed beer. Given its location in Tlaquepaque (an outdoor market with craft shops and art galleries), it is convenient and mostly full of tourists. Oak Creek Brewery & Grill is casual with standard American fare and is a reliable stop if you find yourself in the area. And there are plenty of beer options for both Coors Light drinkers and the ever-popular beer-snobs.
Price: $20; shrimp skewer, chicken wings to share, and 20 oz. 49er gold lager

Mooney's Irish Pub—Party Time ("Excellent")  
So at this point, you're wondering where can I eat AND PARTY in Sedona? Hit the hole-in-the-wall Irish Pub for live music and Irish beers on tap plus a wide variety of whiskey, bourbon, tequila, and more. It's cheap and fun with a young locals crowd. The space is small but fits a dartboard, TVs, a tiny stage, and a lot of fun. Mooney's Irish Pub serves food late (1:00AM) but you certainly don't need to be a few drinks in for it to taste good. They offer a variety of Irish-inspired fare that will make your mouth water!
Price: $20; cheese & garlic butter pretzels and pork sausage, bacon & brie sandwich split 4 ways + 3 (I think…) Harp's draft beers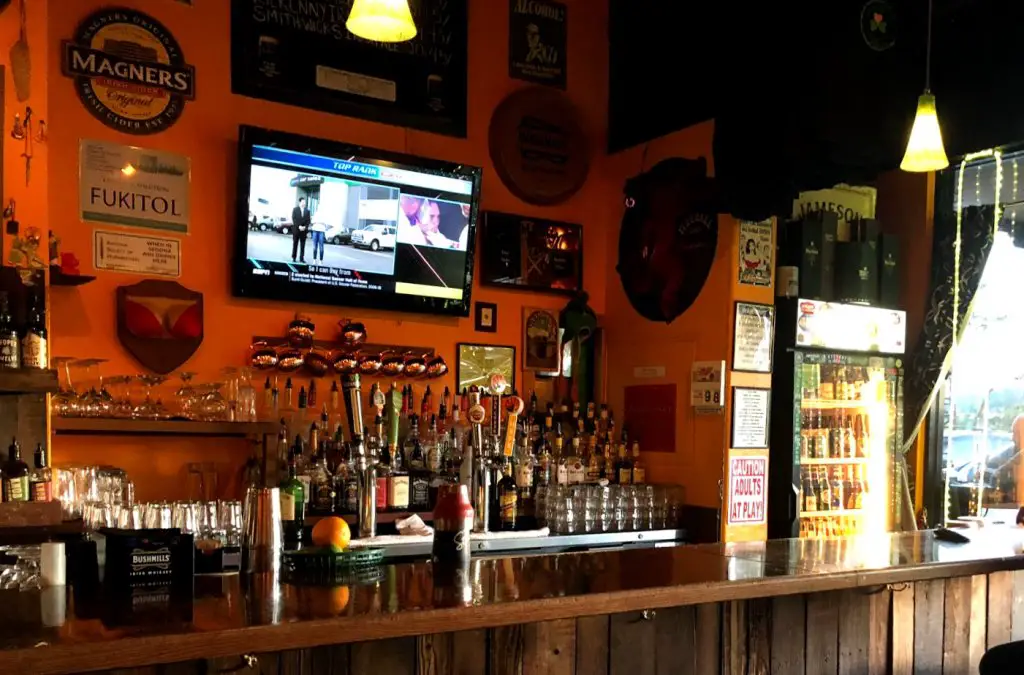 89Agave—Drinks
This spot looks new-age and fun. And the location on a corner in Uptown is fantastic but I would pass on ever coming to 89Agave again. They serve Mexican food and a variety of margaritas which were not enough bang for your buck. Though the inside was entirely empty, we waited 5+ minutes at the host stand before impatiently picking seats on our own outside. For a busy location where people stop while shopping, they were very disorganized. Our drink was by no means gross (and sure was pretty!), but the overall experience was what I would call meh.
Price: $TOO.MUCH aka $18 for 1 margarita. My next $18 margarita better come in a bowl!
UPDATE: Though this was my experience, I was informed that this restaurant is now under new ownership. Given the location, I am planning to give it a go next time I am there. Let me know if you have a better experience!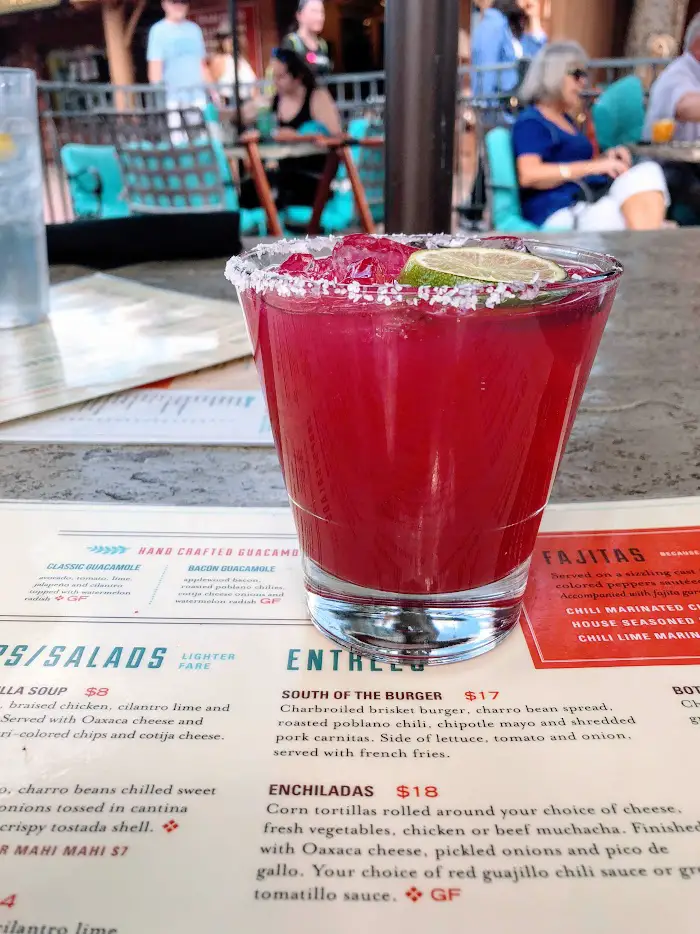 Creekside Coffee
As far as ambiance and character go, this is the coolest coffee shop I have ever been in. Floor to ceiling windows with red rocks in every direction. Wall art and paintings for sale. Vintage furniture and outdoor seating. It is a great place to start the morning. The place's doors constantly revolve with people looking for a morning jolt.
The baristas were chipper, happy to see you, and knew how to make a good cup of joe. The coffee was solid and the peanut butter banana and honey toast hit the spot after a sunrise hike. And the breakfast sandwiches looked incredible – I would assume their entire menu is worth eating. Make sure you stop in Creekside Coffee!
Price: < $10; Medium Americano and Peanut Butter, Banana, & Honey Toast
—two pieces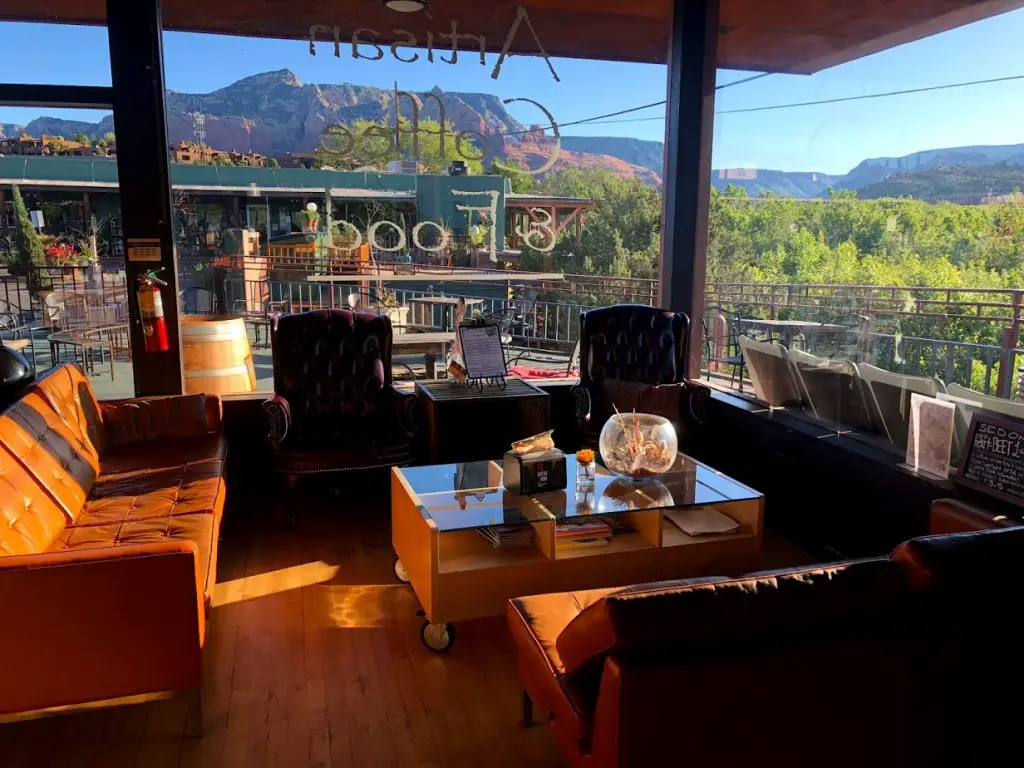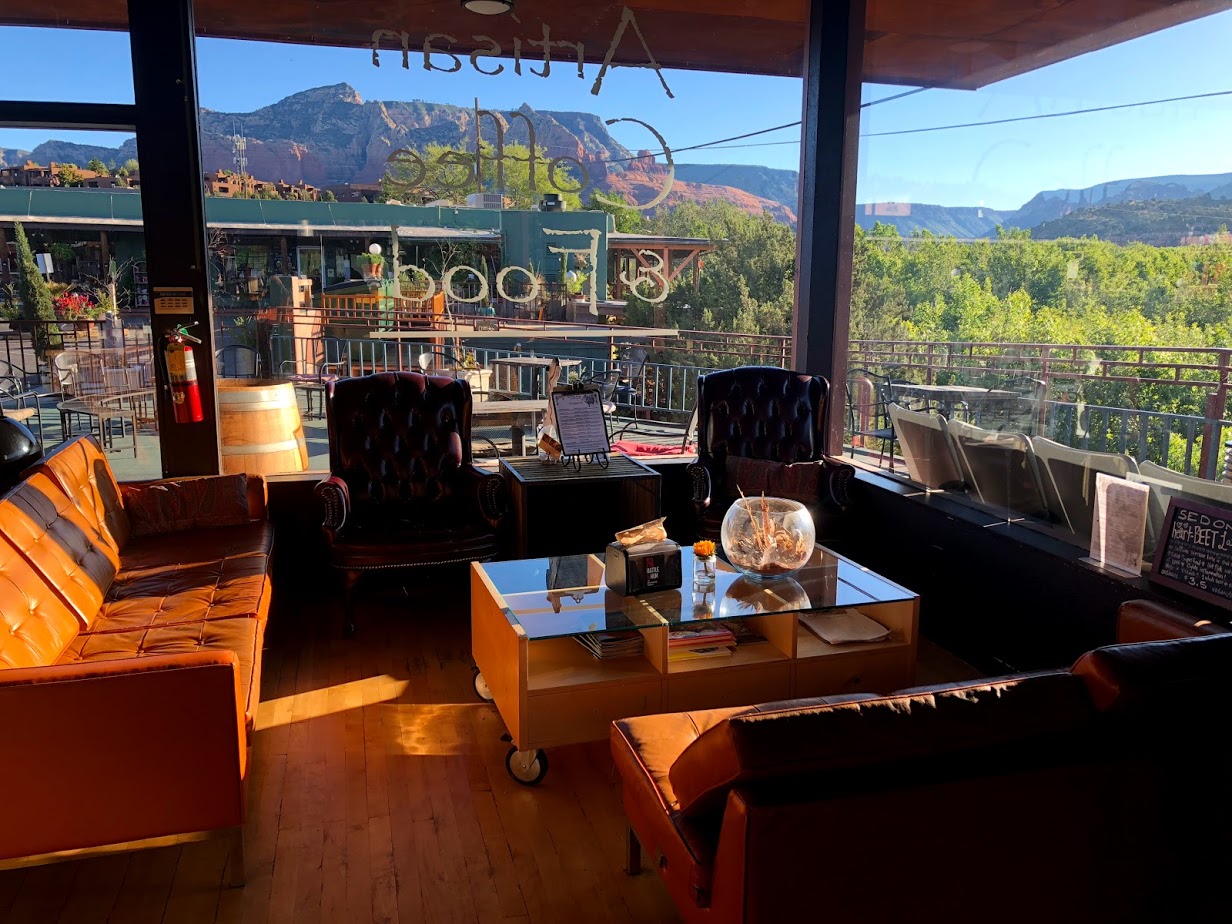 Where to Eat in Sedona
Now that your mouth is watering and you know where to eat in Sedona (and enjoy a few drinks), you're almost ready for a trip there! For more on the area, including what to do and see, read Backpack Goes to the Desert: Sedona, Arizona.
Your Next Trip
If you love Sedona, Arizona, you have to give Utah a try! You will LOVE hiking One Day at Bryce Canyon and Two Days at Zion National Park. To make it SUPER easy, here is a full Utah Itinerary.