Get PUMPED. You are going to experience one of the best ski resorts in Colorado—hell, North America! Breckenridge Ski Resort has an awesome vibe with beautiful views, long runs, and a fun town to enjoy after your day on the slopes! Skiing Breckenridge for the first time is remarkable and you will fit in perfectly with all of the friendly, local ski bums! The best part?
Spend a full day (Or Two) and never hit the same run twice!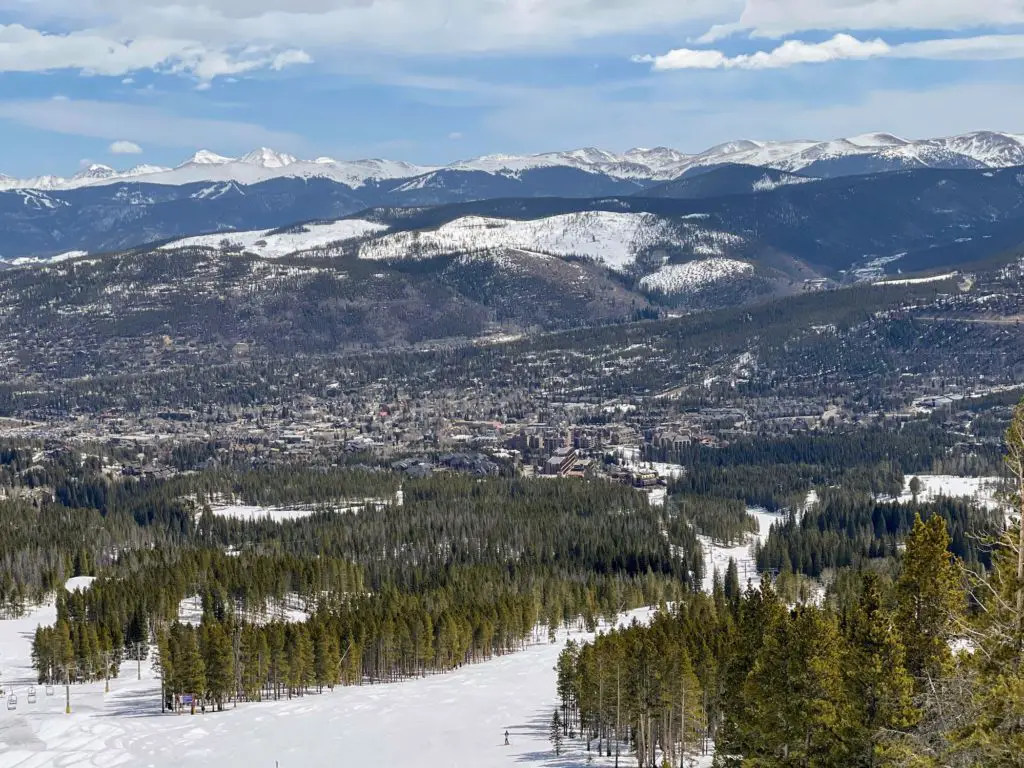 I LOVE the variety. That said, this place is huge. And if you're skiing Breckenridge for the first time, how do you prepare? What do you need to know? Things like what to bring, where to park, and how to navigate the hill, are all things to know beforehand. And you are in the right place. First things first, let's answer a few simple questions:
Where is Breckenridge Colorado?
Breckenridge Colorado, located in Summit County, is about 80 miles west of Denver into the mountains. If you are flying into Denver International Airport (it's actually about 110 miles from there) you can rent a car or take the airport shuttle via Epic Mountain Express. If you choose to rent a car, hop on Highway 70 W to CO-9 S right into Breckenridge. Keep in mind, this stretch can get very backed up during peak season so take traffic into account. We will get more into parking down below.
Rent a Car—or No?
The town of Breckenridge itself is not very big and everything you need is within walking distance. And there are also buses/trolleys throughout the town.
That said, I would recommend a vehicle. There are so many other mountains and towns to explore and you can keep everything on your own time. For other places to visit, read Hidden Gems in Colorado. Last Tip: Four-wheel drive SUV is the way to go considering the snow.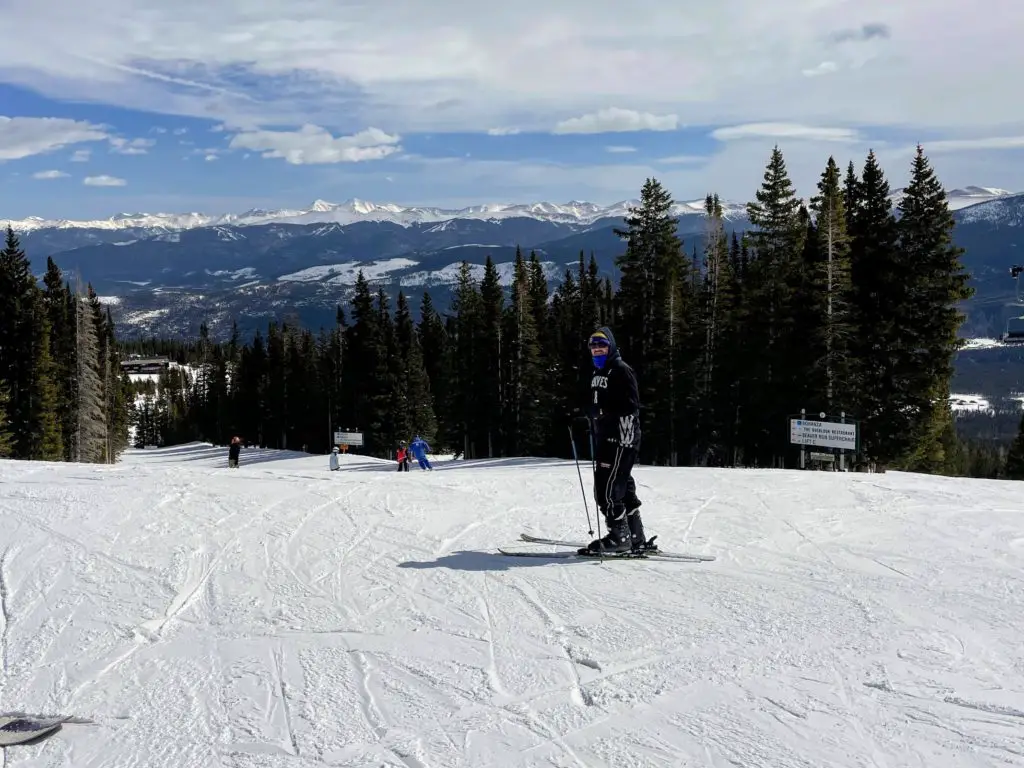 Is Breckenridge Good for Beginner Skiers?
YES. First time skiers are more than welcome at Breckenridge! Start (and stay if you'd like!) on Peaks 9 and 8 where you can use the magic carpet. Quicksilver Superchair will keep you in the beginner area with plenty of easy green runs. These are a good introduction and place to start if it's your first day ever skiing or if it's been a while. (More on these numbered Peaks below!)
Is Breckenridge Good for Advanced Skiers?
Oh, yeah. There is plenty for the advanced skiers to tackle as well! There is an entire peak dedicated to black diamonds, as well as ungroomed trails and those with obstacles and moguls. Those who love difficult terrain will not run into boredom! (Tip: Nine Lives and Wacky's are two of the toughest runs at the top of the mountains!)
Also, for those in-between beginners and advanced, fear not. There are endless Intermediate trails for you!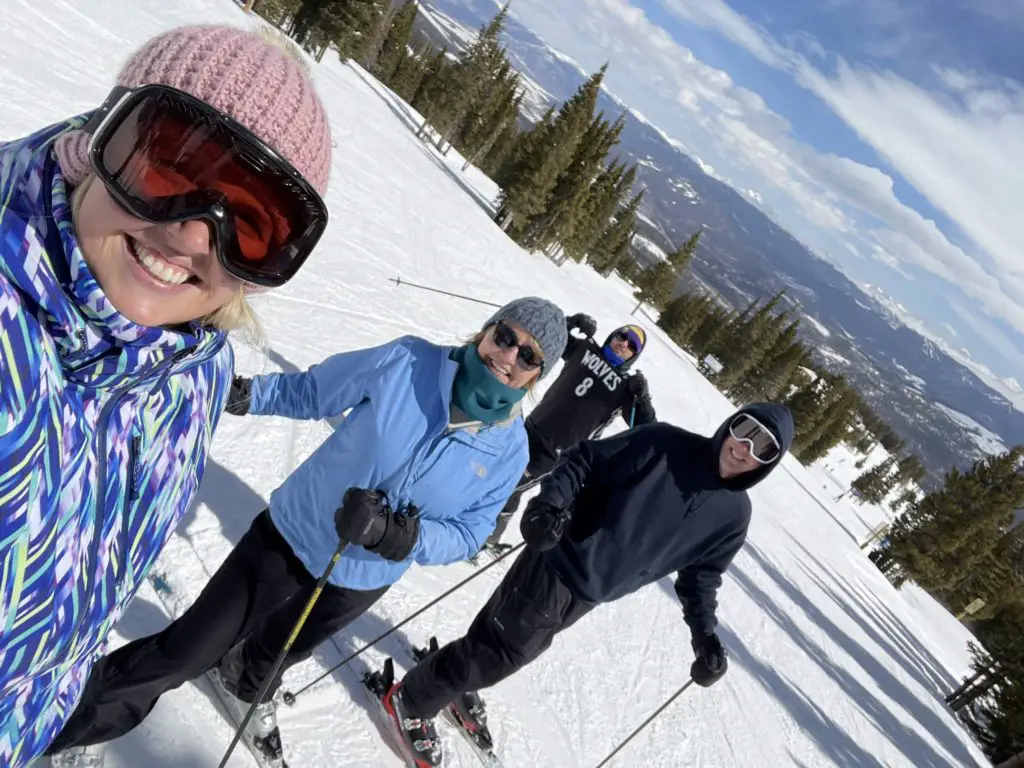 When is the Best Time to Ski Breckenridge?
Whenever it works with your schedule! There are positives and negatives to every single month. BUT, if we're talking "prime time," February is the snowiest month so you're going to get next-level conditions—though it's very busy. It can take nearly 45 minutes to get on the chairlifts at the base level. (Mid-mountain ones will be better.)
Skiing in April is amazing while the conditions are still great and there are fewer people on the mountain. We're talking less than a minute wait to get on the chair lift, even on the weekends. That said, do what works for you—it's always worth it!
Buy Lift Tickets (+ Rentals) in Advance
One thing is for certain, buy your lift tickets and rentals online at least two weeks in advance—especially if you are looking during the peak season.
Lift Tickets
Ticket prices range throughout the season, but on average, you're looking at about $175 for a one-day lift ticket. Deals will increase as you add anywhere from 2-7 days of skiing. Lift tickets are fully refundable if your plans change. There are also a variety of season passes you can take advantage of if you are in the area.
Rentals
There are different rental shops to choose from, both right at the base of the mountain and off. The base of the mountain rentals will obviously offer convenience but you will pay (a bit) more and the equipment will have (a bit) more wear and tear. On average, a full set is about $50/day.
Rental packages include helmets. If it's your first time, I would recommend wearing it. If you're confident, go on without it; it's not required.
Rental Recommendation:
We rented from Breck Sports Peak 9 and it was the most seamless rental experience EVER. It was very fast (keep in mind it was mid-April so there weren't a lot of people), they were very helpful and knowledgeable (both about equipment and the mountain), and it was in an extremely convenient location. It was our first time so it was nice to start right at Peak 9…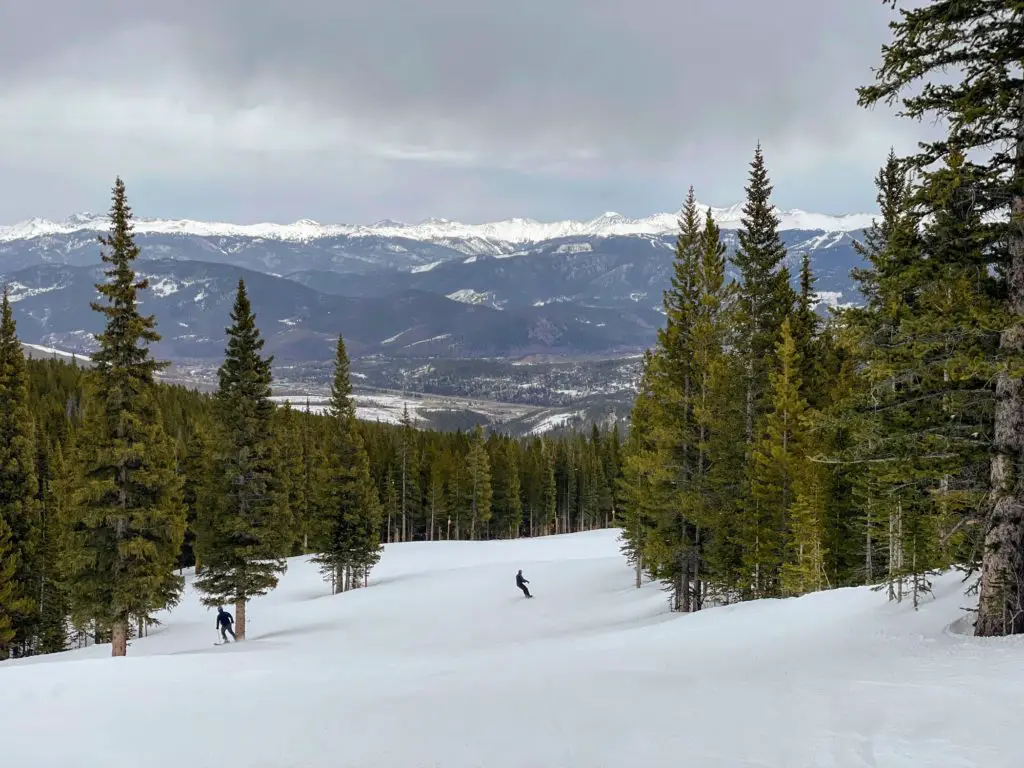 Know the Hill (Each Hill is Numbered)
Breckenridge Ski Resort is big and it's in your best interest to have a general idea of the hill before skiing Breckenridge for the first time. No beginner wants to accidentally end up on a black diamond full of moguls!
5 peaks. 2,908 acres. 187 trails. and 4 terrain parks.
Good news? It's so easy to navigate and there is plenty of signage to help you out! Here is a quick way to understand:
5 peaks from left to right that run Peak 10, Peak 9, Peak 8, Peak 7, Peak 6—these all have a base numbered the same and merge together with chairlifts and gondolas in between.
All bases include places to warm up, bathrooms, and phone charging docks—details! On that note, your phone will die quicker in the cold. Keep it in an inside pocket with a hand warmer. As far as service, it's pretty solid throughout with WiFi available.
All bases except for Peak 6 have restaurants and beer stands.
The "Main Peaks" (parking, lodging, lockers, lessons) are considered Beaver Run, Peak 9, and Peak 8.
Peak 10 is Expert (Black Diamond) terrain ONLY. Unless this is for you, do not get onto the Falcon Super Chair. This and Peak 6 are at higher elevations.
Peak 7 and Peak 6 are Intermediate (Blue Square) and Expert (Black Diamond) terrain ONLY. Those who like to stay in Blue Intermediate terrain will enjoy Peak 7, home to the Freedom Superchair.
Peak 9 is Beginner (Green Circle) friendy; with Intermediate and Expert as well. This is where you should be if it's your first time skiing!
Peak 8 is the HEART AND SOUL! This area has all three options as well, including a Family Learning Zone. It's right in the middle and has the highest ski lift in North America—the Imperial Express Super Chair.
You can check out the Breckenridge Trail Map here for a great way to understand visually.
All of this said, don't plan your entire day!
This is simply to understand the mountain and know the general area of where you should be. Let it flow! Hop on random chairs and go from peak to peak to experience all of Breckenridge!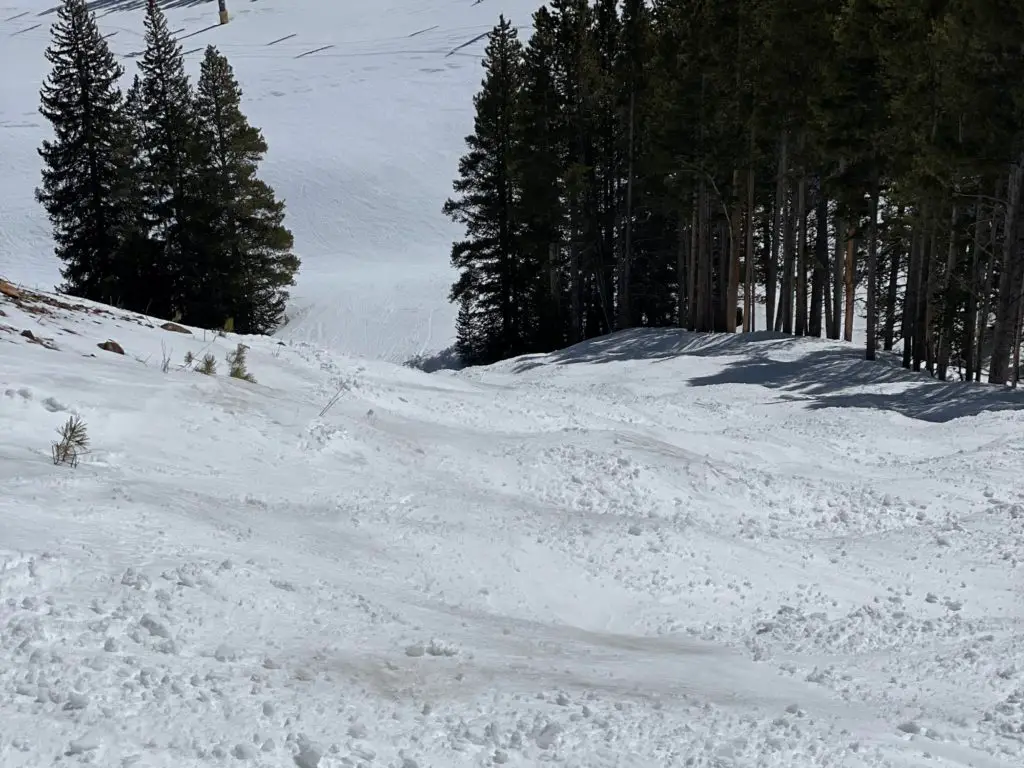 What to Wear When Skiing Breckenridge
Layers on layers. It's the key to the game! As far as weather, Breckendrige gets about 300 inches of annual snowfall with an average winter temperature of 28 degrees. You are high up, so the wind will be a factor. But also keep in mind, Colorado is sunny 300 days a year which really helps.
We're going to start with the most important that is not obvious…
SUNSCREEN AND SPF LIP BALM: You are close to the sun and who in the world wants a winter sunburn!? Okay, now for the obvious ski gear…
Ski Goggles: Or sunglasses are great if it's a nice day. The sun will be blinding on the snow.
Base Layer—Top and Bottom: Avoid cotton. Wool is your best bet!
Another Layer Up Top: A sweatshirt, fleece jacket, or vest is perfect.
Winter Jacket: One that is lined, and includes a high neck + hood with lots of zipper pockets.
Snow Pants: Nice and toasty.
Winter Hat: That's lined!
Winter Ski Gloves: Waterproof.
Neck Gaiter: Super important. (Tip: get it gets wet, give it a rotation.)
Socks: Thin Wool or Polyester is a great idea. Avoid thick which constrict circulation.
Swimsuit: Post-ski hot tubs are ELITE.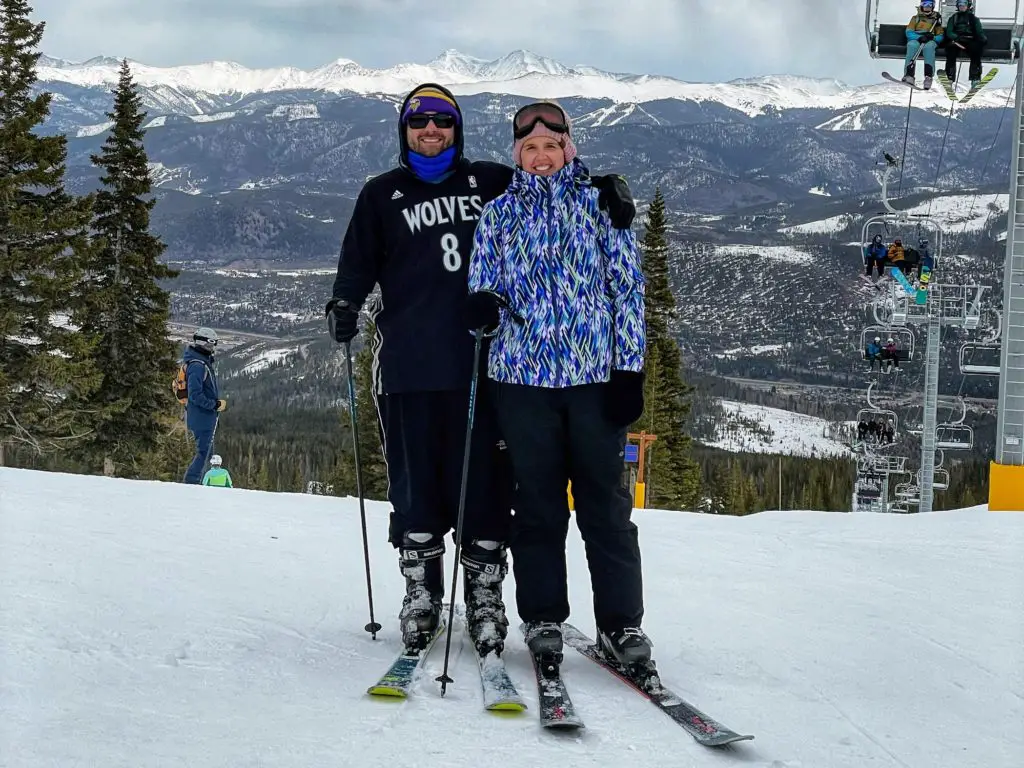 Arriving & Parking
Driving yourself to Breckenridge? Great! Obviously, if you are staying right on-site, parking is available to you at your resort. But, if you are staying in a different location, there are plenty of parking options including shuttle services and free transportation.
Here are parking lot locations—you can pay through the app or on-site kiosk:
FREE Park and Ride: 1700 block of Airport Road, 500 spaces. Free shuttles every 15-20 minutes with drop-off at the Gondola.
North Gondola Parking and South Gondola Parking: Access to Peak 7, 8, and 9.
Lot F: Access to Peak 9. Centrally located. (This is my recommendation if you can snag it!)
Beaver Run Lot: Next to Peak 9.
Stables: Walk to Peak 7 or 8.
This is a super convenient website that lists out ALL of your Breckenridge parking options with necessary information.
Storage & Lockers
There are places to keep your extra belongings and/or layers you shed throughout the day. Ski Checks are located at the Peak 8 Activities Center, the Village, and Beaver Run. Lockers (not full, but good size) are available at Peak 8 and Peak 9 and are a great option for convenience.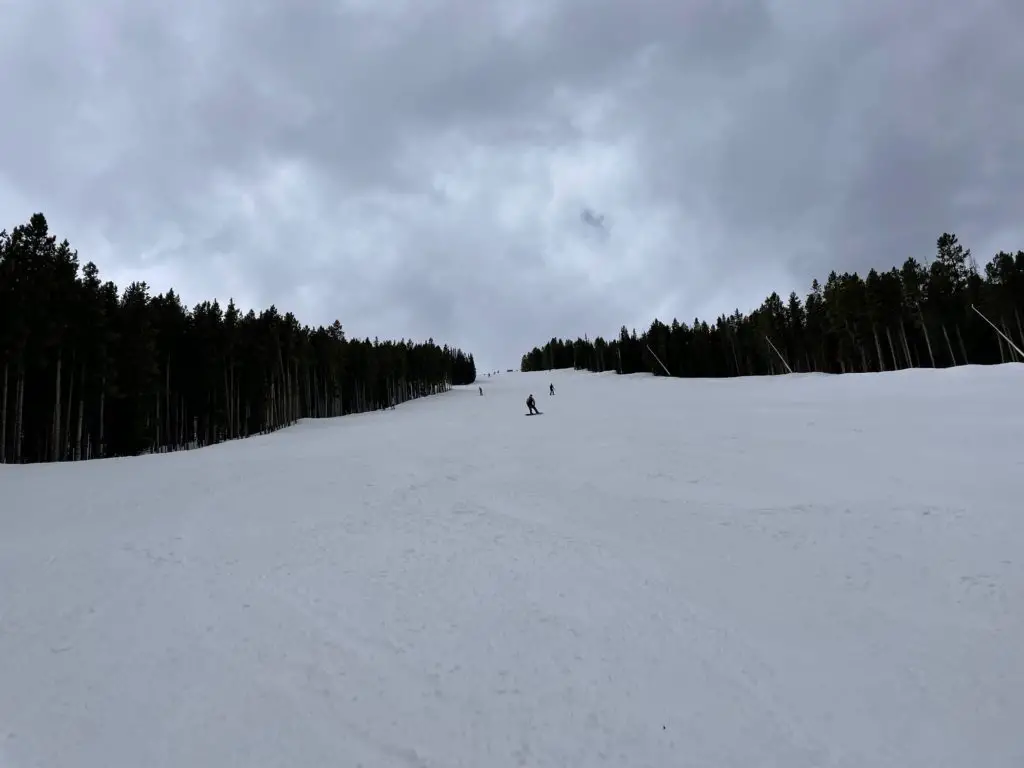 Eating & Drinking at Breckenridge
A day on the slopes will surely make you hungry—and thirsty! You are in luck because the town of Breckenridge has so many places to eat and drink and you will have no trouble finding a great spot to rest your ski legs and fill your belly. Plus, all Peaks (except for 6) have a restaurant for mid-day lunch or snacks.
Food and Drinks on the Hill
Need a break? Peak 7, 8, and 9 all have great restaurant and bar options! Find a seat inside at a table or the bar. If it's a nice day, you can't beat drinking a beer outside! These spots offer classic American food options and a variety of beers, cocktails, and wines.
I recommend TBar at Peak 8 which is a full-service restaurant and awesome bar. Heads up, it's $22 for chicken fingers and fries LOL. (Beer wasn't quite that overpriced.)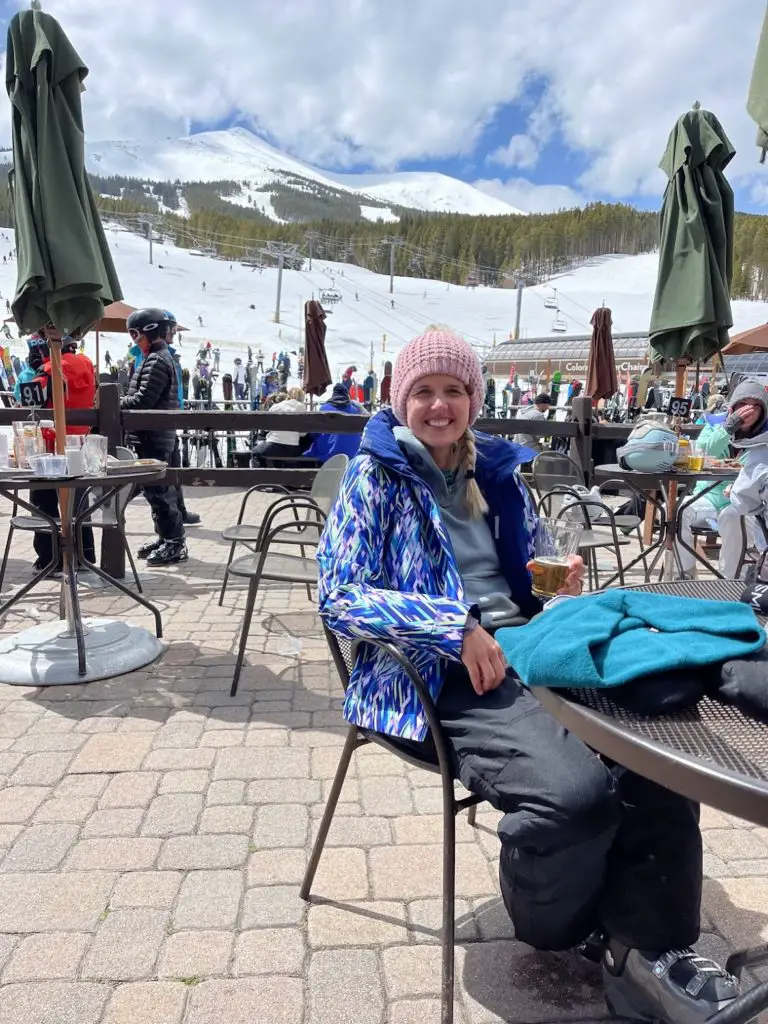 Gotta watch the game after you ski?
The best sports bar is Ollies Pub and Grub. Fun center bar with plenty of TVs, beer on tap, and classic bar eats including the best burgers in town. And it's only a few minute walk from the ski area (Peak 9.) There's also live music on Thursday nights. You'll have a great time!
Looking for something different?
+ Shopping at Breckenridge
Main Street isn't just food and drinks! You will find endless places to shop from gifts shops and outdoor gear to candy shops and toy stores. Spend some time wandering the streets and in and out of cute boutiques and small businesses.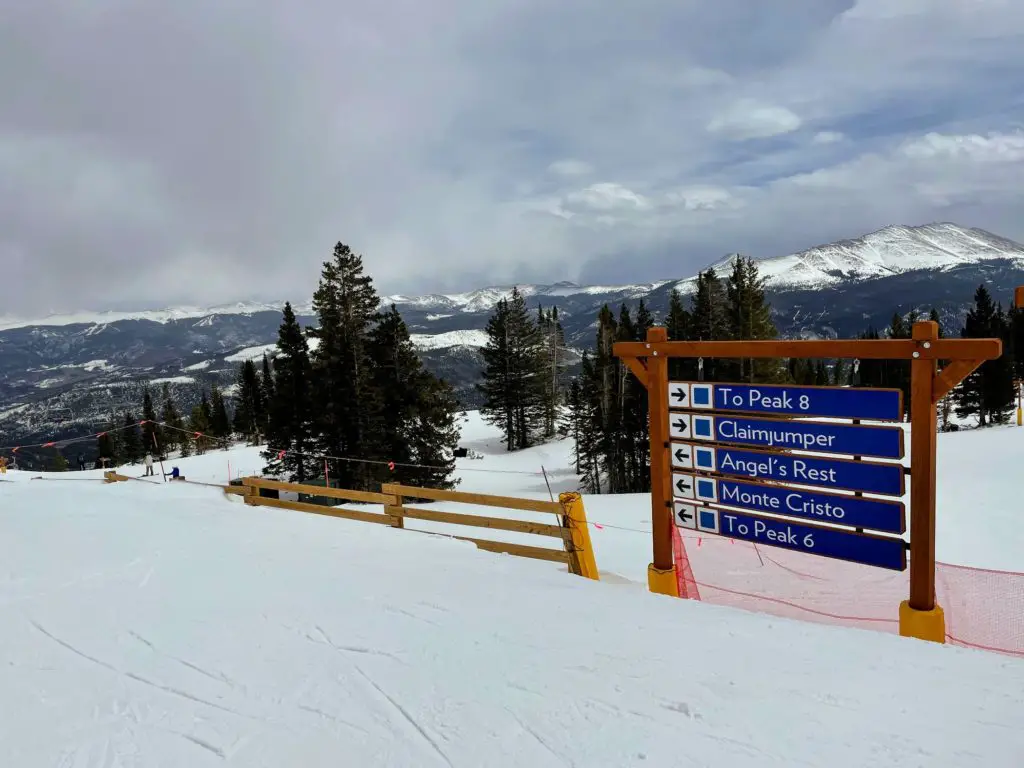 Altitude—What You Need to Know Before Skiing Breckenridge for the First Time
IT'S REAl. The summit at Breckenridge reaches 12,998 feet above sea level. Being up this high, especially for those who do not live at high elevations, can cause altitude sickness. Don't let it freak you out or stop you from skiing. It does not happen to everyone and there are ways to prepare.
First things first, know if it's affecting you. Altitude sickness can show up as nausea, headaches, and/or shortness of breath. Here is how to avoid it:
Drink plenty of water. Start doubling your intake before you even start your trip. And continue to drink it throughout the day. There are water stations all over. And if you're drinking alcohol, make sure to add in an extra glass of water!
If possible, spend a day in Denver (half the elevation) or somewhere a bit lower to acclimate.
Eat carbs. This is your excuse to eat a little bit more! Lol.
Bring ibuprofen in case any headaches occur.
Feeling sick? There are oxygen lounges right at Breckenridge. If issues persist, you will need to get down to a lower elevation and it should subside. If not, seek medical attention.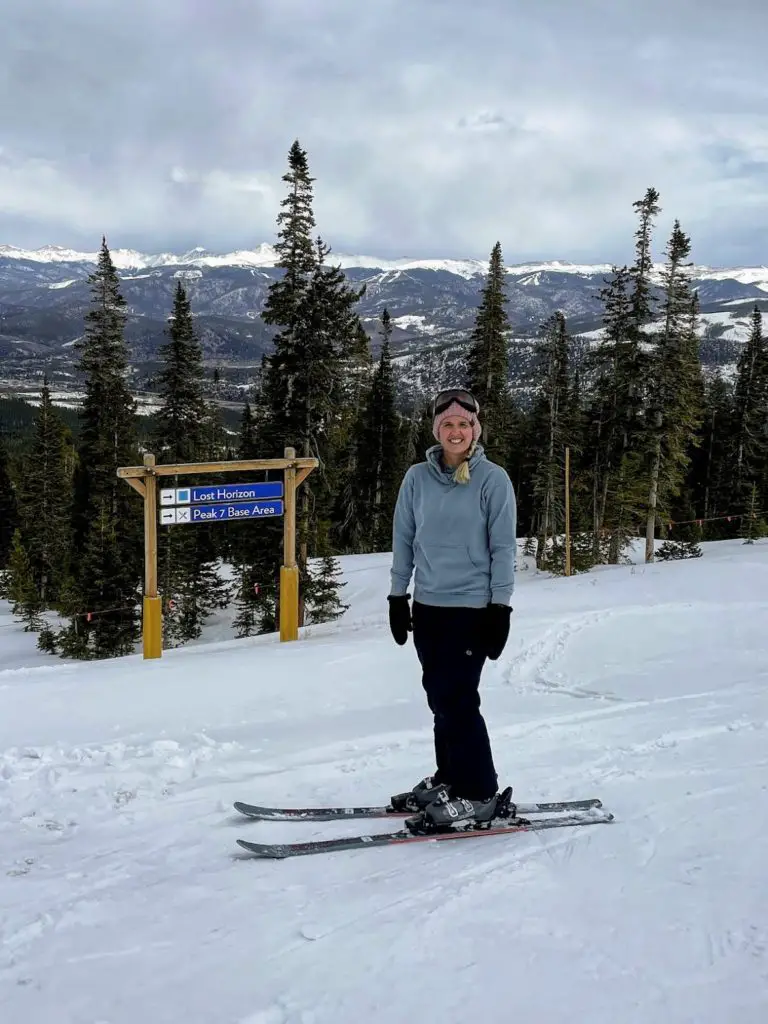 More Things to Know Before Skiing Breckenridge for the First Time:
Ski School: Need a day lesson? There are options for ski lessons throughout the resort—Peak 8, Beaver Run or the Village (Peak 9.) Schedule group lessons, private lessons, or small groups which is great for the whole family. Book in advance with your tickets to save a few bucks! Good luck with your "pizzas!" Lol.
Childcare: It's available for 2 months-4 year olds and is open (7) days a week from 8:30 a.m. to 4:00 p.m. Make sure to book in advance.
Additional Ski Hills in Colorado
Colorado is known for its endless outdoor activities. And there is no shortage of places to ski during the winter season! Here are other hills you can pair with your Breckenridge trip: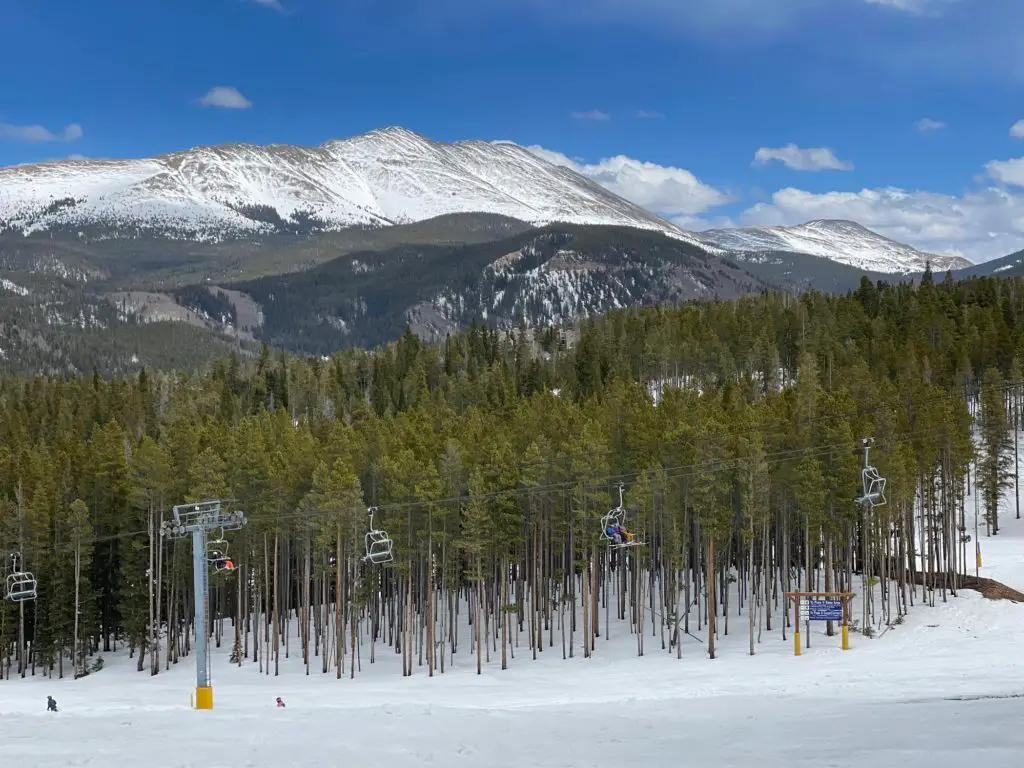 Skiing Breckenridge for the First Time
You will absolutely love it! It's a great experience and one of the best ways to enjoy Colorado. (While feeling on top of the world!) Whether the next ski season involves a family ski trip, couples getaway, or girls' weekend, you will not be disappointed. Enjoy skiing Breckenridge for the first time!
Did this post help you out? Support the work and pass along $5 for a Coors Light 😉 VENMO: @Amber-LBB or PAYPAL: amber@littlebluebackpack.com. THANK YOU.