No matter what you are craving, there is a St Cloud MN restaurant for you! There are many amazing food options in the St. Cloud area including downtown and even into the greater area of Waite Park and Sauk Rapids.
You certainly won't go hungry on your trip to St. Cloud. And it's very likely that you won't be disappointed either. Find upscale restaurants, fun sports bars, old-school diners, and breweries with food trucks. This area of central Minnesota is full of options. Let's get into the best ones…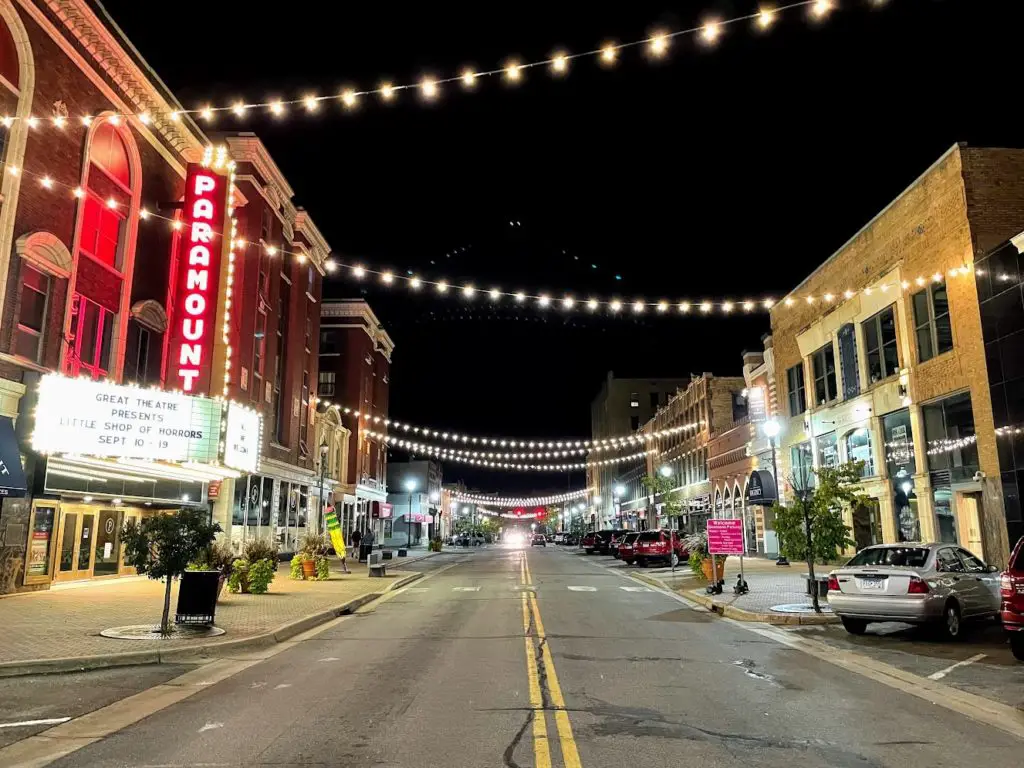 Read Top 12 Best Things to Do in St Cloud MN which not only includes St Cloud MN restaurant options, but parks, gardens, and other places to get outside.
St Cloud MN Restaurant Guide: Where to Eat
St. Cloud restaurants can be found ALL over the city and surrounding areas. Use this guide as a starting place to narrowing down your options. Let's get started…
Brick & Bourbon
Brick & Bourbon is a sure-fire delicious meal in a relaxing yet aesthetically-pleasing space. You are surrounded by dark brown wood and whiskey barrels, as well as exposed brick and high ceilings. Located on 5th Ave S and 2nd St S, this downtown St. Cloud location offers not only great food but great service, too! We grabbed two bar seats and the bartender could not have been more friendly and attentive on a busy Friday night.
For starters, make sure you get their Buffalo Brussels Sprouts—so delicious! For your main course, you can choose from deluxe mac and cheese (a specialty), sandwiches, burgers, and sliders. And if you are into milk stouts, don't pass up on the Peanut Butter Milk Stout from Belching Beaver Brewery!
P.S. they have a brunch menu as well.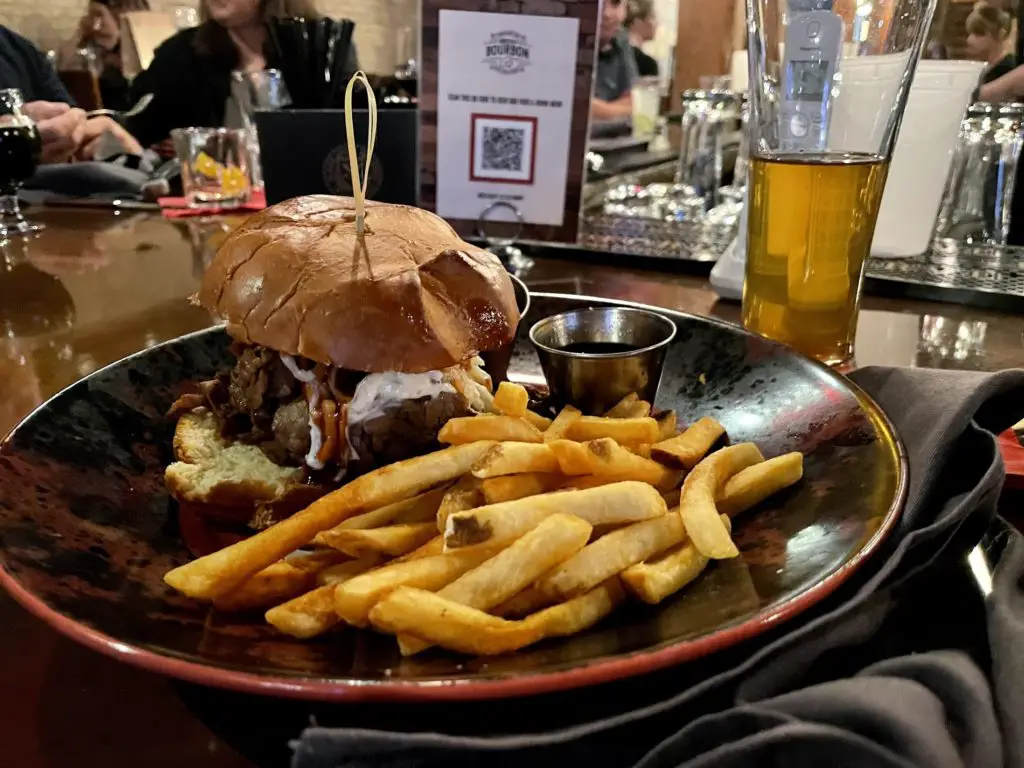 MC's Dugout Bar & Grill
If you want the bar vibe but with upscale food, MC's Dugout Bar & Grill is your spot. Located on the bottom floor of a downtown St. Cloud building, they have a happy and welcoming atmosphere with TVs, dartboards, and a jukebox. Plus, a menu you will crave!
Mc's Dugout offers great happy hours plus burgers (that people swear by!), sandwiches, and delicious appetizers like Lobster Stuffed Mushrooms and Buffalo Chicken Wontons. And, you have to order The World Famous Hairy Buffalo—a signature blend of 4 spirits, OJ, and Grenadine.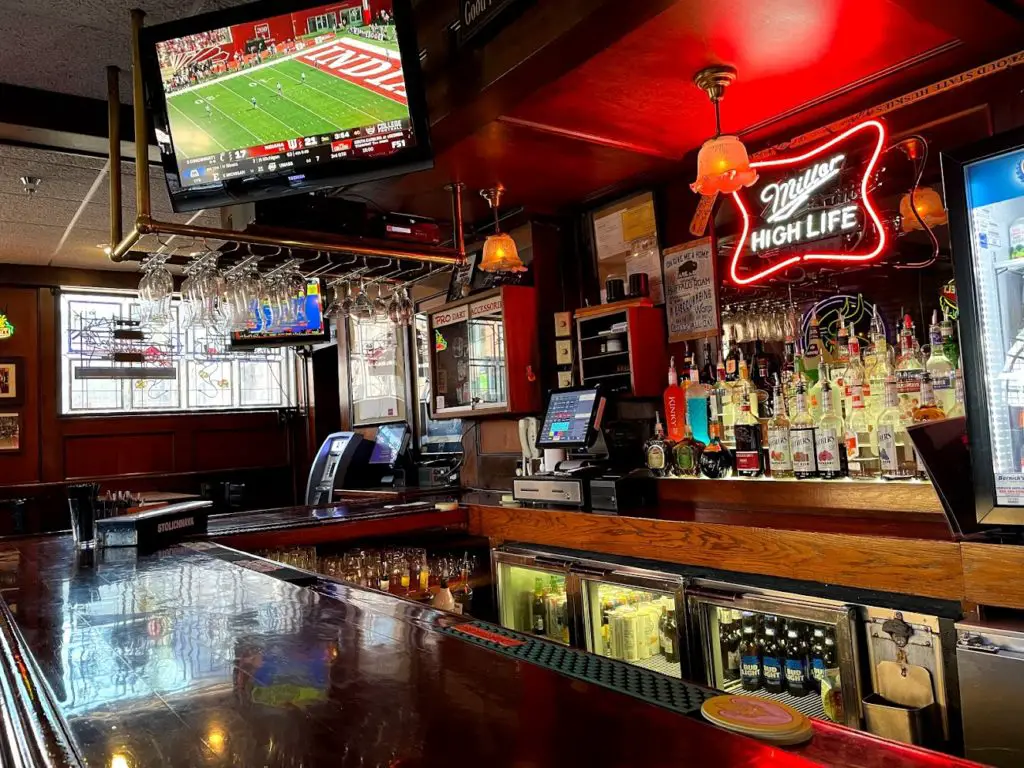 Anton's Restaurant
Does a riverfront log cabin steakhouse sound appealing? You are in luck with this St Cloud MN restaurant on the Sauk River. Anton's Restaurant is a family-owned restaurant (once a speakeasy during prohibition!) that is truly a staple in the area!
The Dining Room is complete with log walls and a few wagon-covered booths that are perfect for special occasions. The River Room and East Wing are a bit more casual with great views. The Upstairs is perfect for parties and there is an outdoor deck space as well.
Keep in mind that this is a great place for a taste of Minnesota—make sure to order walleye, wild rice, and/or one of their HUGE popovers.
The Ultimate Sports Bar
Enjoy Buffalo Wild Wings but hate going to chain restaurants? Well, head on over to The Ultimate Sports Bar and Grill. It is the most perfect place to watch sports with the 75 TVs, and you can pair that with plenty of beer options and fun frozen cocktails. And that's not all. Enjoy the outdoor patio, games ( including axe throwing), plus a friendly staff who want to have a great time with you.
Their menu has the typical sports restaurant/bar options like burgers, wings, sandwiches, and salads. I recommend their Margherita flatbread pizza and/or chicken wings! (And a cold Coors Light in the football-shaped beer glasses.)
Note: It is MUCH better than Buffalo Wild Wings. If you're a sports fan, even in the slightest, make your way here.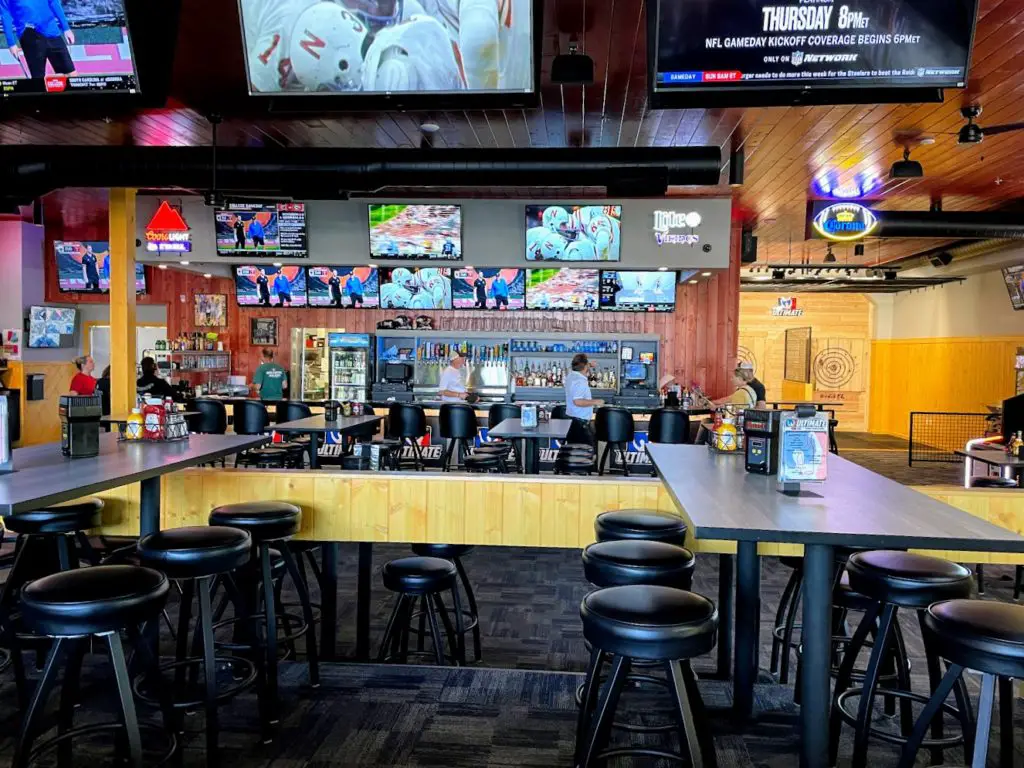 Val's Rapid Service
Who doesn't crave the hamburger and milkshake combo from time to time!? Val's Rapid Serv has been in St. Cloud for over 50 years and is the best place to get it. It is a tiny, 490 square foot old school shack where you will find both locals and tourists. And nowhere else are you going to beat the prices—both burgers and milkshakes are under $5!
It's take-out only with curbside pick-up so make sure you make this quick stop when you are in town! They also have online ordering for extra convenience.
The Pickled Loon
The Pickled Loon is another downtown St. Cloud spot that's known for its acoustic live music and DJs. Pulling in a college crowd, it has a two-levels with a dark ambiance and a full bar downstairs (with TVs) plus high-top tables. There is also an upstairs area for music, as well as an outdoor patio space.
They offer seasonal menus for both their good food and drinks. You'll find a variety of tacos, burgers, sandwiches, and even dishes like Pad Thai and Pot Pie Hot Dish. As far as drinks, order craft beers and unique, seasonal cocktails like Peanut Butter Bourbon Old Fashioned or White Chocolate Martini.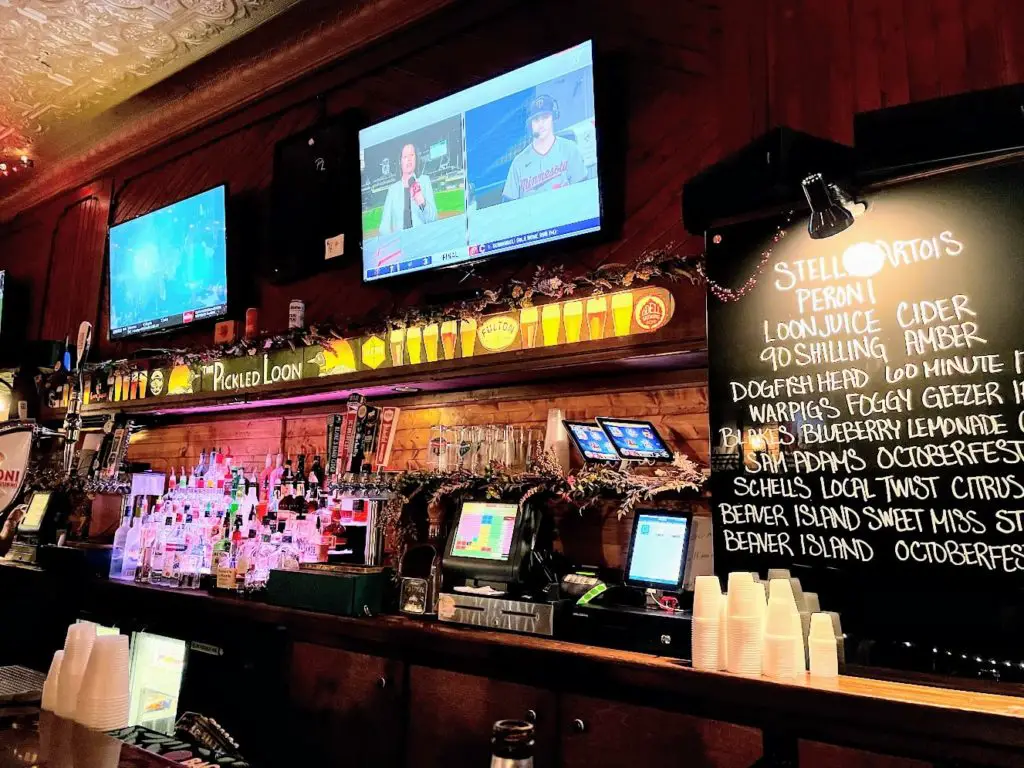 Howie's Sports Bar
Need a classic dive bar? Howie's Sports Bar is the perfect place to watch a game with a cold domestic beer and bar food—my guilty pleasure! Located right downtown St. Cloud, you'll find a bunch of locals hanging out, drinking, and grabbing bar food on a Friday night. It's a lively atmosphere and their menu offers the classic appetizers, burgers, and Howie's homemade pizza.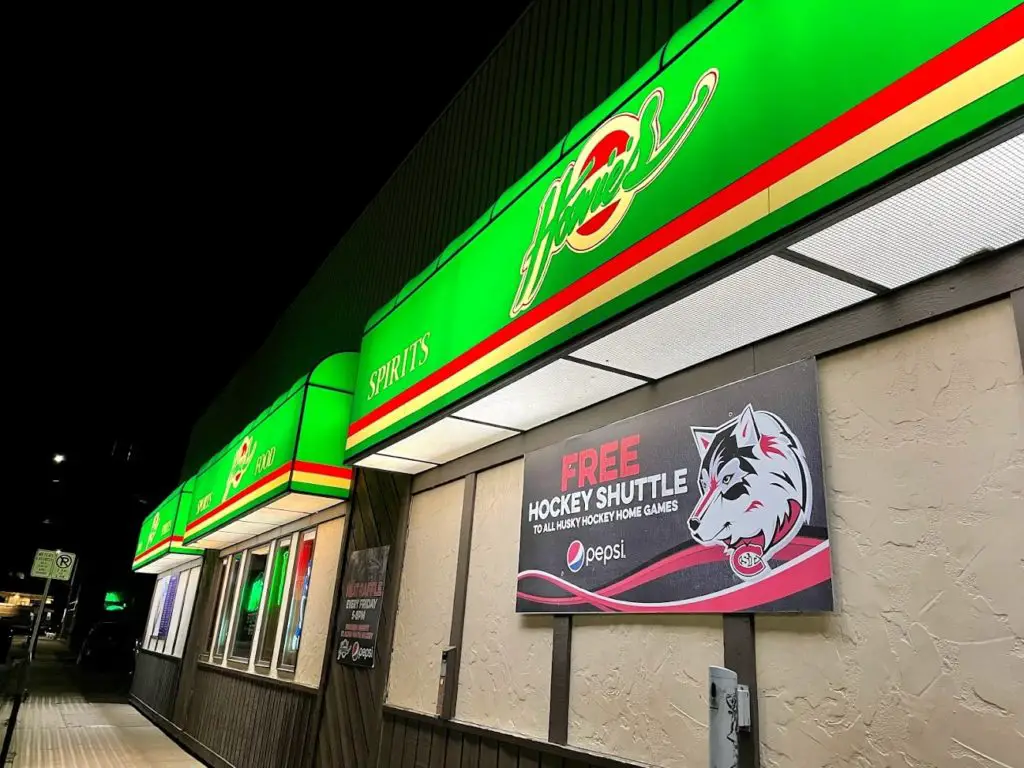 St Cloud MN Restaurant Guide: Cont…
St. Cloud is a pretty big city! And you'll never hit all the best places in one trip. Follow the cravings and find something that will hit the spot. Here are a few more St Cloud MN restaurant options!
House of Pizza: famous thin crust gourmet pizzas that are consistently ranked as the best pizza in MN!
Boulder Tap House: Classic sports bar scene with TVs and 40 beers on tap.
Olde Brick House: An Irish pub with delicious food and plenty of Jameson on 6th Ave S.
White Horse Restaurant: No frills, casual bar and eatery.
Brigitte's Cafe: All-day breakfast food in an old school setting.
And if you must, there are endless chains in St. Cloud: Red Robin, Texas Roadhouse, Perkins Restaurant, Firehouse Subs, Green Mill, Olive Garden, Old Chicago, Five Guys Burgers, Red Lobster, Panera Bread, and more.
St Cloud MN Restaurant Guide: Brewery Edition
If beer is priority #1 and food is #2, St. Cloud has you covered with delicious brews scattered throughout the area. Grab a classic light beer or something with a unique flavor for a true taste of St. Cloud. Visit one of these breweries—or turn it into a brewery hop. They are all close in proximity and make for the perfect afternoon into evening adventure…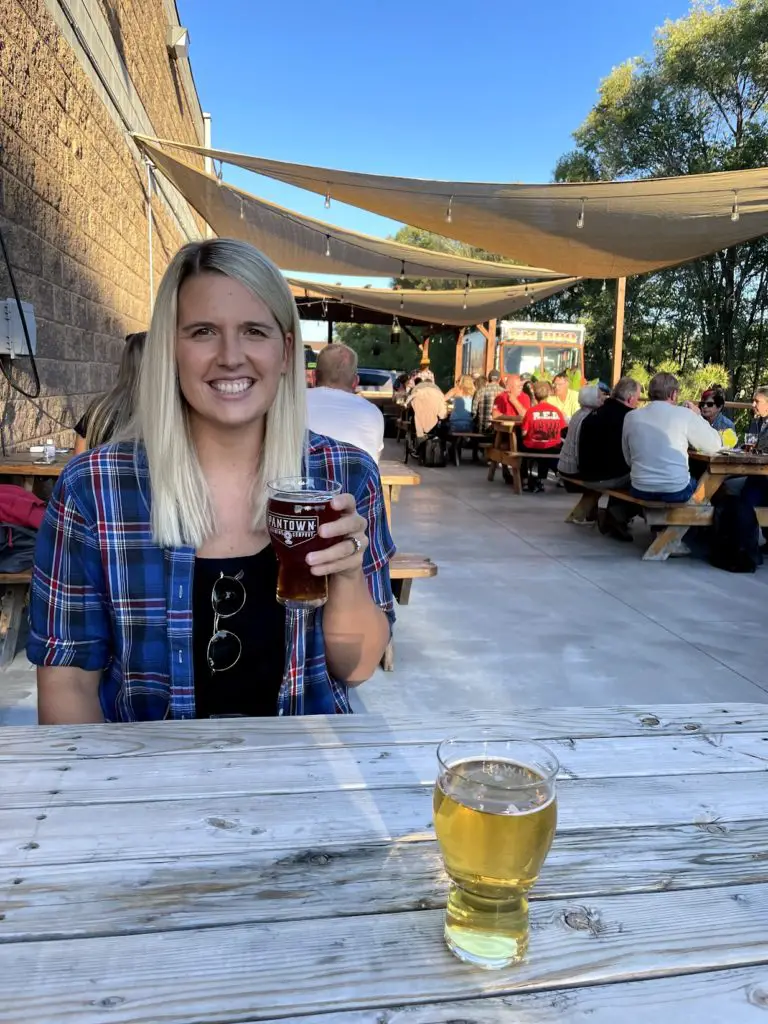 Pantown Brewing Co.
Pantown Brewing Company was my favorite brewery in St. Cloud. Their beer was light, refreshing, and so, so smooth. Give their Classic Cream Ale a try—and if it's in season, don't miss the Oktoberfest.
Your beer is best enjoyed on their string-lit outdoor patio with big, green trees as the backdrop. Get your weekend started here which will also include Food Truck Friday and live music inside. I will most certainly be making my way back to this place someday!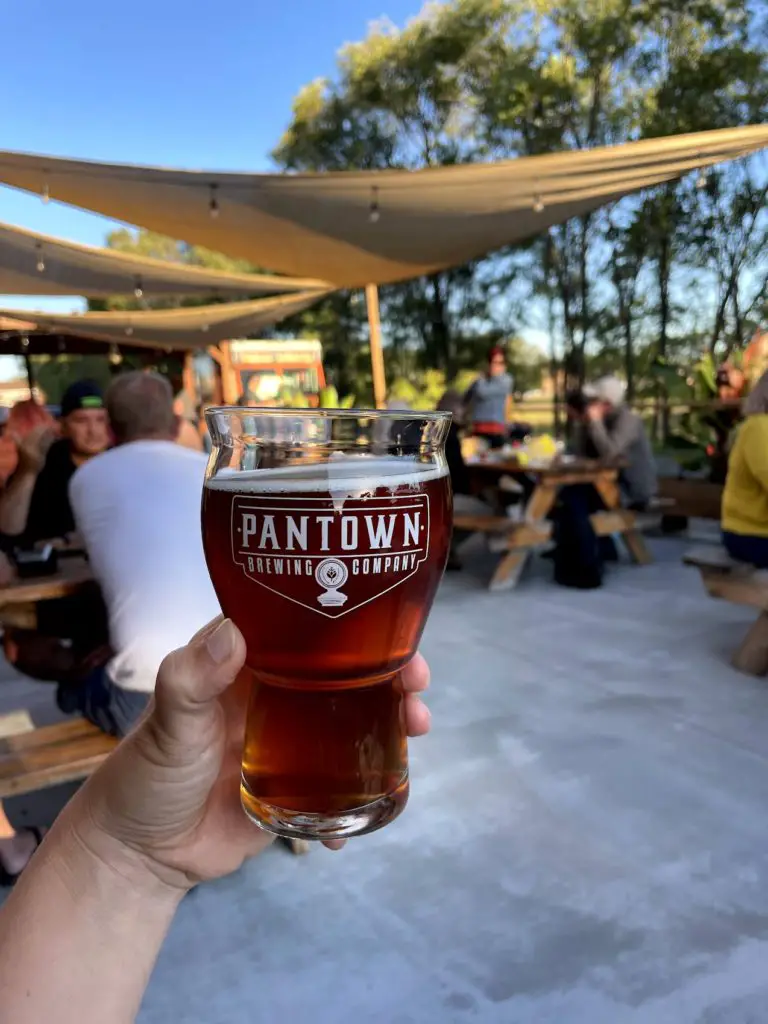 Beaver Island Brewery
This is another brewery in the St. Cloud area with a great community vibe. The feel of Beaver Island Brewery is an industrial, high-ceiling, bright space with wood and exposed brick. And it's covered in all things river decor. Bring yourself into the space with a beer flight that is served on what looks like an oar.
You're sure to meet someone here and have good conversation while drinking freshly brewed beer. Sit inside at the bar or one of the tables, or opt for the outdoor patio.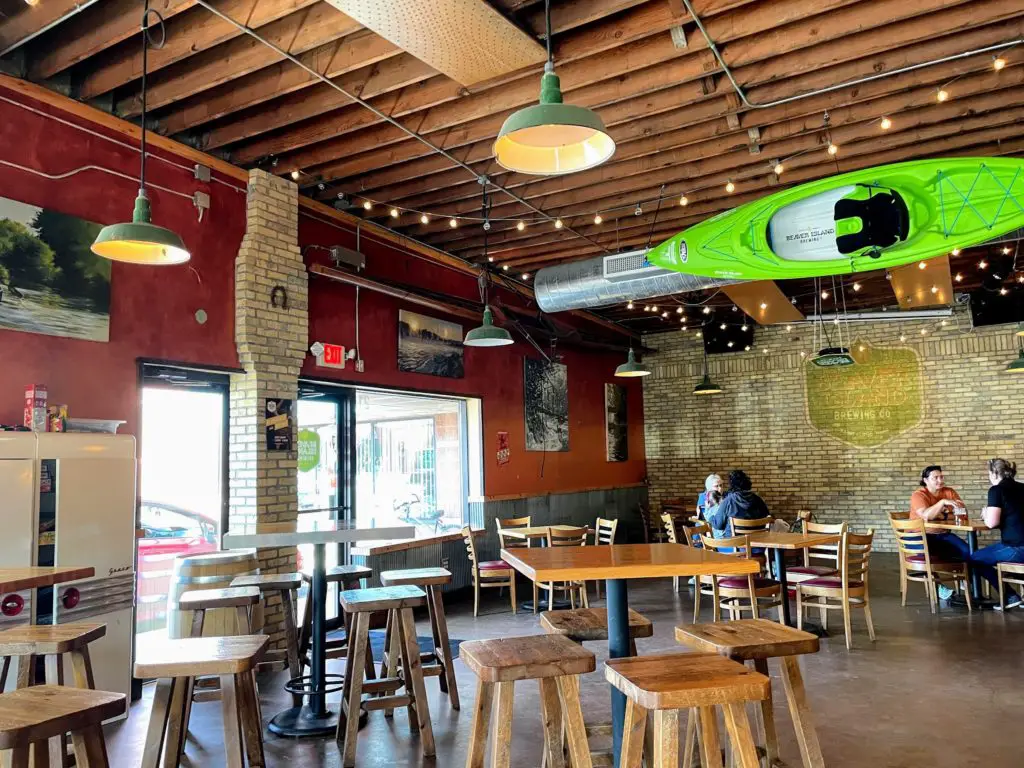 Back Shed Brewing
Back Shed Brewing is the final brewery on the list. They have a modern, open space with a large bar and plenty of tables. Choose to sit inside or at a spot on the outdoor patio—which does have heaters when the temperature drops! They have snacks, the occasional food truck, and games as well.
Stop in for something simple like the "Blonde, James Blonde" Blonde Ale. Or get a little fancier with "La Di Da Di – Strawberry/Pineapple Sour" or "Stompin' Daisies," which is an IPA.
St Cloud MN Restaurant (and Brewery) Guide
Saint Cloud is full of fantastic restaurants and places to enjoy time with friends and family—while also connecting with the community.
DON'T FORGET: Top 12 Best Things to Do in St Cloud MN to make your whole day or weekend fun!