No matter what time of year, you will enjoy a road trip to St Cloud, Minnesota! You'll find plenty of breweries, dive bars, and restaurants. plus trails and places to get outside at spots like Quarry Park and Munsinger Gardens. This city offers a fun experience from sun-up to sun-down!
Located in central Minnesota, it is easily accessible for most Minnesotans in a couple of hours' drive. And once you get there you will be surrounded by rich history, culture, and good times.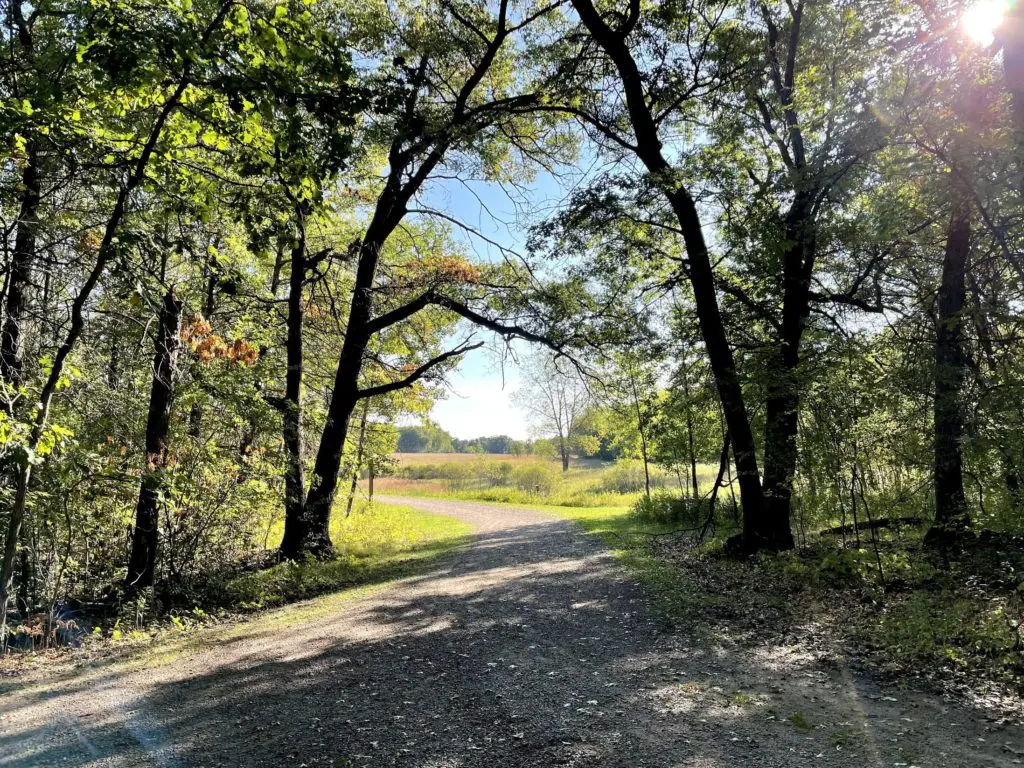 How Far is St Cloud from Minneapolis?
St Cloud, Minnesota is 1 hour and 15 minutes from Minneapolis (65 miles.) The quickest way to get there is via I-94 West through Maple Grove, Rogers, and Monticello. The short distance makes it perfect for a weekend, or even day trip, within Minnesota.
What is St Cloud, Minnesota known for?
St Cloud, Minnesota is known for its granite quarries which have been around since 1868—another name for the town is "Granite City." Aside from history, it's known for things like college hockey and Val's (more on these below!) But first, let's get started on…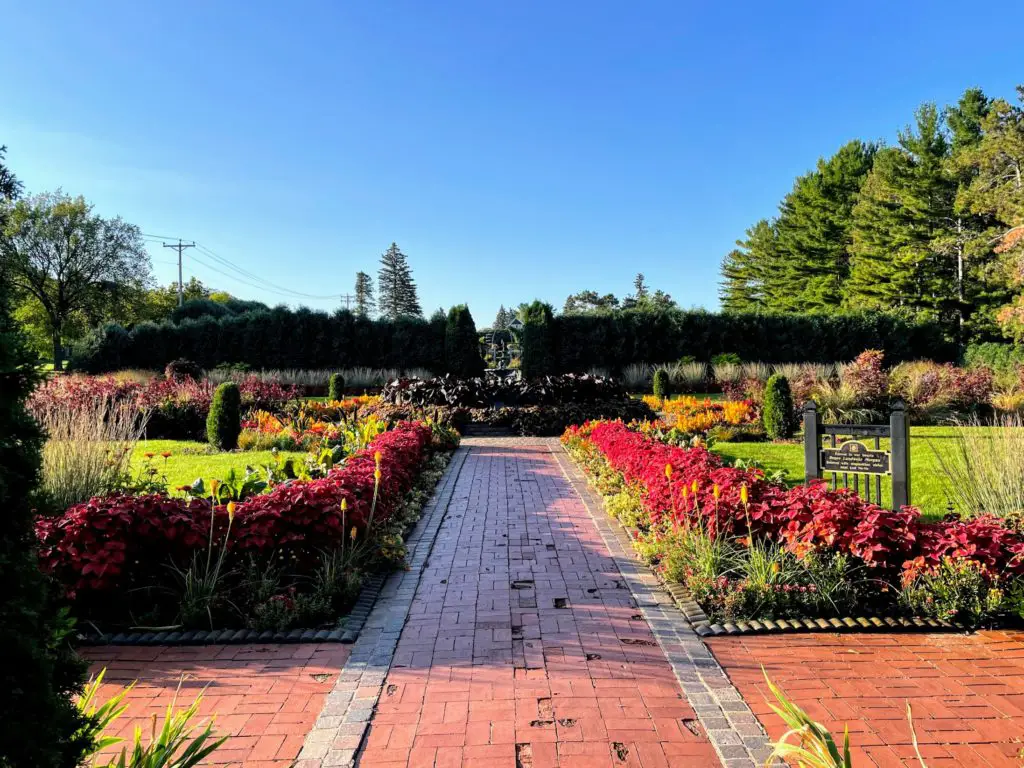 The Best Things to Do in St. Cloud Minnesota
NOTE: I provide the cost for each activity and it does include taxes, tips, and fees, where applicable 🙂
1. Quarry Park & Nature Preserve in St Cloud, Minnesota
COST: $5 for a daily pass
Is this really in St Cloud, Minnesota? Quarry Park is 684 acres of gorgeous scenery that includes 18 quarries, prairies, woodlands, wetlands, and trails. The beautiful blue (and green!) waters pop from the quarries and nature lovers can't get enough.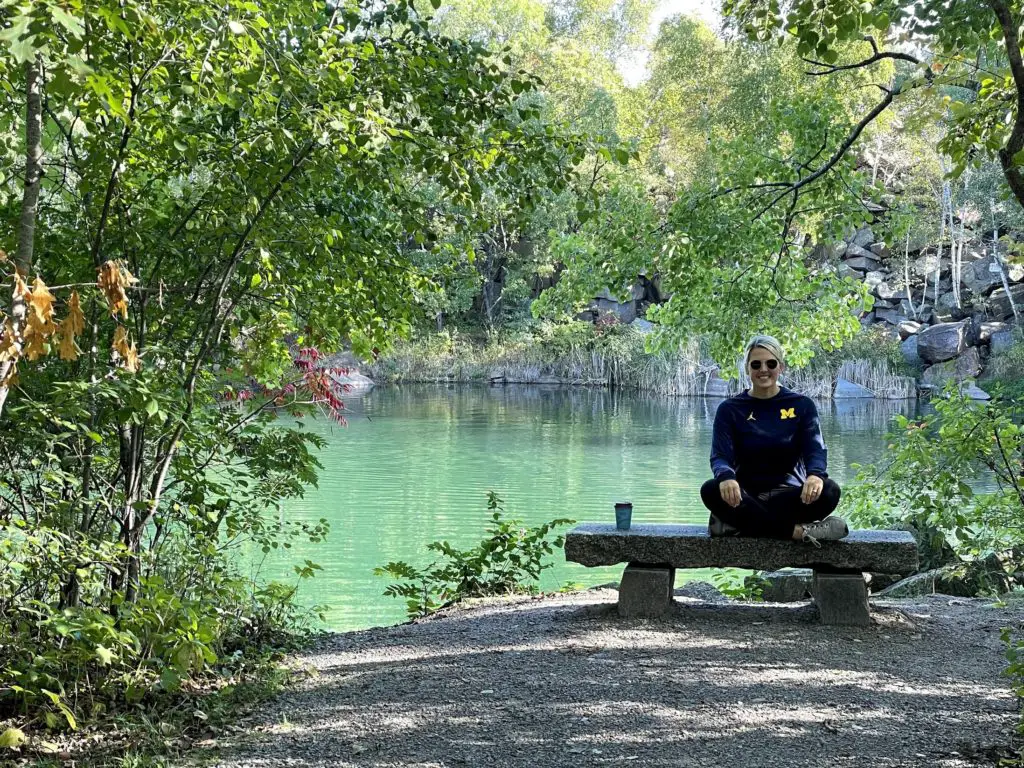 It is one of the more popular places in St. Cloud and for good reason. Open for swimming in the summer months (Quarry #2 and Quarry #11), it's the perfect destination for families (#11) and those seeking cliff-diving adventures (#2.)
That's not all though; there are a ton of options when it comes to outdoor activities at Quarry Park & Nature Preserve. Scuba dive, rock climb, fish, bike, or take advantage of the well-kept hiking and walking trails. Bring some food to enjoy at the picnic tables and make a full day out of it. There are plenty of fun things to do!
Not only should you take advantage of summer here, but visit during the spring when warm weather returns, fall for the change of color, and winter for snowy views and cross country skiing.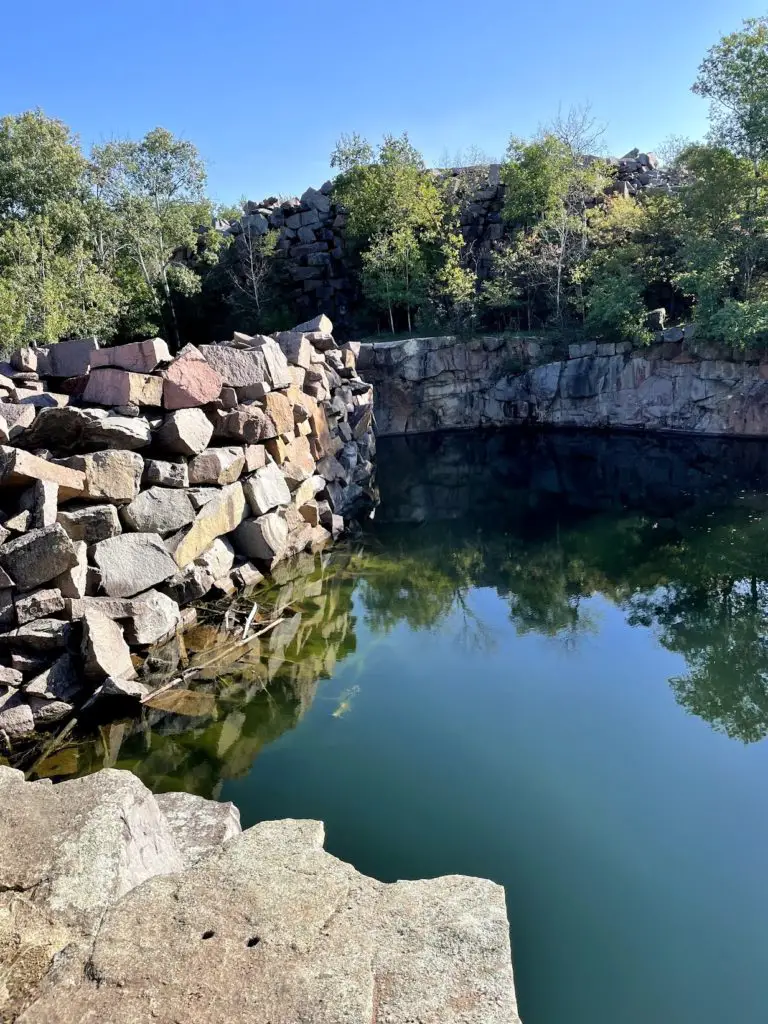 2. Munsinger Clemens Gardens in St Cloud, Minnesota
Cost: $0 – Free!
Let's keep it going with beautiful outdoor spaces. Munsinger Clemens Gardens is one of the most unique things to take advantage of while visiting St. Cloud. Gorgeous, European-style gardens and green spaces to walk around and enjoy. (Come in the morning with your coffee and it's the most peaceful way to start your day!)
Munsinger Gardens is located right on the Mississippi River. Look to one side for blue waters amongst the trees and the other for a beautifully crafted perennial garden. Plus, just across the street is Clemens Gardens where you'll find brick paths leading through the flowers, fountains, and statues—picture above.
Put this place near the top of your list when you visit St. Cloud. It is full of beauty!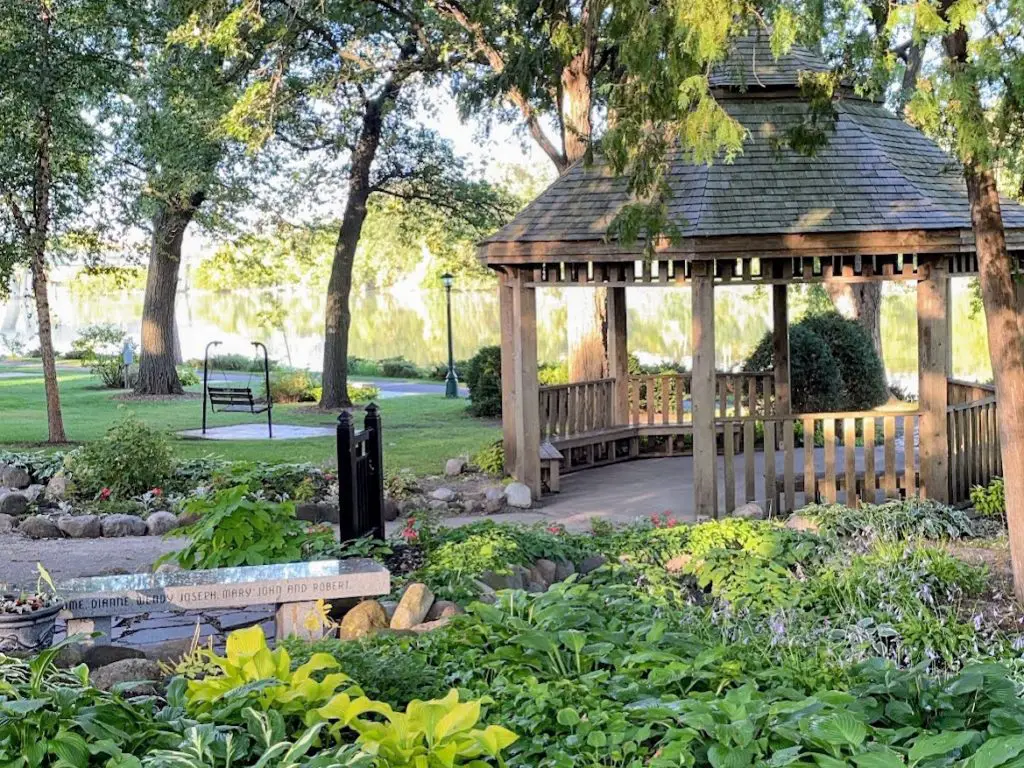 3. Beaver Island Trail in St Cloud, Minnesota
COST: $0 – FREE!
Beaver Island Trail is a 5.1-mile paved path that goes from St. Cloud State University to River Bluffs Regional Park. "Beaver Island" comes from the 20 islands along your walk that were once full of beaver dams. Here you can admire the Mississippi River, forests, and natural settings that the area offers. And you'll also cross the St. Cloud Riverwalk, just .5 miles and a great spot for a classic St. Cloud photo!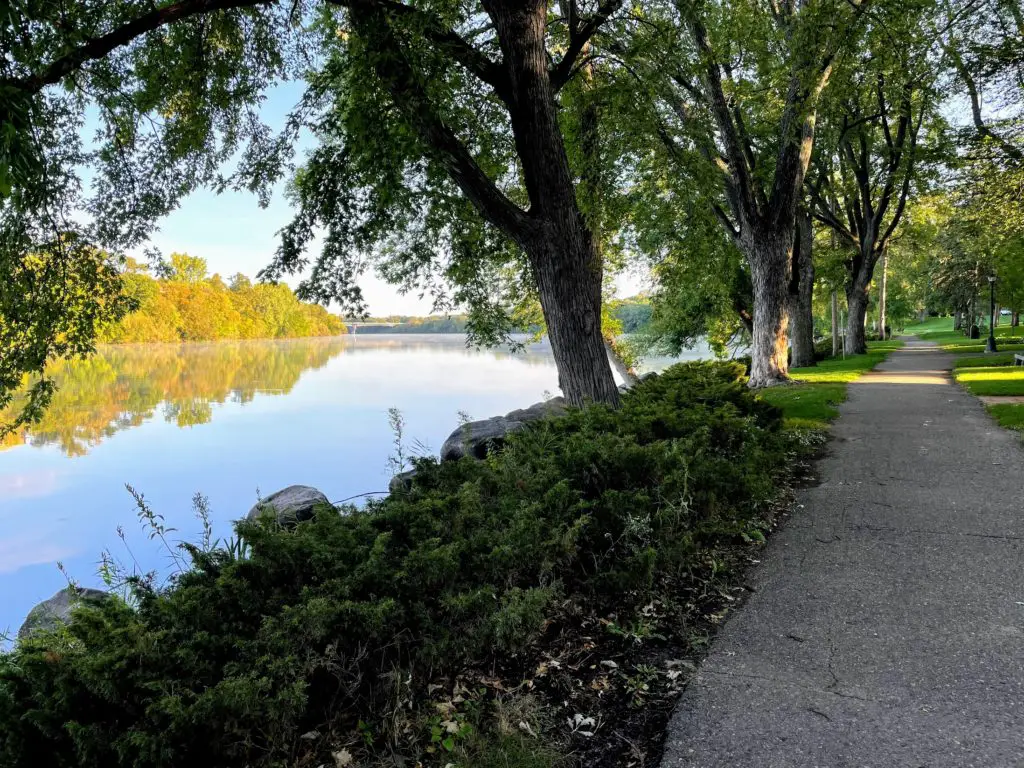 4. Lake George Park in St Cloud, Minnesota
Cost: $0 – Free! (Rentals: $6 per half hour; $8 per hour.) 
The outdoor adventure in St Cloud, Minnesota doesn't stop there! Visit Lake George Park, located right near the downtown area. Rent kayaks or paddleboards to get out on the water, enjoy some food at one of their picnic areas, or just walk along the path and take in the views. This spot is perfect for families and kids of all ages.
Also, visit in the summer and you'll be in luck to hear live music and be a part of the Middletown Market that includes food trucks and other fun events and vendors.
Read the Guide to the Best Minnesota Lakes to Visit for more fun on the water!
Breweries in St Cloud, Minnesota
Ready for more outdoor adventure? This time, we'll add beer! St. Cloud offers a few different breweries with outdoor spaces perfect for enjoying the fresh air and sippin' a craft beer.
5. Pantown Brewing Company
Cost: $15 for 2 Beers (16 oz.)
Pantown Brewing Company is my favorite brewery I have ever been to—no joke! As a light beer drinker, even I can rave about the good brews at this place. The Cream Ale was light and smooth with a tasty flavor that didn't have a bite to it (you know what I mean!) And the Oktoberfest was the perfect fall beer that's easy to drink.
It's definitely one of the hot spots in St. Cloud—for both craft beer conessuiers and light beer drinkers!
And aside from the beer, they set the atmosphere up just right. Visit while it's Food Truck Friday and enjoy the string-lit outdoor patio surrounded by trees. If it's too cold, head inside to find a table and listen to live local musicians.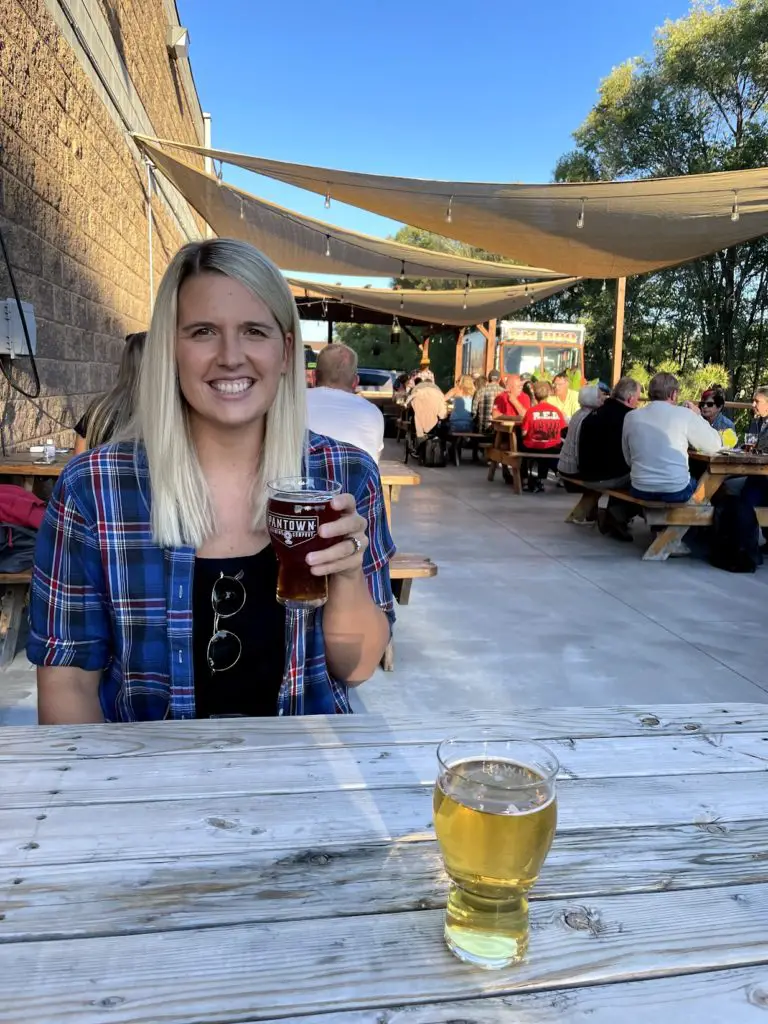 6. Beaver Island Brewing Co.
Cost: $7 for 1 Beer (16 oz.)
Another fun spot in the area is Beaver Island Brewing Co. They offer a high-ceilinged, bright indoor space as well as an outdoor patio (where your dogs are welcome.) This spot started as at-home brews and grew into its own location with a great community atmosphere—and they still brew their beer on-site!
Go with a beer flight to try a range of IPAs, milk stouts, and ales; it comes on what looks like a canoe oar. Or pick your favorite—I went with the seasonal Oktoberfest and if it's brewed while you are there, definitely give it a try!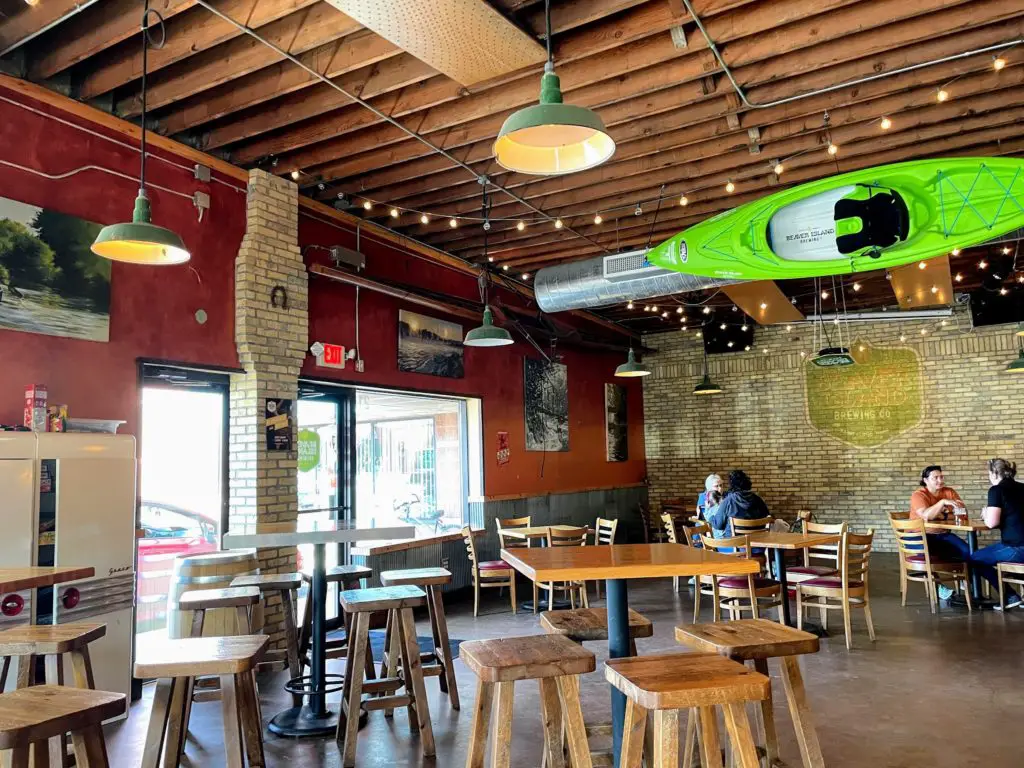 7. Back Shed Brewing Company
Cost: $7 for 1 Beer (16 oz.)
St. Cloud is the perfect location for a little afternoon into evening brewery hop. Add in Back Shed Brewing Company for the full trifecta! This spot has an outdoor patio (with heaters when the temperatures cool down!) where your dogs are welcome, snacks and food trucks (as often as possible), games, and, of course, craft beer!
Stop in for something simple like the "Blonde, James Blonde" Blonde Ale. Or get a little fancier with "La Di Da Di – Strawberry/Pineapple Sour" or "Stompin' Daisies," which is an IPA.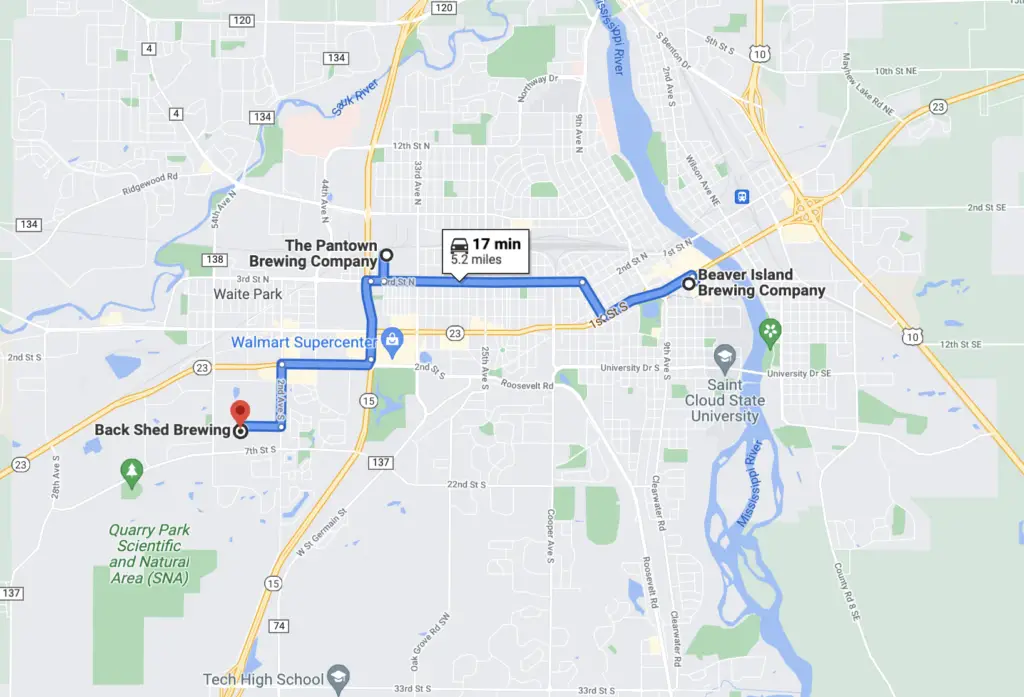 8. The Ultimate Sports Bar in St Cloud, Minnesota
COST: ($) Standard Sports Bar Pricing + Great specials
My goal is to always find a fun sports bar in every area I visit. And let me tell you, I may have found the best one in the state of Minnesota. As the name states, this place really is "The Ultimate Sports Bar."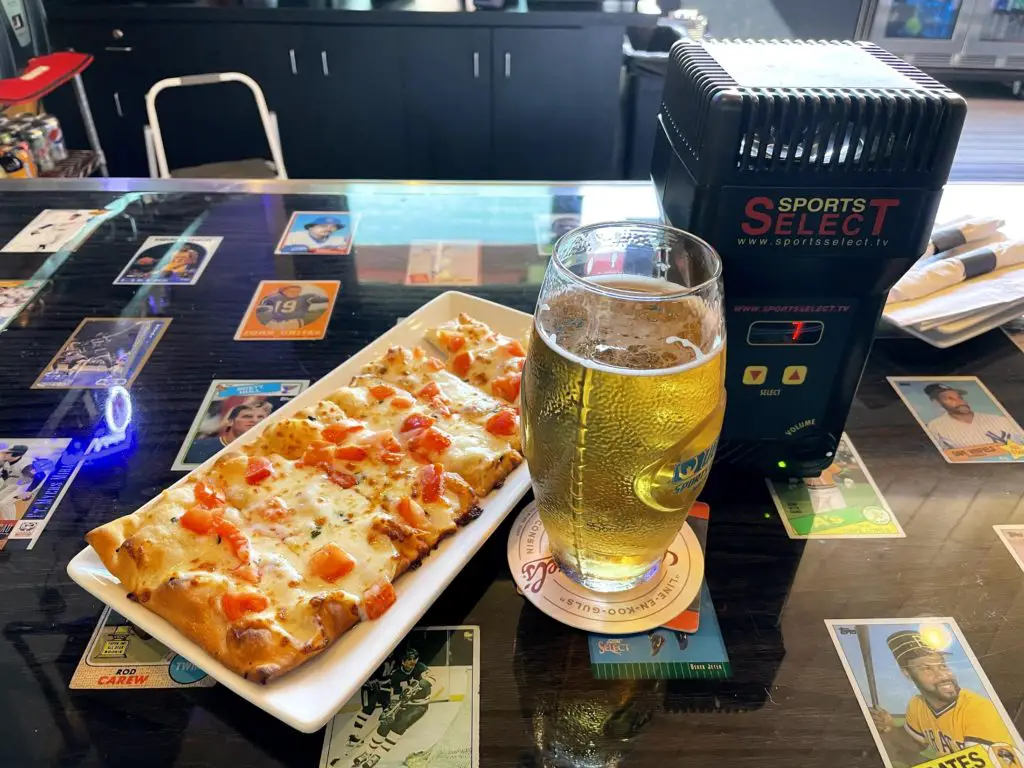 Ultimate Sports Bar & Grill has a million TVs (okay, 75), open-air + outdoor patio (with firepits), fun drinks like frozen margaritas and beer tubes, games and axe throwing, and happy, friendly staff. They even have outlets right underneath the bar when your phone is about to die (clutch!)
Football season is the perfect time of year to visit; you are guaranteed to have a good time.
Their menu is full of traditional, American pub fare and both the Margherita flatbreads and dry rub wings hit the spot! And check out those awesome football beer glasses!?
TIP: If the game you are watching isn't what they have on the sound, ask about the tabletop speakers that allow you to listen to your game quietly enough that others don't hear it! SO COOL—it is in the top picture.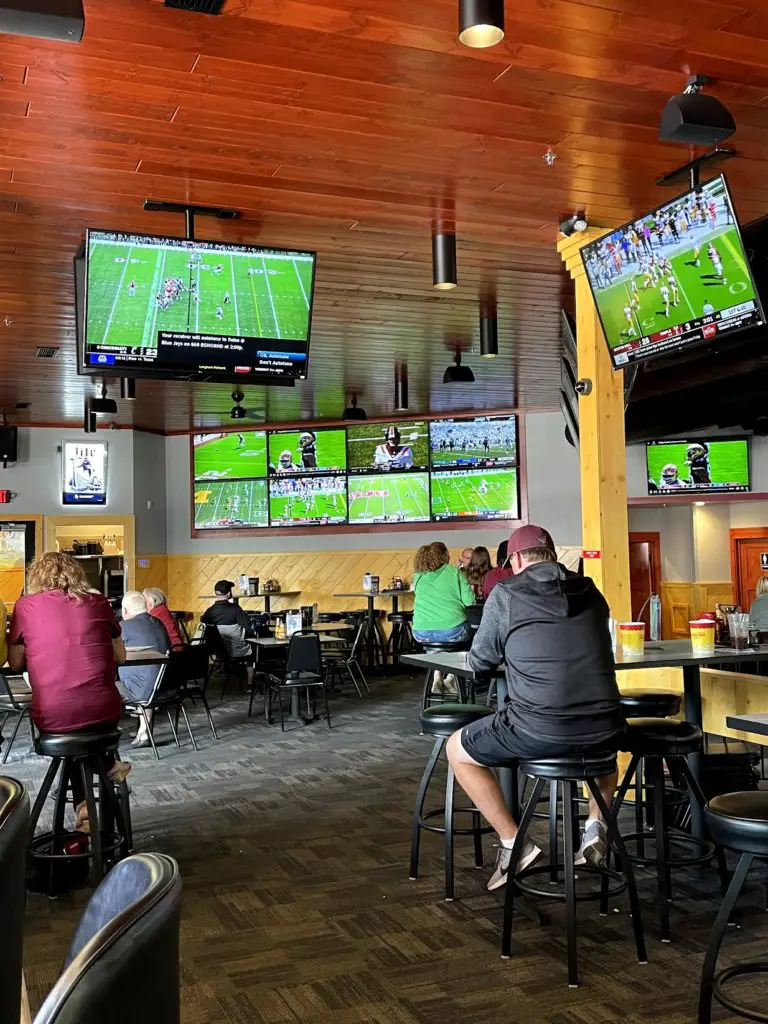 9. Brick & Bourbon in St Cloud, Minnesota
COST: ($$) Standard Upscale American Restaurant/Bar
Looking for a great place to eat with good food in a more upscale setting? Visit Brick and Bourbon, located right downtown on 2nd and 5th. Known for its (you guessed it) bourbon, grab a flight to try a variety. Or stick with one of their craft beers on tap. If you're into stouts, get the Peanut Butter Milk Stout by Belching Beaver—I absolutely LOVED it. From the first smell, I was hooked.
Dark wood interior, barrels, and lights bring the ambiance together and I recommend a seat at the bar. For food, you cannot (cannot!) pass up on the Buffalo Brussels Sprouts. They are cooked to perfection and full of flavor. Their menu also includes additional apps (dry rub wings with a side of buffalo are solid) plus burgers, mac & cheese, and more.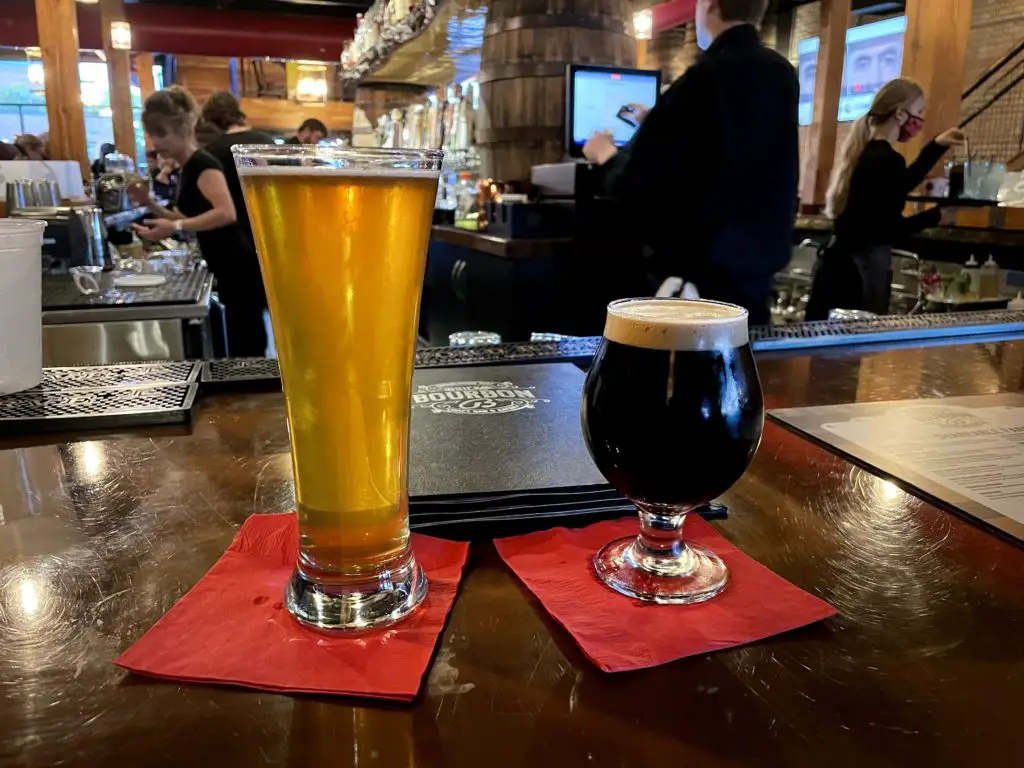 10. Catch a Game in St Cloud, Minnesota
Cost: Varies
Herb Brooks National Hockey Center: Watch one of Minnesota's best hockey teams which is home to the St. Cloud State Huskies. Both the men and women's teams play here.
Joe Faber Field: Catch a baseball game played by the St. Cloud Rox team or St. Cloud State University.
SCSC also has Men's and Women's Basketball, Volleyball, Soccer, Softball and more.
11. Val's in St Cloud, Minnesota
COST: Burgers are less than $5, Milkshakes for under $3
Val's Rapid Serv has been in St. Cloud for over 50 years and is the best place to grab classic burgers and milkshakes. This tiny, 490 square foot old school shop is a popular spot for both locals and those who make their annual stop for a bacon double cheeseburger. It's take-out only with curbside pick-up so make sure you make this quick stop when you are in town!
Plus, it's right near…
Where to Stay in St Cloud Minnesota: MN Hotels
12. Country Inn & Suites – East
COST: $135 Per Night (including tax & Fees)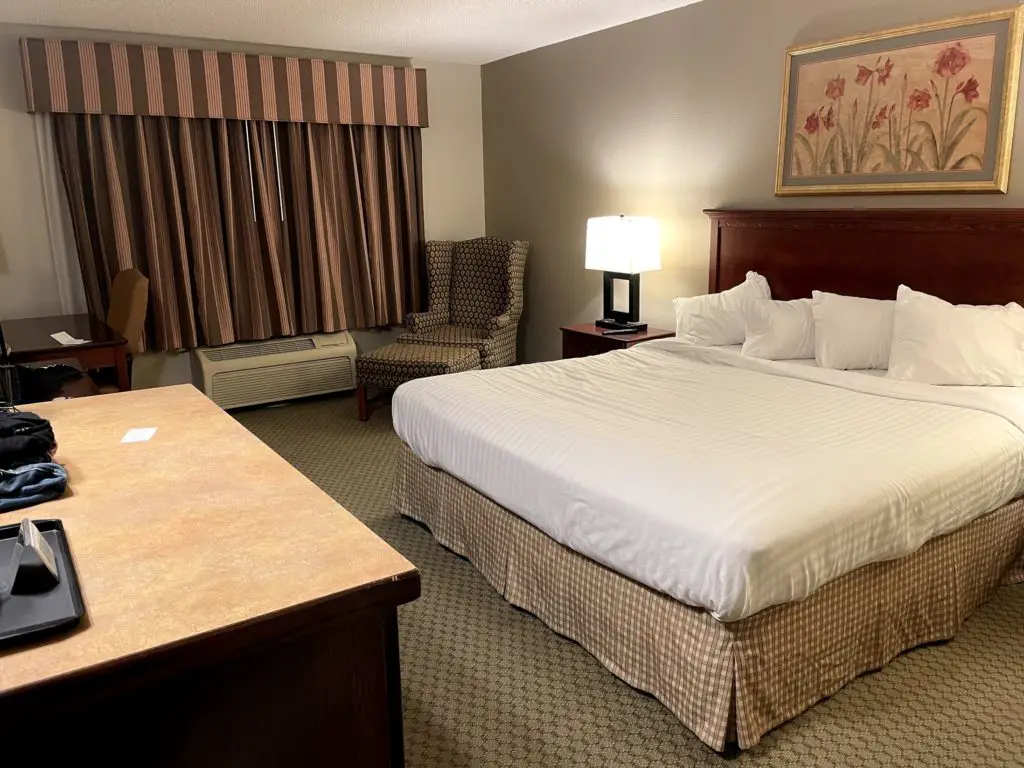 The Country Inn & Suites on the east side of St. Cloud Minnesota is in a great location. Only 4 minutes from downtown, 5 from Munsinger Clemens Gardens, and 15 from Quarry Park—and a few steps from Val's!
The hotel rooms are clean with comfortable beds, a TV, and a coffee maker. Plus, there is a continental breakfast (actually really good with eggs, sausages, waffles, etc.) included in your stay.
Note: I was here in September 2021 and there are plans in the works for soon-to-be renovations to make it an even more comfortable stay!
The Best Things to Do in St Cloud, Minnesota
The city of St. Cloud is a fun place to visit with plenty of things to do and see! It's a community of about 68.5k (not a small town for central Minnesota!) and they all keep their spaces clean, welcome new people, and enjoy where they live. Make sure to adventure in both downtown St. Cloud and the Greater St. Cloud area and get to know a few locals!
What's Your Favorite Thing to Do in St Cloud, Minnesota?
Did this post help you out? Support the work and pass along $5 for a Coors Light 😉 VENMO: @Amber-LBB or PAYPAL: amber@littlebluebackpack.com. THANK YOU.