If there is one thing we're known for over here (besides winter), it's the Minnesota Lakes. Whether you're up north, in the Twin Cities, or somewhere in the middle, you're probably not too far from one of the best Minnesota Lakes. And these are some of the best places to spend your days—no matter the season!
The Land of 10,000 Lakes. 11,842 to be exact 😉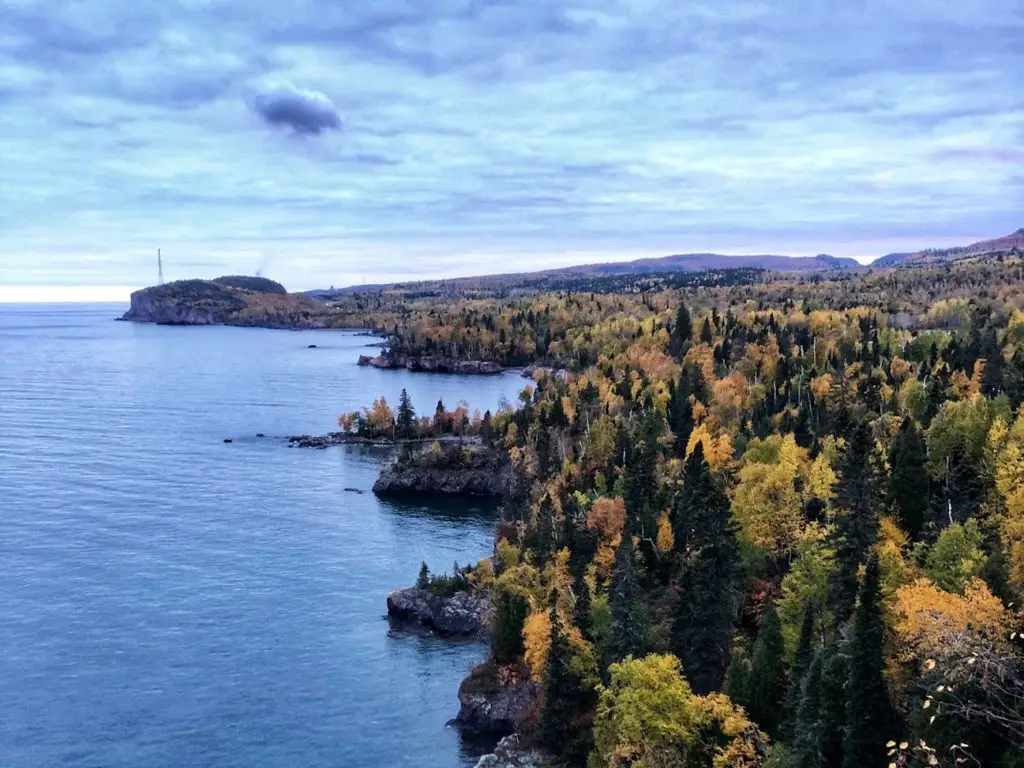 The Best Minnesota Lakes to Visit
11,842 can be a little overwhelming. Which ones are worth it? Which ones are clean? Is there space for water sports? How about the best beaches, fishing, bike paths, and restaurants? Fear not, you now have a guide!
The Top Spot
I wasn't going to start here. I was going to save this one for last. But I can't disrespect Lake Superior like that. First and foremost, it is the largest freshwater lake, expanding from Duluth, through Michigan, and across the Canadian border. The size is truly remarkable…
Lake Superior
Located in Northern Minnesota, the miles of shoreline are a sight to see. Lake Superior's size, clear water, rocky cliffs, and overall beauty make it one of the best lakes in Minnesota. In my opinion, the very best.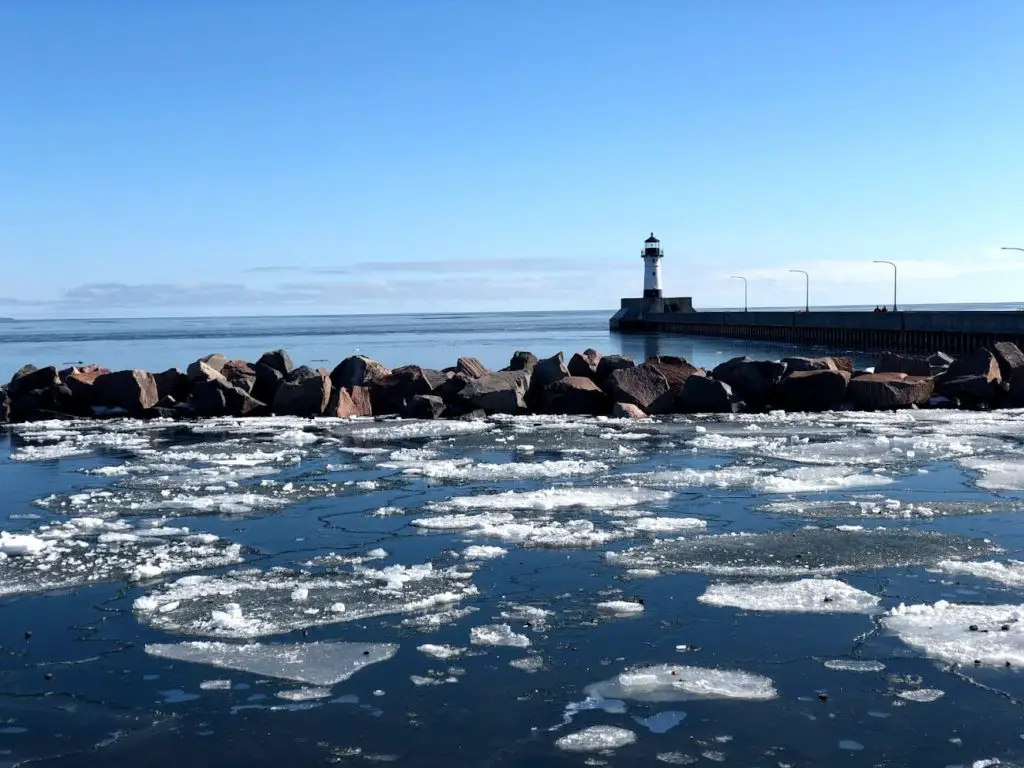 North Shore Scenic Drive
The best way to experience the Minnesota section of Lake Superior is by a fun road trip along Hwy 61. Stretching from Duluth to Grand Portage, you're entire drive will be along the Lake Superior coastline. And though you are going to hear a few knocks on this great lakes cold water temperatures, I prefer to call it REFRESHING.
I recommend staying in Grand Marais, Minnesota, a very cute, touristy small town with access to a bunch of different sites and experiences. Make sure to read 14 North Shore Road Trip Stops for additional recs!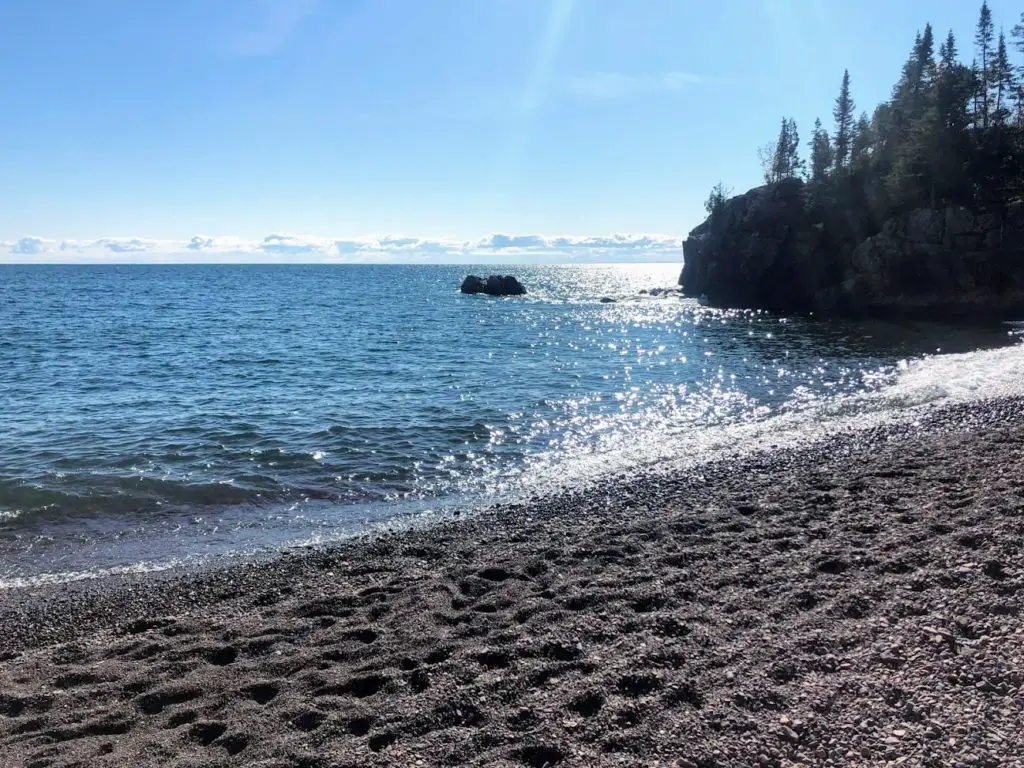 Okay, now that we've got the #1 best Minnesota lake complete, let's move on. Though not quite as well-known as Lake Superior, these lakes are also worth a visit!
The Best Minnesota Lakes in the Twin Cities
One of the things that make the Twin Cities so cool is that, amidst two major cities, there are big, clean, and beautiful lakes to visit. Here are more details on the best ones:
Lake Harriet
A goodie that's a part of the Chain of Lakes—four lakes that connect through southern Minnesota. Lake Harriet is the southernmost lake of the four and has such a great vibe. Visit Lake Harriet and you'll find people on the walk and bike path, enjoying the beach, kayaking, or grabbing snacks and drinks at the pavilion.
There are so many recreational activities going on here and even fun summer nights that include live music. And while it can get busy in the summer months, it's not quite as rowdy as…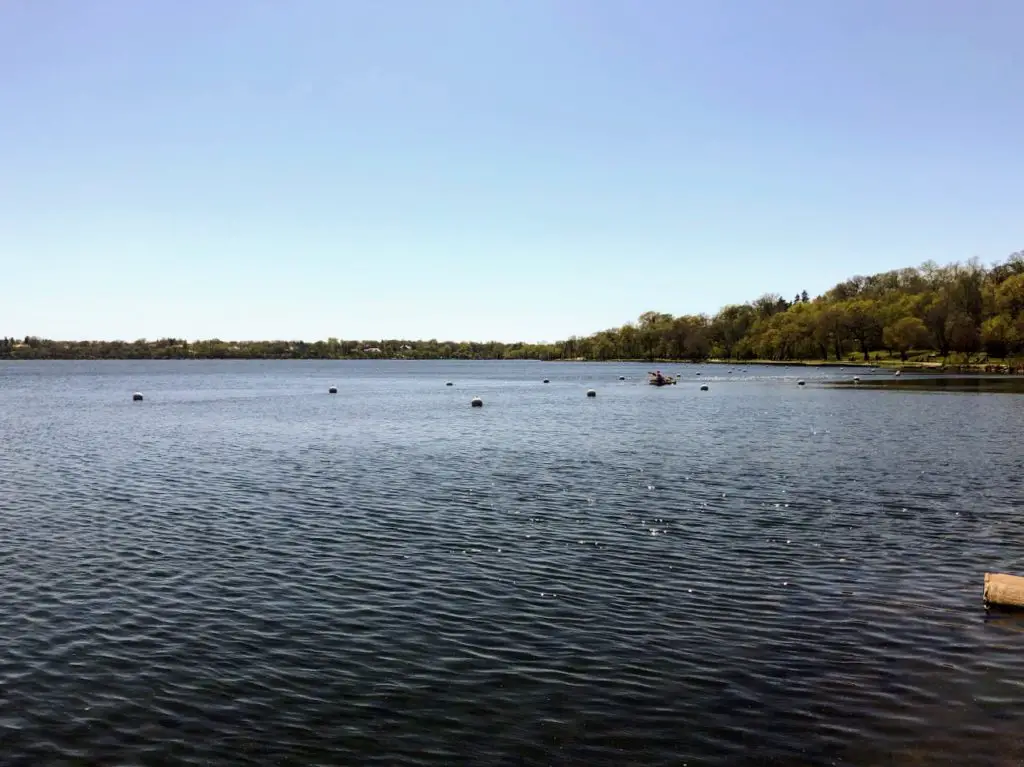 Lake Bde Maka Ska
This is such a great place and one of Minneapolis' top spots. I always send those visiting to Lake Bde Maka Ska. Previously known as Lake Calhoun, this is the most popular spot when it comes to the Chain of Lakes, and the biggest.
There is seriously always fun going on around here! Three beaches with great swimming, kayak and paddleboard rentals, parks, sand volleyball, and plenty of green space for your hammocks! As a bonus, it's located right near all of the Uptown restaurants, bars, and shops which makes it easy to spend a day in the area.
Where to eat? Right on Lake Bde Maka Ska is Lola on the Lake where you can grab a walleye sandwich. Wakame Sushi and Asain Bistro—my favorite Minneapolis restaurant. Taberna for tacos and margaritas. And Rustica Bakery for coffee and pastries.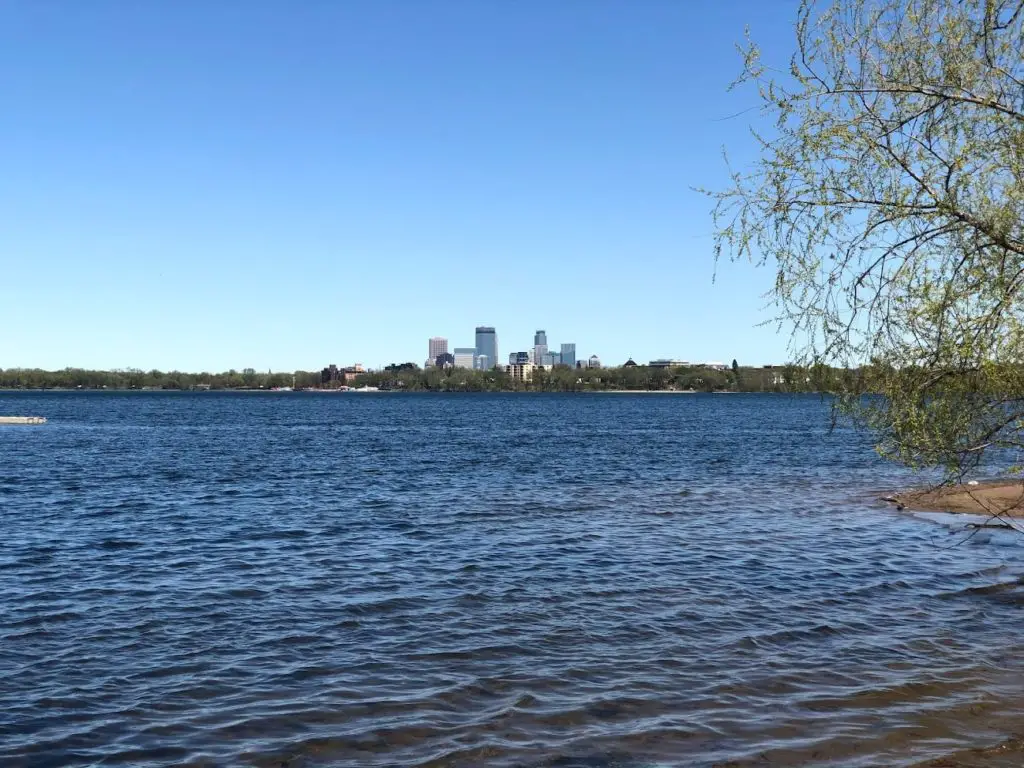 Lake of the Isles
Continuing to move north along the chain of lakes, you'll reach Lake of the Isles. When it comes to city lakes, Lake of the Isles is a stunning and perfect lake to visit. Plus, it's much quieter than Lake Bde Maka Ska.
Skyline views, gorgeous homes, and plenty of places to lay down a blanket and get lost in a book. There's also a 3-mile or so walking and bike path that twists and turns around the lake's funky curves. Of course, the path also connects with the other chain of lakes if you need more miles. And it's one of the top spots for ice skating come winter.
This is certainly one of the most beautiful lakes in the city and state as a whole!
Note: you're very close to all of the great food options mentioned above in Lake Bde Maka Ska!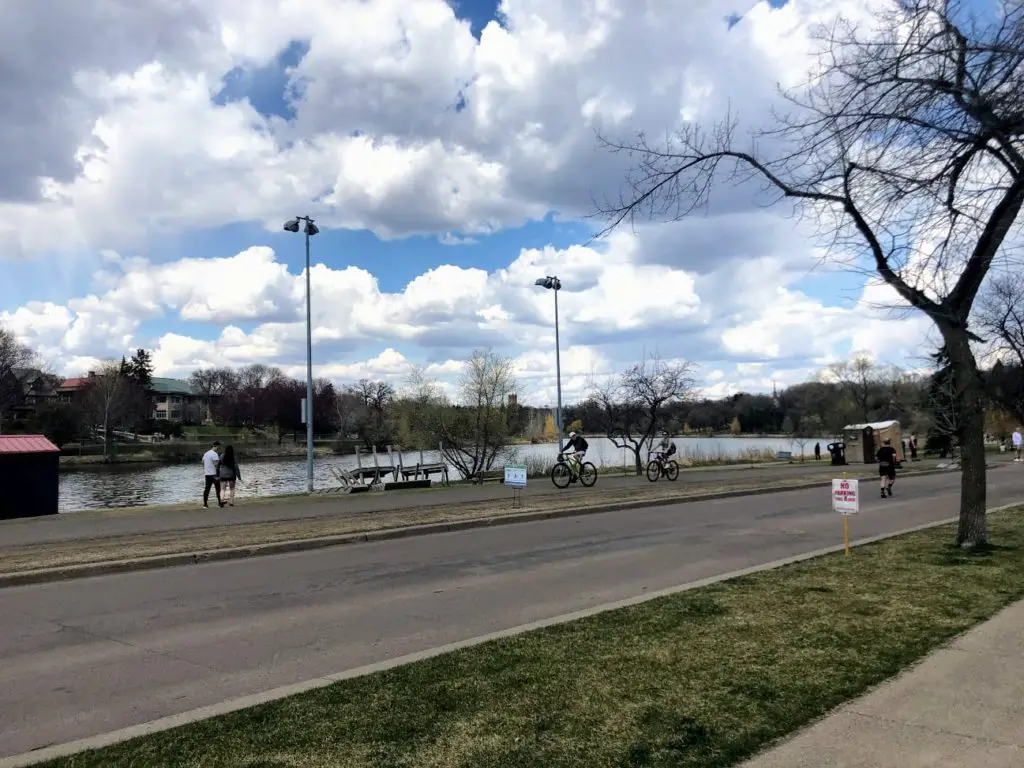 Cedar Lake
Another lake in the Metropolitan area and the northern-most Chain of Lakes body of water. Cedar Lake is the calm energy you need. Less busy than the three already mentioned, Cedar Lake is great for some peace and quiet. And a great spot to use the bike path without thinking you're going to run into someone.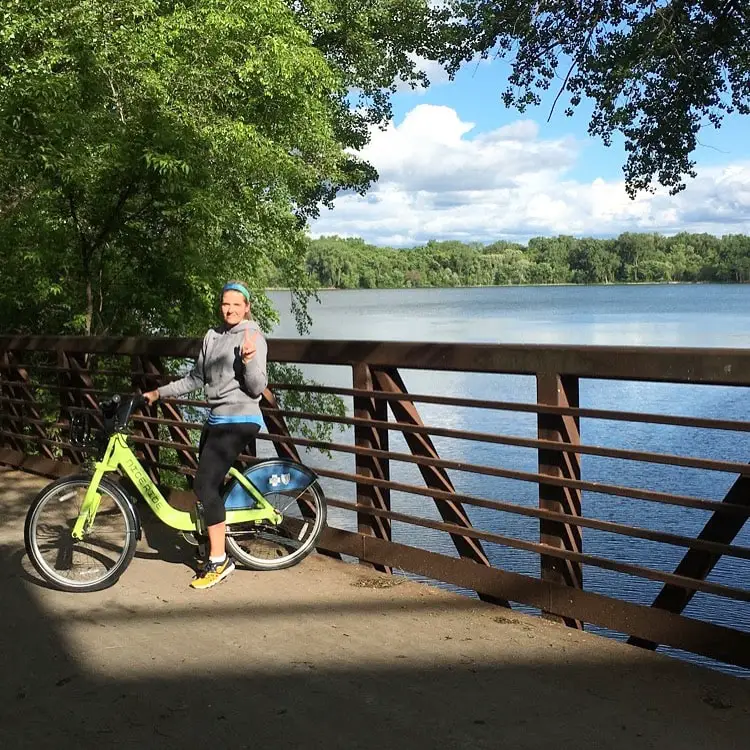 Lake Nokomis
The last of the Minneapolis lakes. And while it's not technically a part of the chain, it's close by! Lake Nokomis is beautiful and easily one of the best Minnesota lakes to visit. Sandy beaches, beautiful city scenery, and activities including softball games and pickleball in the summer and ice skating in the winter.
Find one of the picnic areas and spend a memorable day here. There is always something fun going on!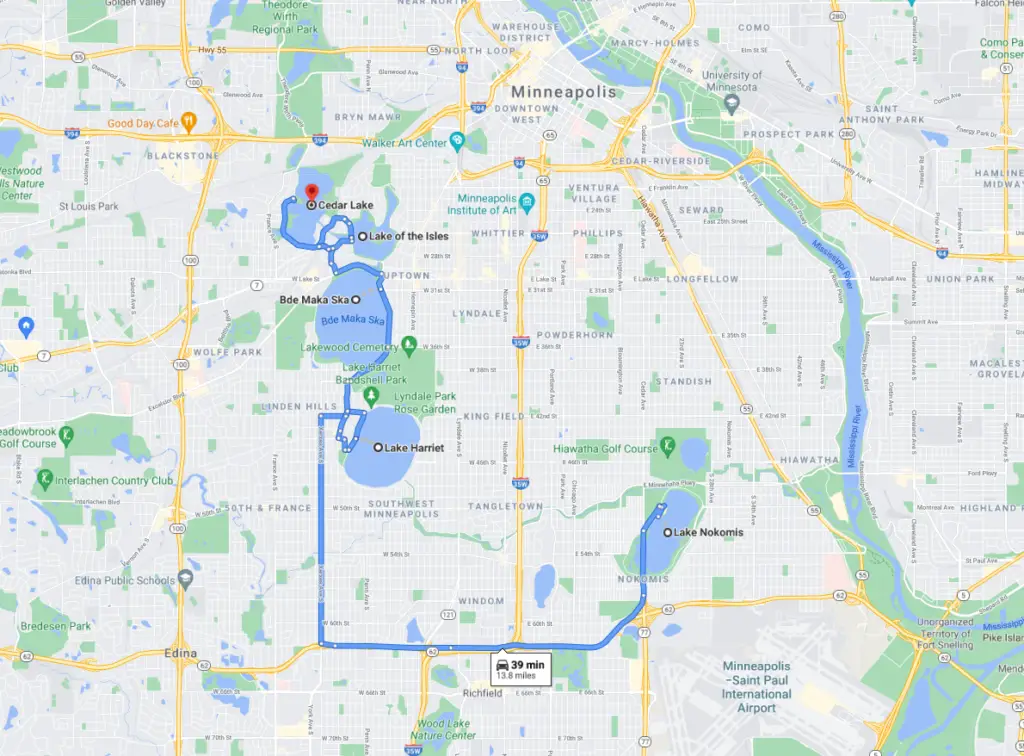 Lake Minnetonka
If you are looking for one of the best Minnesota lakes to party at, here is the best spot! I love Lake Minnetonka. This is the 9th largest lake in Minnesota and on summer Saturdays, a popular destination. You are going to find hundreds of boats on the lake—with coolers packed. It's fun for the entire family with plenty of room for water sports and (typically) clean water for swimming. Plus, there's even a DJ sometimes!
Bonus: Tonka Paparazzi. On the weekend, there's a guy out there taking free photos that he later posts online for you to download for free. Very cool of him; check out his website.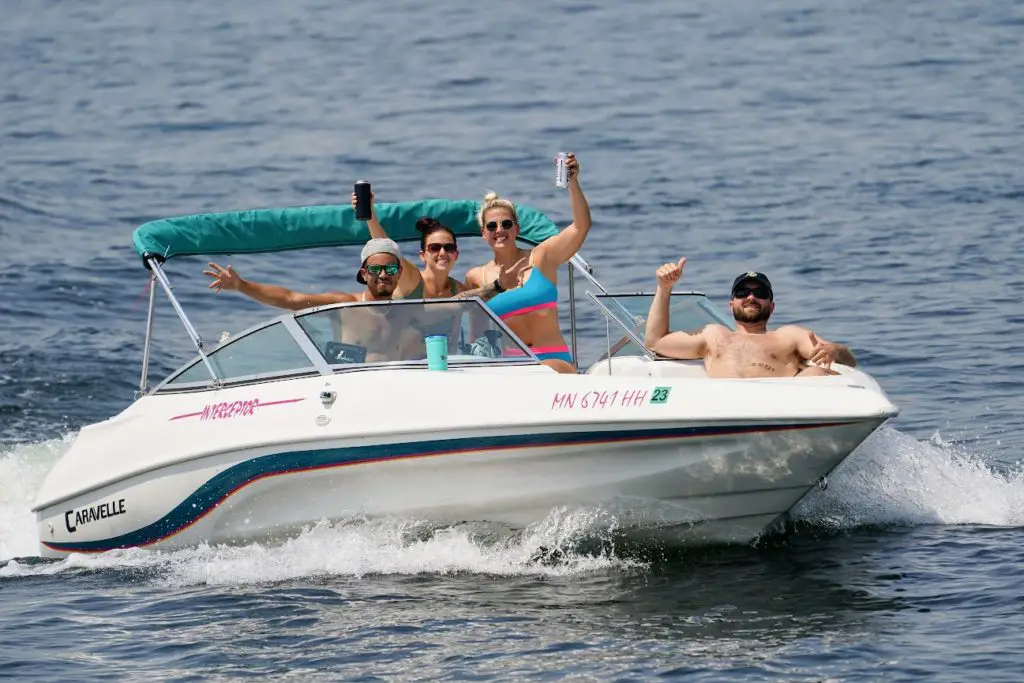 Best Minnesota Lakes Around the State
Lake Pepin
Calling all watersport lovers! This is your place to be for recreational activities. Located just an hour and 15 minutes south of the city, this Mississippi River lake is right on the border of Minnesota and Wisconsin and surrounded by small towns. And did you know water skiing originated here!?
There is a lighthouse (the only working lighthouse along the Mississippi River) at one of the three marina entrances. Bonus: You can also visit Frontenac State Park which sits on the shoreline of the lake.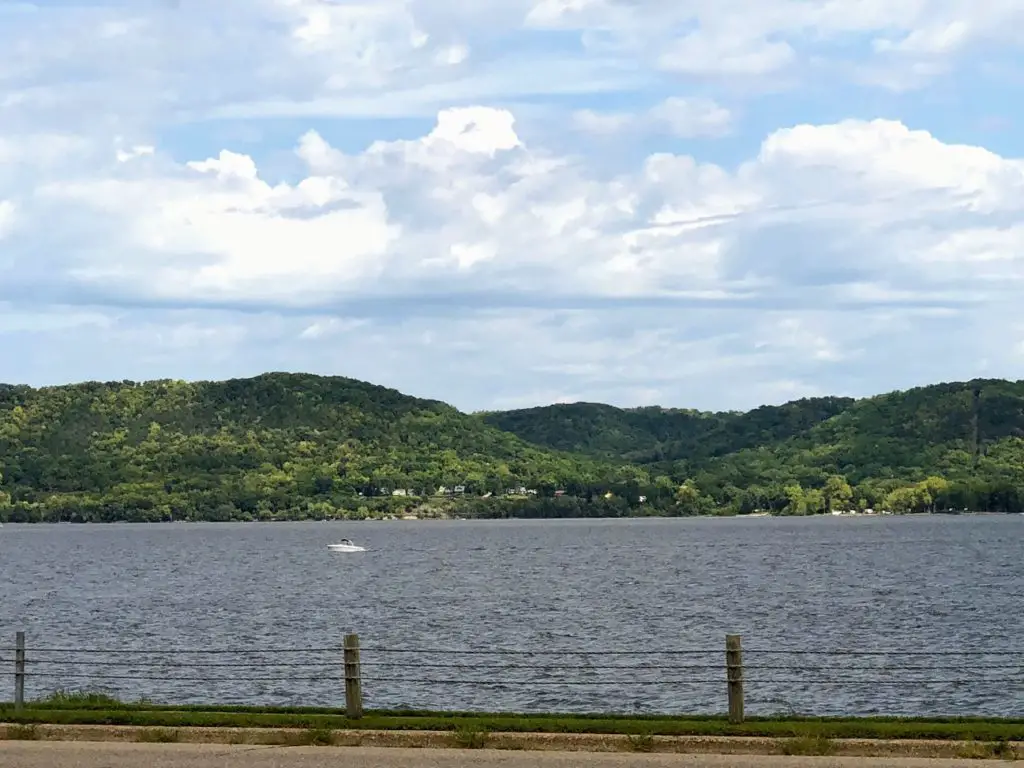 Mille Lacs Lake
One of the most well-known lakes around Minnesota! Mainly due to its size as the second largest lake in Minnesota. If you're a fisherman, this spot in central Minnesota is where you need to be. Scope out the northern pike. walleye, perch, lake trout, and both largemouth bass and smallmouth bass in the summer months in this lake's shallow waters. And don't forget winter, when you can do some ice fishing.
Fun Fact: Garrison, Minnesota is considered the Walleye Capital of the World.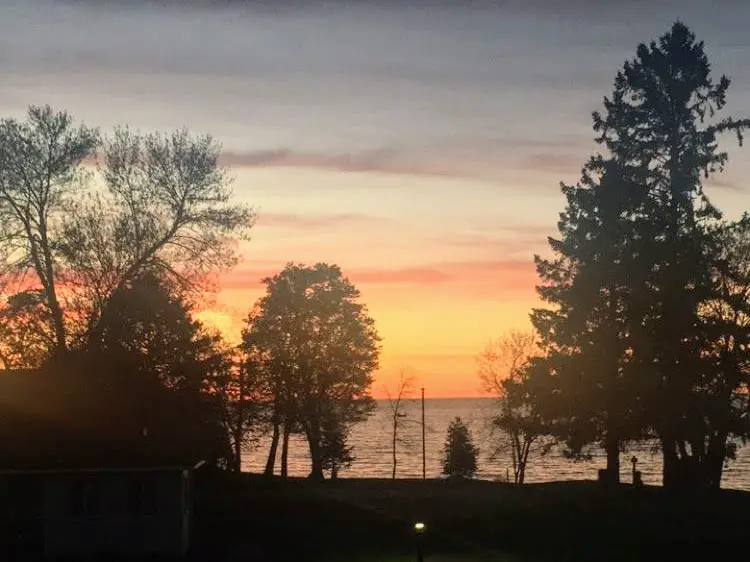 Leech Lake
If we're sticking with the fishing recommendations, here is another one. And also the next in line in terms of size as the third largest lake in Minnesota. Leech Lake has 11 islands and is full of adventure. Waterskiing, swimming, canoeing, and even snowmobile trails are here!
Visit Leech Lake, within the Chippewa National Forest and southeast of Bemidji, when you're looking for a getaway out of the city.
Lake Bemidji
Up in Northern Minnesota, Lake Bemidji is one of the best Minnesota lakes to visit. This is actually a glacial-formed lake inside Lake Bemidji State Park and less than 50 miles downstream from the source of the Mississippi River,
People enjoy beach days here where they don't only offer sandy shores but picnic tables, grills, and a volleyball court to make the day even better. You can also spend a fun winter day here on the trails cross-country skiing, snowshoeing, and even snowmobiling. Don't miss your chance to get out into nature by visiting Lake Bemidji.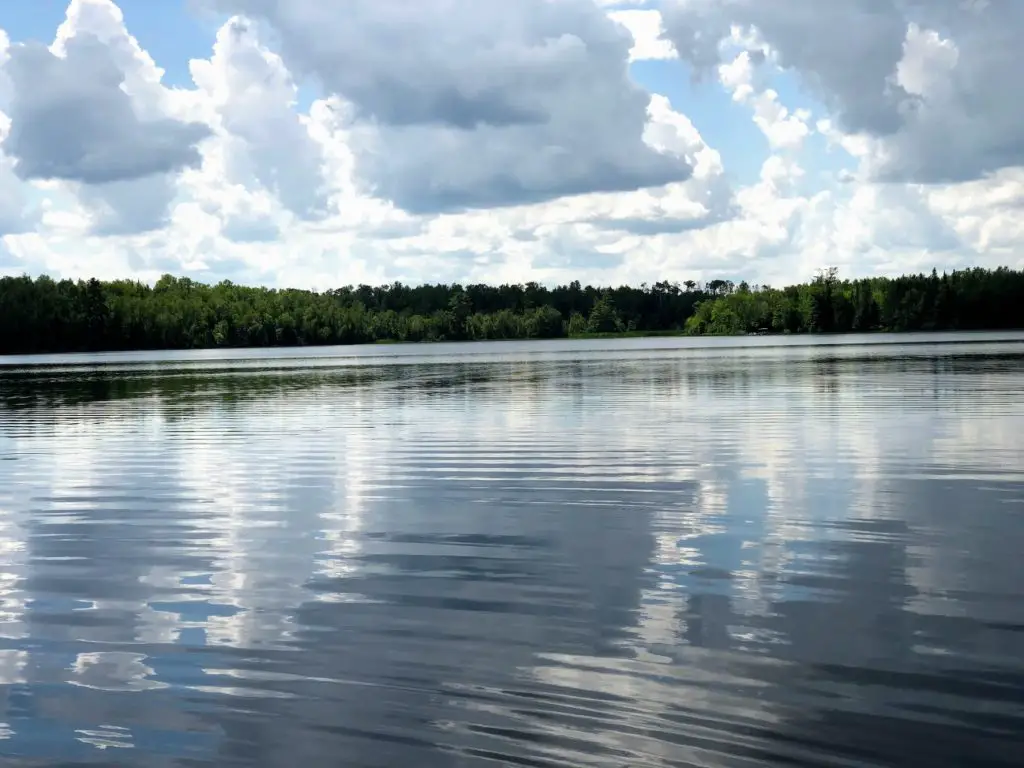 Lake Vermillion
The 5th largest lake in Minnesota. And another one the fisherman love! Especially those prowling for walleye and muskie fish. Located in Saint Louis Country, this Minnesota lake has 365 islands, places to swim, and even horseback riding!
The Boundary Waters Canoe Area Wilderness can be accessed directly from Lake Vermilion. Plus. there are a bunch of fun lodging options right on site! Definitely consider this area of Minnesota for a summer adventure.
Rainy Lake
Rainy Lake is in Voyageurs National Park, and shared with Canada! This lake is home to 1,600 islands and 930 miles of shoreline. Take a trip here for the incredible sunsets and Northern Lights, plus starry skies. Make sure to make a full weekend out of it and hit the hiking trails as well.
There are fishing cabins and resorts, as well as boat-in camping sites. And don't let winter stop you. The ice fishing is just as great! Read more about Rainy Lake here.
Gull Lake
This is such a fun lake on the Brainerd chain with tons of natural beauty. Surrounded by homes, cabins, and resorts, you'll find plenty of tourists in these parts! Known for its fishing, head this way for smallmouth bass and a bunch of other fish. Paddleboard or kayak here, rent a boat and get out waterskiing or just enjoy the beaches! You have nearly 10,000 acres to explore.
Also, don't miss Ernie's on Gull for a fun time! They have a lakeside deck, patio bar, and marina right on site! You'll love having a few beers at one of Minnesota's most scenic lakes.
Read 11 Restaurants and Bars in Brainerd for other stops to make on your travels!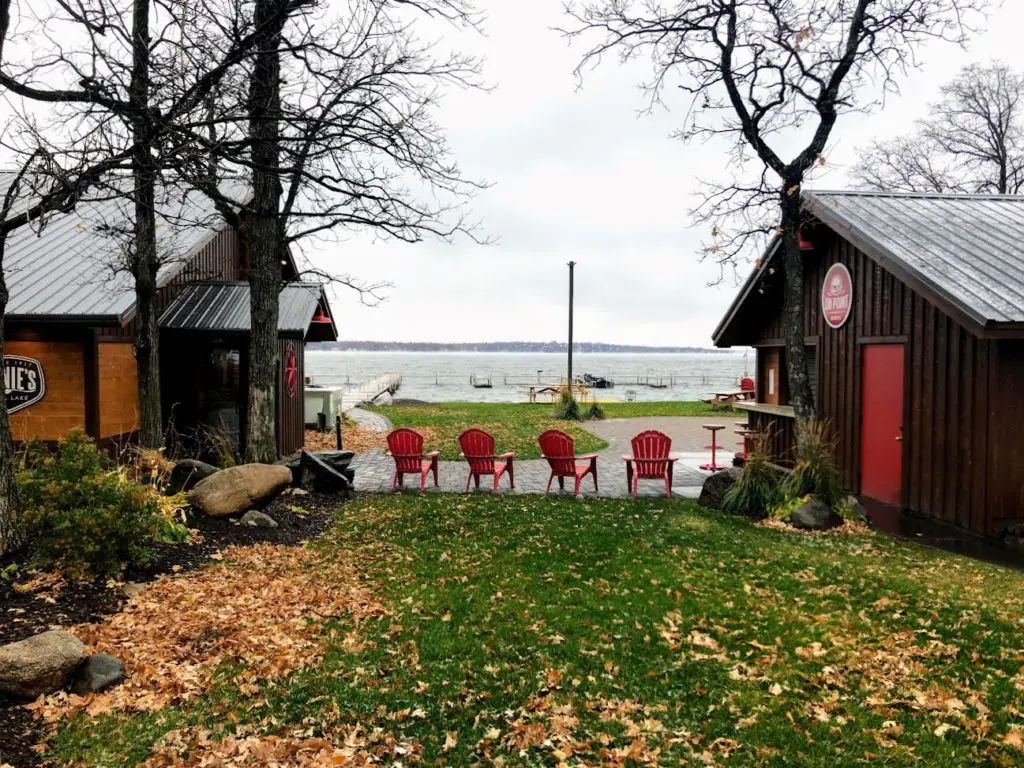 The Best Minnesota Lakes
If there is one thing to take advantage of in Minnesota, (no, not the Mall of America lol), it's the amazing lakes! You have so many great options whether you are looking for somewhere to fish, a place to get the kayaks in the water, or just a spot to relax and enjoy the weather.
What is Your Favorite Minnesota Lake?