Drive the Scenic Hwy 61 N. along the north shore of Lake Superior from Duluth, Minnesota to Grand Portage. MN; a 145-mile stretch that never makes you say "how much longer?"
Minnesota's North Shore is a collection of small towns, state parks, endless hiking trails, and must-stop restaurants and shops. It's a combination of relaxation and adventure. And a chance to unwind, slow down, and breathe in the fresh air.
Disclosure: This post contains affiliate links that earn a small commission at no extra cost to you.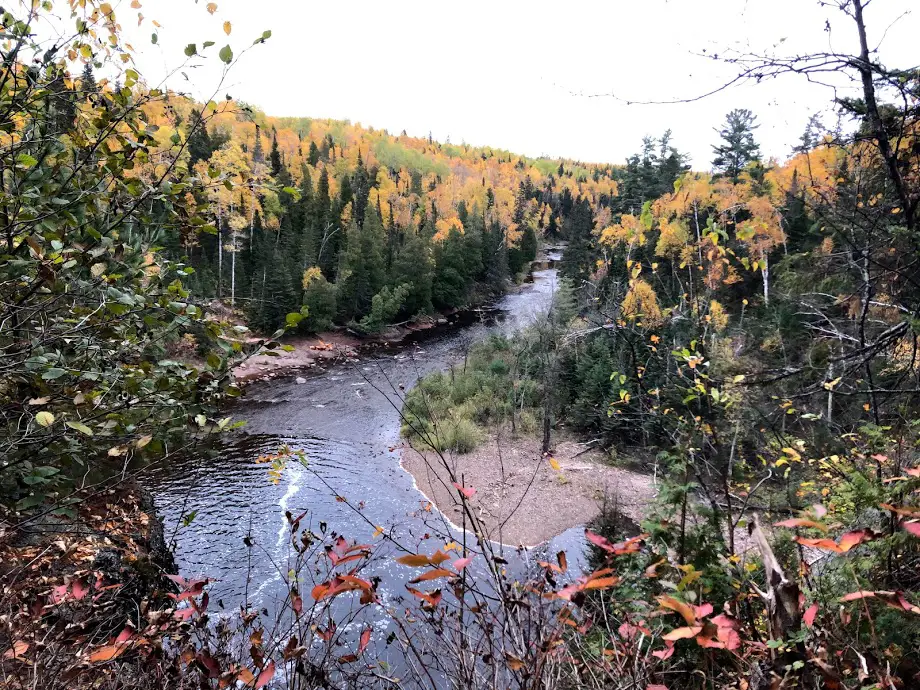 How far is the North Shore from Minneapolis?
It takes 2 hours and 12 minutes to get to Duluth, where Minnesota's North Shore begins. But you will be doing a lot more driving than that! From Duluth to Silver Bay is another 1 hour and 2 minutes. Duluth to Grand Marais is 2 hours and 2 minutes. And Duluth to Grand Portage is 2 hours and 43 minutes.
Pro Tip: Grab this TRTL pillow that is perfect for road trips! It's soft, adjustable, and keeps your head and neck in the perfect position (no soreness!)
Minnesota's North Shore: 14 Road Trip Stops
You can travel to Minnesota's North Shore 10+ times and have new things to do and explore each and every visit. No two trips will ever be the same, but here are 14 road trip stops to add to your list. Stops go from east to west. No Duluth, Minnesota suggestions because that is an entire trip in itself!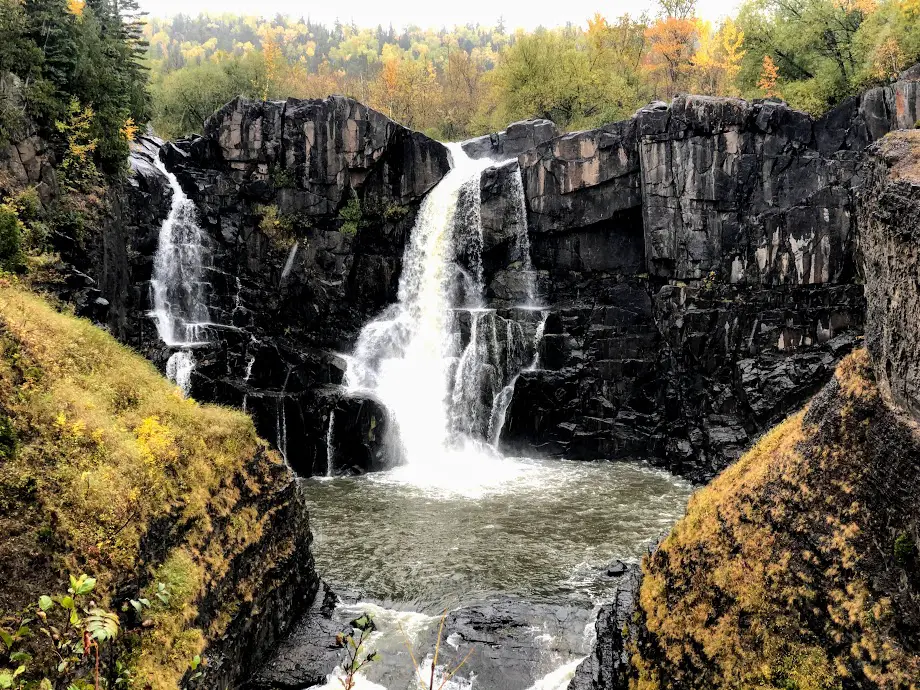 1. Russ Kendall's Smoke House
Whether it's your first stop for a snack and a 6-pack, or on your way back south to bring some of the North Shore home with you, make sure to add this to your list. Located in Knife River, Minnesota (about 20 minutes from Duluth) Russ' smokes some of the best fish you are going to find—whitefish, salmon, trout, herring, they've got it all.
The whitefish has the best texture with a delicious, salty flavor. And the salmon is firm yet flaky with a slight smoky taste. Couldn't even tell you which one I liked better. Though a bit pricey, it's not stopping me from coming back!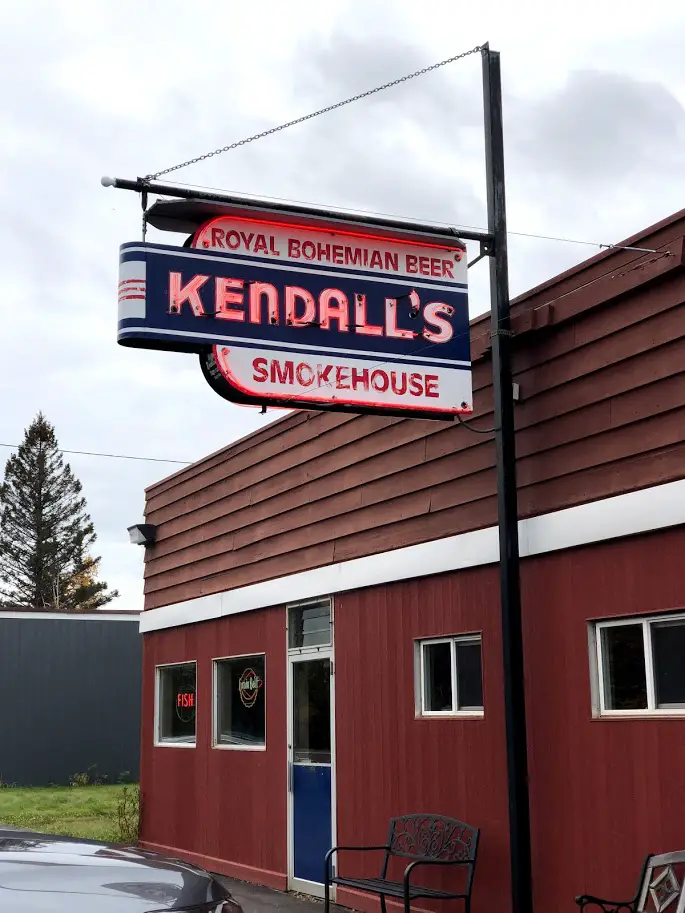 2. Gooseberry Falls State Park
This great place is one of the most popular spots, gets very busy, and is on every generic Minnesota's North Shore stops list. That said, that usually happens for a reason and your hiking results at Gooseberry Falls are pretty eye-opening.
While summer months and fall tend to have a crowd, winter is when you're able to explore a little more freely—plus, you get to check out the waterfall frozen! Hike the Falls Loop Trail (1-mile loop) to see the Upper, Middle, and Lower Falls. 
And you know how you really avoid crowds? Take your trip to Gooseberry when it's -13° outside…not my top recommendation. But hey, nothing a couple of hand warmers can't fix!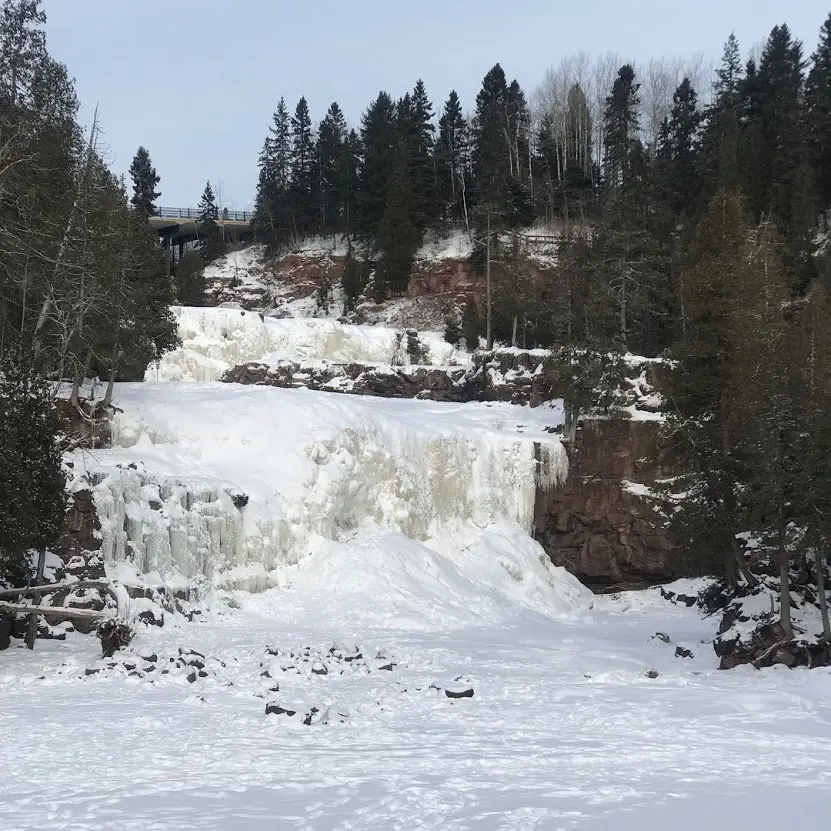 COST: $0
No park pass required for entry. Holla.
How Long does it take to Hike Gooseberry Falls?
You could hike to the falls and back up to the info center and parking lot in 15 minutes. But that would be a little too quick! There is a lot to see and explore—around the falls, across the bridge, Lake Superior. Plan for at least an hour!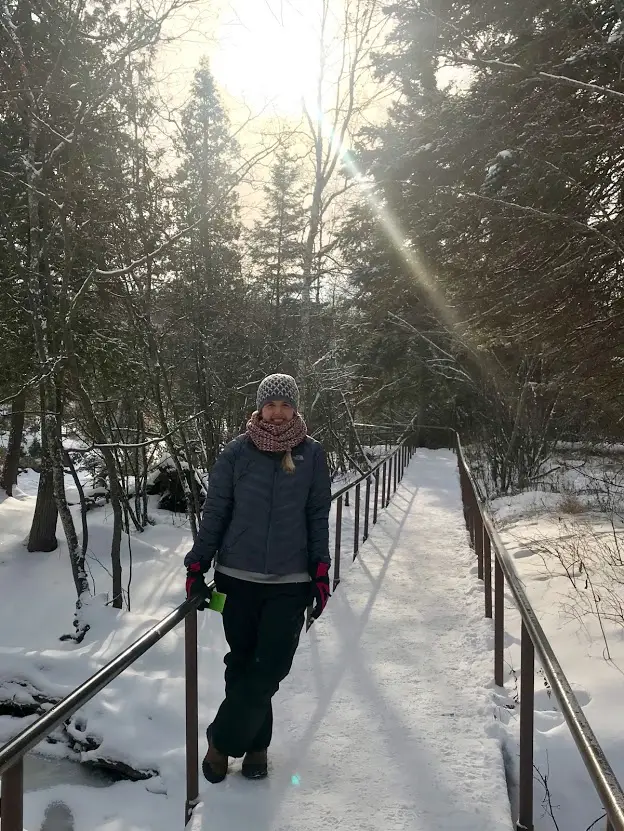 3. Split Rock Lighthouse State Park
Head north just a bit and you will come up on your next stop. Split Rock Lighthouse is where you are going to find incredible Lake Superior views along with a lighthouse completed in 1910.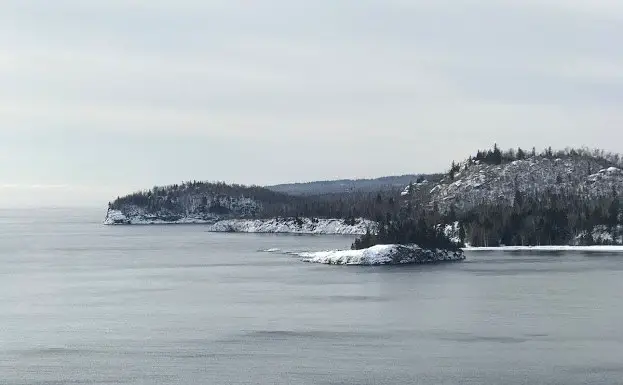 COST: $0 – read the details
Some sites make it look like payment is required. You do NOT need a Minnesota State Park sticker or tickets to be allowed entry. You are free to park and explore the area at no cost. For $10 you get a guided tour, access to the lighthouse, visitor center, etc.
How much time do you spend at split rock lighthouse?
Only about 15 minutes. I don't know anything about what happens when you pay, but if you just stop to take in the views, it won't be long. It's a short walk from the parking lot.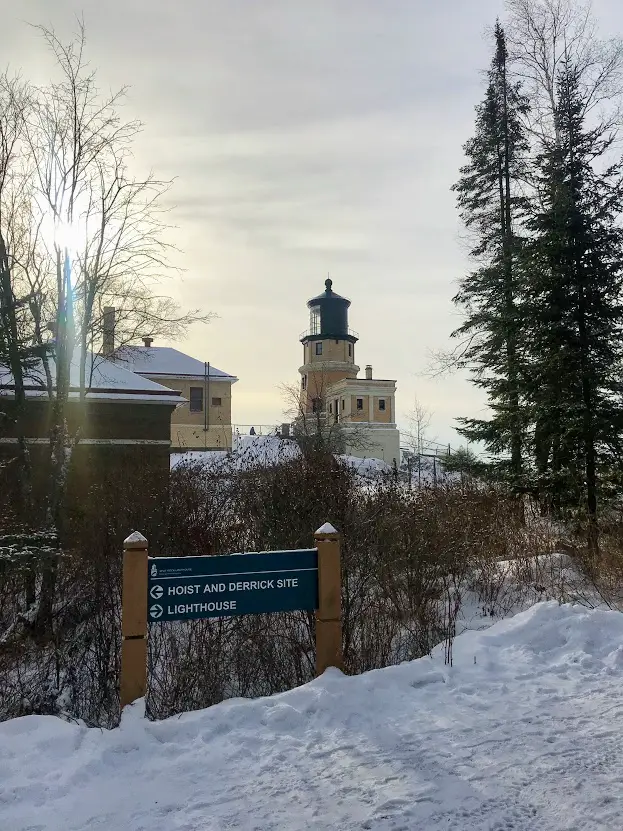 4. Black Sand Beach
Who knew Minnesota had a black beach!? It wasn't open to the public until 2015—though it is gaining popularity.
Make a stop here to swim in the summer or just take in the beautiful views when it's not quite warm enough to get in! It's a gorgeous area with huge rock formations (hike to the top!) and mini islands in the distance.
How much time do you spend at black sand beach?
This one is on you! The parking lot is steps from the beach so you might be here for 10 minutes, or you might stick around for hours! There are picnic tables if you feel like picking up food and eating here.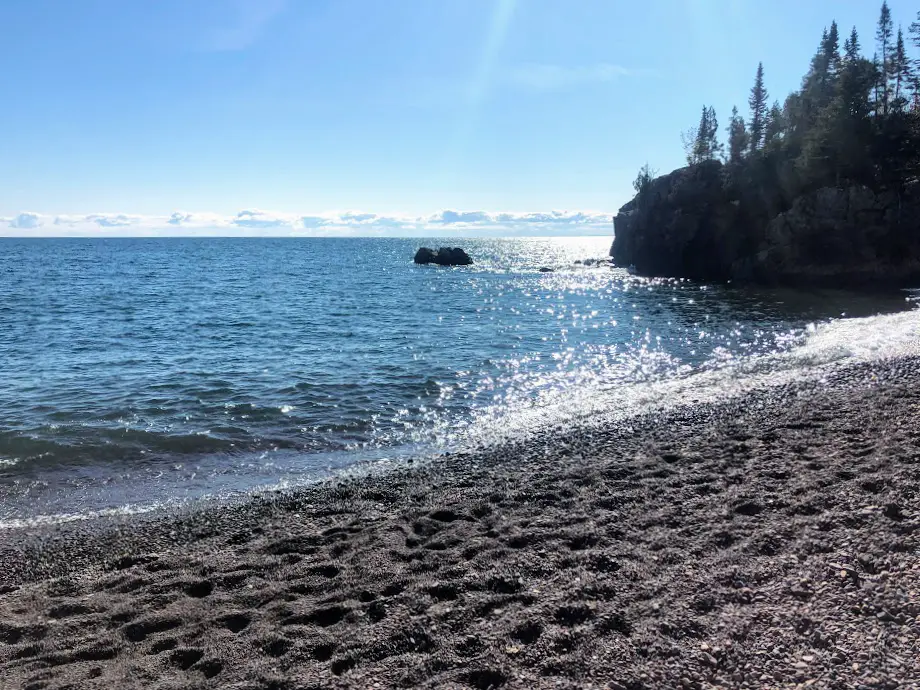 5. The Green Door
Headed home on a Sunday and need a spot to catch some football? Here it is! The Green Door is a lesser-known bar in Beaver Bay, Minnesota and the perfect dive complete with delicious (and strong!) Bloody Mary's, pull tabs, corner TV, and friendly locals. You'll have a blast!
Need more bar recommendations? I got you. Read 10 North Shore Minnesota Bars and Breweries
Tettegouche State Park
Though it is popular, this is my favorite spot on the entire North Shore. The hikes are fairly easy but also gorgeous and fun. Located in Silver Bay with a big parking lot, you can't miss their massive building while driving Hwy 61.
I strongly encourage this stop in the early morning (before 10 AM) or evening (5 PM) to maximize the experience—it gets very crowded. We accomplished High Falls and Shovel Point from about 5:30-7:00 PM (including sunset!) and I can't recommend that enough. And we squeezed in Palisade Head on the way back south!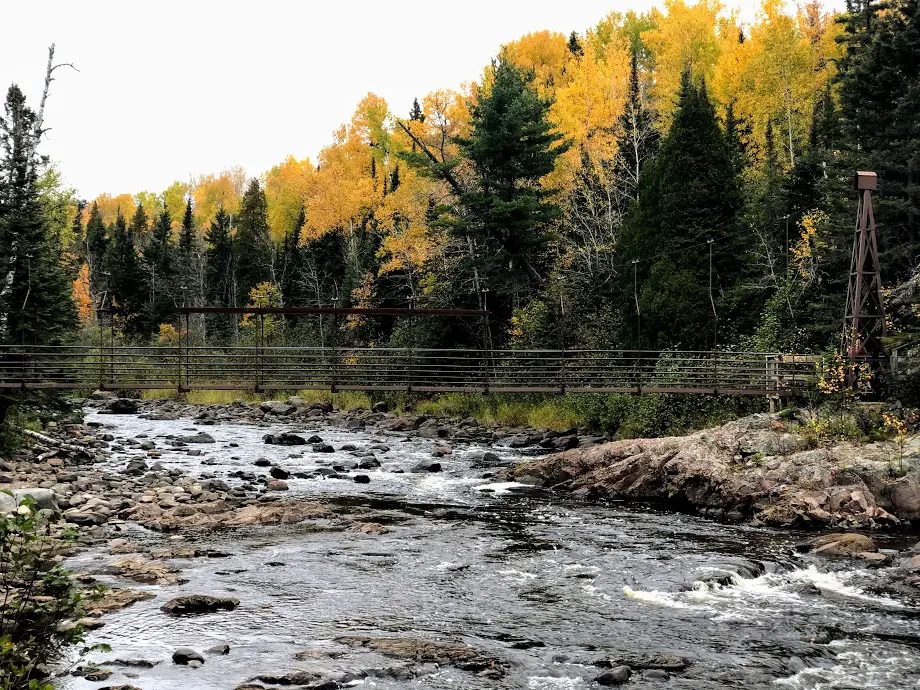 COST: $7 for a daily pass
A Minnesota State Park Day Pass is $7. A year-round pass is $35 if you're a State Park regular. Buy online or at the kiosk when you are there.
High Falls and Shovel Point require a park pass; Palisade Head does not. You can get all three of these done in about 2 hours.
6. Palisade Head
Palisade Head is a perfect place that offers up some of the best views you can find. And is arguably one of the most popular spots along Minnesota's North Shore. This is a quick stop because you can drive right up to the top.
From the small lot, it's a step up and you're exploring the rocky cliffs! If you're looking for some exercise, there is an area to park at the base so you can walk up.
Note: put Palisade Head into Google Maps, not Tettegouche State Park. You don't park in the main lot for this.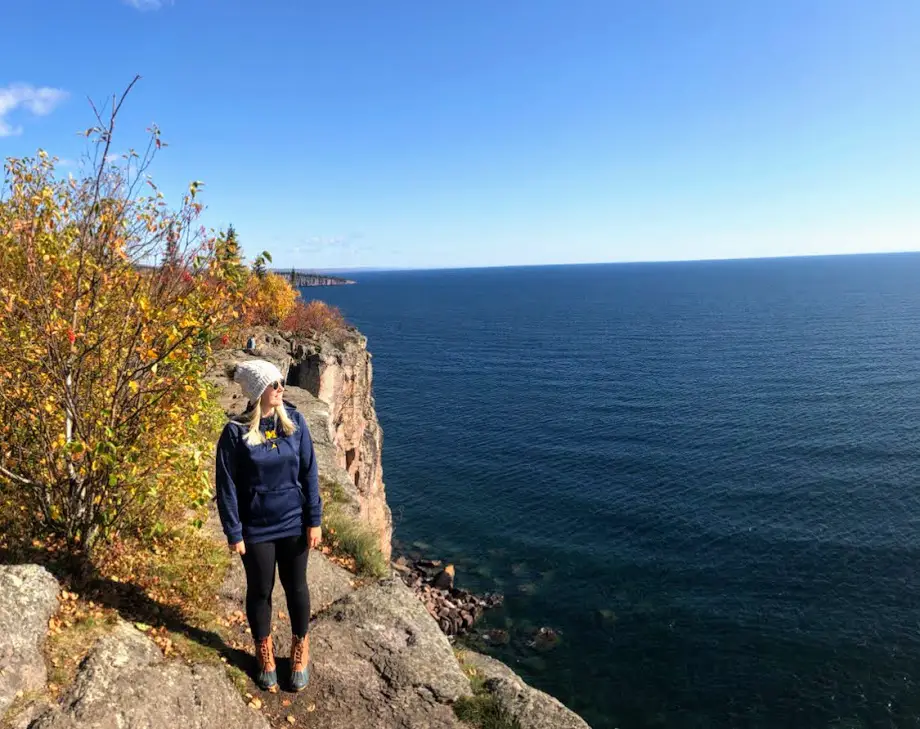 HOW LONG DOES IT TAKE TO HIKE palisade head?
If you drive to the top, you can cross this off your North Shore list in 20-30 minutes depending on how long you want to spend jumping around the cliffs and taking photos. If you start from the bottom, add about 30-40 minutes in for walking time.
Note: From Palisade Head to the next two stops, you'll drive 2 minutes north to the main Tettegouche lot.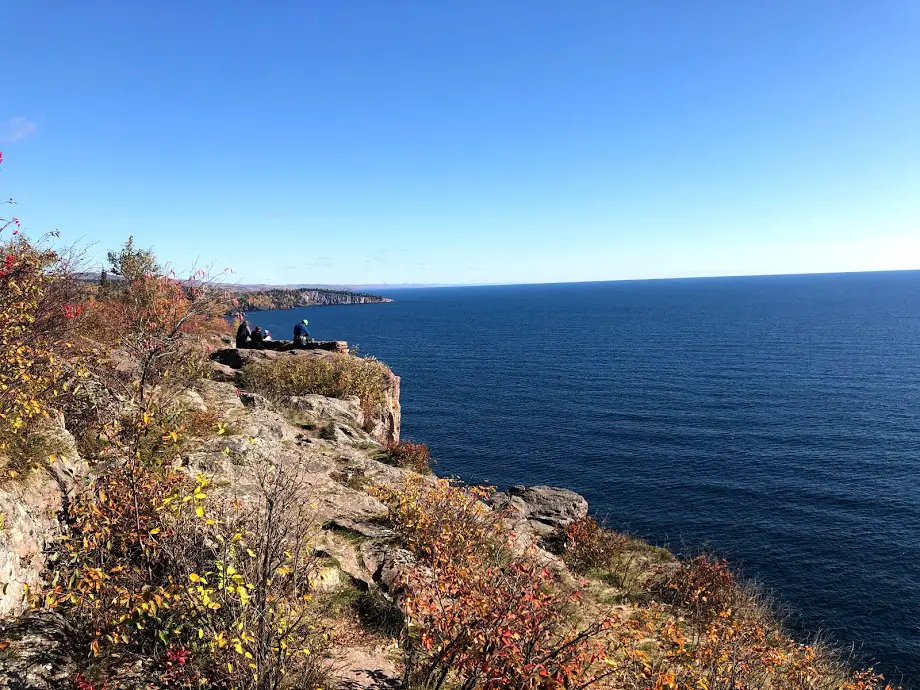 7. High Falls
This was my favorite part of our recent fall trip to Minnesota's North Shore. This should 100% be on your hiking list! You have a couple of options to reach the falls.
3-miles roundtrip hike: Park in their main parking lot and hit the trail to the right.
1.5-mile roundtrip hike: Follow the paved road on the right side up to another (smaller) parking lot. Perfect if you are short on time. Or being lazy.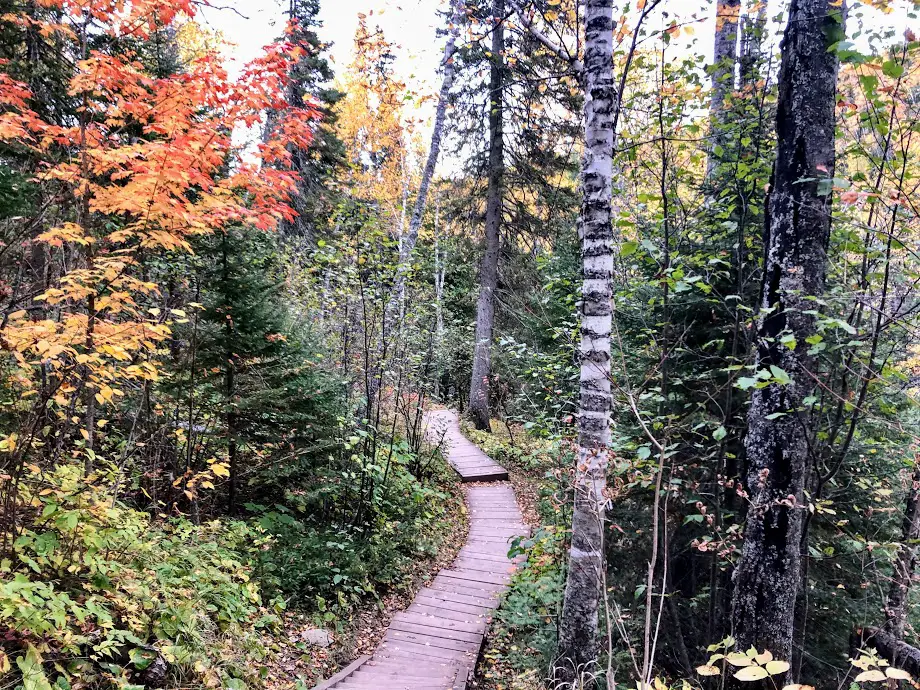 Follow the narrow trail through the colorful trees leading to an overlook that surrounds you with color for miles. From there, make your way around to the swinging bridge (pretty cool) and then loop around to the 83 steps headed down. I would call this hike easy, mayyybe medium. The bottom is incredible so don't turn around at the overlook!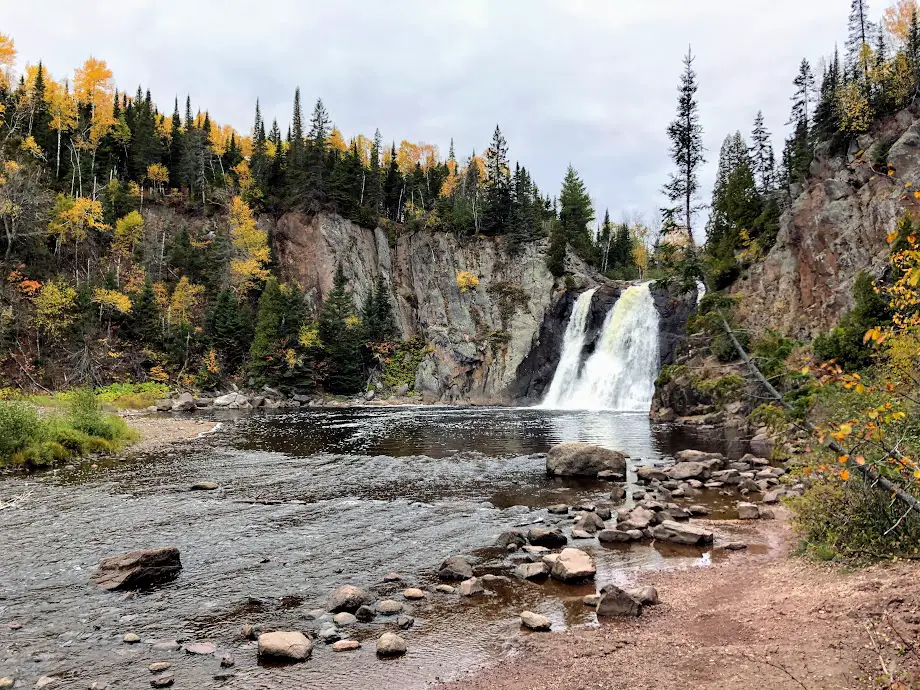 How Long Does It Take to hike high falls?
If you do the drive up and take on the shorter hike, you'll need about an hour max. This gives you time to check out overlooks, explore the swinging bridge and trails, take pictures, and go at a leisurely pace. If you're doing the full hike, add 30-45 minutes time for the extra 1.5 miles.
Tip: This water bottle is AWESOME. It's light and easy to carry. And even the ice will last ALL day.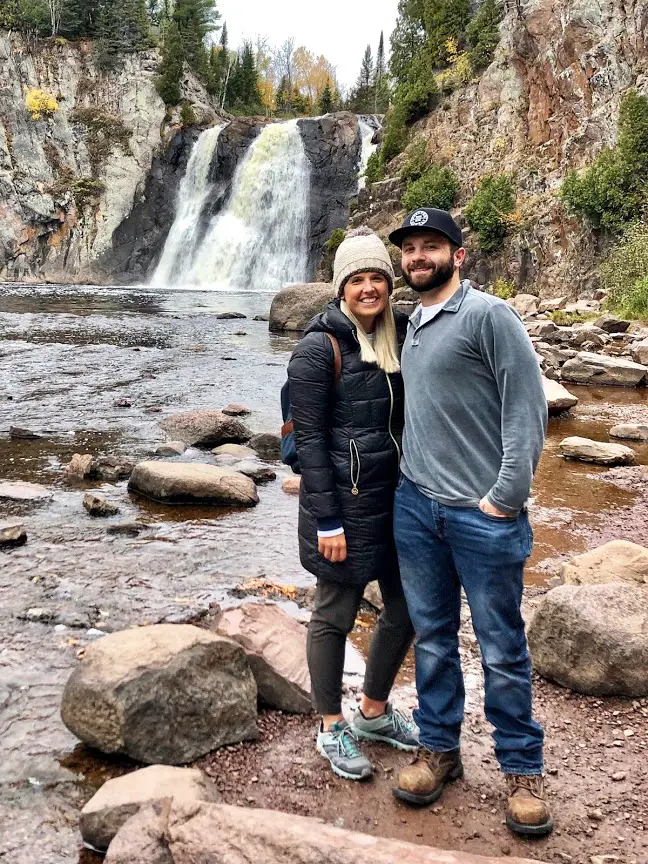 8. Shovel Point
Oh my goodness, I loved this spot too! And it's so incredibly beautiful if you make it there just before sunset—plus, you deal with fewer people. Back from the main parking lot, go to the left and take the 1.5 roundtrip trail up to Shovel Point.
I would classify the hike as medium difficulty. It wasn't long but there are some uphill climbs that will get your booty working. But at the top, you are rewarded with incredible views of Lake Superior.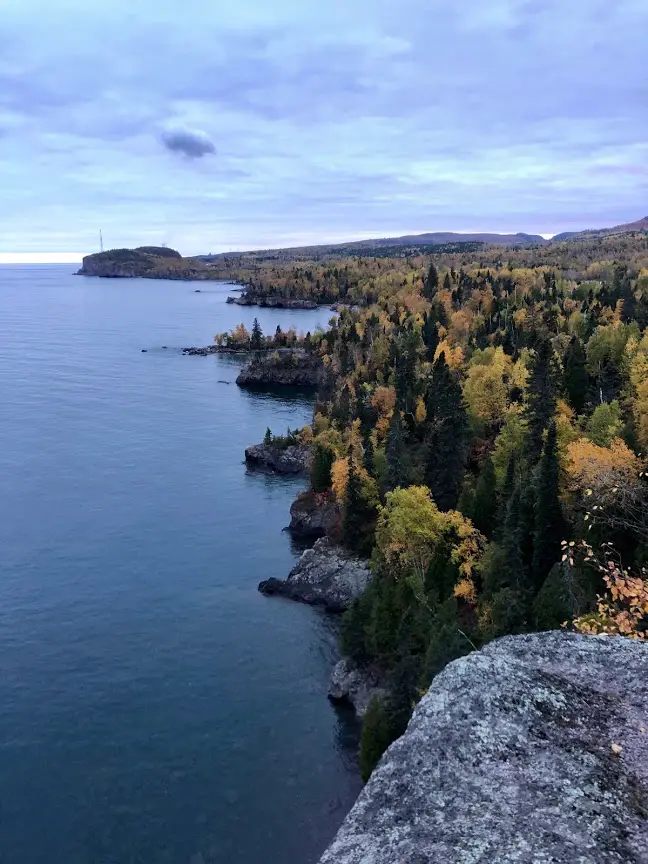 How Long Does It Take to hike shovel point?
This hike is about 45 minutes max. There isn't as much to explore throughout the trail, just a couple of overlooks, so you just have to make it to the top! Once you're there, it depends how long you want to admire!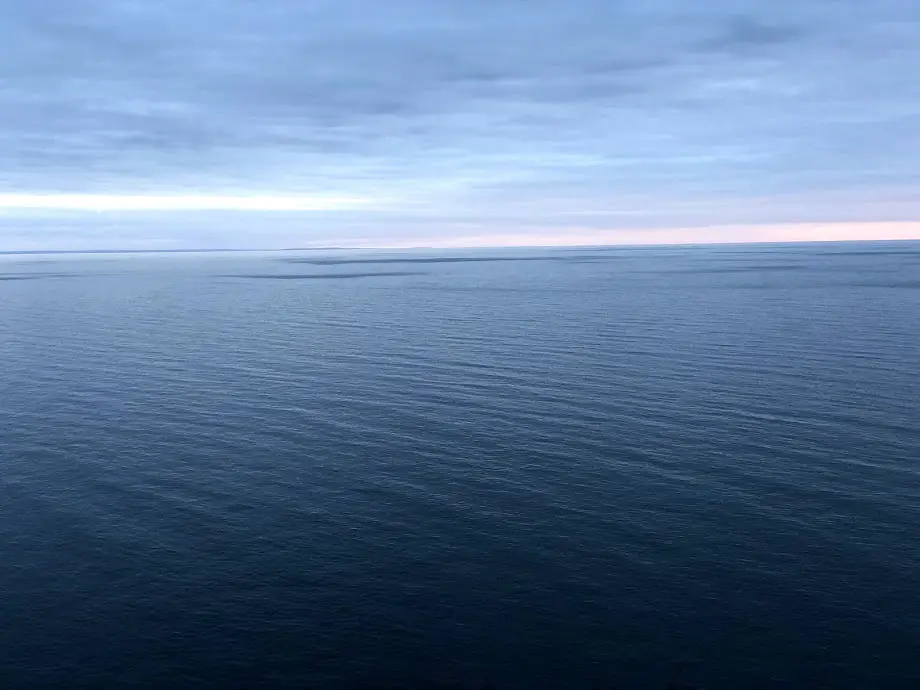 9. Lutsen Mountains
Here in the winter? Don't miss a day of skiing on the North Shore! Rent a ski-in/ski-out cabin and you'll be signed up for the best weekend of your winter! Check out Eagle Ridge Resort.
Your stay will also include a jacuzzi, warm cozy fires, and a few different bars and restaurants. Skiing up here is fantastic and you'll be surrounded by views for days.
Here in the summer or fall? Take in the trees and the lake's beauty from a bird's eye view. Another great option is the Summit Express Gondola ride. I've never done it but I have heard rave reviews.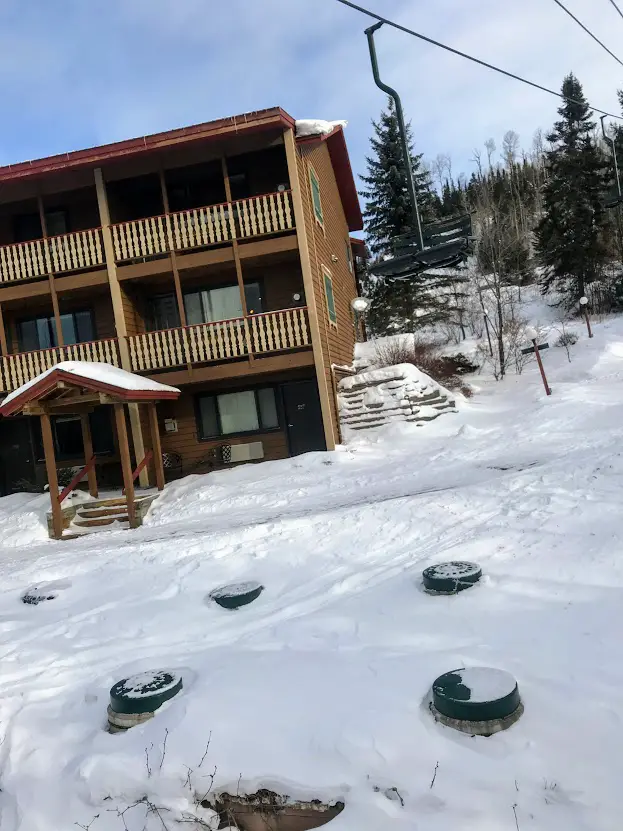 Grand Marais
This is the cutest little small town in Minnesota full of delicious food, tasty drinks, and gift shops. But be careful, because everybody knows it. And it will be busy around here during the summer and fall! That said, there are 100% a few places that are must-stops, regardless of how long the line goes down the block!
10. Java Moose
Java Moose serves THE BEST COFFEE. Like, really really good coffee. One of the best Americanos I've had to date. We stopped in, line out the door, but the 20 minutes or so spent waiting for coffee was worth it. It's a cute shop with cabin-feel décor and a cozy vibe. If you drink coffee every day, don't miss it. And you know what pairs well with coffee…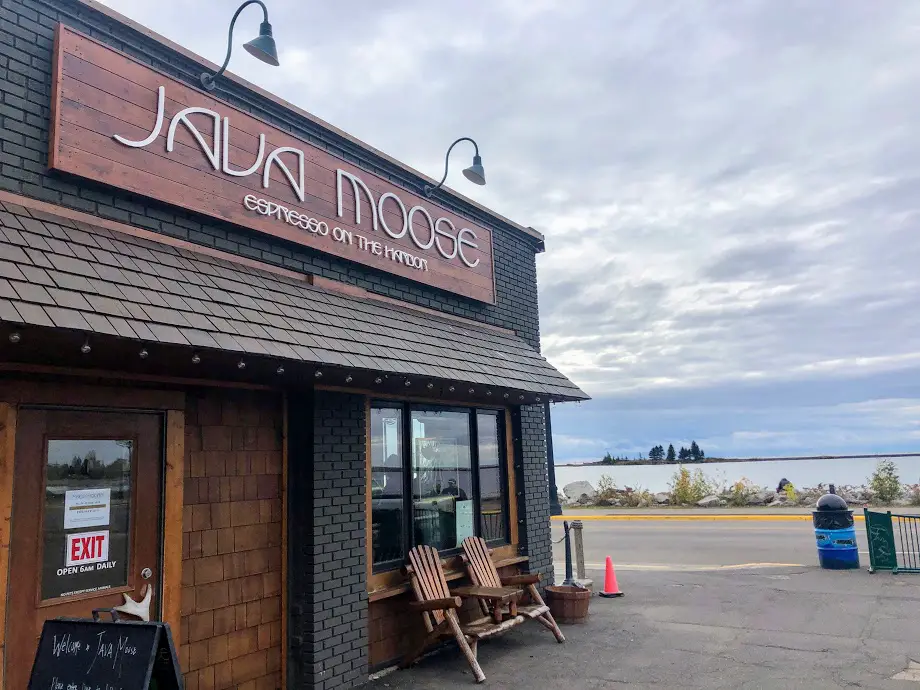 All about the coffee shops? Read North Shore Minnesota Coffee Shops & Café's: 5+ Cozy Stops
11. World's Best Donuts
Okay. There are tourist traps that survive on popularity and everyone following the crowd. And then there are tourist traps that live up to the hype. And this one is the latter.
Though World's Best Donuts has a variety of styles and flavors (think long john maple bacon), classic is the way to go. Their Sugar Cake Donut and Powdered Sugar Cake Donut had this slight crunch around the edge with a soft inside that made it absolutely perfect. Ugh, I'm dreaming of it now…
Tip: Order online. Cannot stress this enough. The line is out the door and down the block every day. If you order and pay online, you just head right to the back door and pick it up! Easy peasy.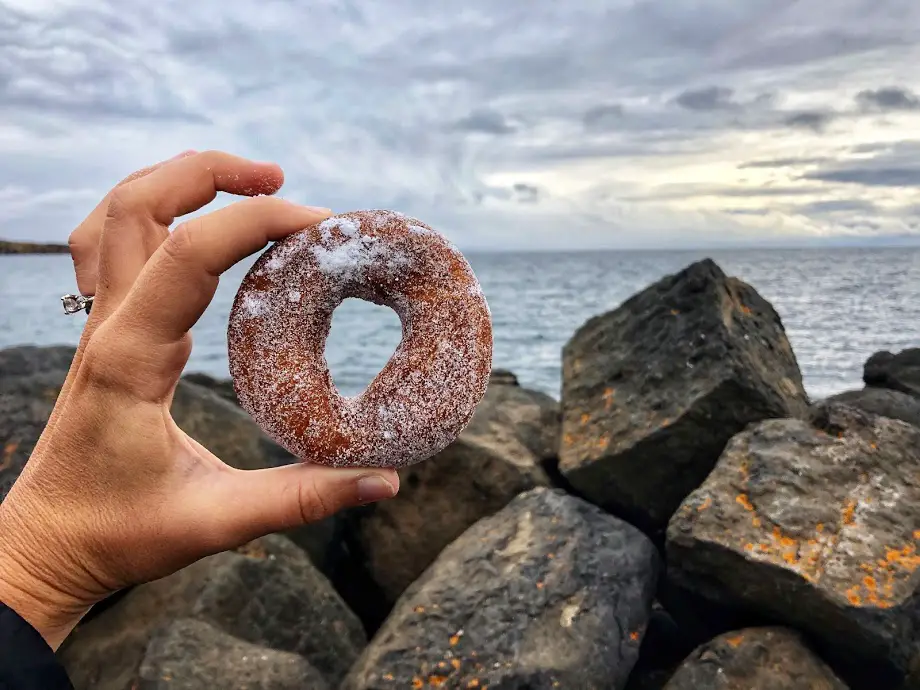 12. Artist's Point
Another hot spot on Minnesota's North Shore is Artist's Point in Grand Marais. Head out there with your coffee and donuts to enjoy along with spectacular views of Lake Superior. It's peaceful and relaxing with a view that you do not want to miss!
13. Drive the Gunflint Trail
Okay, I finally have a spot for you that isn't overly chaotic on the North Shore! The Gunflint Trail is a National Scenic Byway that will take you through to some magical spots of the Superior National Forest. You'll drive through the winding rounds headed northwest from Grand Marais towards Canada.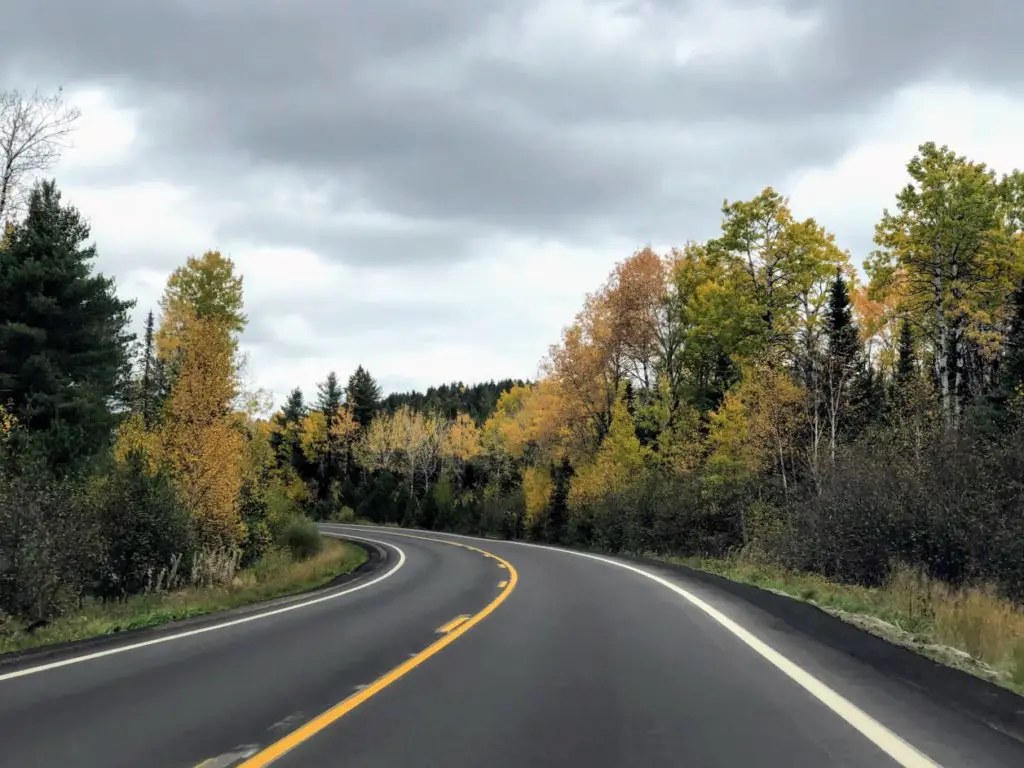 There are campgrounds and lodges throughout the 56.6 miles (one-way) of paved roads, plus a few restaurants/bars and scenic overlooks.
You'll want to stop at Poplar Haus (30 miles in) for duck wings (trust me) and a hand-crafted cocktail at the bar or outdoor patio overlooking the lake.
Another great stop is Gunflint Lodge. They have a beautiful bar overlooking the water and serve some of the best walleye (get the cakes) in town!
And ALWAYS keep your eyes peeled. If you do get lucky and spot a moose on the North Shore, it will likely be here.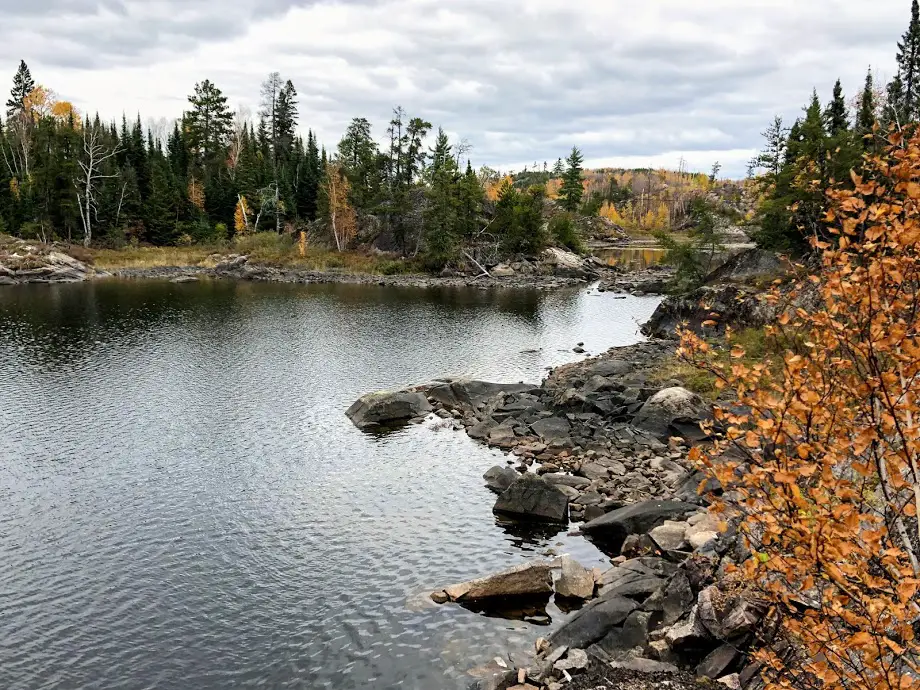 How Long Does It Take to drive the Gunflint Trail?
2-6 hours. If you are going to drive to the very end and back, including 3 bars, a short hike, and time to take in the views and spot animals, you will be driving the Gunflint Trail for about 6 hours! For the full run-down, seriously every detail, read What to Do on the Gunflint Trail.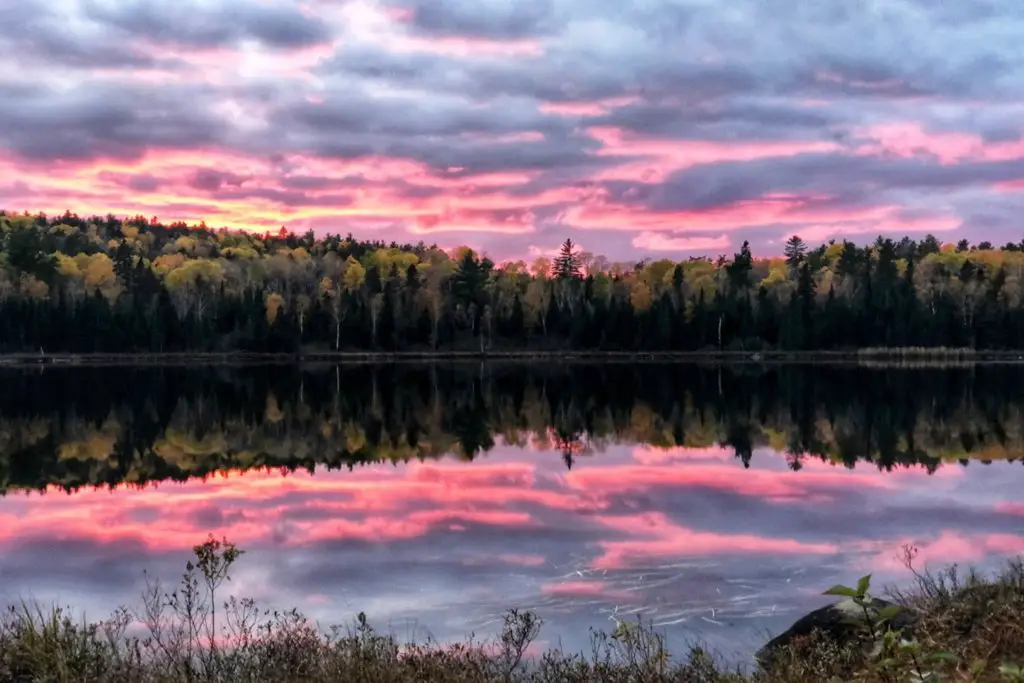 14. Grand Portage State Park
Drive the entire North Shore stretch and make it all the way up to Grand Portage State Park, right on the Canadian border, and one of the top Minnesota state parks! You can hike to the highest waterfall in Minnesota and it's only 1-mile round trip.
Plus, you can look across and wave to our Canadian friends who hike the opposite side! How cool!? There are three different viewing decks, make sure to hit them all! And if you need more, hike to Middle Falls which is 4.5 miles round trip.
Bonus: Due to it being almost an hour's drive from Grand Marais, it's a little less busy since people don't want to hop back in the car. But it's worth it! And the drive is so beautiful that you don't even notice.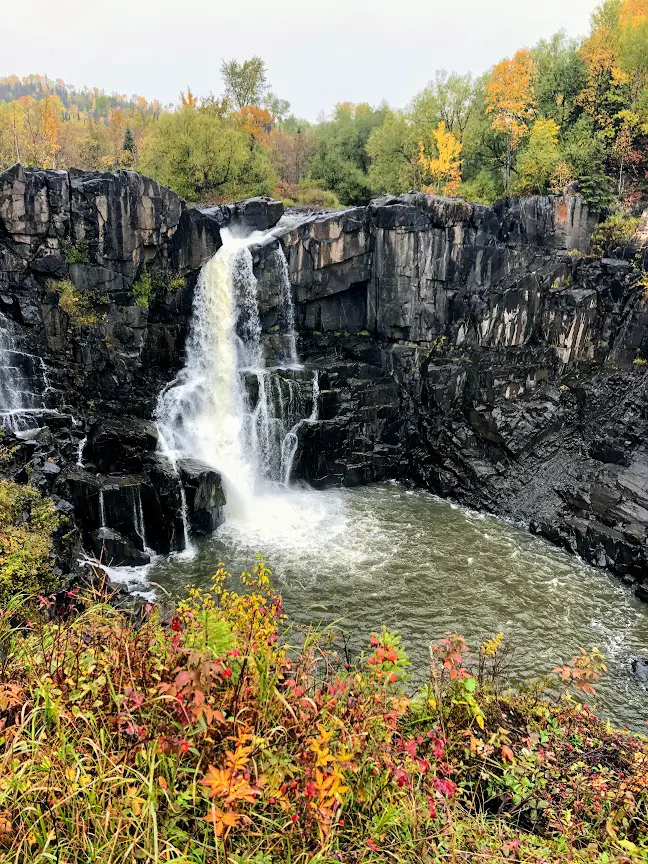 COST: $0
No park pass required for entry. Woohoo!
HOW LONG DOES IT TAKE TO HIKE high falls?
This hike is 45 minutes max. Only a mile loop, that leaves 20 or so minutes of hiking and the same amount to take it all in!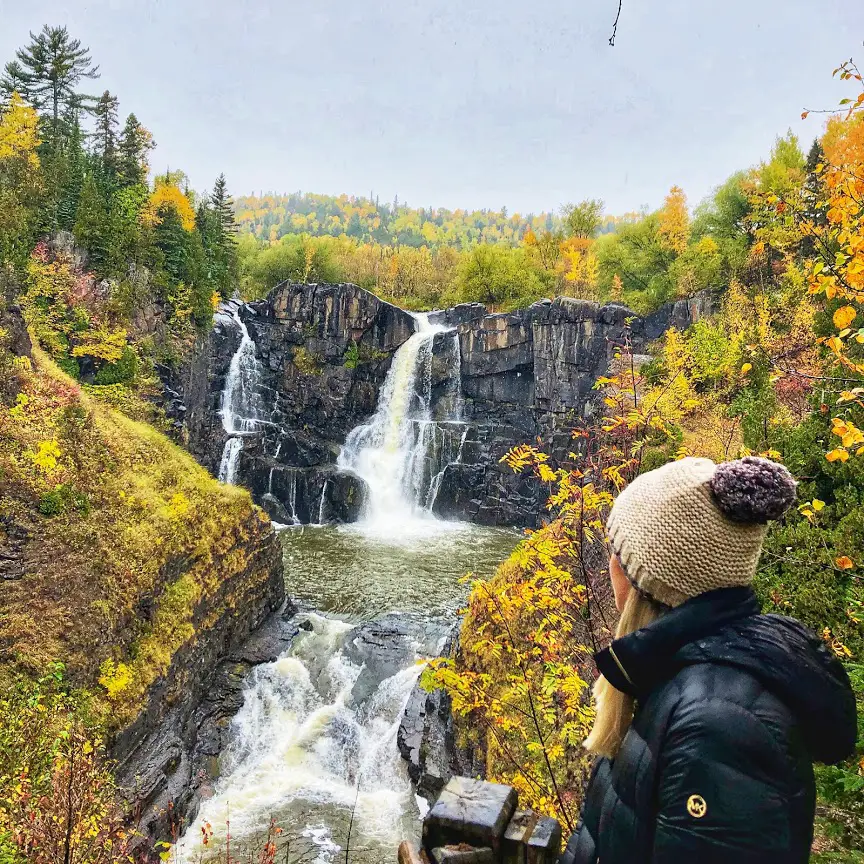 Bonus!
A few more places that will not disappoint:
Don't miss a quick stop in Duluth, Minnesota on your way! Make sure to check out the Aerial Lift Bridge and Canal Park area.
Temperance River State Park
Cascade River State Park
Betty's Pie's
Get your trip started on your way up! READ: Road Trip Stops Off I-35 in Minnesota
The North Shore Scenic Drive is a trip to remember!
You could visit Northern Minnesota's North Shore 10+ times and continue to find new things to do and places to explore. It's the perfect trip from the Twin Cities, greater Minnesota, and other Midwest cities. I look forward to adding to this list! Comment your favorite place to stop below!
Did this post help you out? Support the work and pass along $5 for a Coors Light 😉 VENMO: @Amber-LBB or PAYPAL: amber@littlebluebackpack.com. THANK YOU.