The Gunflint Trail is a National Scenic Byway that will take you through remarkable spots of the Superior National Forest in northern Minnesota. The winding roads twisting through the wilderness areas are a sight to see. It's perfect in any season—when the greens come back in spring, the heat of summer, fall colors, or to hit snowmobile trails.
You won't run into any towns, but you will find tons of campsites, resorts, lakeside cabins, and lodges mixed into the lakes, trails, and overlooks.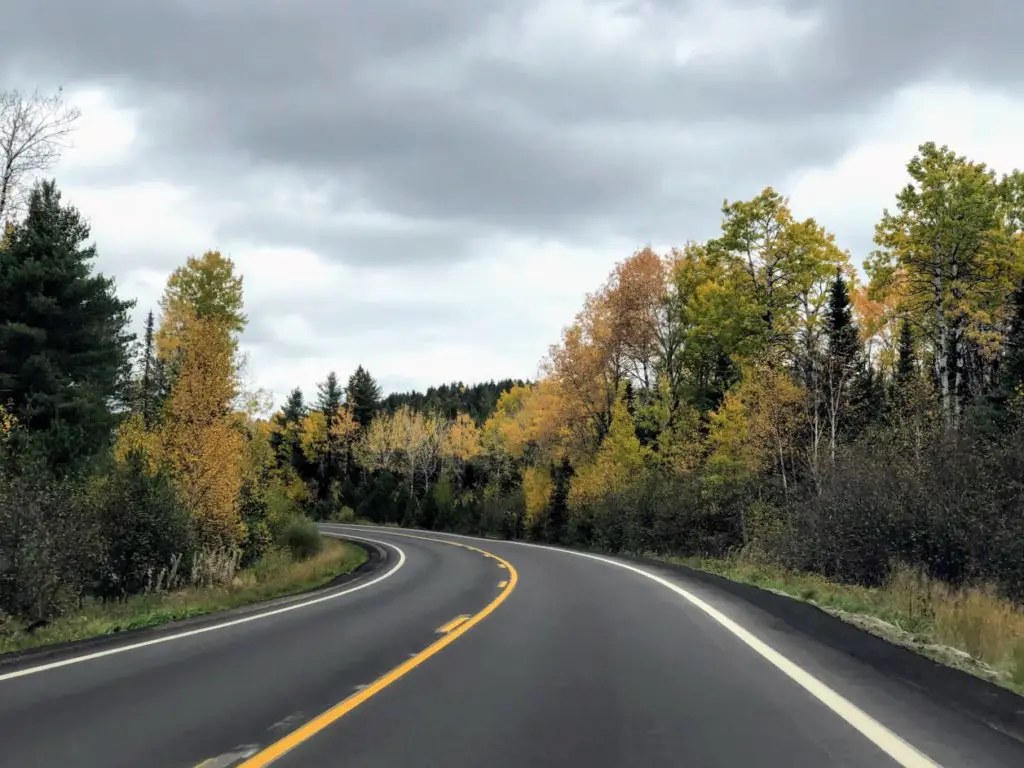 Where is Gunflint Trail Scenic Byway?
The Gunflint Trail, also known as County Road 12, starts in Grand Marais, MN. Driving north on 61, turn left onto Gunflint Trail just passed the Subway. A little ways up you'll see a huge water tower on the left that will confirm you are on the right path!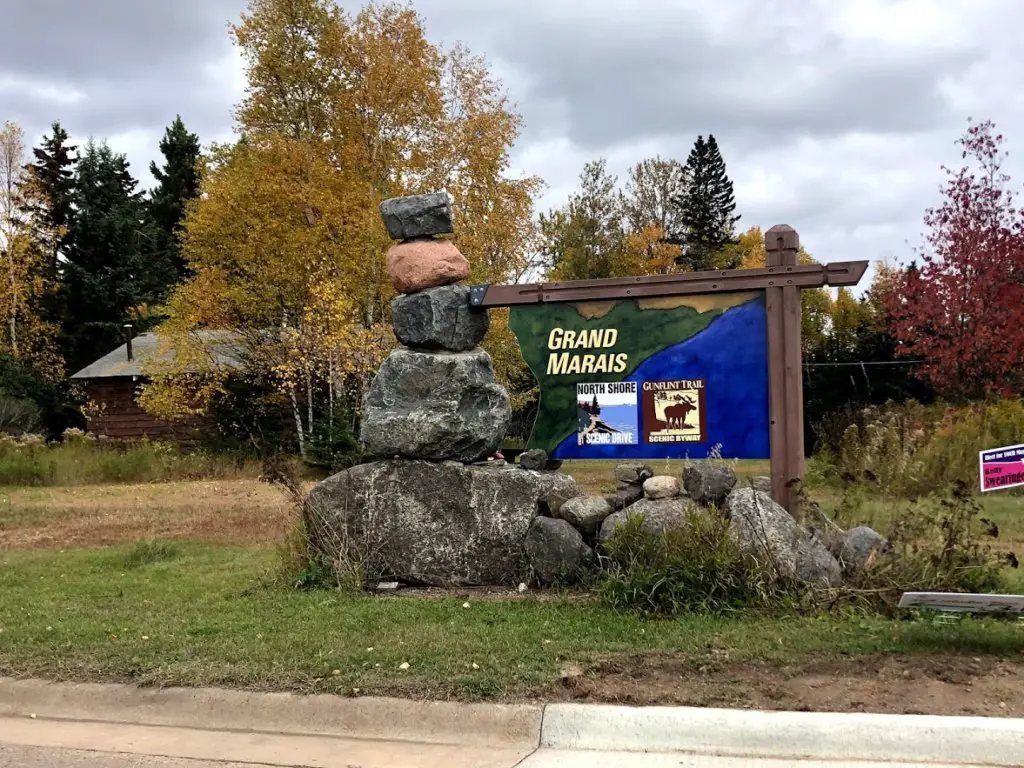 How Long is Gunflint Trail?
Gunflint Trail is a 56.6-mile-long paved road. It starts in Grand Marais, Minnesota, and travels northwest to Trail's End Campground near Saganaga Lake, which is damn near the Canadian border! The road literally just ends and loops around—cool to check out on a map.
How Long Does It Take to Drive the Gunflint Trail?
If you drive to the end and straight back out, it's 2.5 hours. But from start to finish, including three bar stops for drinks and appetizers, overlooks, a short hike, and slow down's to scope out animals, it takes 6+ hours to do the whole thing.
What to Do on the Gunflint Trail
Enjoy the Slow Down
Calm. Quiet. Serene. Reason #1 to hit Gunflint Trail is for the tranquility of taking a drive through the wilderness. There are fewer people than you're going to find in Grand Marais or somewhere like Tettegouche State Park. And it gives you a chance to slow down and take in the beauty…without all of the hustle and bustle.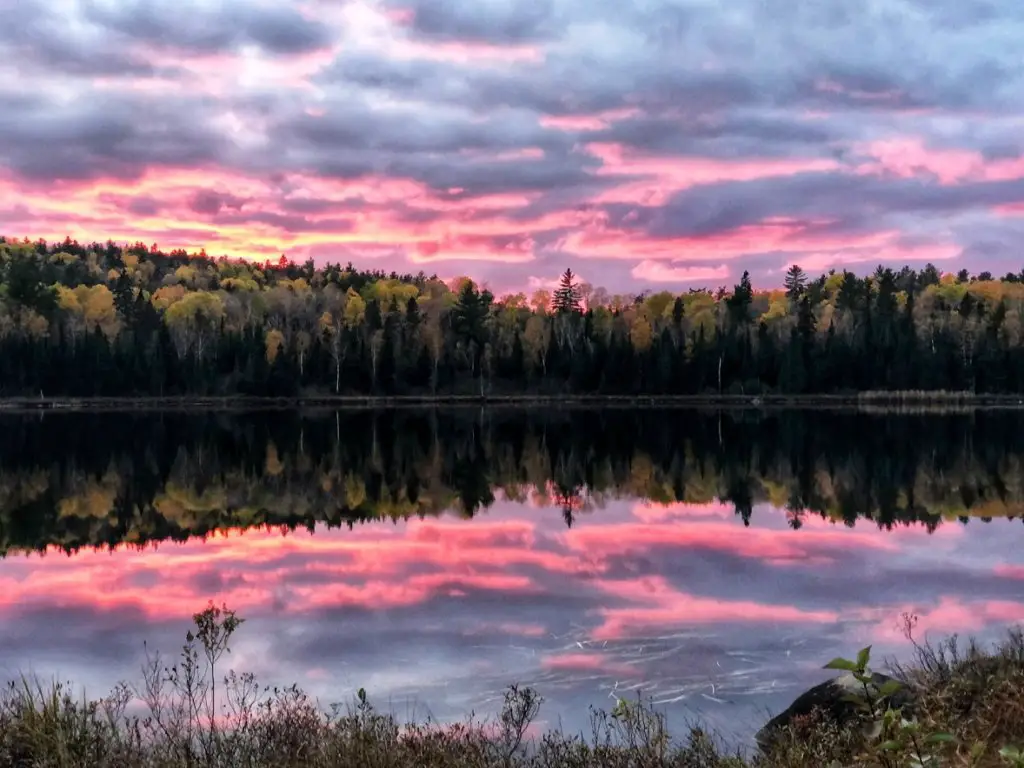 Eat & Drink
There aren't too many establishments along the trail but the ones you'll find are worth a stop! Hand-crafted cocktails, Minnesota beers on tap, walleye, and some of the best duck wings you're ever going to find!
Starting your trip in the morning? Read North Shore Minnesota Coffee Shops & Café's: 5+ Cozy Stops and pick a place to stop on your way!
Trail Center
29 miles in; 40 minutes from Grand Marais
Typically a restaurant, bar, gift shop, gas station, (small) motel, and information center in one, Trail Center Lodge has been a place to stop since 1938. Located on the shores of Poplar Lake, it's the perfect place to get out, stretch your legs, and grab a quick beer or snack.
Note: in 2020, Trail Center is doing call ahead, online orders, and will come outside and wait on you, but there is no going inside to the restaurant/bar/gift shop. They have some tables set up outside, as well as a tent with a heater if you plan to have a full meal. I recommend warming up with some hot apple cider (it was so good) and being on your way. There's more to explore!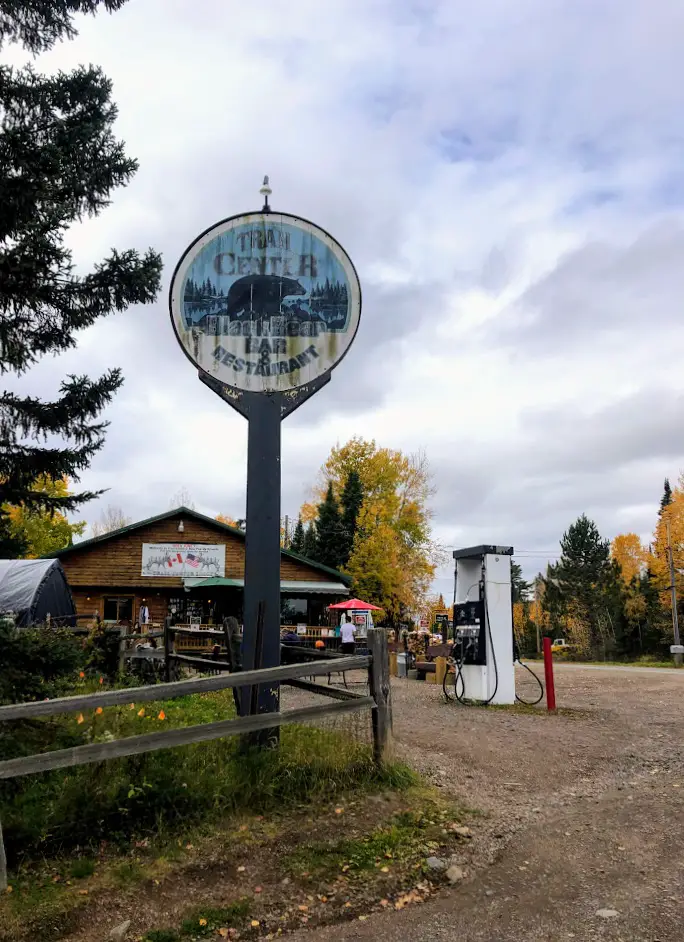 Poplar Haus
30 miles in; 40 minutes from Grand Marais
A-frame, floor-to-ceiling windows overlooking the water. Cozy fireplace with a wood display. Beautiful light fixtures. Great vibe. This place is getting more and more popular and it's easy to see why. In a beautiful location on Poplar Lake, Popular Haus has both a gorgeous outdoor deck to enjoy drinks or a beautiful bar inside. It's the most trendy and new-age of all the restaurants.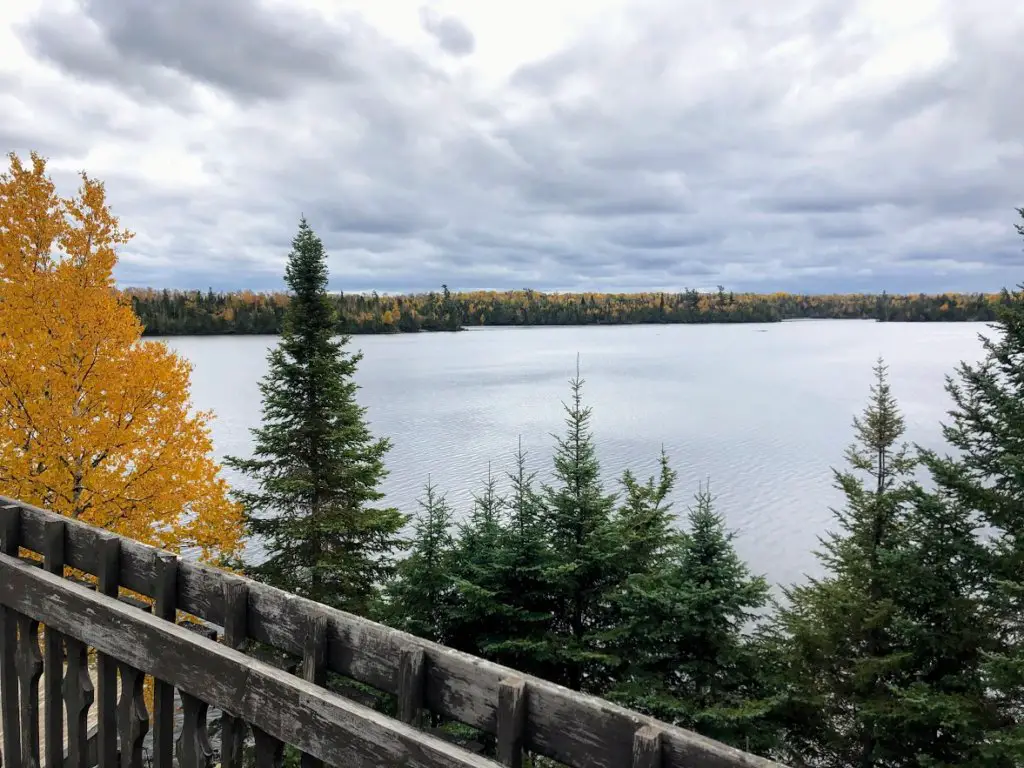 As far as what to order, the Duck Wings are incredible. Now, hold tight before you scrunch up your nose and think eh, I'm not really a duck fan. I watched 4 people say that. And not one didn't rave about the appetizer. Their menu also includes other small bites, pizza, and sammies. And don't miss the cocktail menu. I recommend the Boreal Negroni!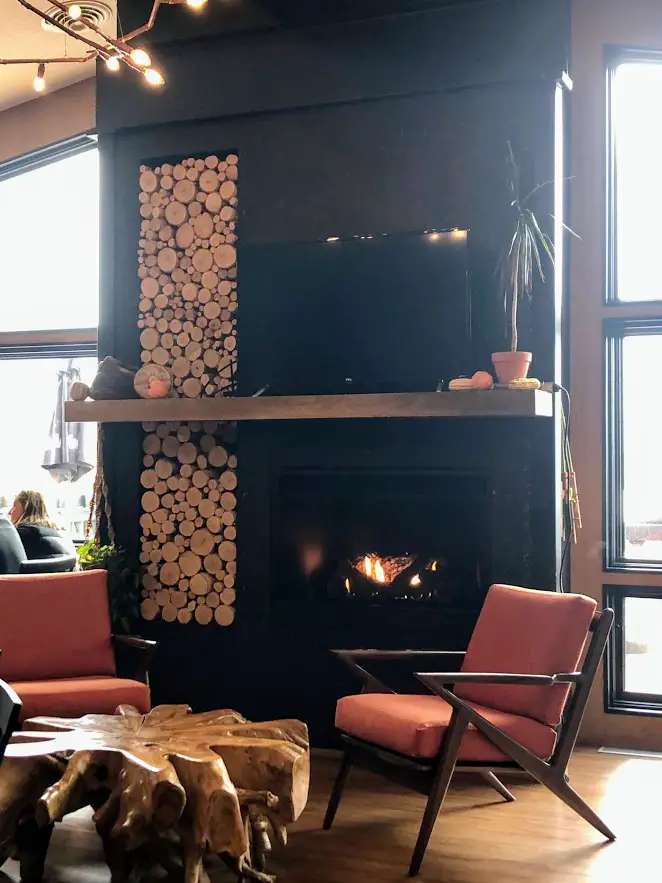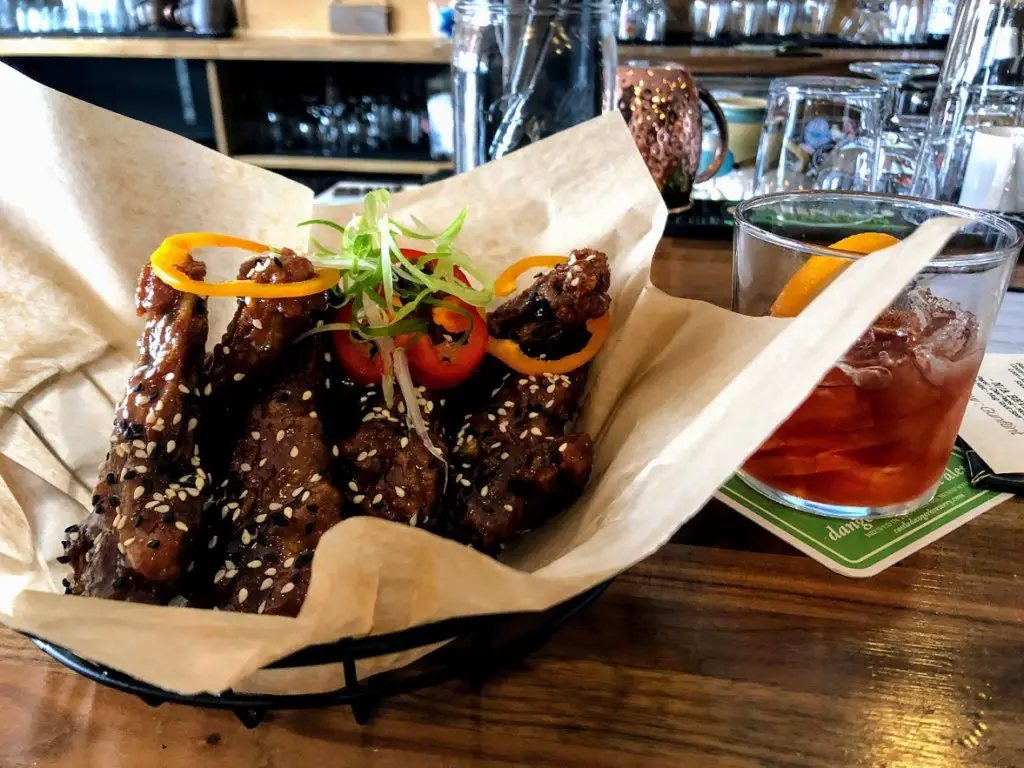 Poplar Haus has 6 full cabins on site. And! They are the only liquor store on the trail. So stop here on your journey to make sure the cooler is full!
Gunflint Lodge: Justine's
44 miles in; 60 minutes from Grand Marais
Another great stop for a beer and some appetizers is Justine's at Gunflint Lodge. Located right on Gunflint Lake, it has a cozy and peaceful inside with wood interior and cabin-feel décor. It reminds me of a ski chalet. They also have an outdoor patio if it's nice out. And their food is deeeelicious. We wanted something local and tried the Walleye Cakes and the Walleye Chowder. Both had the effect of being sad that there aren't any bites left.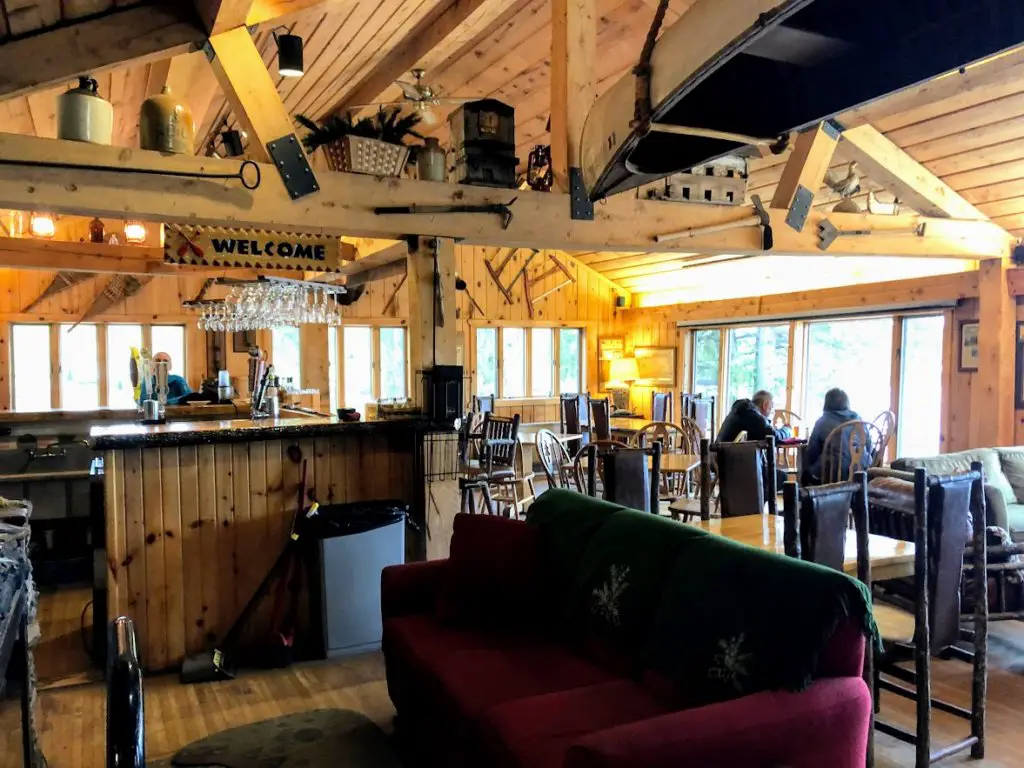 Gunflint Lodge is much, much more than a restaurant. Check into their cabins and activities including pontoon cruises, fishing excursions to hook the massive lake trout, dog sledding, plus Boundary Water Day Trips. It is one of the most perfect places for a getaway in all seasons.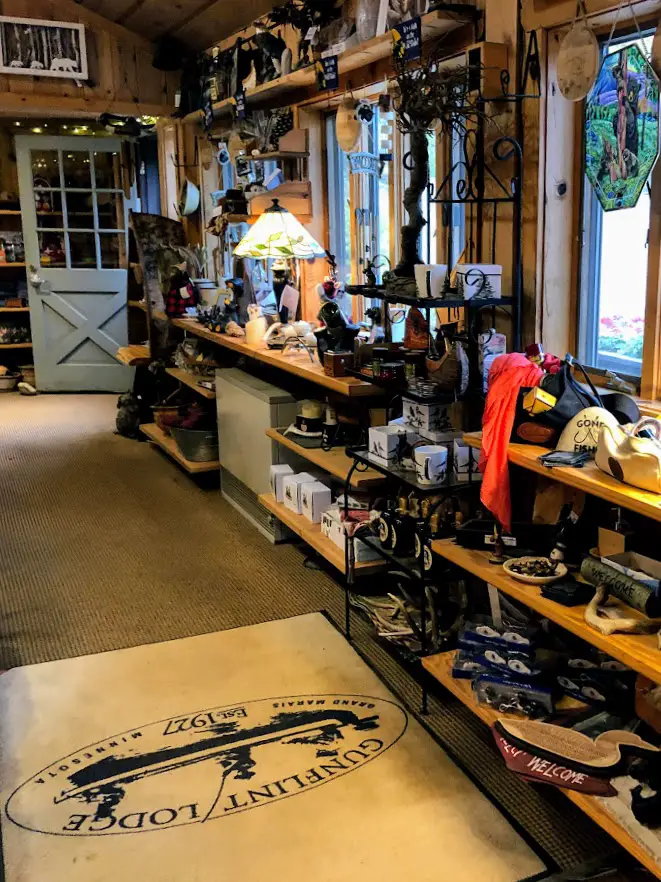 Hungry Jack's
31 miles in; 46 minutes from Grand Marais
And here is where you are going to get your dive bar! The third and final bar (if you hit it on your way out), Hungry Jack's isn't necessarily a "dive bar" but it's definitely your simple bar with the basics! Come in to warm up, grab a beer and some cheap pizza, catch a game, and meet others in the area.
It's located 2 miles in the woods, nestled right on Hungry Jack Lake. And just like the others, they offer a campground and cabins.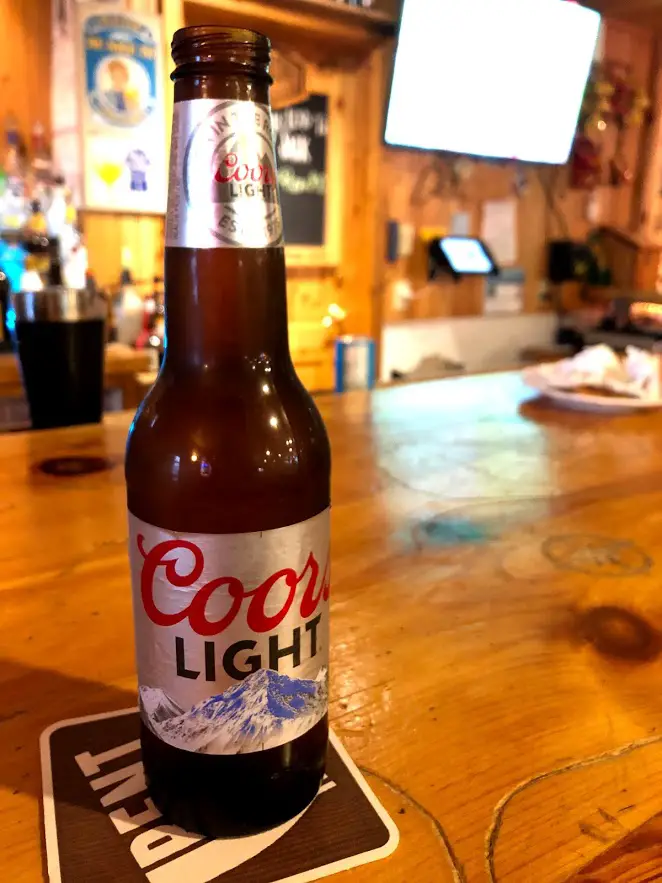 Looking for more places to eat and drink? Read 10 North Shore Minnesota Bars and Breweries
Overlooks & Views
There are a few different designated areas to pull off and check out scenic overlooks while you drive the Gunflint Trail.
Pincushion Mountain Overlook: 180° views of Lake Superior just 2.5 miles in from the start of your journey. For a full-circle view, you can take a 4-mile roundtrip hike.
Laurentian Divide Overlook: Take in the fall colors overhanging Birch Lake. There are steps down to the lake if you need to move around a little. Nothing breath-taking though.
Literally Anywhere: Pull off just about anywhere and take in the views. You should also ALWAYS be looking out for animals.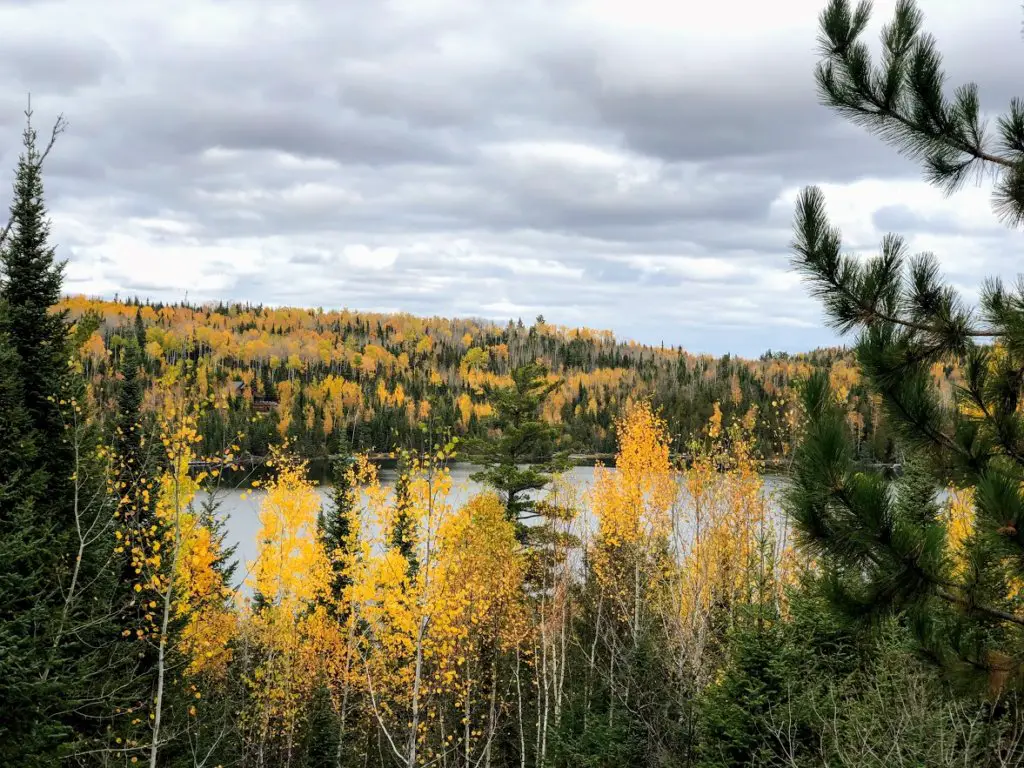 Wild Animals
Speaking of…if you are going to see any wild animals— fox, moose, bear, wolf, deer, a bald eagle, etc., it's likely to be on Gunflint Trail. Keep your eyes peeled as your drive through the wooded area. And an especially close eye on the shallow lakes you drive past where the moose like to hang! You can even do one better and hike the Moose Viewing Trail, a 1/4 mile hike in an area that is a perfect moose habitat. It's 24 miles in and you'll see a sign for it.
We had no luck with any moose or black bears (for no lack of trying!) but we did see three cute little foxes on our way back out! Check out that tail!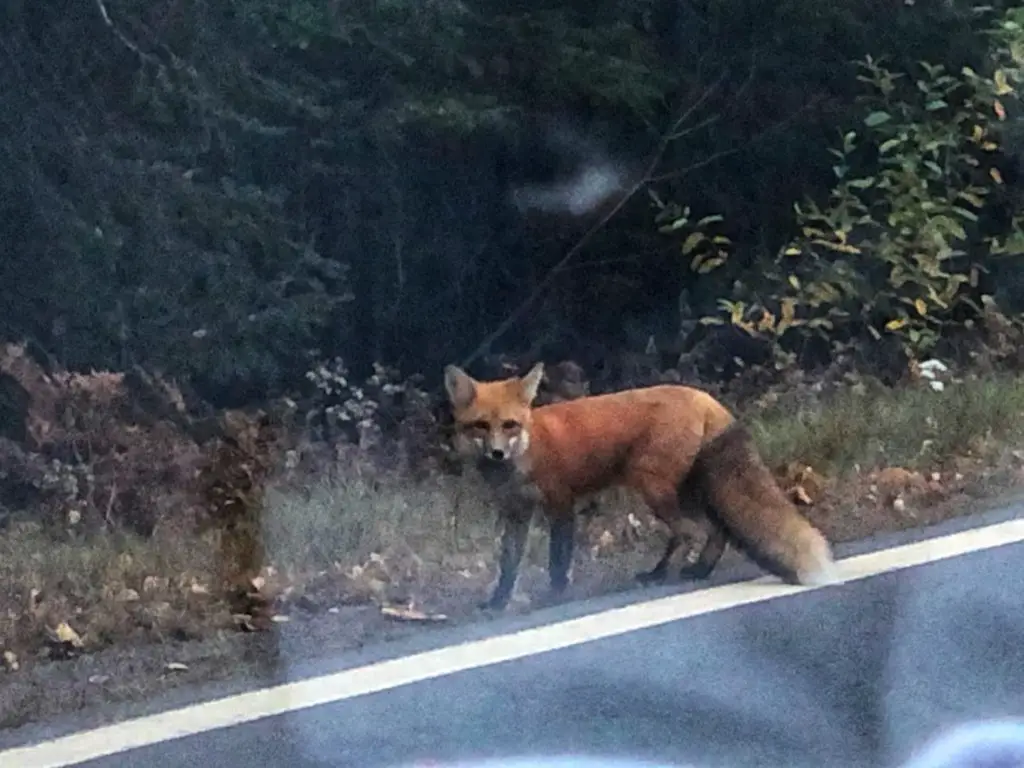 Hike the Trails
There are countless trails to choose from along the Gunflint Trail. Two of the most popular stops are:
Honeymoon Bluff: 27 miles in (38 minutes), take a right on Clearwater Rd. and follow the signs. Honeymoon Bluff is a .4 mile-long loop that they say is perfect at sunset and a lovely hike.
Magnetic Rock: Looking for more? Do this 3.1 roundtrip trail to a 60-foot magnetic rock on the North Shore of Lake Superior Magnetic Rock Trail. Bring a compass—to see the effect the rock has, not because you're going to get lost lol. The trailhead is 47 miles up (1 hour 5 minutes).
Want more of the best North Shore hikes? Read Minnesota's North Shore: 14 Road Trip Stops which includes more!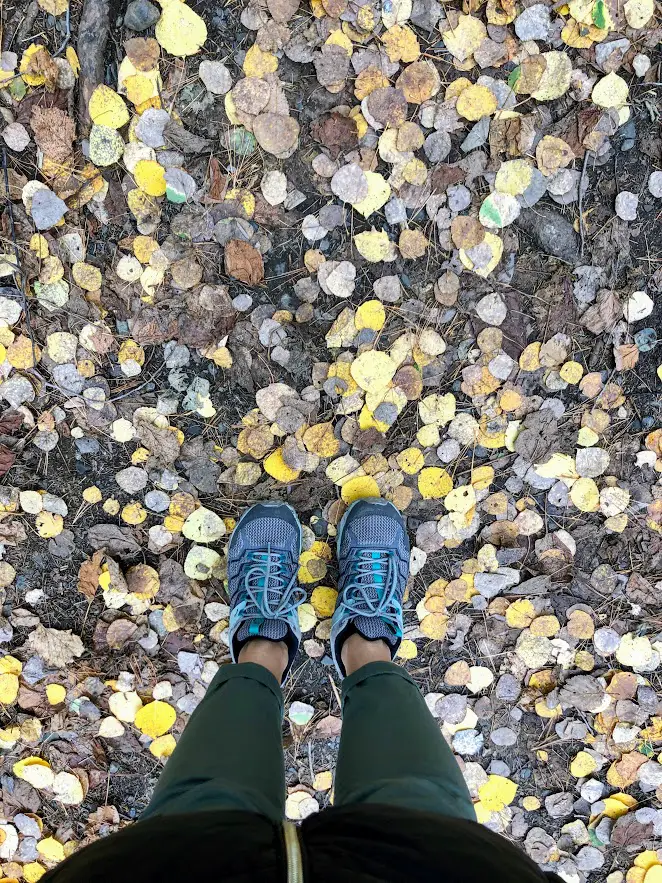 Celebrate at the End
You made it to the end at mile 56.6! Loop around Trails End Campground, climb the rocks, and take in the views at almost-Canada. Trail's End sits along the Seagull River and provides access to Seagull, Gull and Saganaga Lakes.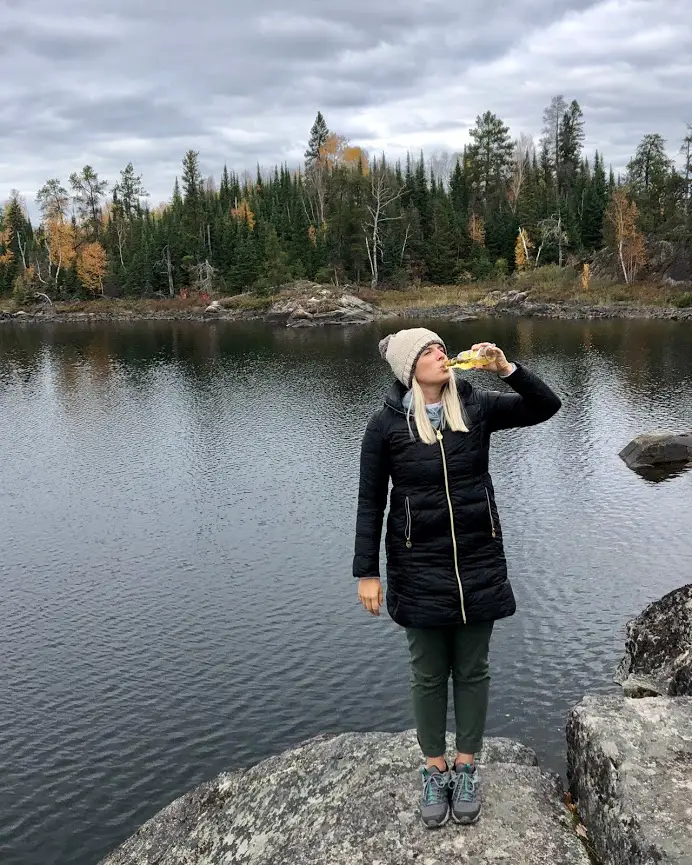 Even More on the Gunflint Trail
You can spend half a day on the Gunflint Trail, which is what we did, and squeeze in everything above (not including all 3 hikes mentioned.) But if you have more time, or are here during the summer months, there is even more adventure ahead!
Paddle
Ready to hit the Boundary Waters?  This is a great place to start! There are canoe outfitters you can book through different sites, including Gunflint Lodge. Trail's End also includes four entry points. See the beautiful landscape, clear water, and beauty of the Boundary Waters Canoe Area Wilderness. I am putting one of these canoe trips on my list for the future!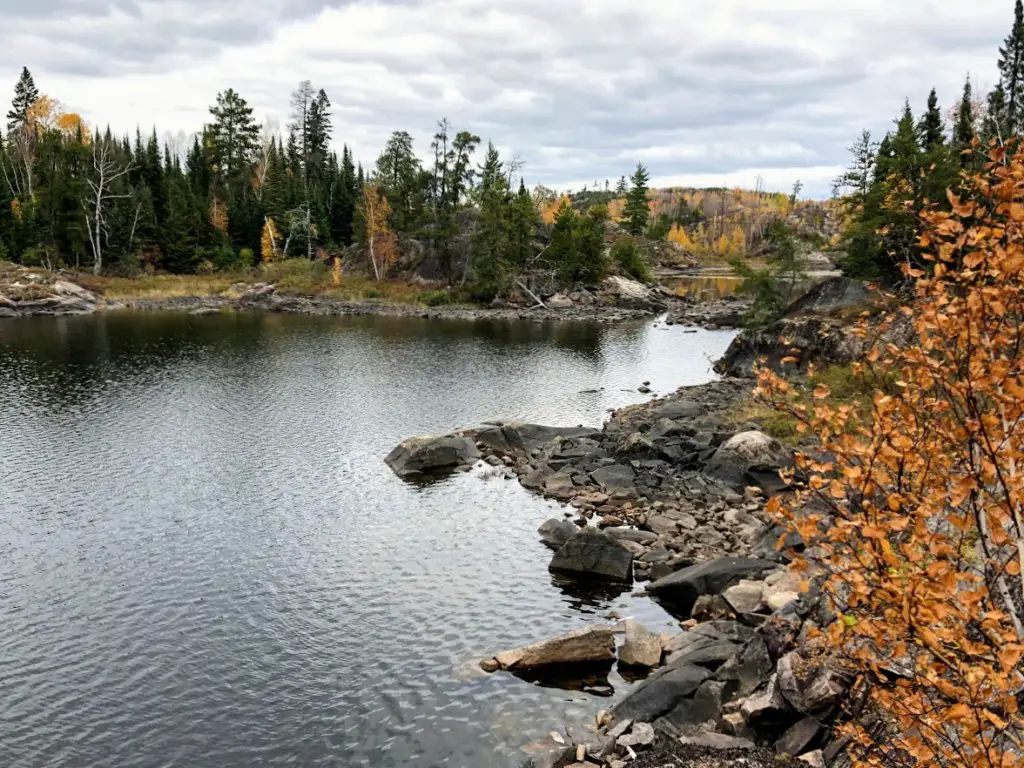 Pick Wild Blueberries!
The upper Gunflint Trail has berries on berries on berries if you are here during the right season! A wild edible that is a staple to those in the area. Find the right spots and you'll be able to pick for days! You will be eating blueberry pancakes, pies, and smoothies year-round!
Chik-Wauk Museum & Nature Center
We didn't do this, but if you're interested, you can check out historical exhibits and hiking trails once you reach the end of the trail. It's on Saganaga Lake and you'll learn about the beginning of the Gunflint Tr. and people who helped make it what it is today including Native Americans, loggers, miners, Voyagers, and current residents.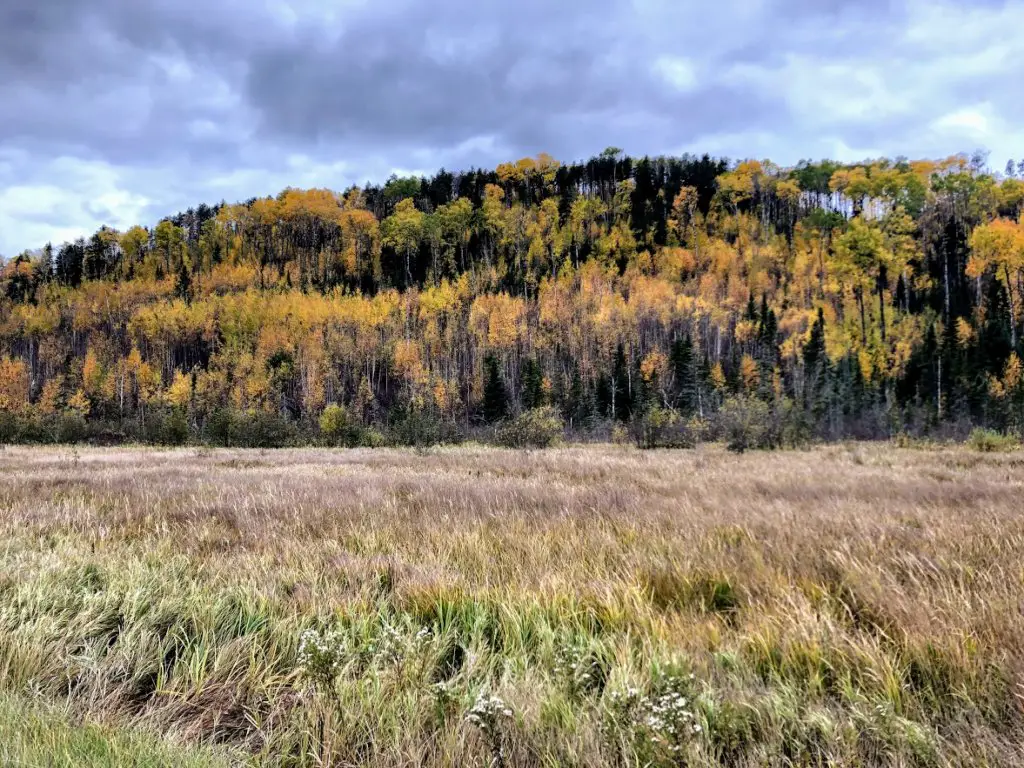 Of course, there is even more you can do including the classic swimming and fishing for monster walleye, trout, and northern pike. There is also zip-lining and horseback riding.
The Outdoor Adventure is Endless on the Gunflint Trail
And though it's a popular adventure to take on, it does seem a little less popular than some of the other excursions and hikes you can find yourself on while exploring the heavy forest of the North Shore. Drive this stretch for a peaceful, calm, and fun afternoon all the way to the end of the Gunflint Trail—and back!
If this trip is up your alley, read 12 Reasons to Visit the Upper Peninsula. Very similar in vibe and you just might be adding another destination to your list!
Did this post help you out? Support the work and pass along $5 for a Coors Light 😉 VENMO: @Amber-LBB or PAYPAL: amber@littlebluebackpack.com. THANK YOU.