Vanilla Latte. Caramel Macchiato. Shot of Espresso. Cold Brew. Americano. No matter how you take your coffee, one of the best feelings is finding a new, cozy coffee shop, or café. One that serves breakfast in warm, welcoming environments and gets your day started with some caffeine and a friendly barista. The North Shore of Minnesota offers quite a few of these places on your journey, all of which will wake you up and have you ready for a day of North Shore adventures.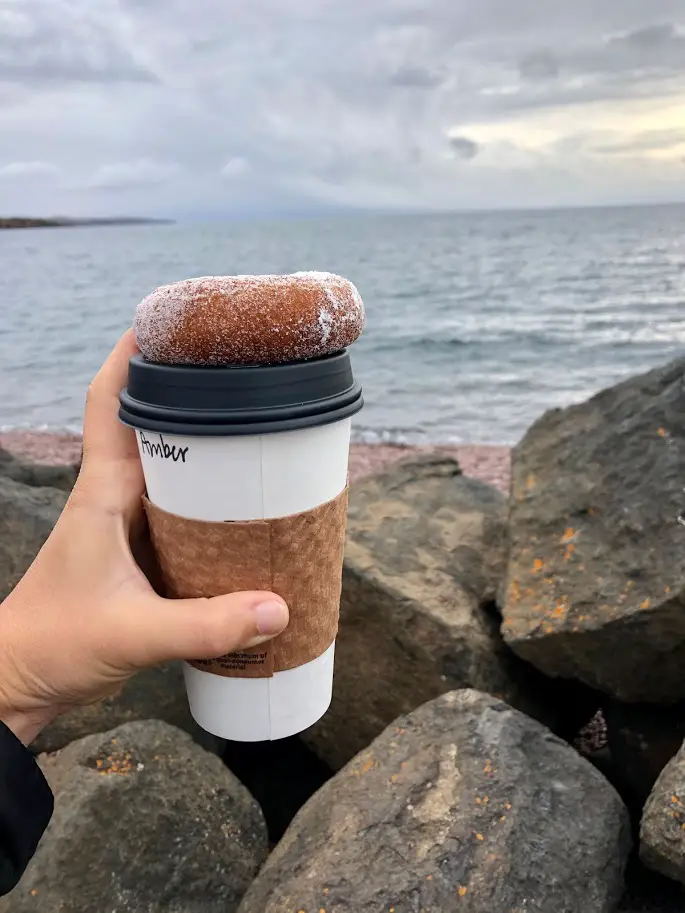 Here are 5 North Shore Minnesota Coffee Shops and Café's you don't want to miss:
Note: All of these places have their own COVID-19 rules including hours of operation, masks, online ordering, etc. Make sure to check their website or Facebook before you go!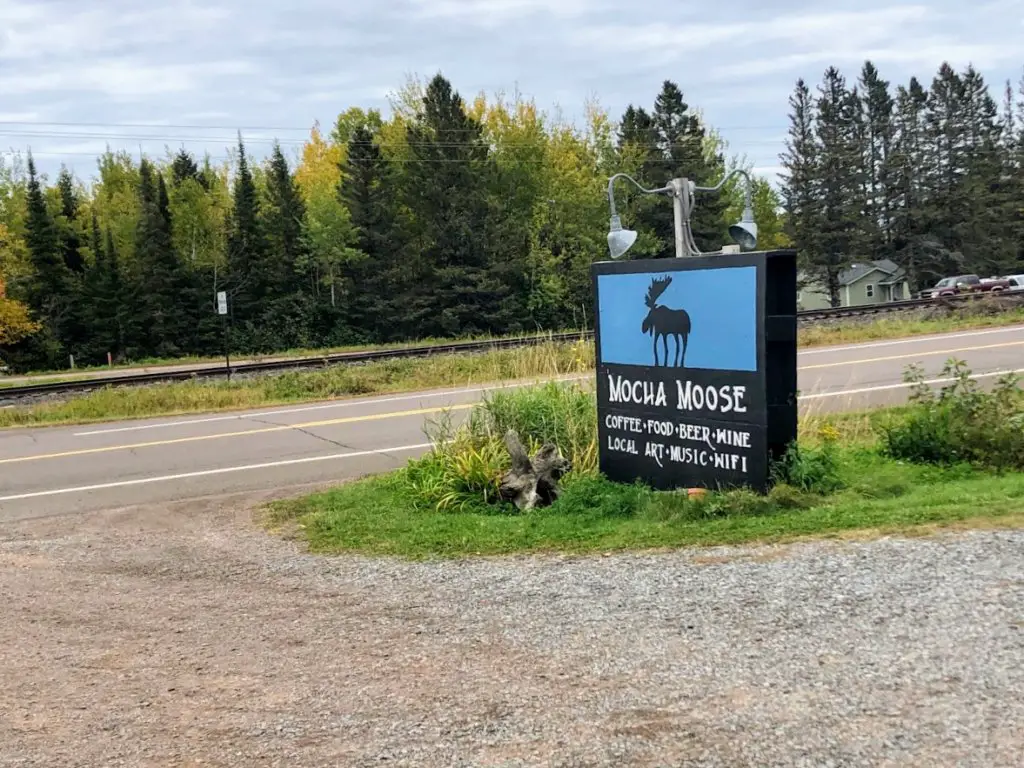 Mocha Moose—Two Harbors
Stop at Mocha Moose to put some pep in your step, located right in between Knife River and Two Harbors on the scenic 61. This is a family-owned café serving local beans from Duluth and local art from MN and WI artists! Their outdoor seating is right along Lake Superior and they also have cozy spots inside.
Plus! They have an Airbnb above their shop! Easy access to coffee that you can enjoy on the deck overlooking the lake (soon to come?) Sign me up!
What to Order: Chai Tea Latte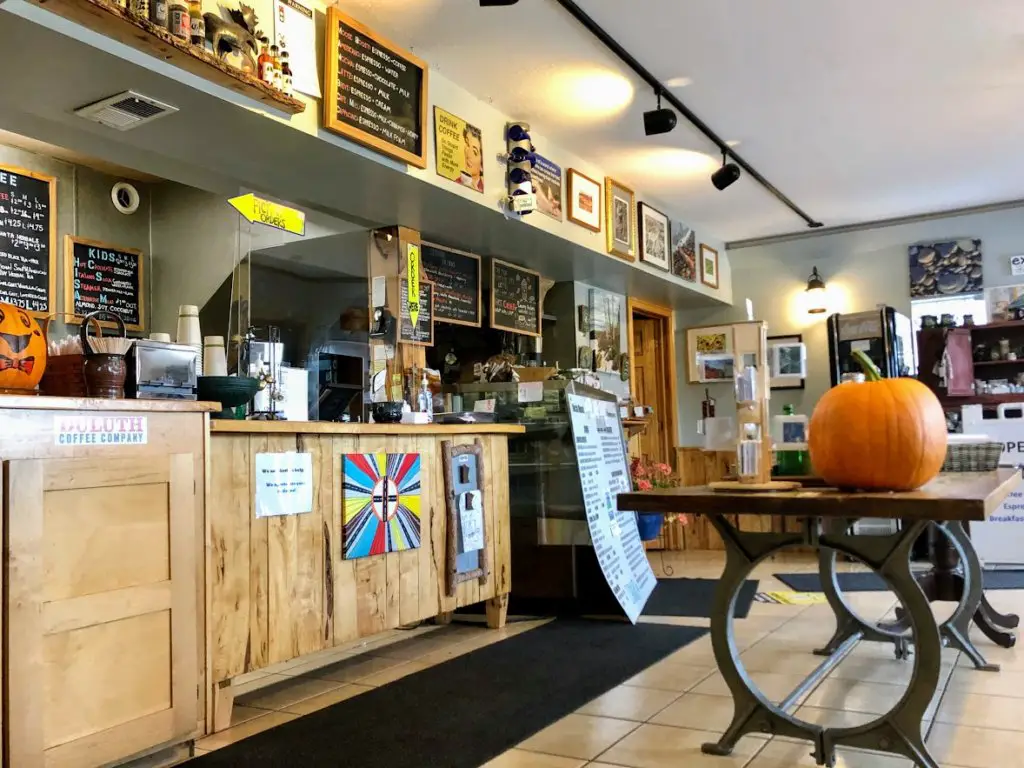 Cedar Coffee Company—Two Harbors
Two Harbors offers another coffee shop and café that's a bit off the beaten path. Follow 61, turn left at the stoplight at 11th Street/CR 26, and you'll arrive at a little coffee shop tucked into the woods, perfect for a light breakfast and cup of coffee. Cedar Coffee Company is super cozy and a place you are sure to love. If the weather allows, make sure to enjoy outside. They have a great patio and outdoor space with all of the North Woods vibes.
What to Order: hot coffee and a Breakfast Burrito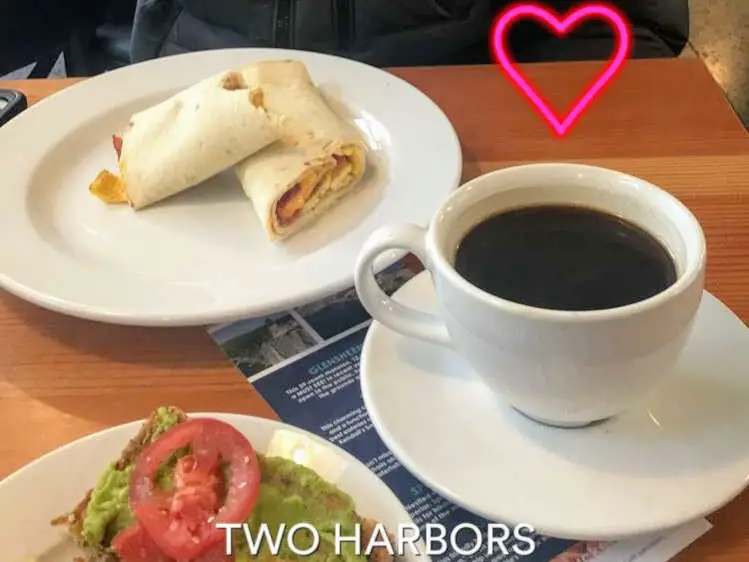 Fika Coffee—Lutsen
Located in Lusten, Minnesota, Fika Coffee is the end cap of a strip mall row of small shops that includes outdoor seating and delicious coffee. Quick did you know: Fika is a Swedish word known for coffee break—"a quiet moment of indulgence in an otherwise hectic day." They are all about coffee, community, and adventure, and it shows! The perfect morning stop before a day of hiking or a day on the slopes. Their Americano was solid, and my real favorite was the sugar donut—we got one to share and were totally wishing there were two! It was gone so fast that there is no photo.
what to order: maple latte and a donut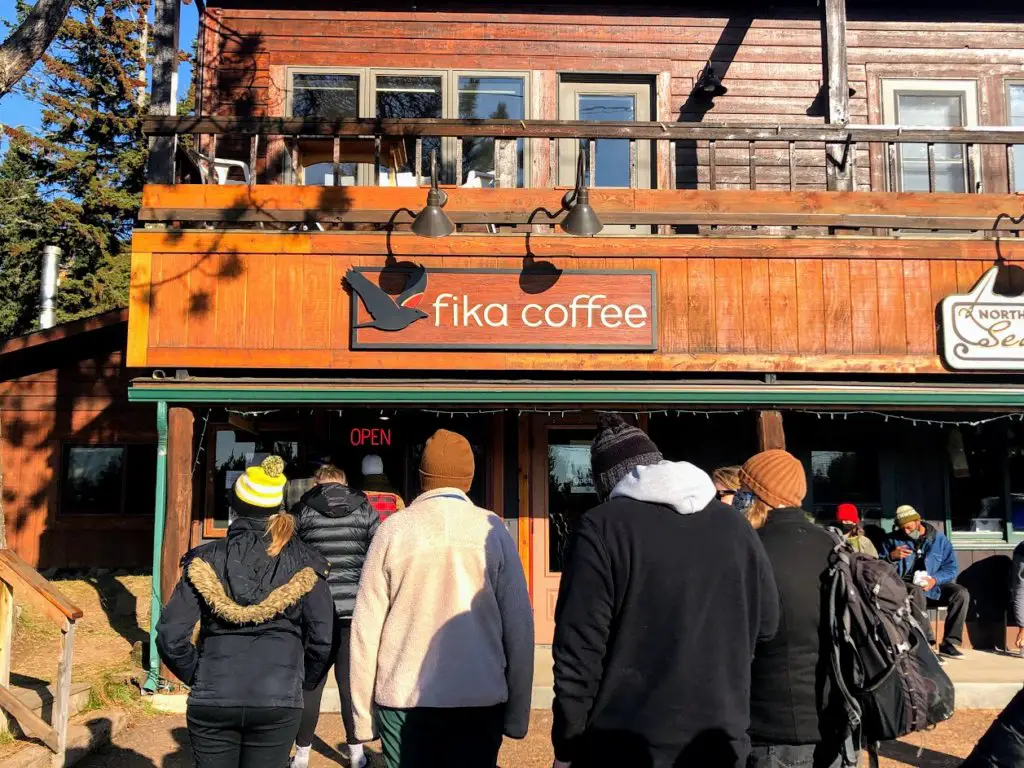 World's Best Donuts—Grand Marais
Did somebody say donuts? Add this to your Grand Marais/North Shore list right now. And then circle it. How delicious is it? This place is line out the door and down the block all of the time. Does that mean you should stay away? Absolutely not.
I assume there is no going wrong at World's Best Donuts, but my recommendations are to 1. Order Online (it's slick—you just go to the back door when you get there and grab your order!) and 2. Stick with the Classics! Don't get fancy. They do simple really well. Another thing I love? They're not the huge donuts that make you feel sick and regret all life decisions. The homemade donut, complete with a slight outer-crunch, is just right!
What to Order: classic sugar cake donut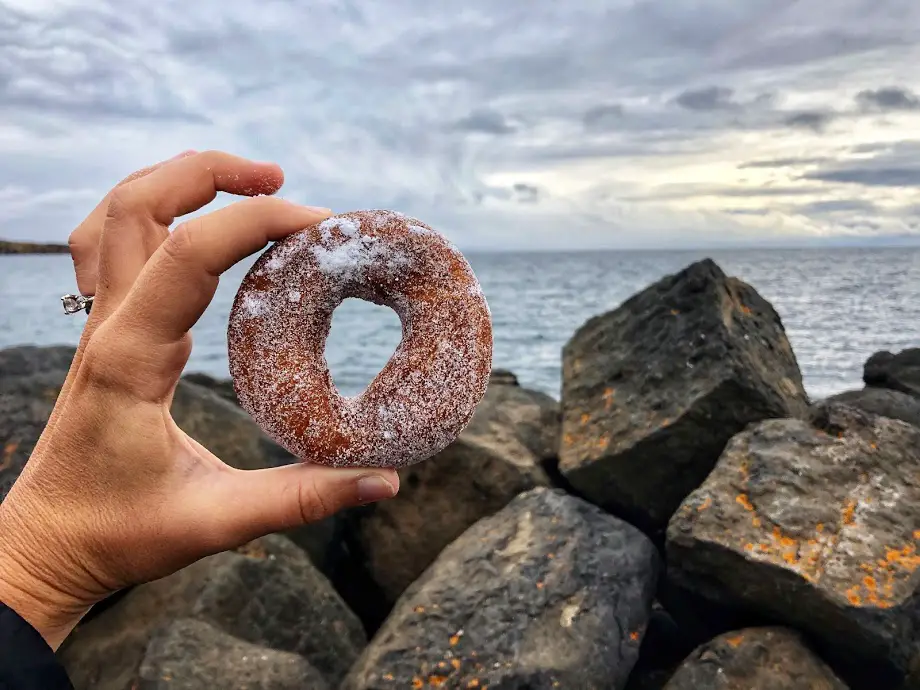 Java Moose—Grand Marais
I saved this Grand Marais stop for last. Java Moose serves the best coffee I ever remember having…yes, no exaggeration. We stopped in on a Saturday morning before heading up to Grand Portage State Park, and with a long line out the door and around the building, we knew we hit something good. But worth it was the question. 100x yes.
Grab and go for your next hike, or take your morning slow and enjoy on the patio or Artist's Point. I will crave the Americano until I can order it again. And their location couldn't be better overlooking Lake Superior.
What to Order: Americano (or literally anything)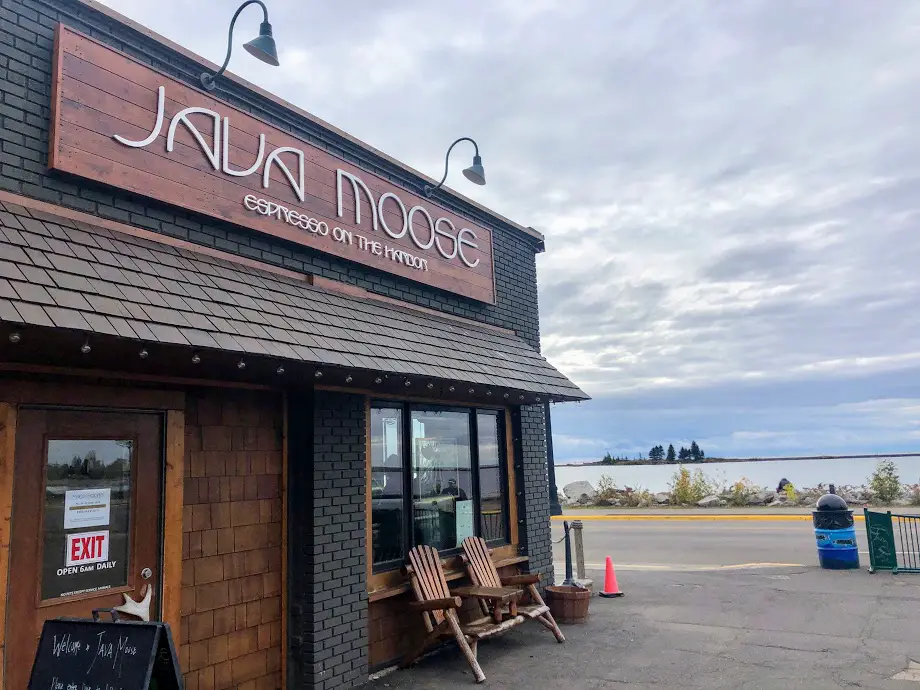 What to do after you grab breakfast? Read Minnesota's North Shore: 14 Road Trip Stops that includes tons of places to explore.
Other North Shore Minnesota Coffee Shops & Cafe's
It's nearly impossible to go to every coffee shop and café on the North Shore during one trip. Luckily, this a destination you typically hit more than once! Here is what is on my list for next time:
Rustic Inn Cafe: Popular stop in Two Harbors. A rustic setting where everything from breakfast through dessert is made from scratch. And it's said to not skip the pie!
Schroeder Baking Company: Quaint and casual and right off of 61 in Schroeder, MN. They serve tons of baked goods (apparently the caramel roll is a must) as well as coffee.
Coho Cafe: Espresso, wine, homemade bread, pizzas, and more. The perfect stop in Tofte, MN.
Blue Water Cafe: The perfect American breakfast and a quality stop in Grand Marais, MN.
North Shore Minnesota Coffee Shops and Café's get your morning started right.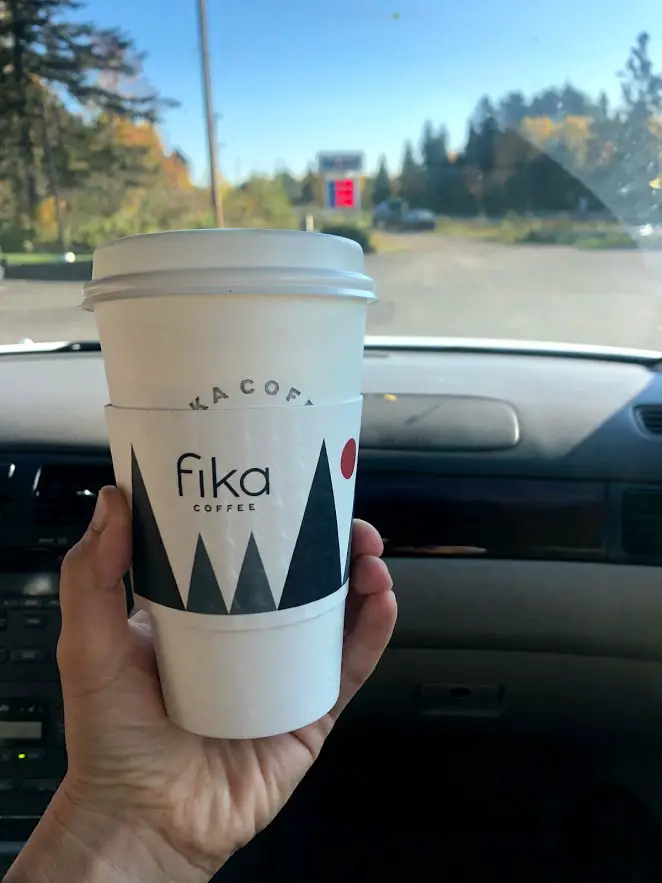 They have their way of easing you into the day. One that is full of unknown adventure. Try one of these spots and you just might be ready for 10 miles on the Lake Superior Hiking Trail or a full day driving the Gunflint Trail!
Where is your favorite North Shore Minnesota Coffee Shop or Café? Comment below! And if you're ready for more drinks, read 10 North Shore Minnesota Bars and Breweries.