The temperatures are rising and those snowy days are behind us–fingers crossed. That means it's time to think SPRING and enjoy time on some of the best spring hiking trails in Minnesota. There a few major bonuses to spring hikes vs. the other seasons. The sun feels extra warm on our skin. There are fewer crowds than in the summer and fall. The bugs aren't out yet–major bonus. And waterfalls are at their fullest with the melting winter. Keep reading to find out where you can take advantage of all of these things this year.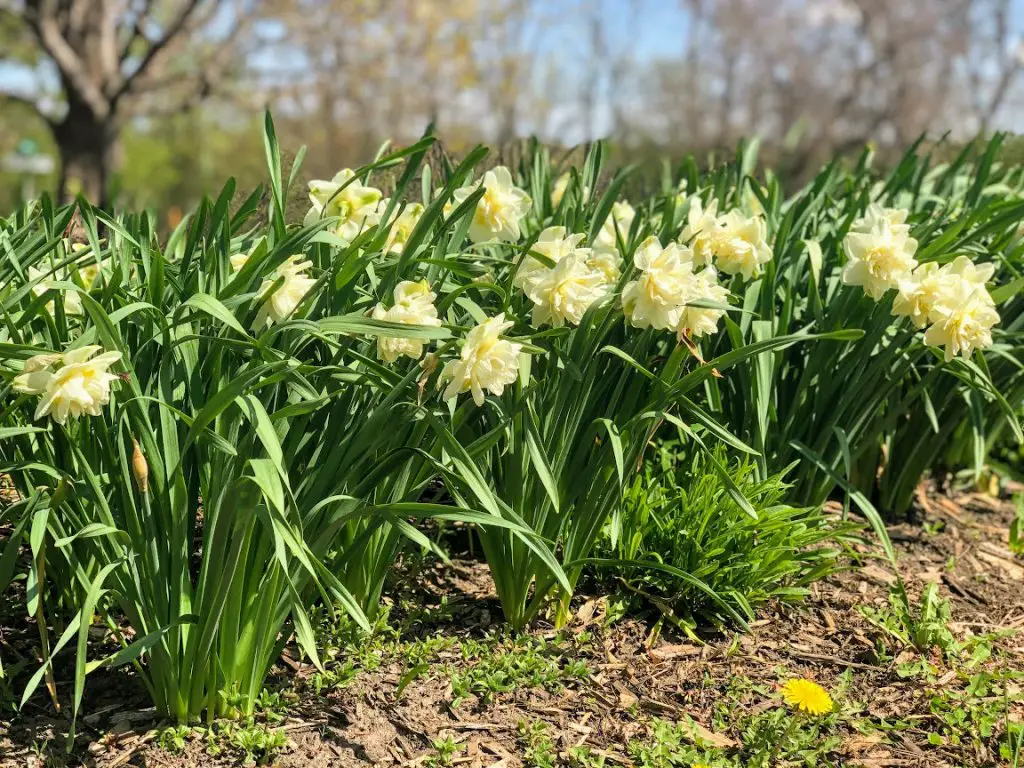 Spring Hiking Trails in Minnesota During Spring
*Note: many of these trails are within Minnesota State Parks. If you plan to visit 5+ this year, purchase an Annual Pass for $35. This will give you access to all of them and saves you the time of spending $7 for daily passes at all of them you visit!
Spring Hiking Trails in Minnesota Near the Minneapolis-St. Paul (Twin Cities) MN
Minnehaha Falls Regional Park
Minneapolis
Not far from downtown Minneapolis is Minnehaha Falls Regional Park—one of Minnesota's top tourist attractions, though that doesn't stop the locals from making a yearly trip to check out the waterfall. A short walk on the paved trail from S. Minnehaha Drive (there is paid street parking) will put you on the right track to a 53-ft waterfall. From there, you'll meander through the park and find limestone bluffs, overlooks, gardens and sculptures, and open spaces for outdoor activities.
Things to Know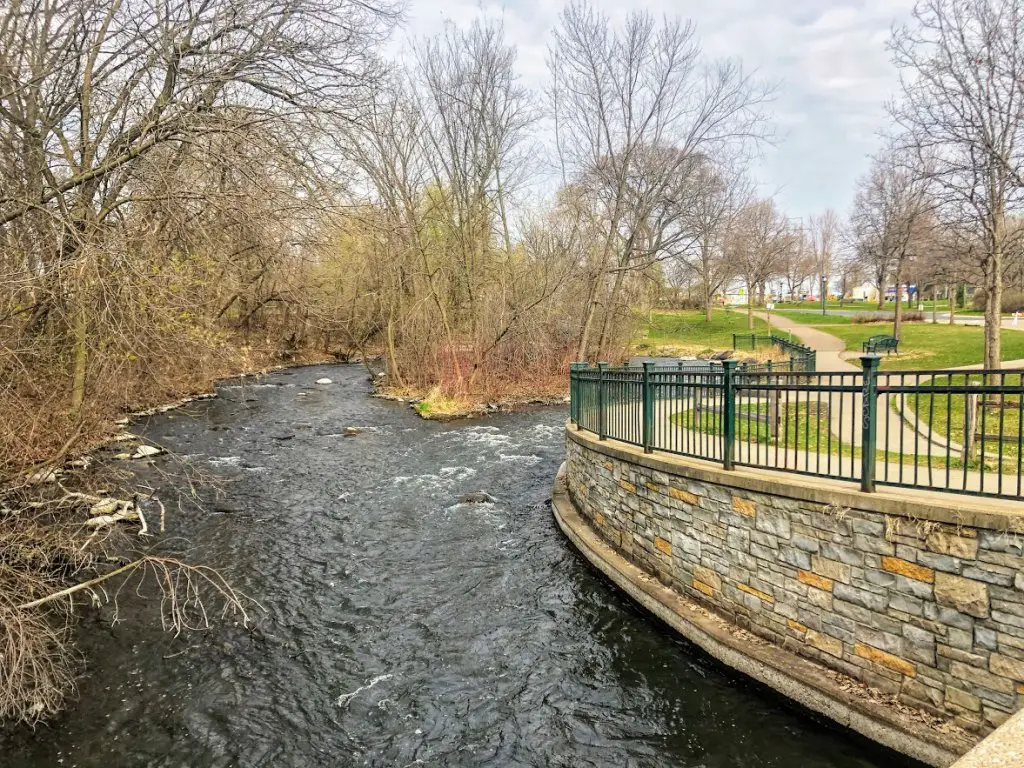 Hidden Falls Regional Park
St. Paul
Hidden Falls Regional Park is located along the Mississippi River bluffs and offers 6.7 miles of paved trails that lead to river views, a waterfall, pretty picnic areas, and wooded bottomlands. Though the waterfall isn't huge, there aren't many signs so the thrill is more in walking along the great hiking trail to find it! I'll put a little info in the "things to know" if you'd rather just have the directions. But I don't want to spoil it if you're looking to get there on your own!
Things to Know
Fort Snelling State Park
St. Paul
I have to add another Saint Paul hike to the list. Fort Snelling State Park is one of the best ways to stay close to the city but feel like you left it hours ago! They offer some of the best spring hiking trails in Minnesota (or any time of year!) Pike Island is a great hiking trail with different mileage options—including a mile loop, two-mile loop, and three. The trails hug the sides of both the Minnesota River and Mississippi River, offering gorgeous views where the two come together, as well as canopy trees for some of the most perfect pictures when the leaves start coming back.
Things to Know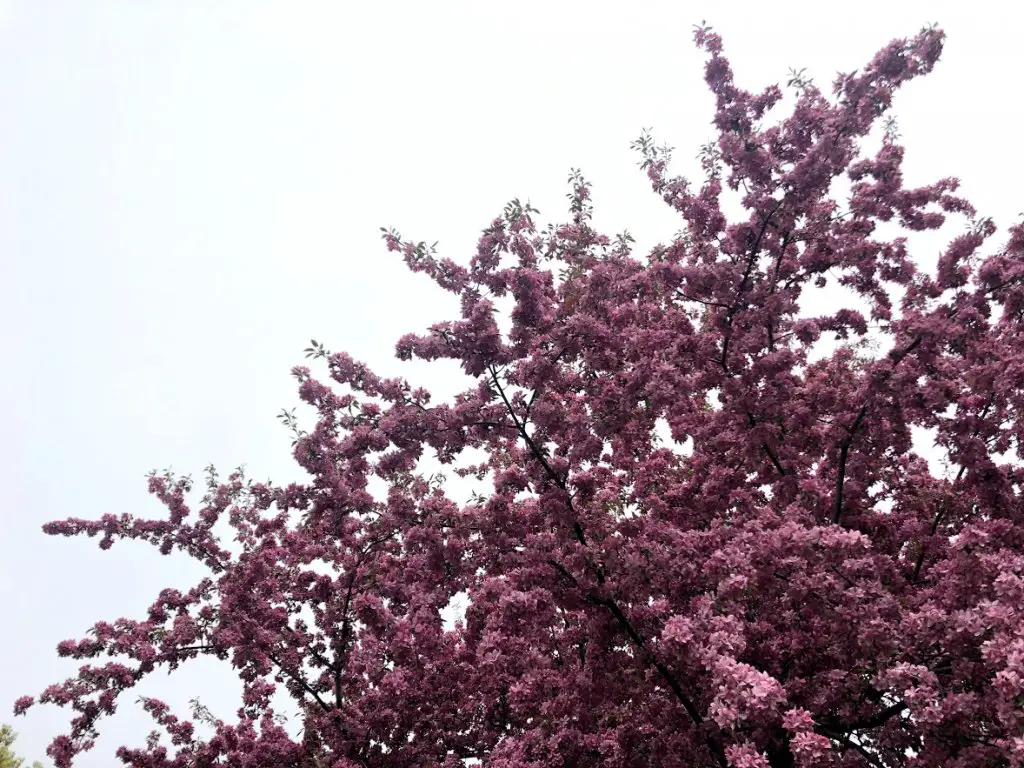 Highland Lake Park Reserve
Bloomington
Right near the Twin Cities, you can choose from paved trails and unpaved hiking-only trails at Highland Lake Park Reserve. There are 17.8 miles of trails here that are known as a perfect spot for runners with many flat and hill options. This location (part of the Three River Park District) winds through woodlands, grasslands, and wetland habitats and you'll probably be lucky enough to find a few species of wildlife. 
Things to Know
Minnesota River Bottoms
Bloomington
The Minnesota River Bottoms are a cool place to hit the trails in an area that's not really talked about. You will feel far removed from city life soon upon entering. Above you are huge trees as you walk your way towards the bottom of the Minnesota River. Outside of a few family bike rides, there weren't many people here making it a serene spot to explore. And neat to think about being at the "bottom of the river."
Things to Know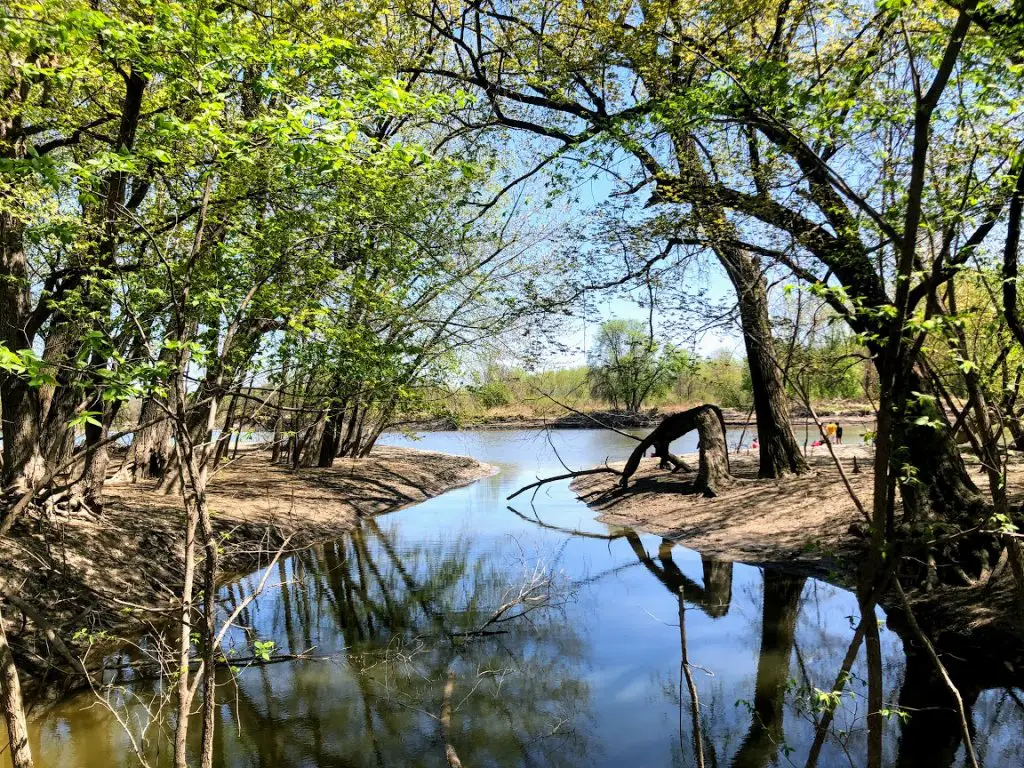 Read 11 Places to Get Outside in the Twin Cities for more ideas!
Afton State Park
Hastings
One of Minnesota's great state parks, Afton State Park offers trails through restored prairies, deep ravines, and bluffs overlooking the scenic St. Croix River. There are 20 miles of hiking trails along with picnic shelters/area, a visitor center, gift shop, and even lodging options. Check out North River Trail Loop which is a scenic 3.8 miles of natural area or else South River Trail which is 3.8 miles as well, mostly running along the St. Croix River.
Things to Know
Vermillion Falls Park
Hastings
If you're looking for a free hike south of the Twin Cities, head out to Vermillion Falls Park. Here you are rewarded with views very quickly! There is a waterfall just steps from the parking lot. But that's not all. In the opposite direction, you'll find the gorge bridge with a beautiful view of the Vermillion River—I thought this was the coolest part. And a little further downstream is the ruins of the Ramsey Mill where old pillars (built in 1856) still stand.
Things to Know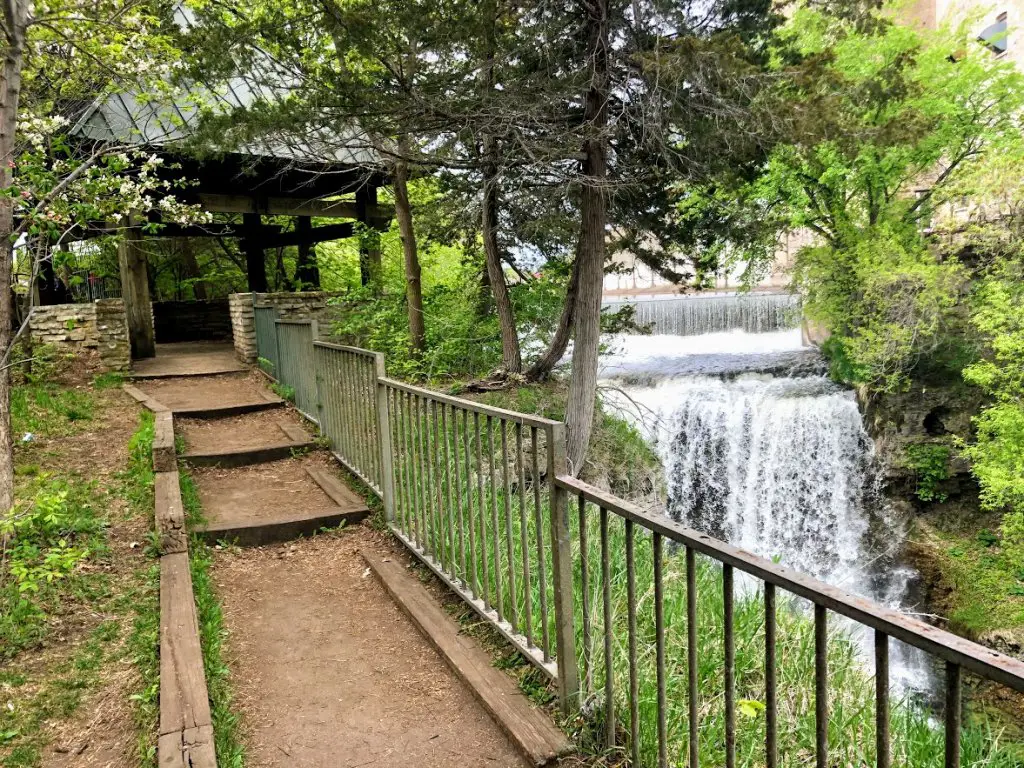 Interstate State Park
Taylors Falls
Interstate State Park in Taylors Falls is one of my absolute favorite places to head for a day trip and easily has some of the best spring hiking trails in Minnesota. There are great views of the St. Croix River flowing downstream and a few different trails all worth spending your day on. I recommend the Mondale River Trail which is 2.2 miles out and back. Don't miss the glacial potholes right near the entrance. They are unique and fun to explore!
For a full day play, read Day Trip to Taylors Falls.
Spring Hiking Trails in Minnesota 1-2 Hours South of Minneapolis-St. Paul (Twin Cities) MN
Frontenac State Park
Frontenac
Heading down to southern Minnesota, you will hit Frontenac State Park. And you're in luck because you don't even need to wait until you get there for the views. Driving here is beautiful through the Hastings and Prescott areas and down the Mississippi River. There are 13 miles of trails that include easy, moderate, and challenging hikes and you will definitely see the wildflowers popping up come spring. If you're a birdwatcher, this is a paradise in the spring and fall. Lake Pepin's diverse habitats attract all kinds of birds.
Things to Know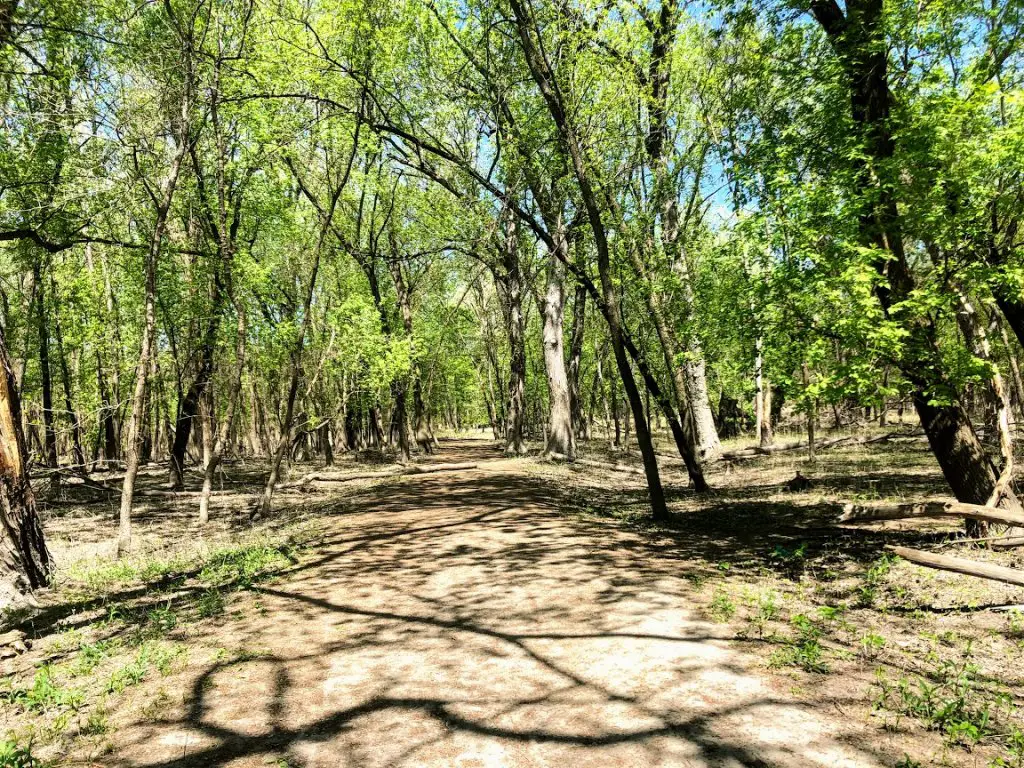 Whitewater State Park
Altura
Down in Altura (before you hit Winona) at Whitewater State Park you are going to find rugged hiking trails—10 miles, spring wildflowers, river bluffs, and wooded valleys. And if you're ready to see no signs of civilization, head out to Inspiration Point, a large rock overlooking the valley which is less than .5 miles from the south picnic area and parking lot. Another great option is to hike Chimney Rock Trail for a scenic view of the river.
Things to Know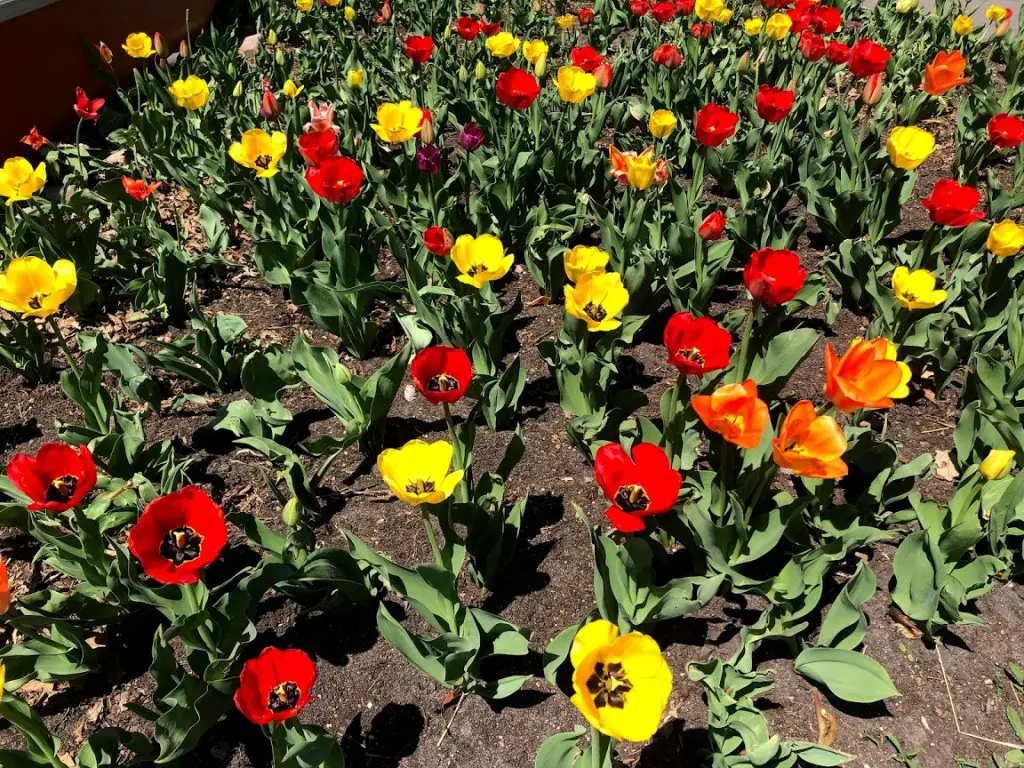 Minneopa State Park
Sticking with southern Minnesota, there is a park that the other Minnesota State Parks have a lot to compete with because not only does Minneopa State Park boast a huge bison range (331 acres) where you're sure to catch some of the massive animals, but a waterfall as well! Talk about bang for your buck. These two attractions are on two different sides of the park but you can easily do them both.
Things to Know
Nerstrand Big Woods State Park
Our last one in the south, just outside Faribault, is in the small town of Nerstrand. And in the spring, Nerstrand Big Woods State Park is a wildflower garden full of beauty and fresh air. The woods are aplenty at this spot and there are 11 miles of hiking trails. You can't miss the hidden waterfall that, from the east-side parking lot, is only .5 miles in and a, easy yet beautiful hike.
Things to Know
Make it a day trip! Read Day Trip to Faribault.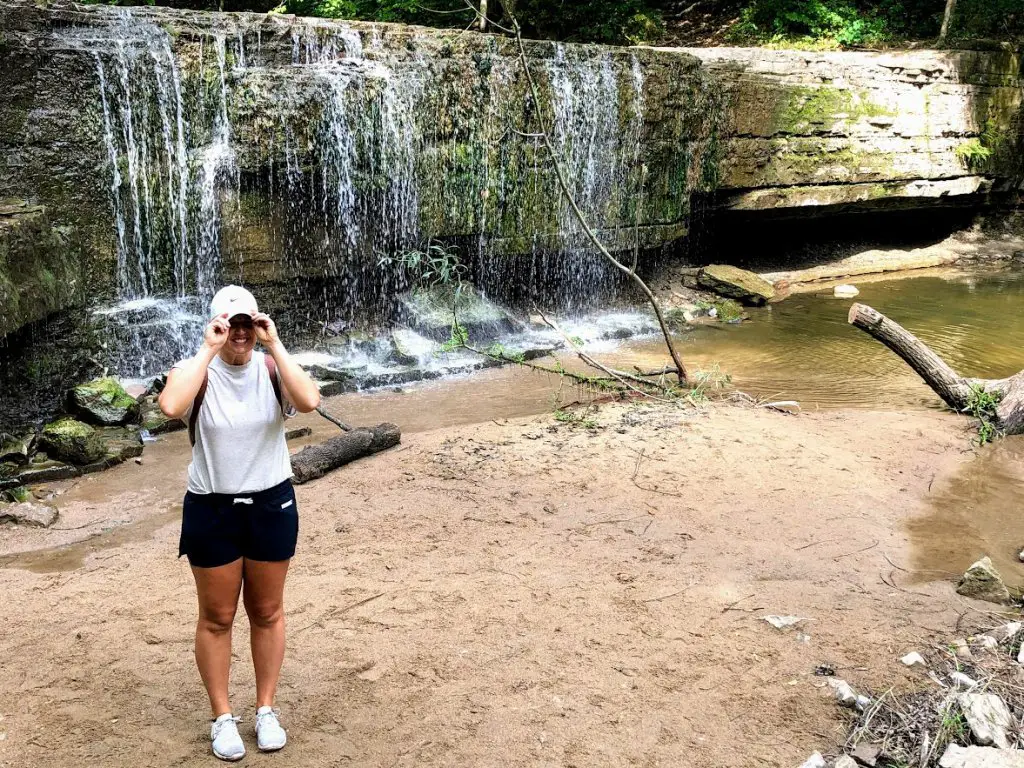 Spring Hiking Trails in Minnesota 1-4 Hours North of Minneapolis-St. Paul (Twin Cities) MN
Itasca State Park
Heading in the opposite direction is Itasca State Park and a good place for a weekend trip up north. The park was established in 1891, making it Minnesota's oldest state park. It contains the headwaters of the Mississippi River, spans 32,690 acres of northern Minnesota, and has 49 miles (!!!) of hiking trails. There is a four-season lodge, cabins, and camping available as well as a full service restaurant (The Douglas Lodge Restaurant) so you can make a full weekend out of just the park.
Things to Know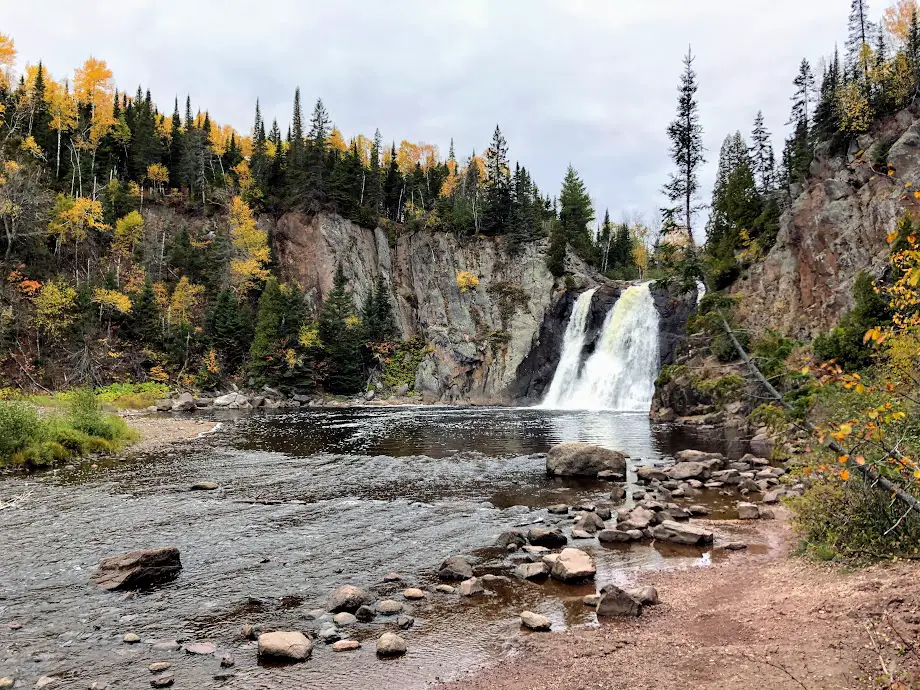 Tettegouche State Park
Tettegouche State Park just might be my favorite park in all of Minnesota. Absolutely stunning views no matter which trail you choose to take and an overall great place to hike. My favorite one is High Falls which can either be 3 miles round trip or 1.5 miles (to keep it short, just keep driving up the road and there is a small second parking lot) and the end result is the biggest waterfall that's completely in the state, making it one of the best spring hiking trails in Minnesota.
Things to Know
Superior Hiking Trail
Talk about miles of trails. You are sure to have a great time on the Superior Hiking Trail with some of the best hiking trails in the entire Midwest. A 310-mile long hiking trail that follows the rocky ridges overlooking Lake Superior for most of its length and winds through the Superior National Forest. Obviously, it would take a very long time to complete the entire trail, but a perfect place to stay is in Grand Marais, Minnesota where you can hike the trail between there and Lutsen.
Where Does the Superior Hiking Trail Start and End?
The trail starts at Jay Cooke State Park and ends at the Canadian border.
Things to Know
Grand Portage State Park—High Falls
Hike to the highest waterfall in Minnesota at Grand Portage State Park (which is also part of Canada and why the Tettegouche High Falls gets the tallest recognition as well) and it's only a 1-mile round trip trek. Plus, you can look across and wave to our Canadian friends who hike the opposite side! How cool!? There are three different viewing decks; make sure to hit them all! And if you need more, hike to Middle Falls which is 4.5 miles round trip.
Things to Know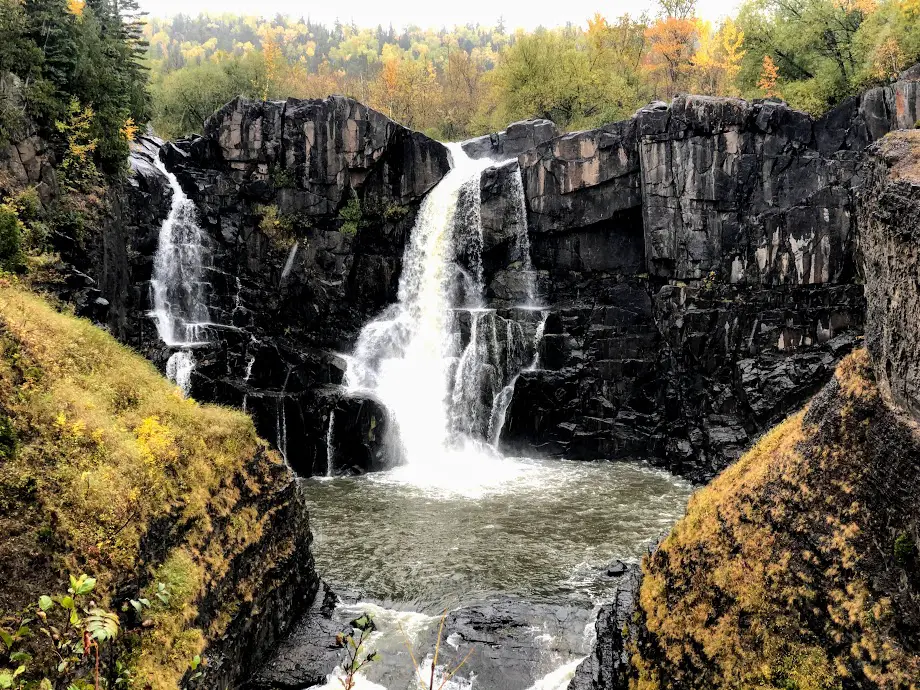 More North Shore Places to Hike
Best Spring Hiking Trails in Minnesota for 2021
Minnesota is such a beautiful area for outdoor adventure. No matter where you are in the state, you are likely nearby a great place to enjoy it! Take in the warm sun, fresh air, and experience the true north!