Minnesota winter. It keeps most people away with our 0° temps and piles of snow. But what people seem to forget are all of the best places to actually enjoy Minnesota winter. You may need to bundle up, incorporate hot beverages, and purchase a few extra hand warmers, but if you can tough it out (you can), then not only will you have fun this season but it'll be over before you know it!
There are so many cities and places that make the Minnesota winter months fun. And if you live here, take advantage by taking a winter vacation! If you don't, well…it's time to see just how tough you really are. Don't worry, you will love it 🙂
Minnesota Winter Places to Visit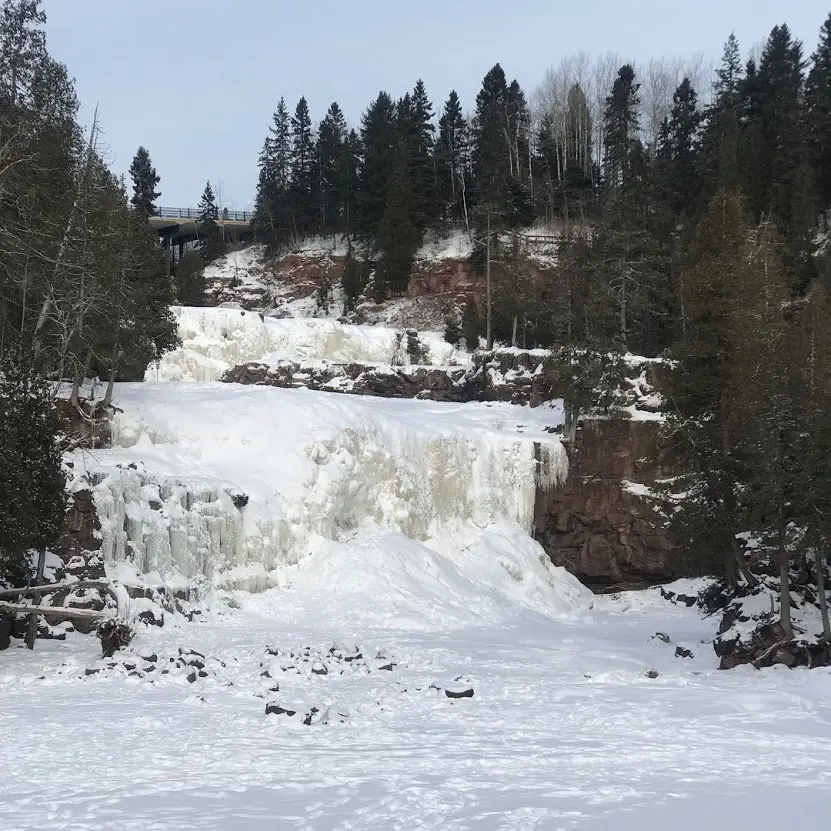 Minnesota Winter on the North Shore
There is no bad time to head up north and enjoy Minnesota's North Shore. Even winter brings its own unique experiences that make packing up and getting away for the weekend worth it. Here is what to check out in Northern Minnesota.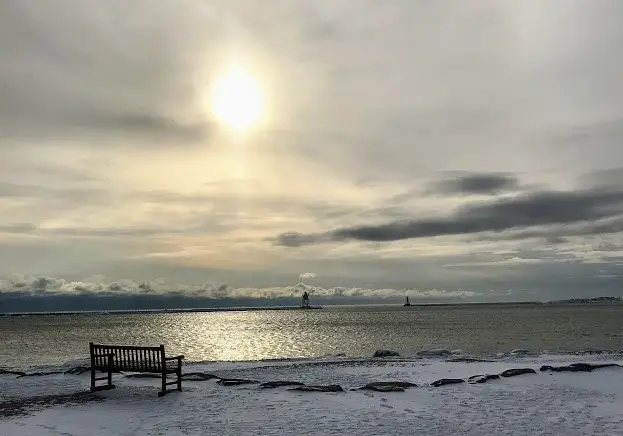 The North Shore is PERFECT in ANY season. It's included in my Minnesota Spring: 8 Places to Visit in 2021. Go check out the list.
Duluth, Minnesota
One thing about Duluth? They have nailed the whole "have fun in winter" thing. Mainly because they don't have a choice—that lake effect snow and wind is no joke. But also because it's something to take advantage of!
The great thing about exploring this city in winter is that nothing is too far from one another, and always close to a beer. Don't miss these fun things:
Bentleyville Tour of Lights to get into the holiday spirit. Avoid weekends, if at all possible.
Downhill skiing at Spirit Mountain. 22 runs and a great place for a fun day on the slopes. They also have snow tubing and a zipline.
Hike, cross country ski, or snowshoe on the Superior Hiking Trail.
Free ice skating is available at Bayfront Park—including rentals!
Canal Park offers up some of the best Lake Superior views. Grab a warm beverage and take a stroll.
Holiday gift shopping is plentiful in Duluth. Some of my favorites are Hucklebeary, Duluth Trading Co., Fitger's, and Rocky Mountain Chocolate Factory.
Stay warm at a brewery. There's no shortage of craft beer around Duluth. Give one, or all, or these a try: Bent Paddle Brewing Co., Hoops Brewing, and Backlist Brewing Co.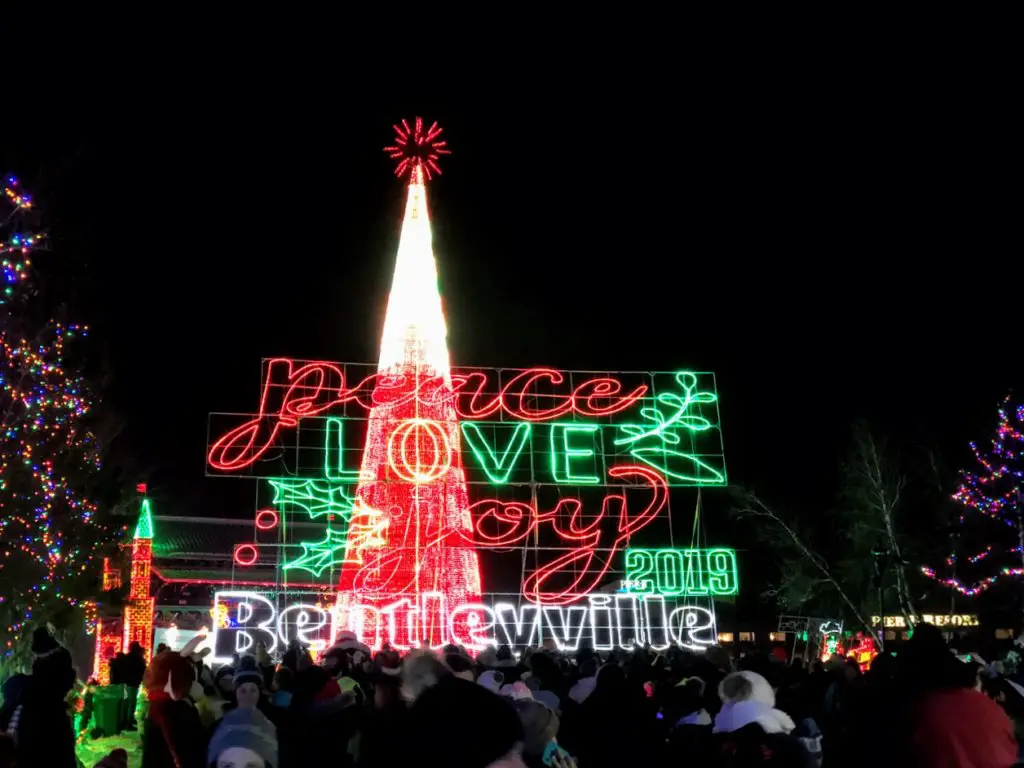 Minnesota Winter in the Brainerd Lakes Area
460+ lakes in one area sounds like tons of summer adventure. But don't sleep on winter in the Brainerd Lakes Area. Everything transforms into winter-friendly events and activities and you can't deny that it's still a beautiful (and fun!) place to explore when it's cold outside.
Winter Festivals. Plan your trip around Ice Fest in January, Ice Fishing Extravaganza in February, or another yearly event. Be sure to check their calendar.
Snowmobile on over 1,200 miles of trails. This is a great resource for snowmobile rentals in the area.
Fat Tire Bike. Yep, Minnesotan's bike in the winter. This might just be my most anticipated new activity this year. Check out the Cuyuna mountain bike trails for a unique experience. Red Raven Bike Cafe is a great place to rent from—plus grab a coffee before and a beer after!
Ski, Snowboard, and Tube at Mount Ski Gull.
Snowshoe or hike. Hit the Paul Bunyan Scenic Highway (be careful of snowmobiles) or Crow Wing State Park – they have rentals during office hours.
Cross-country skiing. The best bet for groomed trails is Northland Arboretum with easy to moderate trails. Trail fee is $5, and a Minnesota Ski Pass is required. They even have lighted trails for night skiing! A few different spots have rentals.
Grand View Lodge; this place looks like a dream! Come for a cozy weekend stay where you can do a little R&R – there is even a spa. (And you can enjoy indoor pools and being warm in a hot tub!)
Brainerd is full of waterparks if you need a touch of summer.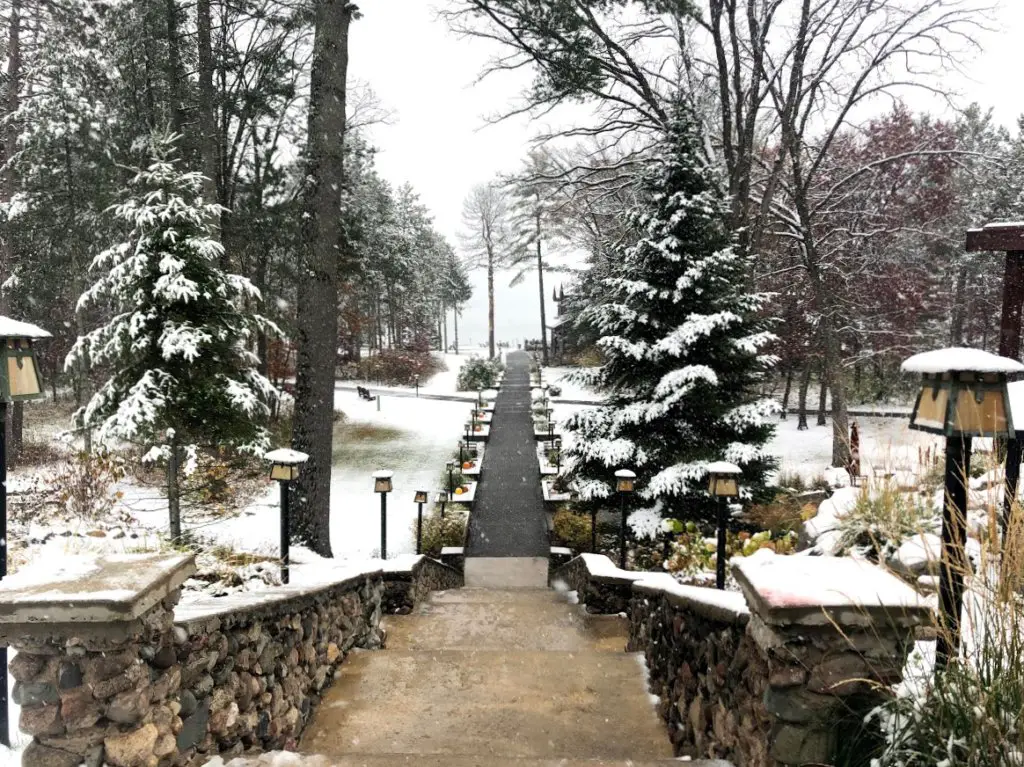 New Ulm, Minnesota
New Ulm is such a fun and festive town to visit. And there is no lack of Christmas spirit. Starting in late November and through December, you're welcomed with a festive downtown full of lights, trees, and holiday cheer.
Winter/Holiday Events. Lighting ceremonies, shopping events, and different deals you can check out here.
Cross Country Ski, Snowshoe, or Hike at Flandrau State Park. They do have rentals available.
Stay warm at the bar. There is so much fun to be had in New Ulm. Treat yourself after you exercise at the best bars, breweries, and wineries.
Minnesota Winter in Minneapolis/St. Paul
If you want to stay close to the cities, there is much to take advantage of during Minnesota winter in Minneapolis and St. Paul with plenty of outdoor activities to enjoy.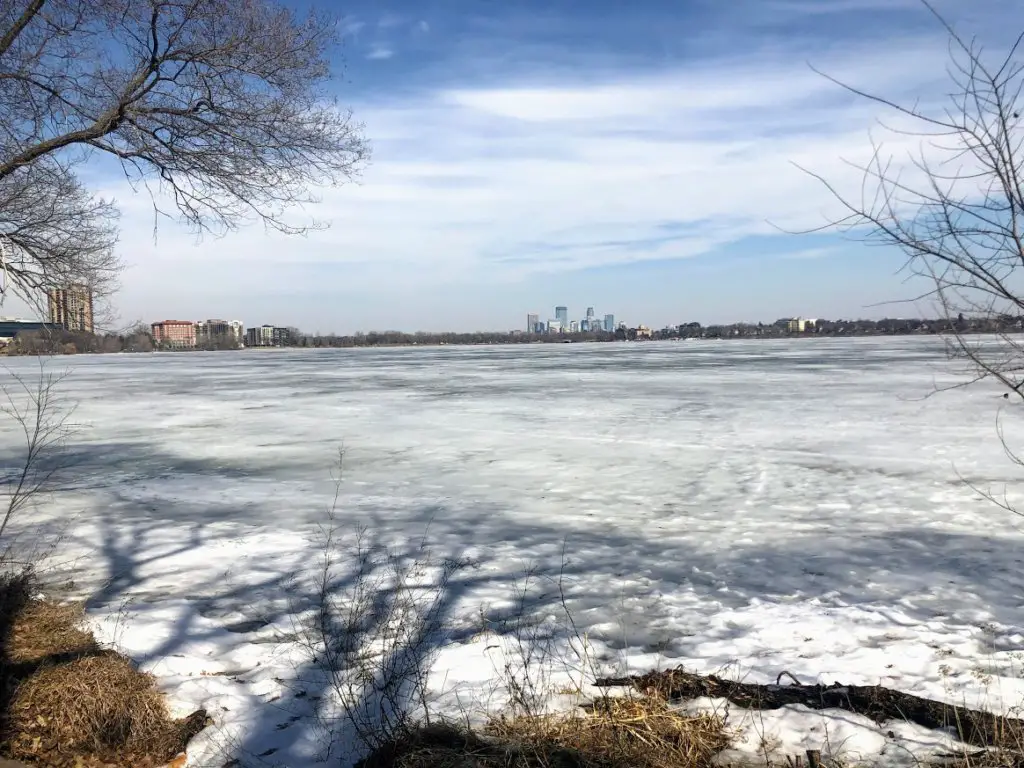 Minnesota Winter in the Chisago County Area
About an hour north of Minneapolis is Chisago County which includes a few Minnesota State Parks that are worth visiting in the wintertime. Both sit along the perfect spot of the St. Croix River with fun trails and fantastic Minnesota views. It's the perfect place if you are looking to get out of the city without going too far.
Interstate State Park: a popular state park located in Taylors Falls, MN (as well as Wisconsin just across the river), this place is full of incredible river views. And it's for the adventurous hiker come wintertime. Their trails aren't winter-groomed, making it riskier, but can be a ton of fun!
Wild River State Park: about 10 more minutes north is Wild River State Park is a less-known park that is really worth a visit. You can rent snowshoes and/or cross-country skis here, as well as a warm-up in their warming house–complete with a fireplace!
Juneberry Cafe is the perfect place to grab a hot beverage to warm up! And they have great snacks and lunches, too.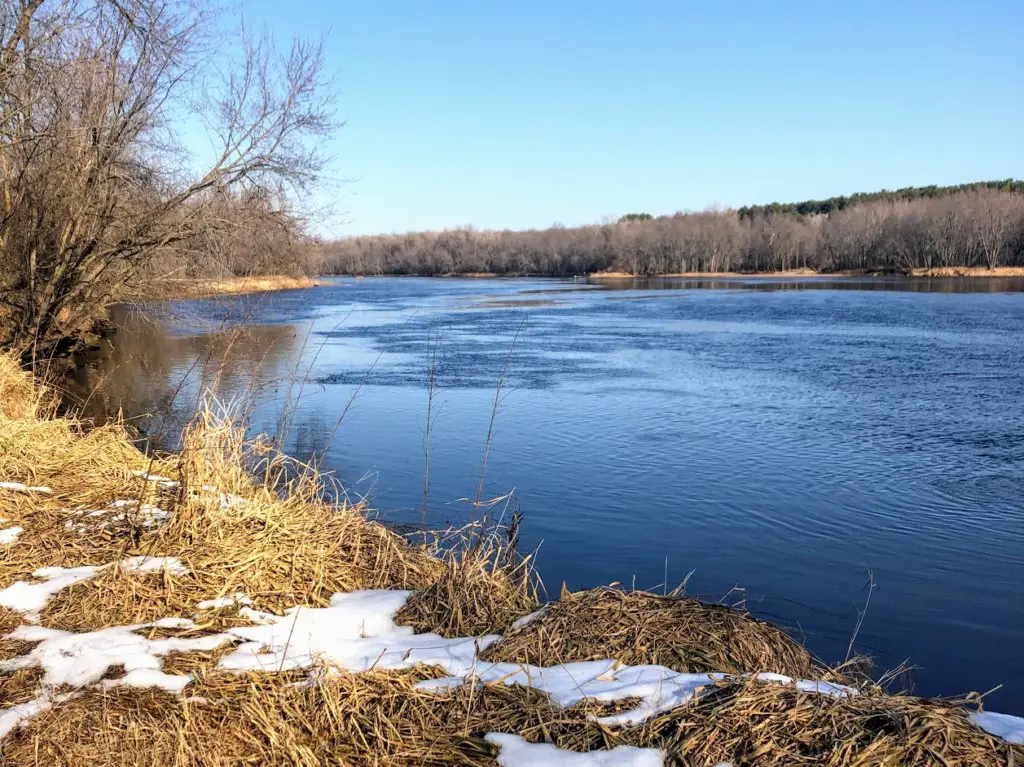 Austin, Minnesota
Let's not forget southern Minnesota! Austin, Minnesota is such a great town FULL of nice people and is another destination perfect for getting out of the city and enjoying a small town. A less popular destination, it's the easiest drive known to man and once you get there, you can enjoy some winter adventure with fewer crowds.
Jay C. Hormel Nature Center is an awesome place to snowshoe and cross-country ski. And they have GREAT rental rates; it's just $6.00 for skis and $5.00 for snowshoes and includes a 3-hour timeslot—with no ski pass required.
Daisy Blue Natural Wellness offers amazing sauna appointments that will leave you feeling both warm and refreshed, especially after some chilly winter activities!
Gravity Storm Brewing will keep you warm inside their brewery. And also serve you some delicious beers.
Ice Castles During Minnesota Winter
Every year, the ice castles are located in a new spot. And it is a great outdoor adventure for the whole family! I caught them a couple of years ago when they were in Stillwater and it's a really cool experience. I definitely recommend checking them out at night when you can see the ice castles lit up. Updates will be posted here so stay tuned on where you can check them out this year. Don't forget to grab a hot cocoa and take a slide down the ice slide!
Lots More Winter Fun to Come
I have some exciting winter trips and plans so I will definitely update the list. You can always follow along on Facebook and Instagram! You can also read:
Don't Let Minnesota Winter Get You Down
There is so much to explore this time of year and we are lucky to enjoy all four seasons—even if one lasts entirely too long. But you can make it go nice and fast by packing your nights and weekends with some of these Minnesota winter activities.
Don't forget to check out Minnesota Spring: 8 Places to Visit in 2021 for great places to explore when we're all thawed out!