Thank you to the city of New Ulm, Minnesota for sponsoring our visit. All opinions are my own.
New Ulm, Minnesota, known for its German culture, is one place that sure loves to have fun! And for being a relatively small town (population of about 13,000), New Ulm MN offers a ton of different bars, restaurants, breweries, and even wineries.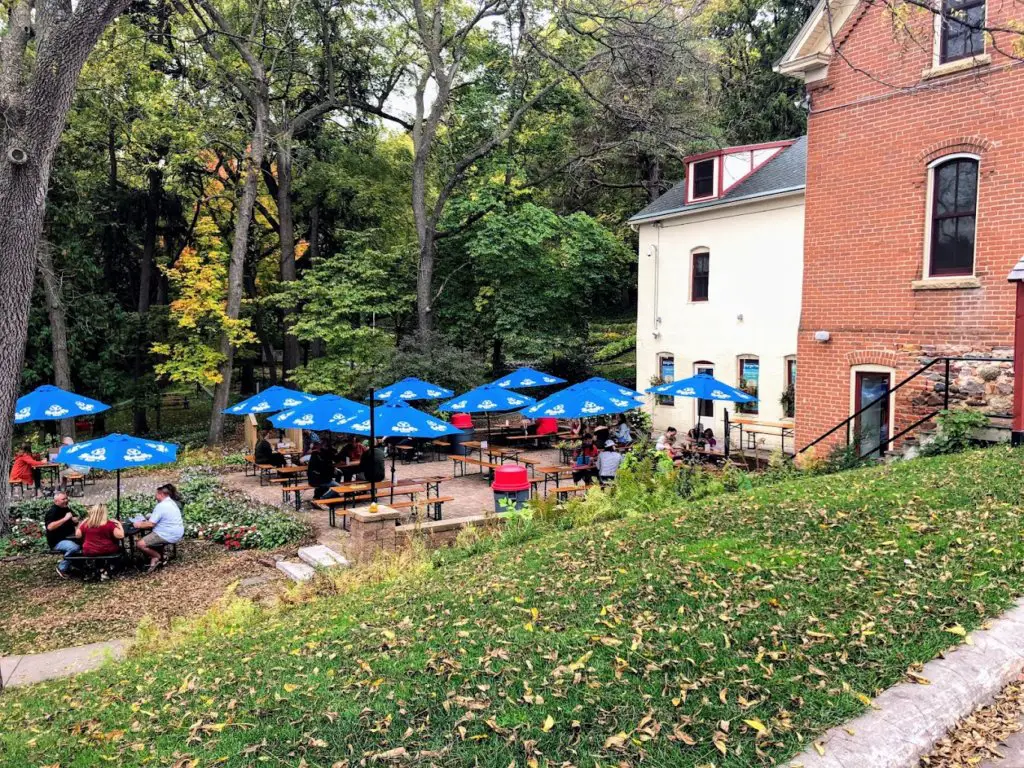 New Ulm MN has a ton of events and festivals throughout the year and is the perfect place to visit during Oktoberfest, Christmas time, St. Patrick's Day, and other holidays. But whether you're here for special events, or just for a quick day trip, there is MUCH fun to be had.
Note: make sure to check the status on events for 2020-2021.
The Best New Ulm Bars, Breweries & Wineries
Schell's Brewery
This was my favorite place to grab beers in New Ulm Minnesota. Schell's Brewery has a few beer options available year-round with a series of seasonal crafts to go along with them. If it's the fall season, don't pass up on an Oktoberfest. And the Cream Ale is another highlight.
Their outdoor Biergarten is the place to be if the weather is cooperating. Picnic tables surrounded by beautiful landscaping, $4 beers, giant warm pretzels, and a fun vibe that makes you want to order another round!
Note: their museum and brewery tours are not currently running given the pandemic. But this team survived prohibition. So they'll be back at it!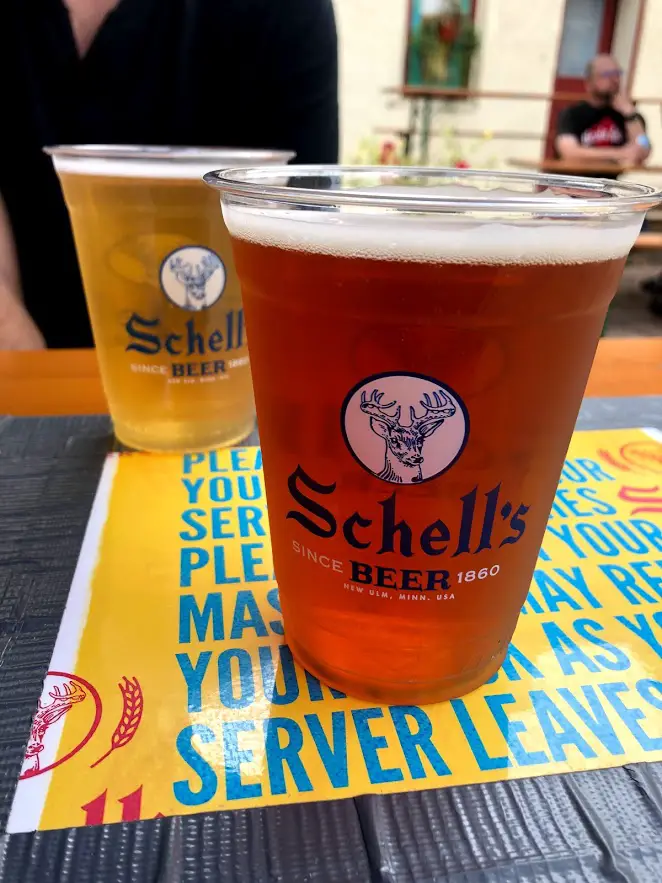 Turner Hall
Visit the Rathskeller at Turner Hall (bar or restaurant located in the basement of a city hall) for a unique and fun experience…with plenty of German beverages! You're surrounded by beautiful murals. The historic nature of the building makes you feel like you've left the country. And it's a checkmark next to Visit the Oldest Bar in Minnesota.
They serve a Berlin Style Wheat Sour, from Schell's Noble Star Collection, which was a surprising thumbs up from me! If that's not up your alley, go with a different Schell's beer…because well, when in Rome? Or…Germany?
Bonus: order Schell's Firebrick Braised Smoked Brats. Or literally any brat. You will NOT regret it!
Grand Kabaret
This place was so fun! Artsy, eclectic, and classy. Part of The Grand Center for Arts & Culture, Grand Kabaret is worth a stop for some drinks in New Ulm. Friday and Saturday evenings they host live music events for new artists to showcase their talents so you can have a glass of wine or a beer and relax in a fun and calm environment.
A little more info on this unique building: The former Grand Hotel was turned into a beautiful space full of color that highlights both art and music. There's an art gallery, studio spaces, classrooms, and a cute gift shop. While we were there, the musician had impeccable pencil drawings on display in the art gallery—super cool!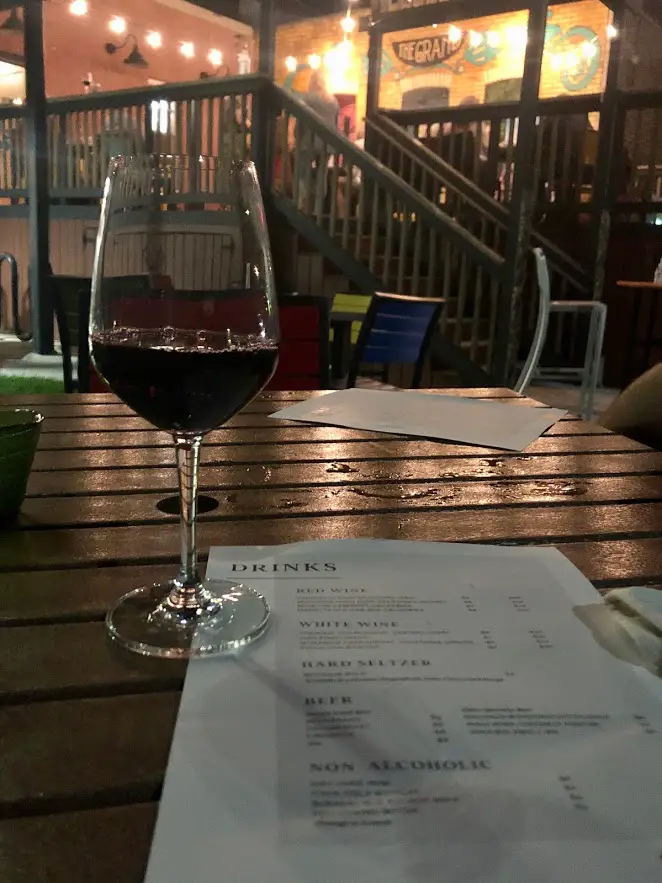 The Retz 227
I am so bummed we missed this place. The Retz was recommended to us multiple times by locals and we just never had the time to stop in. A modern speakeasy, this place serves homemade craft cocktails, beer, and wine.
All you have to do is look for the purple light in the back alley of Center St. and N. Broadway. This gives off the whole prohibition, sneak in, we're not allowed to operate feel. Its inside has the 1920's and 30's vibe that's dark, intimate, and private. Next time FOR SURE.
Morgan Creek Vineyards
I can't leave out Morgan Creek Vineyards. Located about 13 minutes from downtown New Ulm, you can grab a glass of wine, a bottle, or go with a tasting (3 small cups of wines of your choice.) And don't miss one of the pizzas. Each month is a seasonal choice of the month made with all organic and fresh ingredients.
There is also a variety of cheese plates, breads, and additional snacks to go along with your drink (there is beer, too.) They take walk-ups but it's best to make reservations. And after you hang out for a bit, make sure to take a walk around the grounds!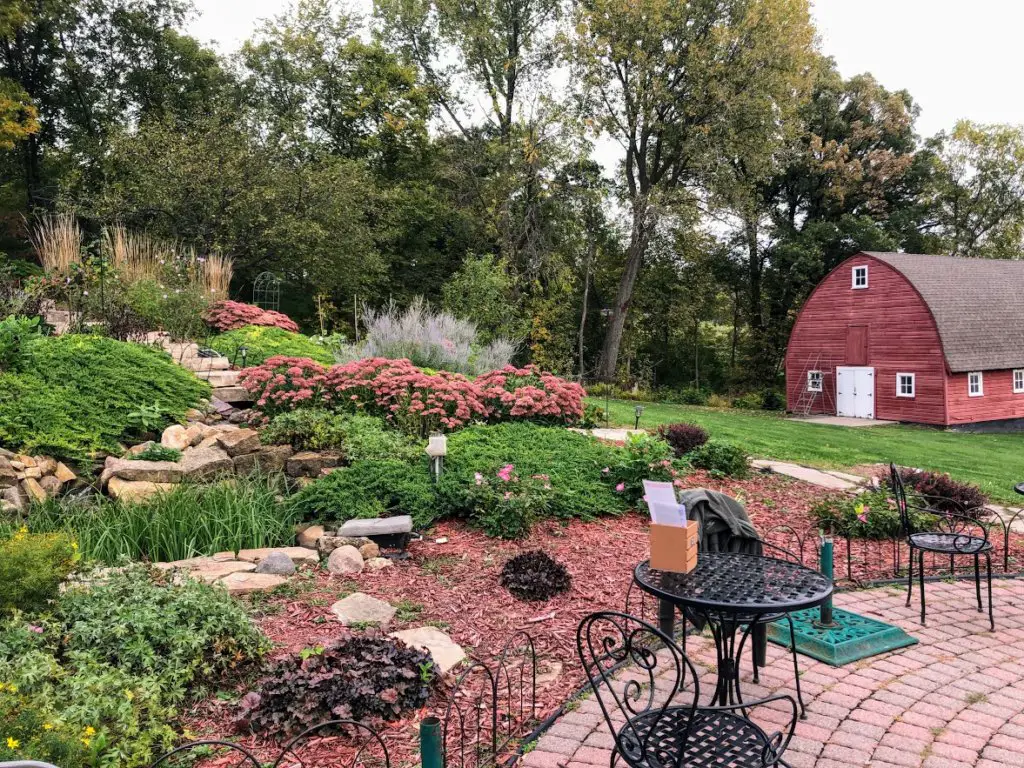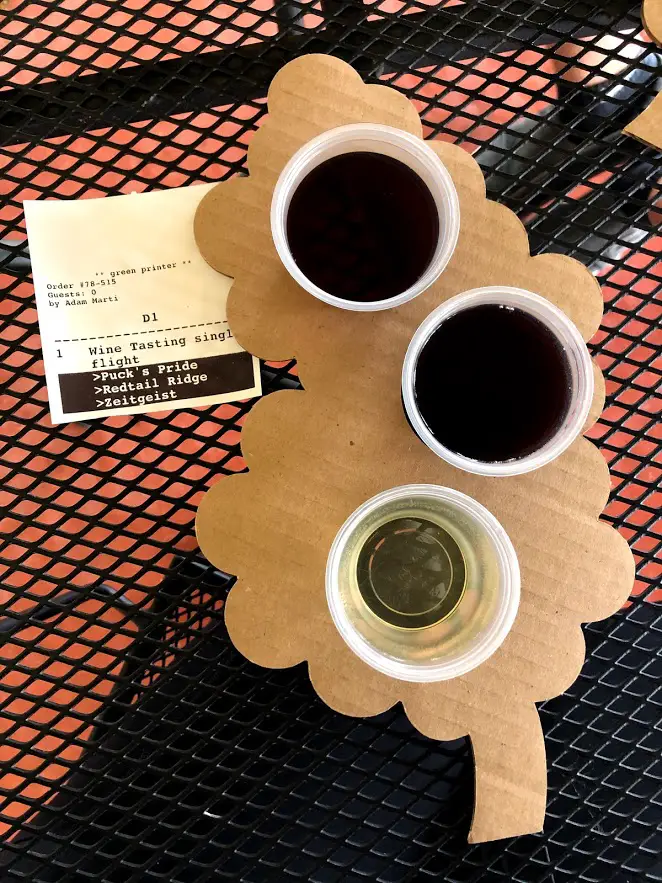 Mowan's
This was…a dive bar. Lol. A spot where you walk in and the townie's look at you like who is this? But they'll warm up to you and be laughing with you in no time. It gives an old VFW vibe and is hella cheap! Stop in for beers, pull tabs, and to watch the game!
New Ulm Dive Bars
Mowan's isn't your only option for cheap beer in a low key enviroment with no frills. Check out one of these local spots:
Lamplighter Bar & Grill: Great place to stop for a beer and some bar food while you watch the game.
Smiley's Tavern: Your typical neighborhood watering hole.
Rodney's Tavern: Another classic American bar!
Read Things to Do in New Ulm Minnesota for even more fun ideas!
New Ulm Minnesota knows how to have fun!
With so many bars, breweries, and wineries to choose from, a trip to New Ulm MN is sure to be a good time. Plan a visit around a special event, or just make a fun weekend trip out of it!