Minnesota winters can be tough. It's (really) cold. Darkness comes (way too) early. And it takes 10 minutes just to get all of your gear on to leave the house. But that said, there are plenty of days the sun still shines, and throwing on all your layers for a hike during Minnesota winter is the best decision you make all day.
A winter hike brings beautiful views and fun adventure! Plus, a hot beverage will warm you right back up.
Whether you choose Minnesota State Parks, regional parks, club trails, or recreation areas, you are in for a treat with these scenic views that are even more beautiful during the winter months!
The Best Hiking Trails for Minnesota Winter
Note: Fees are listed as day passes. Keep in mind you can get an Annual MN State Park pass for $35.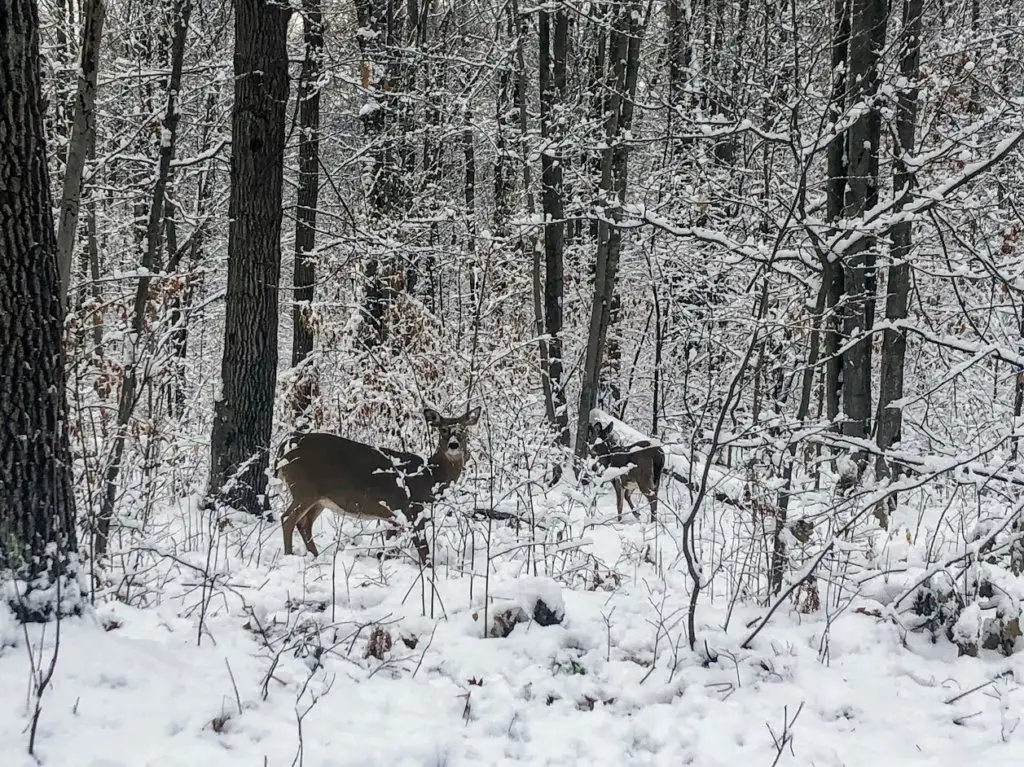 Fort Snelling State Park
St. Paul, Minnesota
Right in the heart of the Twin Cities is Fort Snelling State Park where they offer multi-use packed trails. Hike around Pike Island with one-, two- or three-mile loop options, all with views of both the Mississippi River and Minnesota River. There is also the Snelling Lake Loop (2.5 miles) to enjoy. And a bonus—you can warm up in the Visitors Center, complete with a fireplace.
Things to Know
A one-day pass is $7. If you're looking to ski, a Minnesota Ski Pass is required; they do offer cross country ski and snowshoe rentals if that is more your style!
Visit on a weekday or in the early morning or late afternoon to avoid city crowds.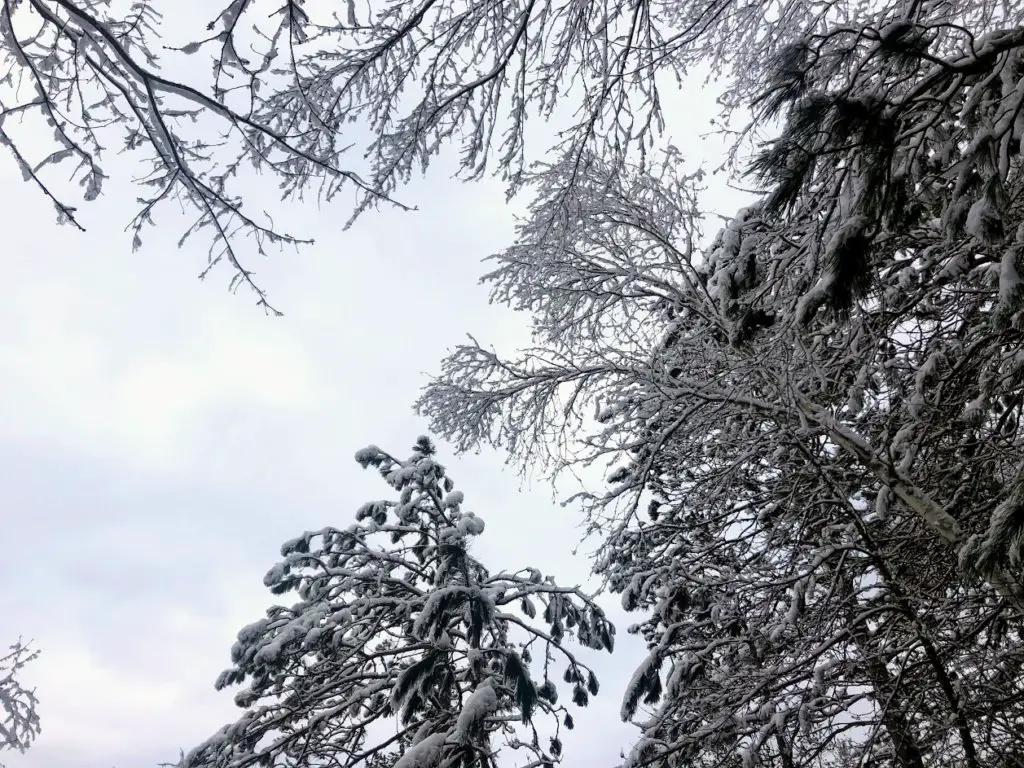 Minnehaha Falls Regional Park
Minneapolis, Minnesota
Minnehaha Falls Regional Park, a Minnesota classic, is a fun hike in the wintertime. Easy to get to and easy to park (street parking for a couple of dollars), it's a quick visit that offers great views, and a unique experience when the waterfall freezes over. If you've never been, make sure to check it out this year.
Things to Know
Visit in the early morning or late afternoon to avoid city crowds. This is probably the busiest place on the list so be mindful and safe.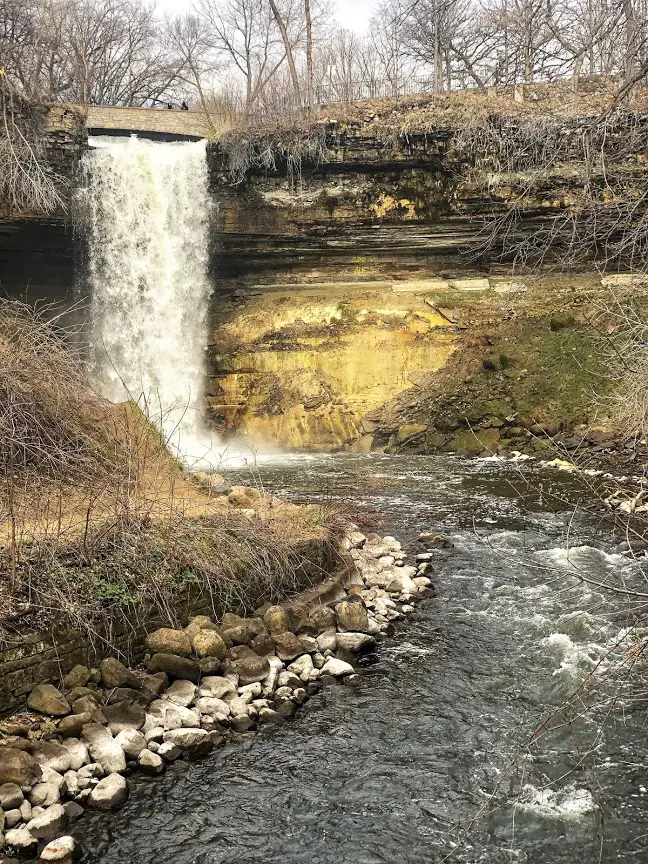 Lebanon Hills Regional Park
EAGAN, Minnesota
One of the biggest parks around that's made up of 2,000 acres, miles of trails, lakes, and year-round activities and spectacular views. It is a perfect place to hike during Minnesota winter. There are almost 15 miles of nature trails for hiking, and of course, you'll get all of the beautiful views and fresh air. The Jensen Lake Trailhead is a fun one to tackle.
Things to Know
There are winter activity rentals here as well! A pass is required to ski.
Admission and the parking lot are FREE! 🙂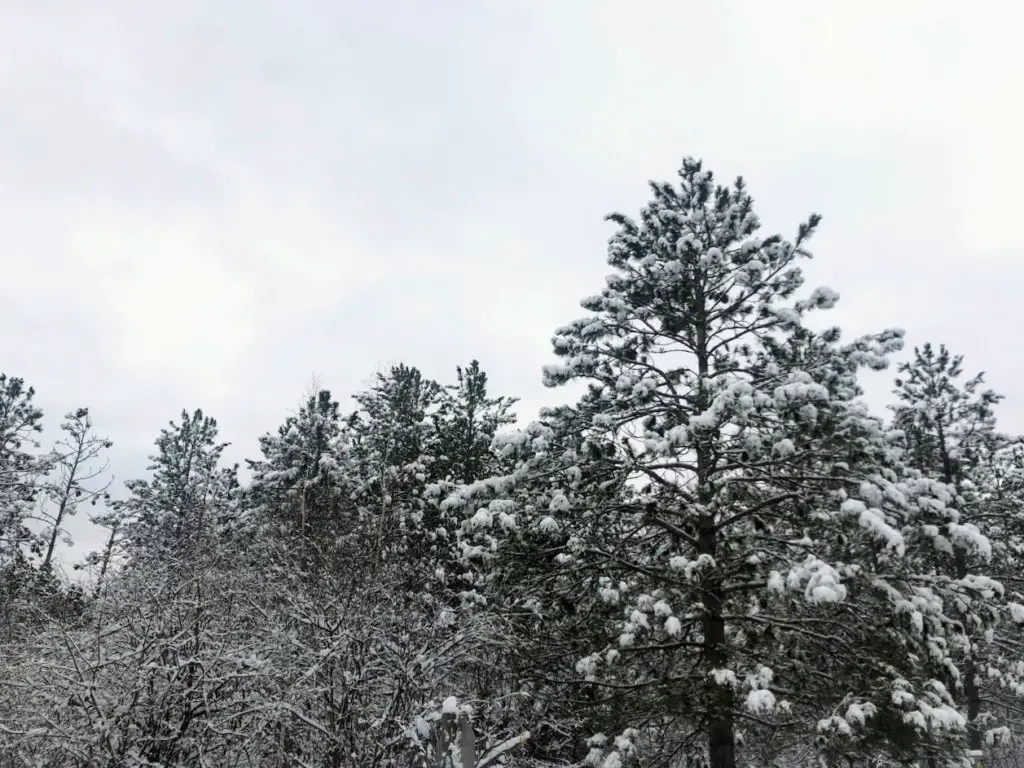 Jay C. Hormel Nature Center
Austin, Minnesota
Get out of the city for a while and make the (super) easy drive down to the great place of Austin, MN. Spend some time outside at Jay C. Hormel Nature Center where there are 500 acres of prairie, forest, and wetland habitat. Once there's snow, it's an open space with groomed trails and plenty of opportunities to see some wildlife. Bonus: Schedule a sauna appointment at Daisy Blue Natural Wellness to warm up afterward!
Things to Know
Snowshoes and cross-country skis are available at a GREAT rate. Cross Country Skis: $6.00; Snowshoe Rental: $5.00 for 3 hour timeslots. There is no ski pass required.
Free Parking and Admission! 🙂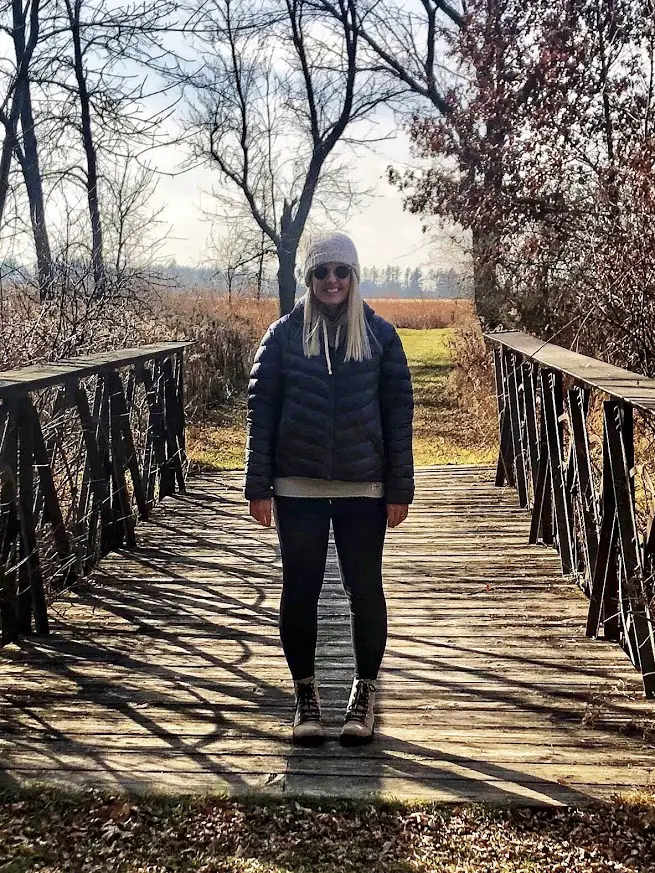 Interstate State Park
Taylors Falls, Minnesota
This is such a beautiful place to come and get out of the city. You'll get incredible views while hiking, but be careful…park trails are not maintained for winter conditions so they may be slippery! Don't let that steer you away though…and don't miss the glacier potholes! For more information on Taylors Falls, read MN Day Trip: Taylors Falls.
BONUS: Wisconsin SIDE
Right across the river is the Wisconsin-side of Interstate State Park where they offer 12.5 miles of winter recreation trails. This side is a little less risky hiking-wise, with a lot of the same views.
Things to Know
A one-day pass is $7.
The Wisconsin-side seems to be less busy and better for social distancing.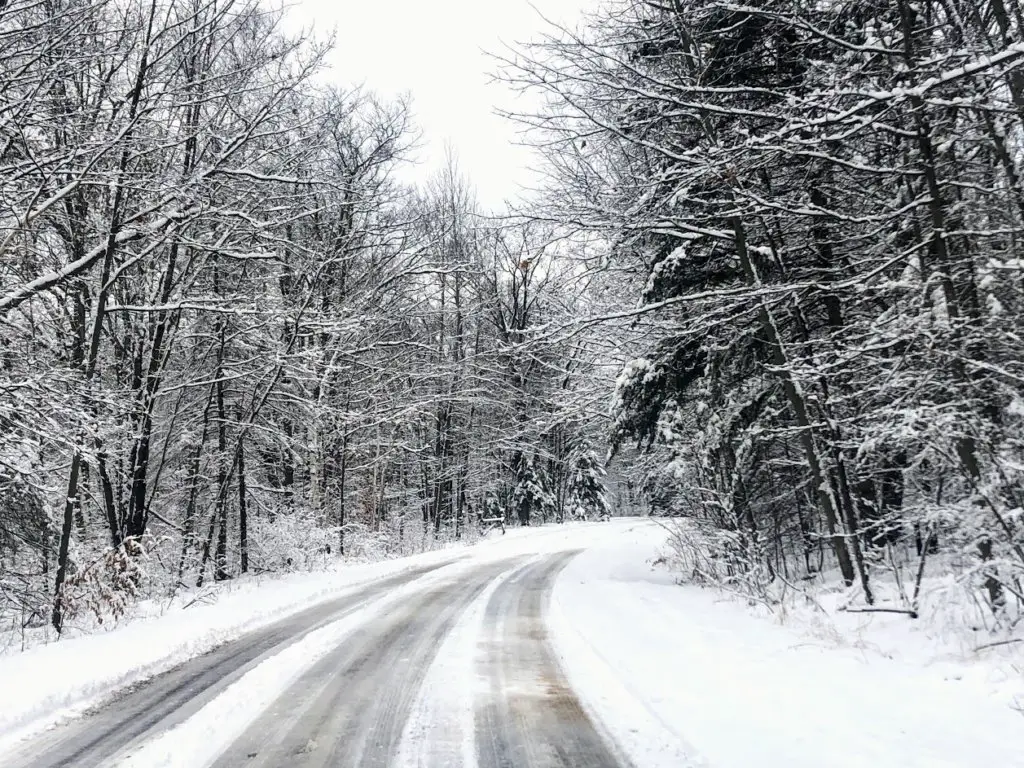 Wild River State Park
Center City, Minnesota
About 10 minutes north of Taylors Falls is Wild River State Park where there are 30+ miles of trails and one of my favorite places to hike during Minnesota winter. I recommend River Trail which is beautifully groomed along the St. Croix River. This riverside trail leads to an overlook where you can also take a few steps down to a beach. Come back the way you came, or loop around and take the Old Logging Trail back—this is mostly paved and not along the river.
Things to Know
A one-day pass is $7.
This park is definitely less packed than Interstate State Park, at least in my experiences at both.
The Trail Center (near the Horse Campground) is a warming house with two wood stoves.
Rental Bar and Snack Shop at the Trail Center is open on weekends from 10 AM-5 PM.
Cross-country skis/snowshoes are available to rent for use on the cross-country ski trails and snowshoe trails.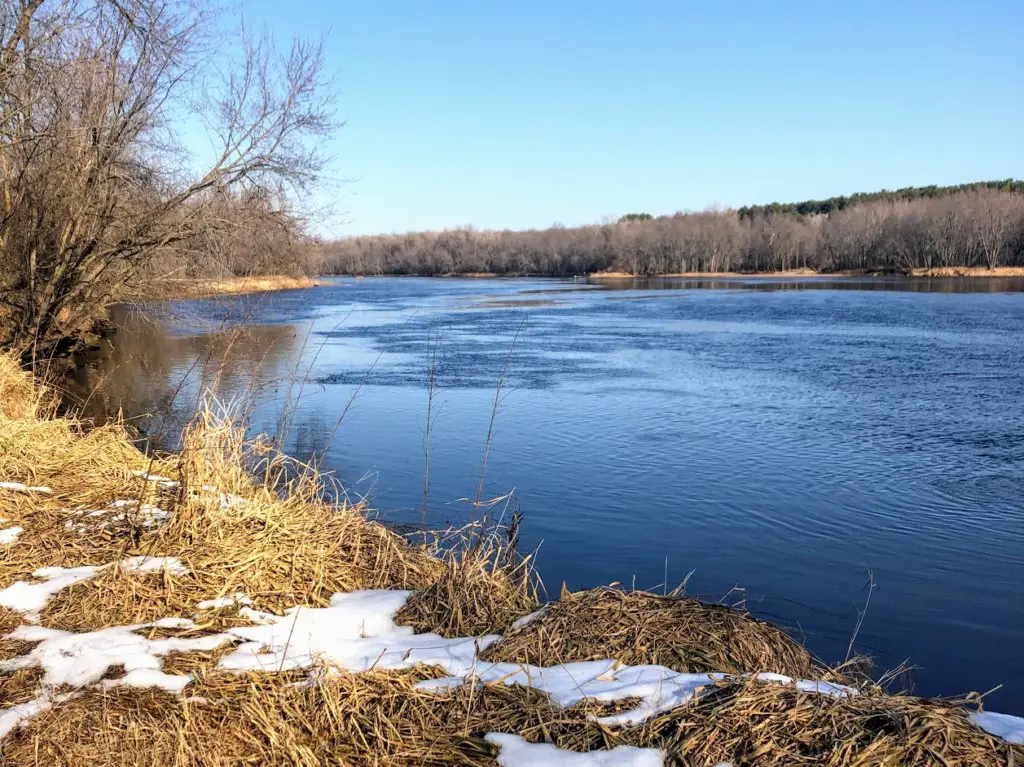 Banning State Park
Sandstone, MInnesota
This is a fun, easy stop if you are heading north on 35 to get to Duluth or further up the North Shore. It's right off the exit, a quick hike, and pretty views along Kettle River. When we were there on a Sunday, late afternoon, there weren't many people there at all. Come and enjoy a quiet state park that includes many places to explore.
Things to Know
There is no fee for this park. (I don't think…lol)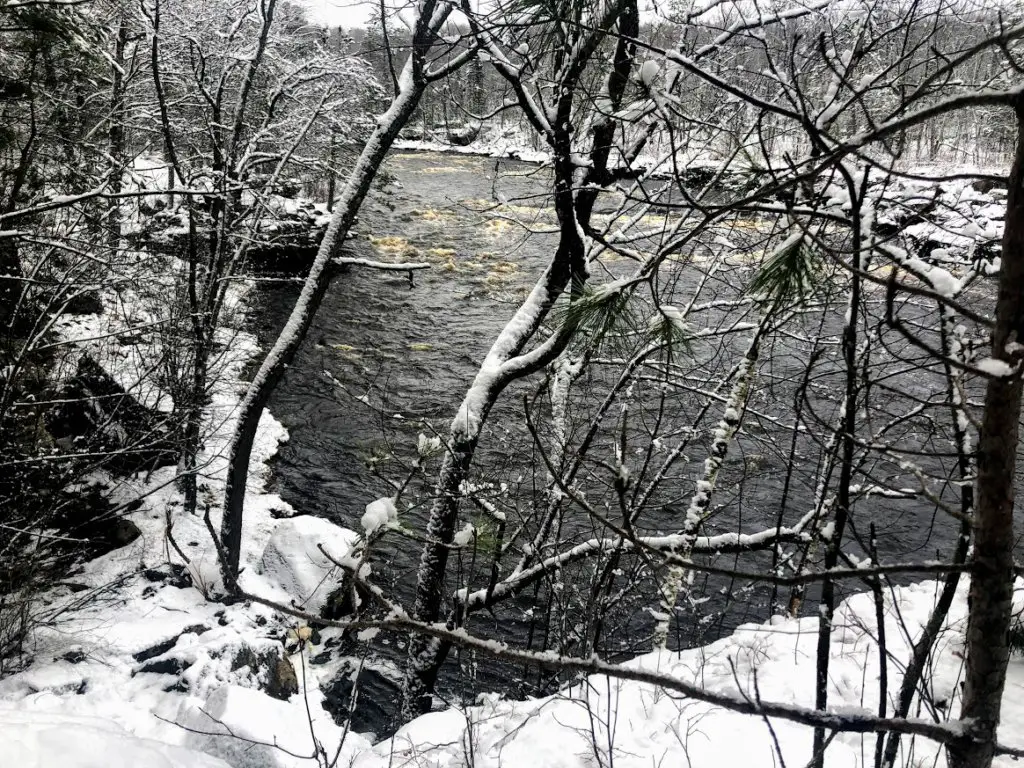 Gooseberry Falls State Park
Two Harbors, Minnesota
More frozen waterfalls to check out! Most years, this park is way less busy in the winter vs. summer. It's a huge park along Lake Superior where you can take in all of the beautiful views. Hike the Falls Loop Trail (1-mile loop) to see the Upper, Middle, and Lower Falls. 
Things to Know
A one-day pass is $7.
Snowshoe and ski rentals are available from private vendors near the park.
The Visitor Center includes a fireplace to warm up.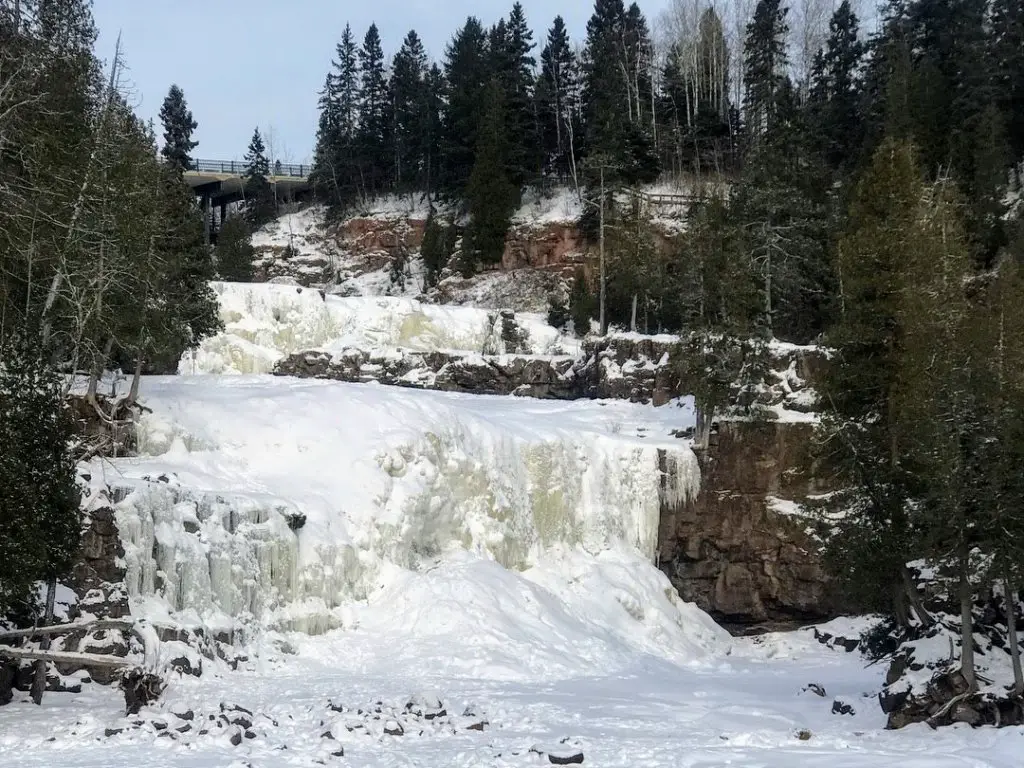 More Places to Hike During Minnesota Winter
Afton State Park, which I plan to visit and will update this post, is another spot near the cities worth exploring.
Minnesota's North Shore: 14 Road Trip Stops has a few great hikes on the North Shore like the Superior Hiking Trail—plus other amazing places like Grand Marais and the Gunflint Trail.
Looking for More Winter Adventure?
Follow Me On Instagram!
Head over to Little Blue Backpack where you will find even more fun winter activities this year. Don't forget to check out my IG Guides and don't hesitate to reach out in my DMs with any questions—or just to say hi!