Minnesota winter should not mean hibernation. It's time to embrace this time of year and get out and enjoy everything the Twin Cities has to offer! There are so many Winter Activities in Minneapolis-St. Paul that makes this season fun.
Bundle up and get outside to skate, ski, fish—and drink beer! Or warm up and enjoy Minnesota sporting events, museums, and theaters. On top of that, the Twin Cities calendar of events is full of holiday happenings and get-togethers. Get in on the winter action with these fun winter activities…
Outdoor Winter Activities in Minneapolis-St. Paul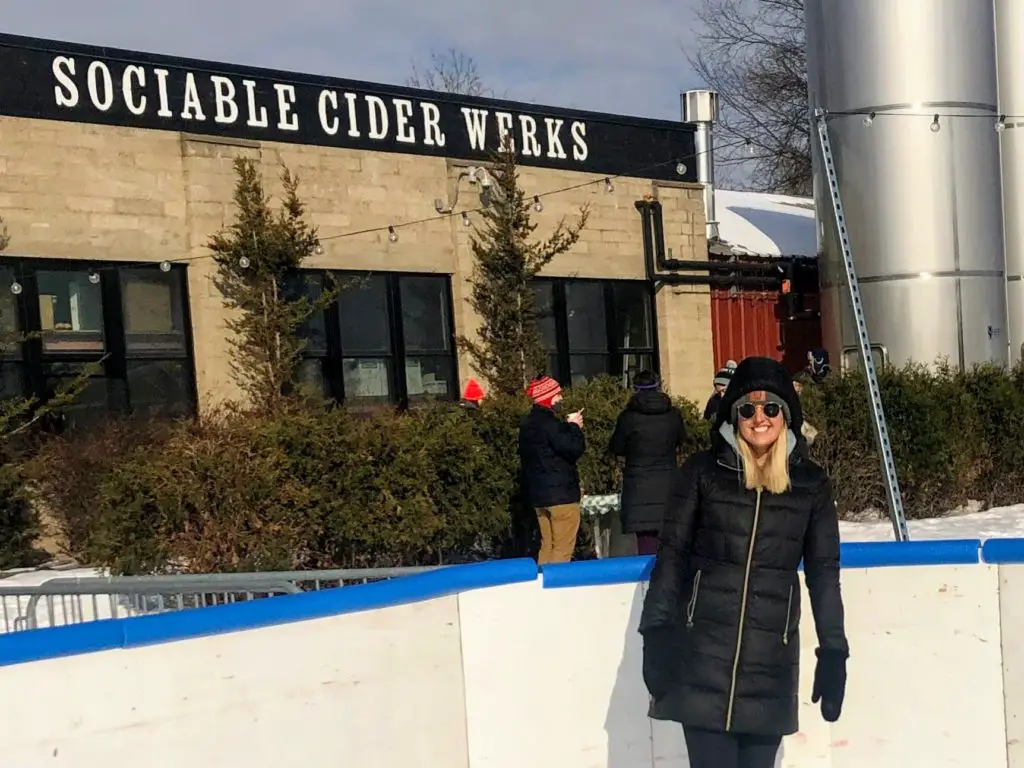 Saint Paul Winter Carnival
January 28-February 6, 2022
In late January and into early February you can attend the St. Paul Winter Carnival full of fun things to do including light shows, parades, live music, and entertainment for all ages. Located in downtown St. Paul, near Rice Park and Landmark Center, as well as at the Minnesota State Fairgrounds, the event takes place in a huge space that's open to the public. This winter festival is a family-friendly attraction and always a fun winter day. Stay up to date on the St. Paul Winter Carnival website.
Holidazzle Minneapolis
December 17-19, 2021—Stay tuned for 2022!
A fun winter tradition in Minneapolis that brings everyone together for entertainment, holiday music, light shows, and family-friendly programming. Located in Loring Park, it's free to enter with food, drinks, and gifts available for purchase. Stay updated through their website on dates and activities.
Loppet Foundation
Saturday, February 22, 2022
A candlelit night at Lake of the Isles. Join in on this magical night that is The Luminary Loppet, an event where you can walk, ski, or snowshoe on the winding trail across the lake—all lit up by 1,200 luminaries! There are ice sculptures, music, food, treats, and refreshments, making it the most perfect place to experience winter. Check out all of the information and registration.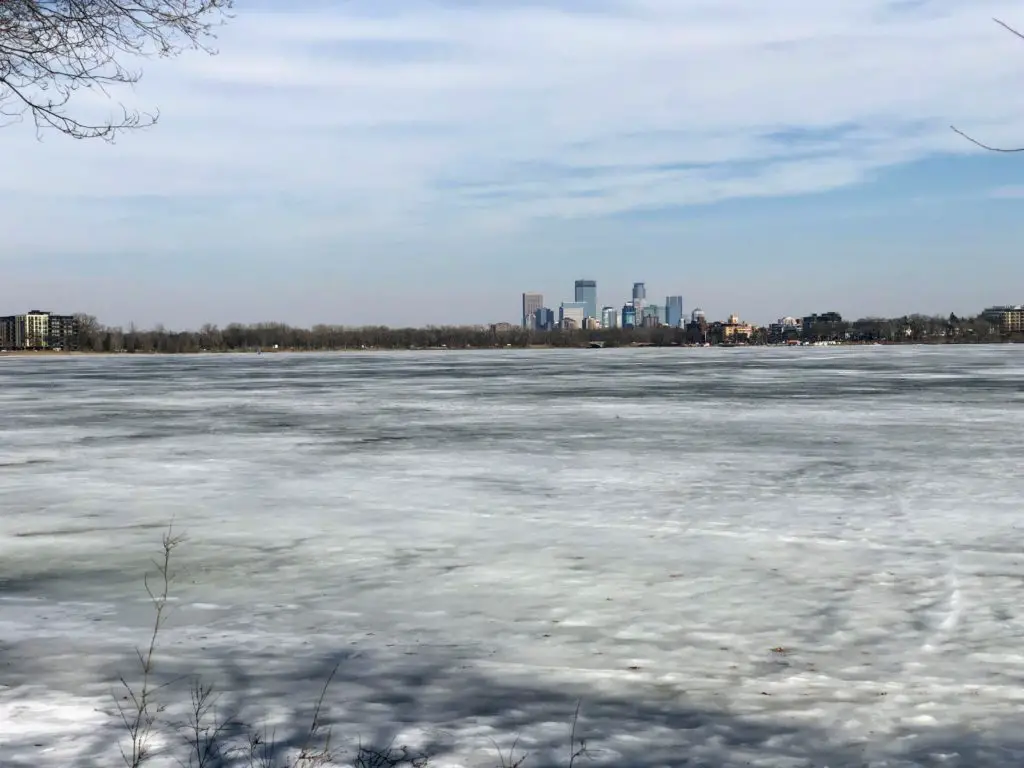 Cross Country Skiing
Enjoy the winter wonderland while cross-country skiing! It is a great way to stay active during the colder months and one of the best outdoor activities for a group of friends. There are plenty of places to choose from in Minneapolis-St. Paul. Read Cross Country Skiing Trails in the Twin Cities for the full list (including ski pass and rental information.) Here are a few highlights:
Theodore Wirth Park: a Minneapolis park with 15+ miles of trails from Golden Valley all the way to Uptown (Chain of Lakes.). There is no better place for great views and well-groomed trails.
Fort Snelling State Park: One of the best Minnesota State Parks with 12 miles of trails along both the Minnesota River and Mississippi River. I recommend the 1-, 2-, or 3- mile Pike Island loop.
Como Park: No pass is required (free!) at this location near downtown Saint Paul. Complete with 4 miles of trails for all skill levels, it's a great spot to visit.
TIP: Cross-country ski trails are best experienced at night! Choose a location with lights. And don't forget a few beers in your pockets 😉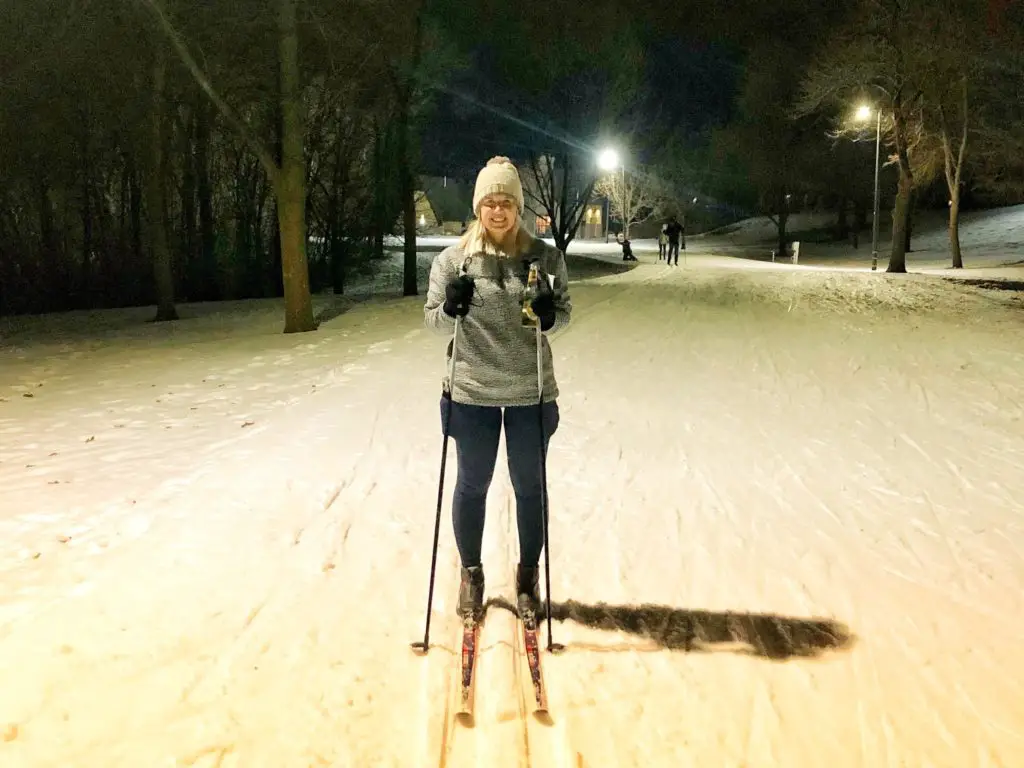 Ice Skating
Dust off the ol' skates and get out on the ice! It's easy to find an ice rink and is a fun winter activity in Minneapolis-St. Paul for the whole family! No matter if you have your own skates or need to take advantage of skate rentals, there are plenty of outdoor skating rinks to choose from!
Lake of the Isles, Lake Nokomis, and most other city lakes are open for ice skating once the lakes freeze over.
Rice Park: a fun city rink in an urban setting with the historic Landmark Center as the beautiful backdrop.
Mall of America: The Skate the Star Ice Rink at MOA raises money for the Boys and Girls Club!
Your Neighborhood: Head over to your city parks website and check which parks create their own rinks. There is probably one closer to you than you think!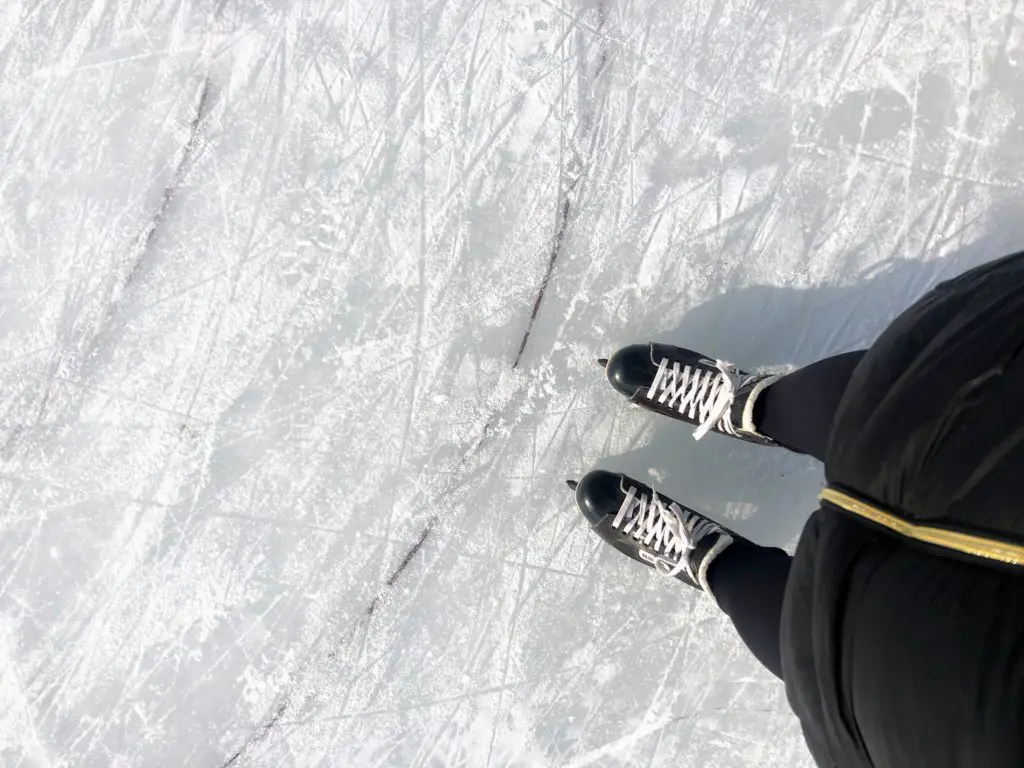 Ice Fishing
Fishing isn't just for the summer! Head to a frozen lake in the winter months, create your hole in the ice, set up your pole, and hope for a quick bite. Catch walleye, pike, and crappies out on any of the Chain of Lakes (Lake Harriett, Lake Nokomis, Bde Maka Ska, and Cedar Lake) and enjoy both city-life and the great outdoors. Get the details on ice fishing in Minneapolis.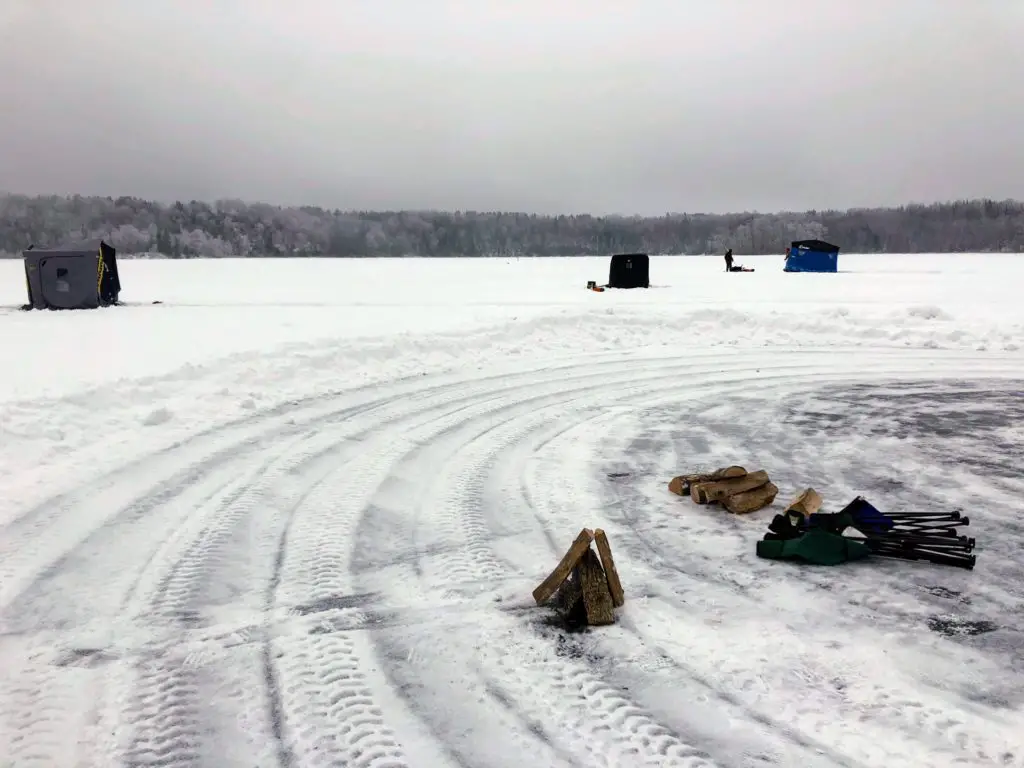 Frozen Minnehaha Falls
The 53-foot waterfall, known as Minnehaha Falls, is worth visiting in the winter. Completely frozen over, it's a great stop for an outdoor walk and some cool photos!
[Heated] Outdoor Patios
If anything good came out of 2020, it's the bars, restaurants, and breweries that got creative and opened heated outdoor spaces to enjoy their food and drinks outside—even in the winter! It's one of the best ways to get through the season! Both Minneapolis and St. Paul have heated outdoor patio options. Here are a few of the best: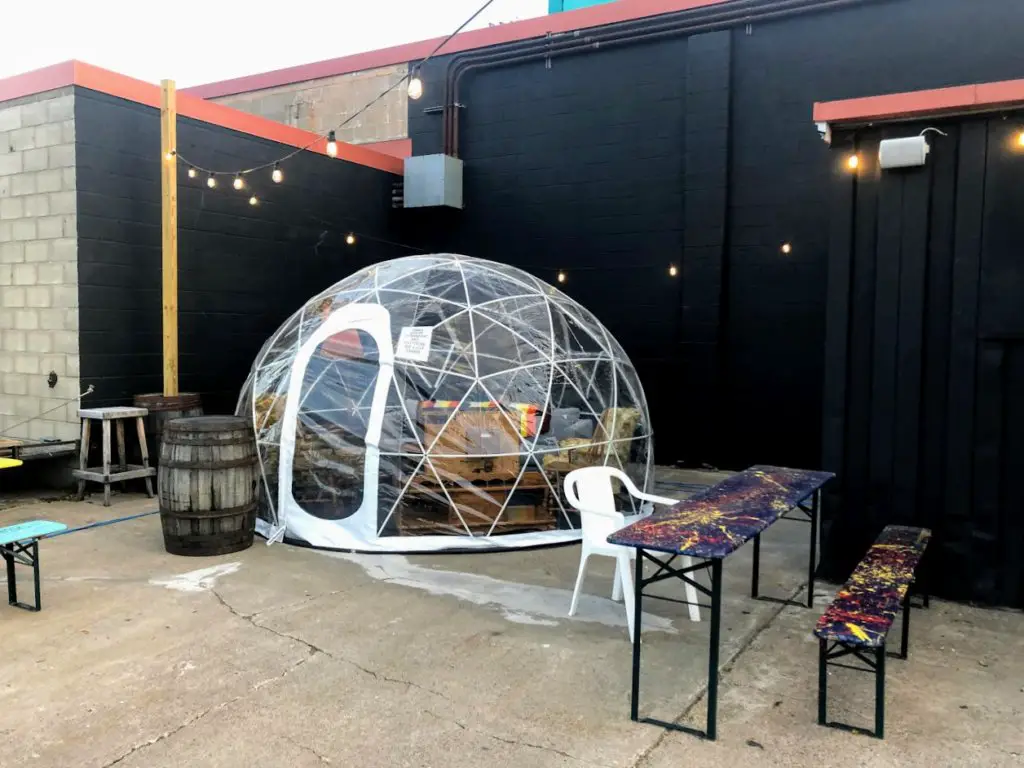 Indoor Winter Activities in Minneapolis-St. Paul
While it's good to get outside as much as possible in the winter, there are plenty of Indoor Winter Activities in Minneapolis-St. Paul for when it's just too dang cold out there and the weather conditions force us to stay in.
Minnesota Wild Game
St. Paul
Minnesota is the state of hockey so you have to head to the Xcel Energy Center to watch the Minnesota Wild play at least once in the winter. Located in St. Paul on W Kellogg Blvd, the place is packed for every hockey game as fans flock to cheer on the home team. Get your single-game tickets and get ready for a rowdy crowd and a good time!
BONUS: Check out one of the best college hockey teams at The University of Minnesota, too.
Minnesota Timberwolves Game
Minneapolis
Are you more of a basketball fan? Stay warm at the Target Center! Fun for the entire family, a Minnesota Timberwolves game is a night full of hoops, beers, soft pretzels, and plenty of in-game entertainment. Located right downtown Minneapolis on N 1st Avenue, there are plenty of restaurants nearby to get the fun started early. Grab your single-game tickets.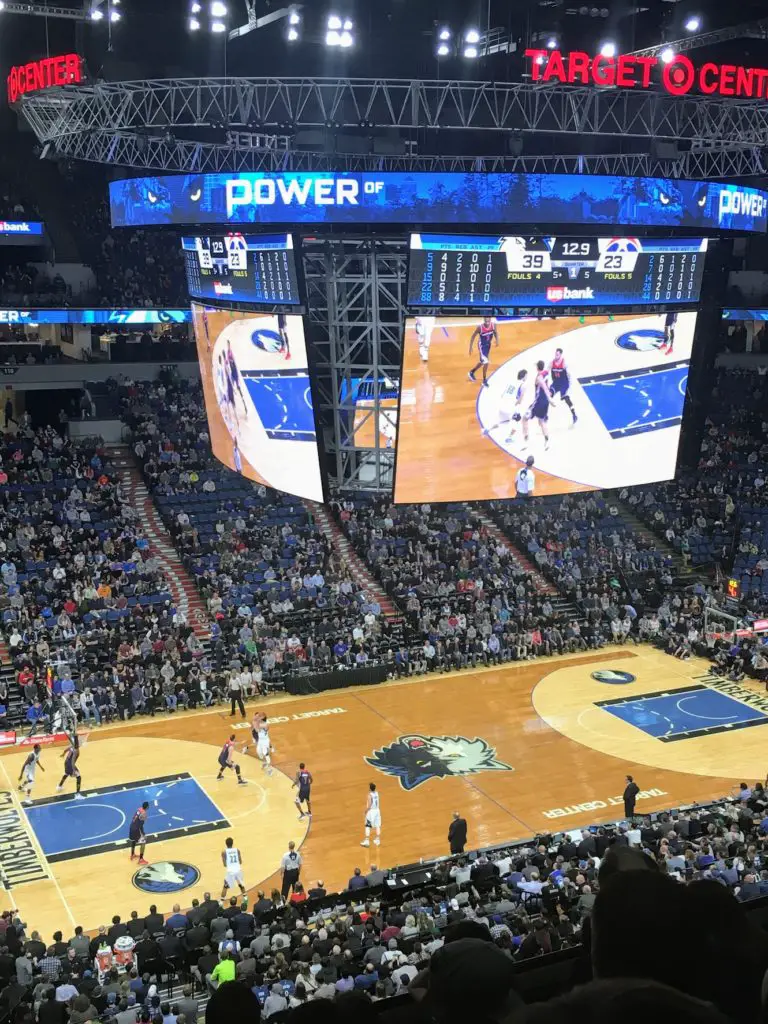 Guthrie Theater—A Christmas Carol
Minneapolis
Experience Charles Dickens' A Christmas Carol live at the Guthrie Theater to bring the holidays to life. Not only is this a great place to take in a show, but a fun way to remember the timeless holiday tale. The show runs from November 11 – December 27, 2021, and ticket prices range from $15 to $134. Discounts are available for students, seniors, and children.
Did you miss out on the show this year? That's okay. Check their site for other shows including A Raisin in the Sun and Sweat.
Walker Art Center
Minneapolis
The Walker Art Center is definitely worth the $15 and fun to walk through and spend a couple of hours just admiring art—whether it's your first time for tenth. You will walk through the inside and then right across the street is the outdoor Minneapolis Sculpture Garden with sculptures and city views (the best part), including the famous cherry! You need to find street parking and you may get lucky on streets surrounding the center but may end up parking in the neighborhood area and have a short walk. Have a great time!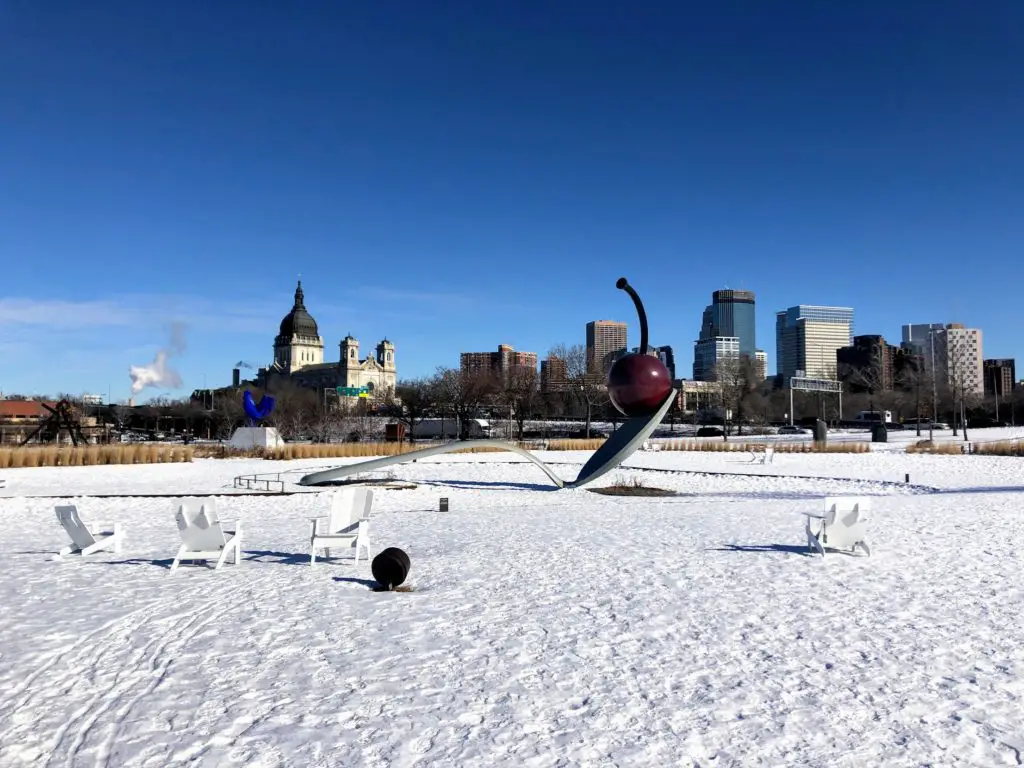 Minneapolis Institute of Arts
Minneapolis
The Minneapolis Art Institute is one of the best places to visit when the winter weather is just a bit too much! Located in downtown Minneapolis, the MIA is nearly the largest art museum in the United States and includes 90,000+ works of art that represent 5,000 years of world history, The beauty of it all? Admission is free!
Mall of America
Bloomington
Technically south of Minneapolis (just a bit) is Mall of America where you will find so many stores, restaurants, and even an amusement park! While this is a place where tourists flock, don't let that stop you. This is the largest mall in the U.S., meaning there is plenty of room for locals, too! Whatever you are looking for, you are going to find it. BONUS: No tax on clothing!
Winter Activities in Minneapolis-St. Paul
While we can probably all agree that the winter season can be long, there are plenty of ways and great ideas to make it go a little faster! Get outside at places like Theodore Wirth Regional Park and follow it up with a heated outdoor patio. If you'd rather leave off the layers, stay inside at one of the art museums or catch a sporting event!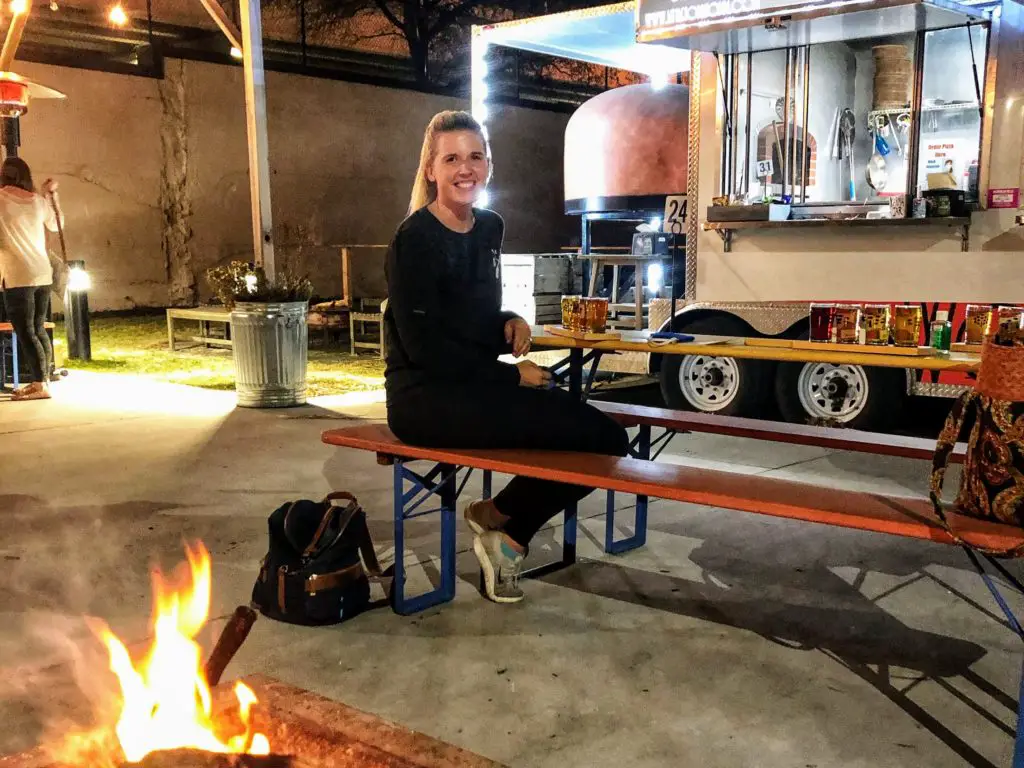 Do you know who else does winter well?
Northern Minnesota. Make sure to plan a trip up there this season when you can experience downhill skiing at Spirit Mountain and Lutsen Mountain, try a new activity like dog sledding, and admire the scenery of ice sculptures and Lake Superior.