It's time to visit one of the best college towns in the country! Ann Arbor, Michigan offers something for everyone and whether it's your first visit or your 20th, you're going to enjoy the experience.
The Ann Arbor area is full of sports buzz, arts and culture, history, and restaurants that foodies cannot ignore! If you are planning a trip to the area, here are some of the best things to do in Ann Arbor, Michigan: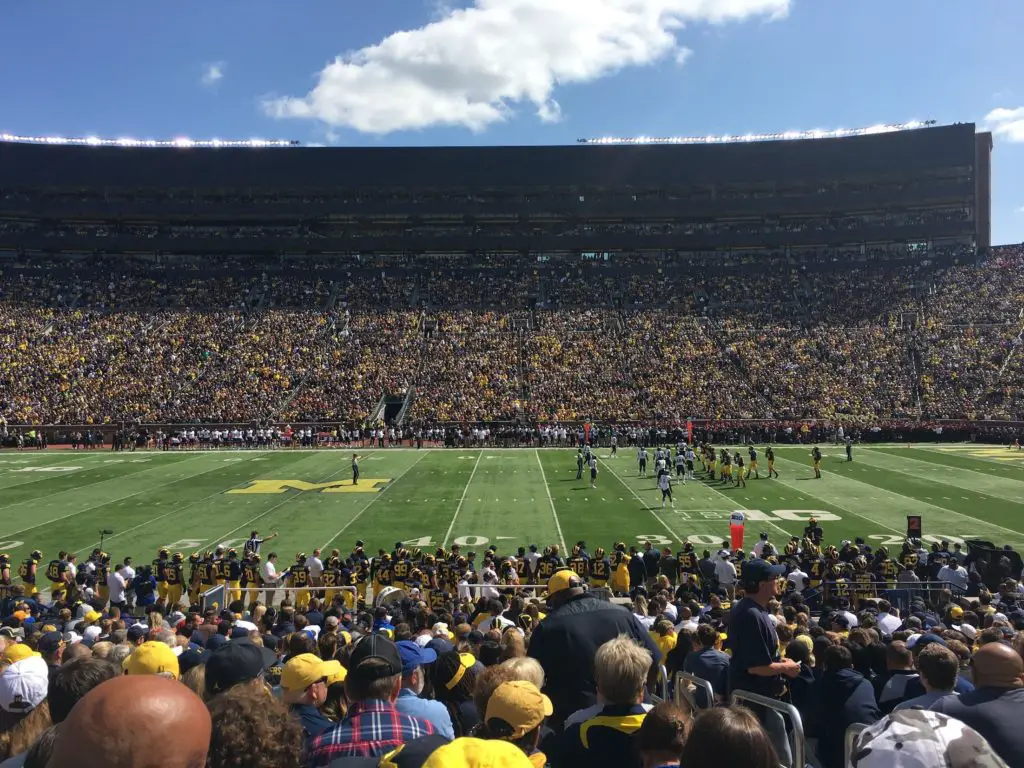 Experience The Big House
Looking for a great place to catch a football game? How about the largest stadium in the United States? Michigan Stadium, known as The Big House, holds 107,601+ fans every fall Saturday, making it an electrifying place to watch a game.
If you're into sporting events (and honestly, even if it's not your thing), you'll love the experience. Located on Stadium and Main Street, you'll feel the heart and soul of Ann Arbor, Michigan. The best part is entering on the 70th row and walking down to your seat within the big bowl. Plus, of course, cheering for the home team!
Michigan Stadium Tips:
Make sure you are in your seats with at least 10 minutes to go before kickoff. You will want to see the team run out and touch the banner, listen to the band and music over the loudspeaker, and take it all in!
There isn't much you can bring inside the stadium. Purses are a no-go as well as bags, fanny packs, food, pets, umbrellas, drones, strollers, selfie-sticks, bottles, and weapons.
You can bring a blanket: You are likely sitting on bleachers and football season in Ann Arbor can be cold. You are also allowed to bring cameras, phones, binoculars (no case), hats, and foam seat cushions.
Bathrooms & Concessions: If you wait until halftime, consider yourself not back in your seat until the third quarter has started.
Alcohol is NOT served inside in the stadium.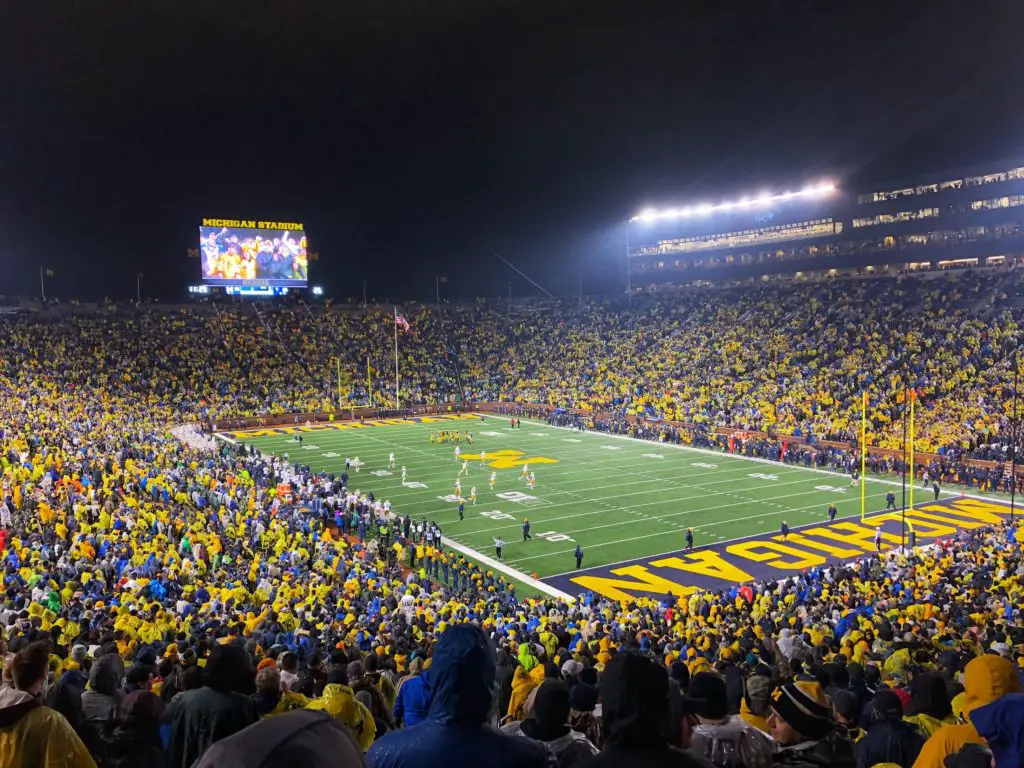 Where to Tailgate in Ann Arbor, Michigan
Your day should begin well before kickoff! Tailgates go for miles where the passion runs deep and you cannot beat music, drinks, grilling, flags, chants, and cornhole on a crisp fall day. Plan to be there at least 3 hours early with your cooler packed—things fill up quickly.
Pioneer High School: Diagonally across from the football stadium, this is a great location. Enter on S. Main St., pay $55 (you can pre-pay), and follow direction to your spot. This is one of the most energetic areas you can be on gameday!
The University of Michigan Golf Course: Also right outside the stadium, this is another fun, packed area. Pay attention to the weather if this is your plan because any rain or bad weather heavily affects this tailgating space.
Parks & Houses: Definitely plan ahead for one of the two above options. But if it comes down to it, you can drive around and find mini tailgates all over the place—for a cheaper price.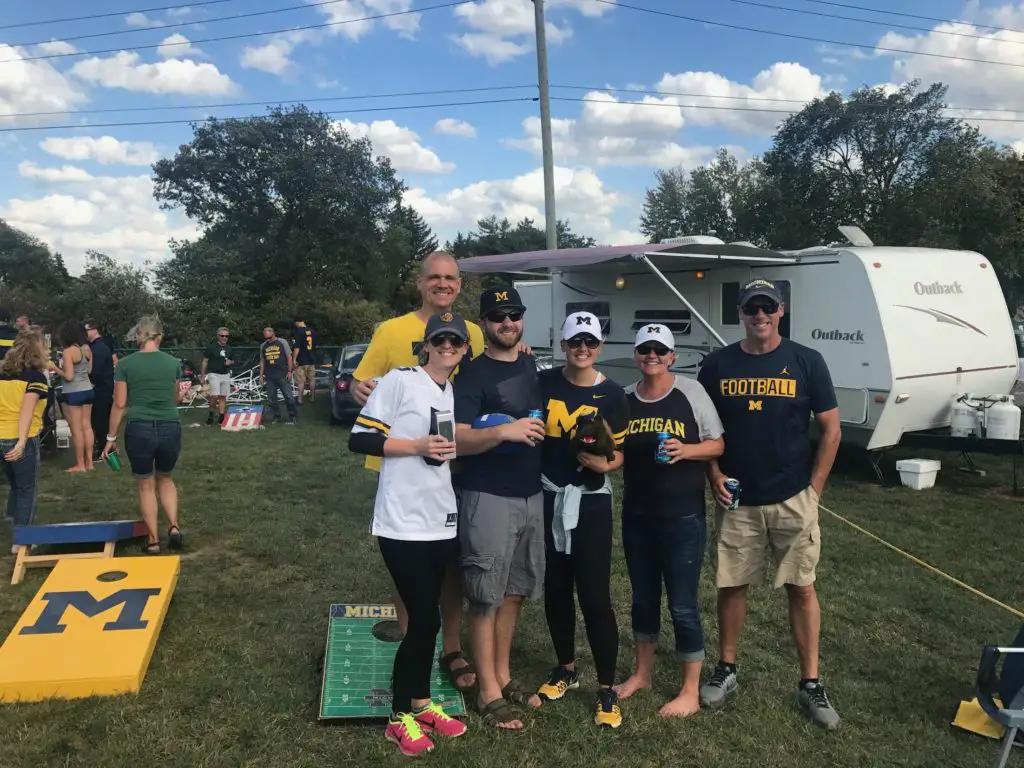 Gear Up at the M Den
The official store of the Michigan Wolverines and a great way to get some new, cool gear and look the part! My favorite MDen location is on State St. (on-campus, downtown area) and there are also options at the Briarwood Mall and inside the stadium. Keep in mind that it's a nuthouse on Saturday—visit on Friday if you can.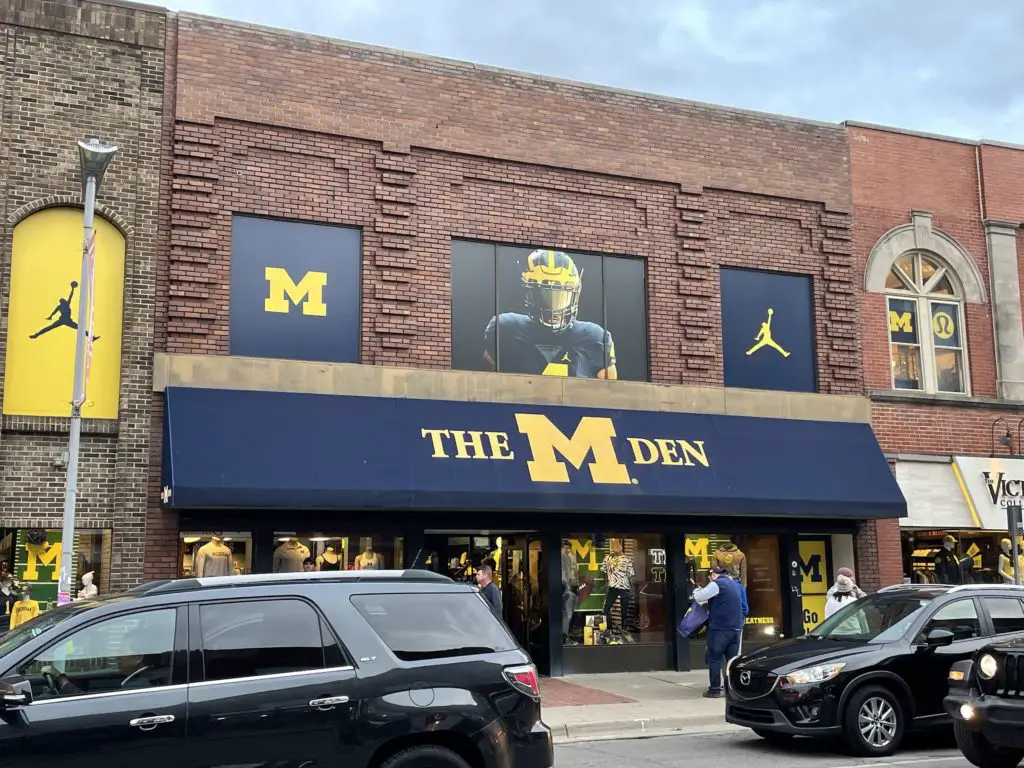 Have Fun at Ann Arbor, Michigan Bars
If you don't have a ticket to the game, no worries! There are plenty of fun Ann Arbor bars to grab a beer and watch on TV. These are also great options on Friday night and/or after the game.
While the above can offer you solid bar food, let's get into where to find the best eats in Ann Arbor:
Eat Pizza at The Cottage Inn
Looking for a delicious slice of pizza? Head over to the Cottage Inn, an Ann Arbor staple since 1948, and one of the best restaurants in the city. Opt for a classic pepperoni and sausage, or branch out with one of their Mediterranean options like the Greek or Gyro. They also have a wide range of vegan pizza options, pasta dishes, and appetizers.
The Cottage Inn is conveniently located on E. Williams St. and is a great spot with a fun vibe. Experience the local food scene in a very casual environment with a mix between a sports bar and an Italian restaurant.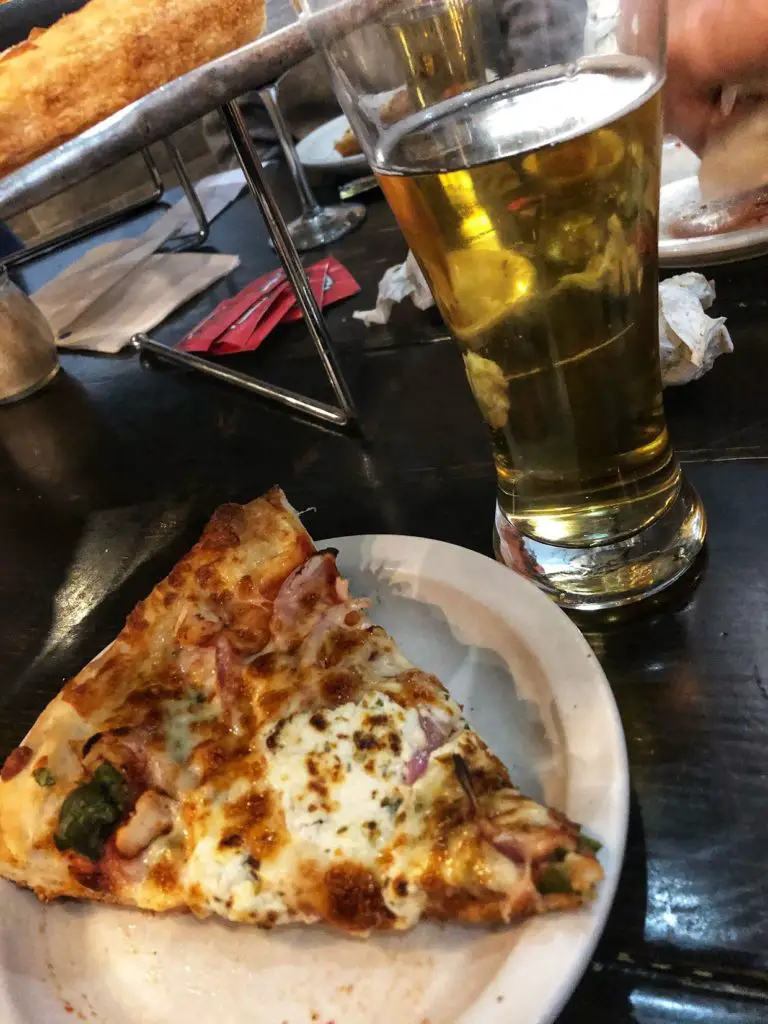 Eat Brunch at Sava's
Sava's is one of my favorite places for breakfast—if not #1! It's a trendy restaurant with a great atmosphere that's beautifully decorated and serves creative food that switches weekly.
Their Bloody Mary is one of the best things on the menu, but if that sounds unbearable after a wild Saturday, their iced coffee is another great thing to order. Expect an hour or so wait time for brunch on the weekends. It is worth it, plus is a big space that includes a bar and a second floor.
Eat/Drink at Other Local Restaurants and Bars in Ann Arbor, Michigan
Zingerman's Deli: One of the best deli's you are ever going to find—top quality ingredients that create the perfect sandwich.
Pizza House: Need a late night slice of pizza? Like…4AM late? You're in luck.
Seoul Street: Korean-style dishes where you can't pass up on the fried chicken.
Honestly, your options are endless. Ann Arbor, Michigan is foodie heaven!
Take in the University of Michigan Campus
Time to walk off the beer and pizza? The University of Michigan's main campus is beautiful and the perfect place to grab a coffee and stroll around admiring the buildings and scenery. You'll find boutiques, coffee shops, Michigan statues, and plenty more with everything in walking distance.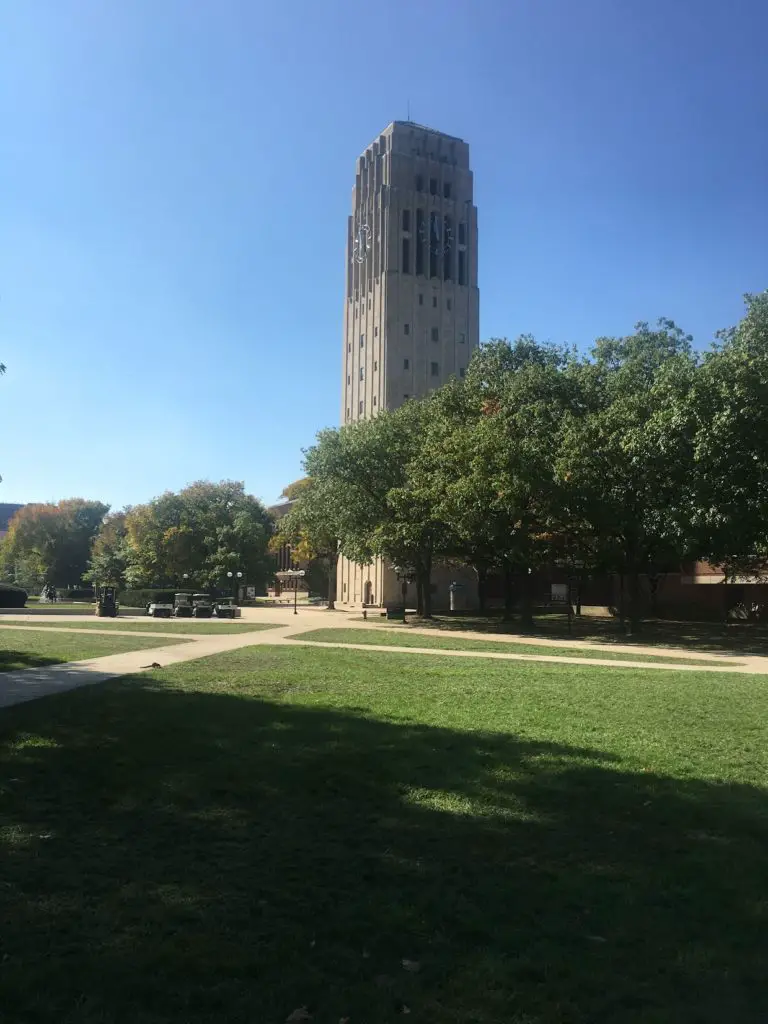 Even More Fun Things to Do in Ann Arbor, Michigan
While sports (and food!) are a major deal in the town of Ann Arbor, Michigan, that's not all your going to get. The town is home to endless arts, history, and culture.
Visit a Museum or Theater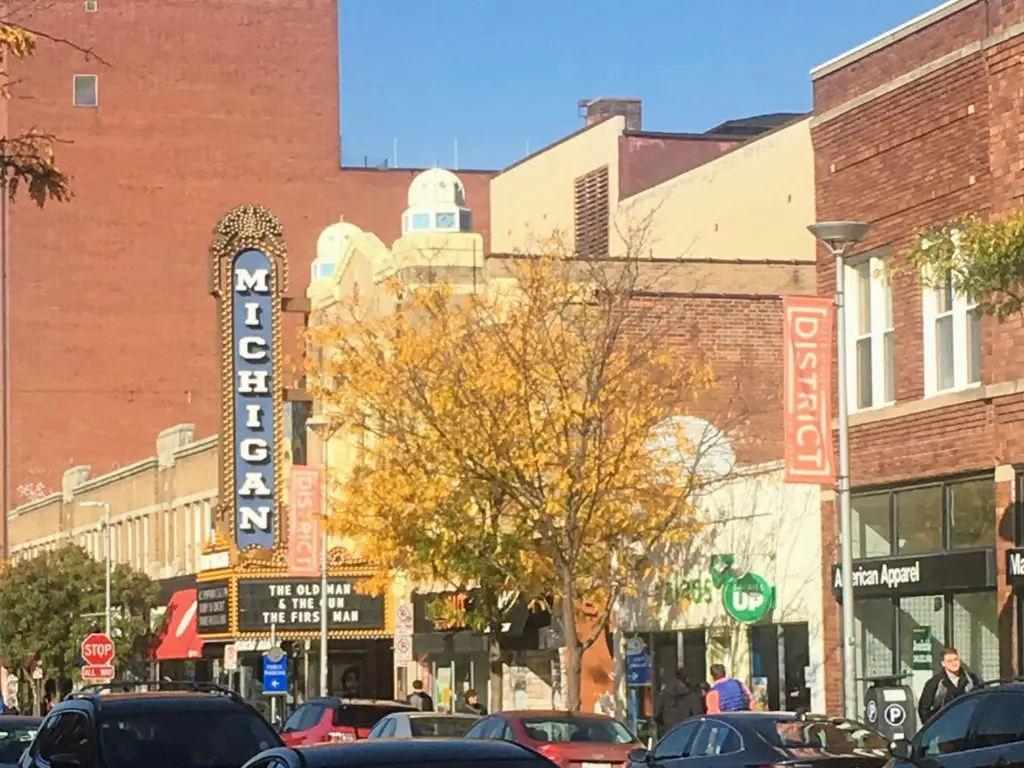 Get Outdoors and into Nature
Where to Stay in Ann Arbor, Michigan
Hilton Garden Inn
I can't recommend the Hilton Garden Inn Ann Arbor enough! It's the perfect spot and a fun place to be all weekend long. The staff is the most friendly of any hotel I have ever been to and they are always willing to go above and beyond.
The rooms are spacious and comfortable with great beds. And downstairs you'll find a fun bar and restaurant area. PRO TIP: Don't skip out on morning breakfast—it's the BEST!
Best Things to Do in Ann Arbor, Michigan
Whether you're in town for special events or just to enjoy the college town experience, you won't be disappointed. Football fans, foodies, and those interested in arts and culture will be able to pack their days full of fun at their best places. For more, visit Destination Ann Arbor.
You know lower Michigan. But how about the Upper Peninsula? Read 12 Reasons to Visit the Upper Peninsula for an entirely different Michigan experience!