Ann Arbor is: Special.
When college football Saturday takes place in Ann Arbor, it's the largest crowd watching a game anywhere in America every. single. time.  There's tradition, expectations, and emotion. Tailgates go for miles where the passion runs deep and the outcome of a game determines the outcome of one's week. Immerse yourself in the college football world just once and I'd be willing to bet you'll want to do it again.
Yeah, yeah, I'm biased. BUT, I do know a good time in the home of the Wolverines. If you're a college football fan, or just love day-drinking and a new experience, add The Big House in Ann Arbor, Michigan to your bucket list. Yes, even if you're an opposing fan. It's an experience to be had and as long as you're not sitting next to me, people should be pretty nice to you. You will feel the electricity starting Friday night and it will follow you through the end of the game and beyond.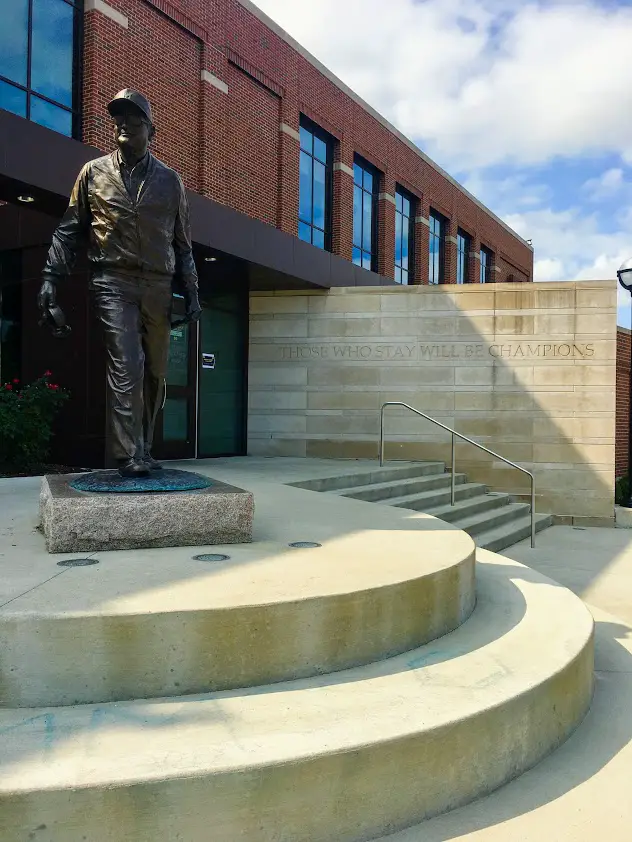 The Best Experience:
The Big House: 107,601+ people in one big bowl. You will enter on the 70th row and (likely) make your way down as you look across the stadium and see people, monster-sized screens, press boxes, lights, the band, and a whole lot of maize and blue. You will instantly feel the type of surreal energy that only college football can bring.
First-Timers: Make sure you are in your seats with at least 10 minutes to go before game time. You want to witness the tradition of the team running out of the tunnel to touch the banner as Hail to the Victors plays and the crowd goes wild. Chills. For anyone.
Heads Up: If you wait until halftime to use the restrooms, consider yourself not back in your seat until the third quarter has already started. I recommend heading towards the bathroom with one or two minutes to go in the second quarter. Same goes for concessions. And I wish I could give you guys stadium food tips but typically, my stomach is in knots. From what I understand, soft pretzels and Cottage Inn mini pizzas are the way to go. Alcohol is not available inside the stadium.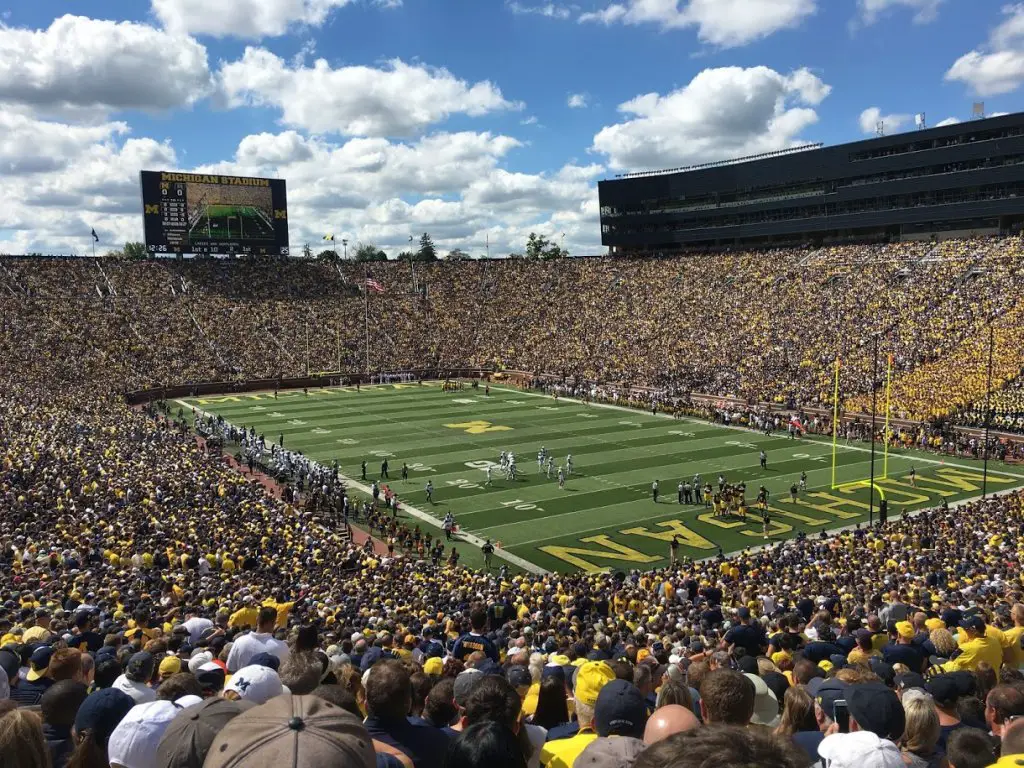 Other Game Day Experiences:
Tailgating: You cannot beat music, drinks, grilling, flags, chants, and cornhole on a crisp fall day. Get yourself a cooler full of beer, a bottle of liquor, and a bag of chips and you are well on your way to a memorable day. More details below on where to park. Bar Scene: Fraser's Pub is my favorite post-game spot, Conor O'Neill's wins when you're looking for somewhere to go Friday night, and if you want a blast from the past into your college days, head to Scorekeepers Sports Grill and Pub or Rick's where wild times are sure to happen. MDen: Make sure you are ready for football Saturday in Ann Arbor with a stop at MDen – the official store of the Michigan Wolverines. My favorite location is on State St. (on-campus) and there are also options at the Briarwood Mall and inside the stadium. Keep in mind that it's a nuthouse on Saturday!
Game Day Tips
Parking/Tailgating: You're going to pay (or walk a long way). Cash parking is on a first-come, first-serve basis and I recommend Pioneer High School or the Golf Course ($50) due to the atmosphere and proximity to Michigan Stadium, which is on Stadium and Main Street. Lots open around 6 A.M. I recommend getting there at least 3 hours before kickoff. There are also parks and yards as additional options.
You Need Pockets: Purses are a no-go as well as bags, fanny packs, food, pets, umbrellas, drones, strollers, selfie-sticks, bottles, and weapons. And so are stuffed animals – I'll tell you why I know that if you ask. Pockets are your best friend – phone, ticket and a little cash are all you need.
Keep Your Cans In One Spot: People will walk around and pick these up from you. They are 10 cents each.
Bring a Blanket: You are likely sitting on bleachers and football season in Ann Arbor can be cold. You are also allowed to bring cameras, phones, binoculars (no case), hats, and foam seat cushions.
Dress in Layers: Unless you are at a game in early September, it's going to get chilly. Or rainy, or windy, or snowy, or all of the above.
Stand Up In Your Seat: It's college football Saturday. And our responsibility to make it electric. Stand up. And tell the Negative Nancy next to you they can sit during the 3,276 commercials that come with a college football game.
Best meal:
Sava's: You guys. The Sunday brunch buffet at Sava's makes the angels of heaven sing. I would give it 6 stars out of 5. It's popular and you are going to wait on a Sunday (usually over an hour) but it's worth it and often you can get a seat at the bar before they call your name. It's a contemporary restaurant with a great atmosphere that's beautifully decorated that serves creative food that switches weekly. Indulge in hearty salads, frittatas, cheese plates, risotto, butternut squash, chicken and waffles and little desserts you have to try and save room for – which is tough. It's the perfect place after a day that included countless light beers and a couple of shots.  Tip: They have a great Bloody Mary. But if that sounds unbearable, I recommend their iced coffee.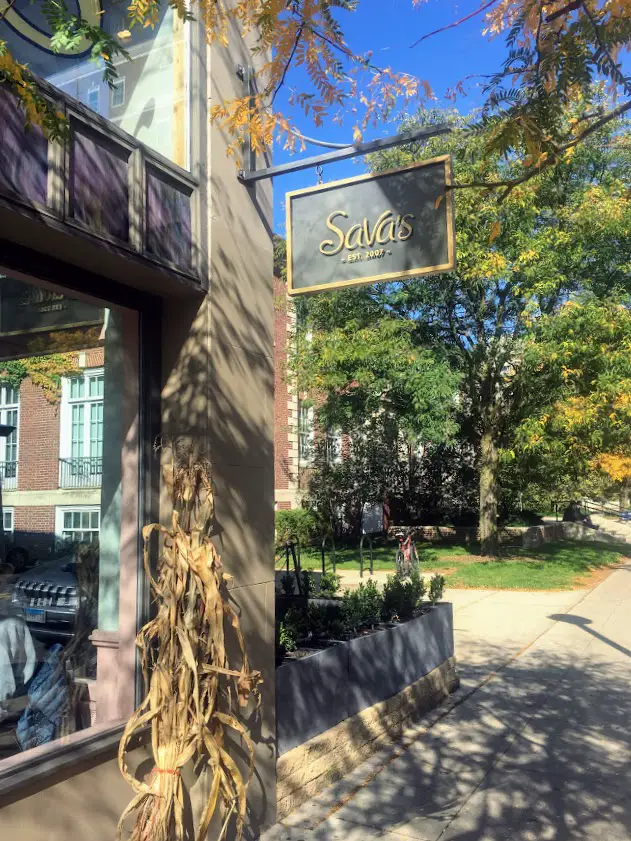 $FREE.99:
Walk around campus. It's beautiful, full of boutiques, coffee shops, Michigan statues and plenty more with everything in walking distance. You'll wish you were back in college. Until you see the library and remember that college wasn't all parties and beer.
Ann Arbor is a high-priced area. When your game ticket, food/beverage, hotel, and everything else is taken into account, your trip can get expensive. But it's worth it. Read How to Accumulate More Money for Travel and set yourself up for a memorable weekend.
What I'd Skip:
Winging It: Football Saturday in Ann Arbor is crazy. You're going to hit traffic from all directions so plan accordingly. And expect to wait 10 or so minutes once you arrive at the stadium gate to actually get in. 107,601 people is a lot.
Only Coming for Football: Ann Arbor is a beautiful college town full of great bars and restaurants and a non-stop buzz come football time. Make it a weekend. You won't run out of fun things to do.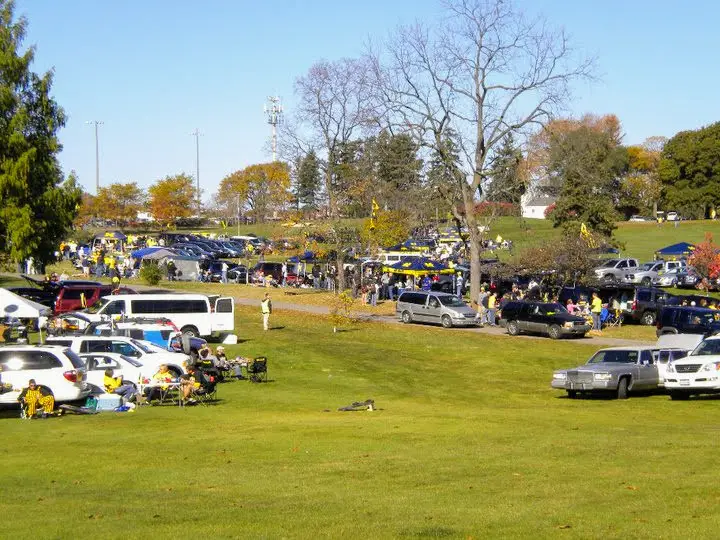 Would I go back?
They say home is where the heart is. Ann Arbor will always be that for me, despite never actually living there a day in my life. If there is a year I am not in Ann Arbor at least once, I'm in the grave – or very close to it.