South Dakota is just a flyover state. Not much to do, farmland, boring, and not worth the time to explore. Mount Rushmore? Eh, once you see a picture you can basically say you saw it and that's all that's there, right?
Wrong. South Dakota flies under the radar when it comes to U.S. travel. It's full of natural beauty, fun and quirky cities, attractions, and deserves far better than being associated with the term flyover state.
South Dakota is probably not on your bucket list. But it should be.
A South Dakota trip is full of history and fascinating culture that forces you to think and grow, not to mention offers up some killer scenery.
THE BEST EXPERIENCE
Badlands National Park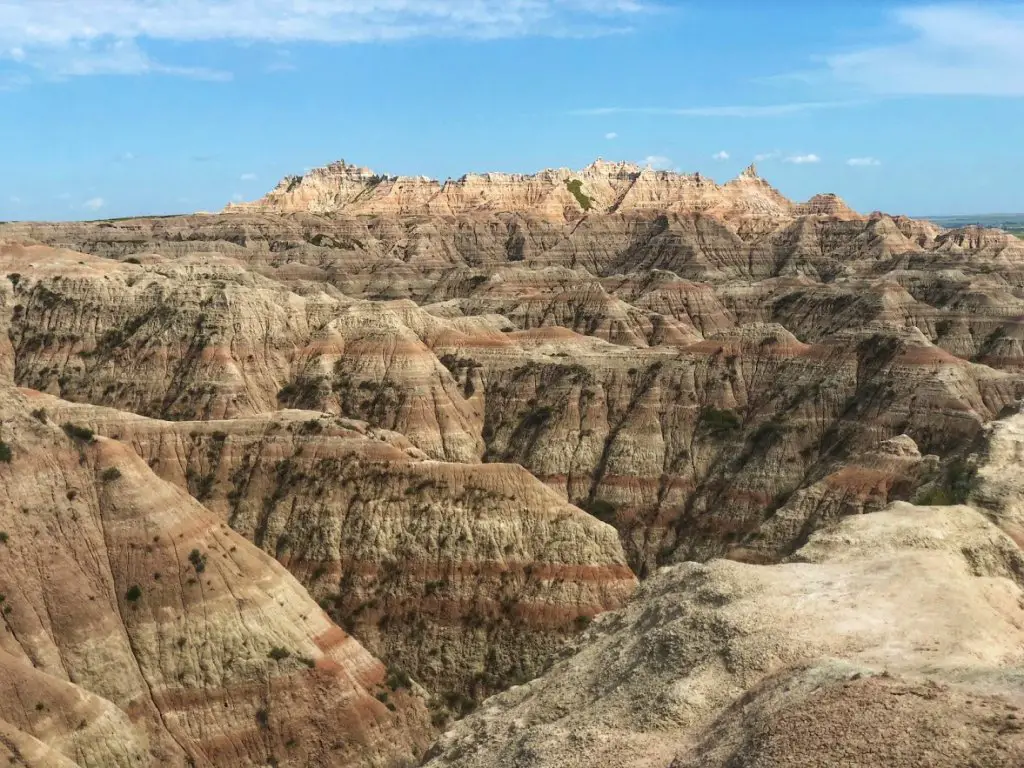 $15 per car (3 hours)
One-of-a-kind. This National Park alone is worth making a trip over to South Dakota and it will leave you with eyes wide open. 244,000 acres of rock formations, buttes, ridges, canyons, and spires. When you are out exploring, be ready to climb and take a ton of photos. It's like an adult playground.
Hike one of the trails or drive the 40-mile Badlands Loop State Scenic Byway where you can pull over to take in mesmerizing views at the designated overlook areas. Formations look hand-painted due to being shaped by water. The stripes represent different layers of sediment swept by seas millions of years ago #funfact.
Tips: There is a sit-down restaurant here (near the entrance) where you can get an authentic Indian taco! (Indian Fry Bread topped with ground beef and all of the taco fixings.) PLUS, the Badlands has the most inexpensive souvenir shop I've been in.
MORE FUN SOUTH DAKOTA ADVENTURES
Custer State Park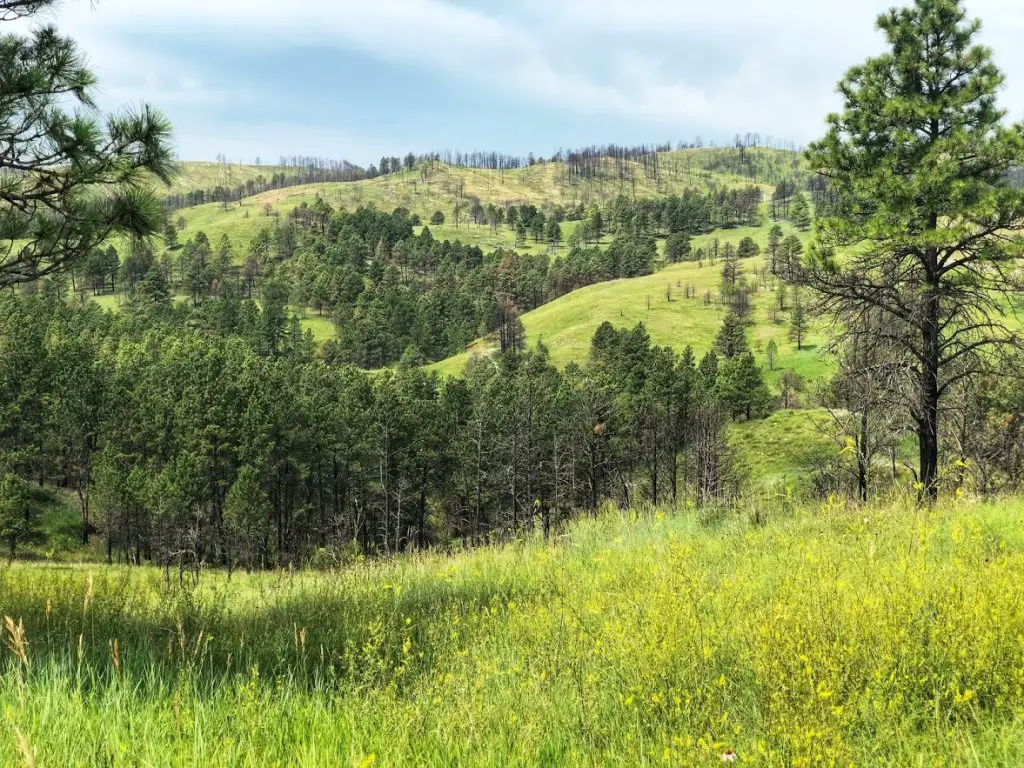 $20 per car (3 hours)
The experiences are plentiful and the land is beautiful at Custer State Park.
Get up close and personal to a buffalo—over a thousand roam free. Drive the 14-mile stretch through Needles Highway where skinny, large spires point straight up to the clouds. Enjoy the green, rolling hills full of tall grasses and trees. Admire the scenery on the water at one of the inland lakes.
Note: there are a few tight-squeeze tunnels cut through rock to travel through. Make sure you don't have a huge vehicle—and be prepared if you are claustrophobic. But don't freak out, they're quick!
Mount Rushmore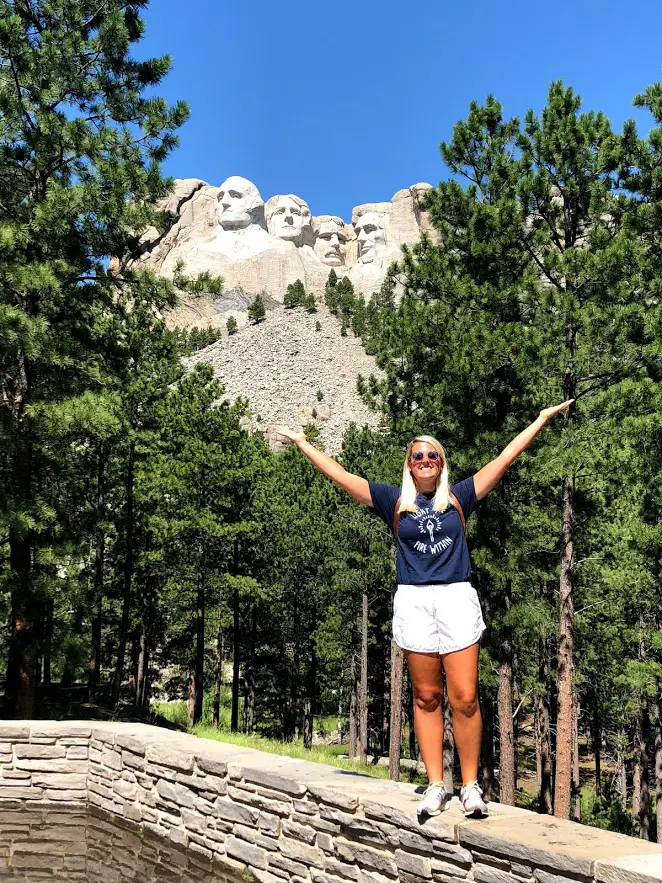 $10 per vehicle (1 hour)
I did not have high expectations for Mount Rushmore. Old guys heads cut into the rock? Cool…? BUT, I was pleasantly surprised. It's HUGE. And the detail in each face is incredible.
Check out the souvenir shop, grab a snack at the concessions, tour the small museum area, and don't forget to walk around and down (not just straight ahead) to get a better view.
I will admit that I was a bit thrown off and did feel guilt standing in the Black Hills (Native American land) staring at 4 white guys who were not kind nor civil to these people. But overall, I'm happy to have experienced it—especially with a different perspective than I normally would have. To learn more about this side of my experience, read Traveling with a Purpose: My Trip to the Reservation.
Note: You can see a full view of Mt. Rushmore from your car even before entering the park. If it's not high on your list, check it out from afar and save some money. (Though I do think it's worth the $10.)
Crazy Horse Memorial
Cost: $30 per car (2 hours)
Located in the Black Hills to honor the legendary Crazy Horse, this is the world's largest mountain carving—in progress…for quite some time. Like half a century due to relying on public funding. The Crazy Horse sculpture itself is far away (I did not take the shuttle to get closer) and it has not changed a ton in recent years.
The site is a neat place to explore and learn more about the Native American culture. There's a large museum, places to grab a snack, souvenir shop, and you can hopefully catch an informative talk about Native American culture including drumming and dancing, which was one of my favorite parts of my South Dakota trip.  
Deadwood, South Dakota
Your wild side will love Deadwood, South Dakota. Old saloons, casinos, souvenir stores, and ice cream shops line the cobblestone streets of this historic town. Spend the day testing your luck at Blackjack or catch a daily reenactment in between cold beers and whiskey.
Learn about the outlaws and gunslingers that used to roam the streets in a city where anything goes.
Fun fact: Wild Bill was gunned down here from point-blank range while playing poker. The card's held by Hickok at his death is now referred to as the "dead man's hand," which was a pair of black aces, a pair of black eights and the identity of the fifth card up for debate.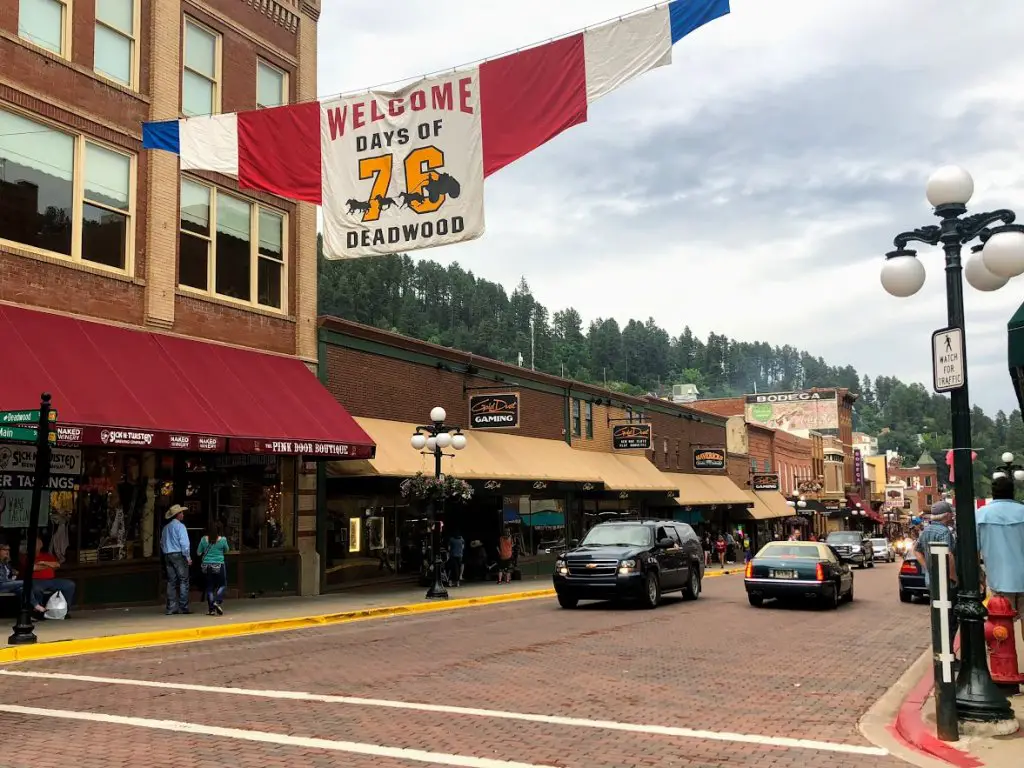 Wall Drug
Wall Drug, located in Wall, South Dakota is Weird. With a capital W. I had no idea what to expect. I literally thought it was some Walgreens-sized store that's been around forever (1931) to pop into for a couple of minutes.
Well, I was pleasantly shocked by what takes up an entire city block, including an indoor mall that screams tourist trap! Get free ice water, hop up on a Jackalope, peruse quirky shops and bookstores, and indulge in homemade ice cream.
If you're confused, you're doing it right.
Rapid City, South Dakota
Rapid City is a fun, small-town that is a perfect spot to stay during a South Dakota trip given how close everything is. It's about 30 minutes from Mount Rushmore, an hour from the Badlands, and just over 30 to Custer State Park. It's a cute downtown with cool shops, local art, parks, and plenty of bars:
Murphy's Pub—a new-age restaurant/bar with an outdoor patio. The rustic space was dim and hoppin' on a Friday night. The gin & tonic was refreshing, and the food looked really good.
Paddy O'Neil's—a neighborhood pub paired with Irish charm that has live music on Friday and Saturday nights. If you're ready for a few drinks and fun, stop in!
Teddy's Sports Bar & Grill—looking for a dive bar? Here is your spot! How about a DJ and a dance floor? Yup! This place has a bit of everything with cheap drinks, pool tables, and a spot to get your groove on.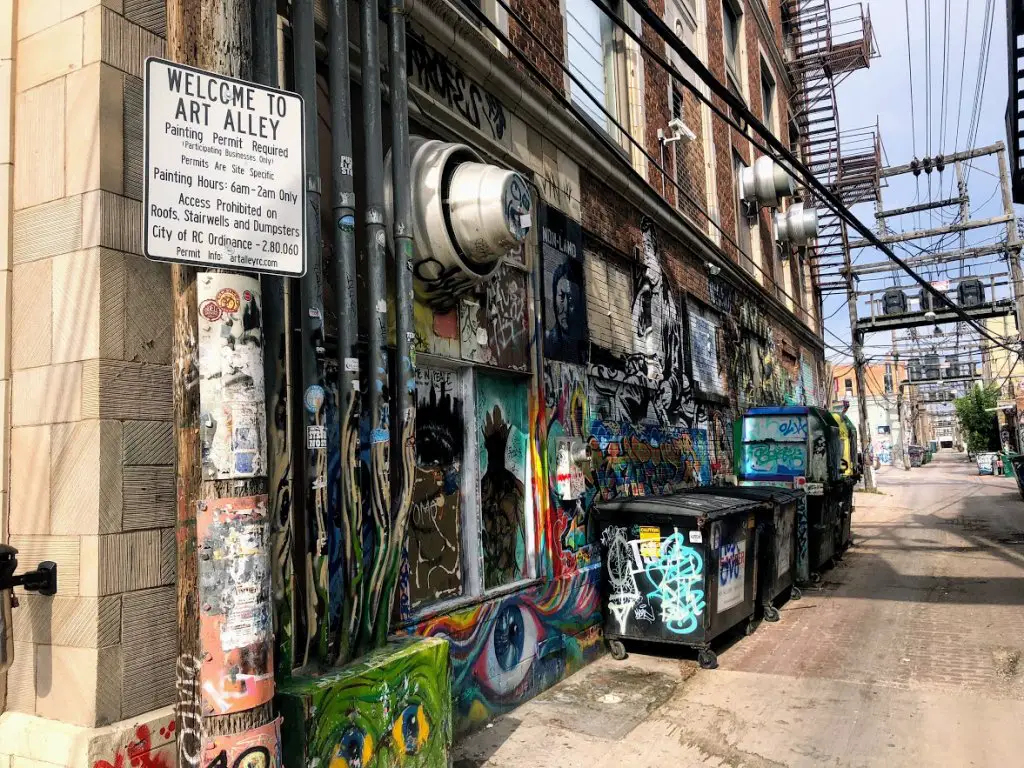 $FREE.99
Waniyetu Wowapi Art Park, Eagle Butte: A free, public art park where young Lakota artists infuse graffiti with their own culture, identities, and stories. It was inspiring to see the work of young people showcasing their talents through art and is worth checking out.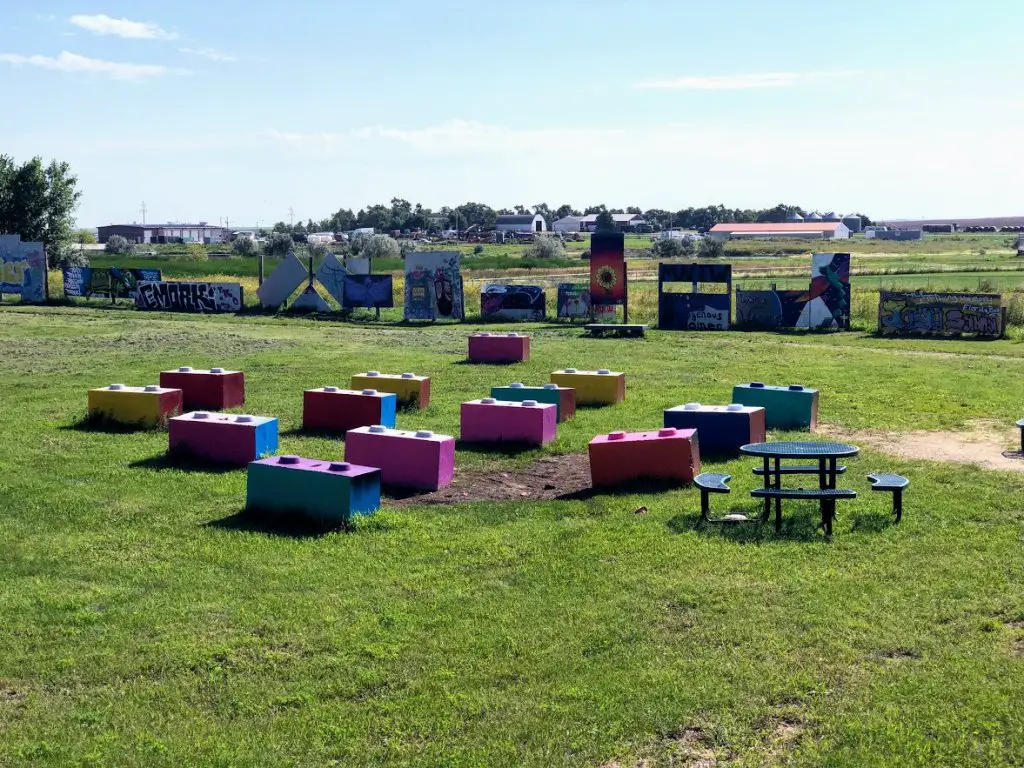 South Dakota Road Trip Tips
It's Very Affordable: gas, restaurants, Airbnb's, (most) souvenir shops, everything. Great spot to take your family and explore on a budget.
(3) Days: You can get a South Dakota trip done in 2, but make it a long weekend or it gets exhausting. Spend time at one of the lakes, take your time enjoying the Badlands and the Black Hills, and fully experience Wall Drug and Deadwood. Sturgis is also along your travels.
Easy to Navigate: don't worry about traffic, crazy drivers, or getting lost. Everything is very straight forward around these parts!
Books + Car Entertainment; it's a lot of driving. The driving scenery is pretty repetitive with either farmland or dry, brown dirt. Bring things to do and have a couple of playlists. (Don't forget the snacks.) And remember that the views once you stop are worth it!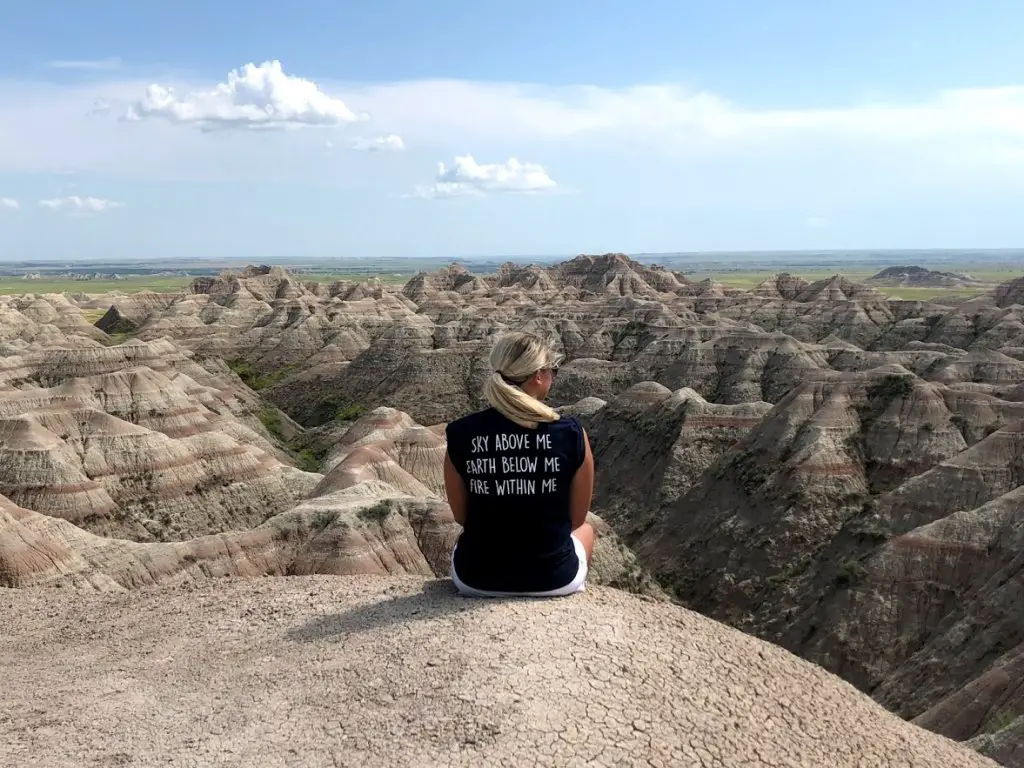 WOULD I GO BACK?
A South Dakota trip strikes me as a (worth it) one-and-done. I won't dream about South Dakota or get that itch to go back next year. But maybe someday. The place is swarming with families and is a fun place to take your kids. And if there is one place that might call me back sooner than I anticipate, it's The Badlands.
Have you been to South Dakota? What did I miss!? Comment below. And learn more about my trip over on Instagram!