From the pasties to the Stormy Kromer's to 906 everything, the Upper Peninsula is unlike anywhere else. Ask any homegrown Yooper (a native of the U.P.) about the place they call home and they'll tell you it's God's Country. And they just might have a point…
Home to roughly 311,361 residents (only 3% of Michigan's population), the 16,377 square miles are packed with untouched wilderness, sand dunes, waterfalls, lakes, snowmobile trails, and of course, a few dive bars.
The Upper Peninsula will transport you to another world.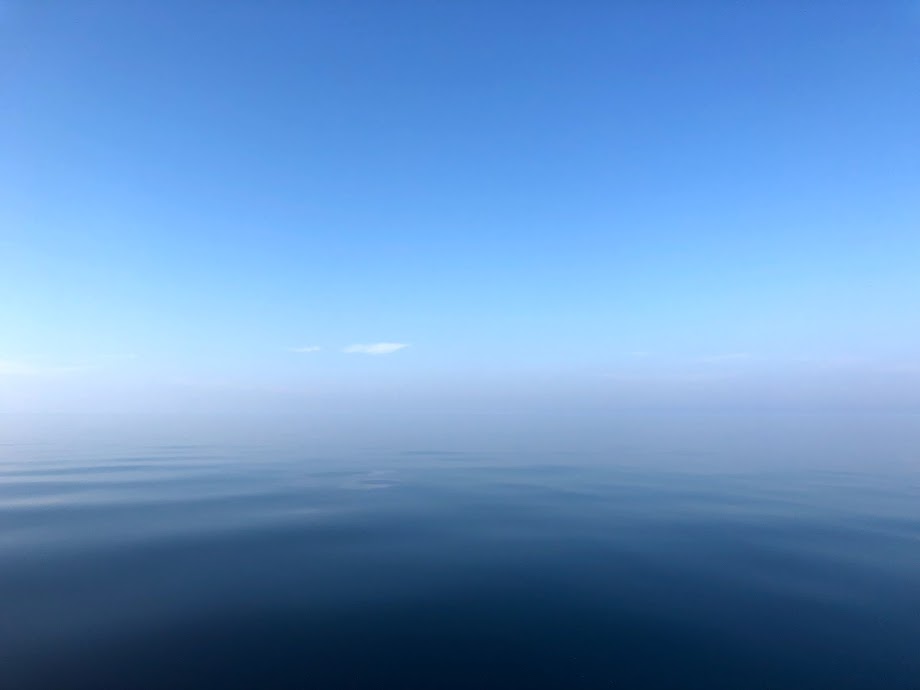 The U.P. is full of beauty and a chance to slow down and catch your breath. Downtown cityscapes and bumper-to-bumper traffic are replaced by painted sandstone cliffs and stoplights that blink only yellow.
If you haven't had the opportunity to visit the U.P.—or even thought about it for that matter, then you are missing out. Here are 12 reasons to visit Michigan's Upper Peninsula.
The People
1. Yoopers
There aren't many who can boast about being a Yooper. In terms of Michigan's landmass, the U.P. makes up 1/3 of it, but only 3% of the state's population.
But that 3%? They are tough, resilient, and full of character. They swim in 50-degree lakes without batting an eye. Survive 250+ inches of snow. And do it all with a smile. Most are content, lead simple lives in a way you envy, and adore their home in all seasons. And as much as they'd love for you to recognize the beauty and uniqueness of the area, they're surely not desperate for you to get there. They'd rather keep their unique and pristine lands a secret. But fear not, they'll still always hand you a beer.
(If you do decide to travel to the U.P., be respectful, leave everywhere better than you left it, and don't forget your chook.)
Natural Beauty
The Upper Peninsula is downright gorgeous. No matter which area you visit, in whichever season you choose, you will be in awe. A majority is untouched with color you've never thought possible, and that's what makes it so unique and memorable.
2. Pictured Rocks National Lakeshore
Any trip to the U.P. should include a stop along Pictured Rocks National Lakeshore, a 42-mile stretch of sandstone cliffs as high as 200 feet that look as if they've been painted by humans. But nope—it's the natural, stunning beauty of nature located in Munising, Michigan.  In addition to sandstone cliffs, you'll find beaches, waterfalls, and sand dunes making it a true adventurers dream. For more on the best ways to explore Pictured Rocks, read Two Days in Munising. Michigan.
And the lake Pictured Rocks sits on? Well, that deserves it's own number…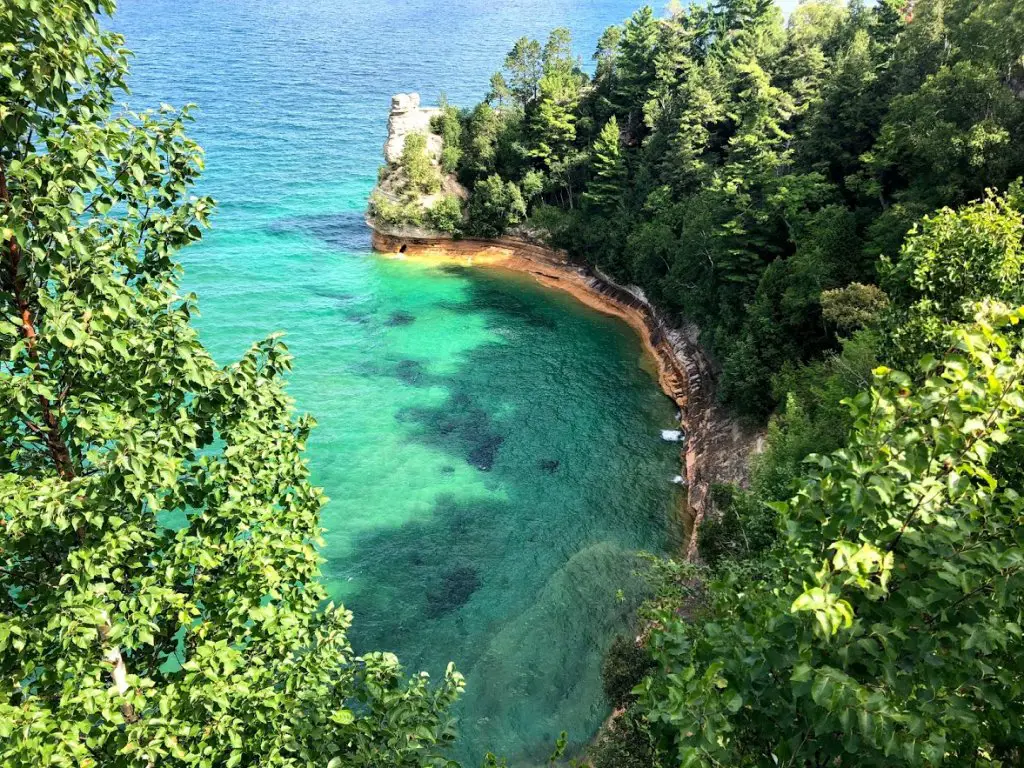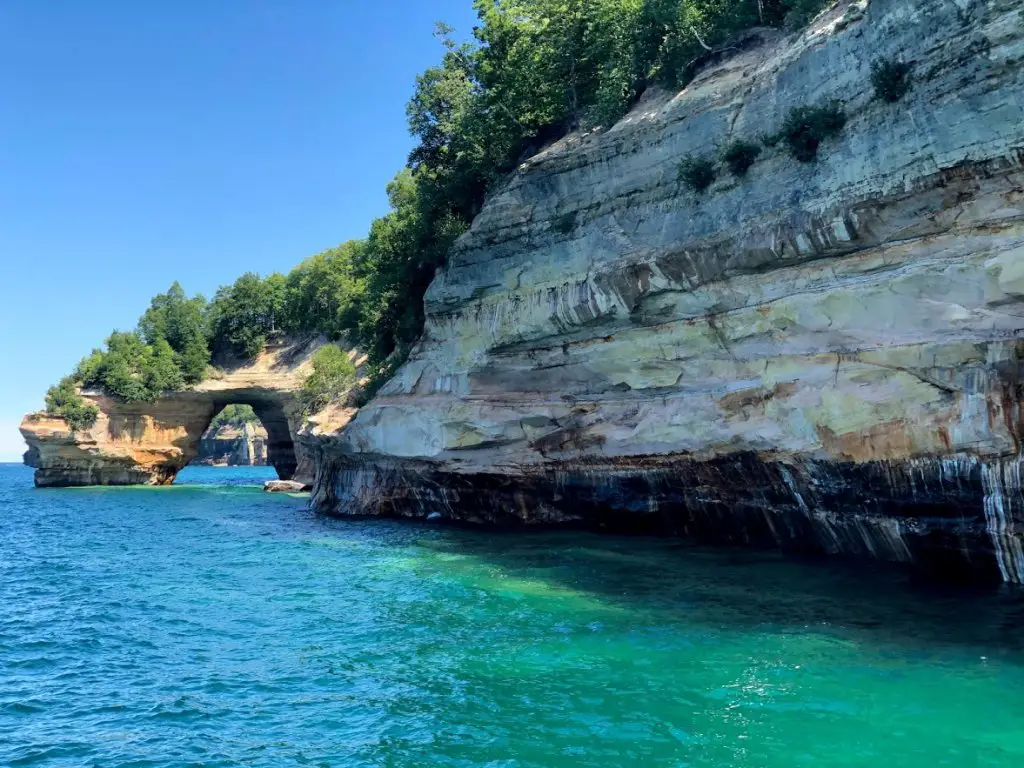 3. Lake Superior
Next up is Lake Superior, the world's largest freshwater lake. It's huge; take Vermont, Massachusetts, Rhode Island, Connecticut, and New Hampshire, and you've got Lake Superior. It's beautiful; easily the cleanest and clearest of any Great Lake, Or literally any other lake I've ever seen for that matter. It can be angry; waves of 40 feet have been recorded. And it's cold; she produces the greatest lake effect snows on earth. But you tell me anything more refreshing on a hot summer day…  
There are 917 miles of shoreline along the Upper Peninsula and whether you're out on a boat, cruise, kayak, paddleboard, boogie board, or just walking the soft sand shore, she's one of the best places to be.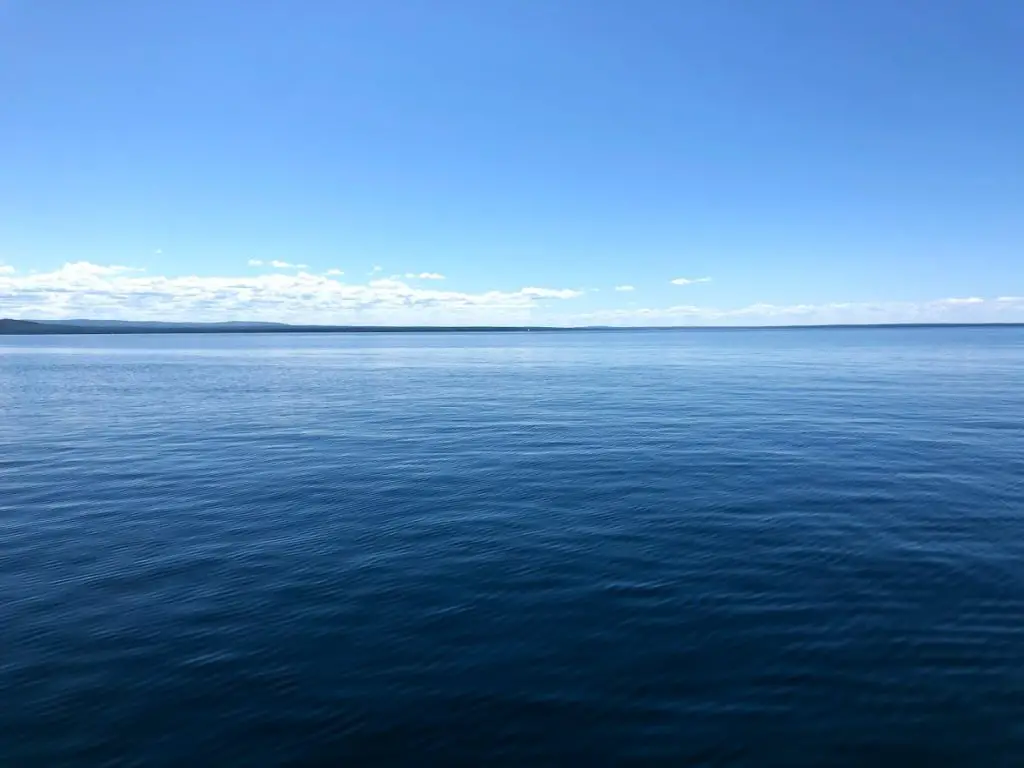 4. Waterfalls
Did you know that all but one of Michigan's 300 waterfalls are located in the Upper Peninsula? No matter which area of the U.P. you visit, you're likely close to a handful of cascading waters, both big and small. From Tahquaquenon Falls in Paradise to Bond Falls in Paulding and everything in between, there are waterfalls to chase during any season.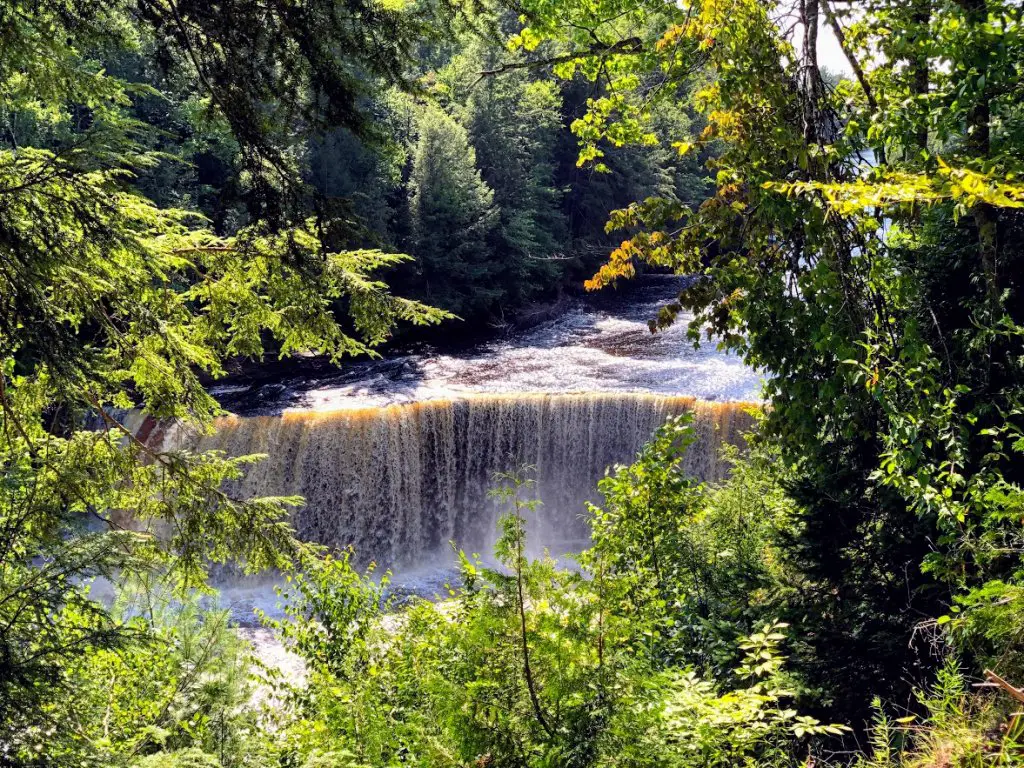 5. Sunsets
There is no better place to watch a sunset. Anywhere. Blues, pinks, yellows, oranges—you never know what you're going to get. But they are always beautiful. Always captivating. And they always slow you down for a few moments.
For one of the best places to catch a U.P. sunset, read A Day in Grand Marais, Michigan.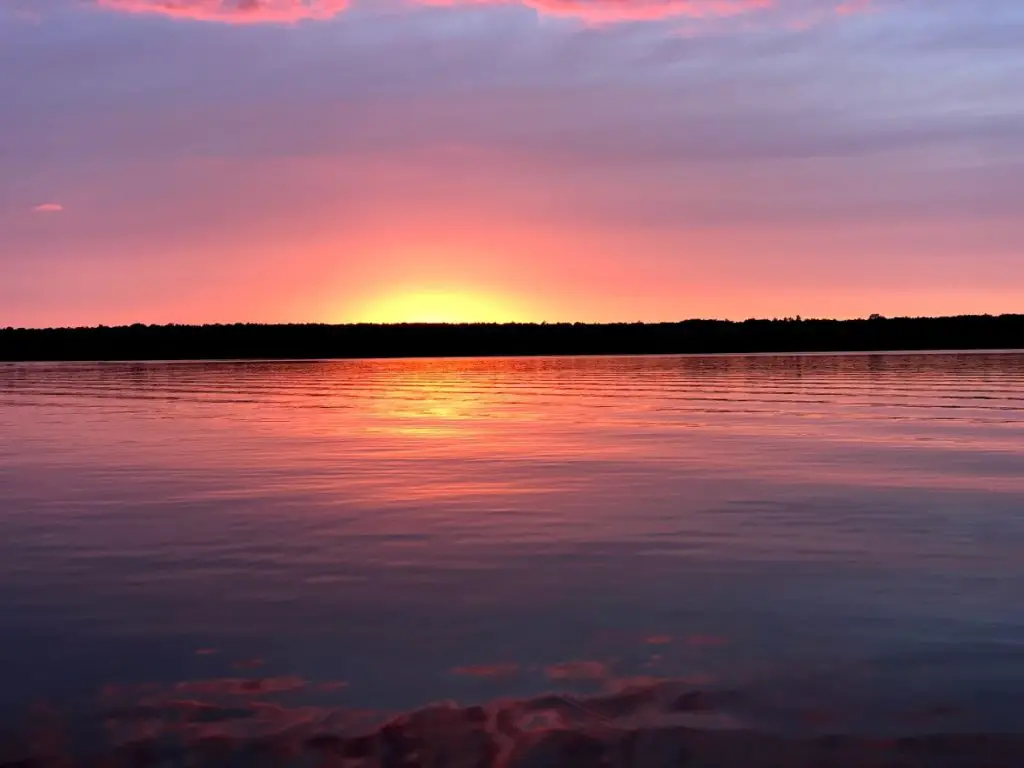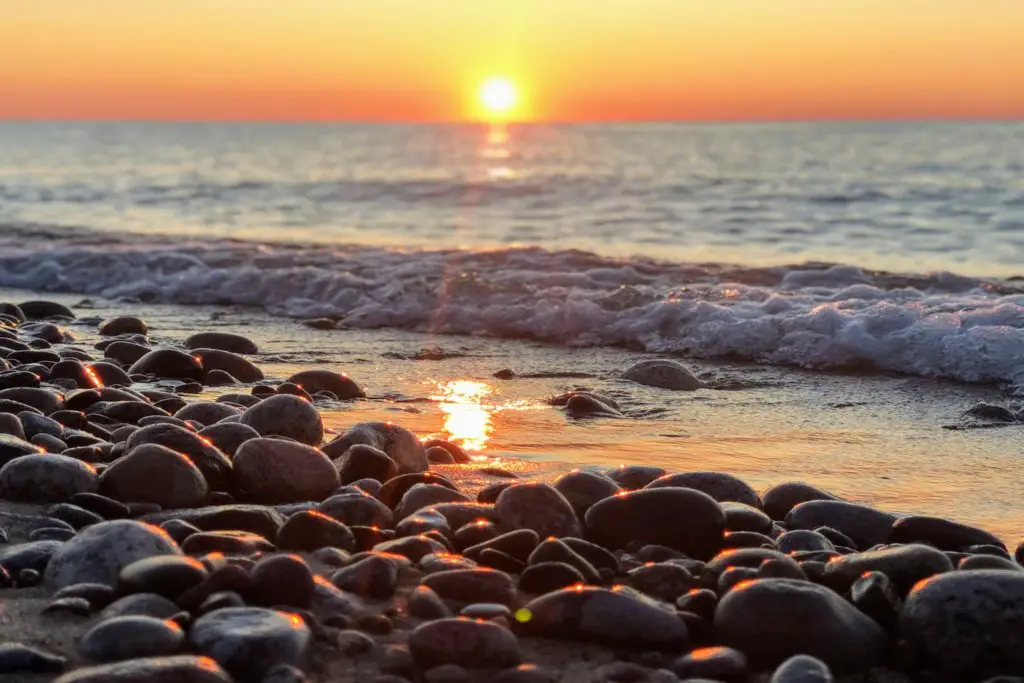 6. Fall Color
People may flock to Vermont or upstate New York in the fall, but let me tell you—they've got it wrong. It is hard to beat the fall colors in the Upper Peninsula. From the yellows to the reds to everything in between, the small-town winding roads have an impeccable view come September. You can't go wrong making a fall trip and taking your own color tour through the woods. Some of the best days of the year if you're a regular!
For one of the best, most colorful views, check out Mount Arvon, the highest point in the U.P.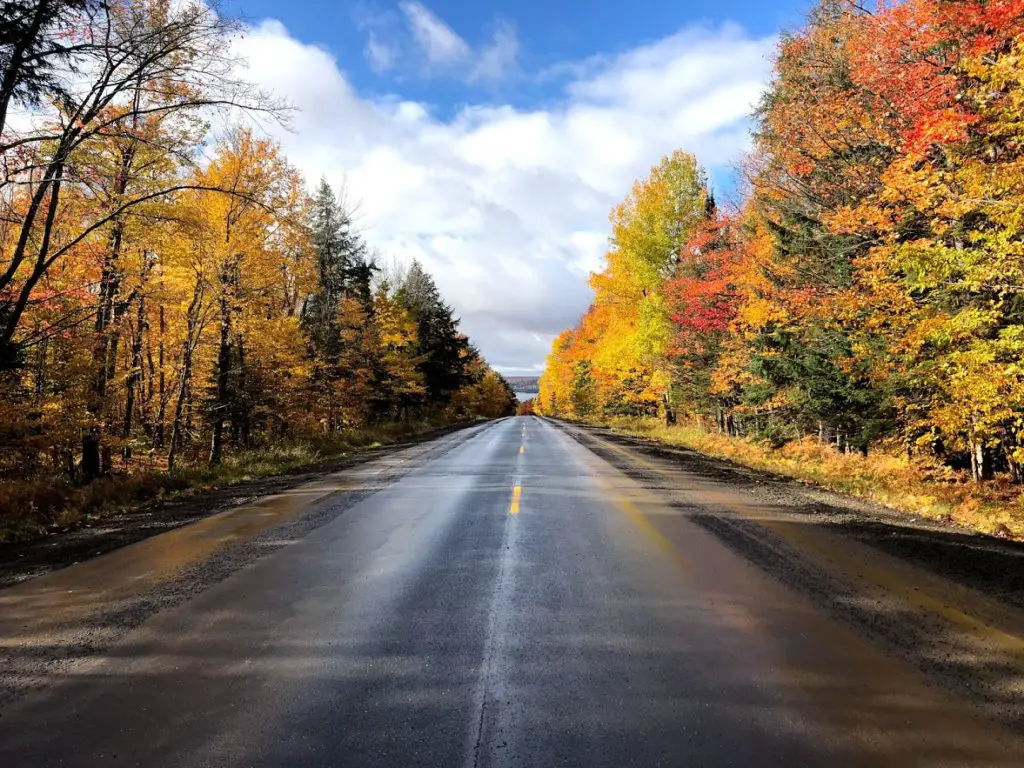 7. Wildlife
The U.P. is an ideal habitat for many species. And given how spread out everything is, it can be easy to catch a few animals in their element! Admire the Upper Peninsula wildlife that includes moose, eagles, deer, bears, wolves, coyotes, fox, porcupines, and more. Check out some of these areas for your best chance at catching a glimpse. And remember, don't be stupid. These are wild animals.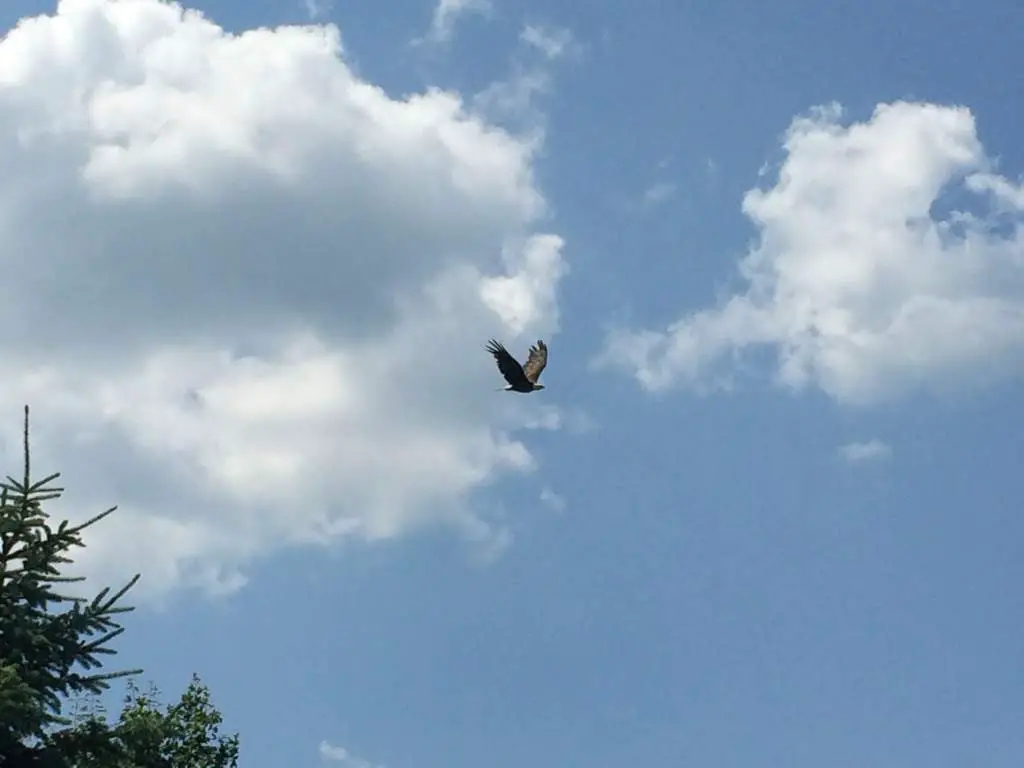 Food & Drink
One thing you're not getting in the Upper Peninsula is luxury. There are no fancy pants menus, getting all dolled up, or pretentious and trendy restaurants. Simply sit down, eat, and drink a beer. You'll know every word on the menu. Besides maybe Pasty…
8. Pasties
Chicken pot pie meets hot pocket for this Upper Peninsula delicacy. Bite into a homemade crust stuffed with beef, potatoes, onion, and rutabaga, with additional ingredients and inclusions based on who is making it for ya. And you must, I mean must have a little ketchup to go with it. Make sure to give one of these a try if it's your first time in the U.P.!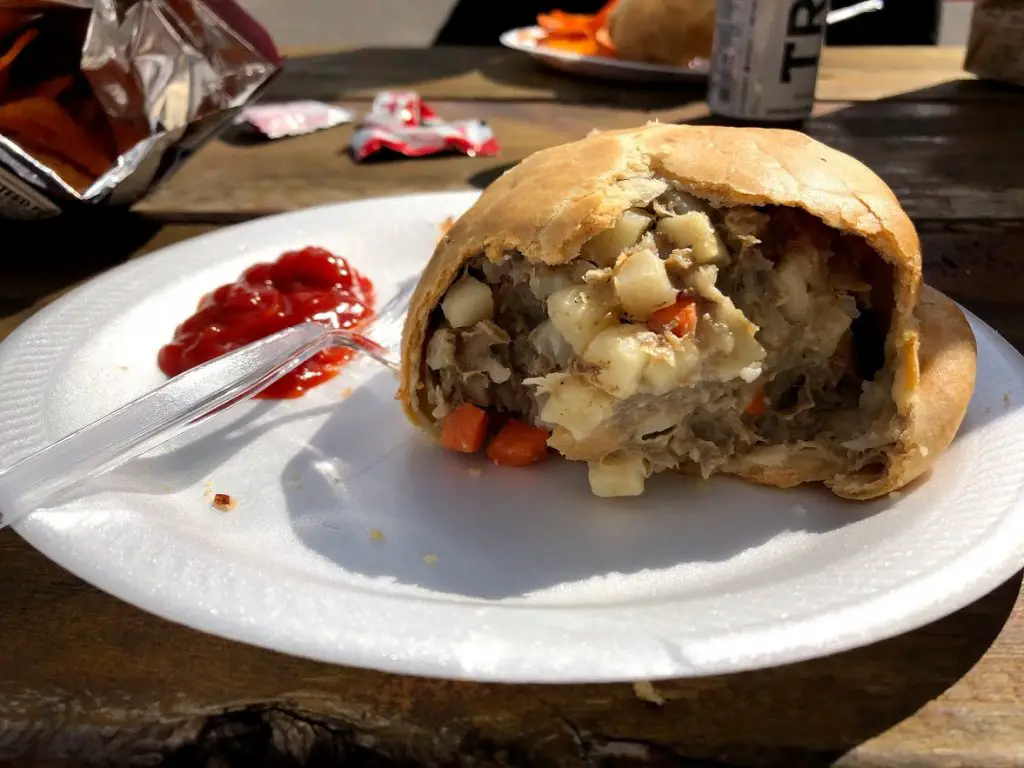 9. Whitefish
The largest freshwater lake in the world is everything you need to know. Big, healthy, and some of the most delicious whitefish around. Get it beer-battered, baked, pan-fried, smoked (my personal favorite), or grilled.
If you're over on the east side, don't miss Brown Fisheries Fish House. They serve some of the freshest (caught that morning!) whitefish I've ever had. Read more in One Day in Paradise, Michigan.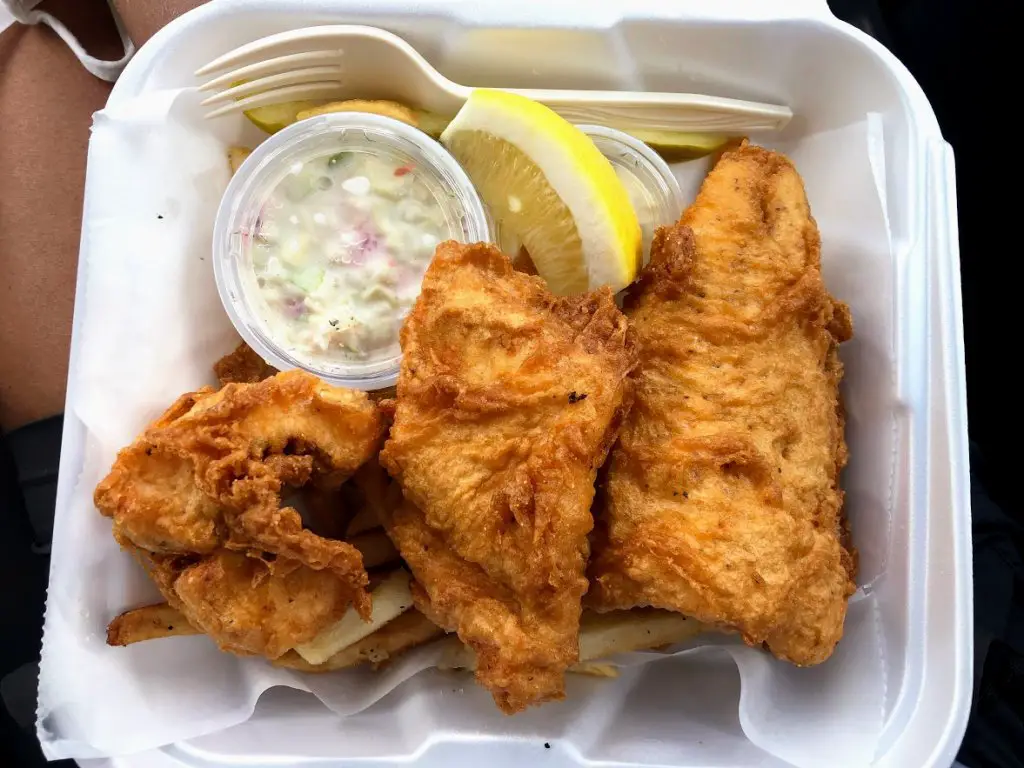 10. Small Town Bars
Guys, the Upper Peninsula is not a place for the faint of heart. Yoopers can party. For days. So pace yourselves and get ready to do most activities with a beer in hand! This shouldn't scare you, it should excite you.
You'll find smalltown bars all over the place with friendly bartenders serving (mostly) welcoming regulars. They'll be nice to you—unless you're a troll (jk).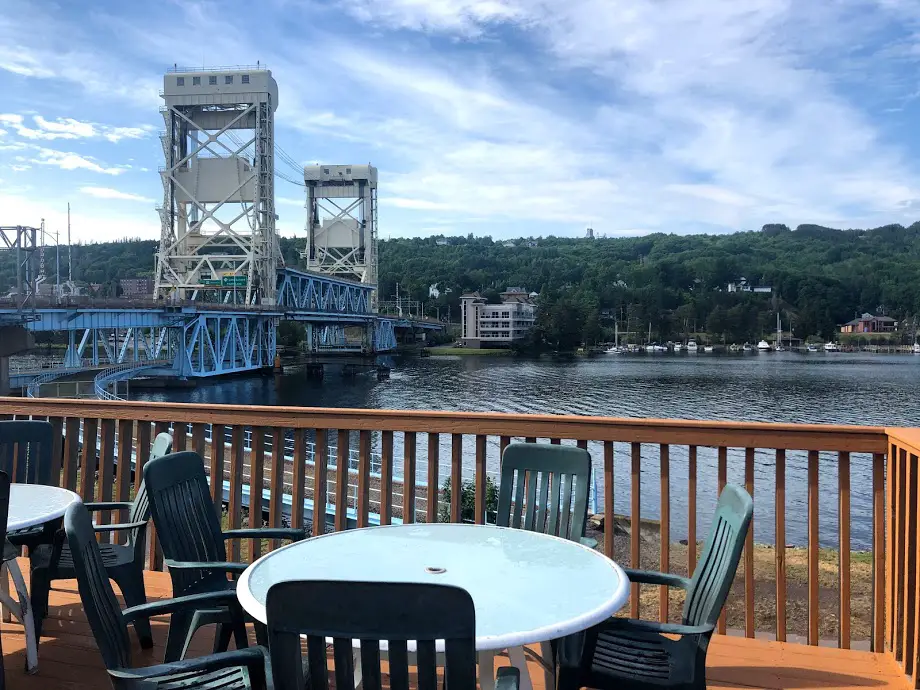 Activities
11. Hiking & Biking
The great outdoors. There surely is no shortage in the Upper Peninsula come spring, summer, and fall. Bike a variety of trails or low-traffic highways for some of the best biking views you are going to find. The League of American Bicyclists have Houghton and Marquette on the list of top Bicycle Friendly Communities in the nation, and Copper Harbor is a Silver-Level Ride Center by the International Mountain Bicycling Association. Find that information, as well as trail options, here. And if you prefer feet to wheels…
Hike Escarpment Trail at the Porcupine Mountains to check out Lake of the Clouds. Take on Bare Bluff in Copper Harbor, Sugarloaf Mountain in Marquette, or Chapel Basin Loop (highly recommended, read more here), with a ton of other options no matter where you've planted yourself in the Upper Peninsula.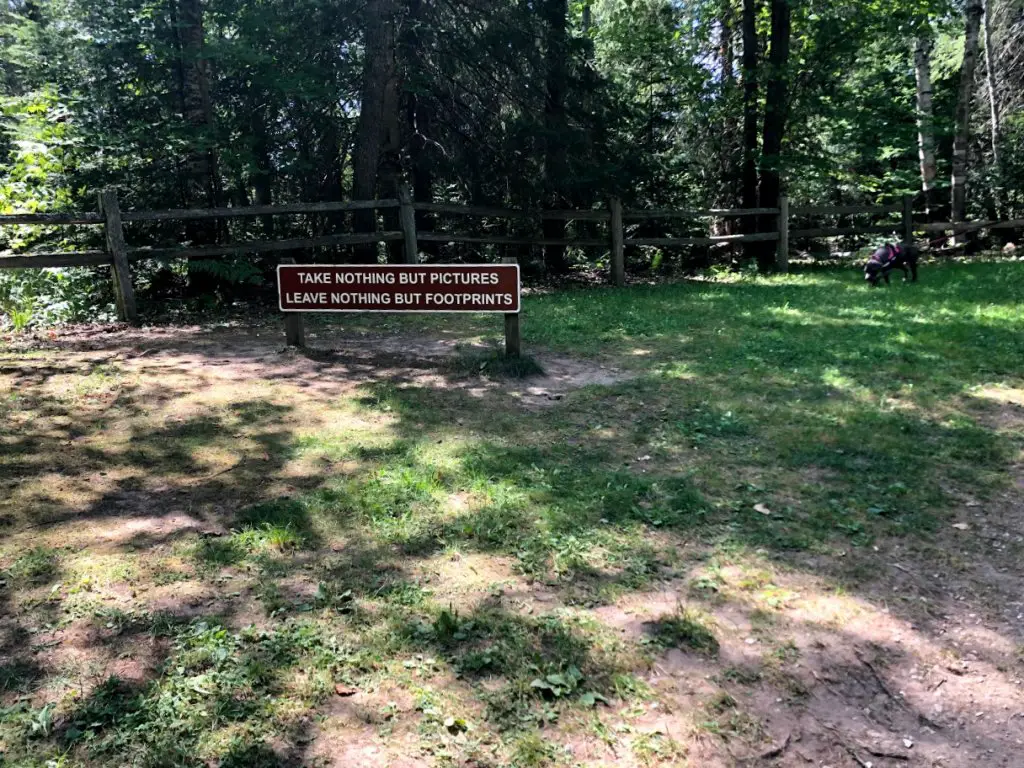 12. Skiing and Snowmobiling
Remember when I mentioned 250 inches of snow? Well, it can be a nuisance, but it can also help make for a ton of fun winter days. The winter season is a long one in the U.P., but there are plenty of ways to pass the time!
Enjoy the snow with a day or weekend spent skiing (both downhill and cross country) and snowboarding. The U.P. offers nine ski resorts with powdery snow, plenty of adrenaline, and bars, and restaurants to warm up. If you're more of the cross country or snowshoe type, there are hundreds of trails to choose from.
And if you enjoy snowmobiling, you're probably not going to find anywhere better! Find countless groomed trails and epic scenery to go with it. Plus, plenty of pitstops along the way for a beverage.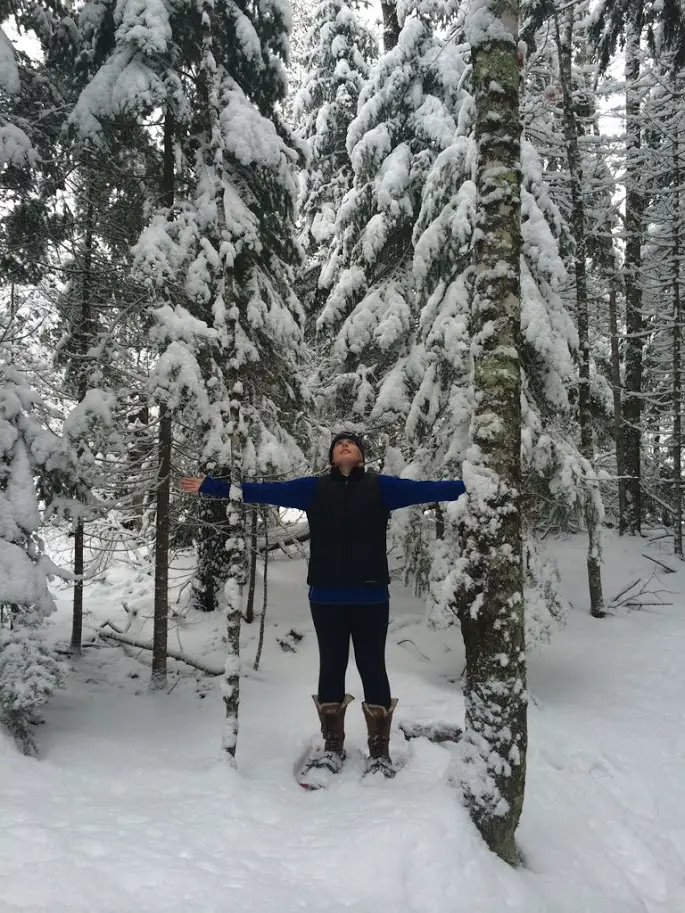 Any Season…
No matter what time of year you'd like to visit the U.P., you're in for a treat. The beauty, the people, the adventure. It's all a part of the getaway experience—and it's perfect for a road trip. So find some room on your bucket list for the Upper Peninsula.
Enjoy the Yoop!