Way east (and north) in the Upper Peninsula sits the town of Paradise, Michigan. Less than 300 people call Paradise home, but thousands flock here each year to see what this well-named U.P. town has in store. Yes, Paradise is an actual place. And is one to explore on a U.P. road trip.
For fun, I looked up the definition of Paradise and found one that felt relevant.
paradise [par-uh-dahys, -dahyz]; a place of extreme beauty, delight, or happiness.
Turns out, you'll get all three. Beauty. That comes in the form of crystal clear Lake Superior waters washing over rocks of all colors. Delight. You'll find that as you wade through waterfalls on a sunny day. And Happiness. That's fresh-caught whitefish on top of a pile of french fries. Keep reading, more on all of that below!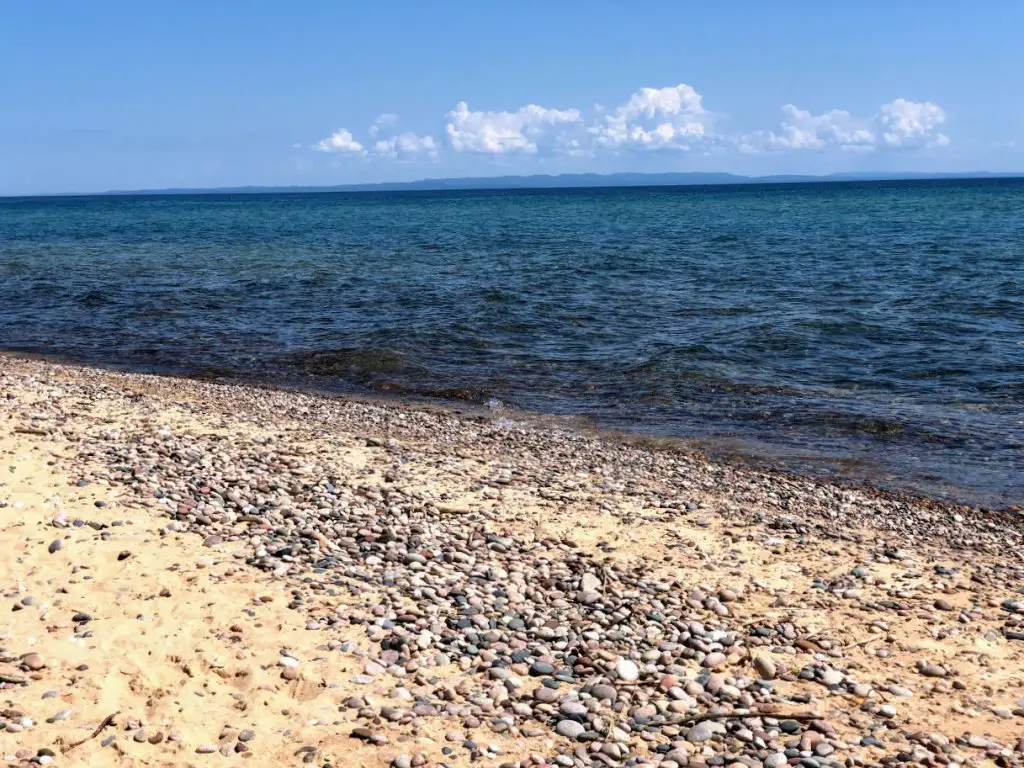 What To Do in Paradise, Michigan
Tahquamenon Falls State Park
One of the U.P.'s most popular destinations, Paradise, Michigan brings in about 500,000 a year. 52,000 acres stretching over 13 miles of wilderness. Come to the park for calm and quiet or wet and wild – it's up to you! Open year-round, the beauty of this place is always available. And the two main attractions, Lower and Upper Falls, make for a great experience.
[Hang on..quick tip so you don't sound like a dummy. It's tuh-qwa-meh-non, which rhymes with phenomenon. Beats "tahqua-whatever," which I went with most of the time.]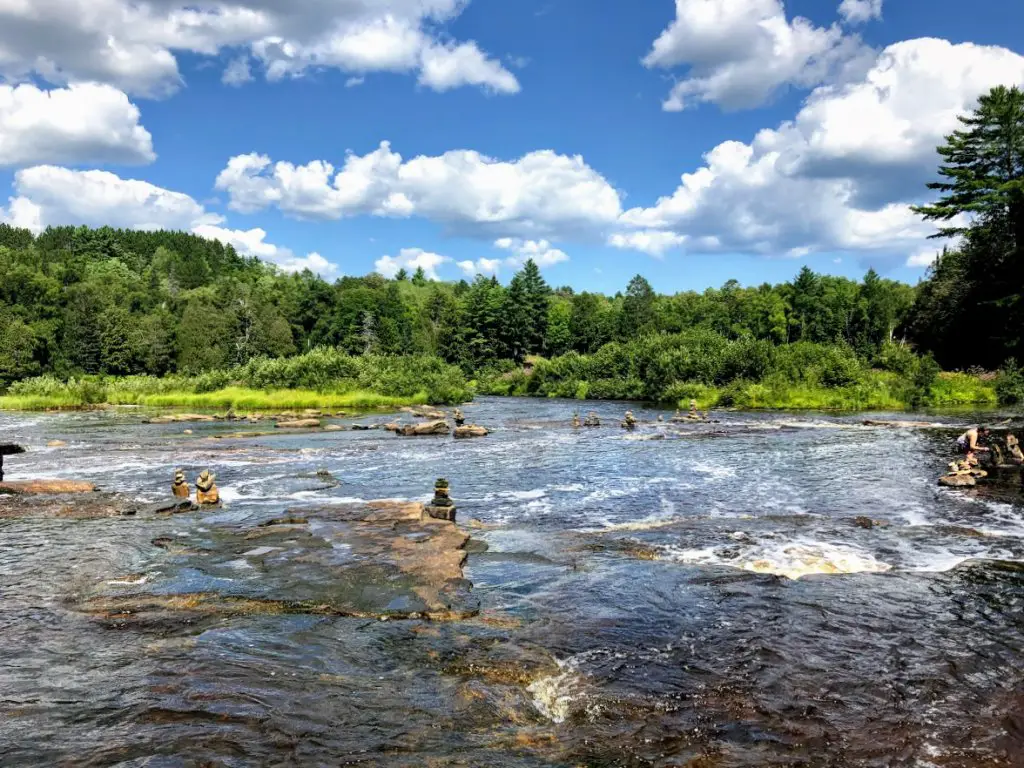 What to Know For Your Visit
PARK PASS: it's $9 for a Tahquamenon Falls State Park pass ("recreation passport") which you can buy upon entering. Cash keeps things quick.
WEAR YOUR SWIMSUIT: plus comfortable clothes to put over top. Bonus: take dry clothes with you or have them ready in the car.
HIKE: the trek from Lower Falls to Upper Falls is roughly 9 miles round-trip if you are feeling strong and adventurous. Upper Falls alone is 1.5 miles. And there are plenty of other hikes to check out. Here is the map.
DRIVE: you don't have to hike the 9 miles to see both! Park and explore one set of falls and then drive to the next and do the same. It's a short drive between the two and both spots have big parking lots with plenty of space for trailers/boats/RVs.
FOOD/DRINK: Upper Falls has a brewery/pub (usually very busy), as well as a few eateries, with outdoor seating.
GIFT SHOPS: There are gift shops at both locations near the parking lots.
P.S: The amber color of the water is not rust, mud, Pepsi or root beer. It is caused by tannin from the cedar trees. The water is completely clear as you wade through so don't be alarmed! It's most prominent in the summertime.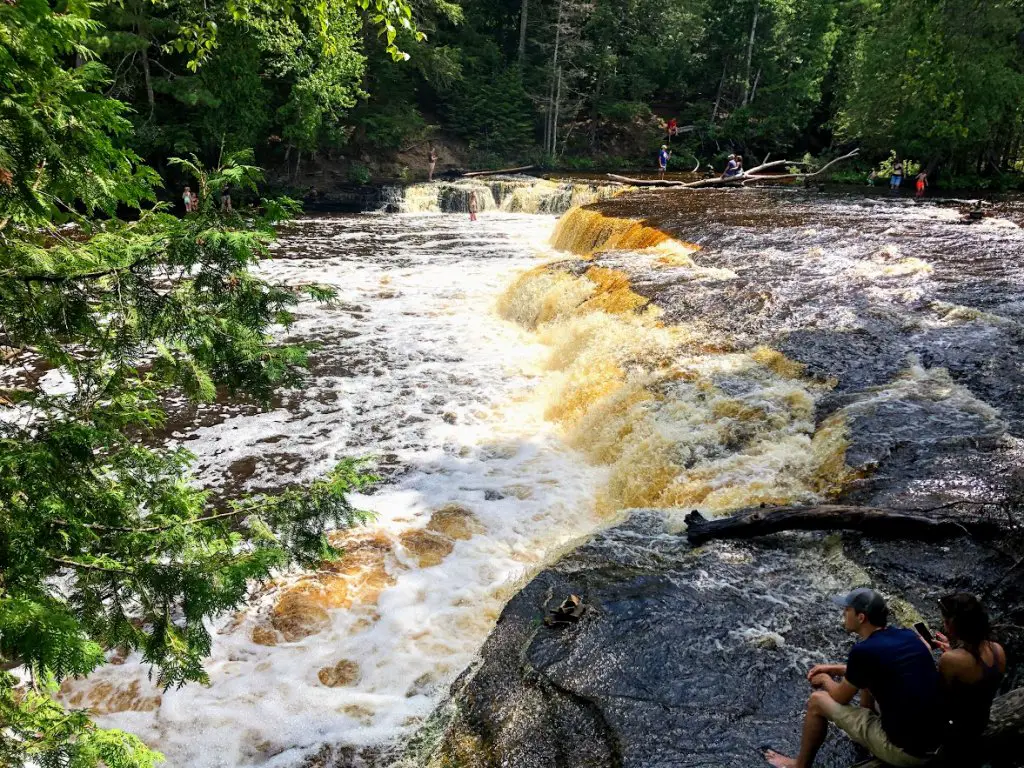 Lower Falls
One of two popular stops that not only offers a picturesque setting but a chance for a little adventure. Here, five small waterfalls cascade around an island that creates its own water park of sorts. Carve out at least 2 hours here because you're going to have fun!
The scenic overlook is only about a quarter-mile from the parking lot on a paved path. After taking in the view, in which the falls seem far away, you have a couple of options to get close and even into the waterfalls:
Rent a Rowboat
Grab your oars, paddle around the river basin or head out to the little island, dock your vessel, and hop on the short trail. Then, you're free to swim! A rowboat is $7/person. Your other option is…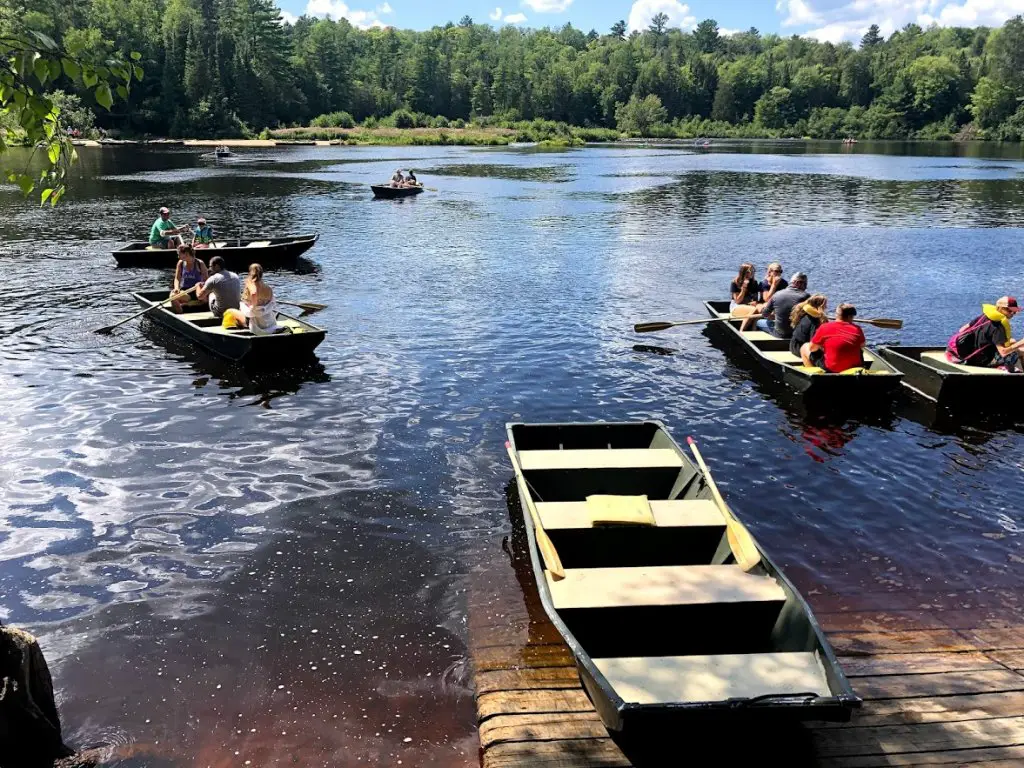 Short Hike
Once you're at the overlook, you'll see a boardwalk (River Trail), just above the rowboat rentals, where you can walk a half-mile or so and loop around to the other side. From there, jump down into the water!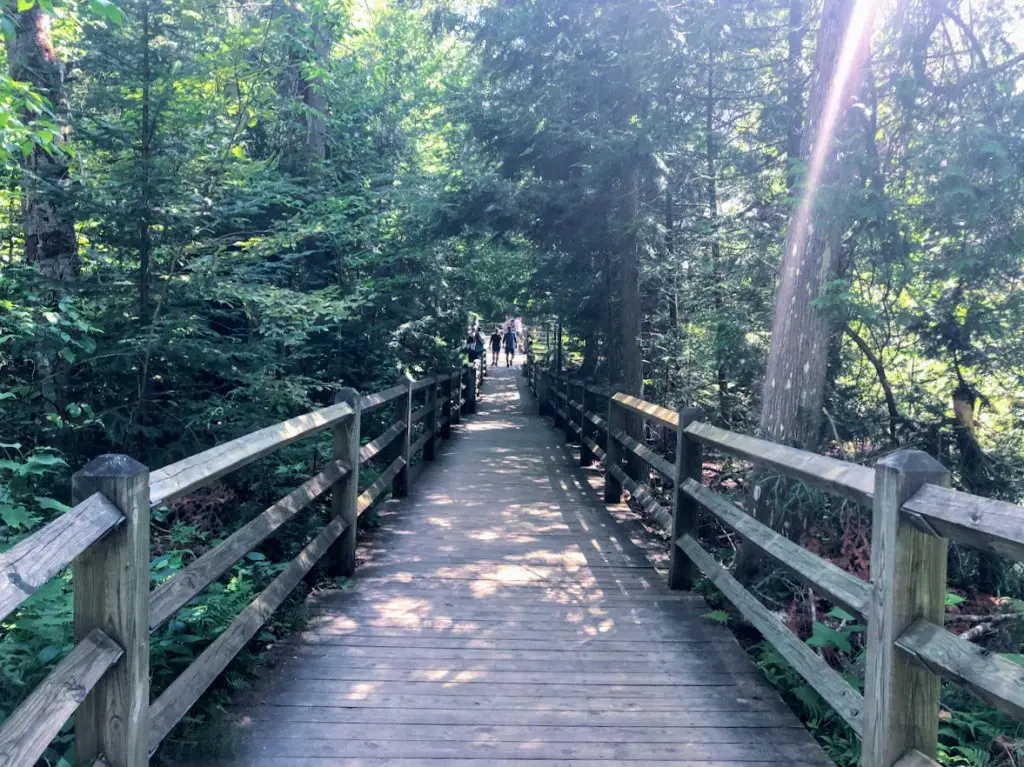 Swimming in the Falls
Whether you choose to rowboat or hike, make sure you get into the Tahquamenon River and wade through to get up close and even underneath the waterfalls. It's a rush! And so much fun. Tips and tricks:
Don't have much on you. We had our backpack with necessities and threw our clothes in once we got to the water. Wear the backpack which won't get wet unless you take a spill…so leave most of your things locked in the car! (I'm not sure about the rowboats and if you can leave your stuff while you explore.)
We kept our sandals on as we waded through the water. When we found a spot to go underneath the falls, we just put everything, in our sight, on land.
Bring a baggie. Perfect for your phone so if you were to drop it, it will survive. You're going to want to take pictures and videos!
Watch Your Swimsuits. This is some strong water, people.
Don't backtrack. It's not necessary. It just takes a little adventure. We entered the falls at the star marker below and made our way around to the X. Once you're there, climb over the set of stairs and back onto the trail. This means no backtracking or leaving your belongings unattended.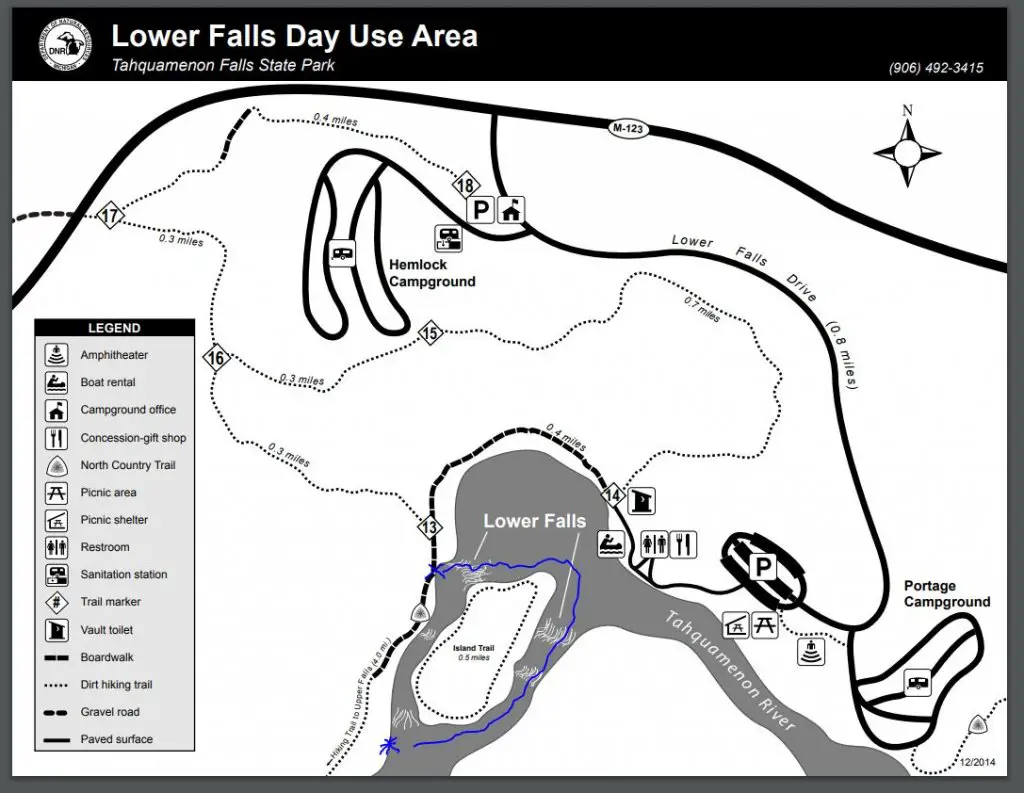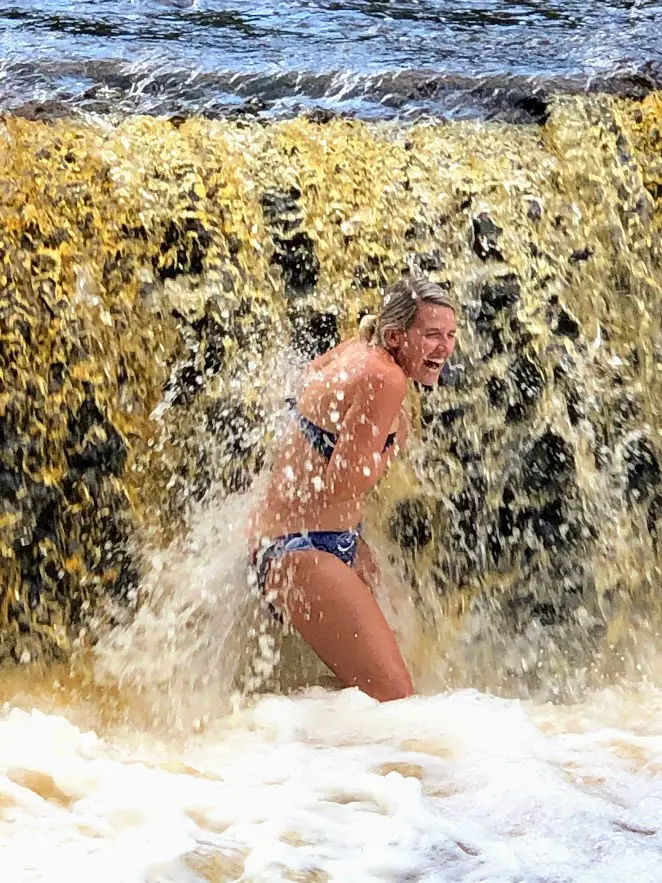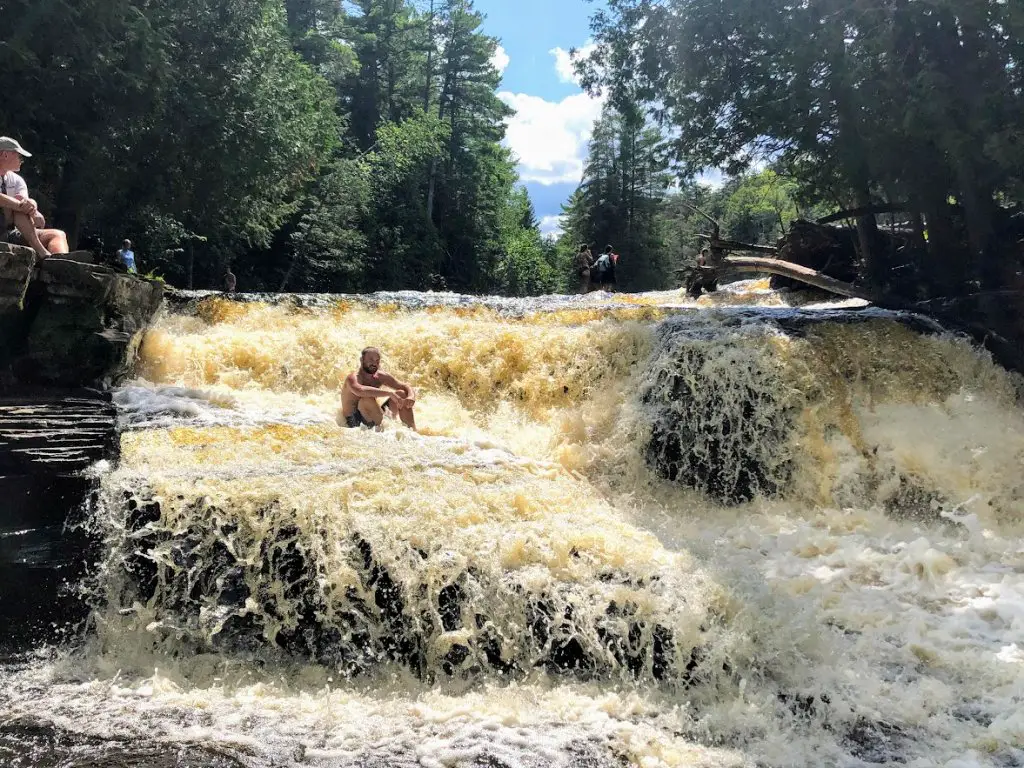 Upper Falls
Upper Falls, in all of its glory, is more than 200 feet across and drops nearly 50 feet down at more than 50,000 gallons of water per second. Whew! No wonder this spot gets a lot of credit when you talk about Tahquamenon Falls. Where Lower Falls is meant for a fun experience, Upper Falls is for a beautiful one.
Upper Falls has an easy, 1.5-mile trail that includes mostly flat land with some stairs. It's a peaceful area and seemed to have fewer people than Lower Falls. Or maybe everyone was just more spread out! Walk down a paved path (just under .5 miles) for the first overlook and follow the maps in either direction for the trail and additional viewpoints.
As I mentioned, don't forget to stop in for a beer after you're done with Upper Falls. They have a fun brewery, plus the additional eateries and gift shop.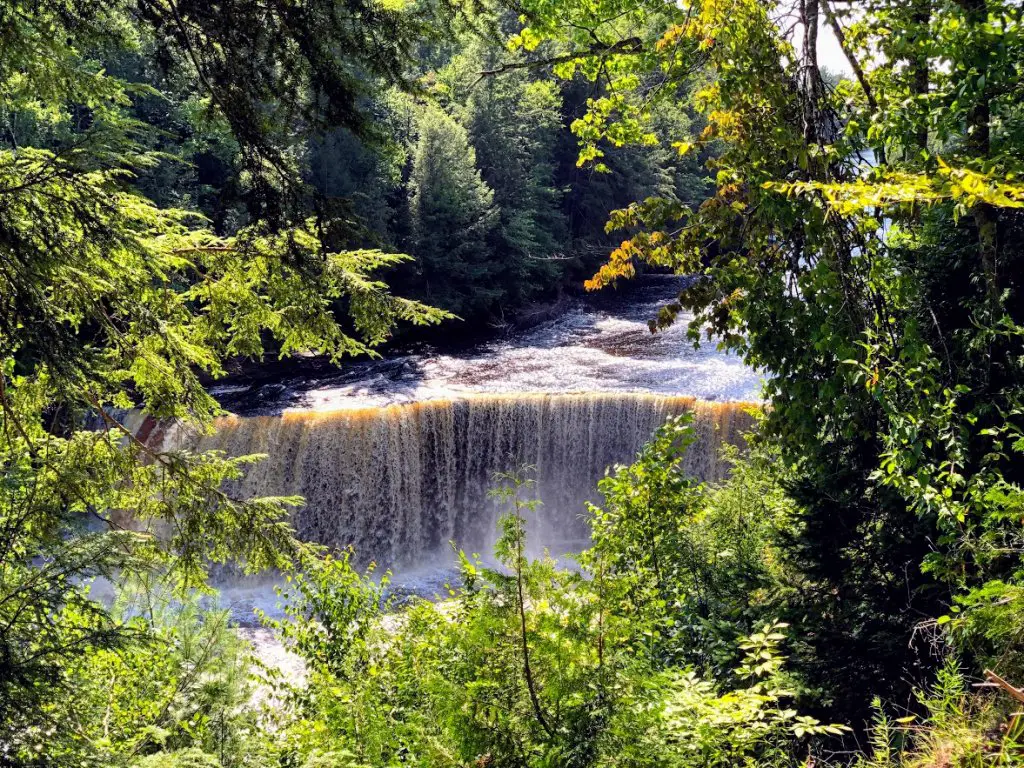 Which One First?
SUMMER: If you are heading to Tahquamenon Falls early in the morning, do Upper Falls first to make sure the weather warms up. If you don't make it there until the afternoon, hit Lower first. You want to be at Lower Falls during the hottest part of the day since you can swim there. Upper Falls is straight hiking.
SPRING, FALL, WINTER: Tahquamenon Falls is remarkable all year long! High waters in the spring, swimming in the summer, fall foliage, and frozen waterfalls in the winter! There's obviously less concern about which to do first if it's not summer. Whatever is easiest!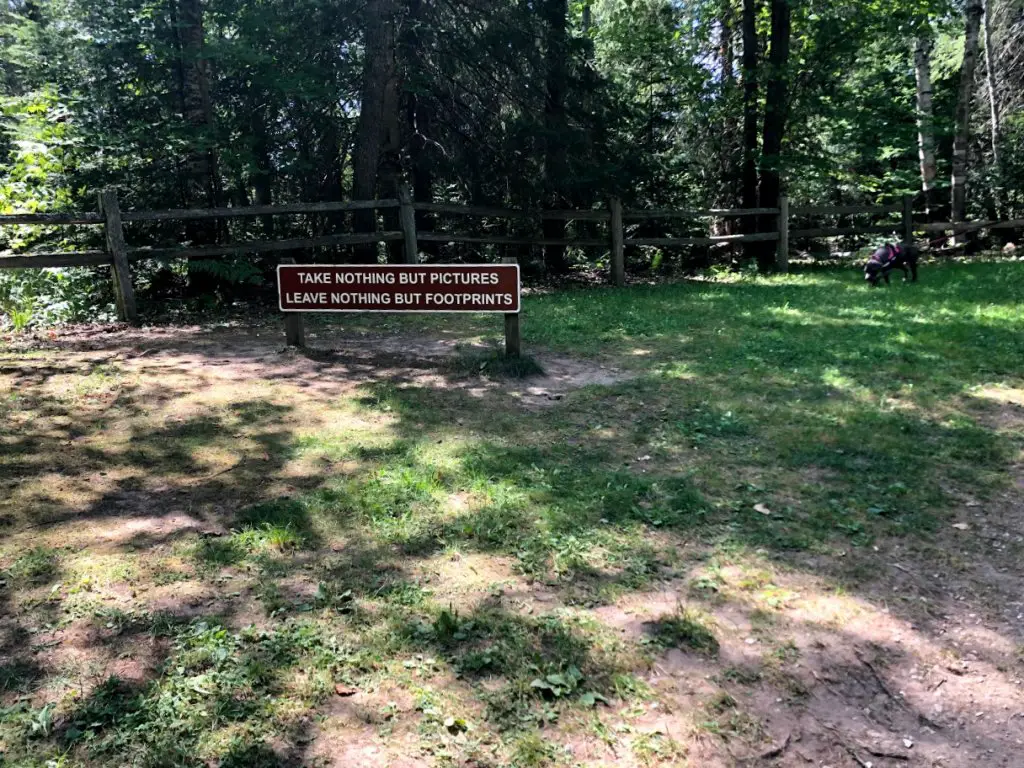 Whitefish Point Michigan
If you make it to Paradise, Michigan, drive the 15 minutes north to reach Whitefish Point, the graveyard of the Great Lakes. How morbid…but more vessels have been lost here than any other part of Lake Superior. You can visit the Great Lakes Shipwreck Museum and the Whitefish Point Lighthouse for a history lesson and fun facts. That said, outside of a quick gift shop peak, we skipped this.
Instead (and my recommendation), is to take a walk along the beach to the very tip of the point. It's maybe a half-mile, and there are beautiful rocks and agates, you can swim, see ships along the shore, and get some great photos. For 3/4 of our trip, we didn't see a single person. Which blows my mind given the beauty of this place. The northernmost point on the east-side of the U.P., the location is gorgeous, remote, calm, and restful.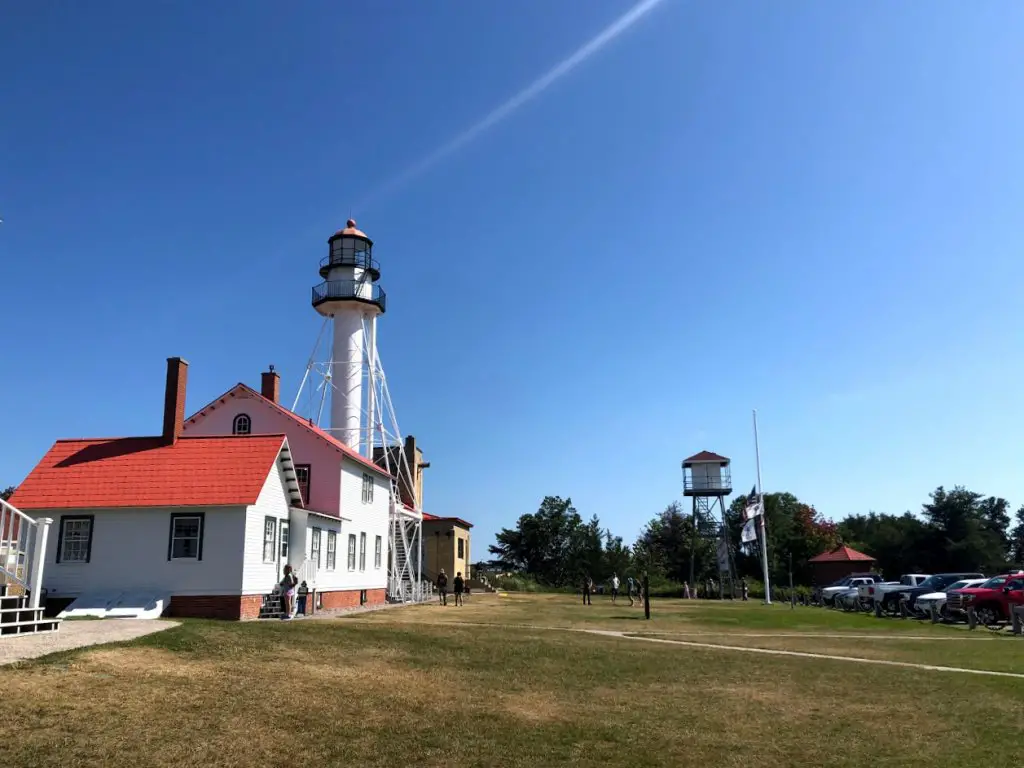 Tips:
Whitefish Point State Dock: as you're driving N. Whitefish Point Rd (before the lighthouse), you'll see a sign that says Whitefish Point State Harbor which will bring you to the State Dock. It's a scenic area if you feel like stopping but don't feel like it's a must. And it makes for a longer walk to the point.
Parking Lot: you'll come up to a parking lot as you reach the lighthouse. Don't worry about all of the cars, most people are probably at the tourist traps!
Where to start walking the beach: if you walk through the museum/gift shop area, you'll come to the lighthouse and eventually a walkway to the beach. If you want to make your walk a bit shorter, walk past the Bird Observatory and stay to the right. There's a path to the water where you come out a bit more east.
Don't forget your backpack or small bag: You will find some awesome rock souvenirs. We even found a couple of agates!
Bring snorkel gear, too: it would be awesome to swim around and look at the rocks. They are beautiful.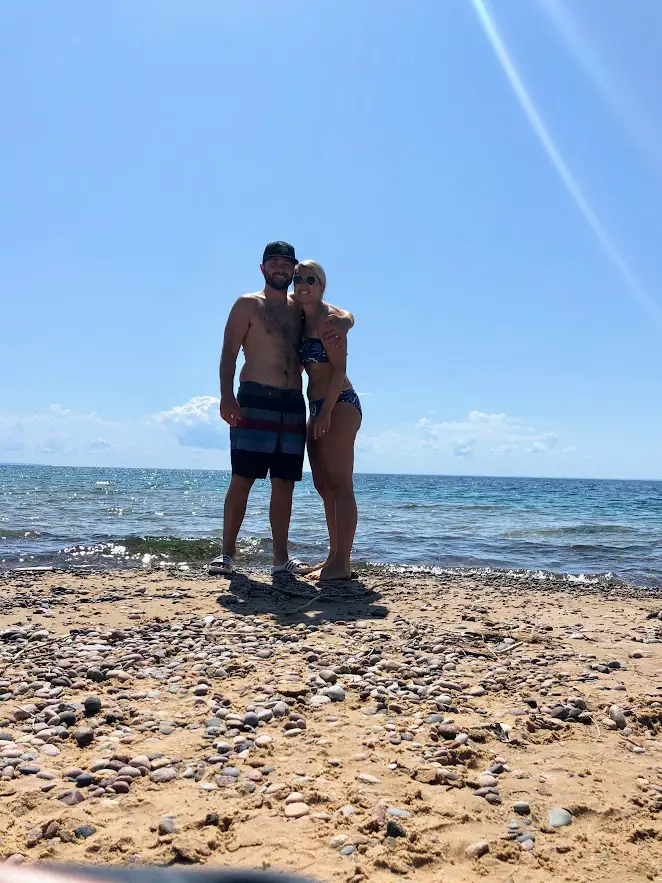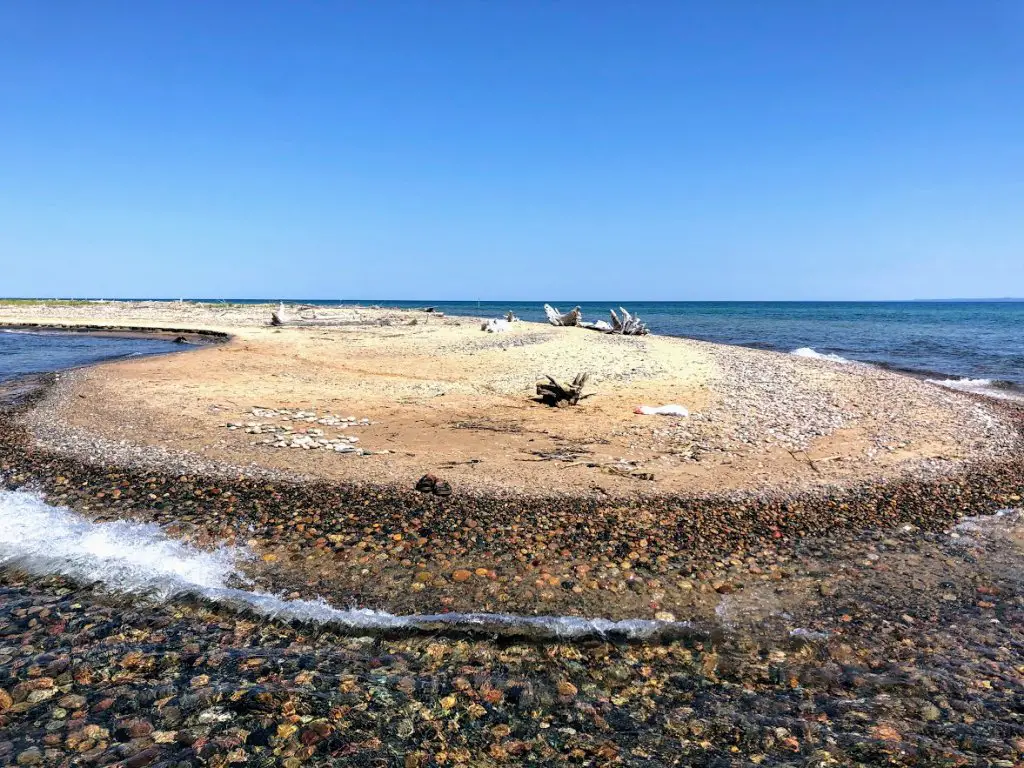 The picture above is the point itself, standing from the water. Cool to think about where you are on the map (blue arrow below) when you're standing out there. And, again, how no other people were around for the majority of our time here (early afternoon) is beyond me!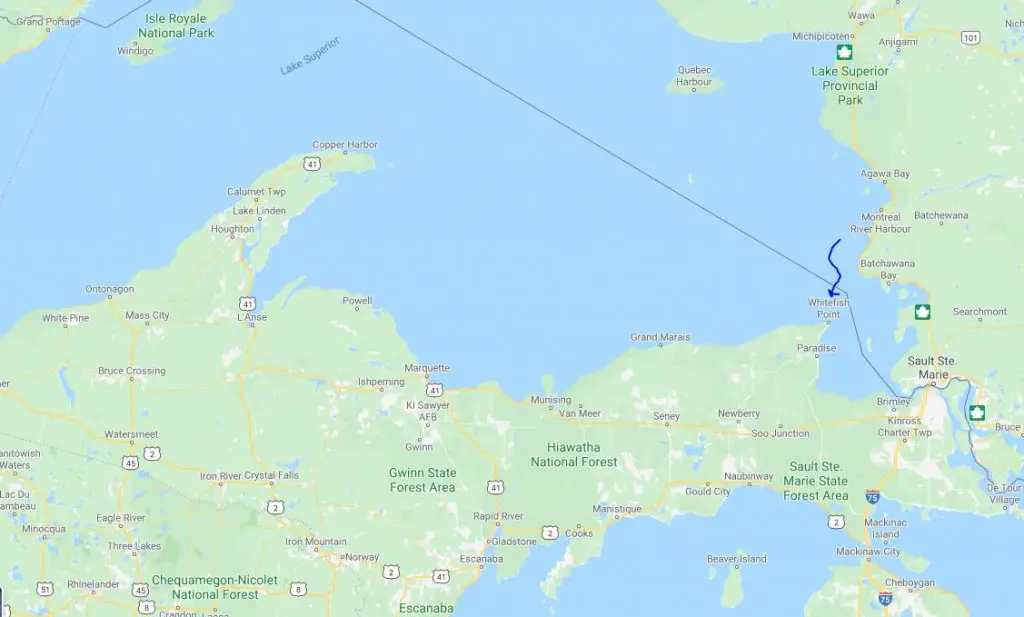 Where to Eat in Paradise Michigan
Waterfalls, beach walks, rock hunting, swimming. Time for food! Paradise, Michigan has a few great options for you.
Brown Fisheries: The Fish House
I'm telling you, run-down fish shacks speak to me. You can tell how good it's going to taste just by looking at the building! And if you like to fish, consider Brown Fisheries Fish House a must-stop! Caught fresh daily, The Fish House serves up some of the best whitefish around. It's not cheap—we paid $40 including tip for the 3-piece Lake Superior Whitefish and a Whitefish Sandwich plus two pops, but you honestly get so much food. And it includes homemade tartar sauce! We ate most of our meals (it's hard to stop) but had some left for a snack later. Worth every penny.
Love whitefish? Read Where to Eat Whitefish in the Upper Peninsula.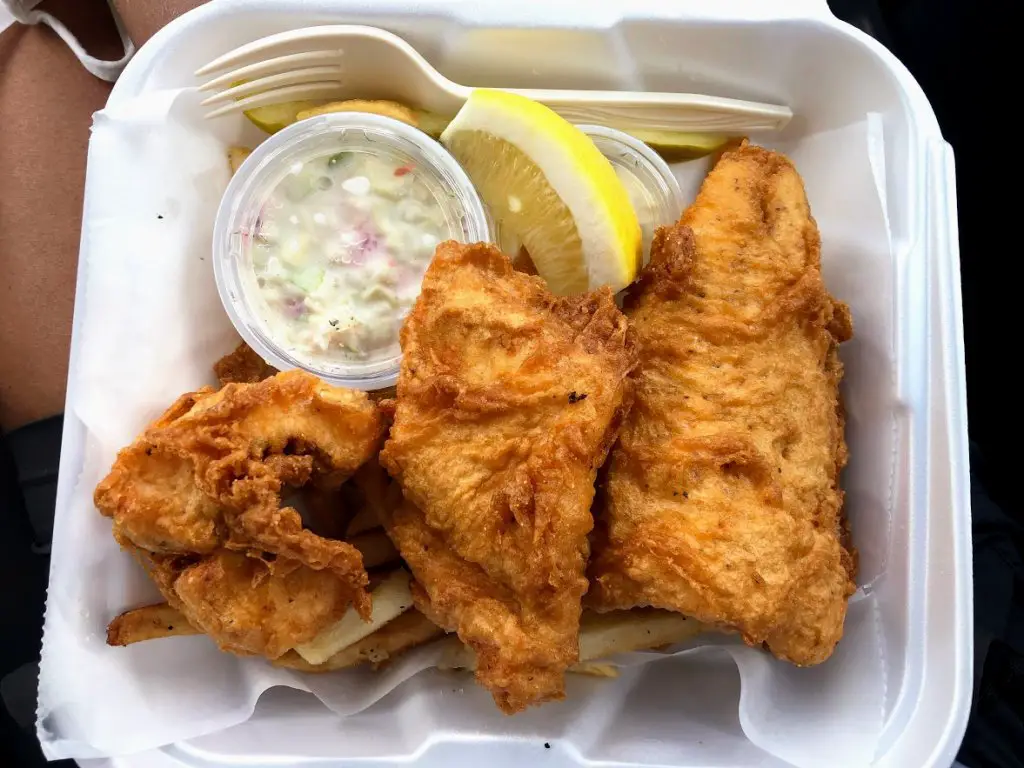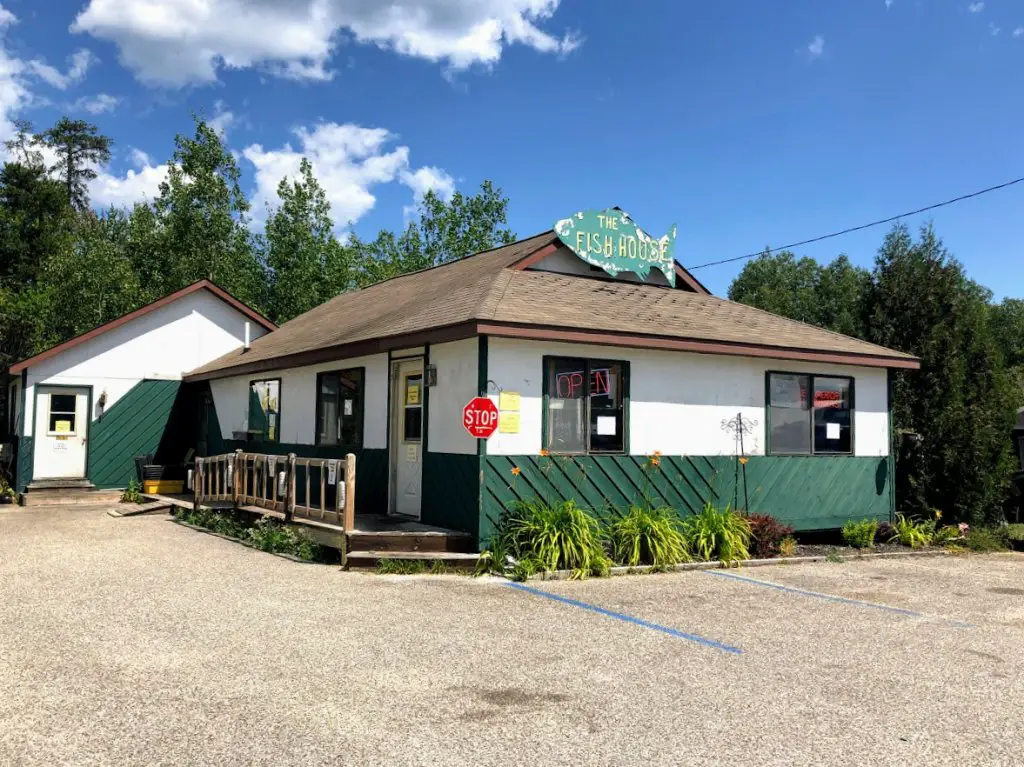 The Inn Gastropub and Restaurant
Unfortunately, Paradise was a short stop on our road trip and we didn't make it to The Inn, but we heard a lot of good things from both locals and tourists. And it was busy whenever we drove by! They make everything, down to the ketchup, in-house! If you're looking for a fresh salad, sandwich, or burger, here is your spot.
Where to Stay in Paradise Michigan
Our Motel, Tahquamenon Suites Lodging, was perfect for our one-night stay. The room was spacious, clean, and had both a hotel + cabin feel. I would definitely book this place again. We stayed on a Friday night and, everything included, it was $143. They have coffee, WiFi, a pullout couch with a TV, full-size fridge, the works.
Blog fail: I don't have a single picture of this place. This was the end of our week and I was running out of gas apparently lol. You'll have to check the website! And here is more clear water and pretty rocks for your viewing pleasure.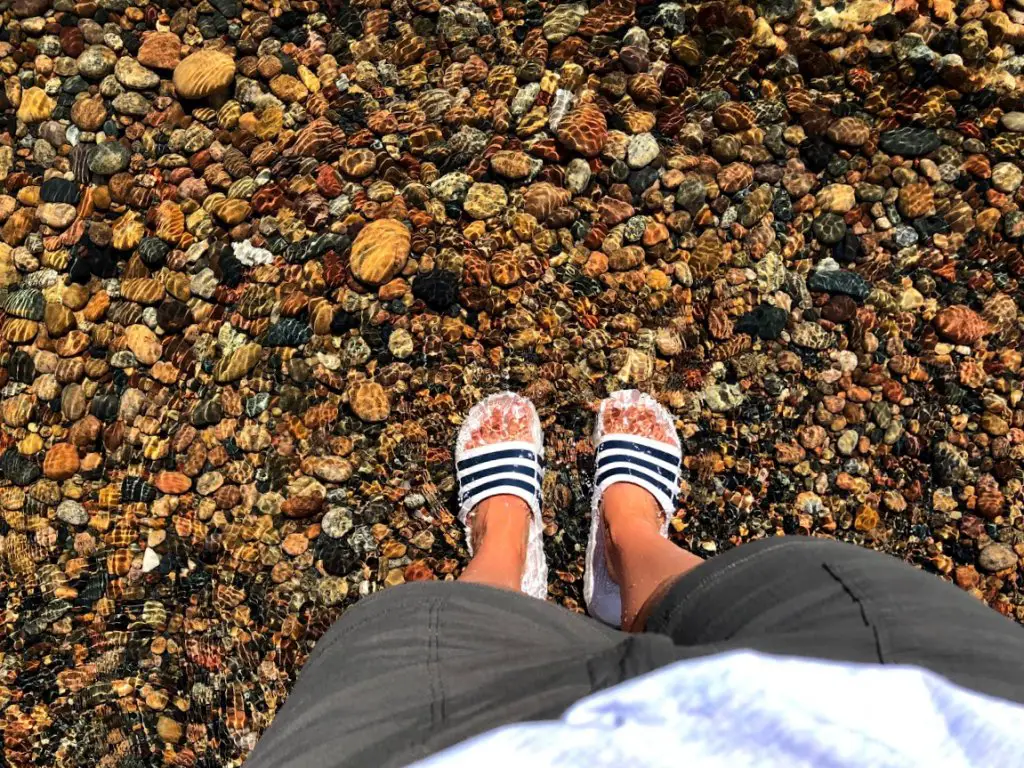 One Day in Paradise, Michigan
We got to Paradise on a Friday night and did the Paradise adventures after check-out on Saturday. Depending on where you are heading after your stay will be dependent on how to use your time best. Just know that it's more than possible to do everything here (at least what's listed) in a day!
Did this post help you out? Support the work and pass along $5 for a Coors Light 😉 VENMO: @Amber-LBB or PAYPAL: amber@littlebluebackpack.com. THANK YOU.
Another great stop…
You can't miss Grand Marais, Michigan. It's an hour and a half drive west of Paradise, Michigan, and one of the best little towns ever. Read my One Day in Grand Marais, Michigan for the full experience.
Make it a FULL Road Trip!
If you're going to Paradise, Michigan, and adding in Grand Marais, well then you might as well squeeze in Munising, Michigan, too! To make it VERY easy, start here: 5-Day Upper Peninsula Road Trip Itinerary.