Grand Marais, Michigan, in the state's Upper Peninsula, is flawless. I wouldn't change a thing about this sleepy village on the south shores of Lake Superior. Visit beautiful beaches, cute shops, hikes and waterfalls, and a tavern with some of the best whitefish you can find.
Grand Marais is a piece of heaven. And you should make your way there.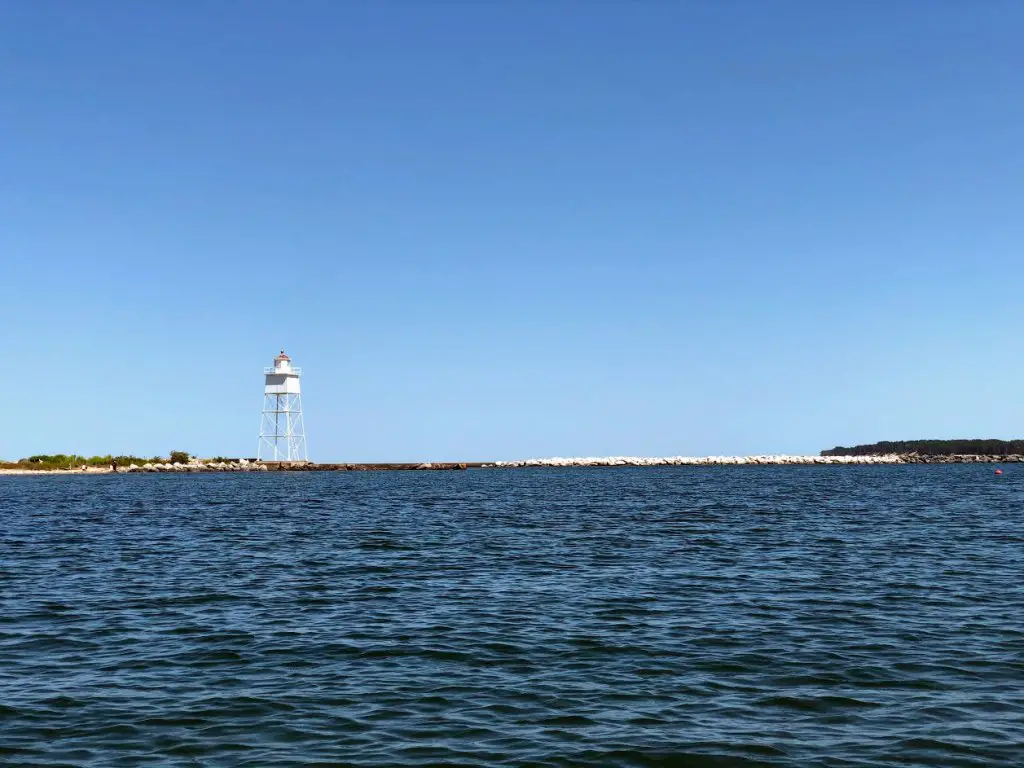 What makes it so great? The people are happy and content in their town of 322. The stars come out and feel close enough to grab. And the charm of the destination will capture your heart.
How far is Grand Marais from Munising?
It's 60 miles from the popular and tourist-heavy Munising, Michigan to Grand Marais. It takes a little over an hour to get to get there but it is one of the most scenic drives you can imagine!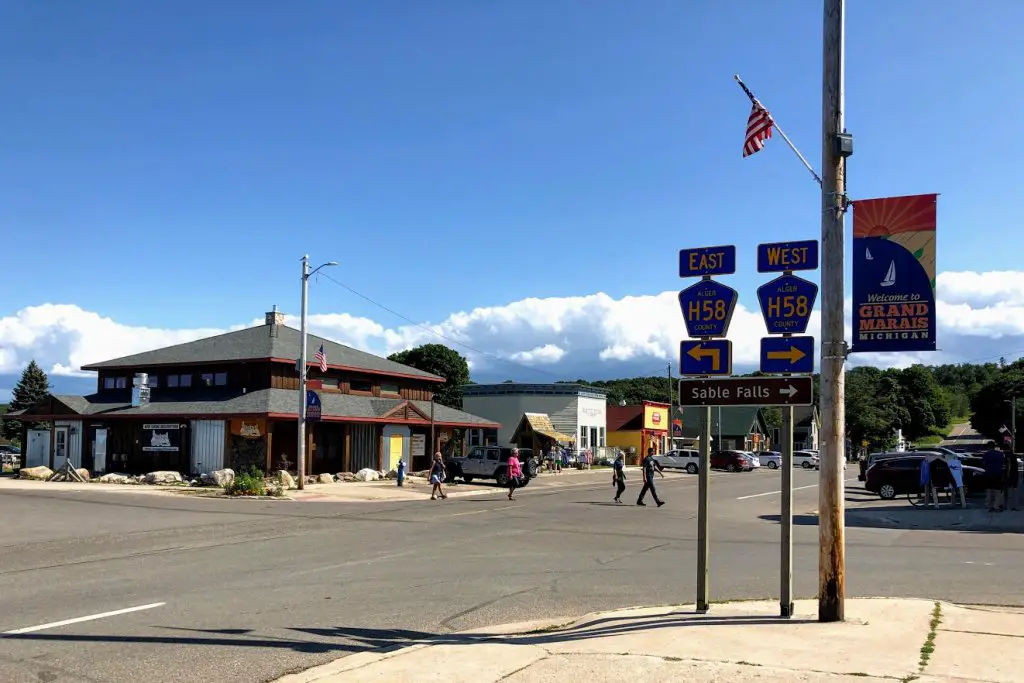 What to Do in Grand Marais, Michigan
You can spend 24 hours here and hit the highlights—definitely spend the night vs. passing through. But you won't regret stretching it to a couple of days or a long weekend, especially with the number of things to do within 30-60 minutes. More posts to come on that. For now, the skinny on Grand Marais, Michigan.
Agate Beach
Don't come to Grand Marais and skip out on Agate Beach. It's a place that's hard to beat! Relax in the soft sand, walk along the shore to find unique rocks and (if you're lucky) agates, take a refreshing swim in the crystal clear waters of Lake Superior, and enjoy the colorful views. And whatever you do, don't miss the sunset! It's magical.
I have to Repeat: Do Not Miss the Sunset at Agate Beach.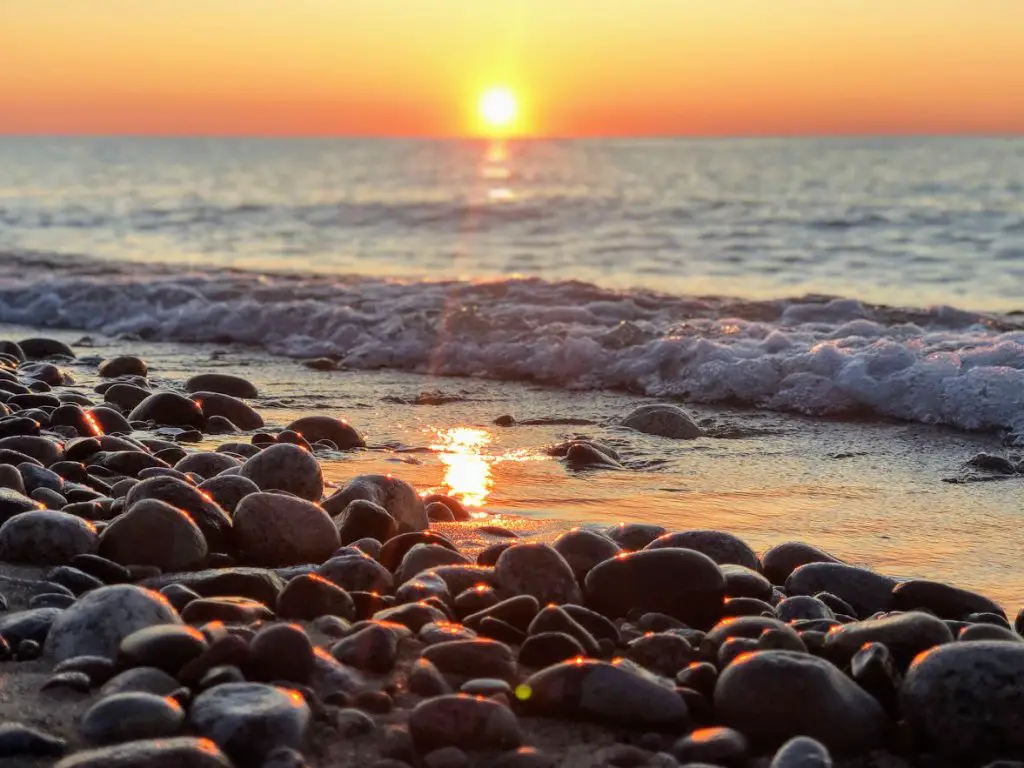 Grab some bread, bologna, snacks and drinks from the nearby Bayshore Market, find a piece of driftwood to set up shop, and enjoy a chill couple of hours followed up by the most memorable sunset. If you can't swing a full day/night in Grand Marais, I recommend you stop on your way through to at least hit the beach and the tavern—more on that below.
P.S. if you scrunch your nose up at the thought of bologna, try some Vollwerth's and get back to me. You won't catch me with Oscar Meyer, but this stuff = the best. Especially on the beach!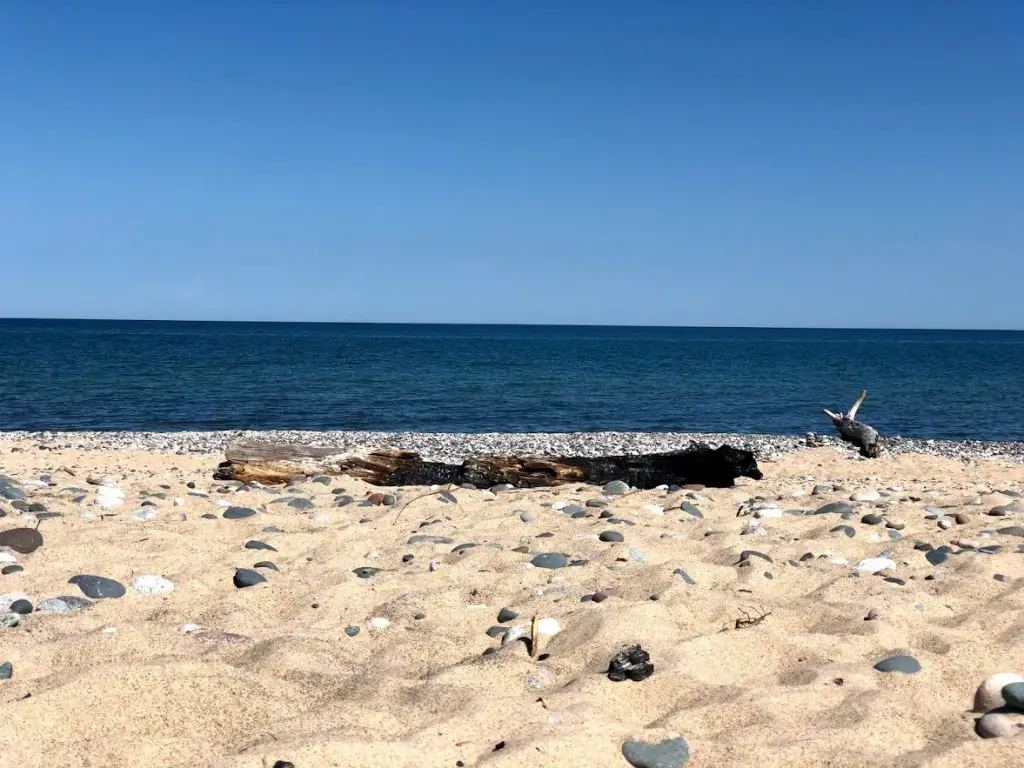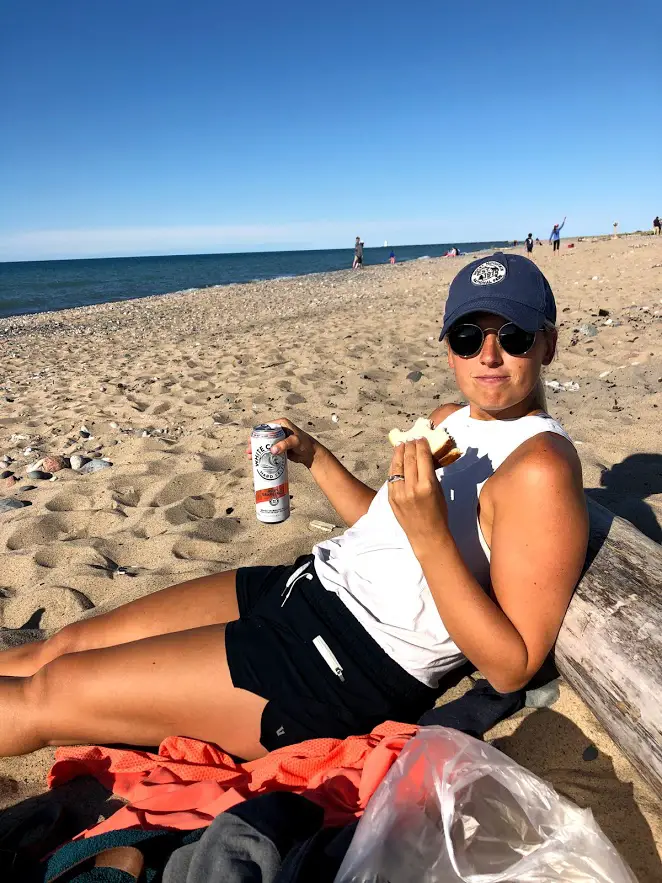 Sable Falls
This is an easy hike located 1.5 miles from "downtown." From the trailhead parking lot it's a short walk in and 168 steps down (and obviously back up) that gives a better reward than the effort put in. The layered falls with water cascading down the cliffs is a sight to see.
Tip: Get here around 7 PM to avoid the crowds. We didn't see a single person and had the chance to climb over the rail and get close. (My guess is that's frowned upon.) P.S. if you get here at 7 PM, you'll still have time to get to the beach for sunset.
Note: This area has a ton of waterfalls if you feel like riding around and chasing 'em! This site has a lot of great options. And I'll cover a couple more in my Two Days in Munising, Michigan post to come.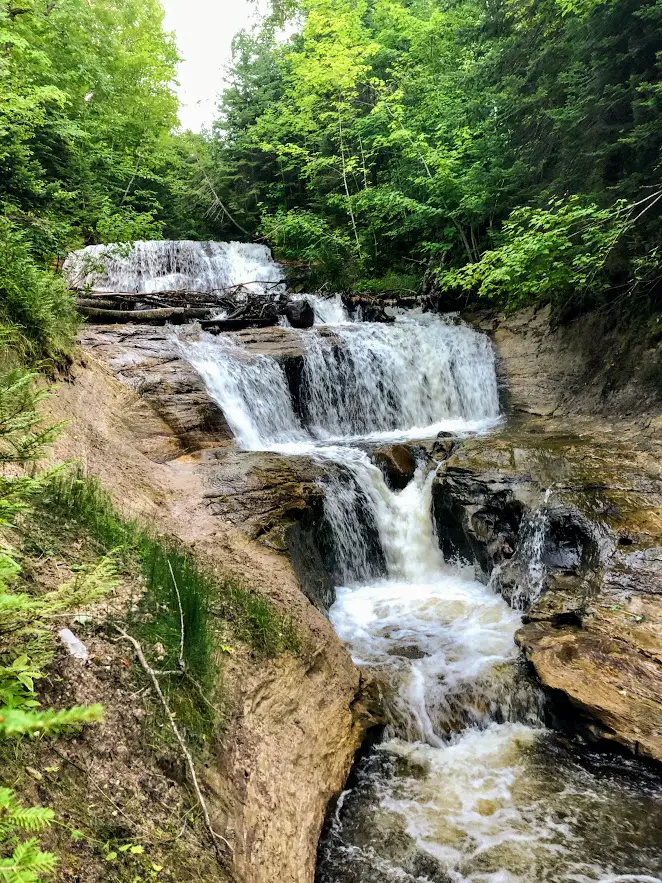 Lake Superior
If you have a boat and it's a calm day, definitely head out from West Bay and into the big water to enjoy a day on Lake Superior. The marina is steps from Lake Ave. and there you'll find gas and older gentlemen ready to help filet your fish upon return. That is if you hook anything worth eating. Catch some rays, find a beach (you'll share them with very few people!), fish, bring some drinks…I can barely write about this part without longing to do it again!
There is also Grand Marais Michigan Fishing Charters in the area if you want to get out on the water and catch some monster trout. We had this setup but had to rearrange our plans. They were extremely nice, flexible and I'm sure it would have been a great time.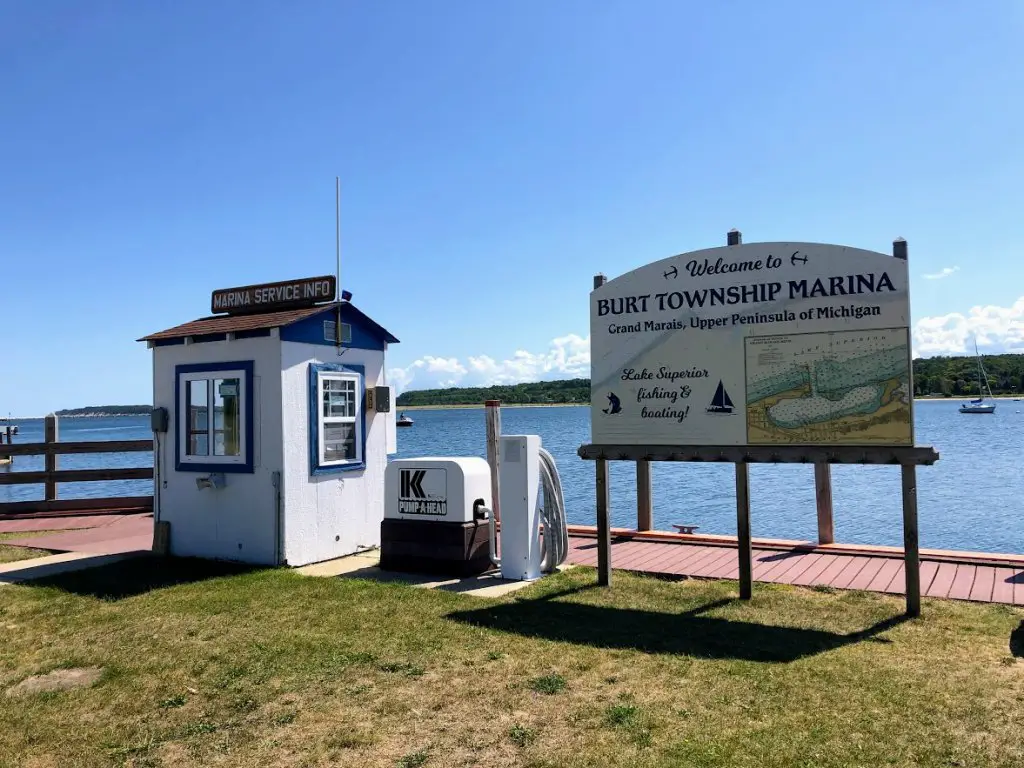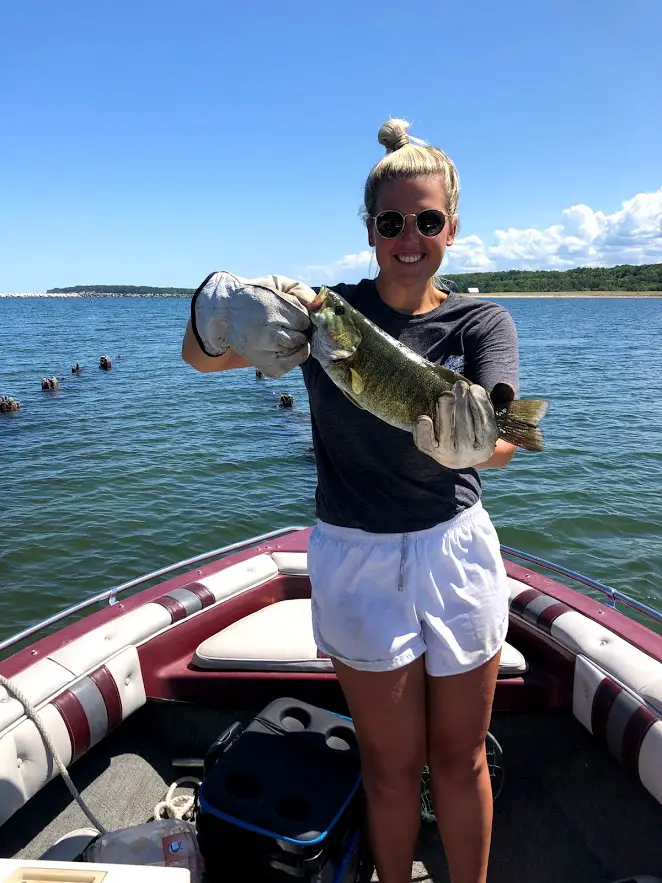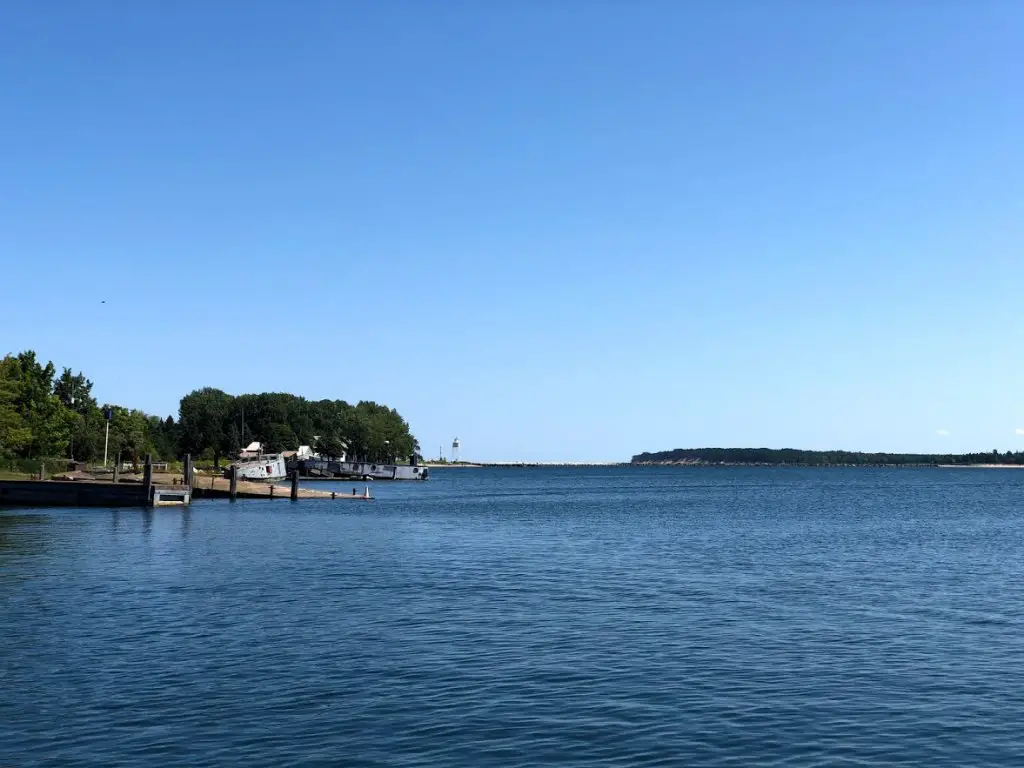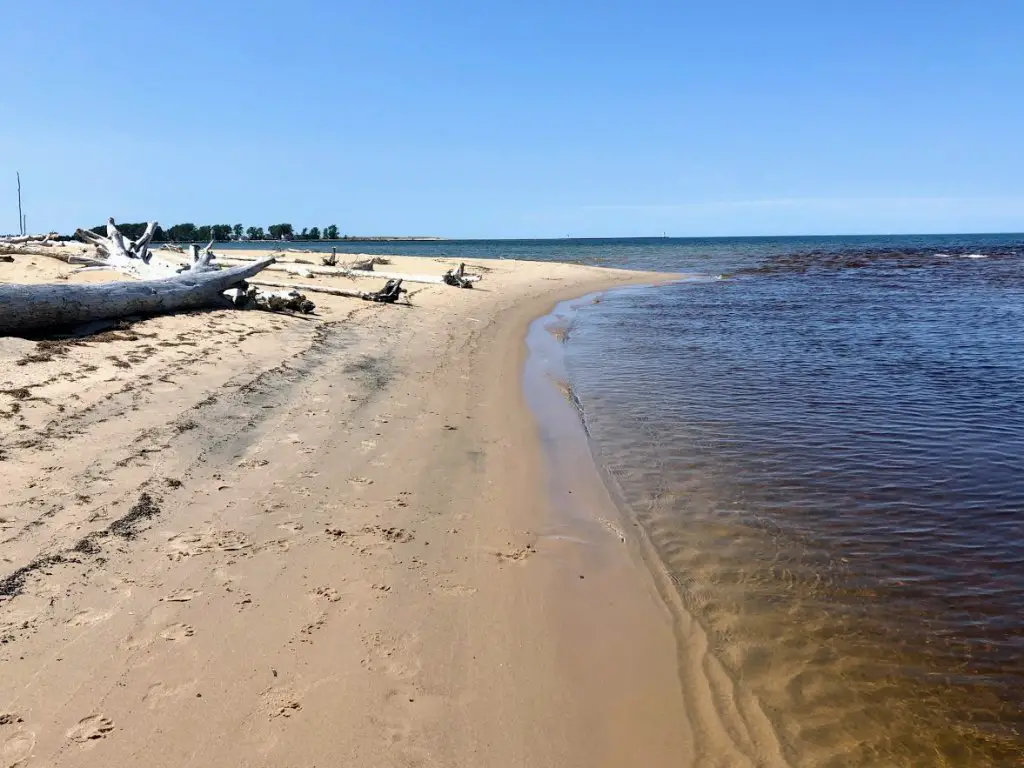 Log Slide Overlook
About 7 miles west of Grand Marais, you'll come to a log slide on top of the sand dunes. (Don't worry, I had no idea what this meant either.) Originally, it was a chute that loggers used to move logs from the top of the dunes down to Lake Superior to be loaded onto boats for transport.  
The wooden chute is no longer there but people like to take the short walk from the parking lot (quarter-mile, I'd say) and slide down the sand on their feet (or roll) to the bottom—it's steep! You can swim and make your way back up, which can take the better part of an hour to complete. Feels like a "say you did it" thing and I wasn't feeling an hour uphill climb so I skipped it. Instead, I took in the miles of color, Grand Sable Dunes, and all.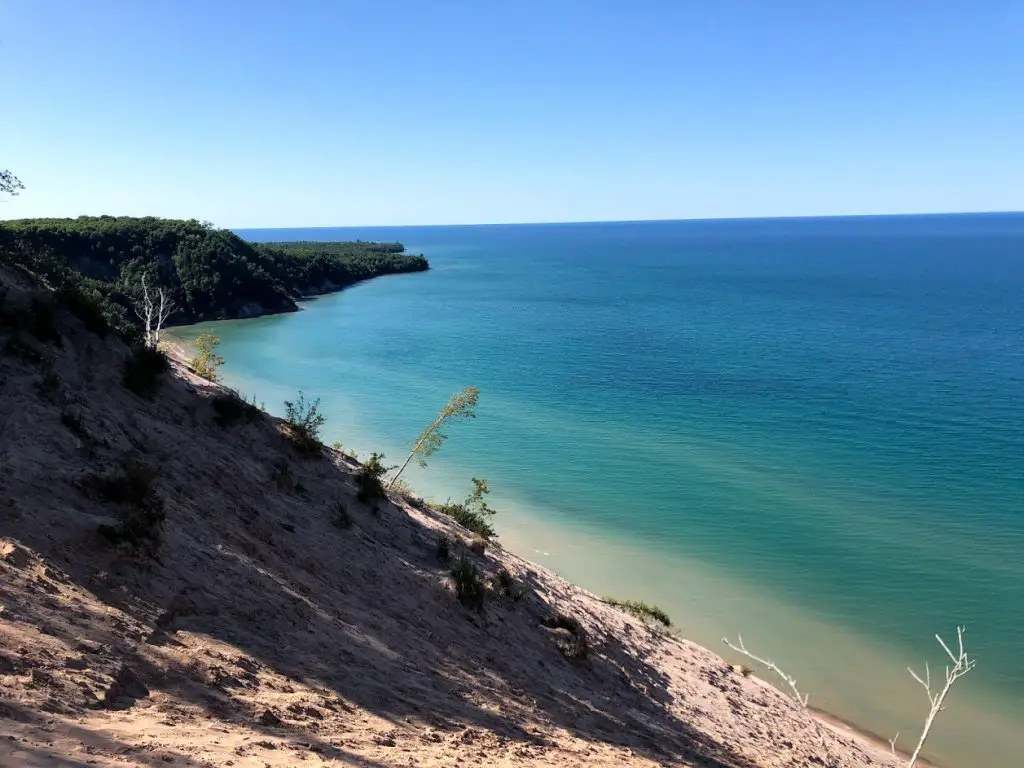 IMPORTANT TIP:
If you are on the hour drive from or are on your way to Munising, make sure you take the H-58 route. Google Maps will give you the quickest route automatically, but this is only 2 minutes longer and the most scenic and beautiful drive. There are also a few different overlooks to pull off, stretch your legs, use the restroom, and take in the views!
Gift Shops in Grand Marais Michigan
When you're in little towns like this, gift shops are a must. And with only about 1 block of businesses in the village, you can waltz through in as little as an hour. Whether you want t-shirts, art, jewelry, smoked fish, fudge, outdoor gear, and/or antiques, the Grand Marais Lake Avenue block has you covered.
The World's Smallest Gift Shop
This is my kind of "store!" A tiny, outdoor open structure that offers U.P. and Lake Superior clothing, mugs, backpacks, stickers, and more. Cute and fun to look through.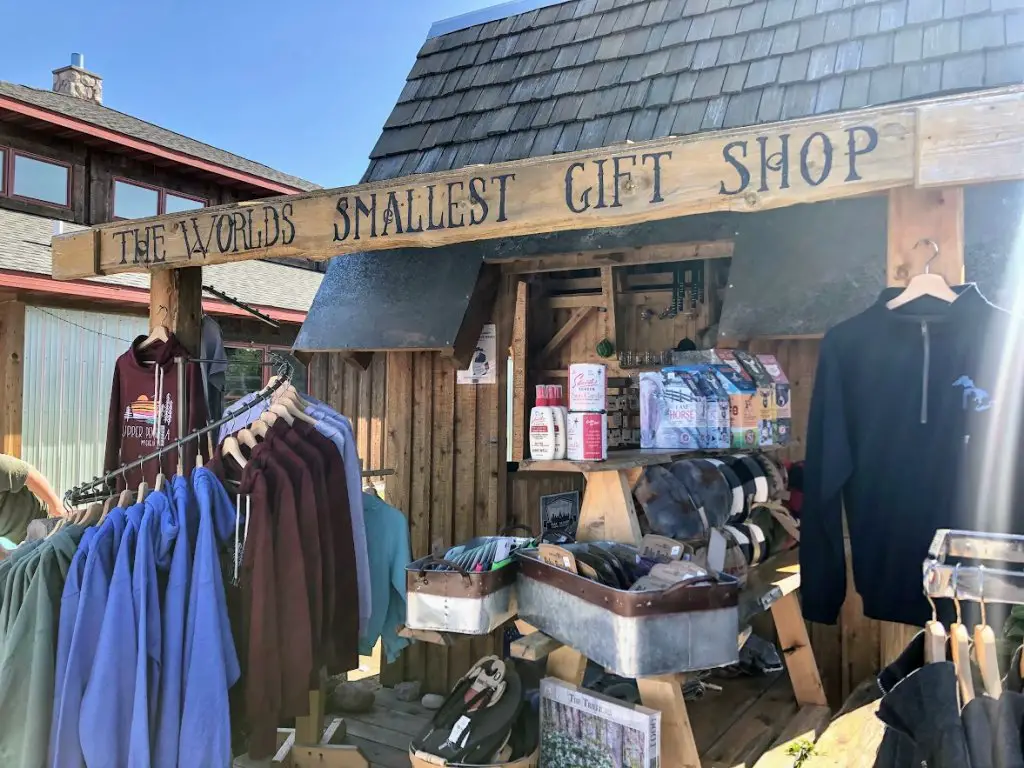 Other Shops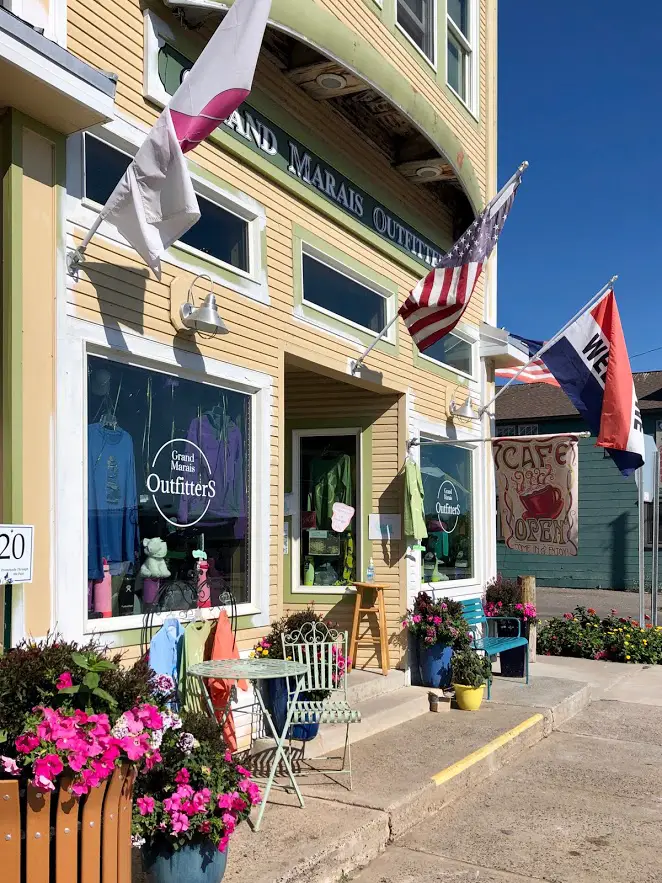 Where to Eat in Grand Marais, Michigan
The Dream Bean Machine
If you can make it to Grand Marais, Michigan in 2020 (May-October), this is a must stop. A coffee shop ran out of a little bus named Stella. And their 4.9-star rating on Google doesn't lie. The Dream Bean Machine serves fresh, organic, and fair-trade coffee in the form of drip, lattes, and mochas, plus teas and smoothies. Definitely read their full story on the website.
Operating from 7 am-6 pm (closed Wednesdays) in Grand Marais this year, you'll find them parked on Braziel Street and Campbell Street with a gift shop included in the back of the van. Probably one of the cutest things I have ever seen. The Lavender Latte was delicious, as was the Happy Monkey Smoothie (cocoa, peanut butter, banana, espresso beans, and coffee.) We also tried the Elderberry Pastry and I wanted about 3 more. Make sure to support this small, creative business on your morning coffee run!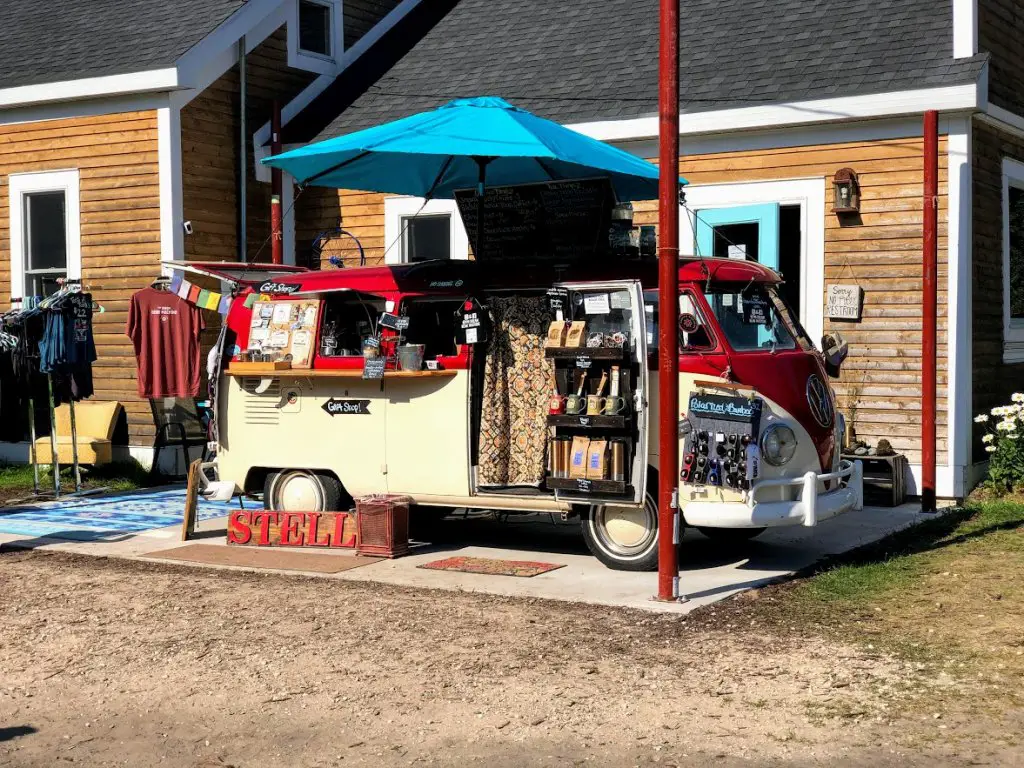 Grand Marais Tavern
This will be towards the top of my 2020 list for the best bars! Michigan beers on tap, the freshest whitefish I had all week, and a modern-rustic inside with lake views. They had great music going and a friendly bartender which means I could have stayed all day! Sit inside at one of the tables/bar, or opt for the outdoor patio. 100% get the Whitefish Platter with fries and you will not be disappointed. I had it for lunch and wanted to go back later in the day to have it again! Whether you want a meal or are just looking to party, Grand Marais Tavern is your spot.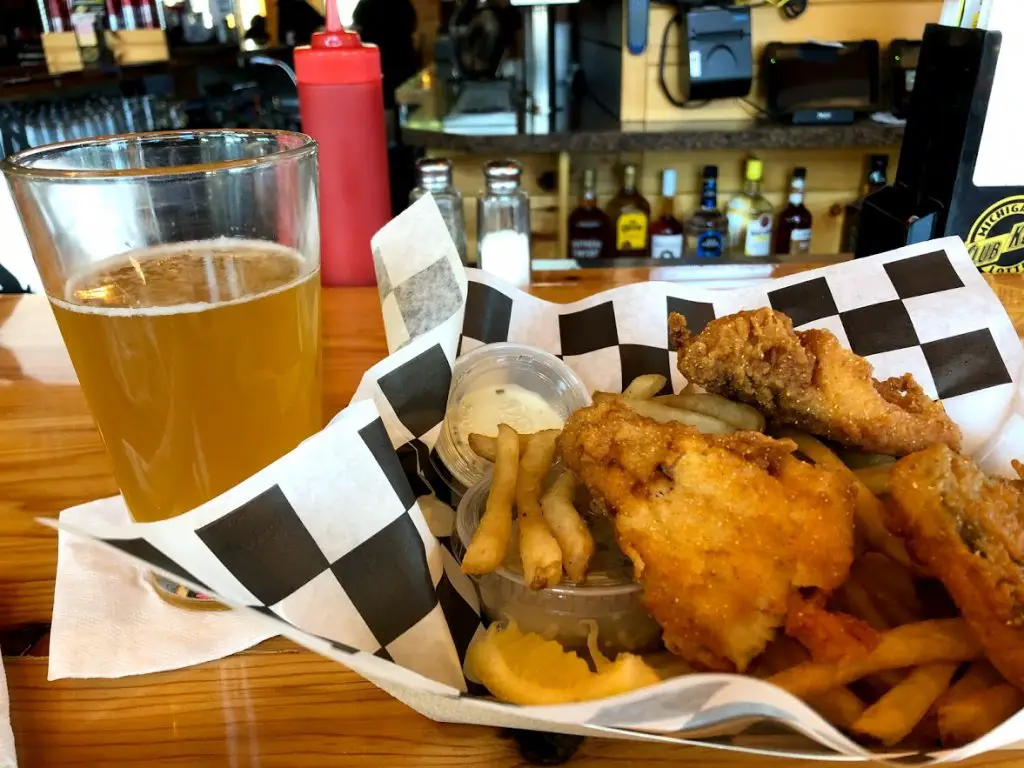 Lake Superior Brewing Company
I am more of a tavern chick vs. brewery girl but I wanted to check out Lake Superior Brewing Company, and no matter which way you lean, you'll enjoy it. Sit on the outdoor patio, order a few freshly brewed beers, and peruse a menu where you'll easily find something that sparks your interest.
You can't go wrong picking fish as you sit on the shores of Lake Superior. They have an entire page dedicated to fresh whitefish with salads, tacos, baskets, and sandwich options. That said, they are best known for their pizza. Order one and fill your belly with a thick, fluffy crust and a delicious sauce with toppings of your choice.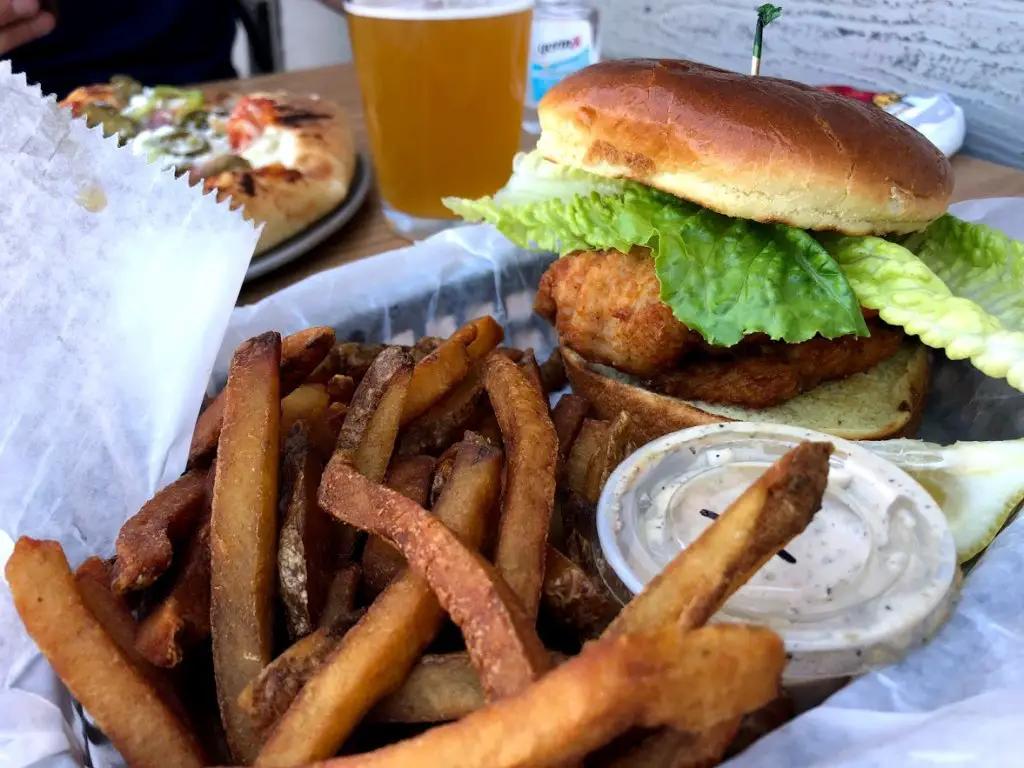 Sherpa Shack
If you somehow still have room after fresh whitefish and/or pizza from the brewery, grab dessert at Sherpa Shack, just a few steps away. They serve The Chocolate Shoppe Ice Cream—the Vanilla Bean waffle cone hit the spot! Also available is a food menu if you're looking for something quick and easy to enjoy at outdoor picnic tables.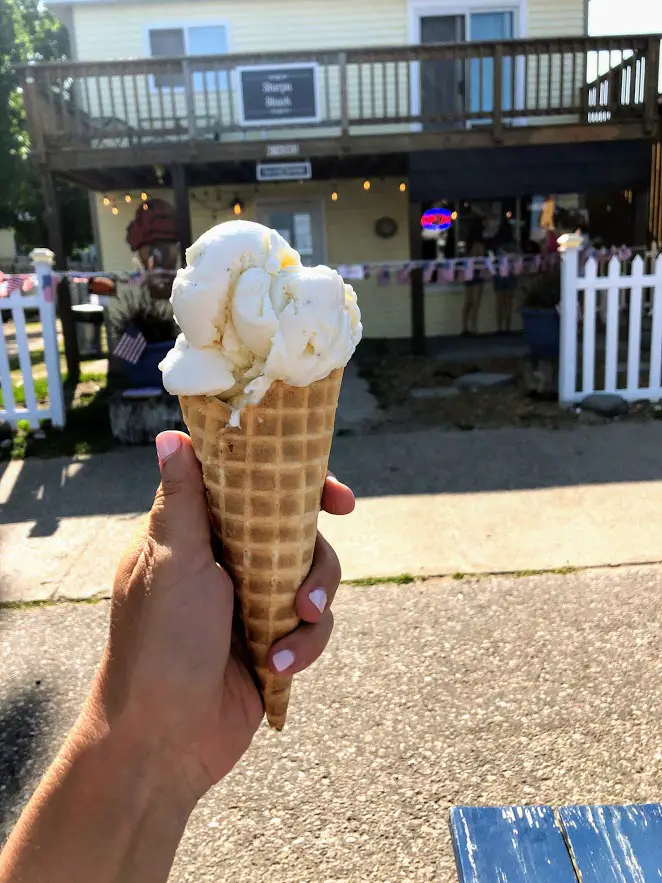 Where to Stay in Grand Marais MI
There are so many cute, small hotels on Lake Ave. that when I do it again, I'll stay in one of these. Superior Hotel looked perfect and there are others you can look into on the Grand Marais Lodging site.
That said, we stayed in an awesome tiny house Airbnb less than a mile from the main drag. Beautifully built with rustic vibes, cute U.P. decor, a fire pit, and the most perfect coffee setup! The cabin is one of two on the owners' property (they are so nice) which is private and full of flowers and beautiful landscaping.
Not sure if you should choose a Hotel or Airbnb? Here is a quick guide!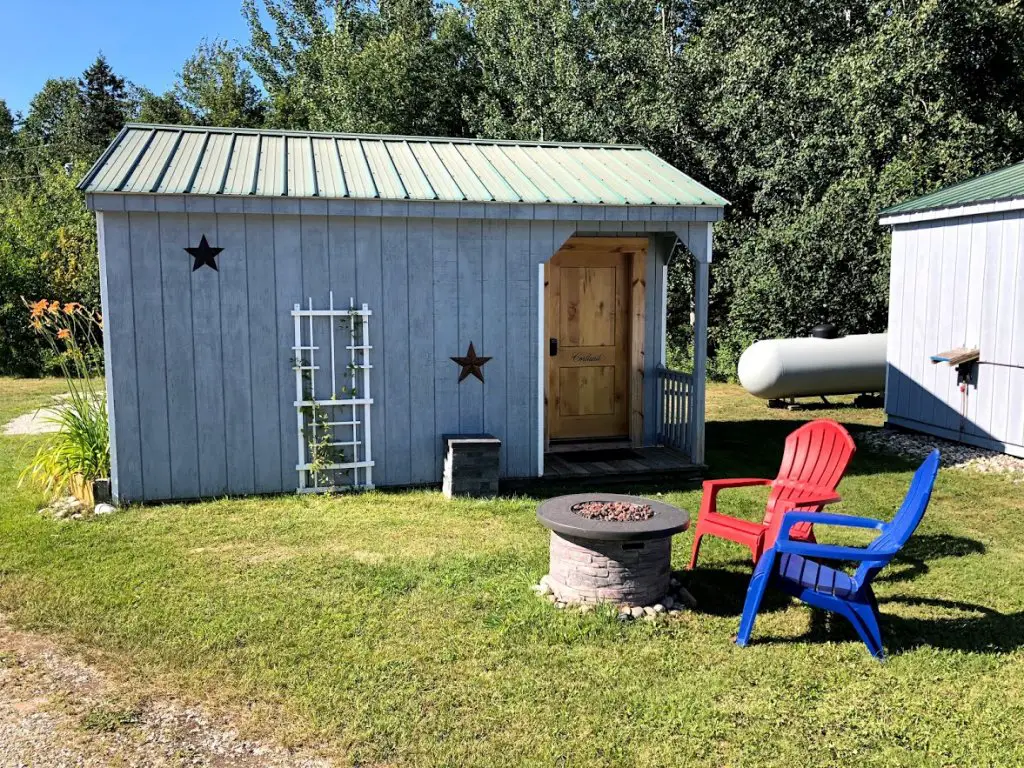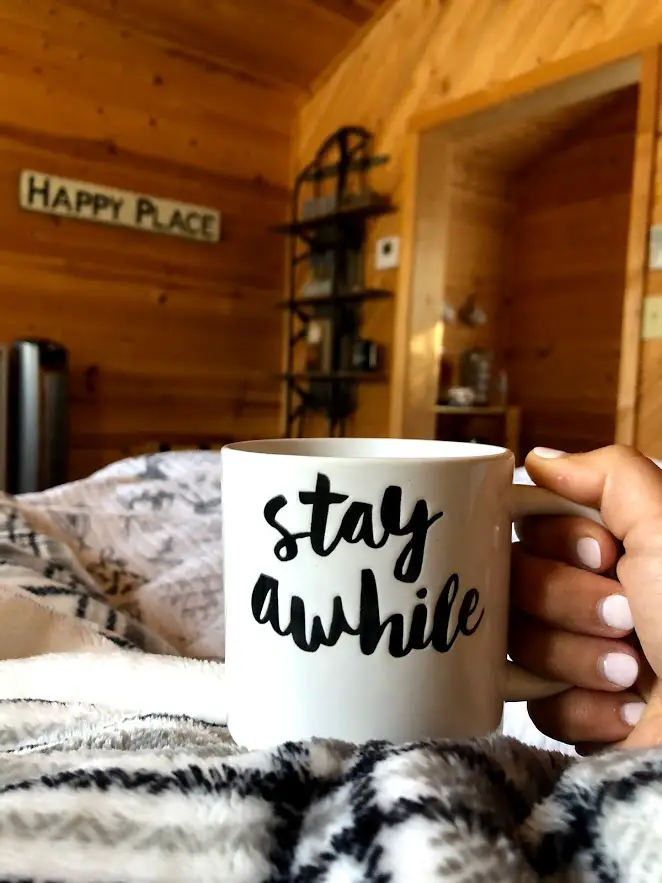 Grand Marais, Michigan is the perfect getaway.
Don't plan a road trip in this area of the Upper Peninsula without at least a half-day (you'll want to stay longer) in Grand Marais. It's out of the hustle and bustle of tourist attractions and gives the best small town vibes.
Did this post help you out? Support the work and pass along $5 for a Coors Light 😉 VENMO: @Amber-LBB or PAYPAL: amber@littlebluebackpack.com. THANK YOU.