The city of Faribault, MN is a historic town with unique experiences. Alexander Faribault, the city's French Canadian founder in 1826, helped start the cities first school, church, and two mills, which attracted settlers and started the Faribault community.
A United States city that is full of rich history and great things to do including tours and walkthroughs, state-of-the-art schools, local attractions, special events, and places to eat and shop. Here is what I recommend if you make a day trip to the Faribault, Minnesota area. A couple of quick things…
How do you pronounce Faribault, MN?
It's Faribault, as in "Fair-uh-boh." No Alt. Though I will say that not ALL locals are on the same page with this one!
How far is Faribault, MN from Minneapolis?
Faribault, MN is located 51 miles south of Minneapolis via I-35. It takes about 53 minutes to get to the downtown area.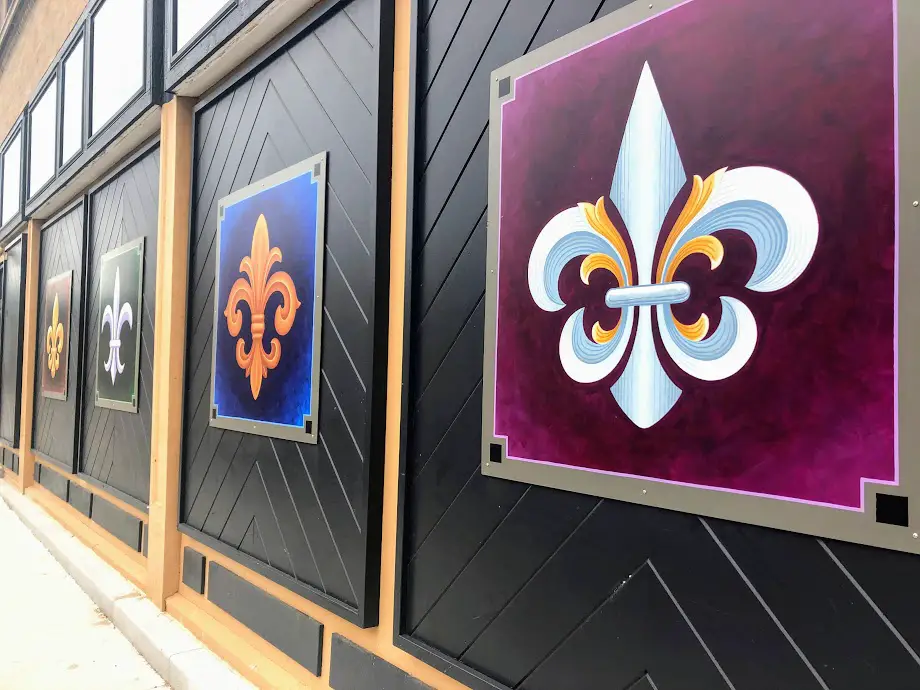 The Best Things to Do in Faribault MN
Breakfast: Crack of Dawn Bakehouse & Market
If you love cinnamon rolls, stop here. Hell, if you so much as *like* cinnamon rolls—and who doesn't, stop here. This great place full of delicious food has its cinnamon roll recipe on point. Known for their sweet, gooey cinnamon and caramel rolls, Crack of Dawn Bakehouse and market, family-owned and operated, has been up and running for over 4 years. And while we enjoyed an outdoor breakfast, people didn't stop showing up!
While many choose sweet, you can also go savory with their quiche option—I recommend the ham, bacon & cheddar, but seriously make sure to at least try a cinnamon roll. They come in a 2 pack, perfect for sharing, and they aren't crazy big so you won't over-indulge!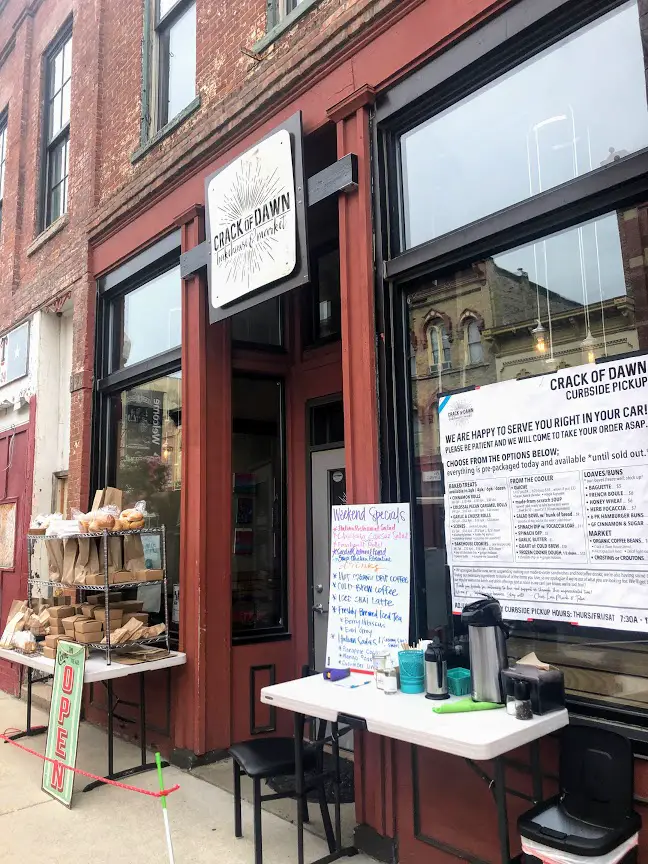 Shattuck St. Mary's School
Don't buzz right through Faribault, MN without a quick look at the architecture of Shattuck St. Mary's (Mighty Ducks, anyone…) Located on the outskirts of the downtown area, it's easy to stop when you are heading either in or out. Snap a few photos and check out the high school (yes, high school…) of Sydney Crosby, Zach Parise, and more notable athletes. It's beautiful!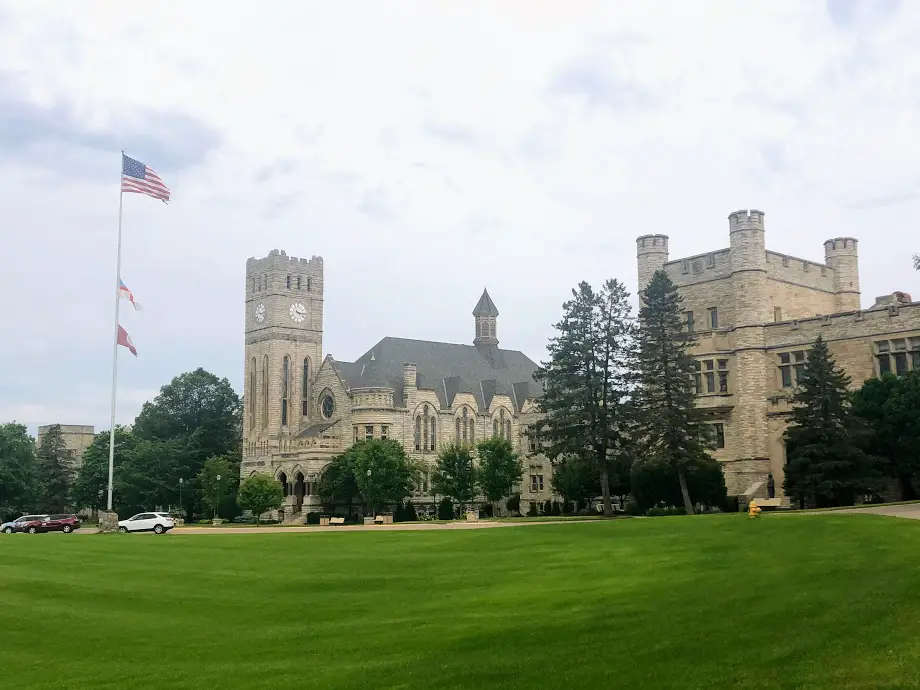 Explore Downtown Faribault MN
Explore the history, shops, and murals of downtown Faribault. There are a ton of fun activities to choose from. Tip: we actually rented bikes (more info below) and it was the perfect way to get around and see everything!
Random Fact: The Tilt-a-Whirl
Did you know the Tilt-a-Whirl was invented in Faribault!? I mean, not my favorite invention—I've never understood eating a bag of mini donuts and then hopping on a tilt-a-whirl, but still cool, nonetheless lol. When you see them located throughout the downtown area, that's why.
Faribault MN Farmers Market
If you happen to be in the area between 7 am and noon on a Saturday in June through October, take some time for the Faribault Farmers Market in Central Park. It's a small market with canopies lined up along the sidewalk with locals selling fresh vegetables, jellies, salsas, soaps, and other goodies. It was quick to walk through, fun to talk to everyone, and there was even a little circle of folks playing instrumental music. We walked out with a bottle of honey and habanero beef sticks (spicy AF!)
Shops in Faribault MN
Cute shops line the streets of Faribault, MN and you can find everything from clothing and jewelry to furniture and good ol' fashion junk. Our favorite shop was Junk Monkey!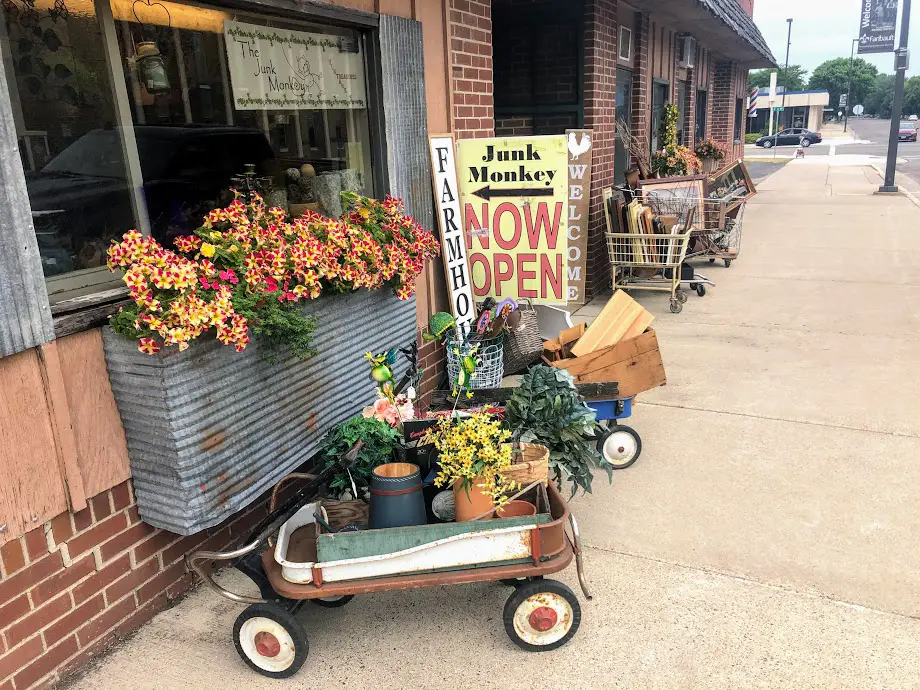 10,000 Drops Distillery
Cocktail time—you knew it was coming! And 10,000 Drops is the place to be. Probably my favorite part of Faribault, MN. This local craft distillery offers a variety of cocktails that you can order from the outside window, pick up, and enjoy on the patio. You can also sit inside where it's warm and beautiful with exposed wood and high-top tables.
I tried two of the cocktails including the Gin Fitzgerald and The Bootlegger. Loved them both, but if I go back, I'd pick the Gin Fitzgerald. And the spiced rum was delicious too—even for someone who isn't that into dark liquor. Plus! Check out Corks & Pints which is right next door (the patios connect) and has beer and wine options. Super cool space.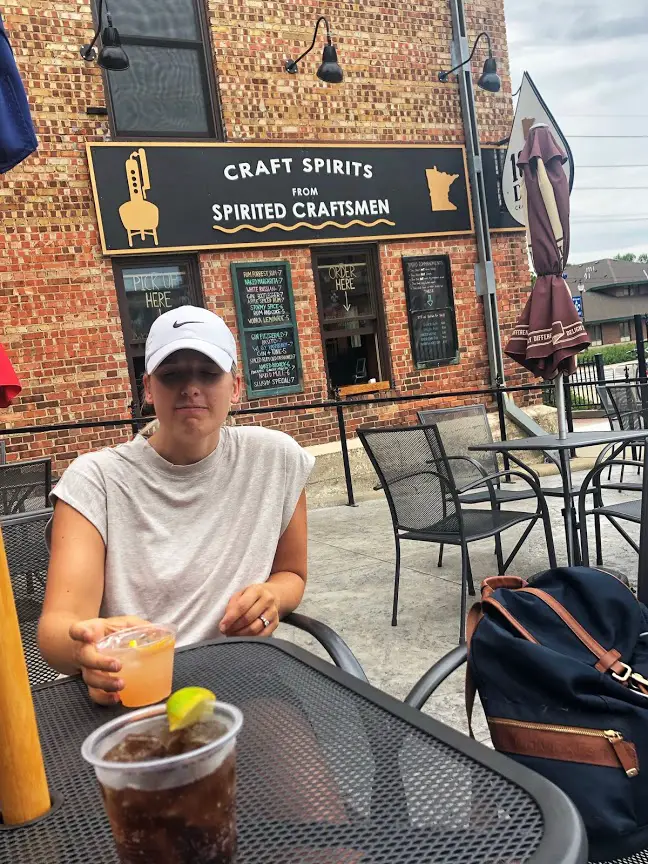 Faribault Woolen Mill Company Tour + Shop
All right, full disclosure. I'm not a "tour person." (That distillery stop was intentionally planned right beforehand lol.) That said, The Woolen Mill Co. tour was interesting and a chance to see one of two vertical woolen mills (everything is done in-house) left in America. From raw wool, they create quality blankets, scarves, woolen koozies, and a lot of things you didn't know you needed. And they still hold very strong ties with the military. It was actually kind of cool to learn about if you enjoy tours or are exploring the area with friends or family who have an interest.
The tour costs $6 per person, lasts about an hour, and runs on Saturdays at 11 am and 1 pm, plus additional times on Wednesdays and Fridays. Make sure you spend some time in their shop, too! The wool blankets are incredible. While expensive, $100-$200, you'll understand after the tour that some serious labor goes into them. Plus, think of it as a blanket that is going to last for generations.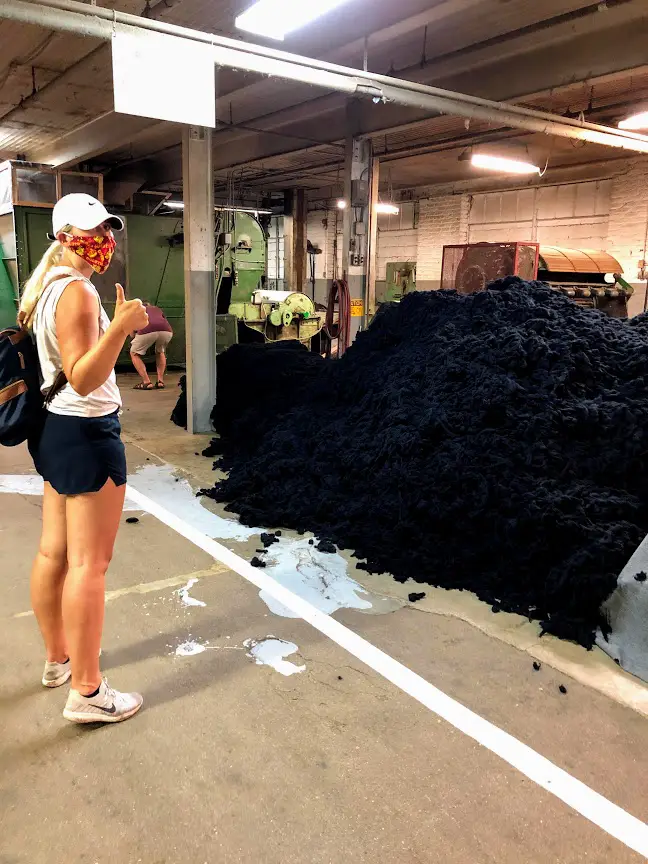 Paradise Center for the Arts
Catch a show in downtown Faribault! The Paradise Center for the Arts is a beautifully restored facility built on the original foundation of the 1885 Faribault Opera House. The building was extensively renovated in 2006 to include art galleries, classrooms, clay and textile labs, a gift shop, and rehearsal spaces. There is also a 300 seat auditorium with entertaining shows.
Bike the Sakatah Trail
Enjoy the path. Cruise around Cannon Lake. Head all the way to Mankato on the Sakatah Singing Hills State Trail if you're up for 41 miles! Faribault, MN offers a well-kept trail full of greenery, water, farms, and views. And it wasn't busy at all.
The Channel Inn
Another reason to hop on the trail? There's a fun bar and restaurant you can cruise to on the west side of Cannon Lake. Okay, when I say cruise, I mean it's like 8 miles one way…so don't do it on a humid day (oops.) But it's a great workout! Take Sakatah Trail on the way there, south side, and Cannon Lake Trail, north side, on the way back to complete the loop.
The Channel Inn is a great pit stop and a chance to grab a beer, something to eat, and catch the game! We tried their Prime Dip Wrap (spicy and delicious), but the big hit was their hand-cut fries—YUM. I loved the small-town bar vibe with friendly staff, locals around the bar, and a nice outside setup where there are horseshoe pits, and often live music! We had to get our bikes back to the rental spot (keep reading) or we would have definitely spent more time here!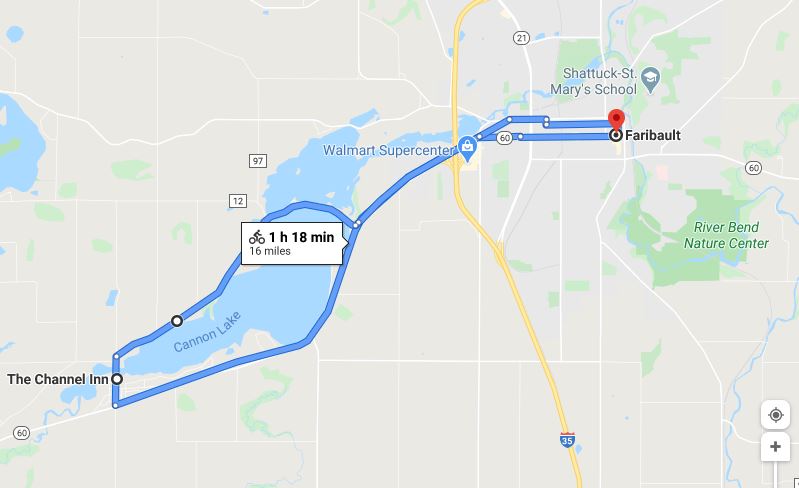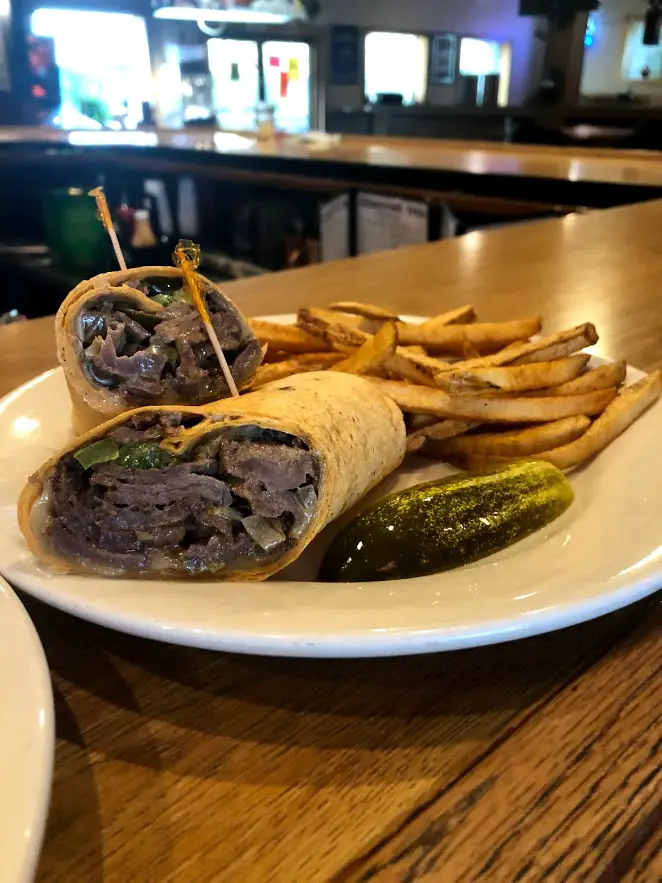 If you're not feeling 16 miles roundtrip, go 4 miles west and you will hit Shager Park where you can hang out at the beach. On your way back, you can stop at DQ just off the trail.
Bike Rentals: Rent n' save
Don't have bikes or a way to transport them? No worries! Rent n' Save is just two blocks from the Sakatah Trail and you can rent bikes that come with both helmets (if you want) and a bike lock. It's $10/bike for the day.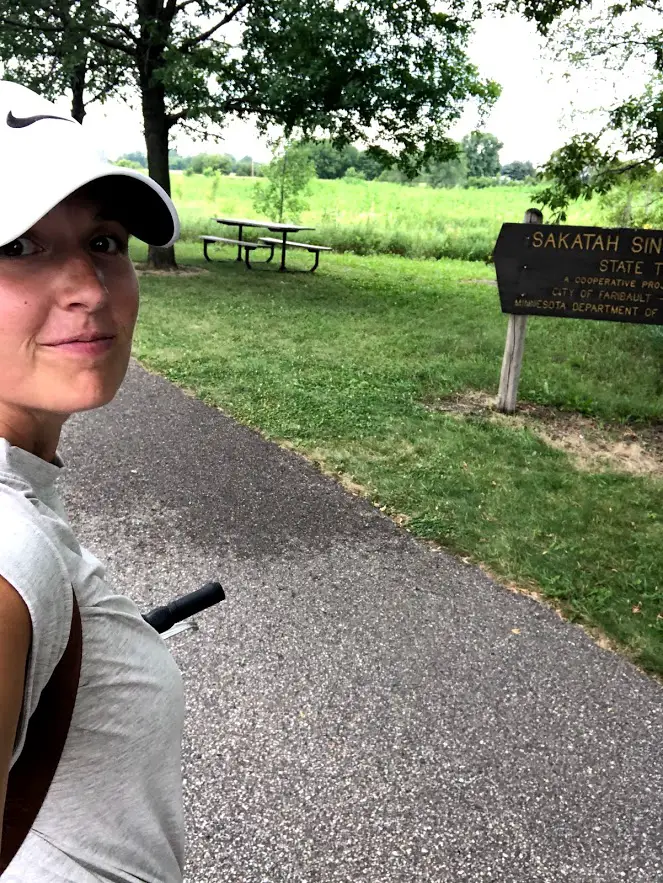 Pleasant Grove Pizza Farm
How did I never know about pizza farms? After visiting Red Barn Farm in Northfield, Minnesota, I am HOOKED to the unique dining. And I sought out another one near Faribault, about 20 minutes south, and let me tell you, it did not disappoint.
Drive through the farmlands of southern Minnesota and arrive at Pleasant Grove Pizza Farm complete with a woodfire pizza oven, gardens, wildflowers, animals, and live music. The pizza was BEYOND FRESH and make sure that no matter which pizza you choose, there are fresh veggies on it. Here is how it works:
Walk-ups or Open Table reservations available. It's first-come, first-serve regardless.
Order at the barn when you get there. I recommend the Minnesota Mess (with no olives.)
You'll get a number and listen for the bell. When your number is displayed, go grab your pizza! It does take about 45-60 minutes to get your Za! But it's well worth the wait…
The pizzas are $25 and they take Cash or Credit.
BYOB + Blanket and any utensils or plates if you wish.
While you wait for your pizza, there's a trail where you can explore the area and take pictures. Or just chill out and relax! Tip: bring bug spray.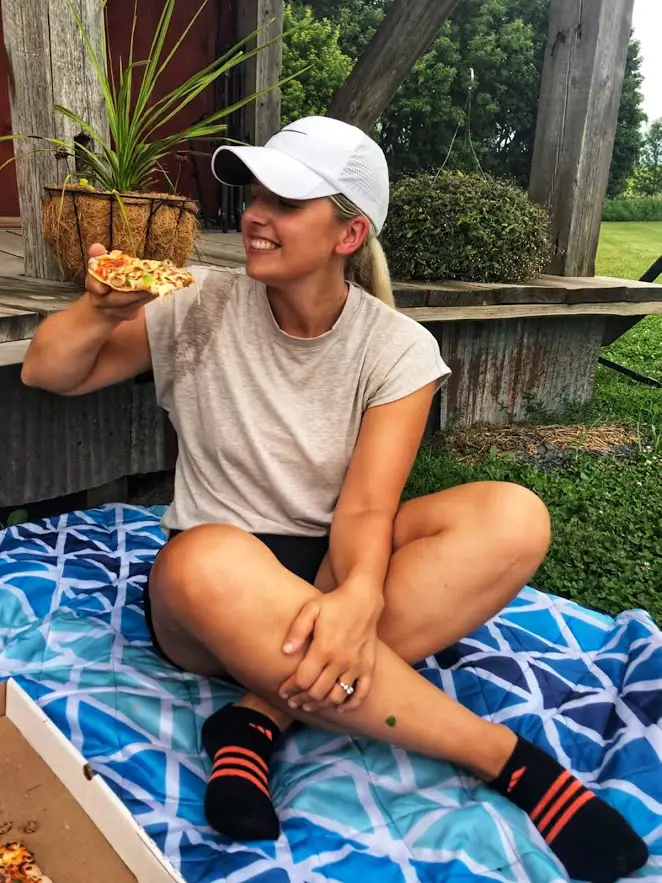 Nerstrand Big Woods State Park
BONUS! About 20 minutes northeast of Faribault is Nerstrand Big Woods State Park. We decided to take a little detour on our way into Faribault for a quick hike to the waterfall. It's nothing jaw-dropping, but if you're looking to get out of the car and exercise, it's worth a stop. The waterfall is only half a mile in and easy to get to—there are some inclines on the way back.
It's $7 for a pass (we skipped this because we knew we'd only be there about 30-45 minutes, shhh…) and plan to get here before 10:00 am. We rolled in about 9:15 and by the time we got back to the car, the lot was filling up.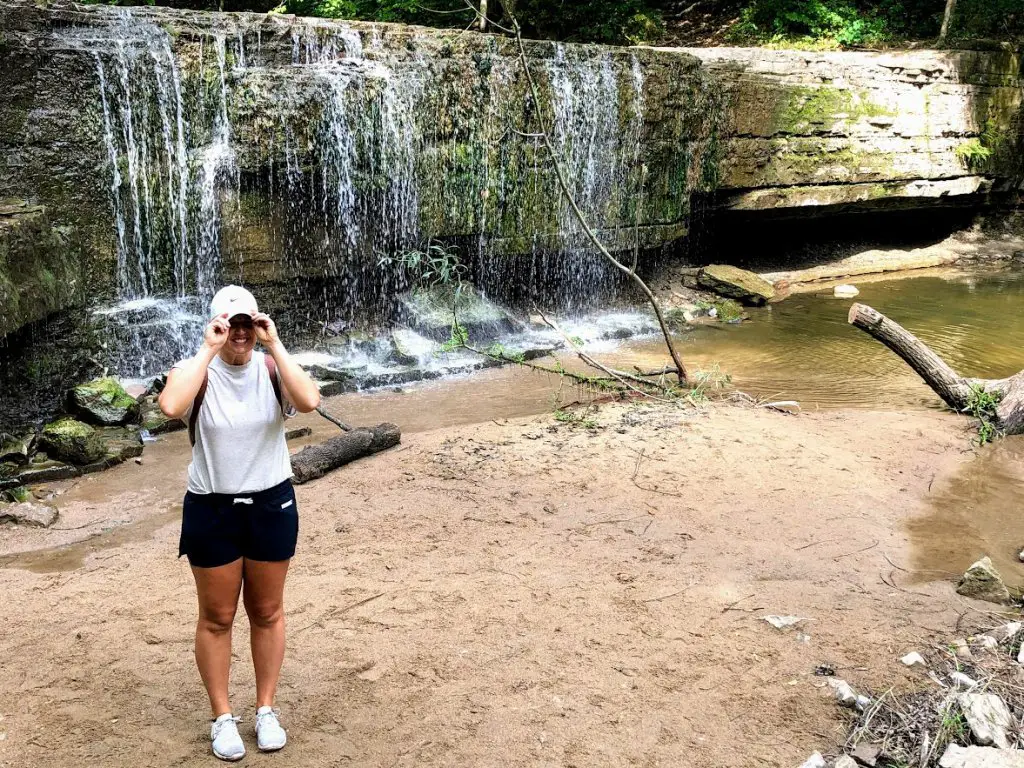 Note: if you are looking to get outside in Faribault, get outside for a walk at River Bend Nature Center–a good picnic spot as well.
Plan One of Your Day Trips to Faribault, MN
There are so many fun things and unique experiences in Faribault MN. I definitely recommend incorporating 10,000 Drops and Corks & Pints, plus a bike ride on the trails. You won't be disappointed in this wonderful place.
Check out some of these other great spots and towns:
Did this post help you out? Support the work and pass along $5 for a Coors Light 😉 VENMO: @Amber-LBB or PAYPAL: amber@littlebluebackpack.com. THANK YOU.