The sun is bright. The temperatures are toasty. The waters are ice-free. MINNESOTA SUMMER. She's here. And it's time to get outside in the Twin Cities.
We can get outside in the Twin Cities for doses of Vitamin D and happy feels. Enjoy the scenery and feel the sun on our skin! If you're in the area, thankfully, we have a LOT of options. Of course, there are things you need to keep in mind when visiting these places in our current situation.
Avoid Peak Times: Explore these areas (especially the Minneapolis spots) during non-peak hours. In my experiences, arrive before 10 AM and never right after work.
Keep Your Distance: Make sure you have at least 6ft between you and others. If the paths are flooded with people, try a different area of the park (lakes are always the most packed.)
Wash Your Hands. You should be in the habit by now!
Avoid Touching Your Face. Still a thing.
Use a Cleaning Wipe on Your Phone Afterwards. They get DIRTY.
Don't Visit if You're Feeling Crappy! Duh.
Okay that's enough of that! Now for the fun stuff…
Here are 11 Places to Get Outside in the Twin Cities!
Chain of Lakes Regional Park
Southwest Minneapolis
Pay to Park: $1.00-$2.00 per hour to park in the lots or on-street meters
One of my favorite areas in all of Minneapolis! The Chain of Lakes includes 5 lakes, their trails connecting one another, that makes for a unique city experience. Upbeat energy and non-stop activities during all seasons—yes, even MN winters. You can't go wrong at these 5 spots from north to south:
Brownie Lake—the most northern, and smallest guy of the bunch, has a nice walk/bike path in a rustic area that makes you feel as if you've left the city.
Cedar Lake—typically calmer and less populated than the ones below, Cedar is south of Brownie and a great spot for fishing or getting out to walk/bike!
Lake of the Isles—probably my favorite. Isles is calm, fun to walk around (or kayak!) and check out the beautiful homes. The lagoon will connect you right to…
Bde Maka Ska—usually the busiest, lots of people on the path, rentals available, beaches, sailboats, sports, activities. It's really a FUN area! Lastly…
Lake Harriet—no, maybe this one is my favorite 🙂 awesome beaches, picturesque views, a beautiful spot for running, and in my experience, less crazy than Bde Maka Ska (unless it's Saturday!)
If you don't live in the Twin Cities, this area should most certainly be on your list when you come to visit!
Minnehaha Regional Park
South Minneapolis
Pay to Park: $2.00 per hour to park in the lot or on-street meters
One of the most popular Minneapolis spots to get out into nature and explore. Highlighted by the 53-foot waterfall, it's a remarkable area that, just like the lakes, lives right in the city! Limestone bluffs, river overlooks, a wading pool, a garden, sculptures, and plenty of paths to hike. This area makes you feel like you traveled hours to see it—even if it's your own backyard!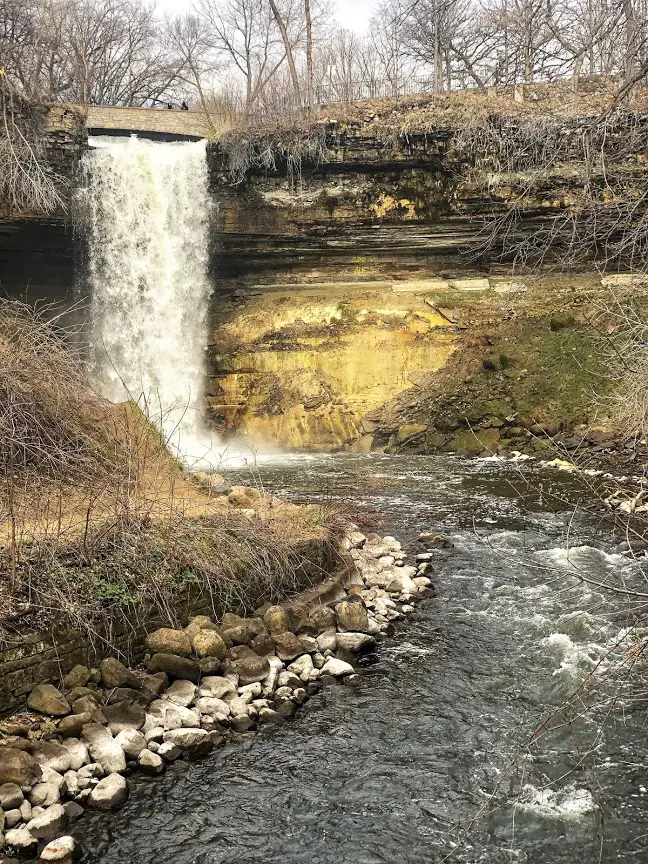 Boom Island Park
Northeast Minneapolis
Pay to Park: $1.00 per hour to park in the lot or on-street meters
Boom Island Park is a stunning area along the Mississippi River with an amazing city backdrop. I could spend ALL day here. There are people walking along the path, biking, grilling out at the pavilions, a playground, and people fishing. Enjoy big open green space and admire a view that won't ever get old.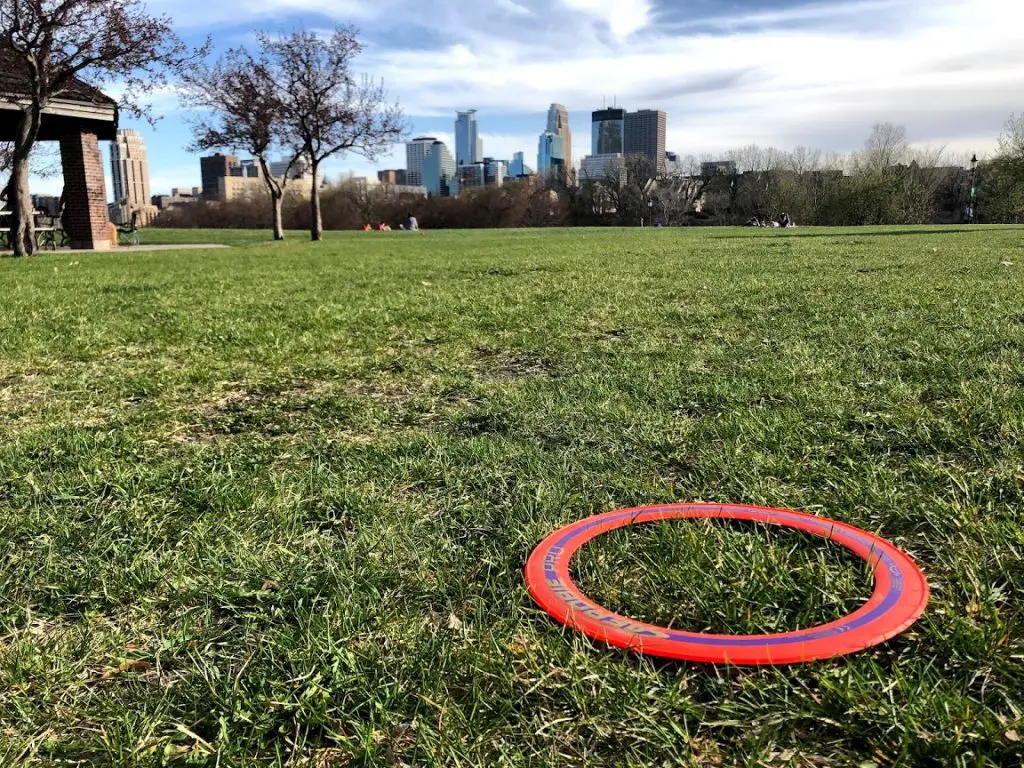 Grab a Must-Try Snack!
You can't head to the park and not have a couple of snacks! My recommendation is to pick up cookies from Blackfox Bakeshop, a home-based bakery in Northeast. Omg these cookies! You'll not only support local, but you'll eat cookies that rival Sweet Martha's. Yep, I said it! She also offers cupcakes is that's more your style!
Head to @blackfoxmsp on Instagram to place an order for pick-up (in NE) or delivery. It's $12 for 6 cupcakes and/or $12 for a dozen cookies and you can get $2 OFF if you mention BACKPACK.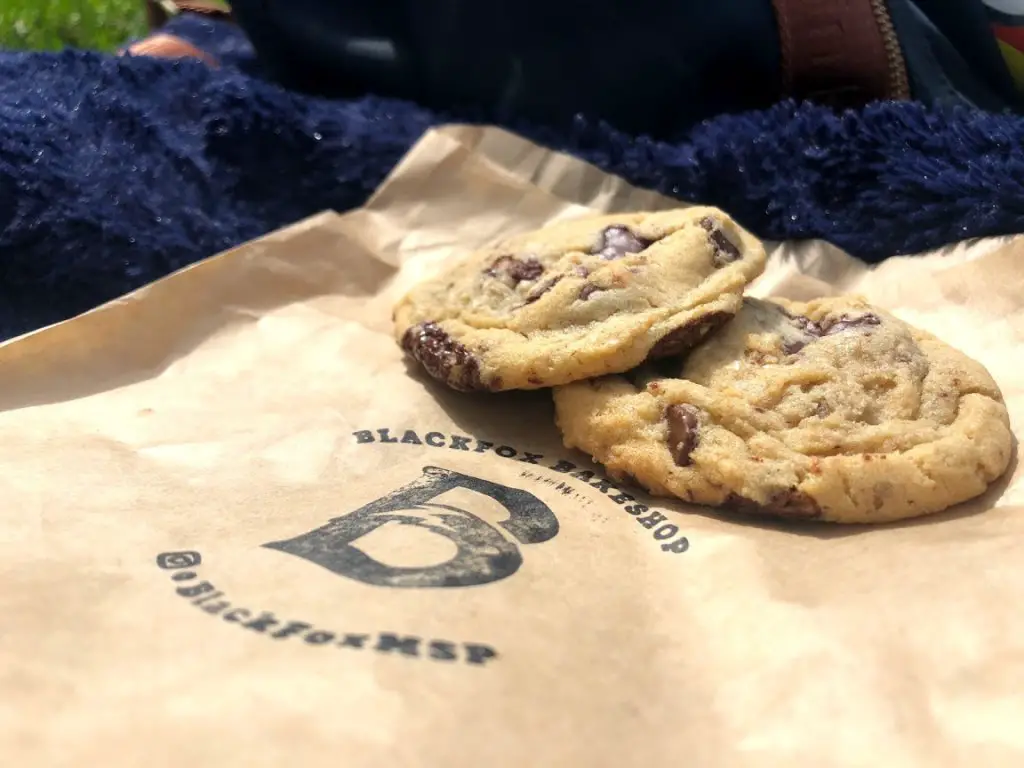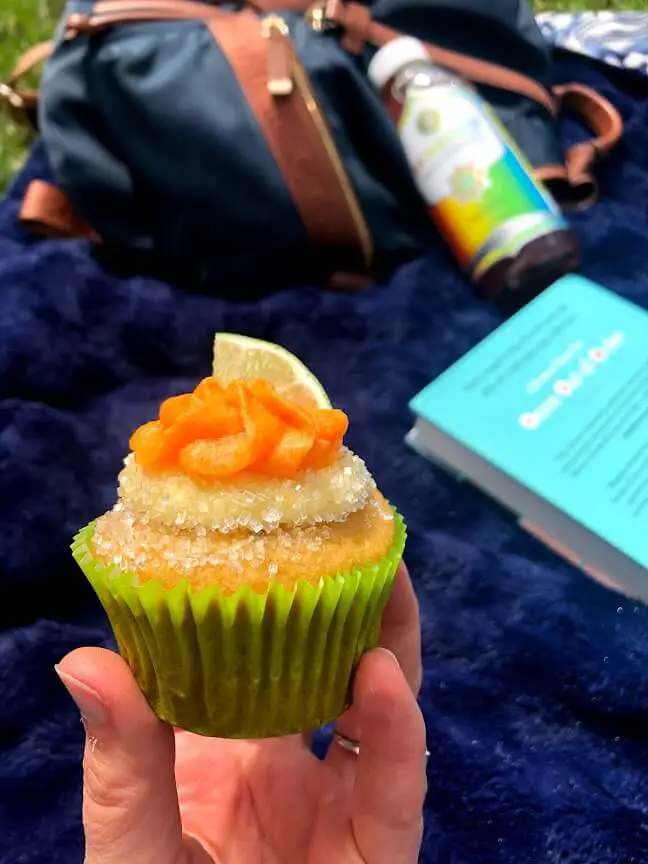 Mill Ruins Park + Stone Arch Bridge
Downtown Minneapolis
PAY TO PARK: $1.00-$2.00 PER HOUR TO PARK IN THE LOTS OR ON-STREET METERS
History meets Instagram at Mill Ruins Park, which is a popular place to get outside in the Twin Cities and take beautiful pictures of the Stone Arch Bridge and long-abandoned flour mills along the Mississippi River. Wayyyy back when, this area of mills, canals, and other historic resources was the leading international producer of flour, shipped both nationwide and worldwide. Now, the area is a spot to walk or bike with incredible views. It's very #Minneapolis.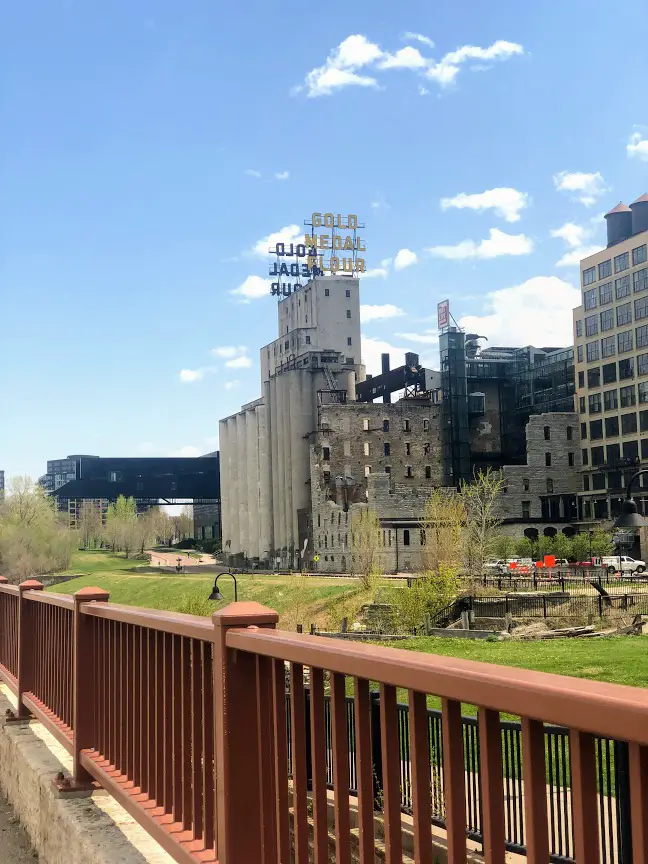 Como Regional Park
St. Paul
Parking: FREE
Crossing the river, we end up in St. Paul which has just as many beautiful places to get outside as Minneapolis. Como Park is a top sight to see. The water and hiking path amongst the green grass and flowers is impossible not to enjoy. And though the ever-popular (free) Como Zoo and (free) Conservatory are closed right now, it's still a place that's worth a stop!
This place is popular. Do your best to come in the early morning (before 10 AM at the latest), mid-afternoon (2 PM) during the week, or later in the day (5 PM) on the weekends. That said, it is big enough and even if the lake is packed, find paths nearby with less people.
Upper Landing Park
St. Paul
Parking: FREE
Lay a blanket down in the green grass and enjoy the scenery, weather, and a good book here! Upper Landing Park is right near the Science Museum of Minnesota and offers a well-kept area full of flowers, fountains, statues, rocks, and both skyline and bridge views. It makes for a calm and peaceful Saturday morning with a few others out for walks, but not huge crowds.
Add Brunch!
This calm area is the perfect spot to grab some local food and enjoy brunch outdoors near the water. I tried the new Thirty-Six Cafe and it was DELICIOUS. Their claim-to-fame is "Souffle Pancakes" which are the fluffiest thing I have ever eaten. The flavor melts in your mouth and the texture is worth chasing! Pictured are the Lemon-Blueberry and they have 3 other flavors. I also tried their "Mango Dreamsicle" drink which tasted fresh, fruity, and like actual mangos. Not a smoothie or whipped-taste. You can find their full menu on their Facebook page. Curbside pick-up is available!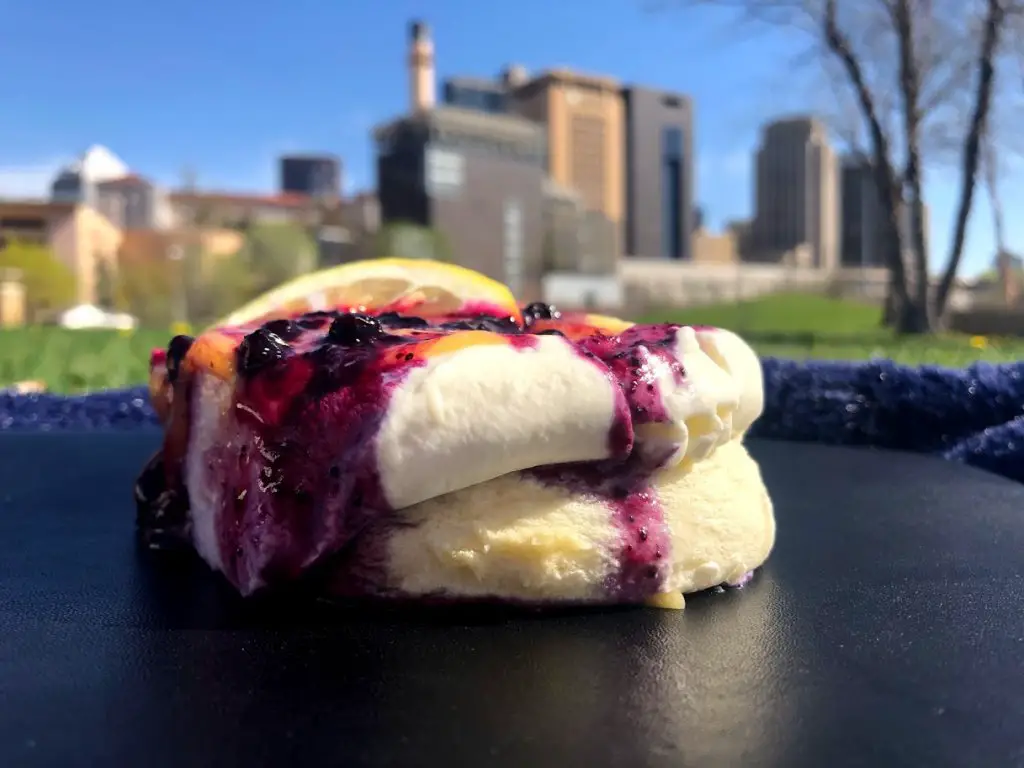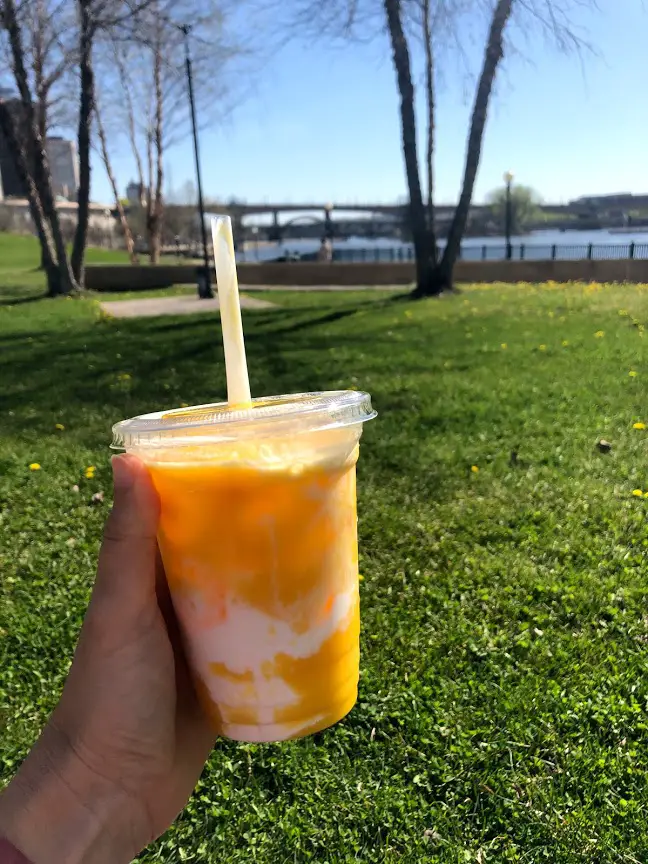 Harriet Island Regional Park
St. Paul
Parking: FREE
Right on the other side of the river is another beautiful spot and probably my favorite in St. Paul! Harriet Island Park is such a gorgeous area and has fewer people (though I don't know why!) than any of the Minneapolis spots or Como Park in St. Paul. A scenic walk along the Mississippi River with great views of St. Paul, bridges, boats, and nature. Take a breath in the pavilion, or out on the steps in the sunshine. This is the perfect place to relax.
Lake Minnetonka Area
Minnetonka/Wayzata
Parking: FREE
If you're out in the suburbs, no reason to fret. Much like Minneapolis, the burbs are home to tons of parks, lakes, cityscapes, and more. And the Lake Minnetonka area always wins! One of the coolest parts about it, is there are SO many lakes in the area that you often find yourself walking down a path with a different one on each side of you. The blue water amongst the never-ending blue sky will perk you right up!
Pictures below are on the easternmost side of the area, with Wayzata Bay on the left and Grays Bay on the right. Stroll through, admire the homes, enjoy the weather, and hope to make friends with someone launching their boat. Or you can do one better and rent a boat on Lake Minnetonka through GetMyBoat–the Airbnb of boats!
Feel Like You're Traveling with Nautical Bowls
Oh, how I love an acai bowl. And though it's not Aruba or Maui, I'll take any taste of travel I can get right now! Real close to the lakes area of Minnetonka, Nautical Bowls offers a flavorful and delicious menu of colorful bowls! Stop in. They do online orders and curbside pick-up!
Theodore Wirth Regional Park
Golden Valley
Parking: FREE
Theodore Wirth Park is HUGE (740 acres) and has it all. Tons of walking/bike paths, a golf course, fishing, playgrounds, and big open green spaces. And if you're here in the winter, cross-country ski trails, and even sledding! Dust off your clubs for a day on the links, or come to walk around the lake. Wirth Lake is a quick walk (25 minutes or so) and perfect for your lunch break. I was there at peak time (weekday around 4:30 PM) and there weren't too many people at all which was nice.
Minnesota River Bottoms
Bloomington
Parking: Free
This is a cool place to hit the trails in an area that's not really talked about. You will feel far removed from city life right upon entering. Above you are huge trees as you walk your way through towards the bottom of the Minnesota River. Outside of a few family bike rides, there weren't many people here making it a serene spot to explore. And neat to think about being at the "bottom of the river."
Wood Lake Nature Center
Richfield
PARKING: Free
At Wood Lake Nature Center you'll walk through an area that showcases different habitats and wildlife. Though I didn't see anything out of this world, it's very calm and relaxing and nice to get out of the hustle and bustle.
BONUS: GOOGLE IT
Near You!
Parking: Free in Your Driveway
Guess what? 97% of Minneapolis residents live within a 10-minute walk of a park. That's pretty awesome! And also means there are plenty of places to get outside in the Twin Cities! Simply open Google Maps and type "park" or "hike" in the Search bar and you will get results!
Helpful Links for More to Explore:
Where is your favorite place to get outside in the Twin Cities? Drop it in the comments below!