Beach bars. Boat rentals. Lakes and more lakes. Pizza and nachos. Fairs, events, and home to the ever-popular We Fest. Simply put, Detroit Lakes, Minnesota is FUN. A place you can bring the whole family in the summer months and make some of your best memories!
The Detroit Lakes area has 400 lakes within 25 miles!
Located in Northern Minnesota, it's obviously perfect in the summer, but it doesn't stop there. Visit in the fall for beautiful colors and the winter for ice fishing and snowmobiling.
There is always something to do around here. And the tourists, as well as locals, are always having a good time!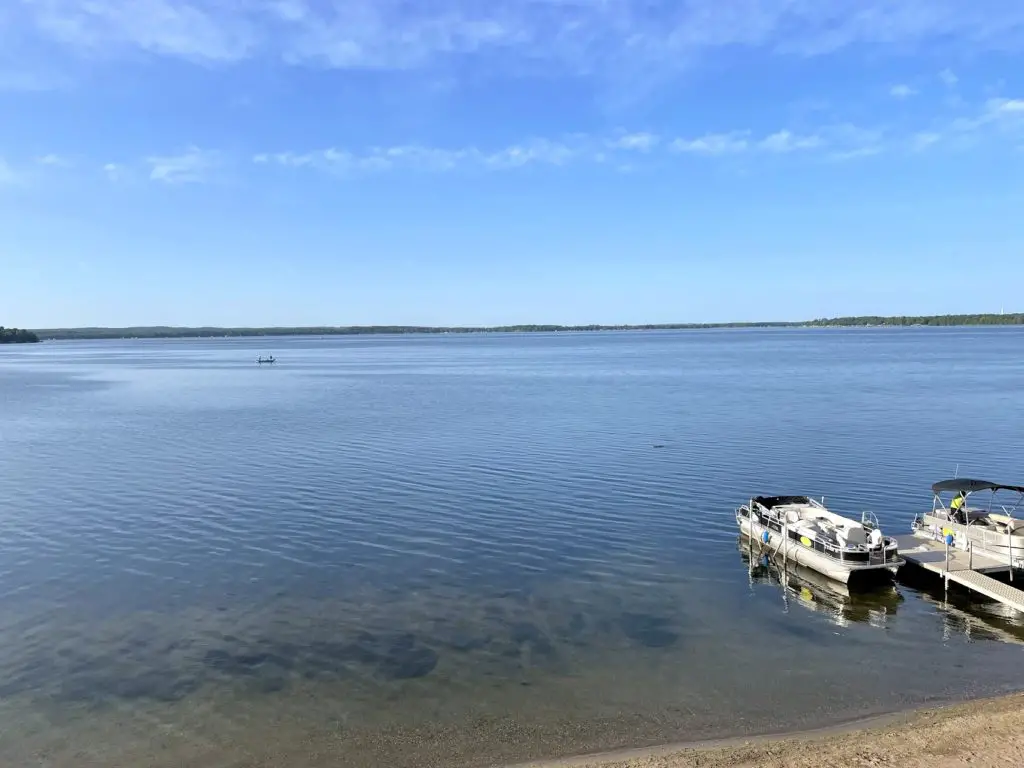 Where to Stay in Detroit Lakes, Minnesota
The Holiday Inn in Detroit Lakes, Minnesota is one of the best hotels in the area and certainly the place to stay! It's steps from the lake with a great beach. There is a (super) fun beach bar overlooking the water—the pops of color make you feel like you are in Florida! Plus, you have access to the indoor pool, water and bike rentals, and a restaurant right on site. Literally, everything you need.
The hotel is located in a perfect location right off of US Hwy 10 when you drive into town. And you are nice and close to the downtown area as well.
PRO TIP: A lakeside room is worth the price! Open the curtains to beautiful lake views and enjoy your morning coffee on the small patio. The perfect way to start the day.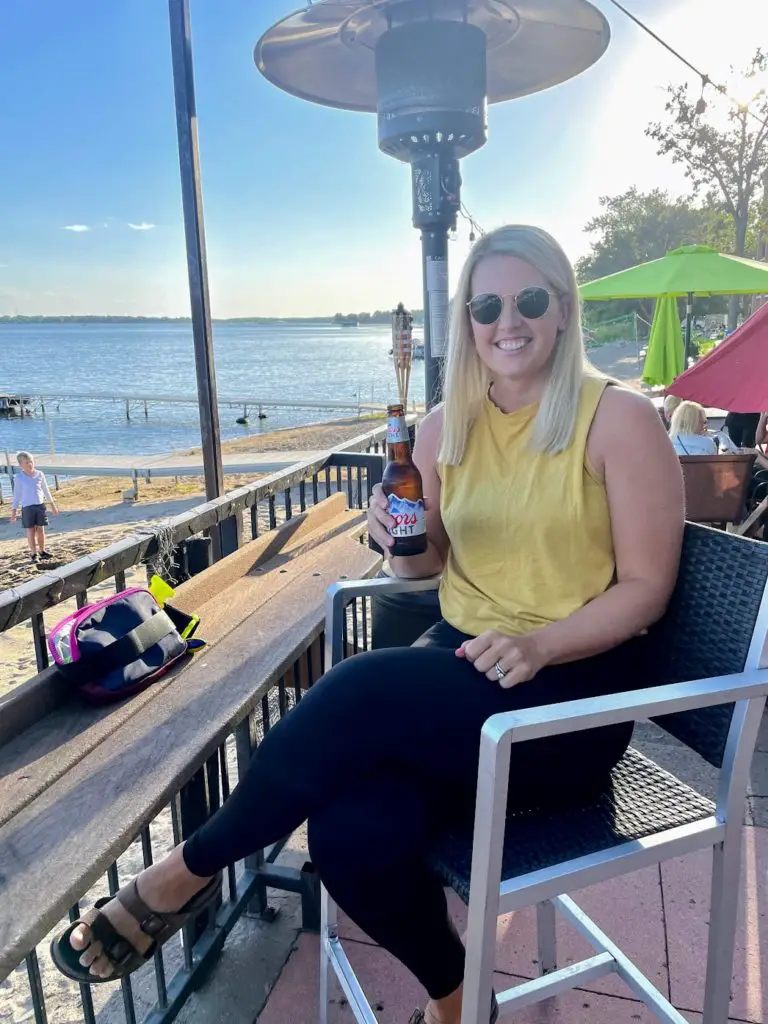 Hit the Beach
The best part of The Holiday Inn is the 700 ft. beach just a step from the door! This long beach has plenty of chairs and picnic tables, water sports, play areas for the kids, a volleyball net, paddle boats, and more. You can easily spend a day here with so much to do and easy access to the beach bar and restaurant.
Rent a boat and fishing gear to fish in one of the best fishing lakes in Minnesota. If that's not your preferred way to get out on the water, look into…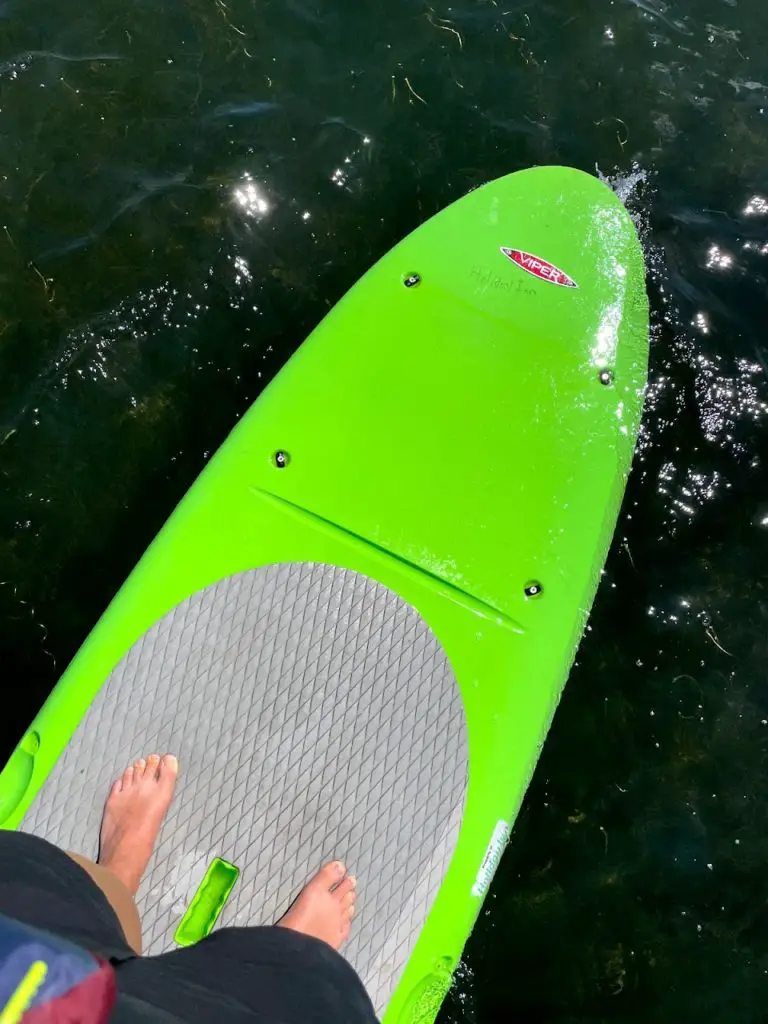 Kayak and Paddle Board Rentals
This hotel includes free kayak and paddleboard rentals for 2 hours! It's easy peasy—just head up to the front desk and let them know you would like to rent. Someone will meet you out at the beach and get you set up.
We did the paddle boards which was a great way to relax and enjoy being on the water. The boards are solid and heavy and whether you've done it before or not, give it a go!
Bike Rentals
Water rentals aren't the only thing available! You can also rent bikes from the Holiday Inn for $15 per bike for 2 hours.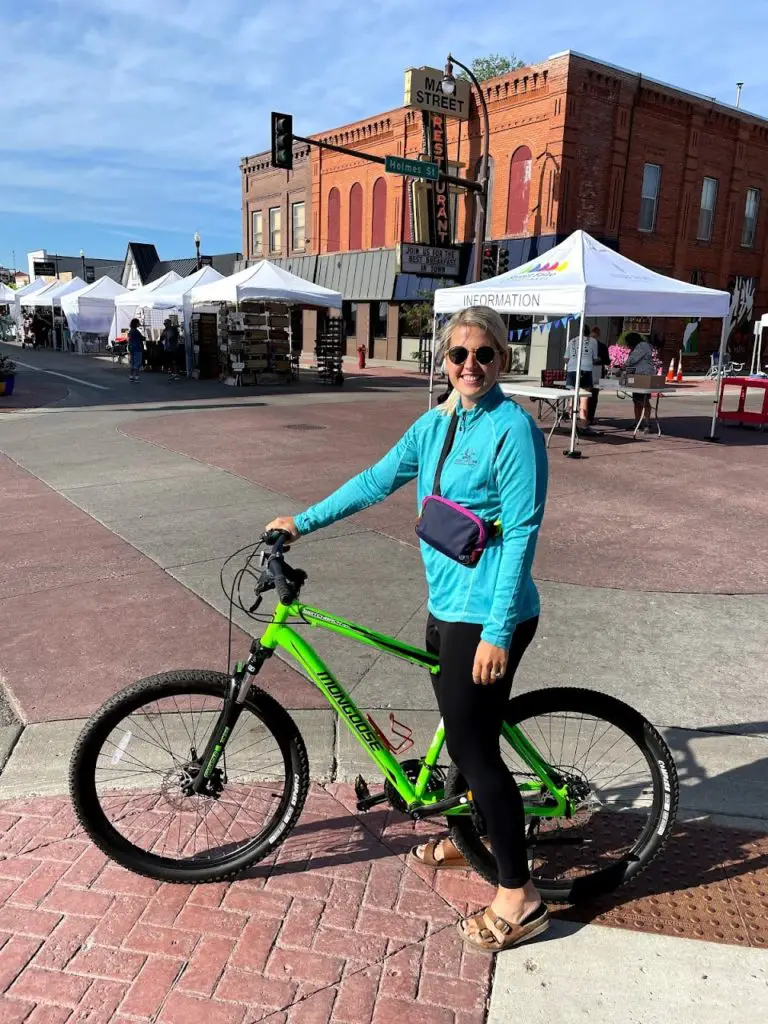 Read 12 Beautiful Places to Visit in Minnesota During Summer for more ideas!
Places to Eat & Drink in Detroit Lakes, Minnesota
One of my favorite things about the Detroit Lakes experience was the awesome restaurants and bars in the area! And there are plenty. From great coffee to delicious cocktails plus pizza and nachos, there is no shortage of good eats and drinks.
Grab Coffee at Roasted Pub & Eatery
Roasted Pub & Eatery is where you can grab both your morning coffee and your afternoon happy hour. Right when you enter you'll notice their little coffee shop section with a few hightops and comfy chairs. Take a few more steps in and you'll find the bar with additional tables and booths. Dual-threat!
We didn't have a chance to eat, though the menu looks delicious—upscale American including woodfire pizzas, Mediterranean salmon, craft beer, and cocktails.
That said, the coffee is delicious. Both the Maple Latte and Americano were fab!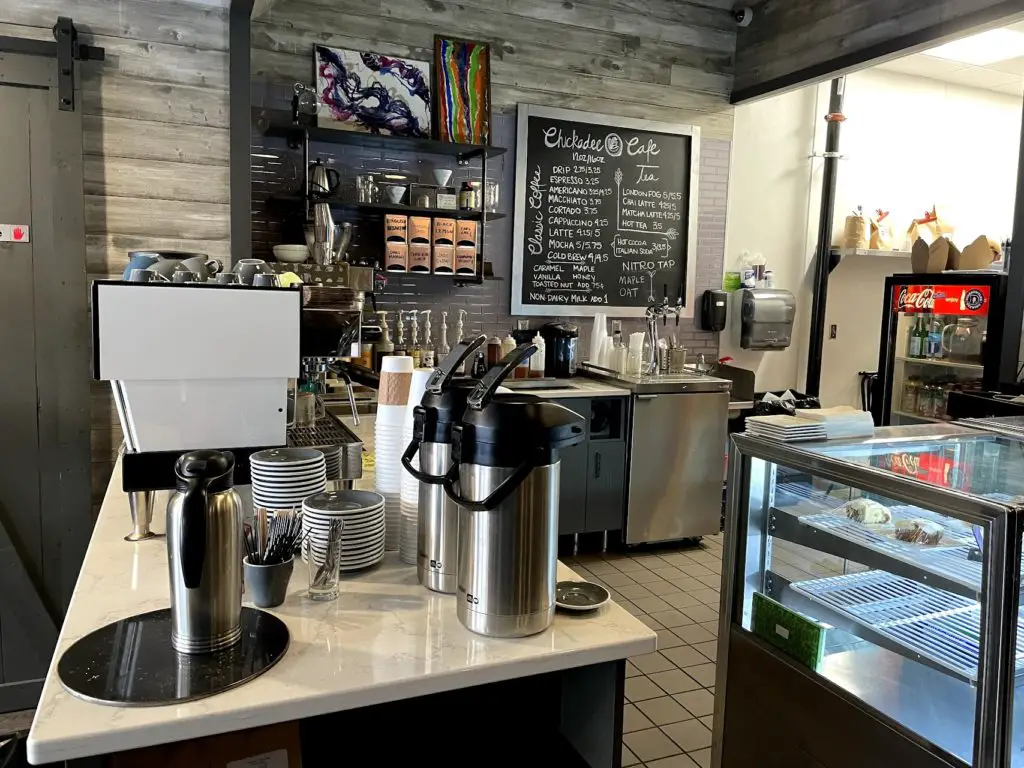 Grab Beers and Nachos at Zorbaz
Everybody's favorite bar! Zorbaz is a popular spot for a good reason. You'll always have the best time at this cool and casual spot on Detroit Lake. It's a huge space with plenty of outdoor seating available, in addition to the full bar and tables inside. Come in the day for some afternoon fun or at night for a full-blown party!
They have a ton of beers on tap and a menu full of pizzas and Mexican food. You order up at the bar, get a number and they'll bring it out to you. Highly recommend the chicken nachos (the picture is a half order.)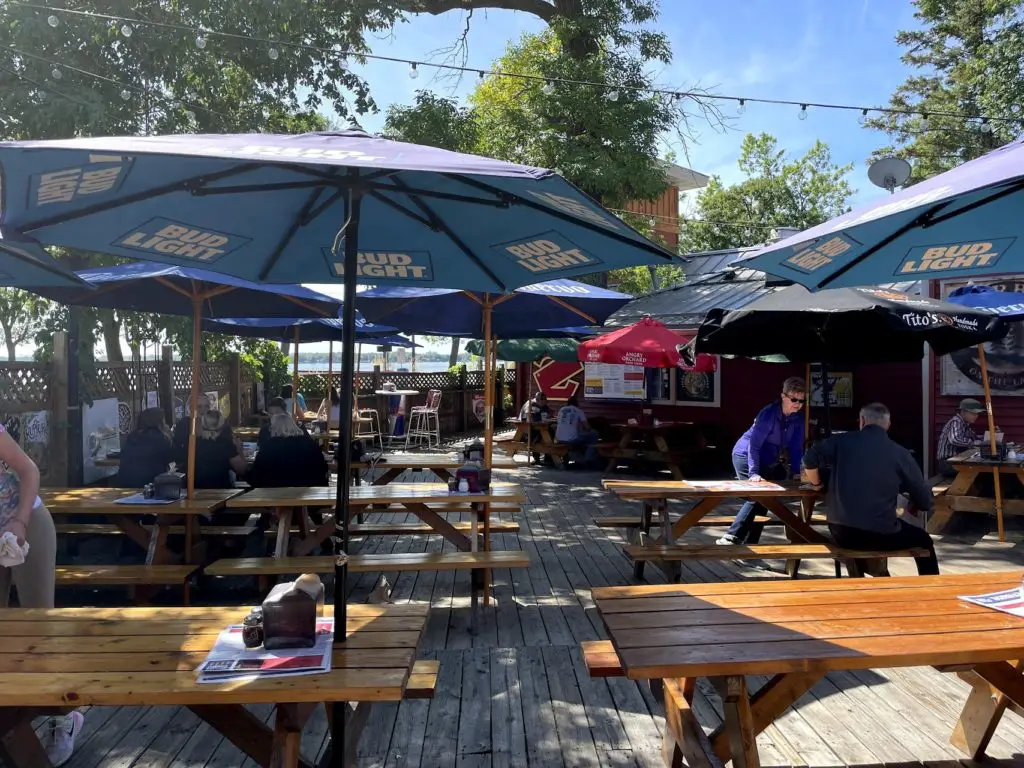 Homemade Pizzas at Hotel Shoreham
My favorite thing about Hotel Shoreham was the vibe! Their outdoor space is beautiful and includes a small homemade pizza-making shack and a full bar. Wood exterior and string lights really bring the space together and the place was packed on a Thursday night. Their indoor dining experience is great as well with fun signs covering most of the walls.
We had to go with the homemade pizza and chose the Hawaiian Special—Canadian Bacon and Pineapple. I loved the doughy (with a slight crunch) crust and flavor. I'd love to go back to this spot!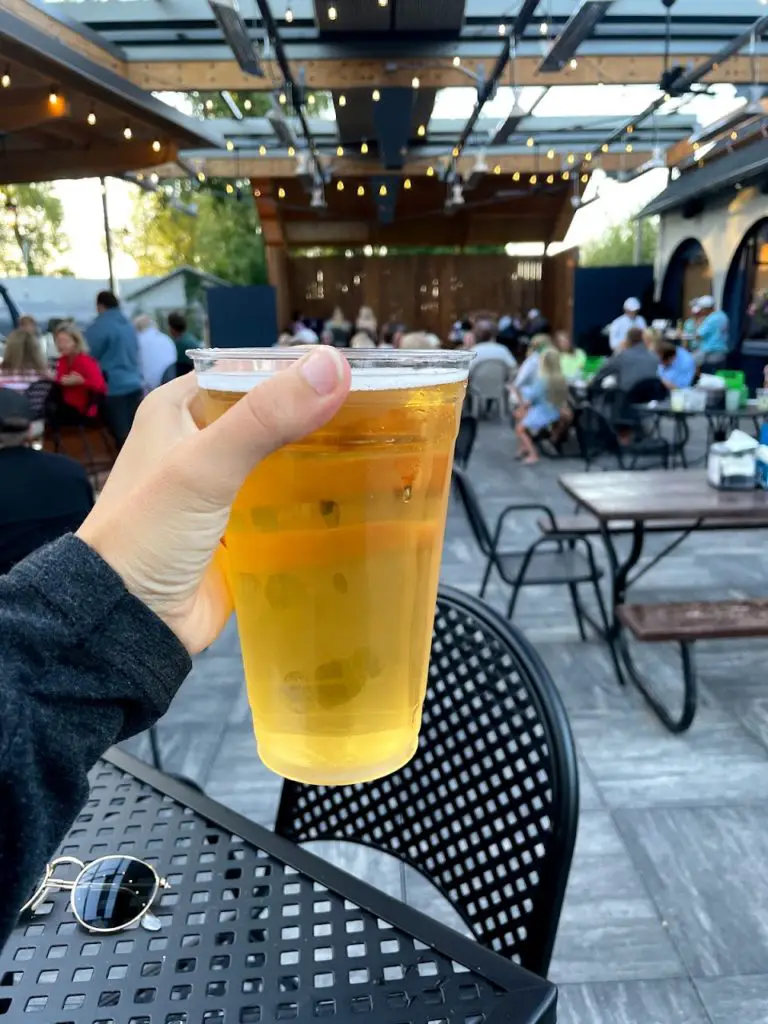 Other Top-Rated Restaurants in Detroit Lakes, Minnesota
Read The Best Bars and Restaurants in Detroit Lakes, Minnesota for full details.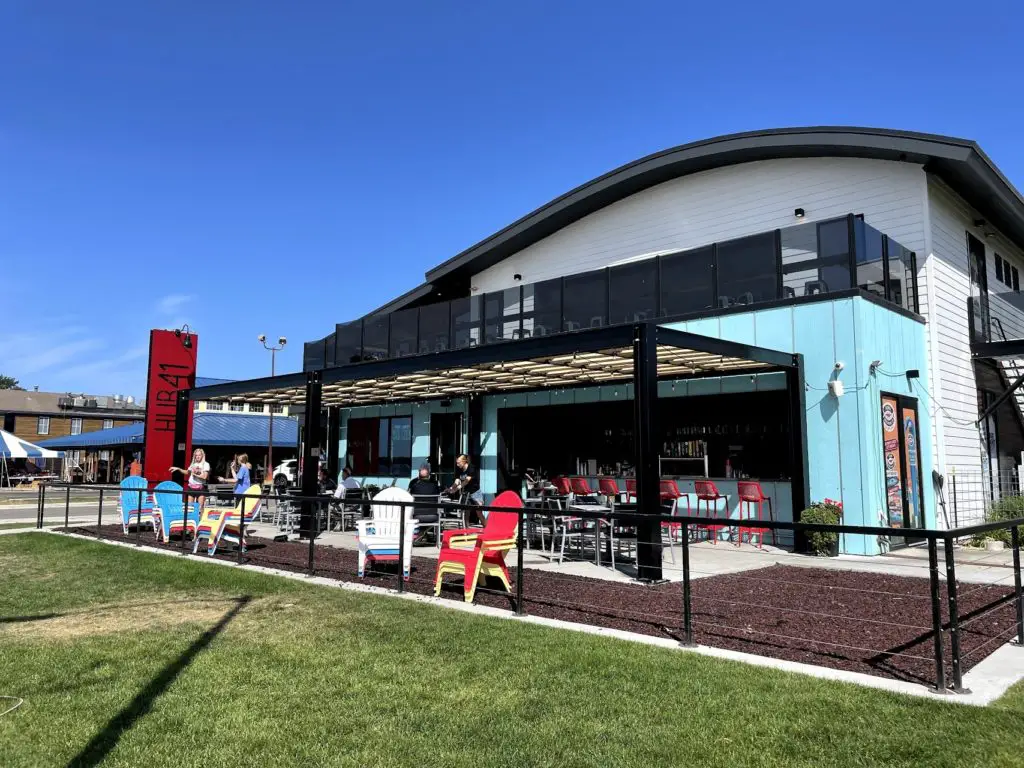 Explore Shops in Detroit Lakes, Minnesota
Lakeshirts Beach Shop
Holy T-shirts! Lakeshirts Beach Shop, located right near Hub 41 and Zorbaz, is the store to stop at if you need t-shirts! Inside, a beautiful store with so many cute clothes and gifts. Outside, heaping piles of t-shirts from all over the place! Colleges, National Parks, sports teams—this store seems to have every t-shirt ever made! Lol. It's definitely one of the best gift shops.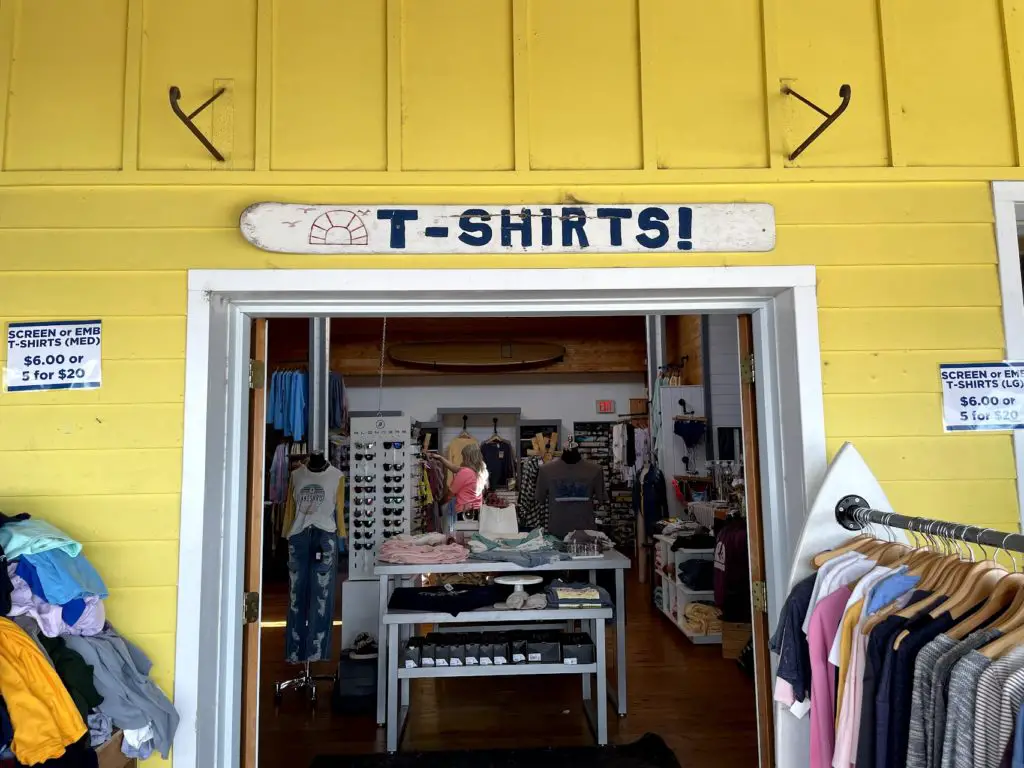 More Shops in Detroit Lakes, Minnesota
Check for Local Events
There are so many year-round special events in the Detroit Lakes area full of exciting things to take part in. We Fest, Northwest Winter Carnival, and Bash on the Beach are just a few of the popular events. Grab the full list—it's worth planning your trip around one of these fun, local events!
Detroit Lakes Street Faire
I was able to spend some time at the Street Faire at the Lakes, which includes six blocks of art, booths, live music, fun attractions, and of course, fair food! An event that lasts two days, I was here in the morning of the first day, and things were already lively with hundreds of people meandering through the different booths and eating corn dogs, kettle corn (get this for sure!), and waffles on a stick.
It was fun to connect with locals and learn about their products at different booths—and try a few samples, of course. I even came home with some new skincare and a hand-crafted wooden spoon.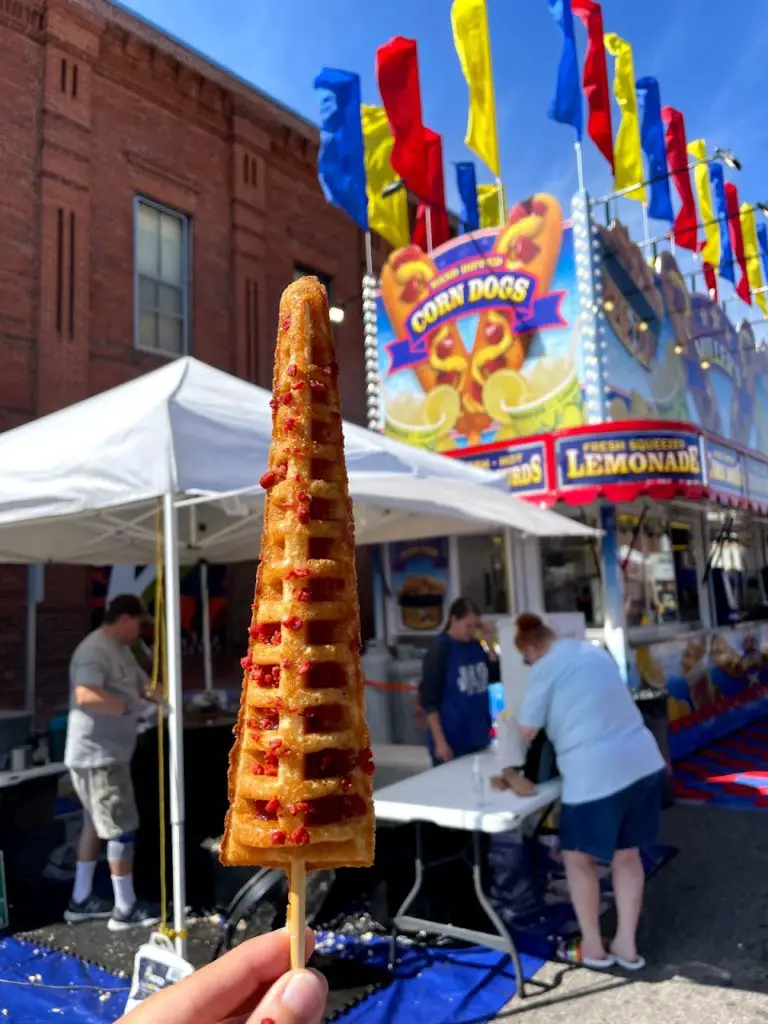 Other Places and Local Attractions to Go to Near Detroit Lakes
The Best Things to Do in Detroit Lakes, Minnesota
Detroit Lakes, Minnesota is full of fun things all year round! It's one of the best places for some family time. Or laying on the sandy beach when you're on your next trip with your husband. Make sure you find some local events going on to get the true experience. And come (very) hungry and thirsty! 🙂
Did this post help you out? Support the work and pass along $5 for a Coors Light 😉 VENMO: @Amber-LBB or PAYPAL: amber@littlebluebackpack.com. THANK YOU.