Kwik Trip is the best gas station in America. Yep, I said it. The very best. From the Kwik Trip food options to the kind employees and clean facilities, it's always a great place to stop. Not to mention, always a wonderful customer experience.
And when you're on a long drive, Kwik Trip stores offer everything you need. Especially when it comes to food. Hot, real food; not those shriveled-up hot dogs that have been sitting there for hours. We're talking donuts from their own bakery. Snacks on snacks whether you're looking to indulge or remain healthy. Even a grocery store section with fresh produce!
Kwik Trip foods are perfect for your road trips and vacations across the Midwest.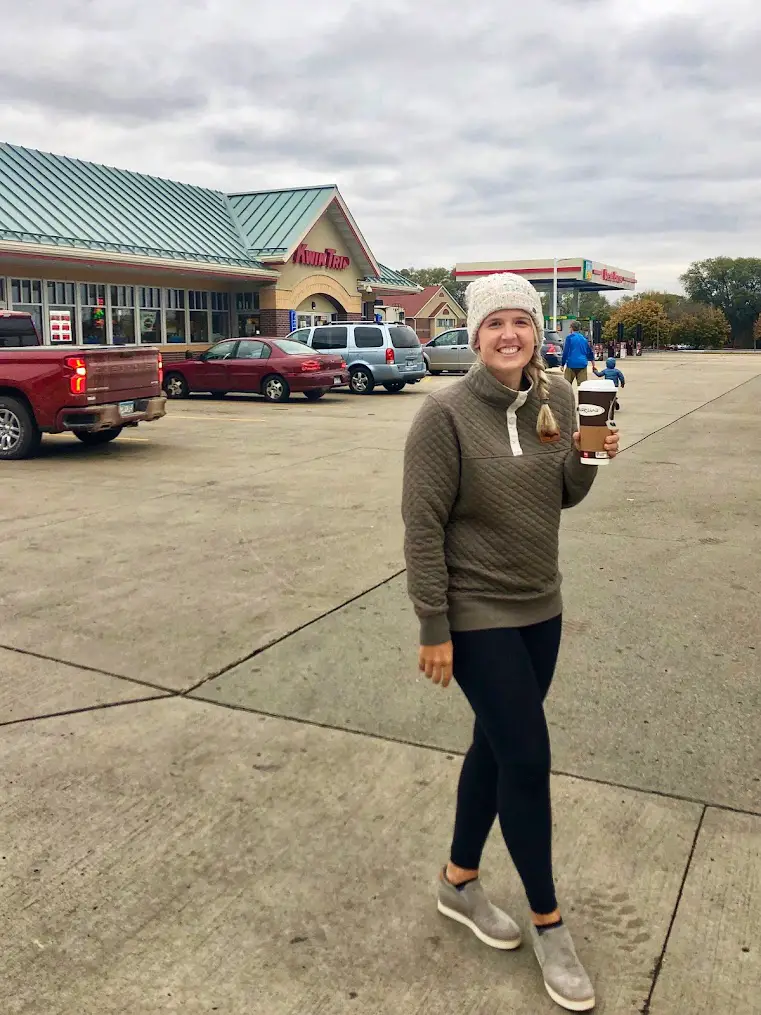 Note: Kwik Trip is Wisconsin's favorite gas station so you are going to find them ALL OVER Wisconsin. There are also plenty throughout Minnesota. And a few in Illinois and small towns of Upper Michigan as they start to expand!
Let's get into all of the best Kwik Trip food options:
The Best Kwik Trip Food for Road Trips
The Glazer—a Kwik Trip staple
Did you know Kwik Trip owns its own bakery in La Crosse, Wisconsin? YEP. Which means their baked goods are some of the best. Enter: The Glazer. Perhaps the most exciting breakfast, snack, dinner (whatever!) at Kwik Trip.
The Glazer Donut is fresh, fluffy, sweet, and only $0.99. Grab the plain (my personal favorite), chocolate-drizzled, or white-drizzled, and savor every bite of the vanilla-glazed goodness!
Approximately 24,000 donuts are created in just one hour!
There is a glazer-scented candle. (Obviously, it smells good lol.)
The Glazer originated in 2003 and was named by a Kwik Trip employee who submitted the idea to the marketing department.
WOW. Quite the section dedicated to a donut. Try one if you haven't! It's worth every calorie.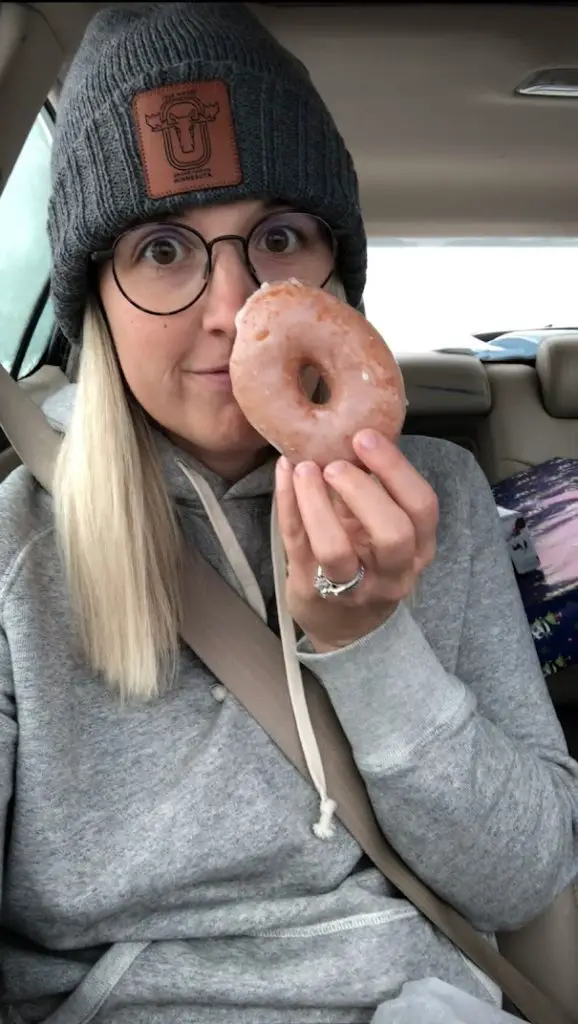 Pro Tip: Pair with a Karuba Coffee.
Their Karuba Gold machines will make all of your favorites; Lattes, Mochas, Chai Tea, Americanos, Iced Coffee, Hot Chocolate, and so much more. There are flavored syrups, the same ones as your favorite coffee shops, so you can be your own barista. And to finish it off perfectly, add whip cream, drizzle, and toppings. Not only can you make it exactly how you like it, but you'll save some money!
Kwik Trip Burritos
One of my favorite things about Kwik Trip food is their hot options. It's not your average (gross) gas station food. It's actual real food and always hits the spot. And the burritos…oh man, the burritos. They are my favorite Kwik Trip purchase. Even more than the Glazer…
Beef & Bean Burrito: The ultimate option. But rare. If this is available, grab it!
Chicken Salsa Rice Burrito: Very delish. My second favorite. Beef wins through because the flavor in this one has a hint of sweetness.
Sausage Breakfast Burrito: Solid. My only complaint is the liquid cheese. Still good though.
Pizza Burrito: If I've had too many beers, I really like this one. Lol.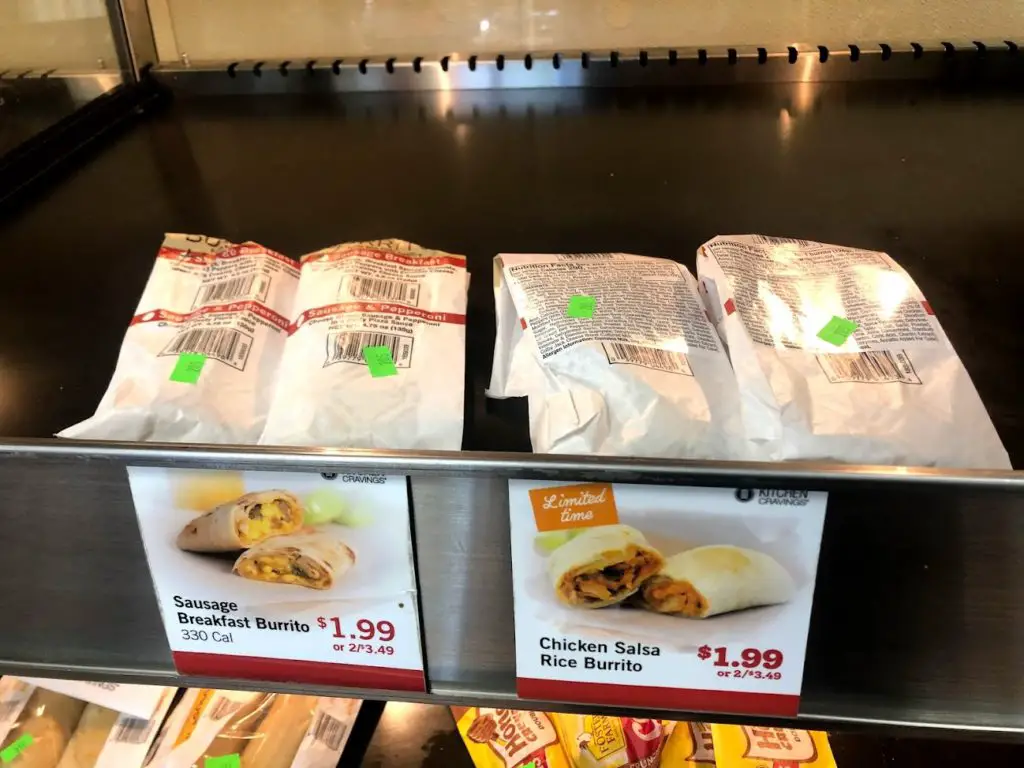 Kwik Trip Chicken Sandwiches
No burritos? That's all right. Because chicken sandwiches are always available. Go with the regular or spicy and you will never be disappointed. Grab two then head over to the condiments and doctor them up. Lettuce, tomato, mayo, mustard, whatever you like is there to make your meal a little more hearty!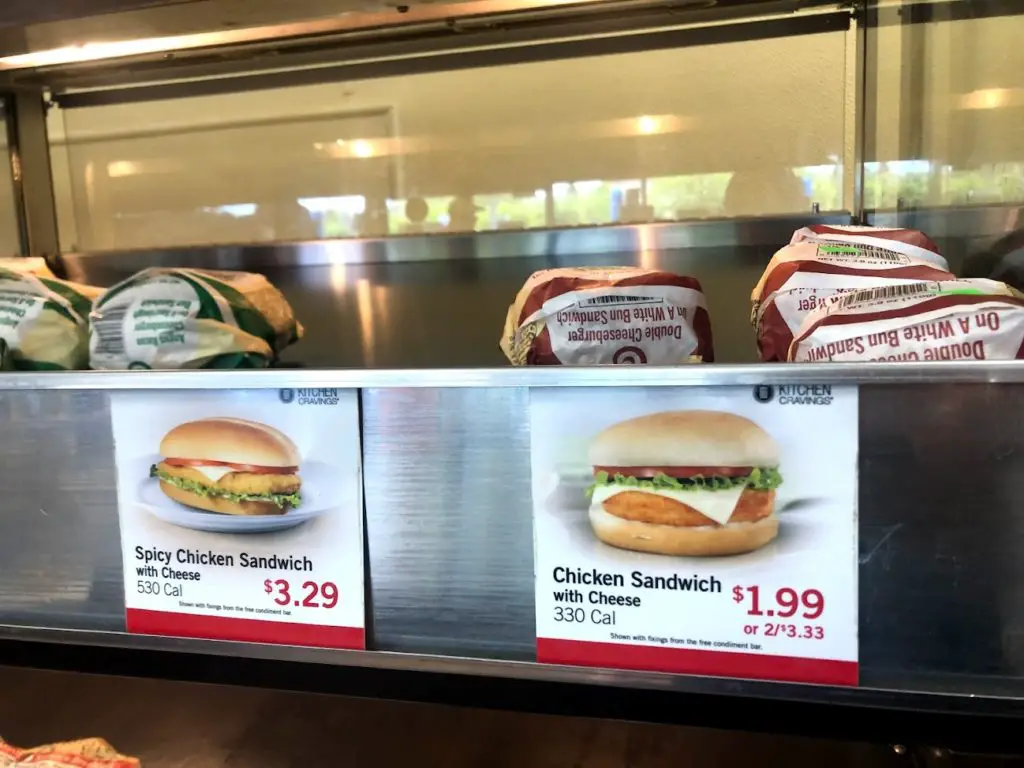 Kwik Trip Brand Chips
Love Doritos? Grab the Kwik Trip brand version—for cheaper! There's also sour cream and onion, tortilla, or potato. They are always fresh and go perfectly with your chicken sandwich! (Ask my husband, this meal is a delicacy…)
Egg Rolls
Omg if there's anything I literally cannot deny myself, it's these damn egg rolls. Every snack, lunch, or dinner I get from Kwik Trip includes an egg roll. Chicken sandwich with an egg roll. Salad with an egg roll. Donut with an egg roll. It really doesn't matter lol. All flavors are delicious. And they are always a hot and a fresh food option!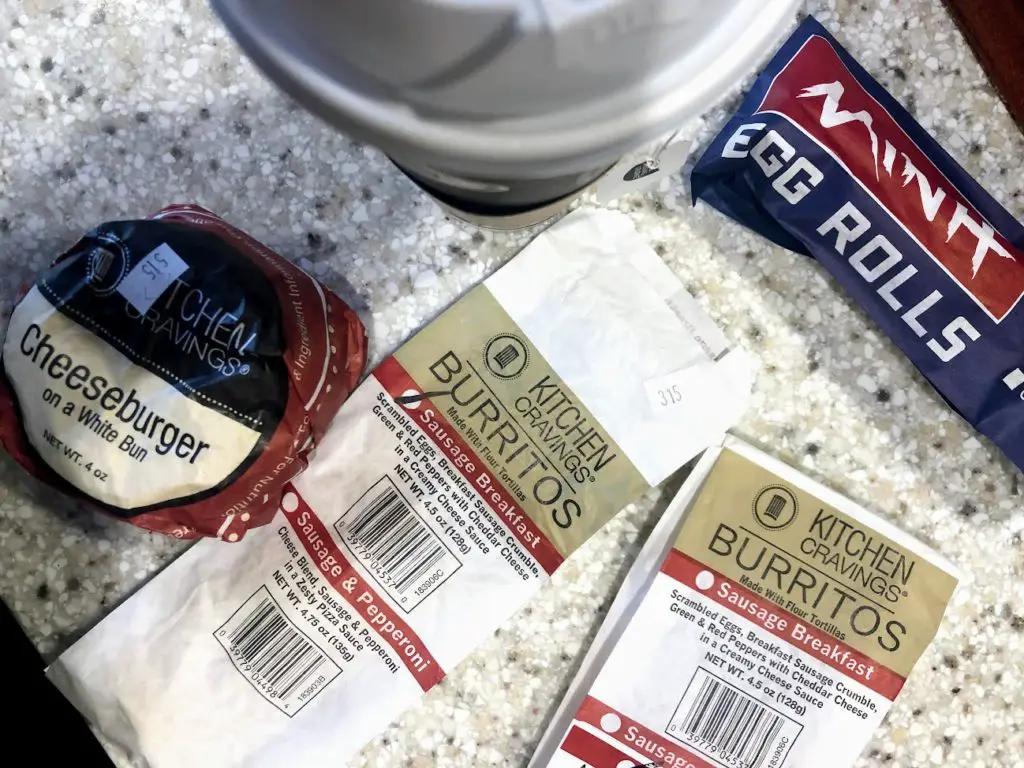 Kwik Trip Ice Cream
Kwik Trip ice cream is all made with local milk and tastes just like the expensive stuff. Plus, you can get them pint-size. Number One Pro Tip: if you love Ben & Jerry's Half Baked (I mean, who doesn't?) then you need to opt for the pint-size of Brookie Dough Ice Cream. Omg. I was expecting a decent substitution hack, but my goodness it's exact. Get your fix at Kwik Trip for $2.75 vs. a $5+ pint of Ben & Jerry's.
Keep It Healthy with Kwik Trip Snacks
Sometimes you're coming home after a road trip full of beers and unhealthy food and you are craving something that your body actually appreciates. And believe it or not, you can make healthy choices, even when you make a gas station stop. Another reason why I love Kwik Trip is the partnership for a Healthier America. Here are some healthy food product options:
Bento Boxes & Fresh Fruit
Fruits, cheeses, peanut butter, nuts. Kwik Trip food includes a variety of bento boxes that give you the perfect road trip snack when you aren't about chasing empty calories. And right next to those, you'll find the perfect-sized fruit cups. Watermelon, cantaloupe, grapes, strawberries, you have all of the options! And it's always fresh.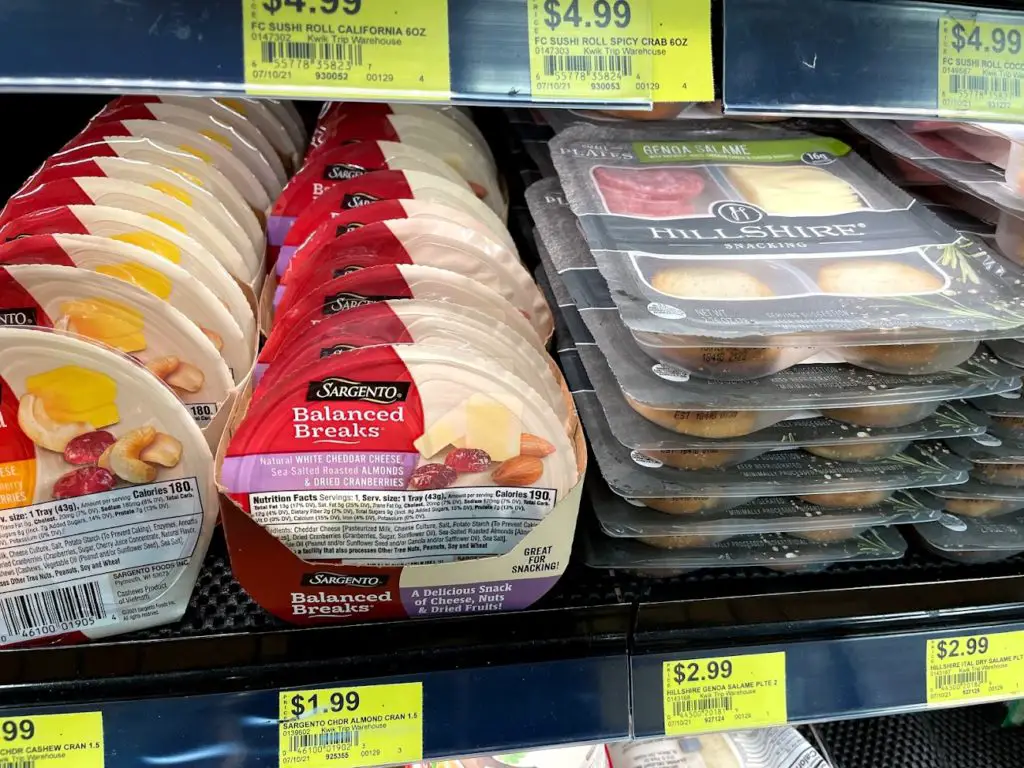 Perfect Bars
My favorite healthy snack—whether I am at Kwik Trip or not. These bars are made from whole foods only and without natural flavors. They have a variety of options and the best is the Dark Chocolate Chip Peanut Butter. The best part? They really do fill you up with 15 grams of protein.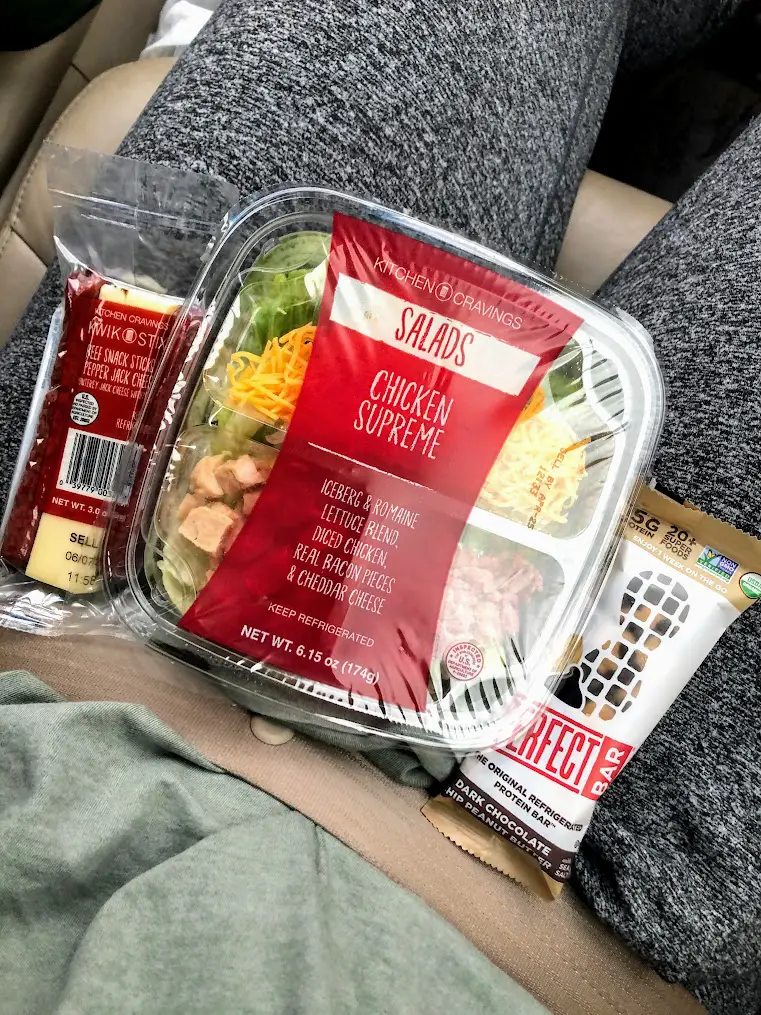 Prepared Salads
One of my go-to's when I need some easy vegetables! There are a variety of salad options with fresh lettuce and toppings that come in a separate compartment—perfect if you want to leave something out. My go-to is the chicken supreme!
Kwik Trip Drinks
Chocolate Milk: Honestly, I'm not a huge chocolate milk drinker but it seems to be extremely popular with the Kwik Trip community (yes, there is a community ha) and is very affordable!
Smoothies: Stop by the self-serve Fresh Blender machine. Create your own smoothie through a touchscreen menu. The kids love it!
Flavored Water: Kwik Trip carries Vita Ice which is a staple for my husband and must-grab for flavored water fanatics.
Karuba Coffee: You know this one already!
Beer & Wine: If you're in Wisconsin, make your alochol purchases at Kwik Trip. If you're in Minnesota, they still need to get with the program. (Don't drink and drive ;))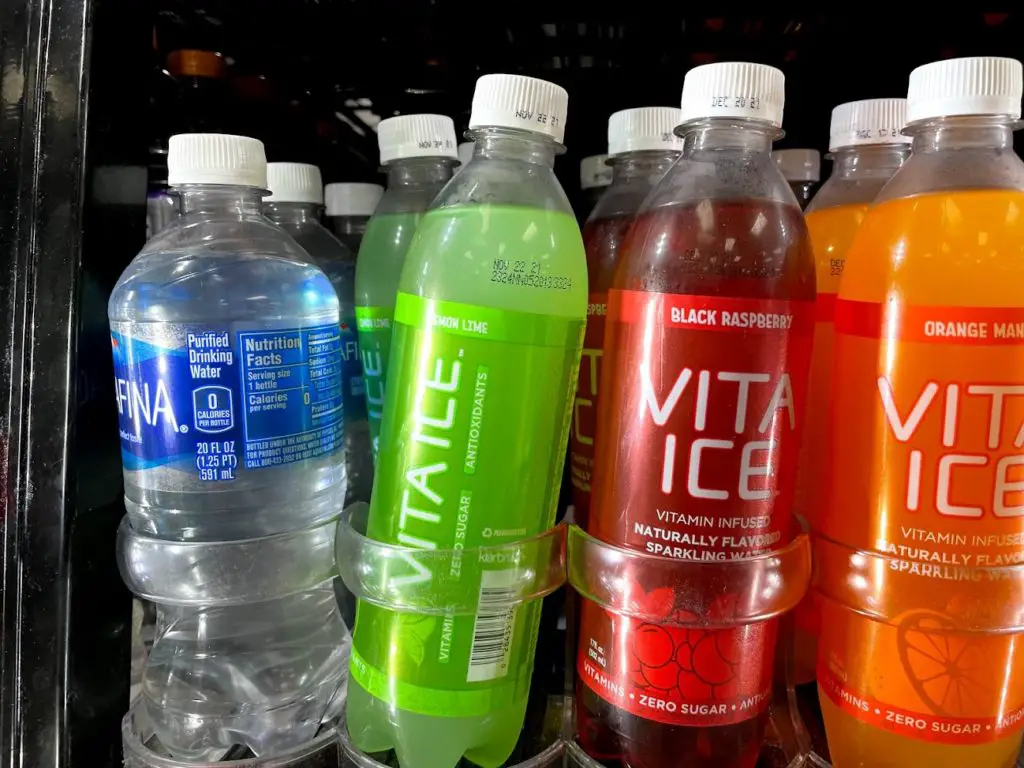 More Kwik Trip Foods:
Pizza: They always have great options by the slice. And sometimes there are insane deals on full pizzas you can't pass up! Plus, they have take and bake pizzas as well.
Croissant Breakfast Sandwich: People swear by these! The egg and cheese croissant sammy's are pretty big and a little much for me in the morning, but if this is your type of thing, you'll love it.
Cake Donuts and Scotcheroos: I mentioned the Glazer but there are other top-notch sweet treats to check out at Kwik Trip. (Pro Tip: go for one of these top 3 items vs. a cookie.)
Fried Chicken and Chicken Tenders: Take care of the whole family with one purchase! Their boxes of chicken are a hit.
Pro Tip: Kwik Trip Take Home Meals
The last thing you want to do when you get home from a road trip is cook! Lucky for you, Kwik Trip has a variety of meal options that include Kitchen Cravings take home meals that are ready to eat as soon as you walk in the door.
Spicy Chicken Penne
Macaroni and Cheese + Chicken Bacon Mac and Cheese
Grilled Chicken Fettuccine Alfredo
Spaghetti and Meatballs
BBQ Baby Back Ribs
Roasted Turkey Dinner with Stuffing, Mashed Potatoes & Gravy
Homemade Soups
Burritos with Rice
Beef Stroganoff
Chicken, Rice, and Broccoli
And they are always adding more!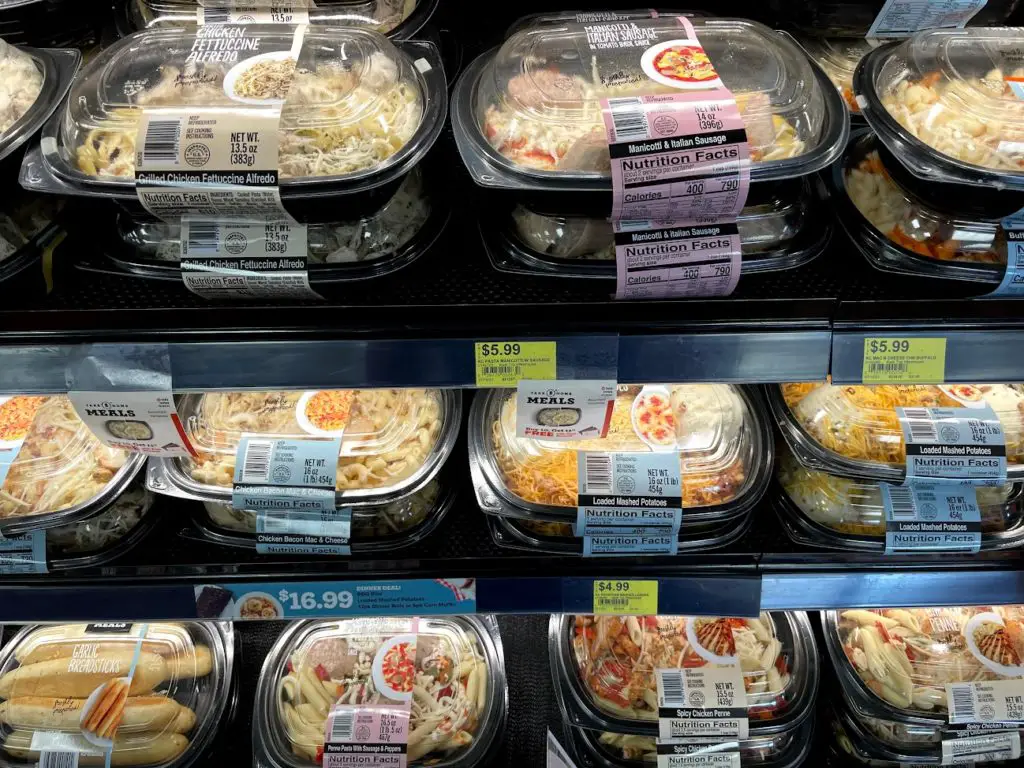 Another Bonus: Kwik Trip Grocery
Kwik Trip is a low-key grocery store. When returning home from a trip, we typically don't have much in the fridge. But at your convenience, you'll find milk, eggs, cheese, avocados, meats, pizza, and more at every Kwik Trip. Stock up on a few staples at a great price to buy yourself some time before the big grocery store!
The Beauty of Kwik Trip
Who knew a convenience store chain could be such a game-changer lol? The gas stations' quality food options, whether you want a full meal, snack, or groceries, are bar none. And Kwik Trip stores go above and beyond with all their other amenities—staff, clean bathrooms, rewards program with fuel discounts, new and improved products frequently, the list goes on and on. Show me a better gas station in the United States. You can't.
Next time you are heading to Duluth, Minnesota, Eau Claire, Wisconsin, or the Upper Peninsula, make sure a Kwik Trip location is included in your travel stops!
What Kwik Trip Food did I miss? What's Your Favorite?
See ya next time. 😉
Did this post help you out? Support the work and pass along $5 for a couple burritos 😉 VENMO: @Amber-LBB or PAYPAL: amber@littlebluebackpack.com. THANK YOU.