If there is one thing Detroit Lakes knows how to do, it's have a good time! And that, of course, includes all of the cocktails and food you can find in the area. There are bars and restaurants in Detroit Lakes, Minnesota that are right on the water, in addition to others spread out across the city with their own fun and unique atmosphere.
Find yourself on an outdoor patio—some with cozy, wood-exterior, string light vibes, and others that are simply picnic tables overlooking the water. If it's not a nice day, no worries. You will find spacious, well-decorated inside bars and restaurants that serve you the same drinks and delicious food.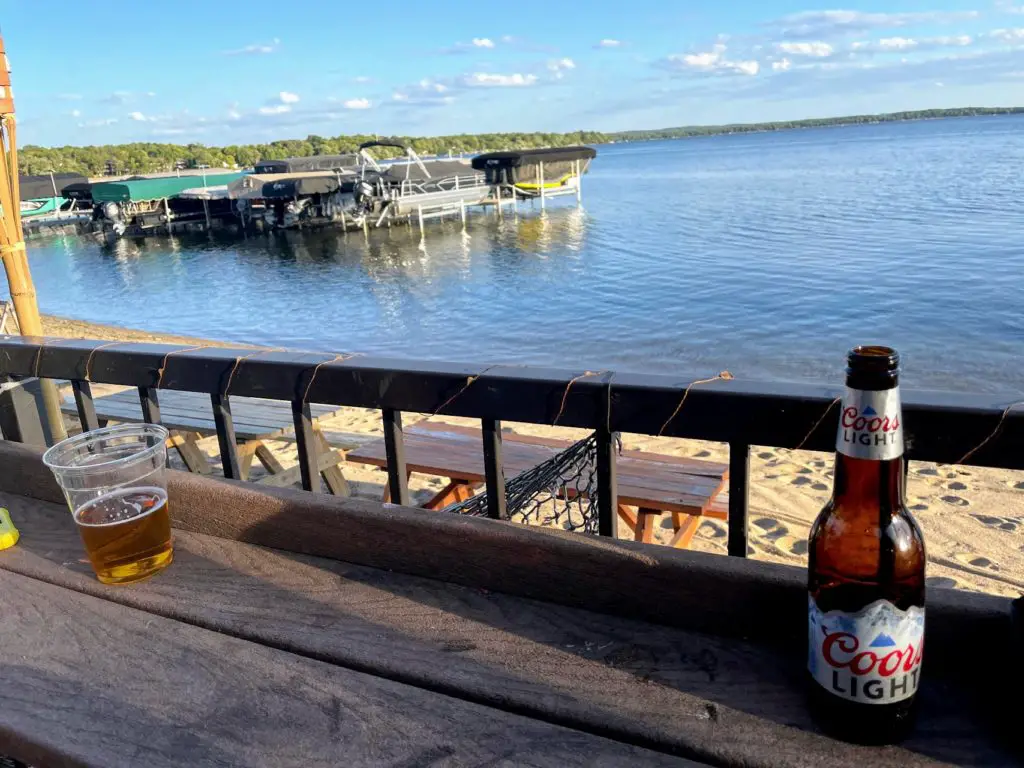 No matter what your favorite type of restaurant/bar is, you are going to find something in Detroit Lakes, Minnesota!
Here are my top recommendations:
Mini-Bar Hop in Detroit Lakes, Minnesota
Let's get it going right off the bat with not one, but three bars and restaurants in Detroit Lakes Minnesota that are all located right near each other. Once you find yourself on the northern end of the lake on West Lake Drive, you are going to have a hard time NOT craving a cold beer! Luckily for you, there are three bars within a 2-block stretch.
PARKING:
If there isn't anything on W Lake Dr., you will be able to find plenty of spots available on one of the side streets. You might just have a little walk! Roosevelt Ave, Washington Ave S, Lake Ave, and Minnesota Ave. are all great options and put you right where you need to be.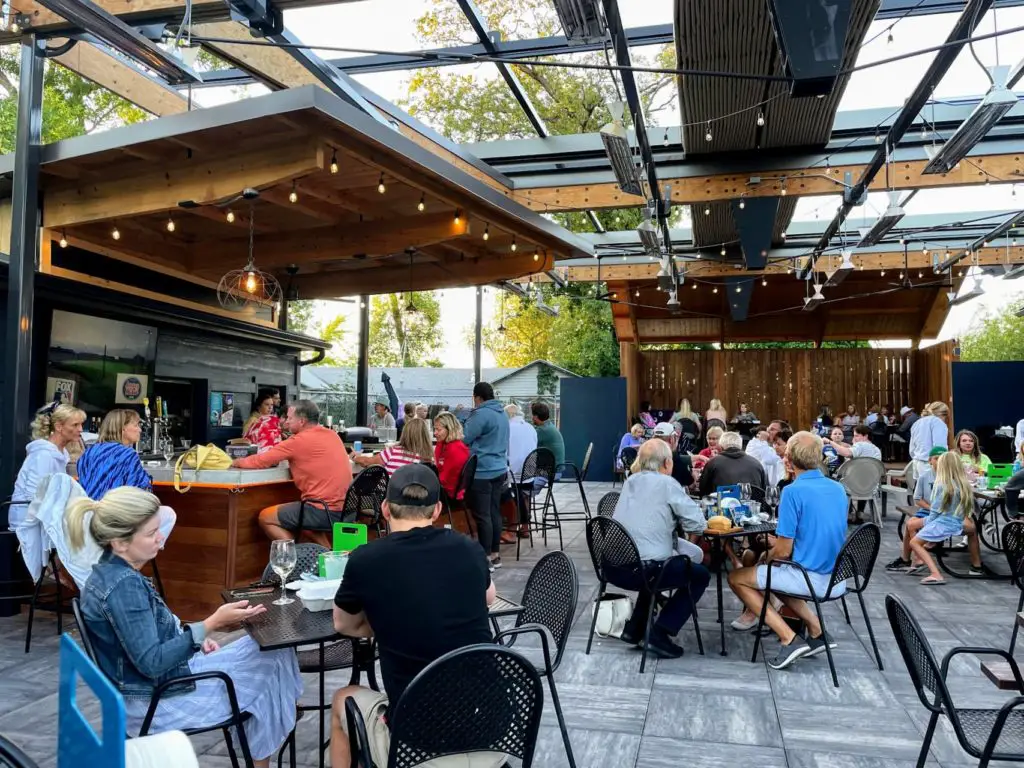 Hub 41
american eats in a new-age setting
The eastern-most bar on this section of Detroit Lake is Hub 41, which sits directly in front of the marina. This place, which wasn't in the original plan, sucked us in on a sunny afternoon! Their colorful outdoor patio was all we needed to see. And on the way out, we noticed their rooftop patio to go along with it!
Their tagline, Eats on the Beach, is enough to get you to add this place to your list. Their upscale-American menu offers options like Fish Tacos, Lobster Fries, California Burgers, Gnocci Mac & Cheese, and other inventive fares that will have your mouth watering.
And if you're just ready for a beer on the patio (rooftop or ground-level!), grab a craft beer on tap or a cocktail and enjoy the space. I would most certainly return to this restaurant/bar in any season!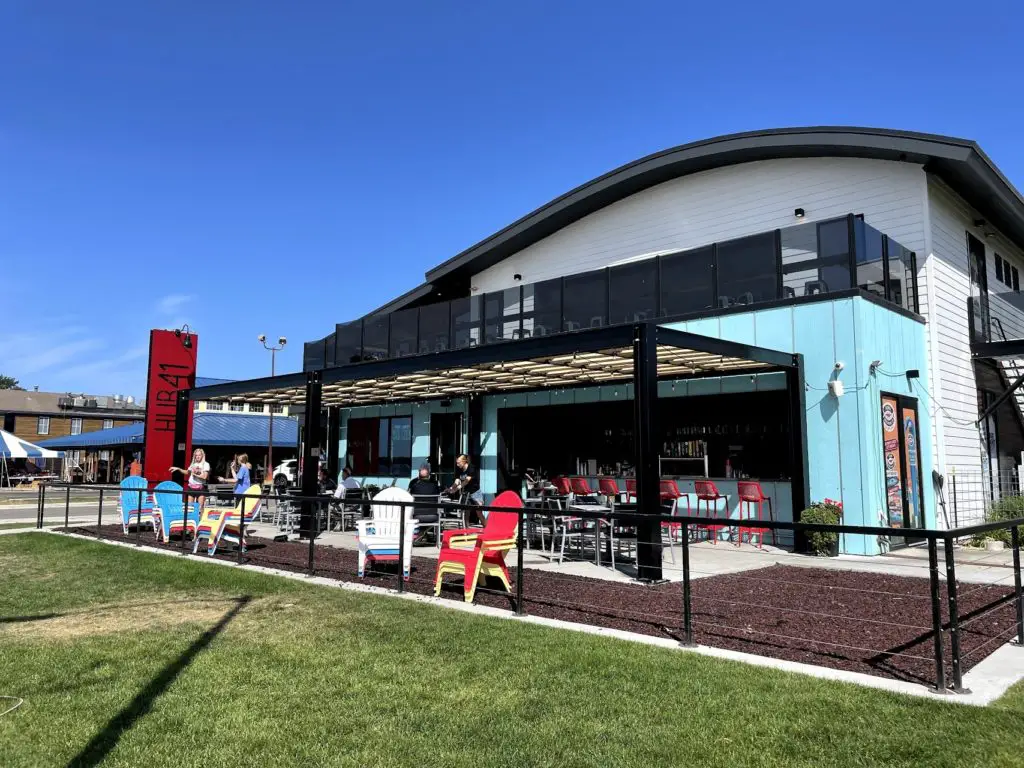 Lakeside Tavern
Craft beers outside with lake views
Right across the street is Lakeside Tavern Brewery, a year-round tavern that is said to be a Detroit Lakes staple since 1891! They serve a rotation of their own brews including the Tavern IPA, North Shore Pale Ale, Harry Man Porter, and (my personal favorite), the Lake Water Lager—"it's just plain ol' beer."
If you need a little base in your belly, you'll find a menu full of pub grub. Pizzas, tavern snacks like Boneless Wings and Pretzels, as well as Burgers and Sandwiches are available for a delicious meal or snack.
Choose indoor seating that includes a long bar with plenty of TVs, plus high-tops, low-tops, and booths. If it's a nice day though, you will definitely want to take advantage of outdoor seating overlooking Detroit Lake!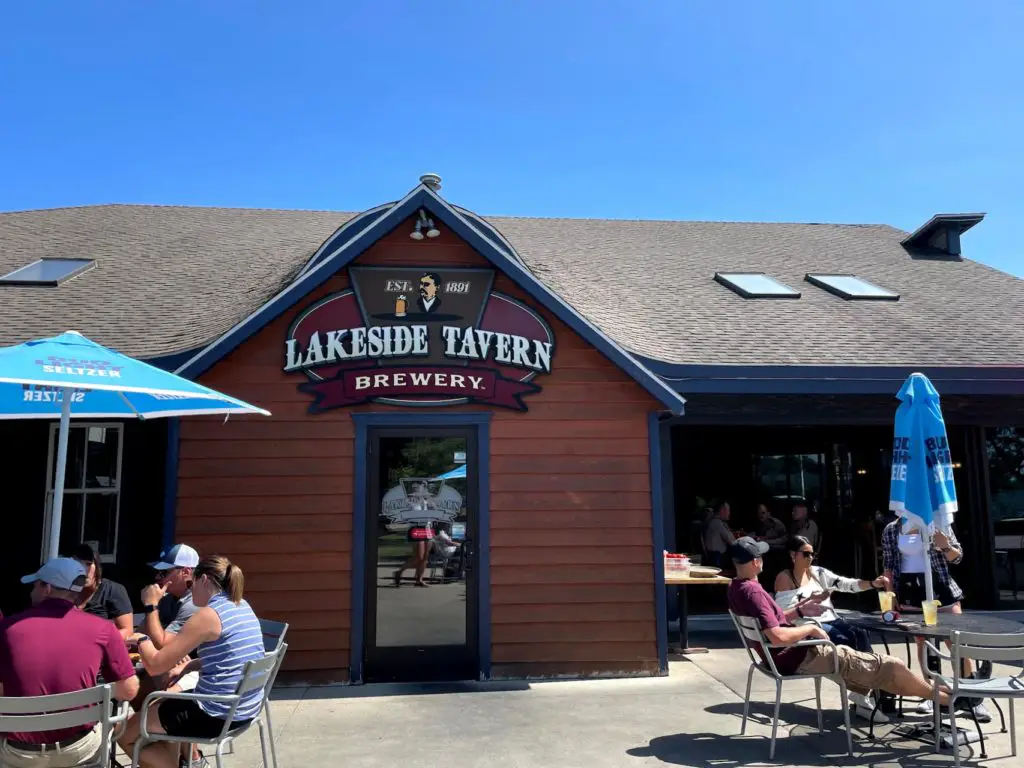 Zorbaz
Party-time!
Next on the mini-bar hop is Zorbaz, a Minnesota-staple! Everybody loves to party at Zorbaz and it's no secret why. It's a good time—EVERY time, no matter which location (11 in total) you visit. And just two blocks down from Lakeside Tavern & Brewery (walk the beach!) is where you will find the Detroit Lakes Zorbaz.
The self-proclaimed world's greatest Mexican-PIzza joint will serve you just that. From made-to-order pizzas just how you like them to nachos and burritos, you are set with this delicious menu. If you are going for a snack, I recommend the chicken nachos (the picture is half-size.) Order at the bar, you'll get a number, and they will bring it out to you.
And to wash it down, grab one of their tap beers from the long list including seasonals, lights beers, and every craft kind you can think of. Mexican food and beer? Yes, please.
And as far as seating, the space is huge. Find a table on one of the outdoor patios areas. Sit at the long bar. Find a high-top. Or your typical low-top for big groups. I recommend the outdoor patio in front with views of the lake, picnic tables, string lights, and overhanging trees.
That completes the mini-bar hop on the northeastern end of Detroit Lake.
Continuing your way west, you'll find Mi Cartagena Cafe which would be a great place to start your morning. And also, El Loro Mexican Restaurant is near there as well if you're looking for the perfect margarita!
And now, let's make our way back east…
Holiday Beach Bar
Colorful Escape to a Florida Resort
On the northeastern side of Detroit Lake (only about 2 miles from Hub 41), you will find Holiday Beach Bar & Grill which is a part of the Holiday Inn. This hotel bar is right off of Hwy 10 as you come into town from the east.
This place knows how to have fun. Boats on the water. The sand below you. Pops of color in every direction. It honestly feels like you went to Florida! As they say, this is NOT your average hotel bar. It's a relaxing outdoor spot that includes big-screen TVs for the game and a DJ on Friday + live music on Saturday nights.
The Beach Bar & Grill has a great happy hour —Sunday-Friday (1 pm to 7 pm) you will get 2-for-1, 16 oz. Domestic Tap Beer, House Wines, and rail drinks. And on Saturdays? $4 Bloody Mary's & Mimosas all day. What a party!
The Ice House Restaurant
Convenient Hotel Food Option
While the Holiday Beach Bar & Grill is the party spot, Ice House is the restaurant tied to it. This place serves the best breakfast, lunch, and dinner in a beautiful setting that's perfect for any time of day.
It's a great restaurant for the brunch Sunday buffet, burger night on Monday, tacos on Tuesdays and more specials throughout the week. It's a family-friendly space with views of the lake, plenty of tables and booths, plus a bar area with fun bartenders. Grab dinner here and then stick around for a nightcap and make a few new friends!
Don't miss The Best Things to Do in Detroit Lakes, Minnesota! You'l get a lot more great ideas and learn more about The Holiday Inn—you'll want to stay there.
More Bars and Restaurants in Detroit Lakes, Minnesota
Though the above is considered my favorite, this is not the full extent of your options for food and drink on Detroit Lake. Here are a few more:
Roasted Pub & Eatery
Great Cocktails & Eats Downtown
If you head north of Detroit Lake and into the downtown area, you'll find Roasted Pub & Eatery. This place is unique in that you can grab both your morning coffee and your afternoon happy hour here. The front end of the space is dedicated to a small coffee shop area, and once you head back, you'll find traditional bar seating and a long, beautiful bar.
Roasted Pub & Eatery serves great food with an upscale-American menu that includes woodfire pizzas, Mediterranean salmon, craft beer, and plenty of cocktails. The food quality is top-notch and once you visit, you'll want to come back again!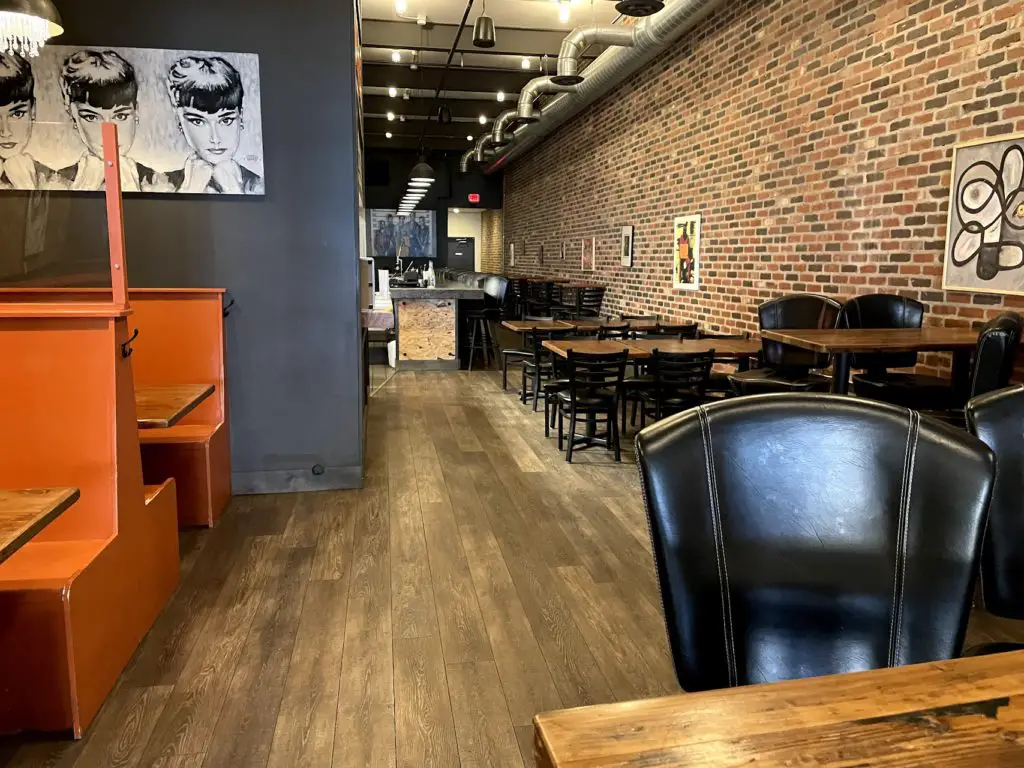 Hotel Shoreham
pizzas on string-lit outdoor patio
Last, but certainly not least, is Hotel Shoreham, which is definitely one of my favorites with the best pizza in town! Plus, a great atmosphere and good service to go along with it. This is one of the top-rated restaurants in Detroit Lakes, Minnesota and you won't want to miss it.
Located southwest of Detroit Lake and about 5 miles from Zorbaz, this bistro/bar was built in 1910. They serve homemade pizzas with made from scratch dough and the freshest pizza toppings. Plus, pasta, sandwiches and more.
The Hotel Shoreham bar outside is a hoppin' place with a fun vibe that includes string lights, wood-exterior, and plenty of people. I cannot wait to return sometime!
Bars & Restaurants in Detroit Lakes Minnesota
When you visit, one of your favorite things is going to be all of the fun bars and restaurants in Detroit Lakes, Minnesota. There are too many for one weekend trip, but do your best to hit as many as you can!
For a LOT more information on the area, read The Best Things to Do in Detroit Lakes, Minnesota.