Munising, Michigan is a real-life painting. A destination where you'll think 'this is Michigan?' at least a few times a day. Turquoise waters. Painted cliffs. Countless trails. It's amazing…yet confusing…
Has this always been here?
Welcome to a different time. A different place. An escape like no other. Travel to Munising, located in Michigan's Upper Peninsula, and you will want to stay for days on end. Their slogan, Picture Perfect, is just that—perfect.
Disclosure: This post contains affiliate links that earn a small commission at no extra cost to you.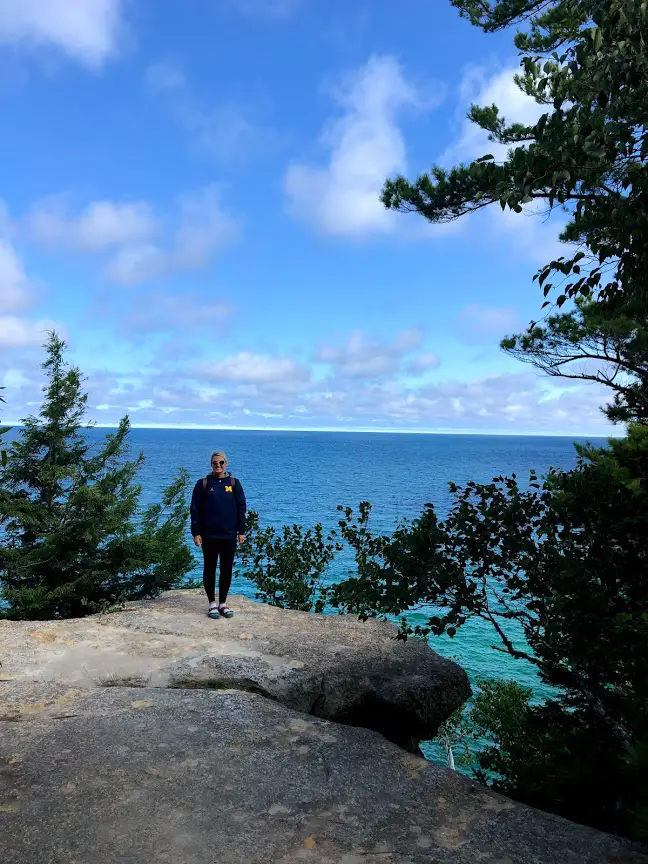 What to See in Munising, Michigan
Munising is one of the busier areas of the U.P. given its beauty, attracting tourists from around the world—that is if they've heard about it. Waterfalls of all shapes and sizes, sandstone cliffs as high at 200 feet, lighthouses, islands, and beaches with water the color of the Caribbean Sea.
No matter what type of outdoor activity is your jam, you'll find it in Munising, Michigan. You won't get it all done in a day or two. But I have a few places that should be high on your list!
Pictured Rocks Cruises
One of the most popular things to do in Munising, Michigan is to hop on a cruise that tours the Pictured Rocks.
You must see Pictured Rocks from the water. There are no if's, and's, or but's about it. And to clear up any confusion; no, this 42-mile stretch of rock is not painted by humans. Au naturel. And she's gorgeous.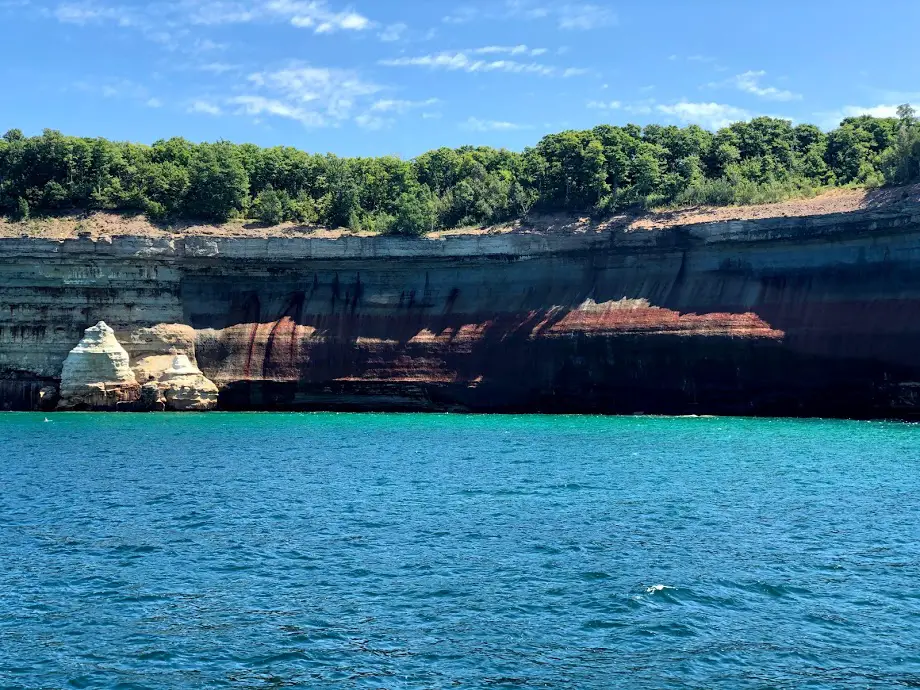 Ways to Tour Pictured Rocks
You choose whether to tour by cruise, kayak, or a personal boat. It does need to be a very, very calm day for a personal boat. We're talking the big, big Lake Superior here.
We went with the cruise tour based on reliability. Now, I'm not someone who seeks out tours—I often find them boring. But I found this one to be worth every penny.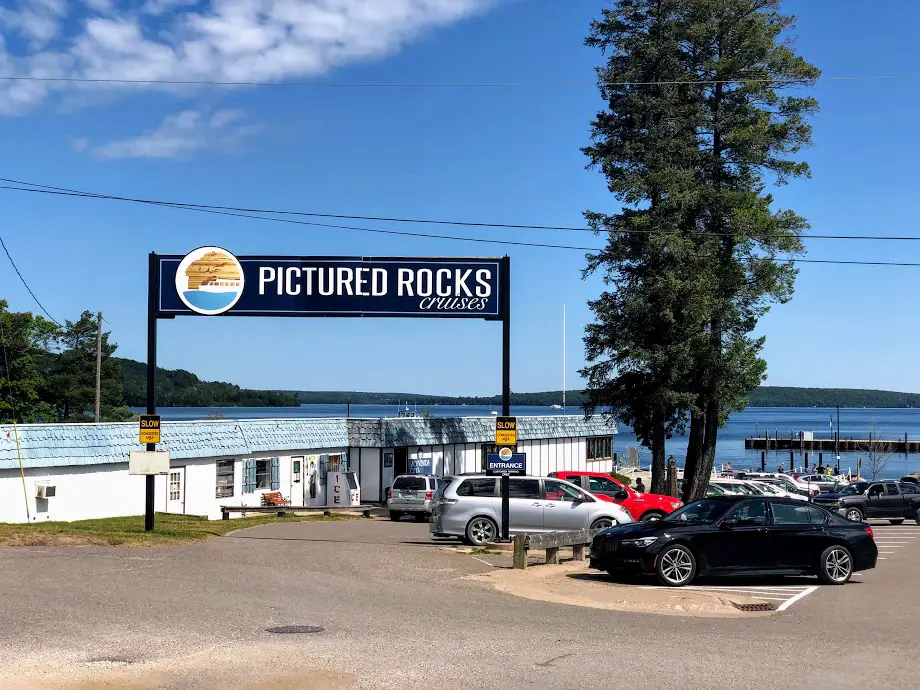 Classic Cruise, Spray Falls Cruise, or the Sunset Cruise:
Classic Cruise; $38, 2.5 hours, all of the stops besides Spray Falls
Spray Falls Cruise; $45, just over 2 hours, all of the stops including Spray Falls
Sunset Cruise; $38, 2.5 hours, Classic Cruise at sunset
We went with the Spray Falls option. Two hours was plenty and you get to see Spray Falls as a bonus site. My advice is to try to get on a Spray Falls Cruise but if times don't work out or Spray Falls is full, don't feel like you missed out on a ton if you are on the Classic Cruise.
Just get on a boat! It's recommended to book this in advance. They were completely sold out the day we tried and we had to wait until the following day.
My Highlights:
Lovers' Leap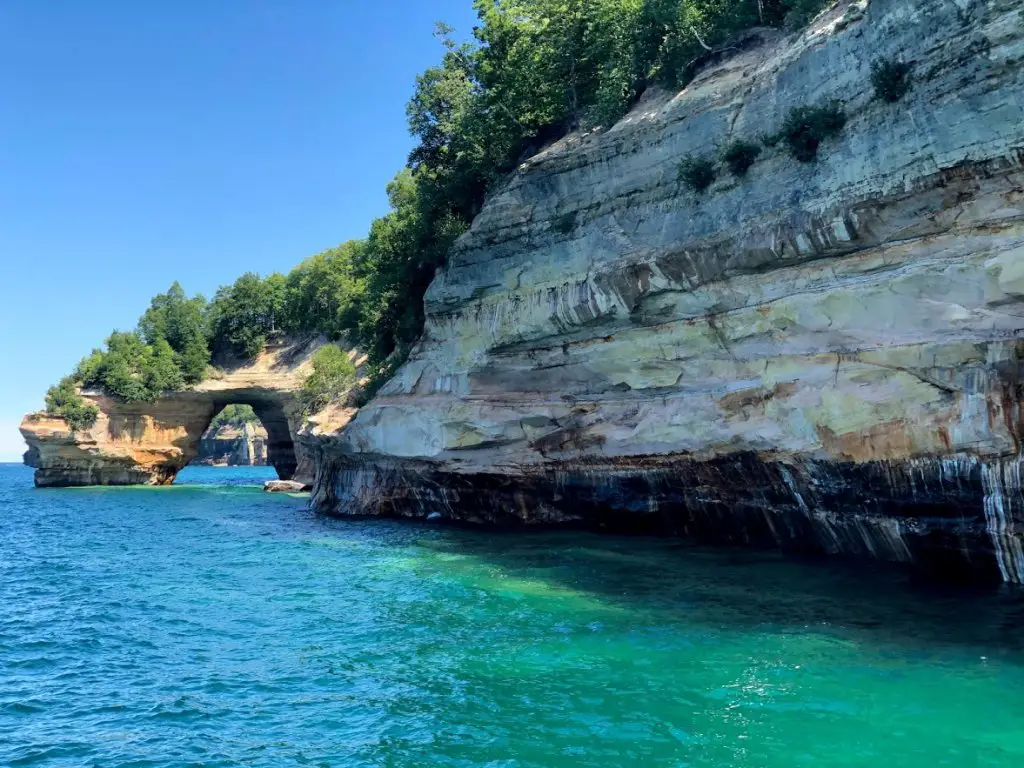 I love this spot with the tunnel and gorgeous water. If you do one of the kayak tours, you can go right underneath! P.S. those kayak trips didn't look easy when I was watching from the cruise ship. Lots of hard work!
RAINBOW CAVE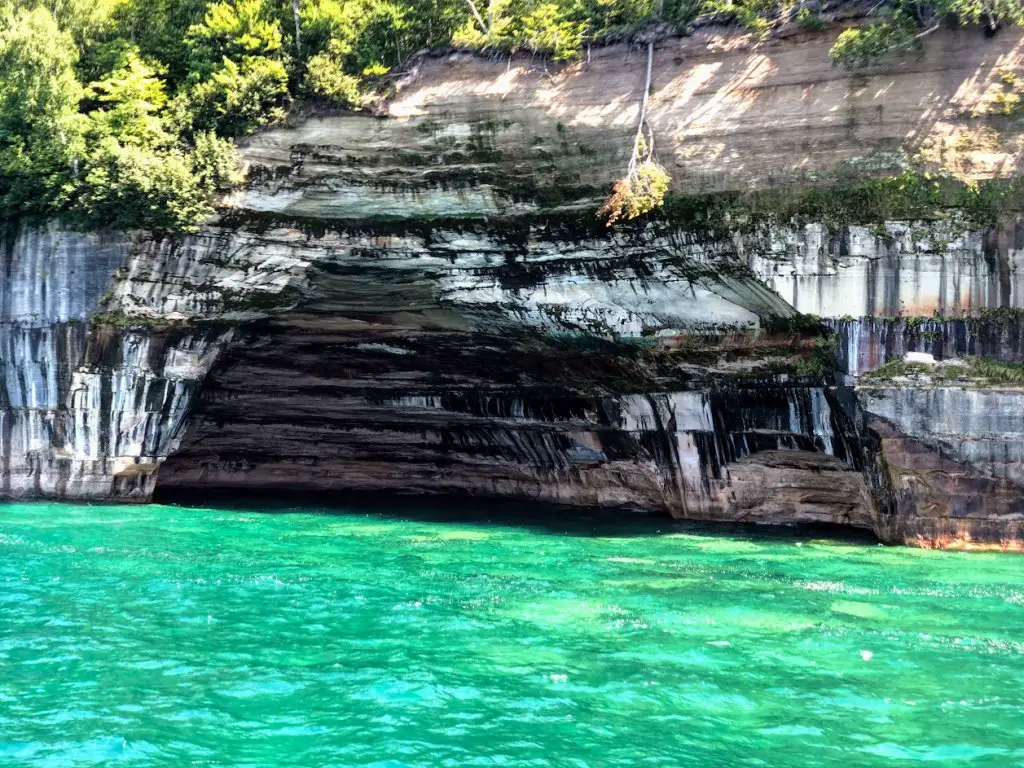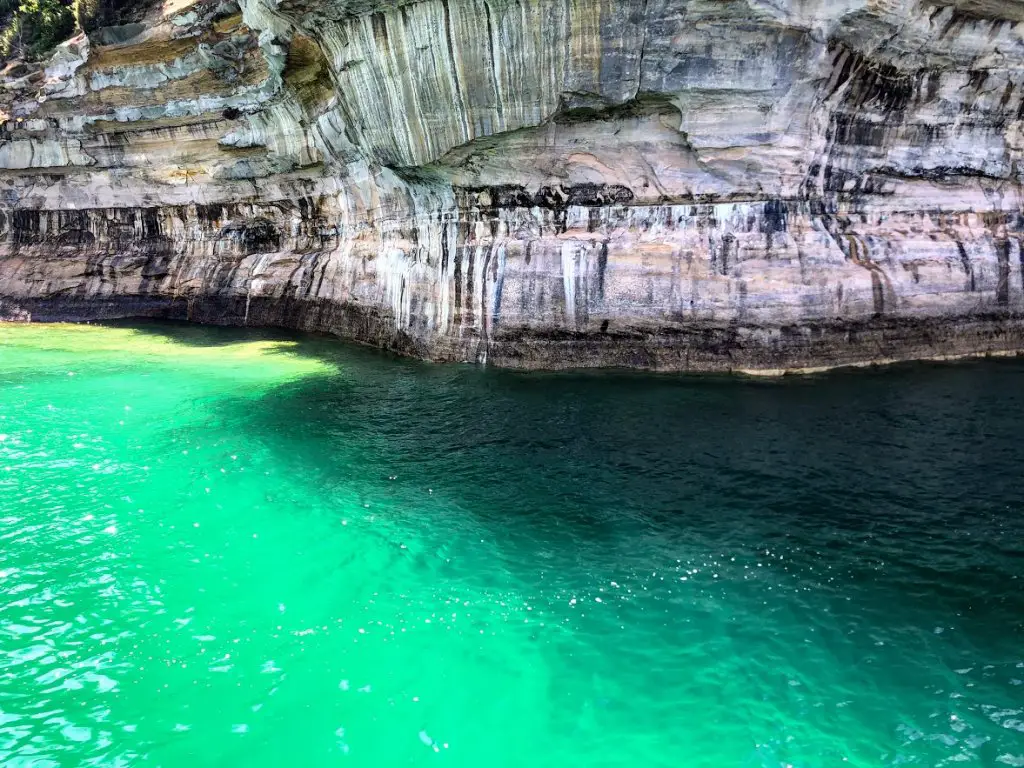 Between the color of the water and the paint on the rocks, this makes for one of those 'this is Michigan?' moments…
INDIAN HEAD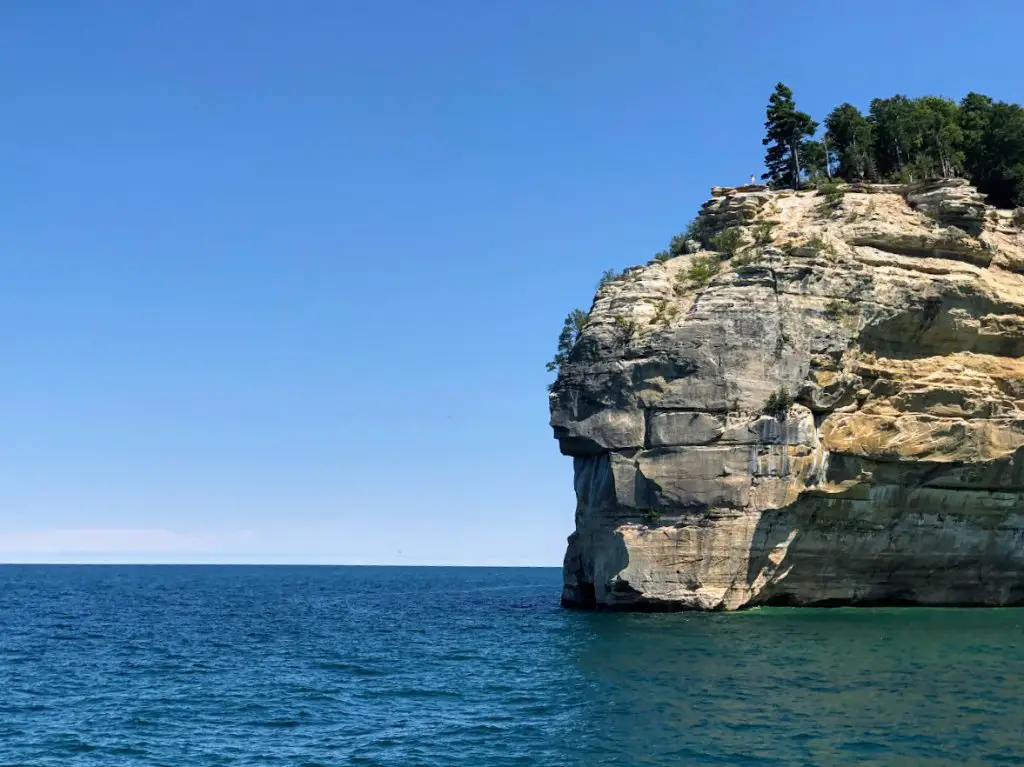 Can you see the face?
SPRAY FALLS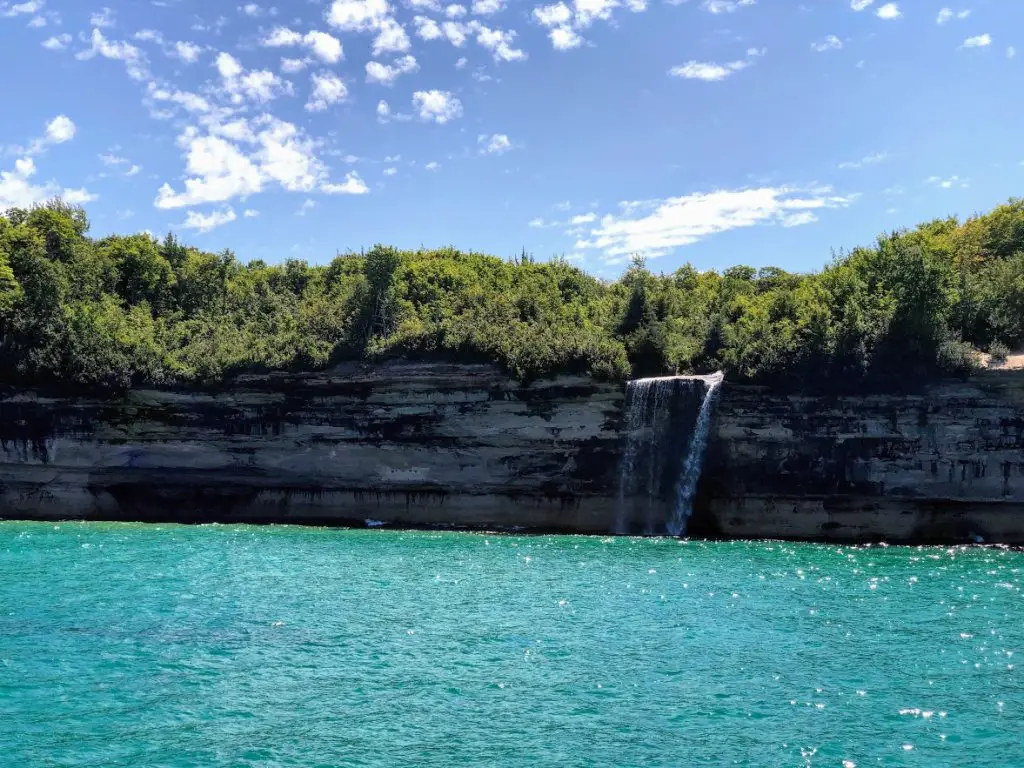 I think going a little farther down the shoreline is worth the $7 extra. Plus…waterfall!
Few More Pictures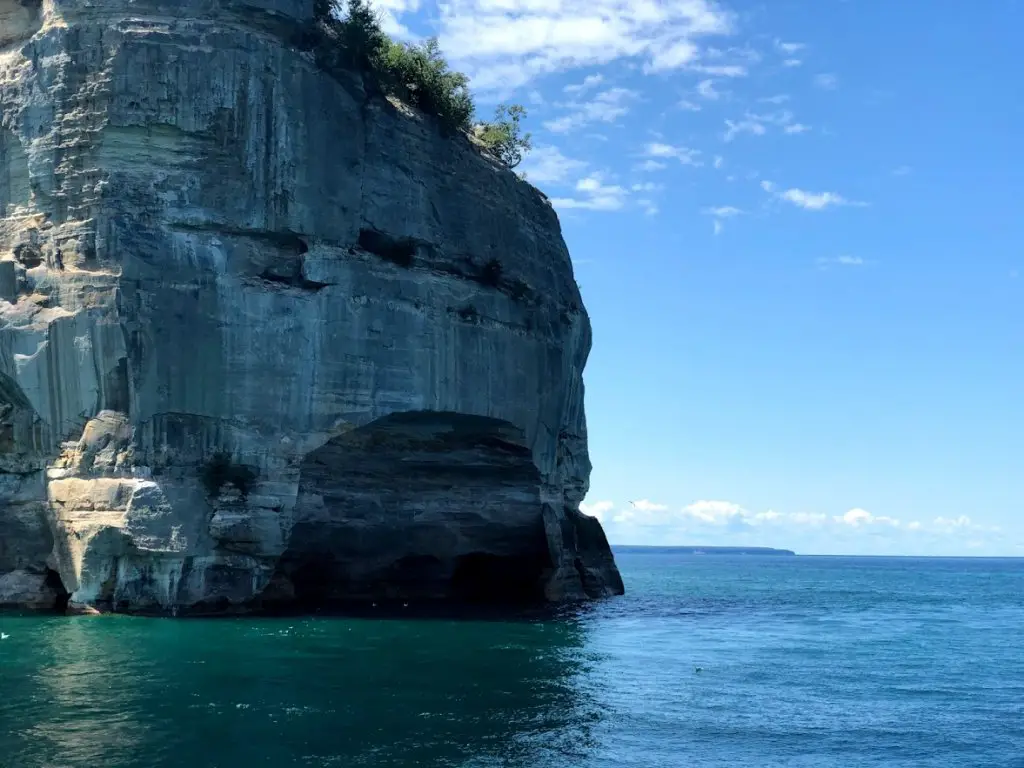 Looks at those calm waters. COME ON!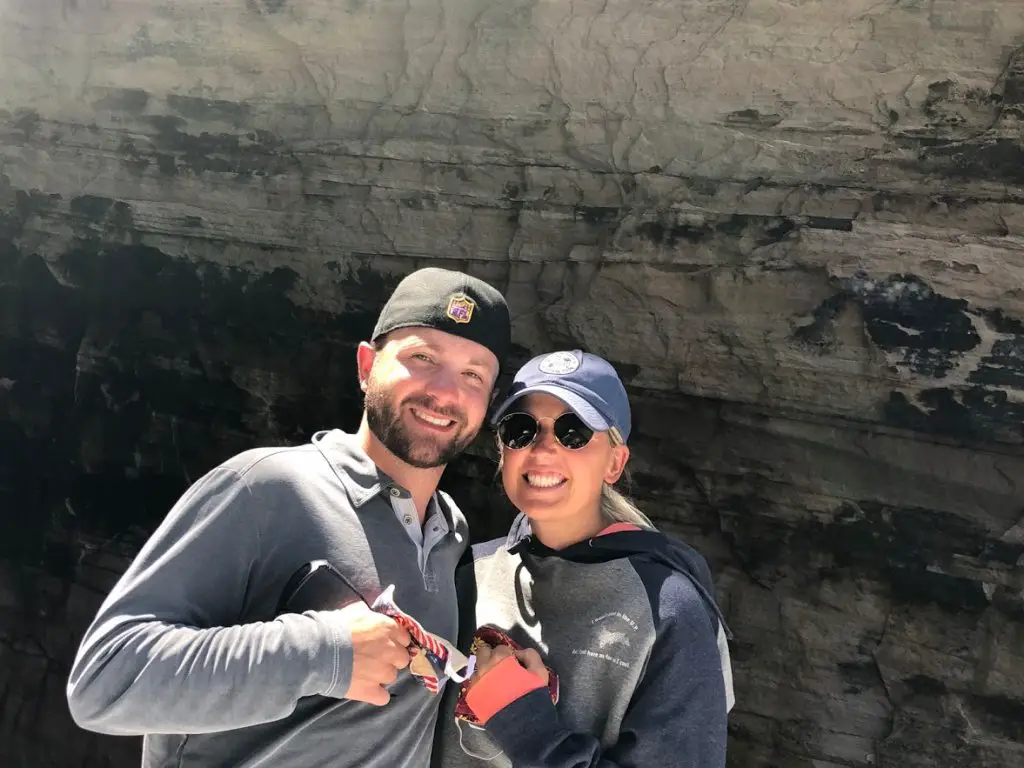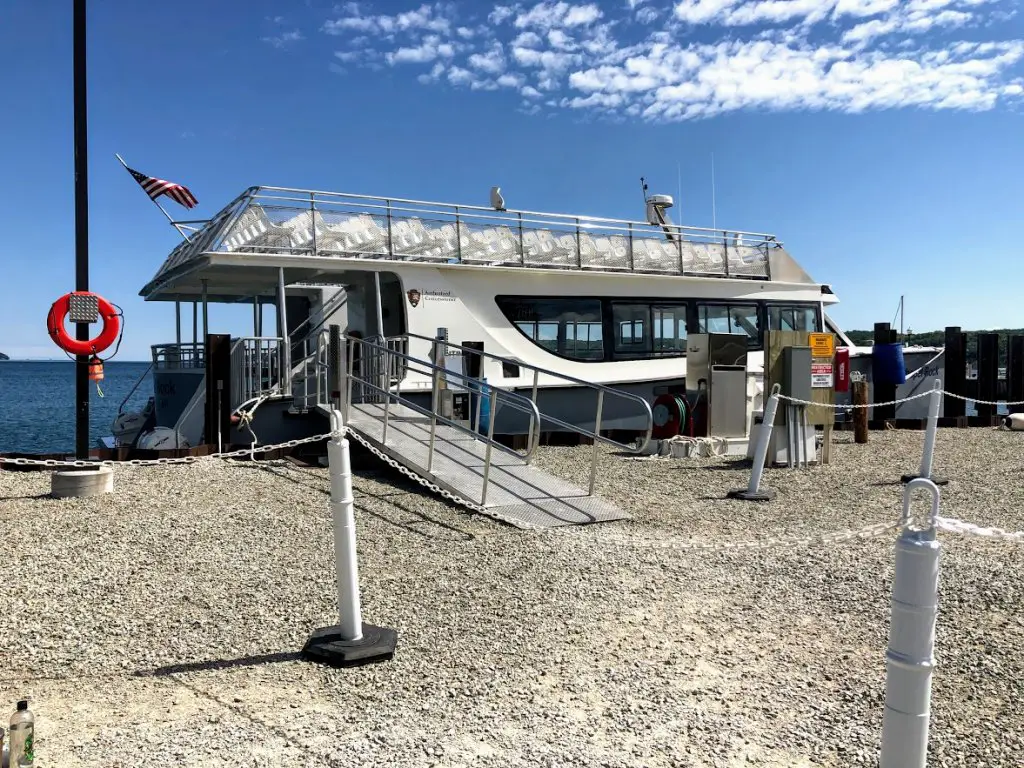 Here's the cruise ship. You're allowed to start lining up 1 hour before launch. It's first-come, first-serve on seating with the top-right being most desirable.
We arrived at about 12:05 for a 1:00 cruise and were second in line. There are benches to sit on and a gift shop nearby, with a lot of cute clothes and souvenirs, if you can get one person in the group to stay back!
And a couple of last tips:
Snacks: They sell bottled drinks and light snacks at the bottom level.
Clothes: Make sure to bring a long sleeve, even if it's a nice day!
Tip: Don't forget to give your tour guides a little cash!
Hike to Chapel Falls + Rock + Beach
There are tons of hikes in the area whether you want to chase a waterfall, find a beach, or just get out into nature and explore. I was determined to get to Chapel Rock and I am so glad we did. It far exceeded my expectations and was my favorite part of our time in Munising, Michigan.
The hike is 6.2 miles roundtrip, mostly flat land, and worth every single step. And the reward will take your breath away.
Your first landmark will be Chapel Falls and you'll continue on your way to hit Chapel Rock, which is in the same area as Chapel Beach.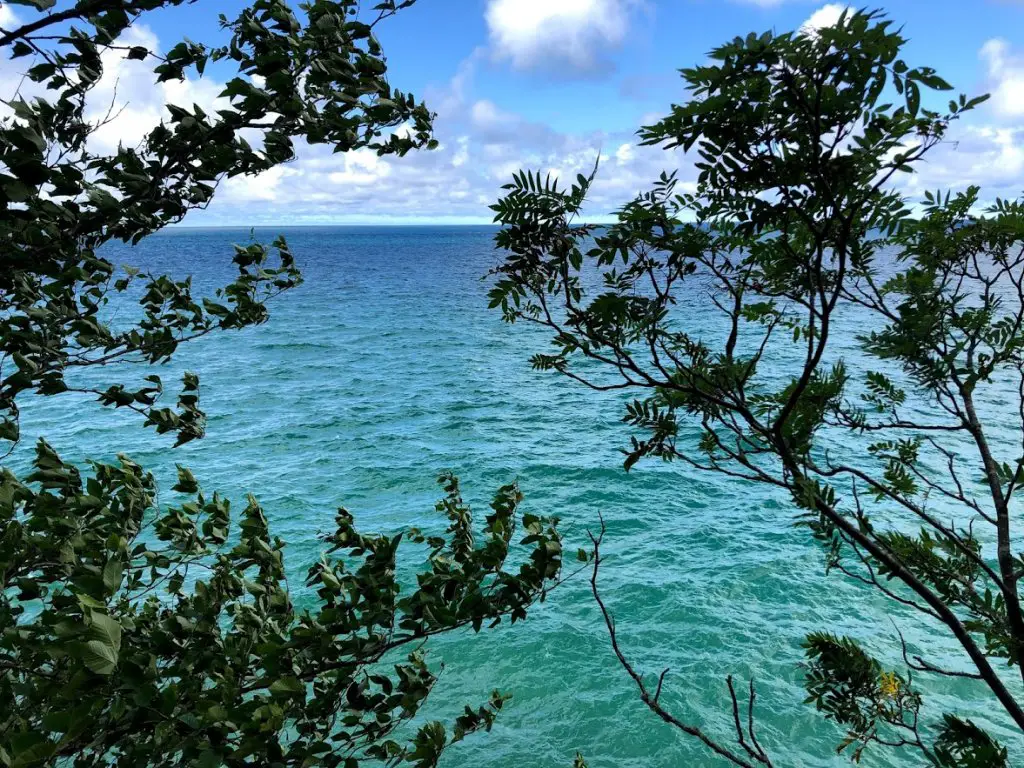 Chapel Falls
You have a 5k (3.1 miles) to the ultimate destination. (And the same back, obviously.) The bonus? Right at about 1.25 miles in is Chapel Falls which is perfect to break it up and boost your energy with a good view.
The spacious path is well-kept and remains flat. Once you're here, take a little break to admire the falls and snap some photos.
Now sure, this is cool and a checkmark next to "waterfall." But don't you dare walk to Chapel Falls and then turn back towards the parking lot. That's like ordering a steak and skipping out after the salad bar…keep walking.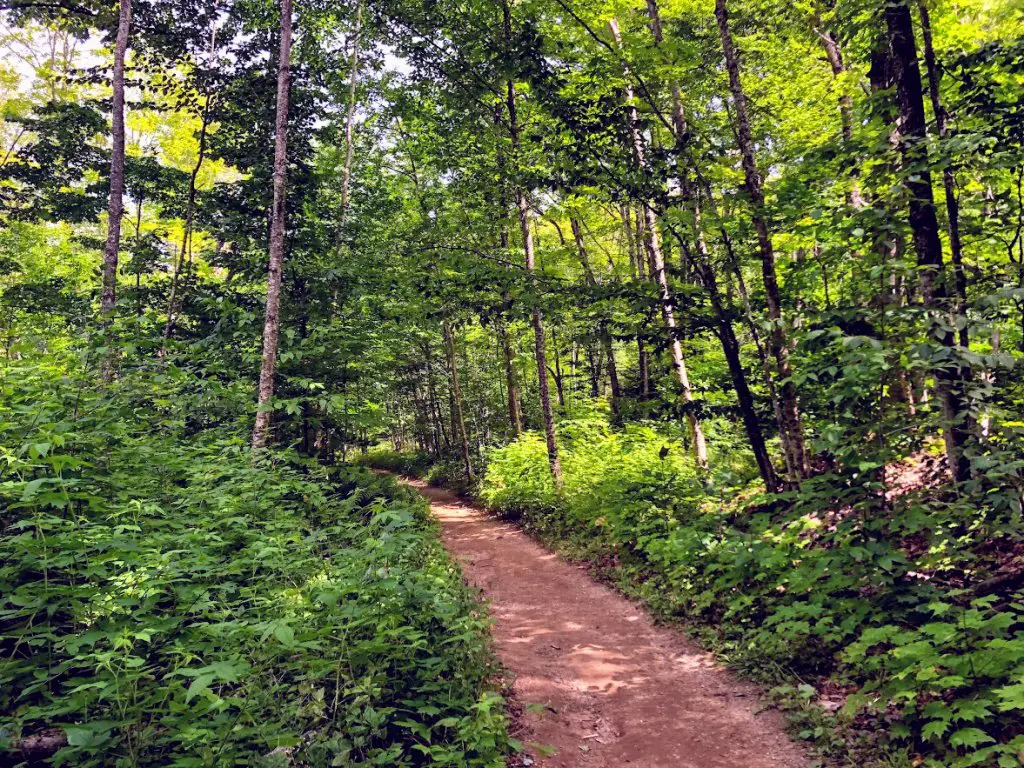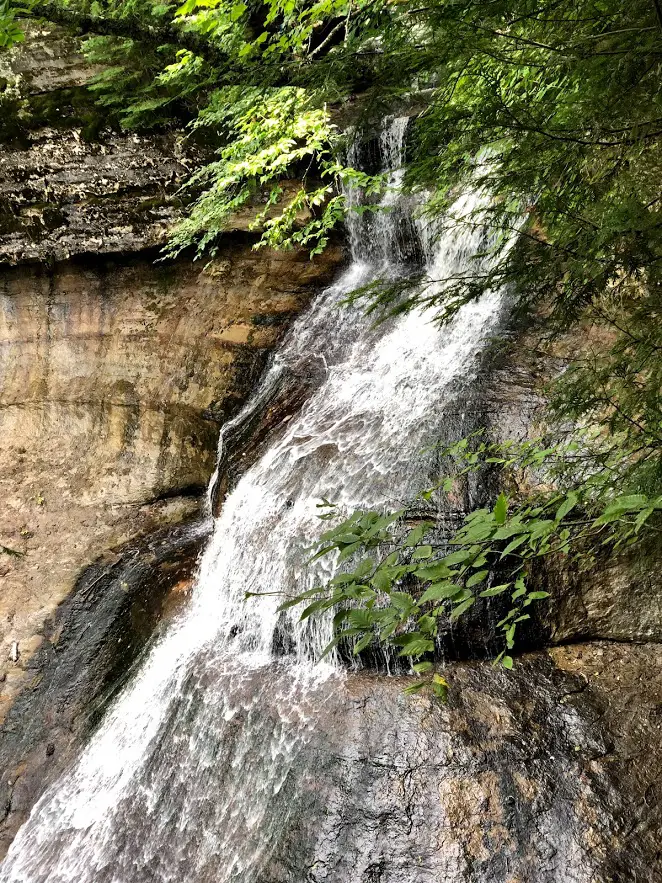 Chapel Rock
You have 1.85 miles left which are mostly flat until the end. And you will make it to one of the most memorable stops in the entire U.P. The water looks downright fake, a large rock formation hangs over it, and oh yeah, there's a tree growing out of it? Your head will turn like a dog who hears the word "outside." Appreciate the view. Snap photos. Remain in awe.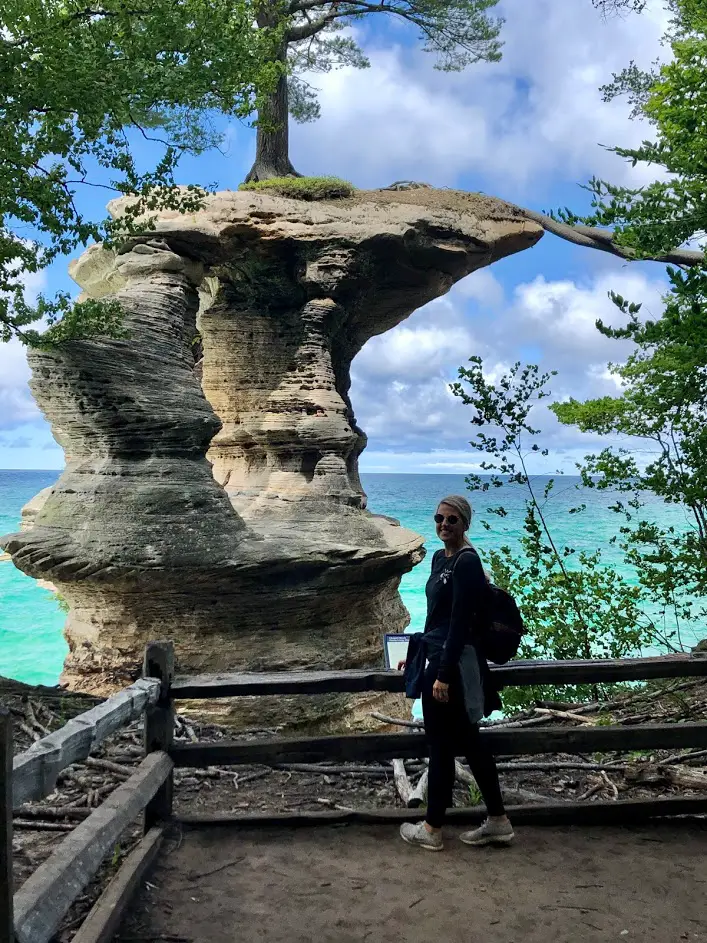 And just when you've realized this is still real life, you'll peek over to the left and find the most gorgeous white sand beach…
Chapel Beach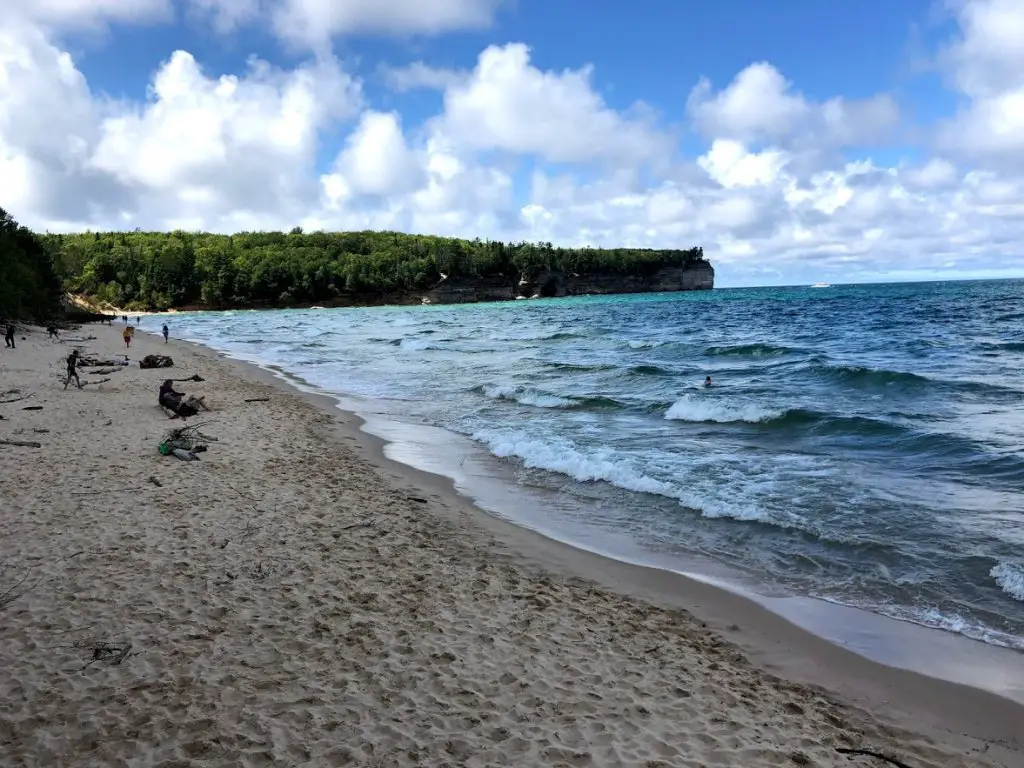 My only regret was not staying at this beach longer. I recommend doing your hike in the morning and then spending a few afternoon hours here. It's so relaxing and enjoyable.
Take a backpack, stick a small cooler pack in there with drinks, and a couple of snacks (keep it as light as you can), and I promise you, you will enjoy yourself.
Final Tips
Parking: Unless you get here in the early morning, be prepared for the parking lot to be full. No worries, you can parallel park along the path. It's just a bit of an extra walk.
Free: There is no park fee to enter!
Airplane Mode: You will have bad service so switch into airplane mode and save battery for the camera.
What to Wear: Definitely full shoes over sandals and bring a layer for overtop. You never know.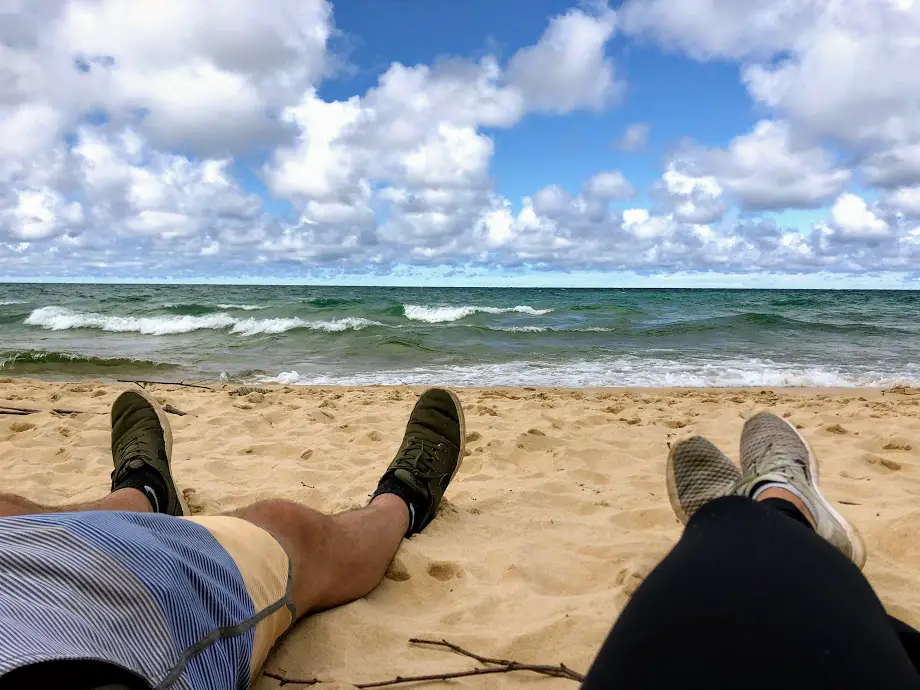 Miners Castle Overlook
Another well-known destination in the area. This is great to add to your list because it doesn't take long to accomplish yet it's one of the most beautiful places!
From downtown Munising, drive east on H-58 for about 5 miles and take a left on Miners Castle Rd. It's another 5 miles and you'll hit the parking lot. It's a super short walk to the Upper Overlook (top picture) and not much farther (less than half a mile) to the Lower Overlook (bottom picture).
Note: You're also very close to Miners Beach (just east) and on your drive in will notice where to turn to hike to Miners Falls.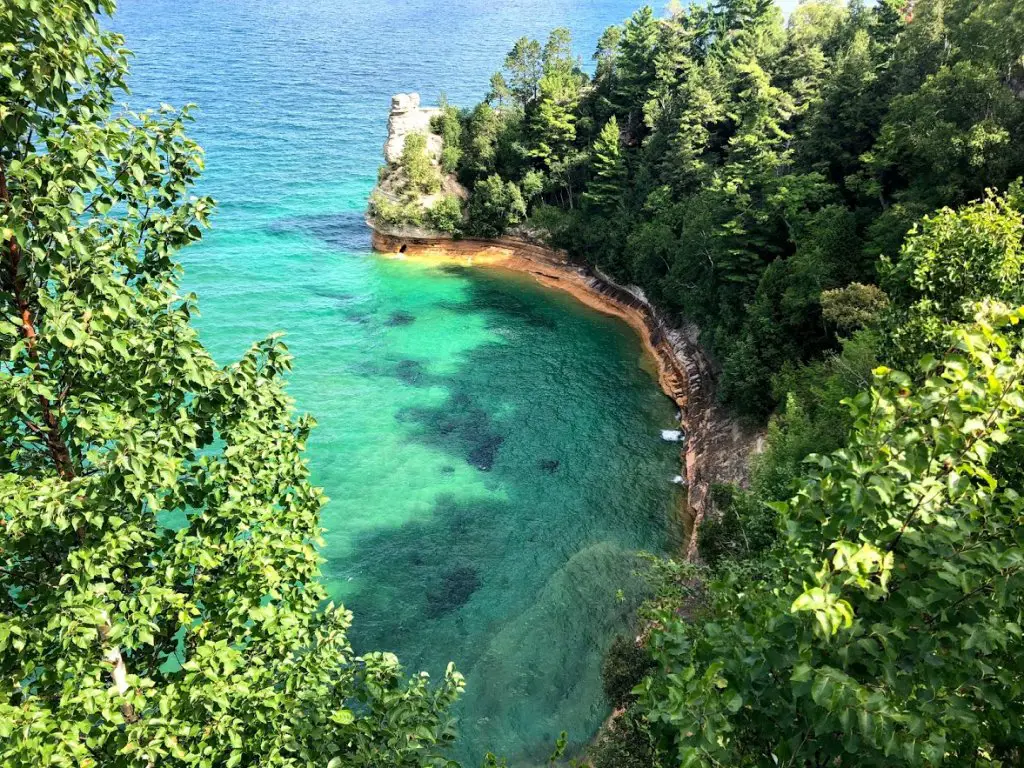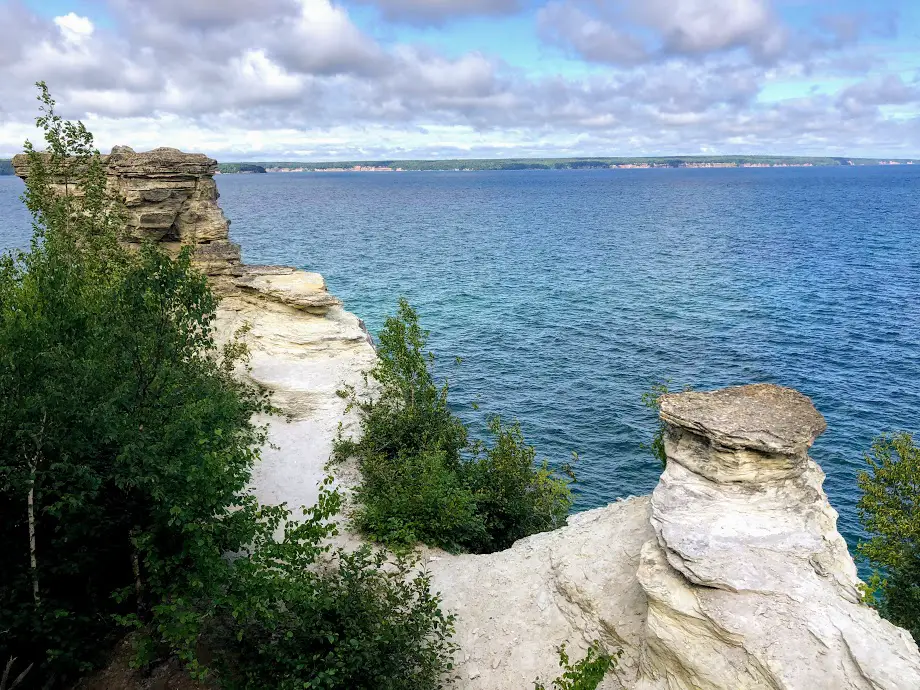 Get Out on the Water
Munising Bay
Like I mentioned, it has to be a very calm day to get out on your own boat and explore the full Pictured Rocks. That said, the bay is typically much calmer and gives the opportunity to get out there on your own.
You'll see beautiful rocks (not quite to the extent of the big lake), can cruise to an island or two, and tootle around. We came out early one morning to eat breakfast and get the day started.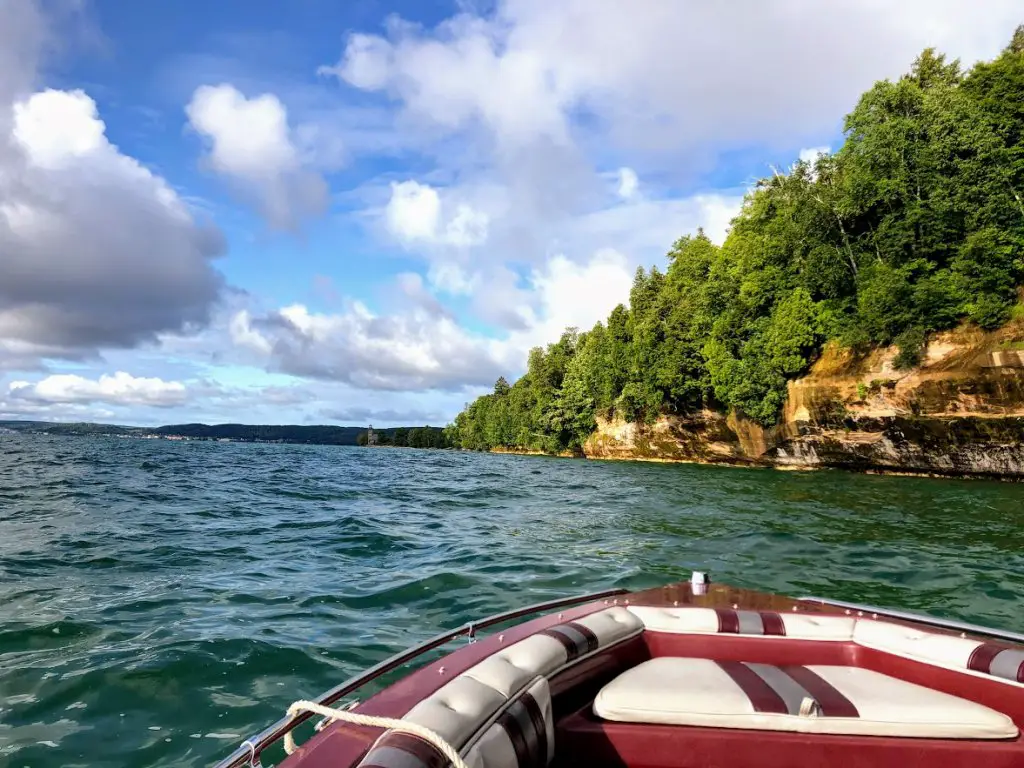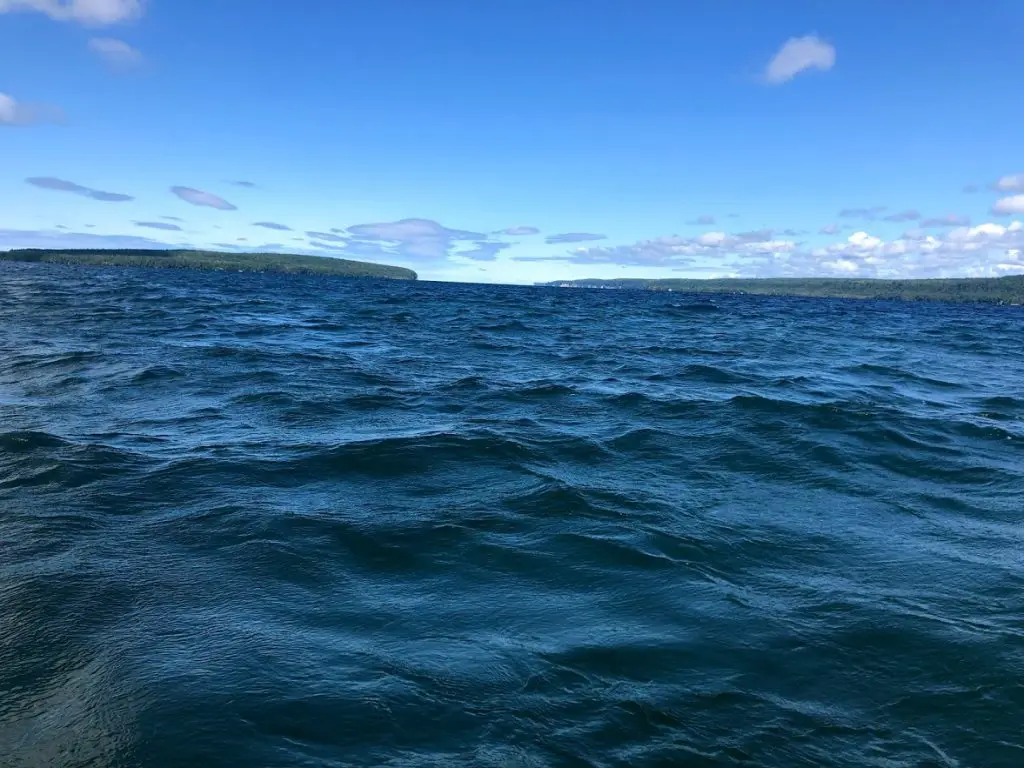 Pete's Lake
If you are looking to get out of the hustle and bustle of Munising, Michigan, and into the peace and quiet, head about 15 minutes south on NF-13 and you will hit Pete's Lake in Hiawatha National Forest. There's a place to swim and plenty of lake to fish on. Note: there's no dock to launch your boat so that parts a little tricky!
We stayed in an Airbnb right near here called the Hiawatha Cabins. Though they are definitely "rustic," it was a decent place to stay. They recently took on new ownership and they were wonderful people who are doing a lot to revamp and improve the cabins.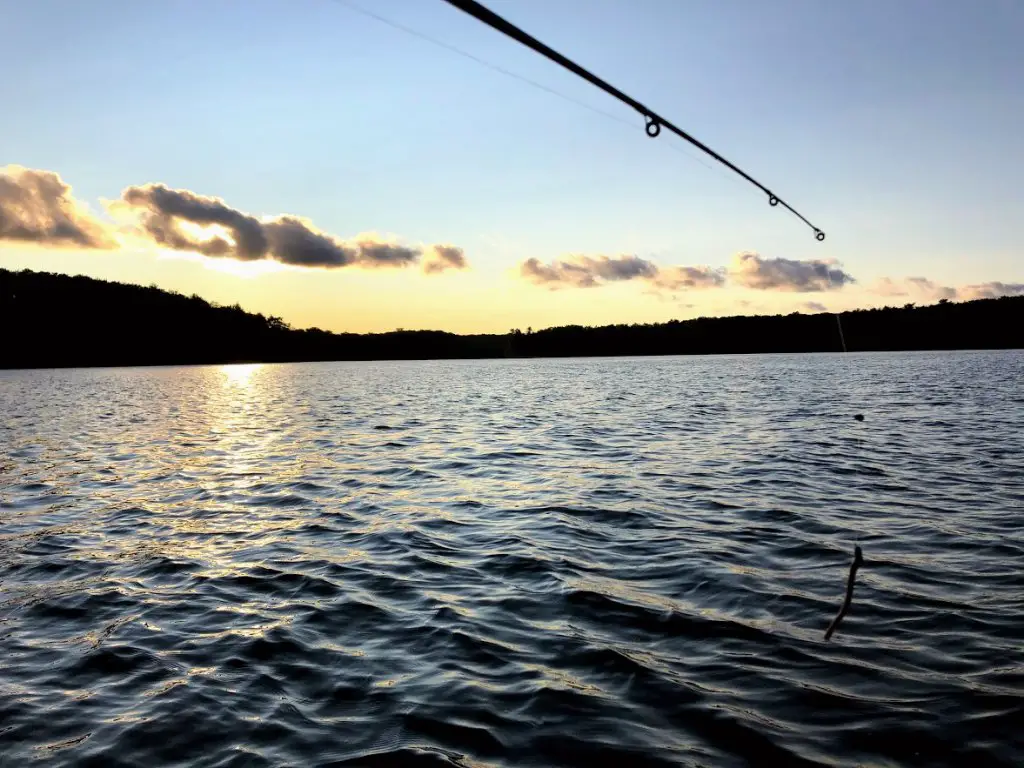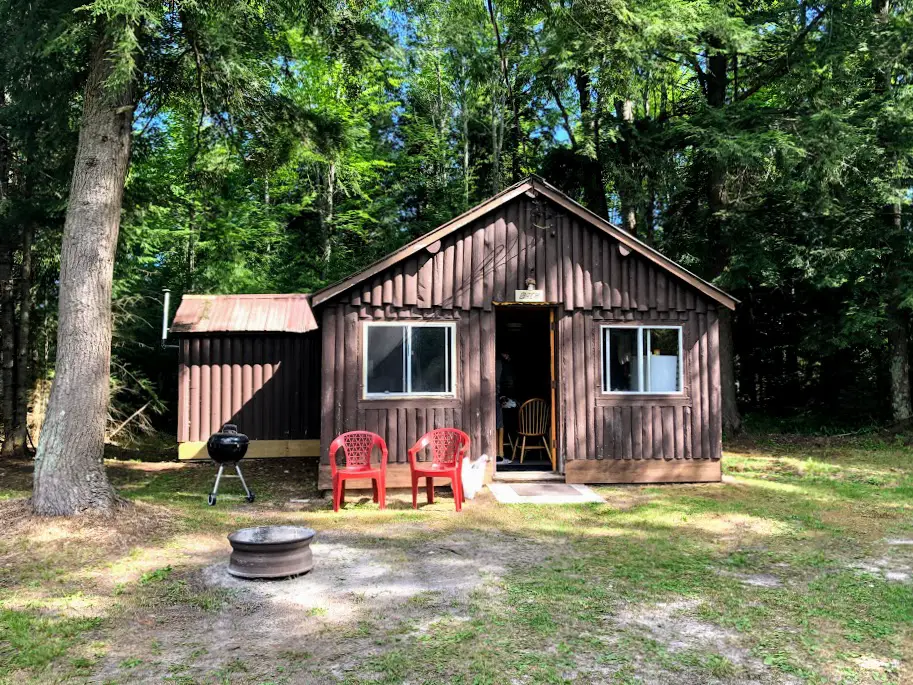 Explore Downtown Munising MI
Between the hiking, fishing, boating, and beaching we didn't spend a ton of time exploring the downtown area. Not to mention it's full of construction right now – August 2020. That said, it's a cute area with little shops full of gifts, U.P. apparel, art, and more.
Where to Eat in Munising Michigan
Muldoon's Pasties
You'll come across these all over the place. And if you're in the area, you have to get one somewhere! Think of it as a chicken pot pie and a hot pocket getting married.
These homemade crusts are filled with beef, chicken, or vegetable, and combined with potatoes, onions, carrots, and rutabaga to make what's called a pasty. Btw, it's "pass-tee," not "pay-stee."
I recommend Muldsoon's, a family-owned, and operated restaurant and gift shop that make some of the best pasties around. There are two locations in Munising, Michigan, and if the original one (right off Munising Ave.) is really busy just head over to the other one on Elm St. Same recipe! And we were in and out of there in 60 seconds. P.S. ketchup is crucial.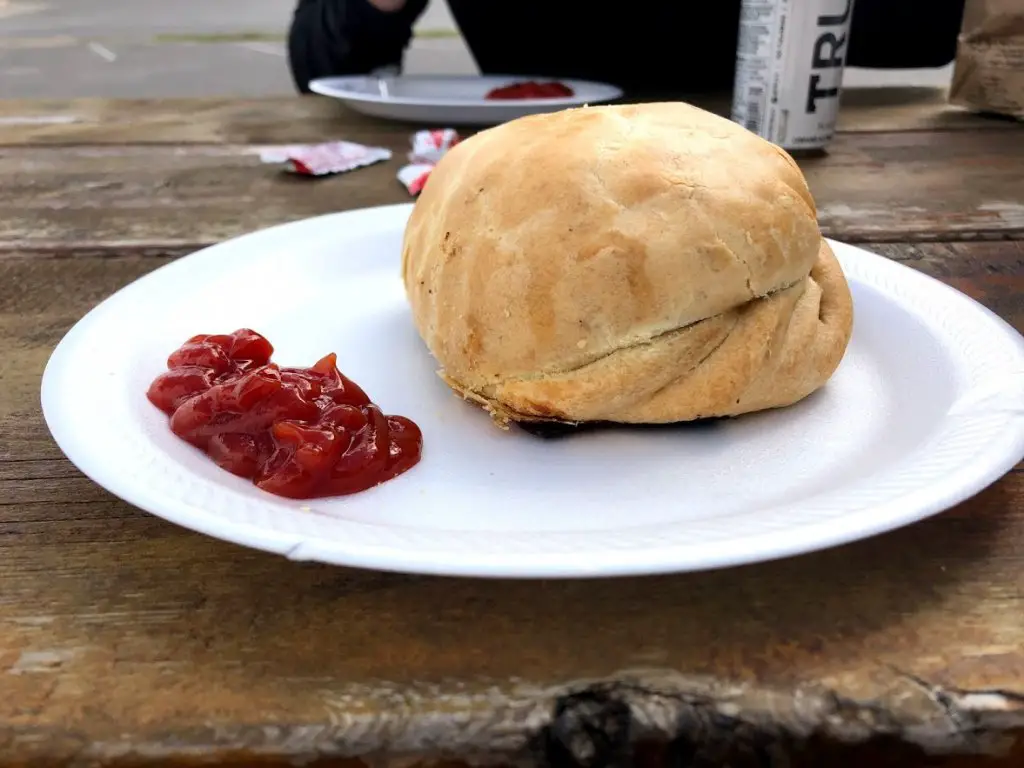 Eh! Burger
Quick, delicious food in a great spot. Order at the counter (get the tots!) and then pick either indoor seating or outdoor overlooking the water. Eh! Burger has burgers (obviously), chicken, and fresh whitefish with a variety of toppings.
I went with the Whitefish Sandwich (surprise, surprise) and it was good, not great. I mean, it says burger in the name so that's my own fault. But seriously, get the tots! Oh, and you can order beer/wine here!
TIP: Going on the Pictured Rocks Cruise? This is a great spot to eat and have a beer before or after. You can see the cruise ships from the patio and it's about a 42-second walk.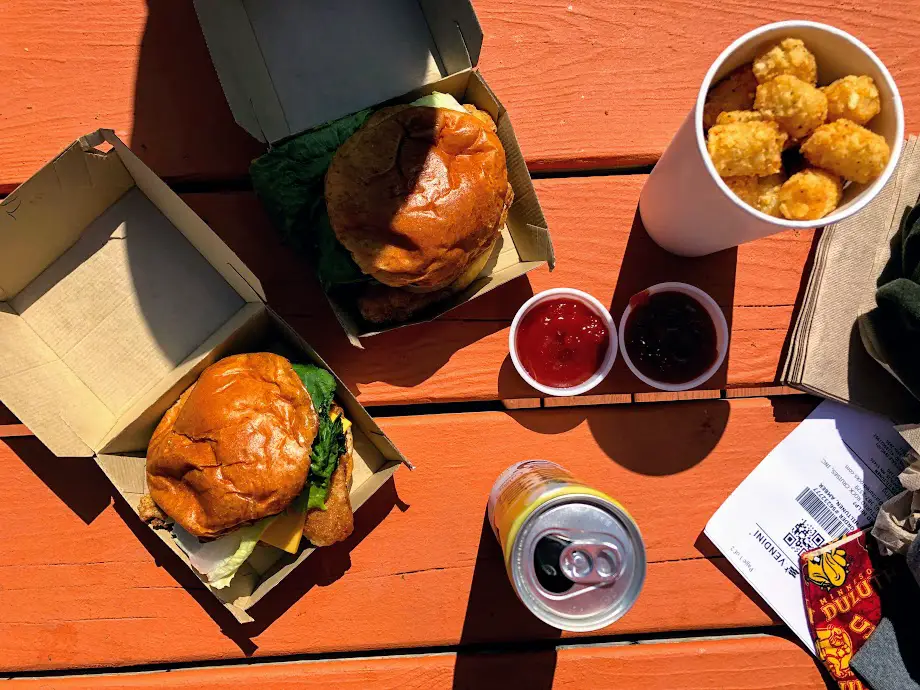 Cap'n Ron's Smoked Fish & Sausage
If you've been following along, you know I love a good piece of fish. And smoked? Oof. A delicacy in my eyes. Grab some from this run-down shack that's been running through 5 generations.
We got a pound of smoked Whitefish and a pound of smoked Trout and both were delicious. The whitefish was mouth-watering and I would 100% stop if I was driving through. The trout had a great smoked flavor—definitely had a fishier taste to it though. The people were friendly and you can't beat the prices. Only $16 for a LOT of fish.
Love whitefish? Read Where to Eat Whitefish in the Upper Peninsula!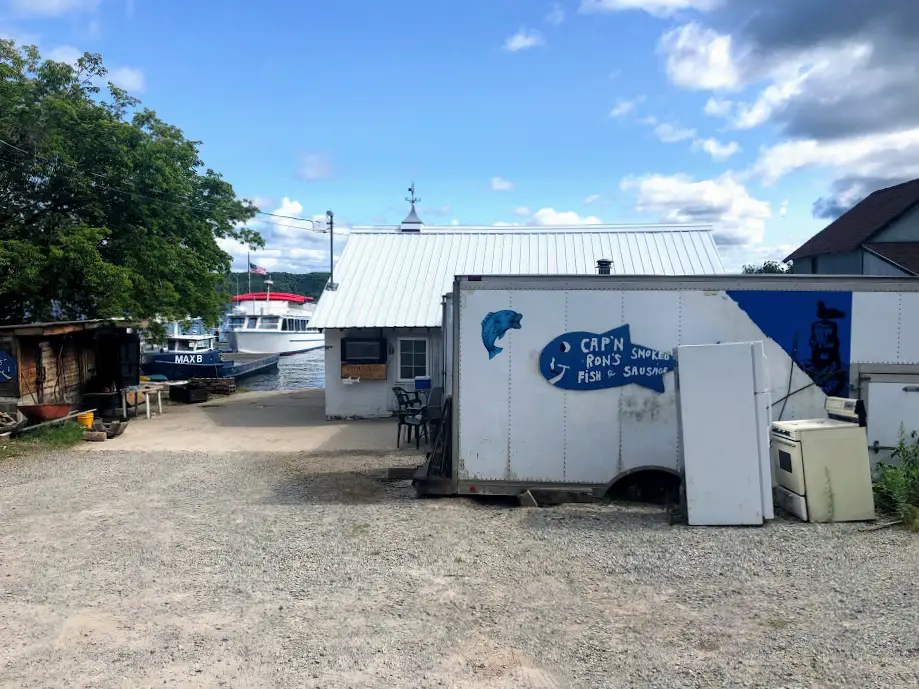 BONUS: Stuckos in Marquette, Michigan
If you are coming from the west, make a lunch pit stop in Marquette. Stuckos is delicious! Fun, laid-back sports bar vibe with an outdoor patio. The waitstaff was friendly and I loved LOVED the Brussels sprouts which were bursting with flavor. The whitefish sandwich, fried in homemade beer batter, was perfectly cooked. I'll go back again!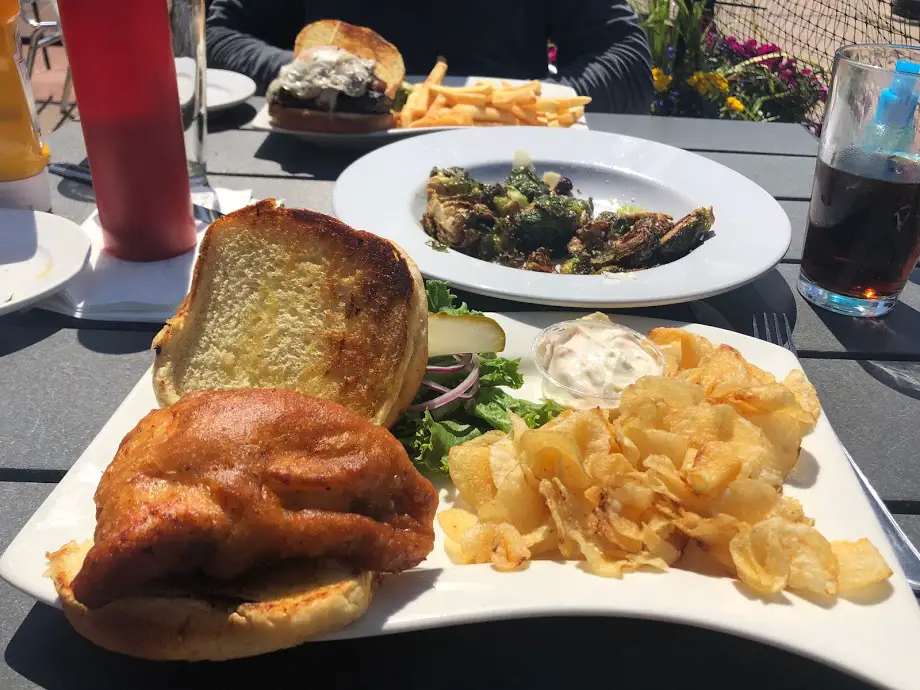 Did this post help you out? Support the work and pass along $5 for a Coors Light 😉 VENMO: @Amber-LBB or PAYPAL: amber@littlebluebackpack.com. THANK YOU.
Munising, Michigan won't disappoint
Book a trip to Munising, Michigan to take in all of the beauty and fun this town has to offer. It's a must-do on any U.P. Road Trip, and combined with a couple other places will make for a great week in the Yoop! Make sure to read: