It doesn't have to be 75° and sunny to enjoy an outdoor patio in the Twin Cities. Igloo dining in Minneapolis is now a thing as more and more restaurants are making their outdoor space winter-friendly. In addition, you can enjoy spots with outdoor tents and greenhouses, plus permanent heaters and fire pits. It's way more fun than indoor dining and a fun way to enjoy winter.
Heated Outdoor Patios & Igloo Dining in Minneapolis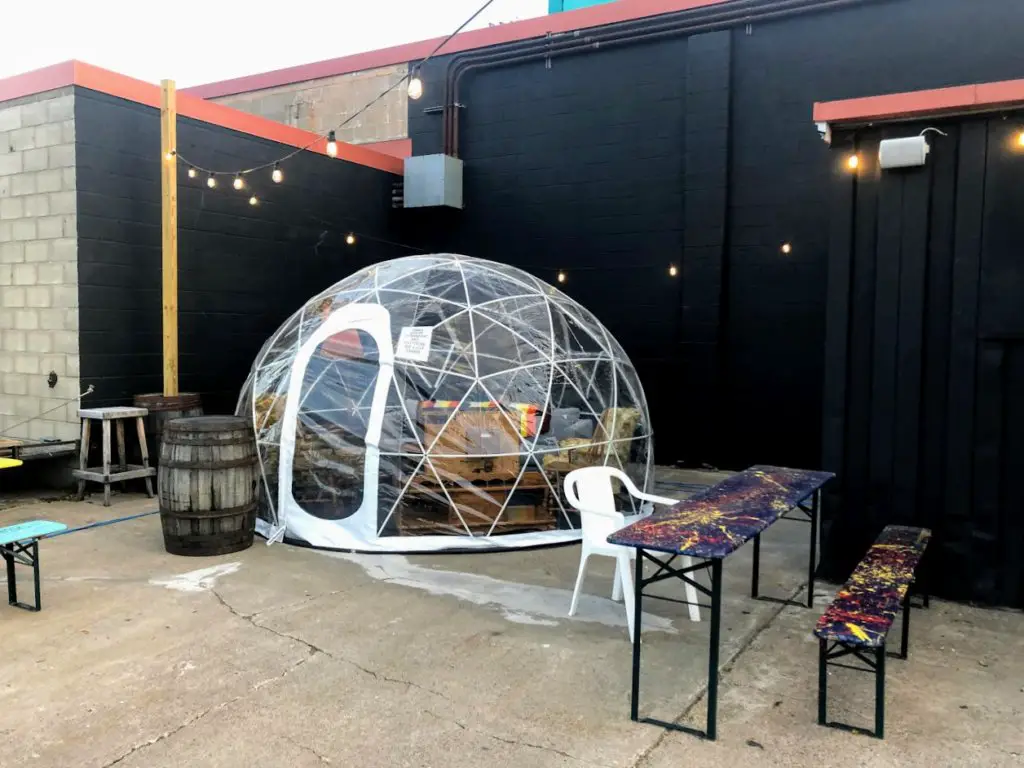 The Broken Clock Brewery
Northeast Minneapolis
Stay warm while drinking outside at Broken Clock Brewing who offers the ever-popular igloo dining in Minneapolis. They are SO cute with "Ski Lodge", "Back to the 70's" and "90's Sitcom" options. Make online reservations—they are $20 per hour. The brewery also has multiple fire pits on their outdoor patio complete with picnic tables. And they encourage you to bundle up and bring your blankets to cozy up!
Located in Northeast Minneapolis, getting to this igloo dining in Minneapolis is a bit strange so if you think you're lost, you're probably on the right path lol just keep following Google to the parking lot!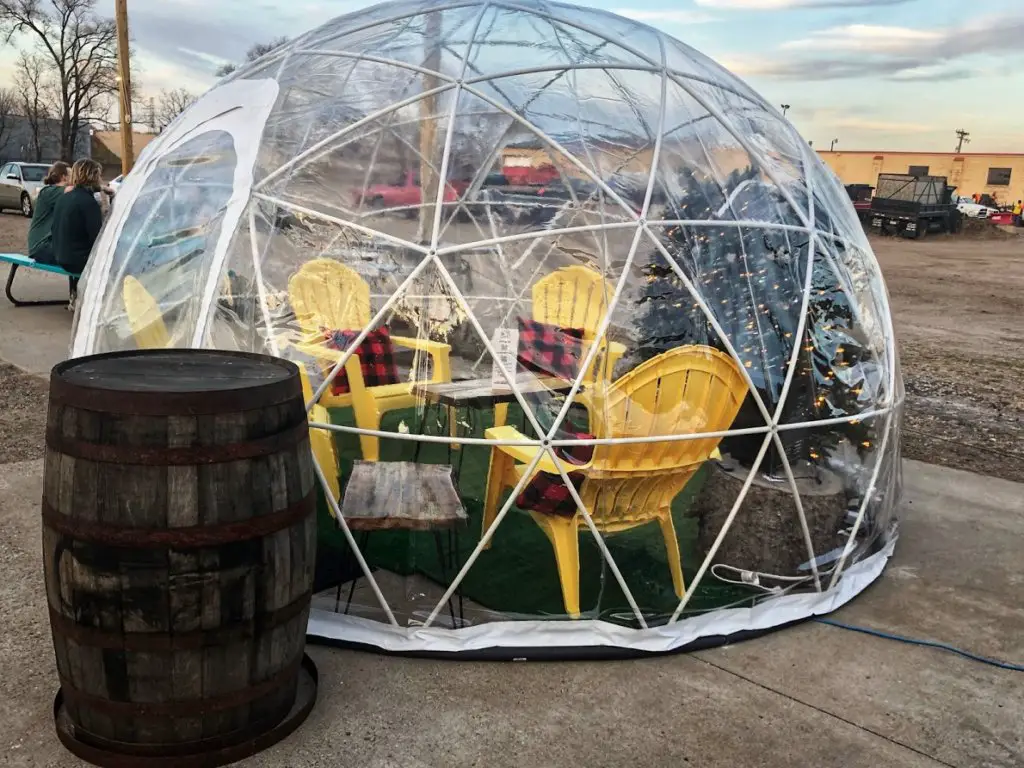 Twin Spirits Distillery
NORTHEAST MINNEAPOLIS
Twin Cities Distillery is another place to enjoy in Northeast outside in the winter. They have a really big outdoor space set up with heated greenhouses and spaced-out, open-air tables with firepits. Their hot cocktails list continues to grow as the weather gets cooler, so come bundled up to sip a hot toddy in a fun environment complete with string lights for a fun ambiance. The Hot Apple Shine sure kept the shivers away—and they did not skimp on the moonshine!
Make reservations for a greenhouse or firepit table (the firewood is $5) using that link or texting 847-668-2013. You browse the menu, order, and pay through your phone (what a world we're in) and by including your table number in the order, they know where to bring it.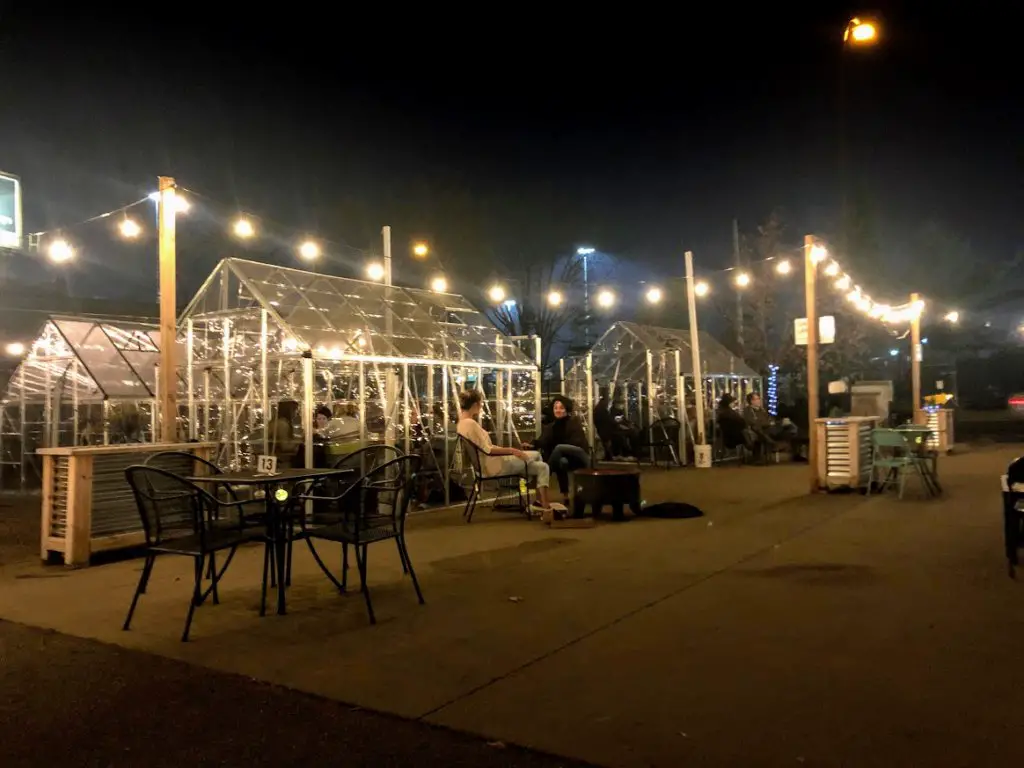 Sociable Cider Werks
Northeast
Sociable Cider Werks is so much fun—ESPECIALLY in the winter patio season! Grab delicious ciders, seltzers, and local beer. Find tables with personal firepits on top. Order some eats from the food trucks. And take full advantage of their ice skating rink that also includes curling!
Tables are first-come, first-served. There is plenty of space for people so even if you have to wait, it likely won't be long. I highly recommend a sunny afternoon in the winter fresh air at Sociable. Don't forget your skates!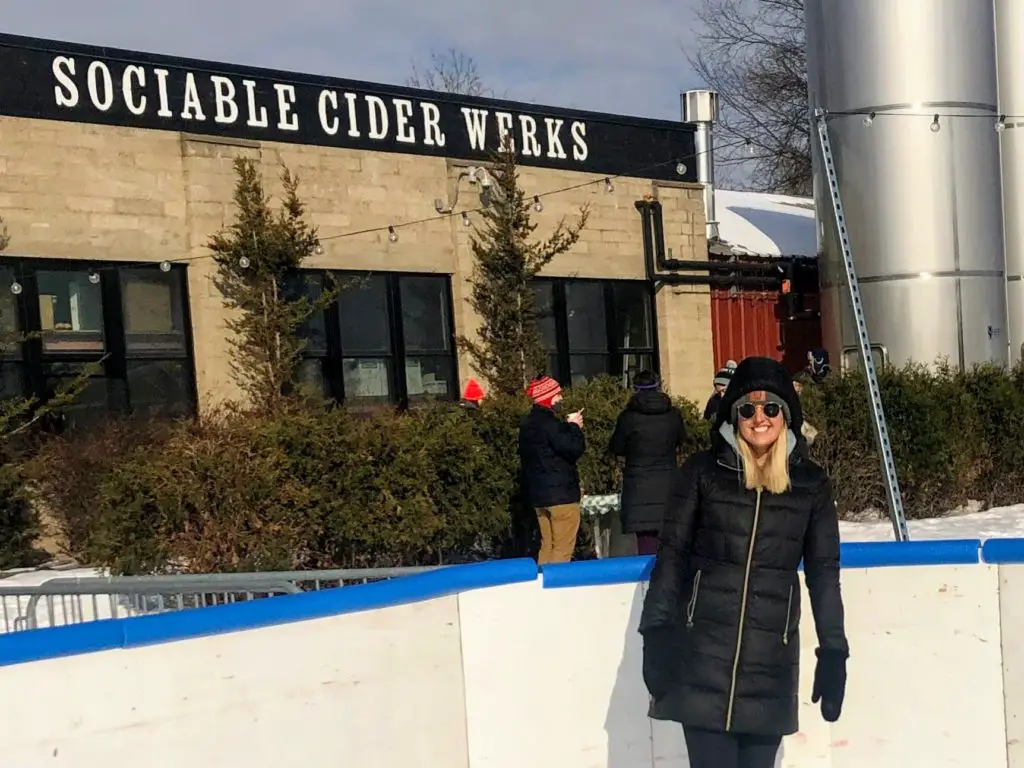 Stanley's Northeast Bar Room
NORTHEAST MINNEAPOLIS
One of my favorite places in the Twin Cities. And Stanley's is perfectly set up for a warm and unique experience. Their heated patio is one big tent with tables and TVs so you can catch the game outside. They have a ton of craft beers on tap but I honestly love coming here for the food! Their Cuban is my fav. Oh and also, random, but their ranch is from the heavens above.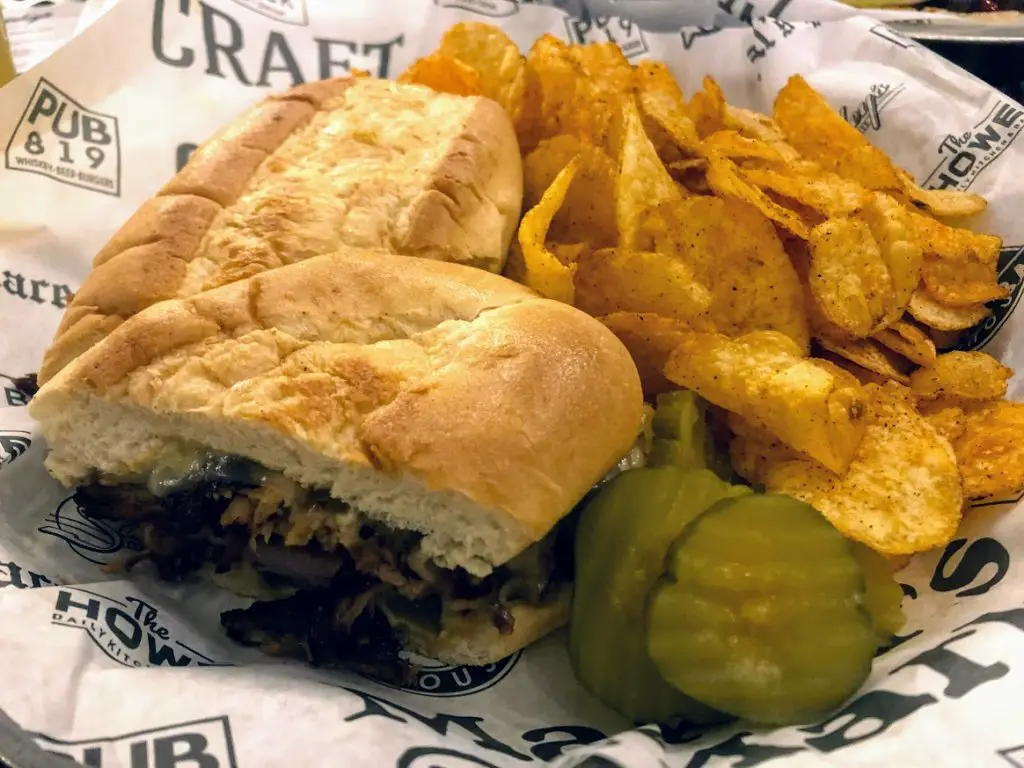 Number 12 Cider
NORTH LOOP
All right, we've covered a brewery, a distillery, and a bar. How about a cidery? One that includes a delicious, wood-fired pizza food truck…yessss. Number 12 Cider has a great heated outdoor patio space with string lights and firepits to make things warm and cozy.
I ordered a flight so I could try a variety. Voyage; real light, dry, and easy to drink. Siren; a rose that is a bit sweeter. Barrel 44; bourbon kick to it. Ice Cider; 17% ABV—Woah. Delicious. It'll get ya.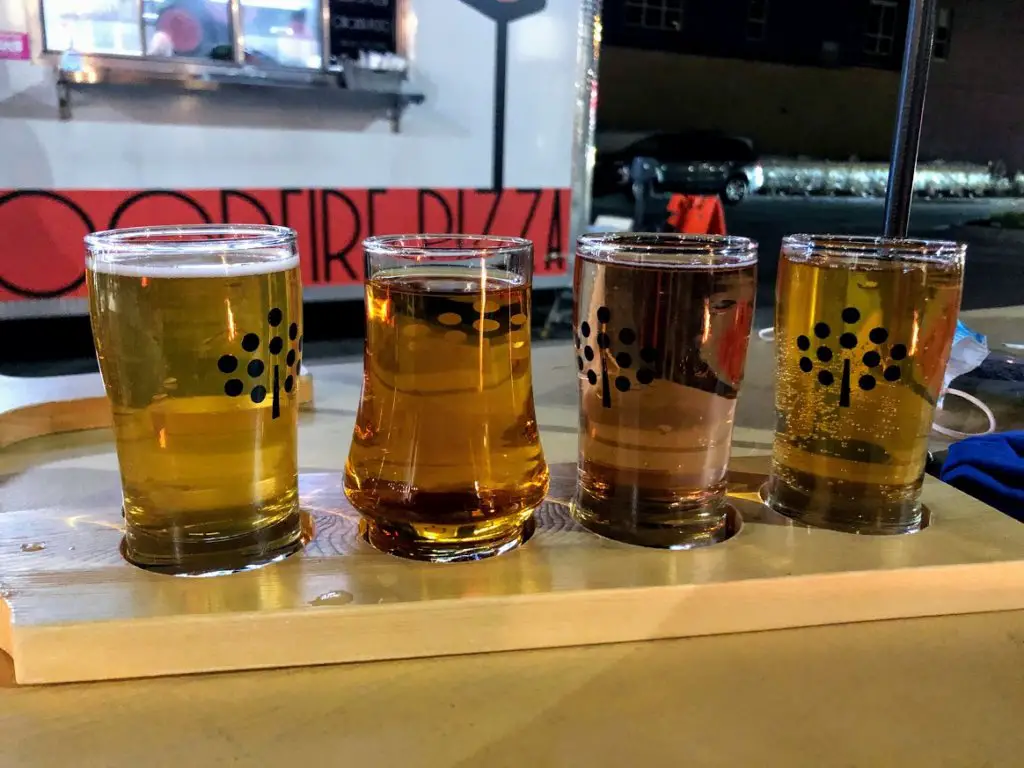 AND let me just rave about the pizza. They are personal size (at least for me lol) and "The Goat" is so dang good that I want to go back for it. Prosciutto, goat cheese, mushroom, spinach, red onion, shredded mozzarella, sauce. YUM. This is one of my favorite places on the list.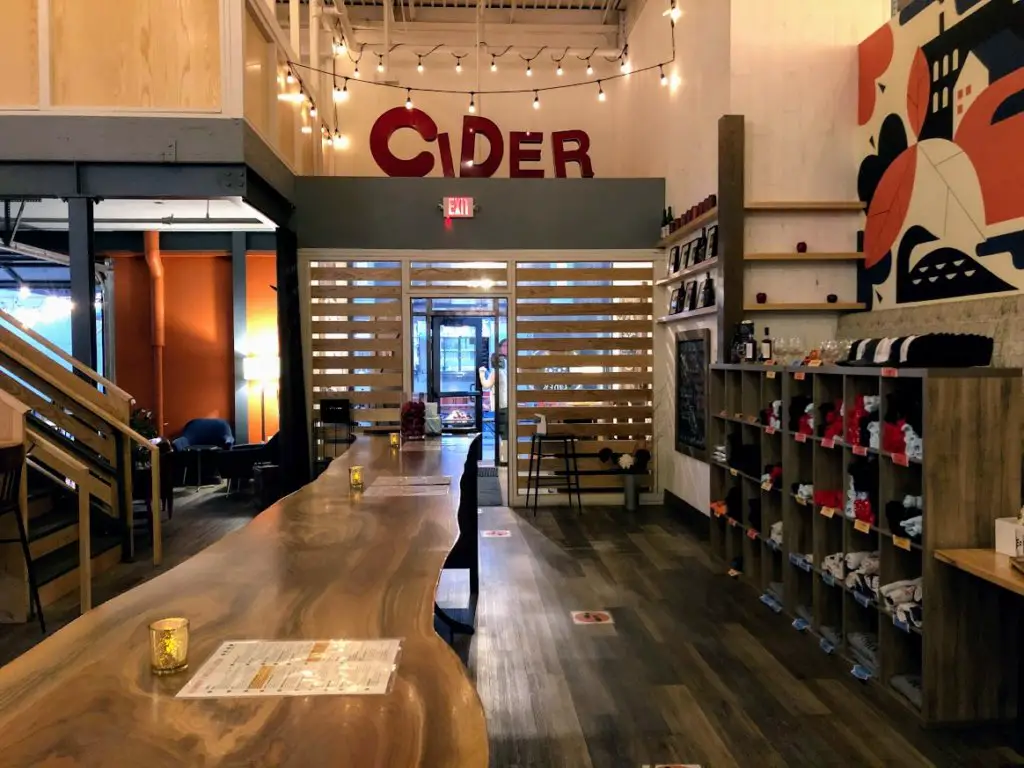 The Freehouse
North Loop
This is one of my favorite restaurants in the Twin Cities. It's consistently good with a great menu and plenty of great beers on tap. And you can enjoy what they have to offer on the outdoor patio space with several fireplaces and stand-up heaters. They typically keep it open until lots and lots of snow happens.
Plus. keep an eye on their website and social media. On the weekends, they bring out an actual ice bar and serve drinks from right outside!
Hola Arepa
UPTOWN
Bring some warm weather vacation vibes into your life—even if it's cold outside! Hola Arepa offers heated outdoor seating under a canopy where you can enjoy their delicious cocktails and arepas. The space is colorful, full of fresh, green plants, and oh so Instagrammy, with just enough warmth to stay comfortable.
Honestly, I didn't even fully know what an arepa was before coming here, but I can definitely say I am a fan—at least the ones from here! I crave their Cuban Arepa (apparently I am going through a phase lol) and their El Diablo cocktail is delish.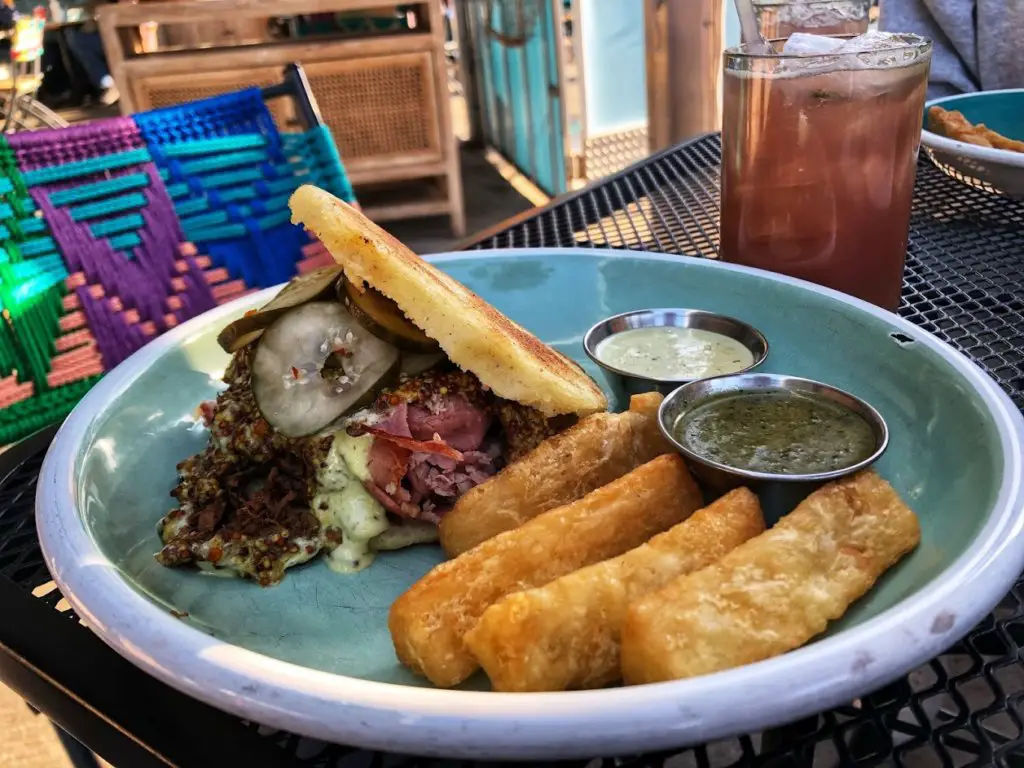 Read 11 Places to Get Outside in the Twin Cities which are all just as beautiful, if not more so, in the winter!
Additional Heated Outdoor Patios & Igloo Dining in Minneapolis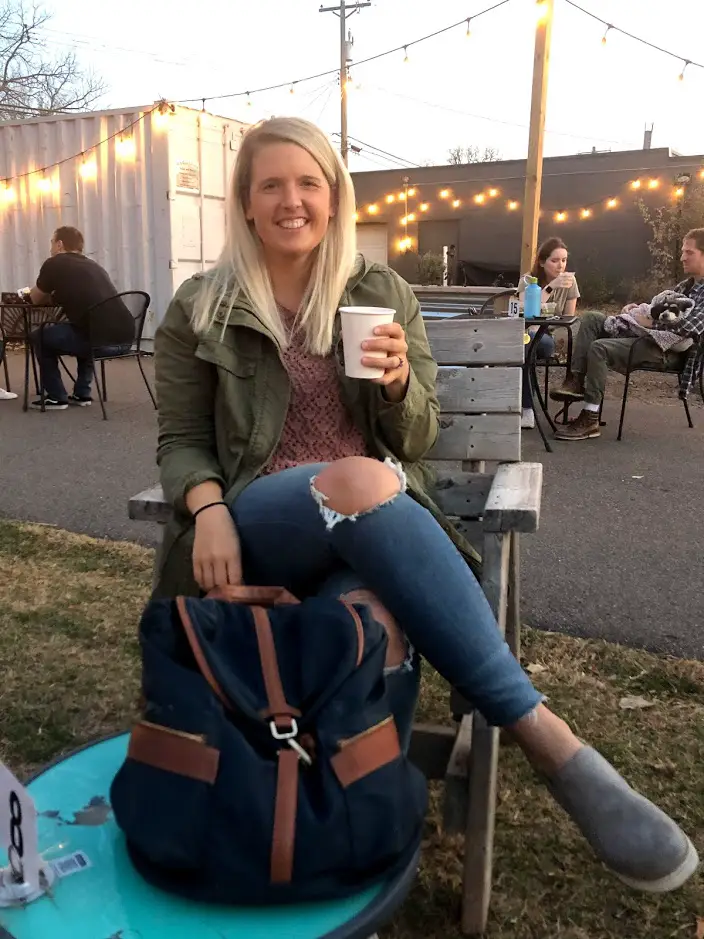 Outdoor Patios Beyond Minneapolis
Patrick McGovern's Pub
St. Paul
This place has cold-weather outdoor space down to a science. Patrick McGovern's Pub has heat lamps, ceiling heaters, and a retractable patio roof. So you won't just be covered, you'll be nice and warm. Built in 1888, this charming building became Patrick McGovern's Pub in 1982 and is a St. Paul favorite.
The Block SLP
st. Louis Park
Heated floors!? Yes, please. You can outdoor dine at The Block SLP any time of the year…and your toes stay toasty! It's complete with a fireplace and there are even TVs to watch the game! And come true winter, there are ice games outside including ice pong and ice bags. They serve upscale bar food, broasted chicken, rice bowls, and burgers.
Their brunch menu is awesome, including this Breakfast Burrito Bowl, and Mo'Mosa, which is a full bottle of Champagne and orange juice served in a 34 oz carafe that makes it great (and cheap!) to share. And one more recommendation: Brussels Sprouts.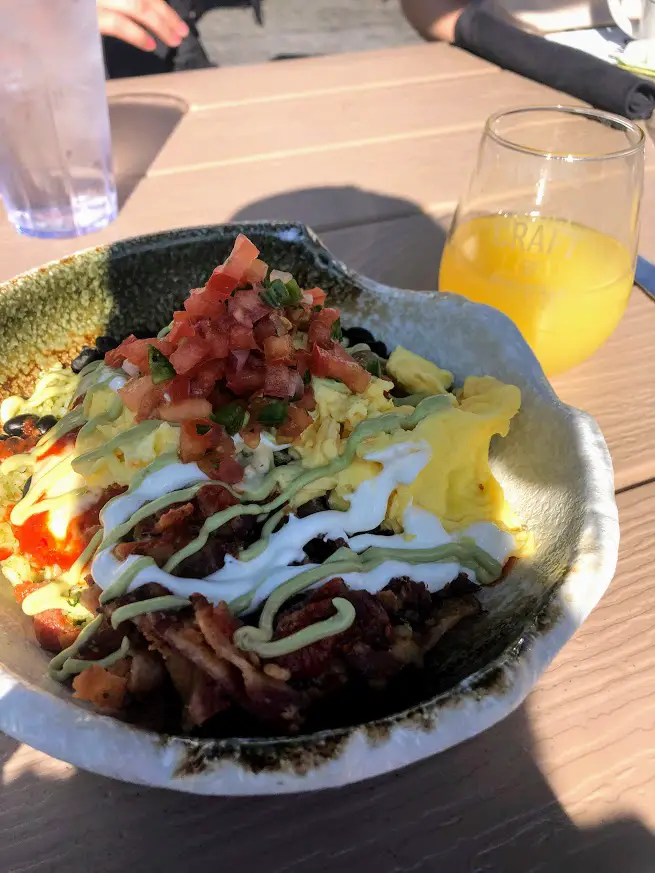 Pub 819
hopkins
Over in Hopkins, you'll find Pub 819 which has added an open-air tent over their heated outdoor patio, along with TVs. Note: their patio is dog-friendly, but not in the winter months.
This place is all about the beers (32 taps) and whiskeys (90+), so stop in for drinks and a burger or sandwich. Their Southwest Quinoa Salad (below) is really good if you're looking for something light. Also note, Public 819, and both Stanley's and The Block mentioned above, are all a part of the same team, Cast & Crew, so you can count on good food, great service, and something fun going on at each of them.
Bonus on this place: happy hour goes until 7 PM, not the popular 6 PM.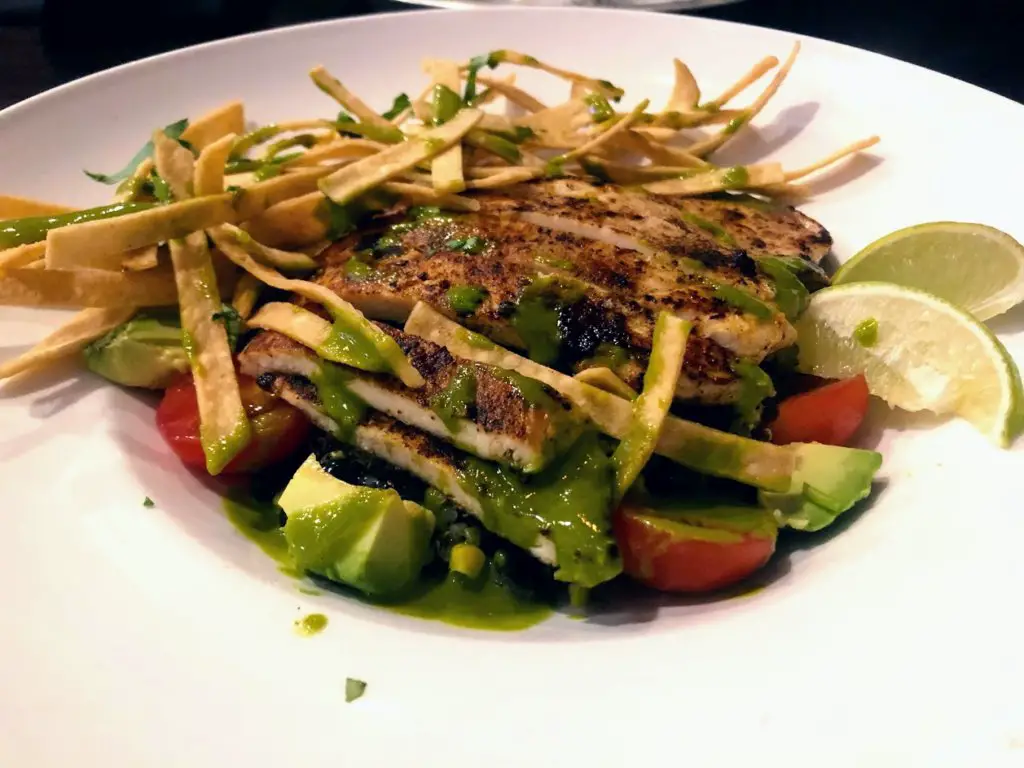 The Vine Room
HOPKINS
Not enough good things to say about this cute space! The Vine Room is a wine bar located in Hopkins that is so bright and beautifully decorated. They have a back-heated outdoor patio that will be open as long as Minnesota winter allows. So come drink wine outside while you can.
The Vine Room has counter service for your food/drinks where you can order sustainable, quality wine and a cheese & charcuterie board. I had the Vine Lovers flight (all reds) and loved the CINSAULT + SYRAH + CARIGNAN. (Note: they also have a few beers if your drinking buddy isn't into wine.) This is a perfect space for a girls wine night, date night, or just to stop in to finish up work on a Friday.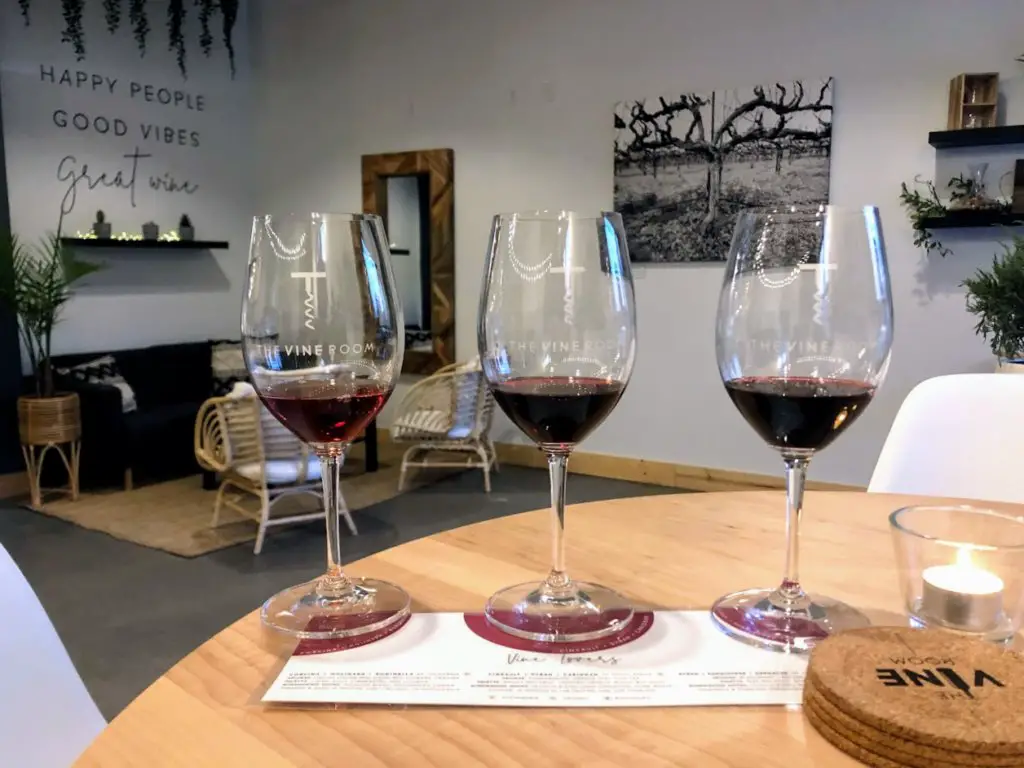 Did this post help you out? Support the work and pass along $5 for a Coors Light 😉 VENMO: @Amber-LBB or PAYPAL: amber@littlebluebackpack.com. THANK YOU.