Downtown Roswell, Georgia is a place full of history and charm. It is made up of houses and buildings dating back as far as the 1830s with 640-acres of big lush trees, green spaces, at the Chattahoochee River. This historic district really is a sight to see.
Walk down Canton Street where you'll find houses turned restaurants and shops—all within walking distance. The City of Roswell will show you quaint, historic, and fun all in one place. BONUS: Grab a beer and take it with you as you explore—it's open container. Holla!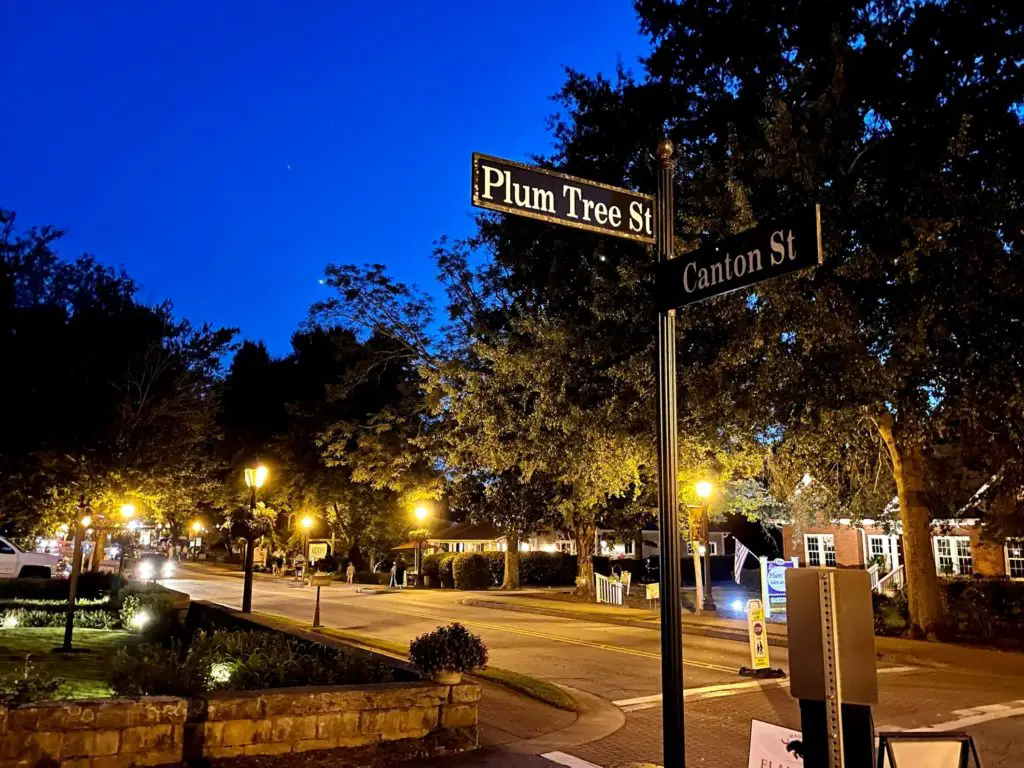 How Far is Roswell from Atlanta, Georgia?
Roswell, Georgia is 30 minutes north (22 miles) from downtown Atlanta, Georgia. While heading north you cross over Sandy Springs, as well as the Chattahoochee River.
Though it can be tough to skip tourist traps in major cities, I highly recommend this less than 30-min trip to live more like a local and take in a lesser-known Georgia city vs. doing everything in downtown Atlanta.
What is there to do in Downtown Roswell, Georgia?
The historic downtown Roswell is a cute town that offers so much! There are a ton of restaurants, bars, shops, parks, and house museums. The area is energetic and vibrant while also holding a historic vibe with its homes turned businesses. You can easily spend a full day or weekend here.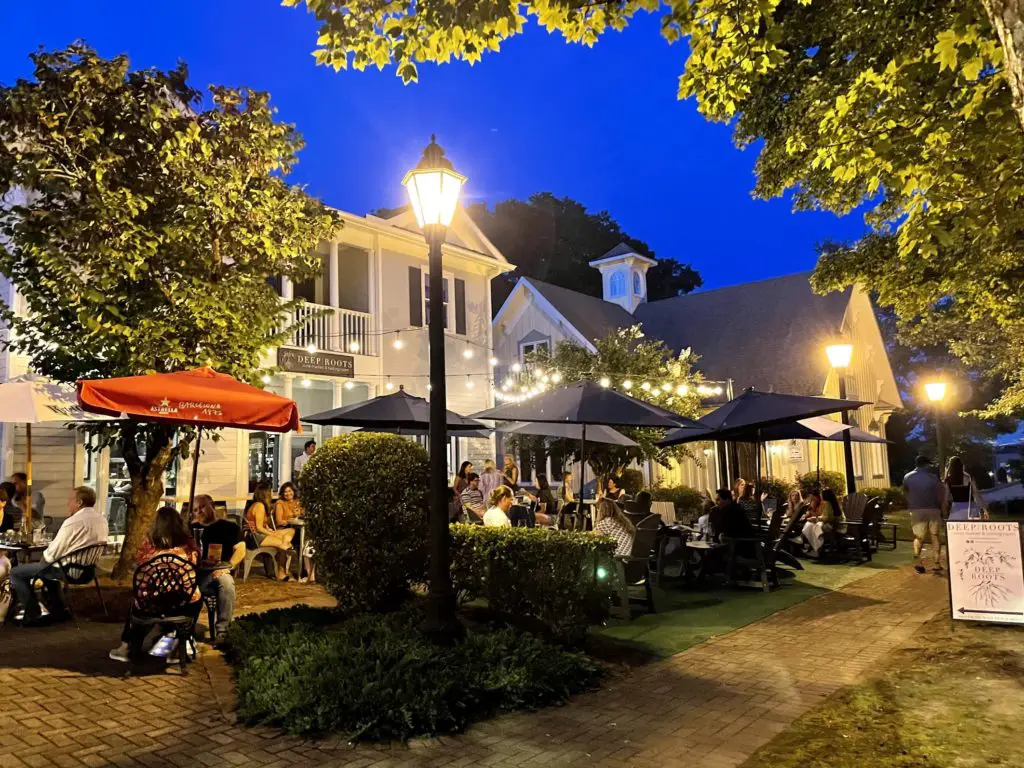 Restaurants in Downtown Roswell, Georgia
If there is one thing Roswell does right, it's the restaurant scene! Find any cuisine you can think of all within walking distance. Plus, it's perfect for a bar and/or restaurant hop! Here are a few recommendations:
While perusing Canton St. in the late afternoon/early evening, things weren't busy yet. There weren't many people walking the few block stretch and most restaurants had plenty of seating available. But that came to a halt once we made our way to Ceviche Taqueria & Margarita Bar—it was easily the most packed restaurant in the heart of historic Roswell!
Ceviche has an energetic outdoor patio and vibrant indoor space. Choose a seat at the bar or one of the colorful tables, pull up the menu, and get started with one of their many margaritas! I went with the Hot & Skinny Margarita, and I could definitely taste the tequila! (Tip: ask for extra spice if you're into that kind of thing.)
As far as food, I had a grilled fish taco on a corn tortilla, and it was absolutely delicious! The sauce was prime-time and the corn tortilla gave it that authentic taste. Consider it the best place to get a weekend started!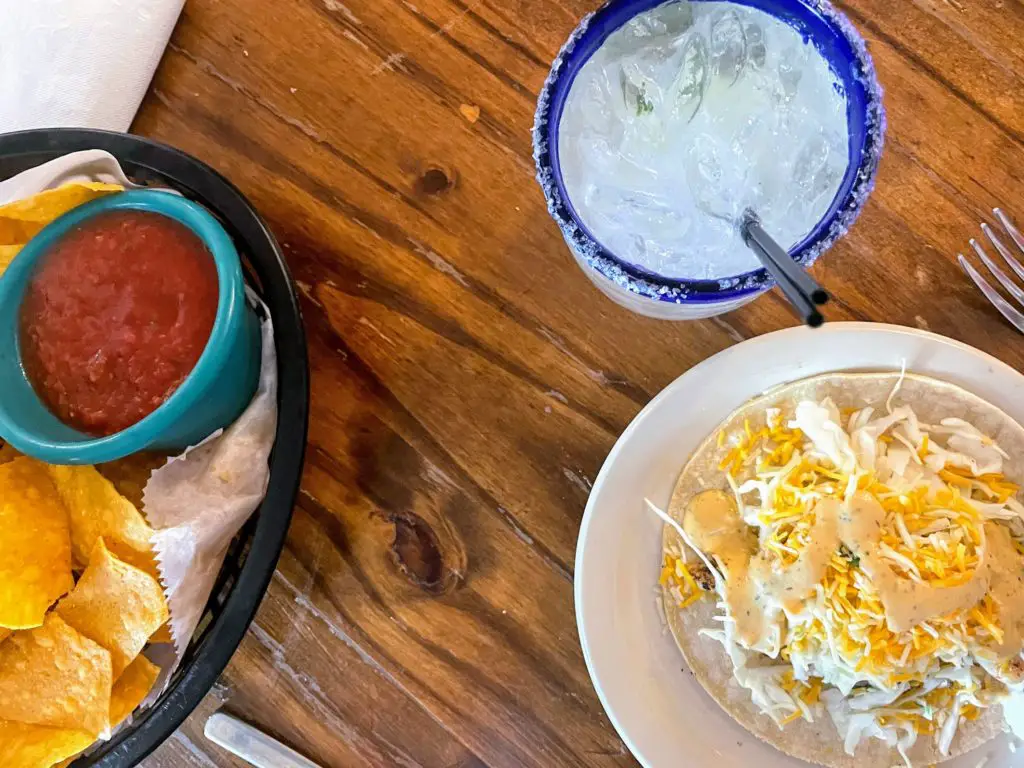 Well, you can officially transport to Spain—in Roswell, Georgia! At Madrid Spanish Taverna, you'll find a quaint outdoor patio with string lights and live music that brings the ambiance together. There is a small bar inside, but I'd definitely recommend outdoor seating. P.S. Make reservations.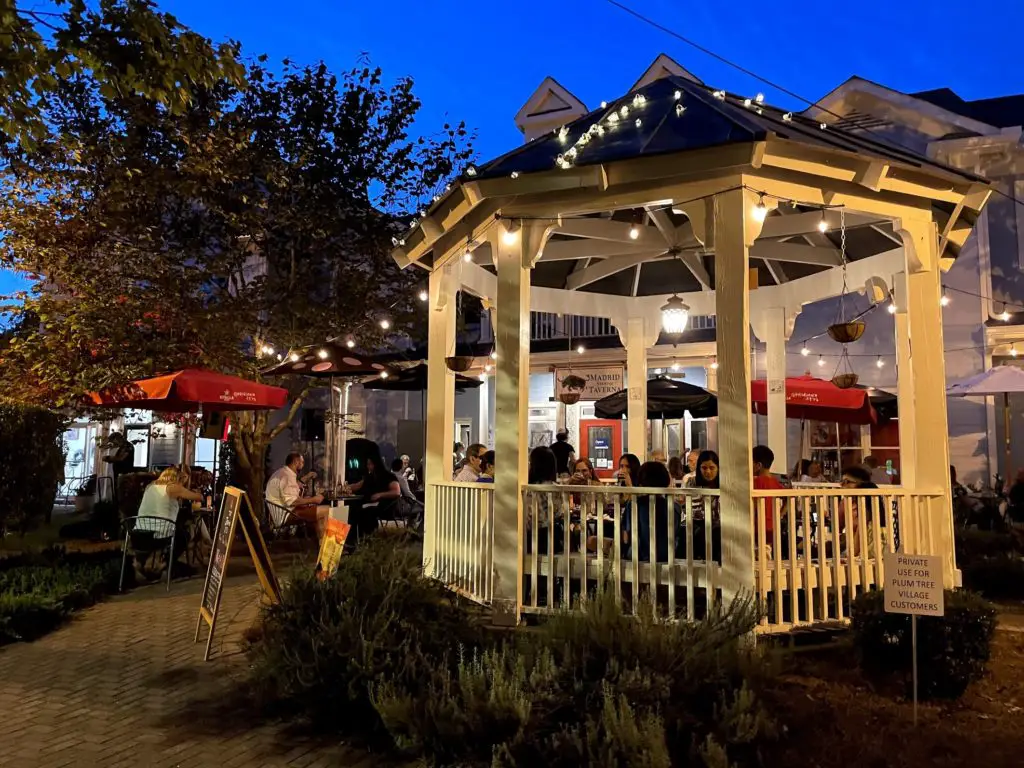 Madrid Spanish Taverna specializes in small plates and pallela along with great wine and sangria lists. I went with the #1 Sippin Thru Spain Red Wine Flight—Musso Cabernet was my favorite if you'd rather have a glass of wine, and sips of the Sangria Flight—Red was my fav.
Definitely pick your favorite pallela option to pair with your wine. I loved all the flavors of the Carne Pallela—Valencian rice, salted pork, bacon, chistorra, morcilla, and saffron.
Lastly, I must shout out their staff who went above and beyond to find us a seat with no reservations. They took care of us from start to finish and made the great meal even better with their kindness.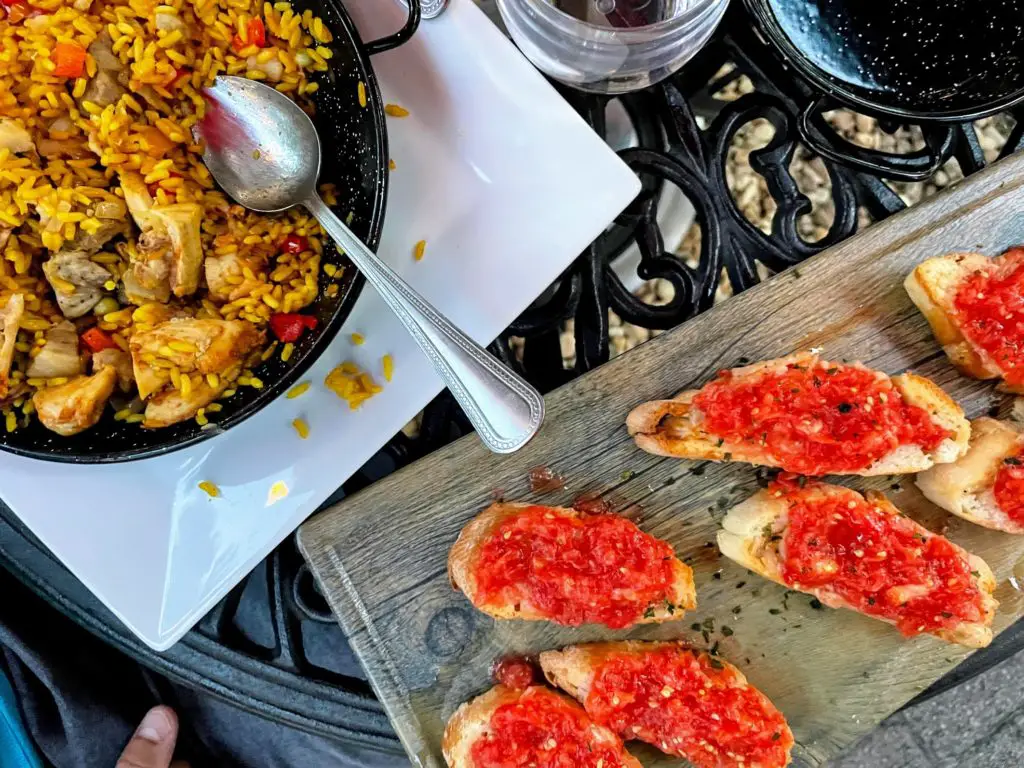 This place is always serving tacos and beer (+ margaritas!) and blasting fun music in a sports bar setting. You'll find a classic Mexican menu full of Nachos, Enchiladas, Tacos, Quesadillas, and even Churros!
Rock n' Taco is surrounded by TVs, open-air garage doors, and includes a beautiful bar plus an outdoor space. We stopped in for a quick beer and I think every time a new song played I said "I love this song!" If you are looking to catch the game while you are in Roswell, Georgia, stop here!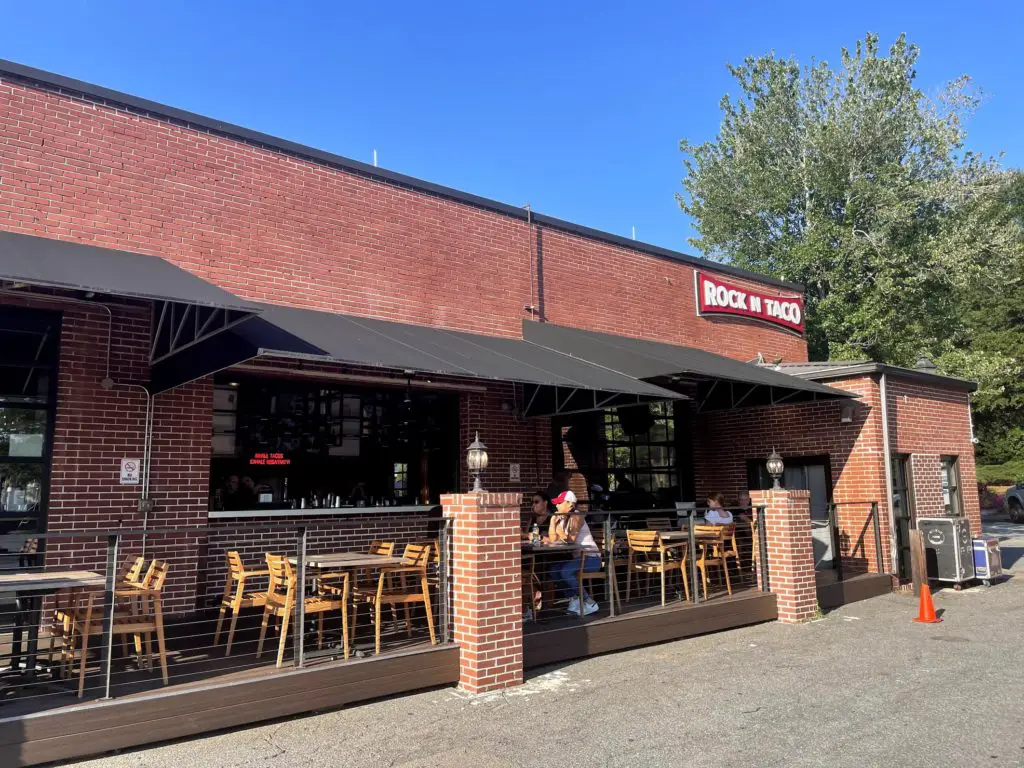 More Restaurants in Downtown Roswell, Georgia
There are so many great restaurants in the area that it will be impossible to hit them all in one trip! Let your cravings lead you—and plan to come back for more!
1920 Tavern: If you like craft cocktails and/or finer dining, stop in this swanky 1920s inspired speakeasy with a creative menu.
Carlisle's Pizza Tavern: This place looked so adorable. Didn't have a chance to stop but certainly will next time. They have a menu full of classics and funky pies.
Salt Factory Pub: An industrial gasto-pub where you can grab some fried chicken and a craft beer.
The Fickle Pickle: famous fried pickles! (With plenty of sandwiches to go with them.)
Hugo's Oyster Bar: Sports and oysters, anyone!? Stop in this casual space for the game and some good food!
From the Earth Brewing Company: Farm-to-table menu along with beer brewed in-house.
If you are in Roswell, Georgia before it's cocktail time, grab a coffee! Crazy Love Market & Coffeehouse is the perfect option—and not just for coffee. They have the self-proclaimed best waffles in the south!
Grab an Americano with a Belgian Waffle and enjoy the vibes. Their cafe was transformed from an old historic house and you will LOVE the way they brought everything together. Exposed brick, books, and a small outdoor patio keep its homey feel intact.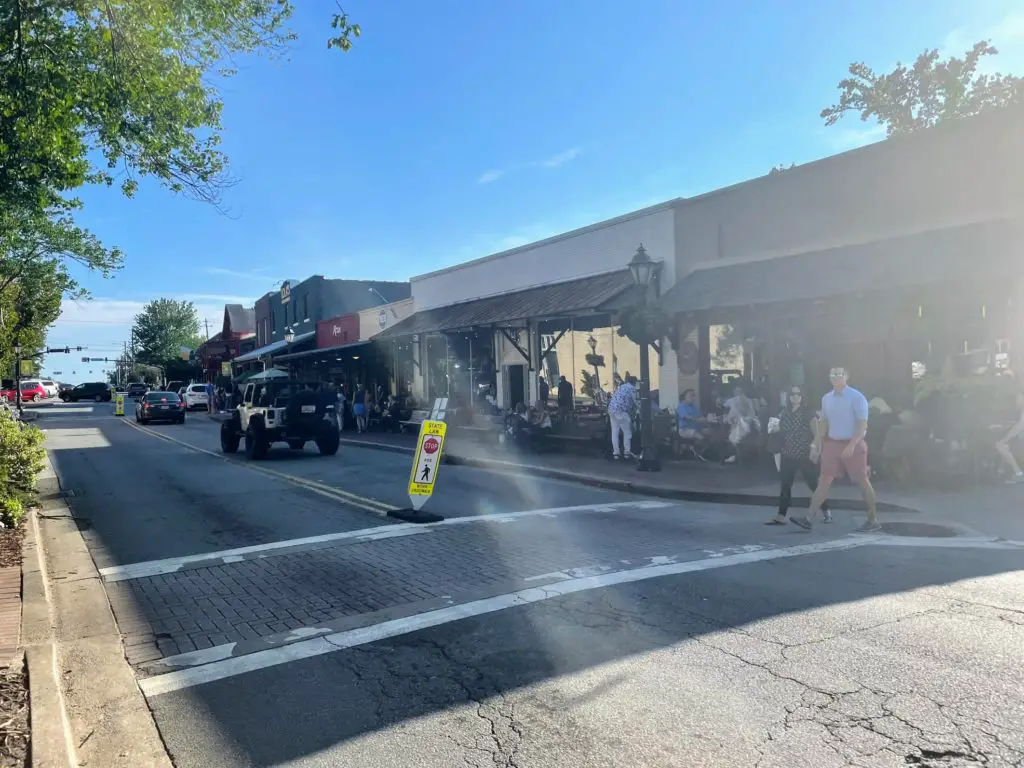 Shops in Downtown Roswell, Georgia
Canton Street and beyond is lined with small shops and businesses to find hidden treasures! Here are a few of the favorites we stopped in:
I LOVE an olive oil and vinegar shop. Like, I do not consider myself a shopper. But stick me in one of these places and all bets are off. That said, do not take it lightly when I say Oli+Ve is the best olive oil and vinegar shop I have ever been in.
I fell in love immediately. They do a free tasting and it's not your average "try three, feel bad, and stop asking for sample cups" tasting room. Here, you are encouraged to take your time and try as many as you'd like! And it doesn't stop there. Once you've moved into three separate rooms (what!?), you'll get a mini-ice cream cup that's used to taste the balsamic vinegar flavors. WHO KNEW how delicious this combo was?
Don't miss this stop on your adventures in Roswell, Georgia! If you're anything like me, you'll be leaving with delicious olive oil and balsamic vinegar!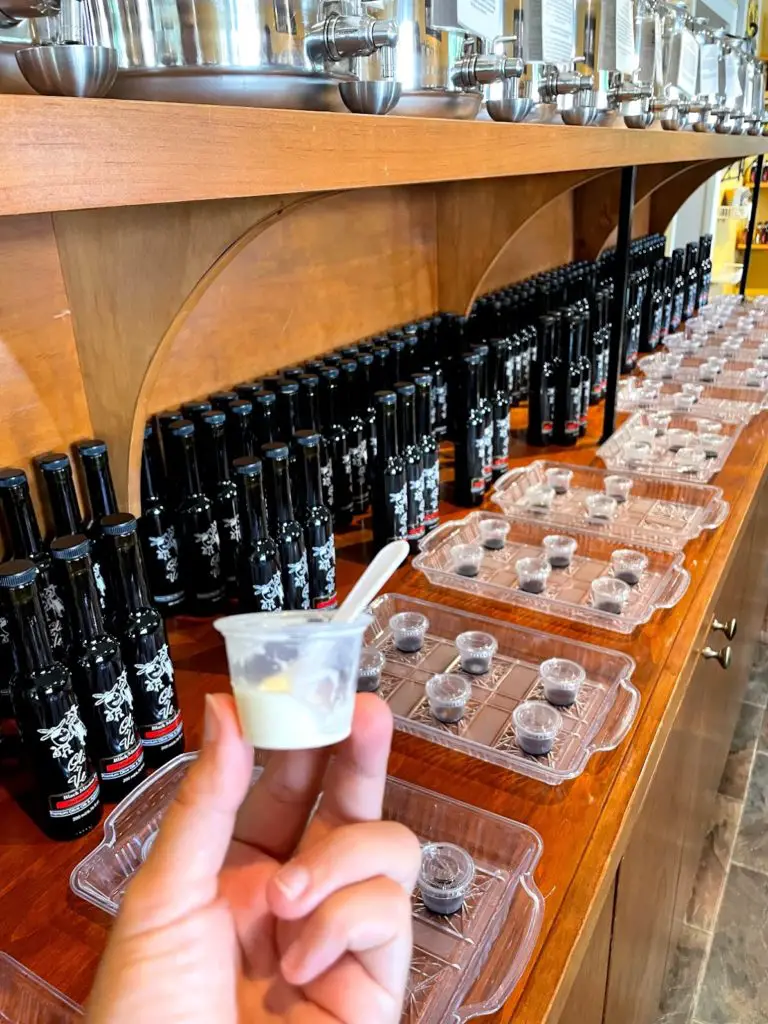 Love music? You have to stop in this fun record shop! The store has new and used records, turntables, art, and other cool music things I can't even name! It's a fun place to stroll through (very friendly staff), look at records, and listen to good music.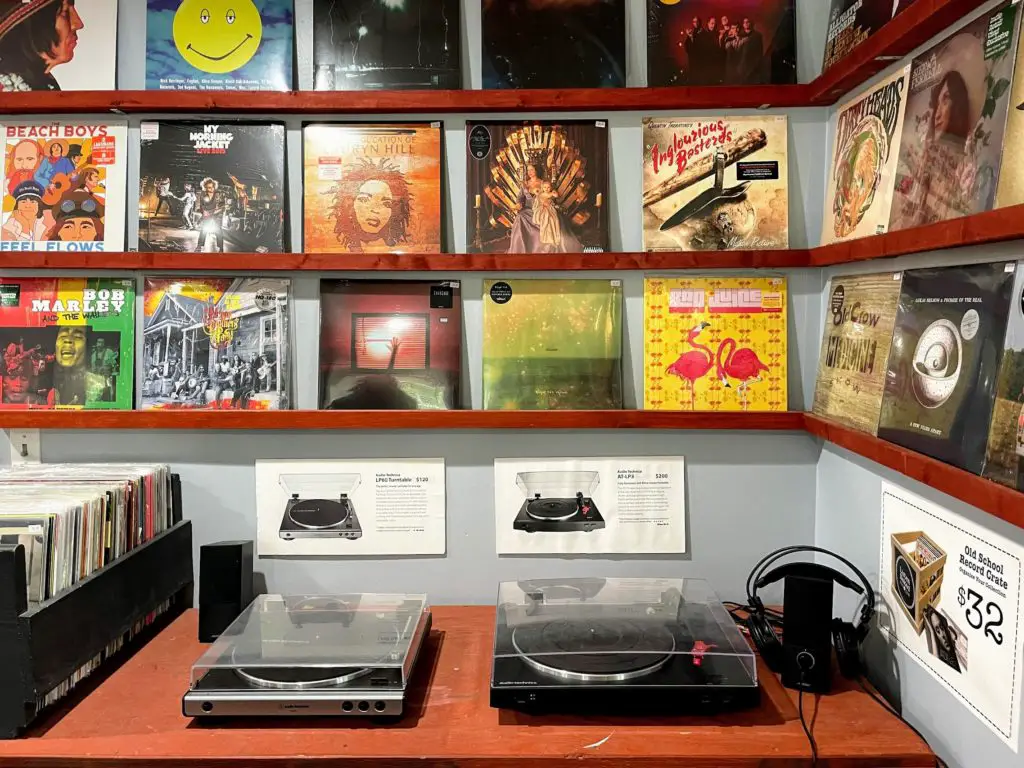 A fair trade and artisan marketplace that highlights the talented work of the community. This place is adorable and the perfect place to find a souvenir while supporting local small businesses. Jewelry, bowls, clothes, skincare, home decor, candles and much, much, more is all on display.
We stopped in to peruse and I walked out with handmade body butter made from shea butter and aloe—with a peach scent, of course! When in Gerogia…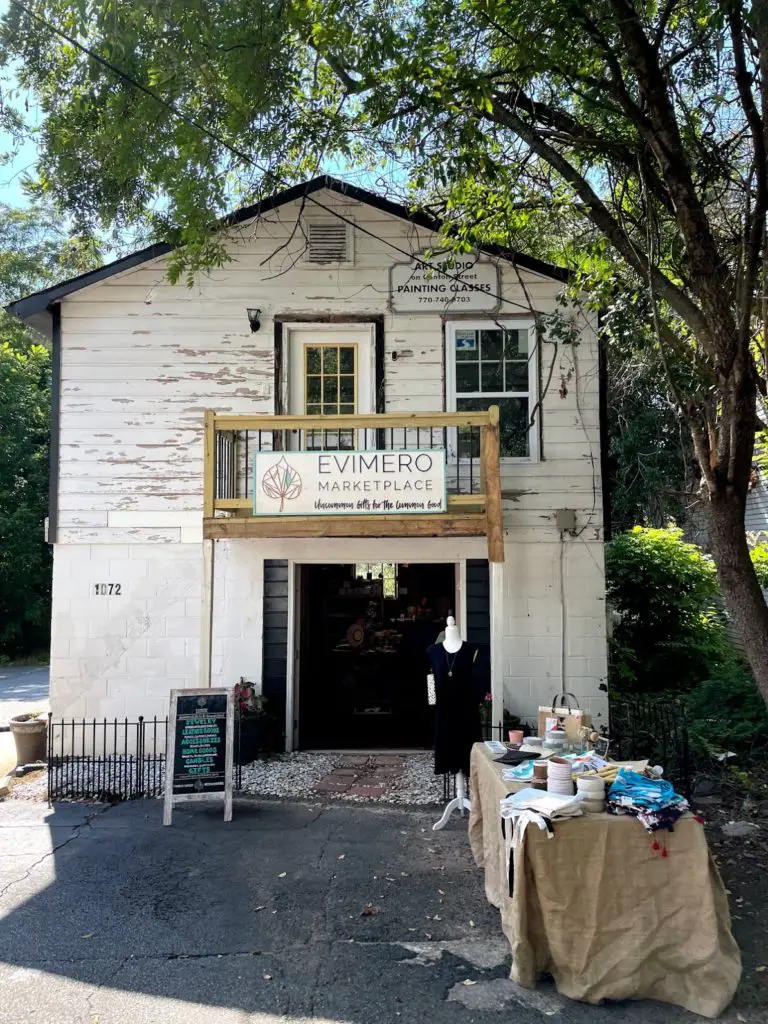 Get tips and tricks on more Trips Beyond the Midwest—Utah, Las Vegas, Hawaii, and Aruba are all included!
Outdoor Spaces in Roswell, Georgia
There are plenty of ways to get out and do some outdoor activities while you are in the area! Close to the historic town square are a number of parks and places to visit:
Old Mill Park: hike the trails at Vickery Creek and walk through the ruins of the Roswell Manufacturing Co. Mills. Cross the pedestrian bridge for great views, a picture, and access to walking trails.
Chattahoochee River & Trails: 7 miles that includes playgrounds, fishing, biking, and fresh views.
Chattahoochee Nature Center: miles of trails and plant gardens, plus you can learn more about the river and its ecosystems.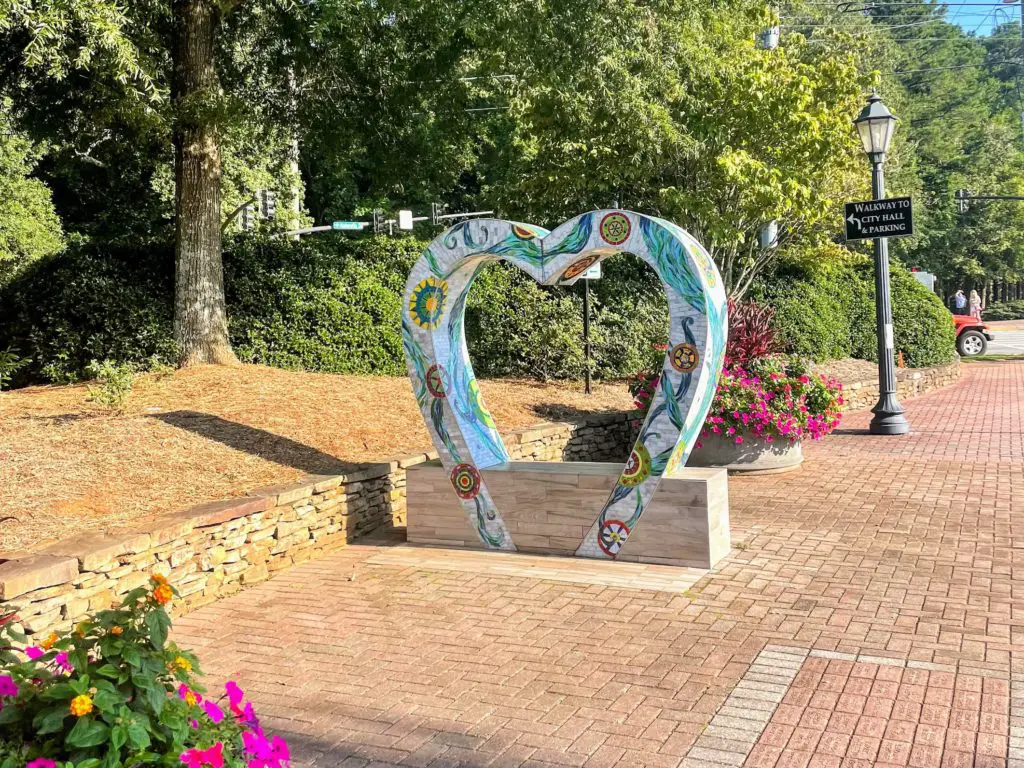 Downtown Roswell, Georgia: Historic, Quaint & Fun
A day in downtown Roswell, Georgia will be one to remember! Great food and drinks, fun shops, and beautiful, lush green spaces in a historic setting. If you love to check out new places, this is a small town worth visiting!
Did this post help you out? Support the work and pass along $5 for a Coors Light 😉 VENMO: @Amber-LBB or PAYPAL: amber@littlebluebackpack.com. THANK YOU.
What is the best lesser-known city you have visited?