Washington D.C. is: Compelling
You might pick up a Washington, D.C. travel guide and think the destination is the chicken sandwich of a food menu. It's a safe option; you know you will enjoy it and it has the potential to go beyond your expectations but it's not all that new or exciting. It gives you the chance to hit a few museums and monuments and maybe relearn whatever you didn't listen to in history class. But there are other places you'd rather go. Right? Well, let me tell you…you may want to rethink that.
The District goes far beyond a middle school field trip. D.C. is dynamic and green with a variety of places off the beaten path that offer a cool vibe and rousing experience. Each ward (neighborhood) offers something unique. You'll meet innovative and motivated people who work for our nation's government, high profile architects, photographers, and people who can't even tell you, by law, what they do. The city is powerful and full of energy with a fast-pace—and everybody is on a mission.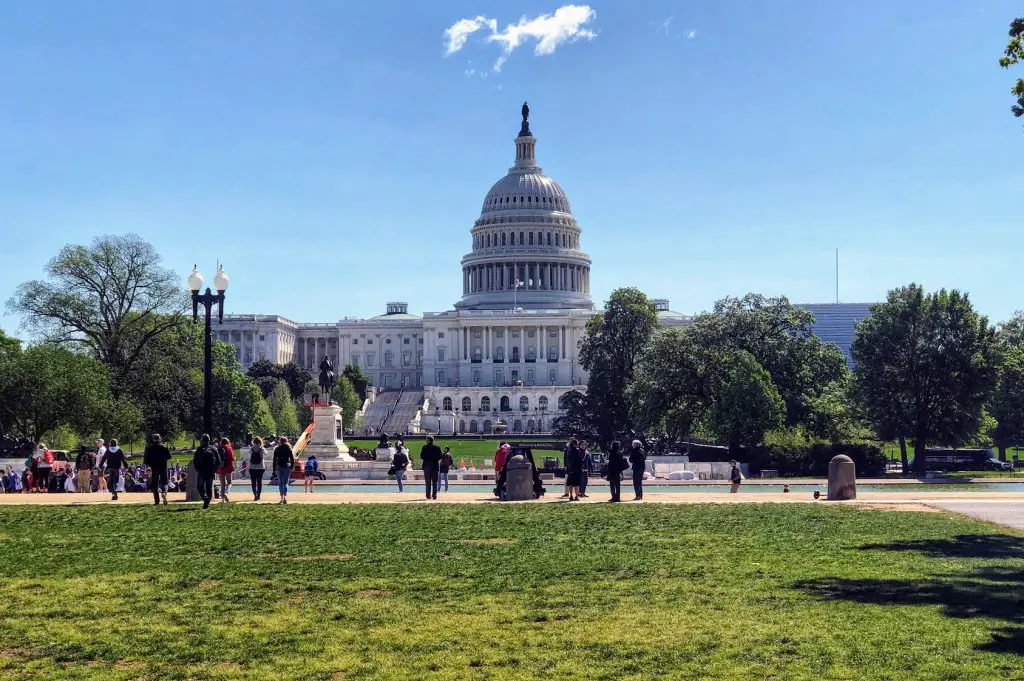 The Best Experience
The Wharf; pedestrian, brick streets with charming alleyways are lined with an array of shops, restaurants, hotels, apartments, and music venues—including a 6,000 seat concert hall, The Anthem. This newly developed waterfront neighborhood is a must-add to your D.C. trip. Its perfect location on the river is just south of the National Mall, with one end dedicated to the fish market and a variety of fun stops as you make your way down to the other end. Indulge in the sweet taste of a self-made s'more brought to you by the cutest food truck you have ever seen. And take a seat on an oversized swing overlooking the boats—it will look perfect on your Instagram feed.
Developers connected renowned chefs, aspiring small-business entrepreneurs, and a variety of entertainers to create an area with a constant buzz. Choose from 30+ riverside restaurants including seafood, Mexican, an Irish Pub and rooftop bars and lounges.  Stop in Shop Made in D.C. for a variety of souvenirs ranging from hand-crafted wood wine holders to refreshing, homemade soaps and body lotions. This space is new, welcoming and will only improve as they continue to build it into an up-and-coming national hot spot.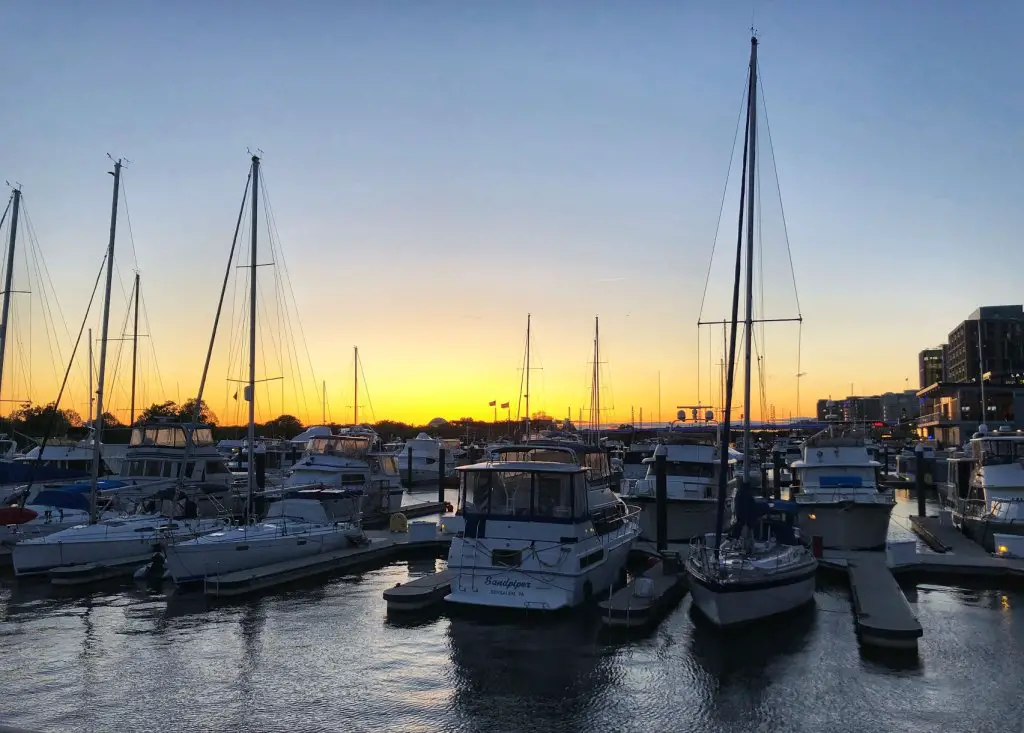 Honorable Mentions
The National Mall; make new friends but keep the old, right? Though The Wharf is the shiny new toy, the National Mall is still full of beauty and a wealth of knowledge. (And tourists—lots of tourists.) The heart of the city is where we honor our country and remember American leaders and war heroes. The centerpiece is the Washington Monument. Follow the path to observe the memorials including Lincoln, World War II, Vietnam Veterans, and continue to the U.S. Capitol Building, museums, and much more. The ultra-green, tree-lined space is also a popular place for gatherings, festivals, and locals playing soccer and hanging out. It is the king of sight-seeing and can be done in a few hours. Or, take a few days for an extensive dive into our history.
Georgetown; prime real estate over here. Located along the Potomac River, this vibrant area is home to restaurants/bars, upscale shops, and colorful homes with small gardens. As one of D.C.'s oldest neighborhoods, the historic area is a site to see and a perfect place to spend a weekend afternoon strolling down cobblestone sidewalks and admiring the waterfront while shopping, drinking, and eating cupcakes. P.S. Baked and Wired > Georgetown Cupcake – don't let Netflix fool you.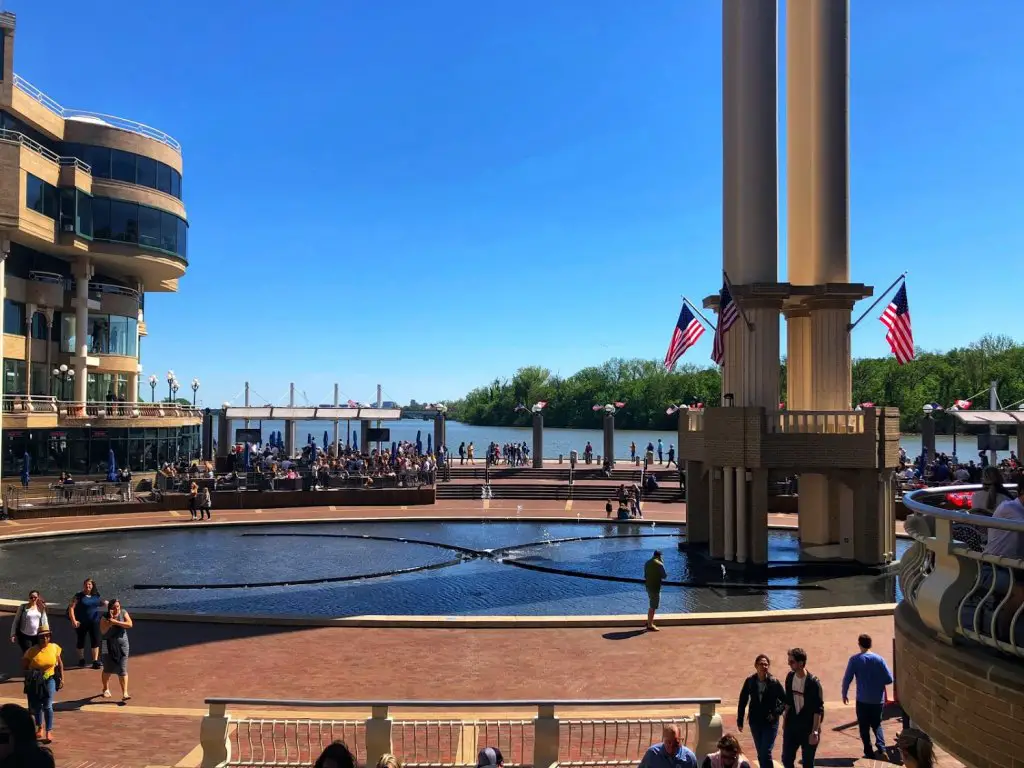 Boutiques; shopping in D.C. is not all department stores and name brands. There are hundreds of locally owned shops with every neighborhood offering stop-worthy, unique, and fun places. Are you a plant parent? A small boutique, Little Leaf, located in Logan Circle stole my heart! The small place is covered in all sorts of greenery. How about a book worm? Get lost in Politics and Prose, located in The Wharf. And we all love trinkets, gadgets, and homemade novelties. Don't miss Shop Made in DC, which showcases the wide range of talent that D.C. offers. This retail space helps local creatives sell their products ranging from jewelry, home decor, stationery, and coffee. You can find a store in Dupont Circle, as well as The Wharf.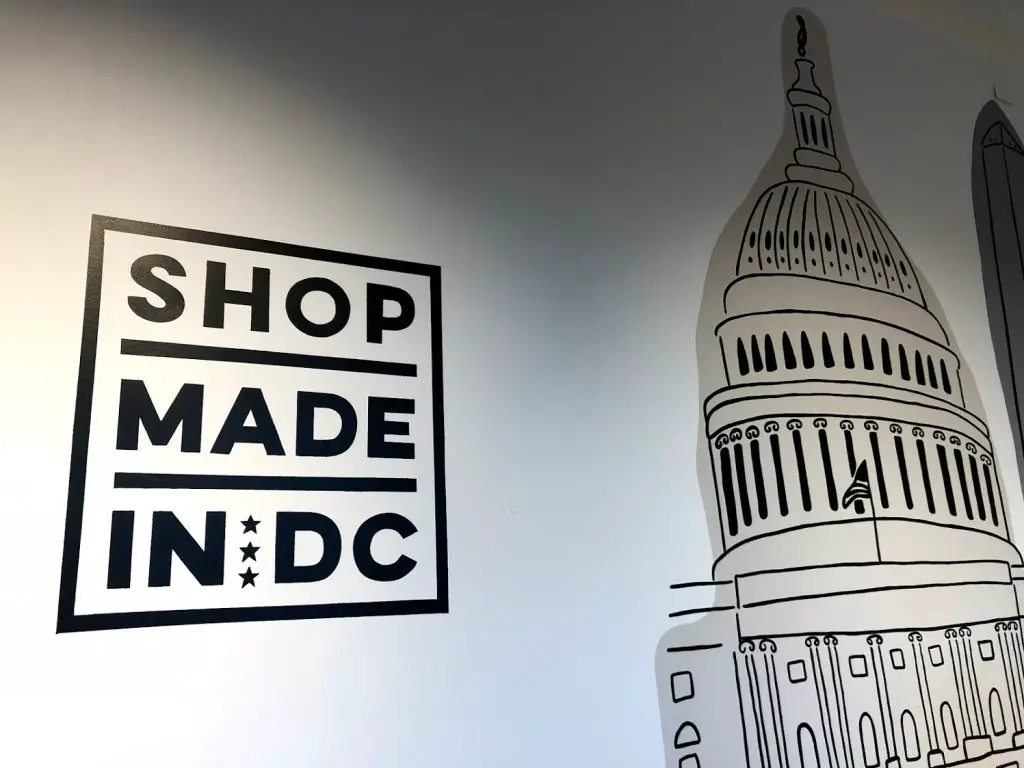 Best Meal
So. Many. Restaurants. You can come to D.C. and do nothing but eat and drink. Which is basically what I did. (Make sure you check out Food & Drink Guide: Washington, D.C.) For now, my one highlight is:
Barcelona Wine Bar; tapas and sangria—can you go wrong? Located on 14th Street in Logan Circle, the restaurant/bar is attractive, lovely, and charming. The inside is modern yet rustic with beautiful wood interior and a dim ambiance. The courtyard is full of fresh flowers and plants, string lights, and standing heat lamps where you can enjoy the outdoors while drinking wine with your friends.
We enjoyed a couple of seats at the bar where the bartenders were next-level accommodating, sharing their name, remaining attentive by pouring our next glass of sangria, flashing their smiles and having fun. They offer a variety of tapas shaped by Mediterranean, Spanish, and South American influences and have an extensive wine list. It is truly the menu that can't go wrong. I highly recommend the Patatas Bravas—cubed potatoes bursting with flavor served with an incredible garlic aioli sauce.
$FREE.99
The Mall; a part of every Washington, D.C. travel guide is the 2-mile stretch, bookended by the Lincoln Memorial and The Capital building. The Mall is the perfect place for a self-guided tour of the sites. It will take some time to work your way through everything, making it the perfect place to check some items off your list and save money at the same time.
Explore neighborhoods; there are countless charming and colorful wards just waiting for you. D.C. is extremely walkable with many options for your feet to take you. Georgetown, Capitol Hill, Dupont Circle, Shaw-U Street Corridor, Logan Circle, and the list goes on. Grab a coffee and walk around to get a feel for how the locals live.
Smithsonian Museums; if you're looking for a museum in between food/drink stops, there are plenty of free spots, as well as the zoo, to explore.
What I'd Skip
Brunch at The Smith; I loved the atmosphere at The Smith, but I thought it was overrated. The inside has a diner feel to it—though much more trendy and upbeat with a beautiful bar. That said, the service was below average and the food was on the same path. I ordered the Huevos Rancheros which came without a whole lot of flavor. Bonus: there was free bread. And my drink (which came with my entrée) was the bomb.
D.C. Tips
Stay in one of the neighborhoods vs downtown; while downtown is fun and full of entertainment, there are so many things to do, see, and eat in the surrounding neighborhoods! Find a spot in Logan Circle, or Capitol Hill and experience D.C. as a local does—for cheaper. 
Spring or Fall; every Washington, D.C. travel guide will tell you if you come in the summertime, your face is going to melt off and you will be run over by tourists.
Allergies; bring some extra Claritin. D.C. allergies don't play.
You don't need a car; traffic, parking, crazy drivers—don't deal with it. Walk or take public transportation for a more seamless experience. Plus, there is an Uber driver every 8 feet for when you need to get somewhere in a hurry.
Cards Only; I noticed a number of places that did not accept cash.
A Washington, D.C. travel guide may only touch on museums and monuments, but the city is far from only government and politics. Their food scene is diverse, the drinks are strong, and you will meet people, young and old, who probably have a cooler job than you.  D.C. is the perfect weekend away with your friends—grab my Tips for Traveling with Friends here. The District is trendy and confident and deserves a spot on your list of travel destinations.