Our nation's capital brings many different things to mind. Informational and interactive museums. Memorials amongst picturesque cherry blossoms. Your middle school field trip. And the home of the President. Founded in 1790, The District houses our government and politics, where people in suits argue, and groups of 50+ walk around wearing the same t-shirt and holding pamphlets.
But beyond all that are places more fun, lively, casual, and tasty. Places that can bring you around the world in two hours' time. Experiences that leave you salivating for more. These places? They are the restaurants, bars, coffee shops, and bakeries that help make D.C. an exhilarating place to be. Sure, you can be a gentleman in a suit to enjoy them, but you can also be a college student, tourist, politician of our future, hipster, or sports nut. Food & Drink Guide: D.C. will point you in the right direction.
It would take years to enjoy all of the food and drinks D.C. has to offer, but after spending four days round the clock eating and drinking—here is my Food & Drink Guide: D.C. Whether you need a morning jolt of caffeine, a happy hour cocktail, or a full course meal, check out some of these fantastic places.
Food & Drink Guide: D.C.
Succotash—Happy Hour (Downtown)
Walk into a bright and elegant room with vaulted ceilings, lines of retro-style booths on one side, and a bar with gorgeous chandeliers overhead on the other. While the ground level floor makes you feel like Kate Middleton, the upstairs is more Mila Kunis. Brick walls, dark wood, and chic southern décor make a dim and rustic ambiance perfect for taking a breath after a long week and waltzing into the weekend. Their space truly brings together two different worlds serving the same mouth-watering food and drinks.
You cannot find a better happy hour. First things first, it's served daily from 3pm-8pm (WHAAAT? Yes, 8 pm.) Second of all, their crispy on the outside, tender and juicy on the inside, spice-rub smoked chicken wings are full of flavor and cost $1ea. The happy hour menu also includes $5 draft beers, $6 wines, and $29 pitchers of spiked punch (highly recommended) and other southern eats with a twist.
Price: <$30; pitcher of the house punch (split—3 glasses each), 5 wings
Food, atmosphere, service…check, check, check. Barcelona Wine Bar passes every test and is the perfect place for a date or night with your girlfriends. By bringing together Mediterranean, Spanish, and South American influences, their tapas are next level delicious and burst with flavor. I wasn't hungry when we stopped in for sangria and a small appetizer, but did I eat? Uh yes. Could not stop. The bartenders were beyond gracious, smiling, and having fun. And the Patatas Brava and Jamón & Manchego Croquettes? They spoke to me, yelled rather, you need to get back here and taste the rest of the menu. I salivate thinking about it. I would rate this as #1 in my Food & Drink Guide: D.C.
Price: $30; pitcher of sangria (split), 2 tapas—bread/olive oil included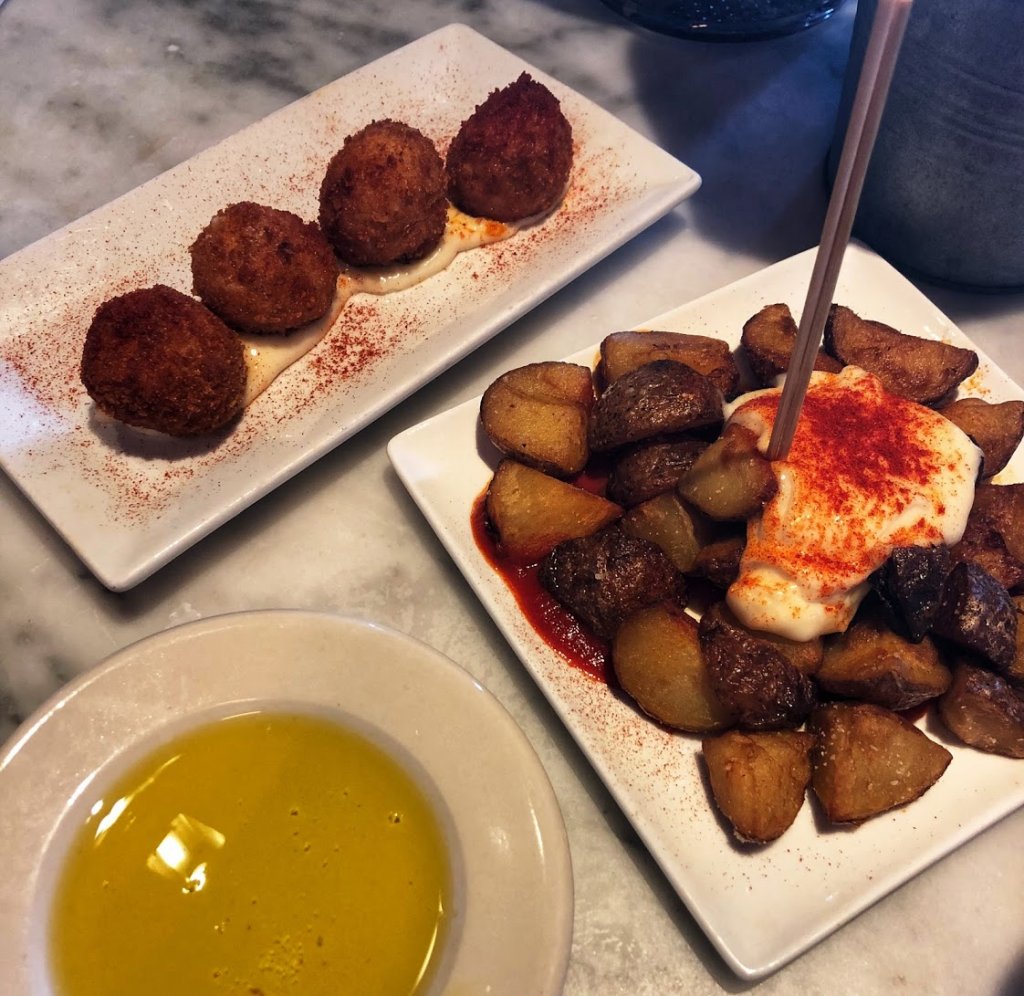 Calico—Hang Out + Drinks (Shaw)
This hot spot brings you to a unique destination in Blagden Alley—hip and full of Instagrammable murals, progressive coffee shops, and restaurants. It has an urban feel mixed with a neighborhood backyard party. They should have a sign outside that says: COOL KIDS ONLY. The outside includes string lights and lanterns, an herb garden and plants, and seating in a greenhouse to round out the experience. Order backyard-inspired food (think burgers, cold pasta, sausages, tater tots), adult-juice boxes, cocktails on tap, and a variety of craft beers and wine.
Price: $30; 3 craft beers (cans), lavender lemonade cocktail
Mi Vida—Dinner (The Wharf)
Walk into a multi-level, swanky, Mexican restaurant where you'll enjoy waterfront views from inside the modern space of warm tones and splashes of orange. It's new age and upscale without being pretentious. If you order the guacamole, alongside warm, house-made tortilla chips, the bowl may not even need to hit the dishwasher. And the margaritas? Try and drink just one. Credit goes to Roberto Santibanez, a famous New York chef who brought his talents to D.C.
The flavors make it worth the price. Slow-braised meats including zesty barbacoa and carnitas and a variety of spicy salsas to go along with the mouthwatering guacamole inside of a soft shell. Not only is the food impressive, but the detailed decor and design as well.
Price: $45; 2 house margaritas, chips and guac, 3 Barbacoa tacos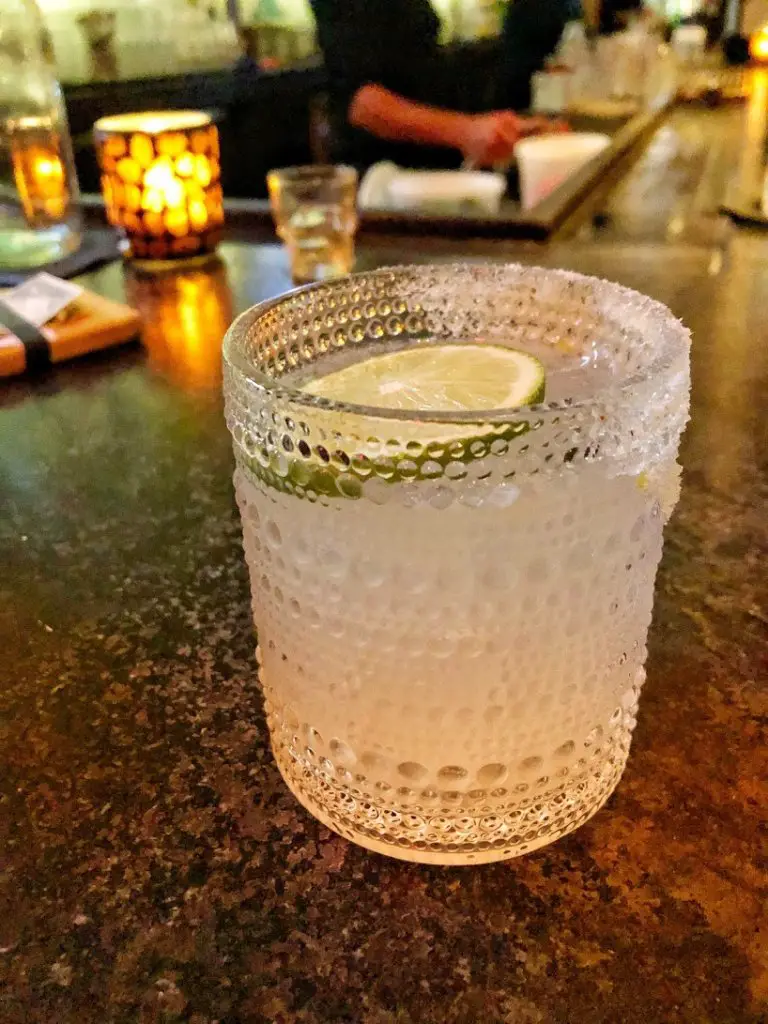 Pick your meatball—think classic, chicken, veggie, salmon… Choose your sauce—spicy meat, pesto, yogurt dill, etc. And then give these delicious, homemade balls a companion—pasta, roll, salad, the list goes on. These aren't the meatballs you pull out of a crockpot with a toothpick. They are worthy of a fork and each slice provides a tender bite oozing with flavor.
This is a great, casual place for lunch (there is a server, not counter ordering), and offers a full bar and relaxing atmosphere. Consider the buffalo chicken meatballs a must and if creating your own meal feels too overwhelming, stick with the go-to spaghetti and meatballs or branch out and opt for the lobster (ball) BLT.
Price: $30; one beer, buffalo chicken meatballs app (split), meatball bowl—comes with side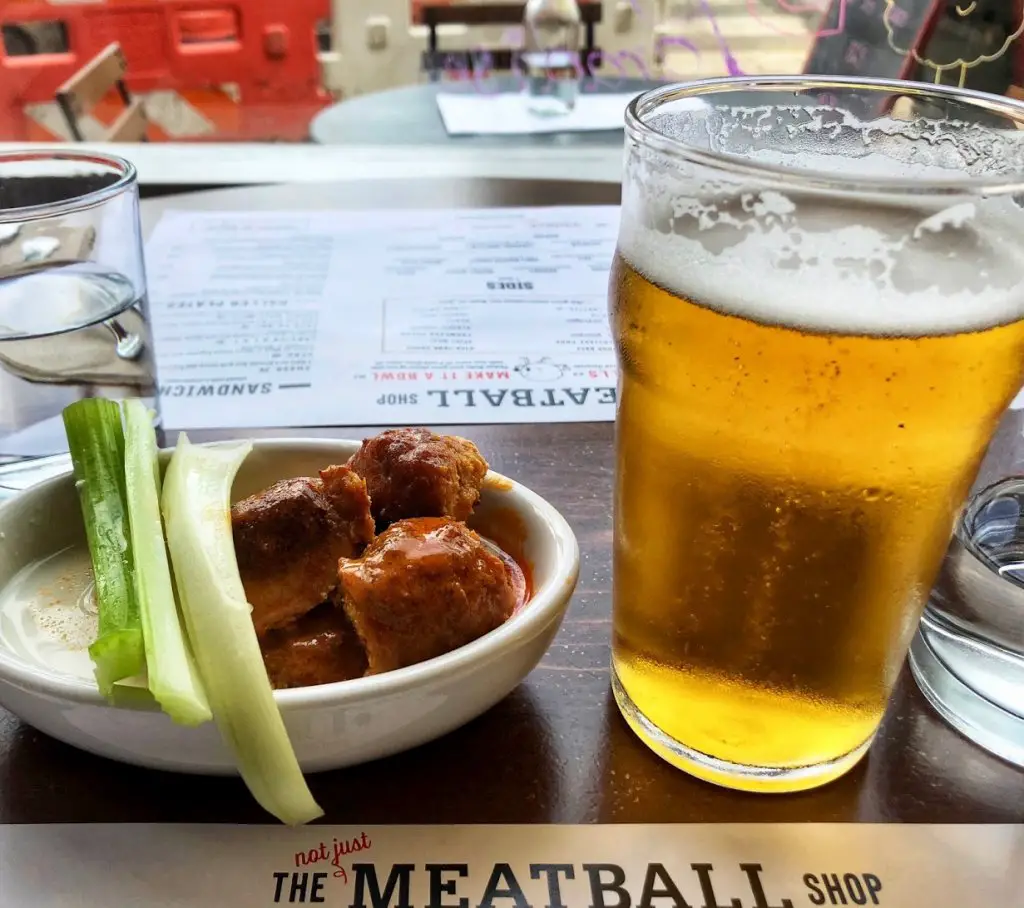 I had high expectations immediately after entering this place. It had a unique atmosphere with a diner feel—black and white checkered floors, small tables and booths, yet very upscale and ritzy. It was busy and seemed like a popular place for brunch. Though the atmosphere set the bar high, the service and food let me down. Cocktails (which were delicious, I will add) weren't brought over until halfway through our meal and my Ranchero Scramble tasted as bland as a noodle casserole at the church potluck. For as many D.C. restaurants as there are, and the amount of locals who seem to love brunch, there has to be better.
Price: $25; coffee with a brunch entrée—bread/butter and a cocktail included
Out shopping and enjoying the classic Georgetown neighborhood? Thunder Burger is a great stop for a beer and a recharge. The space has an edgy vibe and plays classic rock and roll music. My mouth watered at the burger and fries next to me, but I was saving room for my next stop…
Price: $8; one Stella
D.C. DESSERT
Sweet tooth? First, get your sugar fix with a cupcake. Second, skip the crash with a hot latte from the coffee bar. Baked and Wired is the place to do it and well worth the out-the-door line. Each handcrafted cupcake is layered with swirls of rich frosting—spare me the I don't like frosting. This isn't your mainstream grocery store mush they call frosting. This velvety, buttercream sensation is the cherry on top to each uniquely flavored cupcake including coconut (highly recommended), dirty chai, and almond orangesicle, along with the traditional vanilla, chocolate, and strawberry.
Price: $4; one cupcake (big enough for two but…no)
S'mores at The Wharf
Some people have fantastic ideas. And this is one of them. Located in The Wharf, this teeny-tiny, adorable food truck on the boardwalk sells prepackaged ingredients to make one s'more for $3. Included is a marshmallow, graham cracker, and candy of your choice—Hershey's, Reese's, Snickers, etc.—plus a stick. Then, find a fireside seat overlooking the water and let the 10-year-old in you shine. Also, whoever thought to put a Reese's in a s'more deserves some type of award. All hail chocolate and peanut butter.
Price: $3; one S'mores "kit"

D.C. COFFEE
No Food & Drink Guide: D.C. is complete without coffee. There are a number of trendy coffee shops to visit so avoid the Starbucks and Dunkin Donuts and give these a (double) shot.
The baristas at this family-run coffee shop make every cup with love, taking their time to make sure what they hand over is perfection. The shop is modern with white, coffee-stained artwork along the walls reflecting off the dark, black coffee bar and shelving. The small space offers few places to sit but compromises with the feeling of comfort and happiness. The drip coffee was average and unmemorable, but their lavender latte was a work of art.
Price: $3 for drip coffee, $5.50 for seasonal Lavender Latte
Kintsugi—The Eaton Hotel (Downtown)
Inside a fancy hotel, Kintsugi served my favorite drip coffee. And the banana Nutella muffin—oh my goodness gracious. Their pastries are the size of your palm or smaller, making it a tasty treat that doesn't weigh you down but awakens your taste buds and leaves you feeling full, not gross. Coffee comes with a little (complimentary) Japanese cookie, and each order is beautifully presented on a wooden tray.  The feng shui of the space was perfect and complete with patterned chairs, small booths, and overhanging plants.
Price: $10; drip coffee and a banana Nutella muffin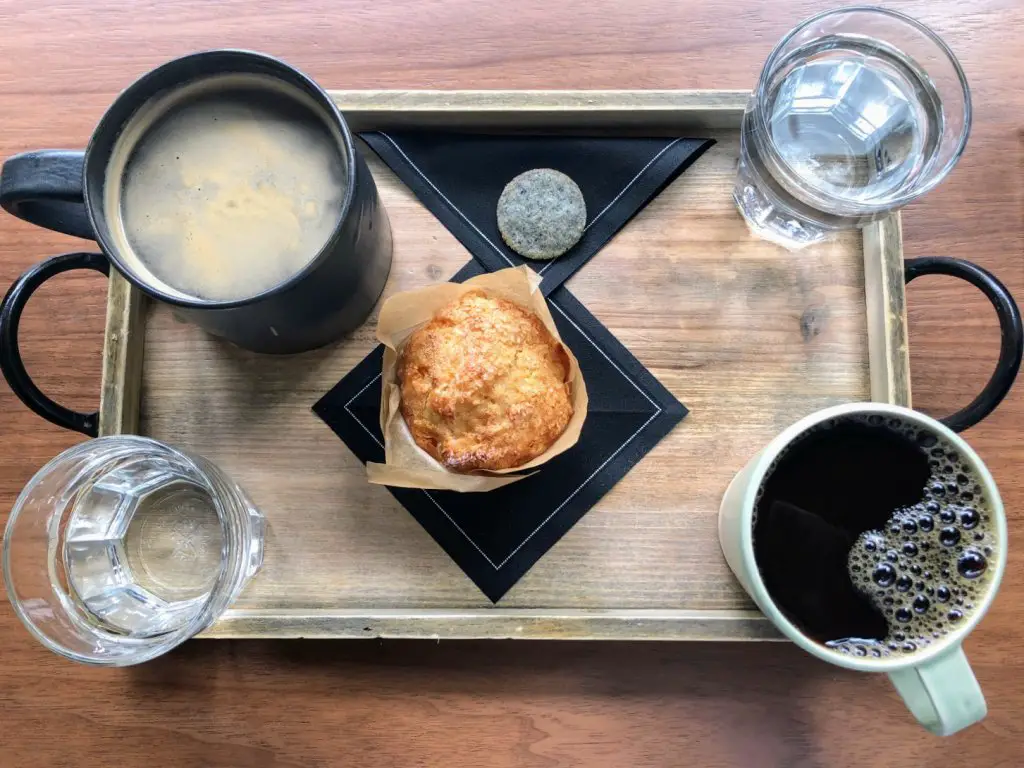 Simple and welcoming. This shop is full of tables, both individual and community size, and they keep their menu simple and easy to understand. No need to run down a list of words like the organic half soy double shot of vanilla latte. How about just a nitro cold brew? Which was very good, though not next level great.
Price: $4; Nitro Cold Brew
This hot spot has millennial written all over it and I would be lying if I said it didn't impress me. Coffee, trendy hand-crafted cocktails, avocado toast…you know, the finer things. This spot isn't just a place to come with your laptop for a cup of caffeine. Experience breakfast and dessert with everything in between including brunch and happy hour. The avocado toast, complete with an egg for extra, is on a large piece of sourdough bread without skimping on the avo. Not to mention, beautifully presented.
Price: $14: Avocado Toast (with an egg) and a drip coffee
Come to D.C. Ready to EAT
Our nation's capital brings many different things to mind. And among those things should most certainly be food and drinks. There is something for everyone and countless restaurants and places to explore. Bring an open mind when you come to D.C. and try a variety of foods from different areas of the world, made by some of the world's top talent. What places would you add to the Food & Drink Guide: D.C.?
And for travelers headed to our nation's capital, check out my other D.C. post Backpack Goes to the Capital: Washington, D.C. for more on things to do, places to explore, and ways to enjoy your trip.