Are you are ready to relax? There is a lounge chair waiting. How about party? Pack the cooler. Does your bucket list need a checkmark next to snorkeling, jet-skiing, or parasailing? Get ready! Aruba beaches are for thrill-seekers and sun bather's alike. And beach day in Aruba is every day. Gorgeous blue waters, white sand, and good times are inevitable, and every beach offers something unique.
ADMIRE
Eagle Beach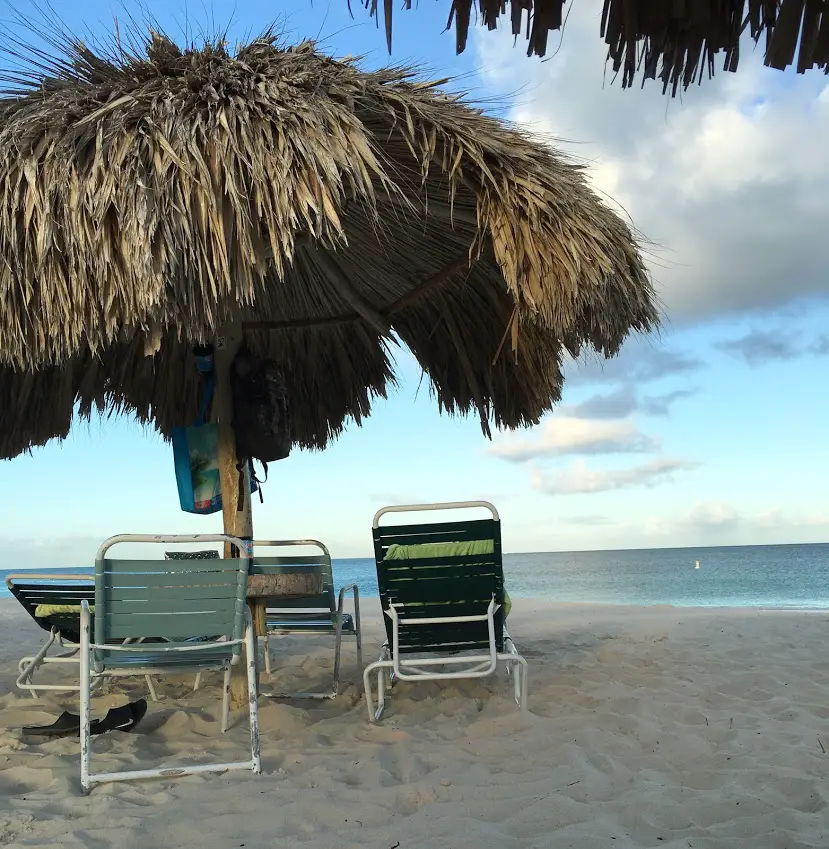 Kick-off your flip-flops and feel the soft, white sand warming your feet. Your eyes will be hypnotized by the aqua ocean ahead. It's no mistake that Eagle Beach consistently ranks as one of the top beaches in the world. Catch some rays, hit up Julio's Watersports, sip tropical drinks and enjoy the Caribbean dream. Though palapas are always full, it's never too chaotic around here and beach day in Aruba should include Eagle Beach at least once during your trip.
Tips:
Palapas are free. Get up before sunrise to grab one. Show up, search for an empty hut and wait for the beach guys to come around 6:00 AM with chairs—don't forget to tip them! (UPDATE: As of February 2021, there are far fewer travelers and you can arrive as late as 8:30-9:00 AM on most days.)
Chairs/Umbrellas: If early morning seems impossible, no problem. You can get two chairs and an umbrella for around $35.
Oasis Beach Bar: Grab 2-for-1's from 2:00-3:00PM (frozen drinks) and again from 4:00-6:00PM (full bar).
Don't Forget: Your Camera
If you want to feel like a real photographer, take plenty of photos at Eagle Beach. It's the easiest place on earth to get one-of-a-kind pictures. No filters needed.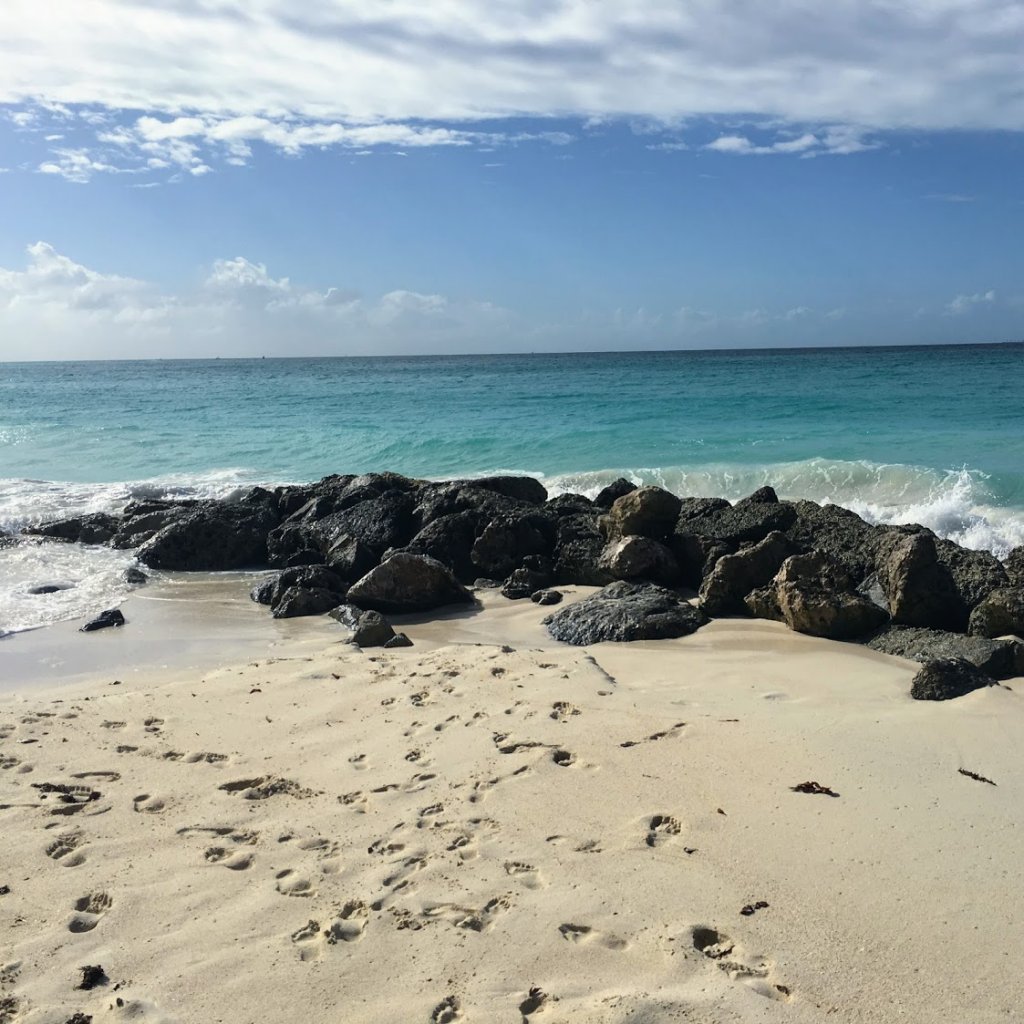 What's Nearby Eagle Beach?
Happy Hour:
Terraza Italiana (5:00-7:00 PM): Here you can enjoy happy hour or a meal on their rooftop overlooking the ocean. Grab a pizza and a Heineken on tap and enjoy the view of a perfect sunset.
Dinner:
Passions on the Beach: Smell the ocean breeze at this upscale restaurant. Enjoy a cocktail and a steak with your feet in the sand.
For more restaurants, read Where to Eat in Aruba.
PARTY
Palm Beach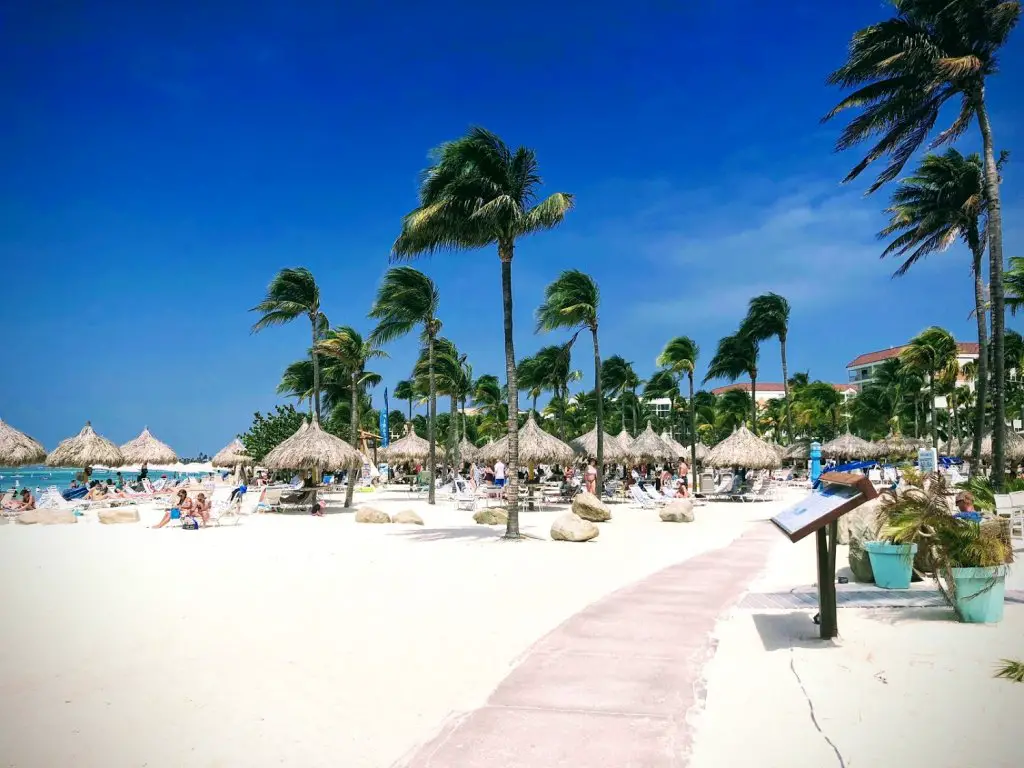 This is for the thrill-seekers, partiers, AND beach bums. Located in front of the high rise hotels that stretch between the Riu and Ritz-Carlton, Palm Beach is a popular hang out for tourists and one of the busiest spots on the island. Tan, snorkel, parasail, hop on a boat, or catch some shade underneath one of the open-air bars. If you're looking to meet people, have a few drinks, and mix in some adventure, Palm Beach makes for the perfect beach day in Aruba.
UPDATE: Due to fewer travelers and those staying in the popular hotels, this area is much, much quieter than it is normally accustomed to. You'll still find fun, but it's definitely not crazy.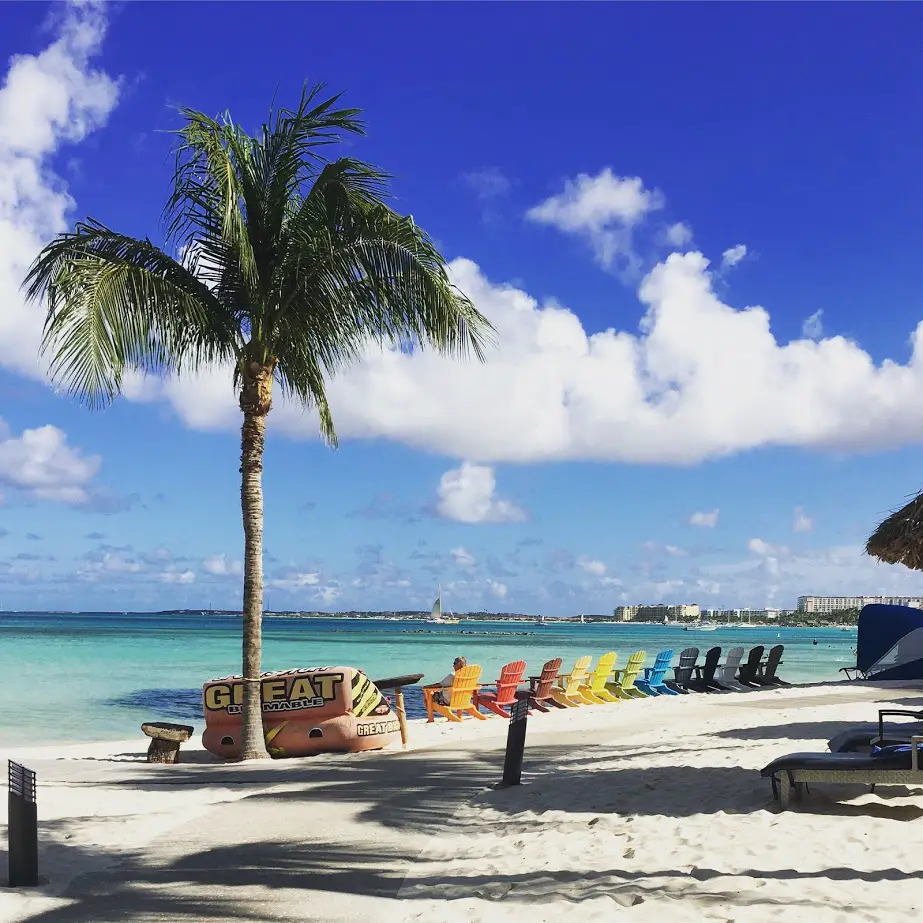 Don't Forget: Koozies
You're here for a good time. And so is the sun. Drinks get warm a little quicker than you are probably used to—stay prepared. Also, it's the perfect, inexpensive, easy-to-travel-with souvenir.
Where to Stop
Snack:
One of Aruba's must-do's is Eduardo's Beach Shack. Grab acai bowls, smoothies, coffee drinks and more from this popular beach hut. The freshness is unbeatable!
Happy Hour:
Moomba's Beach Bar & Restaurant (6:00-7:00PM): One of my favorite stops on the island. Open-air overlooking the ocean, this place knows fun. Colorfully decorated, Dutch-owned, and always a good time.
Dinner:
Salt & Pepper Tapas Bar & Restaurant: What's more fun than too many drinks and a variety of tapas? Not much. Head to this restaurant, sit outside as the people pass by, music plays and the Aruba nightlife surrounds you. Tip: The S&P Dip is my favorite!
Note: this area has the most restaurant and nightlife options on the island so you will have a variety of places to choose from.
If you're in the party-mode, read Where to Party in Aruba!
RELAX
Baby Beach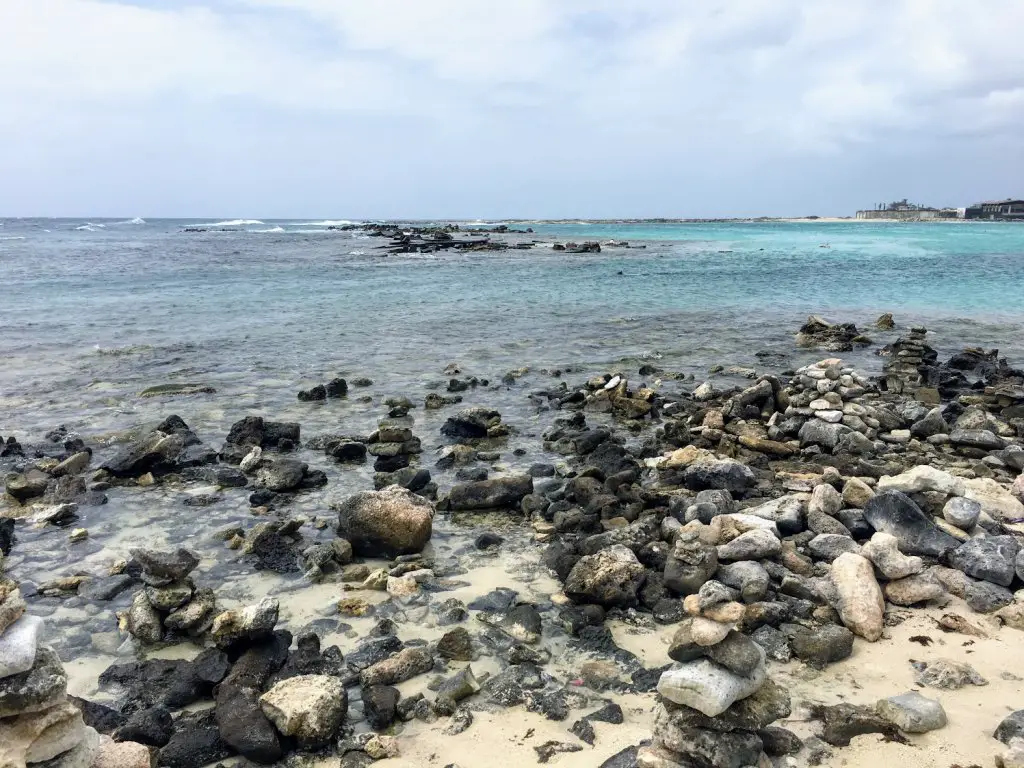 Baby Beach is located in San Nicolas, the southern tip of Aruba. This low water-level, shallow lagoon is one of the best spots for tanning, swimming, and snorkeling. Put on your snorkel equipment (you can rent it right at the beach for $10) and submerge into the calm aqua waves to greet the sea life.
Tip: Huts are available, though expensive—$60 for the hut and 2 chairs all day. But get here early enough and there are free palapas and you can sneak by only renting the chairs ($8 a piece).
Don't Forget: A Good Book
Baby Beach is truly vacation living. Calm. Potentially busy but never overwhelming. It's the perfect place to grab a lounge chair, enjoy the sun, and get lost in a book. (After you snorkel!)
Where to Stop
Happy Hour:
Rum Reef; One of the coolest spots on the entire island and perfect after a beach day in Aruba. Floor to ceiling windows overlooking the turquoise ocean and an infinity pool giving off the impression that it merges right into the waters. Spend $15 on drinks (per person) and you have full access to the pool and an unforgettable experience. It's so Instagram-worthy.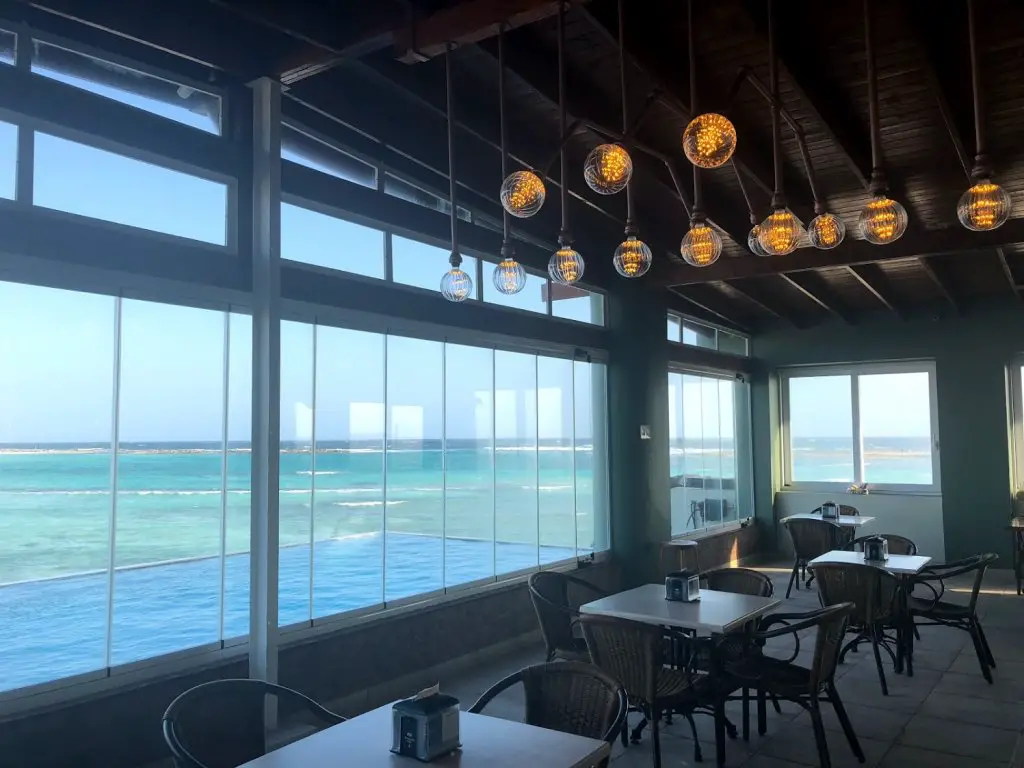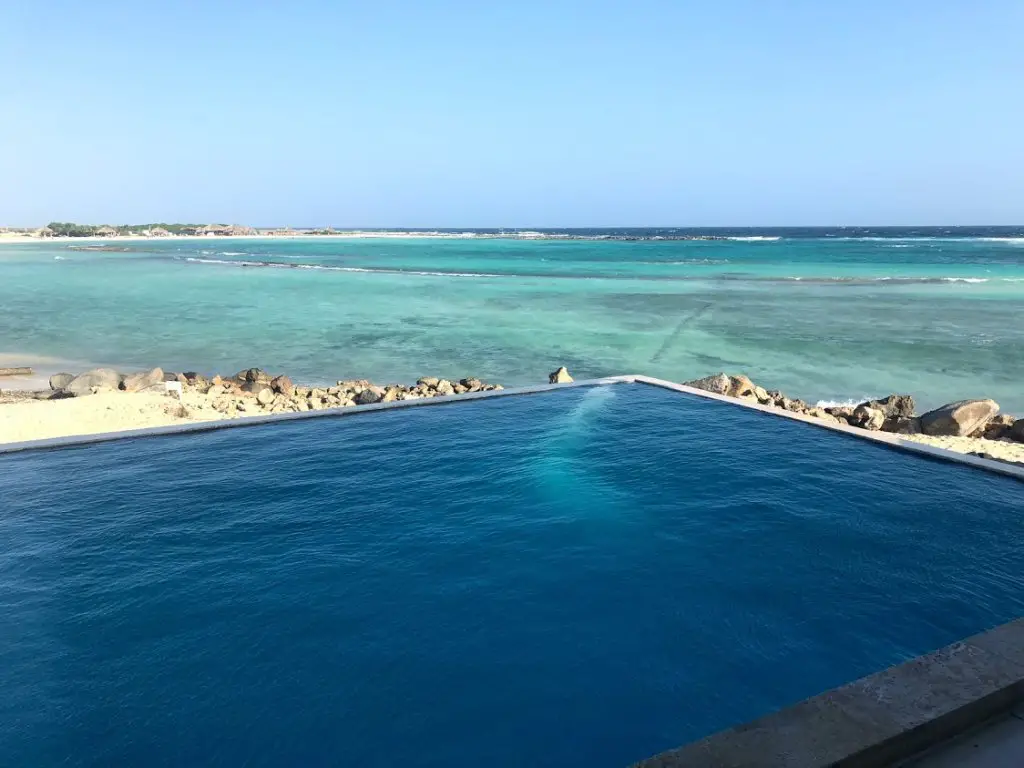 Dinner:
Charlie's Bar: One of Aruba's most famous bars, this spot becomes a tradition. Colorful memorabilia covers the walls making it a unique atmosphere. It's a great spot to hang out, grab a bite to eat and meet locals or other tourists stopping by.
ESCAPE
Arashi Beach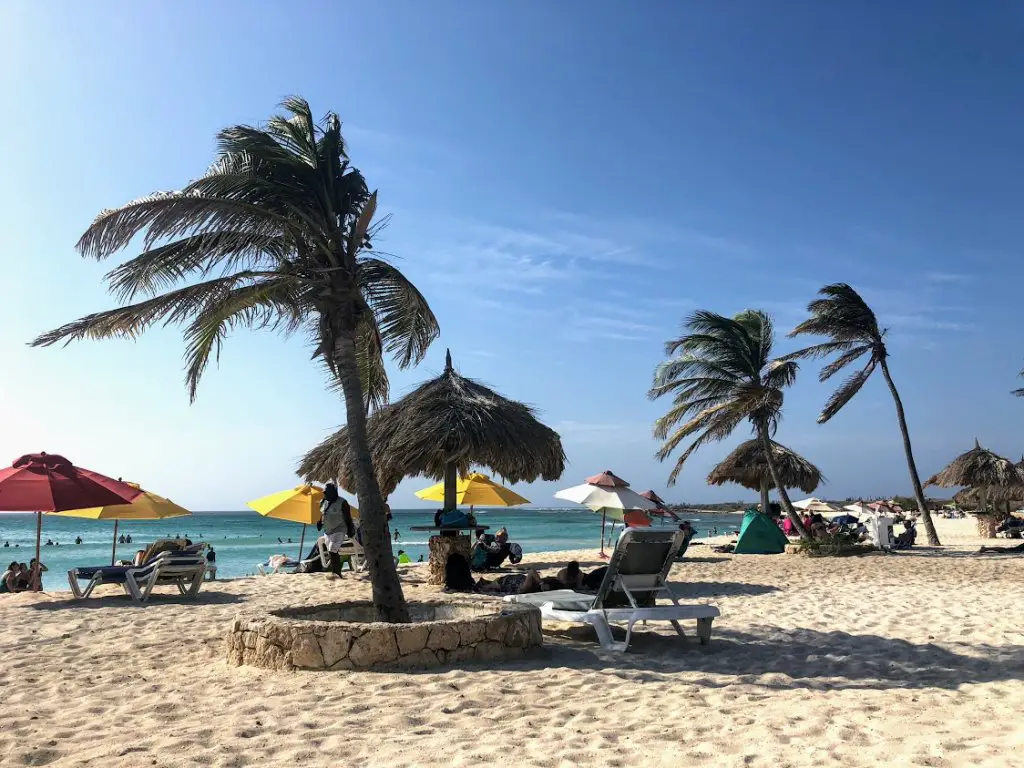 You are sure to hear about the Aruba beaches already mentioned. I love them all for their unique features, but to me, Arashi Beach is the most underrated for a beach day in Aruba. It used to have fewer tourists but with the recent surge in travelers hitting Aruba (written pre-2020!), it's become more popular. Arashi Beach is still one I recommend for getting a better feel of the island as a whole. It's calm, chill vibe mixes both fun and adventure. Hit the snack shack for drinks, snorkel, and watch (or join!) the kitesurfers.
Don't Forget: Music
Bring a small speaker or play your favorite tunes off your phone for the ultimate beach day in Aruba.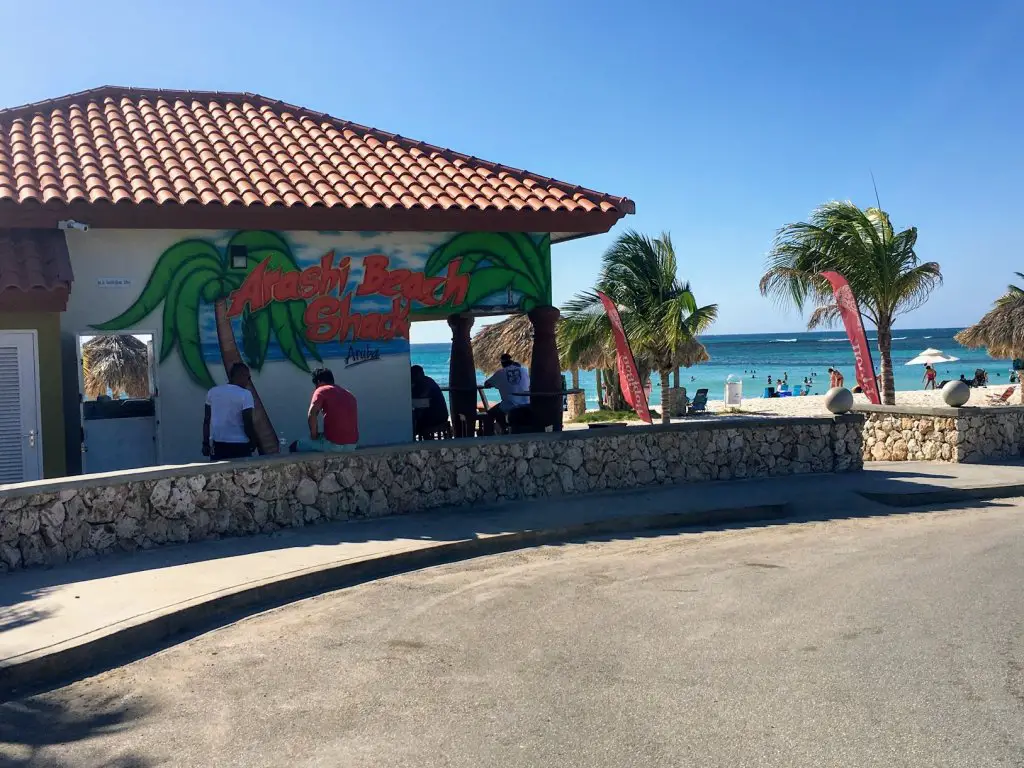 Where to Stop
Happy Hour:
Arashi Beach Shack; Located right on the beach, grab a bucket of beer, a tropical cocktail, and/or a beach snack. I can vouch for a hot dog washed down with a Balashi. Lol #HighMaintenance
Dinner:
Located on the northern tip, there aren't many restaurants in this direction. Head back south a few miles towards Palm Beach and you will run into a ton of options.
EXPERIENCE
Boca Grandi Kite Beach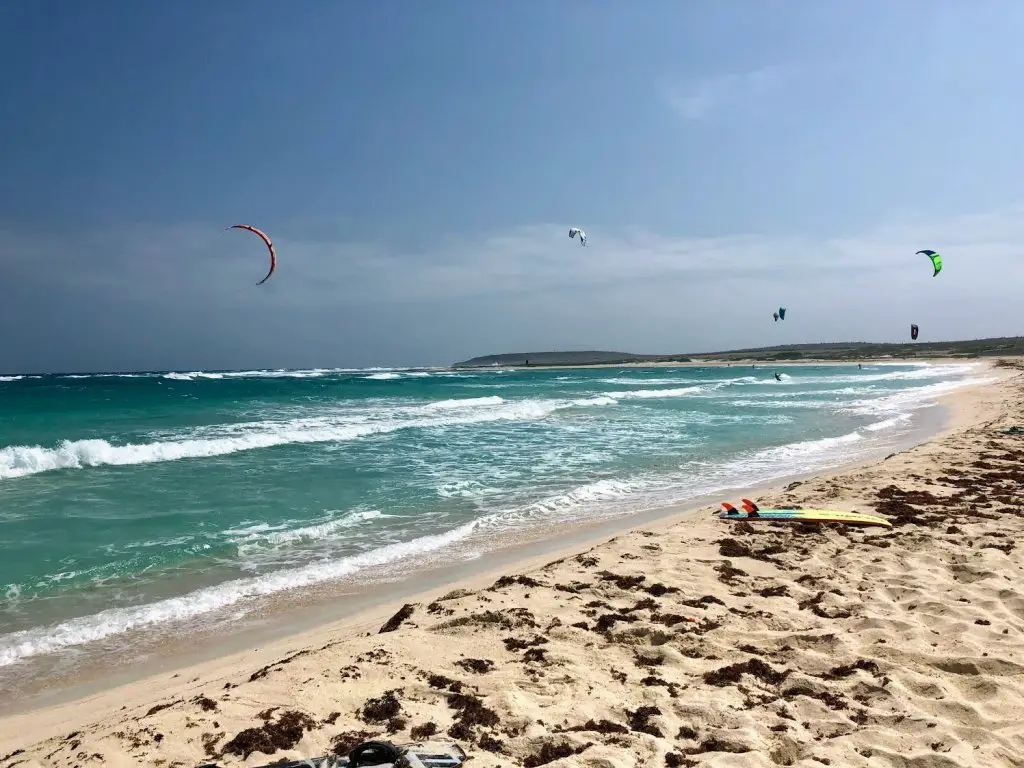 Lay back, close your eyes and let the waves take your mind away. This beach is like a wave pool at Wisconsin Dells – with better scenery, of course. And unlike the other Aruba beaches, you will likely only share this beach with less than 10 people. Locals and tourists seek out adventure by kitesurfing along the large waves, and though one reason to stay shallow is the rough waters, the other reason is the kitesurfers. They don't so much love you swimming in their playground but keep your distance and they will have plenty of space.
Tip: There isn't much shade and you will likely only spend about an hour here. But it's a great stop that's on my list every year!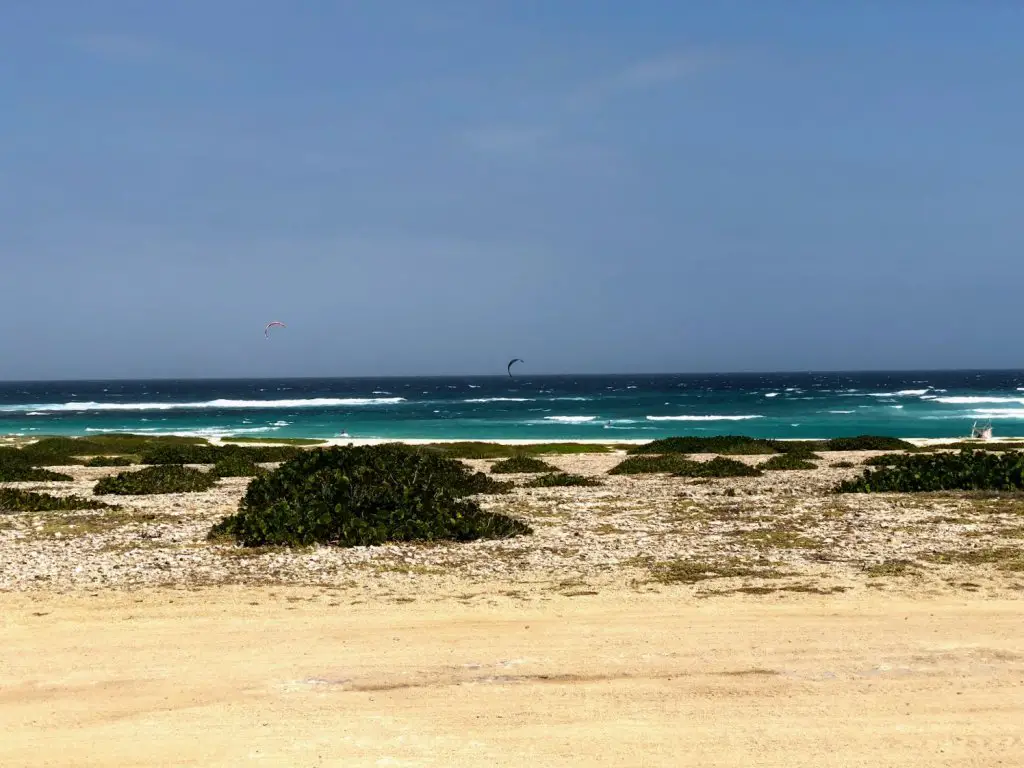 Don't Forget: Sunscreen
As I mentioned, this isn't your typical beach. No umbrellas or shade and the sun makes your skin as hot as a wood stove. Make sure you lather on your sunscreen before making your way down.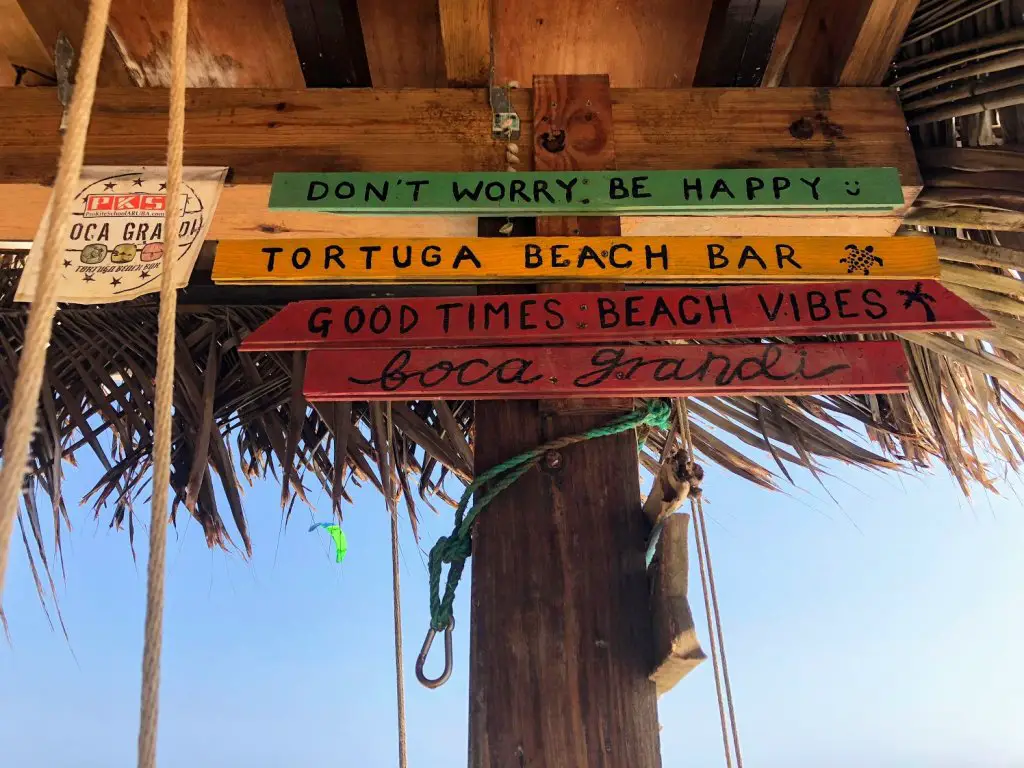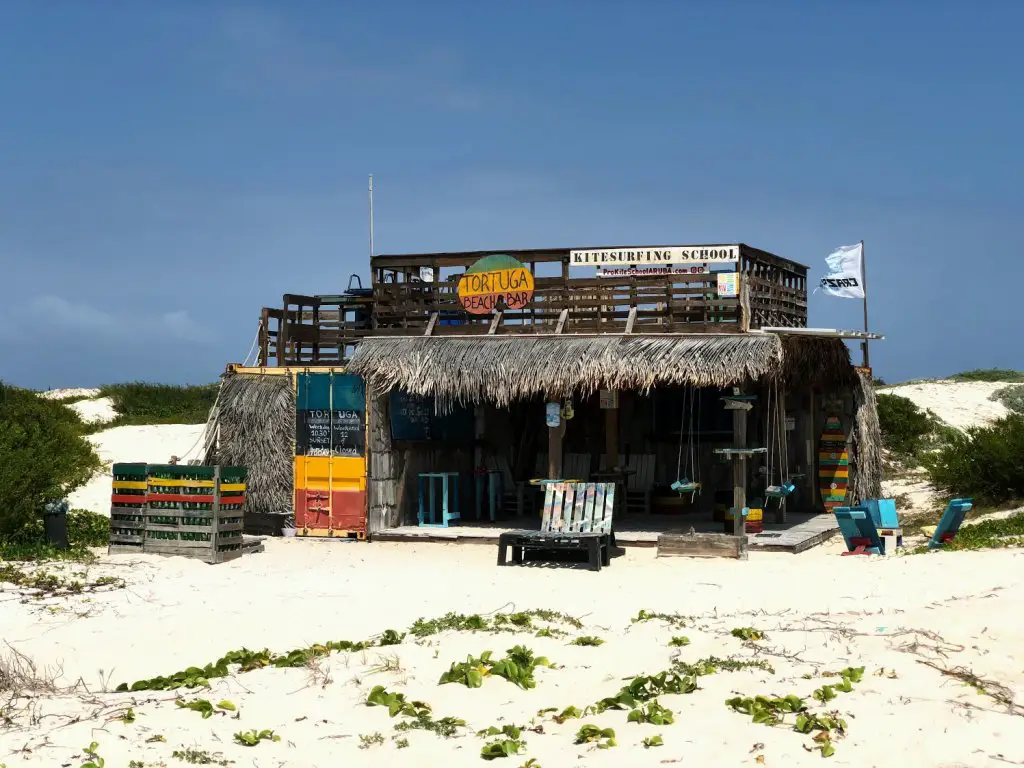 Where to Stop
Happy Hour:
Bring Your Own! Though there is a little beach shack at Boca Grandi, I've never actually seen it open. (Awesome for pictures though!) Bring a cooler and your new Koozie. No beach day is complete without a happy hour. And this way, it can be at whatever time you want!
Dinner:
Zeerover's; Located about 15 minutes northwest of Boca Grandi (and likely on your way back home) is a local fish shack. They serve up fresh fish right out of the ocean—literally, offering whatever it is they caught that morning. Wahoo, tuna, mahi-mahi, shrimps as big as your palm. Stand in line, order by pieces or weight at the counter, and find a sea-side wooden table that's most perfect at sunset. You know a place is good when it's filled with locals! You'll receive all your fresh seafood in a big basket and then it's time to dig in.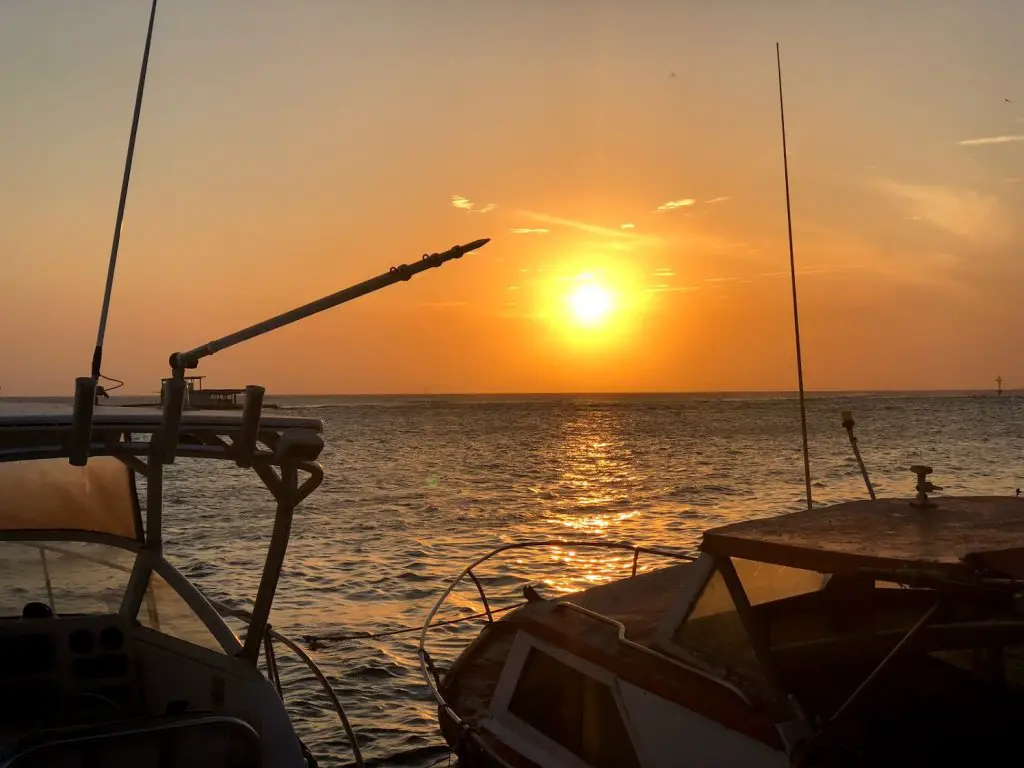 Tip: Baby Beach and Boca Grandi are two Aruba beaches that can easily be done on the same day. Less time is usually spent at Boca Grandi and they are only a 5 to 10-minute drive between one another. The same goes for Eagle Beach and Palm Beach.
PRIVACY
Mangel Halto Beach
Secluded. Quiet. Secret. One of the Aruba beaches that's perfect for a private day on One Happy Island that includes a few tourists at most. Keep in mind that there are no restaurants or beach shacks on this beach so pack a cooler with drinks and a lunch. The water is shallow and a mouth-dropping blue that is sure to leave you slowly shaking your head.
Also worth checking out are the mangrove trees. The roots extend right down into the ocean and are a perfect place for baby fish to grow and develop making this a beach that's perfect for snorkeling.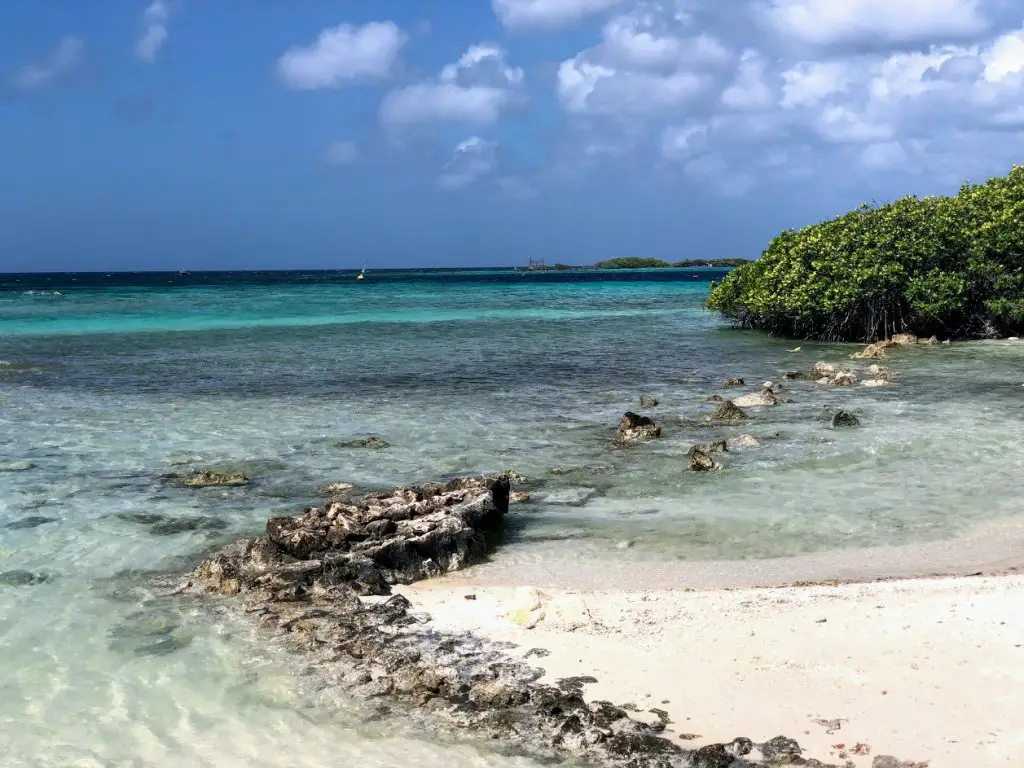 Don't Forget: Snorkel Gear
Mangel Halto has some of the best snorkeling available on the island. Bring your own, rent a set from your resort, or head to Palm Beach's Red Sail Sports where you can rent a mask, snorkel, and flippers for $15 to use to 24 hours. Head out to see a variety of fish and assortment of sea life, including colorful and interesting reefs. Tip: the earlier you come, the better the snorkeling will be.
Where to Stop
Snack:
Tia Rosa Snack: Make it a true local day and try a snack from an authentic Aruban food truck. It's open from 6:00AM-1:00PM and only a 10-minute walk (2-minute drive) from the beach. They prepare fantastic Arepas (like a sandwich) and pastechi, an Aruba Style Empanada.
Something For Everyone
There is something for everyone when it comes to a beach day in Aruba. And you are close to a guaranteed day to remember. Admire your surroundings in the Eagle Beach worry-free zone. Party like a rockstar at Palm Beach. Kick your legs up and relax at Baby Beach. Escape the tourist traps at Arashi Beach. Experience the waves at Boca Grandi Kite Beach. And enjoy some privacy at Mangel Halto.
Did you find Beach Day in Aruba: 6 Best Spots You Don't Want to Miss helpful? Let me know in the comments! Or join me on Little Blue Backpack Facebook to stay updated on my latest travels and to get tips and inspiration.