There's elegant with your toes in the sand. Chill at a picnic table over the water. And beach shacks with fresh, flavorful ingredients right off the white sand beach. Eat at restaurants in Aruba and you are sure to go home with more cravings than you came with. Fresh grouper from the sea. Savory, charcoal-grilled steaks. Authentic pastechi. Colorful acai bowls. The list goes on and many cultural influences go into this small island's food scene. Here are 14+ places to eat in Aruba that both tourists and locals enjoy:
Flying Fishbone
Location: Savaneta
$$$$
This restaurant in Aruba is romantic beach dining in a perfect location. Sit at a table along the water with your toes in the sand as you peruse a menu of steaks, seafood, and cocktails. Flying Fishbone's atmosphere does not disappoint, complete with beautiful table settings, palm trees, candlelight and a sunset over the water. Get a reservation between 5:45-6:30PM and the sunset will line up perfectly with your dinner.
What to Eat
Appetizer: Fish Cakes. One of my favorite foods on the entire island.
Main Course: Grouper over a bed of pasta in white wine sauce. One of my favorite things about this place is that they are more than happy to make substitutions and tailor your meal to you!
Drinks: Extensive cocktail list. Make sure to go with a Chocolate Martini for dessert!
Tip: If your reservation is between 5:00-6:00PM, bring your shades and wear sunscreen. The sun is beating on you until it starts to go down. If you forget your sunscreen, there's some at the hostess stand! We learned this by spending our first 15 minutes of dinner frying like eggs…
Las Ramblas
Location: La Cabana Resort, Eagle Beach
$$$
An outdoor beachfront restaurant perfect for a fancy dinner with mouth-watering food and soft, live music. Las Ramblas is a less popular place than Flying Fishbone, though their steaks and seafood are on the same level. You'll get views of Eagle Beach if you're eating before sunset. If it's later into the evening, the atmosphere is complete with string lighting, swaying palm trees, and light-up menus.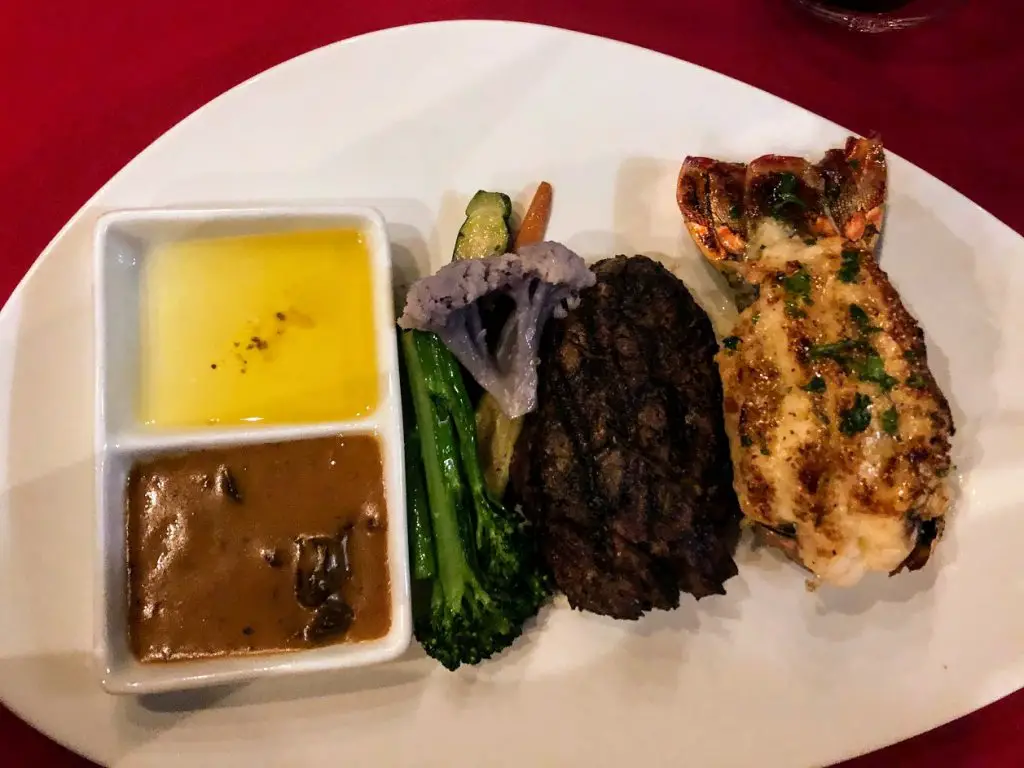 What to Eat
Main Course: Surf & Turf. Their steaks are cooked with a dark, charcoal grill outside and soft, pink inside. And as far as the lobster goes, I never want it to end.
Drinks: Red Wine with your steak. Heaven.
Tips: If you had a later dinner and aren't ready to call it a night, happy hour is 2-for-1's at the pool bar just around the corner from 10:00-11:00PM.
Pinchos
Location: Oranjestad
$$$
One of the most scenic places to eat in Aruba and another one that is perfect for a romantic sunset dinner. Located on a pier completely over the clear blue waters of Aruba, Pinchos offers delicious seafood and steaks. The lighting and ambiance paired with the breezy ocean is straight perfection.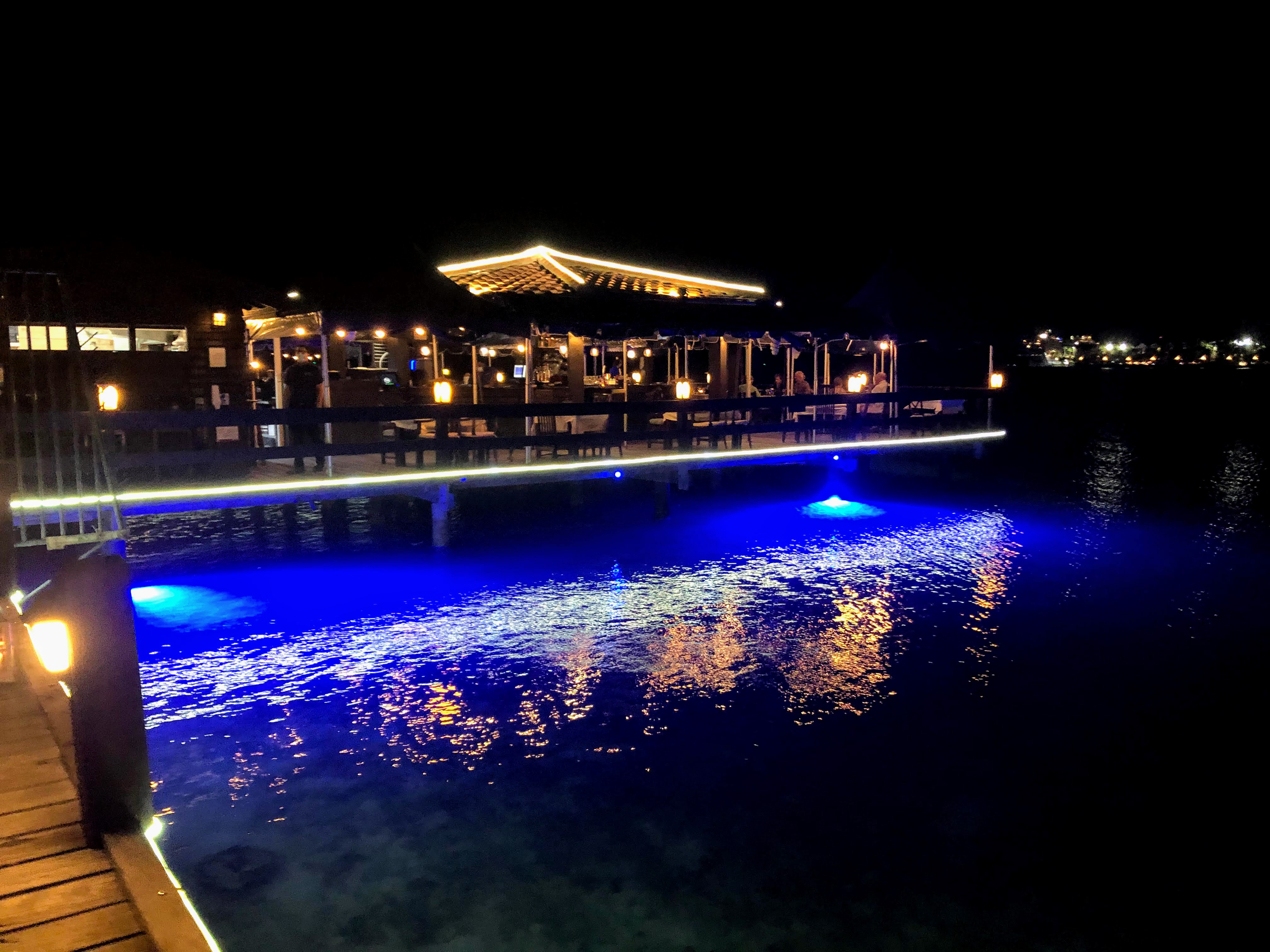 What to Eat
Main Course: Anything from the seafood menu! I loved my Mahi Mahi plate complete with rice and vegetables.
Drinks: They have a perfect Espresso martini that is great for either a before-dinner drink or dessert!
Bingo Cafe & Restaurant
Location: Noord, inland off Rte 3
$$$/$$
Eat high-end food in Aruba at a reasonable price. Bingo is is one of the most underrated places to eat in Aruba. Meal portions come in two sizes, small or large, and they offer both fine dining and casual eats like burgers and pasta. A little more off the beaten path, it isn't on the water but still offers a great, dark ambiance with mood lighting. Their waitstaff is always friendly and this is a sure-fire 5-star experience.
What to Eat
Main Course: Pan-fried Grouper, served with Lobster Sauce, Mashed Potatoes, and Vegetables. OR Garlic Gamba's; Large Shrimp, served with Pasta.
Drinks: Best martinis on the island. Both the Lemon Drop and the Espresso are next-level. Plus, don't miss their famous Schrobbeler shot at the end of your meal.
Po-Ké Ono Aruba
Location: Palm
$$
If you are craving a good, fresh sushi roll, head on over to Po-Ké Ono Aruba. Located between Eagle Beach and Palm Beach, you'll see the sign on the side of the road and pull into the Blue Residence hotel parking lot to find the restaurant around back. A bit of a hidden gem, this restaurant is worth a visit! The ambiance is bright, clean, and welcoming with floor-to-ceiling windows and views of the gorgeous outside. It is a perfect little date night!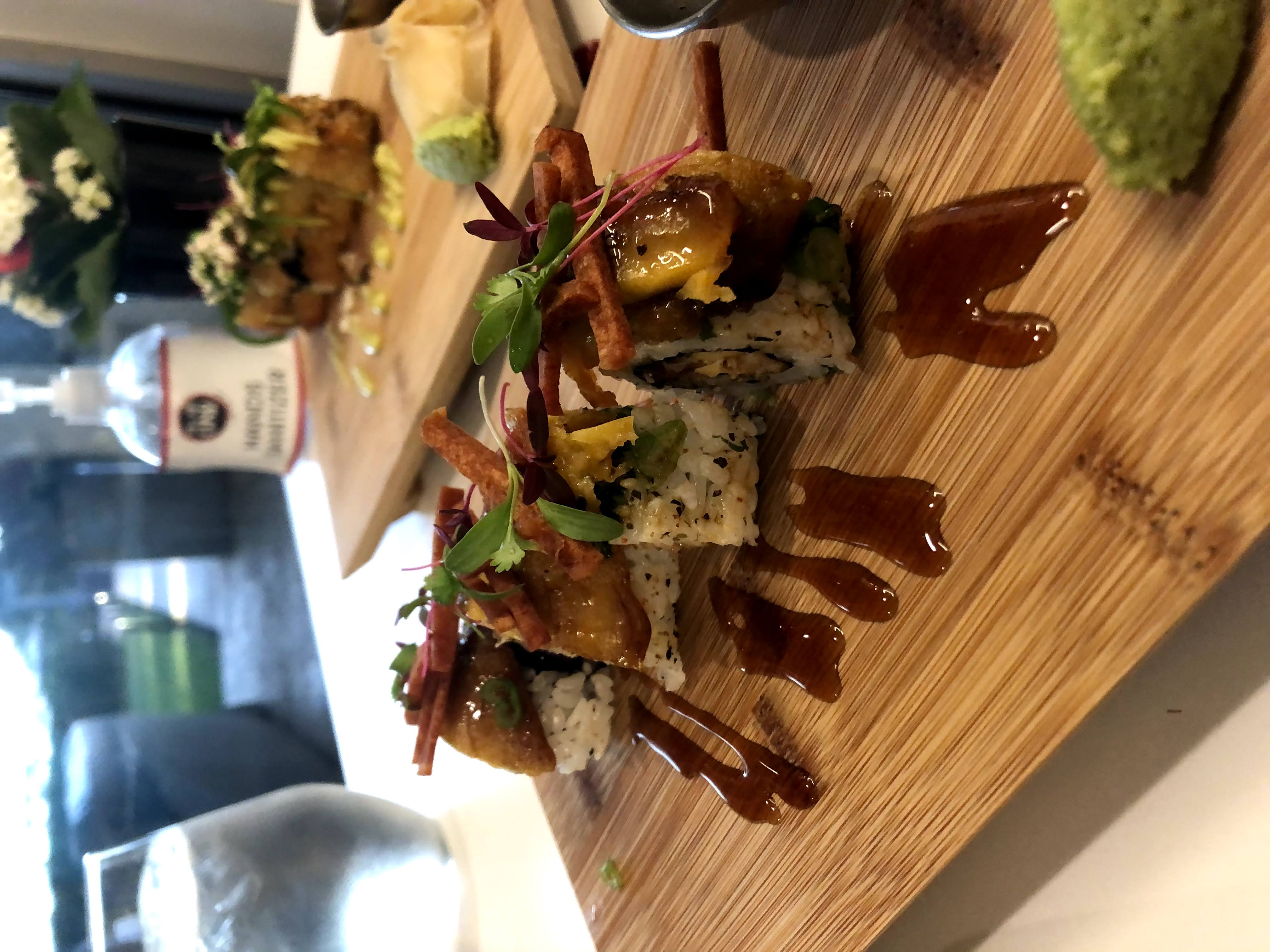 What to Eat
Main Course: Sushi Rolls – which can be ordered in half rolls if you feel like trying a few! The Caribbean Roll (I would definitely get this one again) and the Hulk Roll were both delicious.
Drinks: Red Wine.
The West Deck
Location: Oranjestad
$$
Though of course it is hard to choose, this is my favorite restaurant in Aruba.
Located on the water, you can watch planes and cruise ships go by as you sit on a large wooden deck above the white sand, with additional seating at picnic tables at night. The West Deck is laid-back and casual with a fun and happy staff that serve some of the islands best dishes. They offer homemade papaya hot sauce and the pickled red onions which are great to add to your meal if you like spicy food.
What to Eat
Appetizers: Jumbo Shrimp are fresh, flavorful, and definitely jumbo!
Main Course: The Island Fish Sliders are soooo delicious. I cannot deny ordering them every single time. Their burgers are also up there in terms of best on the island.
Drinks: The best margaritas in Aruba in their beautiful, big square glasses! The Margarita Mama is my favorite. In my 6 trips to Aruba, not one has gone by where I didn't enjoy a marg from The West Deck!
Tips: The West Deck is near the airport and perfect for a stop if you're hungry when you arrive, or when you are killing some time before heading home.
Zeerovers
Location: Savaneta
$ (CASH ONLY)
Located in the sleepy, fisherman town of Savaneta, Zeerovers is where you come for fresh fish (like caught that day fresh.) Though it's becoming much more touristy, this is a local hot spot. Order at the window when you walk in and on the other side is where you can grab drinks. Beyond that is a deck with picnic tables overlooking the water. Your food is brought out in one big basket, complete with fish that's lightly crusted and flaky. Eat here in Aruba for a unique and local experience.
What to Eat
Main Course: Catch of the Day and Shrimp (ordered by weight or pieces), fries, plantain, cornbread, onion, and tartar sauce.
Drinks: Beers! I opt for the Presidente.
O'Niel Caribbean Kitchen
Location: Savaneta
$
A true hidden gem is O'Niel Caribbean Kitchen. An authentic and delicious spot to eat in Aruba. Their slogan "good until the last bite" holds true with their menu full of Aruban and Caribbean cuisine. Pair fresh, crave-worthy food with friendly waitstaff and you can't go wrong. And the best part? Compared to other more touristy spots on the island, this meal is a steal when it comes to price! Note: they are closed on Mondays.
What to Eat
Main Course: Grouper with sides including rice and beans, potato and vegetables.
Drink: Beer and Wine. Ask nicely and they may just give you one for the road!
Tip: It's a perfect spot for dinner if you are on your way home from Baby Beach.
Fermin's Bar BQ
Location: Noord, inland off Rte 2
$
While we're talking local, I have to add Fermin's. The food is nothing to rave about but it's a fun experience. And very, very affordable compared to others listed. Fermin's is a local spot where most people surrounding you are Aruba natives drinking beers and watching soccer with friends. The menu prices are in florin (you can pay in US dollars) and waitresses are as friendly as can be. Come for a few beers and a simple rib sandwich and you'll have a good time.
What to Eat
Main Course: Ferman's Sandwich—Smoked Ribs with Mozzarella Cheese, Tomatoes, Onions, and BBQ sauce.
Drinks: Gotta be beer.  
Local Store
Location: Palm Beach, inland on Rte 3
$$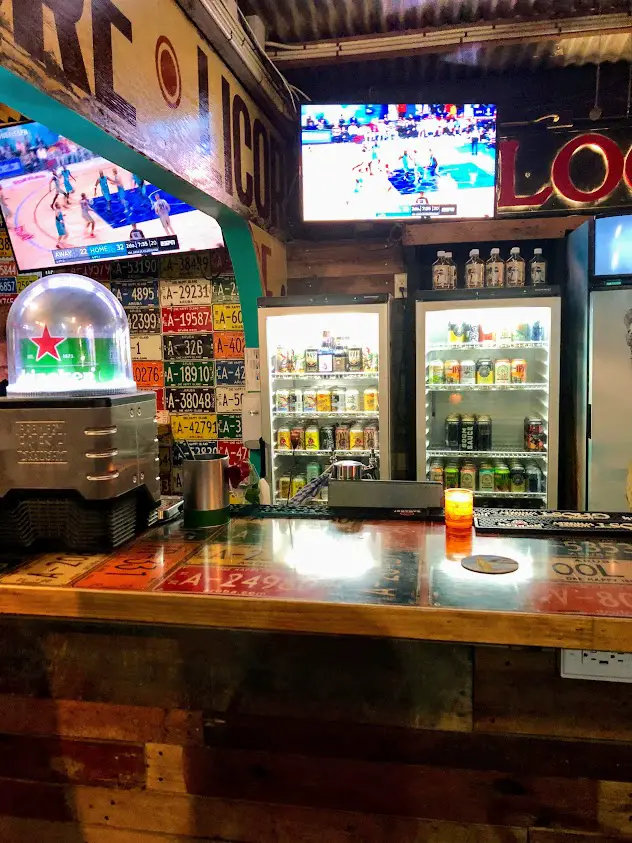 Come for the Boom Boom wings and a beer. Stay for the energetic, fun, happy vibe. Dive bar meets brewery at this spot. Local Store is lively yet chill with a wide range of craft beer and delicious food. It's the perfect hang out to meet locals, watch a game, and have a good time. This is my favorite place to party in Aruba.
What to Eat
Appetizer: Boom Boom Wings, or any flavor from their extensive list.
Main Course: An award-winning burger. Swiss & Jalapeno, Brunch, Black & Blue. There's many to choose from.
Drink: Beer! Stouts, IPAs, lagers, they are all available.
Casa Tua Pizzeria 
Location: Noord
$$
Sometimes you just need some Italian food! And this is a casual place to grab it. Casa Tua Pizzeria is delicious and in the perfect location in Arawak Gardens which is always happening and fun. You can order delicious signature wood fire pizza, pasta, salads and additional entrees. And they have a great happy hour from 5PM-7PM.
Sometimes places are so good you forget to take a picture!
What to Eat
Main Course: Pizza: San Daniele (Tomato sauce, cheese, prosciuto ham, feta cheese, Arugula salad and diced tomato) and the Hawaiian.
Drink: Red Wine.
Tip: Don't miss Sopranos Piano Bar right across the way for an after-dinner drink – or full on party!
Tia Rosa Snack
Location: Savaneta
$
This is such a cool place to eat in Aruba. Stop at this food truck near Mangel Halto beach and grab a few things off the menu—all in Papiamento. You really can't go wrong at Tia Rosa Snack as you explore Aruban food! There's a variety of fried snacks to choose from so ask a local what their favorite is and add it to your order!
What to Eat
Snack: The Pizza Pastechi is a must—basically an empanada with pizza filling. And the Carne + Huevo Arepa is great, too.
Eduardo's Beach Shack
Location: Palm Beach
$$
Who doesn't love a smoothie or a fresh, colorful acai bowl while in a tropical paradise? Here is the best place to do it. A small hut along Palm Beach (near the Hilton) will treat you with flavors. Perfect for breakfast, lunch, or a midday snack, Eduardo's is worth every penny for a bowl chock full of all the fruits, granola, honey, and coconut. You just might end up here more than once!
What to Eat
Breakfast: Acai Bowl Fully Loaded. *drooling*
Read a ton of info on the *perfect* beach days in Aruba!
Pizza Bob´s Restaurant & Pub
Location: Noord
$
If you're exhausted and need a night in, make it complete by ordering in Pizza Bob's. The best locally-owned pizza place in Aruba with two locations offering you options to create your own thin crust pizza plus pastas, salads, and wraps. What to eat? Your favorite pizza! I seriously wish I could order this pizza in Minnesota because I love the crust so much!
Bars
There are more places to eat in Aruba. And not just eat, but party as well! Read more about the following places in Where to Party in Aruba:
Beach Bar for happy hour and delicious food on the beach including coconut shrimp and lobster rolls.
Matthew's for a few day drinks and casual lunch.
MooMba's for a mid-day meal while you spend the day on Palm Beach.
Bugaloe to party on the pier and get some snacks to go with the drinks.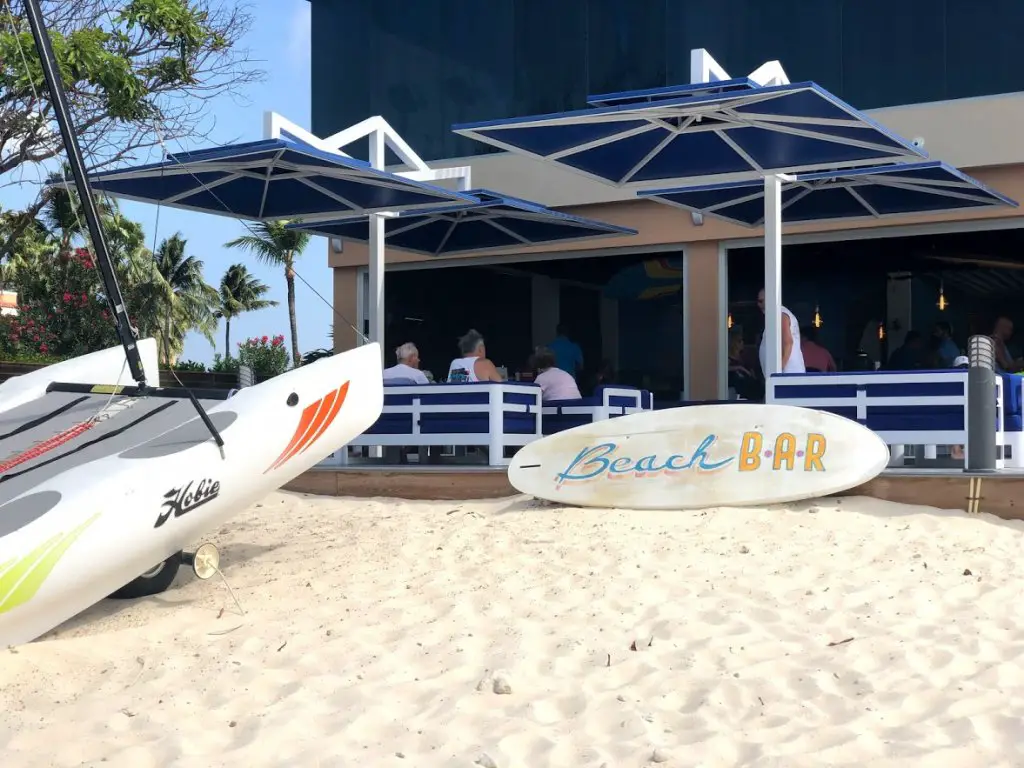 Eat a Variety in Aruba
The island offers such diverse food options from a variety of cultures. Dutch, Spanish, Portuguese, South American, Caribbean. Make sure to touch them all while on your One Happy Island adventure!