Whether you want a beer on the beach with head-shaking, oh-my-goodness views, a strong Aruba Ariba handed over by a smiling, local bartender, or a rum and coke as you tell yourself this is it at the blackjack table, there is a place to party on One Happy Island.
Disclaimer: Please check updated rules and regulations surrounding COVID-19 before visiting! This post was written in 2020 with a few 2021 updates.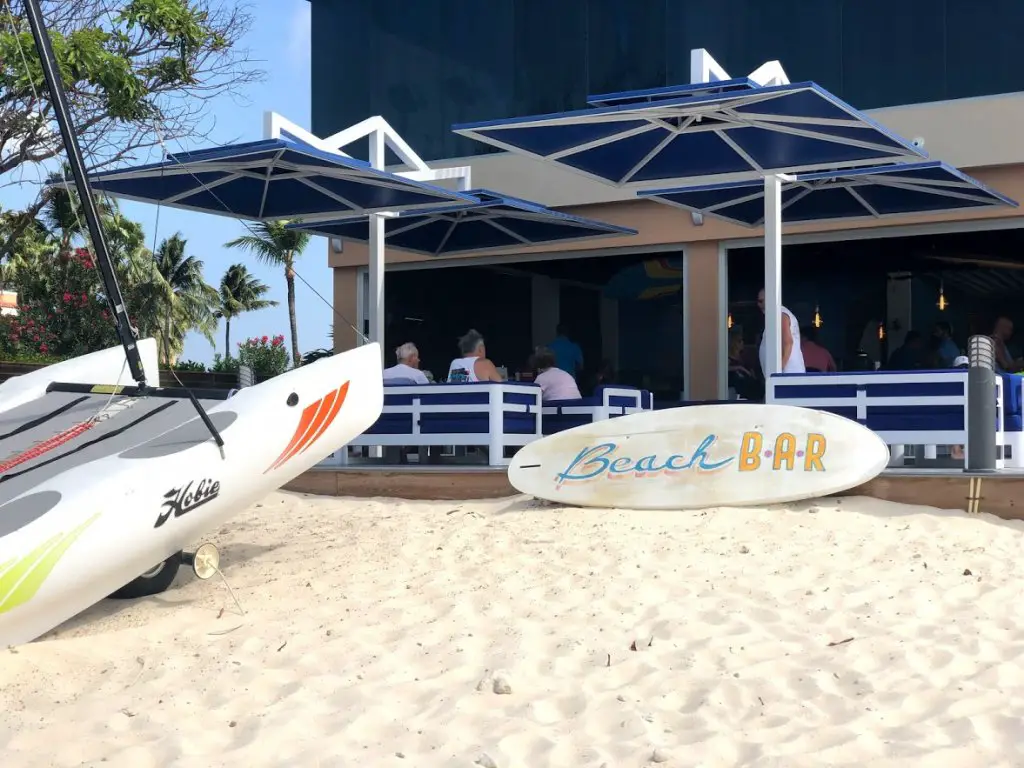 Is Aruba a Party Island?
If you want it to be, it will be! No matter what time of day, it's easy to find a party in Aruba. 10:00AM, grab a mimosa. 12:00PM, it's 5:00 somewhere. 2:00PM, there's a happy hour for that. 6:00PM, party time. 10:00PM, did you say 2-for-1 again?
Where is the Party in Aruba?
You have a lot of options! From MooMba's to Charlie's to Local Store, there is a place for everyone to get their party on no matter where you are on the island!
DAY DRINKING IN ARUBA
The Beach Bar
Location: Divi Beach
Happy Hour: Every day from 2:00-3:00PM and again from 5:00-6:00PM.
Talk about a drink with a view. The Beach Bar has become one of the top new spots for happy hour. A step up from the gorgeous white sand of Divi Beach, it offers a long bar amongst bright-colored wall art, hanging surfboards, and smiling bartenders. Oh, and the blue-green turquoise waters as a backdrop. Not too shabby.
Happy hour (2-for-1's) brings an upbeat vibe and lessens the blow of a $9 beer or $11 Titos Lemonade. It's also a great spot for a bite to eat! Burgers, coconut shrimp, lobster rolls, anything on the menu is a safe choice. And they now serve breakfast, so if you're ready at 8:00 AM–go for it!
Pata Pata Pool Bar
Location: Eagle Beach, La Cabana Beach Resort
Happy Hour: Every day 2:00-3:00PM (on frozen daiquiris, pina colada's + bingo), 4:00-6:00PM (2-for-1's, live music), and again from 10:00-11:00PM.
This one is close to my heart and holds a neighborhood bar feel because I've stayed at La Cabana 6 times – and counting. That said, Pata Pata can quickly become your favorite happy hour, too! Live music and 2-for-1's pool-side paired with awesome bartenders and happy people enjoying the last of the day's sun. If you spend a day at Eagle Beach, make sure to come up for a party! (How fun is it? I've been to nearly 20 happy hours here and not once did I have time to take a picture!)
Tips: you'll likely need to be here just before 4:00PM to get a chair. (UPDATE FEB 2021: bar seats are not available.) And it's not the full experience without Jander, the fastest bartender on the island! Tip him well!
Matthews Beachside Restaurant
Location: Casa del Mar Beach Resort
Happy Hour: Every day from NOON-1:00PM, 4:00-6:00PM (live music), and again from 9:00-10:00PM.
Matthews is open for breakfast, lunch, and dinner but my favorite time to come is mid-day for drinks at the bar and a light meal. It's casual, in a beautiful location on the beach, and a perfect place to chill out, catch a game, and enjoy fresh food. If you're looking for an easy-going, day-drinking afternoon, here is your spot. (UPDATE: check on COVID-19 restrictions and if outside guests are allowed to use the bar.)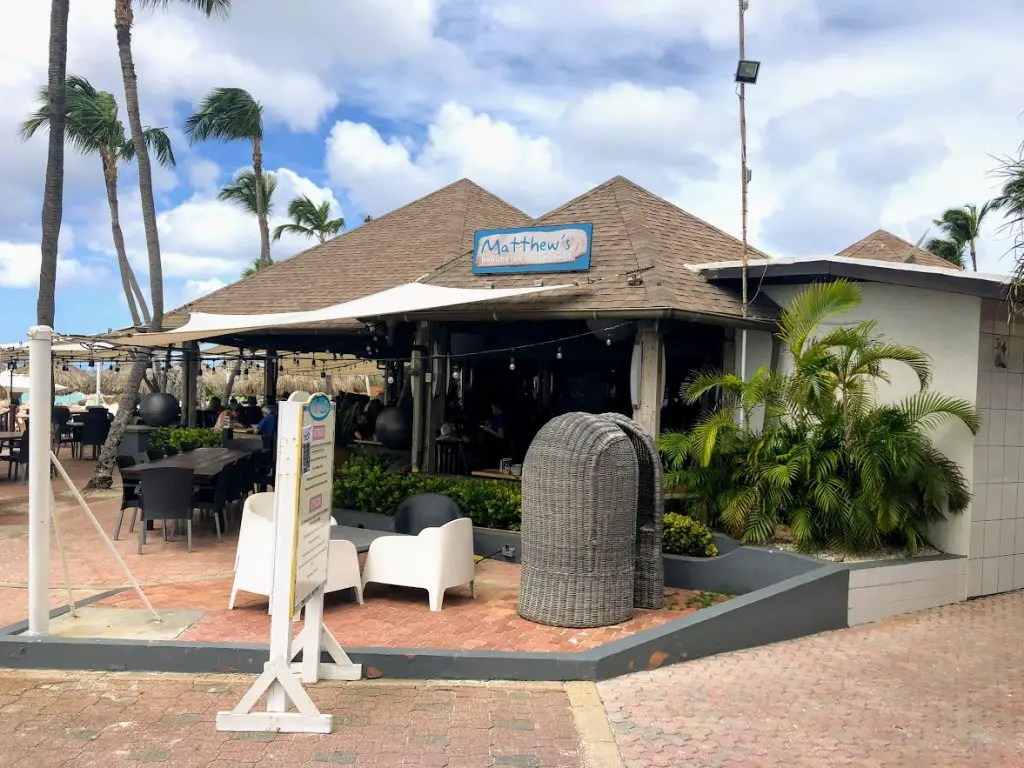 Big Mama Grill
Location: Baby Beach, San Nicolas
If you head to the south end of the island, you can't skip Baby Beach. And the bar here is unavoidable. You are lured in with party music, Flintstones-themed décor, and the sound of blenders. Get any tropical island drink you can think of—pink, blue, yellow, fruit on top, the works. The drinks are overpriced but they don't skimp on the booze and you'll be enjoying it with a true vacation vibe. Plus, you can say you had a drink at Big Mama Grill!
Tip: The food, on the other hand, is not worth the price. If you're hanging out at the beach, pack a lunch!
Rum Reef
Location: Baby Beach, San Nicolas
This adults-only bar and lounge is a unique and memorable stop. Located on your way into Baby Beach, Rum Reef is a breath-taking, large-tile, fancy lighting, floor-to-ceiling window bar with an infinity pool overlooking the ocean. It's gorgeous. And anyone is welcome to swim in the pool if you spend $15 per person. Which is easy to do here…
But it is worth it for a view that never gets old. (And not to mention, it's perfect for your Instagram feed!)
Note: Rum Reef is only open from 10:30AM-5:00PM.
Charlie's Bar
Location: San Nicolas (north of Baby Beach)
The most famous bar in San Nicolas. It's become a "tourist trap." But it's worth it. And they deserve your business. Walk into Charlie's Bar, a family-owned and operated pub that's been open since 1941 to a space chock full of memorabilia and bartenders ready to make you smile. And if you're lucky, there will be a one-man-band singing all your favorite tunes.
Note: Charlie's is open from 11:00AM-5:00PM and closed on Sunday's.
DAY INTO NIGHT BAR HOP IN ARUBA
Palm Beach. The true meaning of "beach party." Where you will find many "life of the party" types. Located in the high-rise hotel area, it's full of people, bars, and plenty of drinks with a view. I highly recommend making a day out of beach bar-hopping. Here is where to start:
(UPDATE Feb 2021: with fewer travelers, Palm Beach is much quieter. But that doesn't mean you can't liven it up!)
Bugaloe Beach Bar & Grill
Location: Palm Beach, between the Hilton and the Riu.
Happy Hour: Every day from 5:00-6:00PM and again from 10:00-11:00PM, both with live music.
Come to a beach shack on the pier for a bright, colorful atmosphere, music, smiling bartenders, and pretty drinks on the water! This hot spot is sure to liven up your day. The staff is full of energy and ready to talk, entertain, and get your party started. Bugaloe is always busy and fun is the best way to describe it.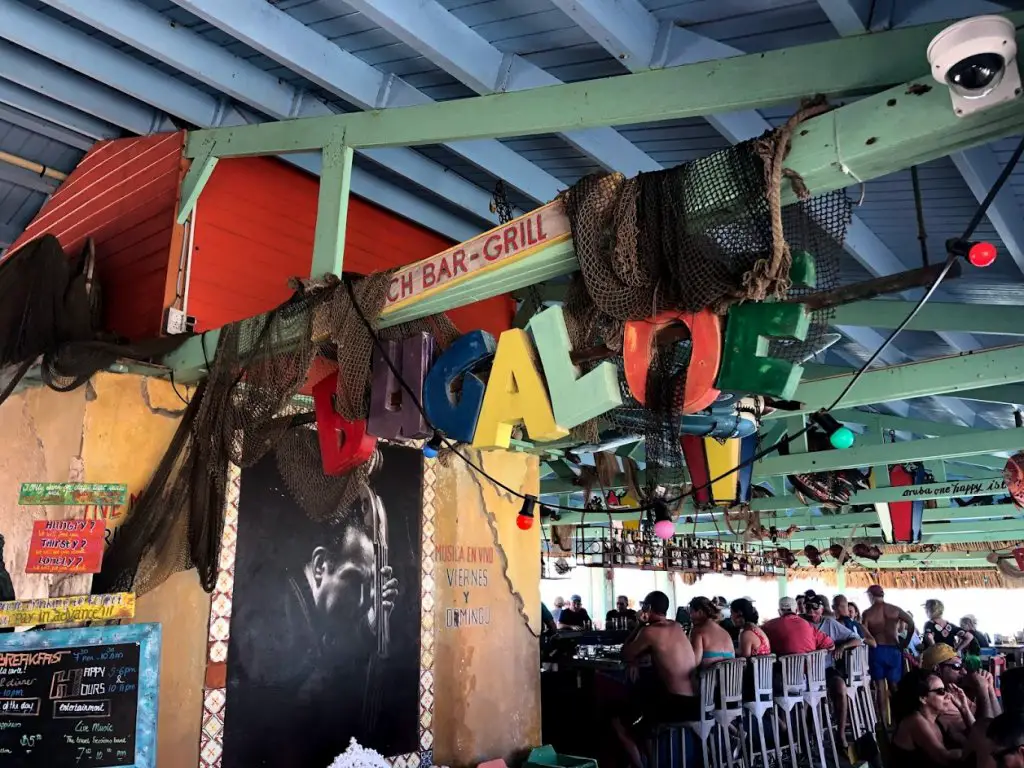 Piets Pier Bar
Location: Palm Beach, Hyatt Regency Aruba Resort 
Happy Hour: Every day from 4:30-5:30PM.
To continue your party in Aruba, make your way down the beach to Piets Pier Bar which offers cold beer and incredible views on water's edge. Walk out onto the dock and find yourself watching the boats and taking in all of the Palm Beach activity.
Tip: be mindful of timing, it's a tiny bar and can get very busy during happy hour with only one bartender!
Next on your bar hopping trip up the beach is…
Carlitos Sports Beach Bar
Location: Palm Beach, near Playa Linda Resort
Happy Hour: All day, 2 for $10 cocktails, $20 buckets of (local) beer.
Right off the beach walking path and an easy place to come as you are and enjoy the shade in an open-air space with a bucket of beer. If that paired with wings and sports are your thing, make sure to add it to your list. Carlitos is one of the more affordable spots to enjoy. And you're surrounded by sports memorabilia and they are happy to put the game on for you.
Plus, you know this is a good spot because even the locals show up!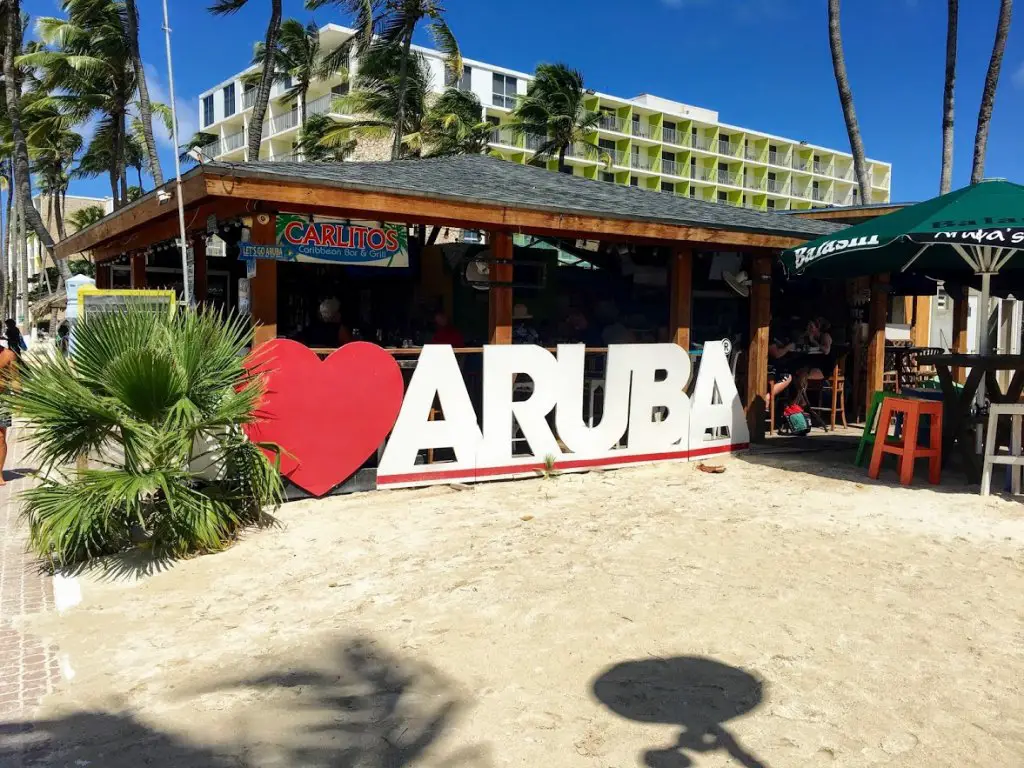 MooMba's Beach Bar & Restaurant
Location: Palm Beach, between the Marriott and Holiday Inn
Happy Hour: 6:00-7:00PM (sunset) and again from 10:00-11:00PM (except Sunday)
Live music. Dancing. Cocktails under big palapas. MooMba's is easily one of the most popular places to party in Aruba! Visit here in the morning or day-time and find people coming and going off of Palm Beach, ready for some shade, a bite to eat, and a cold drink. But the night shift is when you are going to get the true experience. Young people, both locals and tourists, flock for a beach party full of upbeat music and a party atmosphere. What happens in Aruba, stays in Aruba!
NIGHTLIFE IN ARUBA
If the heat and day-time drinks haven't put you to bed, there are a few more spots to check out when the sun goes down. You can always stick with MooMba's or make your way to…
Soprano's Piano Bar
Location: Palm Beach, inland off Rte 3 and J.E. Irausquin Boulevard 
You have to spend one night singing along at Soprano's. It's a great place to party in Aruba with a lively crowd, indoor and outdoor seating, talent at the piano, and the opportunity to request your favorite song live. They open at 5:00PM and music starts at 8:00PM (typically a little after.) There is a long martini/cocktails list, but the best part is that you can enjoy a big, always cold, Heineken on tap. (UPDATE: check their website for hours/piano playing.)
Local Store
Location: Palm Beach, inland off Rte 3
If you are sick of Balashi and Chill (the local beers), head over to the Local Store for a wide variety of craft beers including IPAs and stouts. You won't feel like a tourist here as you mingle with locals in a laid-back atmosphere. There's indoor and outdoor seating, and though it's not a crazy dance party or anything, it's the perfect place to chill out and drink too many beers. Make sure you stop here.
Tip: Awesome food. Their wings list is huge (highly recommend the Boom Boom wings), with a variety of burgers, salads, wraps, and appetizers also on the menu. Plus, they have an extensive brunch on Saturdays and Sundays if you want to scoot this place to the day-drinking section!
Lucy's Retired Surfers Bar & Restaurant
Location: L.G. Smith Blvd. 82
Oranjestad, Aruba
If you're downtown and looking to do something crazy–stop at Lucy's where you can swallow a scorpion. Yep, you read that right. Take the infamous Scorpion Shot with a dead scorpion (stringer removed) in a shot of tequila. Complete the challenge and you will receive an awesome Aruba t-shirt! I worked up the courage (I promise, it's not really that hard…don't chew) and it makes for a great memory.
If you're not into the idea, don't worry. They have specials on beach drinks all day, Taco Tuesday, and a menu full of local beers, wine, cocktails, and frozen drinks. It's open air, super spacious, right on the water, and it's impossible to have a bad time here!
Casinos
Location: All Over
"The Las Vegas of the Caribbean," some say. Yes, gambling is legal in Aruba and a variety of casinos across the island allow you test your luck at the tables. Blackjack, poker, roulette, craps, Caribbean stud, sports betting, slots, and more are all available. All major resorts have their own in-house casinos in addition to the standalone spots, with most opening at NOON and not closing until the early morning. A few are open 24 hours per day. You will be served drinks while you gamble and it's a fun way to keep the party going. Until you lose all your money, of course…
Note: must be 18 to gamble.
Day or Night is a Party in Aruba
Your trip is not complete with at least a couple days/nights of fun with a drink in your hand. Check out some of these fun spots, make friends with the locals, take in the views and enjoy every moment!
If you partied yesterday, you might just be ready for a Beach Day in Aruba, followed up by Restaurants in Aruba. Enjoy the island!