Let me start by saying that Aruba is not a cheap vacation and is far from any list for budget travelers. It's a small island with mostly imports and Aruba costs are high whether you're talking about accommodations, food, drinks (especially drinks!), or activities. That said, it is worth knowing a few tips to do Aruba on a budget and avoid breaking the bank while on one of the best Caribbean islands!
From packing and food expenses to transportation and fun activities to do, we'll cover it all. And, good news, you might be able to leave Aruba without concern about your next credit card statement 🙂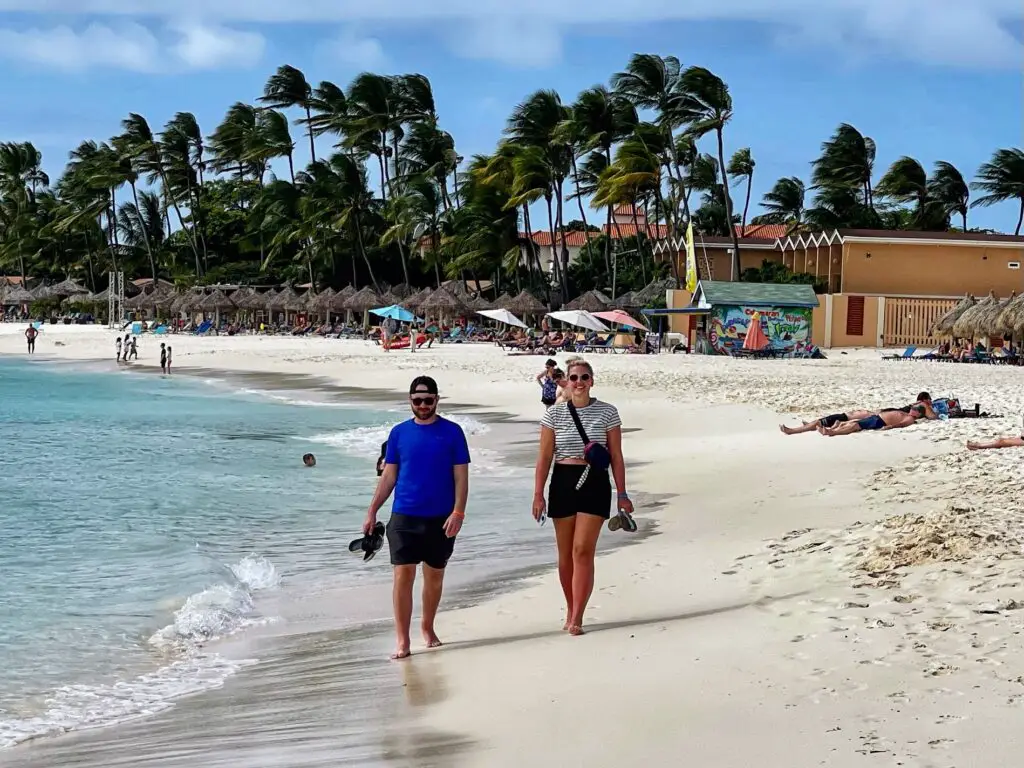 Packing for Aruba on a Budget
We'll start with how to prepare for Aruba on a budget before you even leave home. Knowing what to pack (there are some you might not consider) can go a long way for your wallet.
Pack ALL of Your Necessities
Aruba isn't the place to say "I'll buy it when I get there." Bring all of your toiletries, sunscreen, after-sun lotion (DON'T FORGET THIS!), and any additional personal items. Prices on these day-to-day items increase in Aruba and you will certainly save by bringing your own.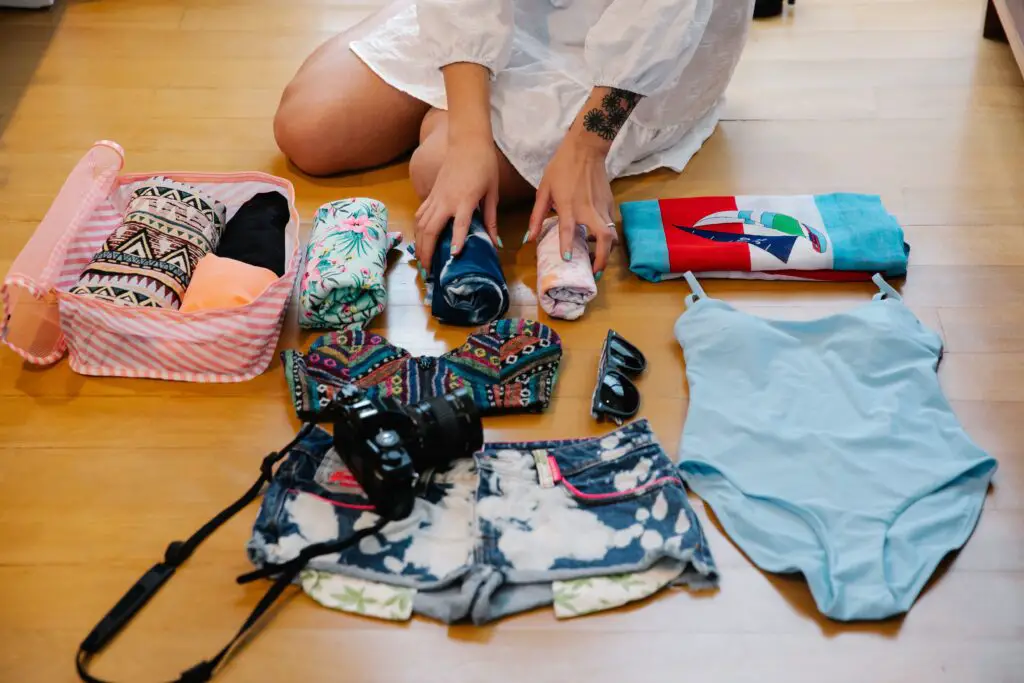 Pack Dry Foods
One way to do Aruba on a budget is to pack dry food in your suitcase to check or carry on. Oatmeal, nuts, and granola are perfect for easy breakfasts. Trail mix, bars, dried fruit, and beef jerky are a great idea for snacks throughout the day. Oh, and don't forget good coffee! (We'll talk more in-depth about food below!)
TIP: Be prepared to get stopped by security at the airport—they usually need to go through any food items.
Travel with a Water Bottle
The water is delicious (and completely safe) in Aruba! There's no need to buy cases of water. Bring your own water bottle and even a few electrolyte packets or flavor additions to mix it up so you don't need to buy juices, pop, or flavored water at all.
Bring Your Own Cooler
If you plan to enjoy beach days or explore the island, pack your own cooler in your suitcase. While buying beer is expensive (more on that to come), it will be less money than buying buckets of beer or cocktails at beach shacks or restaurants. Have everyone chip in for a case or two and you're set—for a day lol.
TIP: If there's no way you can get a flat cooler in your suitcase, you can find a styrofoam one to use throughout the trip. Those are just more of a pain!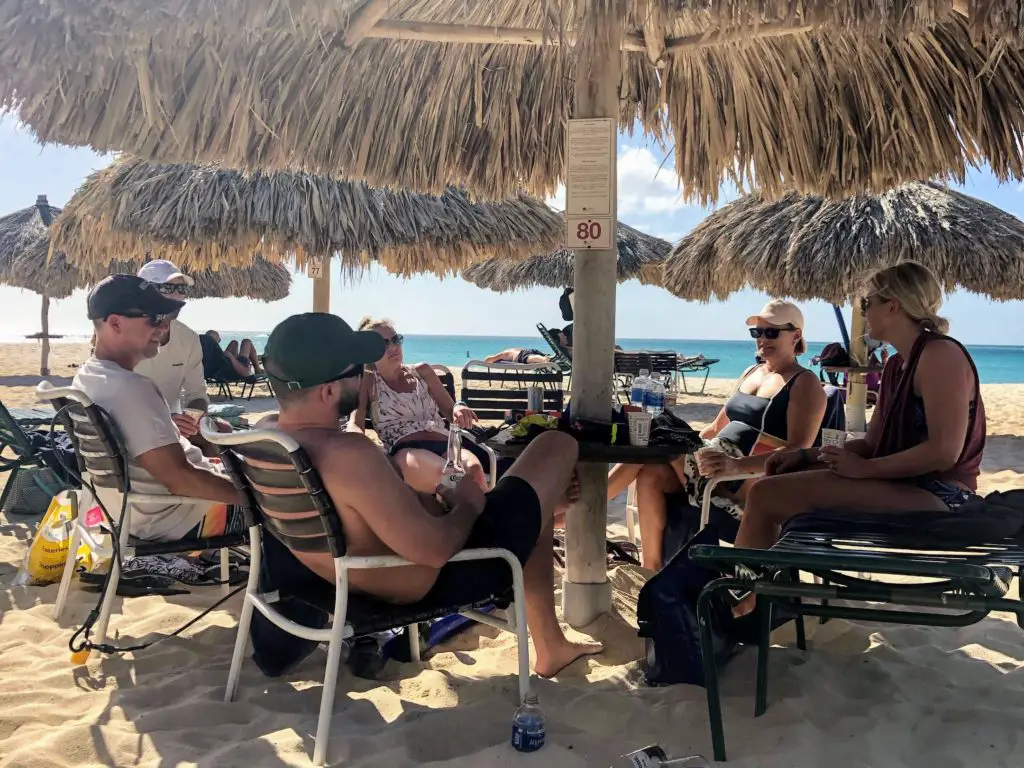 Eating and Drinking in Aruba on a Budget
One of the biggest expenses when it comes to travel is food. Here is where to save some money while still being able to experience fun Aruba restaurants and local cuisine.
Use Your Kitchen
Make sure to book a hotel or Airbnb that has a kitchen. This will allow you to cook right from your room instead of going out for every single meal. This is a big one for doing Aruba on a budget because paying for food at every meal is going to add quick—quickly.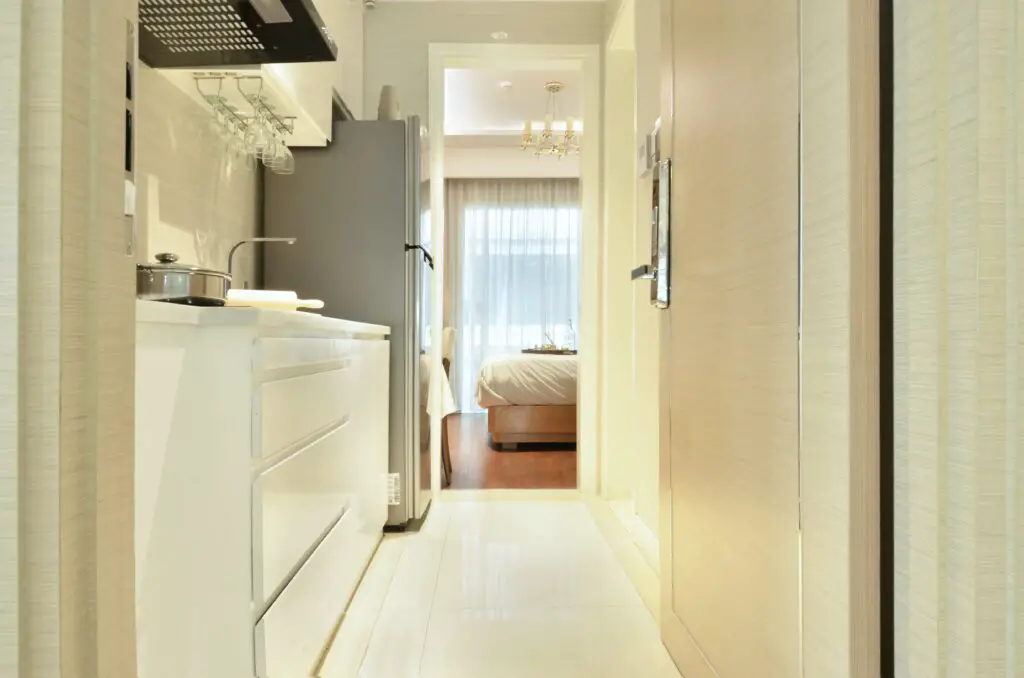 Go to the Grocery Store
On your first day, stop by the grocery store and pick up additional items for making meals at your hotel or Airbnb. Eggs, yogurt, fruit, bread, lunch meat, burgers, chips, and your favorite candy will give you options for breakfasts, lunches at the pool or beach, and even a few dinners.
Between the dry food you brought from home and what you pick up from the store, you should be covered for two meals per day and can go out and enjoy yourself for the other.
TIP: The main grocery store is Super Food—early in the morning is the best time to go; it can get crazy in there!
Eat at Local Restaurants and Food Trucks
Speaking of going out, you don't want to eat EVERY meal at "home." Restaurants in Aruba are fantastic and fun, and you will want to experience the local food scene. Plus, you will have your kitchen area for any leftovers the next day.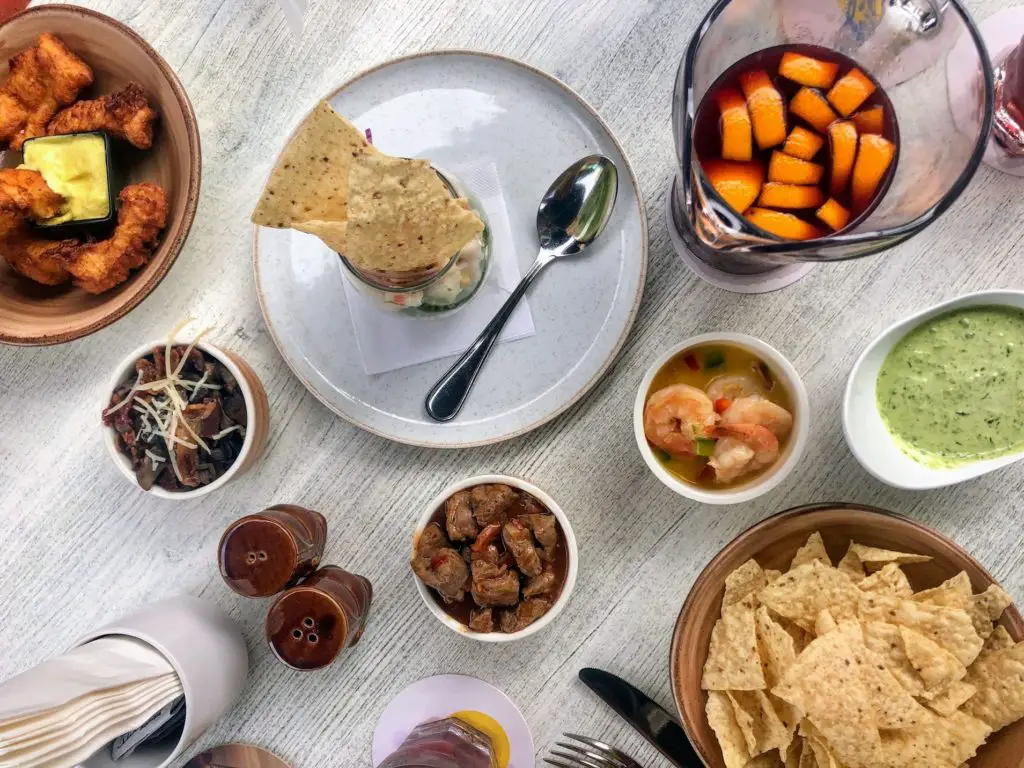 All that said, you don't need to feel or give in to the urge to eat at fancy restaurants because there are DOZENS of casual places in Aruba that will leave you impressed—without breaking the bank! Avoid high-end "tourist traps" and stick to local bars and restaurants. A few of my favorites:
Zeerovers: fresh fish caught daily at a great price—plus, a good time.
Scott's Brats: a small beach shack near the high rises that's a good place for lunch!
Eduardo's: smoothies and fruit bowls. While prices aren't super low, you can easily share a large bowl between two people for a full meal.
Food Trucks you spot around the island for fast food that's local, delicious, cheap, and fun to try!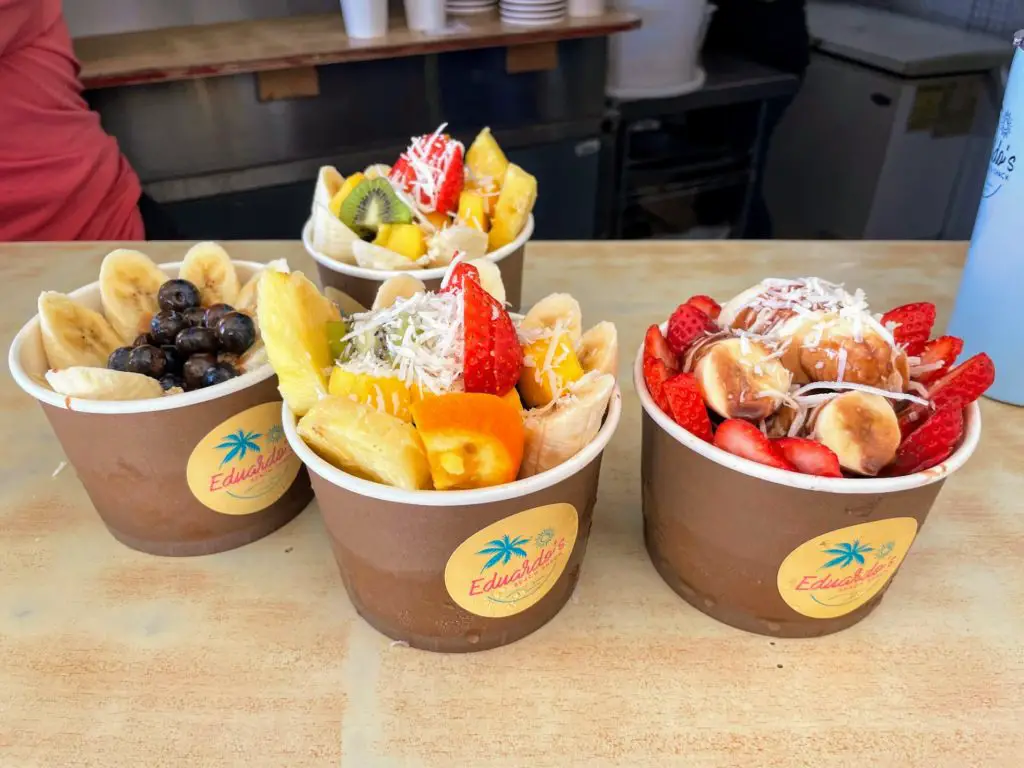 Hit Up Happy Hour
Alcoholic drinks. This one will get you in Aruba. It is NOT cheap. A case of beer will be 3-4x what you're used to paying and cocktails at bars and restaurants will cost you $12-15 apiece. Luckily for all of us, there are a ton of fun places on the island that offer 2-for-1 happy hours. Take advantage of this if drinking is something you will be doing every day. My favorite spots:
Beach Bar: 12-7 PM, Daily (Yep!)
Bugaloe: 5-7 PM & 10-10:30 (half-priced cocktails and other discounts), Daily
Matthew's Beachside Restaurant: 12-1 PM, 4-5 PM & 9-10 PM (2-for-1's), Daily
Pata Pata Bar at La Cabana: 2-3 PM (on frozen daiquiris, pina coladas), 4-6 PM + 10-11 PM (2-for-1's), Daily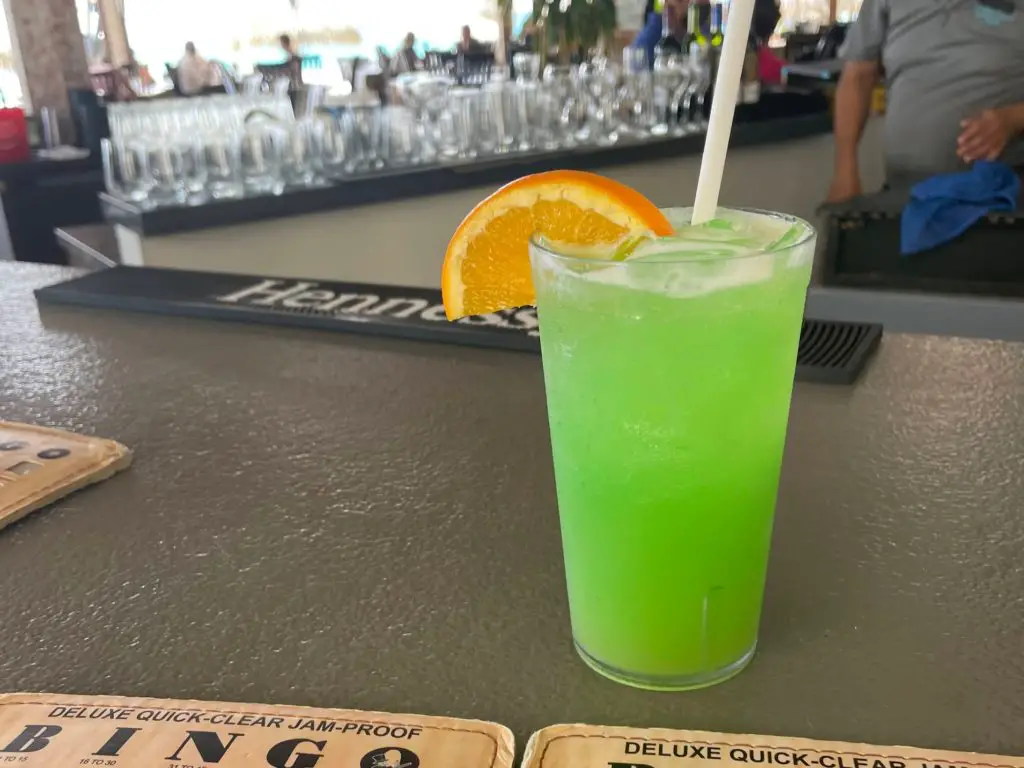 Bring Booze with You
If you want to do Aruba on a budget, save some space in your suitcase for booze from the United States! As I said, it's very expensive and this will allow you to have drinks ready to go for the beach or out on your patio. This is a great article that explains TSA Travel Tips on Traveling with Alcohol.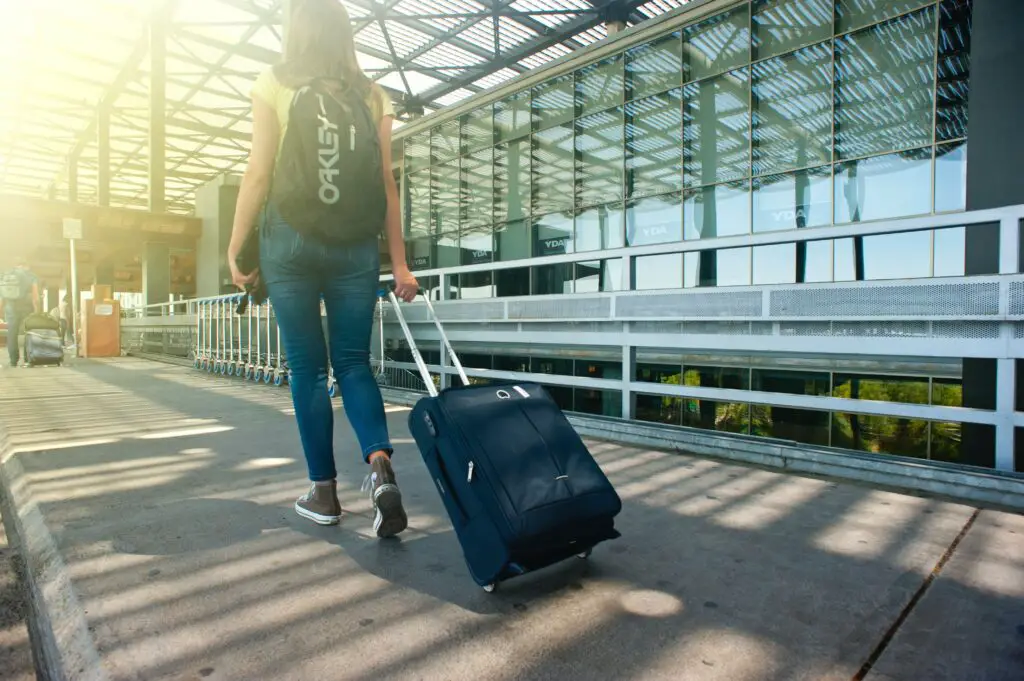 Transportation for Aruba on a Budget
There are a few ways for getting around Aruba, but my top recommendation would be:
Use Hopper to Find Cheap Flights
For all flights, I use the Hopper app which alerts you when prices are low and to book, or high and to wait. It has saved me hundreds of dollars over the years and I highly recommend it.
Rent a Car
While car rentals are an added expense (around $250 or so a week), it is worth it and oftentimes less expensive to have your own car. You'll save on taxis, scooters, and/or buses if you plan on getting out and exploring—which I highly recommend. And having the flexibility is far worth the price as well.
Also, keep in mind, restaurants and activities at or within walking distance of resorts and hotels tend to be fancy and/or overpriced. You will often find cheaper places to eat and things to do if you can get out beyond where you stay—which often requires a car or public transportation.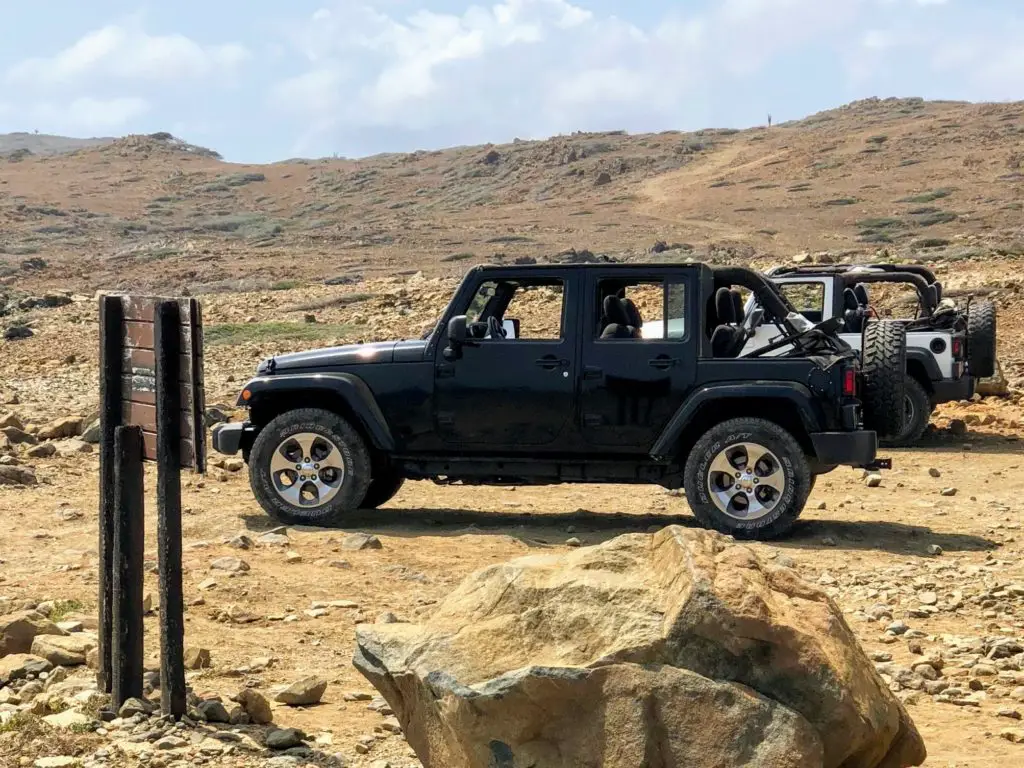 Activities for Aruba on Budget
What can you do in Aruba on a budget? Luckily, not everything is expensive and there are some GREAT options that are the perfect place to spend a day.
Spend a Day at Eagle Beach
One of the nicest and most beautiful beaches in the WORLD. And if you're willing to get up early, you can get your group a cabana and chairs completely FREE.
Get down to Eagle Beach between 4 AM-5 AM (yes, a very popular destination) to claim your palapa for the day. You do need to bring a towel or blanket to sit (sleep!) on because they won't bring chairs out until 6 AM. Once you have your chairs, you can leave for up to an hour and a half before you lose it. Outside of this time, one person should be there at all times. Once everything is secured, you have your own free spot in the beautiful place with calm waters for as long as you'd like!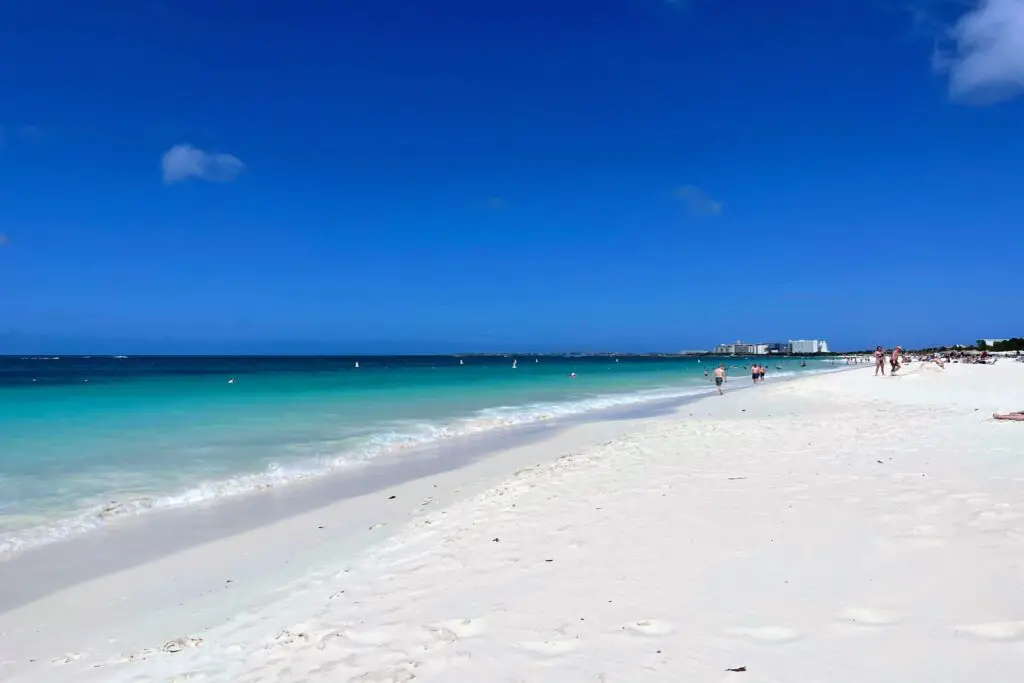 More Beach Days
One of the best ways to enjoy Aruba is on the pristine, white sand beaches. And you're going to want to experience a few of them. Places like Baby Beach (bring your snorkel gear!), Palm Beach, and Arashi Beach allow you to rent chairs ($10 each) and umbrellas (if palapas are gone).
BONUS: As mentioned above, bring sandwiches and snacks from your room, plus the cooler you brought to all of your beach days. That's a cheap day (or five) in Aruba!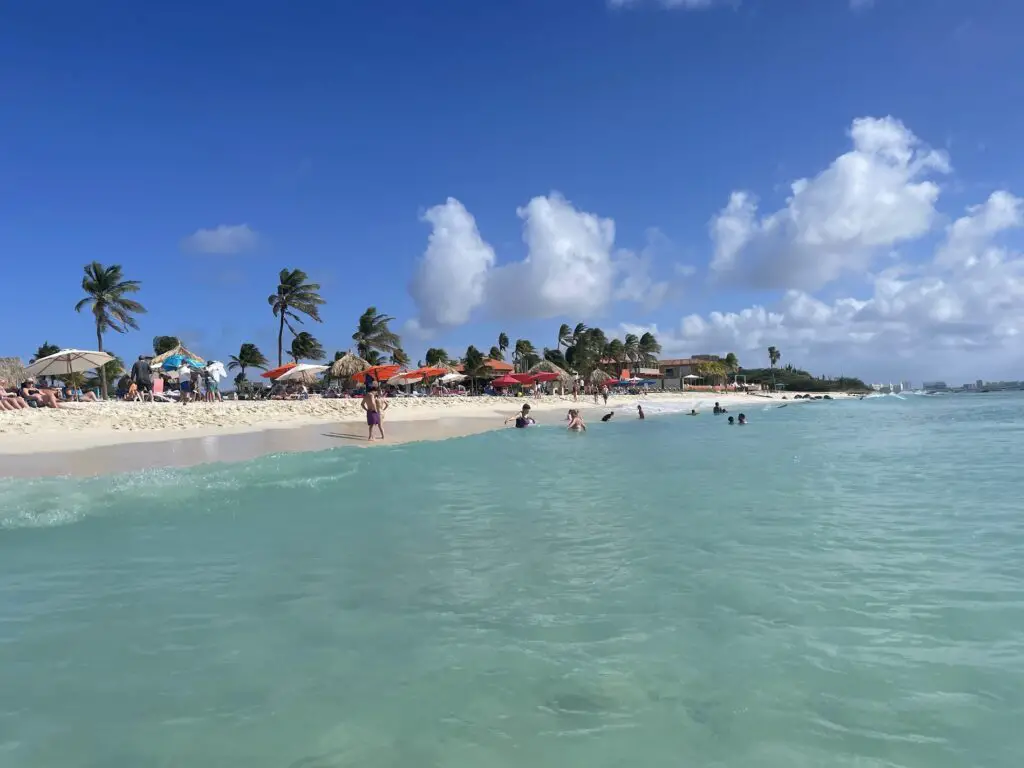 Book Excursions Online
If you are looking for activities such as deep sea fishing, snorkeling tours, scuba diving, etc., the easiest way to save money is to make sure you check the company website before you go. Oftentimes, you can get a discounted rate when you book online and in advance. It's a great way to save a few bucks.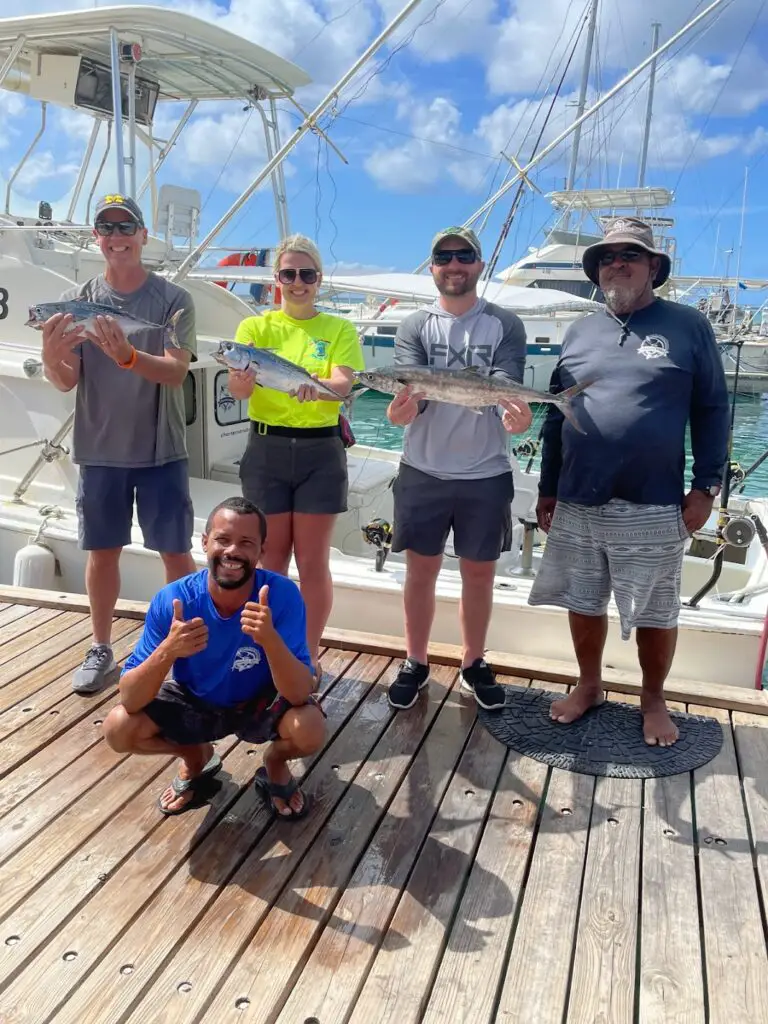 Spend a Day in San Nicolas
Located on the south end of Aruba is the town of San Nicolas. And it's a great place to explore Aruba on a budget. You'll find fun, local restaurants and bars with great prices. There are amazing art murals throughout the city that will leave you in awe as you walk through the town. And the overall vibe is just different than any other part of the island—it feels much more local!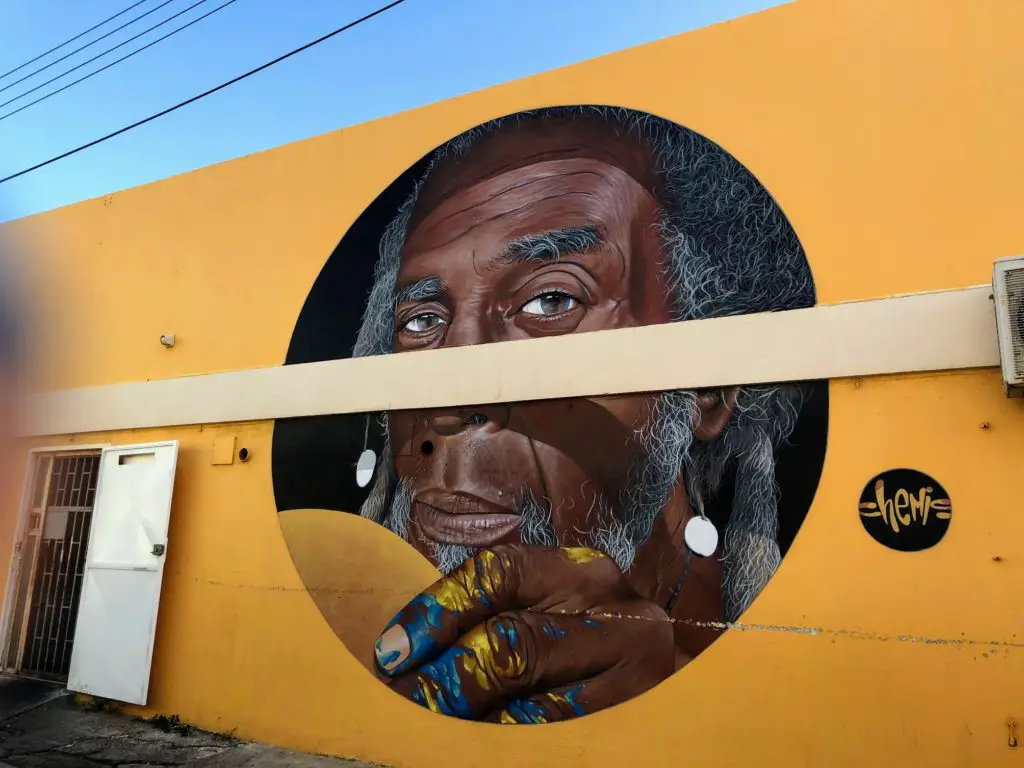 Take a Drive
One of the best parts about the island of Aruba is exploring. Spend an afternoon riding around and checking things out. You can make stops at beaches, the California Lighthouse, the golf course, Oranjestad (Aruba's capital city), Arikok National Park with many natural attractions (small fee), and more. You're sure to find plenty of options without having to pull out your wallet every time!
Aruba on a Budget: How to Save Money on Vacation
Those are the tips that will allow you to do Aruba on a budget! While it won't necessarily be a cheap vacation, you now know a few ways to keep your travel costs down. And just know—the island is worth every penny! Enjoy One Happy Island 🙂