There are nights on vacation when you are looking for something to eat at a casual spot. A place where you can just throw on a pair of jean shorts with a tank top after a day at the beach and consider yourself ready. Luckily, you have so many options for this type of night in Aruba…
Because most of the best restaurants in Aruba are CASUAL!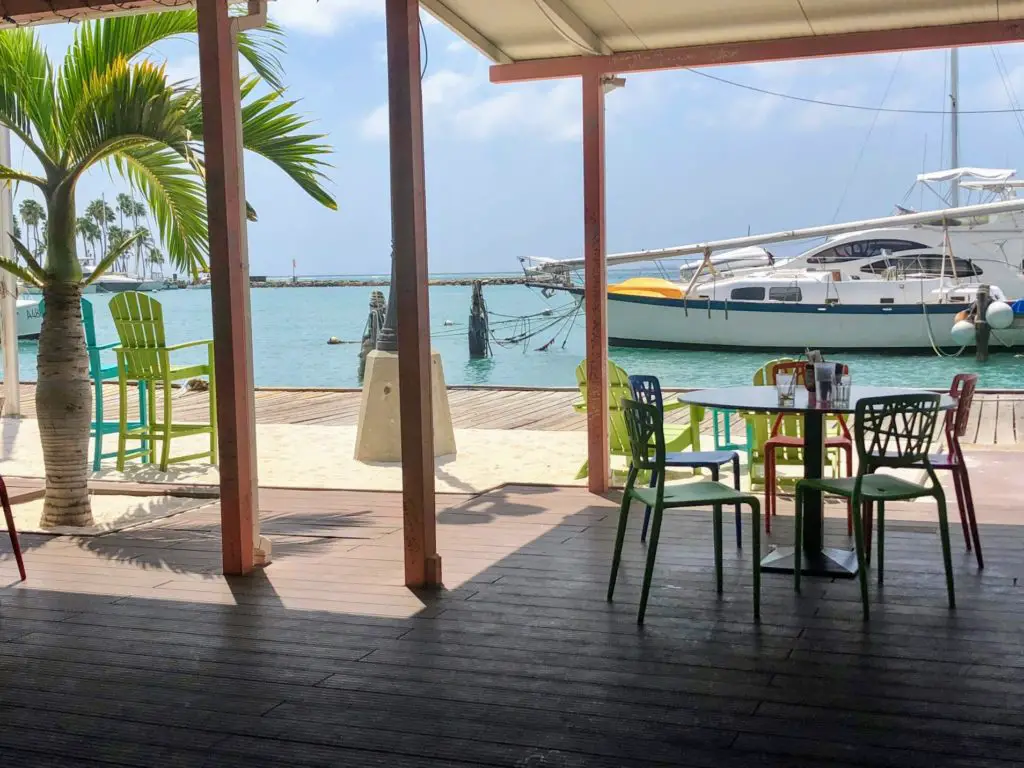 The island has a very low-key, relaxed vibe.
Of course, if you are looking for filet mignon and white tablecloths, you will find them. But, for the most part, restaurants on or near the beautiful beaches and bars overlooking the water keep things simple while still serving delicious food! Here are the best restaurants in Aruba for when you want to keep it casual:
The 10 Best Restaurants in Aruba for Casual Dining
Note: the first five listed are my Top 5 (in no particular order)—and it's subject to change lol. And the last one slides in at 5B 🙂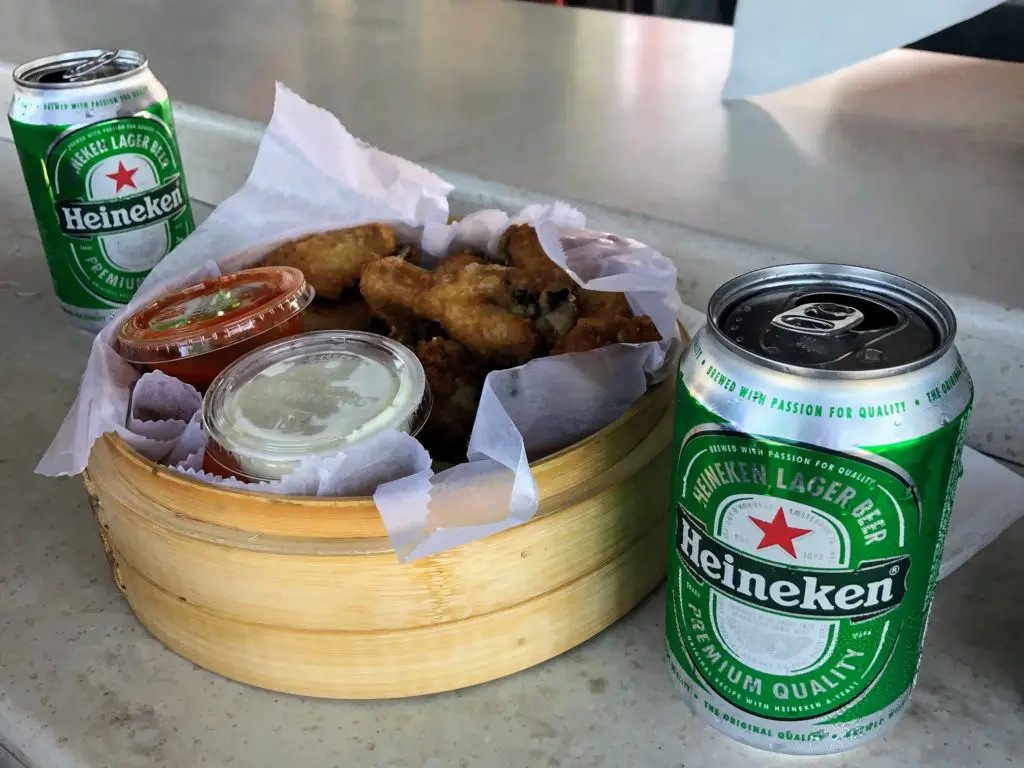 The Local Store
NEAR PLAM BEACH—inland
Burgers & Wings
Want a casual place for cold beers and food you'll rave about even the next day? You can't beat The Local Store. It's my favorite restaurant on the island and the perfect place to catch a game and drink a few too many. And you know it's good because you'll find a mix of both locals and tourists enjoying the food.
It's definitely a spot for meat lovers that highlights a menu full of burgers and wings that include creative takes on toppings and sauces. In addition, you'll find a wide variety of craft beer.
WHAT TO ORDER: BEER, BOOM BOOM WINGS, AND THE BRUNCH BURGER. (I'm not kidding, it's the best burger I have ever had in my life! Don't be afraid of the egg; it's a delicacy.)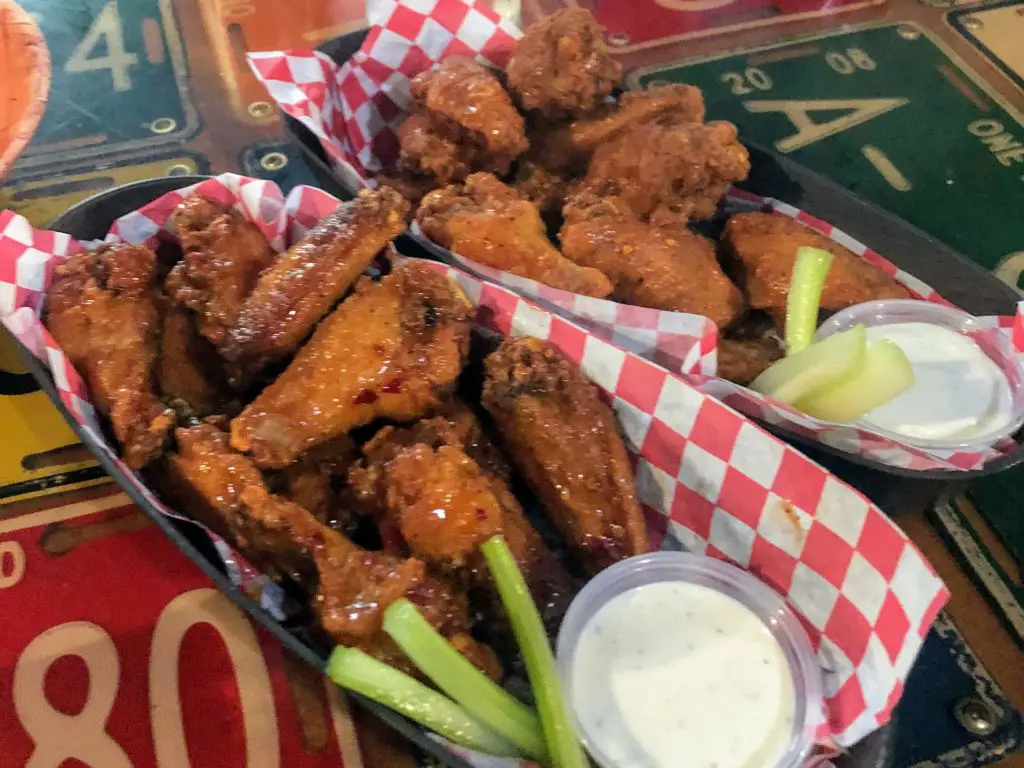 The West Deck
ORANJASTED
Seafood & Sandwiches
Whenever I say The Local Store is my fav, I think of The West Deck saying "what about me?" Ha. This is easily one of the best Aruba restaurants as well! Completely outdoors, find a seat on the large wooden deck, look out at the water and enjoy the dining experience. Even though it sounds upscale, it's actually rustic and casual with beach decor all around you.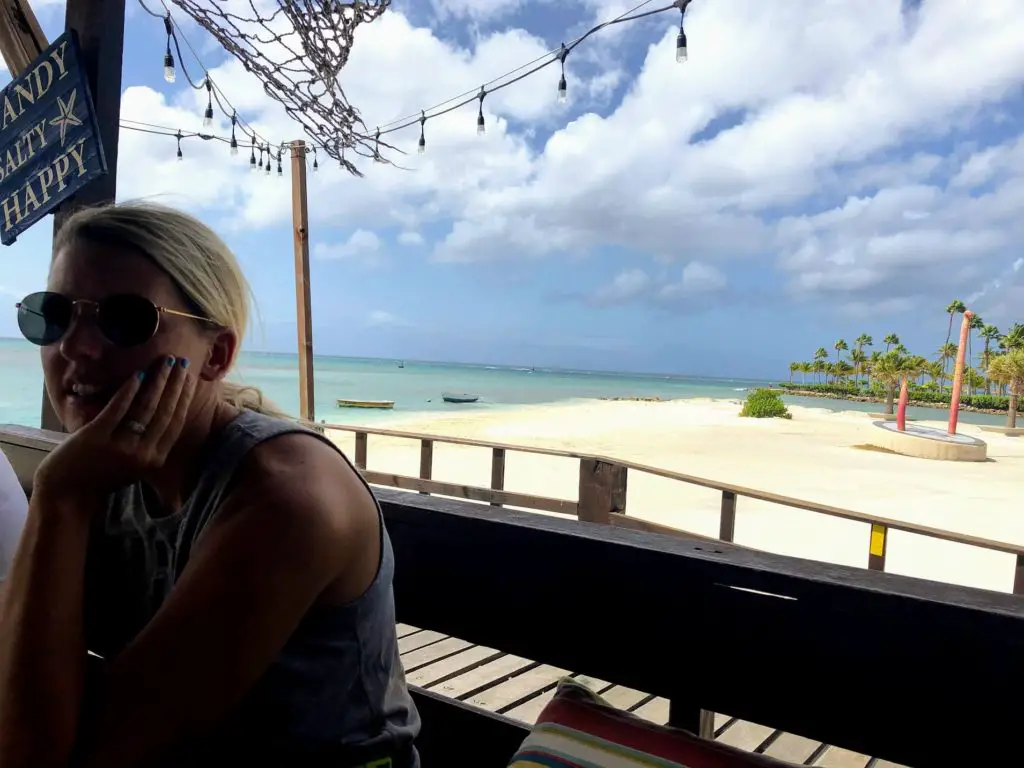 TIP: This is in the perfect location to visit right when you arrive or right before you leave since it's not far from the airport.
WHAT TO ORDER: BALASHI GROUPER FINGERS, CARIBBEAN JERK CHICKEN WINGS, ISLAND FISH SLIDERS, AND THE BEST MARGARITA ON THE ISLAND! (Honestly, everything is good. It's fun to get a bunch of things and share so you can try a variety.)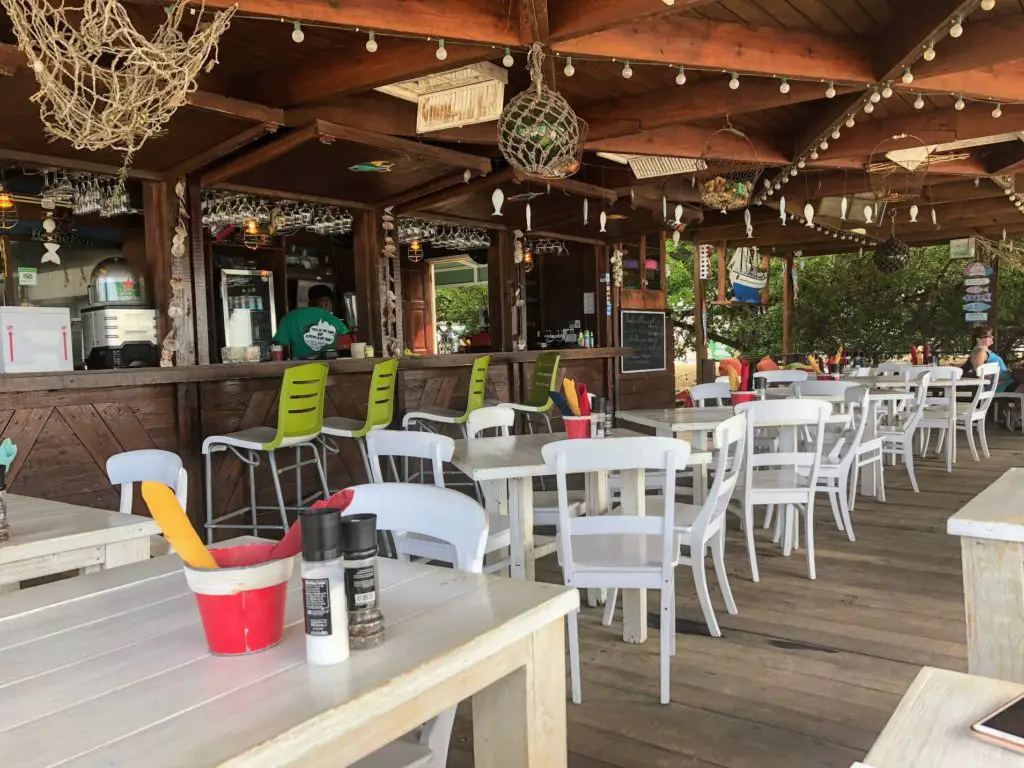 Salt & Pepper
PALM BEACH—Arawak Garden
Tapas & Sandwiches
And then Salt & Pepper pops in and says "I thought I was your favorite?" Lol. It really is hard to pick the best restaurants in Aruba! But Salt & Pepper will always be on that list for me because…
TAPAS! In a lively environment within Arawak Garden—a downtown strip of restaurants and shops with live music and a lot of energy. Find a seat outside (recommended) or in and you will be greeted by the nicest staff. Start with a mango martini (or the sangria) and scan the tapas options for your favorite flavors.
WHAT TO ORDER: MAHI MAHI, BABY BACK RIBS, SPICY TENDERLOIN CUTLET, AND FRIED BRIE. The rest is up to you! For reference, my family of 4 ordered (10) tapas to split.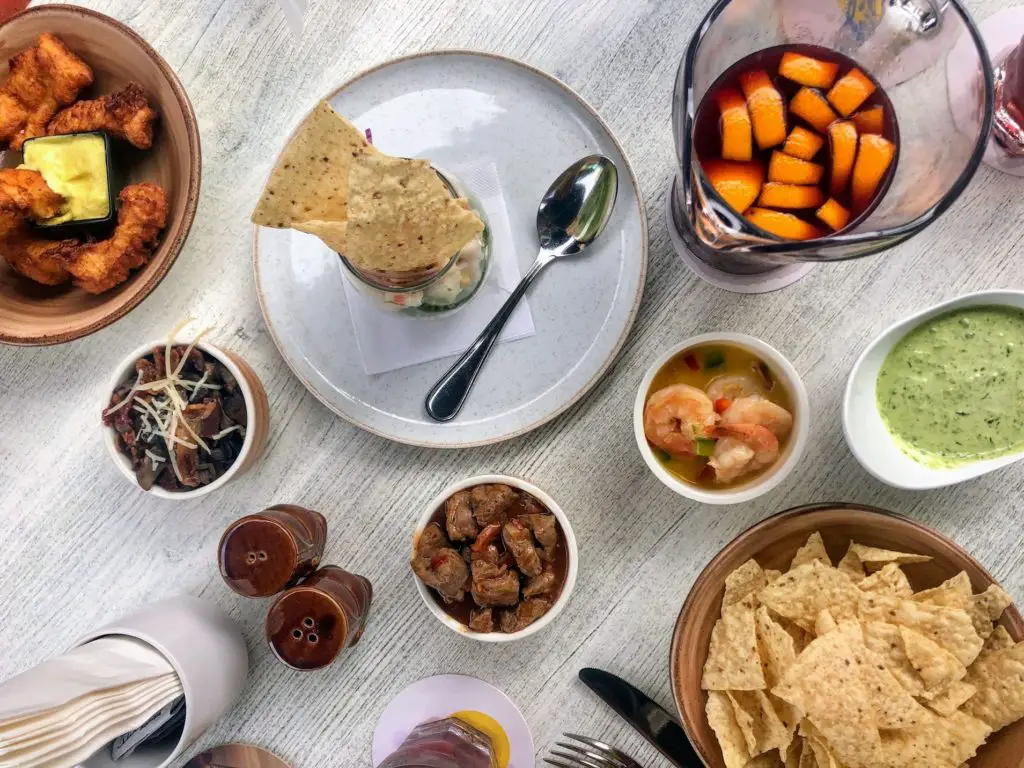 The Beach Bar
DIVI BEACH
Cocktails & Appetizers
This is the most beautiful restaurant on the island in my opinion. Sitting right above the white sand looking out at the turquoise waters you will always catch yourself shaking your head thinking "I'm so lucky to be here."
The ambiance is energetic, colorful, and friendly with options to sit at the bar, high-top tables, or the comfy couches. The Beach Bar is the perfect place for lunch or casual snacks during happy hour which is 5:00-6:00 PM (2-for-1) and perfect for sunset.
WHAT TO ORDER: COCONUT SHRIMP (MUST!), BEACH BAR FRIES, AND NACHOS SUPREME. And your favorite cocktail, of course.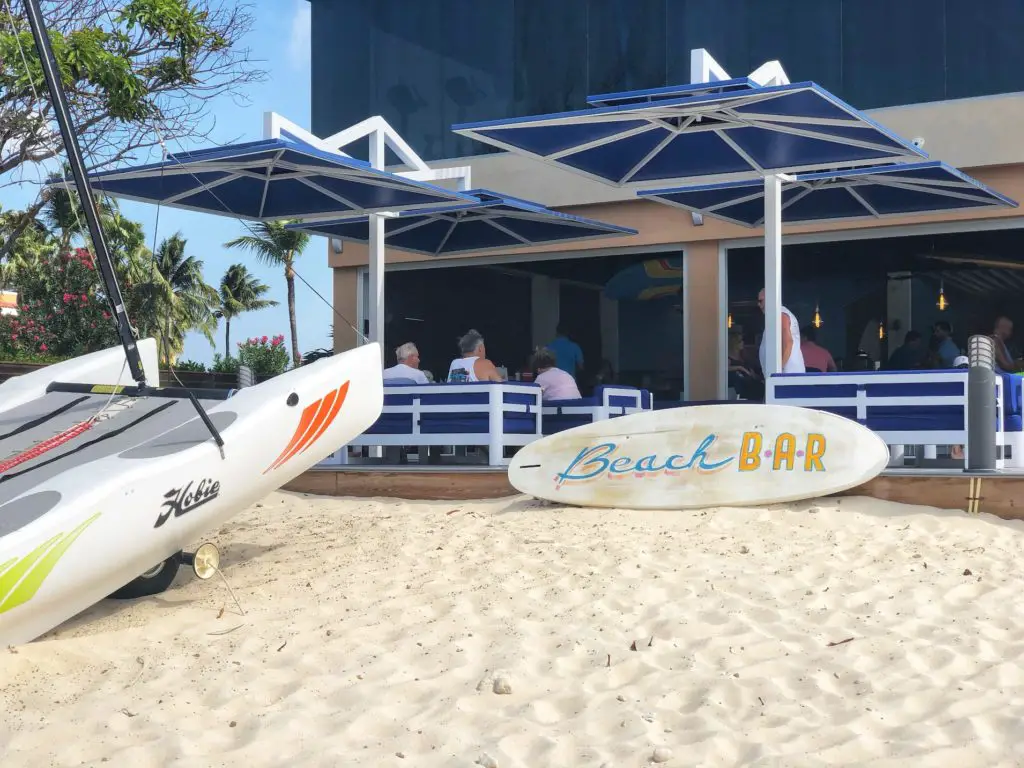 Casa Tua Pizzeria
PALM BEACH—Arawak Garden
Pizza & Pasta
Fresh pizza dough daily and cooked to perfection in a brick oven! If an Italian restaurant sounds like what you are looking for, Casa Tua Pizzeria is a great option. Also located in Arawak Garden, Casa Tua welcomes you with open-air and a fun atmosphere. Their menu includes pizza and pasta options, and if you have a sweet tooth, make sure to give one of the desserts a try.
WHAT TO ORDER: ALLE VONGOLE FOR PASTA OR ANY PIZZA WITH YOUR FAVORITE TOPPINGS.
Matthew's Beachside Restaurant
MALMOK BEACH
Fish, Sandwiches & Snacks
Get delicious food and incredible views at this restaurant! Look out to the turquoise waves and white sand along with a spectacular sunset and enjoy a range of local cuisine including grouper and tuna steak.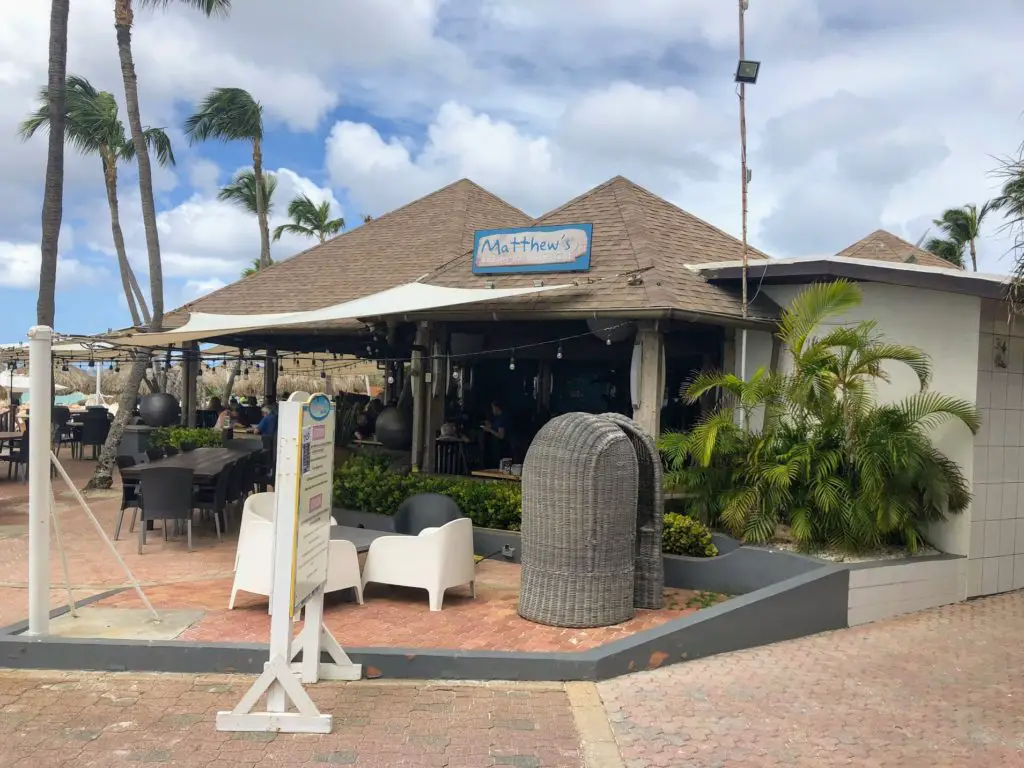 While dinner is gorgeous with the views, my favorite time to eat at Matthew's is late afternoon for lunch—or just happy hour snacks! There are three happy hours per day (12-1 pm, 4-6 pm, 9-10 pm), 3 flat-screen TVs if you want to catch a game, beachgoers in and out, and even a dedicated snack menu. Come to Matthews and a bad mood is impossible!
WHAT TO ORDER: A COLORFUL COCKTAIL AND THE DELUXE SNACK PLATTER. Yum!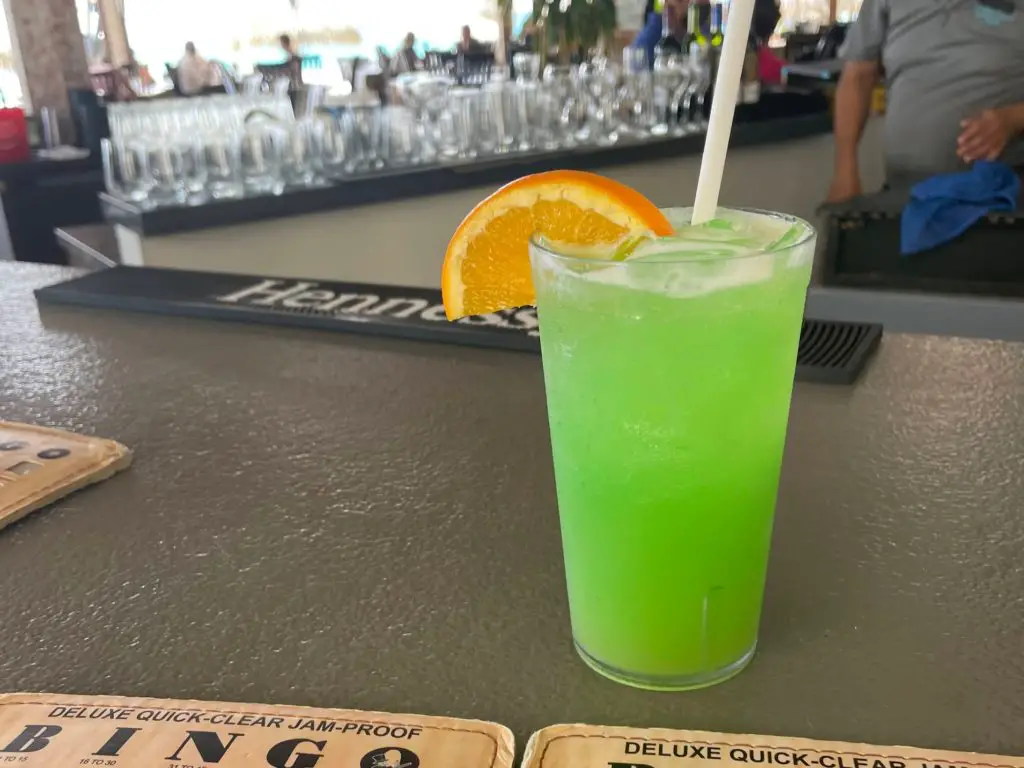 Carlitos
PALM BEACH
"Wings, Beer, Sports" as they say
Speaking of places to catch a game, this is my favorite place to do it! If you're a sports fan, don't miss Carlitos for a good time. Located right off the walkway of Palm Beach, this open-air, friendly spot has TVs lined up above you and palm trees swaying to your left. They have a simple menu full of good food—and happy hour is all day! You can't beat it.
WHAT TO ORDER: A BUCKET OF BEER AND CHICKEN WINGS. The hot wings are so, so good!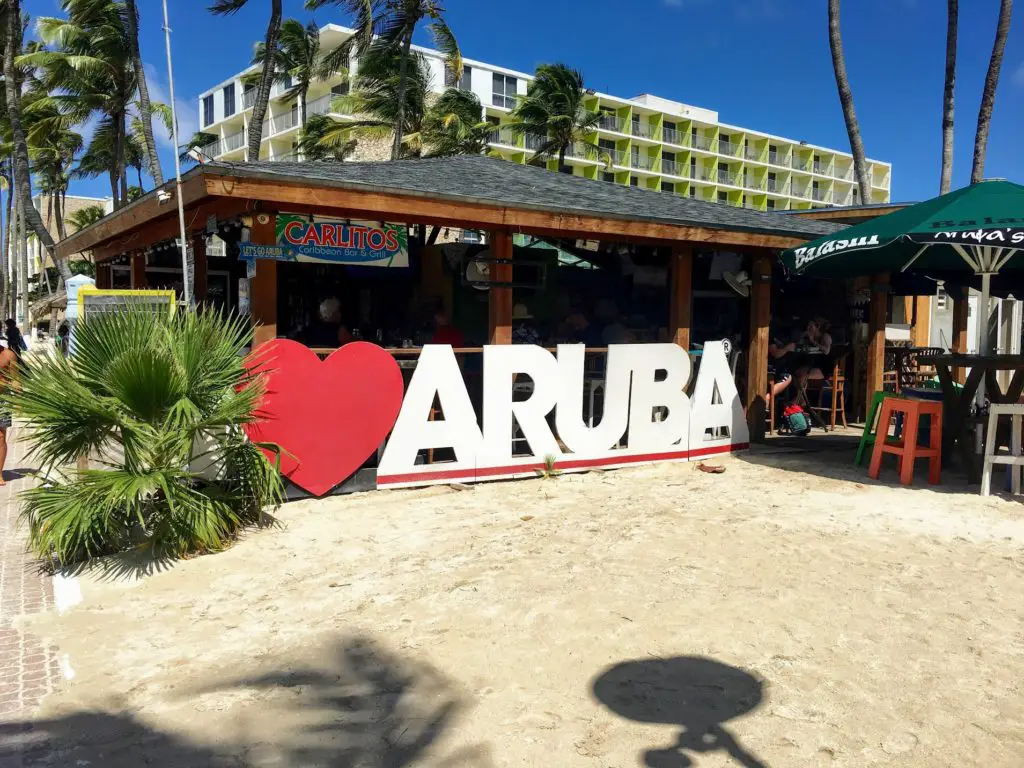 Bugaloe Beach Bar & Grill
PALM BEACH
Wraps, Salads & Finger Foods
Another excellent spot on the Caribbean sea—quite literally. This pier bar and restaurant hangs over the water so you can imagine what an ideal setting it is! Bugaloe is fun and colorful with daily specials on food and drinks. Grab a table, admire the views, and order some casual eats!
It's worth noting that this place gets rowdy! If you're looking for a place to party, stop here for sure! Read: Where to Party in Aruba for more recommendations.
WHAT TO ORDER: BUGALOE MOJITO AND THE GROUPER WRAP.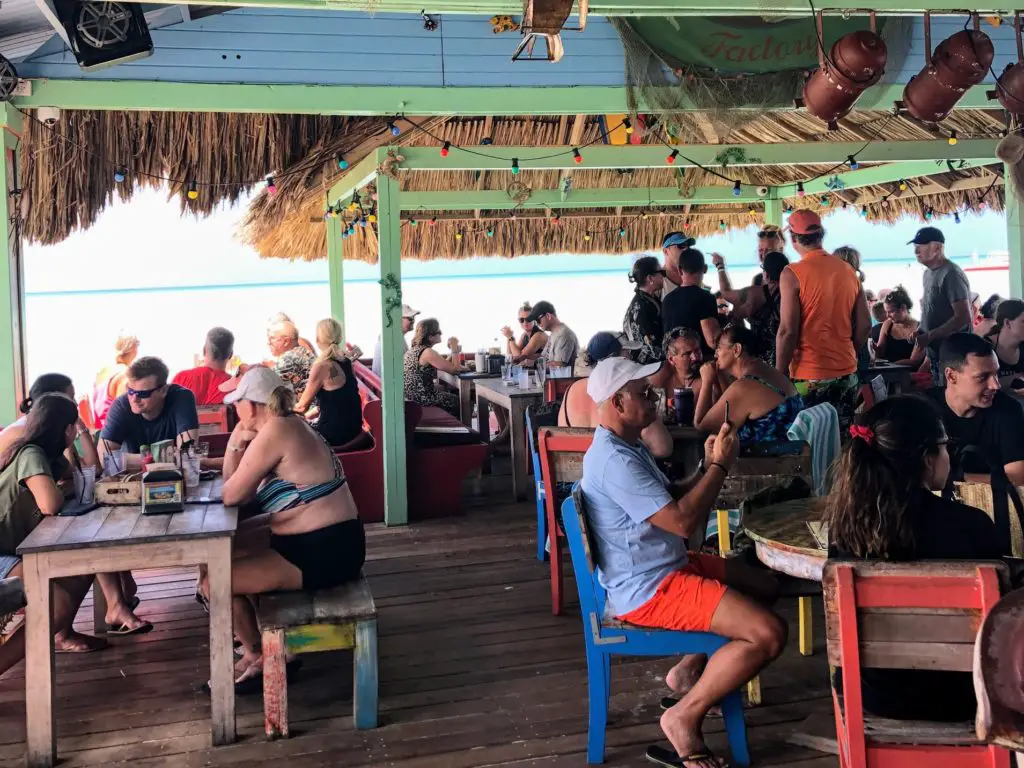 Islander Grill
Eagle Beach (La Cabana)
Seafood, Sandwiches & Burgers
The Islander Grill is a bright, colorful, and casual spot to dine in—and it's one of the most affordable spots on the island. Located within La Cabana Resort on Eagle Beach, it's right across from the pool bar. Hit up Pata Pata Pool Bar at La Cabana from 4 PM-6 PM (the best happy hour in Aruba!) and then stay to eat (and sober up LOL) at The Islander Grill.
WHAT TO ORDER: THE SIZZLING FAJITAS. And a beer if you survived Happy Hour.
Lucy's Aruba
Downtown Oranjestad
Tacos & Sandwiches
If you are in Oranjestad, Lucy's Aruba is a great place. The surf-inspired, open-air restaurant is located right on the marina docks with colorful decor, big flatscreen TVs, and a fun environment with a friendly staff. Lucy's offers a variety of tasty cocktails, as well as delicious tacos.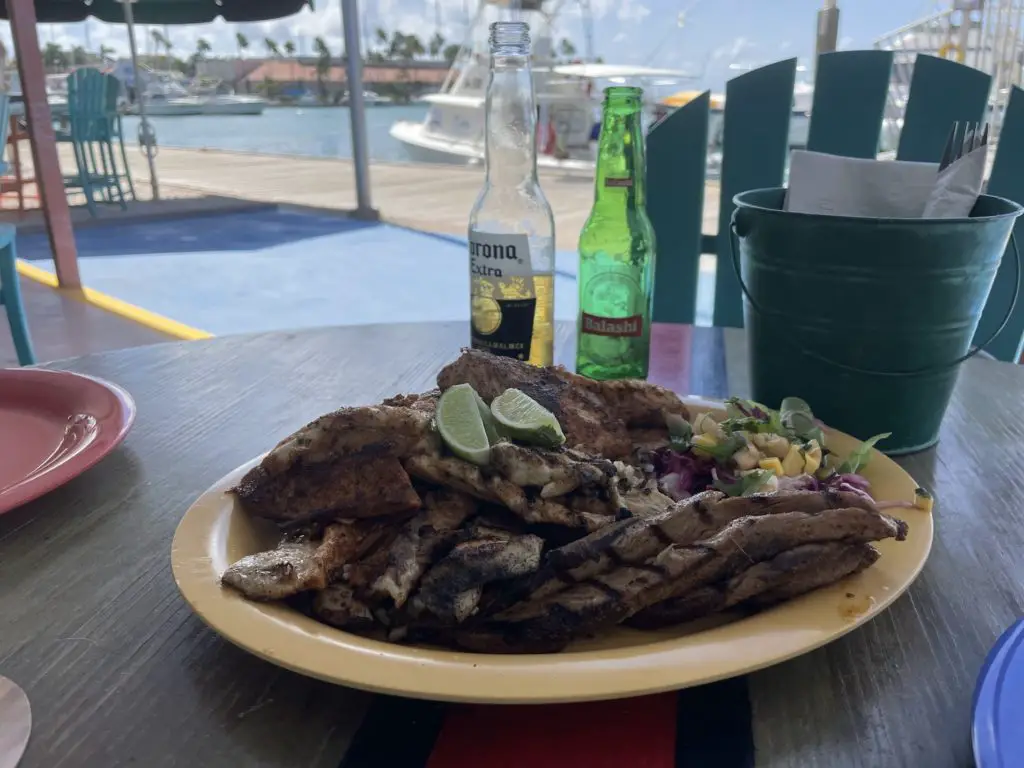 Lucy's is also an ideal place if you go out deep sea fishing and want to cook your fish. You'll hop off the boat right near the restaurant and for $16, you pick three sides and they cook your fish to perfection.
WHAT TO ORDER: LUCY'S CLASSIC MARGARITA AND PORK CARNITAS TACOS.
BONUS: INFAMOUS SCORPION SHOT. Take a shot of tequila with a small scorpion in it (yes, you read that right) and you will get a cute t-shirt! (I did it, totally easy and worth it—don't chew.)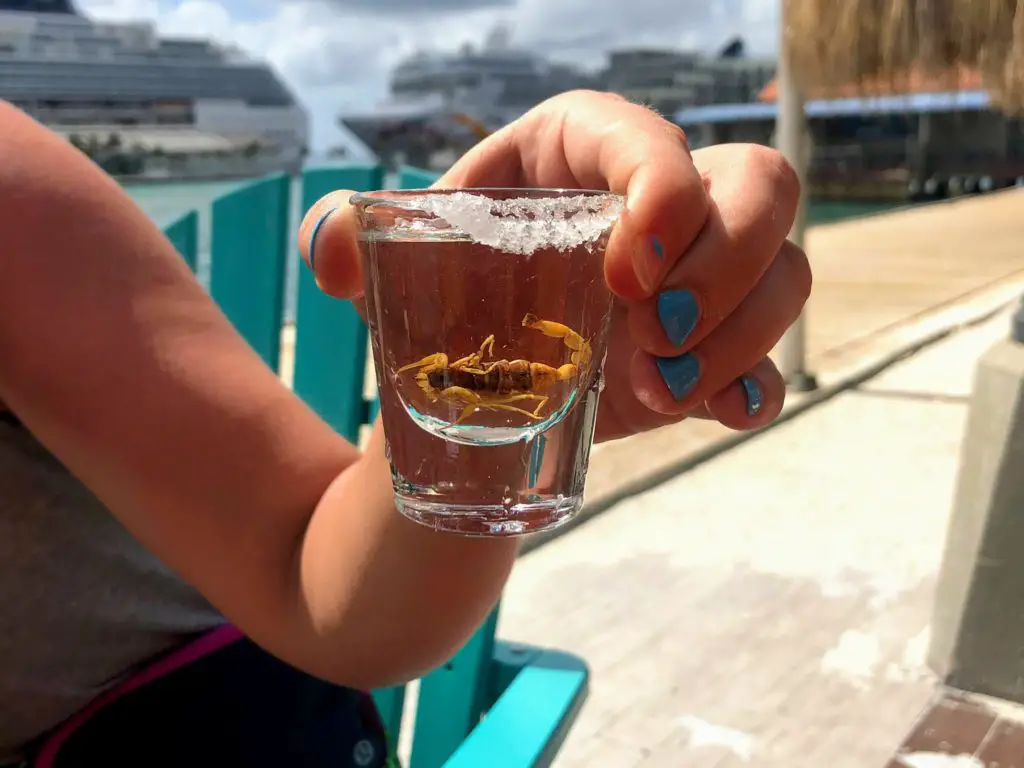 Zeerovers
Savaneta
Catch of the Day
A local favorite that the tourists are figuring out! Zeerovers is the real deal serving the catch of the day at a reasonable price. Whatever they reel in out at sea in the morning is what they serve in the afternoon and evening—and it's delicious fresh fish.
Easily one of the best seafood restaurants in Aruba, and certainly number one if you're looking for casual. Cooked with local ingredients, you won't be disappointed after ordering fresh seafood at the counter and finding a wooden picnic table on the water. Make Zeerovers a priority on your trip to Aruba; it is a great experience.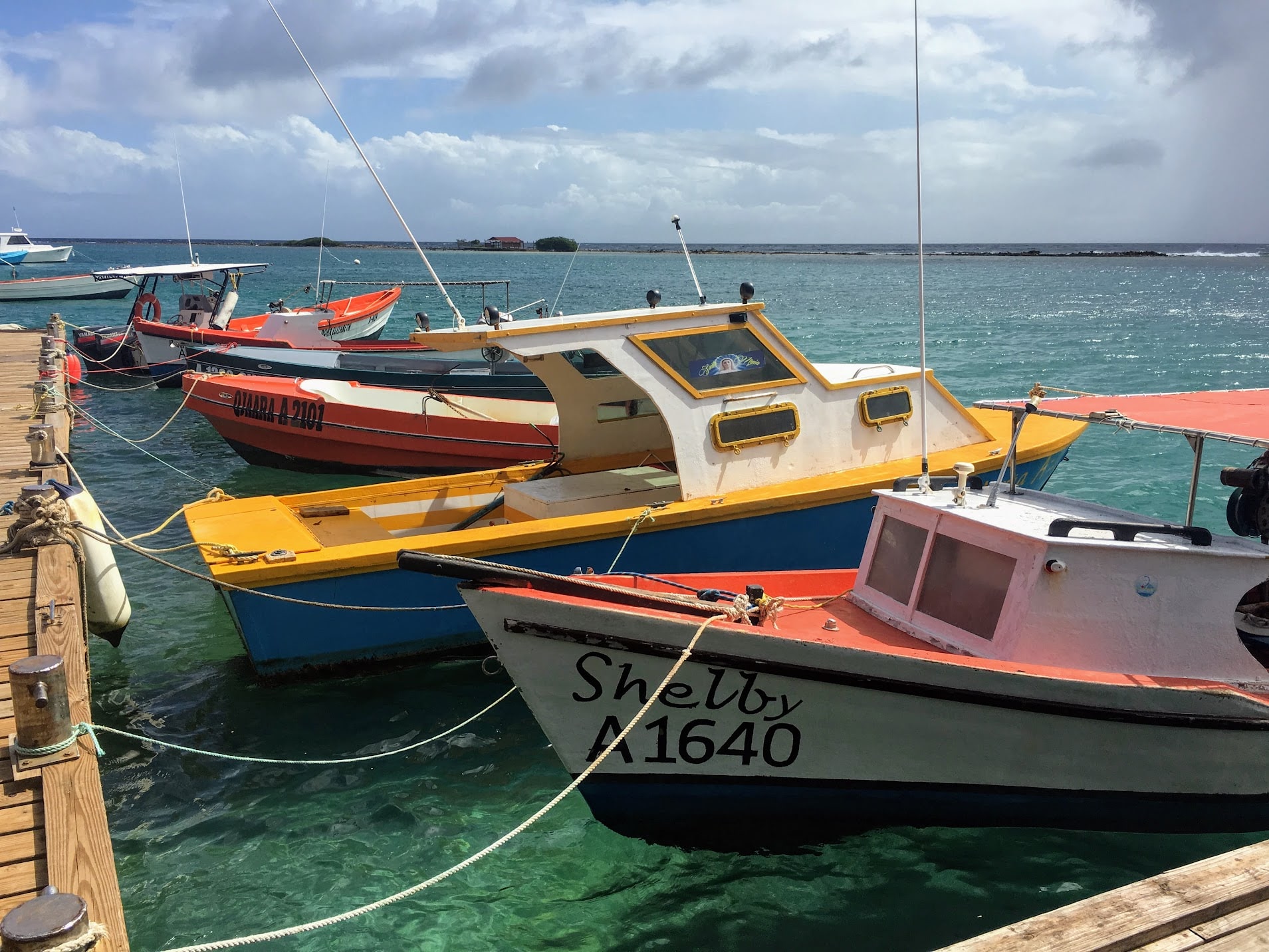 BONUS: Eduardo's Beach Shack
Palm Beach
Smoothie Bowls & More
Technically, Eduardo's Beach Shack isn't a restaurant. It's a hut (and a popular place!) on Palm Beach for smoothie bowls. And they are some of the best I have ever had. Bowls loaded with fresh fruit really hit the spot and I cannot recommend this place enough!
And they don't stop at smoothie bowls. Get a pancake or waffle, pressed juice, classic smoothies, or even a poke bowl.
WHAT TO ORDER: ACAI BOWL (MIDDLE) OR EDUARDO'S SPECIAL BOWL (RIGHT).
UPDATE: Eduardo's is now also available at La Cabana Beach Resort & Casino—my favorite place to stay!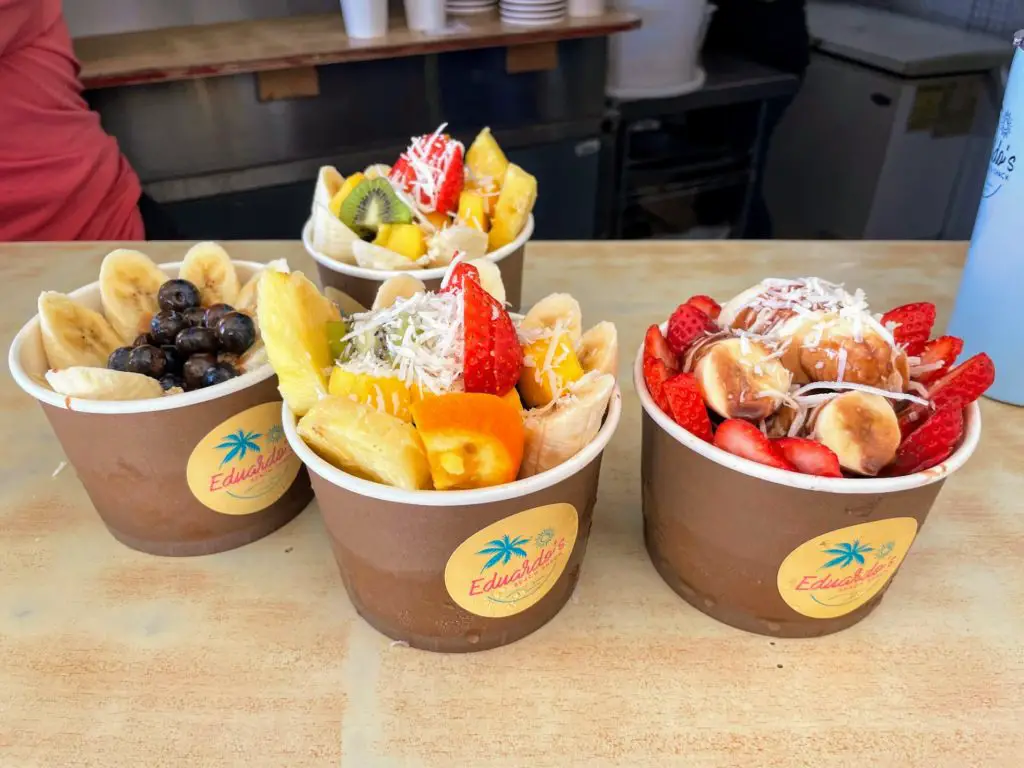 The 10 Best Restaurants in Aruba for Casual Dining
That will do it! Some of Aruba's best restaurants are casual and simple yet still serve the best eats. Keep your flip flops and jean shorts on, try different cocktails and foods, and enjoy colorful and fun atmospheres on One Happy Island!
Looking for a Romantic Dinner Instead?
It's fun to mix things up and experience fine dining at romantic restaurants—especially on a Caribbean island. If it's a special occasion, or you're just ready for steak and/or Mahi Mahi while looking your best, here are a few of the best places: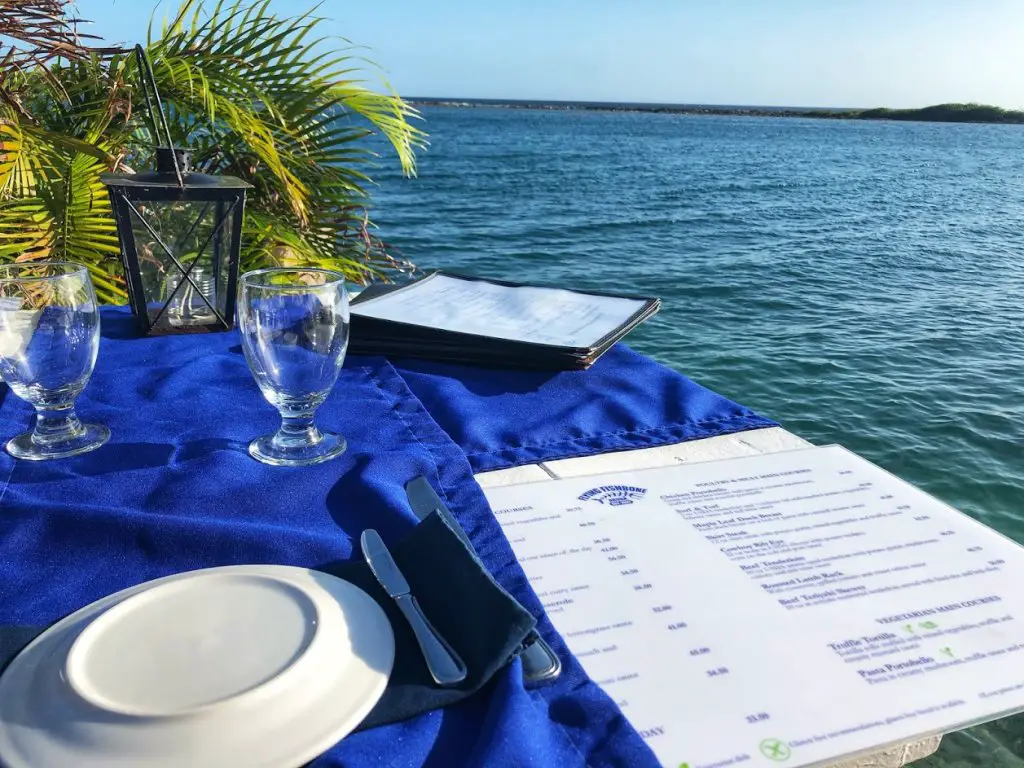 Madame Janette's: Get the steak.
Wilhelmina's: 100% get a homemade pasta dish.
Barefoot: Toes in the sand!
Flying Fishbone: Toes in the water! Make a reservation.
Check out Where to Eat in Aruba for details!
What Restaurants Did I Miss? What Places Did This Post Help You Find? Let me know in the comments 🙂
Did this post help you out? Support the work and pass along $5 for a Coors Light 😉 VENMO: @Amber-LBB or PAYPAL: amber@littlebluebackpack.com. THANK YOU.