My family takes a trip to Aruba every year and it's safe to say we are in LOVE with the island. Without a doubt, Aruba is a good place to vacation with the best beaches, local restaurants, places to explore, and top-notch weather year-round.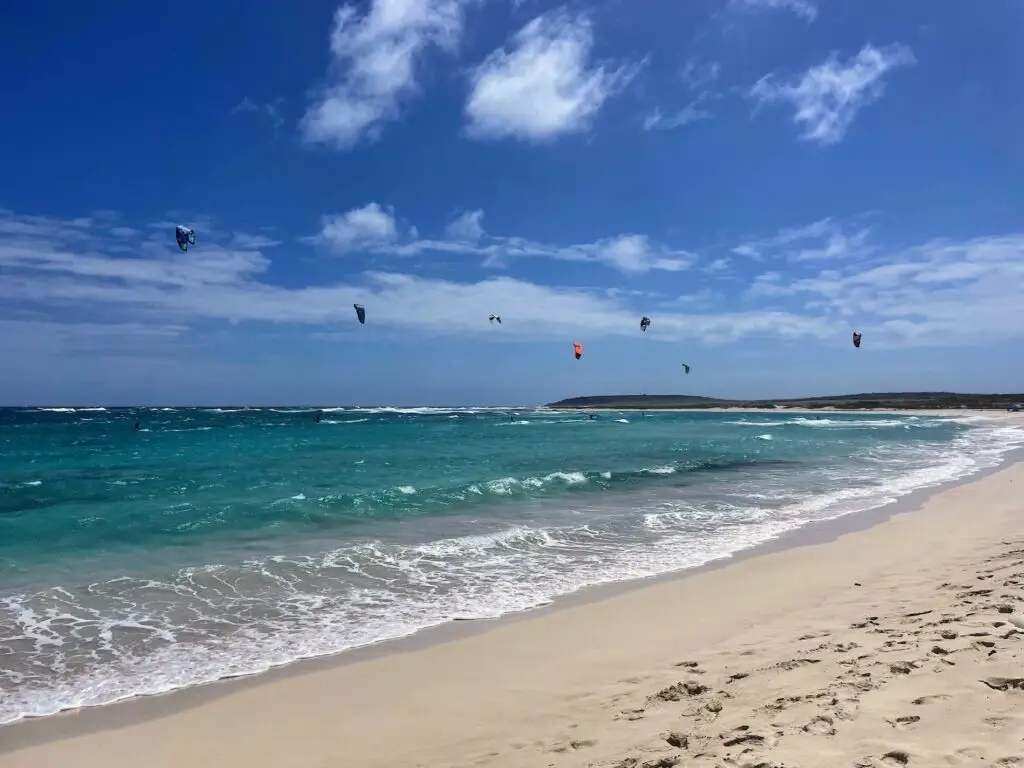 People will often ask why we go to the same place every year instead of venturing off to other countries. Well, the list is long for why anyone wants to go to Aruba—and back again!
FUN FACT: Aruba is the Caribbean's most revisited travel destination!
If you have never been to One Happy Island, or are thinking about going back, here is what keeps us booking our trip year after year. Hopefully, it helps secure your decision because you won't ever regret an Aruba vacation.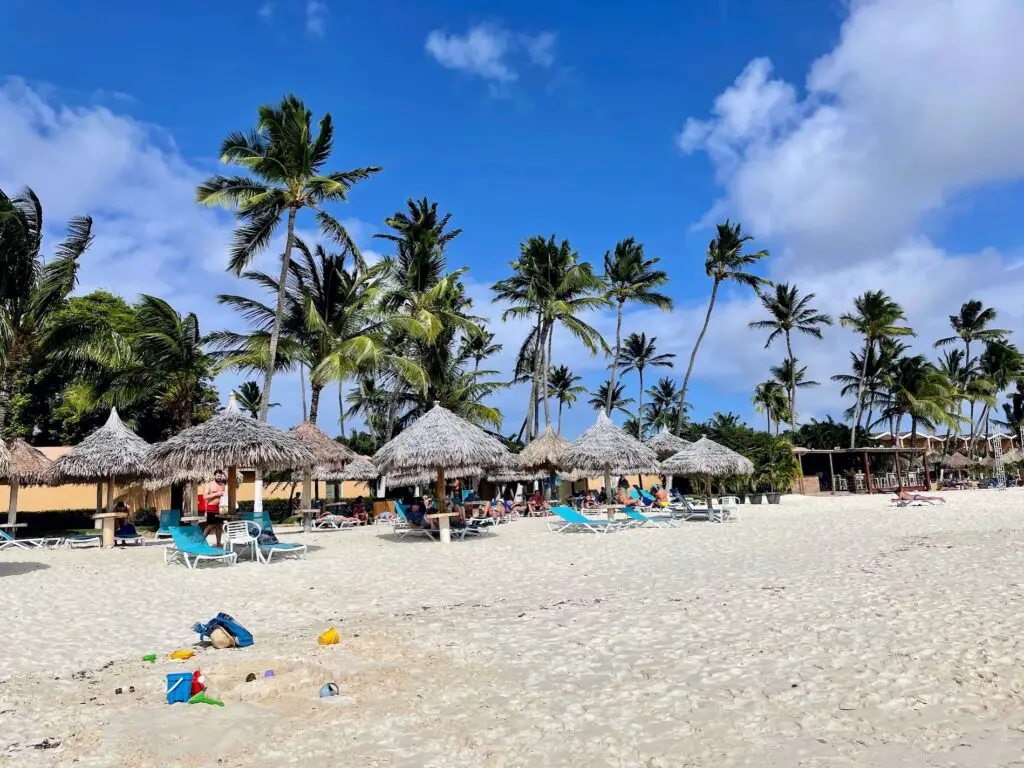 1. The Friendly Locals
The first thing that pops into my head every single time. Arubans are the happiest, most welcoming bunch ever. They are always ready to chat, show you around, give you tips, and make you laugh. Whether it's bartenders, catamaran drivers, hotel employees, or restaurant owners, you're likely to meet a fast friend. And they'll often remember you when you return!
NOTE: Most speak English (and many other languages!) so you won't have a problem communicating.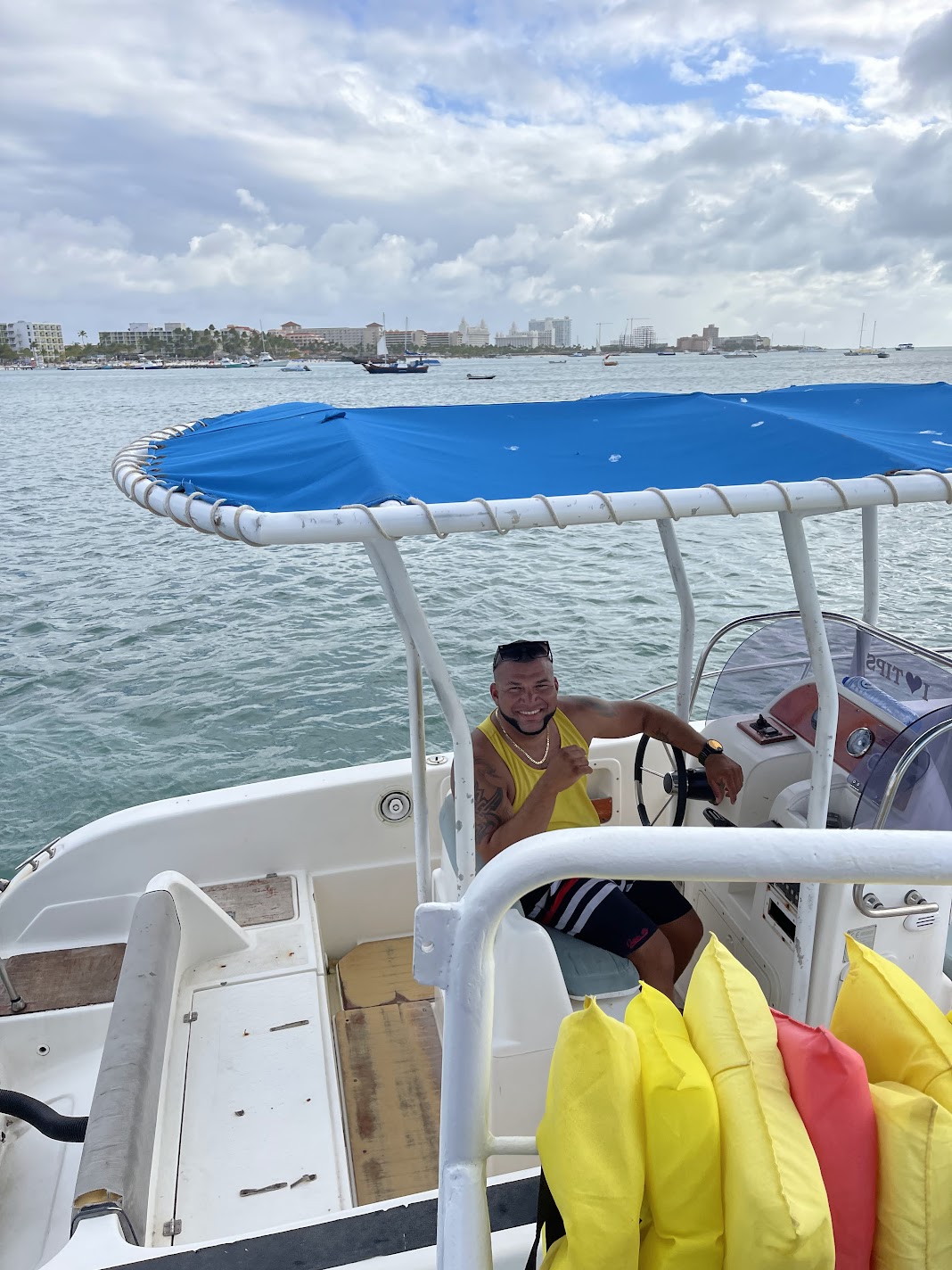 2. Aruba is One of the Safest Islands
What makes Aruba a good place to vacation is that it is one of the safest Caribbean islands. Their crime rate is extremely low and while there are risks anywhere you go in the world, Aruba is safe to explore on your own. No part of the island is "off limits" and there are no unwritten (or written!) rules that say to stay on your resort. Adventuring around the island is one of the BEST parts! And you won't feel scared or out of place.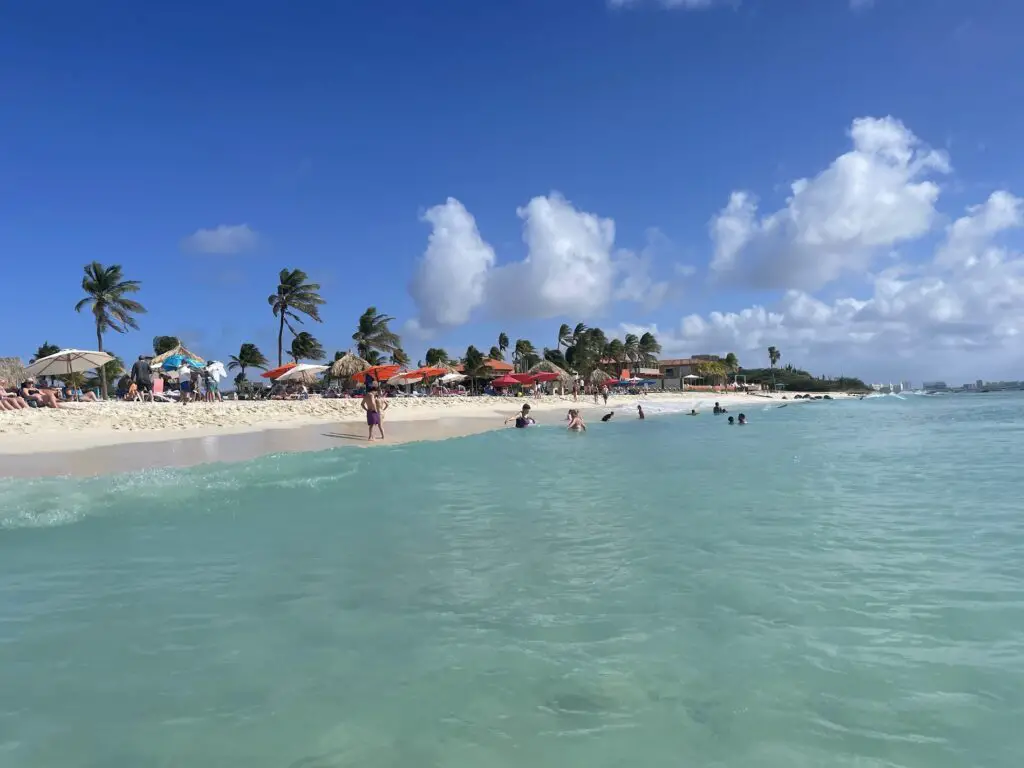 3. Reliable, Perfect Weather
82° and sunny—every single day, year-round. And I'm not exaggerating! No matter the time of year, Aruba has reliable, hot weather with a strong breeze to keep you cool(er). It will rain occasionally but only for about 5 minutes at a time. And it's outside of the hurricane belt so don't be afraid to book during hurricane season. There are very few places you can go with the consistent weather of Aruba!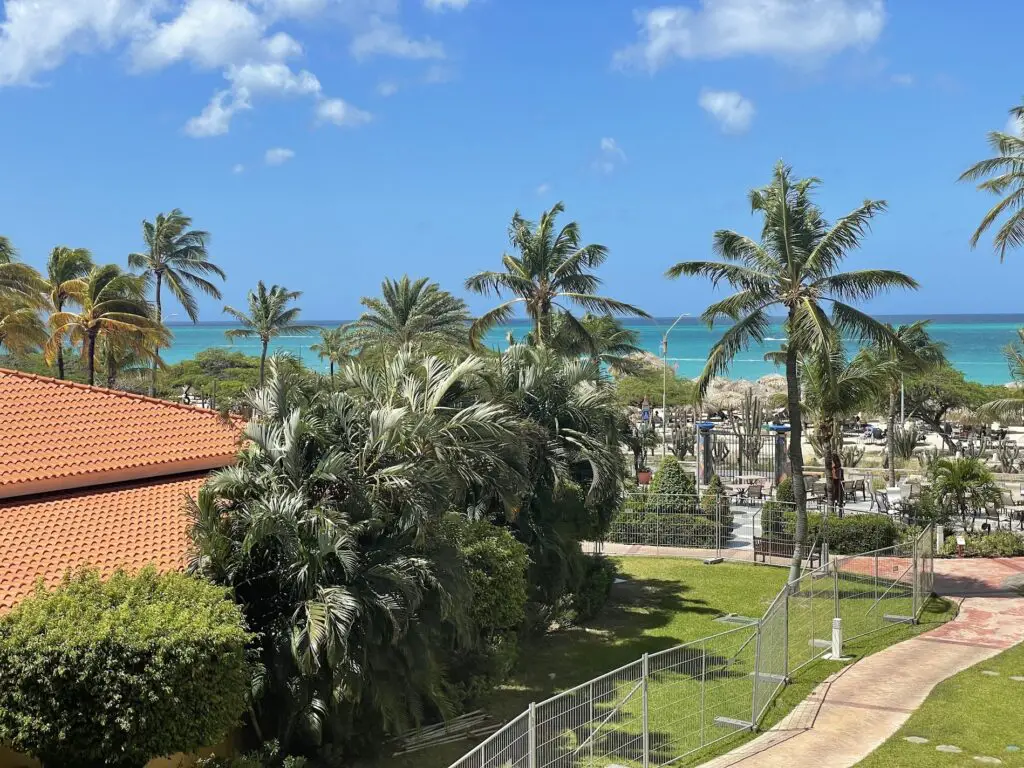 4. Beautiful Beaches
Oh my goodness gracious, the beaches. They are right out of a postcard. Bright turquoise water. Soft, white sand. Colorful umbrellas. The whole scene is a dream. There are so many amazing beaches to explore, and it seems like we find a new one every year! Whether you want to relax, party, snorkel, or seclude yourself, there is something for you.
Eagle Beach: Crystal clear water beyond the soft white sand. There is a reason this is a top 3 beach in the WORLD. (Get here EARLY.)
Palm Beach: Lively and fun with tons of beach activities and bars.
Baby Beach: Calm waters that stay shallow in a half-moon bay. (Fun fact, the little Aruba babies learn to swim here!)
Arashi Beach: An overall awesome beach on the north side that I highly recommend visiting.
Boca Catalina: The best place for snorkeling—get there early in the morning before all the big boat cruises start going out.
Flamingo Beach: Private island through the Renaissance Hotel.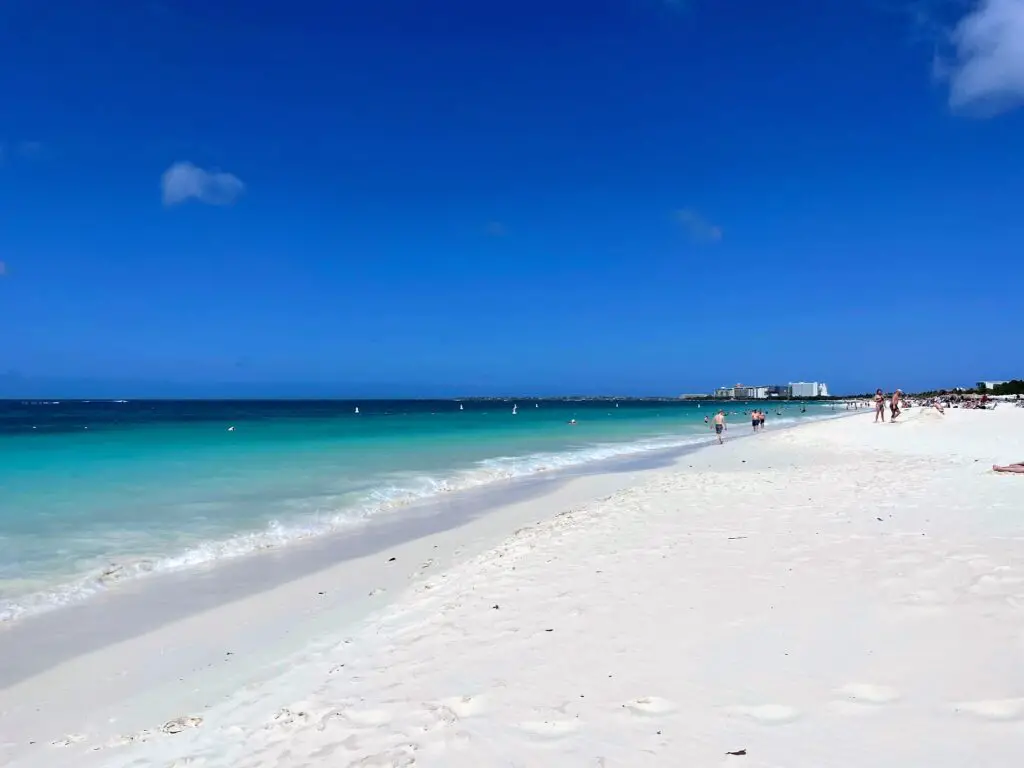 5. Fresh Fish and Fruit
Oh, do I love coming to Aruba to enjoy the freshly caught fish. Restaurants serve up seafood caught that day, and you can tell what you're eating is high-quality stuff. Grouper, mahi-mahi, wahoo, red snapper, shrimp…it's all delicious.
Order the Grouper Sandwich from Matthews Beachside Restaurant, Fish Sliders, or Shrimp from The West Deck, and whatever they are serving up as catch of the day at Zeerovers. (Plus, any high-end restaurant like Madame Janette's, Barefoot, or Flying Fishbone won't let you down.)
And the FRUIT—I crave its freshness year-round! Don't miss Eduardo's Beach Shack for acai bowls filled to the brim with berries. And if you eat bananas in the states, I am telling you—go pick some up from the store. They are so fresh and flavorful in Aruba!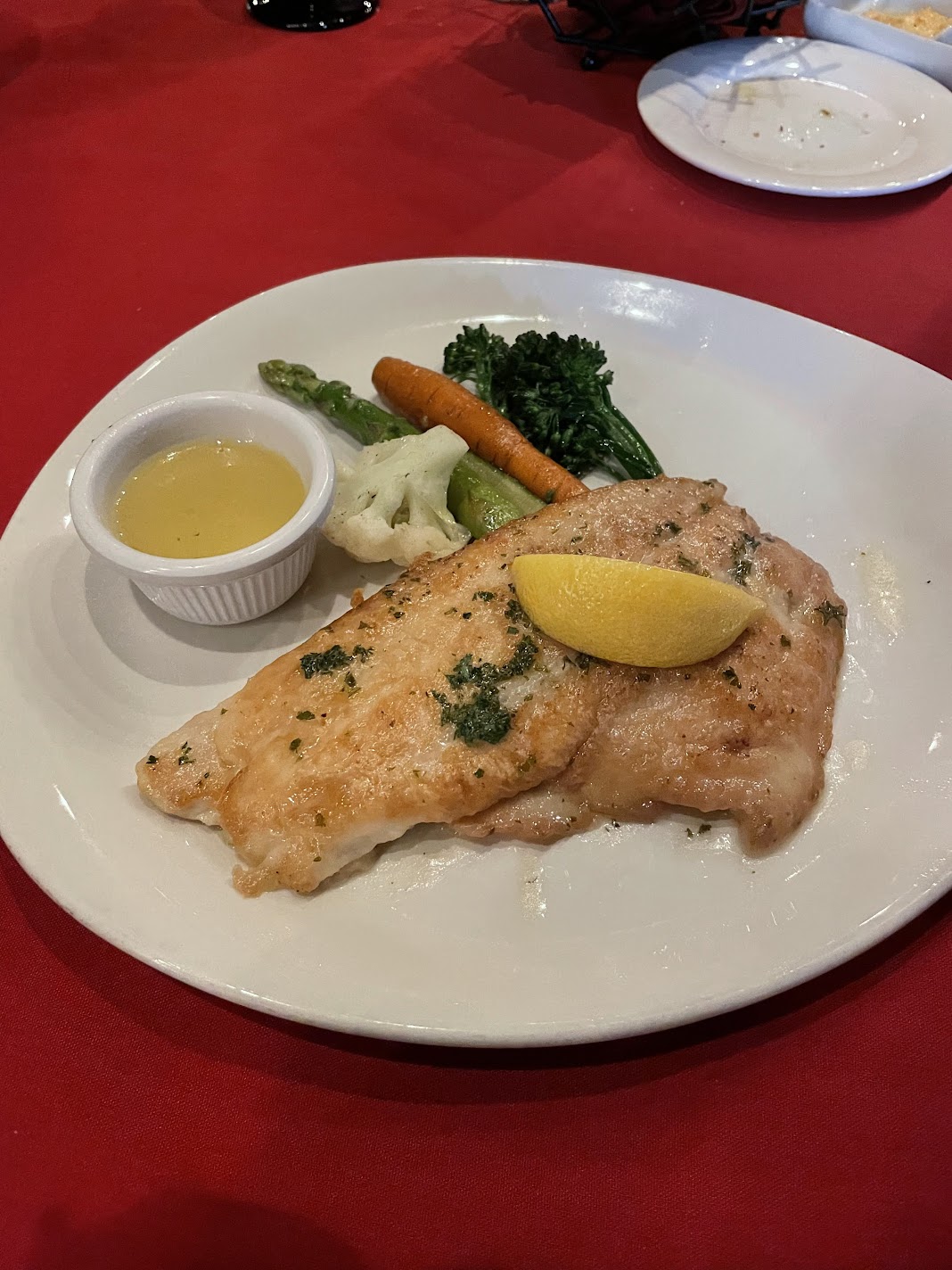 6. Aruba Restaurants
While we are talking food, I feel like I can't leave off my favorite restaurants for food beyond seafood (and fruit ha.) From burgers and sandwiches to pizza and pasta, Aruba offers a wide range of cuisines. These places have us coming back for more again and again, and are a big reason Aruba is a good place to vacation.
Alfie's has one of the best burgers I've ever had with peanut butter, raspberry jam, and maple bacon on it (please trust me and order The Goober!) Salt & Pepper is a must-stop for tapas. Casa Tua is fantastic if you're looking for pasta or woodfire pizza. And Bingo is great for steak and seafood in an environment that's not over-the-top fancy.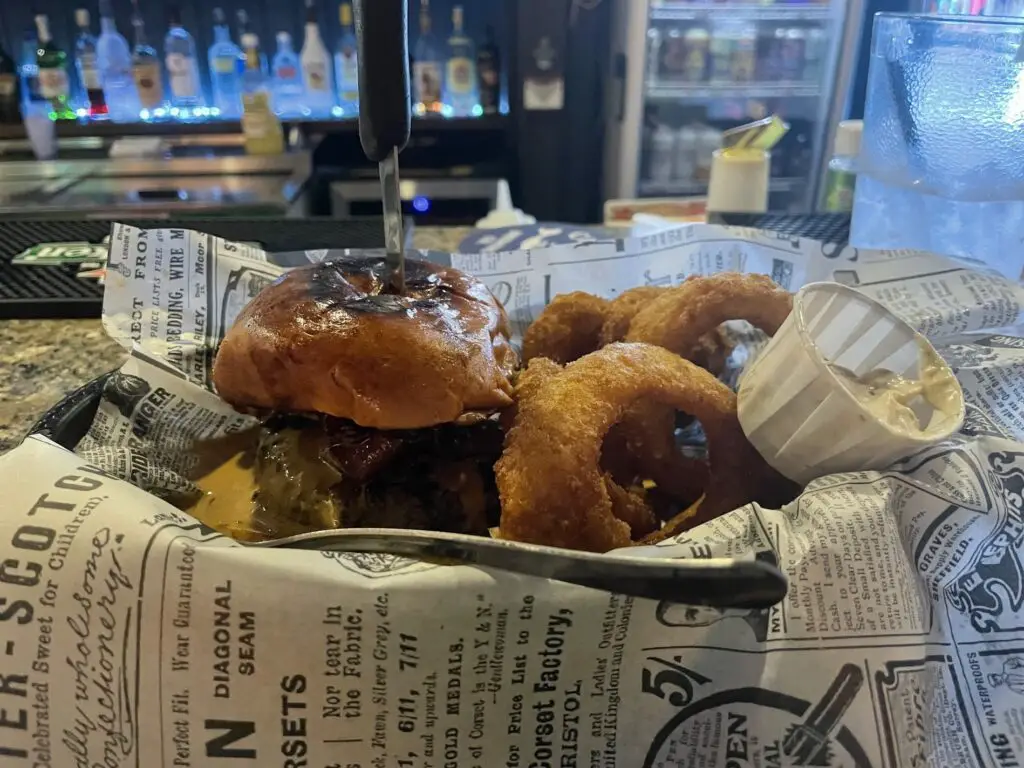 7. Aruba Bars
I can't forget the drinks and parties! If there is one thing Aruba loves, it's having a GOOD time. Here are a few of my favorite bars.
Don't miss The Local Store for beers, wings, and burgers—it's a fun place to both eat and drink. The Beach Bar on Divi Beach is beyond gorgeous and well worth a happy hour stop one day. Charlie's Bar is fun if you're out exploring the island. Rum Reef has an incredible infinity pool you do not want to skip. Moomba's is a WILD TIME if you at night—get your dancing shoes on. Bugaloe is awesome if you're at Palm Beach and want to go grab a cocktail from a pier bar. And make sure to stop at Sopranos Piano Bar to get drunk and sing your favorite songs!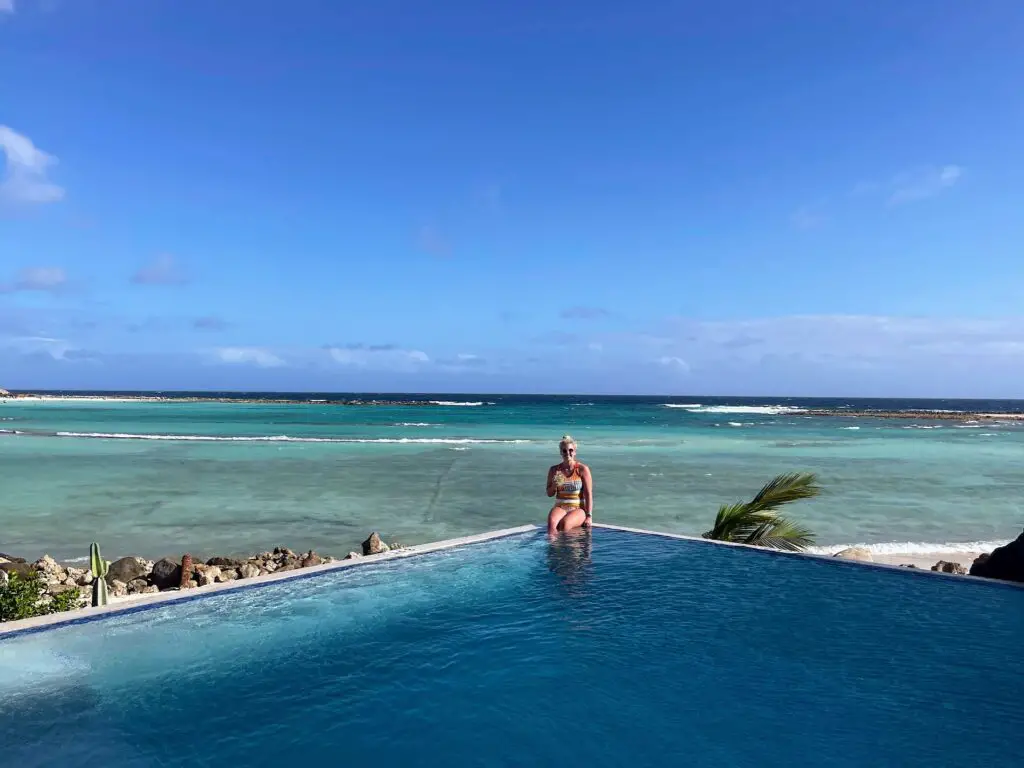 8. You Can Always Find a Party
The extensive list above can confirm that Aruba is wild lol. There's always a party everywhere you turn at any time of day! Mimosas on the beach. Cocktails at noon. Happy hour. Dance parties. If you're looking for a good time, you're going to find it!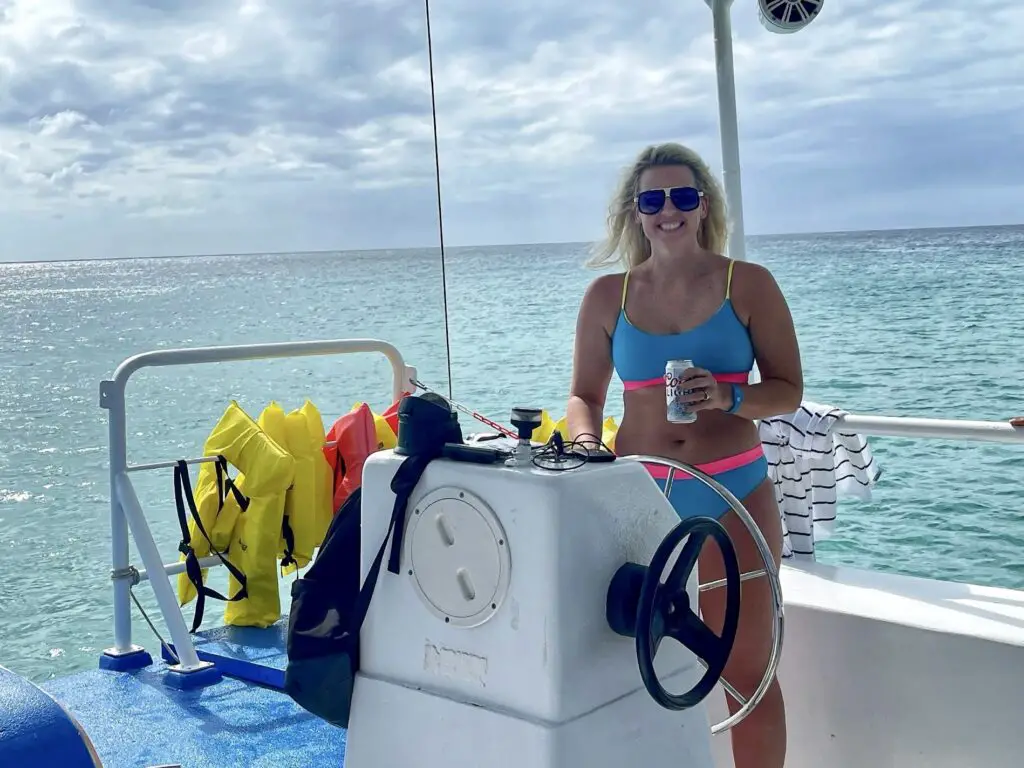 9. Gambling is Legal
Whether you love poker, sports betting, blackjack, or just sitting at one of the video monitors so you can get drinks, you'll enjoy the casinos in Aruba. Many resorts have their own with a couple of standalone and they are the perfect way to end the night and test your luck!
10. You Can Drink the Tap Water
And it's delicious! There's no need to go out and buy cases of water or be wary of drinking what comes out of your sink. Fill up a big pitcher, stick it in your fridge and you're set. Also, don't forget your own water bottle. You'll need it in the hot weather and there are plenty of places to fill up.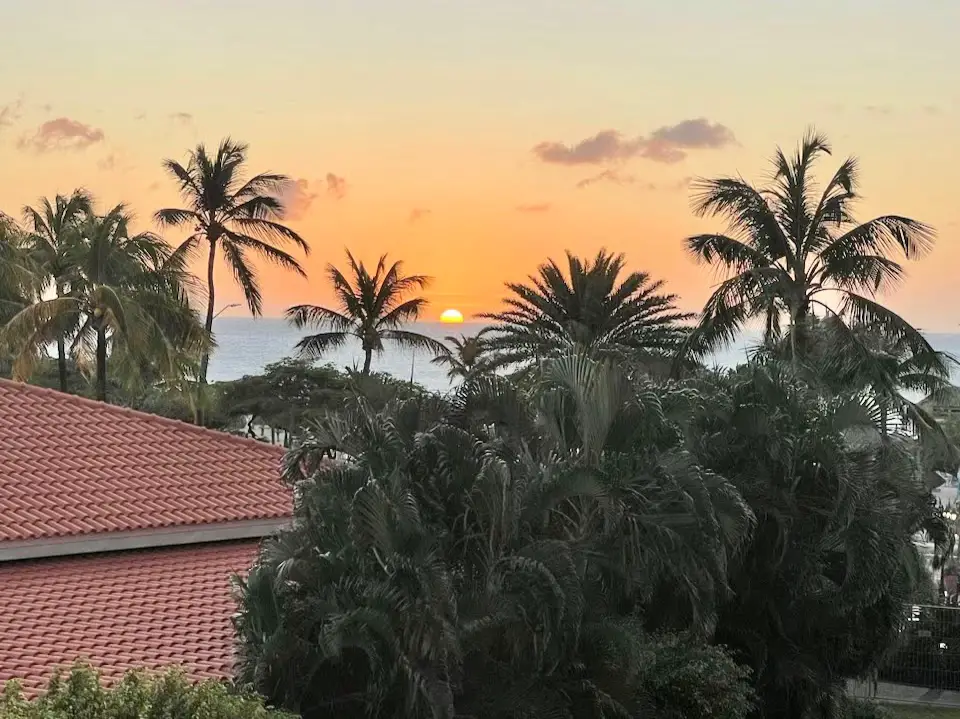 11. It's Casual
I love walking around Aruba because everyone is just wearing what's comfy for them. Restaurants don't have dress codes, you don't find many people dressed to the nines, and often it's swimsuits, coverups, and hats or hair thrown right on top of the head. Everywhere you go is casual, fun, and "come as you please." To me, it helps make the island feel welcoming.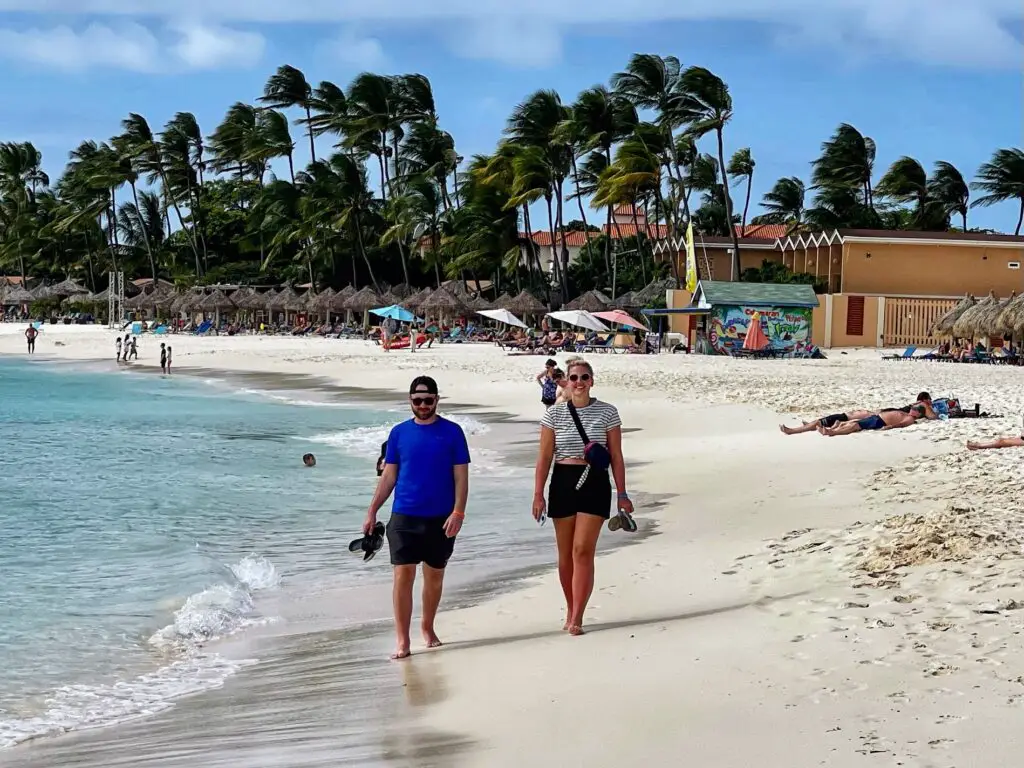 12. Variety of Landscapes and Environments
On one side you're looking at pristine white-sand beaches and turquoise water of the Caribbean Sea. On the other side, you'll find rock formations with desert terrain and a natural pool with the wild ocean roaring beyond it. Explore downtown and see the cruise ships and airplanes flying in while meandering through high-end shops. Get into San Nicolas where you will see the talented work of locals through murals. And check out the north side with the California Lighthouse and golf course.
Aruba is a tiny island but there is just SO MUCH to it with a wide variety of places to explore that all feel like a brand-new place! No questions asked, you will get a wide variety here and it helps make Aruba a good place to vacation.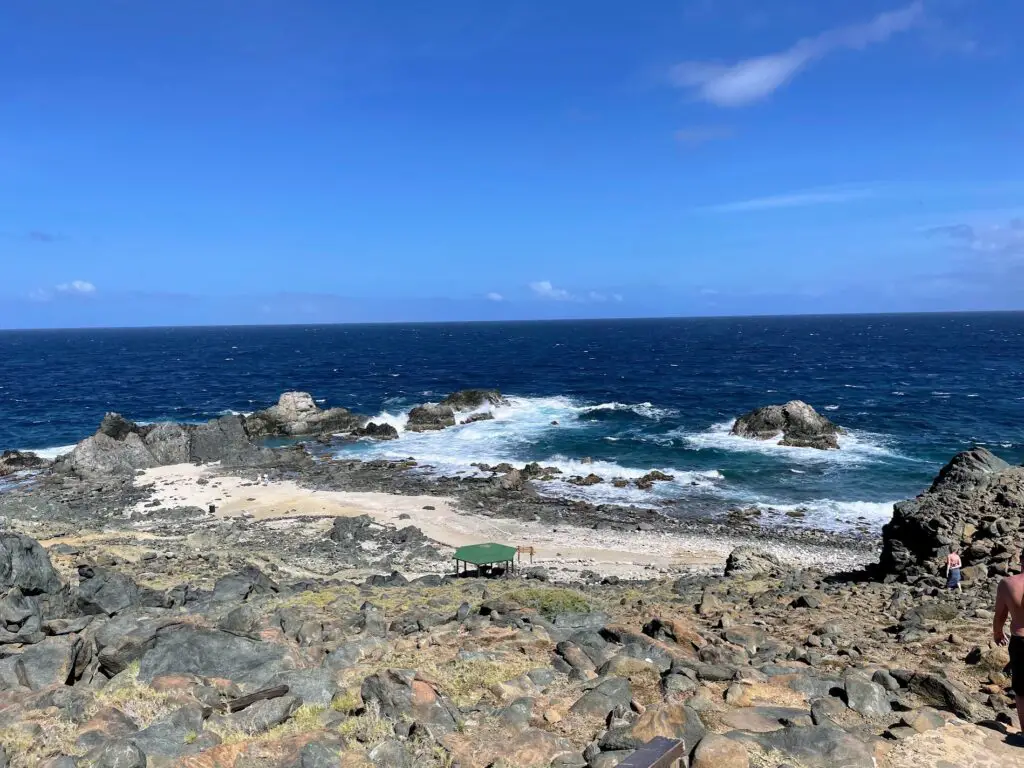 13. Plenty of Things to Do in Aruba
What makes Aruba one of the best places is that there is something for everyone! And so much that even if I've been there nearly 10 times, there's always something new. Casinos, a golf course, shopping—both high-end and trinket-style, beaches, restaurants and bars, Arikok National Park, water sports, the list can go on and on. Whether you like relaxation, adventure, or a mix of both, you will get it all.
14. Ease of Access to Get to Aruba
From the United States, especially the east coast, getting to Aruba is easy-breezy. You'll find many nonstop or single-connection flights from most major U.S. cities, and daily flights from all major hubs around the world.
NOTE: While you DO need a passport to get to Aruba, you do NOT need a Visa. Check out my FULL Aruba Packing List.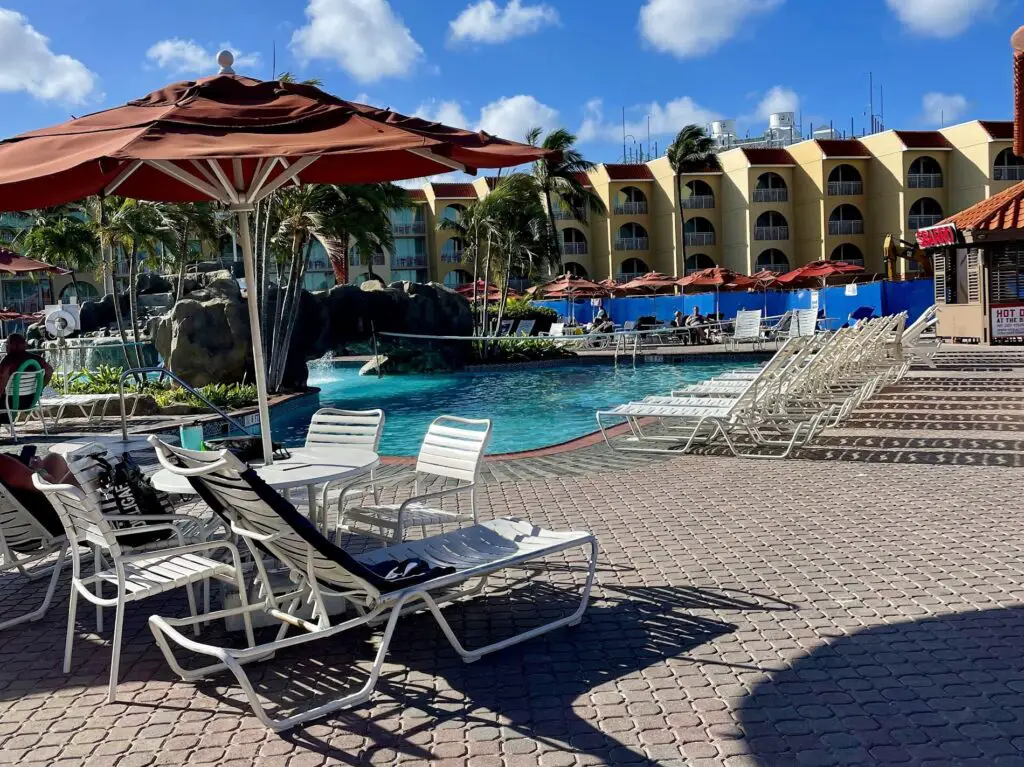 15. Aruba Friends
Because we go the same week every year, we have people from all over the states who have become great friends and we see them year after year at La Cabana Resort and Casino on Eagle Beach. We know their families, spend beach days together, go out to eat, and keep in touch outside of Aruba. Seeing everyone when you go back again is the best time!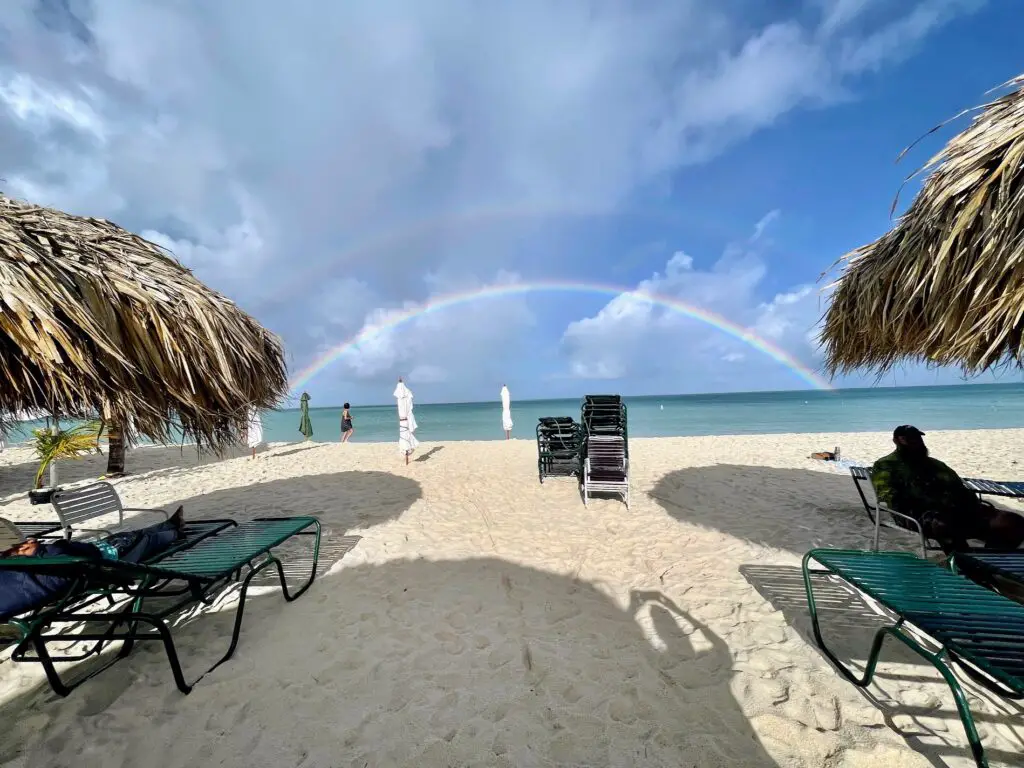 Is Aruba a Good Place to Vacation?
100% this small island is a GREAT place to visit and enjoy white sand beaches, pleasant weather, and delicious foods all while being in one of the safest places to be! Book this Caribbean vacation and you will not be disappointed.
Good news: You won't need to plan a thing! This will give you the perfect 7-Day Itinerary. And it doesn't stop there. Read: Aruba Snorkeling Guide and the Best Restaurants for Casual Dining.
Did this post help you out? Support the work and pass along $5 for a Coors Light 😉 VENMO: @Amber-LBB or PAYPAL: amber@littlebluebackpack.com. THANK YOU.